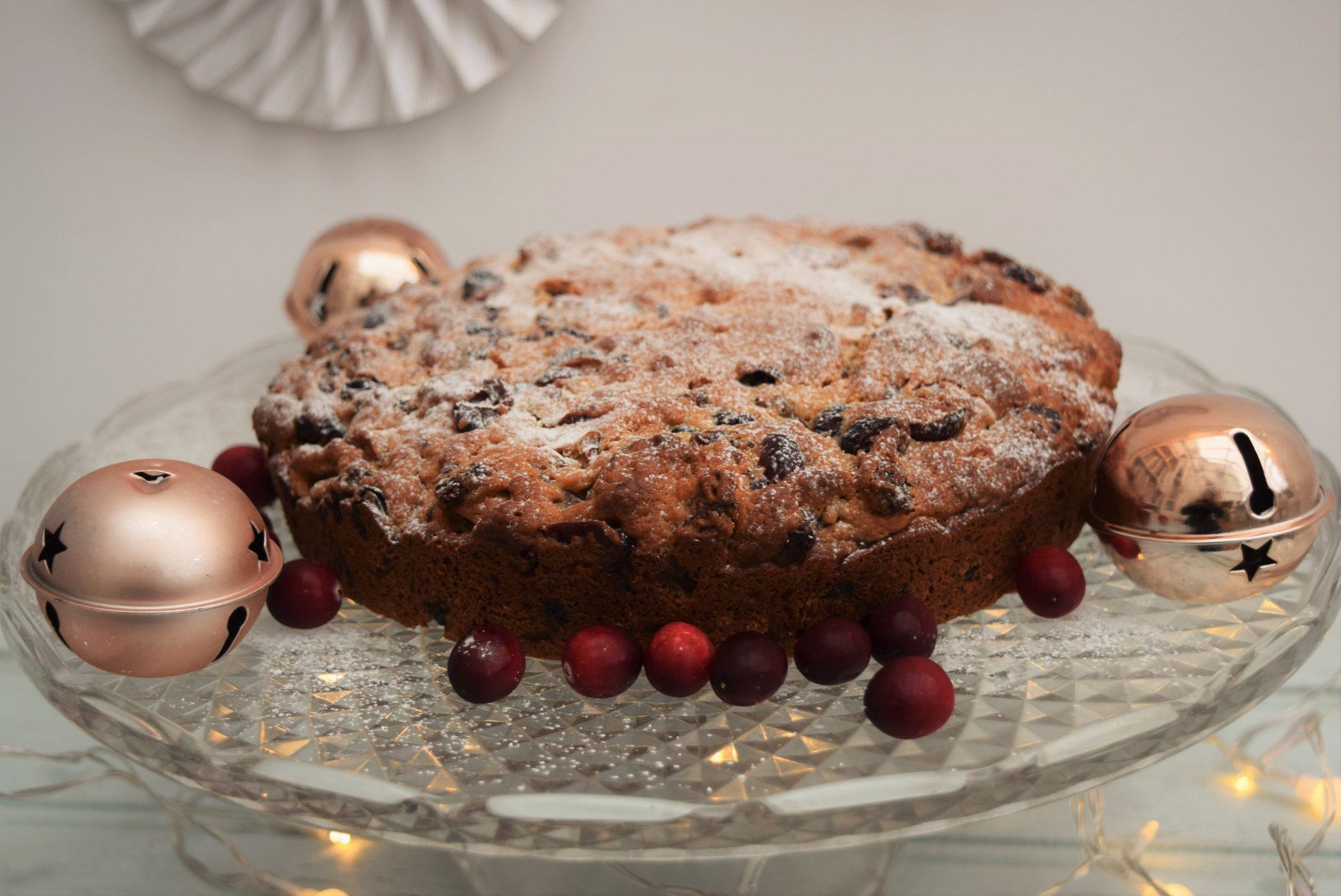 Super Quick Boiled Fruit Cake Recipe
This recipe comes to Lucy Loves with a large dollop of family heritage. My Mother regularly makes this Super Quick Boiled Fruit Cake but the recipe originates from my lovely Aunty Jackie. A huge thank you to both these special women in my life for introducing yet another delicious baked item into my repertoire.
This recipe is a brilliant one, it's quick, drama-free and results in quite the most tasty fruit cake I have ever eaten. I am not a massive fan of those rich, dark, hardly-any-cake-tons-of-fruit type of fruit cakes. They're all a bit too much in my mind. This cake, however, is light, crumbly and soft, and laden with a selection of dried fruit of your choosing. I went for plump *like me* sultanas, sour cranberries and soft dried apricots. This sweet selection compliment each other brilliantly, nestled within the soft cake.
I always thought boiled cakes sounded a bit strange but it just means some of the ingredients are simmered in a pan before being mixed into the flour. And, hooray, it's all just made in the one saucepan so washing up is at an absolute minimum. A total bonus at this time of the year. This is also a top cake to make if you've missed your window for making a traditional Christmas Cake. Just pop this together in the next couple of weeks and you can even top with marzipan and fondant icing if you're that way inclined. If not just a dusting of icing sugar and a fresh cranberry garnish and this is quite the easy peasy Christmas treat.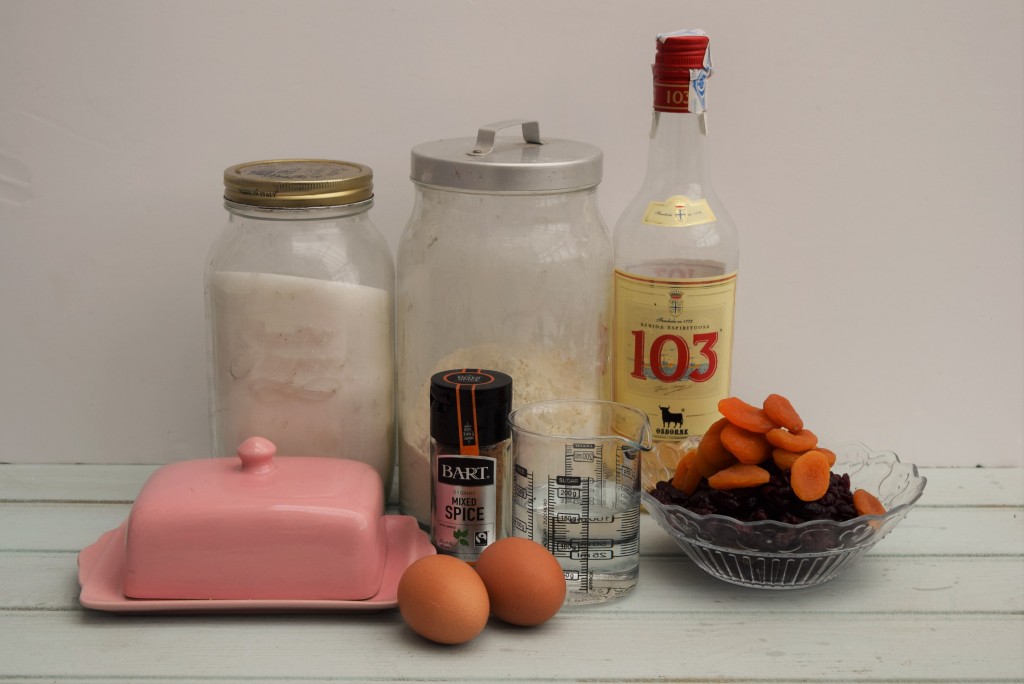 What a super line up of ingredients for this last minute Christmas cake stand in. Everything's here apart from the optional orange, clementine or satsuma for zesting. I have said before, I am far from perfect.
Make a start by pre heating your oven to 150 degrees fan assisted and butter or oil your cake tin. The recipe recommends a 7 inch tin, but I only had an 8 inch one and it worked just as well. Next, take a medium sized saucepan and add your selection of dried fruits.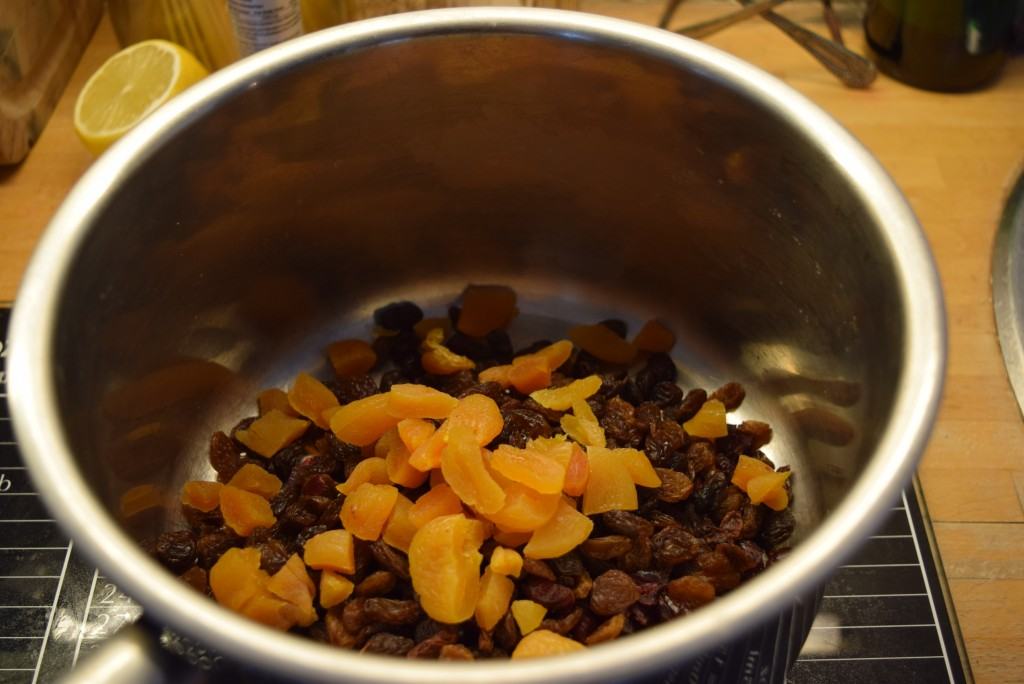 My jewel-like selection were fab, but my mother's used dates and raisins in the past which work just as well.
Next add the sugar and butter then pour on the water and bring to the boil.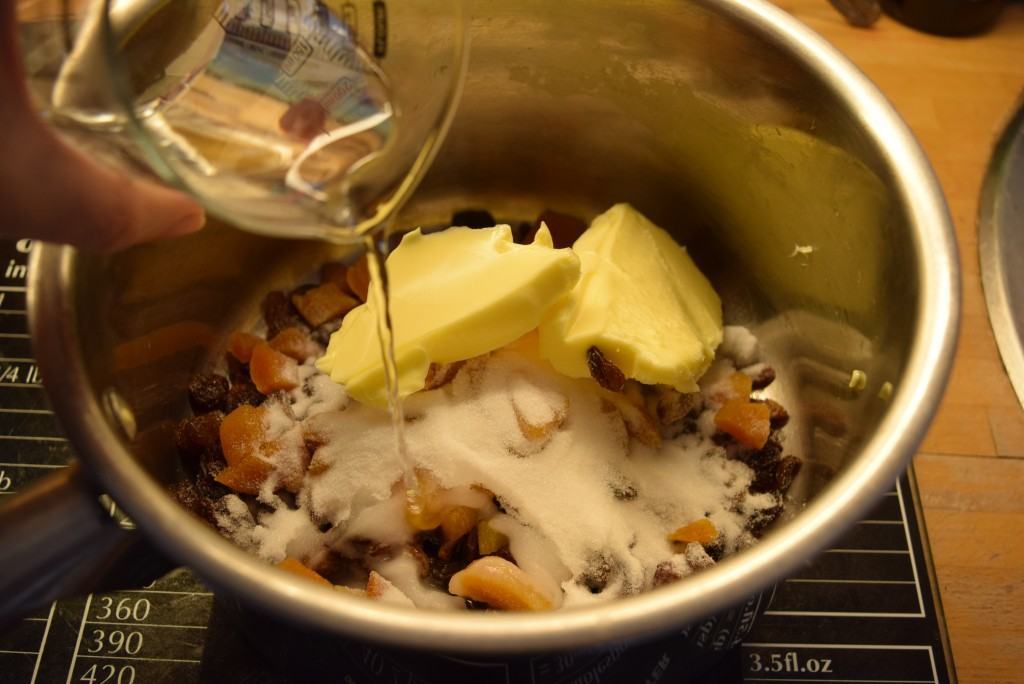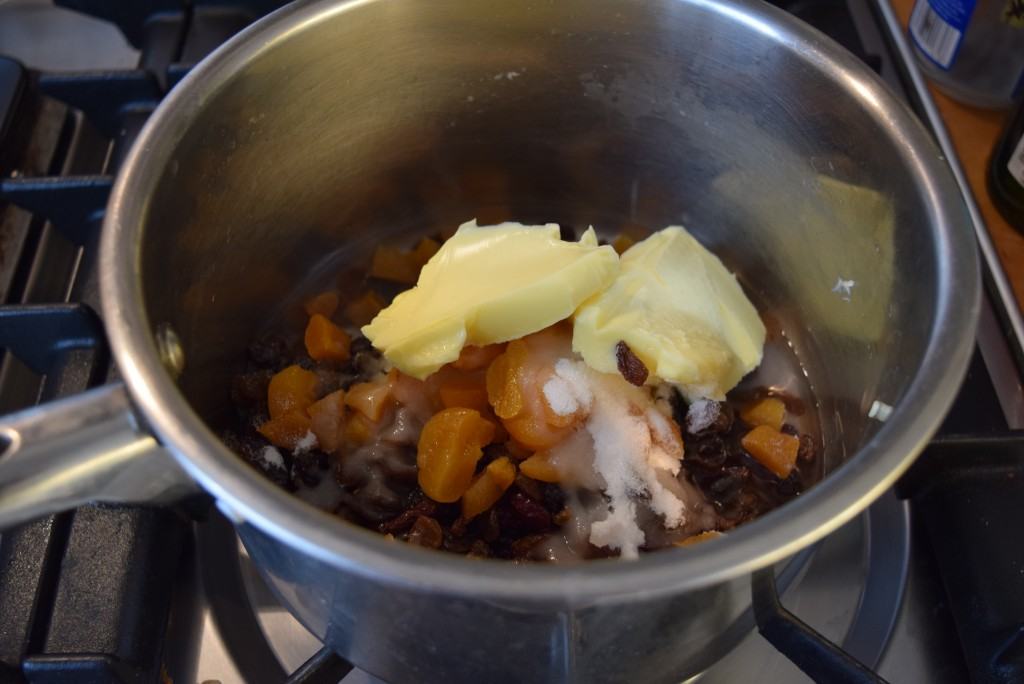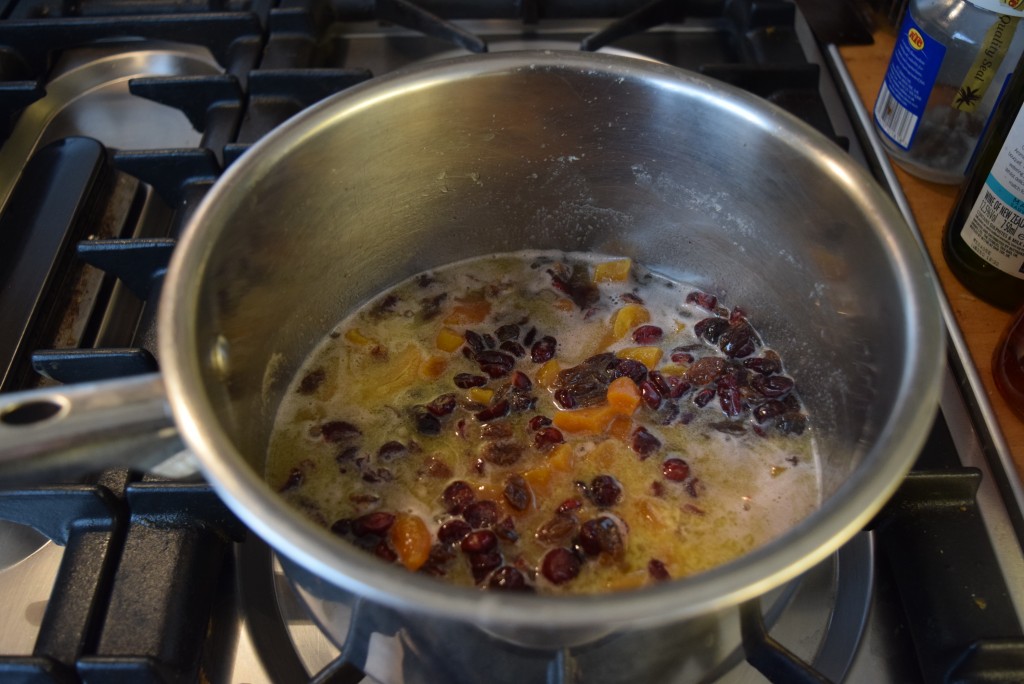 Simmer this fruity mixture for 20 minutes. When the time is up stir through the brandy or whisky and the fruit zest if using.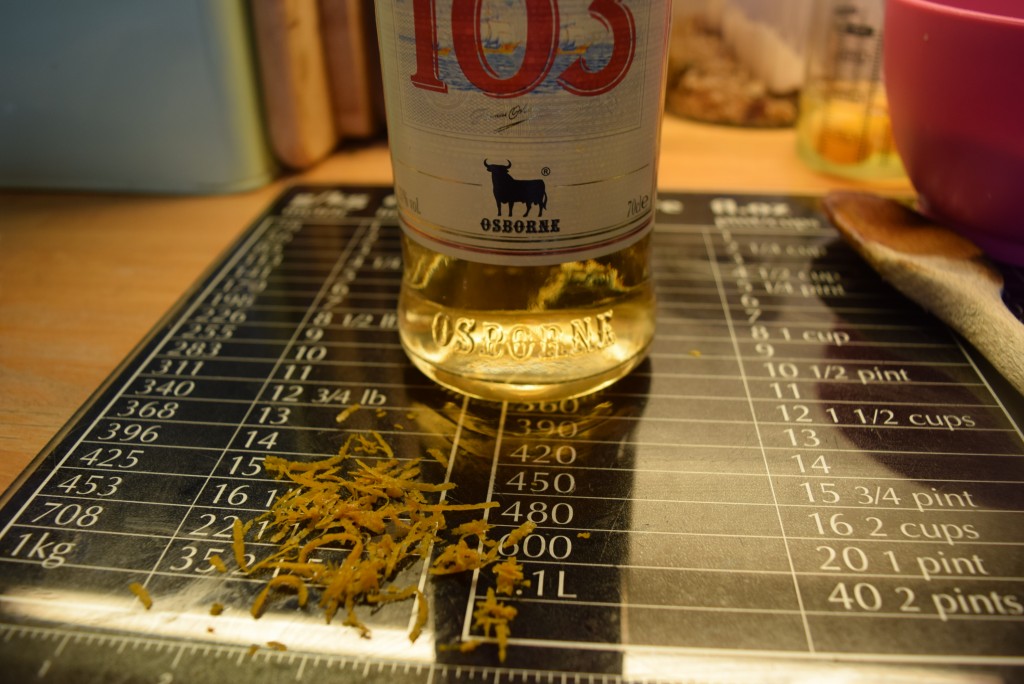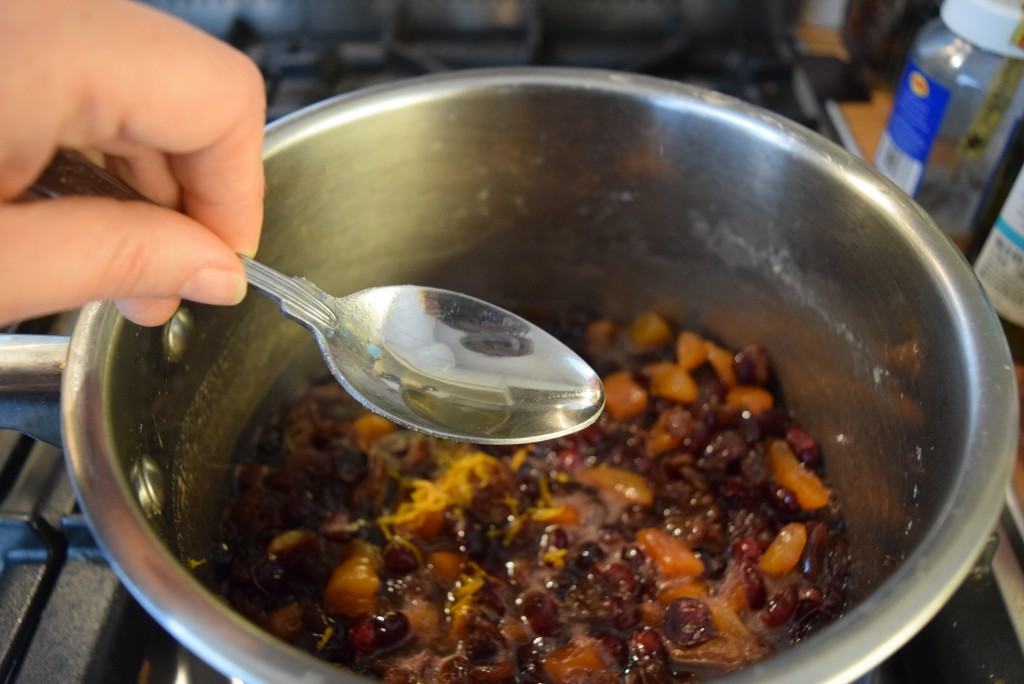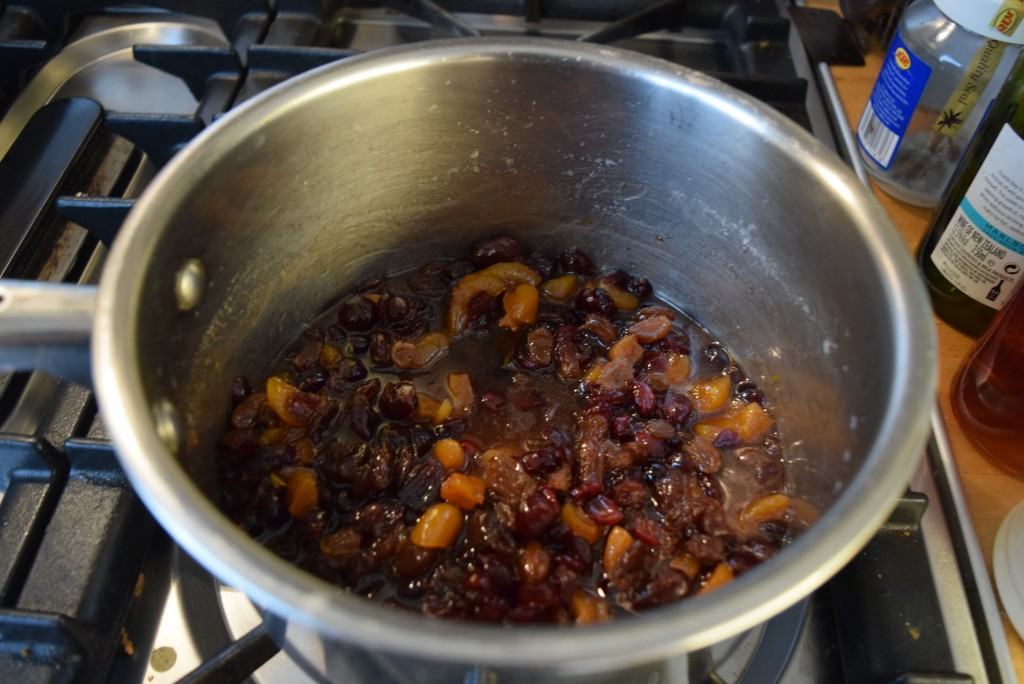 Leave this to cool for about 15 minutes. I put mine in the garden, away from prying pets.
Once it's cooled down stir in the beaten eggs, flour and mixed spice. Mix well making sure there are no floury lumps.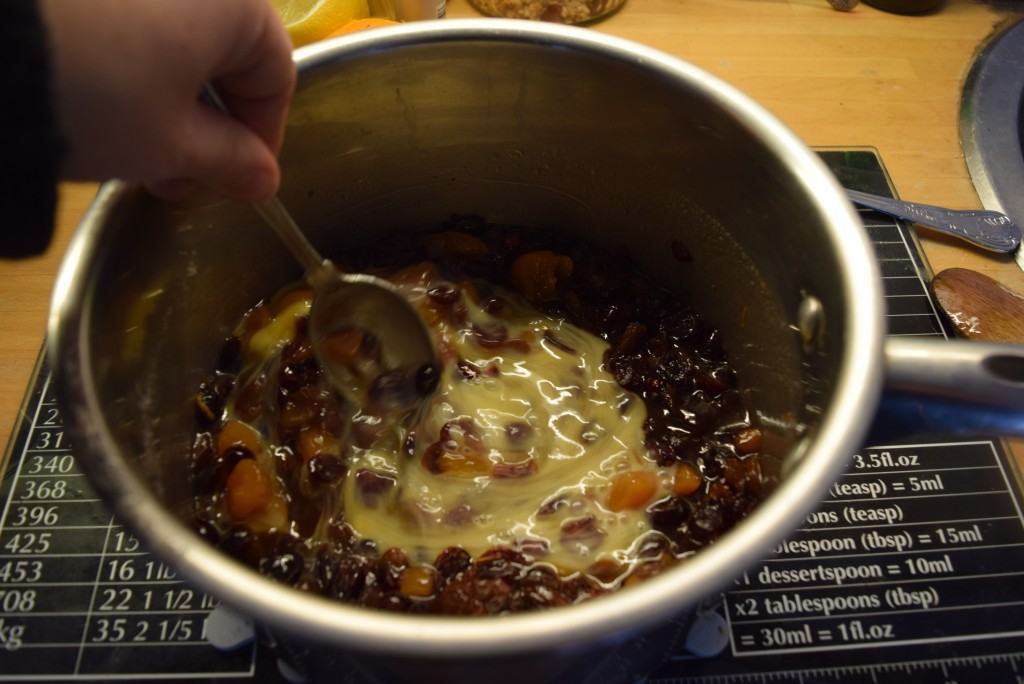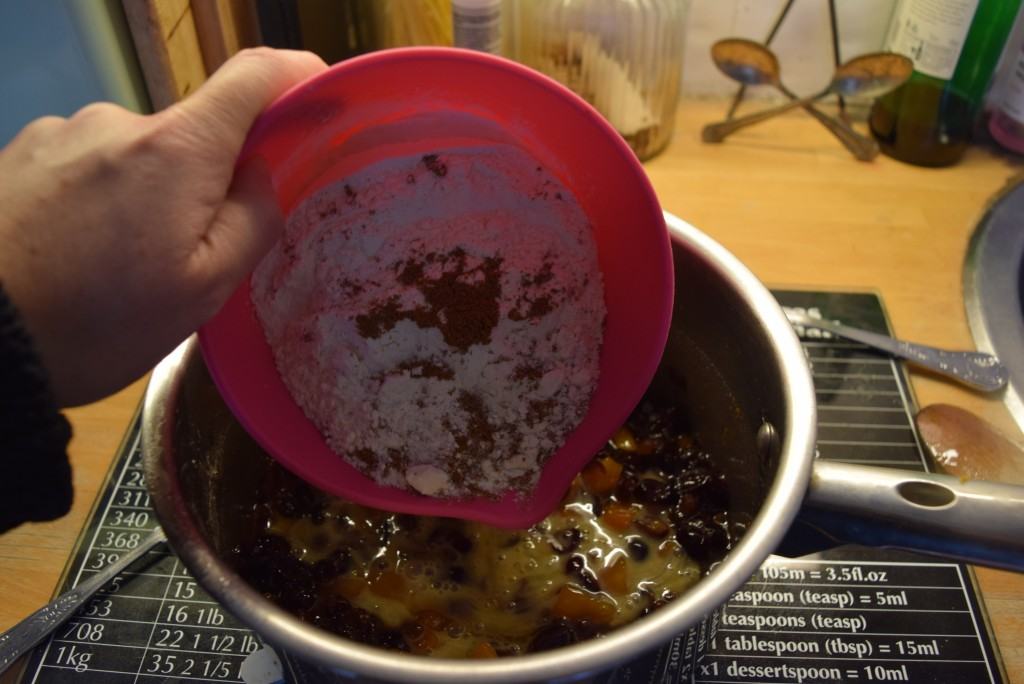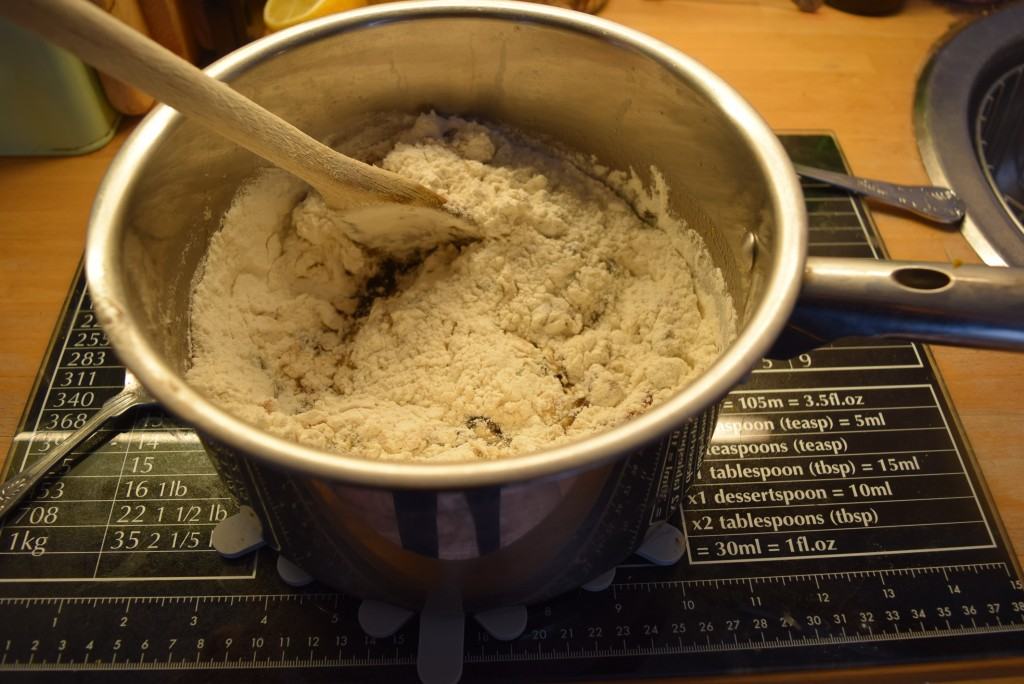 Spoon the fruit studded cake mixture into your buttered tin and smooth the top *unlike me*.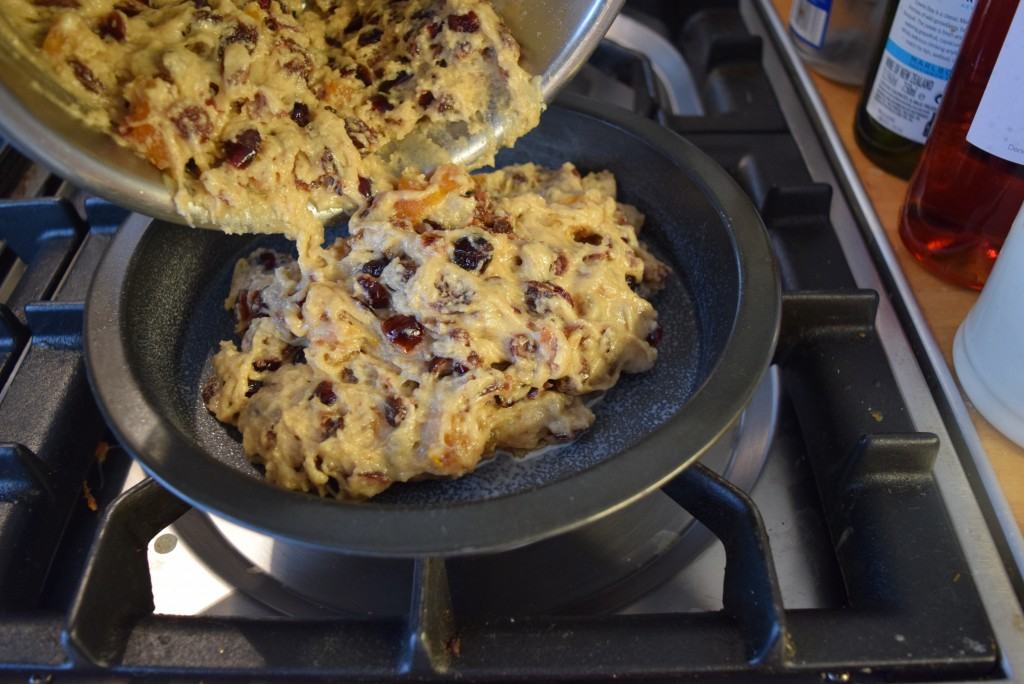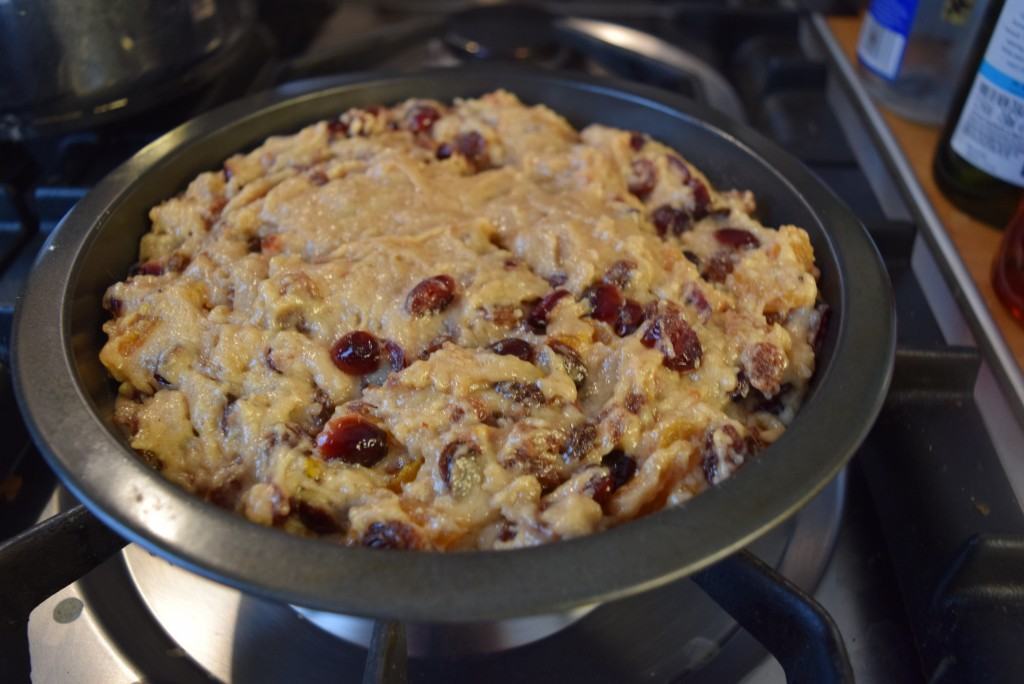 Bake this beauty for 35 to 40 minutes until golden brown and cooked through. A skewer will come out clean when poked into the middle.
Leave to cool in the tin before turning out onto a wire rack. Dust with icing sugar before serving or go full marzipan and icing snow scene if you're serving this as a festive bake.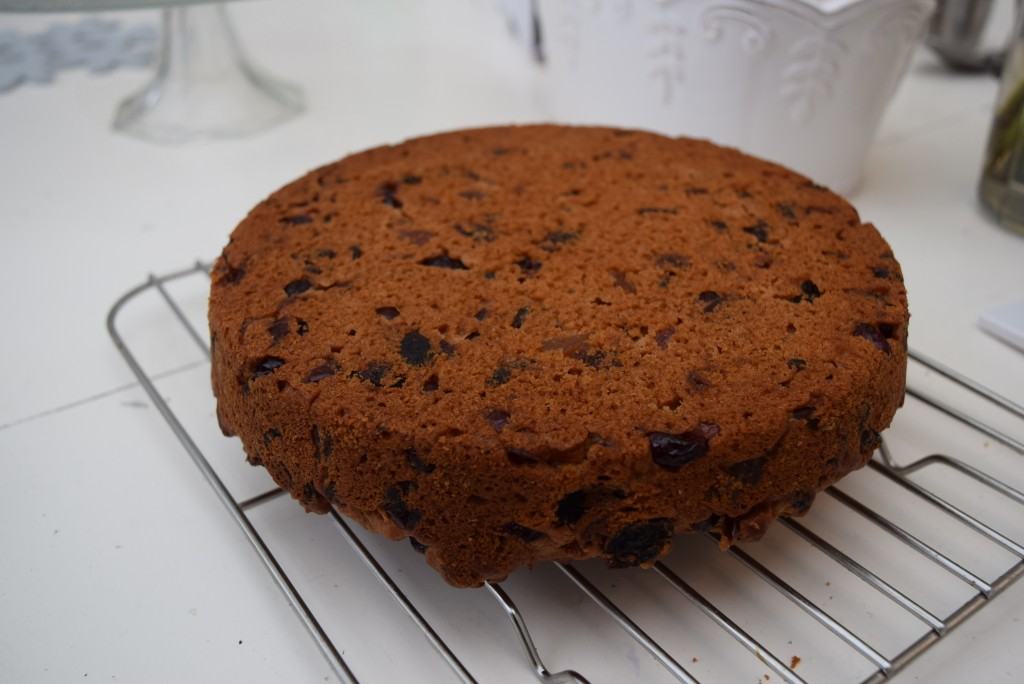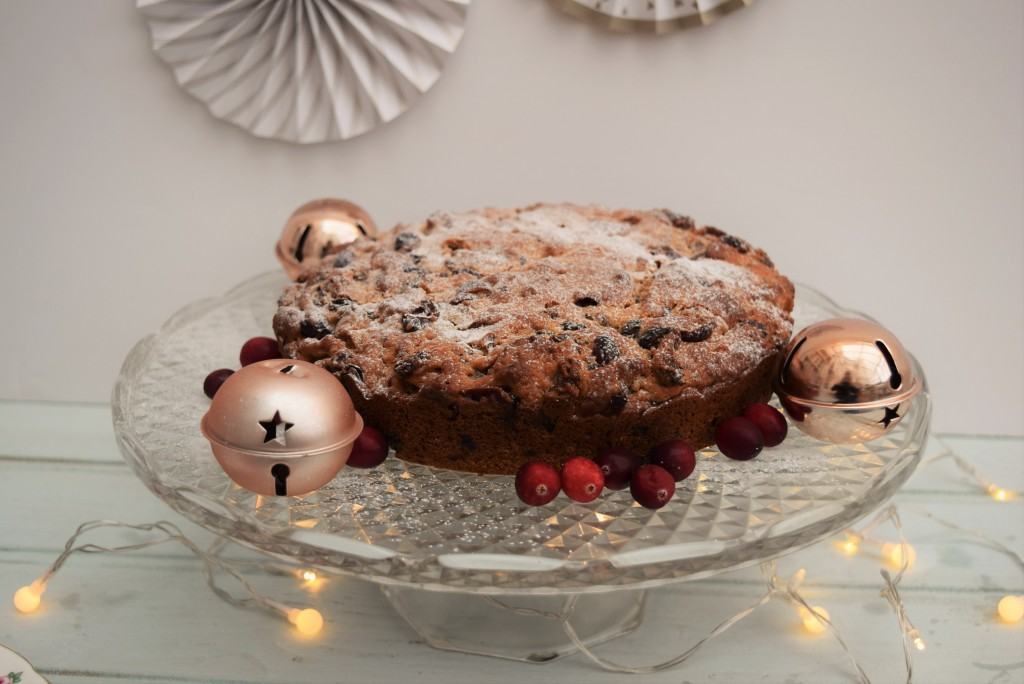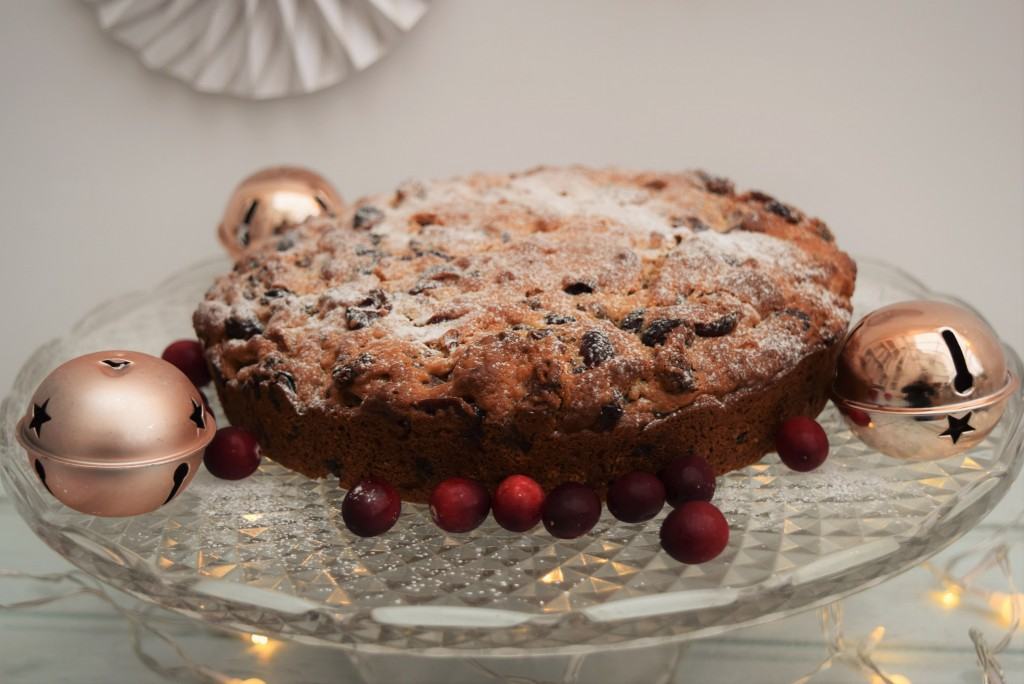 So soft and fragrant, serve in modest wedges.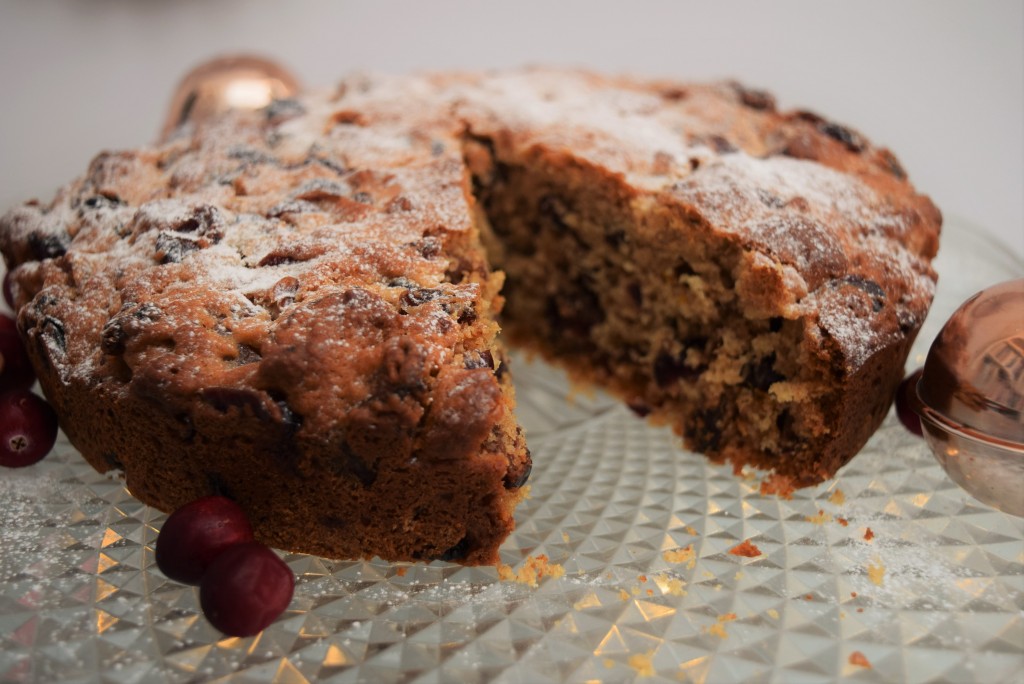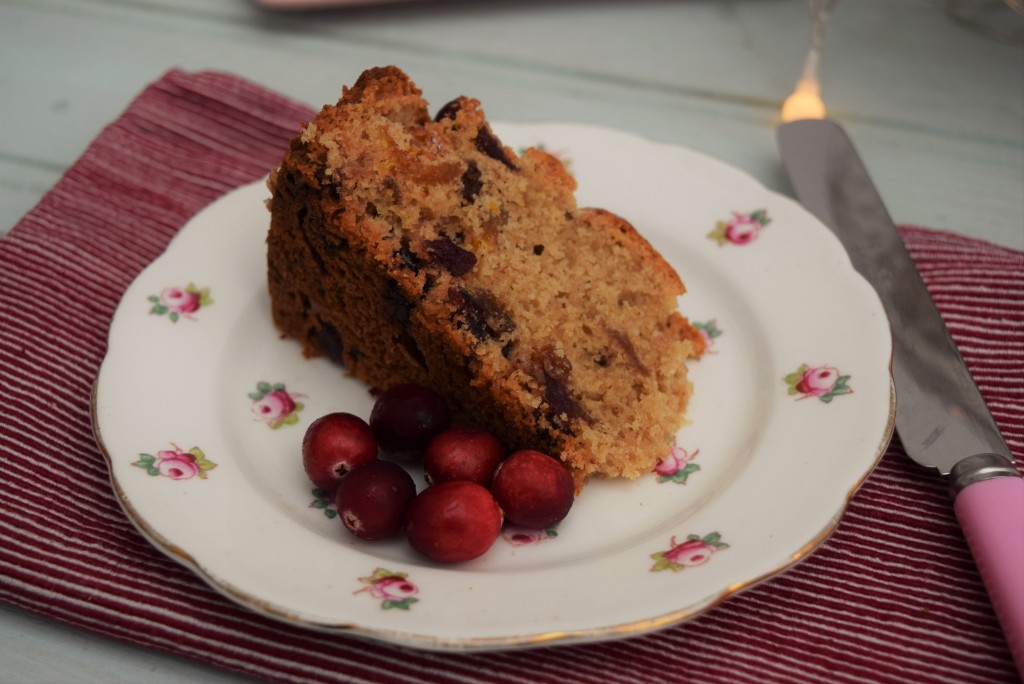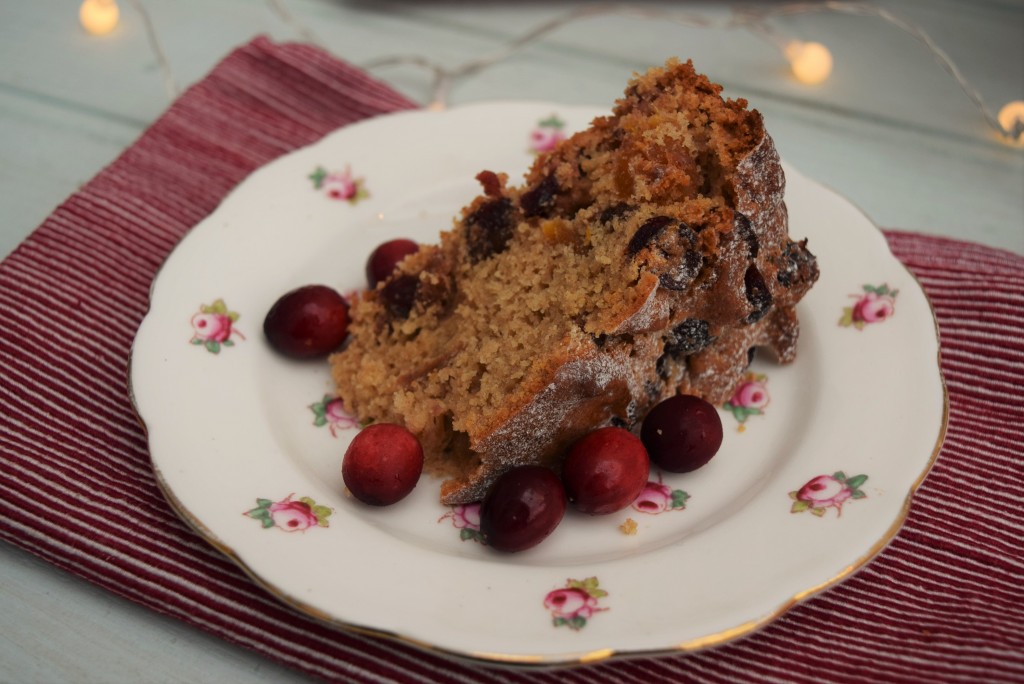 I am a complete fruit cake convert having enjoyed far too many slices of this cake. This fruit studded bake is irresistible and has such a festive flavour. Even if you are spending every waking hour making to-do lists, you will still have time to pop one of these in the oven over the next couple of weeks. However, I did mention how moreish this is, so it may not be just one you are forking up.
Lucy x
Super Quick Boiled Fruit Cake Recipe
Makes a 7 inch round cake, making 8 good slices
350g mixed dried fruit, I used 150g sultanas, 100g dried cranberries and 100g chopped dried apricots
110g caster sugar or I imagine light brown sugar would be good too
110g butter
150ml water
2 tablespoons brandy or whisky
zest of an orange or clementine or satsuma, optional 
2 eggs, beaten
225g self raising flour
1 teaspoon mixed spice
Butter or oil your cake tin and pre heat the oven to 150 to 160 degrees fan assisted.
In a medium sized saucepan measure out your dried fruit, sugar, butter and water. Bring to the boil and simmer gently, for 20 minutes. Stir in the brandy or whisky and the zest of an orange then leave to cool for around 15 minutes.
When the mixture is cooler, beat in the two eggs, flour and mixed spice. Stir well until completely blended. Spoon into your buttered tin, level the top and bake for around 35 to 40 minutes, this depends on your chosen fruits and how hot your oven is, mine took nearer 40. The cake is ready when golden and a skewer comes out clean when put into the middle of the cake. Leave to cool before turning out, dusting with icing sugar and devouring in big slabs. This cake will keep well wrapped in a airtight tin for a good week or so.