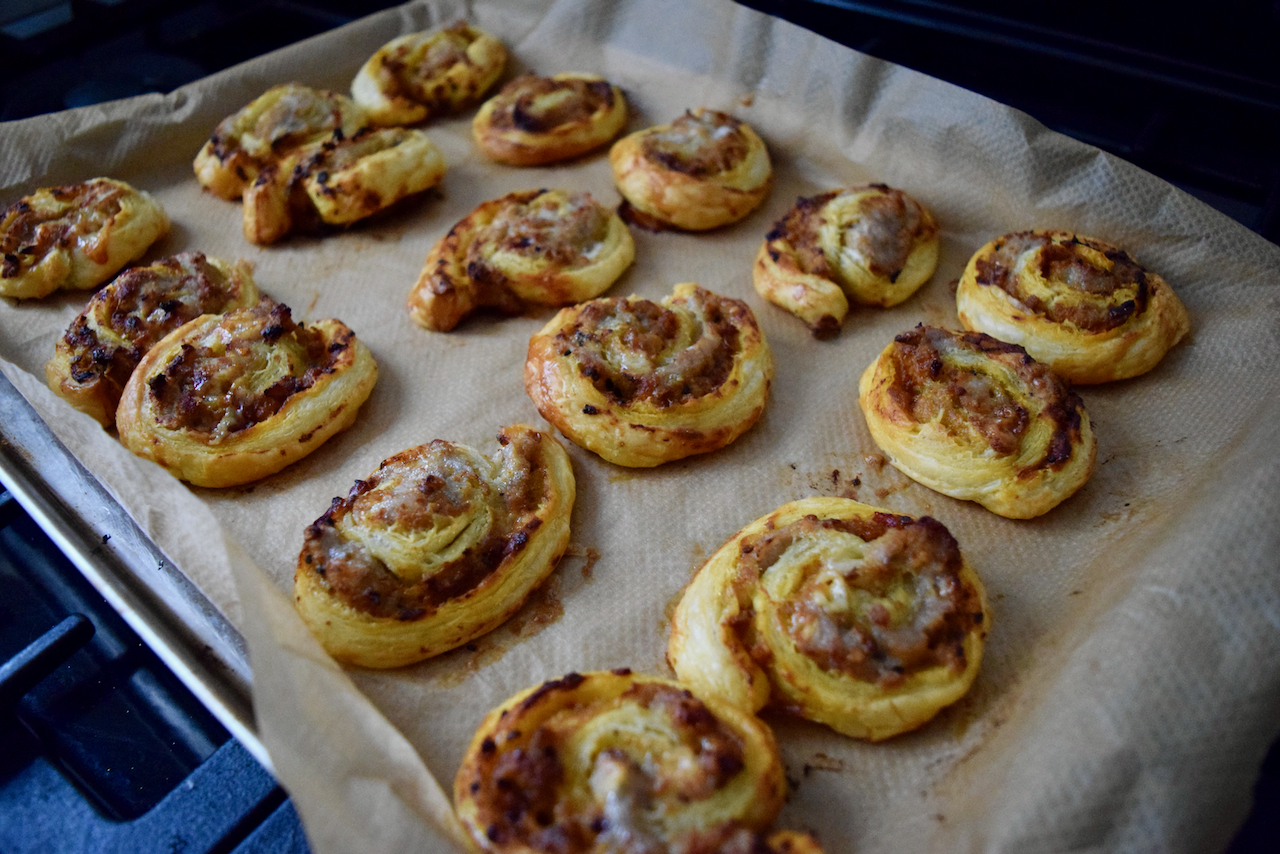 Sausage and Blue Cheese Scrolls recipe
There's no holding back now, Christmas is most definitely nipping at our heels. This year, we're having a little holiday before the festivities begin so I'm starting early on the seasonal offerings and all the wallet breaking shopping. After last years isolated, low key Christmas, I am in the mood to go all in this year. So I'm starting as I mean to go on with these Sausage and Blue Cheese Scrolls.
I've not gone full festive with my scrolls; there's not a cranberry in sight, but there is Stilton, so all's not lost. They feature some ready rolled puff pastry slathered with the chutney of your choice; I went for my favourite Isle of Wight Garlic Farm pickle but the nearer it gets to the big day, cranberry sauce could definitely make an appearance. I pepped up my sausage meat with some crumbled Stilton, but again, use your favourite cheese or anything you've got lurking in your fridge or on your Christmas cheese board. This mixture gets spread onto the chutney adorned pastry, rolled, sliced and baked to crisp, sausage fragranced perfection. They make an attractive change to your standard sausage rolls, and you can get these baked and in your freezer well in advance so there will be a nibble ready for every festive drink you pour.
In a new Lucy Loves world record, this batch of Sausage and Blue Cheese Scrolls were gone within 10 minutes of me finishing photographing them. As always, it wouldn't be the worst idea you've ever had to double this recipe.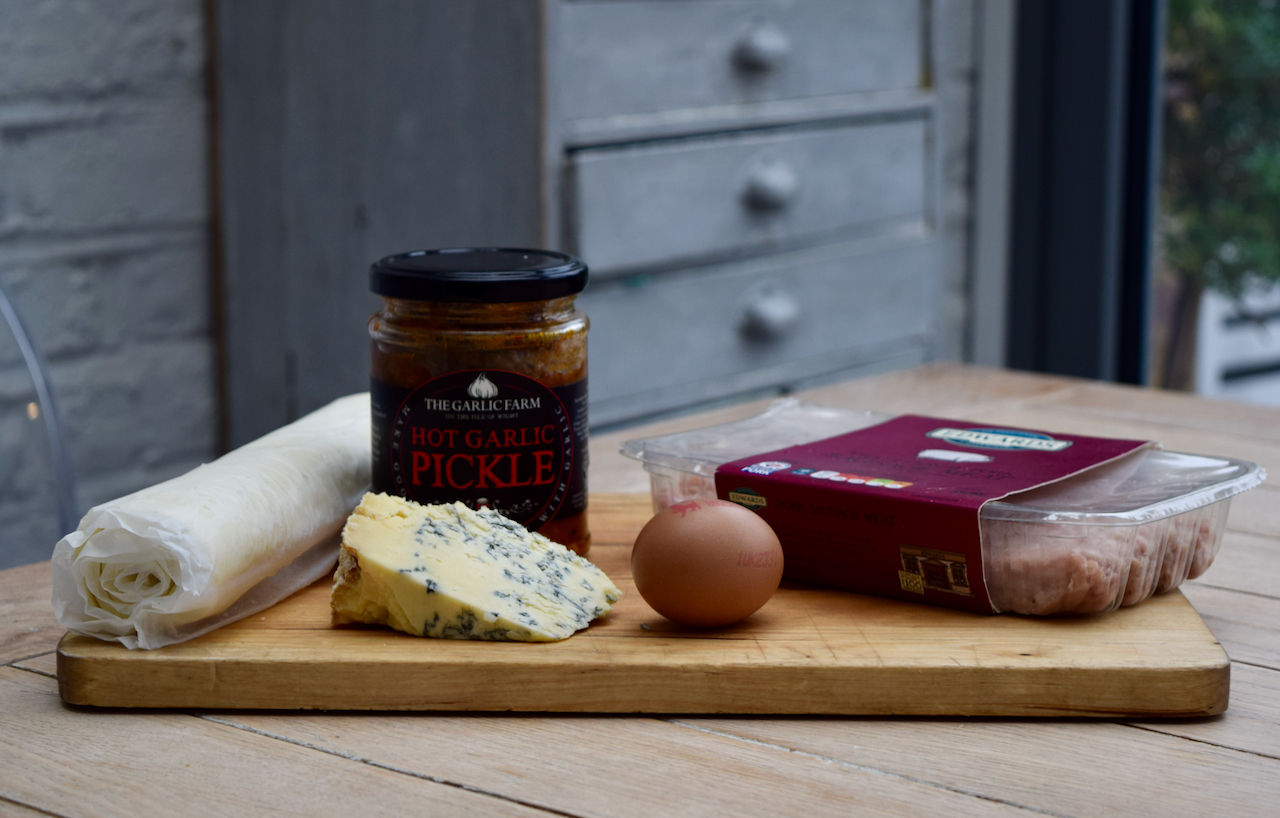 My freezer is currently housing at least 4 packets of sausage meat. I've been buying one a week for the last month in anticipation of the forthcoming festivities. Most of my top Christmas recipes are sausage meat based and I'd hate to run out. The rest of the ingredients are flexible; pastry can be pre rolled or not, use your favourite chutney and any blue cheese works well. I just bloody love Stilton and conveniently had a slab in my freezer destined for these nibbles.
Make a start by lining a large baking sheet and pre heating your oven to 170 degrees fan assisted. Next, remove your pastry from its packaging and unroll and flatten. Spread with around 3 tablespoons of your top choice pickle or chutney, making sure it goes right to the edges.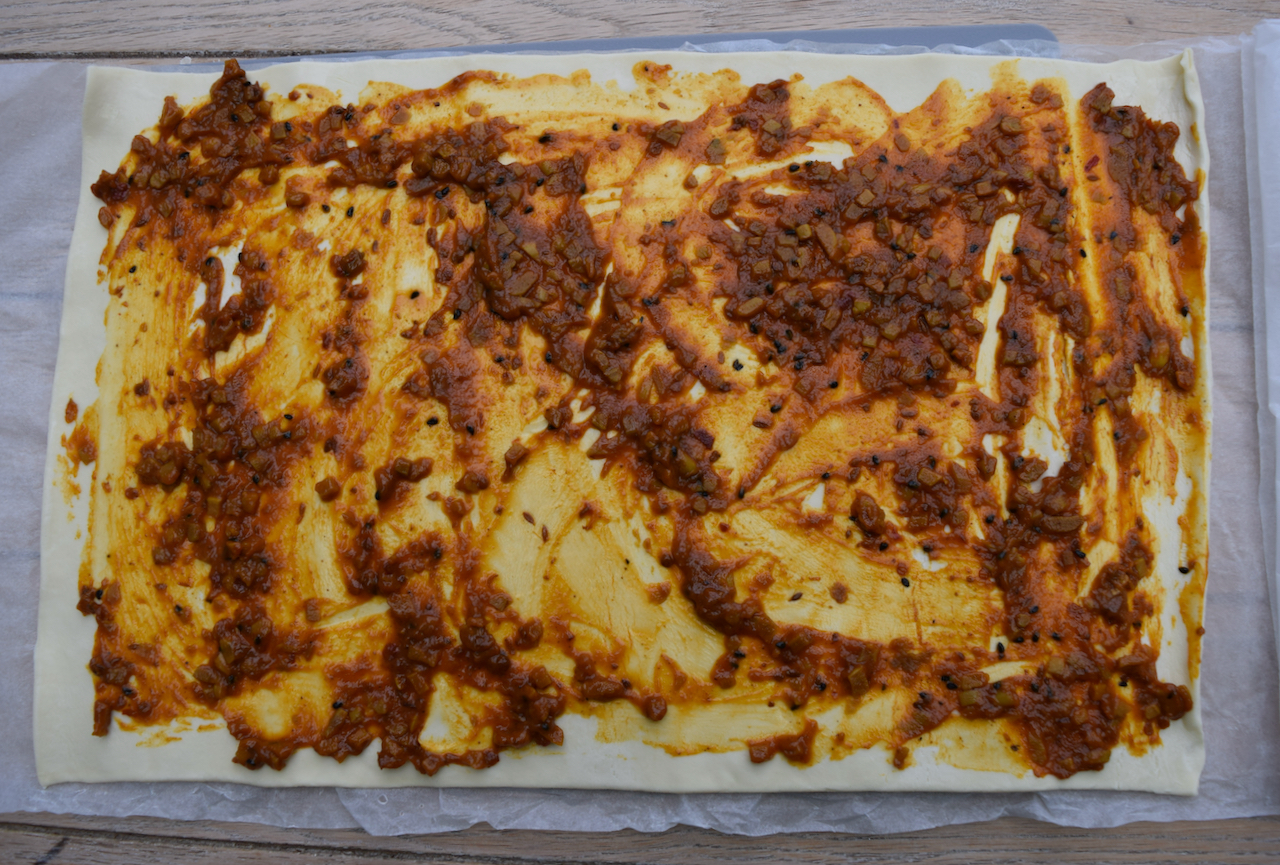 Now for the sausage meat. Put the meat into a bowl and crumble in your cheese. Season with a little black pepper, the cheese should add sufficient salt.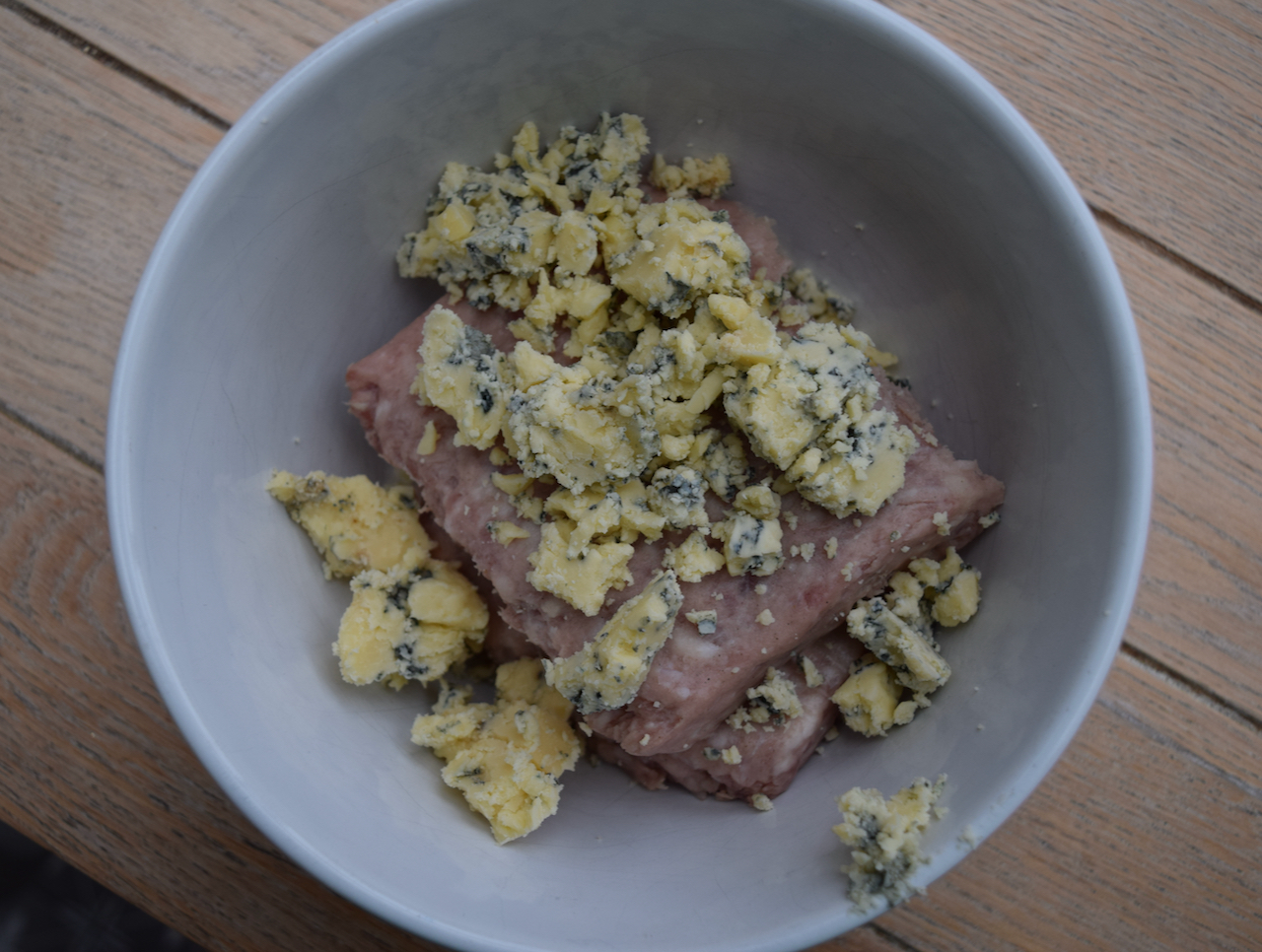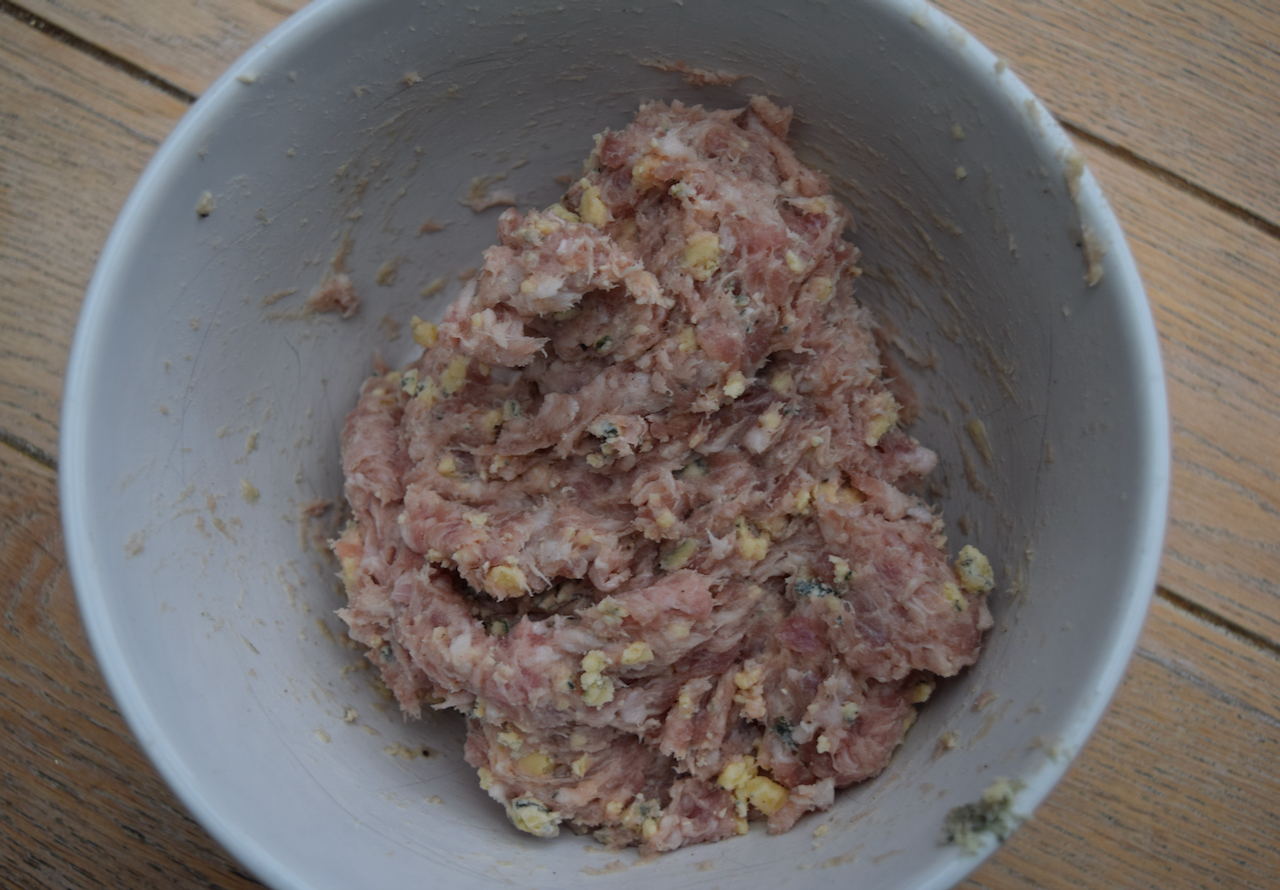 Spread the mixture over your chutney pastry in an even layer, again paying attention to the edges.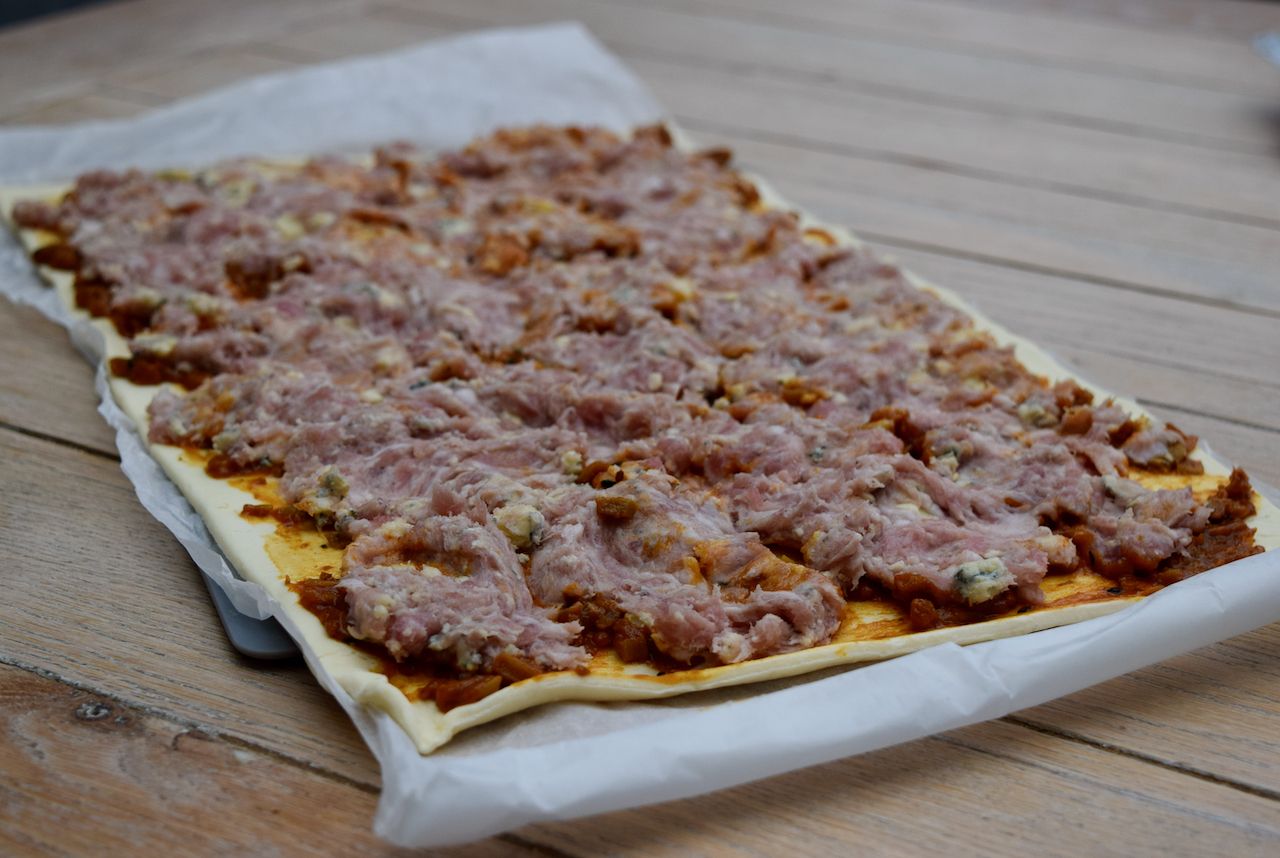 Now you're ready to roll. Starting from the longest side, carefully roll the pasty into long tube, seam side down.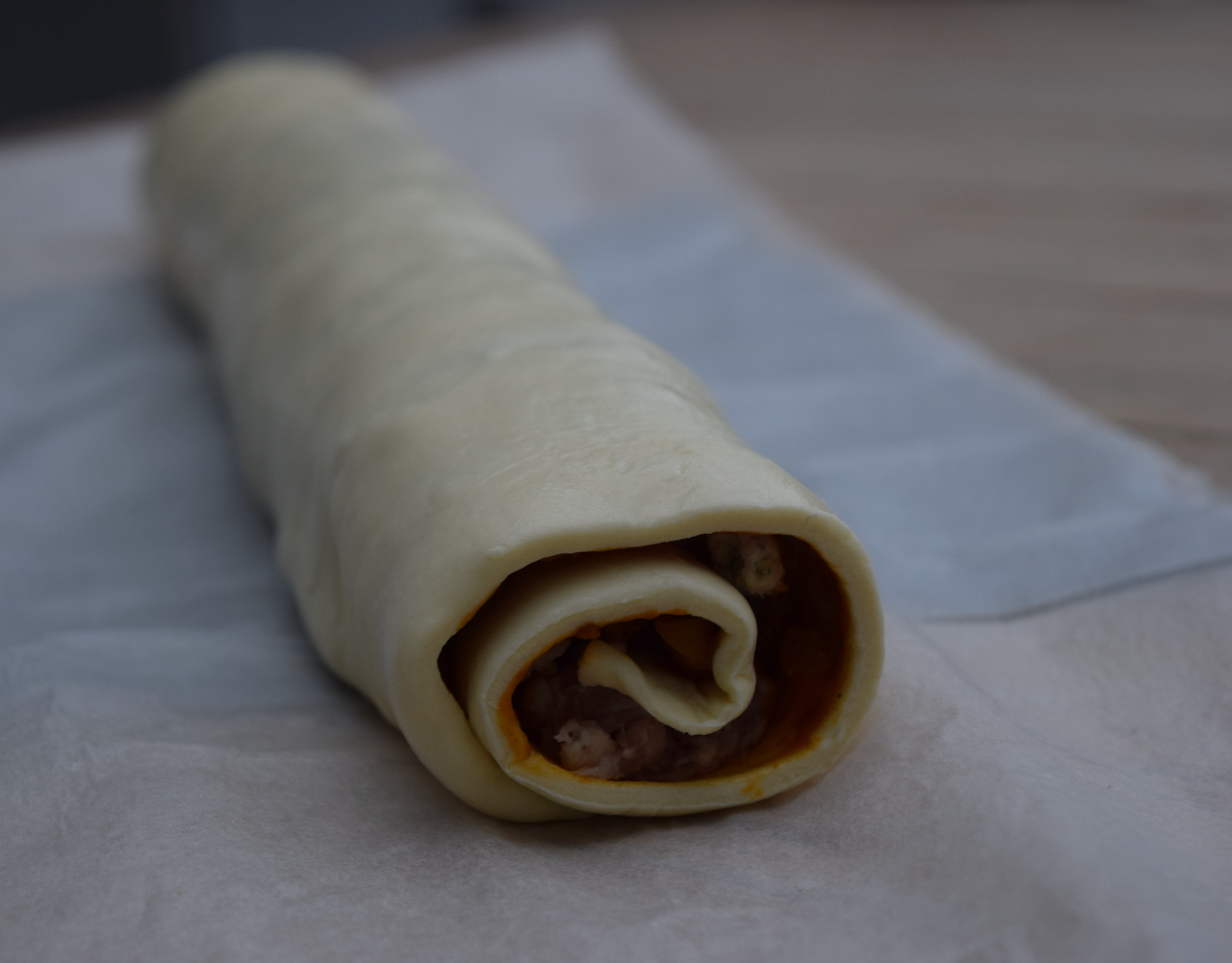 Trim the ends of any pastry without filling then cut the roll into 16 scrolls. Don't panic if they're not fully round, they'll spread out nicely in the oven and don't forget my mantra – rustic is good.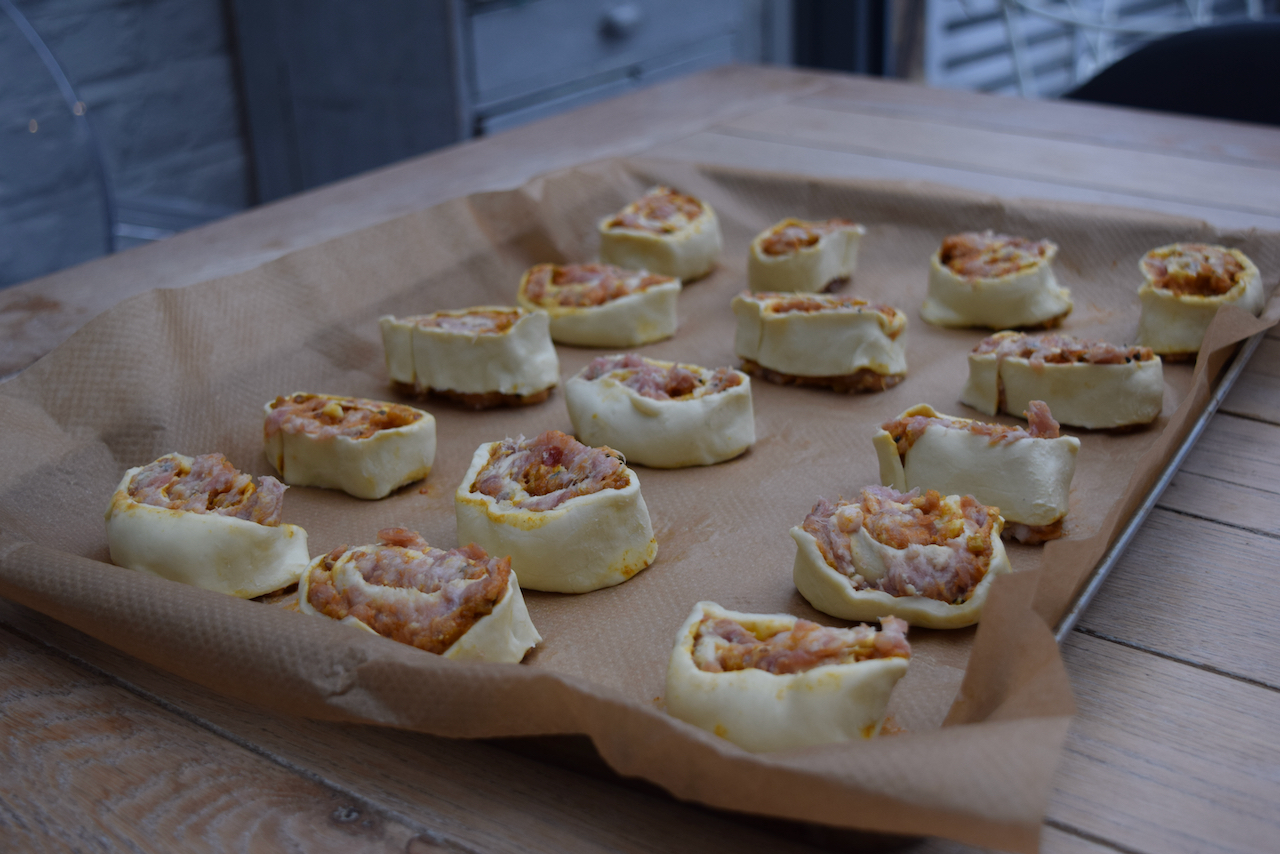 Brush the scrolls with beaten egg then bake for 20 to 25 minutes.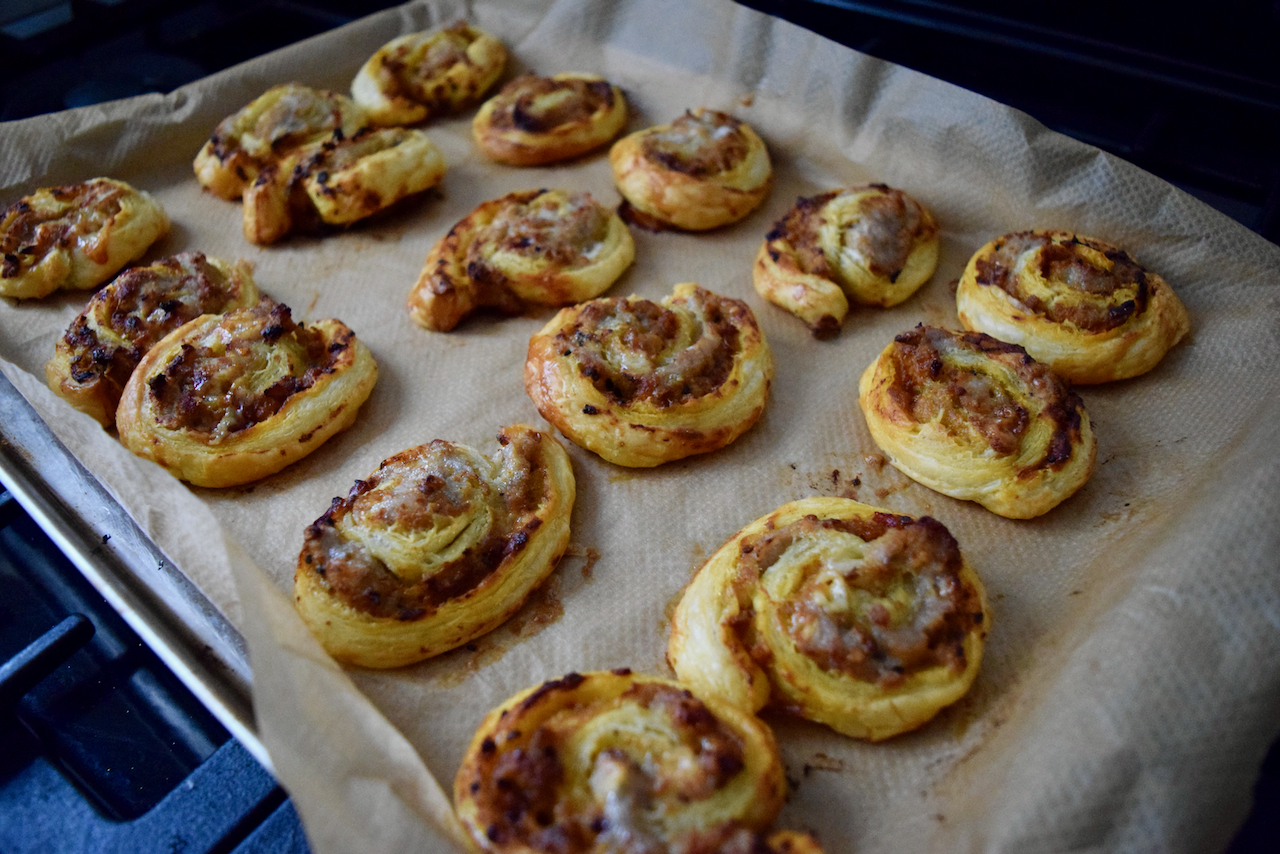 As you can see, the finished articles are golden and crisp; I'm just sorry you can't smell their cheesy sausage based amazingness. Leave them to cool to a less mouth burning temperature, then inhale. Glass of fizz obligatory at this time of the year.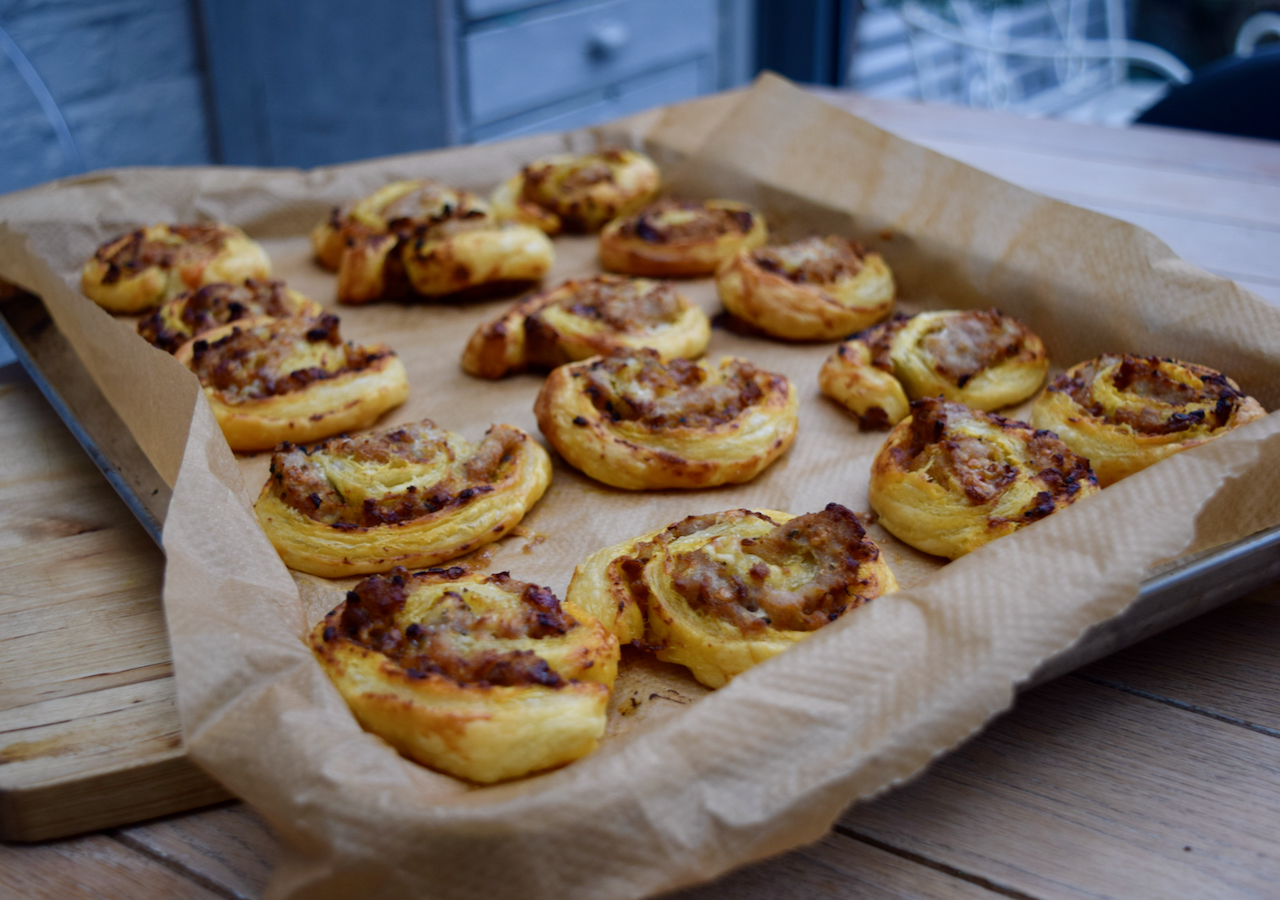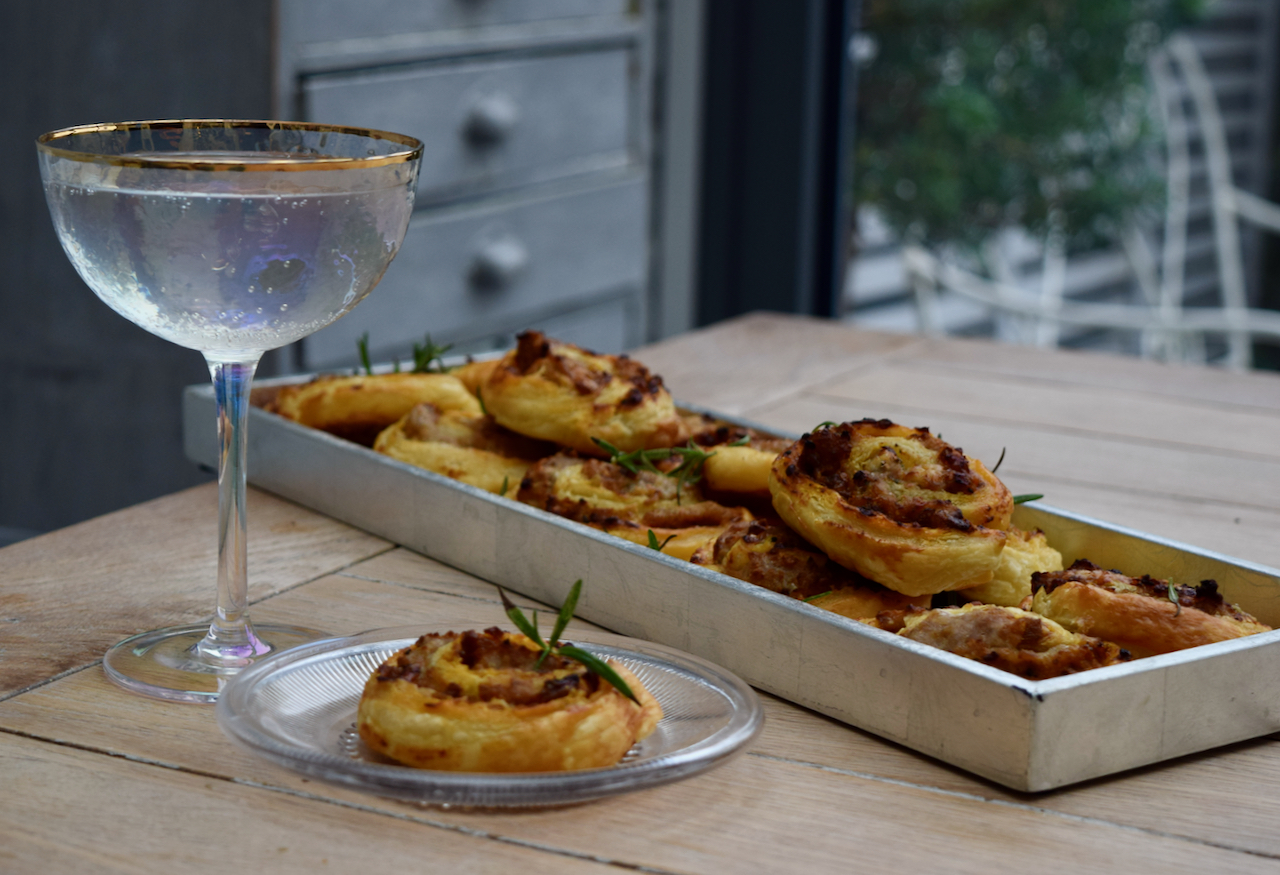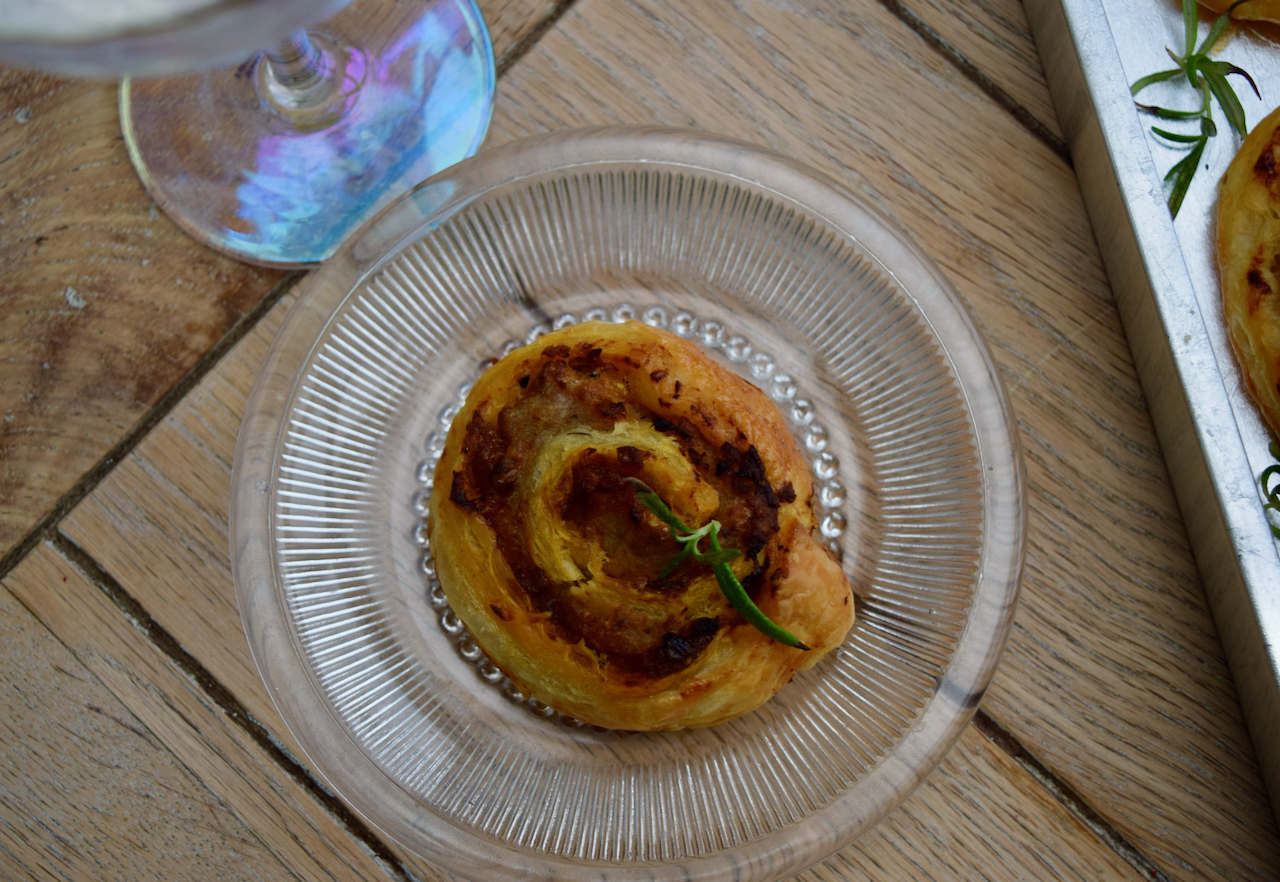 Tis the season to be eat sausage and pastry based items and these scrolls are the future. Even though the word Scrolls screams of the 70's.
Lucy x
Sausage and Blue Cheese Scrolls recipe
Makes approximately 16 scrolls
You will just need a large lined baking sheet
320g sheet puff pastry
3 tablespoons of your favourite chutney
350g to 400g sausage meat
100g blue cheese, or strong cheddar or cheese of your choice, crumbled or grated
Black pepper to season
1 egg, for glazing
Pre heat your oven to 160 degrees fan assisted and line a large sheet sized baking tray with non stick paper.
Take your puff pastry out of the packaging and unroll and flatten. Spread the pastry with around 3 tablespoons of your favourite chutney or cranberry sauce. In a small bowl mix your sausage meat with your crumbled or grated cheese until combined. Season with a little black pepper.
Spread the sausage meat out onto the pastry, creating a thin-ish even layer making sure it goes all the way to the edges. Start to roll the pastry up from the long side, into a tight-ish roll. Trim off the ends of the roll which don't have any filling in them. Carefully cut the roll into 16 scrolls, not worrying too much if they flatten a little. Lay the pastries, scroll side up, onto your lined baking sheet.
Brush with a little beaten egg then bake for 20 to 25 minutes or until they're golden and piping hot, and smelling bloody amazing. Leave to cool slightly before devouring whilst still warm.
These can be frozen once cooked and cold, to be defrosted and reheated for 5 minutes in a hot oven before serving.