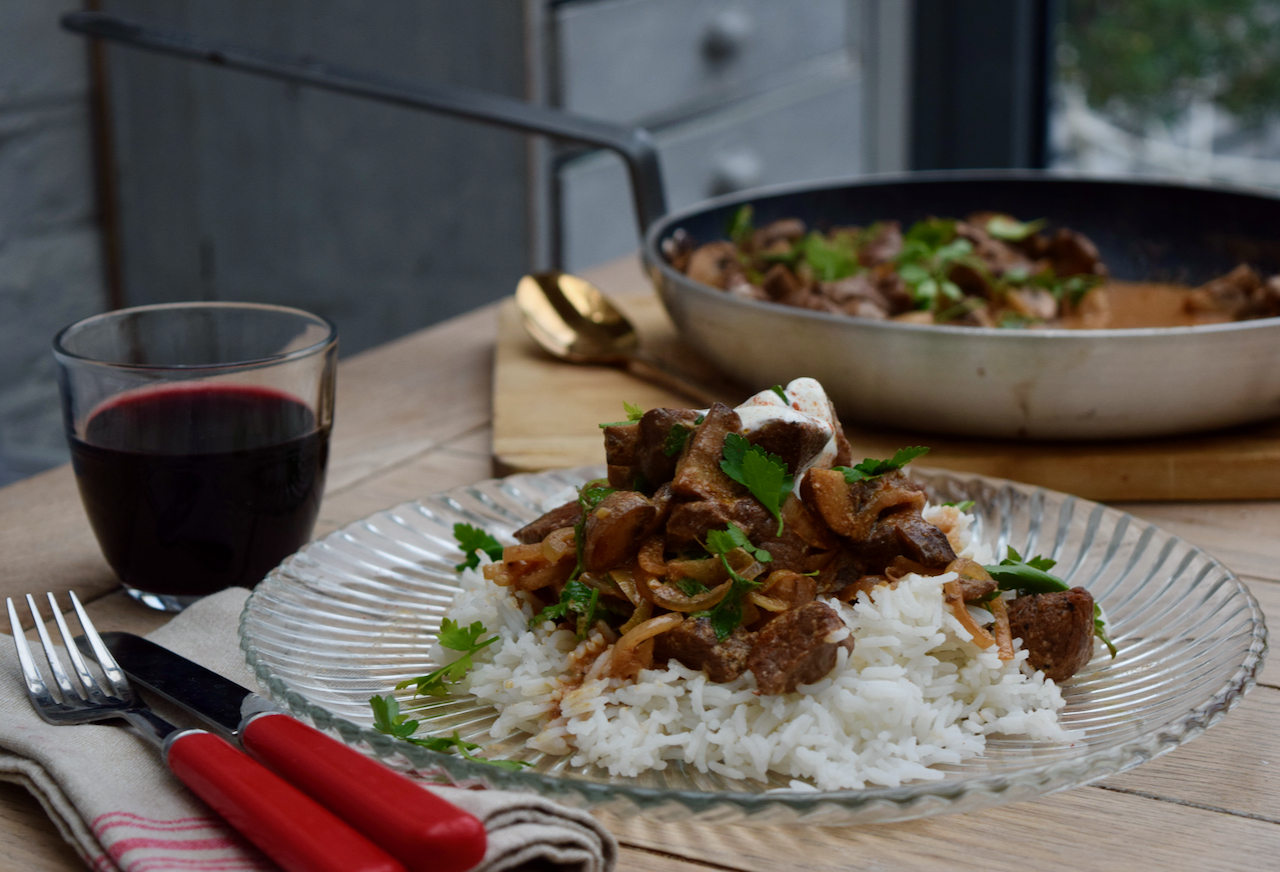 Venison Stroganoff recipe
I am a bit of a newbie when it comes to venison. Having worked for a high end caterer for years, my foray into the world of venison mainly involved beautifully cooked steaks the likes of which I could never afford to buy myself. I was super excited, therefore, to find this treaty Venison Stroganoff recipe, featuring a good value cut of meat which also tastes bloody amazing.
I usually go down the beef route when it comes to stroganoff, but ever since I cooked it on Beat the Chef and died on my arse, not even making it through to the second round, it's rather soured my relationship with the aforementioned dish. But now I've tried this simple venison version, I'm in love all over again. This recipe features all the classic ingredients; sautéed mushrooms, golden and flavourful, paprika and a generous dollop of sour cream. The venison is tender and rich and turns this into a real treat of a dish. Thank you to Ocado for the inspiration and for the great value venison.
Christmas is all about the food in our family, but no one wants to spend time away from the festive booze in the kitchen. This Venison Stroganoff will keep your hungry diners satisfied and the thirsty chef from slaving over a hot stove.
Bloody lovely wholesome selection of ingredients right here including the 500g diced venison which was only just over £5 which is such a win. The slug of brandy adds sweetness and flavour to this dish alongside the warmth of the paprika.
This is a quickie so get your rice on as soon as you start. Next take a large frying pan and add a tablespoon of oil and heat over a low to medium flame. Cook the sliced onions and garlic for 8 to 10 minutes until they're soft and just golden.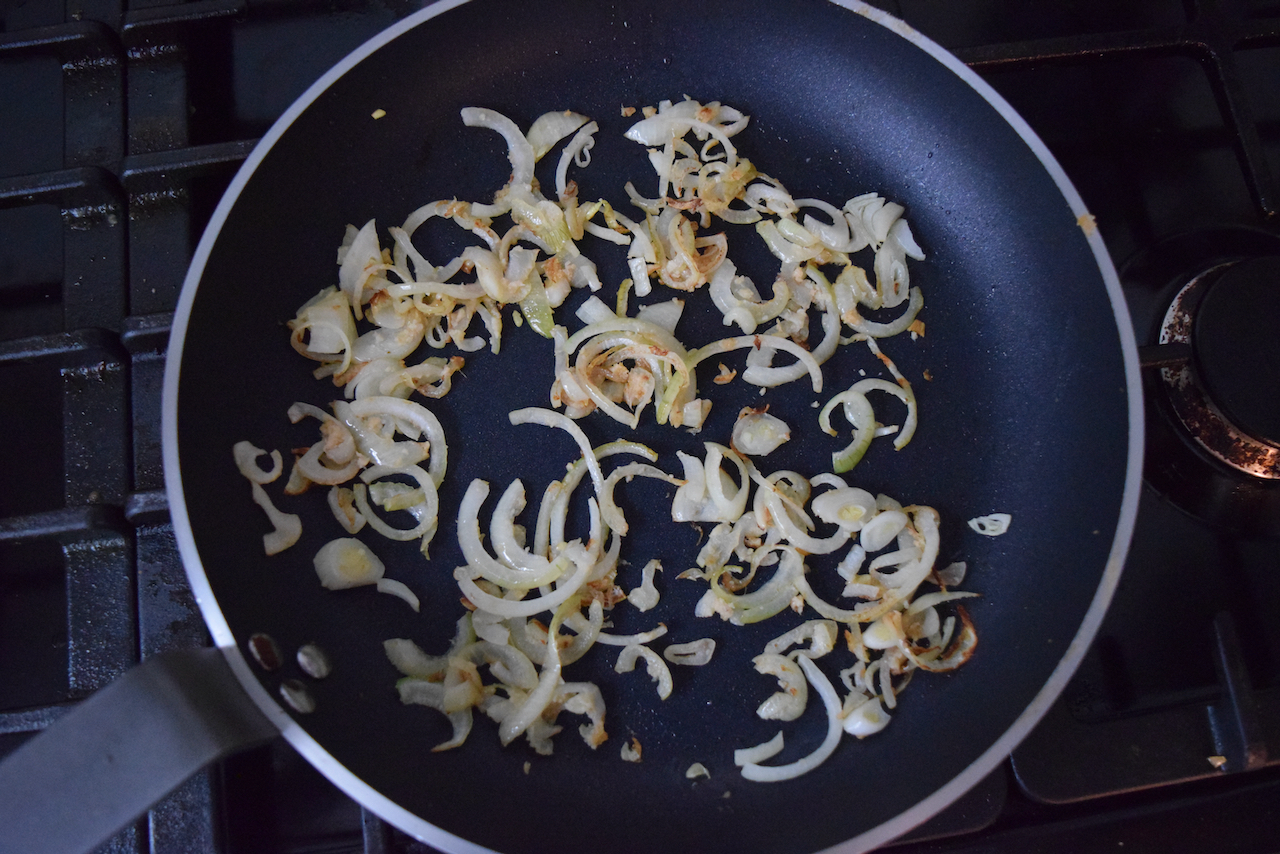 Tip the cooked onions onto a plate then add another tablespoon of oil into the pan and turn up the heat. Add the mushrooms and cook with a lid on for a couple of minutes, then turn so they cook evenly, and pop the lid back on for another couple of minutes.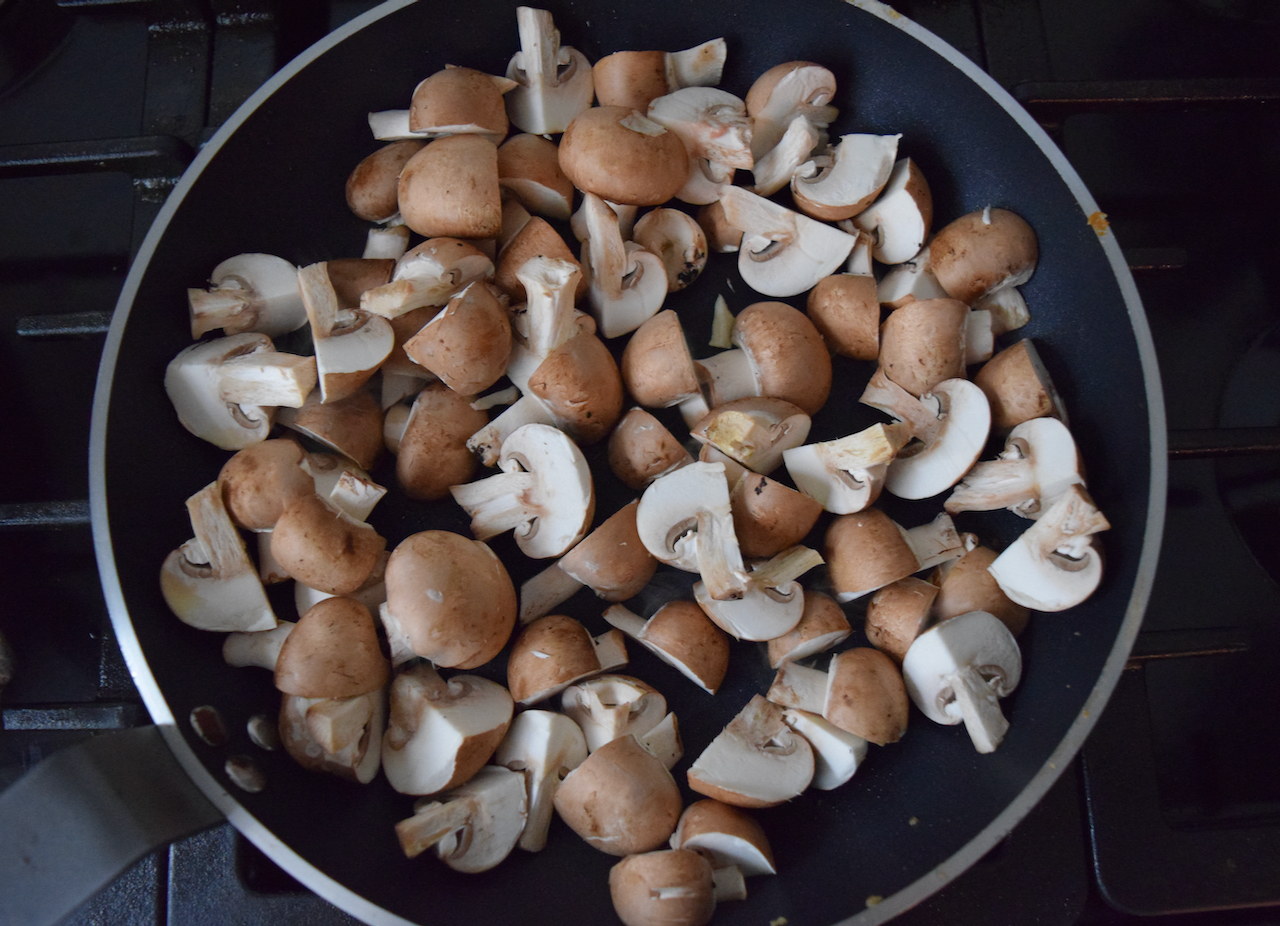 On a side note, I used baby chestnut mushrooms, but wild ones would be lovely.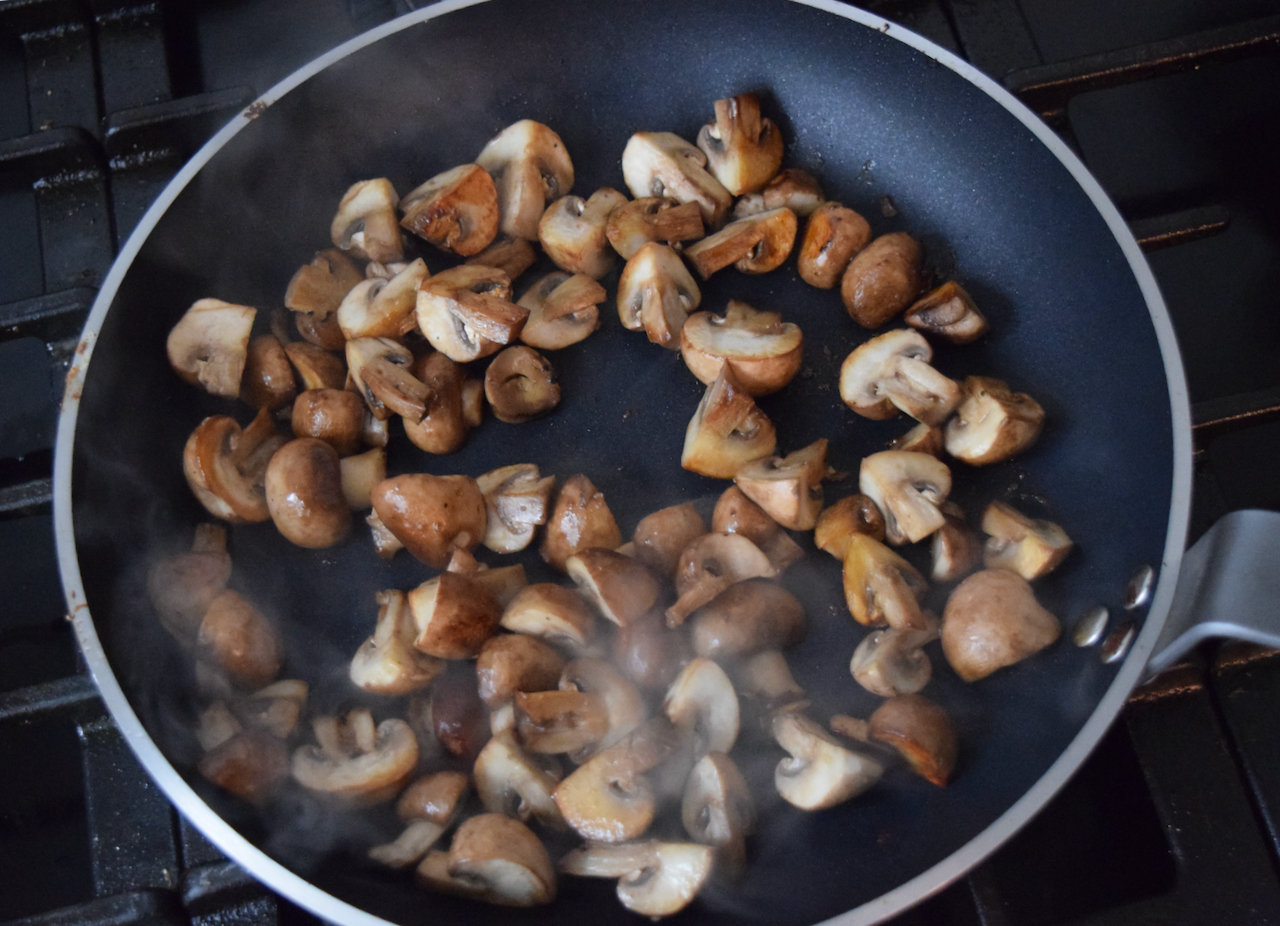 Once the schrooms are golden, add them to the plate with the onions. Season the venison with the teaspoon of paprika and some salt and pepper.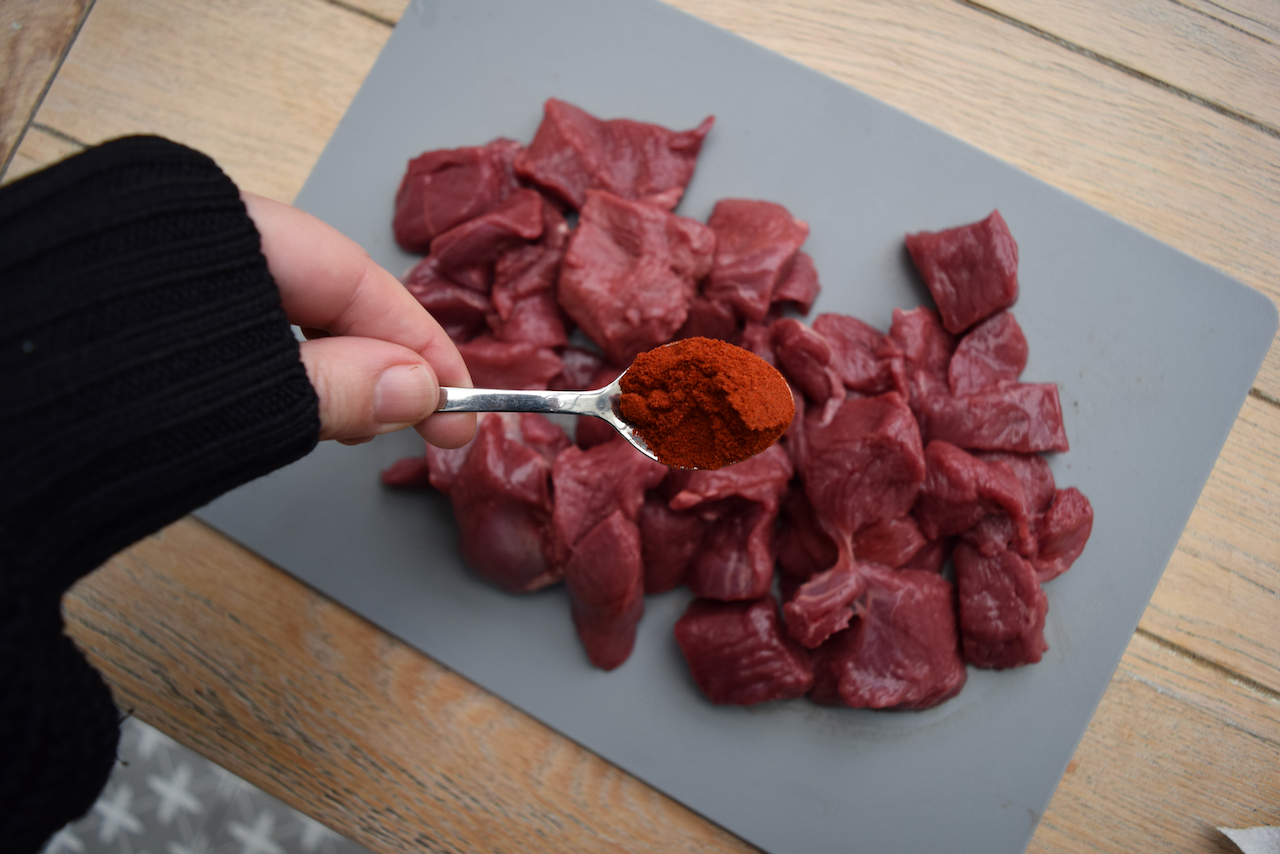 Turn up the heat under the pan and add the final tablespoon of olive oil. Toss the seasoned venison into the hot pan and cook for a couple of minutes on each side until both sides are nicely browned.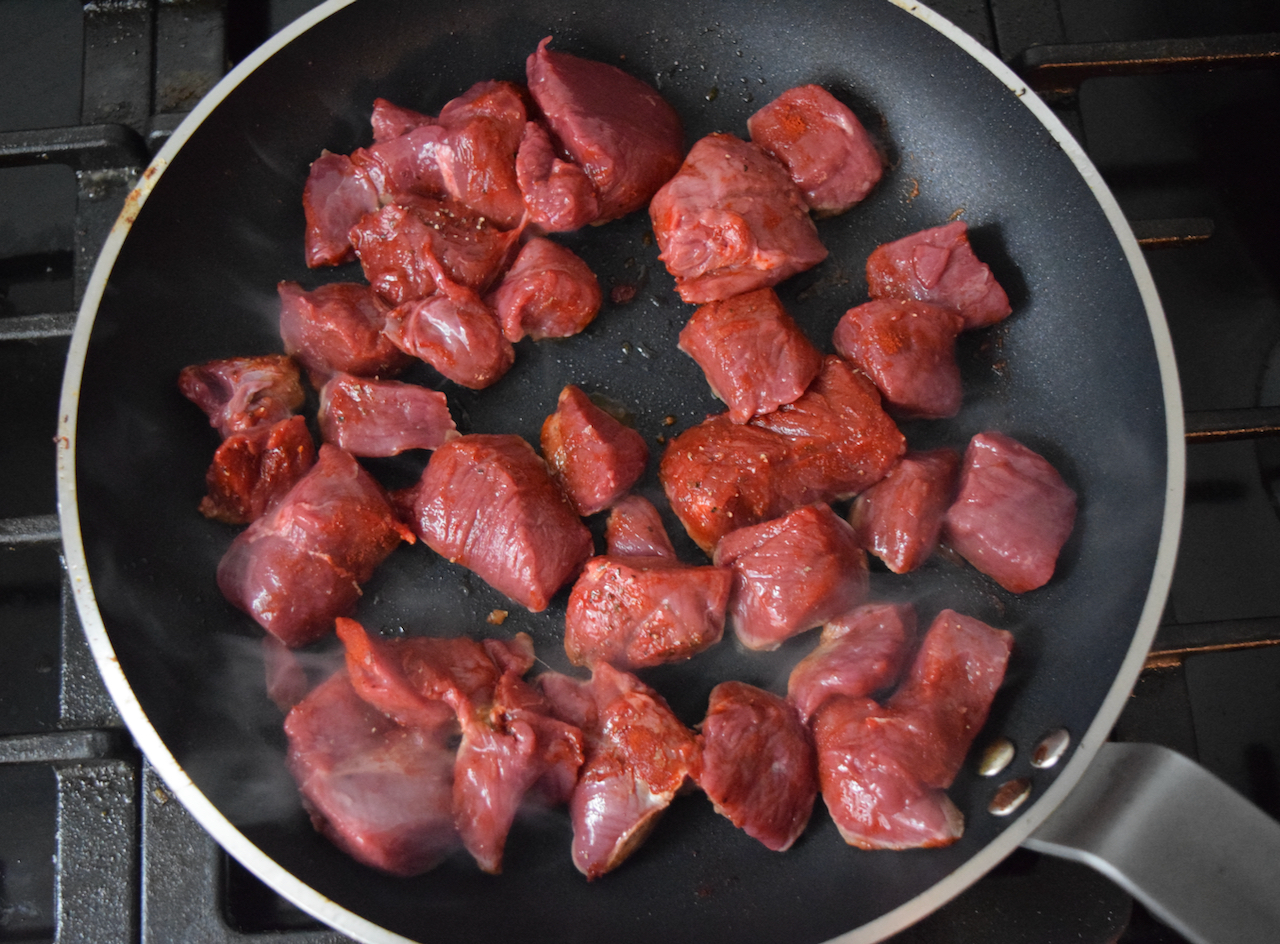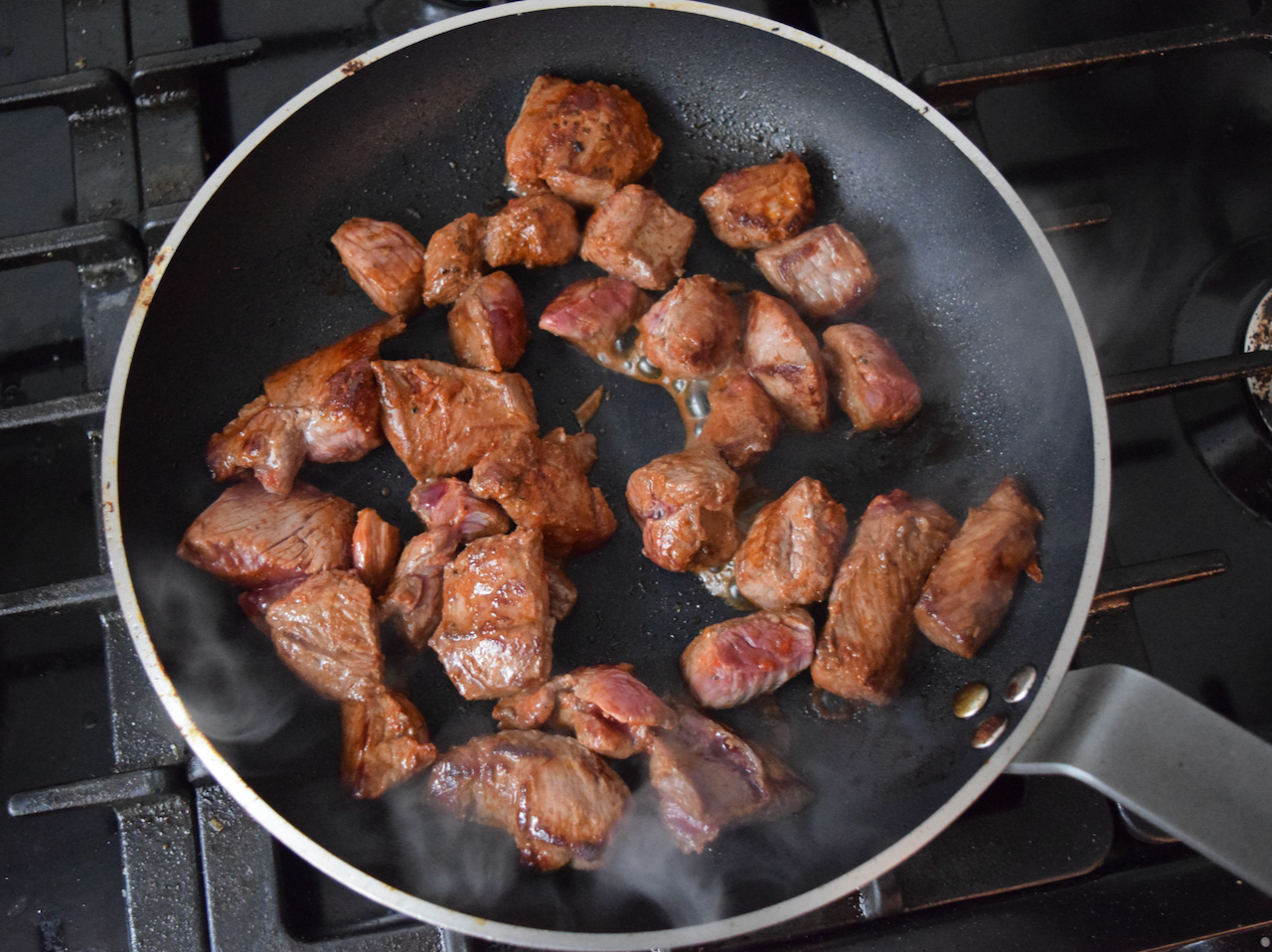 Return the onions and mushrooms back into the pan and give everything a good stir.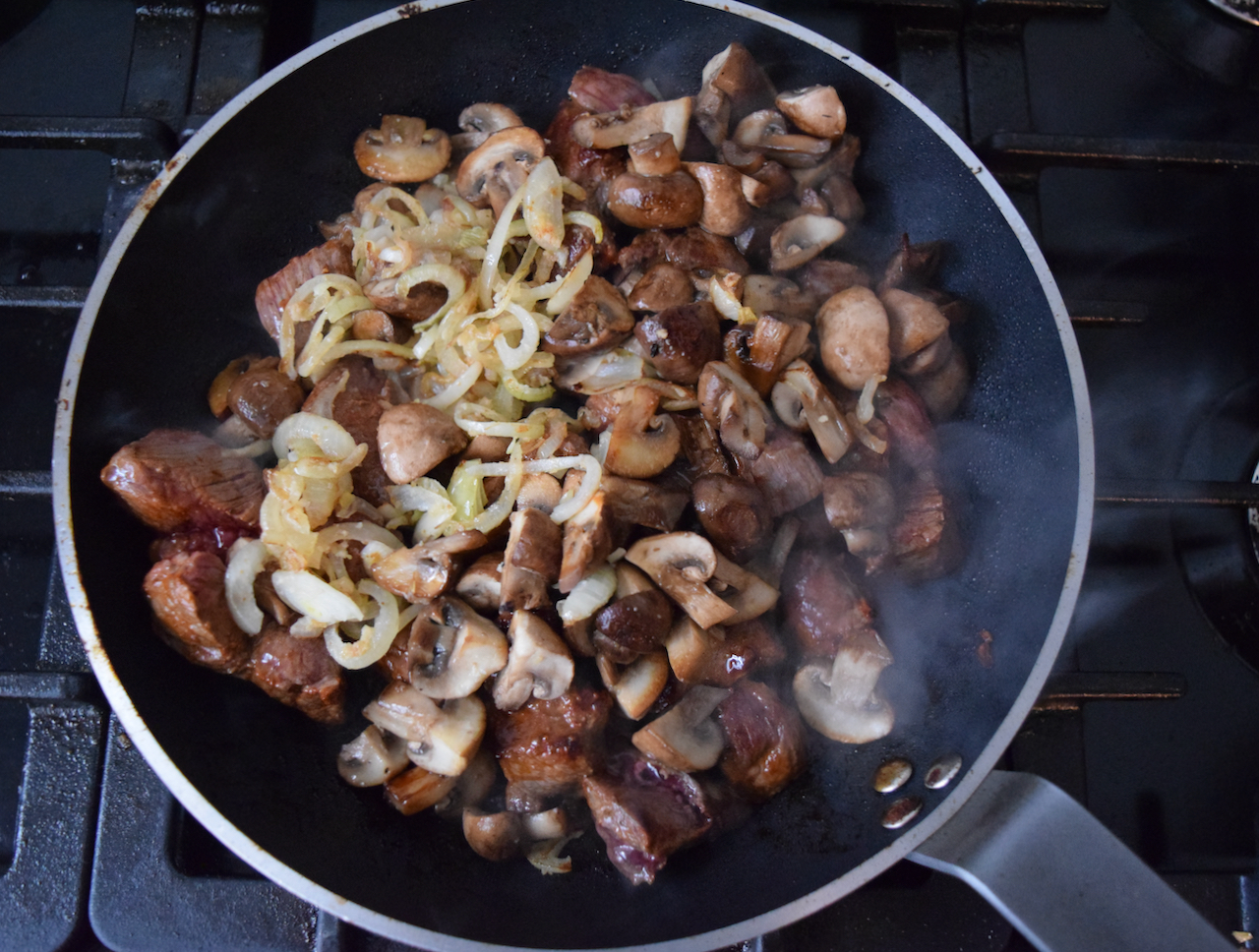 Stir in the butter and the brandy and cook out for a minute. Then stir through the sour cream and taste to check for any additional seasoning being careful not to eat too many mouthfuls.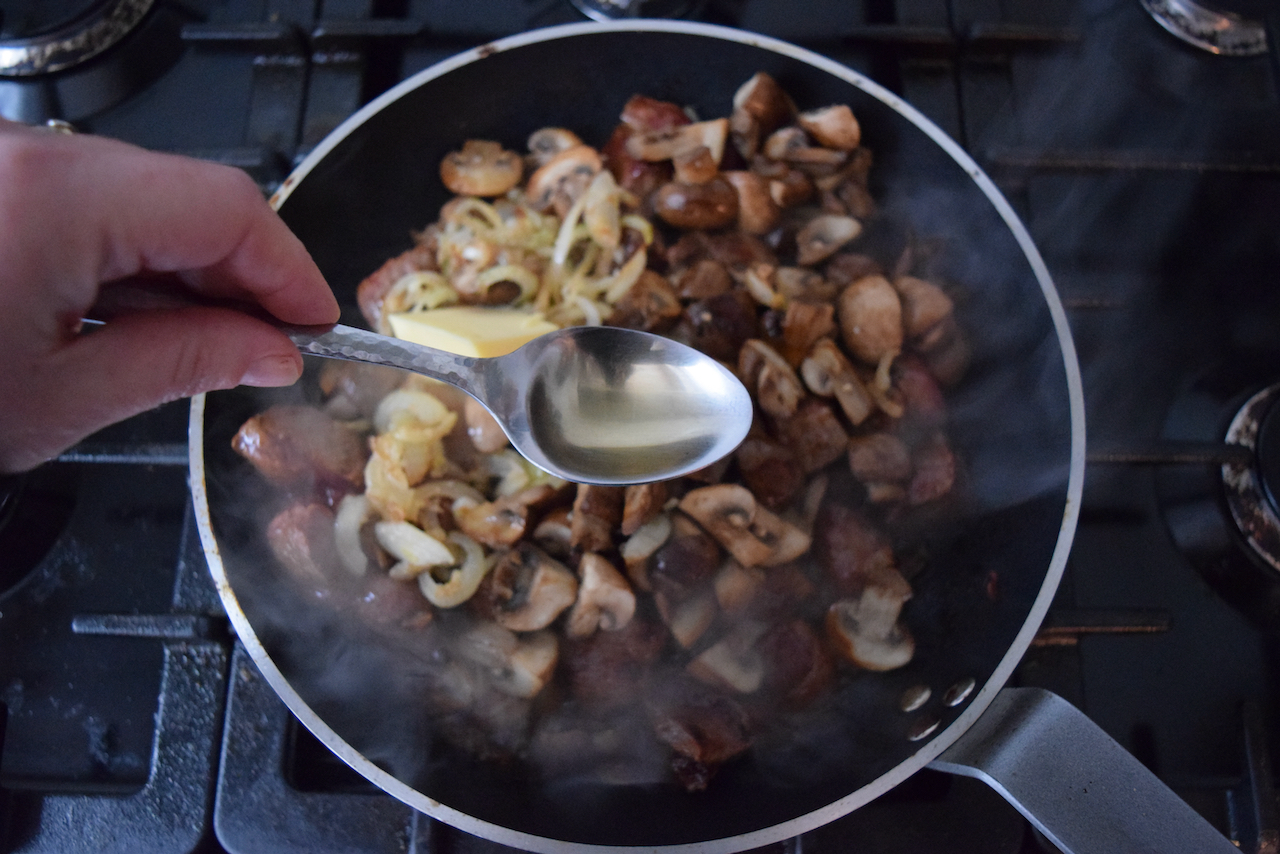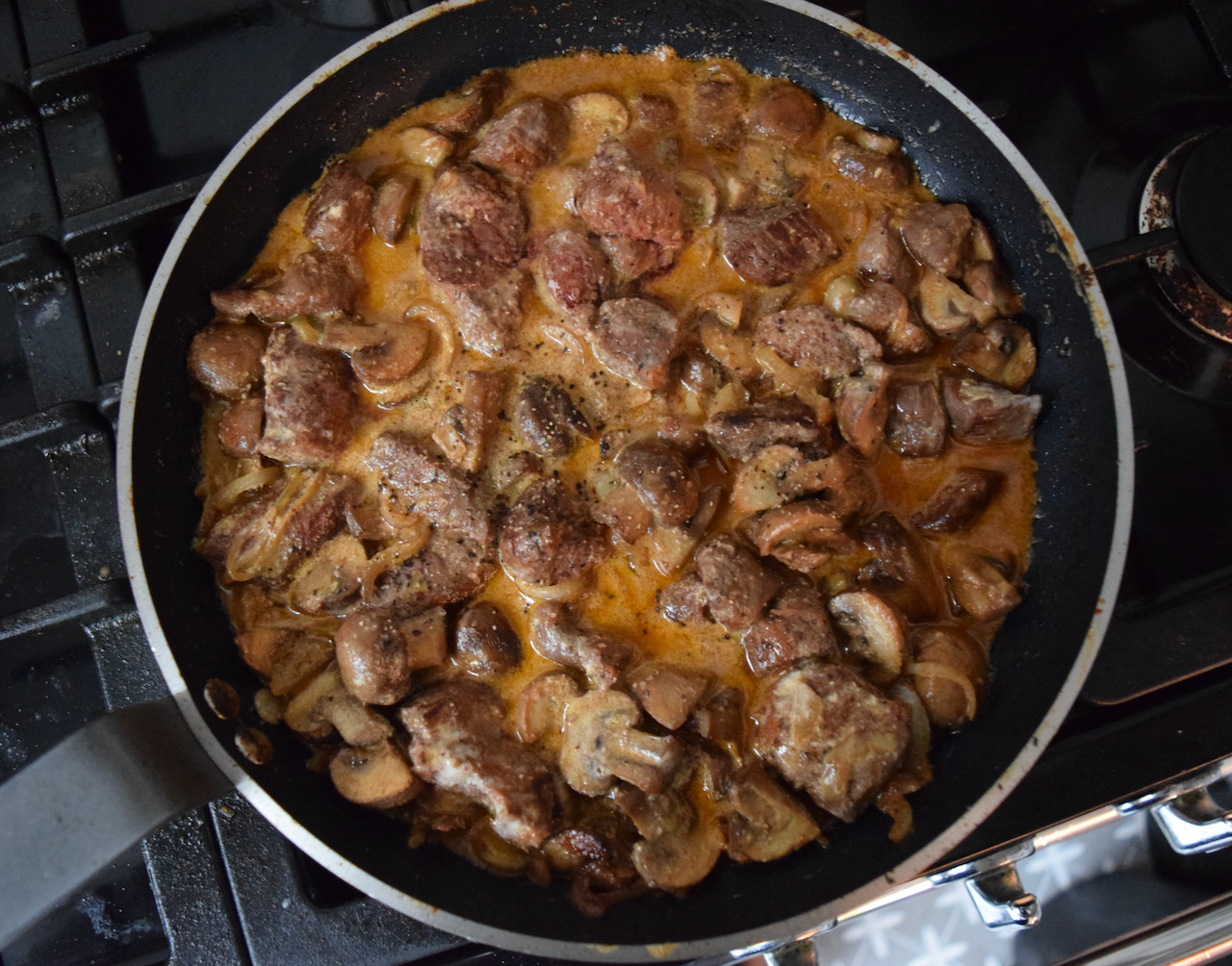 Now all that's needed is a handful of freshly chopped parsley for colour and because I bloody love parsley.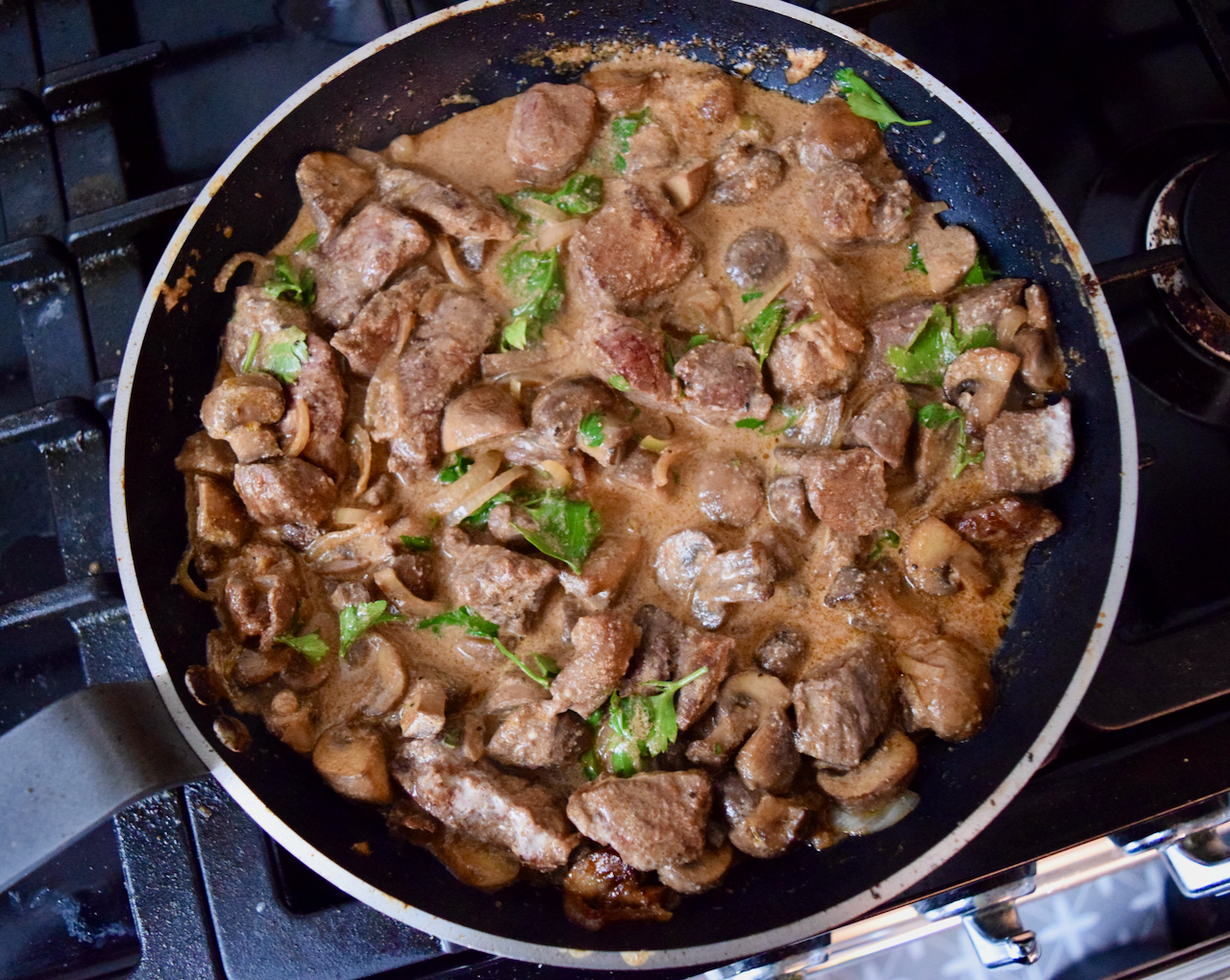 Spoon this over plenty of rice with a touch more parsley and, because I love it, another dollop of sour cream.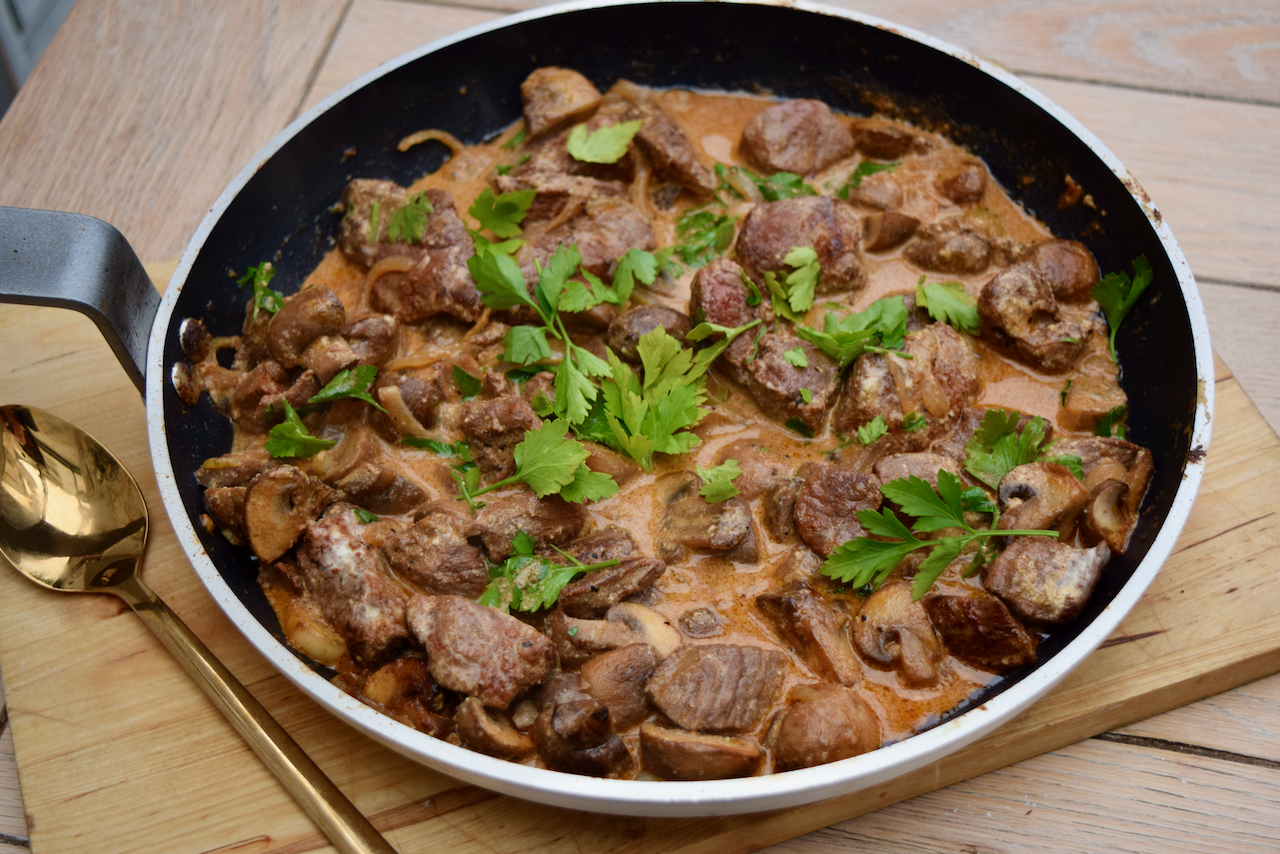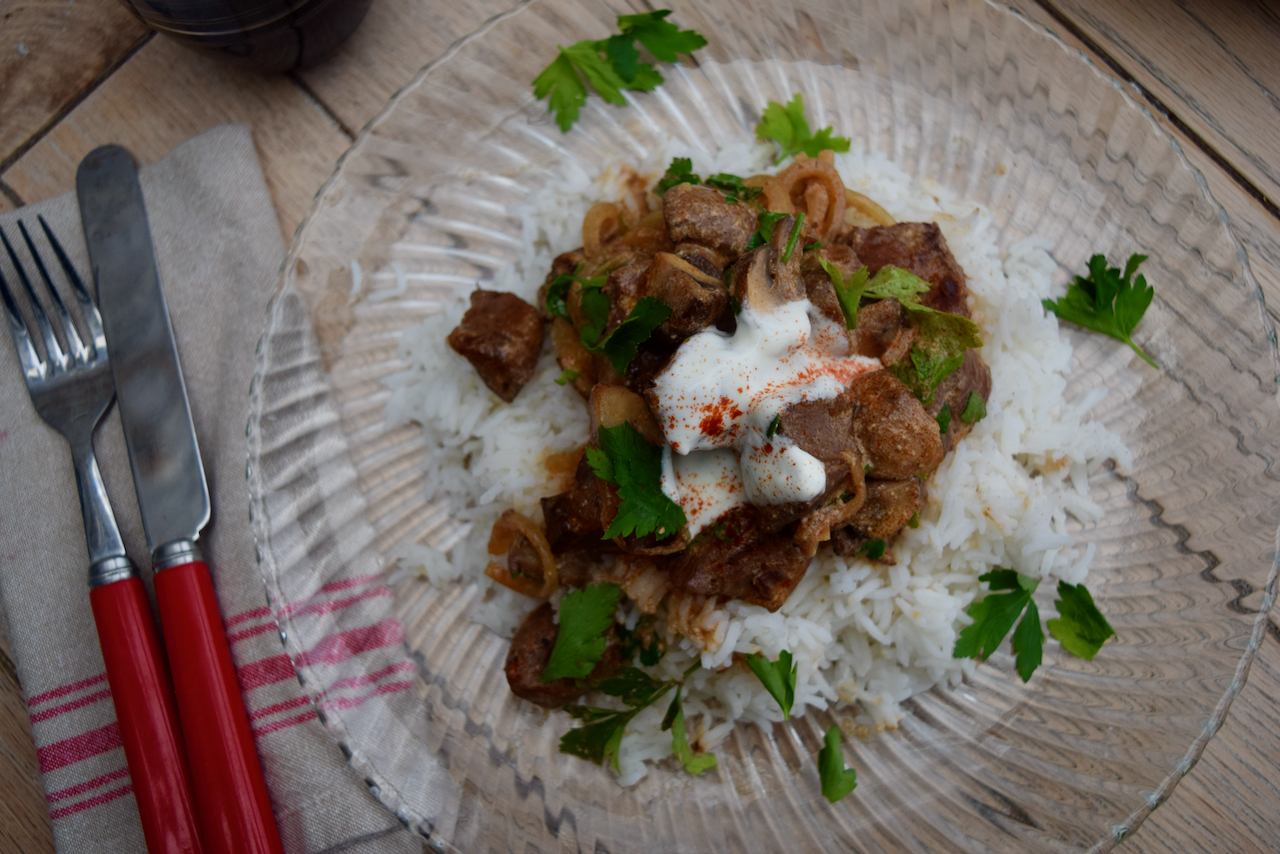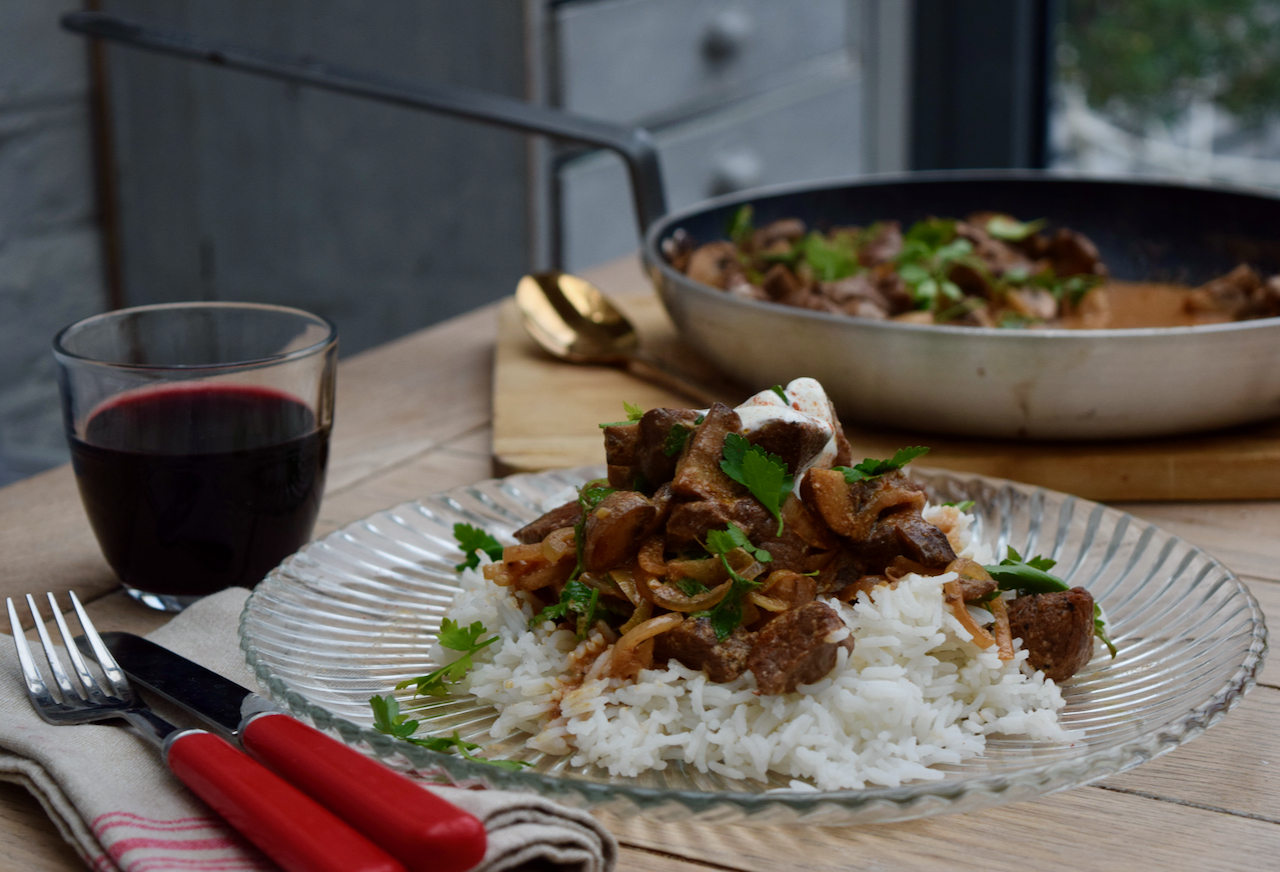 I love classic flavours, simple food and Christmas. This Venison Stroganoff encompasses all of these qualities. All that's missing is a litre of Baileys and some blue cheese and you have a full deck.
Lucy x
Venison Stroganoff recipe
Serves 4 or 3 greedy buggers
You will just need a large frying pan
3 tablespoons olive oil
1 large onions, peeled and sliced
2 cloves garlic, crushed, or a heaped teaspoon from a jar
300g mushrooms, I used button chestnut variety
500g diced venison
1 teaspoon paprika
Salt and pepper
15g butter
2 tablespoons brandy
150ml sour cream, or creme fraiche, with a touch more to serve
A handful freshly chopped parsley with more to garnish
Rice to serve
Take a large frying pan and heat one tablespoon of olive oil over a low to medium flame. Add the sliced onion and garlic and cook slowly, until softened and just starting to colour; for around 8 minutes. Remove to a plate.
Turn up the heat, add another tablespoon of oil and add the mushrooms, quartered or left whole if small. Season, the pop a lid on and cook until browned on one side, for a couple of minutes, then stir and cook for another couple of minutes. Remove to the plate with the onions.
Toss your diced venison in the paprika and salt and pepper then add to your pan with the final tablespoon of oil and sear for a couple of minutes on each side, until the meat is browned on both sides. Turn down the heat then tip the onions and mushrooms back into the pan. Add the butter and brandy and allow to simmer for a minute.
Stir in the sour cream, bring back up to heat, taste for salt and pepper needs then stir in a handful of chopped parsley.
Serve, piping hot, on a bed of rice, with another dollop of sour cream and a sprinkle of paprika.