Winter Spiced Marzipan Slice Recipe
This recipe is filled with all the flavours of Christmas for me. As we have been in the throws of having the kitchen done plus having been away on a trip, I have yet to feel even remotely festive. Even sitting here watching Kirstie's Handmade Christmas and sipping a Whiskey Mac is not really making me feel as though I should put on a coloured paper hat and start making my mince pies. However, when I measured out the ingredients for todays recipe, my Winter Spiced Marzipan Slice, the kitchen was instantly filled with festive cheer.
This recipe is a wonderful mixture of two particular recipes. For the Specalaas biscuit dough from the wonderful Martha Stewart and the filling from a Dutch website called Coquinaria, with the whole idea based on a kind gift from my lovely Dutch friend, Anna. She kindly brought me back a version of this baked treat from Holland which I promptly ate in one sitting. Not being able to find this in the shops here, the only solution to assuaging my new marzipan slice based addiction was to fashion my own version – so was born the Winter Spiced Marzipan Slice.
The crisp Speculaas biscuit dough is rolled out and used to line either a square or round tin, then filled with a simple marzipan filling and topped with more biscuit dough. The biscuit style pastry is crisp, scented with so many traditional spices and the filling is soft, sweet and full of almond flavour. This dish can be served as a pud or warm with cup of coffee, or a little festive tipple of some nature. The recipe makes ample biscuit dough so you should have some left to make some extra seasonally shaped Specalaas biscuits, just roll out the spare dough, shape and bake for 10 to 15 minutes. What a giving recipe this really is, and hopefully, the more I eat, the more Christmassy I will start to feel. Or I will just be fat, either way, it's so worth it.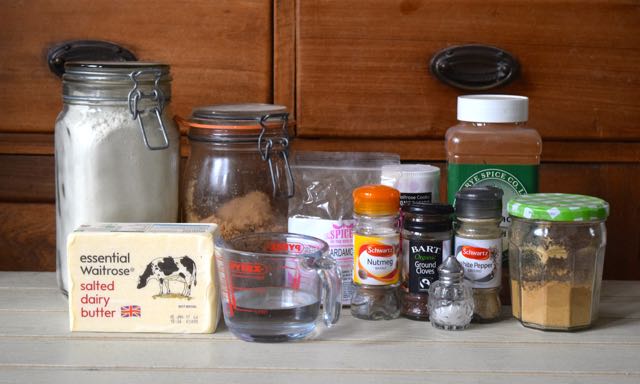 This recipe has two ingredients shots, mainly based on the amount of jars in this picture, not because it's complicated. This collection is for the biscuit dough base.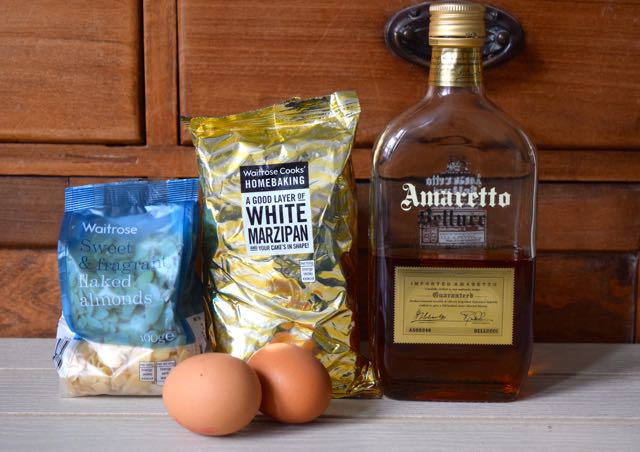 Nothing scary here either for the filling. Just deliciousness in the making.
The best way to start this is by making the spiced biscuit dough as this needs time to rest.
In a large bowl mix together your flour and the array of spices including cinnamon, ginger, cardamom, nutmeg, white pepper and cloves, as well as bicarb and salt. Pop this to one side for the moment.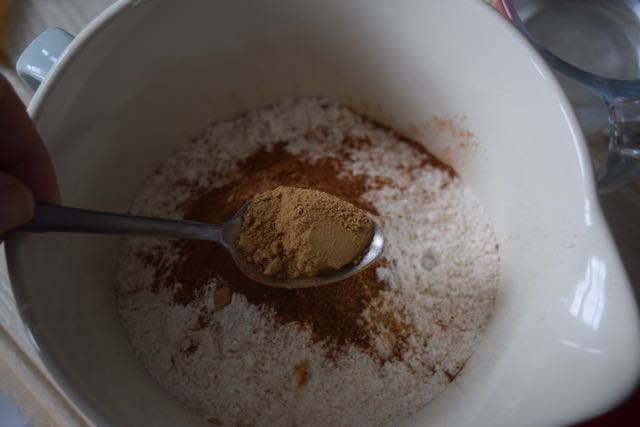 Next, you can use your food processor or brute force to make this part of the dough. I went processor, to which I added the butter and soft brown sugar which were processed or beaten until lighter in colour and texture.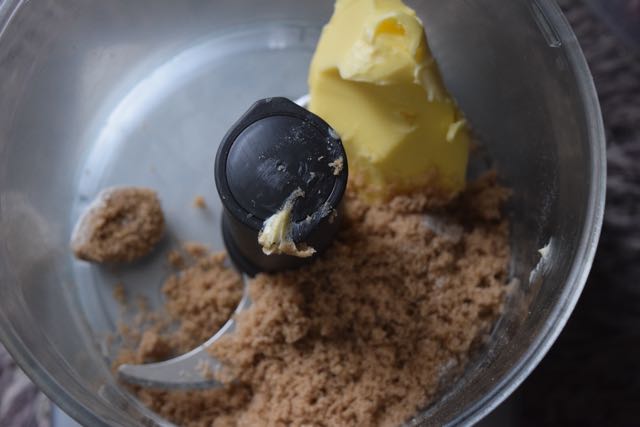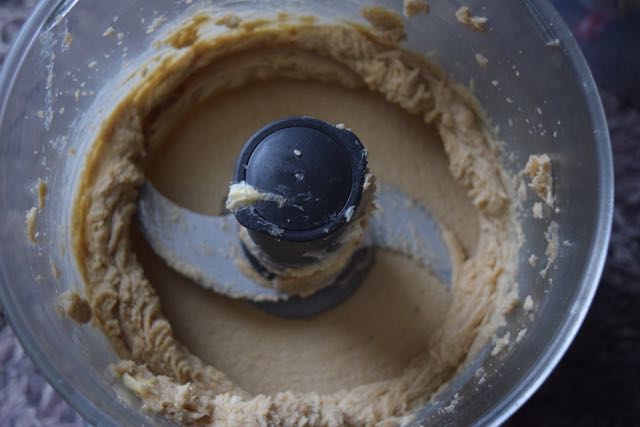 Once light, add half the flour, process, then add the water and process again.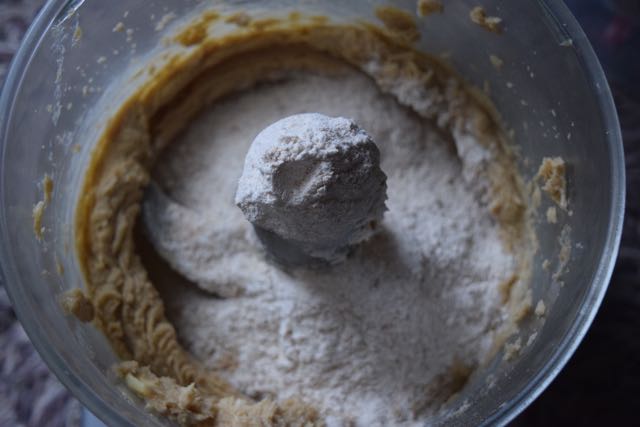 Finally add the rest of the spiced flour, give it a last brief mix until the dough comes together in a soft ball.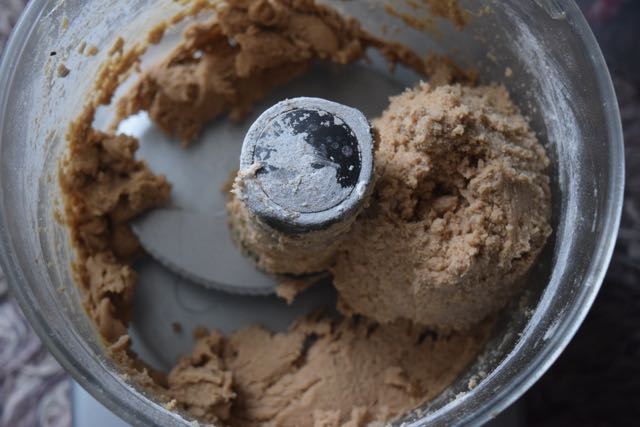 Once you've eaten a big mouthful to quality control the dough, wrap it in cling film and leave to rest and chill in the fridge for at least an hour.
Whilst this is resting *you can't because it's busy and Christmas* get on with the simple filling. Take your block of marzipan and give it a bit of a mash with a fork to break up and start to soften. Then measure in the Amaretto, or almond extract if you don't have a random amount of strange booze in your cupboard.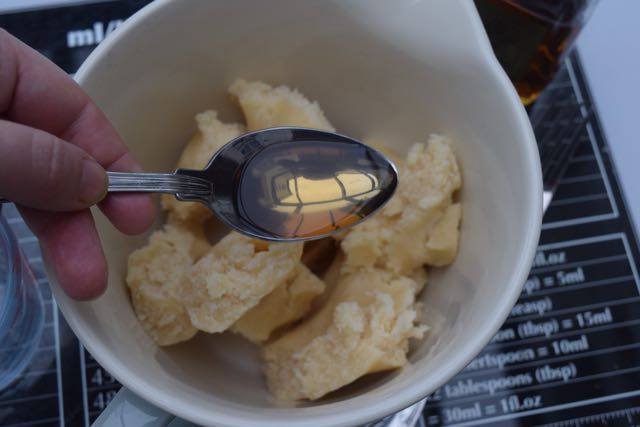 Give it a good mash then lightly beat the two eggs in a small jug or bowl. Pour in half the egg at first, mash well, this will take a bit of effort, so use a processor if you can be arsed to wash it up from before.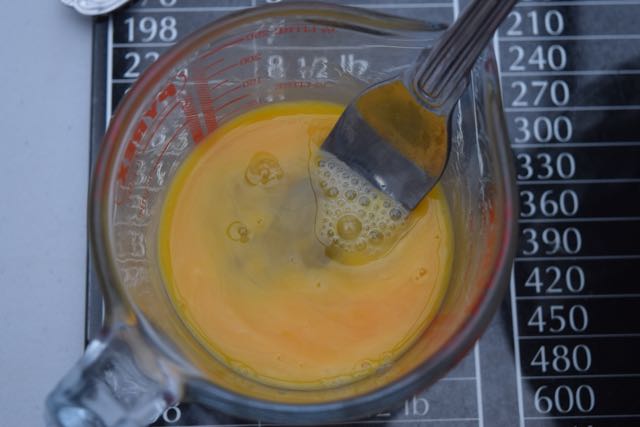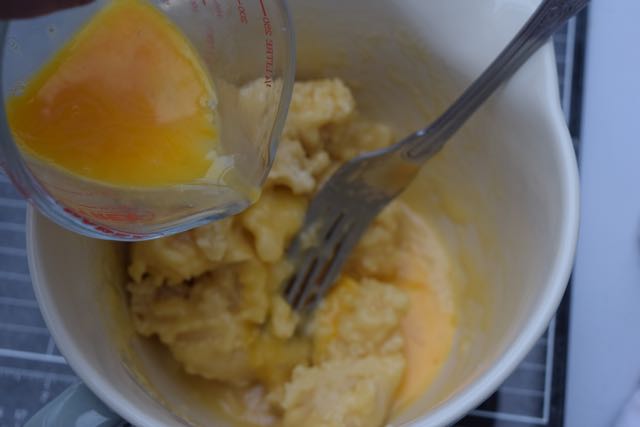 Add a little more of the egg to make a smooth batter-like consistency. Mine was still quite lumpy so don't worry too much if yours is too.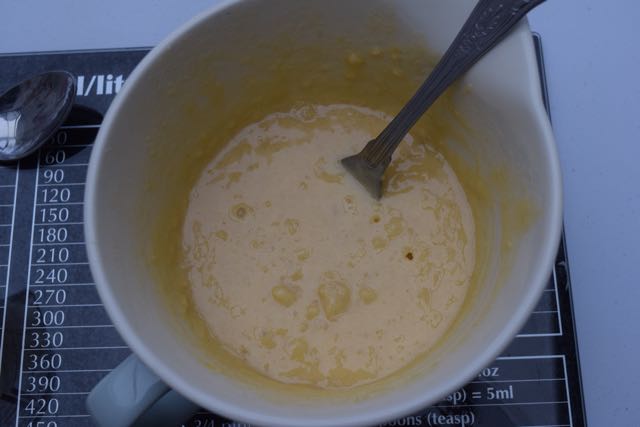 Once your dough is chilled and rested *unlike me*, remove from the cling and cut into two pieces, one slightly larger than the other and pre heat your oven to around 160 degrees fan assisted.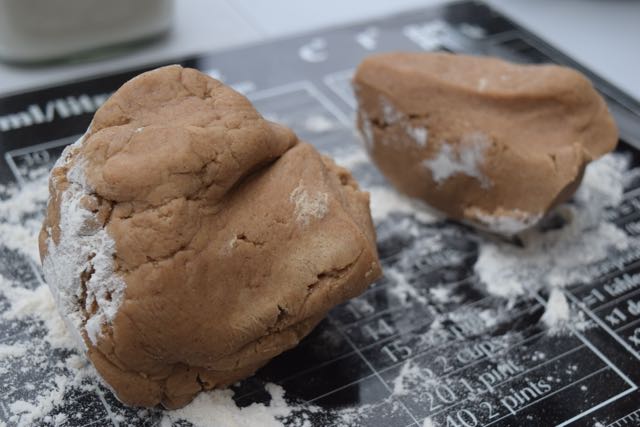 Roll the larger piece out to fit in the base of your buttered round or square tin. You don't have to roll the dough too thinly here, just do your best. Carefully line the tin with the biscuit, pressing it well into the corners, then trim off any overhang and patch any holes or thinner bits with the trimmings.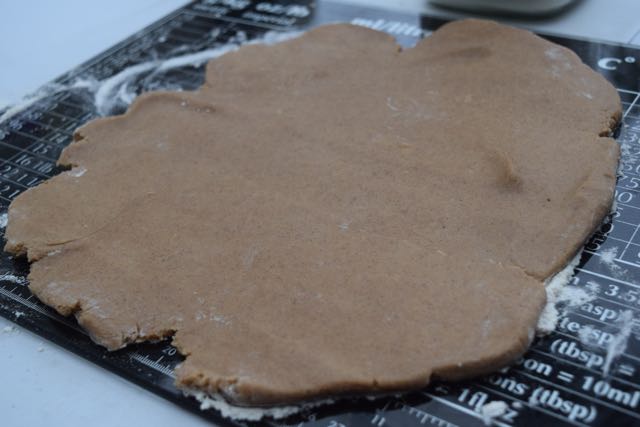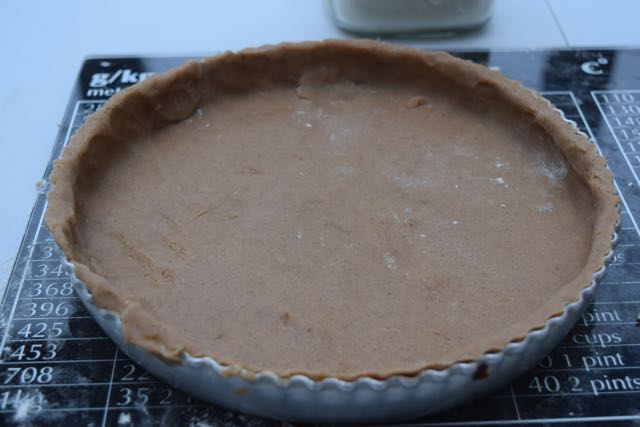 Pour the marzipan mix into the base and smooth the top. Next, roll out the second piece of dough into a circle large enough to cover the top of the tin.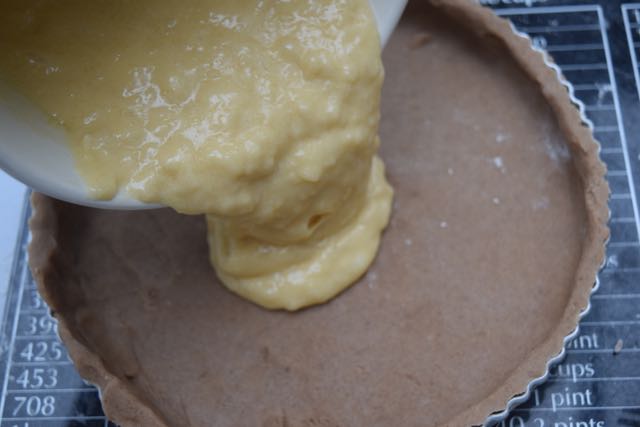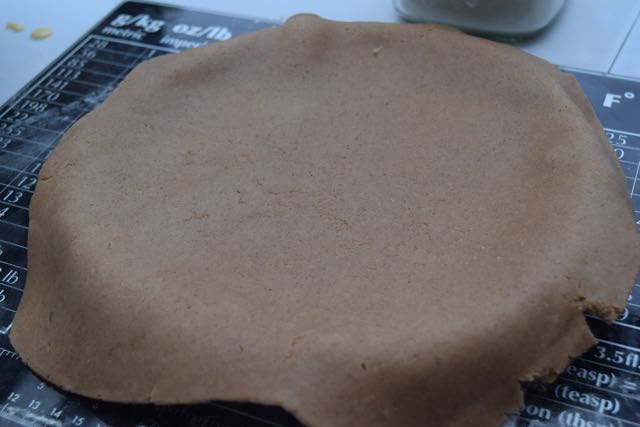 Trim and crimp the edges, or just seal it with a fork. Keep any spare dough to re-roll and bake for biscuits another day.
Brush the top with a beaten egg and sprinkle on a handful of flaked almonds for retro charm.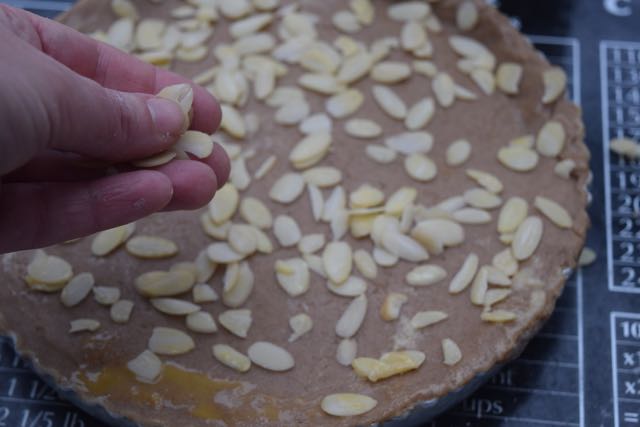 Pop in the pre heated oven for 40 to 50 minutes. The finished slice will be smelling like Christmas, be golden brown and have a crisp, firm top.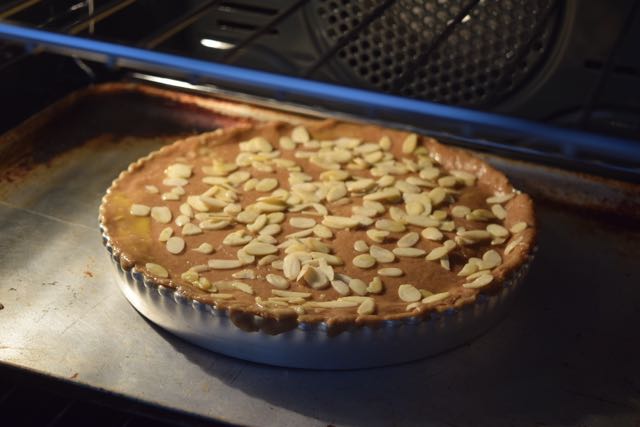 I just included that shot because my brand new oven is actually clean.
Here's the finished Winter Spiced Marzipan Slice, my mouth, in rather immodest fashion, is watering.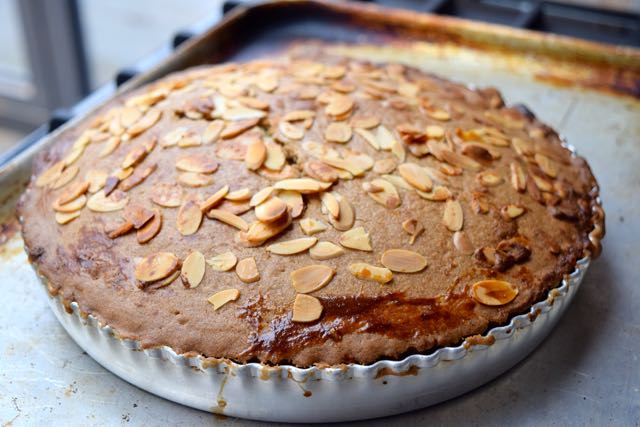 Leave to cool slightly before serving, dusted with icing sugar, with either thick cream as a pudding or with a cup of tea, or a tiny glass of warming Amaretto.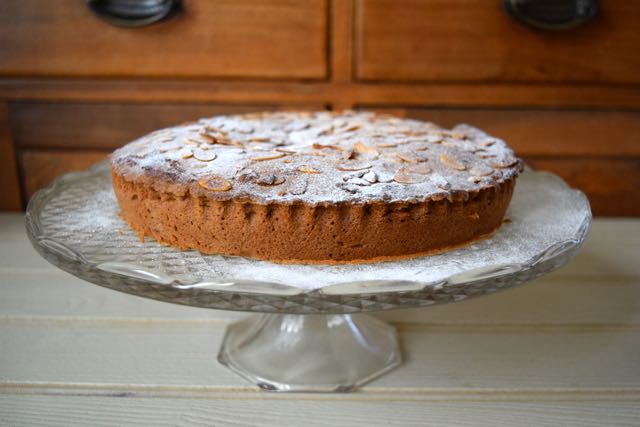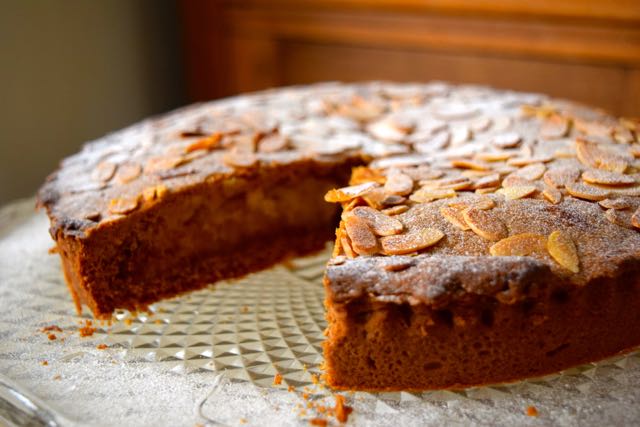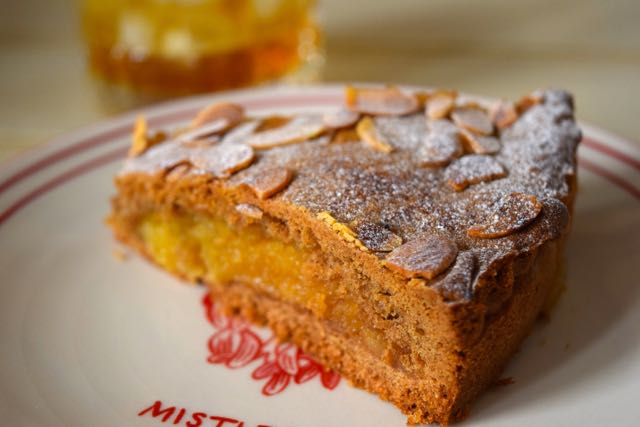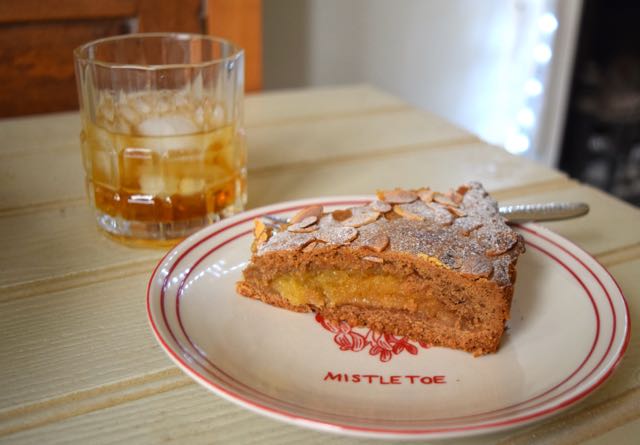 This seasonally flavoured baked treat is served traditionally as part of the Dutch Feast of Saint Nicholas at this time of the year. I am so glad I was introduced to this Winter Spiced Marzipan Slice by my lovely friend, who I can confirm, sampled this batch and gave it her valuable seal of approval. As did Ben who pretty much saw off the rest of it.
Lucy x
Winter Spiced Marzipan Slice Recipe
You will need a 20cm round or square flan or tart tin, buttered
Serves 8-ish, with leftover dough for a small batch of Speculaas biscuits
Biscuit Dough
525g plain flour
1/2 teaspoon bicarbonate of soda
1/2 teaspoon salt
1 1/2 teaspoons cinnamon
1 teaspoon ground ginger
a good grating fresh nutmeg
1 teaspoon ground cardamom
1/2 teaspoon ground white pepper
a generous pinch ground cloves
170g salted butter, softened
200g soft brown sugar
80ml water
Marzipan Filling
500g marzipan
2 beaten eggs
1 tablespoon Amaretto or 1 teaspoon almond extract
1 beaten egg and flaked almonds to decorate
Icing sugar to dust, optional thick cream to serve
For the biscuit dough take a large bowl and measure in the flour, bicarb, salt, cinnamon, ginger, nutmeg, white pepper, cardamom and cloves. Stir to mix then pop to one side.
In your food processor or a big bowl add the soft butter and soft brown sugar then process or beat until lighter in colour and texture.
Add half the flour and spice mixture, mix well, then pour in the water and mix again. Finally add the second portion of flour mix and mix gently to form a soft dough. Wrap this in cling film then leave this in the fridge for at least an hour to rest and firm up.
In the meantime, crack on with the filling. Either add the marzipan and amaretto or almond extract to your  food processor or into a bowl. Break the marzipan up with a fork or process . Next beat the eggs in a jug and pour half into the marzipan mixture. Fork or process until you have a smooth-ish mixutre, adding as much of the rest of the egg as needed, you may not need it all. You want the marzipan mixture to be a thick batter texture.
When the dough has chilled take your 20cm or 8 inch round flan tin or square loose bottomed tin and butter well. Cut your dough into two balls, one slightly bigger than the other. Roll the larger piece out into a large circle or square to fit into the base of the tin. This doesn't need to be wafer thin. Lay the dough into the tin, press well into the base and the edges, then trim and patch any holes if necessary.
Pre heat your oven to 160 degrees fan assisted.
Pour in the marzipan mixture, smooth the top then roll out the second piece of dough to fit over the marzipan. Trim the edges (you will have a spare small ball of dough, pop this in the fridge and make into biscuits another day), crimp to seal the slice then brush the top with beaten egg. Sprinkle with sliced almonds then place in the oven for 40 to 50 minutes, dependent on how hot your oven is.
The slice is cooked when golden brown, crisp and firm to the touch. Serve warm with cream or cold with a cup of tea. This slice keeps in an airtight tin for at least a week.