Vietnamese Style Pork Recipe
I have never been to Vietnam *spoiler alert*, so can I just say from the outset, this delicious recipe is not based on any findings after a wonderful visit to the region. It is, however, the product of an internet search for what to do with 700g of pork shoulder steaks. Not as romantic, but far more practical, and tons cheaper. So, God love the Good Food website for this Vietnamese Style Pork recipe, as it's my new favourite Friday night supper and it's beyond tasty.
We do eat a lot of chicken in our house so occasionally I buy pork just to mix things up a bit. I think shoulders steaks are brilliant, great value and packed with flavour. They work so well in this Vietnamese style dish, sitting perfectly alongside the chilli, shallot, ginger and brown sugar flavours. This supper dish is so quick, you can whip it up while you pour your second glass of rosé of the evening and it will be ready by the time you've finished it. Serve this alongside some rice and something green and crisp for a super balanced dish which I think is a great find. You could use chicken, of course, if pork is off the menu, or even some flank steak, this is a simple throw together meal, make it suit you.
Mealtimes in our house are sporadic during the week. Clyde's Tuesday football *pub*, George's rowing and Ben's waitering all lead to everyone eating at different times. But on a Friday night, Clyde and I, at least, make the effort to sit down to eat together. Which is a shame, because I could eat the whole batch of this Vietnamese Style Pork all by myself.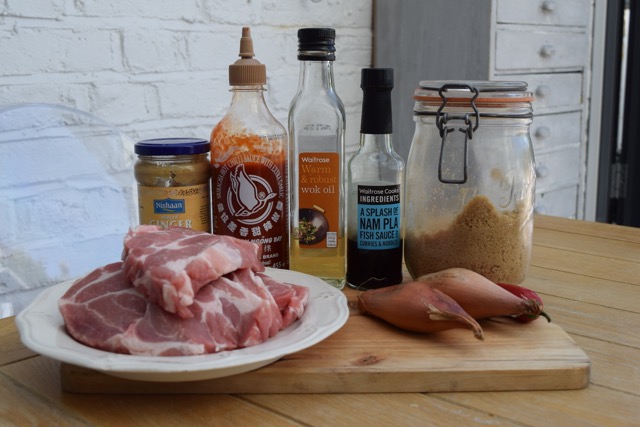 So simple, not necessarily screaming Vietnam, but delicious ingredients nonetheless. The Sriracha sauce adds a lovely touch of heat and spice at the end of the dish, as does the red chilli, slightly hidden behind my shallots.
This is a speedy dish so get everything ready to cook and get your accompanying rice and greens prepared in advance.
Chop your pork into generous bite sized pieces then heat up a tablespoon of oil in a large frying pan. Cook the pork in batches, until turning golden and almost cooked through. Pop on a plate for the moment.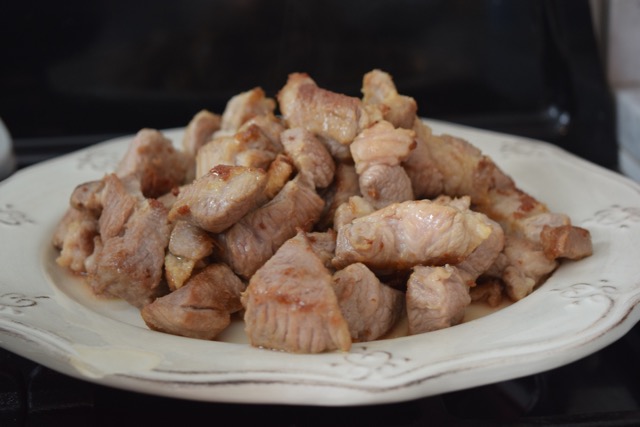 Now, along with another tablespoon of oil, add the chopped shallots, chilli and crushed ginger, or be lazy like me and use the jarred variety, to the pan. Cook until just softening and turning golden over a low heat.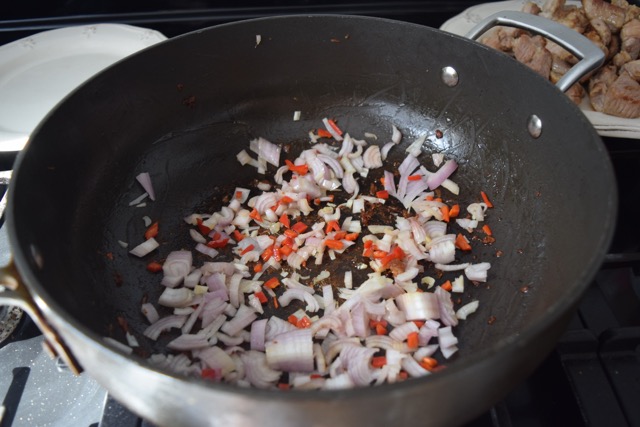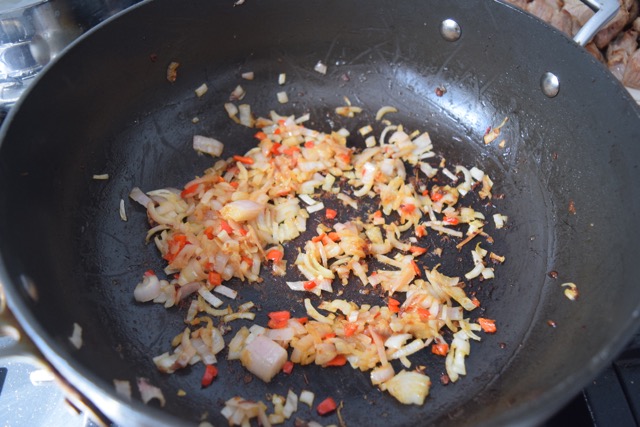 When you reach this fragrant and golden stage, add the soft brown sugar, water and fish sauce to the pan and stir well to get all the lovely porky bits from the bottom.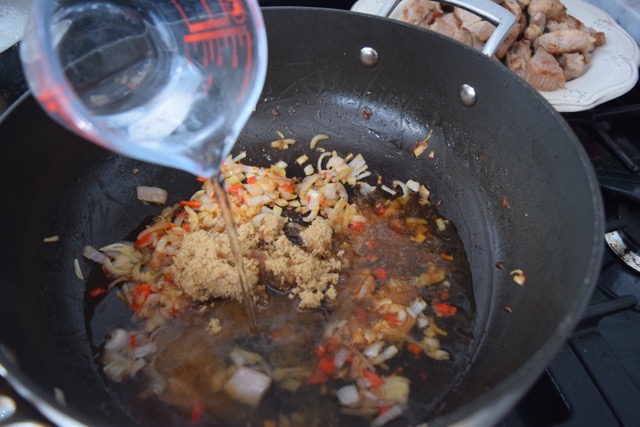 Add the pork back, along with any residual juices, and stir in the Sriracha to taste, 1 teaspoon at first, then more if you don't have Clyde the spice baby dining with you.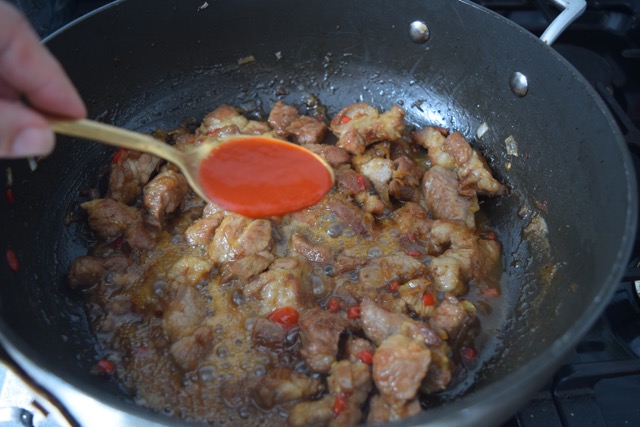 Stir again then bring up to the simmer, lid off, and cook down to reduce the sauce slightly for 8 to 10 minutes. Keep an eye on it, however, as you don't want the sauce to disappear completely.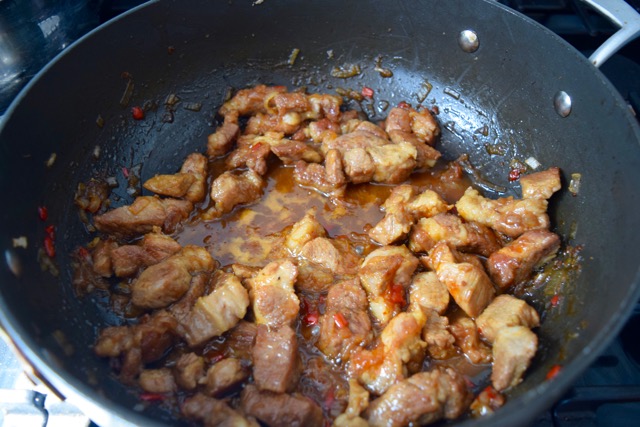 Season with a little more fish sauce, if needed, then serve, piping hot with some rice and pak choi or another bit of steamed greenery.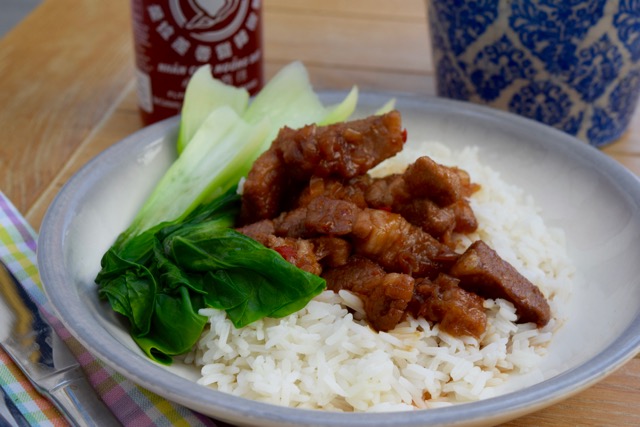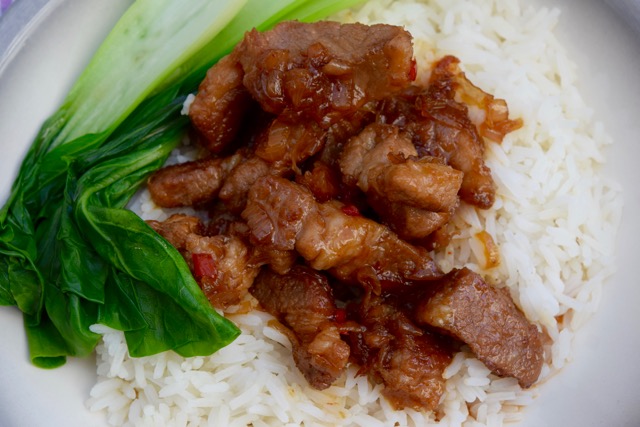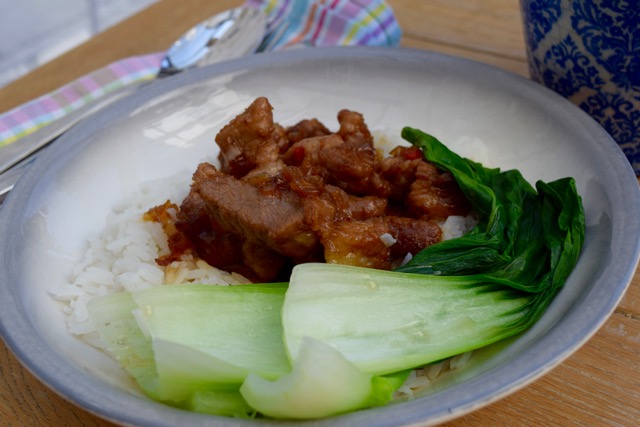 I get excited when I find a new recipe for something this delicious and this simple. This Vietnamese Style Pork is just one of those recipes. Taste it and assure me I don't need to get out more.
Lucy x
Vietnamese Style Pork Recipe
Serves 3 to 4 people
You will only need a large frying pan or wok
2 tablespoons oil, I used Wok Oil
500 to 700g pork shoulder steaks, my pack was 710g from Waitrose
2 shallots, finely chopped
1 red chilli, finely chopped
1 tablespoon ginger, I used the lazy version from a jar
150ml water
60g soft brown sugar
1 to 2 tablespoons fish sauce, add 1 then add more if needed, to taste
1 to 2 teaspoons Sriracha, or other chilli sauce
Shredded spring onions, optional
Rice and pak choi to serve
Take your pork and cut into bite sized pieces. Heat a large frying pan or wok with 1 tablespoon of oil over a high heat. Cook the pork in two batches, until browned and just cooked through. Place on a plate for the moment.
Add the second tablespoon of oil to the pan, turn the heat down to low, and cook the chopped shallots, chilli and ginger until just softened and turning golden. Tip in the sugar, 1 tablespoon of fish sauce and the water, bring up to the simmer then return the pork to the pan, with it's juices. Stir well and simmer with the lid off for 8 to 10 minutes, or until the sauce has become sticky and slightly reduced. Don't walk away from the pan, as you don't want the sauce to reduce away to nothing.
Check to see if the sauce needs any more fish sauce then spoon generously onto some rice and steamed pak choi. Garnish with shredded spring onions if you like. Serve immediately and devour in large mouthfuls.
SaveSave
SaveSave
SaveSave
SaveSave