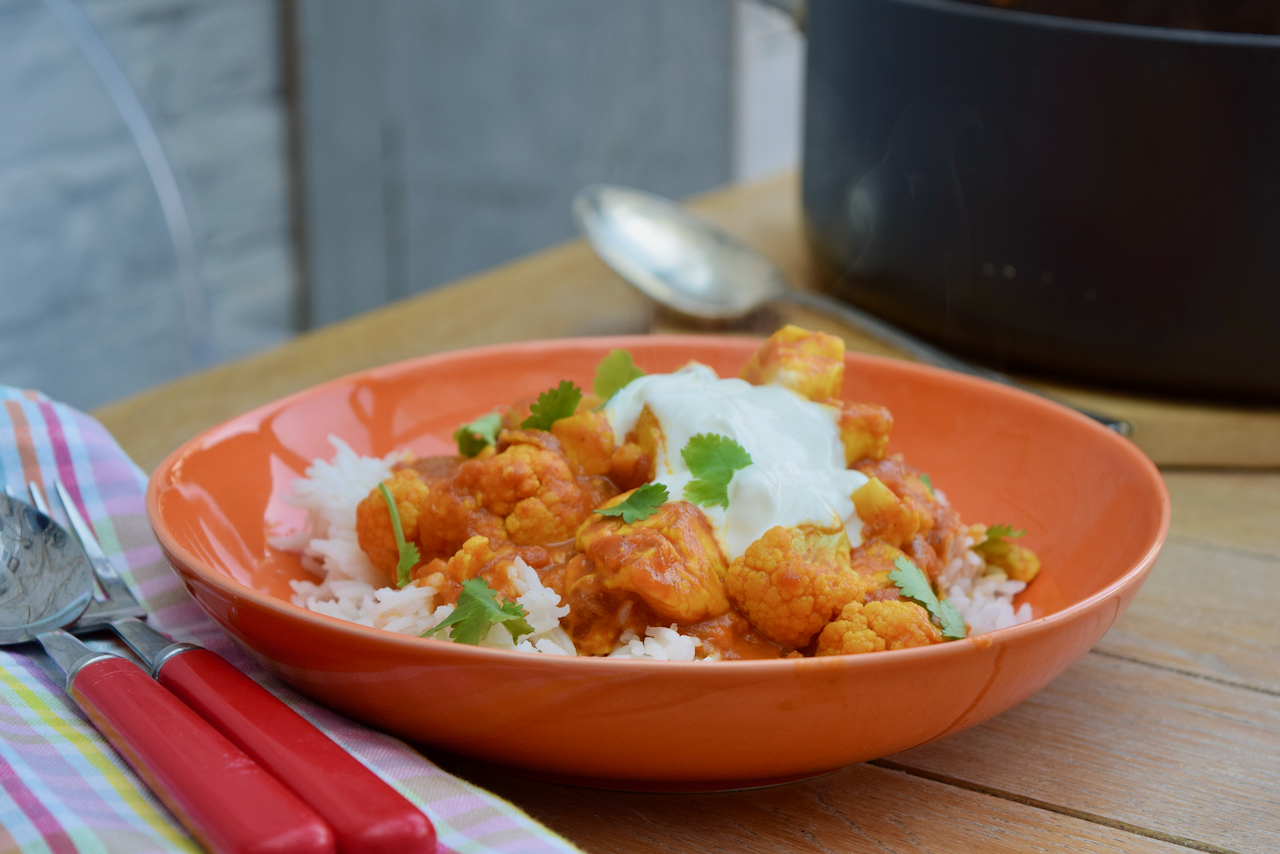 Halloumi and Cauliflower Curry recipe
George would eat Halloumi at every meal if I let him. I always think I have a package stashed in the back of the fridge, but he manages to sniff it out and pan fry it. For this reason there are already plenty of Halloumi recipes here on Lucy Loves but none of them curry based. But now there's one to add the collection by way of this Halloumi and Cauliflower Curry and it's a keeper.
I am a bit late to the MOB Kitchen party, but now I've found them, I'm a fully fledged stalker. This recipe, featured on their Instagram feed, and whetted my halloumi dependent appetite hugely. Who knew it would work so well in a curry, but it just does, in the same way paneer does. The spice mix is simple; garam masala, turmeric and chilli powder, all good store cupboard staples. The base is tinned tomatoes with onions, ginger and garlic all lightened up with a tin of coconut milk. It all comes together in one pot and in less than half an hour, making it even more of a winner for me. Clyde, before he even tasted it insisted he would have to add some chicken to make it palatable, but then had to eat his words, and yes, even apologise, saying it was absolutely bloody delicious.
If you're looking to eat less meat, this curry is the one for you. It's wearing a highly commended rosette, awarded by a confirmed meat eater, what more encouragement do you need?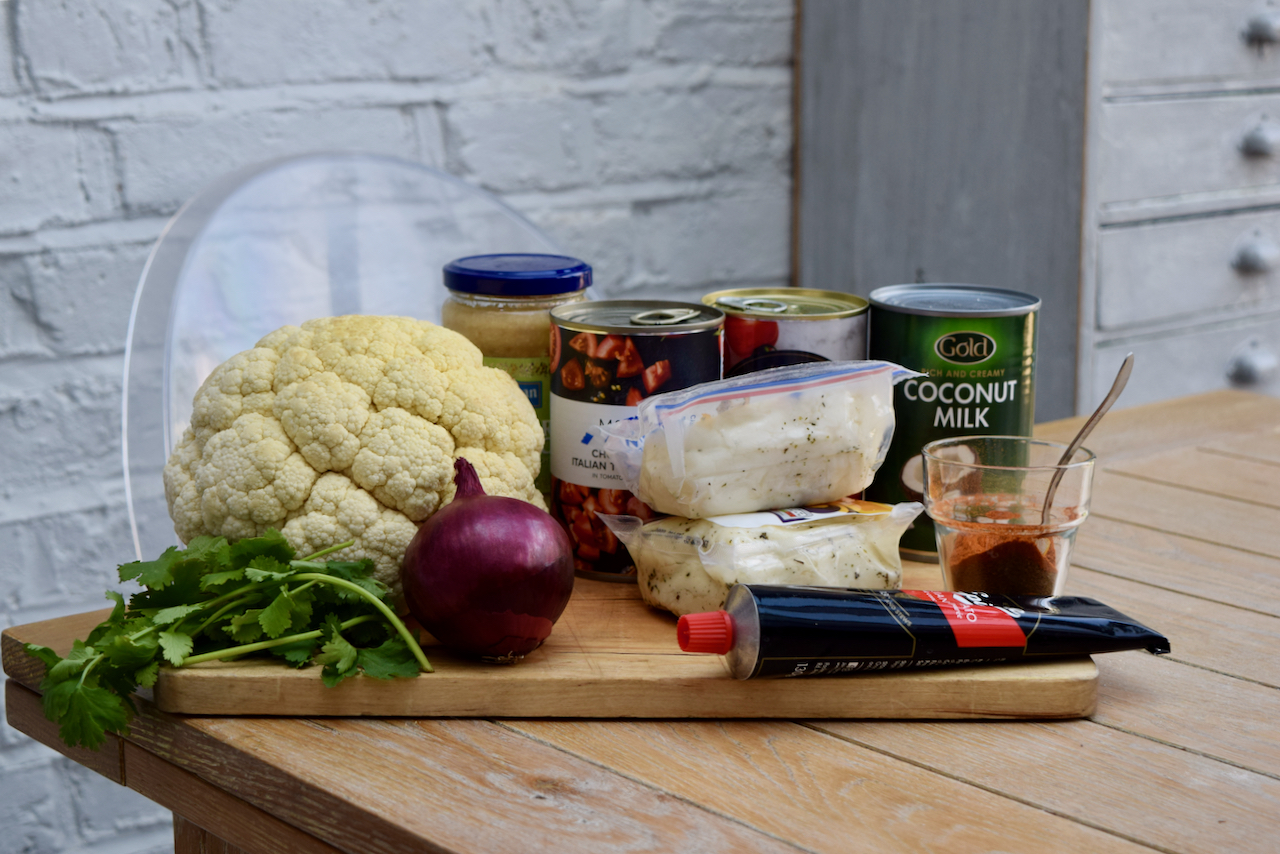 My laziness has reached a new high with me now buying a mix of garlic and ginger in a jar together. This is perfect for a curry and when time's tight. My cauliflower was a monster, so I only used three quarters of it and this batch of curry still fed four of us super generously. The halloumi needs no introduction, this squeaky cheese is just lovely, salty and savoury.
Make a start by mixing the chilli powder, garam masala and turmeric. I went for a scant teaspoon of chilli as mine was the extra hot variety. Slice the onion, chop the cauliflower into small florets and roughly cube your halloumi.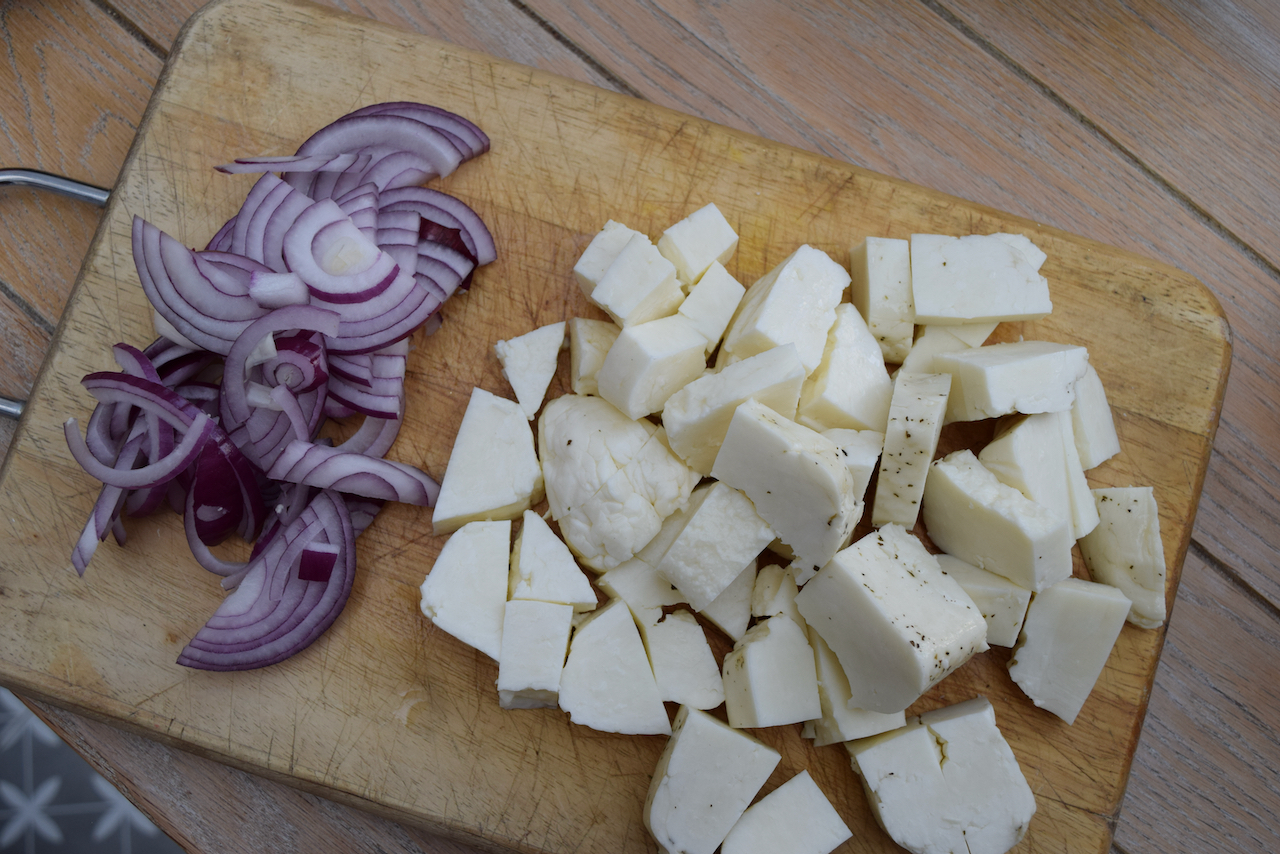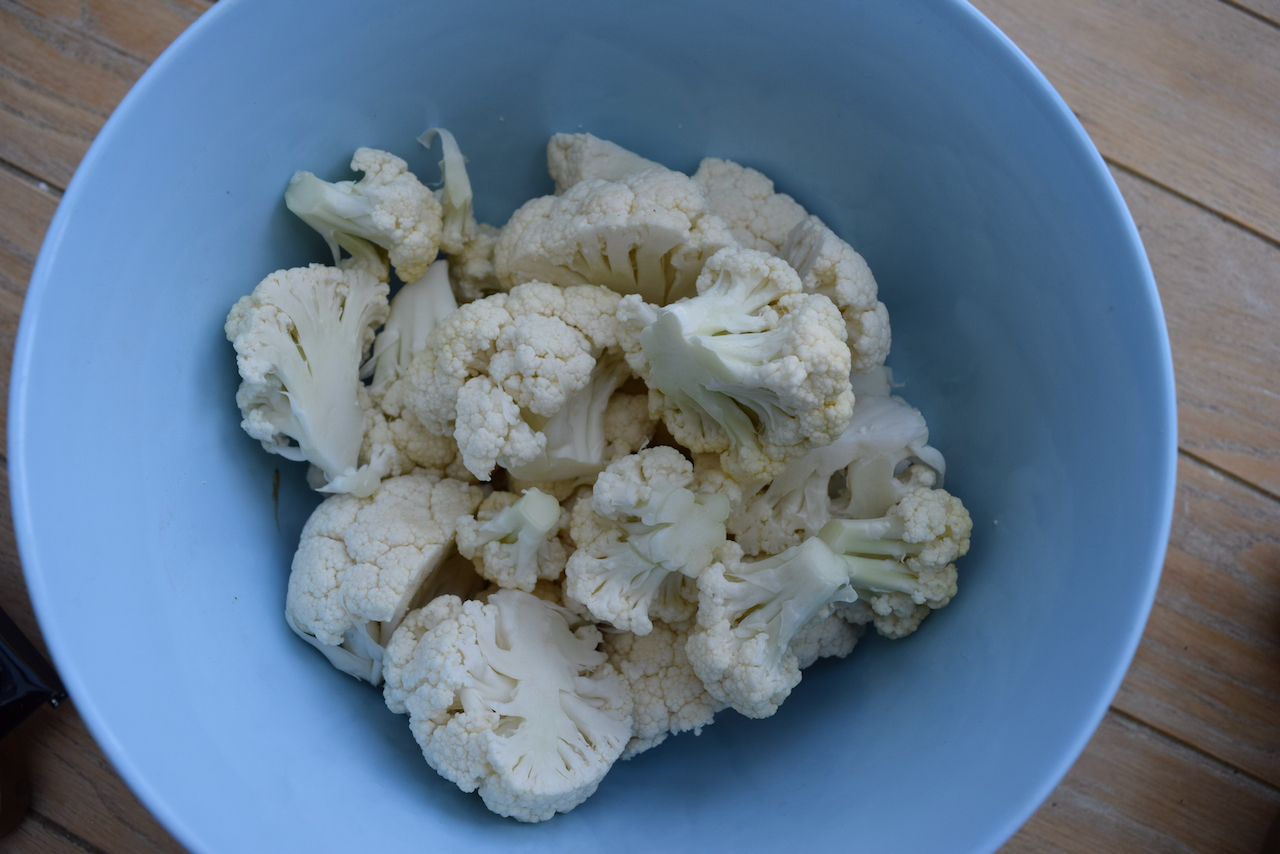 Next, take a large high sided pan and heat a tablespoon of oil over a medium high heat. Add the sliced onion and cook for a couple of minutes until just starting to brown.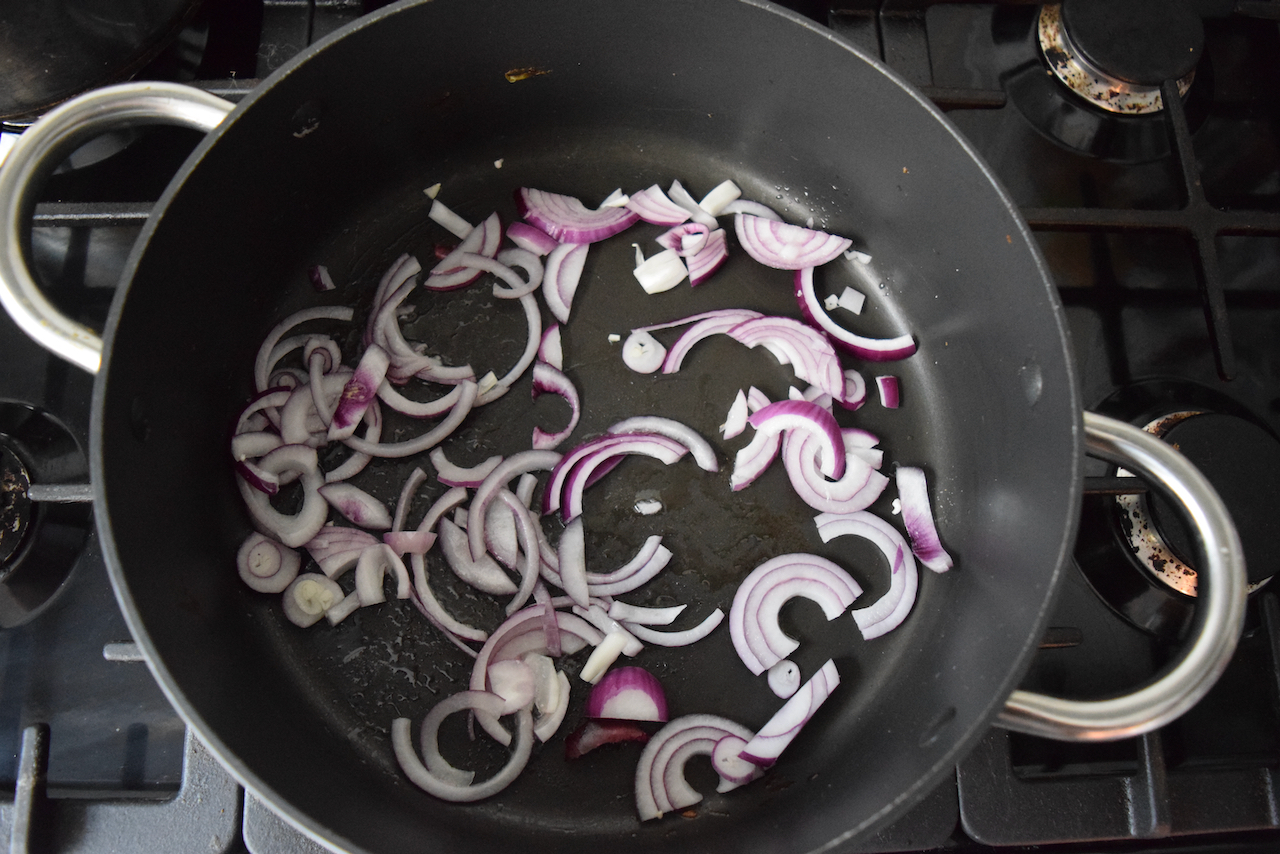 Add the garlic and ginger, stir, then throw in the halloumi. Cook until it's browned on all sides. Don't panic if it looks a bit watery at first, this will soon cook off and the cheese will turn golden.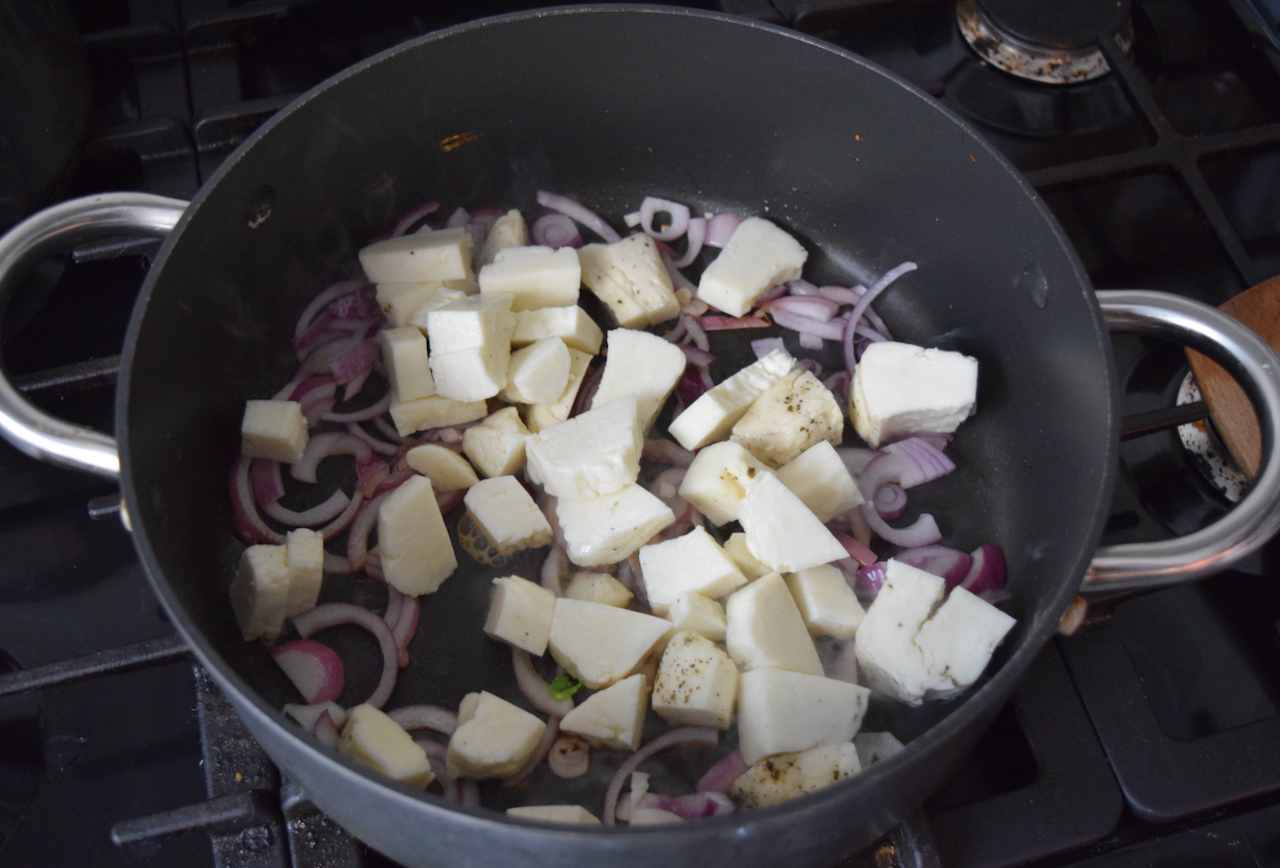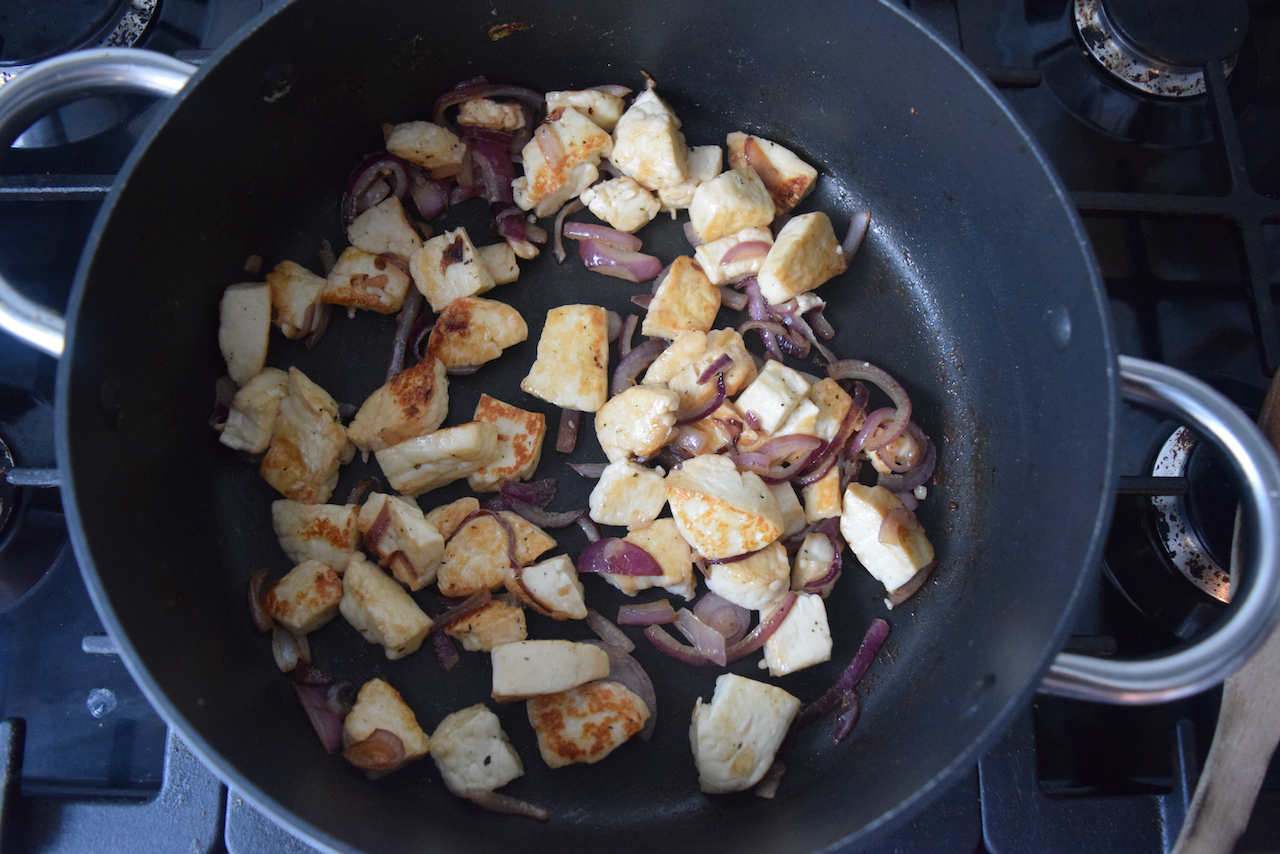 Turn down the heat then tip in the spice mix and the tomato puree and stir well.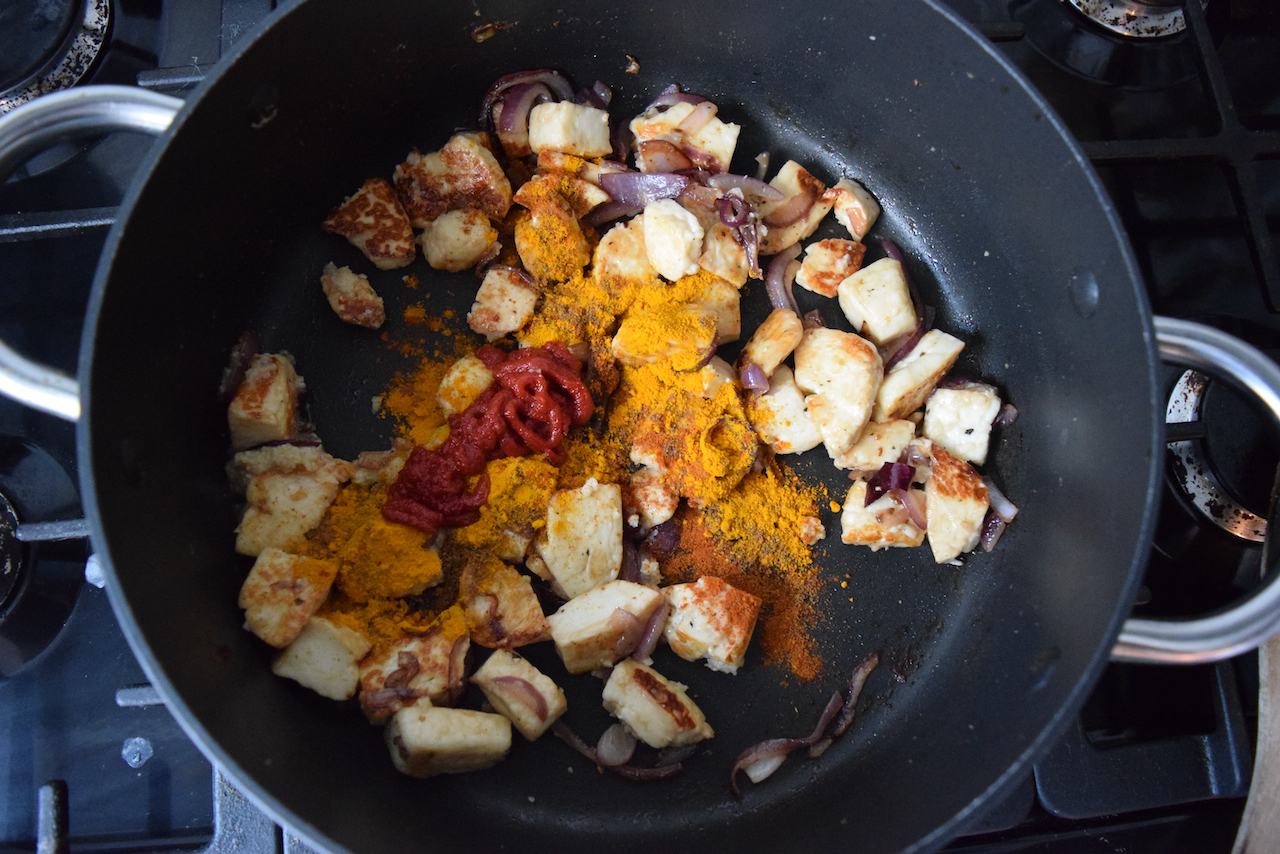 Add the chopped cauliflower, stir again, then tip in the tinned tomatoes and coconut milk. One of my tins was chopped the other was whole tomatoes, so I gave them a bash to break them down.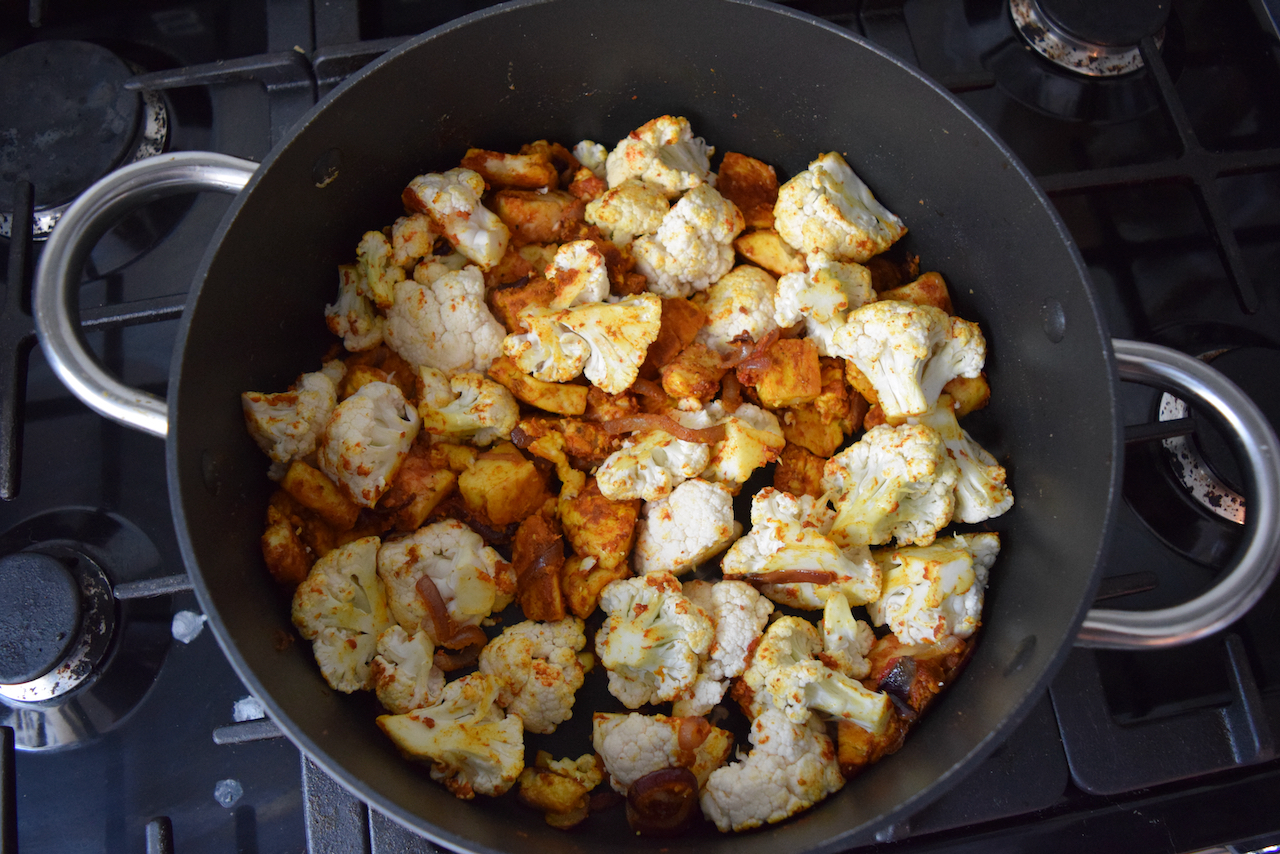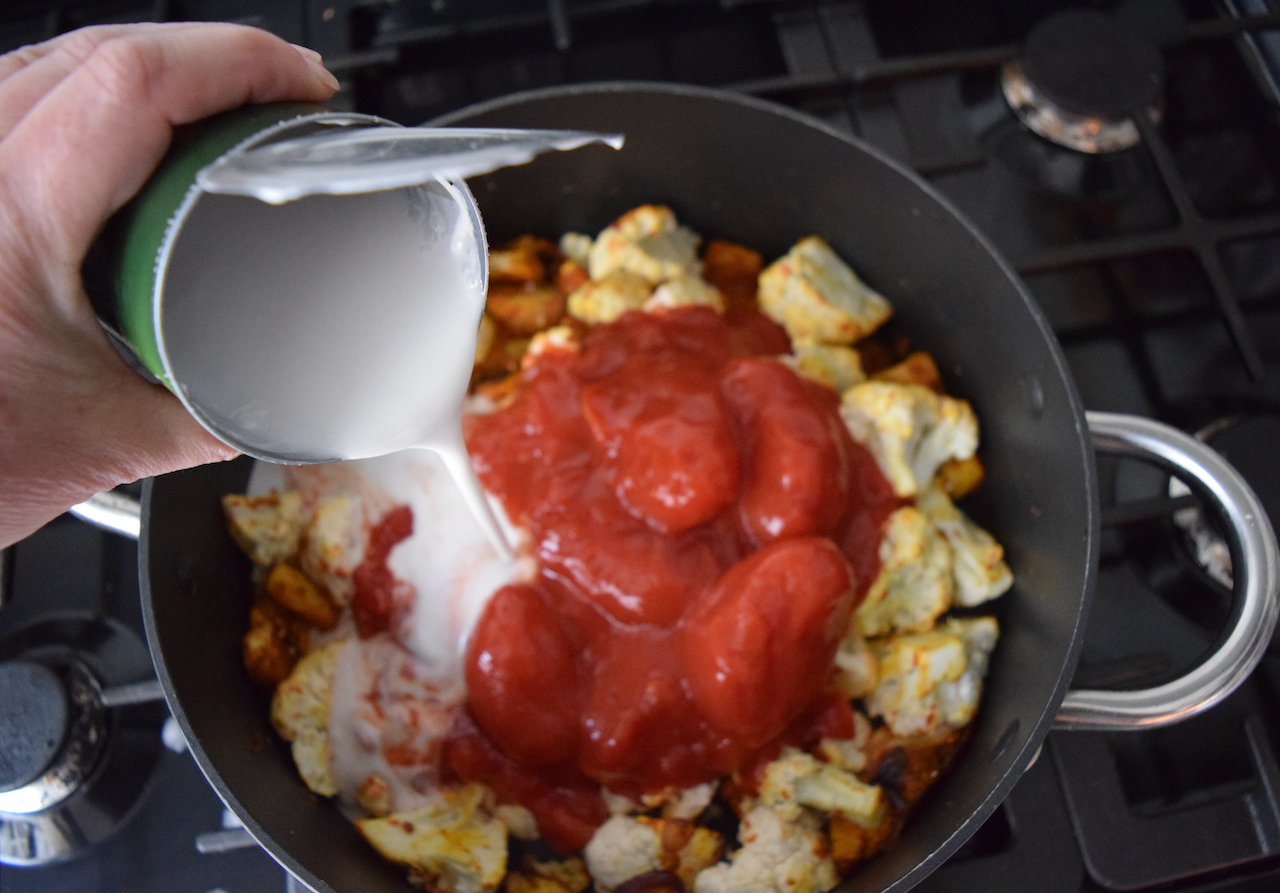 A big pinch of sugar will negate any acidity from the tomatoes, so sling that in and give the whole lot a good stir and bring up to the simmer.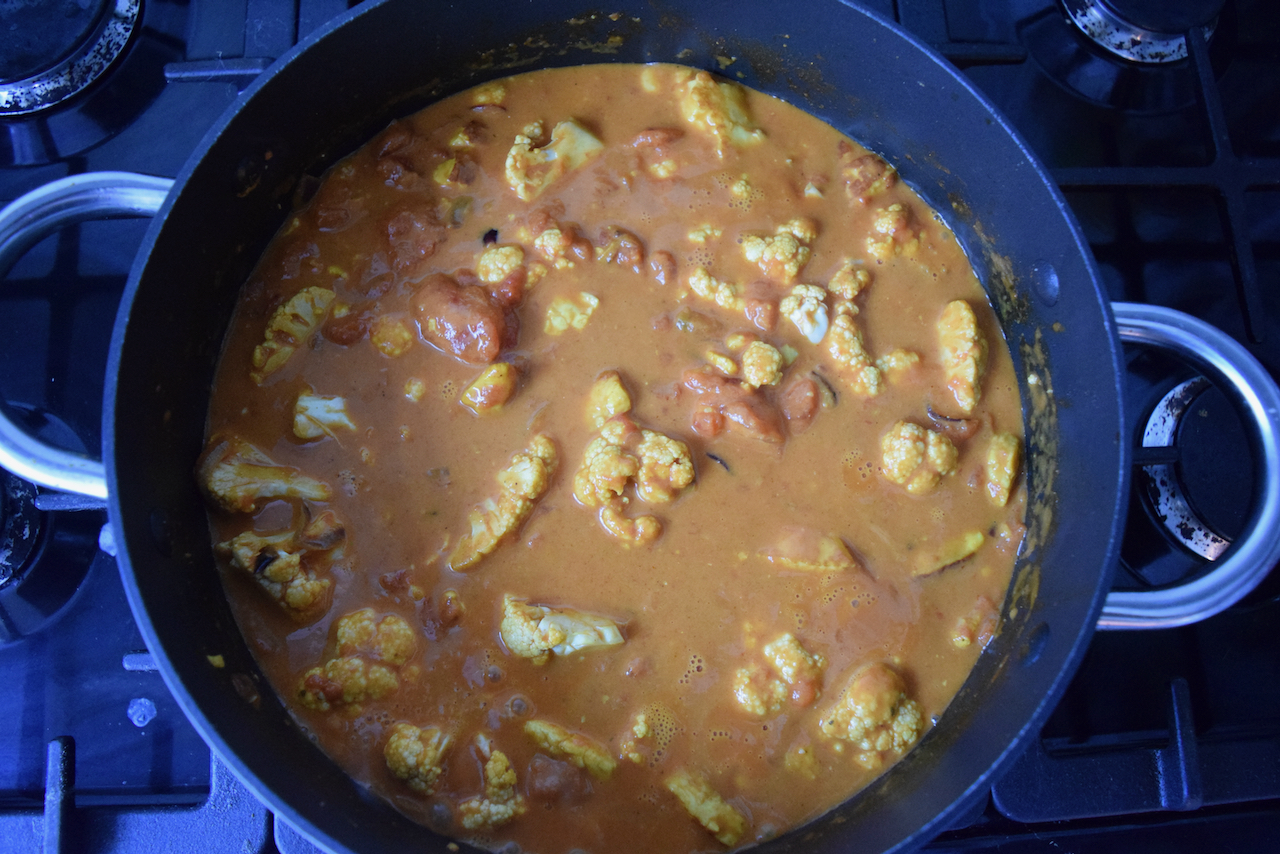 Pop a lid on for 5 minutes to ensure the cauliflower is cooked then take it off and cook for another couple of minutes so the curry thickens up. Taste to check for seasoning needs then add some chopped coriander and reserve more for garnish.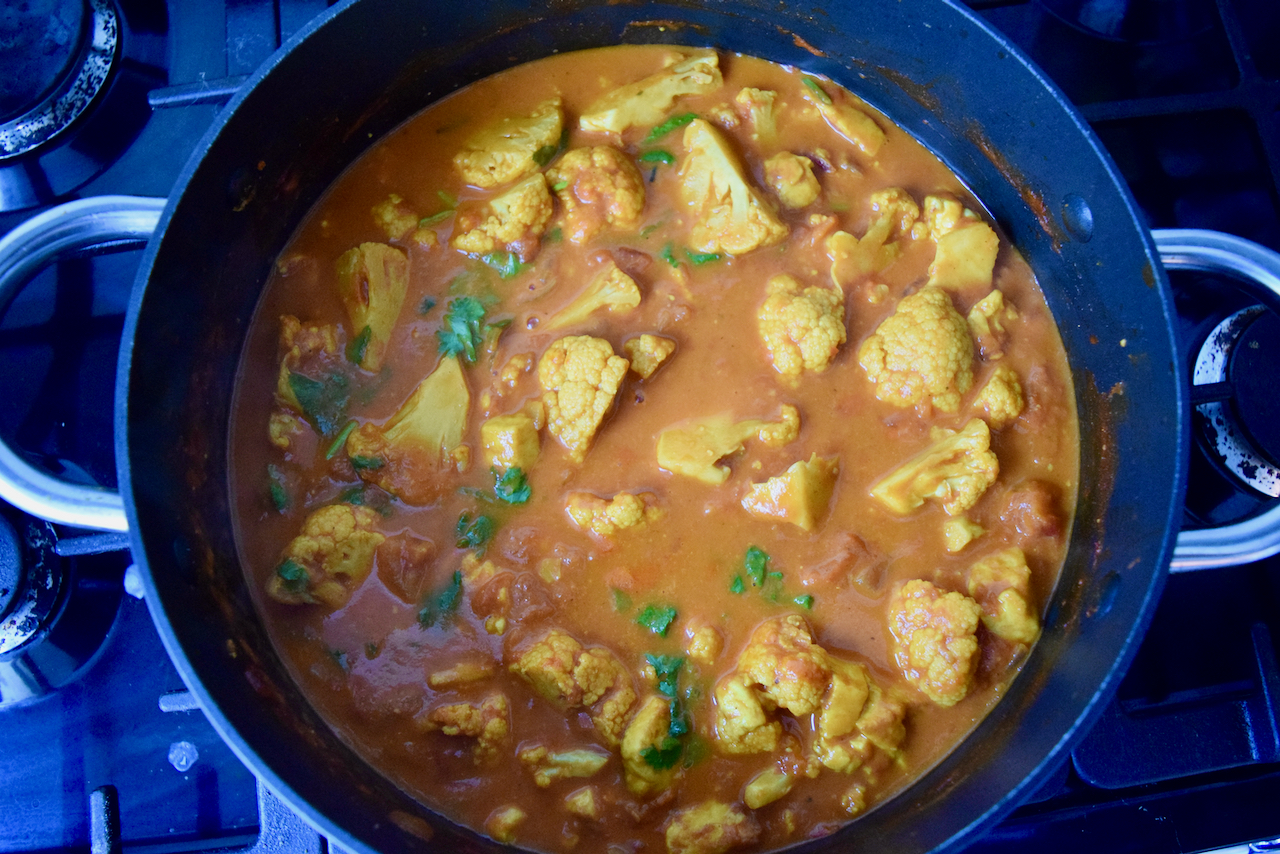 And that's it. Spoon vast amounts of the curry over rice and serve with a dollop of yoghurt, more coriander and poppadoms and naans. I had the yoghurt, just not the poppadoms and naans.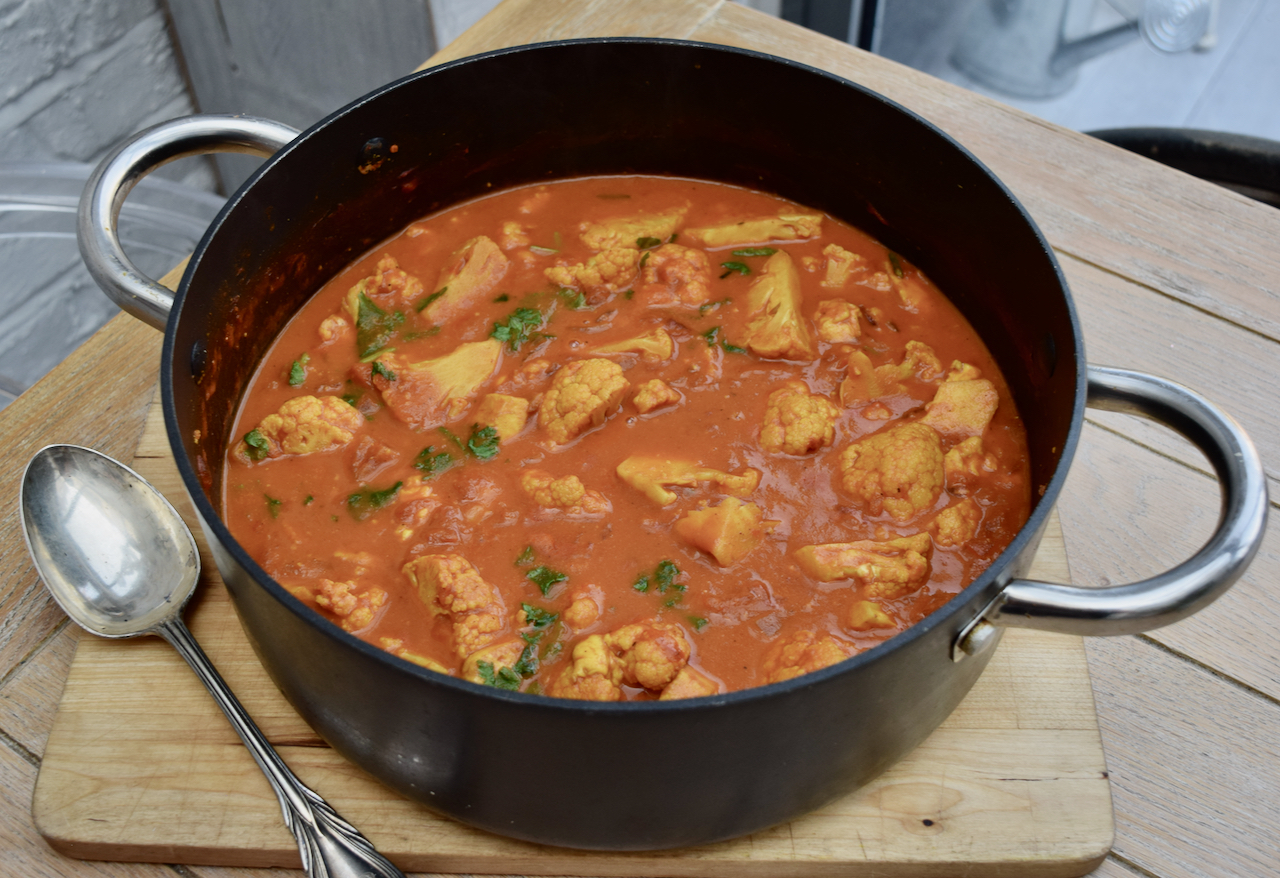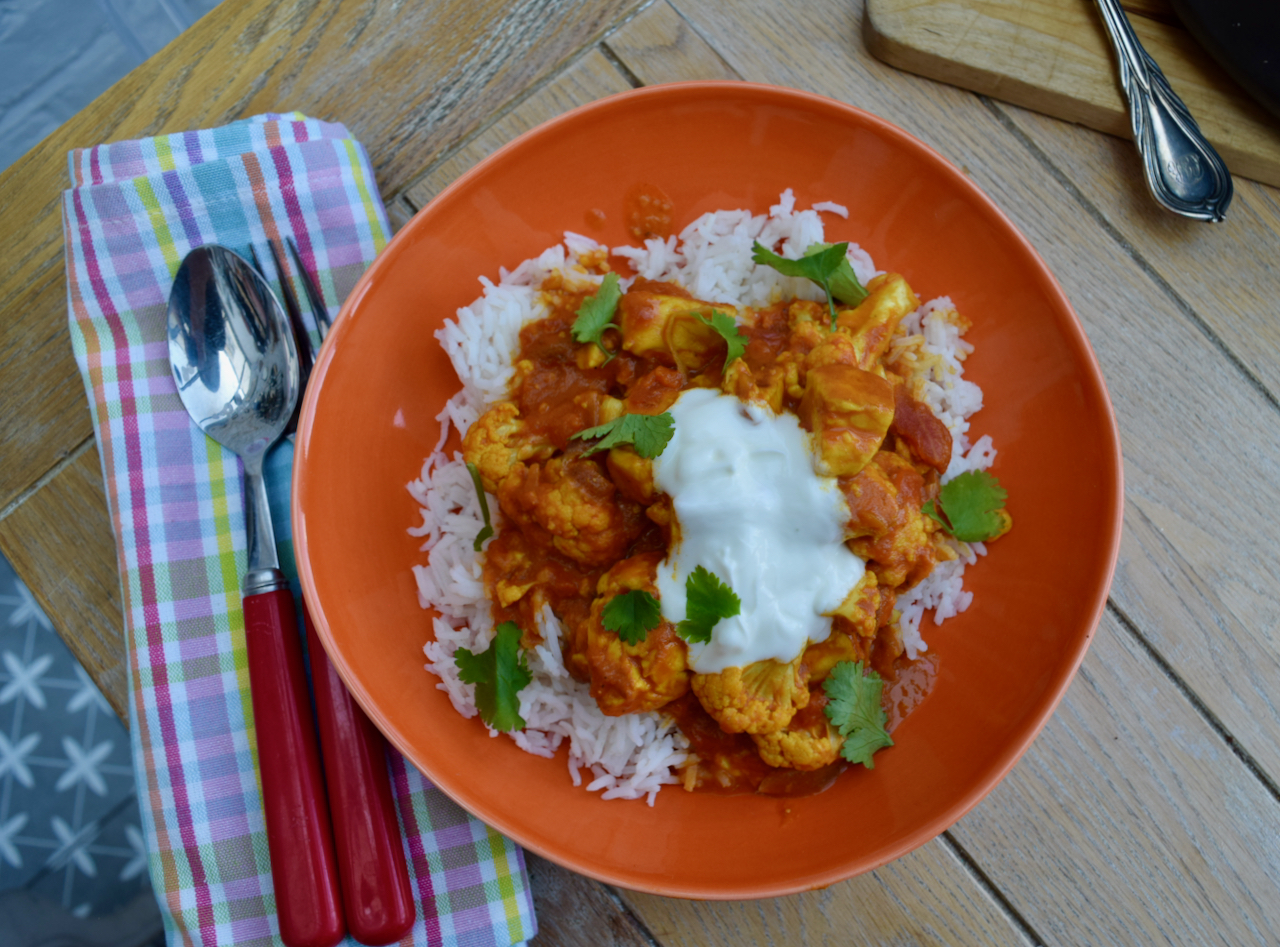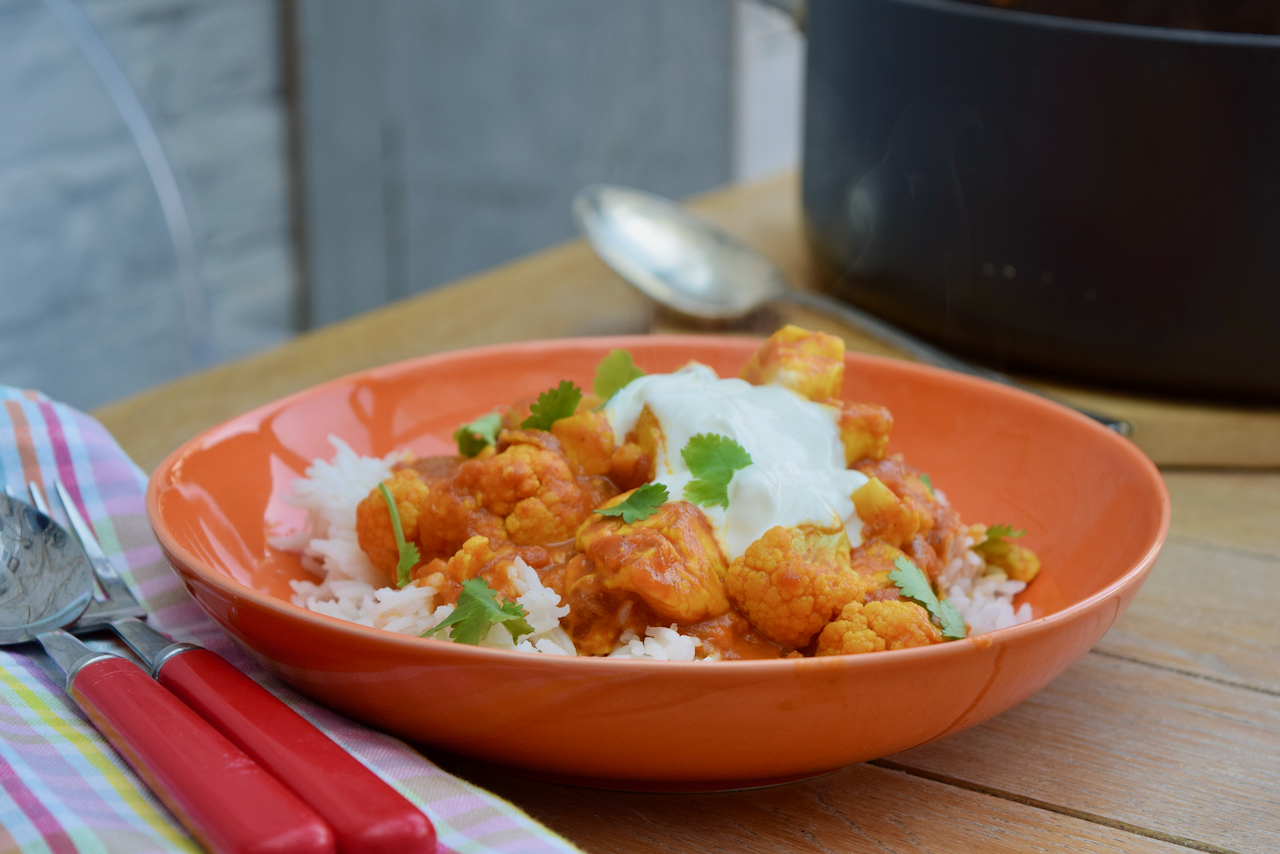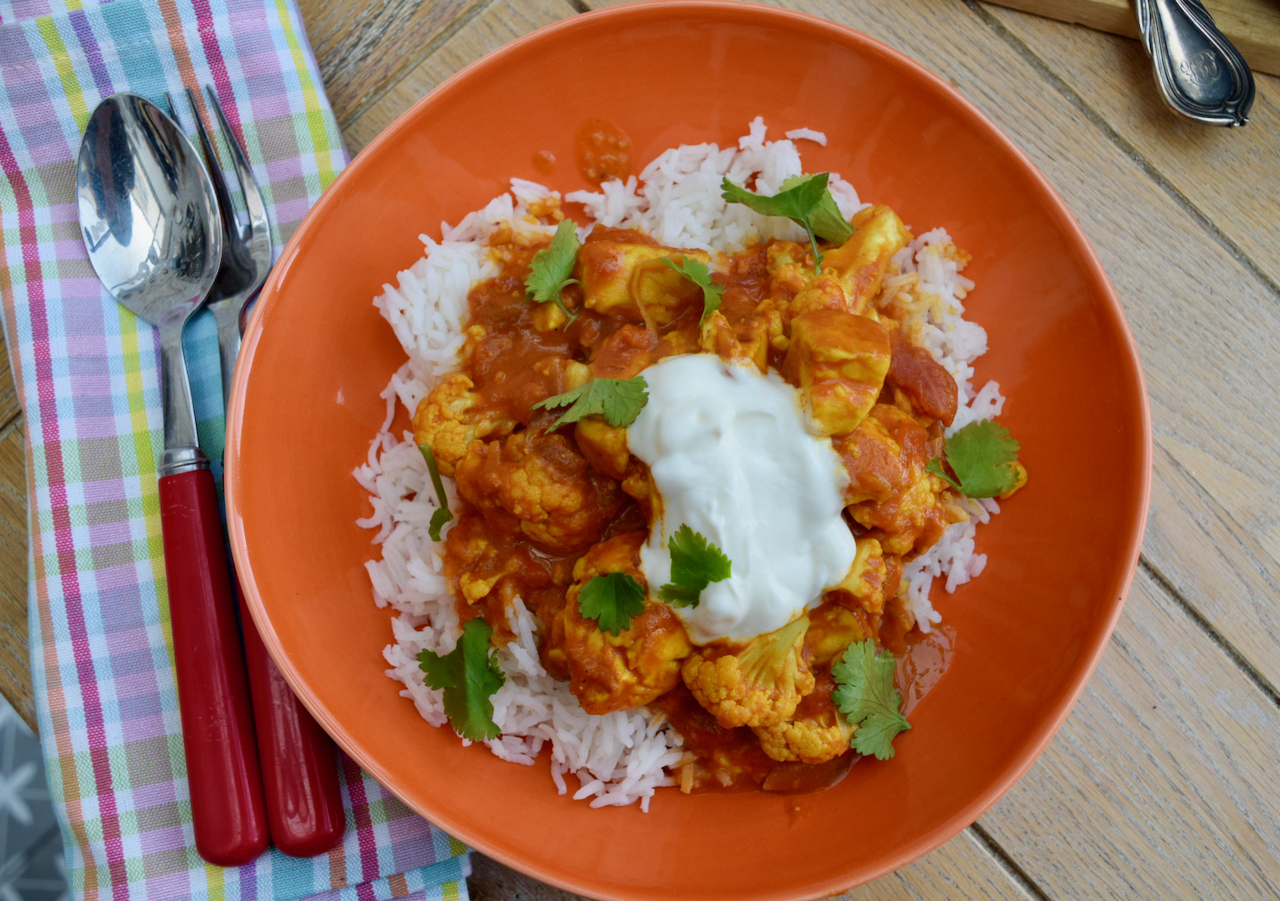 This curry is mouthwatering; I am drooling over my own photography in immodest fashion. If nothing else, it's brightening up a grey Monday night in a much needed way.
Lucy x
Halloumi and Cauliflower Curry recipe
Serves a generous 4, with rice
You will just need a pan with a lid
1 teaspoon chilli, less or more dependent on your spice tolerance
1 teaspoon turmeric
2 teaspoons garam masala
1 tablespoon oil
1 large or 2 smaller onions, sliced
3 garlic cloves
A fat inch fresh ginger, finely chopped, or a tablespoon from a jar
1 1/2 tablespoon tomato puree
A large pinch sugar
500g halloumi, cubed and patted dry on kitchen towel.
1 small cauliflower, trimmed and cut into small florets
2 x 400g tins tomatoes, chopped or whole
1 x 400ml coconut milk
Salt and pepper
A handful fresh coriander, plus more for garnish
Rice, naan, poppadoms and yoghurt to serve
In a small pot or bowl mix together the chilli powder, turmeric and garam masala.
Heat a tablespoon of oil in a large high sided pan over a medium flame. Add the sliced onion and cook for a couple of minutes or until just starting to brown. Add the garlic and ginger and cook for another minute.
Stir in the cubed halloumi and leave to brown, turning so it browns evenly. It will seem quite wet at first but this will cook off and the cheese will turn golden. Once golden, stir in the spice mix and the tomato puree then toss in the chopped cauliflower and stir to coat.
Tip in the tinned tomatoes, breaking up if whole, then stir in the coconut milk. Bring up to the simmer then turn down and pop a lid on for 5 minutes. Remove the lid and cook for another couple of minutes to thicken the sauce and ensure the cauliflower is cooked through. Stir in a handful of chopped fresh coriander, taste to see if the curry needs any salt and pepper.
Serve, piping hot, over rice with a dollop of Greek yoghurt, more fresh coriander, poppadoms, naans, you decide. Any leftovers are just as good over the next couple of days.