Cranachan Recipe
It's Burns Night on the 25th January and a time to celebrate the life and works of Scottish poet, Robert Burns. Who am I kidding, it's just an excuse to drink whisky and eat such traditional dishes as Cock-a-leekie Soup, Cullen Skink and, of course, Haggis. I love Haggis and always buy one for Clyde to have on Burns Night, not because we have any Scottish blood in either of us, but because it's bloody delicious. I would ordinarily just post a whisky based cocktail in Mr Burns' honour, however, this year I have decided to make a Cranachan to share with you.
This is another recipe I hadn't made since I was wearing beige knee high socks and a skirt up around my armpits. We made this in our school cookery lab and I remembered it as being really rather tasty. And it is, probably more so now that I am of an age when adding whisky to desserts is allowed, as at school, aged 12, this was rather frowned upon. This traditionally Scottish dessert is a wonderful blend of cream, toasted oats, honey, whisky and raspberries. The raspberries at this time of the year are tasteless little morsels so I used a whole bag of frozen ones which nicely mulched down to almost a compote. The whipped cream is blended with mascarpone, not a traditionally Scottish ingredient, but one I improvised with, and whisky and honey for a taste of the Highlands. Or in my case I only had crappy, unlikely to be Scottish honey, so do try and make a bit more of an effort than me. This is such a simple recipe, and can be whipped up at short notice, in fact it benefits from being made at the last minute as the oaty layer will stay crisp. I based my Cranachan recipe on one from the lovely Xanthe Clay in the Telegraph and it's a goodie.
It seems churlish to only make this once a year because it's a) simple b) bloody delicious and c) has whisky in it and you know how I love any excuse for a little drinkie. Happy Burns night to you all or if you like, Happy Cranachan and Haggis day.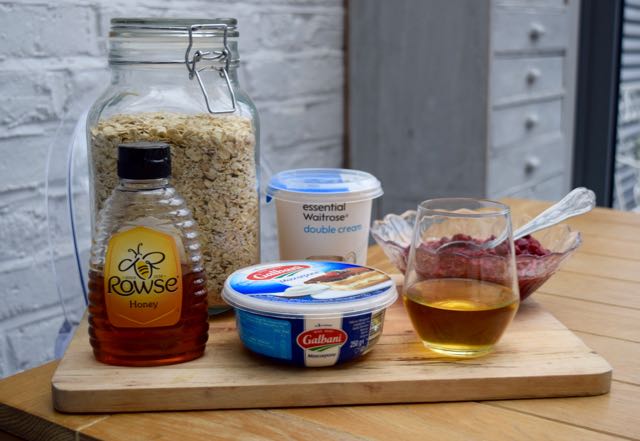 I am slightly ashamed of my unsophisticated honey choice, however, I thought it was best to use what I had than make yet another trip up to Waitrose and spend yet more money. I did use my Ginger Whisky for this, which added a certain warming edge to my dessert, but any lovely Whisky would do here.
Make a start on this celebratory dessert by defrosting the raspberries. Just leave them in a bowl and they will all mulch together. Now, set to toasting the oats. This is not a tricky procedure and is super important as they become nutty and so tasty in only a matter of minutes. Take a frying pan, bigger than mine probably, and add the oats. Heat over a medium heat, stirring often, for around 8 to 10 minutes until they are starting to brown and smelling nutty and divine.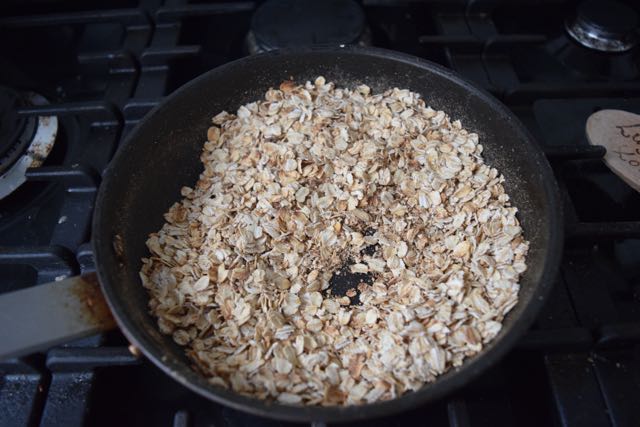 Pop them onto a plate to cool then make a start on lightly whipping the cream. Don't over whip it, it will thicken some more when you add the mascarpone.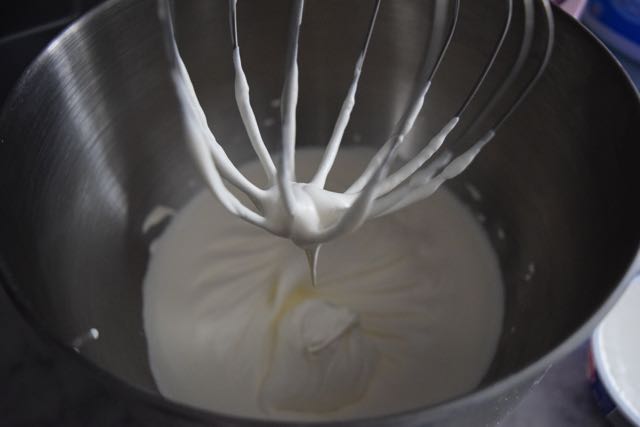 Now, stir through the mascarpone or you could use Quark if you wanted, as per the original recipe, and fold in until well combined.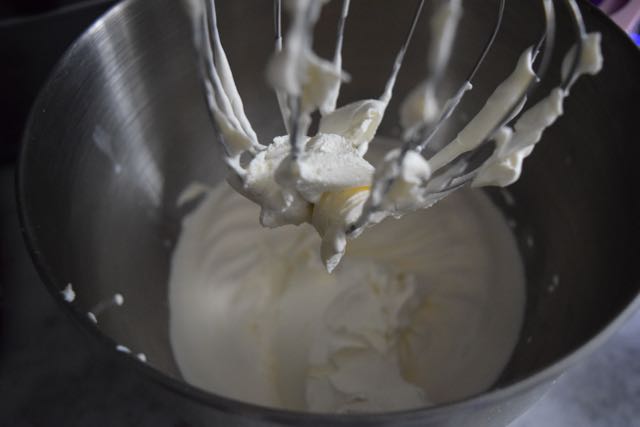 To add just a whiff of Scotland to the dish, stir though 4 tablespoons of honey and 6 of whisky, ginger infused if you have it, and mix until smooth.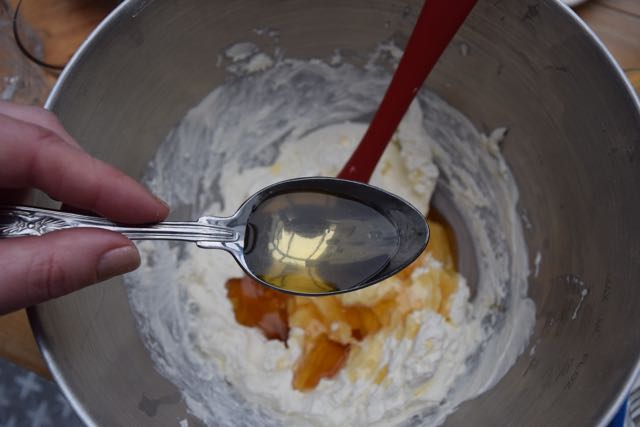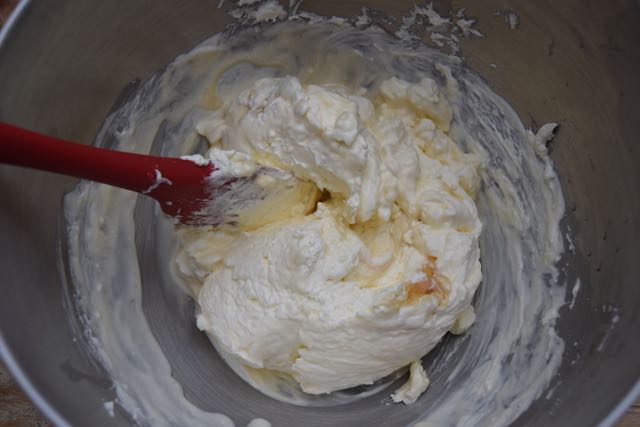 Choose 4 to 6 of your prettiest little glasses and prepare to layer the cream, oats and raspberries.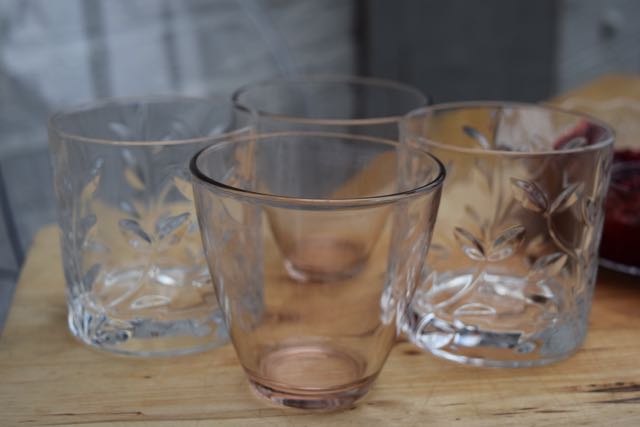 Mine were quite big, so I managed to make 4 good ones and 2 smaller ones. Start with a layer of the boozy cream followed by the golden toasted oats.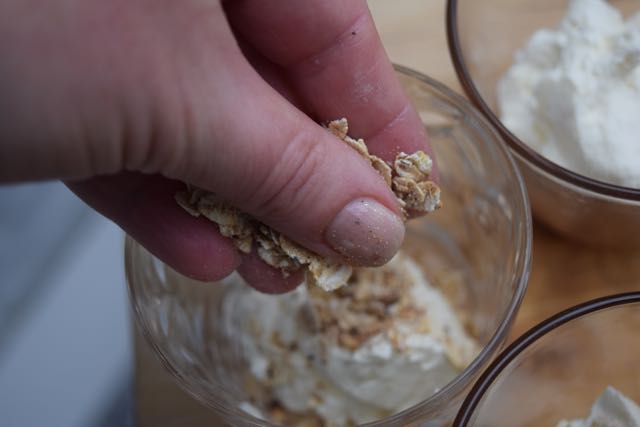 Spoon on the defrosted raspberries then repeat with another layer of cream, oats and raspberries.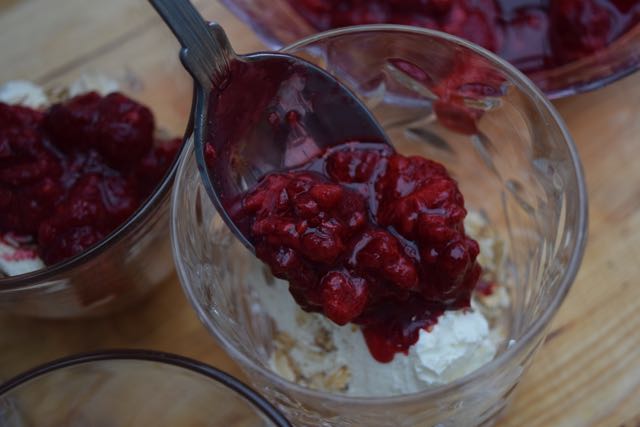 Finish with a drizzle of extra honey on each and then these are ready for a short stay in the fridge or immediate devouring.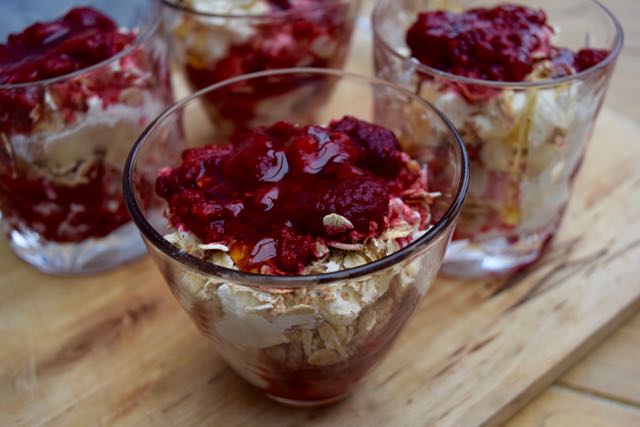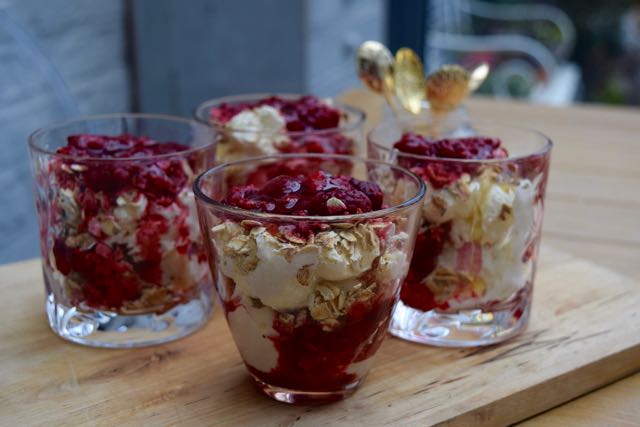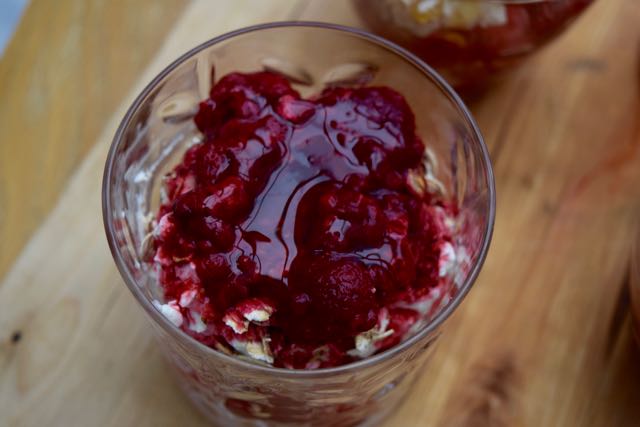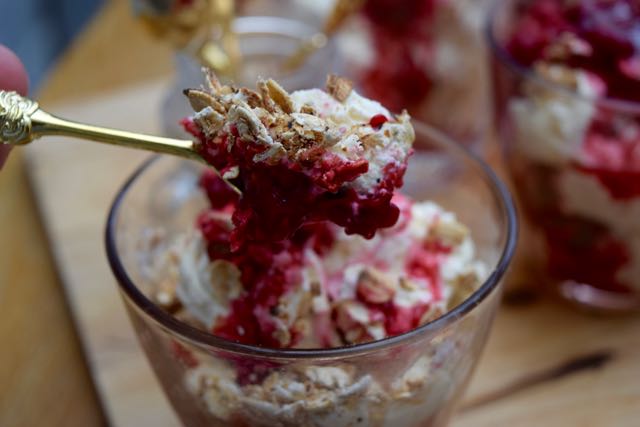 Whether you're a Burns Night devotee or not, this Cranachan is a great addition to your dessert repertoire. Cream, whisky, honey, oats and raspberries should be made more than once a year. There's still St Andrew's Day and Hogmanay to consider, if you're looking for other Scottish occasions to celebrate, or just fashion one of your own, no one's judging.
Lucy x
Cranachan Recipe
Serves 4 to 6 people, serving size dependent
You will need a whisk, hand or manual and 4 to 6 serving glasses or pots
110g porridge or rolled oats
300ml double cream
250g mascarpone or Quark cream cheese
4 tablespoons honey, plus extra for drizzling
6 tablespoons whisky
400g frozen raspberries, defrosted
Start by defrosting your raspberries in a bowl.
Next, take a good sized frying pan and heat, dry, over a medium flame. Add the oats and cook for 8 to 10 minutes, stirring well, to toast and take on a little colour. They will smell toasty and look slightly golden when ready. Put on a plate to cool.
With your hand, stand mixer or using a manual whisk, whisk your cream until just thickening. Don't over whip. Fold through the mascarpone until just mixed.  Stir in the 4 tablespoons honey and 6 tablespoons whiskey then you are ready to assemble your desserts.
Take 4 to 6 small glasses and layer with cream, oats then raspberries. Repeat, finishing with raspberries and an extra drizzle of honey. Chill until needed. These puds are best eaten on the day you make them as the oats do lose their crispness, although mine were still yum, if a little soggy, after 2 days.
SaveSave
SaveSaveSaveSave
SaveSave
SaveSave
SaveSave
SaveSave
SaveSave