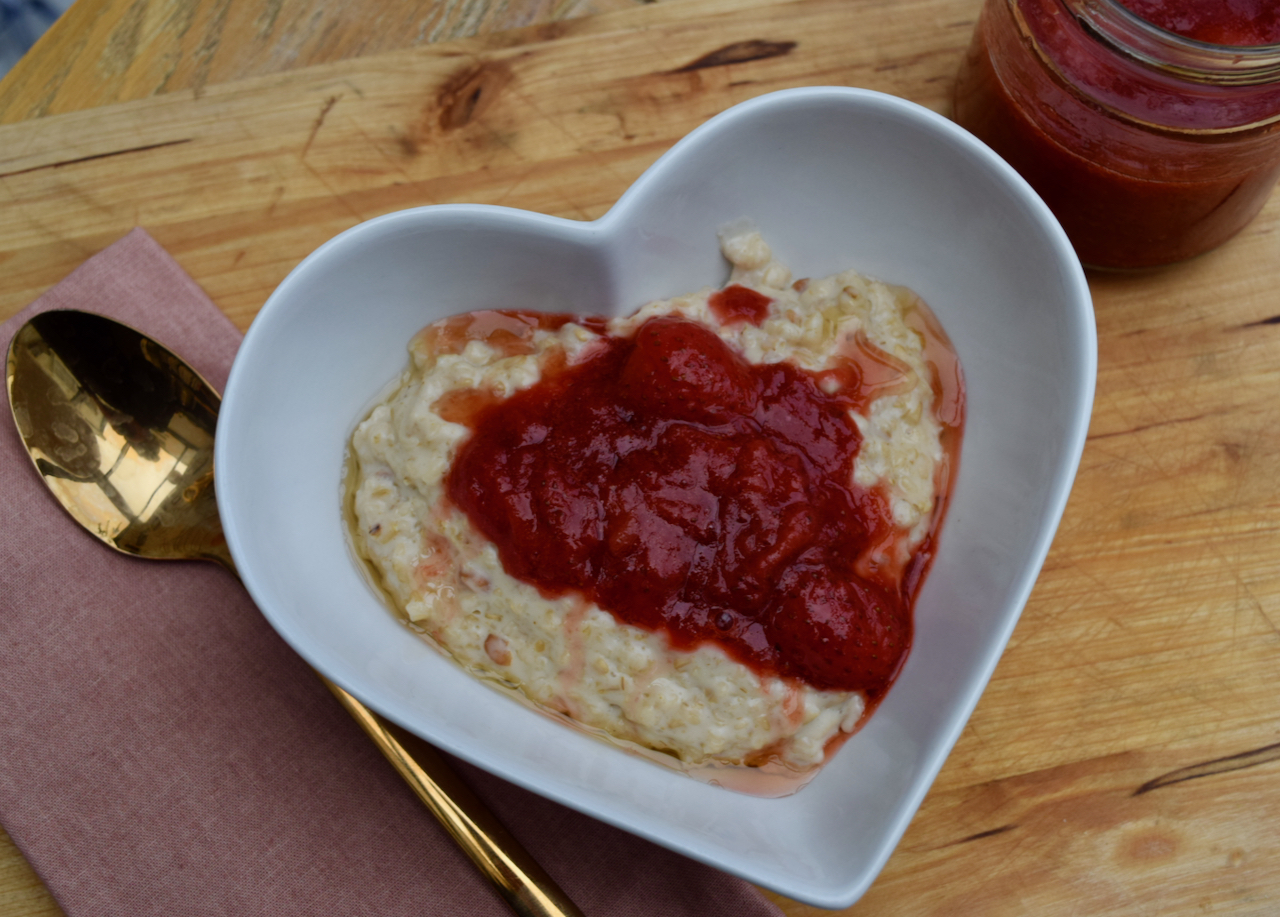 Peanut Butter and Jam Porridge Recipe
Surprisingly, after spending a good deal of Christmas in the kitchen, I am feeling excited about cooking so far this new year. I mean, it's only early days, but so far so good. I am all over Pinterest looking for new recipe inspiration and I've got my apron on and am trying out some fresh ideas. This Peanut Butter and Jam Porridge is just one of those ideas, and it's a keeper.
Breakfast is almost non existent in our house during the week. Clyde and I both eat when we get to work and George grabs something awful like a chocolate brioche as he races out the door. But when we do actually eat at home, porridge is always a winner. It's naturally filling and is full of slow release fibre which keeps you going until lunchtime. It can, however, be a little dull. Not anymore. Who knew that by dolloping some peanut butter in the oats whilst they cook and by simmering a few strawbs to create a refined sugar free jam, porridge would be a new and exciting option for 2020. If you can't be arsed to make the strawberry jam, then just spoon some out of a jar, but it's not remotely tricky and tastes fresh and delicious. Strawberries are either tasteless or expensive at this time of year, so go for frozen ones if you like. A lovely thank you to The Sugar Hit for the recipe inspiration for this.
Breakfast is meant to be the most important meal of the day, but this Peanut Butter and Jam Porridge is so bloody good, I've been eating it for lunch and dinner too.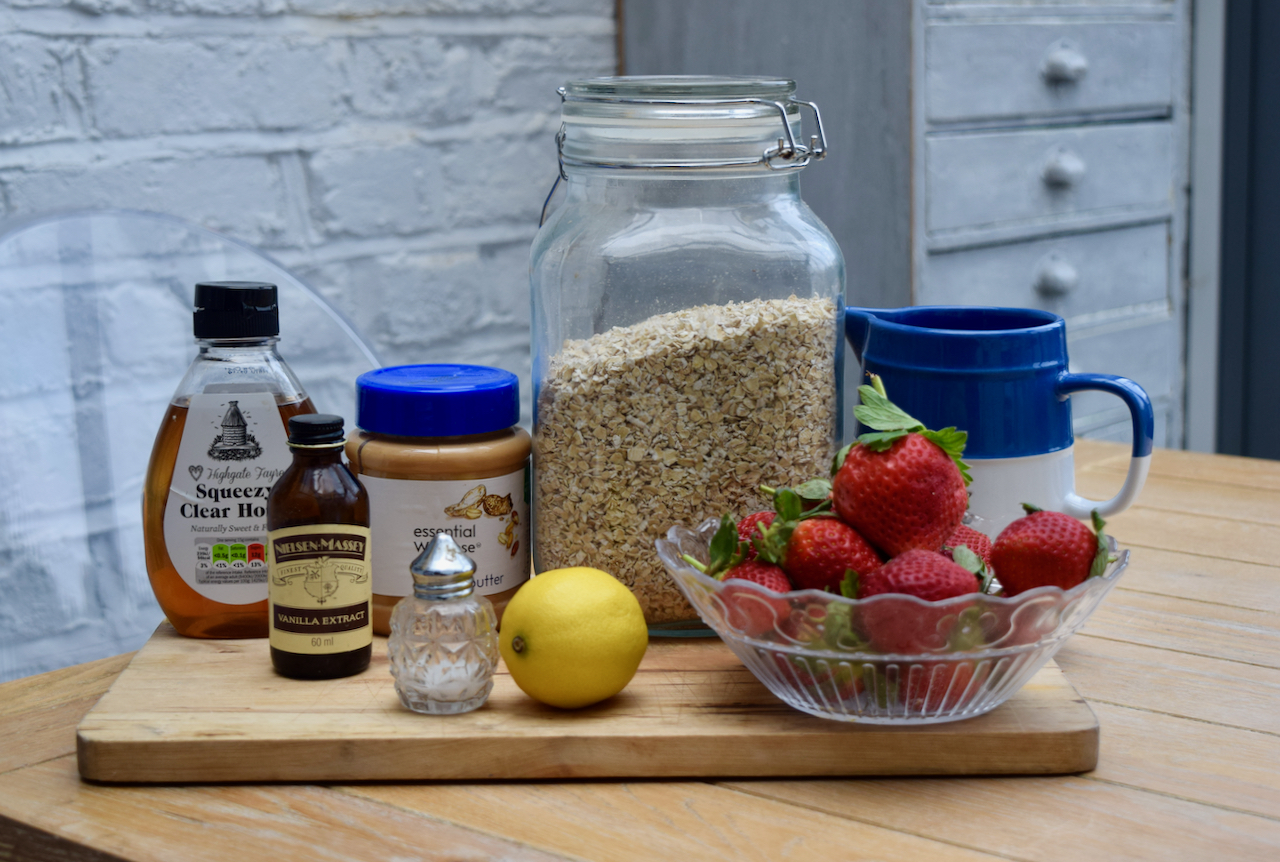 I had some lovely strawbs for my jam which I got robbed for in Whole Foods, but like I said, if frozen are a better value and a tastier option, then go for it.
Make a start with the jam part of this recipe. It's not real jam, more of a compote, so don't start panicking about getting out the sugar thermometer. Simply chop your strawberries and add them to a pan along with the honey or maple syrup, vanilla and spritz of lemon.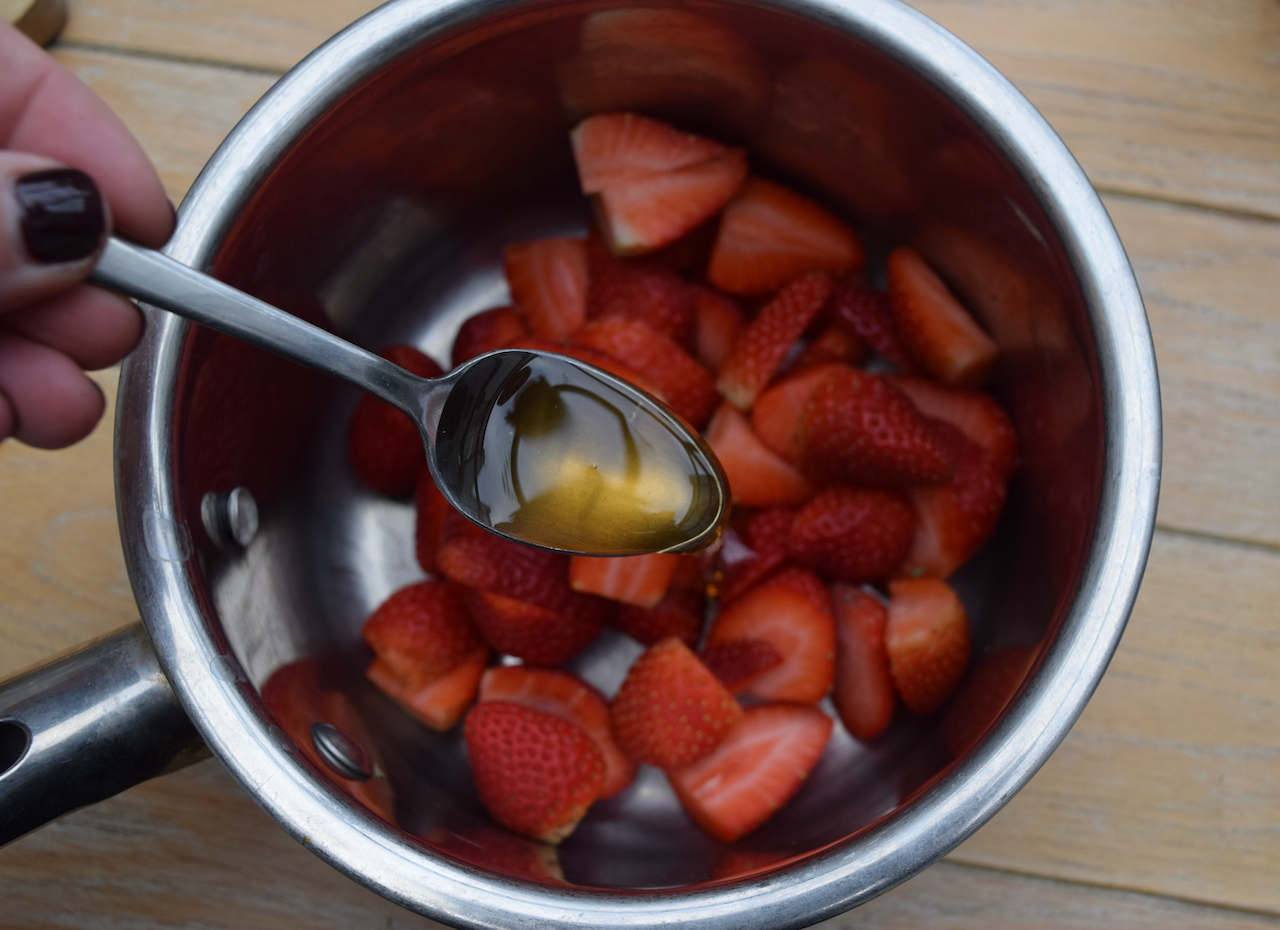 Pop it on the hob over a low heat and simmer for around 10 to 15 minutes or until the whole lot has a jam like consistency.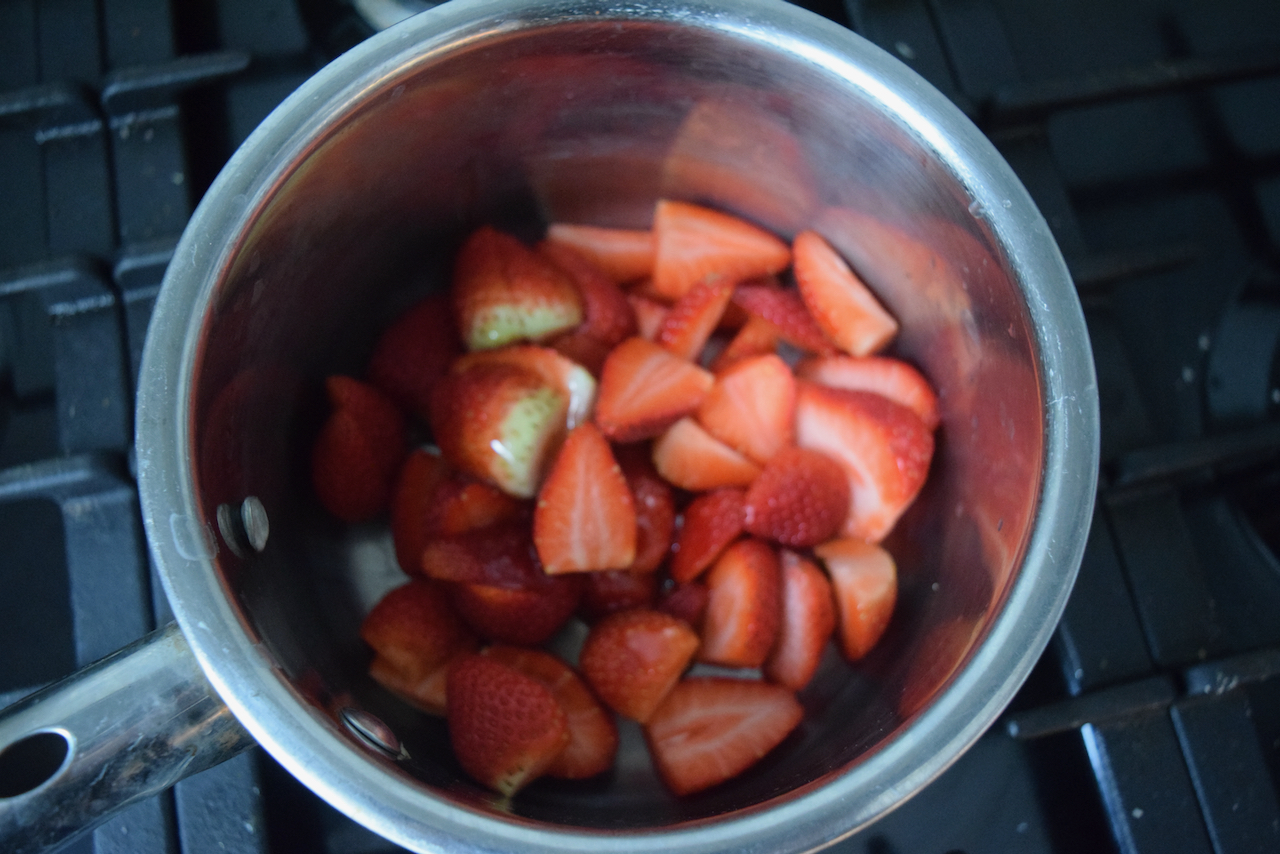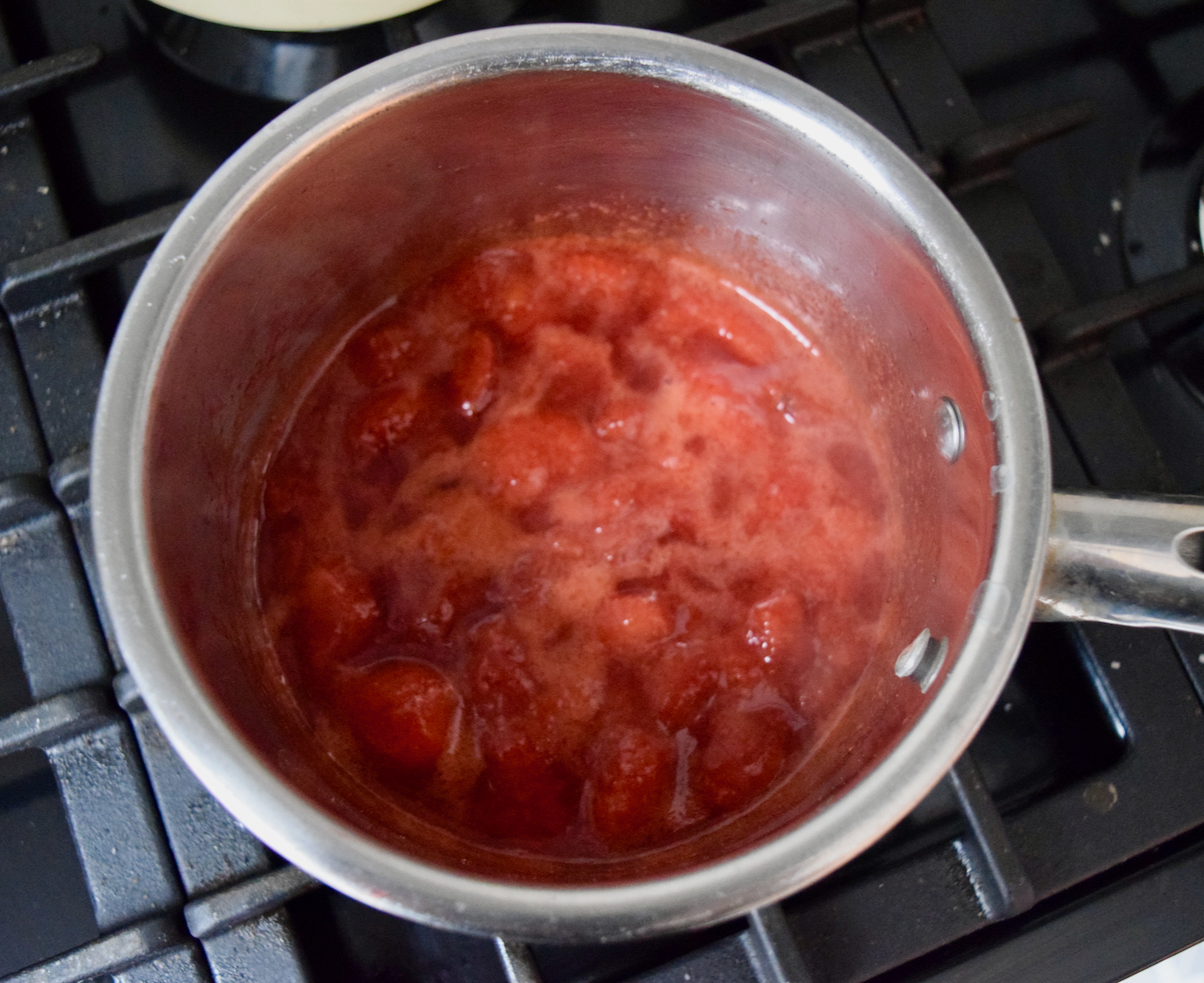 Leave this to cool while you make the porridge. And this too is a simple chuck it all together style recipe.
Add the milk, oats and salt to a medium to large saucepan then stir in the peanut butter. This pan reminds me of a double boiler my Grandmother Stella had; she used to use hers for porridge too.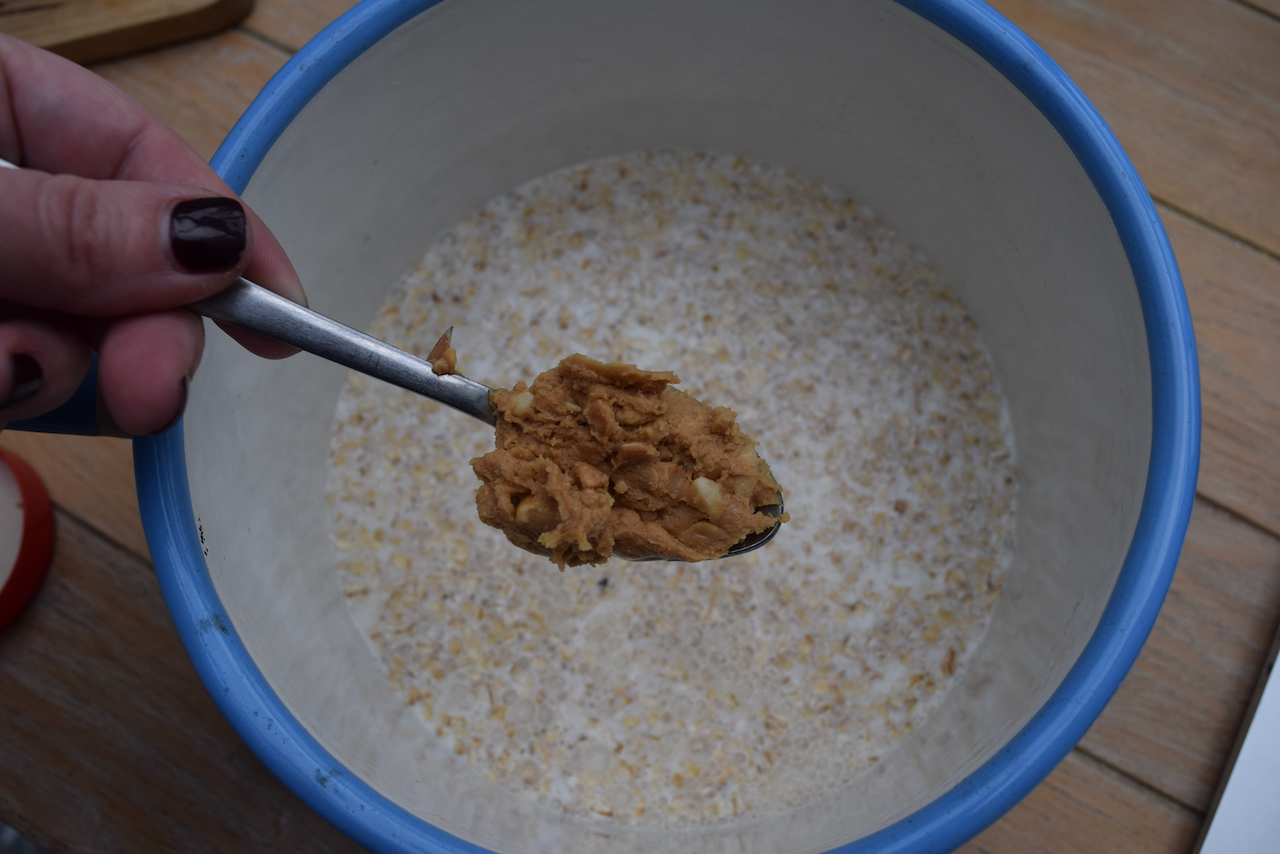 Good to see my Christmas Shellac manicure holding up.
Go for crunchy or smooth peanut butter, or if peanut allergies are an issue, go with an alternative nut butter option. Put the pan on the stove and, over a low heat, bring up to the simmer.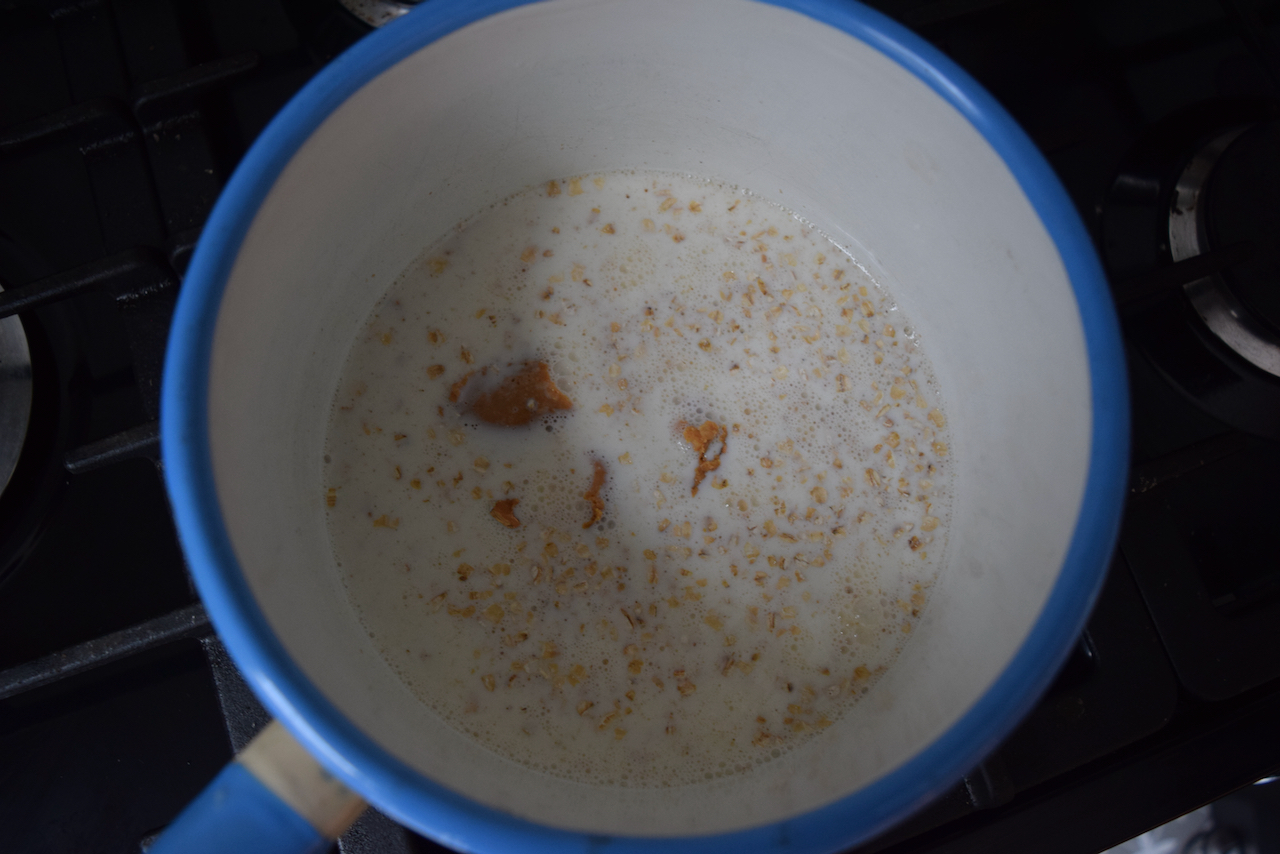 Cook until your porridge is cooked to your preferred consistency. I like mine not too thick, not too thin and that took around 10 minutes.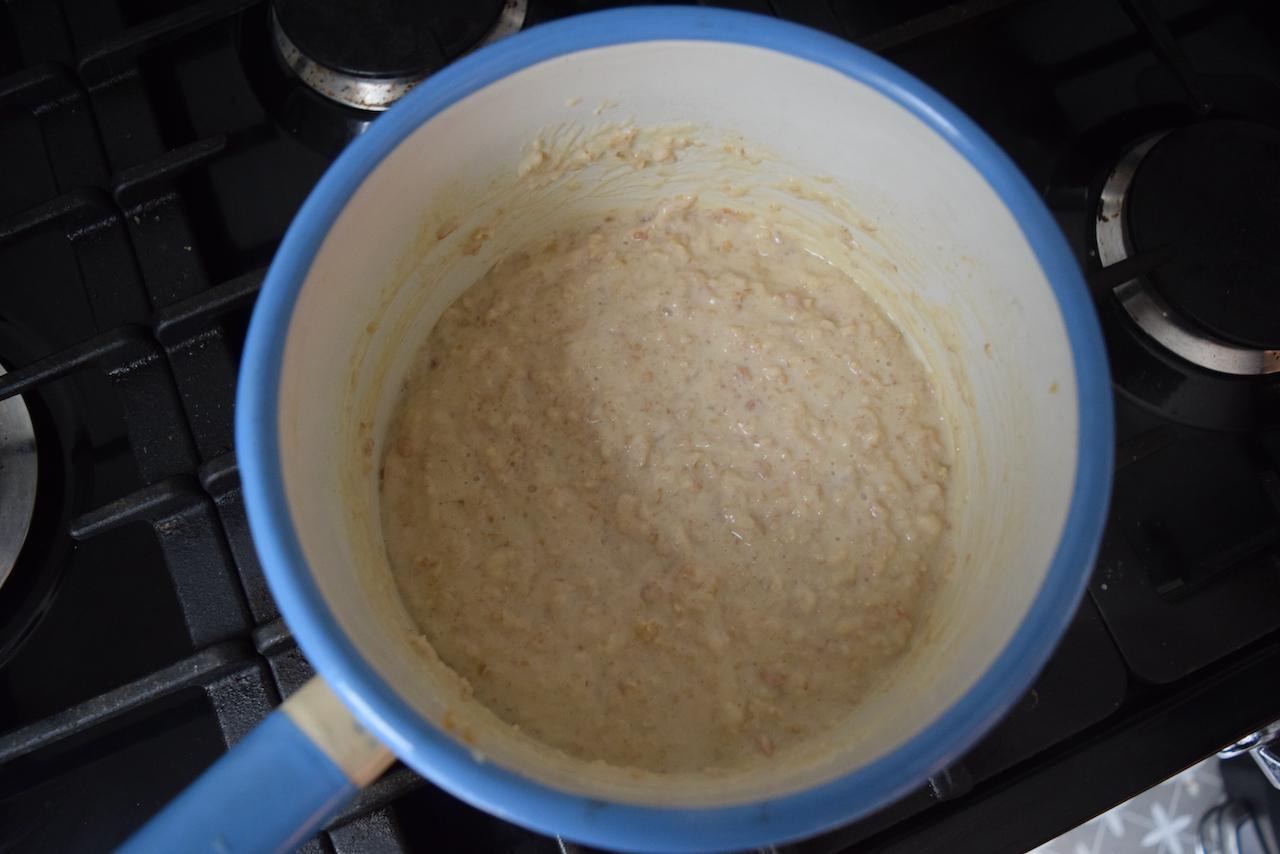 Serve your PB&J Porridge in large bowlfuls with a generous serving of your strawberry jam and a touch of extra honey or maple syrup. Tuck right in.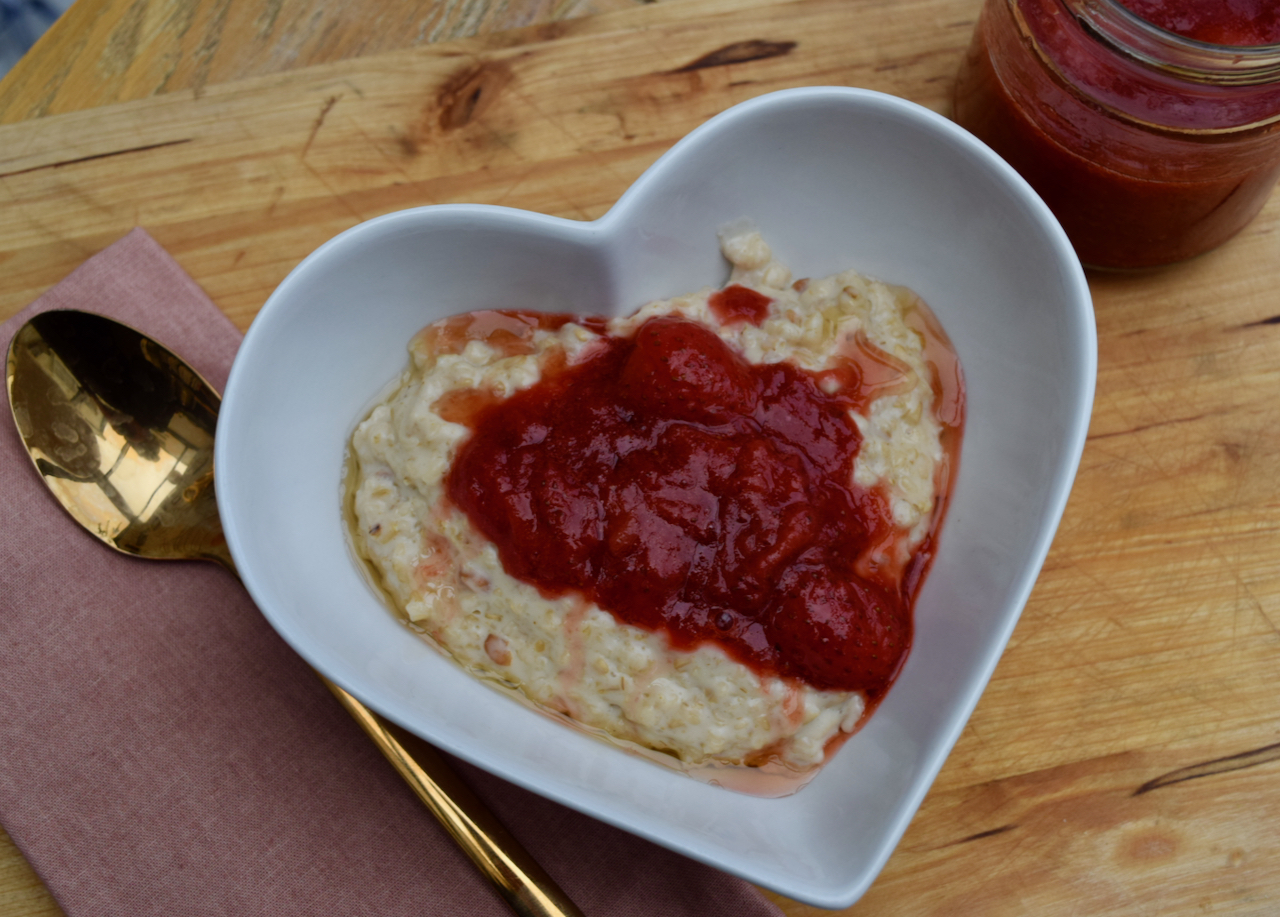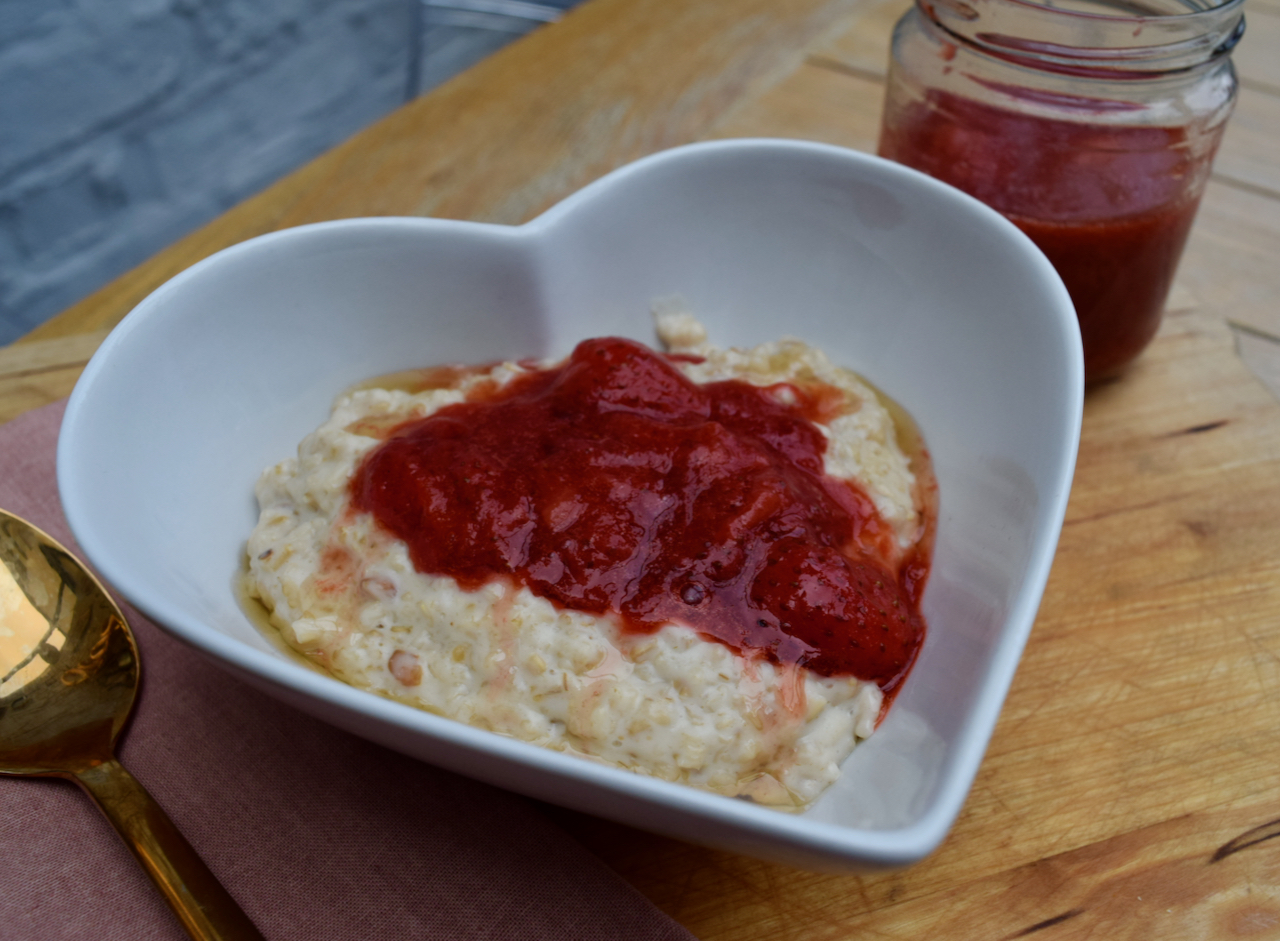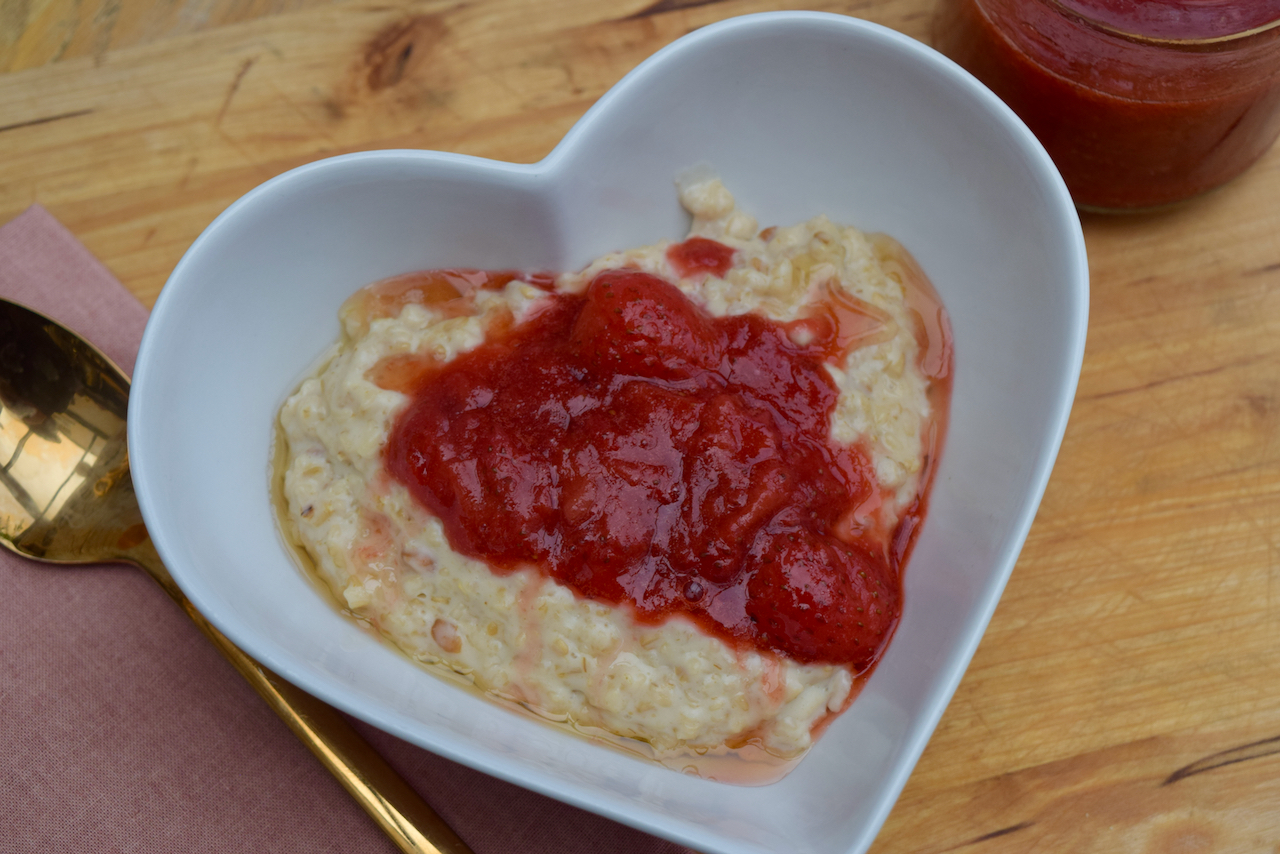 It's not often that a breakfast fodder which is relatively healthy makes me hungry just looking at it, but this really does. It's not too sweet, filling, wholesome and colourful. Heart warming and belly warming, perfect January food.
Lucy x
Peanut Butter and Jam Porridge Recipe
Serves 2 to 3, with leftover jam
You will only need pans for this recipe
Strawberry Jam/Compote
300g strawberries, roughly chopped, or use frozen ones
2 teaspoons honey or maple syrup
1/2 teaspoon vanilla extract
A squeeze lemon juice
Porridge
110g porridge oats
500ml milk, nut or oat milk for vegan or dairy free
A pinch of salt
2 heaped tablespoons smooth or crunchy peanut butter
Extra honey or maple syrup to serve
Make a start on the strawberry compote. Take a pan and add the chopped strawberries. Measure in the honey or maple syrup, vanilla and squeeze of lemon juice. Pop on the stove over a low heat and bring up to the simmer, stirring occasionally to make sure it doesn't burn. Simmer for around 10 to 15 minutes or until it has a jam like consistency. Pop to one side.
For the porridge, add the milk and oats to the pan with a pinch of salt. Stir through the peanut butter then put on the hob over a low heat. Bring up to the simmer then cook until thickened and cooked to your liking. This took around 10 minutes.
Serve in a large bowl with a dollop of the strawberry compote and a drizzle of honey or maple syrup.
The strawberry compote will keep in the fridge for around a week. Any porridge leftovers can be reheated for 2 to 3 days.