Salted Caramel Cheesecake Recipe
Every time I think the whole salted caramel thing is over and done with I find another bloody salted caramel based recipe and fall head over heels in love. It's not that salted caramel is a horrid prospect, come on, it's so good in any shape or form, it's just that it's everywhere and has been slightly done to death. That said this Salted Caramel Cheesecake is quite divine and I don't care if it's in fashion or not.
Easter is on the horizon and for me, and I expect you and yours, this will mean some family time and at least 4 extra meals over the space of the long weekend. My family love a big flourish of a dessert and this Salted Caramel Cheesecake fits the bill just perfectly. This, thank God, is a simple recipe so won't keep you away from your family for too long *that may be good or bad* and it doesn't even involve switching the oven on. A stand or hand mixer is a must, however, as the cheesecake needs a good beating to ensure it sets firm. The base is a salty sweet mix of biscuits and pretzels which works so well with the rich caramel topping. Keep a handful of pretzels back to crush and crumble on the top for added crunch and saltiness. This beautiful creation comes courtesy of the Janes Patisserie and on the recommendation of my lovely friend Jo, who I may never forgive for the extra Salted Caramel Cheesecake based weight gain.
This is a real bury your face in it type of dessert. You'll think one slice is enough then you'll nip back into the fridge, Nigella style, and help yourself to a second. I'm afraid I can't be held responsible for introducing you to this Salted Caramel Cheesecake, but you and your family will thank me in the long run of this I am certain.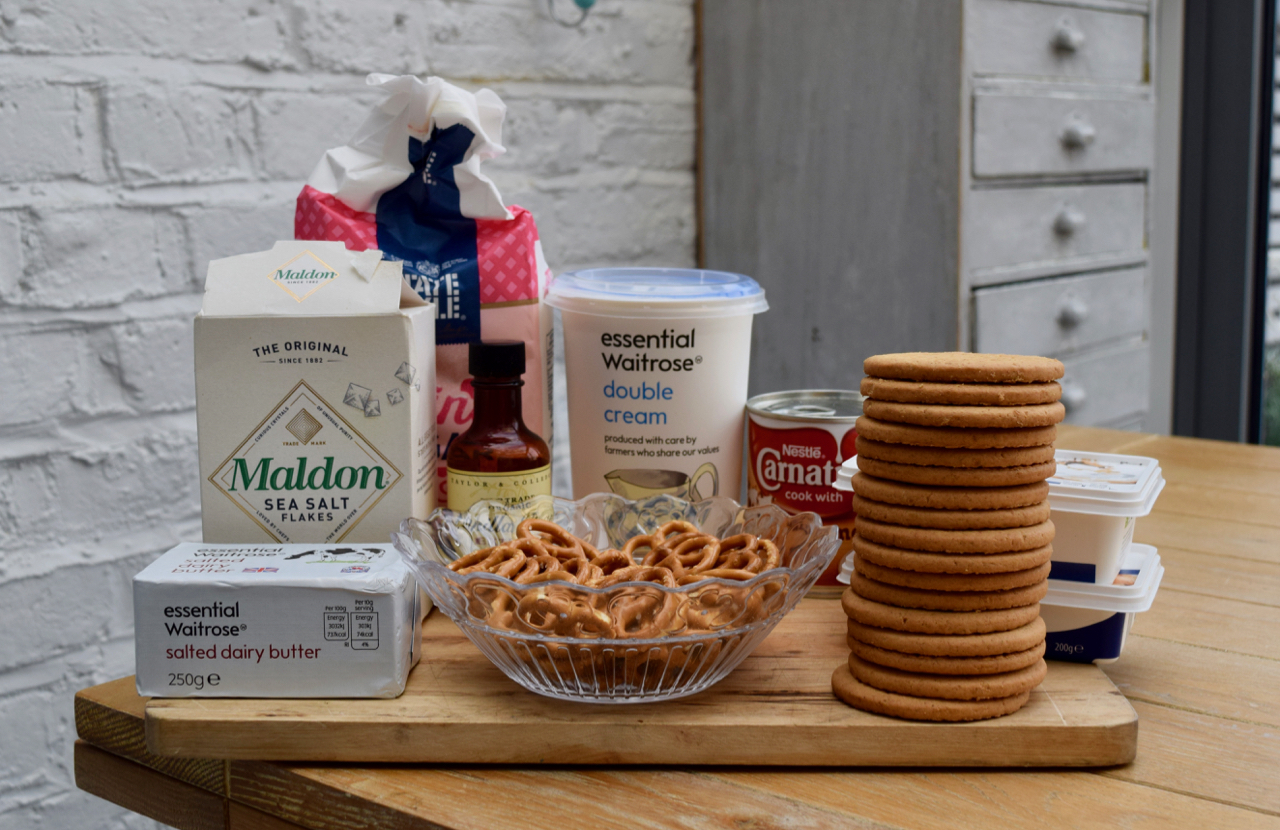 Nothing too challenging in this line up. I have a constant supply of Carnation Caramel in my cupboard due to George's obsession with Salted Caramel Brownies and I had to wrestle the pretzels away from him too. I did make this with some Hobnobs once, but the base was quite hard, so I would stick to the classic digestives if you have them.
Make a start on this little masterpiece by buttering a 8 inch *20cm I think* loose bottom deep cake tin.  Next, take the biscuits and pretzels and either blitz them in your food processor or beat the crap out of them with a rolling pin and a food bag.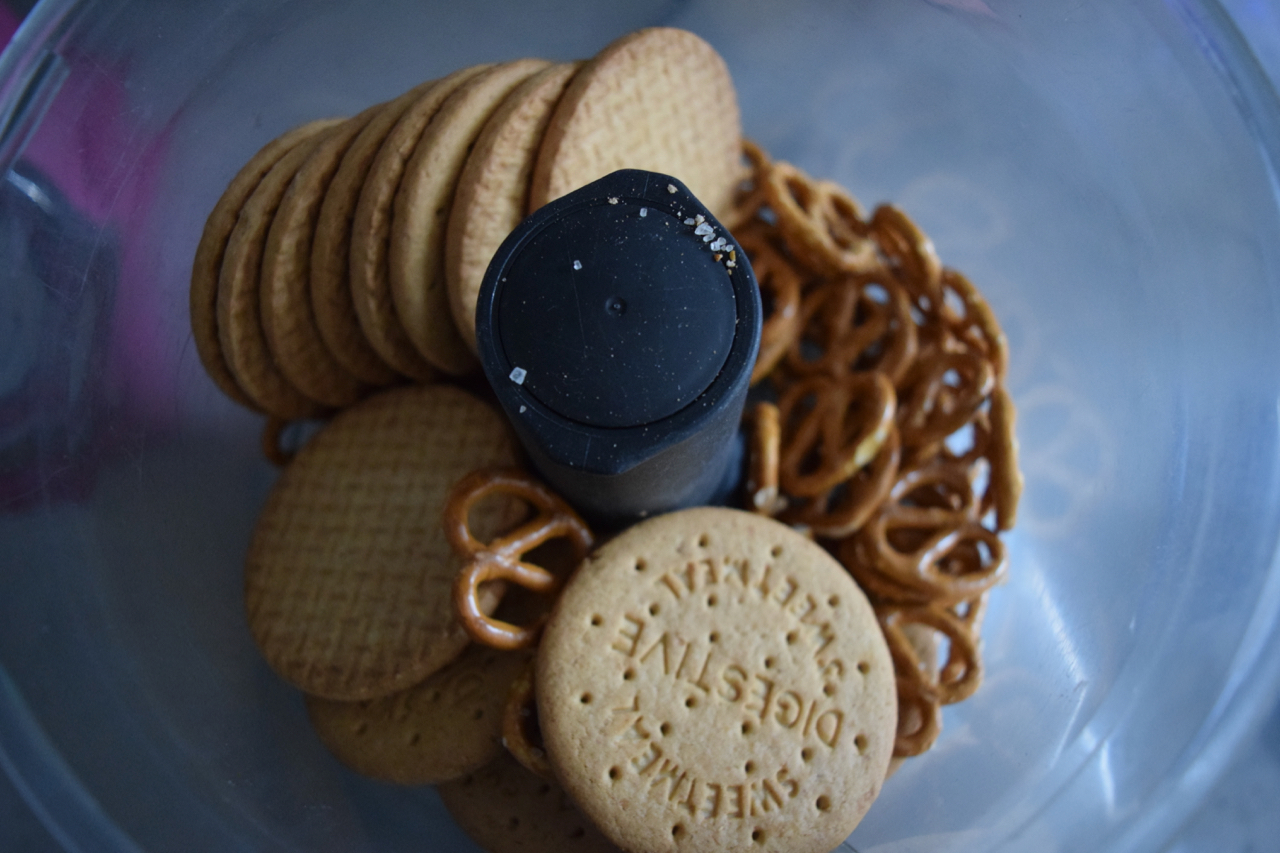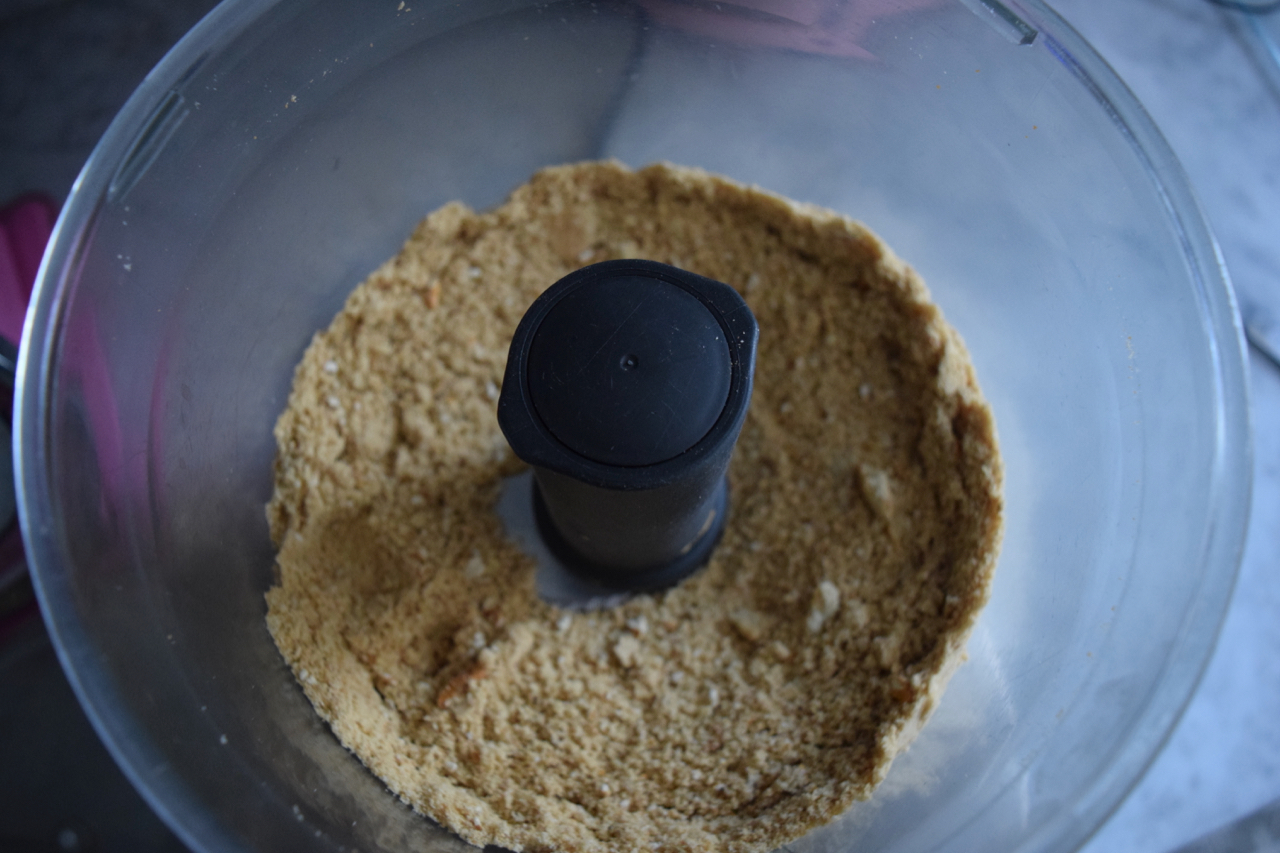 Melt your butter in a pan or in the microwave and add to the crushed biscuit and pretzel mixture. Mix until the butter and crumbs are combined.
Tip this base mixture into your buttered tin and press into the sides creating an even layer.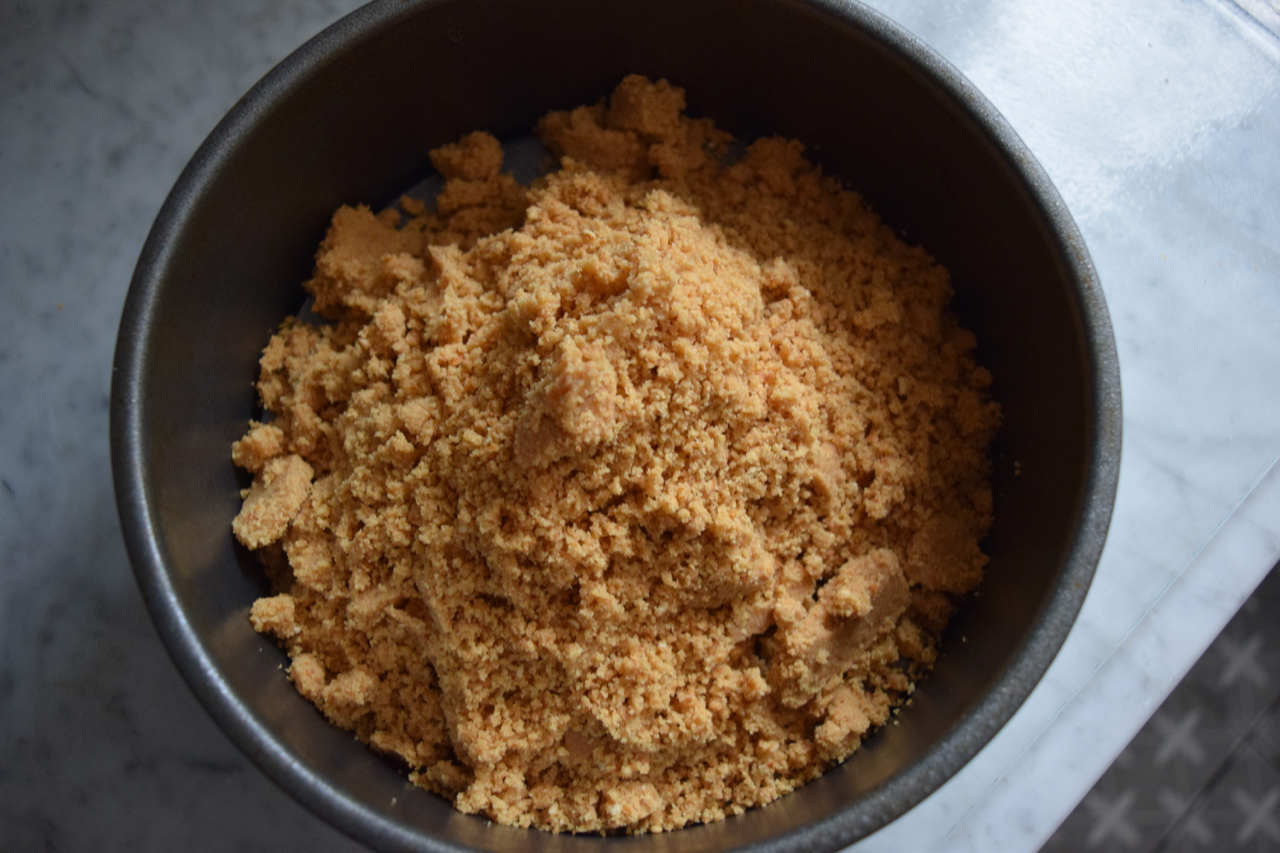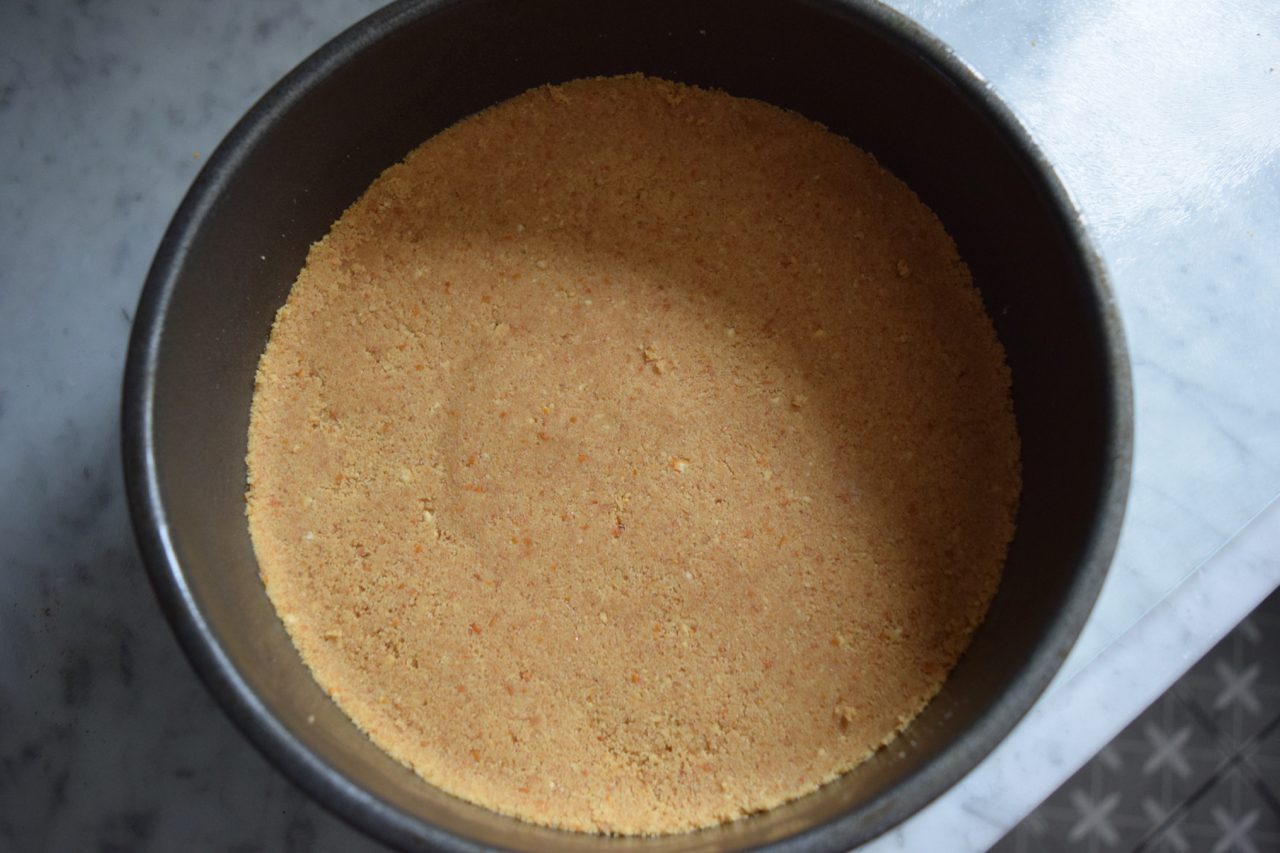 Pop this into the fridge whilst you make the cheesecake topping.  In a large bowl with a hand whisk or in your stand mixer add the cream cheese, icing sugar and vanilla extract.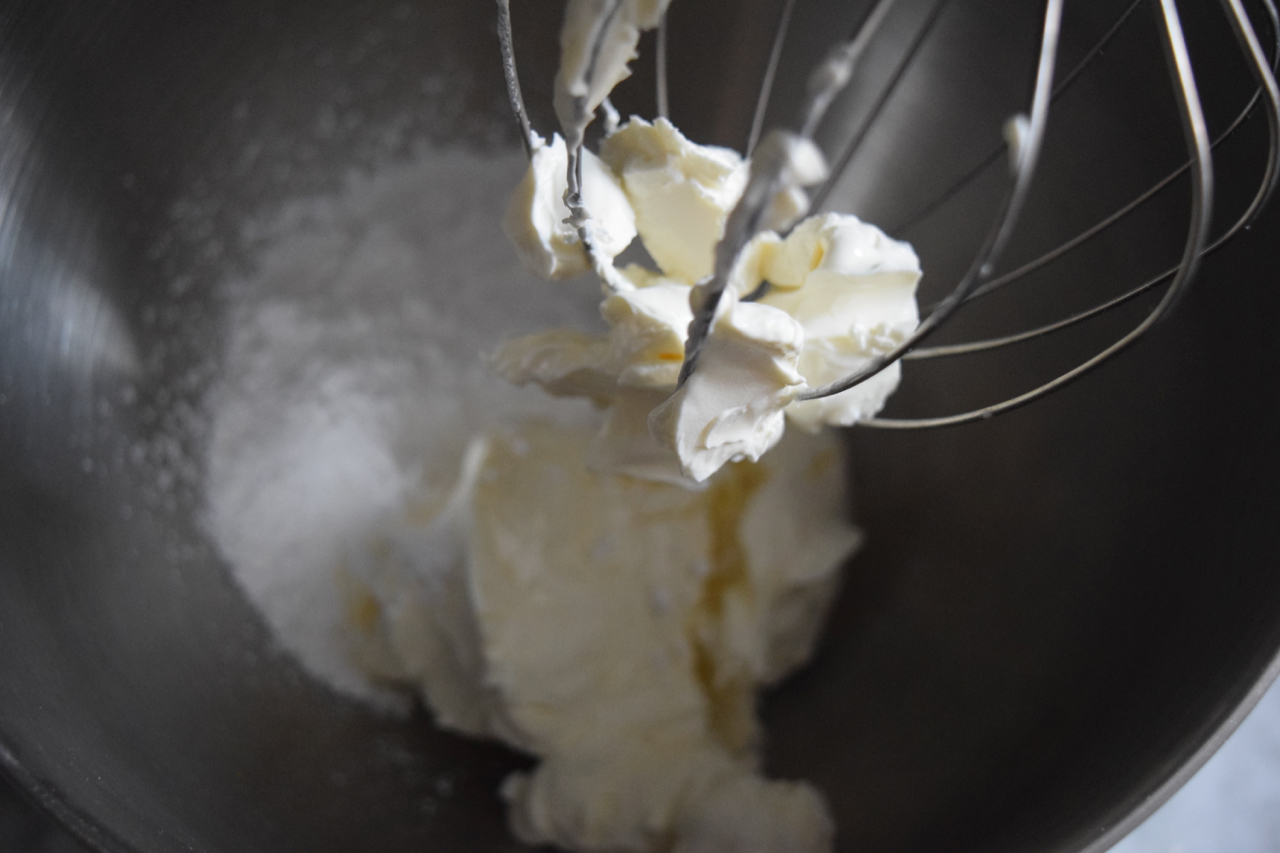 Whisk this until the ingredients are mixed and are smooth. Do this slowly unless you want icing sugar fumes all over your kitchen.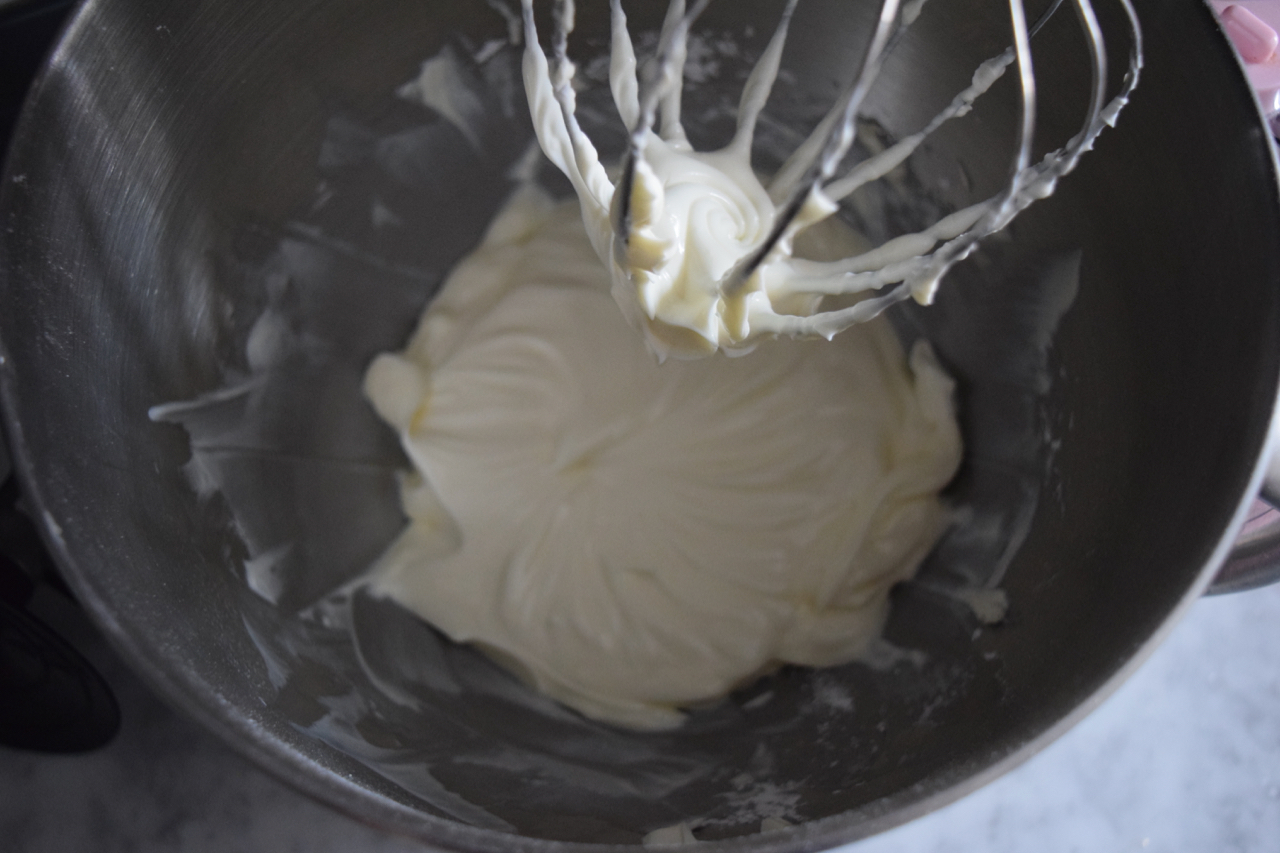 Next, measure in the caramel and whisk again. Keep the mixer on slow and whisk well until the caramel is combined. Keep the whisk on a low speed, you don't want the mixture to split.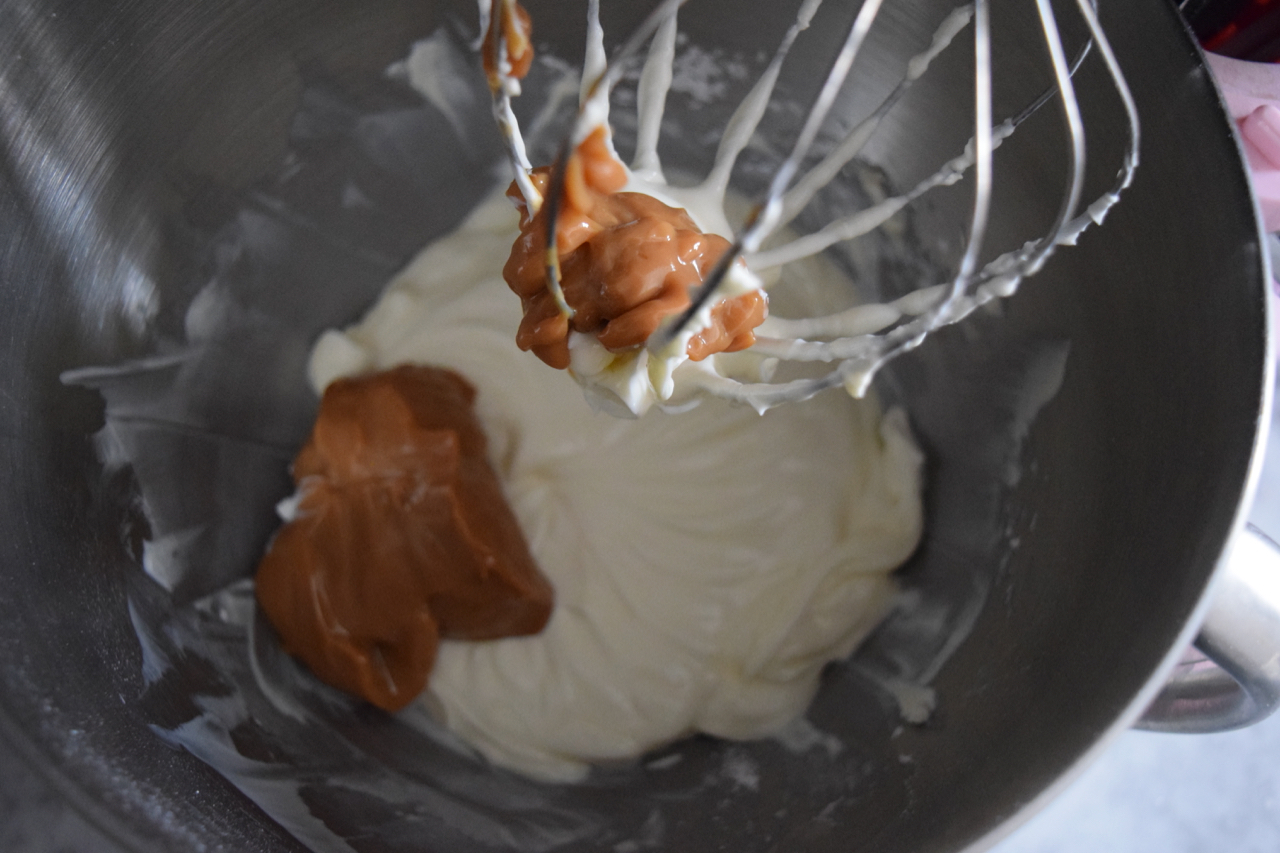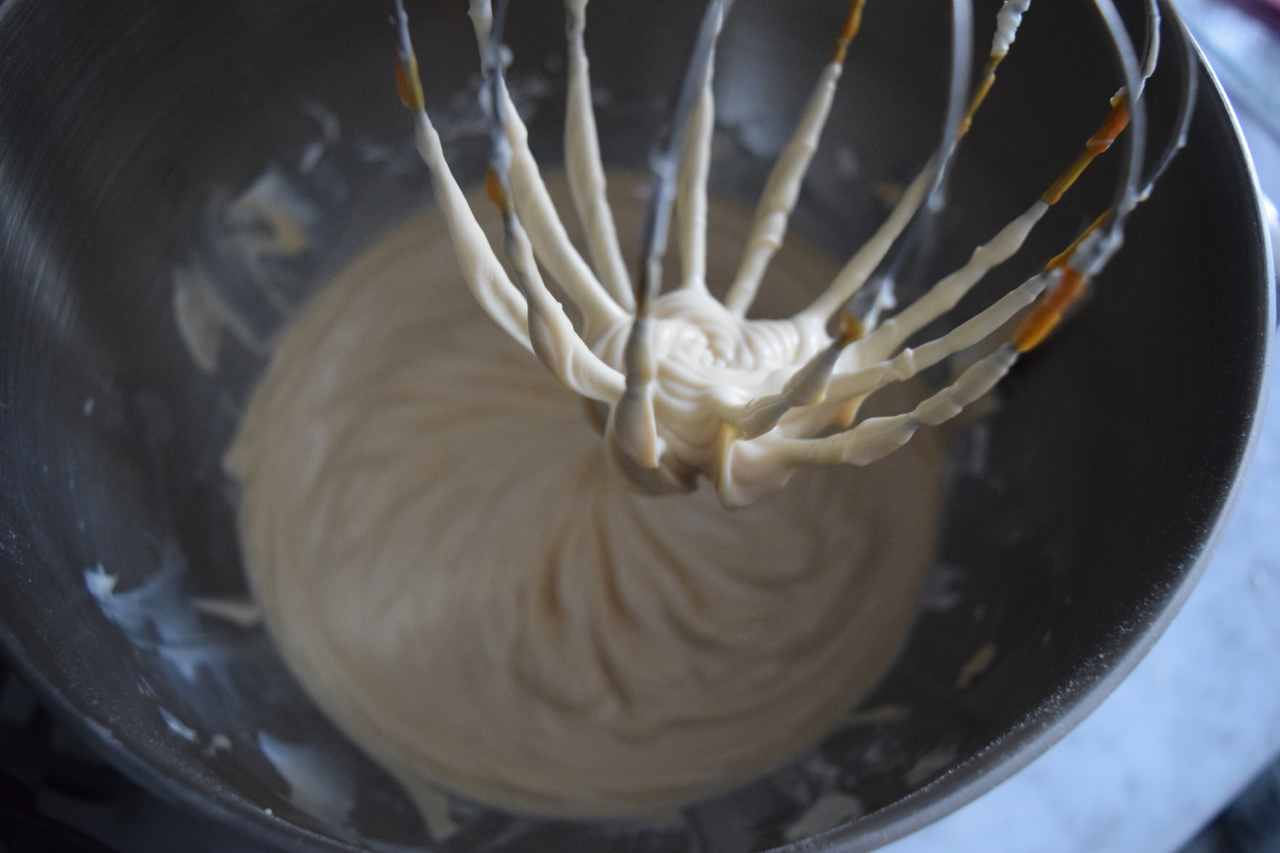 Finally pour in the cream and yes, no surprises, whisk again. Slowly, but for quite a while until the mixture holds firm.
Like this. Now scrape this tempting cheesecake mixture onto your chilled base and spread out until you have an even layer. Then lick the bowl because it tastes bloody lovely.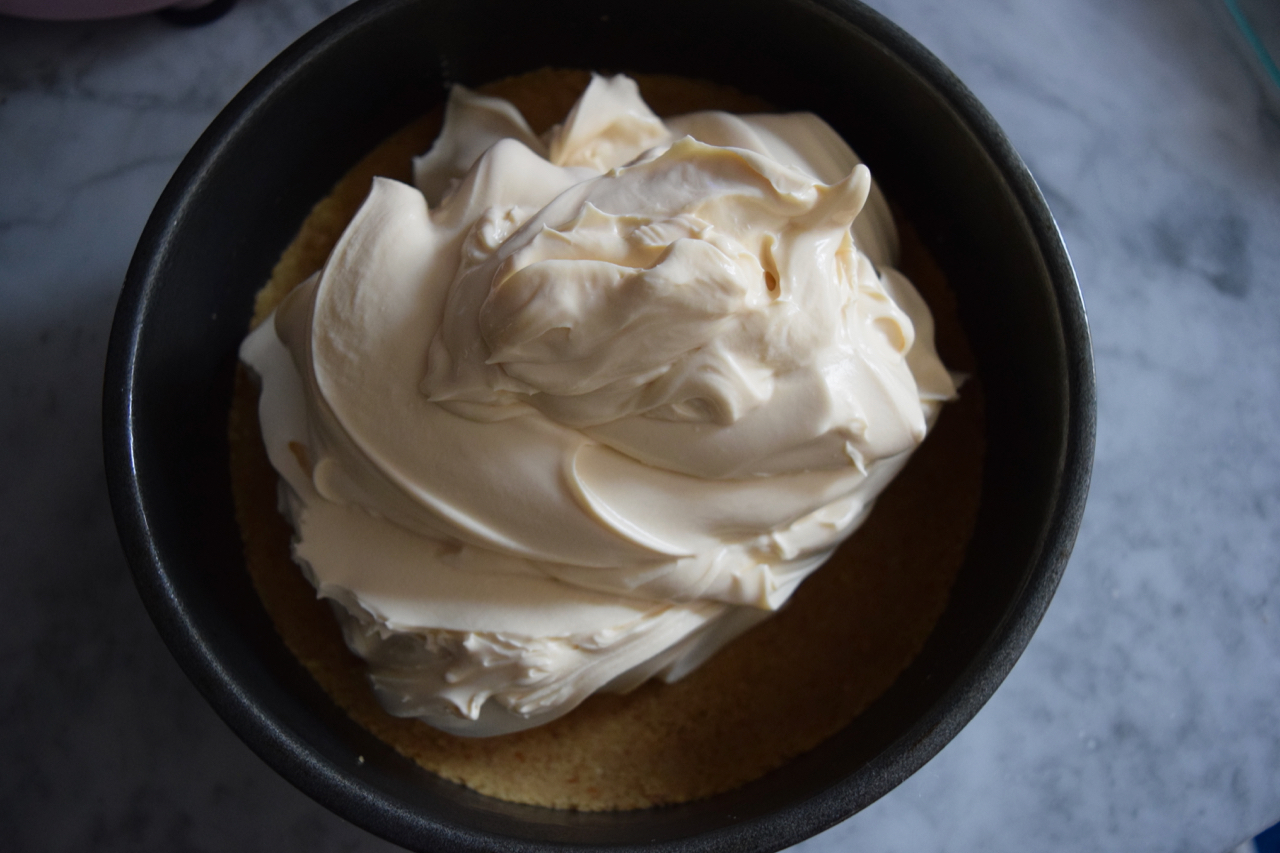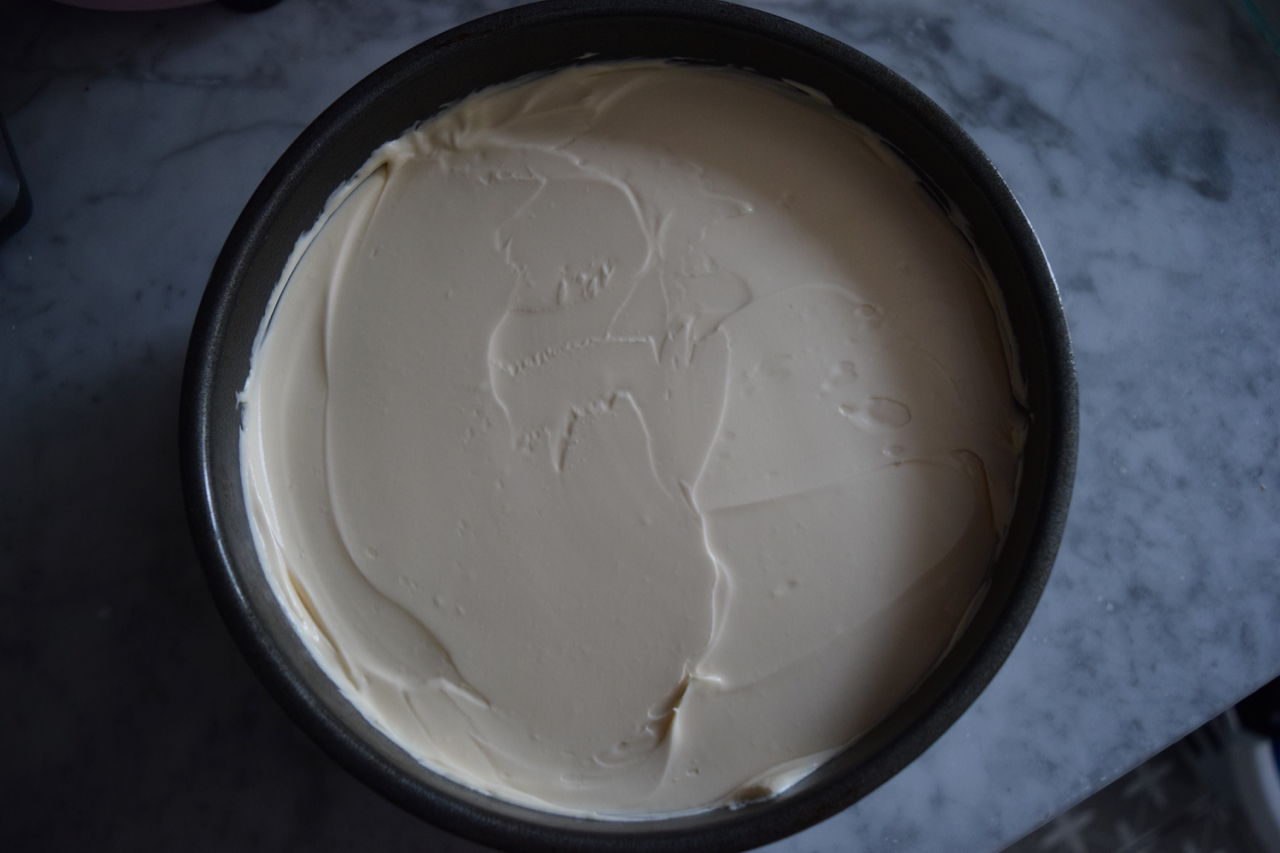 Now, this needs at least 6 hours in the fridge to set, but it's best left overnight if you can bear it. Your cheesecake will be ready when it's set and completely chilled *unlike me*.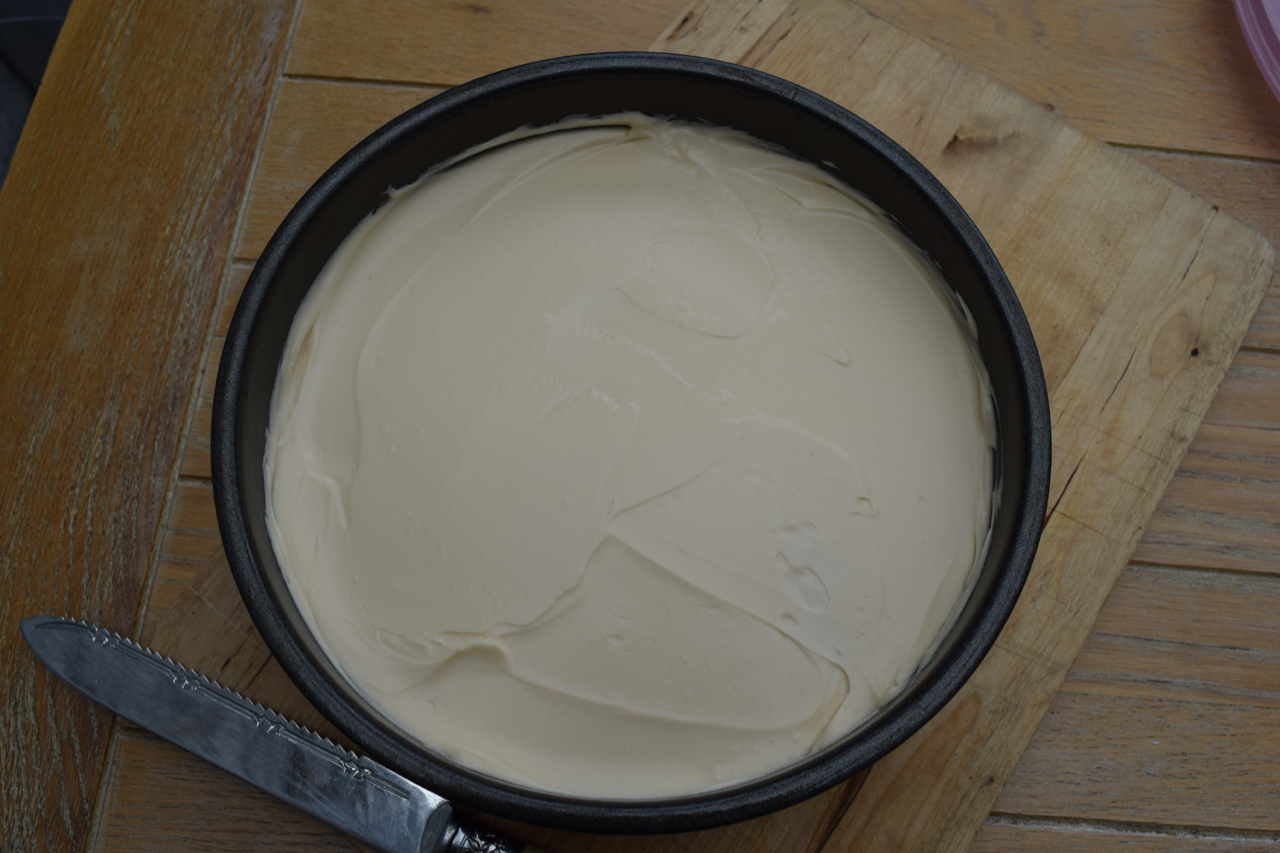 Run a knife around the edge of the tin then push the cheesecake out and pop onto your presentation plate. Sprinkle with a generous pinch of sea salt flakes then drizzle with some more caramel and a handful of crushed pretzels for luck.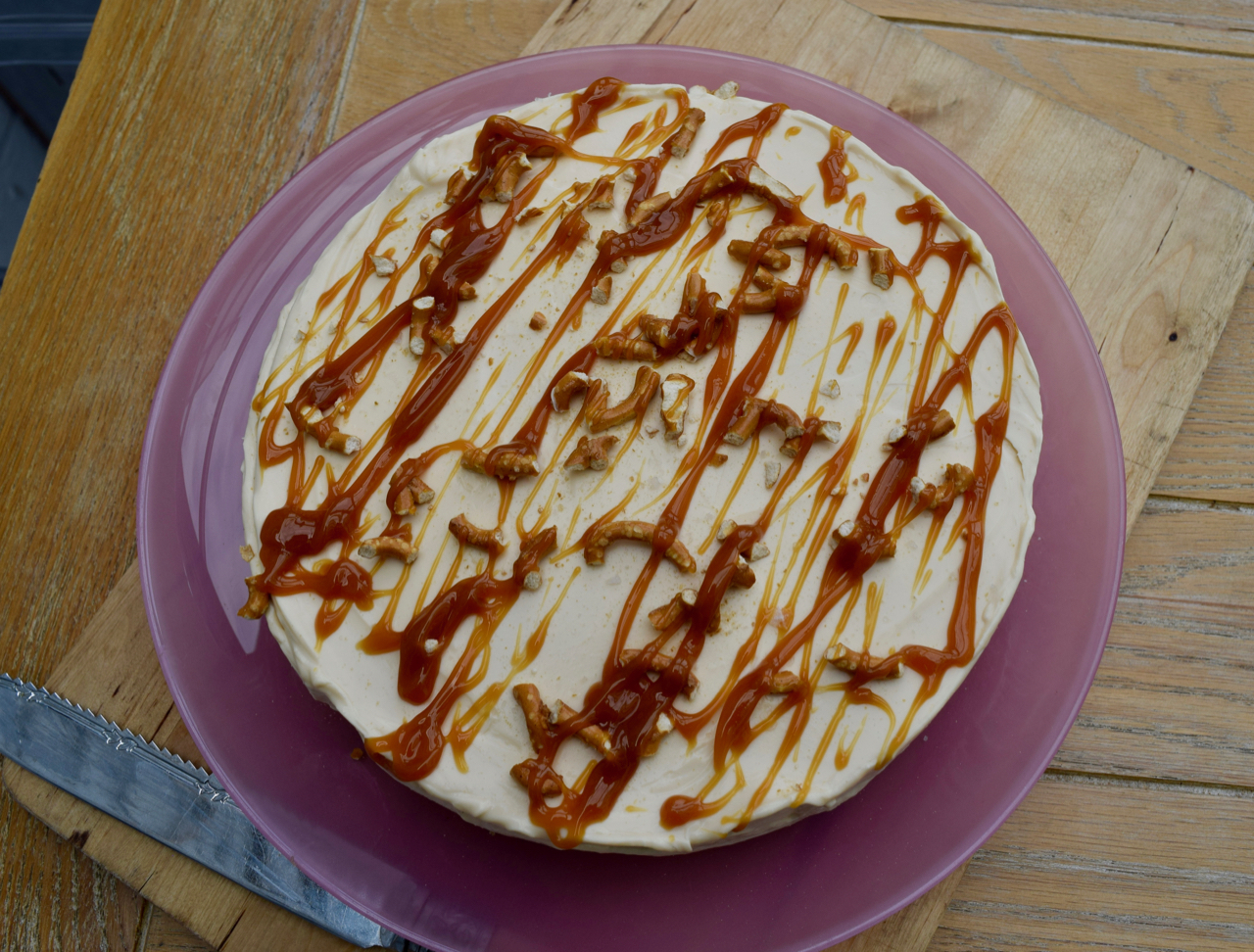 Serve in modest slices or hoofing great big slabs, it's up to you. Serve alongside some pouring cream too if you like.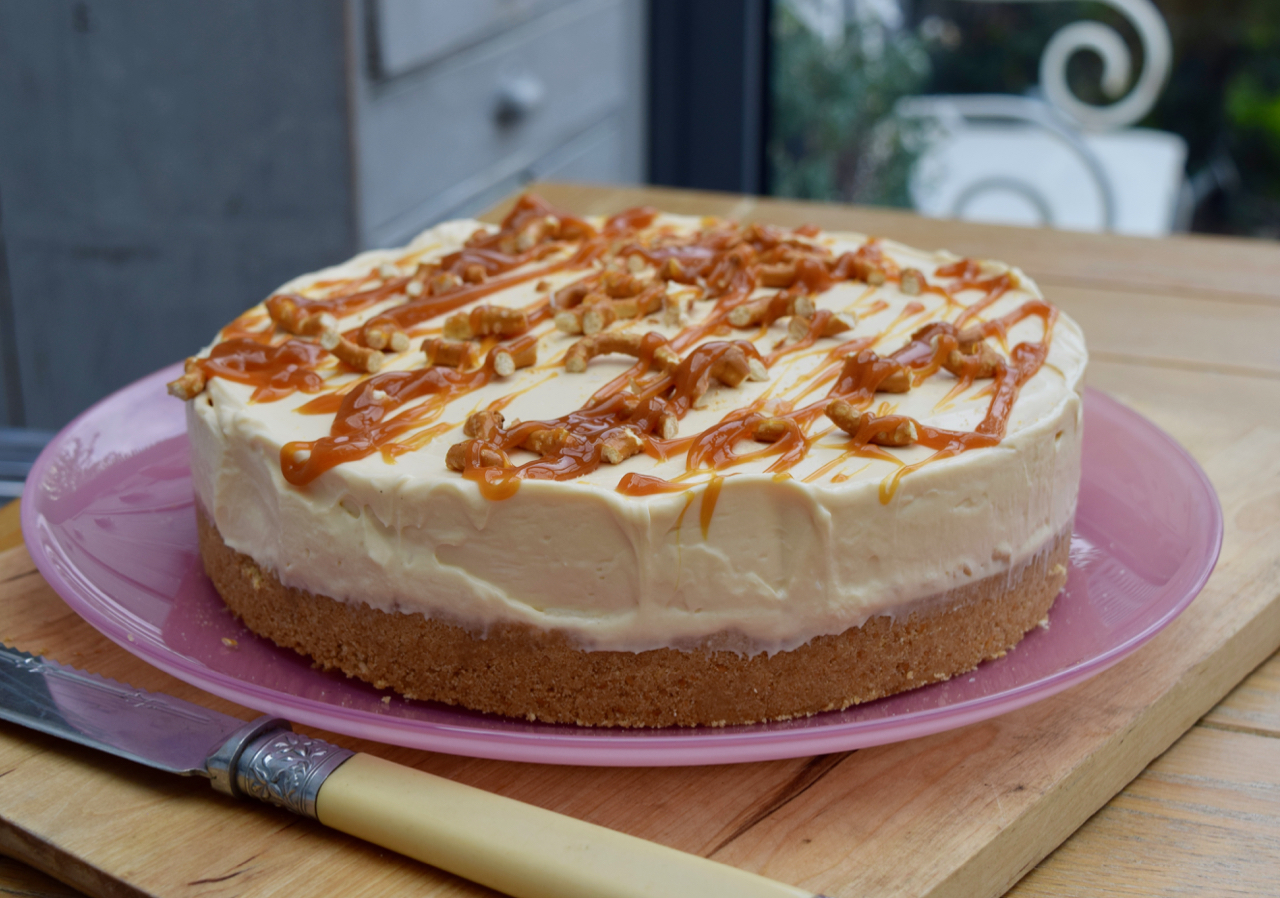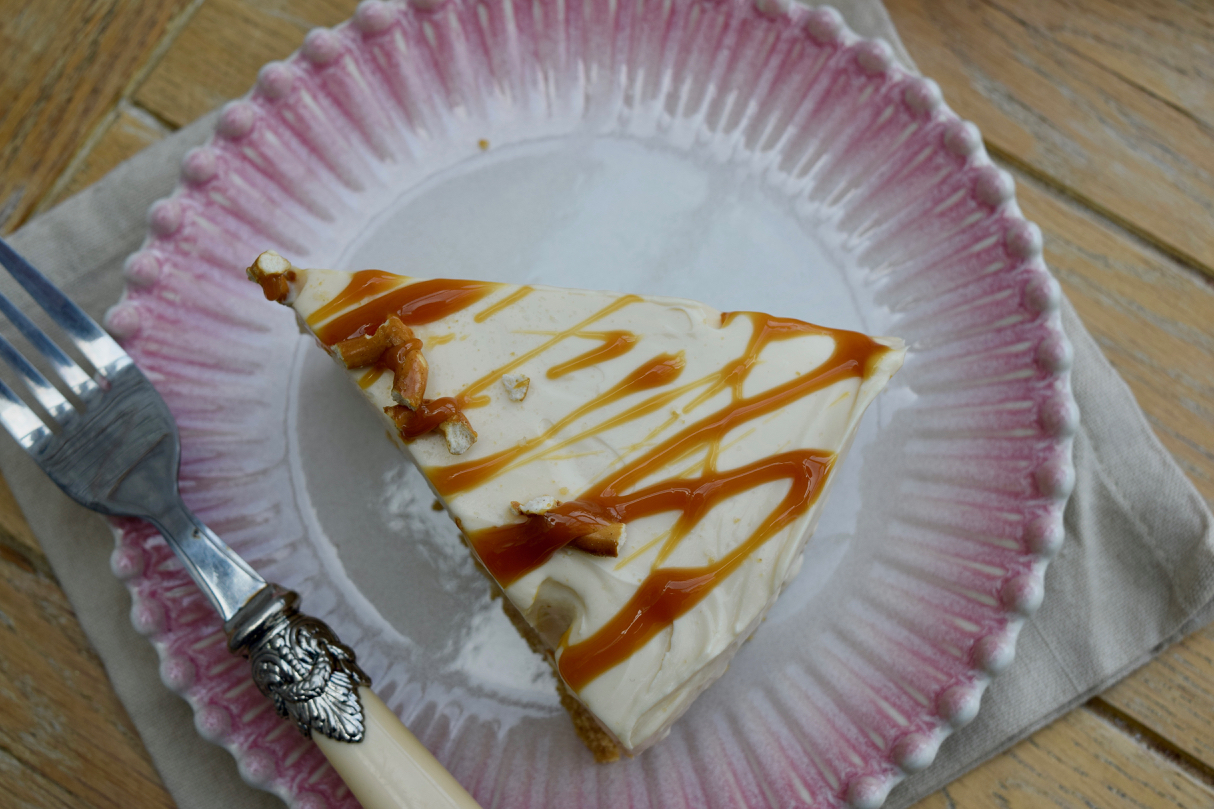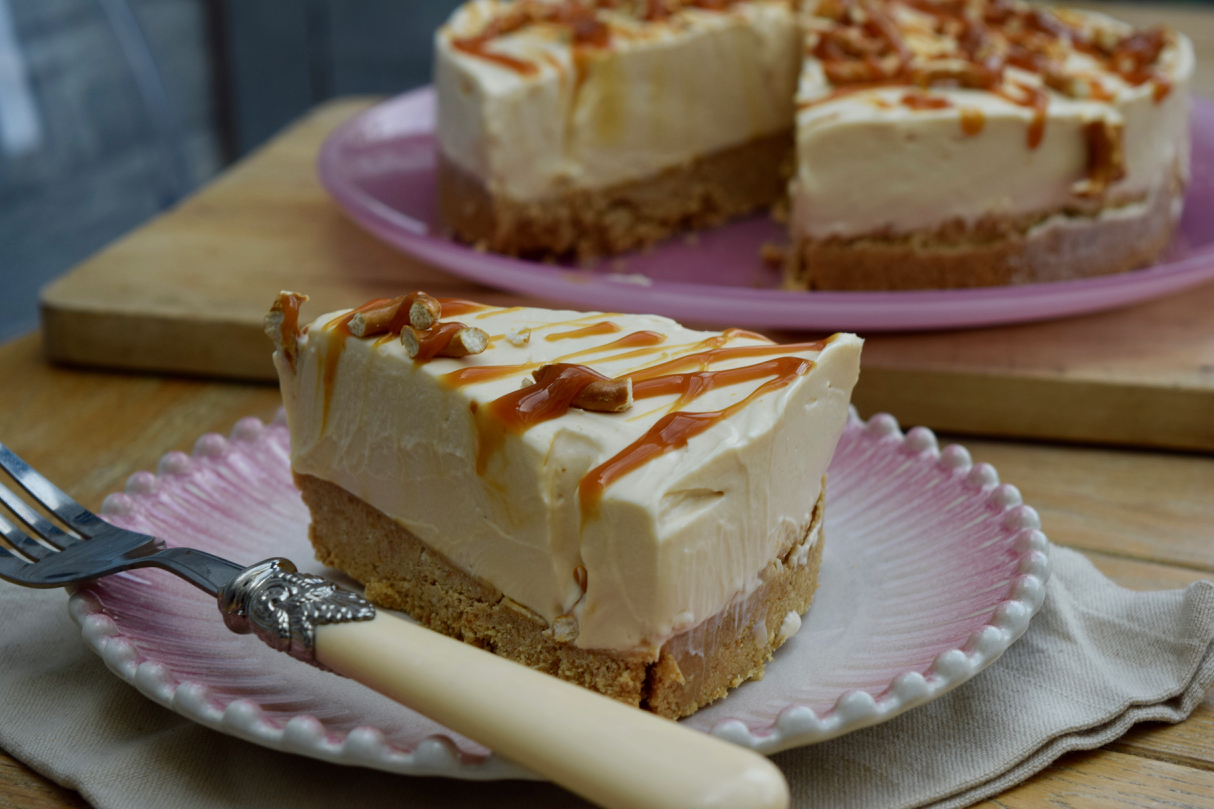 This is so good, my mouth's watering just looking at the photos. It's big enough to feed your hungry family over the long Easter weekend, just make sure they eat plenty of Easter eggs first so they leave you enough for second helpings.
Lucy x
Salted Caramel Cheesecake Recipe
Serves 10 to 12, dependent on the size of your portions
You will need a stand mixer or a hand whisk and a lined 8 inch or 20cm loose bottomed cake tin, well buttered
Base
250g digestive biscuits
75g pretzels
110g butter
Cheesecake
500g cream cheese, full fat
1 teaspoon vanilla extract
100g icing sugar
200g caramel, the Carnation kind from a tin is best, this is approximately half a tin
300ml double cream
A generous pinch Maldon sea salt 
A good extra drizzle of caramel and a handful crushed pretzels for decoration
Take your cake tin and butter it well.
In a food processor or in a bag with a rolling pin, crush the pretzels and digestive biscuits until you have fine crumbs. Tip into a bowl. Melt the butter in a microwave or a small pan until just melted then add it to the crumbs. Mix until the crumbs are coated and start to stick together.
Tip them into your buttered cake tin then press down to form an even layer. Pop this in the fridge while you make the filling.
In a bowl with a hand mixer or in your stand mixer add the cream cheese, vanilla and icing sugar. Mix well then scrape in the caramel. Beat on a slow speed until well combined, don't be tempted to whisk too hard or the mixture may split. Pour in the cream then continue to whisk again until the mixture is thick and holding firm. You need the mixture to be good and firm or the cheesecake won't set sufficiently.
Scrape the cheesecake mixture onto your chilled base and level the surface. Then leave to chill in the fridge for at least 6 hours although this is better chilled overnight.
When you are ready to serve your cheesecake sprinkle the top with the sea salt then drizzle with some more caramel and sprinkle with some crushed pretzels. Serve in large slices with some extra pouring cream, if you like.