Simple Caramel Strawberry Tart Recipe
My name's Lucy and I am addicted to recipes. There, I've said it, it's out in the open, I just had to get that off my not particularly ample chest. When I am not cooking recipes for Lucy Loves, I am researching recipes for Lucy Loves or just looking for food to catch your eye or to feed my family and friends. I am hopeless at my book group as I never read the suggested books as any spare time I get is spent scouring Pinterest, my huge cookery book stash or tearing out pages from cookery sections of newspapers and magazines. When I find a recipe I know you're going to love, I am like a dog with a bone, I can't wait to make it and share it with you. It's almost as though I have some juicy bit of gossip I need to tell you, but I can't until I get my facts straight. Here's where this Simple Caramel Strawberry Tart recipe comes in. It's an absolute bloody beauty, wait til you get your hands on one.
To start with, this tart comes to you via the ever amazing Epicurious, with thanks, so I knew it was going to be a brilliant one. Secondly, it is simple, it doesn't just pretend to be simple to lure you in. All this recipe involves is the making of some easy shortbread, rolling it out and a super short baking time. Then plop on whipped cream and sour creams, shop bought dulce de leche and some sliced strawberries and you're there. Dessert is served and it looks bloody amazing even though it only took around 45 minutes and no effort to make. Another reason I love this Simple Caramel Strawberry Tart is because it looks 'rustic' and by now you know my definition of 'rustic' is 'looks a bit crap'. Which is great, because if you don't roll your biscuit base out perfectly, it doesn't matter because it's meant to look like that. Mine cracked when I moved it, but it doesn't matter, because I covered it up with all the incredibly sweet and tasty toppings. Win, win, win.
This Simple Caramel Strawberry Tart recipe has now joined my long list of new favourite recipes. There are not enough meals in the day to utilise all my fave recipes, but it's an addiction I am not seeking help for, I will just battle on with my tireless search for new and exciting things for you to enjoy. God, I am such a trooper, please don't feel you have to thank me *please do thank me when you see me next or I will cry*.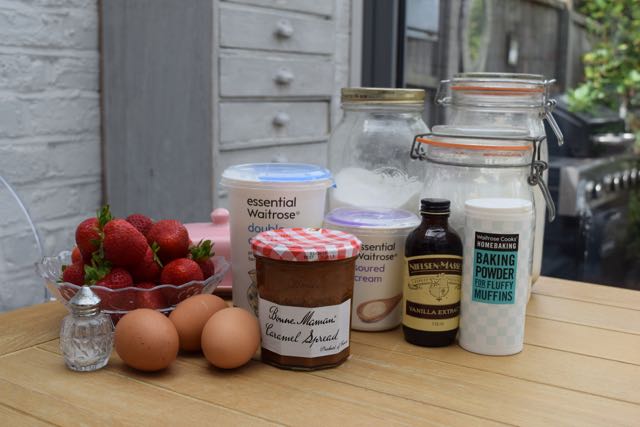 Yum. What an ingredients line up, I defy you to find anyone who doesn't love this tart. I had the jar of Bonne Maman Caramel but Carnation do a good one in a tin too. Other than the strawbs or cream this is all good store cupboard fodder, so this can be whipped up at a moments notice, which is helpful.
Make a start by preheating your oven to 160 degrees and lining a large baking sheet with baking paper and having another large sheet to hand for rolling out purposes. Now take your stand mixer, food processor or bowl with a hand mixer and add the soft butter and caster sugar. Beat until lighter in colour and texture.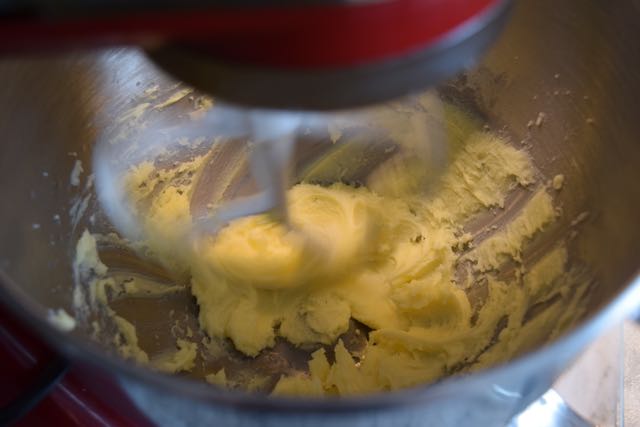 Now beat in the two egg yolks, saving the whites for meringues if you are a food horder and phobic about waste like I am, along with the vanilla extract.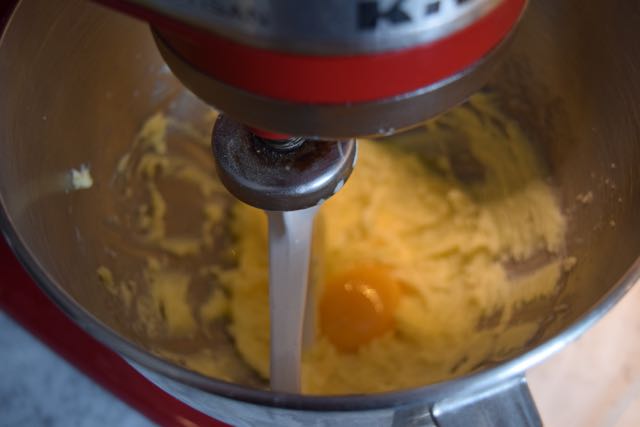 Weigh out the flour, cornflour, salt and baking powder then slowly add this to the butter mixture until a soft dough is formed.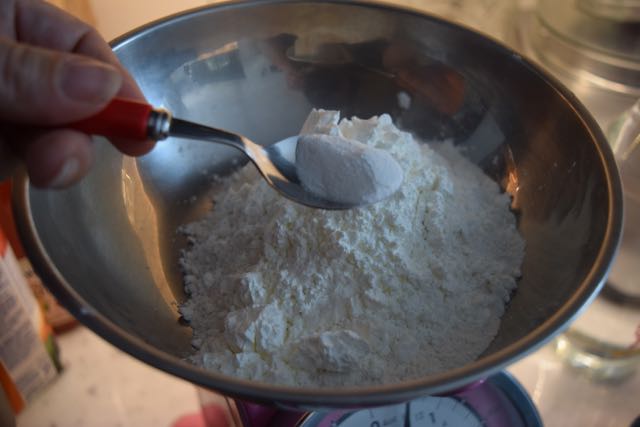 Fashion this dough into a ball and place on the sheet of baking paper for your baking tray. Cover the ball with a further large sheet and roll out into a rough circle around 11 inches or 28cm in diameter. It's quite thin, about half a centimetre thick, but don't worry it's not too flimsy, the dough is quite sturdy.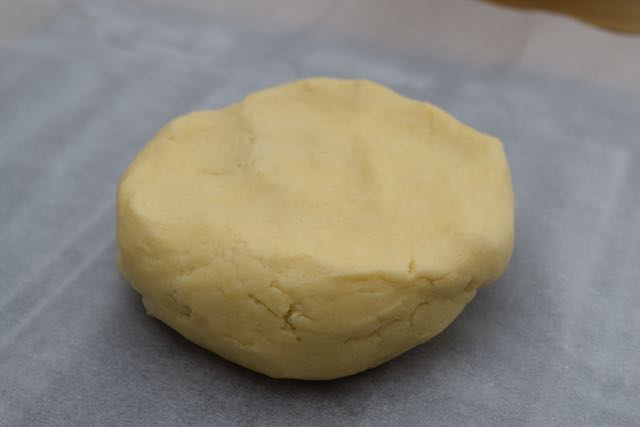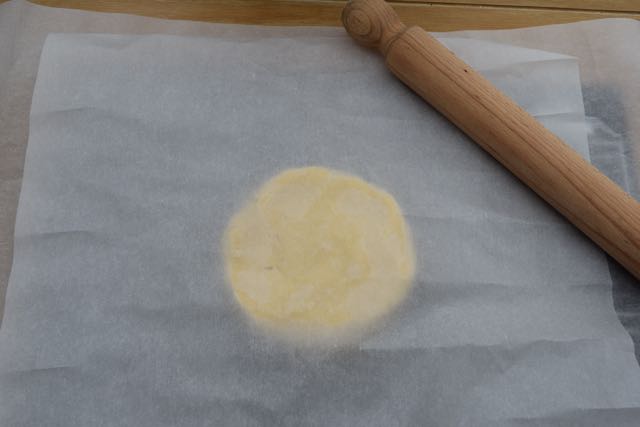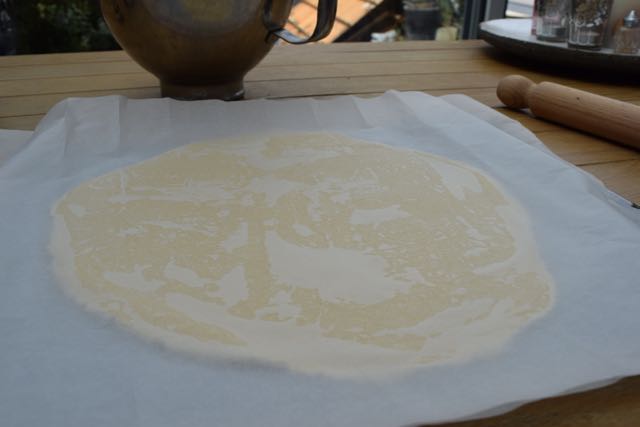 Lift the top sheet of paper off, carefully, then place the whole circle and it's attached bottom sheet of paper on the large baking sheet. Pop in the oven for between 12 to 15 minutes or until just starting to turn a lovely golden brown at the edges.
Leave this to cool completely until you are ready to serve this pud. This is best assembled at the last minute but you can pre prep the cream and strawberries and just throw it all together as and when you need it. Don't be tempted to make the whole thing in advance you will suffer horribly from a soggy bottom type scenario.
When you are ready, start by super carefully removing the baking paper and place the cooled tart base on a large plate or serving board.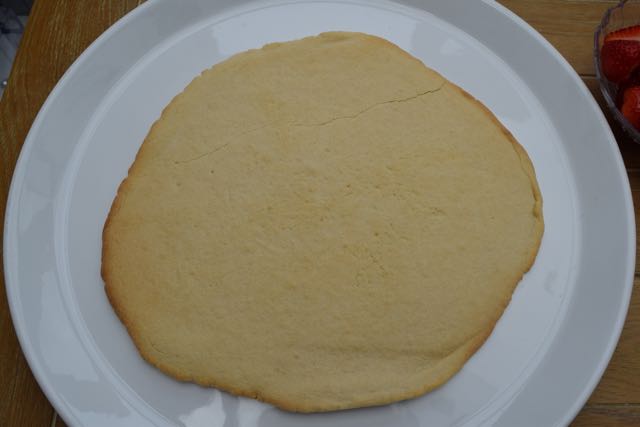 Note the crack along the top, well done me for trying to move the base while it was still warm. It didn't matter at all as the toppings covered it up a treat.
Make a start by covering the base with your chosen caramel then plopping on the softly whipped creams, sugar and vanilla.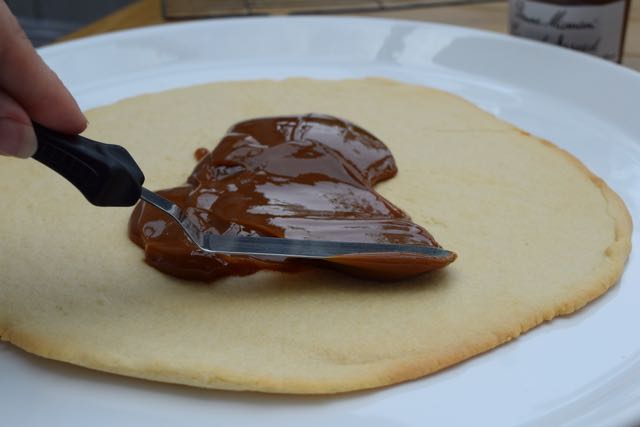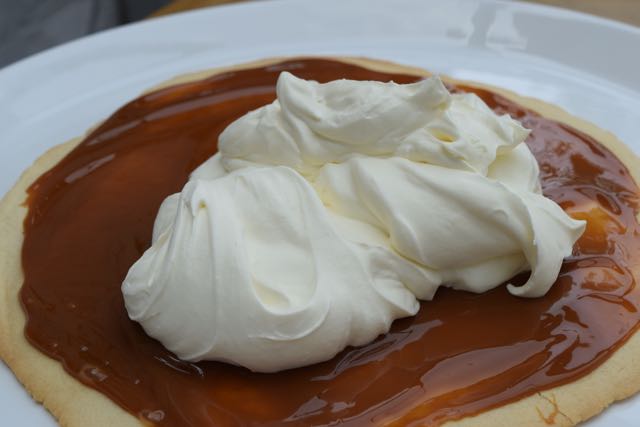 Spread the creams out then cover with your summer scented sliced strawberries. No need for artistic integrity here, just pile them up randomly.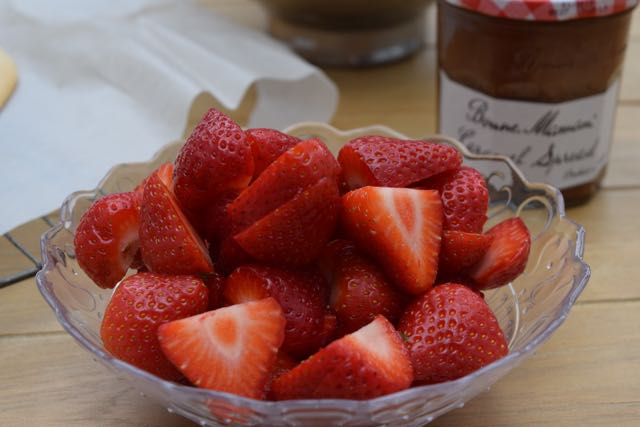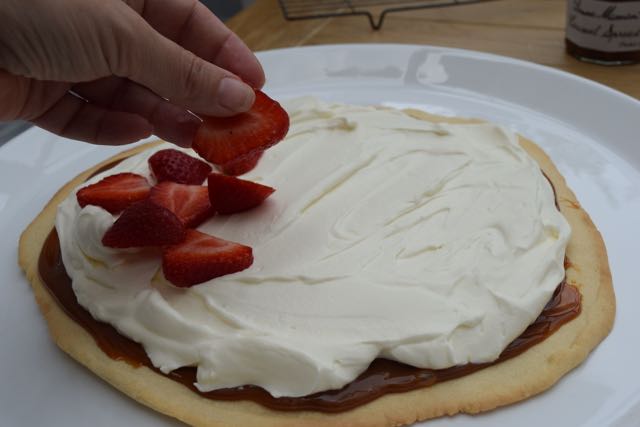 And that's your role over. All that's left now for you to do is to devour this simple, but oh so sodding delicious tart in enormous wedges. Although I did give it a tiny dusting of glitter because I couldn't help myself.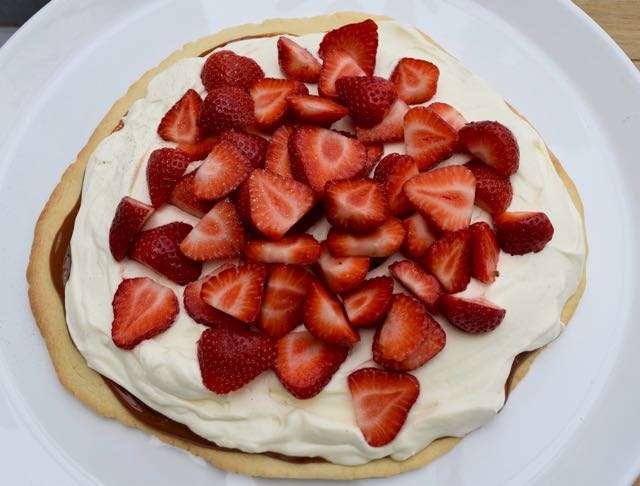 I bloody love rustic.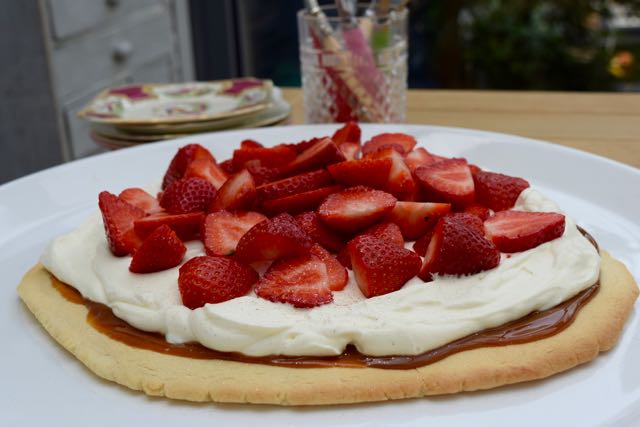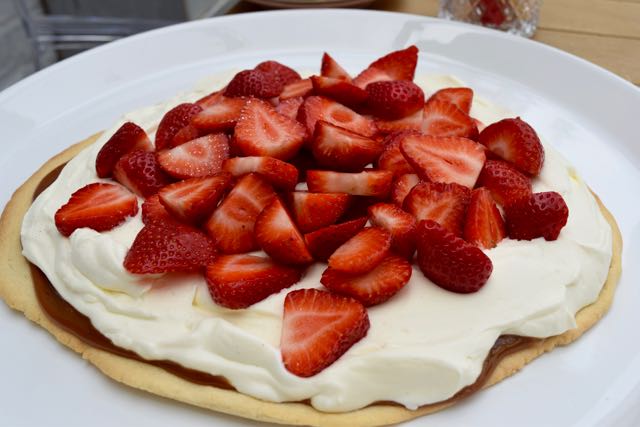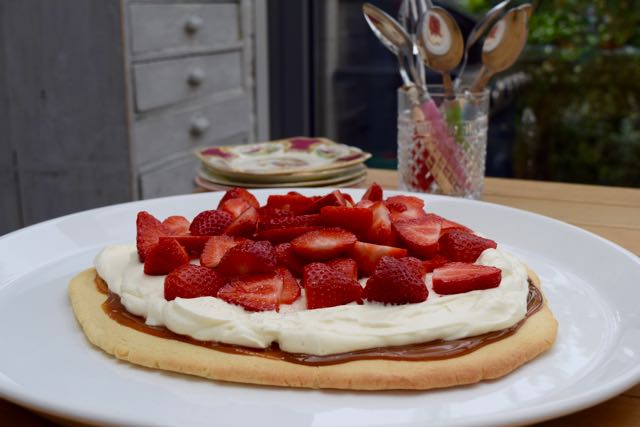 Simple, rustic, caramel three words which are music to my ears and heaven for my tummy. This is an exciting new recipe and one which I am having a bit of a holiday romance with. I am certain, however, this will last a good deal longer than the traditional fortnight in the med.
Lucy x
Simple Caramel Strawberry Tart Recipe
Serves around 8, slice size dependent
You will need a stand mixer, food processor, bowl and hand whisk or brute force
Shortbread
125g plain flour
40g cornflour
1/4 teaspoon baking powder
1/4 teaspoon salt
85g soft butter
75g caster sugar
2 egg yolks
1 teaspoon vanilla extract
Topping
250ml double cream
125ml sour cream
3 tablespoons caster sugar
1 teaspoon vanilla extract
125ml dulce de leche or Carnation Caramel
400g strawberries, sliced
Pre heat your oven to 160 degrees fan assisted and line a large baking sheet with baking paper and have another large sheet to hand.
Take your food processor, stand mixer or bowl and a hand mixer and beat the soft butter and caster sugar together until lighter in colour and texture.
Add the egg yolks and vanilla extract and beat again to mix. In a bowl mix together the plain flour, cornflour, salt and baking powder. Stir then slowly fold this into the butter, sugar and egg mixture until a ball of dough is formed.
Take two large sheets of baking paper and place the dough between the sheets. Roll out into a vague circle roughly 11 inches or 28cm wide. Lift the top sheet off the circle and place the dough, still on the bottom sheet of paper straight onto the baking sheet. Place in the oven for 12 to 15 minutes or until just starting to colour at the edges. Leave to cool completely on the tray.
When you are ready to serve the tart take your stand mixer or hand whisk and beat together the cream, sour cream, sugar and vanilla until it holds soft peaks. Slice the strawberries and place to one side.
Carefully place the shortbread disk onto a large serving plate or board and gently spread the base with the dulce de leche or caramel. Plop the whipped creams onto the caramel and carefully spread over the top. Artfully arrange the sliced strawberries on top of the cream then add a dusting of edible glitter if you like. Serve immediately.
Any left overs will keep in the fridge for a couple of days but the bottom will be soggy, but still delicious.
SaveSave
SaveSave
SaveSave
SaveSave