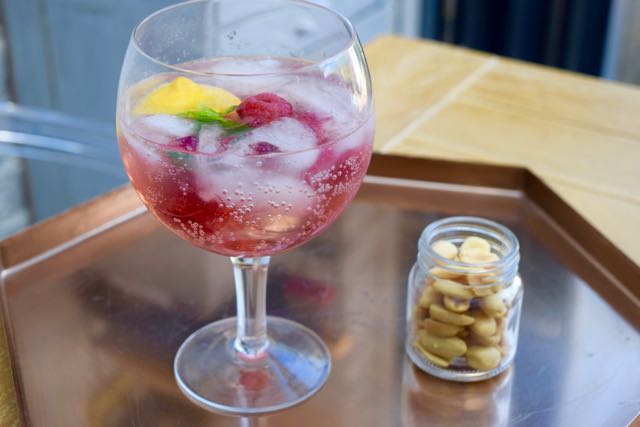 Raspberry Gin and Tonic Recipe
Christ it's been a long and really quite stressful week. a) it's my first week of being 47 and I feel quite elderly b) I am the accountant at work as our real, qualified accountant is on holiday and c) we have been eagerly awaiting Ben's A level results. The latter point being the most stressful part, as his results could genuinely have gone either way. I have spent a lot of the week preparing my 'not disappointed' face whilst wrestling with the fact I actually didn't want him to do well as then he would be off to university and leaving me. However, the week is over and Ben did brilliantly and will be off to Portsmouth in a month and leaving me *sobs*. So through the tears of joy and utter selfish sadness, I have been drinking too much. In amongst rather too much Rosé, I have discovered a new and rather splendid way of drinking my beloved gin, being this delightful Raspberry Gin and Tonic.
I don't feel you have to mess with a classic unnecessarily and I am quite the purist when it comes to my gin. However, this Raspberry Gin and Tonic is bloody lovely, so balls to being puritanical. It does help if you start with a good gin, and I was gifted this elegant little number by my in laws and save it for special occasions, today being one of those. My favourite gin flavours are complimented hugely by a little nip of the even more elegant Chambord black raspberry liqueur and the whole affair is garnished with a touch of mint and fresh raspberries. Delicious, fresh with a huge hint of summer sunshine, something we are severely lacking in the SW14 area.
This recipe comes, with huge thanks, from the Bombay Sapphire website, and they do know what they're talking about. I don't like to encourage drinking *awkward face emoji* but I would definitely recommend getting your chops around a Raspberry Gin and Tonic this Cocktail Friday. Even if it hasn't been a bloody long and slightly stressful week, I would still imagine you deserve one of these beauties nonetheless.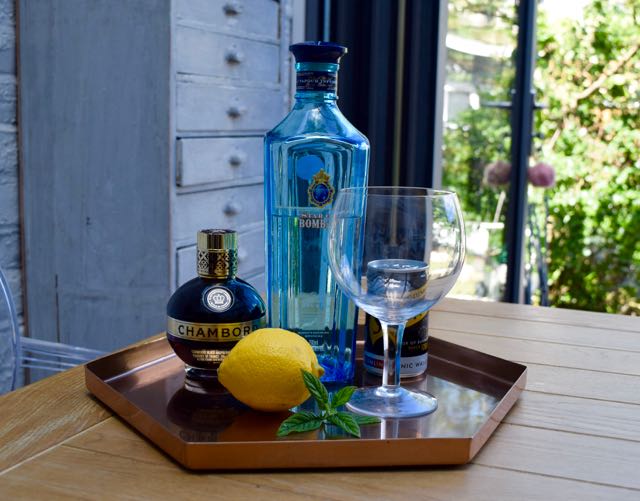 Such an elegant tray full of drinks for this Friday Cocktail gin special. Both bottles are so fancy they would happily grace anyones drinks trolley. I have said it before, the Chambord is really worth the £7 investment, it adds a lovely colour and not too sweet taste to a host of drinks.
Make a start on this Raspberry Gin and Tonic with a large balloon glass and a wedge of lemon. Squeeze the lemon into the glass then drop it in and then add the large shot of your chosen gin.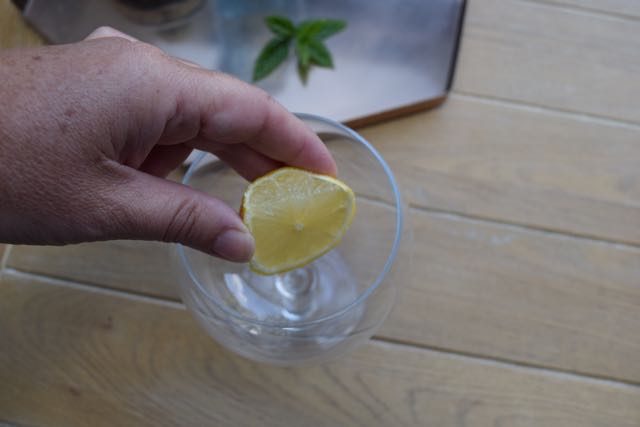 Aaggghh horrid hand in the shape of Emu shot.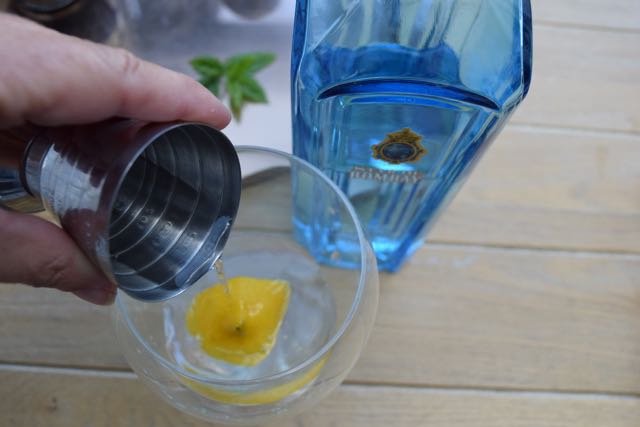 Add a good handful of ice then top up with the tonic of your choice. I insist on slimline but I know a lot of people are phobic about diet mixers, so just choose your favourite.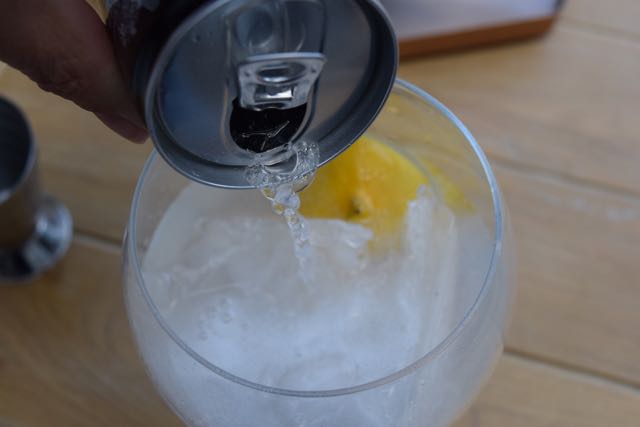 Finally give this a stir then slowly pour in the half shot of Chambord and garnish with some raspberries and a few mint leaves.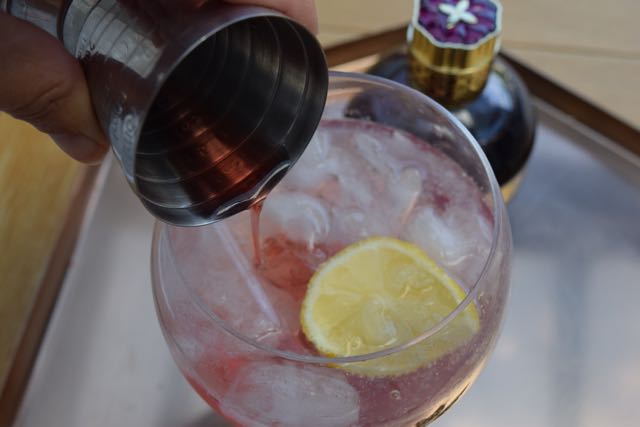 This is so good, I can say no more than try it, as a matter of urgency.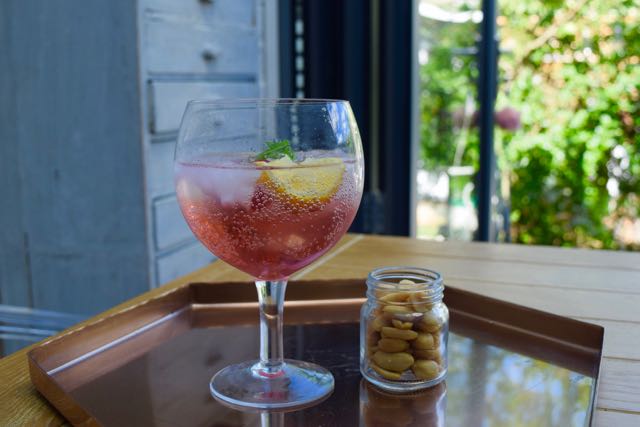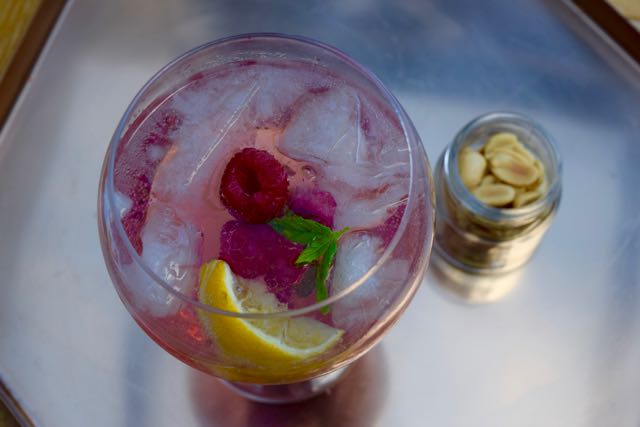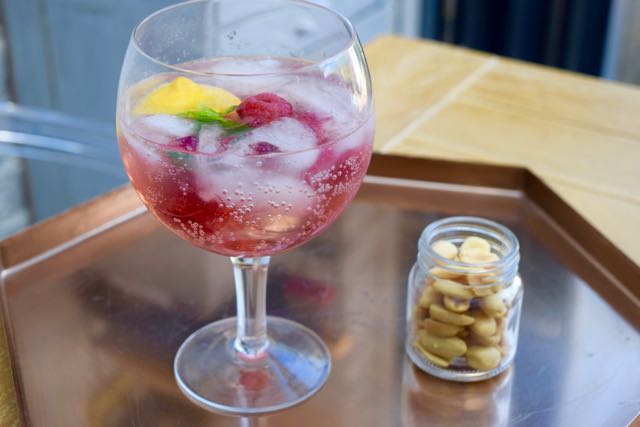 We will be raising our glasses, if we haven't had one to many this evening, to Ben this Cocktail Friday. We are the super proud parents of a charming and bright 18 year old who is off to university in a month *said with a sob and with tear stained cheeks*.
Cheers to you all this weekend, have a restful one.
Lucy x
Raspberry Gin and Tonic Recipe
You will need a balloon glass
Makes 1
40ml Gin
wedge of lemon
Ice
100ml tonic water
15ml Chambord
Mint sprig and raspberries to garnish
Take a large ballon glass and squeeze in the wedge of lemon then drop it into the glass. Add a handful of ice then pour on the gin. Top up with tonic water, stir then slowly pour on the shot of Chambord.
Garnish with raspberries and a mint tip. Sip and enjoy the fresh summer flavour.
SaveSave
SaveSave
SaveSave
SaveSave