Summer Ceviche Recipe
Well, this recipe has slightly fallen on it's arse because, as I write, it's raining and the temperature has dropped 20 degrees from this time last week. When I originally photographed my Summer Ceviche, I was wearing a pair of shorts and a skimpy vest top at the height of the heatwave; now my slippers are back on. However, with my optimistic hat on and with the bank holiday weekend a good couple of weeks away, let's stay positive the balminess will return and let's eat this Summer Ceviche and enjoy it.
I have eaten Ceviche in restaurants before but had never made it before as I feared it was super complicated. Little did I know it's simply fresh white fish with citrus juices and some other tasty bits and bobs. On finding this brilliant South American recipe on the ever amazing Bon Appetit, with inspirational thanks, I instantly knew I had to try it and knew I would love it. Ceviche, is wonderfully fresh fish, mine being sea bass, marinated in a mixture of lemon and lime juice and just a touch of chilli, which almost 'cooks' the fish making it firm and delectable. This is served with some chopped red onion, sweet cherry tomatoes and some creamy avocado making it a fresh and light first course or main course. Throw in some crisp tortilla chips or soft tortillas to scoop and dip and this recipe is perfect should the warm weather ever return or if you just love fish. It's simple too, you don't even need to sully a pan for this recipe: it's bowl and chopping board based, so you will not work up a sweat during it's creation.
I am so excited to share this with you, not least because the whole dish is topped off with toasted corn, a snack I've loved since I first discovered it on Spanish based summer holidays as a child. This adds a salty crispness to this most perfect dish, just add some sunshine *I know I moaned it was too hot, but please come back*.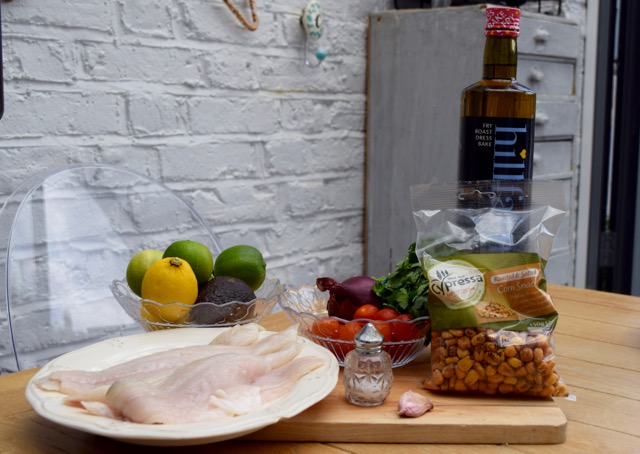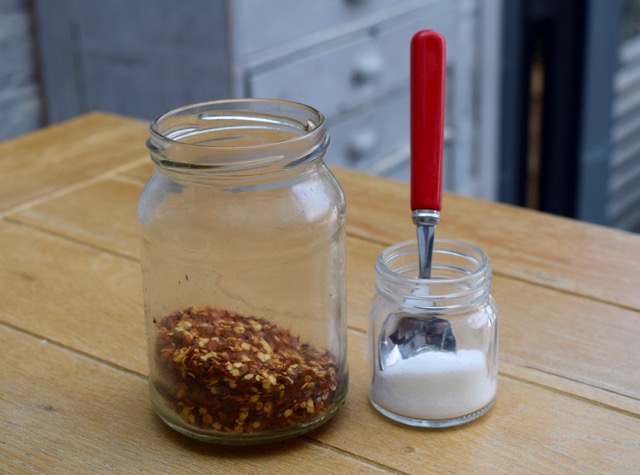 Two line up photos can only mean one thing – yes, I am rubbish and forgot to include the chilli flakes and sugar. However, there's nothing complicated and you don't even need to go to Spain to get the toasted corn, this came from a Co-op local to me in Battersea, so not terribly cosmopolitan.
This is a speedy and simple recipe, so you only need to get going on this half an hour before your guests sit down. And even then you are not lurking around with your head in the oven, so you can be sociable whilst prepping. Make a start by skinning your chosen fish, if it has skin on, and cutting into bite sized pieces. I used some lovely sea bass fillets, which were on offer, of course they were. Any firm white fish would be brilliant here. I didn't photograph my fish skinning skills as it's not a pretty process and my hands were too fishy to touch my beloved camera. Next, start on the dressing. Mix the lemon juice with the garlic, chilli flakes, sugar and lime juice.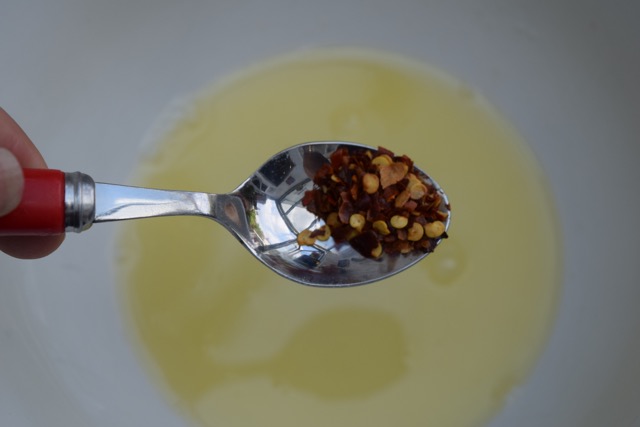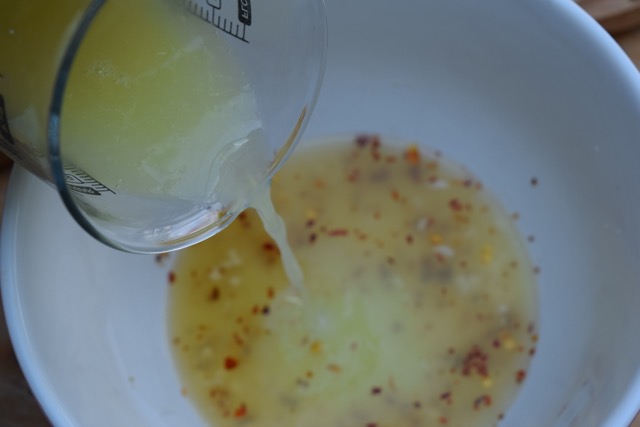 Give this mixture a lovely stir to dissolve the sugar then tip in your chopped fish and give it all a good mix. Add salt to taste.
Cover this and leave to sit for 10 to 15 minutes. Next into this divine mixture is the sliced red onion and the cherry tomatoes. Just halve the toms if small or slice if larger. Stir in the tablespoon of oil now too.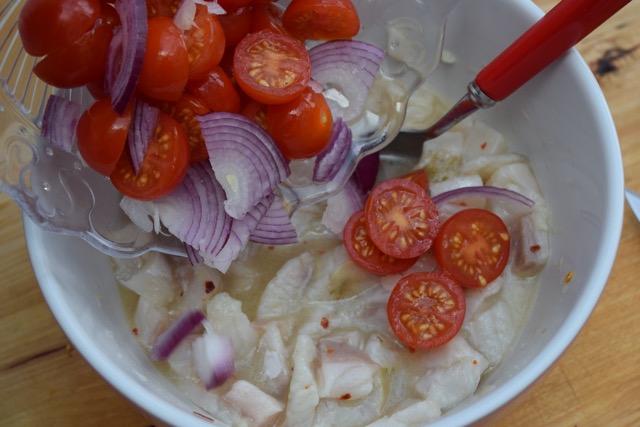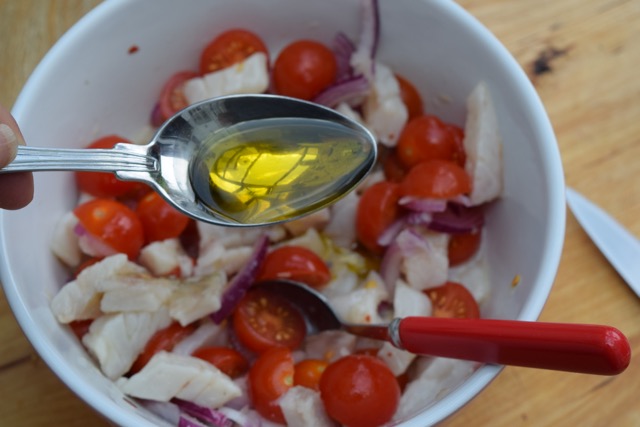 Leave for another 5 minutes then chop your fresh coriander leaves and peel and chop your ripe avocado. When the time is up, add the herbs and avo. Ensure all the ingredients are elegantly coated in the marinade.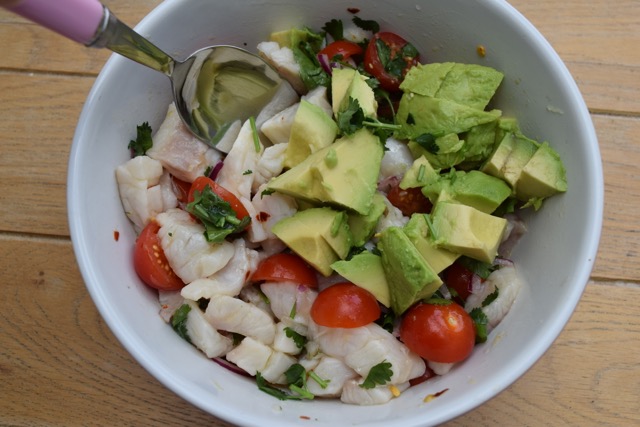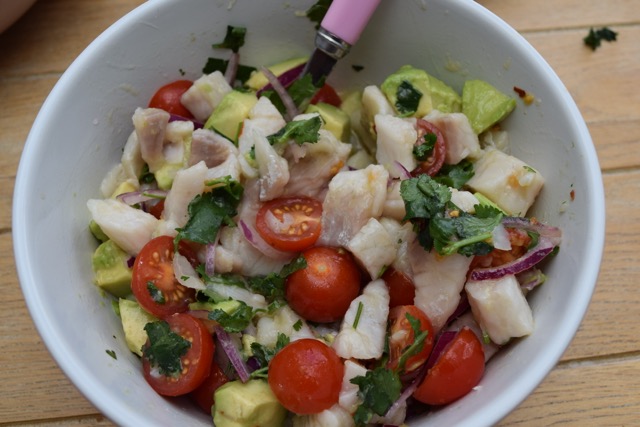 The beautiful fresh sea bass will have now firmed up and turned white in colour and will have taken on all the freshness of the marinade. Have a little taste *bloody great big mouthful* checking for the need for any extra salt and a further splash of fresh lime. Pop the fish into a serving dish and garnish with some salted, toasted corn for crunch and colour.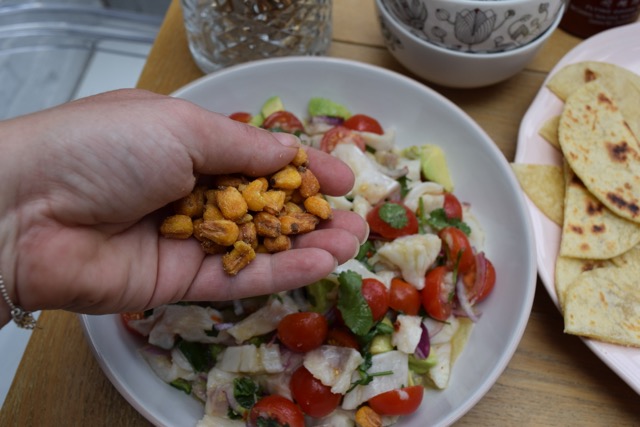 Serve this to your eager diners with some warm, soft tortillas or crisp tortilla chips. Drizzle with your chosen chilli sauce for added spice. They can dig in from a large bowl or you can serve in smaller dishes. If they're greedy buggers, I'd go for the latter or you won't get a look in.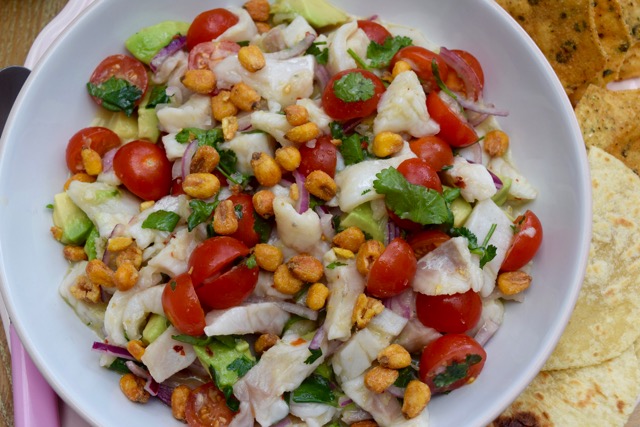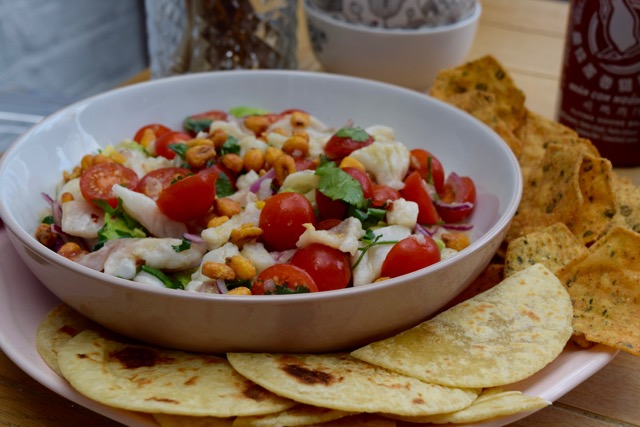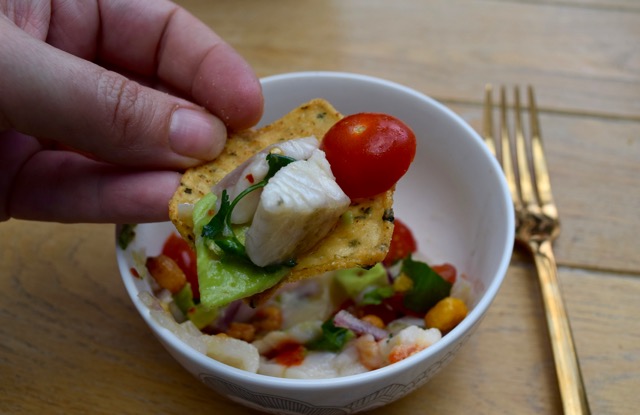 Unlike most other things I am eating and drinking at the moment, this Summer Ceviche is light and healthy. With this in mind, this would go beautifully with a nice cold beer or a chilled glass of white wine. Yin and yang and all that.
Lucy x
Summer Ceviche Recipe
Serves 4 as a first course or smaller main course
You won't need any exciting equipment just a sharp knife
1 clove garlic, finely chopped or crushed
60ml fresh lemon juice
1/2 teaspoon dried chilli flakes
1/4 teaspoon caster sugar
5 tablespoons fresh lime juice
360g (ish) firm white fish, I used sea bass fillets, skinned
salt to taste
1/4 red onion, sliced
150g cherry tomatoes, halved or sliced if bigger
1 tablespoon olive or rapeseed oil
1 avocado, peeled and chopped
1/2 small bunch coriander, roughly chopped
Handful toasted corn kernels
Sriracha or chilli sauce to serve with some tortilla chips or soft tortillas
Skin your chosen fish fillets if needed and chop into bite sized pieces.
Make the dressing/marinade by combining the garlic, lemon juice, chilli flakes, sugar, lime juice and salt to taste. Mix well then add the fish and stir well, ensuring all the fish is well covered by the dressing. Leave to sit for 10 to 15 minutes, covered.
Finely chop the onion and halve or slice the tomatoes then add to the fish with the tablespoon of oil. Stir again and leave for a further 5 minutes.
Peel and chop your avocado and chop your coriander and add to the fish, stir well and check for any additional salt or lime juice.
Drizzle with Sriracha or chilli sauce if you like and serve with tortilla chips or soft tortillas for dipping and scooping.
This is best served on the day, however, I ate some leftovers for the following day and it was just as delicious.