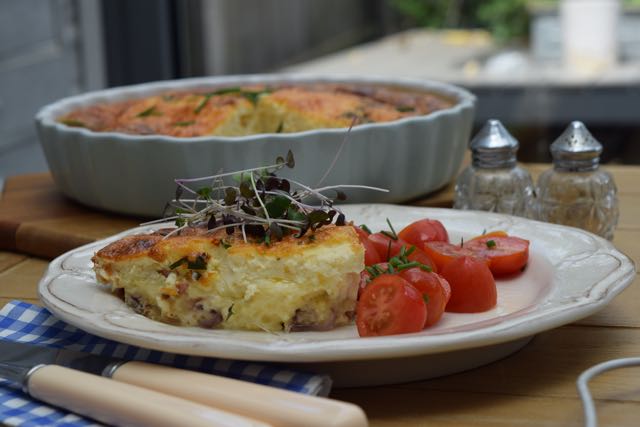 Crustless Quiche Lorraine Recipe
Yes, it's that time of year again for a pre holiday panic diet. I am just 4 weeks away from revealing some skin to the poor unsuspecting Greek population and feel if I could only drop a couple of pounds then maybe I wouldn't resemble a poor stranded mammal in need of being pushed back into the sea. I exercise at least twice a week, I eat a reasonably healthy diet and I walk the dog every day, but still I can't seem to follow even the simplest of diets. My main problem being I bloody love food and the thought of denying myself something delicious when I want it fills me with horror. And the booze, there's always the booze. We have a pretty good social life so during the week I attempt to abstain, but come the weekend I have the ability to drink like a teenager. However, this week, and by this week I mean Monday and Tuesday at best, I am going to try to eat less carbs and less sugar. Which leads me onto today's post for this most tasty Crustless Quiche Lorraine.
Don't despair, I haven't dredged up my Mother's old 70's cook books for this recipe, it's right up to date, simple and oh so edible. This is basically just a bloody great big baked omelette, but it has all the fabulous qualities of an old school Quiche Lorraine, sans the naughty pastry. This crustless creation features soft, slow cooked onions and garlic, crisp smoked bacon lardons, tons of strong cheddar and chives. It's flexible too, so you could serve this however and whenever you like. Hot from the dish with a tomato and chive salad, wrapped in baking paper on a picnic or leave to cool to room temperature and have it with buttered new potatoes.  This recipe is based on one I found on Show me the Yummy, with thanks for the inspiration. And in a spooky turn of events, the whole family inhaled this Quiche, even George, who didn't notice the onions such was their softness and his distraction with the cheese and bacon elements.
Cutting out carbs would be a walk in the park if everything tasted as good as this Crustless Quiche Lorraine. I will be taking a slice to work for my lunch in a promising start to my low carb week. Stay tuned to see if my piety lasts beyond Wednesday.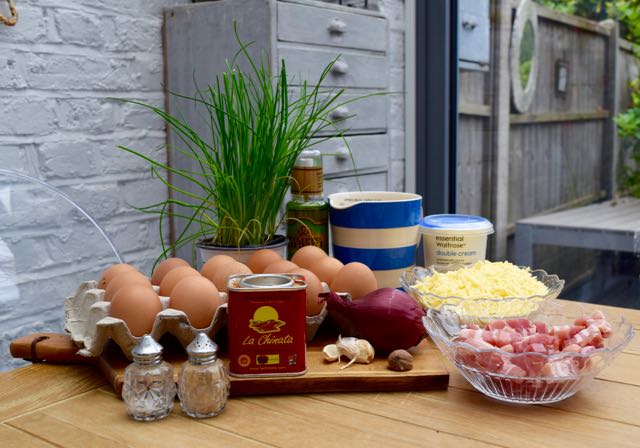 Nothing bad is coming out of this line up. You won't need all those eggs, but as you can see I have stocked up for my low carb week ahead. I adore eggs, and fear I would starve if someone told me I couldn't eat eggs anymore. They are an amazing stand by meal and thankfully one loved by us all.
Make a start by pre heating your oven to 160 degrees and buttering a 8inch or 20cm flan dish or deep cake tin. Then take a small frying pan, heat it up then add your chopped bacon or lardons. I used lardons for a change, they crisp up beautifully and were nice and chunky to add some texture to the dish. Cook them for around 5 minutes or until lovely and golden and tasting so good. I QC'd at least 10 pieces.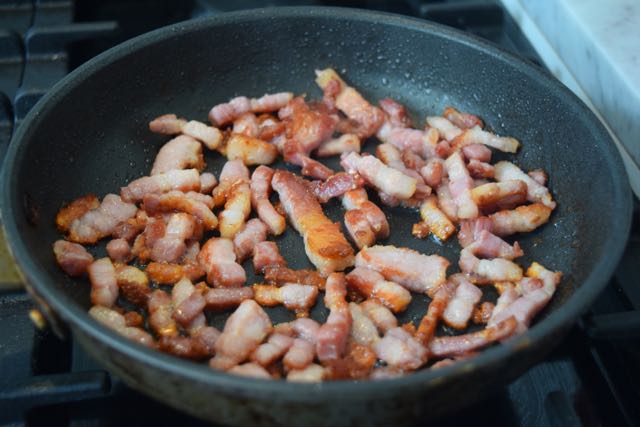 Drain the lardons or bacon on kitchen paper, but keep the rendered fat in the pan. Turn the heat down then add the sliced red onions and cook slowly until soft and just colouring.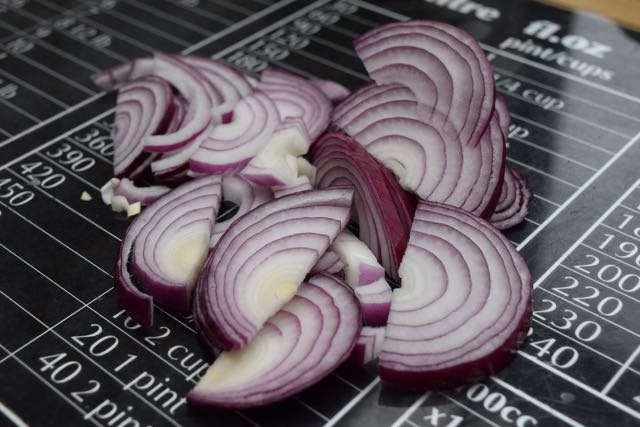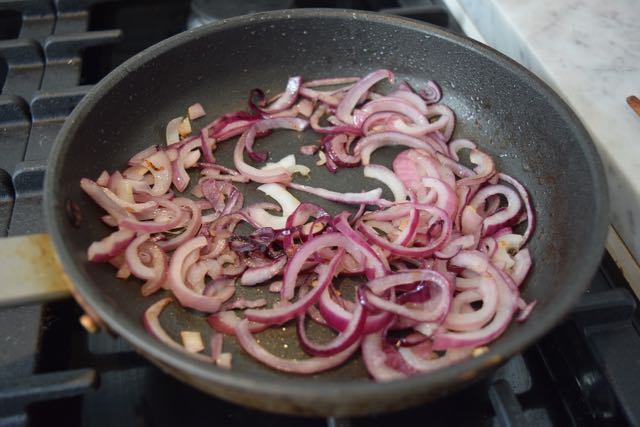 Once these are soft, add the chopped garlic. I had some smoked garlic from the Isle of Wight which is so fragrant. Cook this for a couple of minutes until it's just browning, don't burn it. Burnt garlic tastes like cyanide, I imagine, having never tasted cyanide.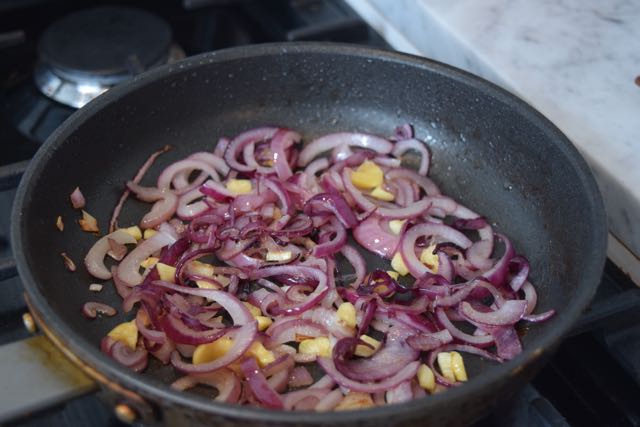 Don't judge me on how un-finely chopped my garlic is, I was horribly hungover whilst making this.
Pop this to one side while you deal with the eggy element. Take a large jug and pour in the double cream and milk.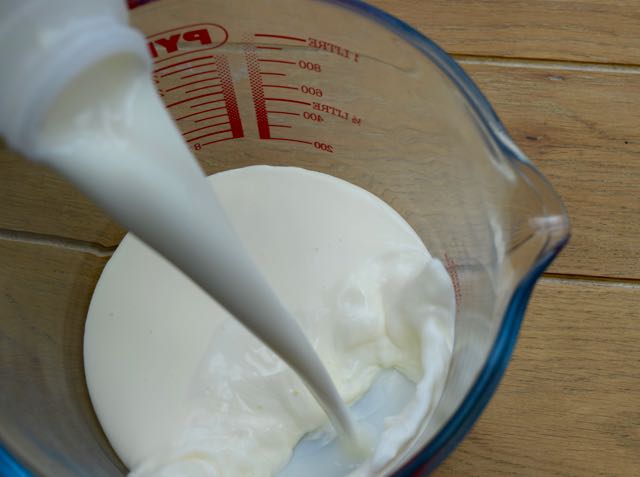 Add the ground black pepper, grated nutmeg and smoked paprika.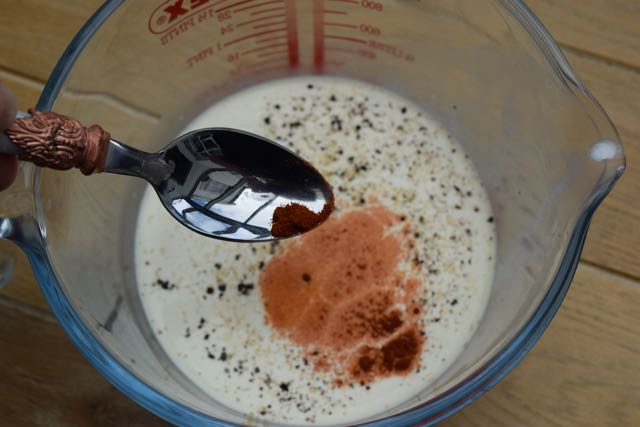 Finally crack in the eggs and chopped chives then whisk until everything is well blended.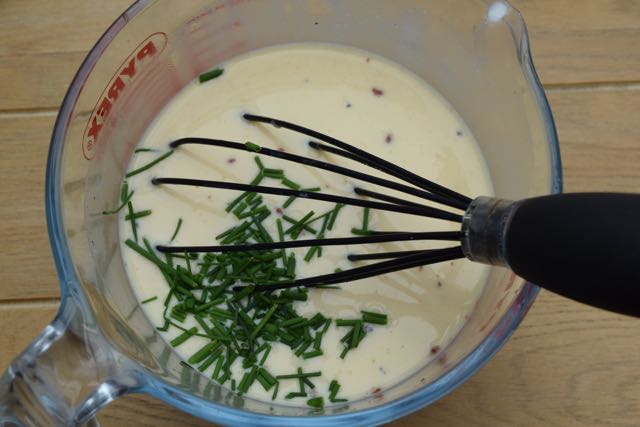 Take your buttered flan dish and spoon in the onions, garlic and drained lardons. Then sprinkle over three quarters of the cheese.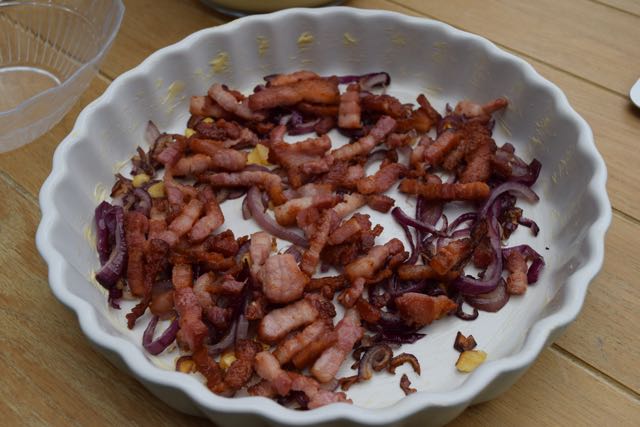 Now, pour on the eggy business then sprinkle with the last of the cheese before putting this in the oven.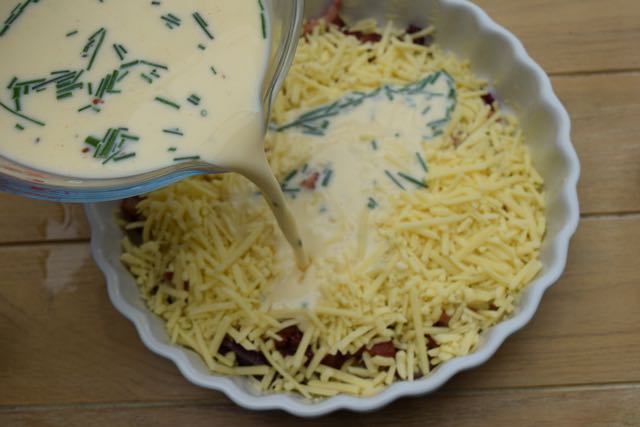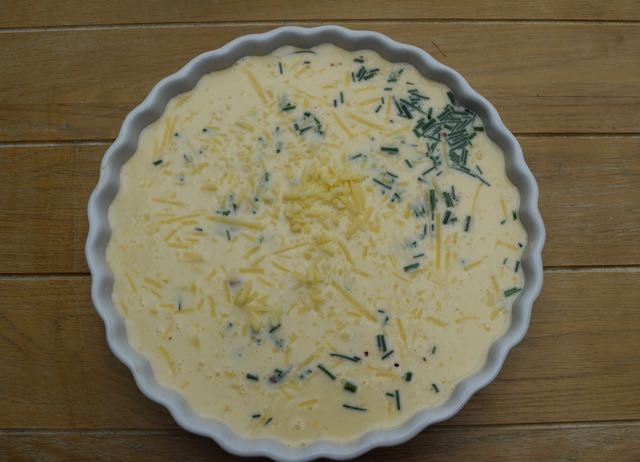 This will take around 30 to 40 minutes, it's cooked when golden brown, crisp, smelling amazing and with no wobble in the middle.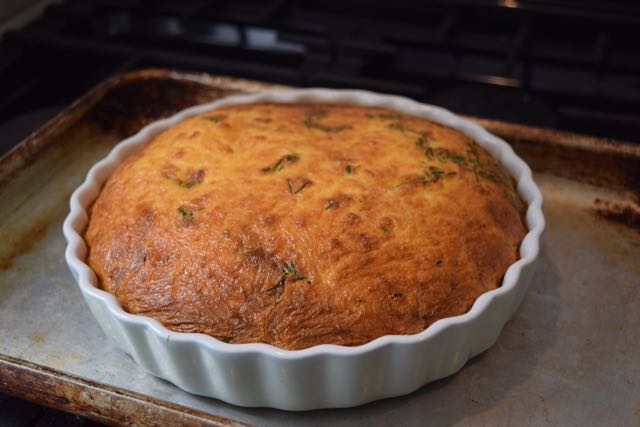 It will sink down a little as it cools. If you are serving this hot, leave for 10 minutes to settle before cutting into large wedges. I served mine with a handful of micro herbs and some cherry tomatoes, tossed in olive oil and chives.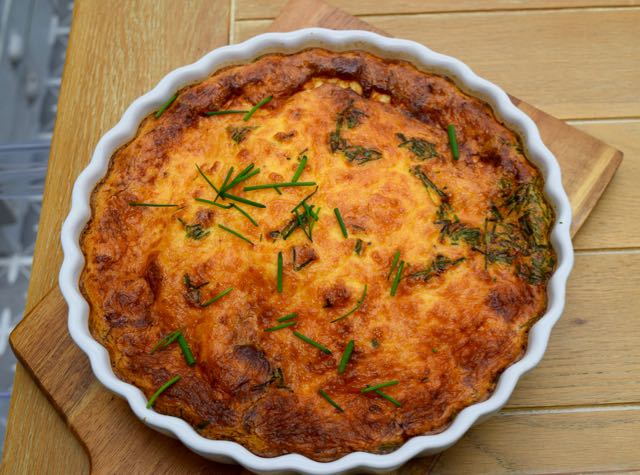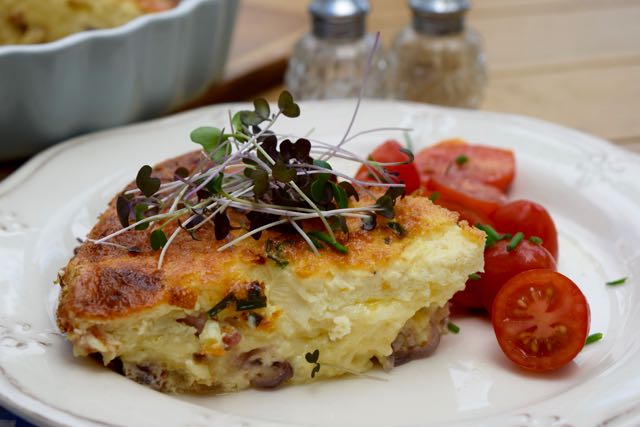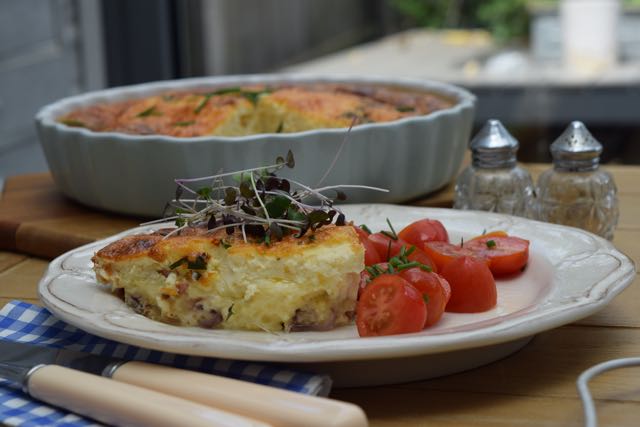 It's my annual book group picnic in the park this week, which explains why the weather's broken. But fear not, this quiche will travel well, whatever the weather. Wearing a pack-a-mac never spoilt any meal for me.
Lucy x
Crustless Quiche Lorraine Recipe
Serves approx 6 people, appetite dependent
You won't need any exciting equipment, just a buttered 8inch or 20cm flan dish or cake tin
200g smoked bacon, chopped or lardons
1 or 2 onions, 2 if they are small, sliced
3 cloves garlic, finely-ish chopped
50ml double cream
150ml milk
a good grating nutmeg
a good grinding black pepper
1/4 teaspoon smoked paprika
6 eggs
A couple tablespoons chives, chopped
250g strong grated cheese
Some leaves, shoots, cherry tomatoes and chopped chives to serve
Pre heat your oven to around 170 degrees fan assisted and butter your 8inch or 20cm dish.
Take a small frying pan and heat over a high heat. Add the chopped bacon or lardons and cook for around 5 minutes or until crisp. Drain onto kitchen paper, but keep the bacon fat in the pan.
Slice the red onion and add to the pan with the bacon fat. Lower the heat and cook the onion for around 5 minutes until softening and just turning brown. Add the chopped garlic and cook for a further minute until also just softening. Leave to cool.
Add the cream and the milk to a large jug and add a good grinding of black pepper, nutmeg and smoked paprika. Crack in the 6 eggs and the chives and whisk the whole mixture together.
Take your flan dish and add the cooked onions and garlic along with the drained bacon or lardons. Add three quarters of the cheese then pour on the egg mixture. Finish with the last quarter of cheese then put in the pre heated oven for 30 to 40 minutes or until golden brown and it no longer wobbles.
Leave to sit for 10 minutes if serving hot, if not leave to cool to room temperature or refrigerate until needed. This will keep well wrapped in the fridge for a couple of days. Served with a tomato and chive salad, some leaves, buttered new potatoes, you choose.