Chicken Parmigiana Recipe
As you well know, one of my missions, as a food blogger, is to solve, or at least provide solutions to the question, what shall I do with a packet of chicken breasts? It's an age old question, well it is in our house, at least. At the moment, I am feeding 3 hungry males, 2 of whom seem to eat 4 meals a day, one of whom is off the carbs. So, to say recipe ideas are running low is an understatement. I buy two packets of chicken breasts a week, and stare at them until inspiration comes to me. And thank God it did, in the form of my version of the classic Chicken Parmigiana.
This is a bastardised version of a classic Italian American dish. It's ready in just over half an hour, using ingredients you more than likely have in your cupboard/fridge. I have also slightly simplified the whole business by not egg and bread-crumbing the chicken, because a) it's a kerfuffle and b) it adds extra calories, that frankly, I don't need at the moment. You could substitute the passata and herb business with a jar of pasta sauce, but go with passata for a cheaper, less processed sauce. The chicken and tomato sauce is then topped with a lot of mozzarella and plenty of grated parmesan for a cheese heaven based layer. Serve on a bed of spaghetti or if you are in Australia, with chips and a salad or in a sandwich, which doesn't sound like a horrible idea.
Whether your mission is to fork up interesting meals for your family, or you just fancy a bit of Italian of a Tuesday night, this Chicken Parmigiana is tasty, simple and utilises one of those packets of chicken breasts you, undoubtedly, have nestled in your freezer.
Here's the line up, totally cheese heavy, which I love. And everything else, other than the ubiquitous chicken breasts, are store cupboard based. I used garlic powder, my new favourite ingredient, but if you have fresh to hand, then just add a crushed clove instead.
Make a start on this recipe by pre heating your oven to 180 degrees fan assisted. Next, make a start on flattening your chicken breasts. I had 4 small ones,  but if yours are large, then cut in half before flattening between a sheet of cling film with a rolling pin.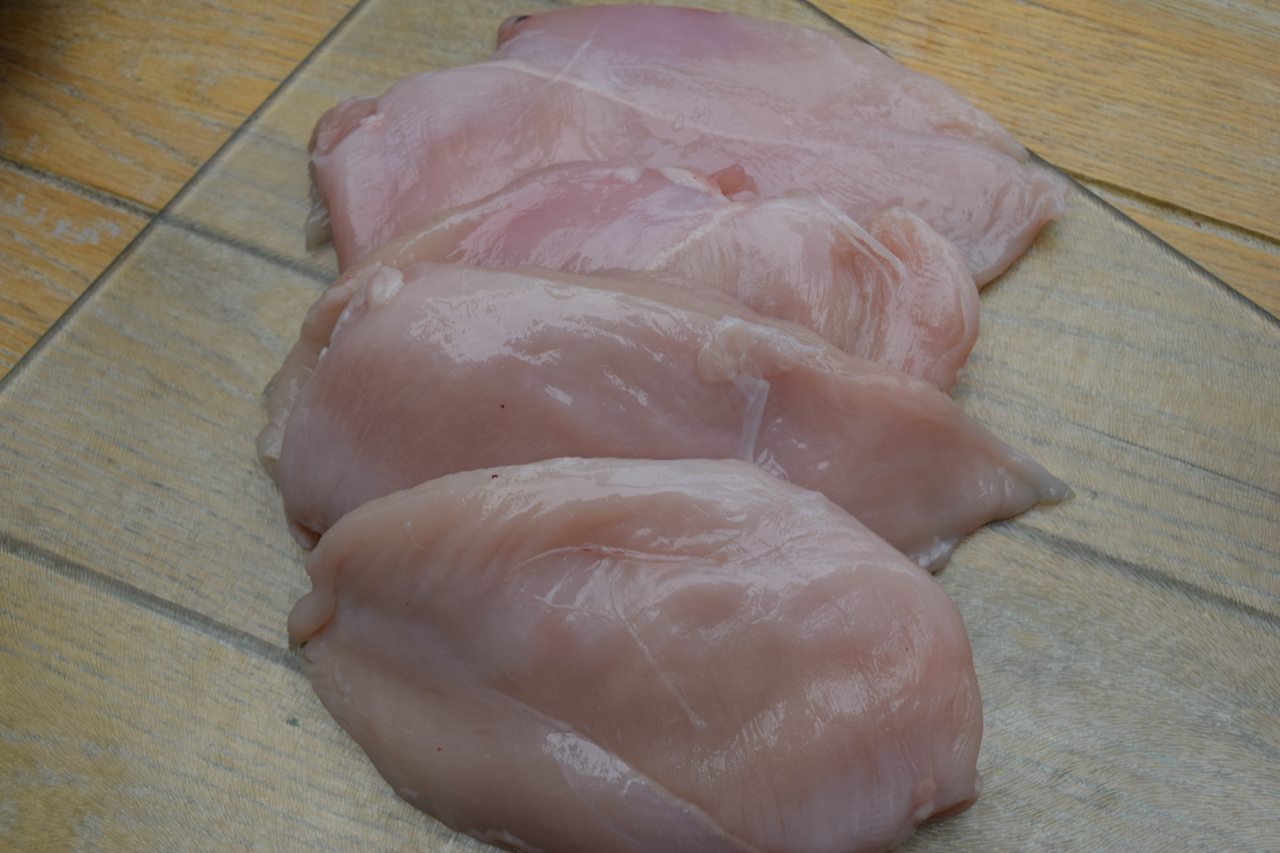 Measure the flour onto a plate, season well then thoroughly coat the chicken on both sides.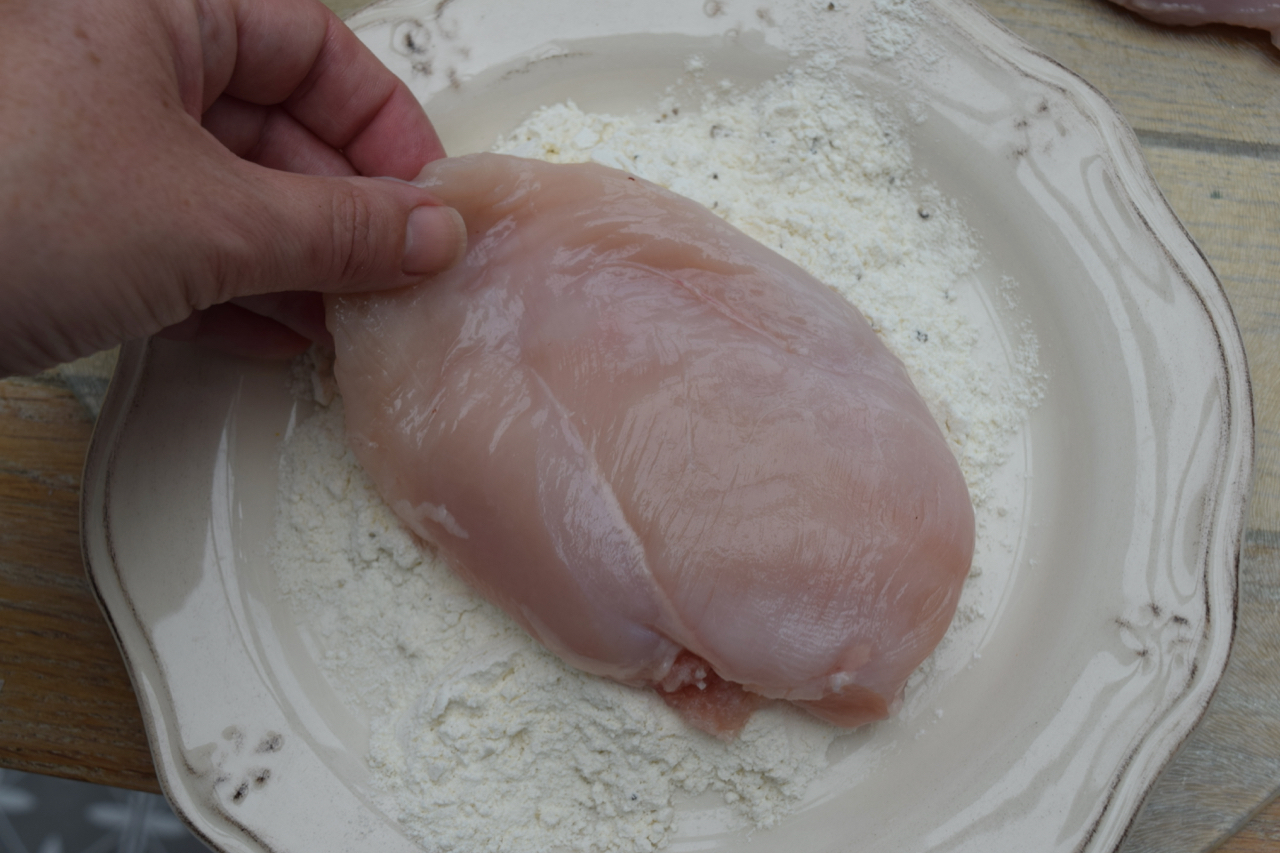 Heat a thin layer of olive oil in a frying pan over a medium flame. Once hot, add the chicken and cook for 2 to 3 minutes or until golden, then flip and repeat.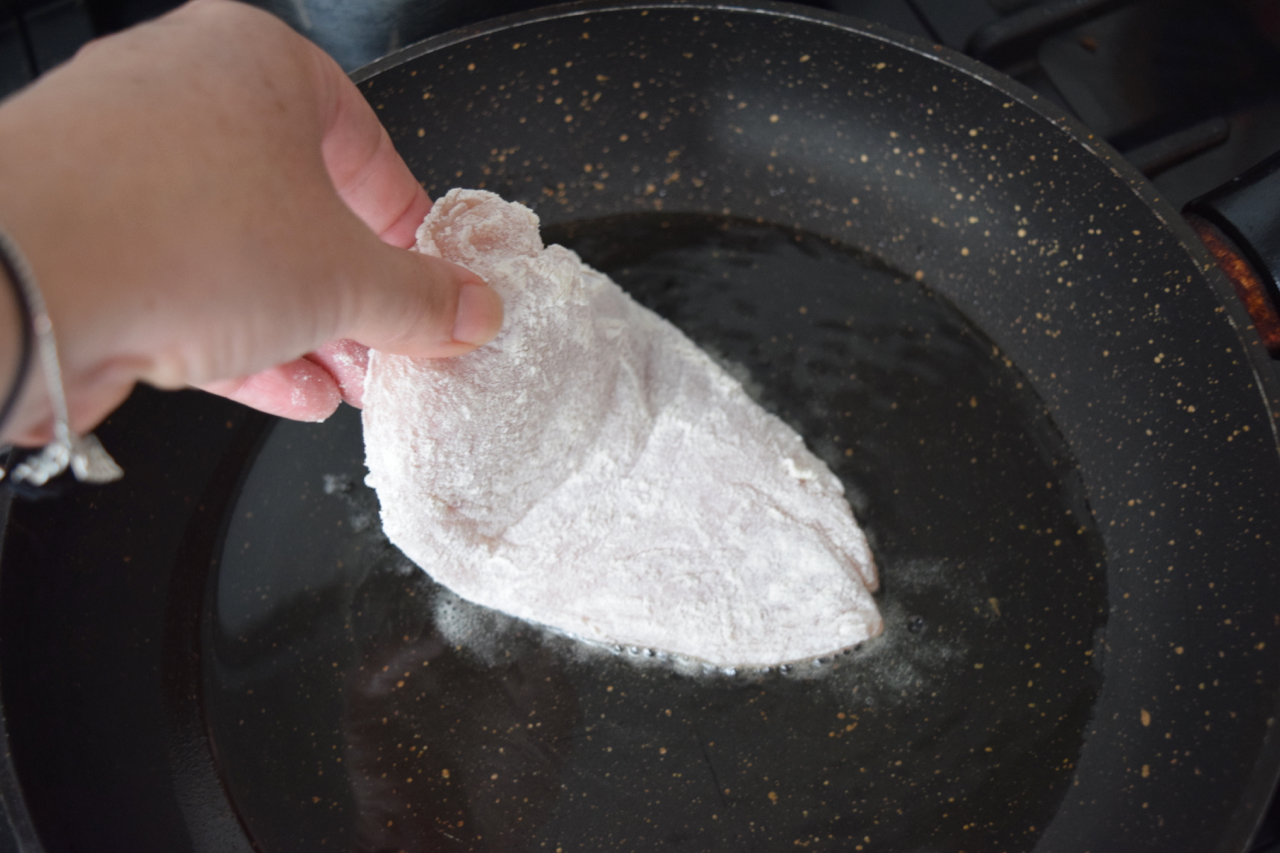 Repeat with the other two chicken pieces. Place the browned chicken in your baking dish.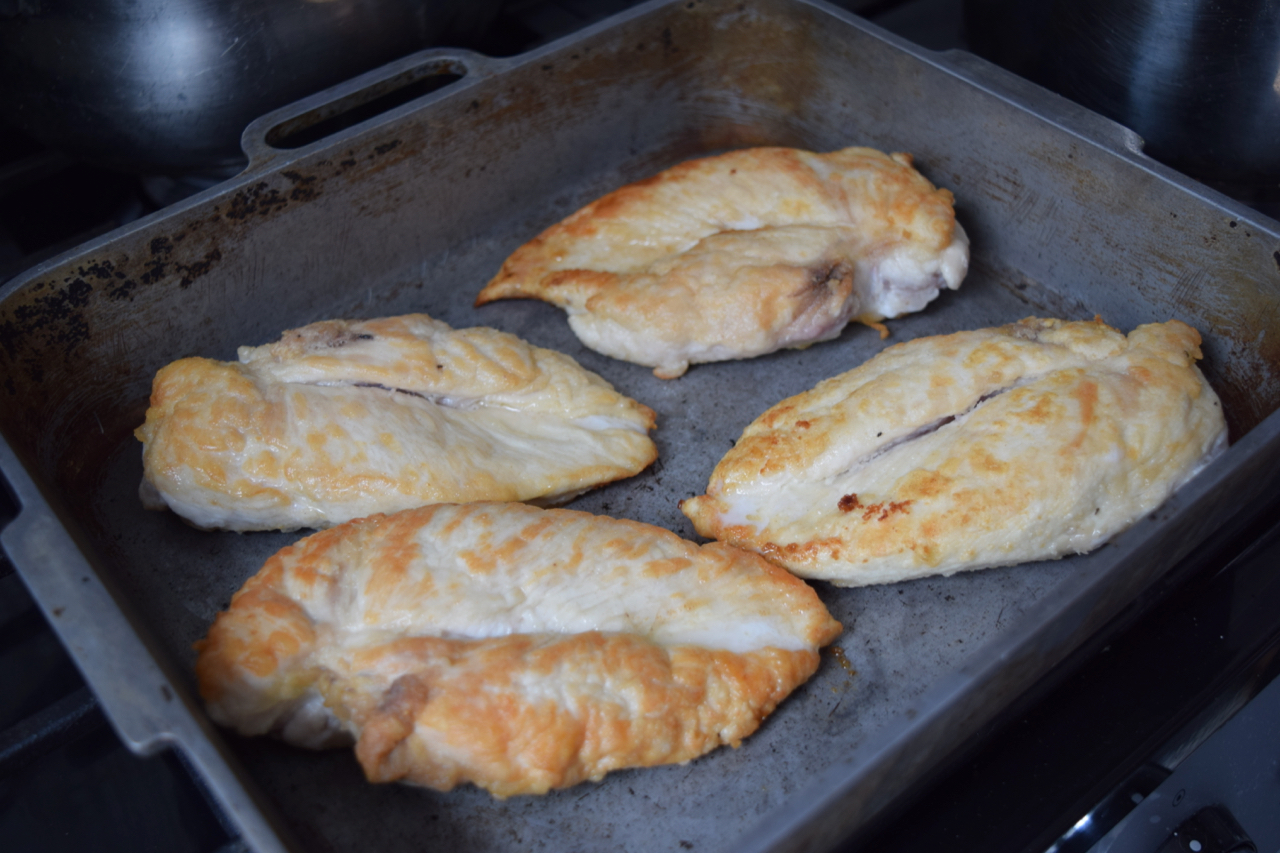 For the tomato sauce, pour the passata into a saucepan. Use a splash of milk to rinse the jar then pour that into the saucepan too. Measure in the Italian seasoning, garlic powder or fresh garlic and sugar and stir well.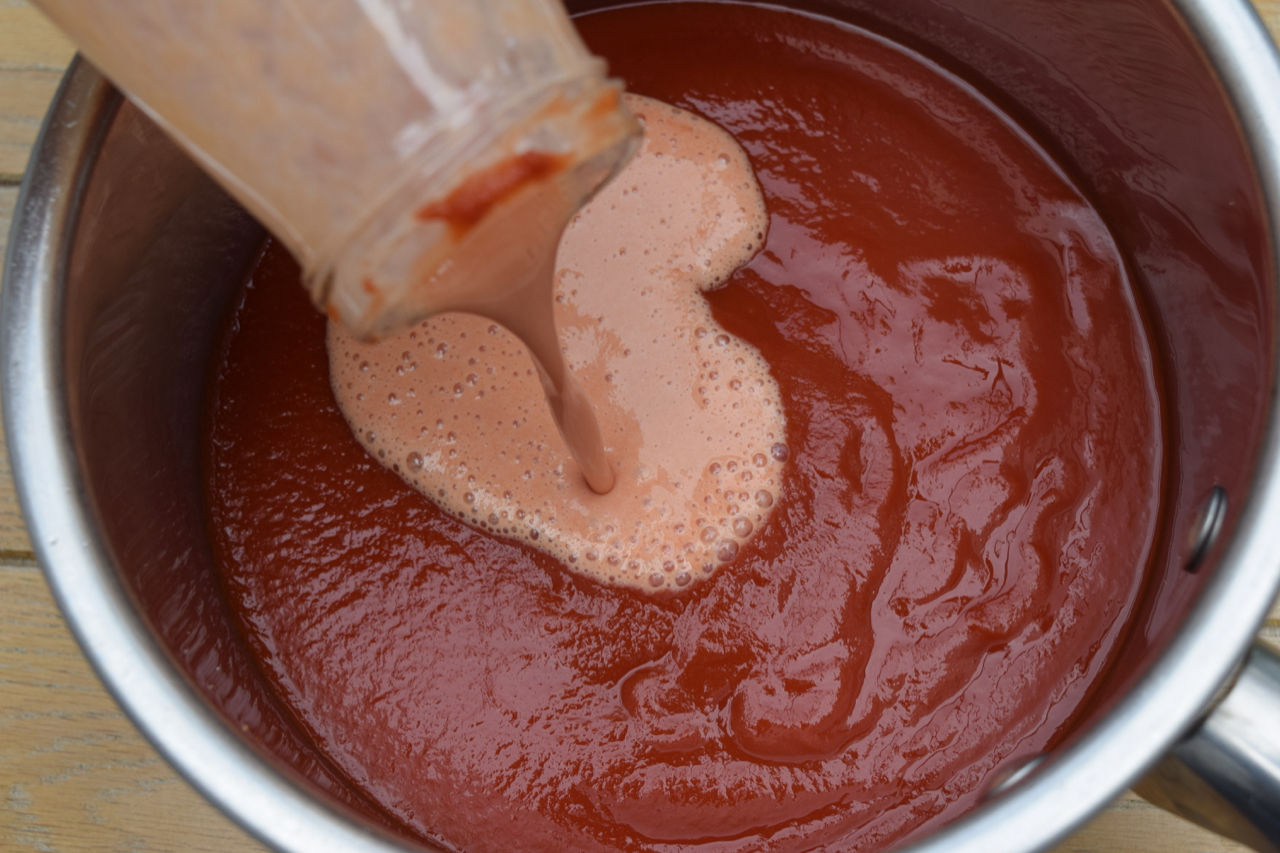 Season with salt and pepper then heat until simmering over a low flame on the hob. Pour this, once hot, over the chicken.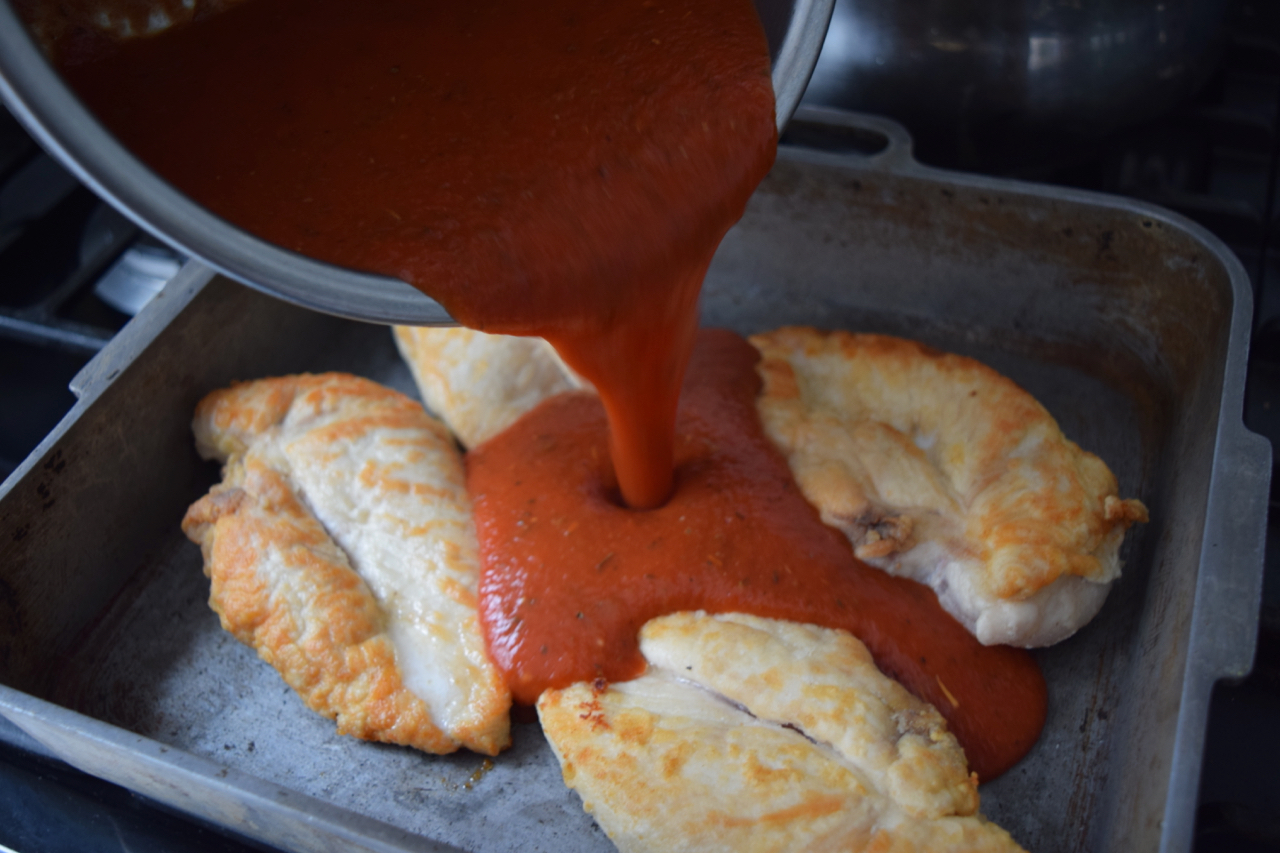 Slice or tear your mozzarella, allowing 2 slices per piece of chicken then grate your parmesan. Lay the mozzarella onto the chicken pieces then generously cover with parmesan.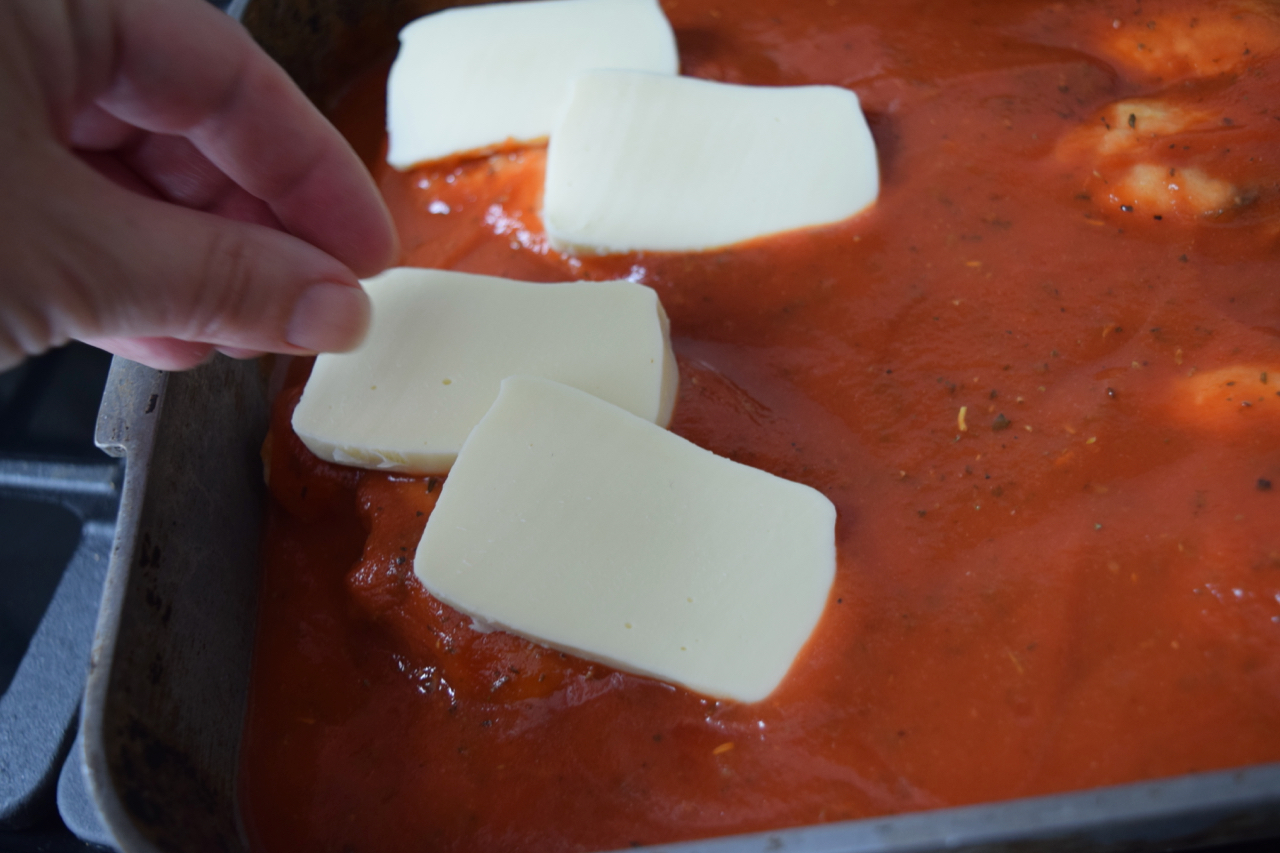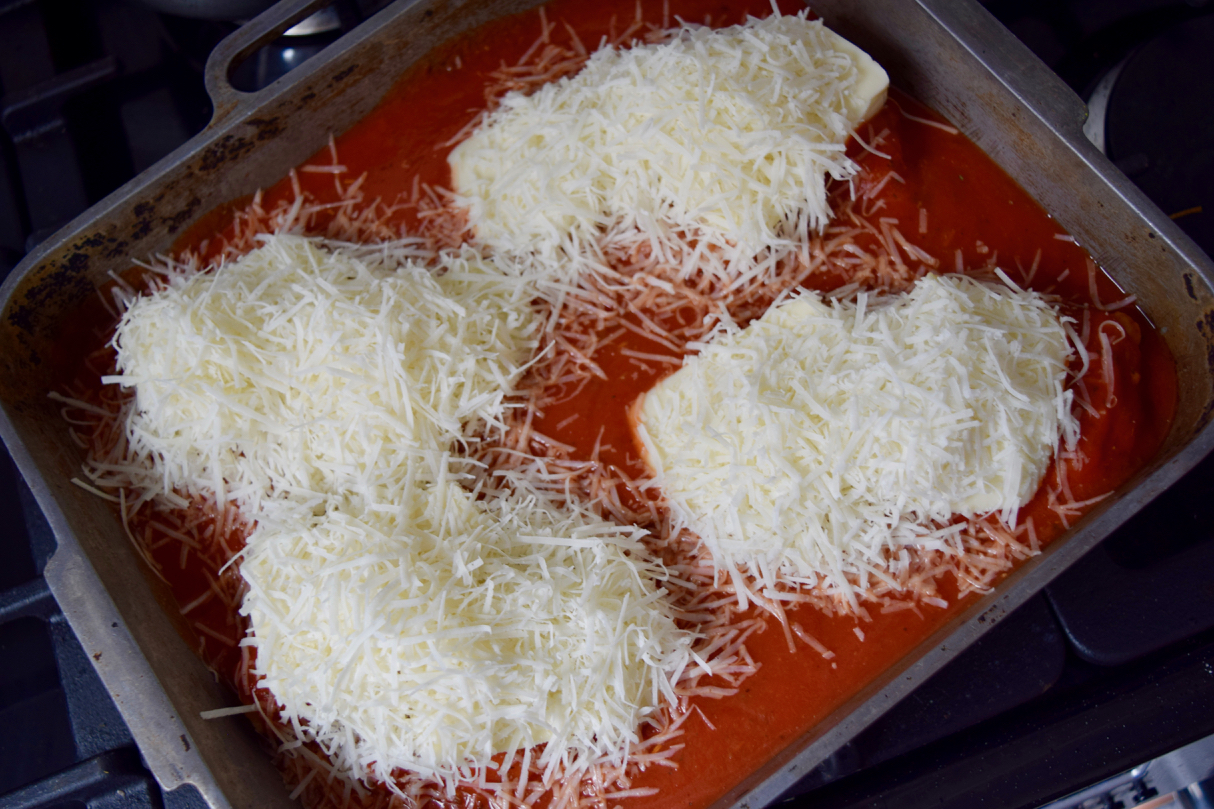 Bake in your pre heated oven for around 25 minutes or until the chicken is cooked through and the cheese and the sauce is bubbling and golden.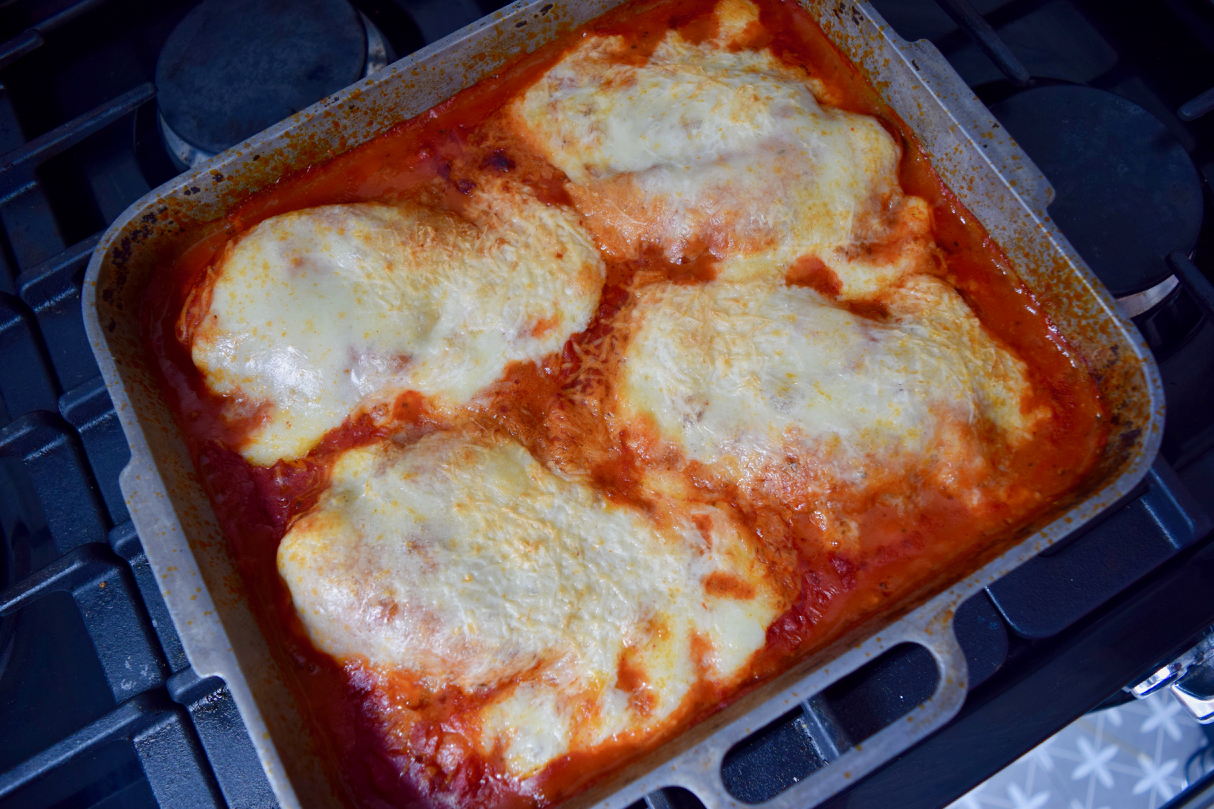 Garnish with some fresh basil and serve on a bed of spaghetti or pasta of our choice. Strew on a little more parmesan for full cheese based heaven.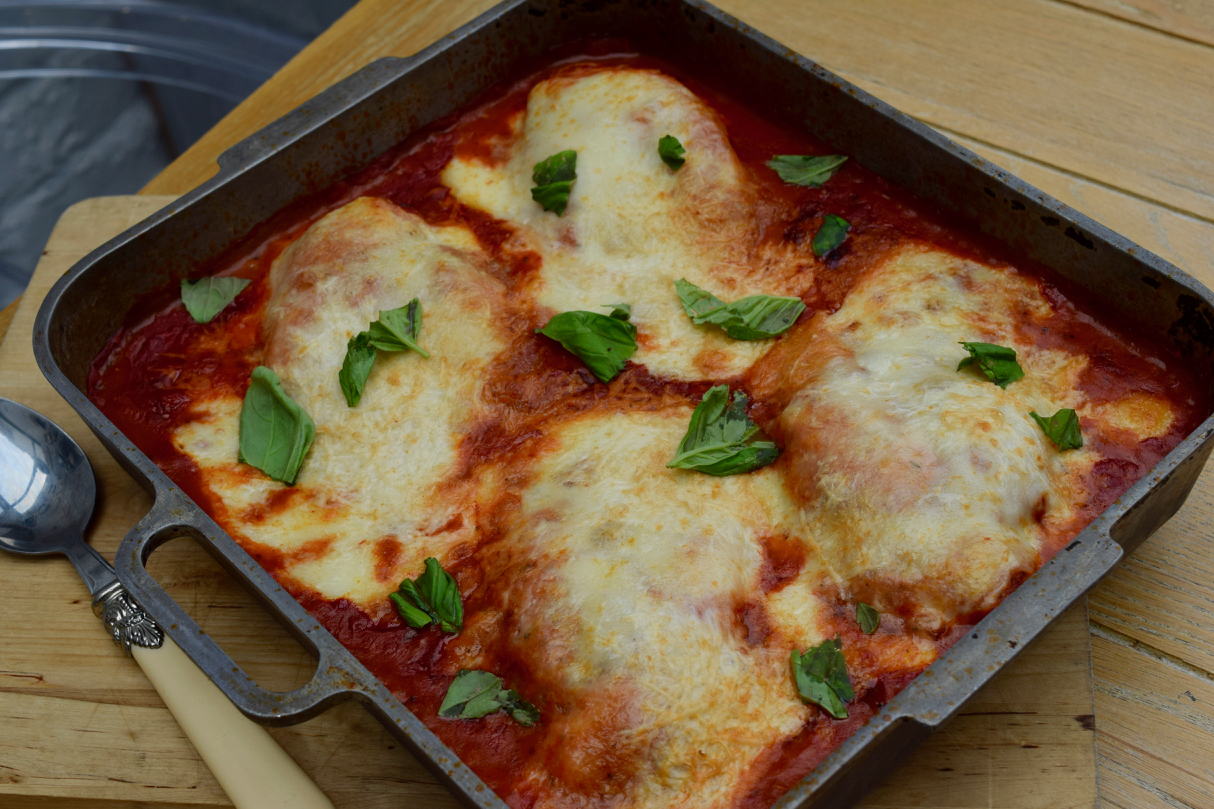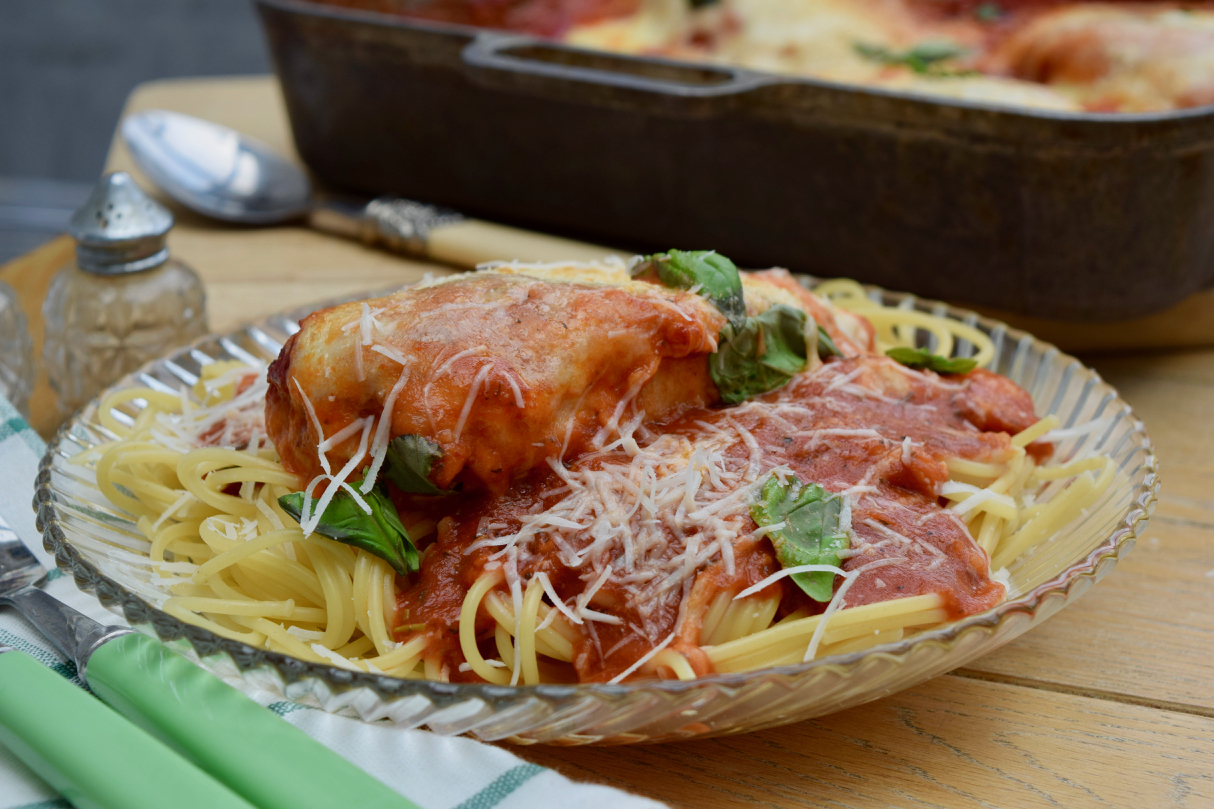 In a brilliant turn of events, the whole family, even George, love a Chicken Parmigiana. Thus making this dish a total gift with purchase. Quick, family friendly, great value and incredibly cheesy. Dig those chicken breasts from the freezer and get started on this asap.
Lucy x
Chicken Parmigiana Recipe
Serves 4
4 chicken breasts, if you have 2 or 3 larger ones then cut in half
2 tablespoons plain flour
salt and pepper
Olive oil, for frying
680ml passata
A splash milk
1 tablespoon Italian seasoning, or oregano
1 teaspoon garlic powder or 1 crushed garlic clove
1 teaspoon sugar
Salt and pepper, to taste
100g parmesan, grated
200g mozzarella, sliced or torn
Fresh basil to garnish and spaghetti and extra grated parmesan to serve
Pre heat your oven to 180 degrees fan assisted and prepare a large square baking dish.
Take your chicken breasts, halve if large, then flatten with a rolling pin between a sheet of cling film. Add the flour to a plate then season generously with salt and pepper. Coat your flattened chicken breasts with this flour.
Take a large frying pan and add a thin layer of olive oil. Add the coated chicken, two at a time, and cook for 2 to 3 minutes on each side, until golden and crisping. Place into your baking dish then cook the other chicken pieces.
Take a saucepan and pour in the passata. Add a splash of milk to the passata jar, swirl around to rinse, then pour this into the pan. Add the italian seasoning, garlic and the teaspoon of sugar and stir. Season with salt and pepper then pop on the hob and bring up to the simmer.
Pour the hot tomato sauce over the chicken. Slice or tear your mozzarella into 8 pieces then layer this onto the chicken breasts. Sprinkle the grated parmesan on top of the mozzarella then pop into the oven for around 25 minutes. The cooked dish will be bubbling and golden.
Serve on a bed of spaghetti garnished with plenty of torn basil and more grated parmesan.