Lynchburg Lemonade Recipe
I do love a Bank Holiday weekend but the ensuing four day week always seems to last a fortnight. This may have something to do with the fact I spent the whole long weekend with my nose in the trough and a glass of rosé in my hand, so I have been moving quite sluggishly this week. I have also reached the point in the summer holidays when it's time for all the fun to end and am quite looking forward to getting back to the normal routine. George is bored and grumpy, Clyde is back to being super busy at work and Ben is full of the joys of impending university life. I am just fat and need to stop drinking so much. Not on a Friday though, so it is with enormous pleasure I bring you, on a flowery platter, a Lynchburg Lemonade.
Lemonade is synonymous with summer for me. It's fresh tasting, thirst quenching and has an old fashioned charm. Sling in a shot of Bourbon and orange liqueur and that only serves to add to that charm and make it more delicious. This cocktail originates from the Jack Daniels distillery in Lynchburg Tennessee. In a slightly sacrilegious turn of events, I only had Jim Beam Bourbon for my lemonade, probably because it was on offer, but the finished product was just as good. This is a summer drink, perfect for glugging. It's super refreshing and Clyde and I fought over who drank the one in the photo. So much so, I had to make a second, and then a third to settle the argument. It has the freshness of the lemonade along with the kick of bourbon and the fragrance of orange. This is a good all rounder and I can imagine, as there's nothing too offensive in it, a total crowd pleaser. Particularly if I am in that crowd.
I know it's not a long weekend this weekend *sobs* but you can at least start yours, this Cocktail Friday, as you mean to go on.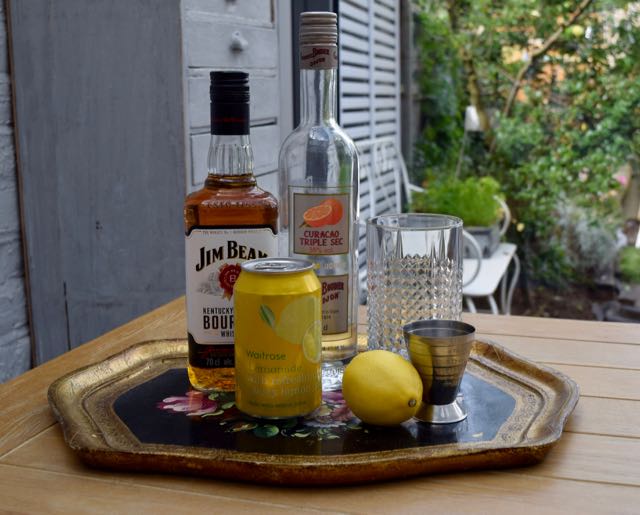 Citrusy with a set of balls, sums up this Lynchburg Lemonade a treat. Perfect for a bright late summer evening in the garden, just add a bowl of nuts.
Make a start on this fresh little number by adding a good handful of ice to your cocktail shaker. Thus.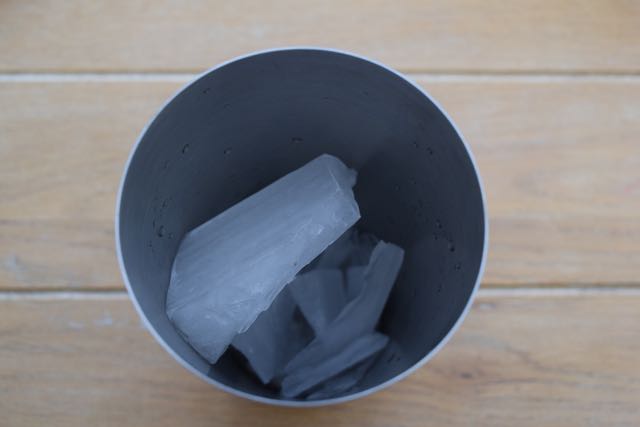 Pour on your choice of Bourbon, no need to be too brand sensitive here, then slosh on your orange liqueur.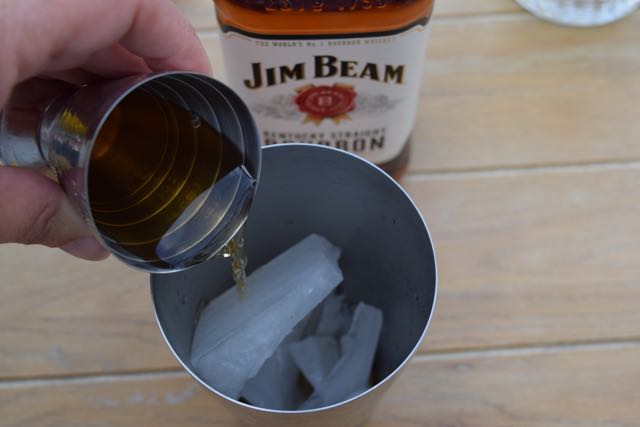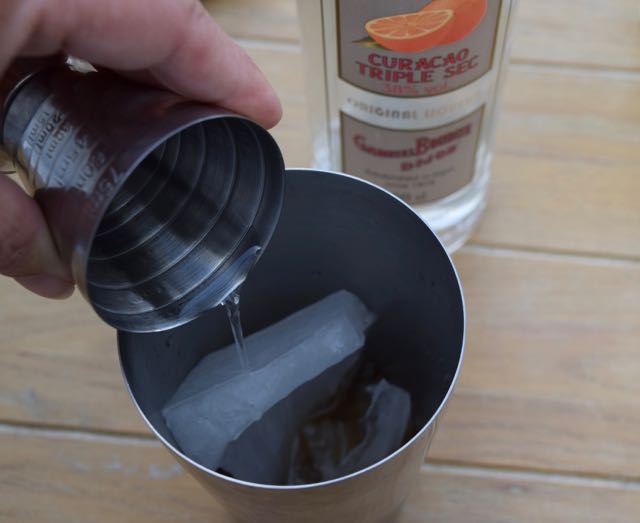 Next in is the fresh lemon juice then it's time to shake the shaker until it's all lovely and chilled.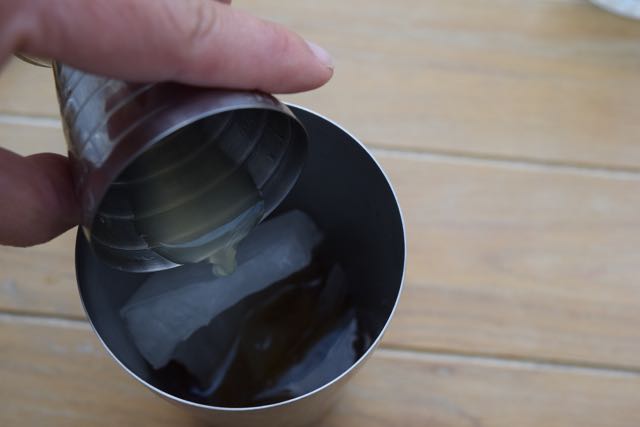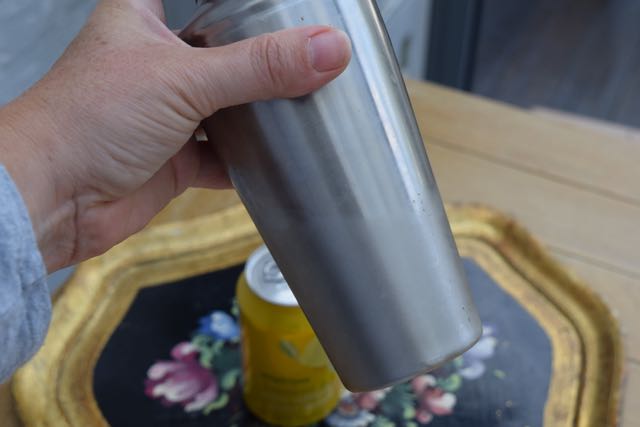 Pour the iced contents into a long glass over more ice and a slice, top up with clear lemonade then give it a stir.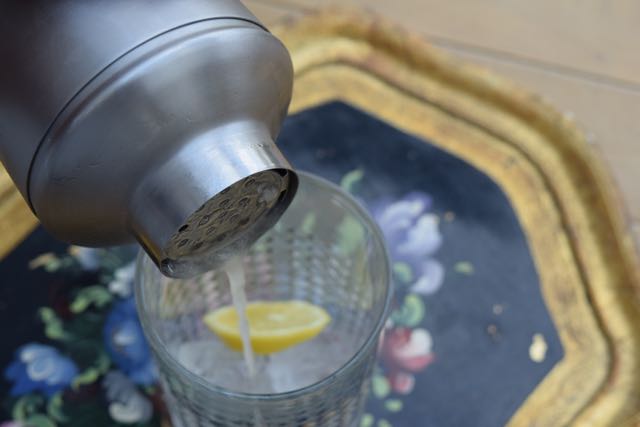 Add the bowl of nuts for salty contrast then sip/glug and enjoy this fresh Friday beverage.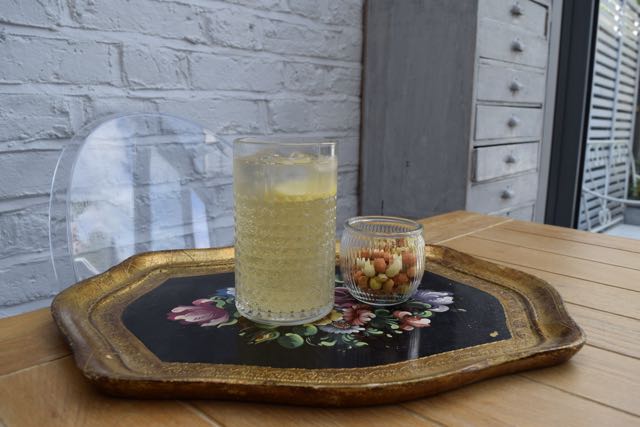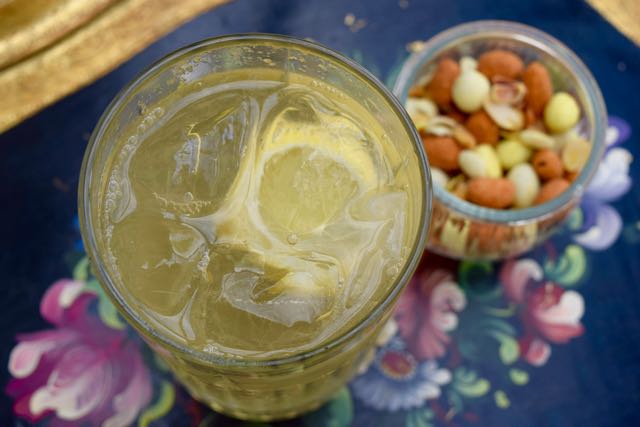 Bourbon is a house favourite spirit of ours so this Lynchburg Lemonade is destined to become a classic Friday choice. It will have to go some to usurp my first choice Aperol Negroni, but I have to say, it's right up there in my top 5.
Have a lovely weekend, even if it does only last the standard two days.
Lucy x
Lynchburg Lemonade Recipe
Makes 1
You will need a cocktail shaker and an attractive tall glass
Ice
45ml Bourbon
30ml Orange liqueur
30ml fresh lemon juice
Lemonade to top up
Ice and a slice of lemon to garnish
Take your cocktail shaker and add a good handful of ice. Pour in the Bourbon, orange liqueur and freshly squeezed lemon juice. Shake until good and chilled then pour, over more ice, into a tall glass. Top up with lemonade and garnish with a slice of lemon. Sip and enjoy.
SaveSaveSaveSaveSaveSaveSaveSave
SaveSave
SaveSaveSaveSave
SaveSave