Slow Cooker Chicken Tikka Masala Recipe
Continuing on my theme this week of slow cooked food to serve during this whirlwindy time, I am delighted to bring you this completely delicious Chicken Tikka Masala recipe. There is nothing more satisfying than, with next to no effort, coming home to the most tempting smells of supper having cooked itself. Especially during the pre Christmas build up, which is currently driving me slowly round the bend.
I have lists of my lists, spend most evenings panic buying on Amazon and am in 24 hour contact with my mother and sister over what any one of us will be bringing to the ever swelling Christmas table. I have also just done the present count up which resulted in me having to put back some presents due to over purchasing to quite an extreme level. Suffice to say, worrying about what we are having for supper is not at the forefront of my mind.
Here's where this slow cooker Chicken Tikka Masala wins prizes, in my humble opinion. It sits quietly in the slow cooker using no more electricity than a light bulb, while the spices meld and the flavours come together to create the fragrant sauce. This is based on another wonderful creation from The Kitchn website, for which I thank them. I hope you will thank me too, for bringing this energy saving supper to your attention, during this super busy time. No need for a formal thank you letter, save those for once you've opened your Christmas presents.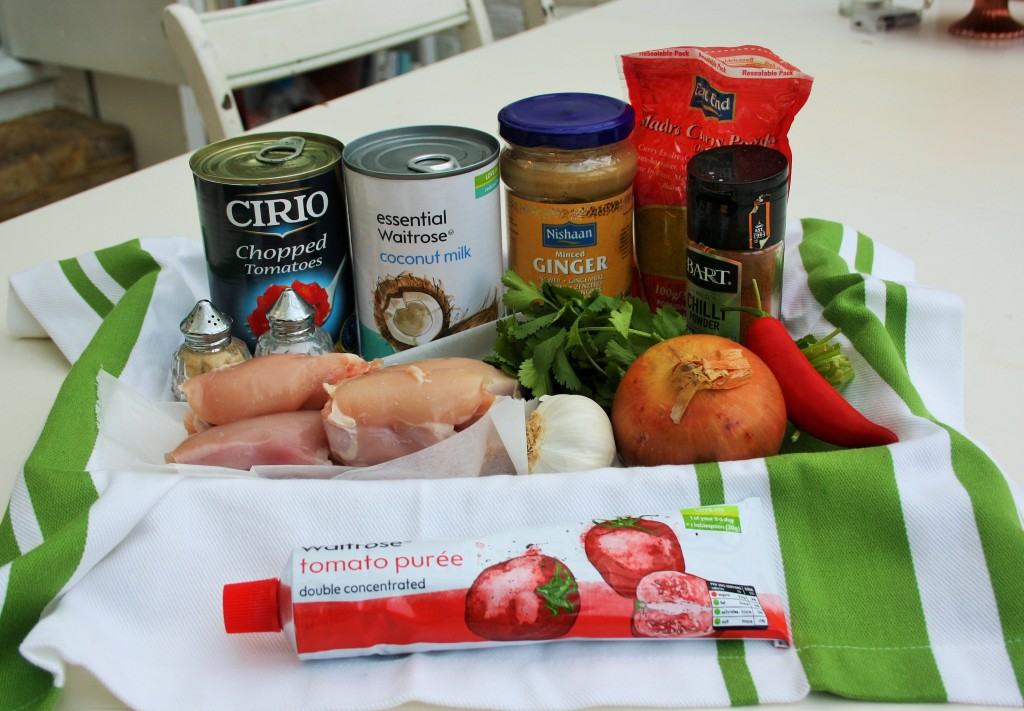 Here's the colourful ingredient list. Missing from this line up, is some additional garam masala powder and a splash of double cream, I introduced at the last minute. The curry powder and spices you use are up to you to some degree, dependent on how spiced you like your curries. This one I would rate at about an 7 out of 10 on the heat scale. Not eye watering, but you may need to turn the heating down a notch once you've eaten it.
So, lets make a start, as I know how busy you are. Chop the boned chicken thighs, or breasts, into bite sized pieces. Not too small, you don't want them to disappear completely during cooking. Then pop these in the slow cooker.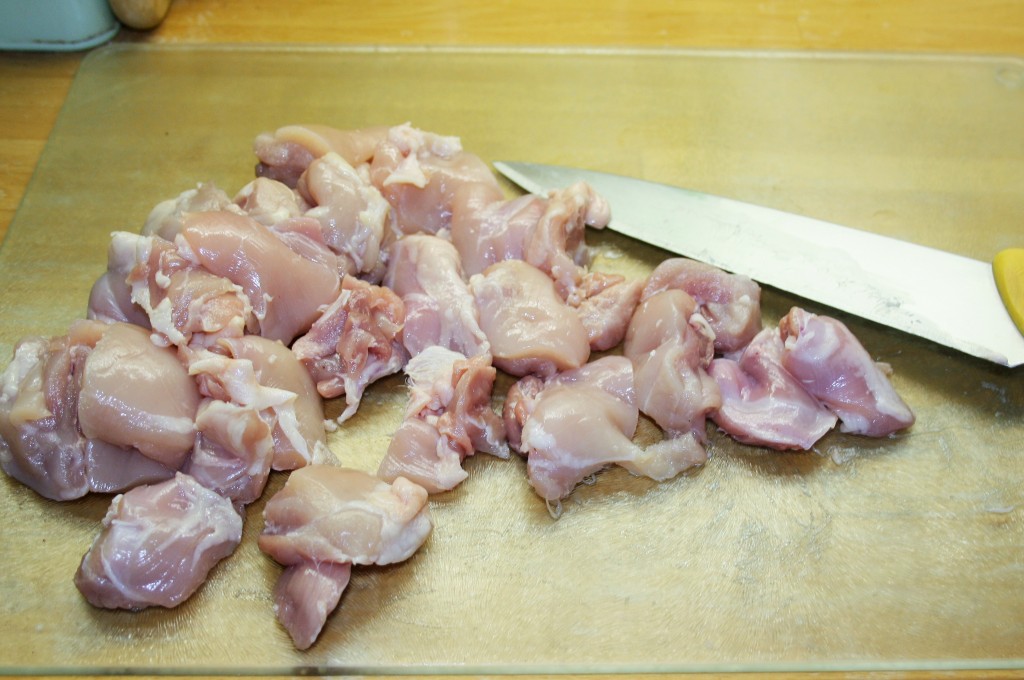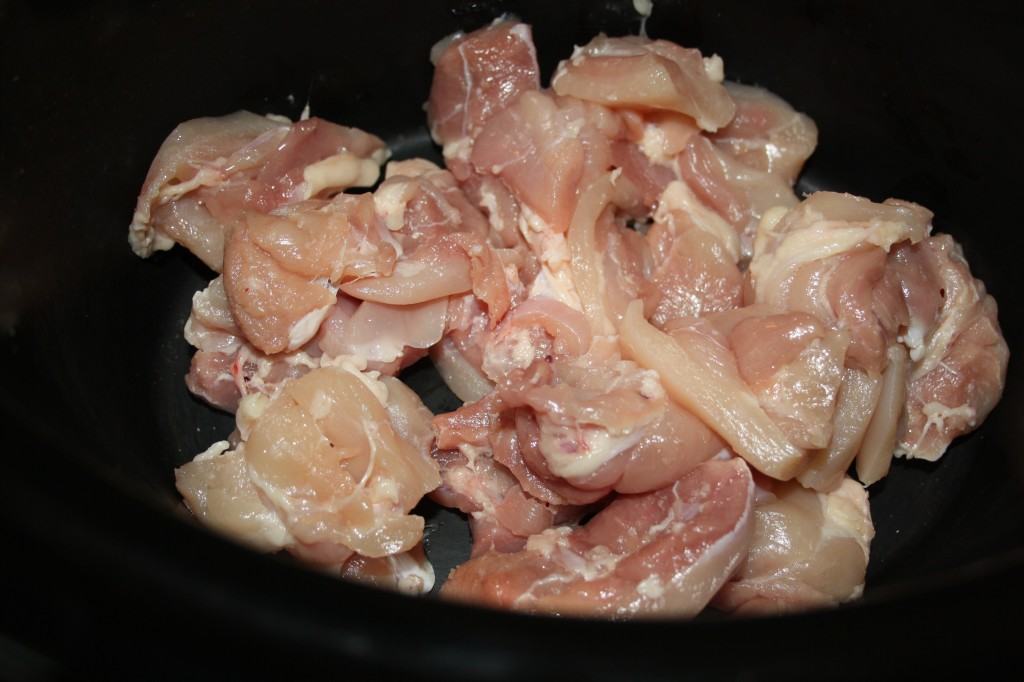 Next, chop the onion, garlic and optional small red chilli. I went with the chilli as I like the fresh tasting heat it adds to this curry.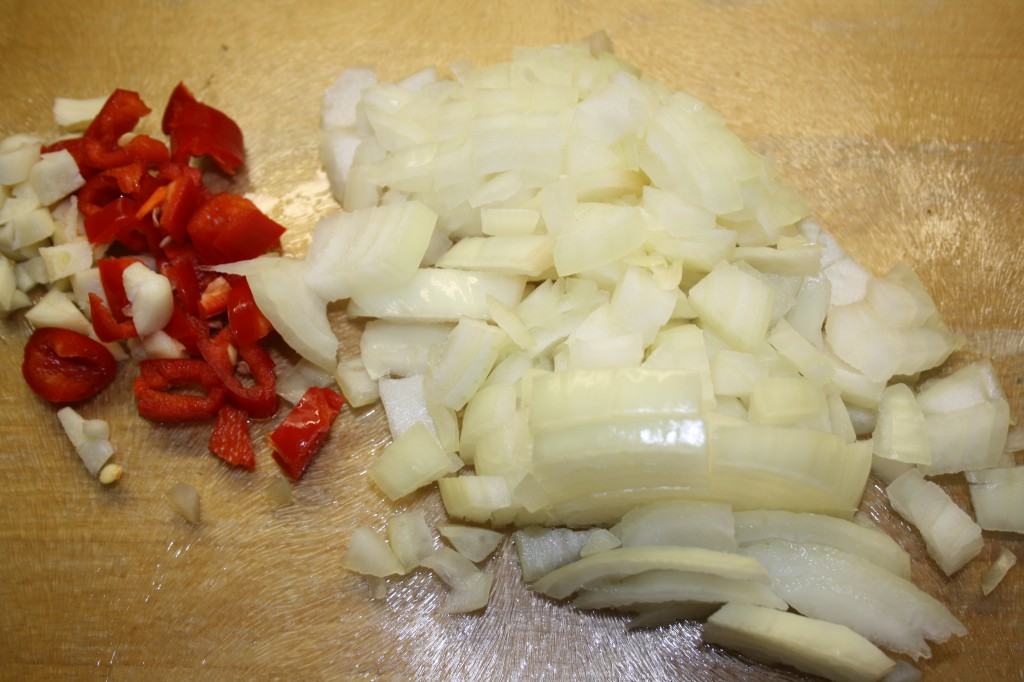 Then tip these, along with the ginger (I used the lazy version from a jar), tomato puree, curry powder, chilli powder or paprika, garam masala and salt into the slow cooker with the chicken.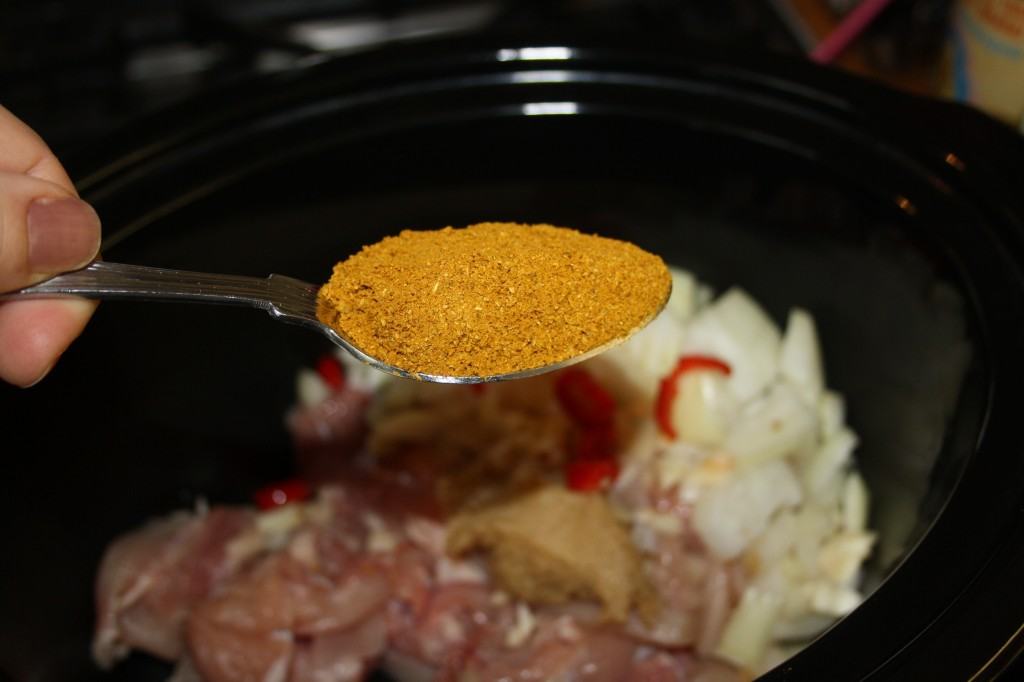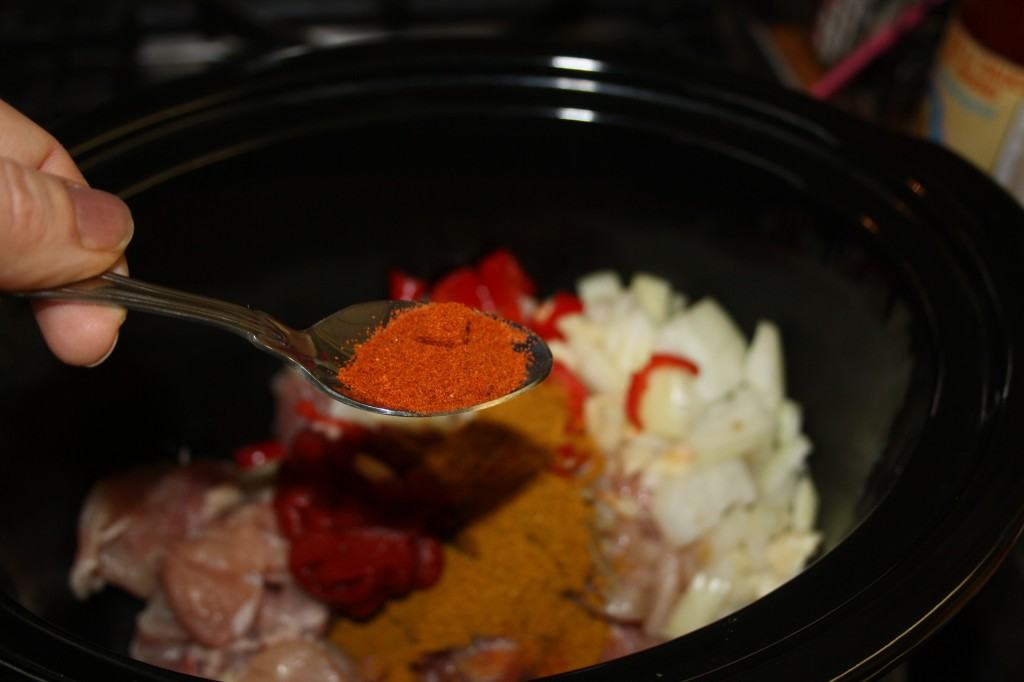 Stir in these wonderful smelling herbs and spices, then pour in the tinned tomatoes, juice and all.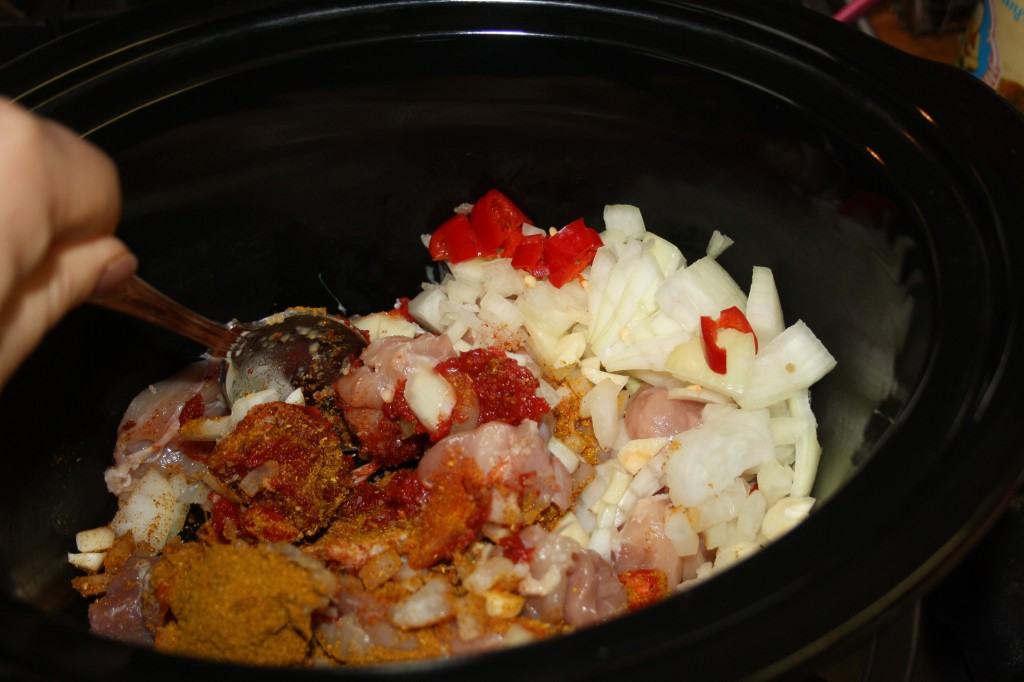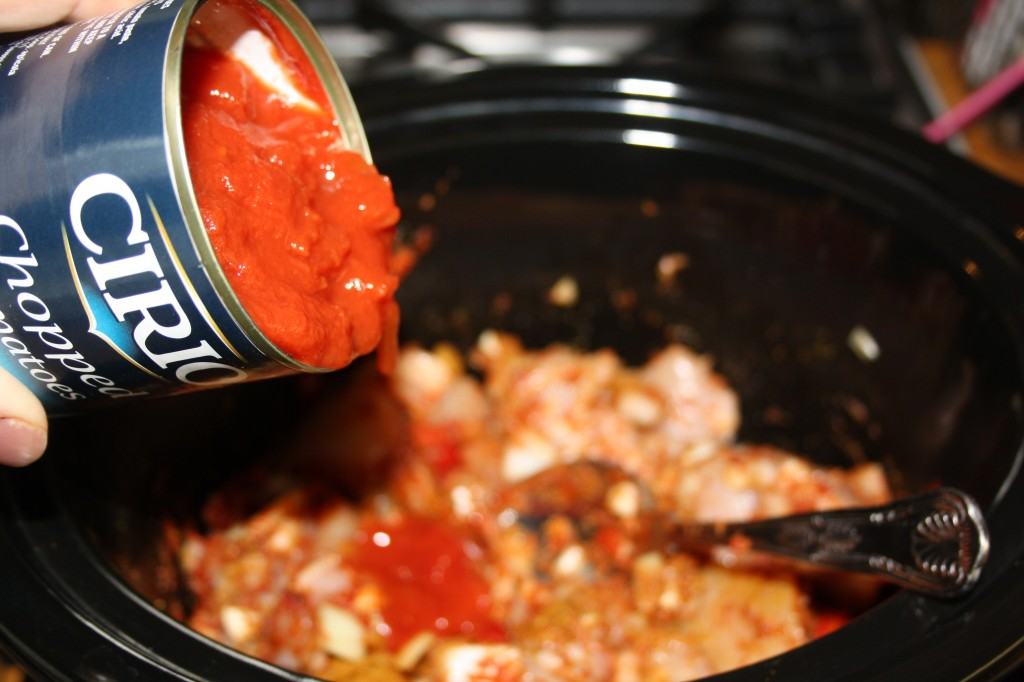 Give this mixture another big stir then pop the lid on the slow cooker and leave on low for 6 to 8 hours.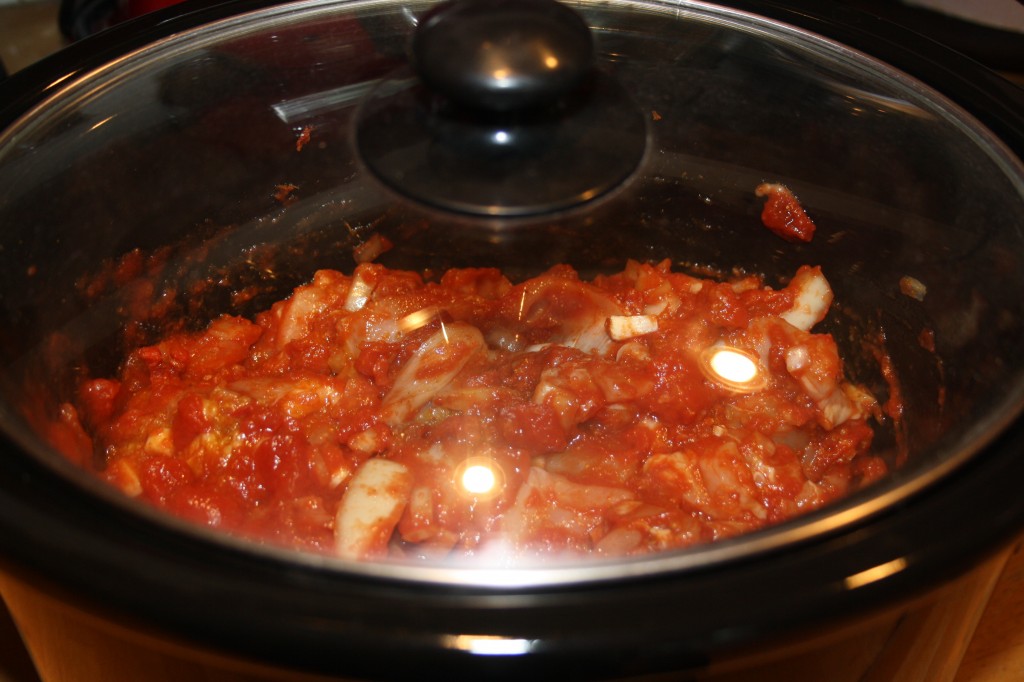 Once the time is up, take off the lid and inhale the spicy fragrance of this brilliant curry. I left mine for 7 hours and it was perfect. The sauce was luscious and the meat soft and tasty. I then added 250ml of coconut milk, but you could use cream here if you wish. Check the sauce at this point for seasoning, feel free to add more garam masala or curry powder if needed. Give it all another stir then leave the lid off and cook for a further 15 minutes on low so the sauce thickens up. You could also pop your rice on to cook now if you are serving this straight away.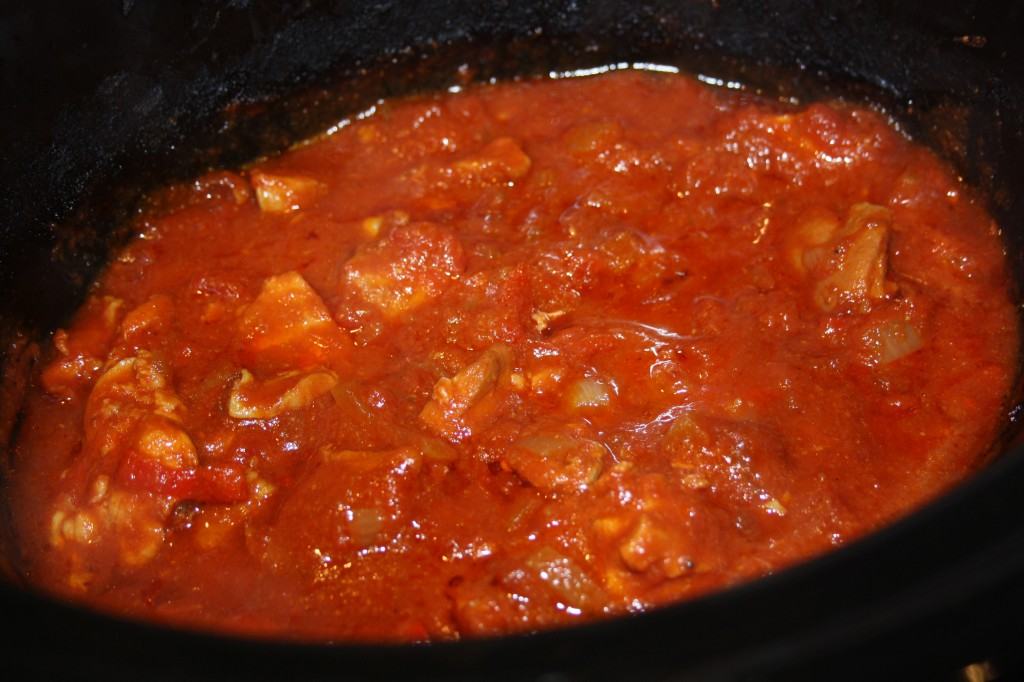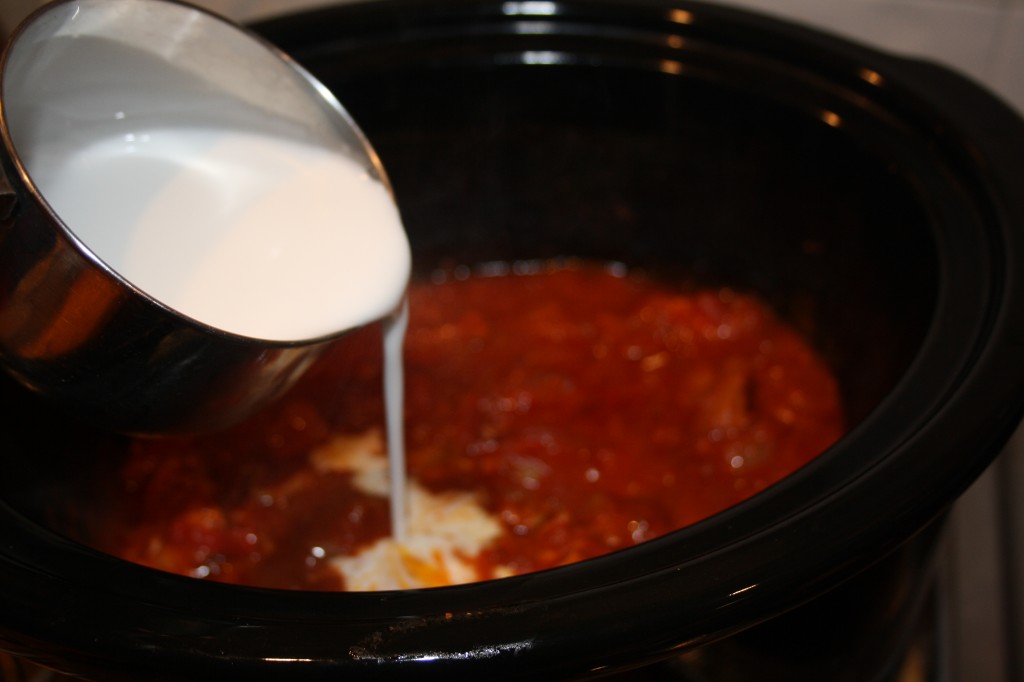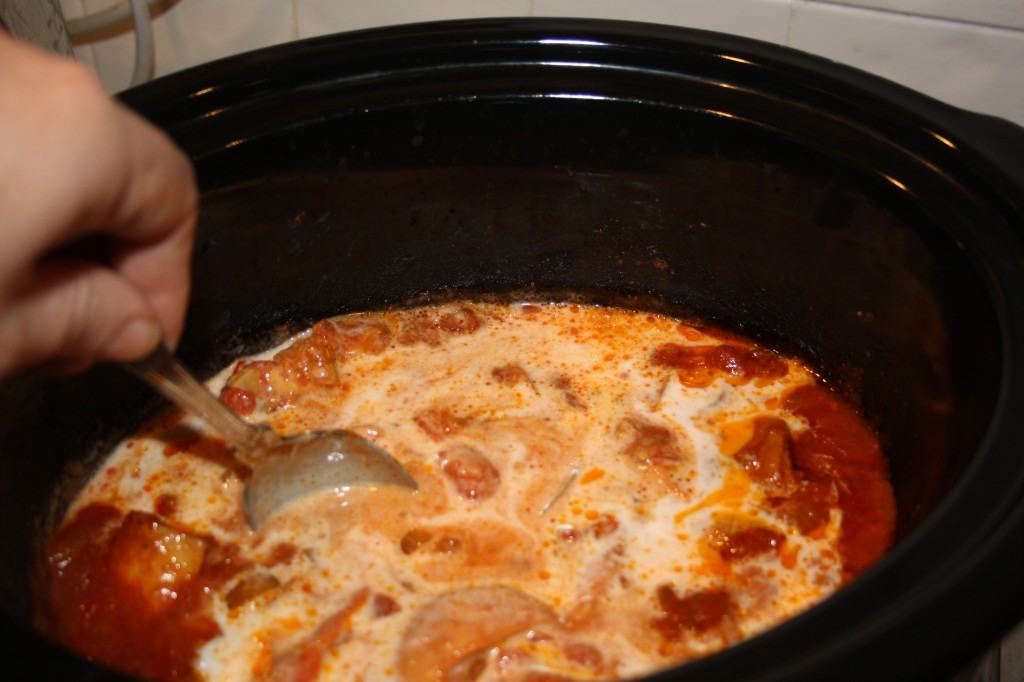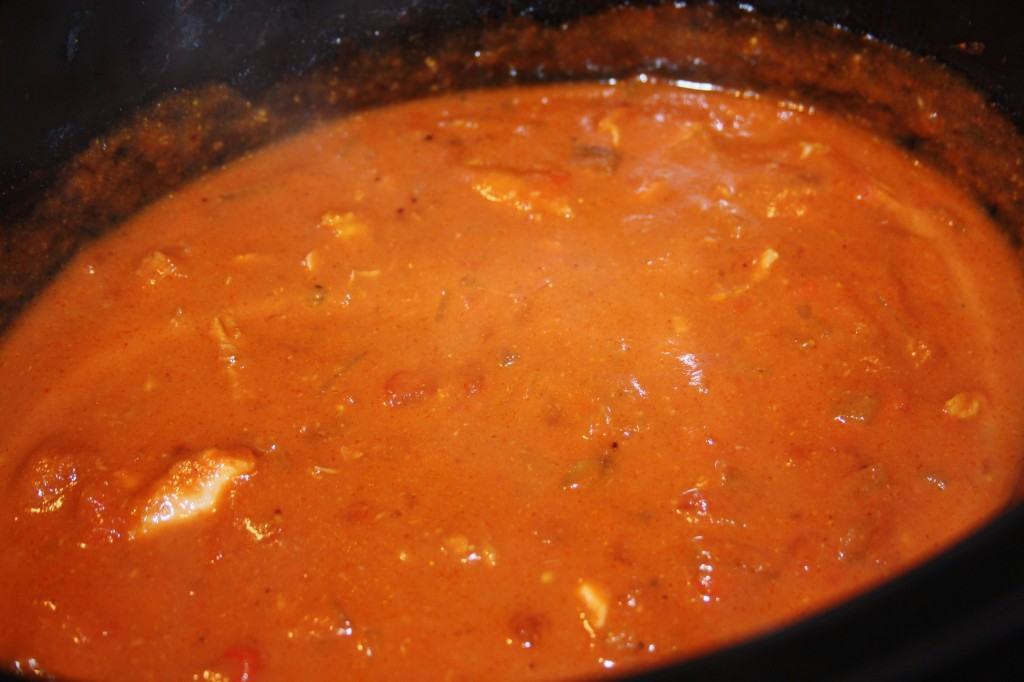 After the 15 minutes is up, your curry is ready. Just the addition of a swirl of double cream and some chopped fresh coriander and your stress free supper can be served. I kept mine, covered, in the fridge overnight and served the following day and the flavours were even more delicious. You can even cook this up to two days in advance, for yet more flexibility.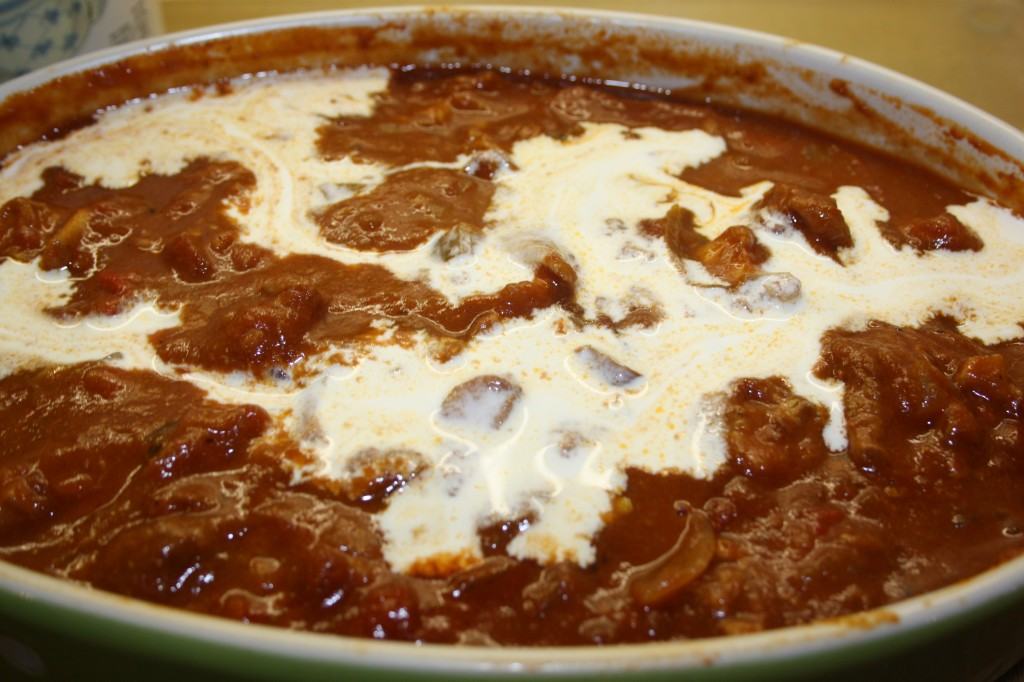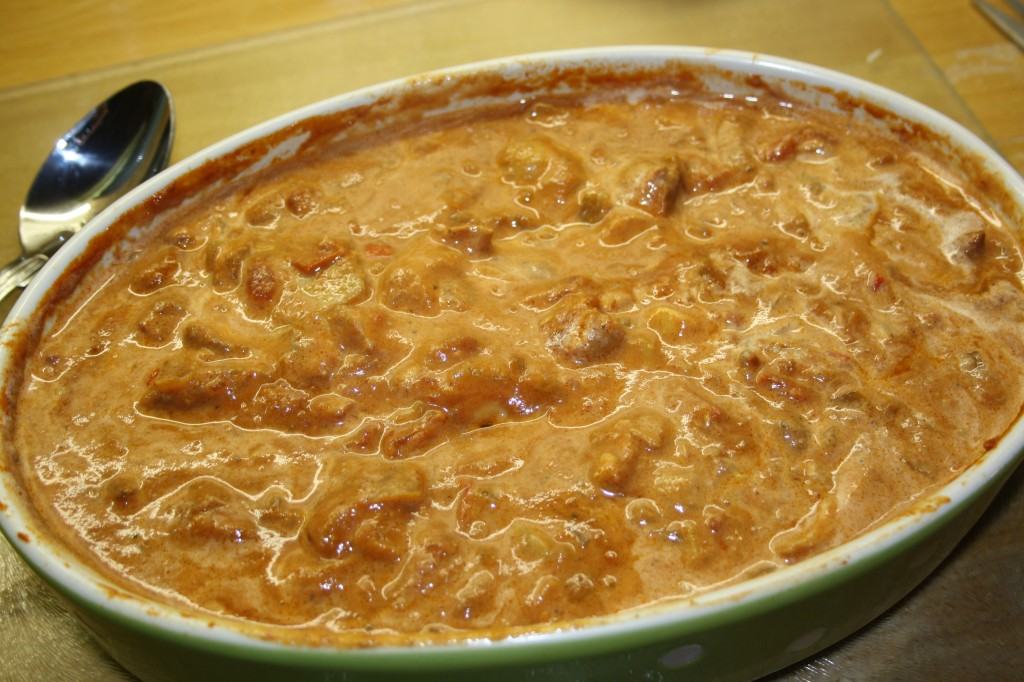 Dish up a huge bowl full, with basmati rice and mango chutney. Perfect.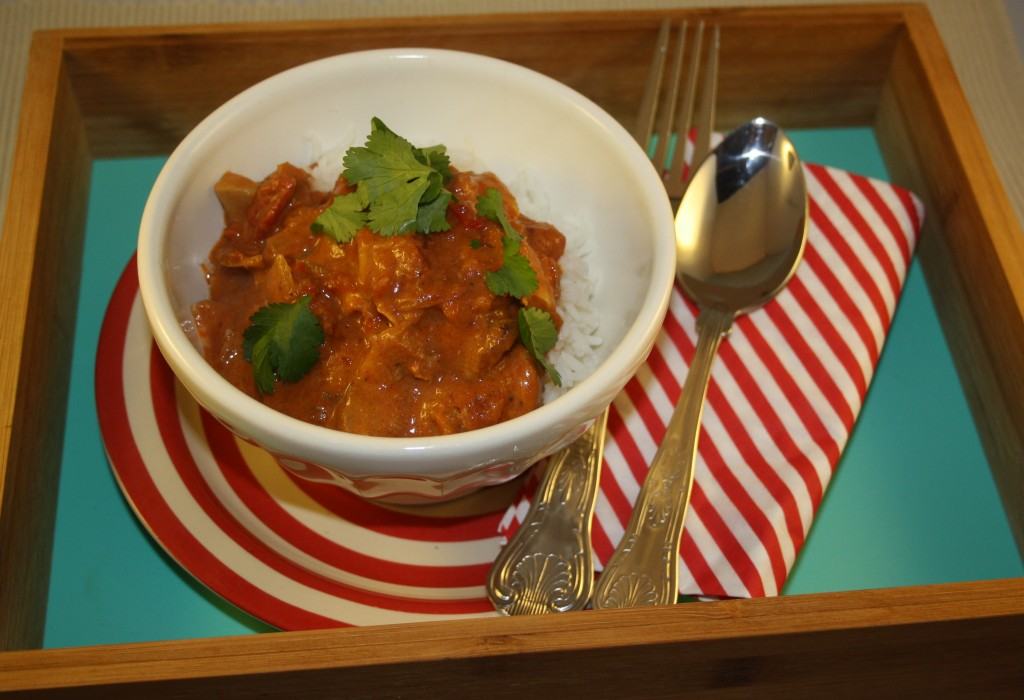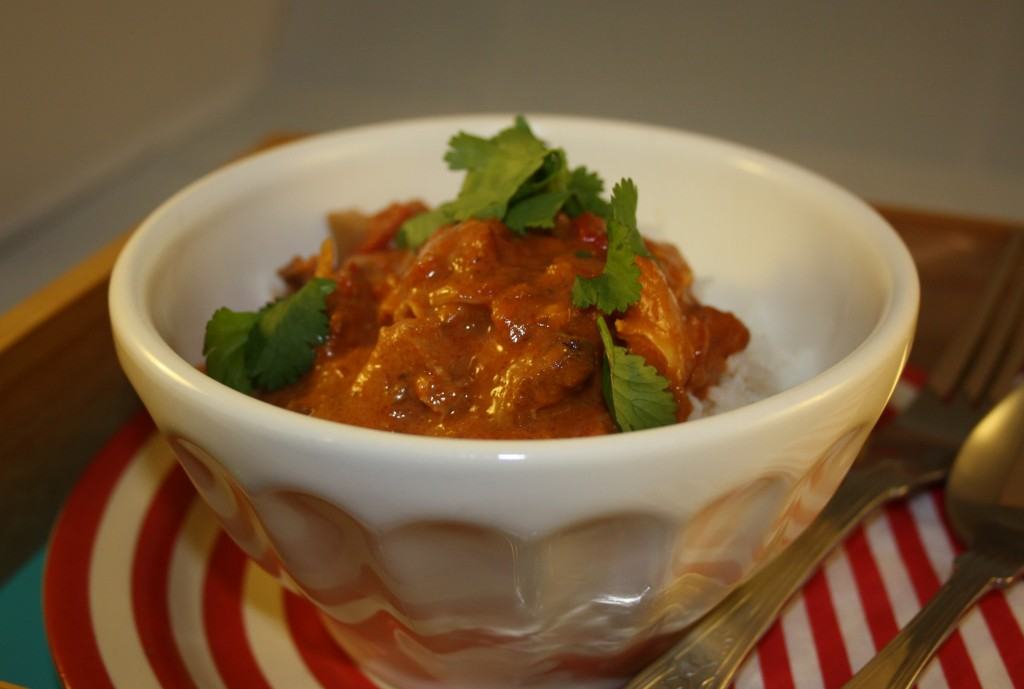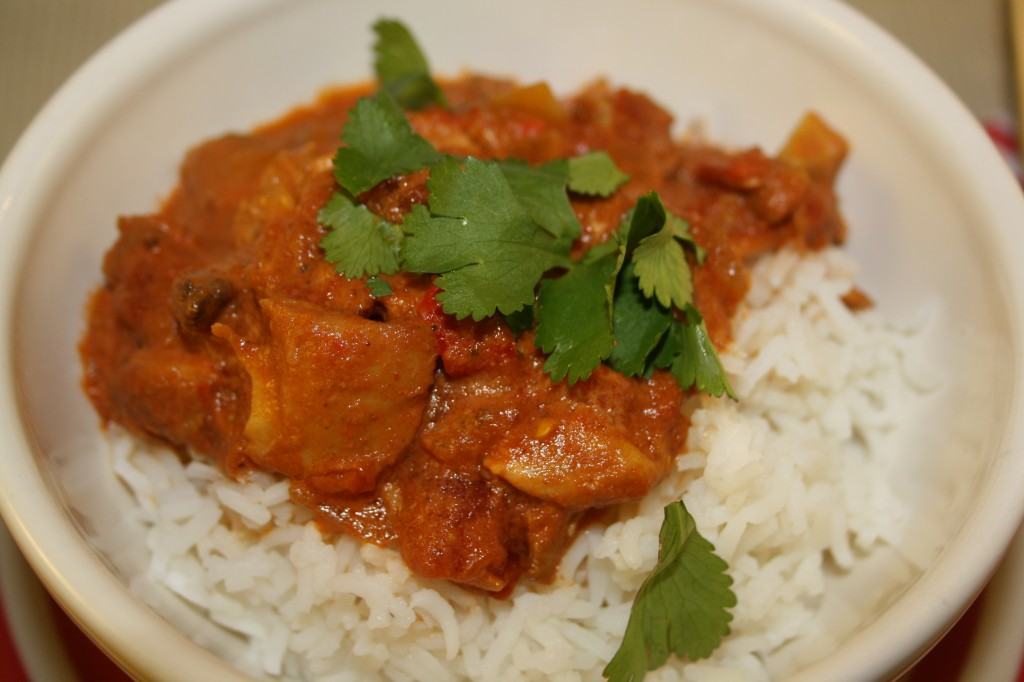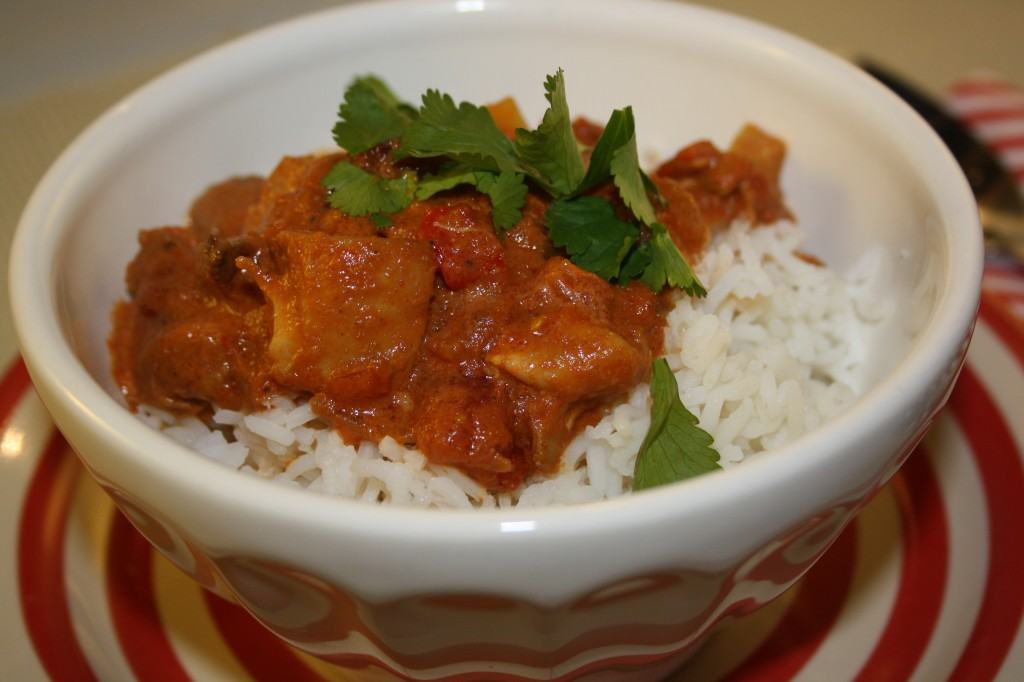 I think I've taken up enough of your very valuable time, but suffice to say, this curry is super simple to make and is a great contrast to the impending turkey-a-thon that is next week. Season's greetings lovely people.
Lucy x
Slow Cooker Chicken Tikka Masala Recipe
Serves 3 to 4 people
You will need a slow cooker, or not, as I am sure this would cook just as well in a standard oven
500g boned chicken thighs or breasts
1 onion, finely chopped
2 cloves garlic
1 tablespoon ginger paste or an inch fresh ginger, finely chopped
1 heaped tablespoon tomato paste/puree
1 to 2 tablespoons curry powder, I used Madras, but go with one you like
1 teaspoon paprika or chilli powder
1 teaspoon garam masala
1 small red chilli, optional
1 teaspoon salt
400g tin chopped tomatoes
250ml coconut milk or double cream
Fresh coriander and an additional splash of cream to serve plus basmati rice
Chop the chicken into good bite sized pieces and add to your slow cooker. Finely chop the onion, garlic and optional red chilli. Add these to the chicken followed by the ginger, fresh or paste, tomato puree, curry powder, paprika or chilli powder, garam masala and salt. Give all this a good mix then pour on the tinned chopped tomatoes, juice included. Stir again then put the lid on your slow cooker and leave for between 6 and 8 hours. Once this time is up, remove the lid and stir in the 250ml of coconut milk or double cream. Check for salt and pepper here and if it needs more heat, add an additional pinch or two of garam masala.
Cook for a further 15 minutes with the lid off so the curry sauce thickens. When you are ready to serve, stir through an extra splash of double cream for richness and a sprinkling of chopped, fresh coriander. Serve with basmati rice and curry accompaniments of your choosing. The curry will keep in the fridge for 2 to 3 days, or can be frozen.