Martinez Cocktail Recipe
On my recent trip to New York *get me all lah-de-dah* my lovely friend and I went to a speakeasy bar hidden in a slightly dubious Japanese restaurant. It really was hidden to the point we had to rely on a sly nod from a waiter to show us the door through to the cocktail bar. Once inside we were treated to an amazing looking cocktail menu with some truly original creations. One involved olive oil and mozzarella, another asparagus and white chocolate liqueur. Neither of us chose these beauties, opting for a couple of more palatable creations; mine fruity with vodka and banana, my friends gin and elderflower based and garnished with a basil infused grape. Their selection put Lucy Loves cocktails to shame, but I prefer to share more achievable Friday cocktails, and ones which don't include cheese. So this week I am treating you to a Martinez to wet your whistle.
It's a Bank Holiday weekend, which can only mean one thing. An awful weather forecast with rain and the potential for a frost for the start of May, bloody marvellous. Luckily, the Martinez cocktail has a set of balls that will warm the cockles of anyone's heart. It features my favourite gin, red vermouth and just a touch of Maraschino liqueur for sweetness. Angostura bitters add a touch of aromatics making this so drinkable and warming. It has a Negroni like taste, smooth and feisty, and it will set you up for the weekend in a super elegant way.
I have to admit to buying a new pair of sandals, so fear I may have singlehandedly cursed the forecast for this weekend, so apologies for that. However, I am making it up to you with this Martinez cocktail, it will keep you warm while we wait for the summer.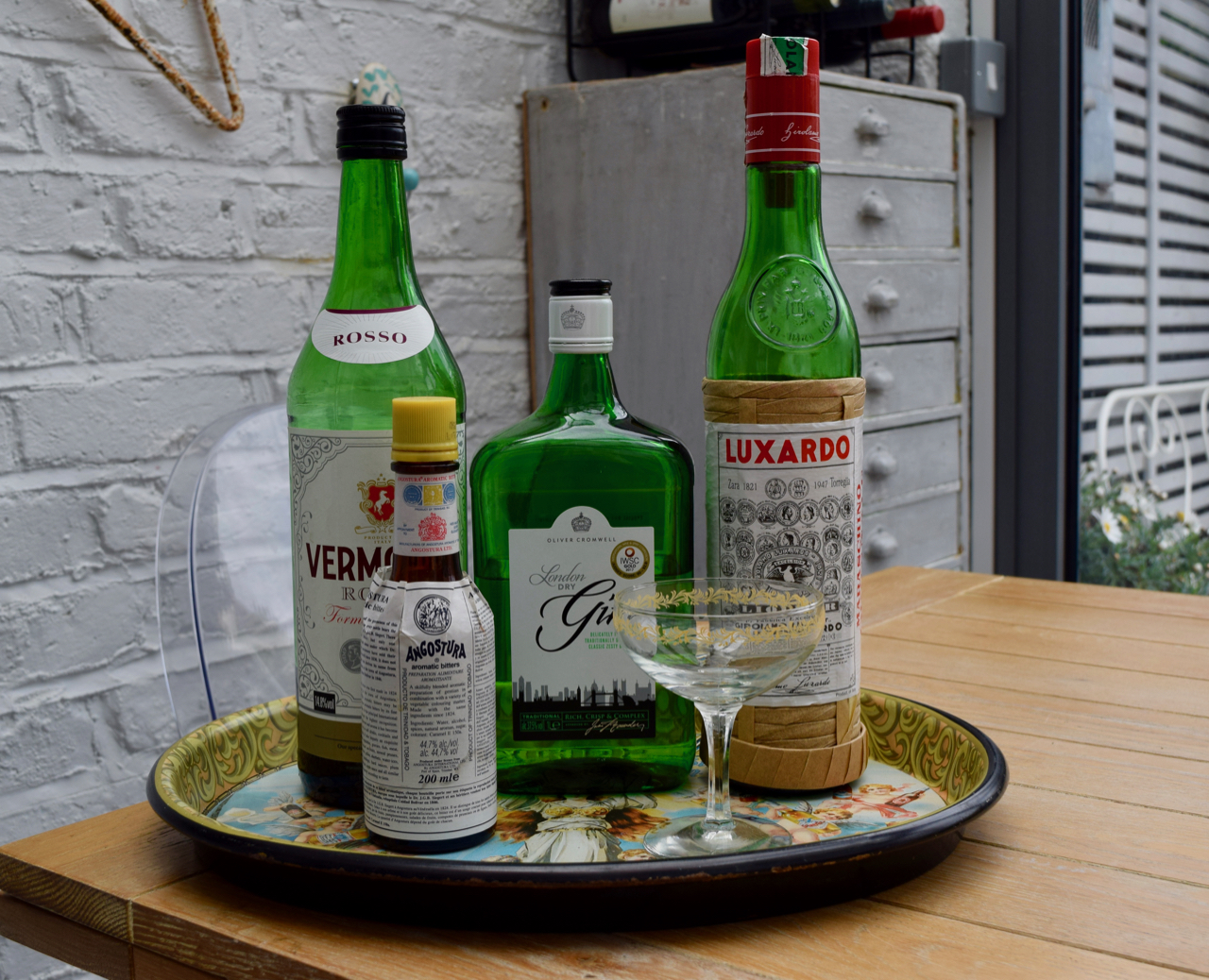 Two things to note from this weeks cocktail line up. A) my new tray, purchased from a lovely antiques market in Bembridge and b) the bottle of Maraschino liqueur I 'borrowed' from work. It's delicious and adds cherry sweetness so it's so worth making a purchase here.
No shaker for this weeks cocktail, just a jug or mixing beaker here. To which you add a good handful of ice. Like so.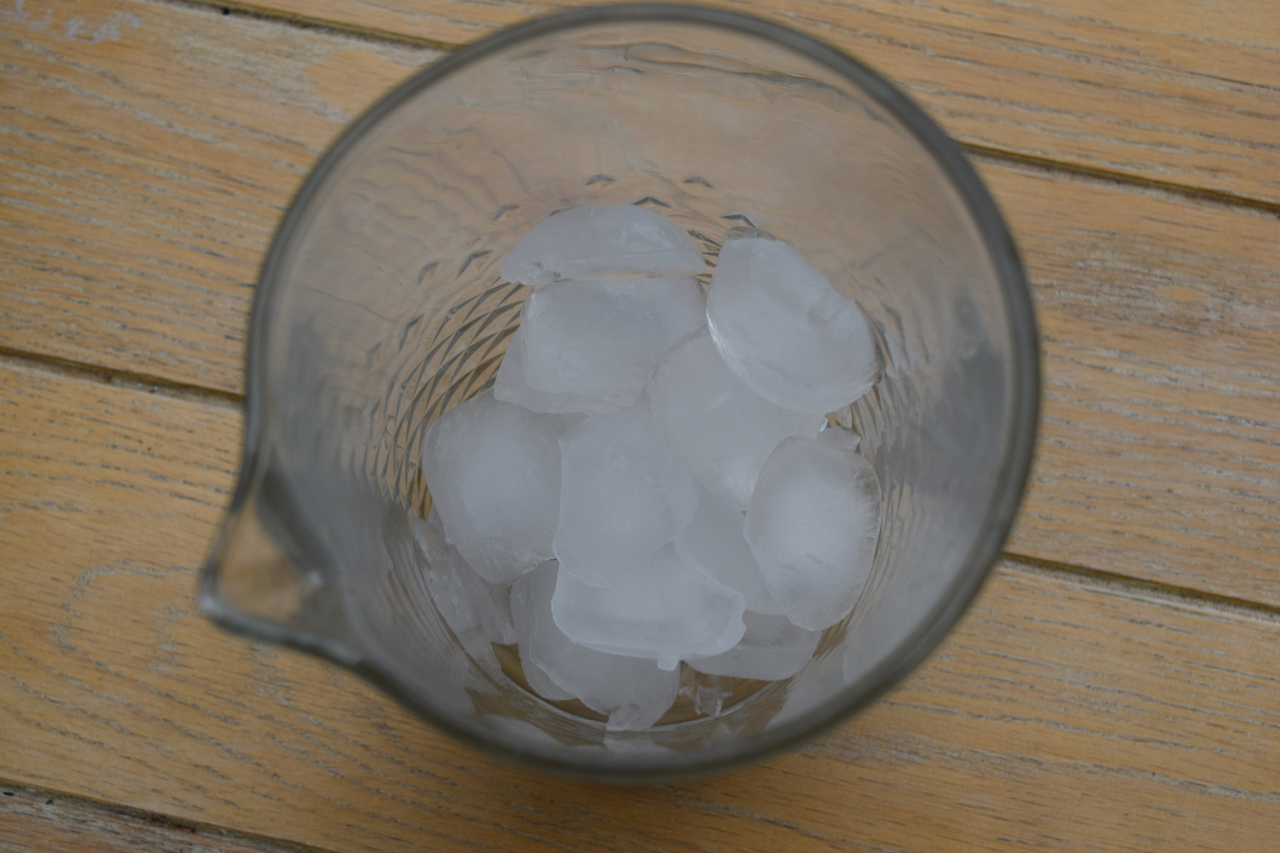 Measure in the gin, mine being my favourite Aldi London variety.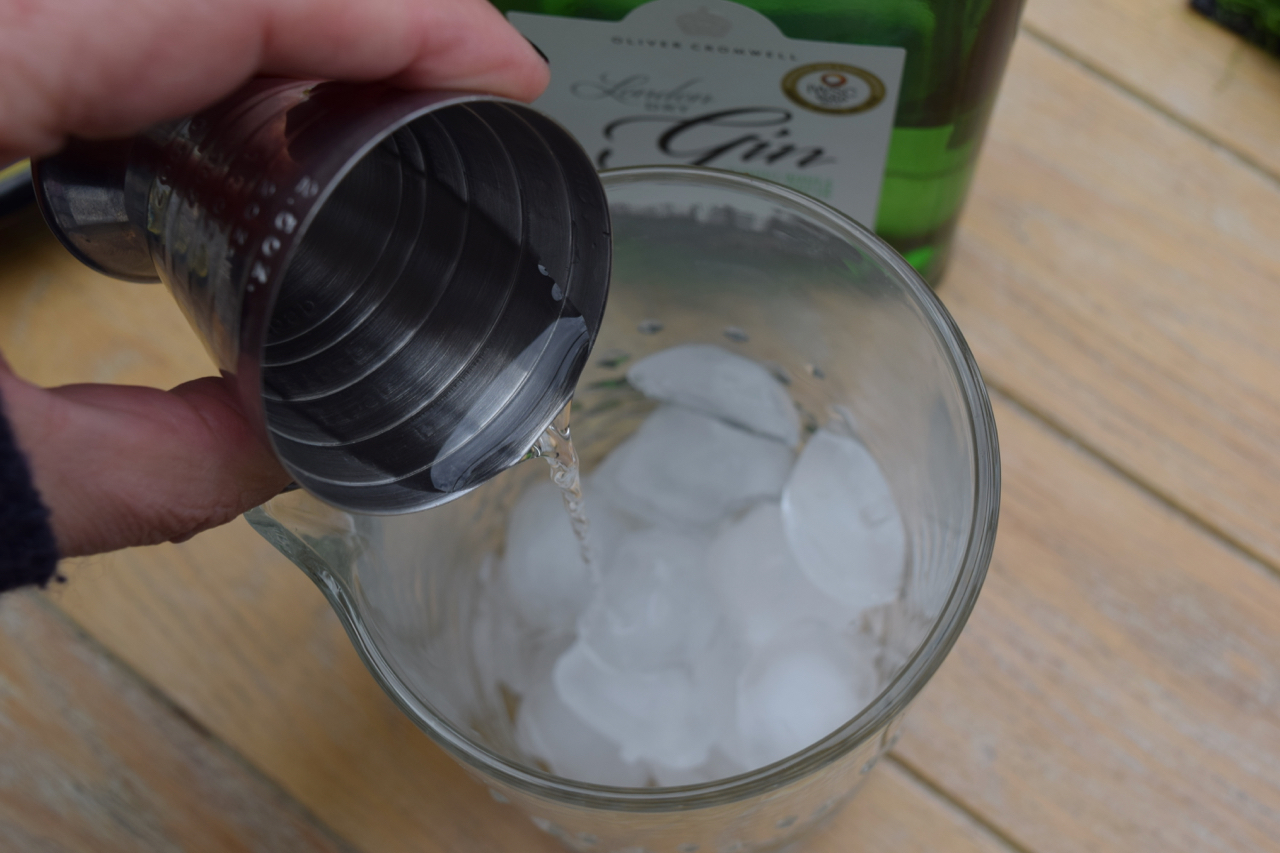 Follow in with the red vermouth and Maraschino liqueur.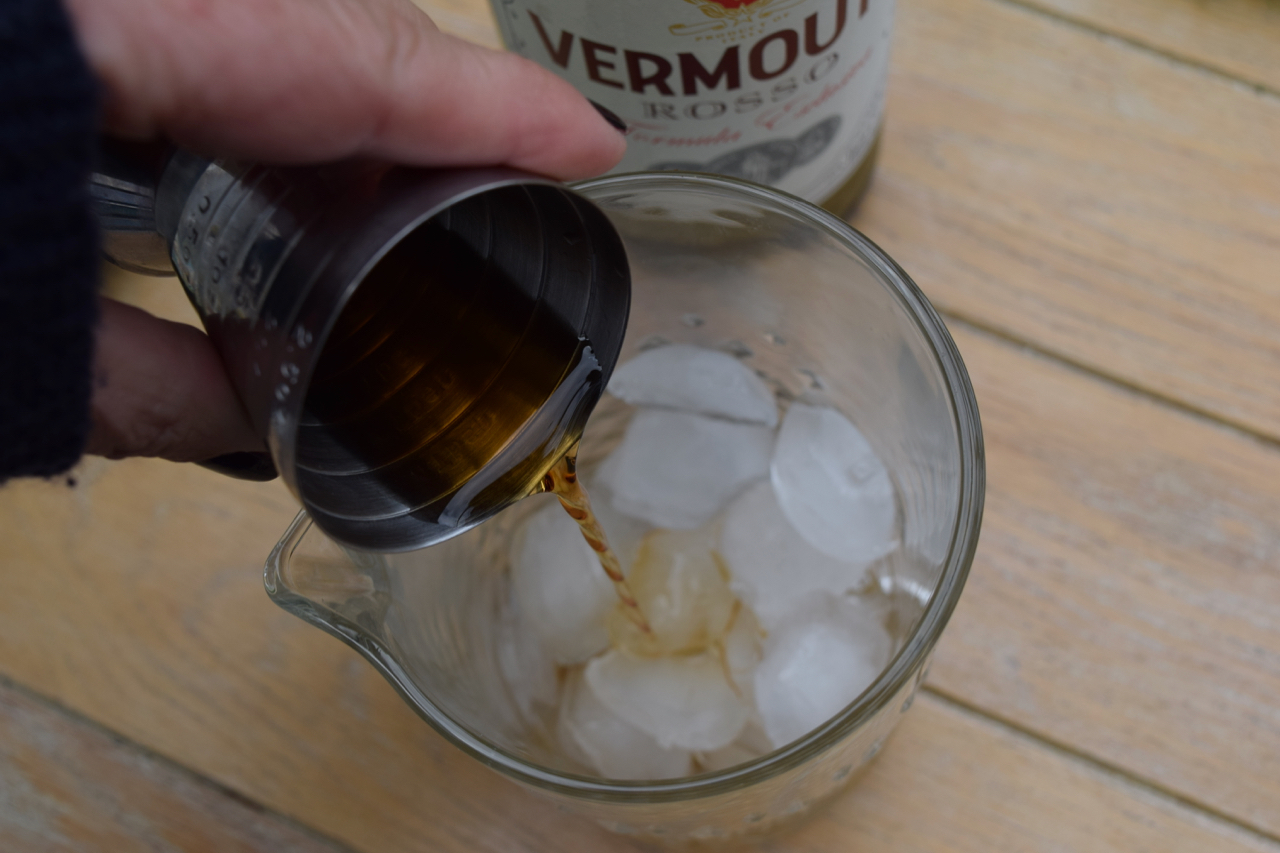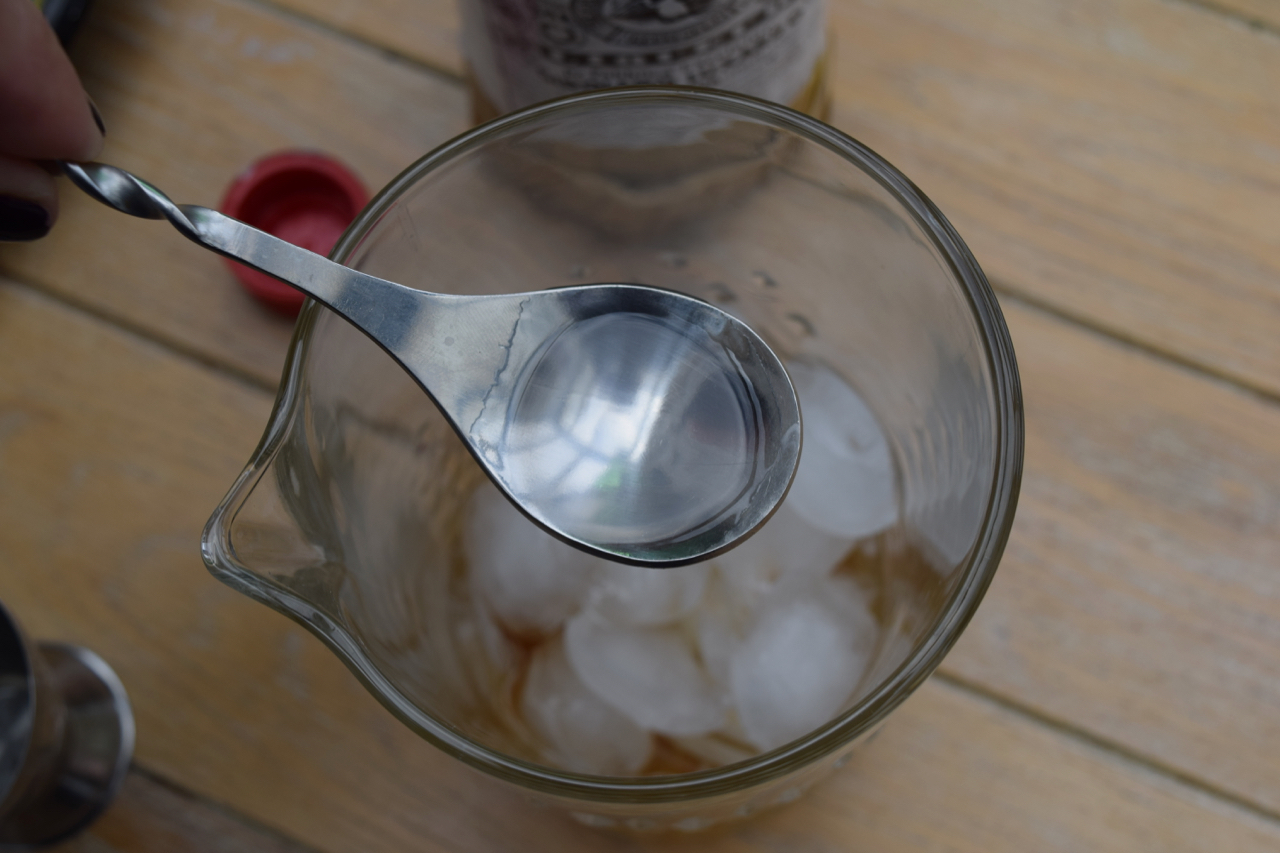 Finally, add the two dashes of Angostura bitters and give the cocktail a good stir.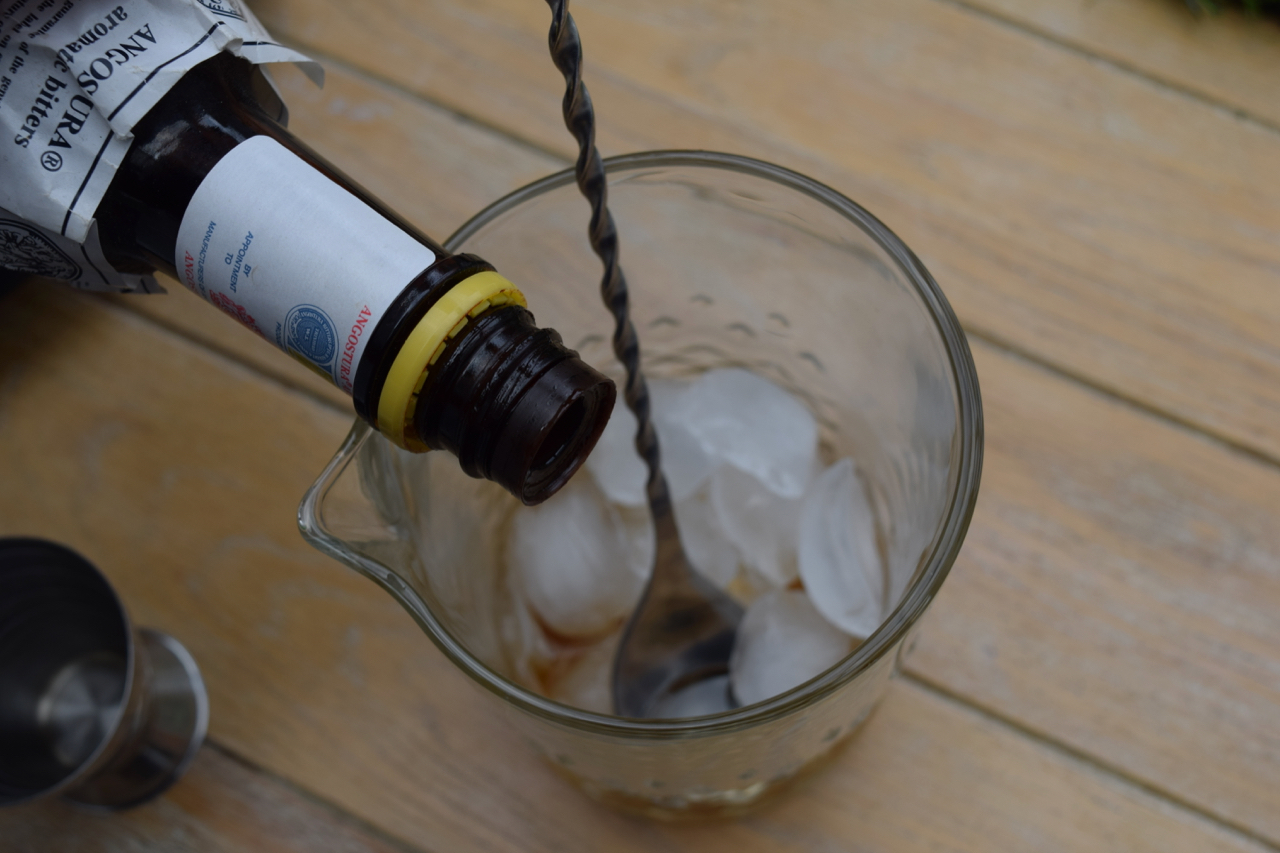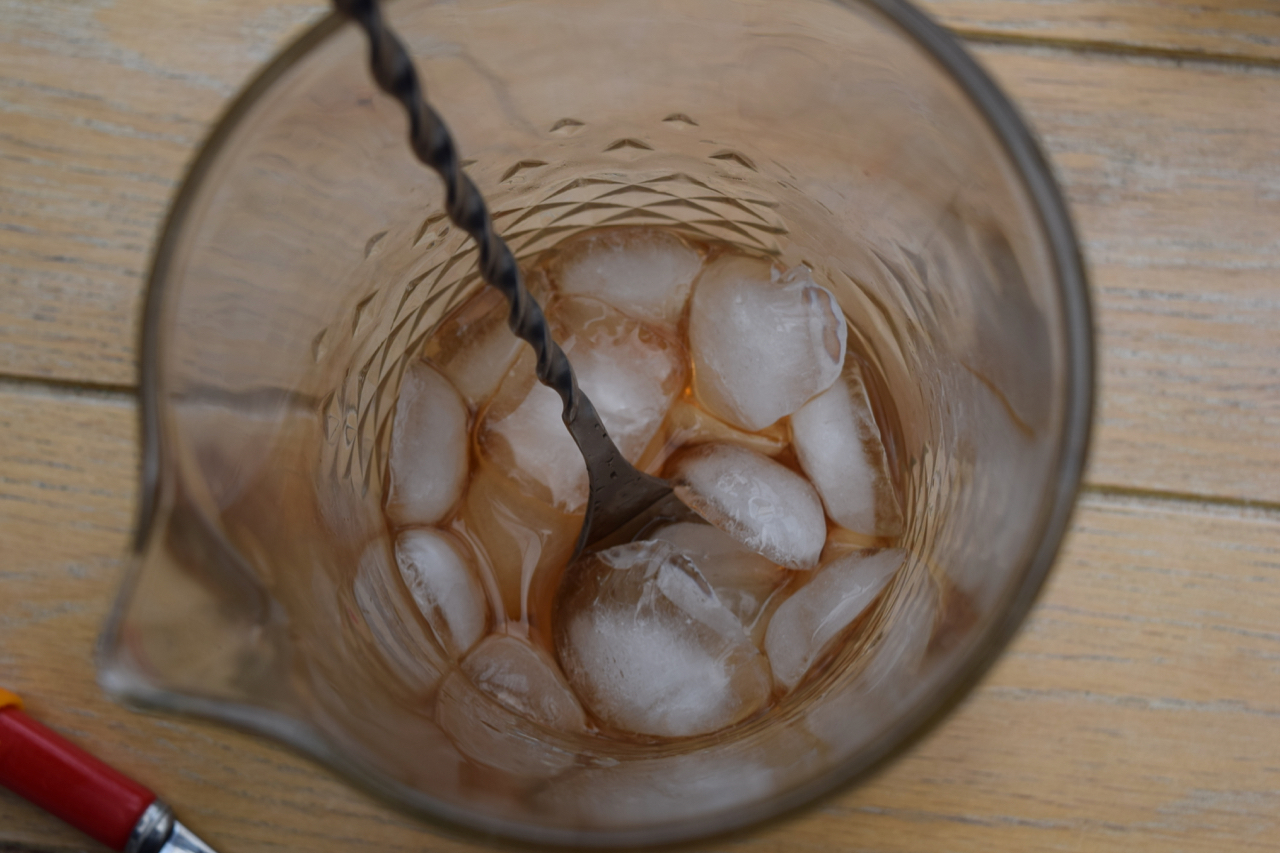 This will help to chill the cocktail and dilute the ingredients slightly. Once chilled, pour into your cocktail glass, straining the ice from the drink as you go. Garnish with a twist of orange peel.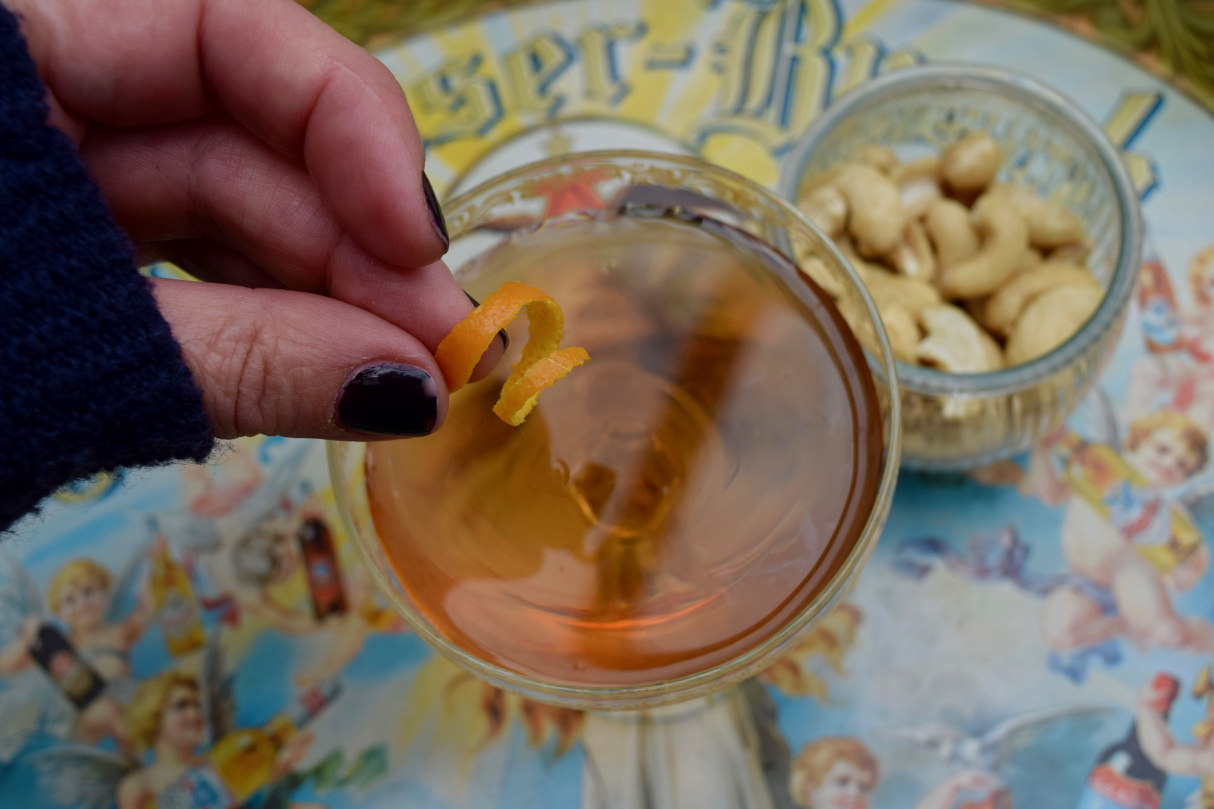 Ignoring my slightly tired manicure, your Martinez is now ready to sip and adore. And a better opportunity to admire my new tray.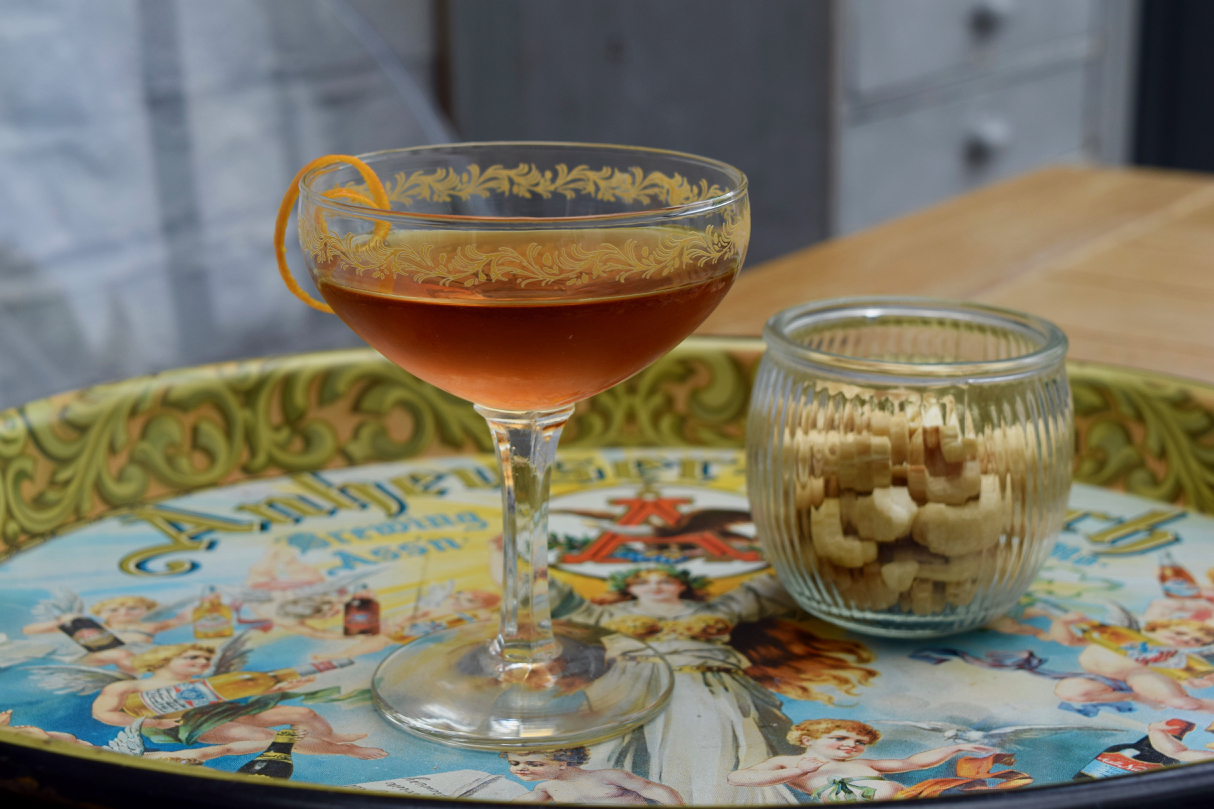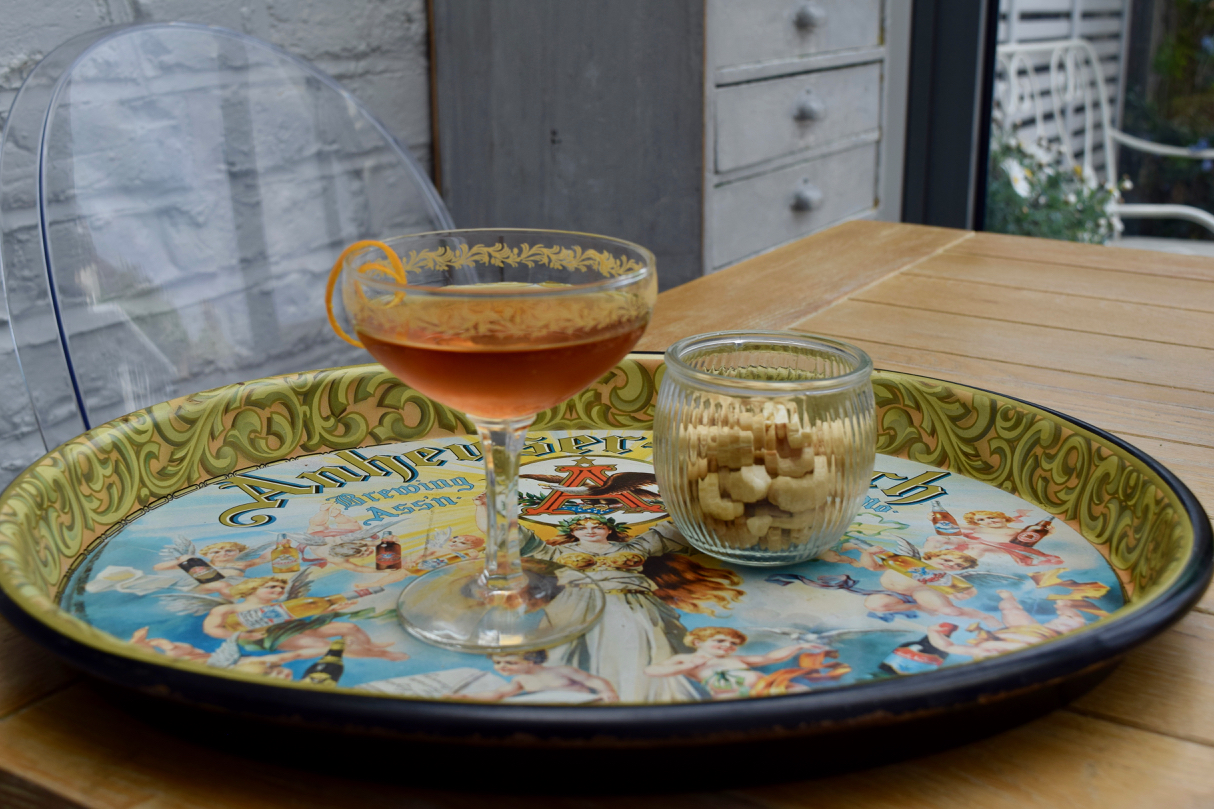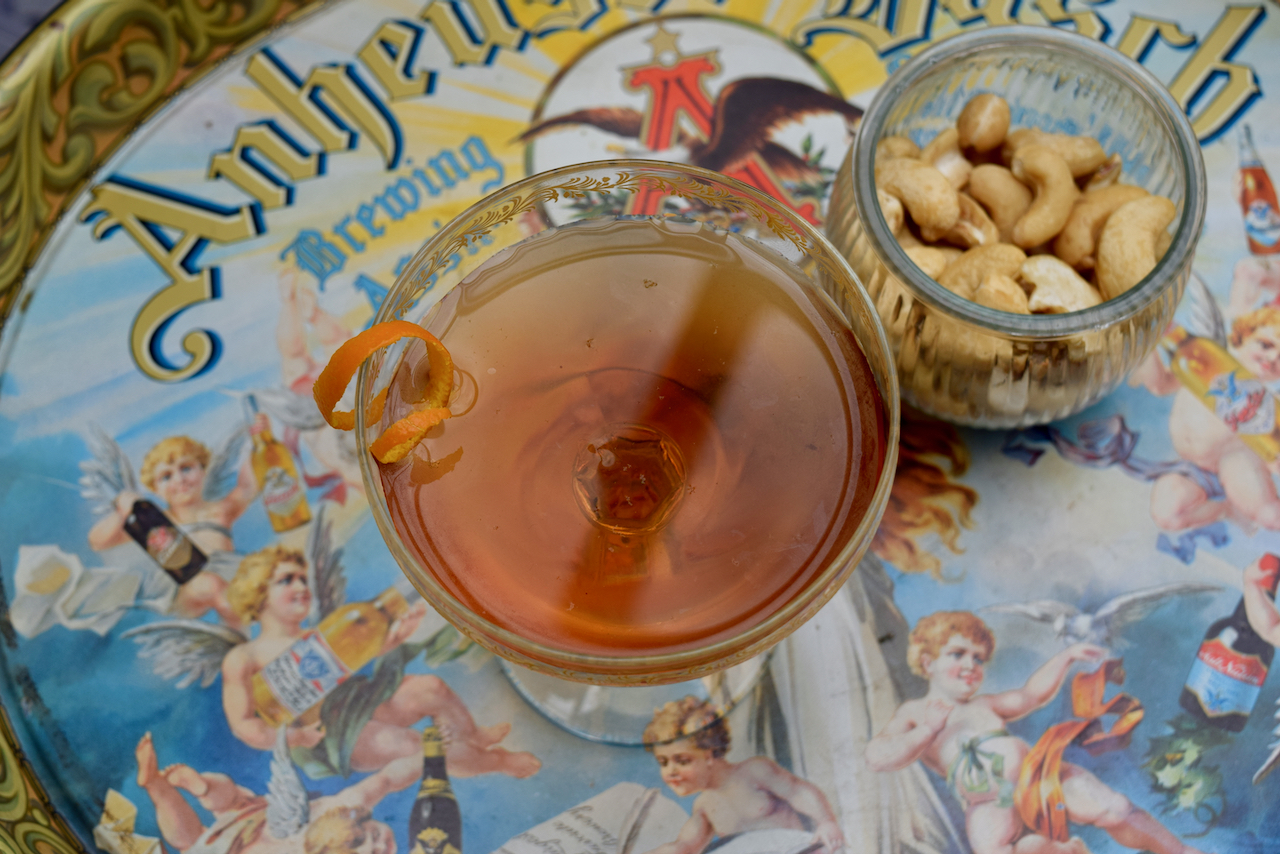 Even though we've only just had the Easter break, I am bloody exhausted. I am excited about the long weekend, even though it's going to be cold and wet and, for the most part, spent standing on the river bank watching rowing. Rest assured, when I do sit down, I will have a soothing Martinez, or two, in hand.
Have a restful weekend.
Lucy x
Martinez Cocktail Recipe
Makes 1
You will need a jug/cocktail beaker and spoon and a martini or coup style cocktail glass
25ml Gin
20ml Red Vermouth
5ml Maraschino liqueur
2 dashes Angostura Bitters
Ice
Orange twist to garnish
Take a cocktail beaker or jug and add a good handful of ice. Measure in the gin, red vermouth, Maraschino liqueur and Angostura Bitters. Stir well until chilled and slightly diluted.
Pour into a cocktail glass, straining the ice out then garnish with an orange twist. Sip and feel in the Bank Holiday weekend mood.