Orange Mojito Recipe
As I type, it's raining again. My hair has frizzed beyond that of Monica from Friends when they went to Hawaii and I am much more of a poodle than an afghan hound. I have, and it's official, turned into my Mother and spend the whole time blaming the weather forecasters, or my phone weather app for the poor state of the summer thus far. And, I mainly just talk about the weather. At least it has been a distraction from all the talk of the EU Referendum.
So, as we lurch towards the weekend again, lets celebrate the fact it's still pissing it down, but may brighten up later and that we all had our fair say in this week's referendum, however, you feel about the dreadful result. So let's raise our glasses, this cocktail Friday, filled with an Orange Mojito. Me and Mojitos have got a bit of previous, not unlike me and Tequila. Suffice to say, I haven't been able to look a regular Mojito in the eye for nearly 15 years now. However, this fresh, citrus based Orange Mojito is a whole different ball game. The orange juice, lime, mint and rum compliment each other so beautifully and make this a longer, summer drink. So much so, I may have to christen this my new favourite tipple of the moment. That's if I can wrestle the glass away from Clyde who has also taken rather a shine to an Orange Mojito too.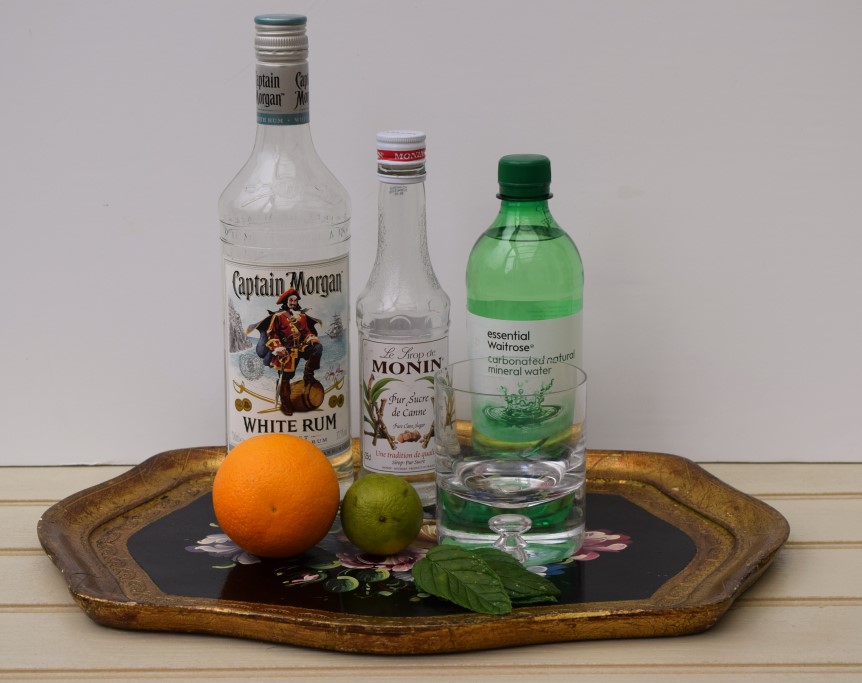 Here's my stylish line up for the Orange Mojito. On my elegant tray again, still loving my new acquisition. Sorry about the slightly tired looking lime, I am a big purveyor of ugly fruit and veg, they still taste just as good.
Make a start with this lovely Friday cocktail by adding the fresh lime juice and mint leaves to a smart tumbler and giving them a good muddle. This will release the fresh mint flavour into the drink.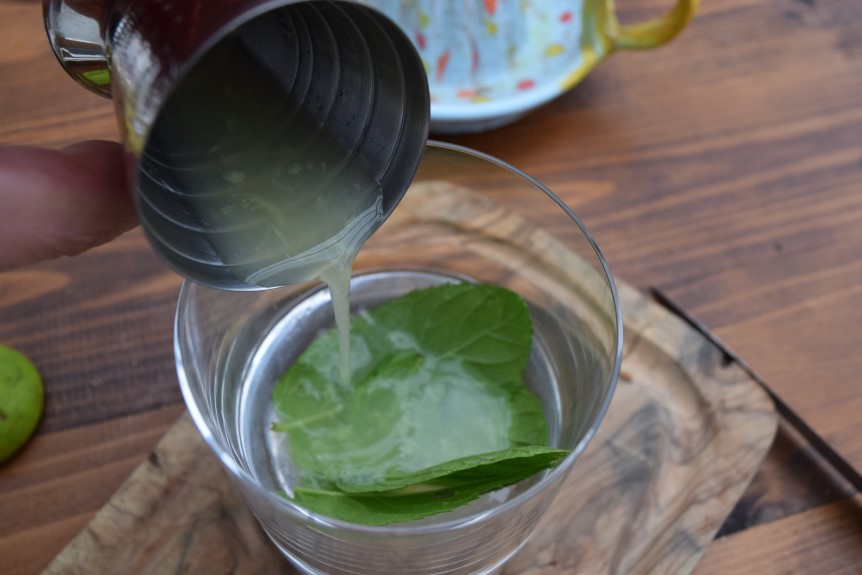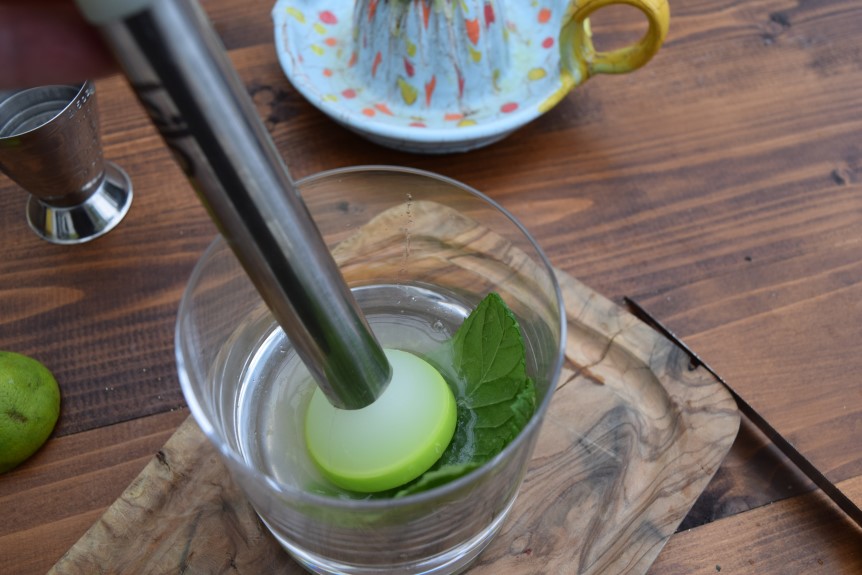 Next into the mix, pour in the nice big shot of rum and the freshly squeezed orange juice.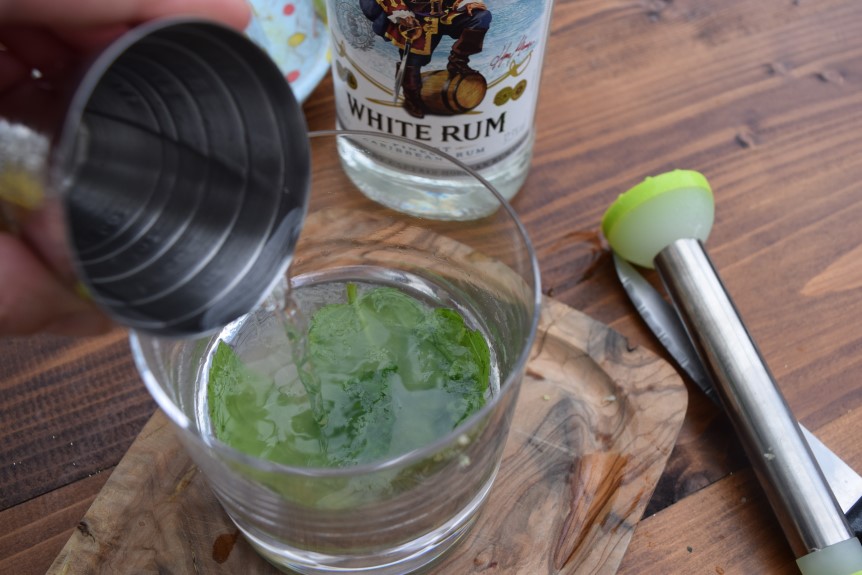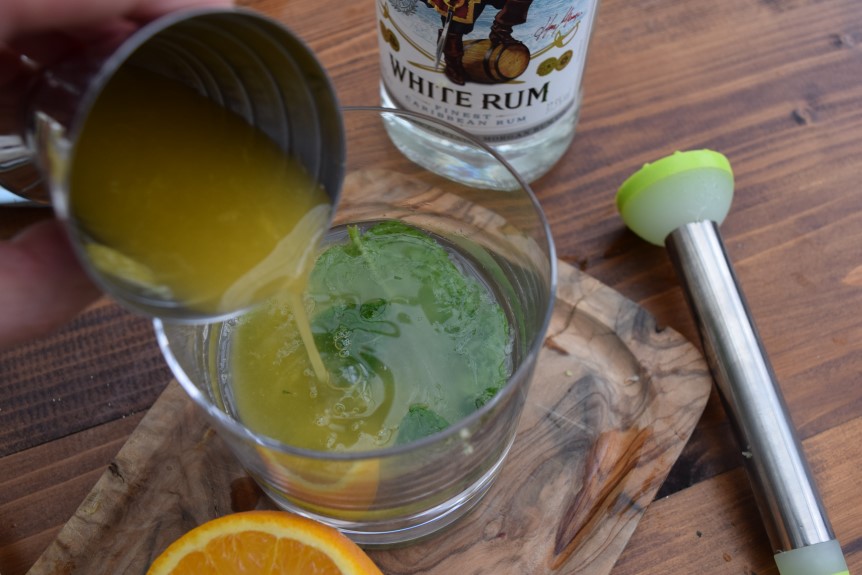 To sweeten this fragrant treat, add a half to one *dependent on your sweet tooth* tablespoon of sugar syrup with the ice then give it a good stir.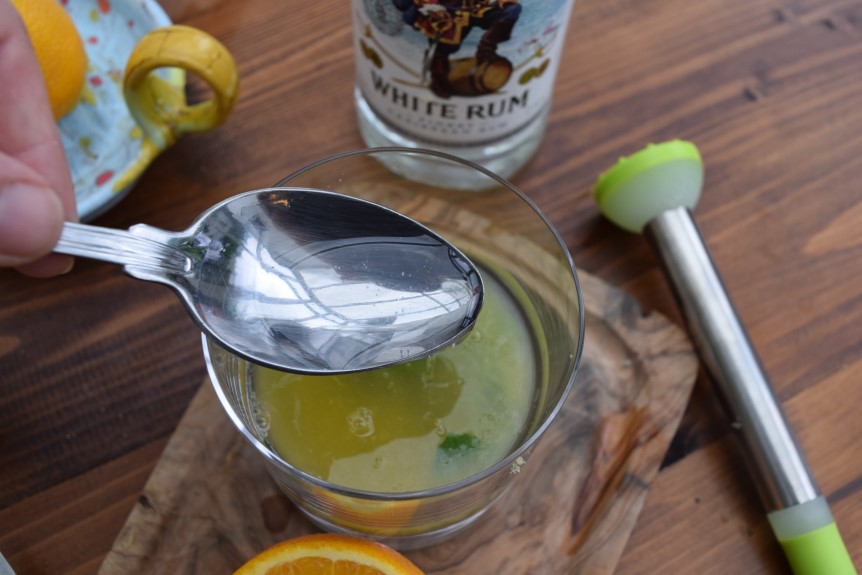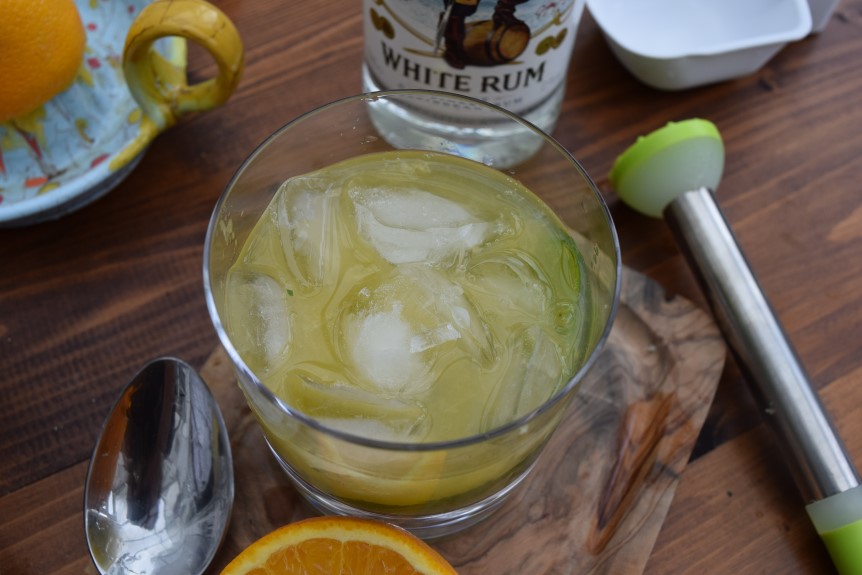 Add a tiny splash of fizzy water and an orange slice then this is ready to be inhaled.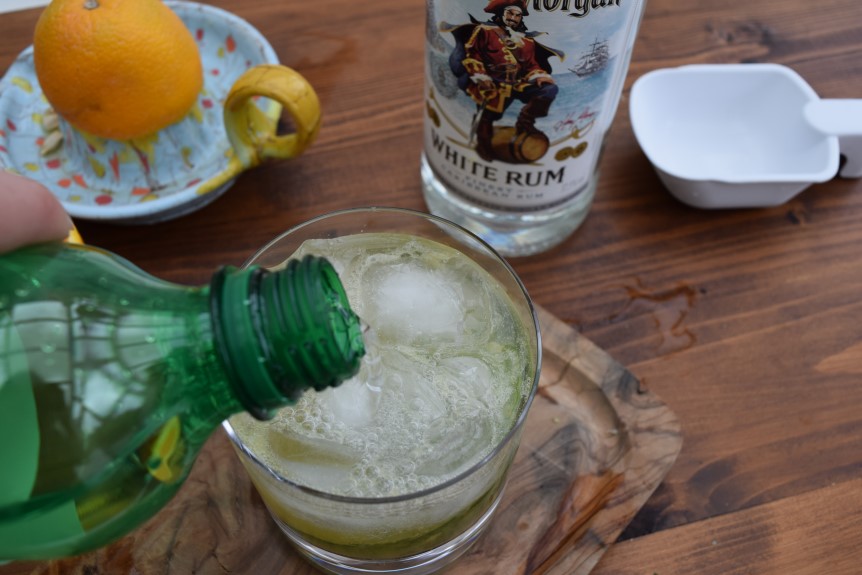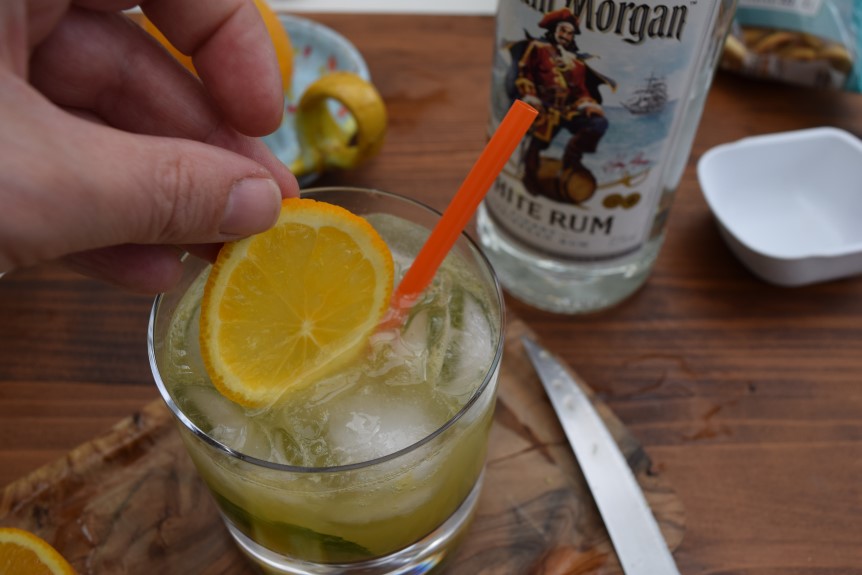 So fresh and refreshing, it may just take the edge of these damp, humid June nights.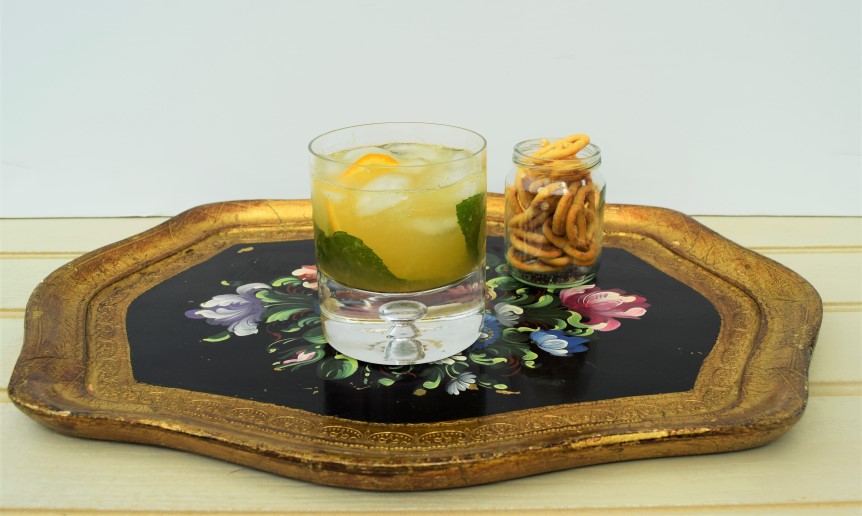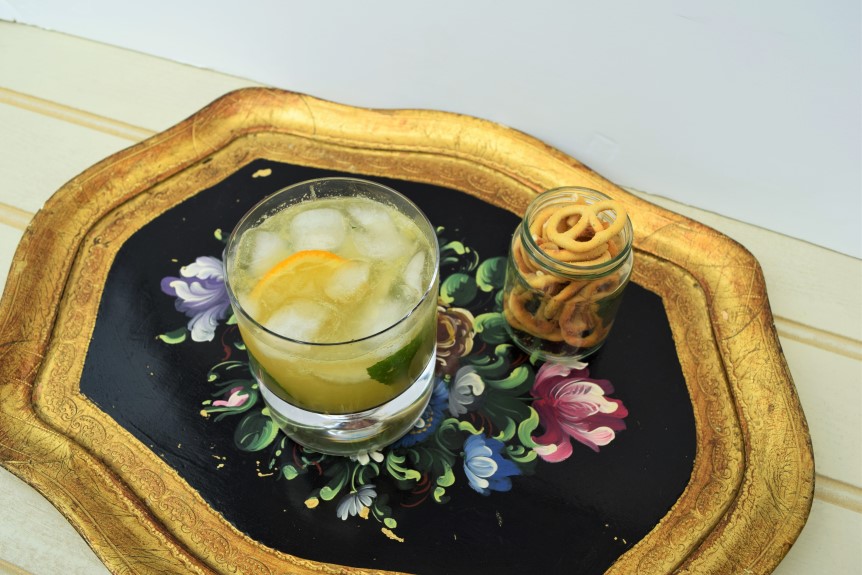 I am so pleased I discovered this wonderful Orange Mojito so Mojitos and I can be friends again.
Have a wonderful weekend with at least a tiny peak of the sunshine and a couple of hours off from your punishing umbrella holding schedule.
Lucy x
Orange Mojito Recipe
Makes 1
You will need a good sized tumbler
A few mint leaves, dependent on their size, four should do it
25ml fresh lime juice
40ml white rum
1/2 to 1 tablespoon sugar syrup
25ml fresh orange juice
A splash of soda or fizzy water
Ice and a slice of orange to garnish
Take your tumbler and add the lime juice and fresh mint leaves. Muddle these together with a muddler or the back of a spoon to release the mint flavour.
Pour in the rum, fresh orange juice and sugar syrup. Stir then add a good handful of ice and top up with soda or fizzy water. Sip and adore.