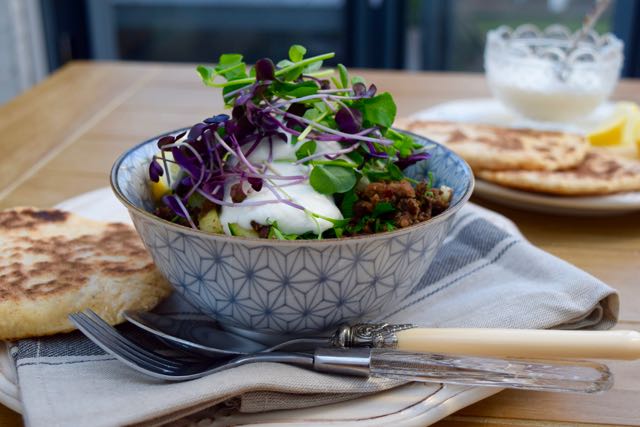 Herbed Lamb and Lentils Recipe
It's spring, apparently, as we hurtle towards the end of April and another Bank Holiday weekend. You wouldn't know though as this is the scene in our living room this evening.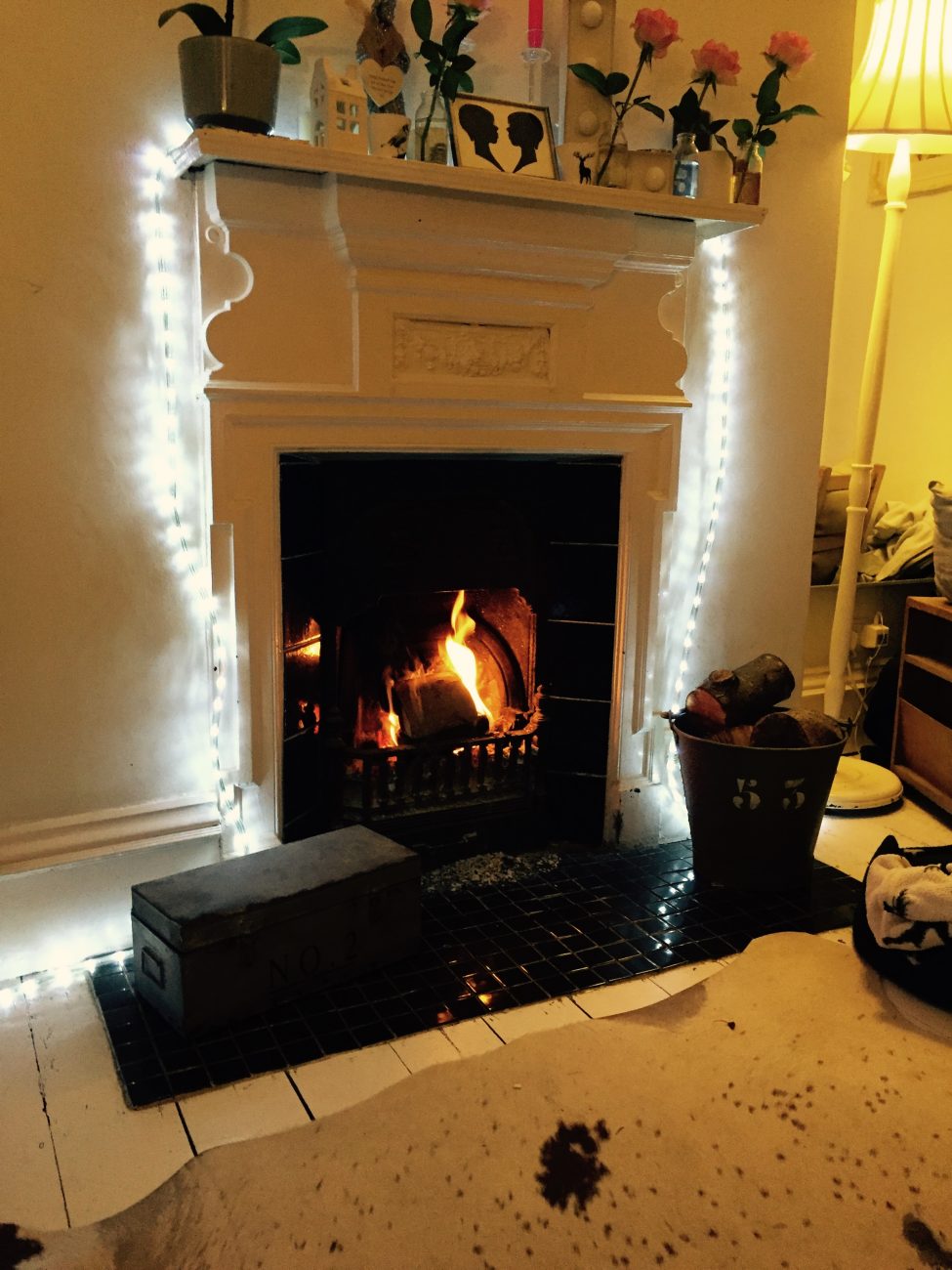 It's bloody freezing and the only reason I am not wearing my bobble hat is because it makes my hair flat. I feel I should be sharing lovely summer fruit dishes and light salads with you at this time of the year, but no, Winter has returned and we need to lay down a little more fat before shedding it ready for the our hot pants and bikinis *ooh, what a thought*. So, today, pop your scarf back on and get these Herbed Lamb and Lentils on the go.
Despite this dish sounding like a real rib-sticker, it is actually quite light and fresh tasting. And incredibly easy. As soon as I spotted the recipe via the amazing Bon Appetit website, with thanks, I knew it was right up Lucy Loves street. I adore lamb, although if you don't adore lamb, beef mince would work here too I am guessing, making this a lovely flexible dish. It's quick and simple and so full of all my favourite herby flavours. You then get to serve it alongside some wonderful thick yoghurt and if you can be arsed and feel like showing off, make some of my simple flatbreads to go with. These are no effort whatsoever and taste amazing alongside this crispy, lightly spiced lamb.
So to recap with one of my favourite lists. Herbed Lamb with Lentils is a) quick b) flexible and c) tasty as can be and I ate it by the bowlful without too much remorse as this brilliant dish could even be classed as d) healthy.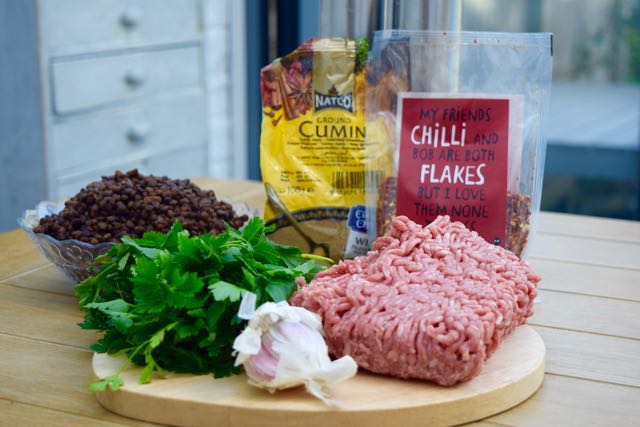 Here's the simple line up for this flavour laden supper. Like I said, you could use beef mince for this if you don't like lamb. It's also quite a frugal dish. Lentils and mince aren't going to bankrupt me, thank goodness, as my weekly food bill seems to be escalating hugely at the moment. I am not sure if the boys are eating more or if I can blame the ghastly B word for higher prices. Either way, I do love finding a reasonably priced supper to add to my collection.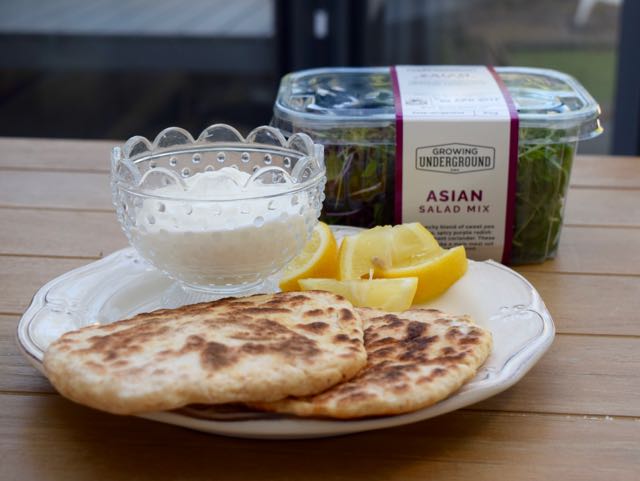 These were my chosen accompaniments for the dish. I made these flatbreads from my simple recipe, but you could, guilt free, buy some pittas, flatbreads or naan to go with. I also have a new favourite green, being these micro herbs from Growing Underground. They are so tasty, herby and fresh and great with this lamb and now available from Ocado.
Enough unpaid PR work and on to the recipe. Make a start by cooking your lentils. I cooked mine using my new best friend, my Instant Pot. They only took 15 minutes and were cooked to perfection. If you are heartbreakingly bereft of an Instant Pot, then cook the lentils according to the instructions on the packet then put to one side to cool.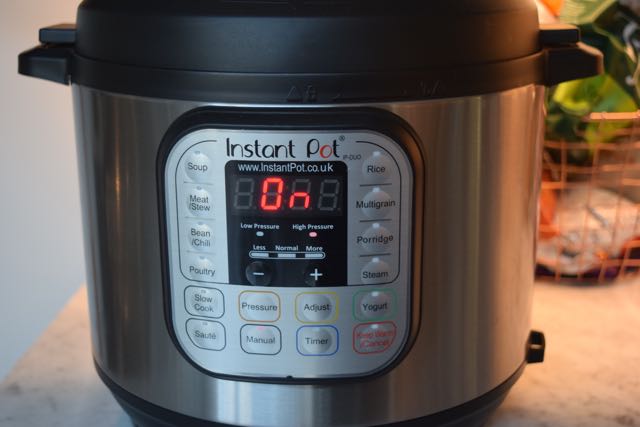 I used 200g lentils with 500ml chicken stock with salt and pepper.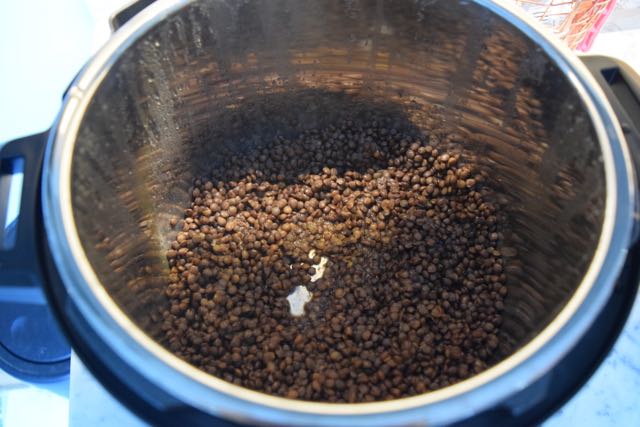 Perfect. You could also make your flatbreads at this stage too, leaving them in a low oven to keep warm whilst you prepare your lamb.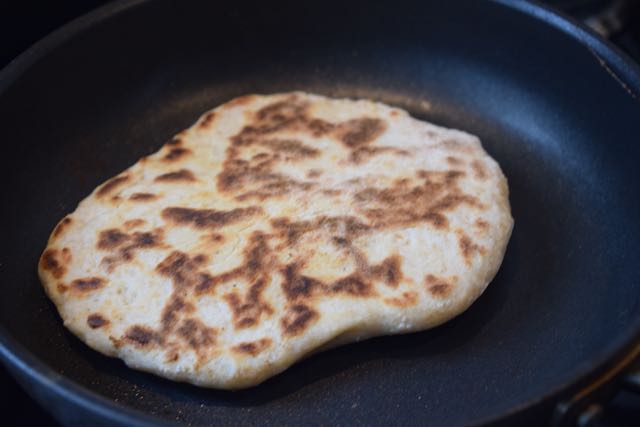 Start browning the lamb. Fashion it into a sort of flat, rectangular piece and add to a hot frying pan containing a tablespoon of olive oil. Like so.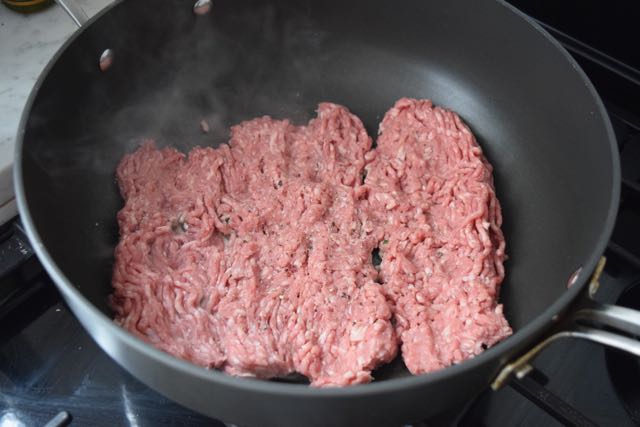 Press the lamb down to ensure it browns evenly and crisps up nicely. This will take around 5 minutes. Drain off any excess oil at this stage and keep it to one side for later. Then turn the lamb pattie over, trying to keep it in one piece if you can.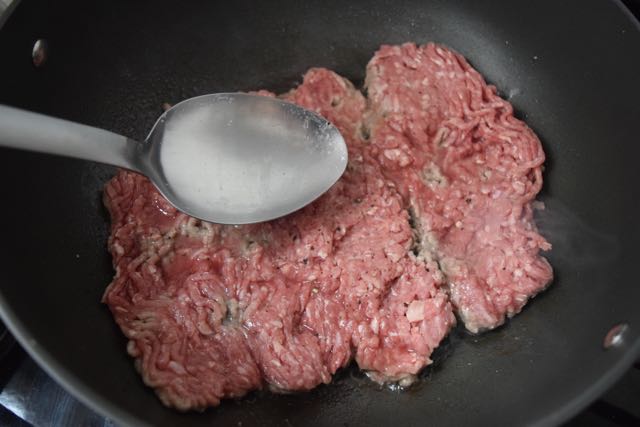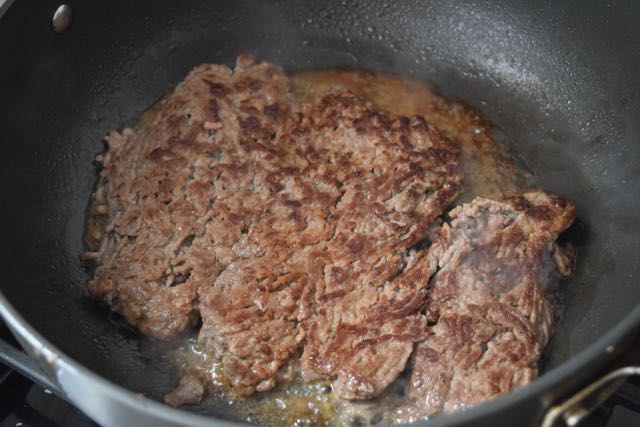 Cook for a further five minutes then start to break up into crisp little pieces.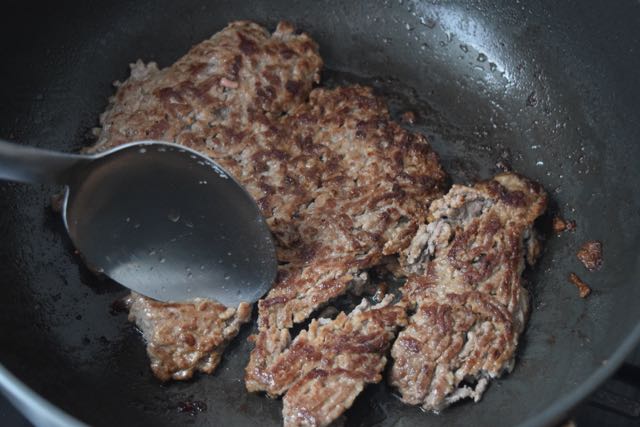 Now add in the chopped garlic, cumin and chilli flakes and give it all a good stir, cooking for a further couple of minutes.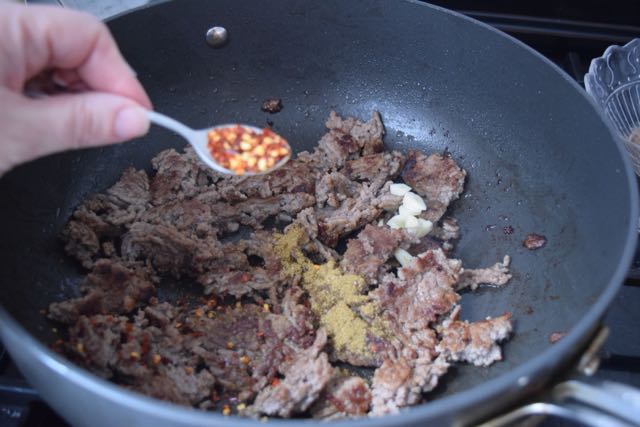 After this time, tip into a bowl and pop to one side for a moment.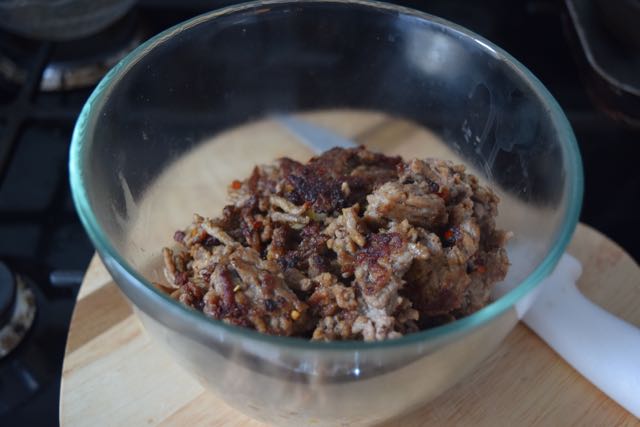 Splash a couple of tablespoons of the lamb juices/oils back to the pan, if you salvaged some, if not add more olive oil. Then tip in the pre cooked lentils and give them a good stir.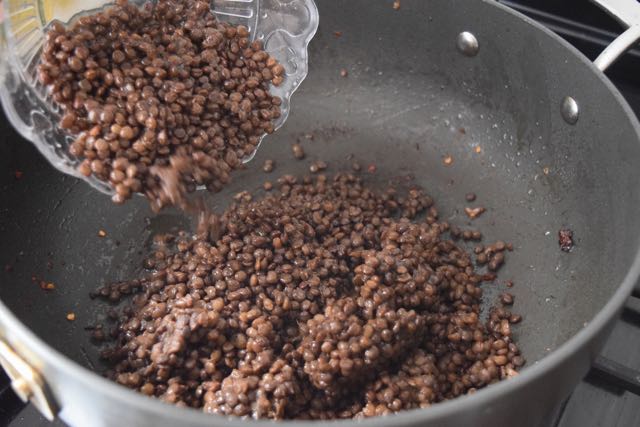 You are looking to get a little colour on these and some crispy bits if you can, but I found they had a tendency to turn to mush if I meddled with them too much, so do your best. Once they are good and hot and crisp if you are lucky, after around 5 minutes, tip the lamb back into the pan and continue to re-heat the whole business for another couple of minutes.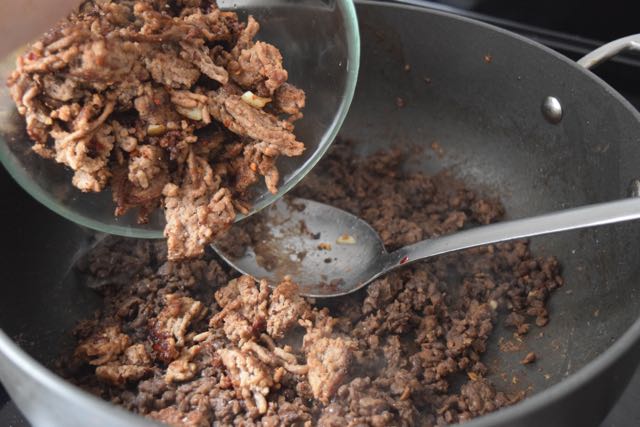 While this is warming up, chop your cucumber with the fresh coriander and parsley.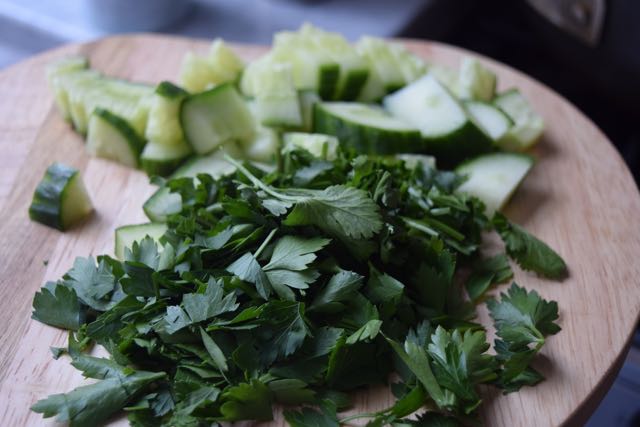 Once piping hot remove from the heat and tip these fresh flavours into the lamb and give the whole business a lovely stir.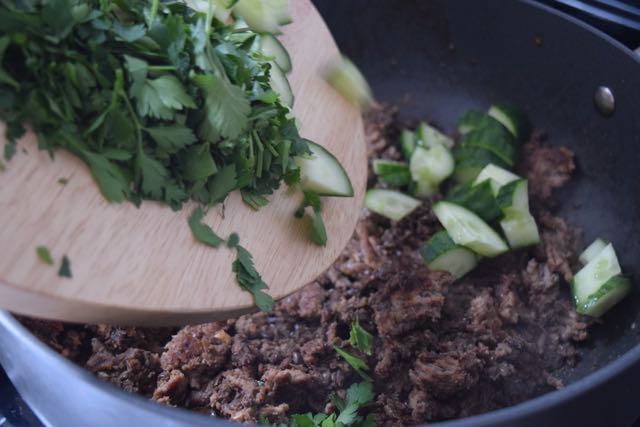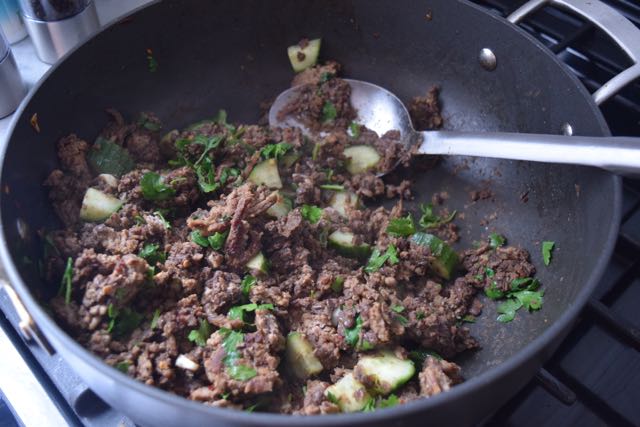 Serve this aromatic, savoury dish dolloped with thick yoghurt, herbs, greenery, lemon and breads. Or in a moment of weakness, straight from the pan with a serving spoon.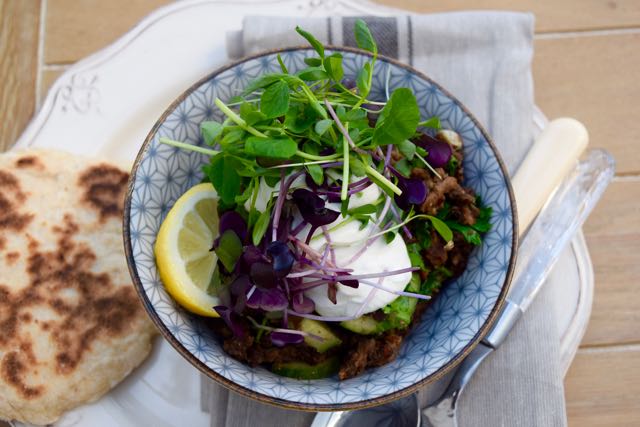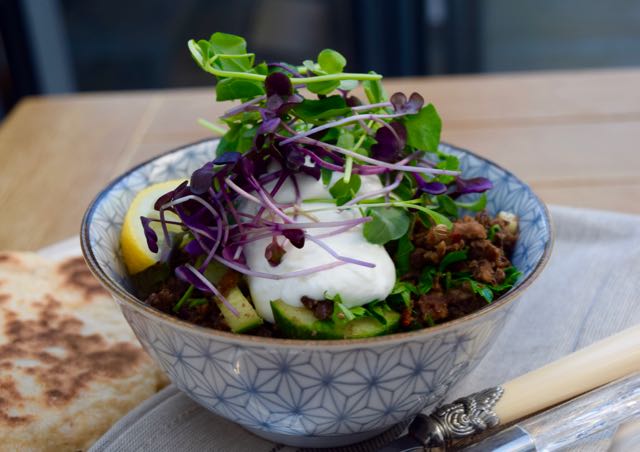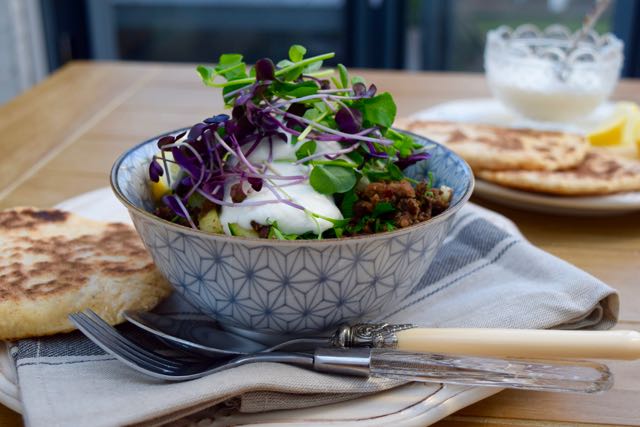 This Herbed Lamb with Lentils is such a great find. It's rustic, but it has class, much like myself. Ben, Clyde and I inhaled it by the truck load. It was far too mysterious for George, but even he had to admit it smelled good. Fair praise from South London's fussiest eater.
Lucy x
This post contains an affiliate link to Amazon which should you wish to buy an Instant Pot via my link, Lucy Loves receives a tiny commission at no extra cost to you.
Herbed Lamb and Lentils Recipe
Serves at least 4 guests
You won't need any challenging equipment
200g green or brown lentils, dry
500ml water or chicken stock
1 tablespoon oil
500g lamb mince
1 teaspoon chilli flakes
1 teaspoon ground cumin
1/2 cucumber, chopped in a slightly rustic fashion
a handful of each freshly chopped parsley and fresh coriander
salt and pepper
Lemon wedges, leaves, herbs, Greek yoghurt and flatbreads to serve
Make a start by cooking your lentils. I used my Instant Pot, which meant rinsing the lentils then adding them and the chicken stock to the pot, sealing the lid and setting to manual for 15 minutes. When the cooking time is up, let the steam subside then open the lid and allow your cooked lentils to cool. If you don't have an Instant Pot, or pressure cooker, cook your lentils as per the instructions on the packet.
While these are cooking, you could get a batch of my easy Flatbreads on the go. Keep them warm in a low oven until needed or re-heat for 5 minutes in a hot oven if making well in advance. Or just buy some lovely shop flatbreads or naan.
When you are ready, take a large frying pan and add a tablespoon of olive oil. Heat to a high-ish heat and add the lamb which you have shaped into a sort of flat rectangle. Press the lamb down into the pan so it browns evenly and cook for around 5 minutes without stirring. Spoon off any excess oil, keeping in a small pot, then turn the whole thing over, carefully, trying to keep the lamb in one piece if you can then cook for a further 5 minutes until the other side is crisp. Break the lamb up into smaller pieces then stir in the garlic, chilli flakes and cumin and plenty of salt and pepper. Cook for another 2 minutes until juicy and fragrant. Remove from the pan into a small bowl and keep to one side.
Add 2 tablespoons of the oil/pan juices back to the pan and stir through the cooked lentils. Keep them moving over a medium heat, you want them to crisp up a little or at least get some brown bits on them for around 5 to 7 minutes.
Now add the browned lamb back to the pan and stir well and warm everything through completely over a lower heat. Take off the heat then stir through the chopped cucumber and herbs.
Serve, piping hot with a spoonful of thick yoghurt, leaves, lemon wedges and the homemade or bought flatbreads. I had a small bowl of left overs which reheated beautifully the next day.