Beef Pho Recipe
Blimey it was cold last week. I have never, in 12 years, felt so cold in our house as I did during the brief but brutal visit from the Beast from the East. One night it was so cold in our draft-ridden loft extension bedroom, I slept in more clothes than I was wearing during the day and with two hot water bottles. My bobble hat became even more of an extension of me than ever and my toes are still cold after a snowy exercise class on Saturday. One of the dishes I have been craving all week, other than bloody great big slabs of chocolate cake, has been this Beef Pho. This hot, fragrant broth laced with steak and fresh herbs will restore your chilled soul in the most delicious way.
Clyde winces when he reaches down in bed and feels me wearing socks. I love socks in bed, because cold feet will keep me awake for hours. This Beef Pho recipe is the soup based version of socks in bed, but tons more attractive. This is comforting, cosy and something you will want to eat on a daily basis. And it's healthy, which is a rarity for me during cold weather, as all I crave is ugly white carbs. This recipe is more of template than gospel, add the ingredients which you and your family love. I used my favourite feather steak which is a really good price, but if you'd prefer, add some cooked chicken to the finished broth. Likewise, add your favourite herbs and spices, they will add freshness and a bit of bite and if you add lots of chilli that will ensure extra warmth during cold spells. The hot stock slightly cooks the steak and warms through the soaked noodles to create such a comforting bowl of savoury goodness. I used this collection of recipes from the Guardian as my inspiration for this post.
Soothing, fresh tasting food. Perfect for both cold snaps and with spring on the way, it's a lighter, less crap laden dish. Easier on the thighs.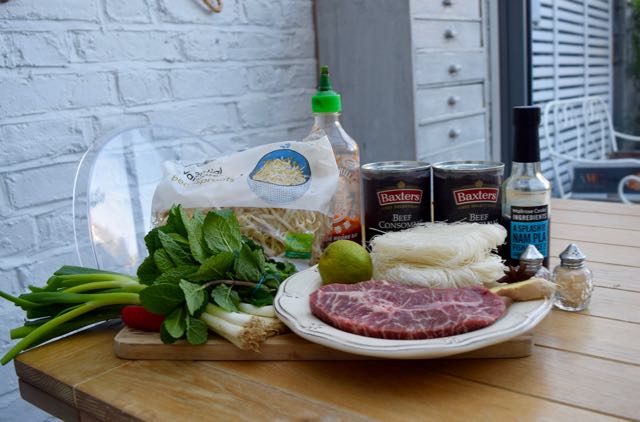 I love this recipe, although as so often happens, it's just a template for your Pho needs. These flavours are divine, coriander, mint, chilli and I adore beef. However, you can add what you like, including some cooked chicken or prawns if you would rather instead of beef.
Make a start with the broth. Of course, you are more than welcome to make your own bone broth for this, but seriously, who has 12 hours on their hands, not me for one. So I used tinned consommé for my Pho base, but you can use good bought chicken or beef stock just as easily. However, before you get started, pop your steak in the freezer for 15 minutes to chill so you can slice it super thinly.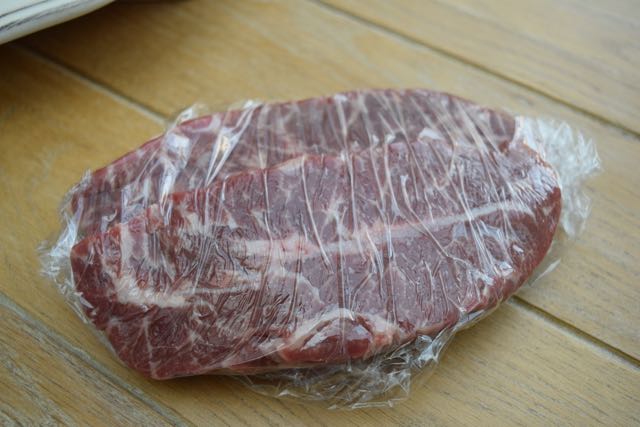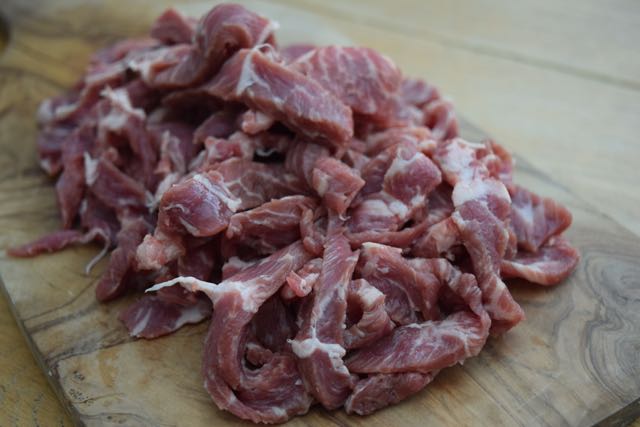 Pop this to one side whilst you flavour your broth. Tip your consommé or stock into a large saucepan and drop in the ginger slice and star anise.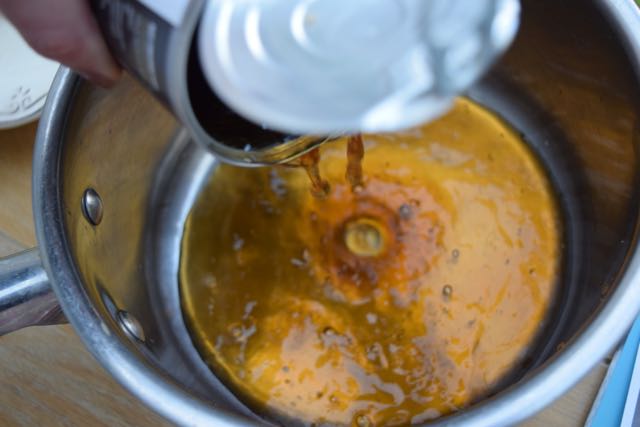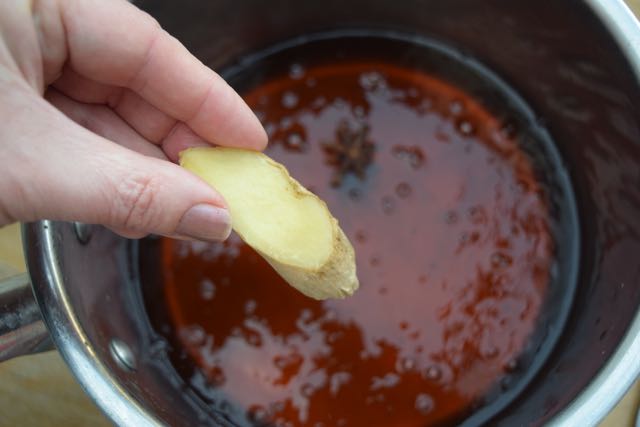 Simmer the stock for around 15 minutes then add the sugar or honey, fish sauce, fresh lime and black pepper.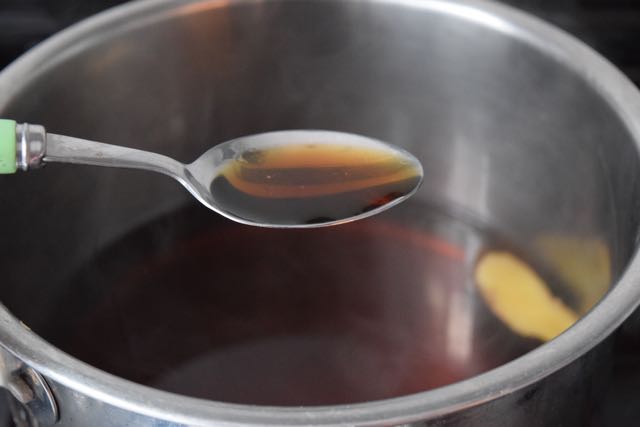 While the stock is simmering, prepare your noodles as per the instructions on the packet, drain then divide amongst the 2 or 3 serving bowls. Top the noodles with some of the thinly sliced steak.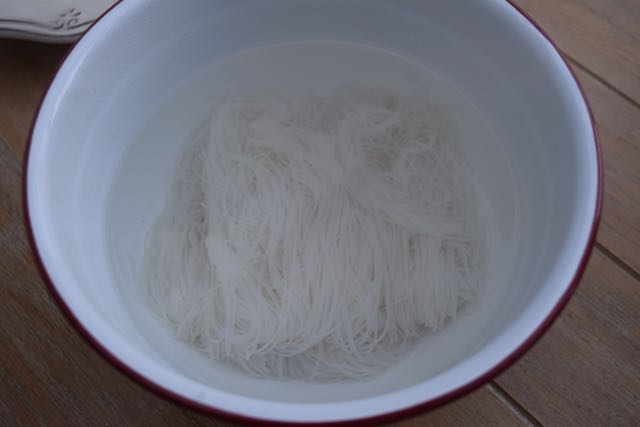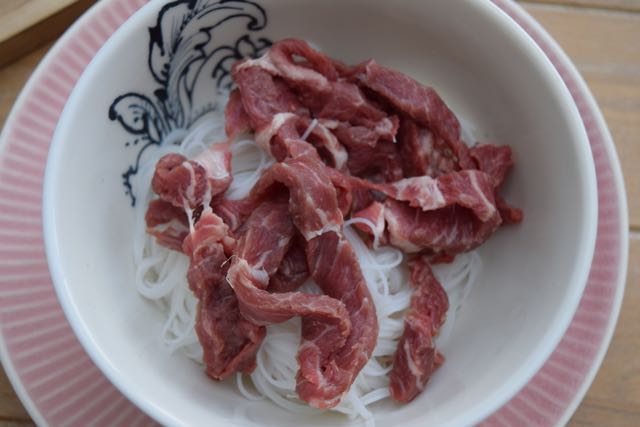 Now, here's where the Pho magic happens. Turn the heat up under your stock and bring it up to the boil. Remove the star anise and ginger then pour the stock over the steak and noodles then top the dish off with all the treats you desire.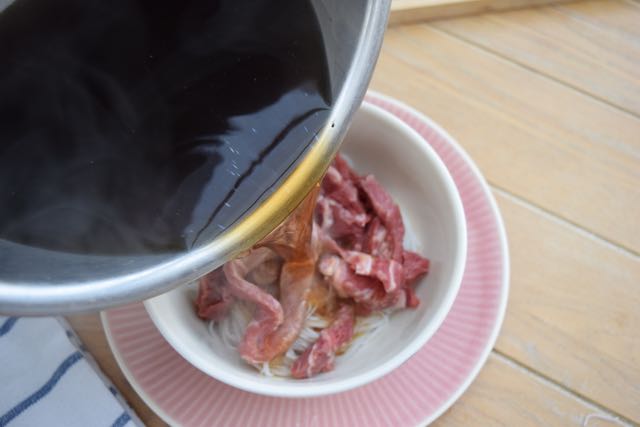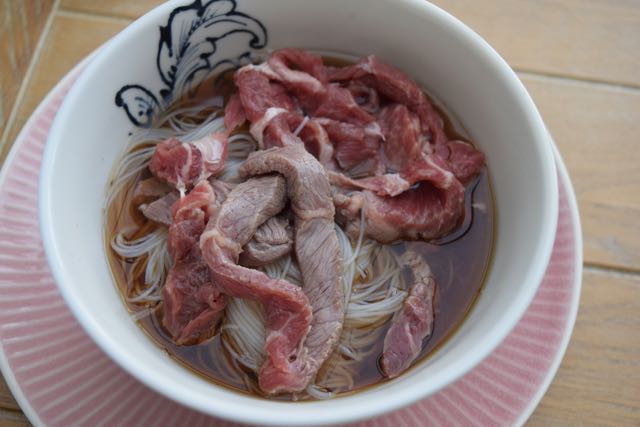 I chose beansprouts, sliced spring onions and chilli and tons of fresh mint and coriander.
Finish with a wedge of lime and just a drizzle of Sriracha, chilli oil or Hoisin. Devour in piping hot mouthfuls and feel your soul being restored.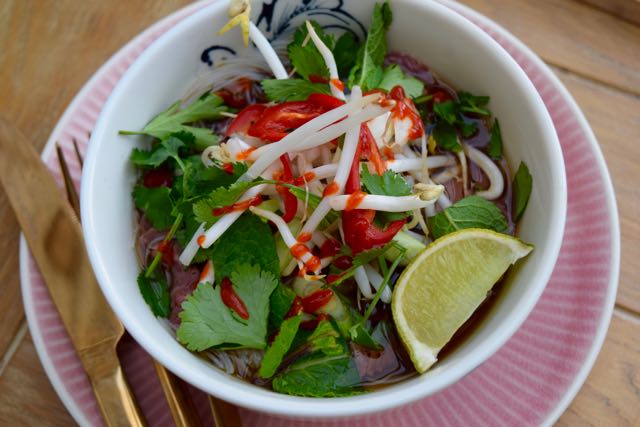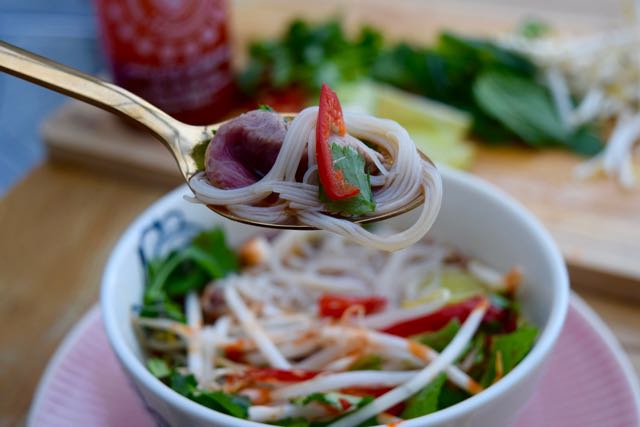 I am so hoping spring is on it's way. We are now under 3 weeks and counting until the clocks go forward and British Summer Time starts. It's time to start shedding layers and taking off the bed socks. It's definitely time for more Beef Pho in my life.
Lucy x
Beef Pho Recipe
Serves 2 to 3
You won't need any particularly challenging equipment
2 x 400g cans Beef Consommé or 1 litre good beef stock
1 inch ginger, peeled
1 star anise
1 teaspoon brown sugar or honey
1 tablespoon fish sauce
Juice of half a lime
Black pepper
125g rice noodles, soaked according to instructions on packet
200g steak, I used feather steak but sirloin or fillet would be great, very thinly sliced
To serve fresh coriander, fresh mint, beansprouts, spring onions, chopped fresh chilli, lime wedges, Sriracha
Take your steak and wrap in cling film. Freeze for around 15 minutes to make slicing easier. Remove from the freezer then slice into super thin strips, then pop to one side.
Take a large saucepan and add your consommé or beef stock. Drop in the fresh ginger and star anise and simmer for around 15 minutes to impart their flavour.
Soak your noodles as per the instructions on the packet, drain, then place in 2 to 3 soup bowls. Divide the steak between the bowls on top of the noodles.
Once the stock has simmered, season with the fish sauce, sugar or honey, freshly ground black pepper and lime juice. Heat until boiling then pour the very hot stock over the steak and noodles. Dress the broth with fresh beansprouts, sliced spring onions and red chilli, chopped coriander and mint. Drizzle on some Sriracha, hoisin or chilli oil then devour in healing mouthfuls.
SaveSave
SaveSave
SaveSave
SaveSave