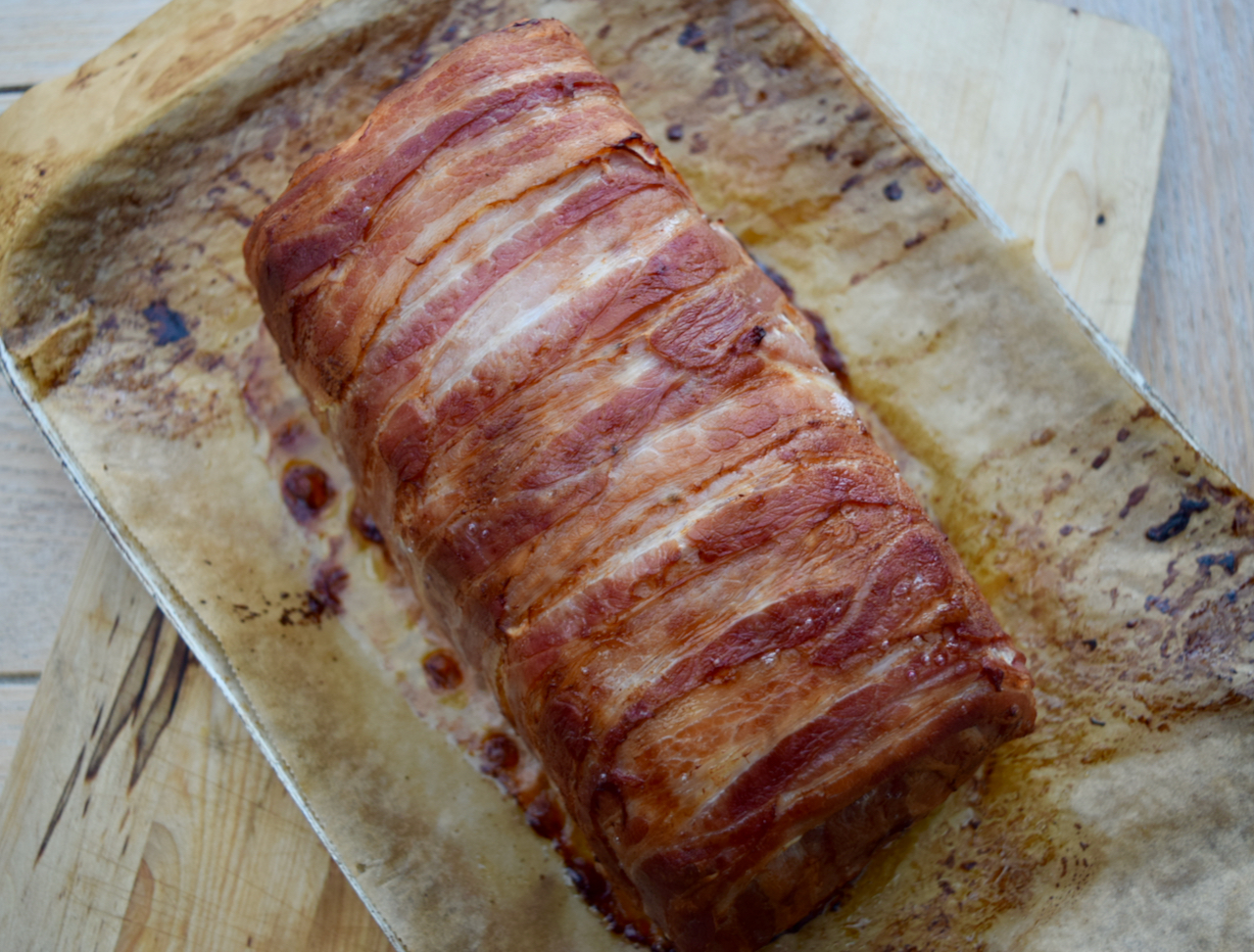 Meatloaf with Bacon and Rosemary Recipe
With just over a week to go until Christmas, activity in the kitchen is ramping up. Well, apart from the fact I have a hideous cold and hacking cough, and can think of nothing I want to do less than cook. But the show and Lucy Loves and everyday eating must go on, even if the head chef is ill. In the run up to the big day, it's all about getting the sausage rolls, mince pies, patê, cranberry sauce and all the other nonsense made, making regular meals rather fall by the wayside. This Meatloaf with Bacon and Rosemary is one of those suppers which look like you've made a huge effort, but actually you haven't really. So thank God, and Donna Hay for this meatloaf.
We are a family of meatloaf lovers. My original recipe from many, many moons ago is still a regular feature on our table, but I decided it needed a bit of a facelift. Not only does this Meatloaf with Bacon and Rosemary taste good, it actually looks good too. This slightly more sophisticated affair features an elegant coating of crisp bacon, both pork and veal minces and just a hint of hardy rosemary. If you're squeamish about veal, feel free to double up on the pork mince. If you'd rather lash out on pancetta for the tin lining, then splash the cash on this instead of streaky bacon. I can't tell you how *eek* moist and flavourful the resulting dish is, so you'll just have to take my word for it. Serve with a seasonal dollop of cranberry sauce, or go in for some gravy if you have a George, who is gravy dependent, in your family.
Present this dish with a flourish and a huge portion of creamy mash and you can get away with giving your family fish fingers for the rest of the run up to Christmas.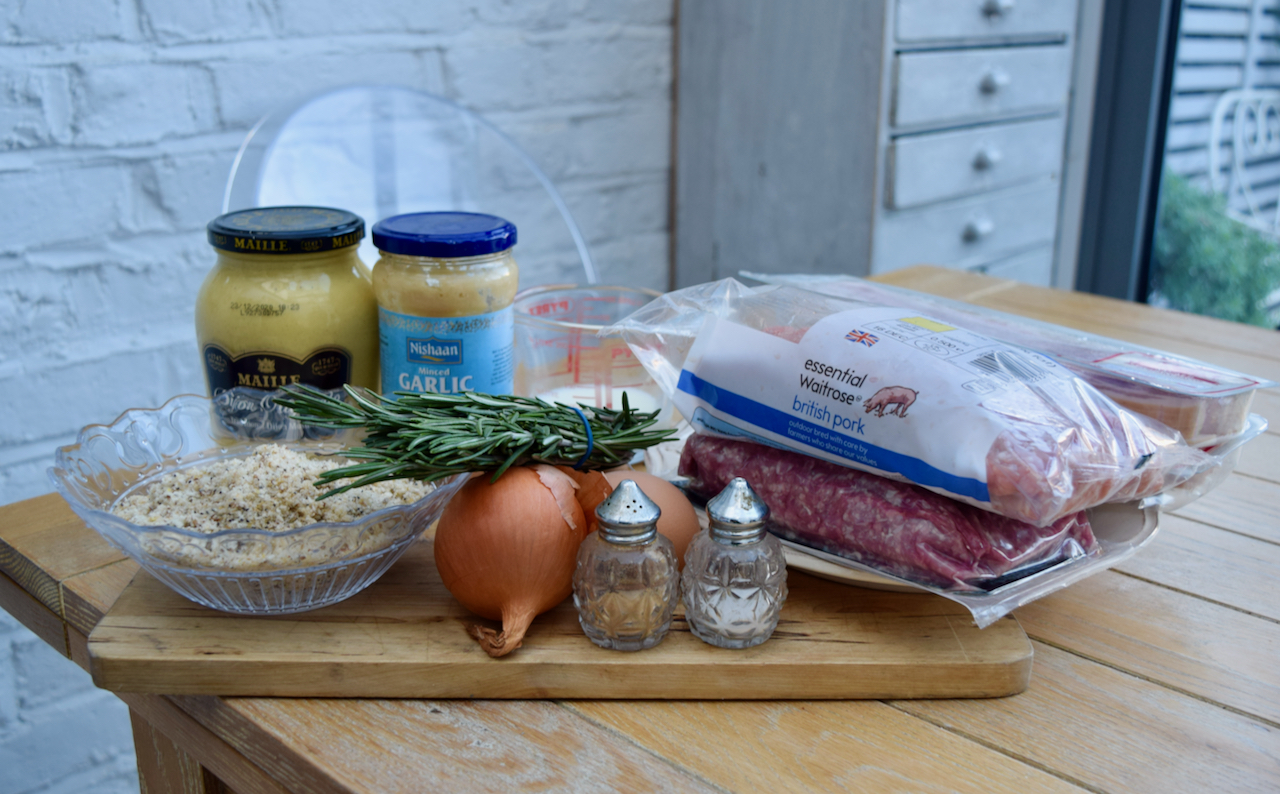 Some of the most delicious meals are the simplest. Nothing to fear here unless you don't want to use veal mince, as I mentioned, just double up on pork. Use fresh breadcrumbs too for softness, not panko. I just blitzed a couple of slices in the Nutribullet.
Make a start by pre heating your oven to 160 degrees and lining a 22cm x 8cm loaf tin. Next chop the onion and garlic as finely as you can be arsed and add to a frying pan with a tablespoon of olive oil. Cook for around 5 minutes or until softened and just turning golden.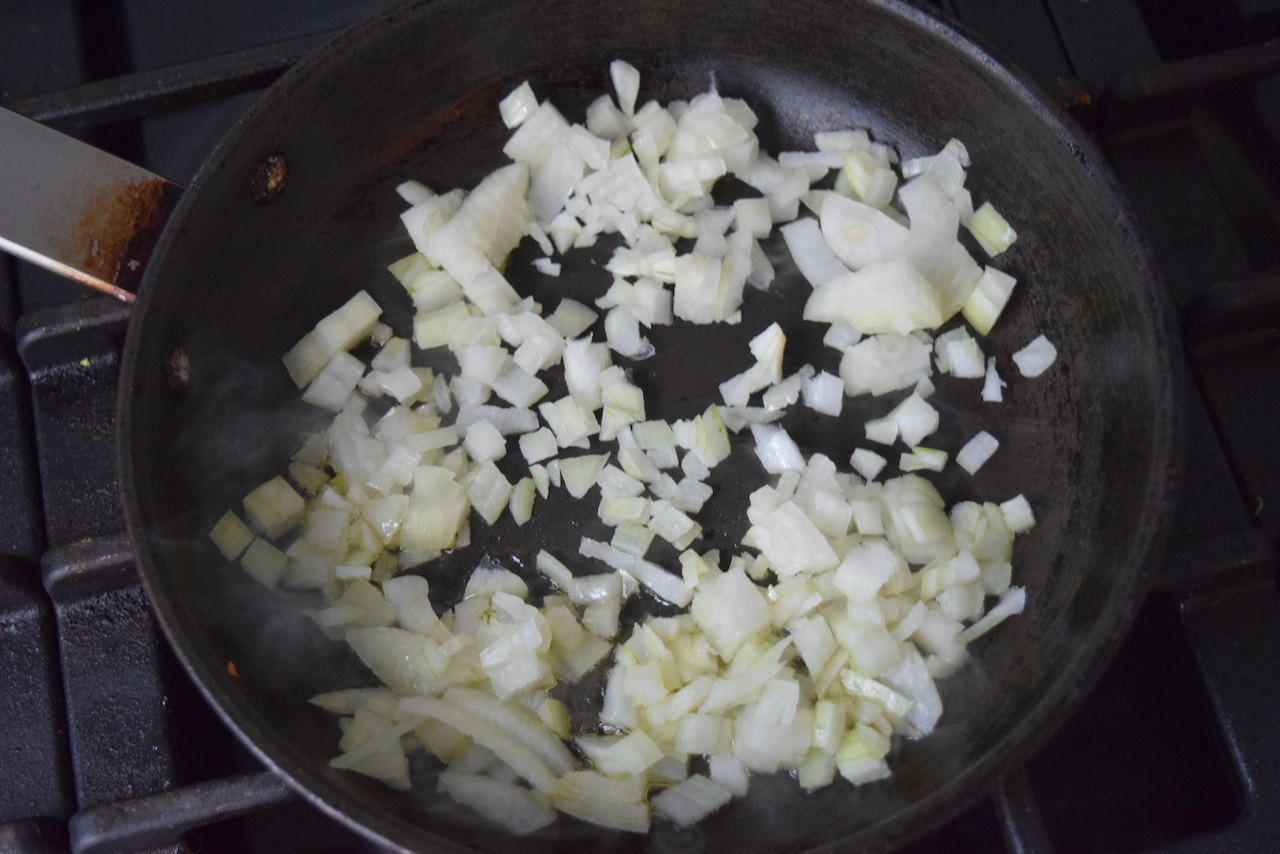 Take a large bowl and add the fresh breadcrumbs. Pour on the milk and stir then leave to soak.
Next, take your oiled loaf tin and line with your streaky bacon rashers. Start with the long side of the tin. Lay the rashers into the tin, making sure they overlap. Leave the overhanging bits overhanging. This should use about 10 rashers.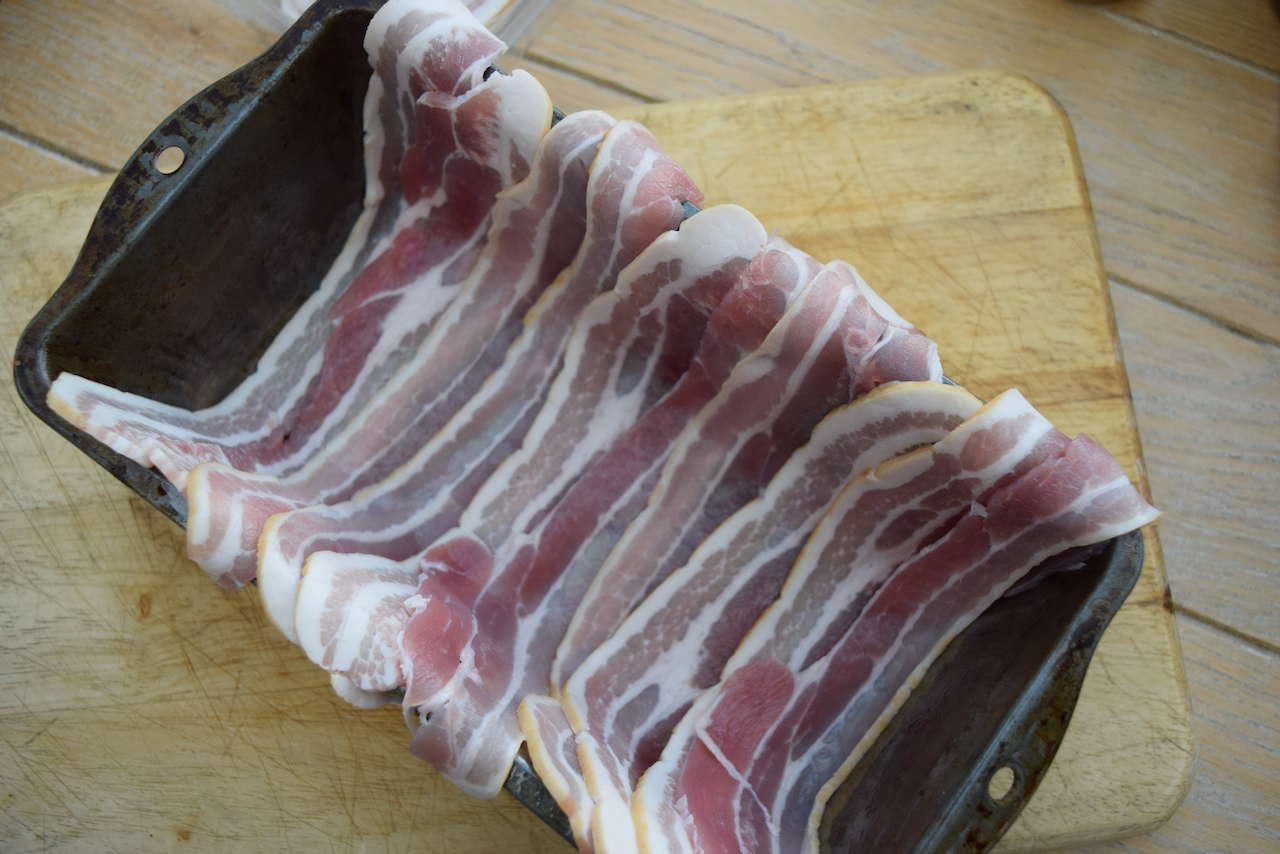 Now, lay the rashers over the short sides of the tin. Four rashers at each end should be enough, again, making sure they overlap to form a good layer.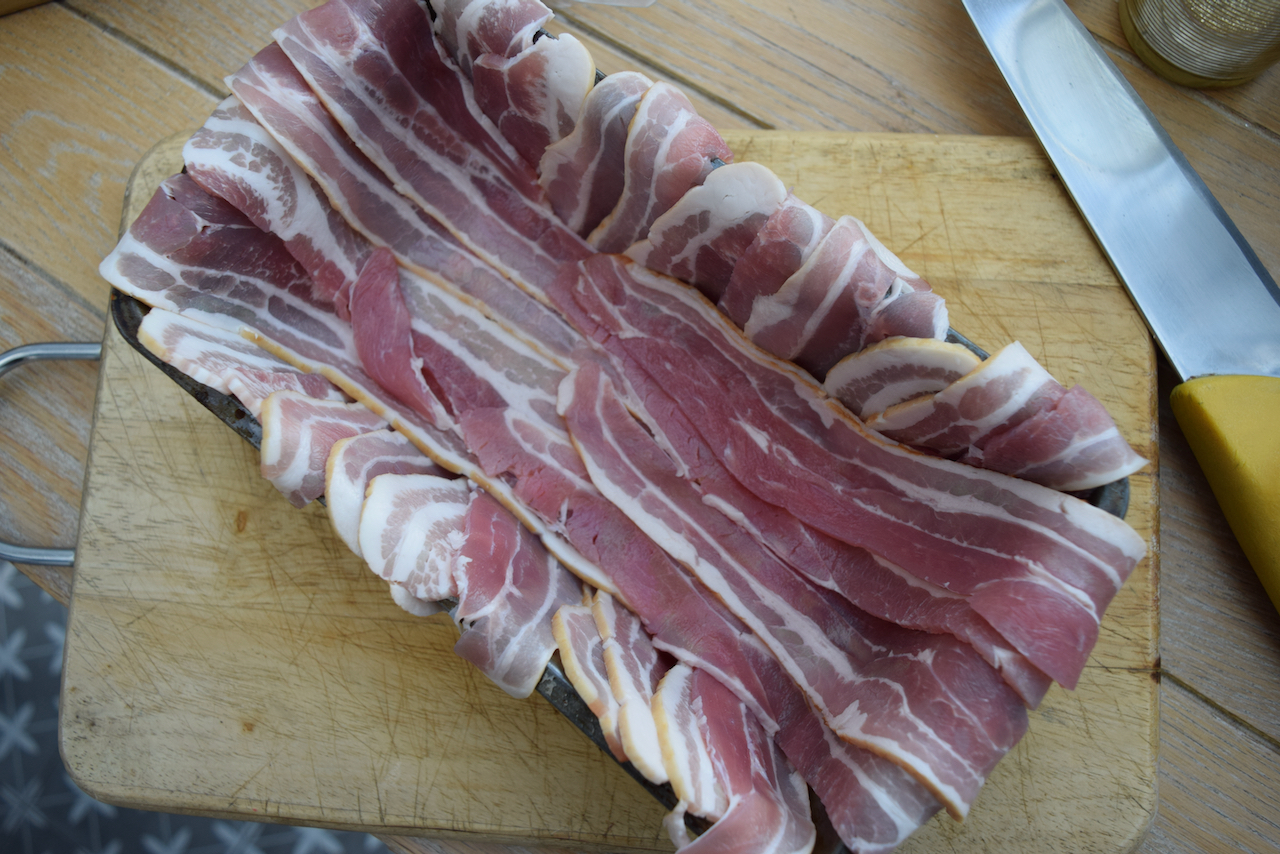 For the filling, chop the rest of the bacon, this should be around 6 rashers and chop the rosemary. Add this to the breadcrumb mix along with the pork and veal mince, eggs, dijon, cooled onion and plenty of pepper and salt.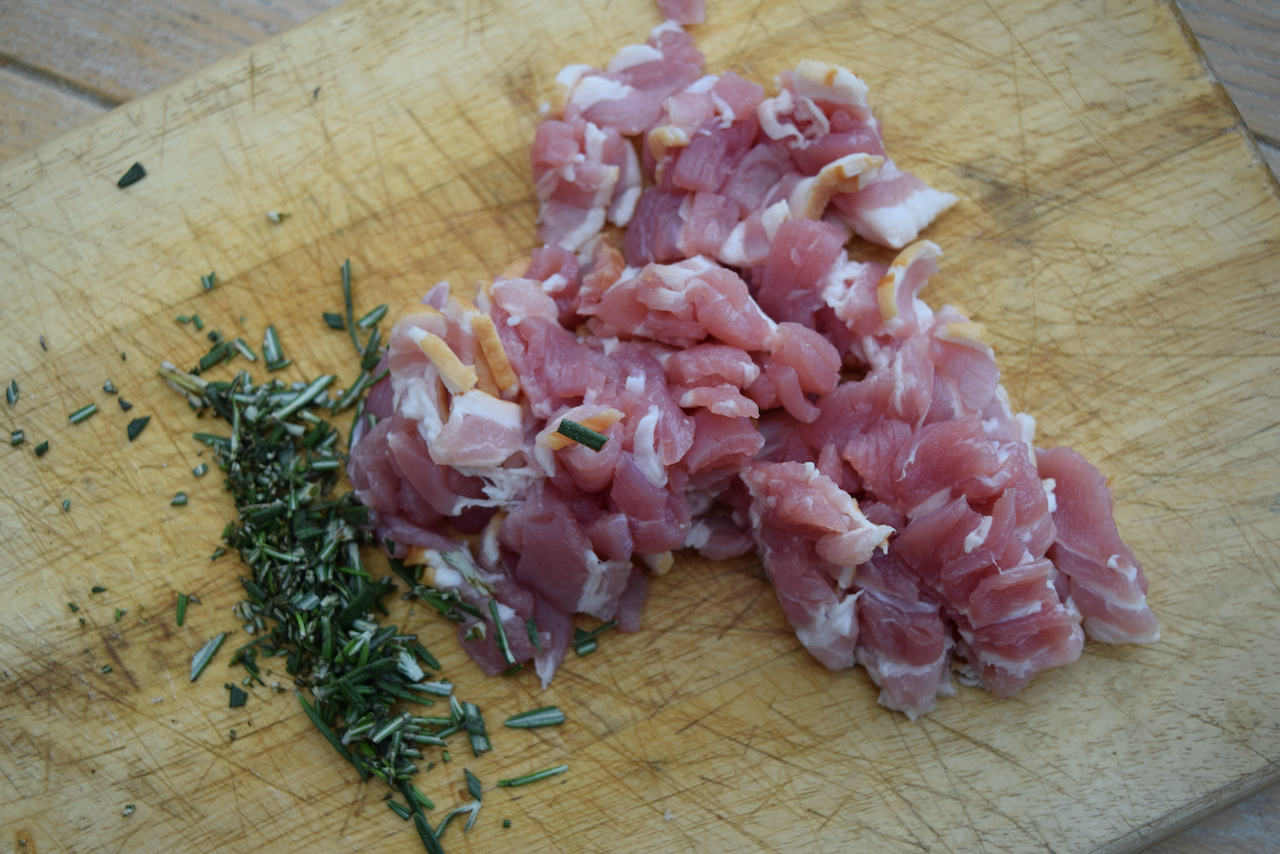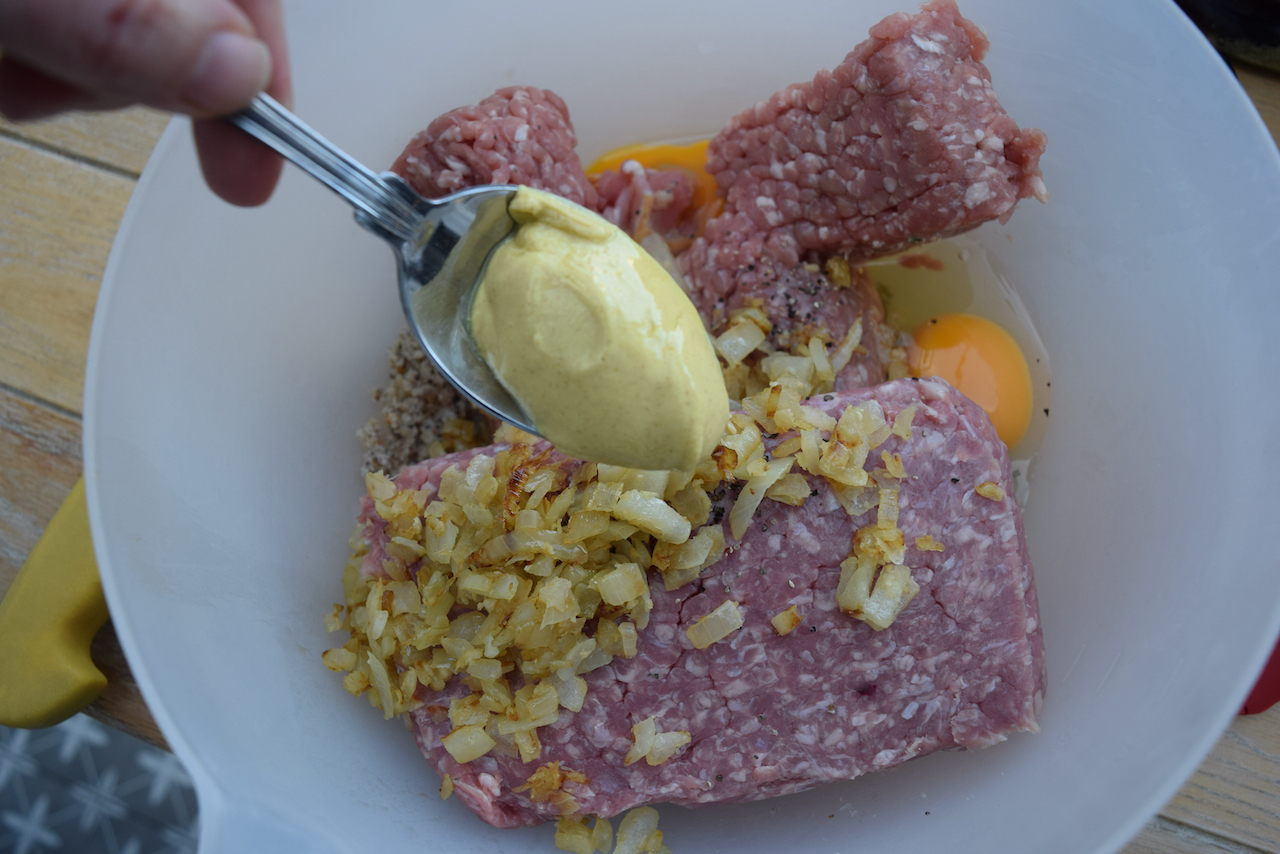 If you're feeling a bit squeamish, use a spatula to mix the whole lot together. If you're brave, go in with your hands until well combined. Press the mixture into your bacon lined tin. Pack it in tightly so it all fits in.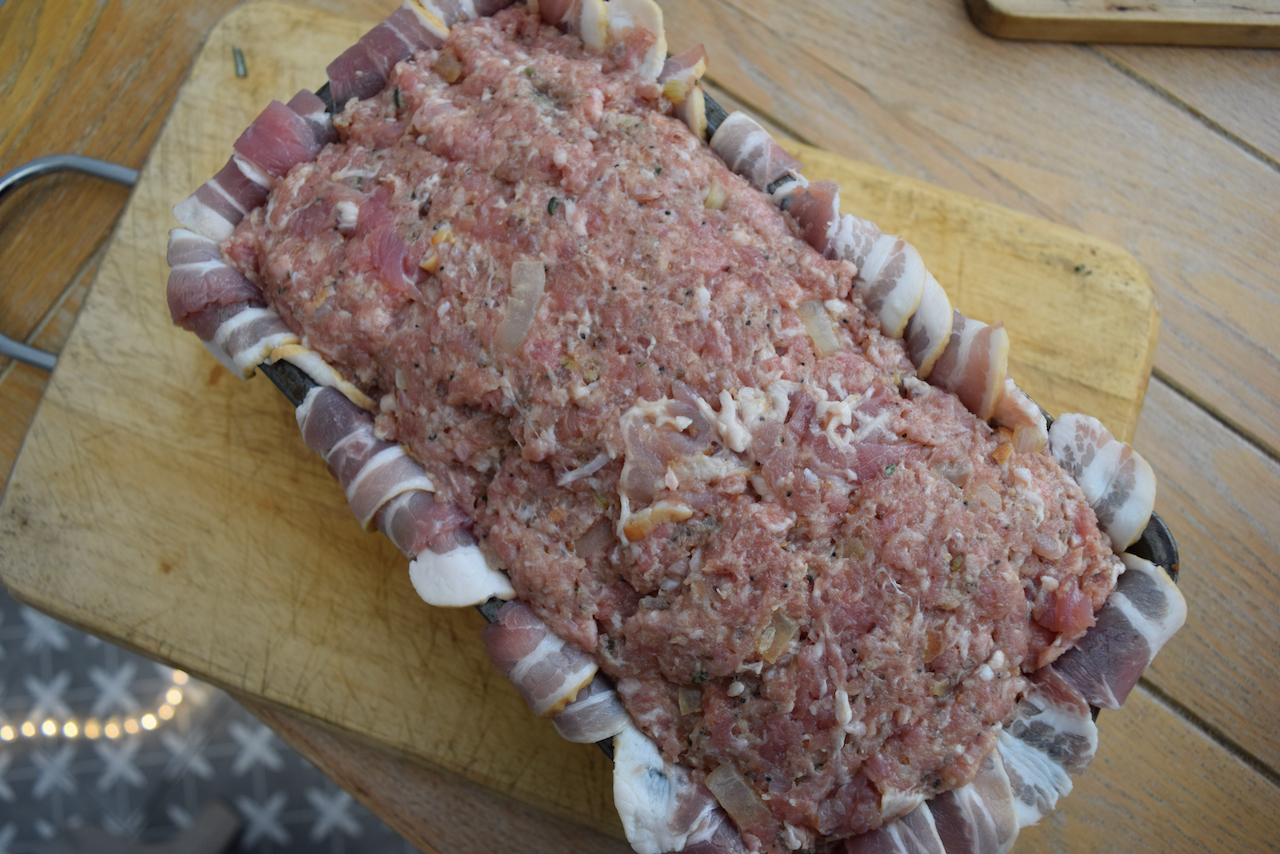 Flap the overhanging bits of bacon over the filling. Place on a baking tray.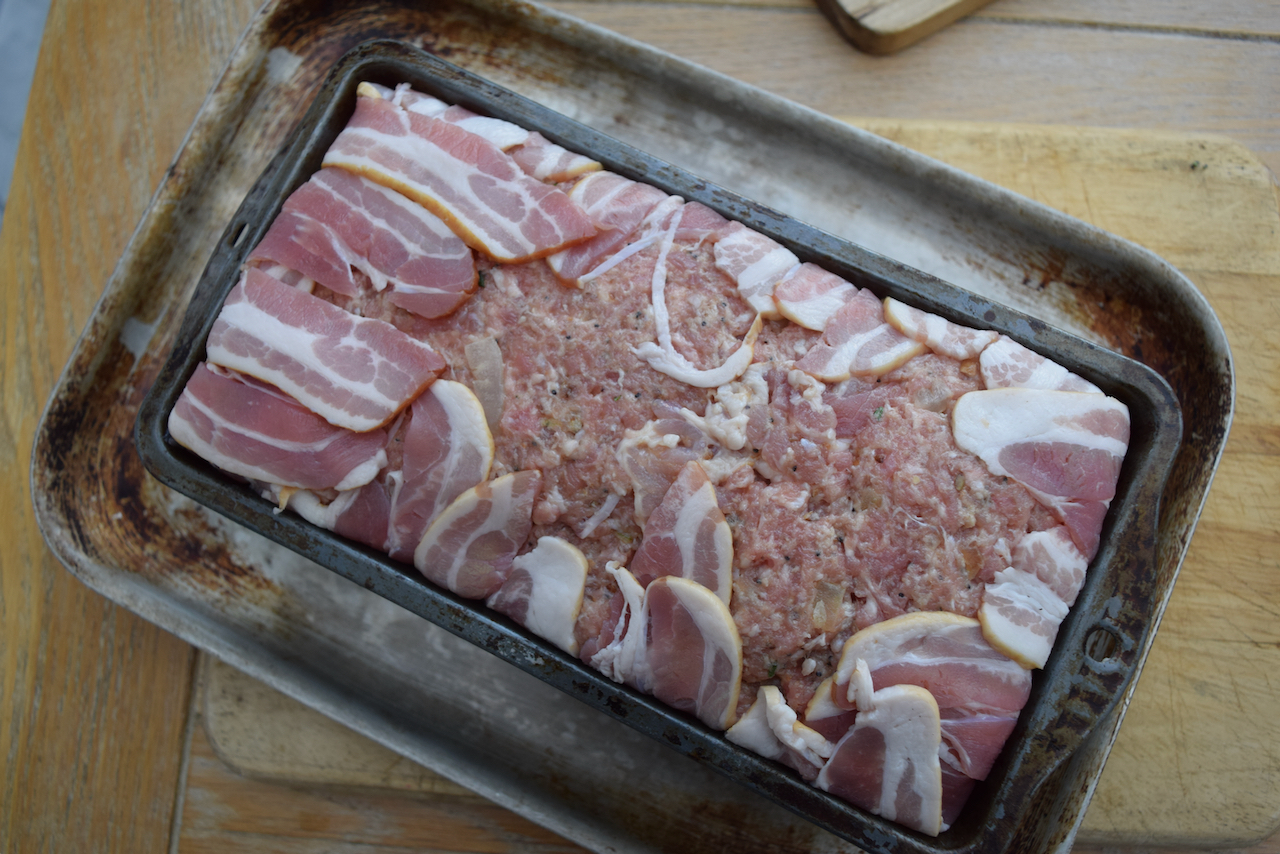 Cook in your pre heated oven for 45 minutes. By this time it will be almost cooked and smelling amazing.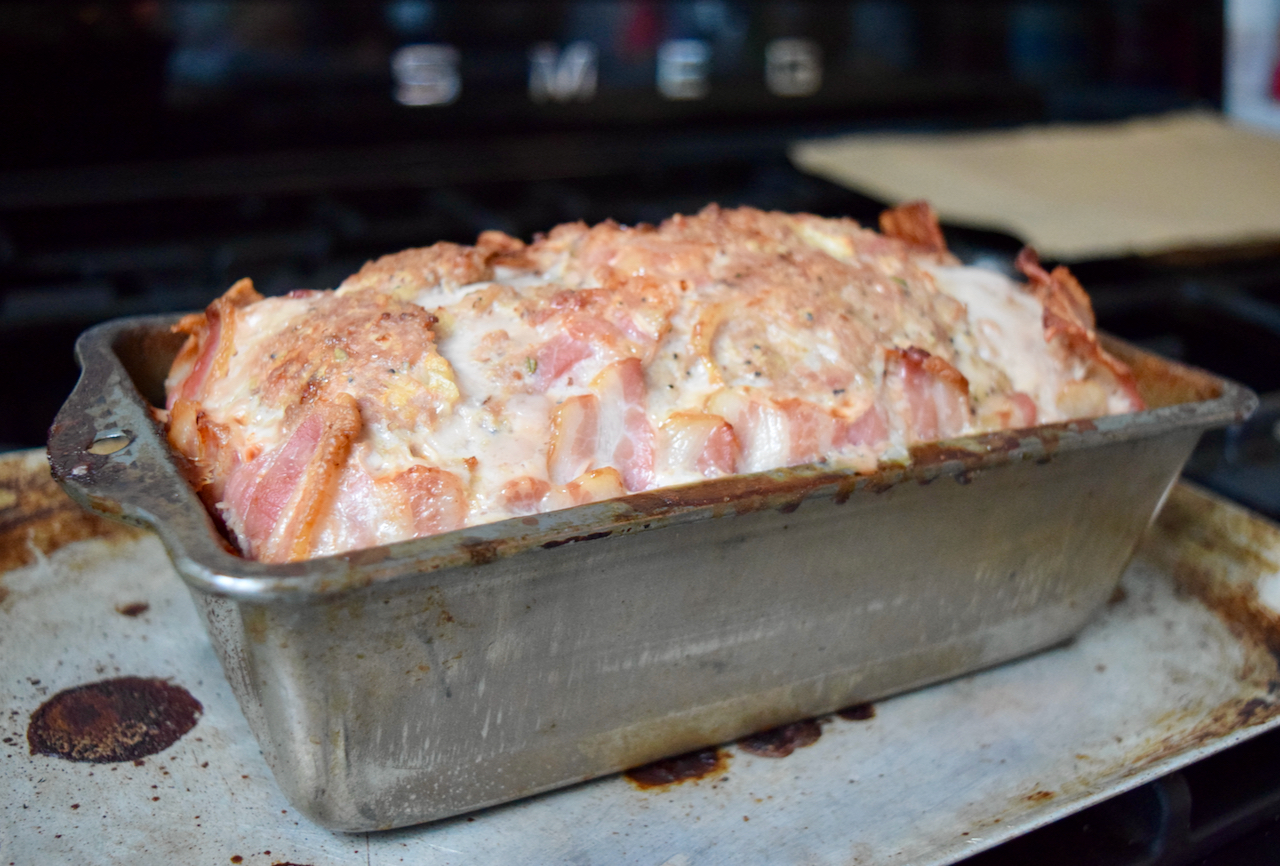 Leave the meatloaf for 5 minutes. Line another baking tray with oiled foil or greaseproof paper. Using oven gloves or a teatowel, carefully drain any excess juices by tipping up the loaf tin. Then put the lined tin over the meatloaf and flip it over, turning out the meatloaf. Do this carefully, as I was surprised by the amount of juices which were left in the tin *I got it all over myself*.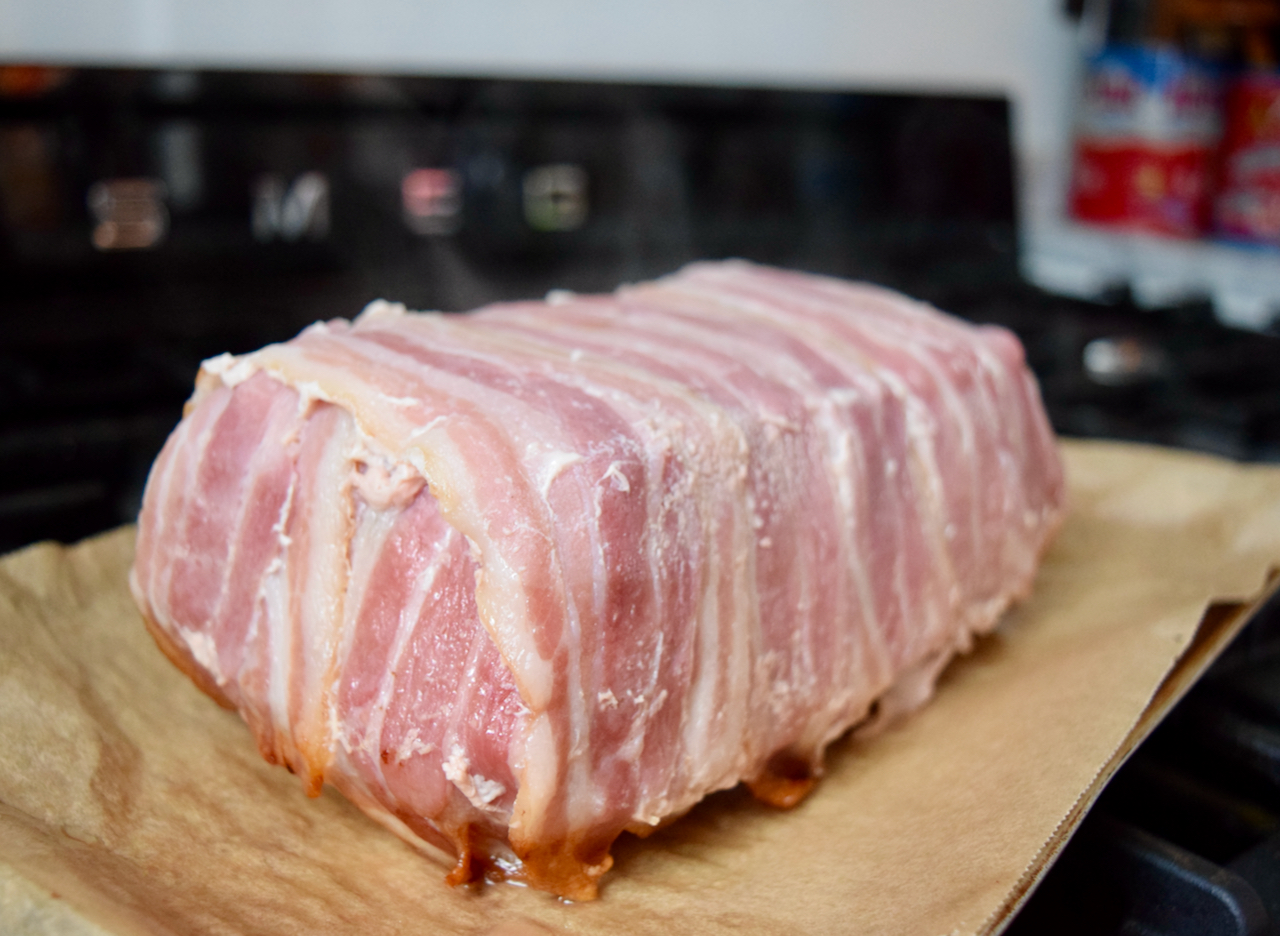 Spritz the slightly undercooked looking meatloaf with a touch more oil then return to the oven for a further 15 minutes, or until it's golden, sizzling and looking mouthwateringly good.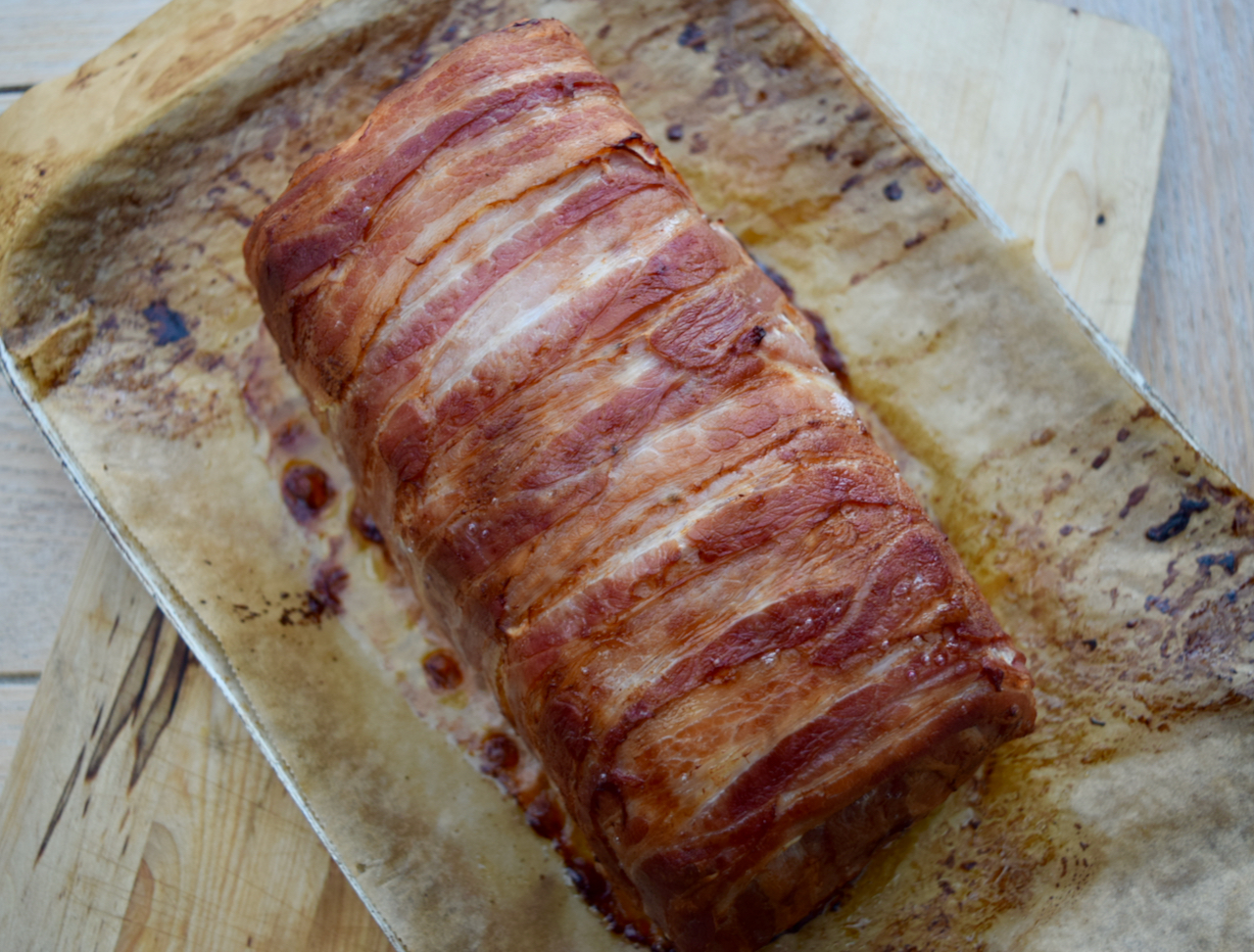 Leave this divine offering to sit for 5 minutes. You can sauté some sprout tops in this time or mash your potatoes.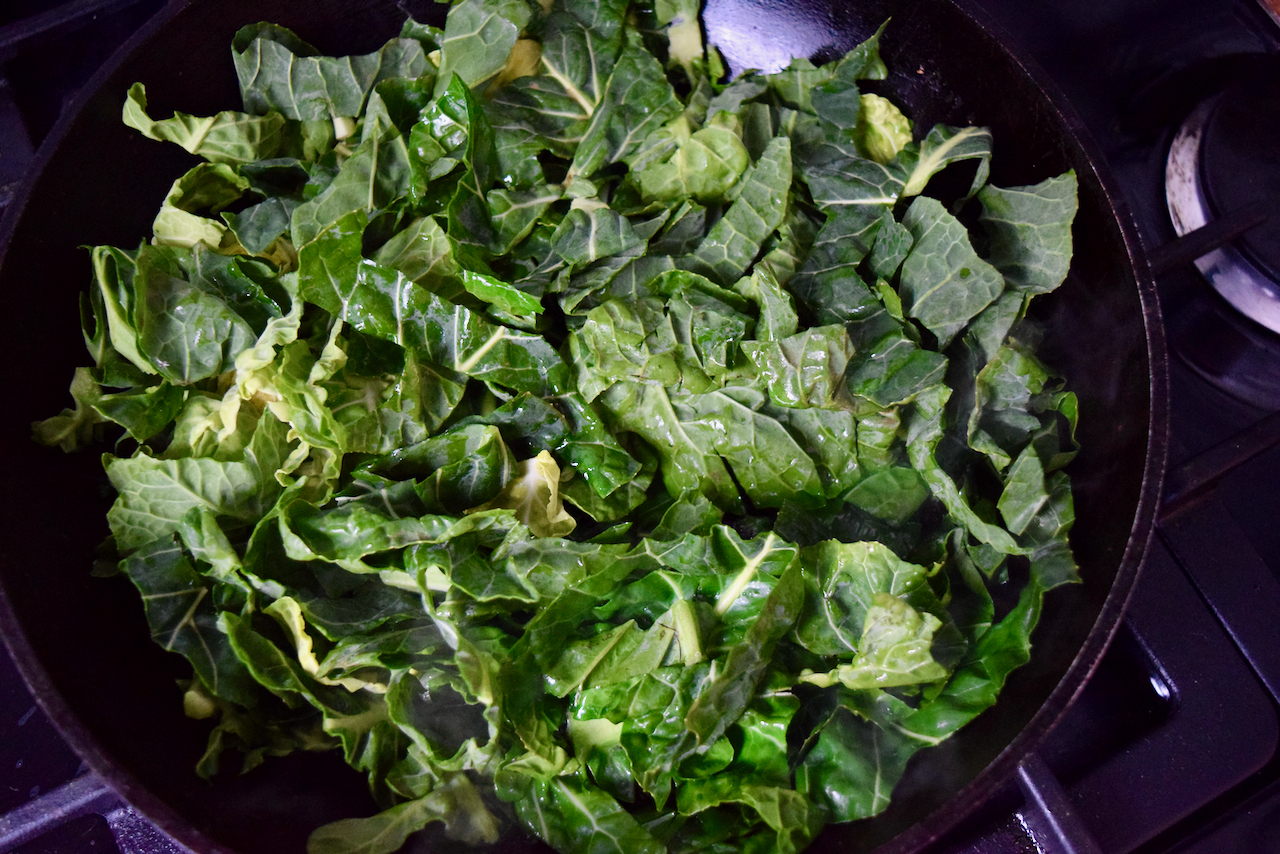 Serve your Meatloaf with Bacon and Rosemary in large slices, with some cranberry sauce, if you're feeling festive.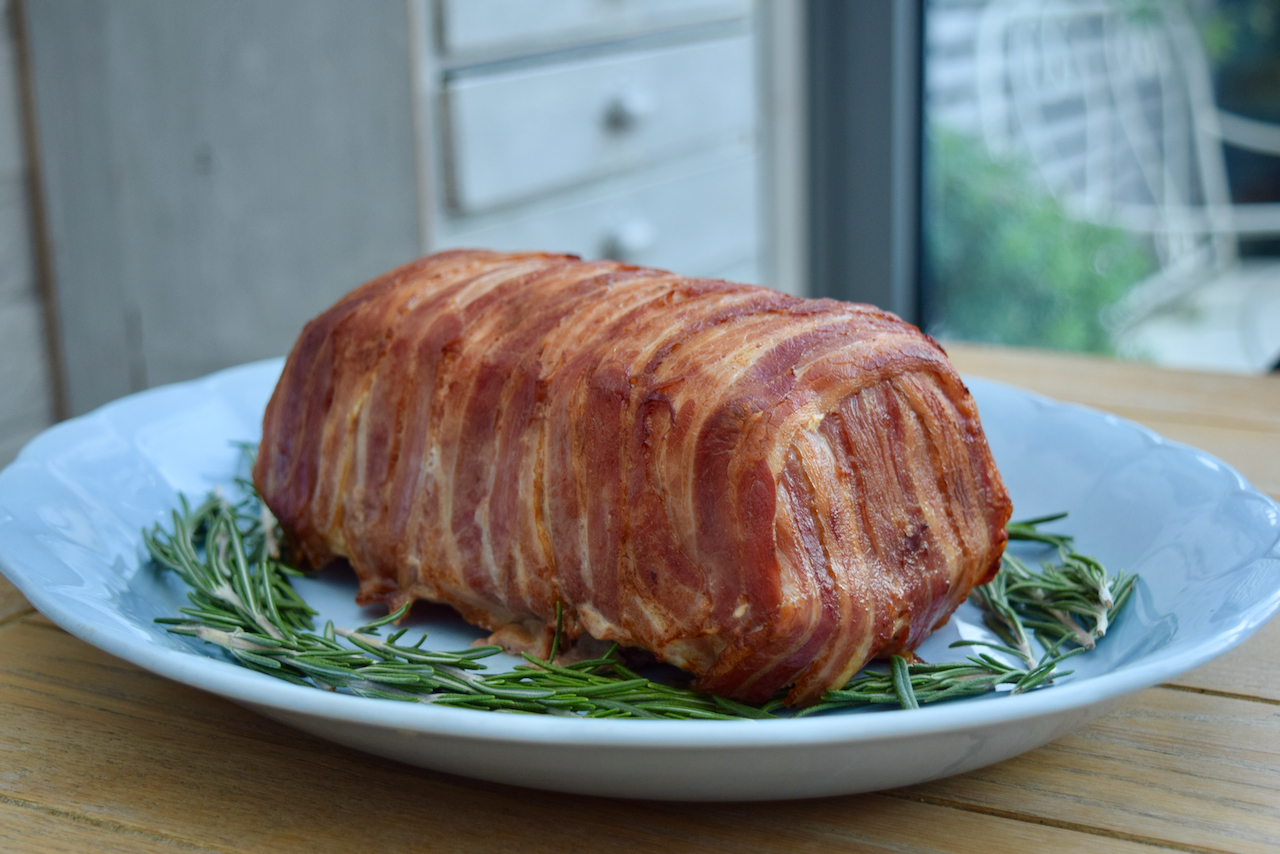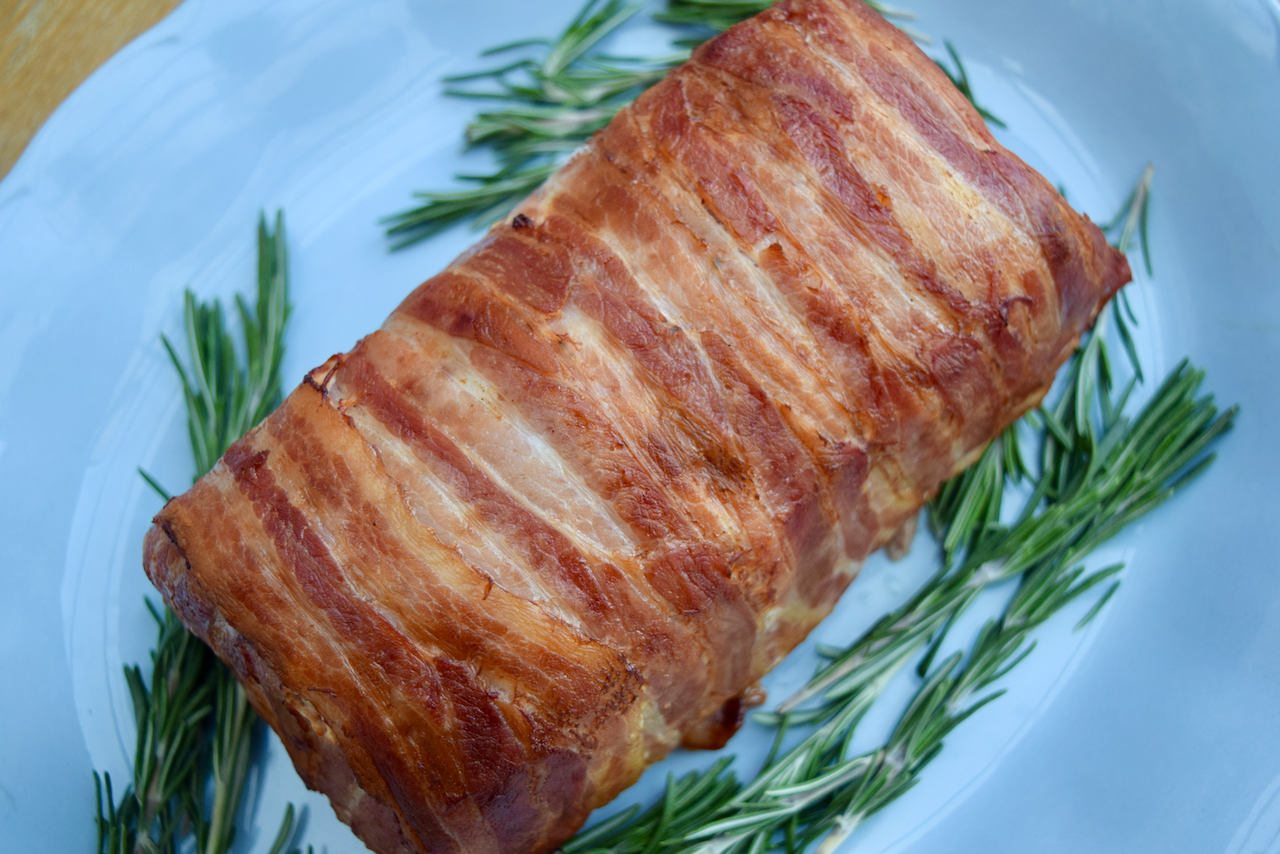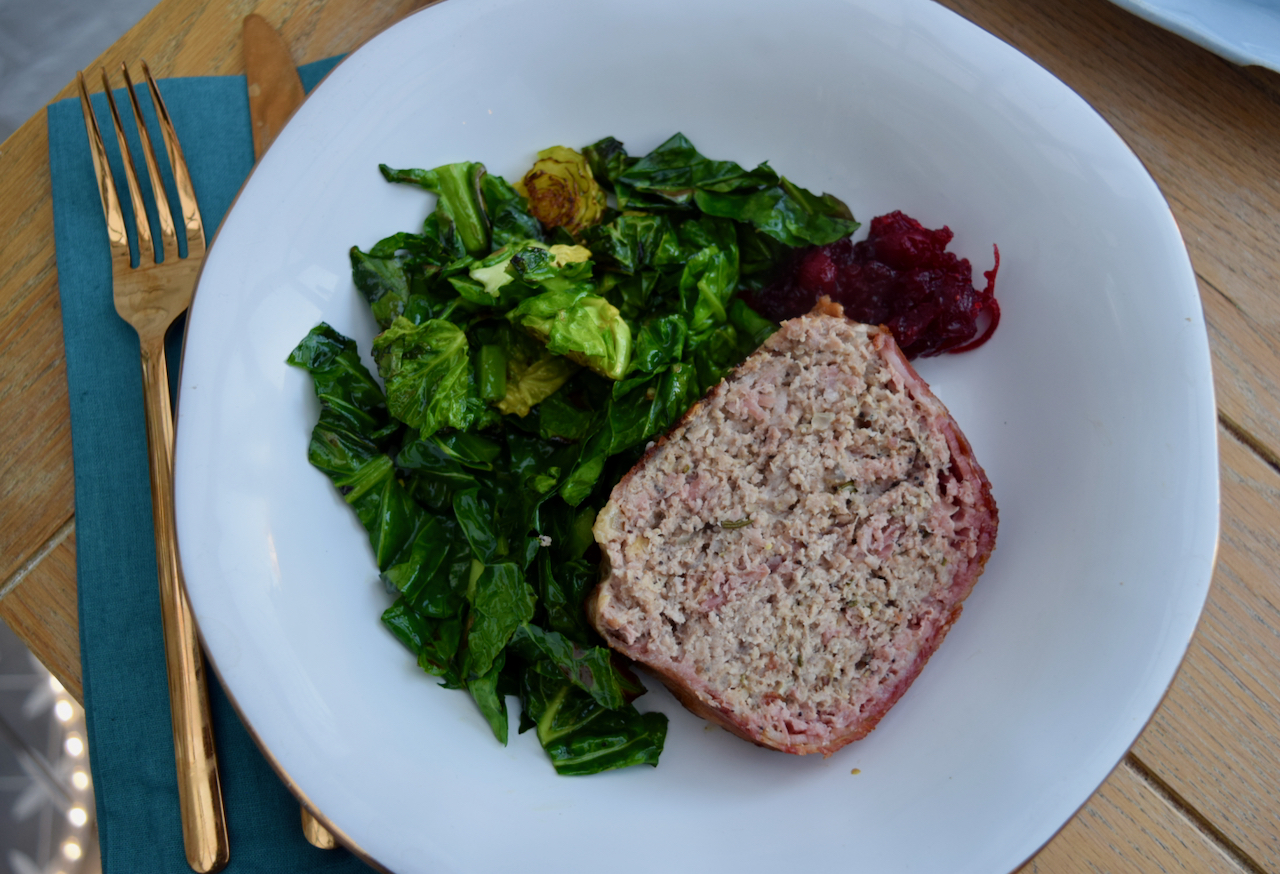 This really is the least dry *any excuse not to say moist* and most delicious meatloaf ever and even though I loathe the word, quite the showstopper of a dish. I am delighted to confirm this was inhaled by all family members, even George, minus the sprout tops, of course.
Lucy x
Meatloaf with Bacon and Rosemary Recipe
Serves at least 6
You will just need a bowl and a lined 22cm x 8cm loaf tin, well oiled
1 tablespoon oil
1 large or 2 small onions, finely chopped
2 cloves garlic, crushed, or a teaspoon lazy garlic
70g fresh breadcrumbs
60ml milk
Approximately 24 to 26 thin rashers streaky bacon or pancetta
2 tablespoons chopped, fresh rosemary
400g pork mince
400g veal mince, or use more pork mince if you'd rather
1 tablespoon dijon mustard
2 eggs
Salt and pepper
Mashed potatoes, sauteéd greens, cranberry sauce and gravy are all lovely with this
Pre heat your oven to 160 degrees fan assisted and oil your 22cm x 8cm loaf tin.
Heat the tablespoon of oil over a medium heat and add the chopped onion and garlic and cook for around 5 minutes or until just softened. Leave to cool.
Add the fresh breadcrumbs to a large bowl and pour on the milk. Stir, and leave until the milk has been absorbed.
Take your loaf tin and start to line with your streaky bacon. Start by laying slices along the long side of the tin, making sure the rashers overlap to ensure the meatloaf is encased. This should use around 10 rashers. Next use another 4 rashers for each short end of the tin. Leave any overhanging bacon over the edges for the moment.
Finely chop the remaining 6-ish rashers of bacon along with the rosemary. Add this to the bowl of breadcrumbs. Follow in with the pork and veal minces, 2 eggs, dijon mustard and generous amounts of salt and pepper. Mix well with a spatula or be brave and go in with your hands. Once fully combined, pack the mixture into the bacon lined tin. Press down well to ensure all the mixture fits in. Fold in any overhanging bacon at this point.
Place on a baking tray and put in the oven for 45 minutes.
When this time is up, leave to settle for around 5 minutes while you line another baking tray with foil or greaseproof paper. Carefully drain any excess juices from the meatloaf, then place the lined baking tray over the top of the loaf tin and turn it over, carefully, in case further meat juices leak out.
Spritz the meatloaf with a little more oil then place back in the oven to brown for a further 15 minutes or until golden and sizzling.
Leave for 5 minutes to rest before serving in generous slices with some sauteéd green vegetables and a little cranberry sauce.
Any leftovers make a brilliant sandwich the following day.