Lentil Chilli Recipe
I feel I am often left lacking where vegetarians and vegans are concerned. I am a committed eater of meat and dairy produce, not on an enormous scale, but, as a family, we don't often embrace meat free meals. With money being tight in January and trousers being even tighter, I have been perusing old favourite cookery books and Pinterest for inspiration. A vegetarian diet does often work out being better value, plus, it's a good idea to eat less meat so it is with great excitement I discovered this Lentil Chilli recipe.
I know Lentil Chilli doesn't initially sound desperately exciting, however, bear with me here. Whenever I think of vegetarian  dishes, I think kerfuffle. All that chopping of vegetables, peeling, blah blah, I've lost interest before I've even started. However, this Lentil Chilli is so simple, light on preparation but huge on taste; I am genuinely impressed simplicity could taste so good. The base of onions, garlic, red peppers and fresh red chilli is a well trodden, but delicious path. The addition of brown lentils, which are very reasonably priced and hold their shape well, adds depth, flavour and tasty sustenance. Simply simmer for 30 minutes and this frugal but tempting supper is ready to be topped to your taste. Adorn with such vegan delights as avocado and some fresh chilli and chopped tomatoes or go with sour cream and grated cheese if you like. Either way, this makes a brilliant family supper and dare I say it, George ate and enjoyed it, albeit it picked out some of the peppers *classic George*. A huge thank you to Little Broken for the introduction to this dish.
I have never really been a fan of cooking vegetarian versions of traditionally meat based dishes, they always seem slightly lacking. This Lentil Chilli however, is a stand alone dish. It has a huge personality of it's own and I will be making my meat free Monday's on any bloody day I want, from here on in.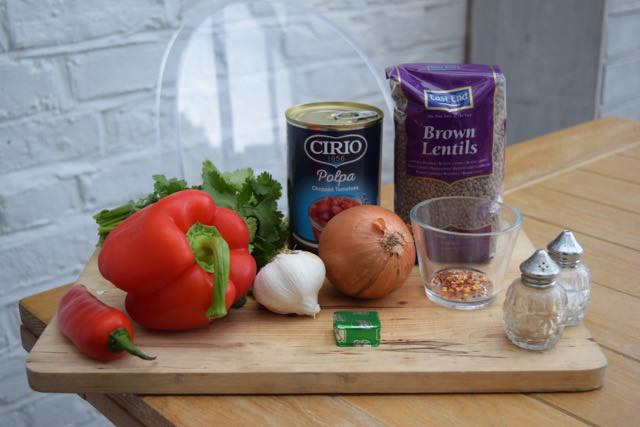 Who knew such greatness could come from so little. And for so little, this bag of lentils, which you only need half of for this recipe, only cost £1.40, making this dish good for your purse as well as you paunch.
Make a start on this by taking a large, deep and lidded frying pan. Heat the tablespoon of oil over a medium heat and add the chopped onion and red pepper.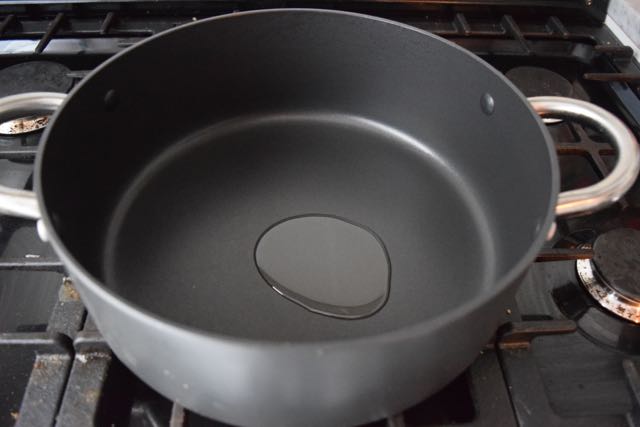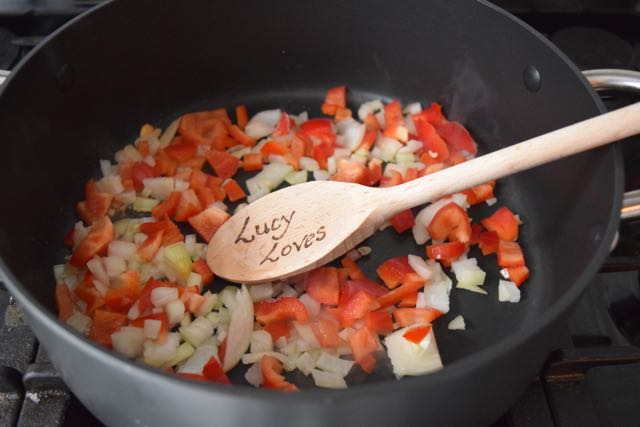 Please marvel at my lovely Lucy Loves spoon my thoughtful Mother got me for Christmas, this is it's first outing, it won't look this untarnished for long.
Fry this colourful mix for 8 to 10 minutes or until the mixture has softened. Next throw in the chopped garlic, fresh chilli, bay leaves and dried chilli flakes then stir well. Cook for another couple of minutes.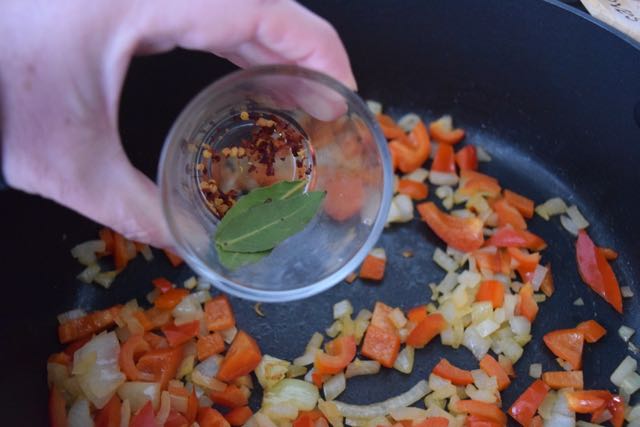 Now it's time for those frugal favourites, the brown lentils. The brown variety holds it shape better than red or green, so these are best if you have them. Stir these into the mix then pour in the tin of tomatoes, juice and all.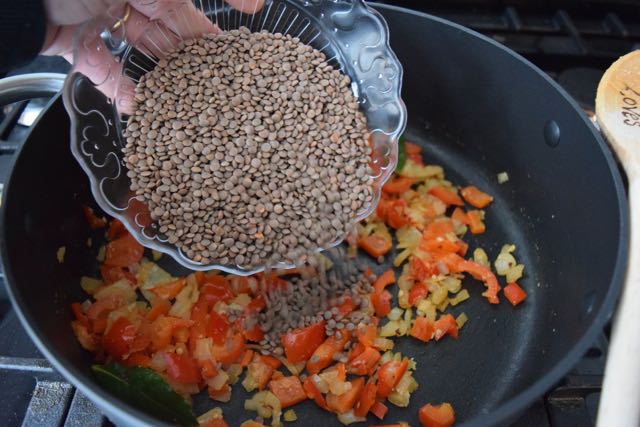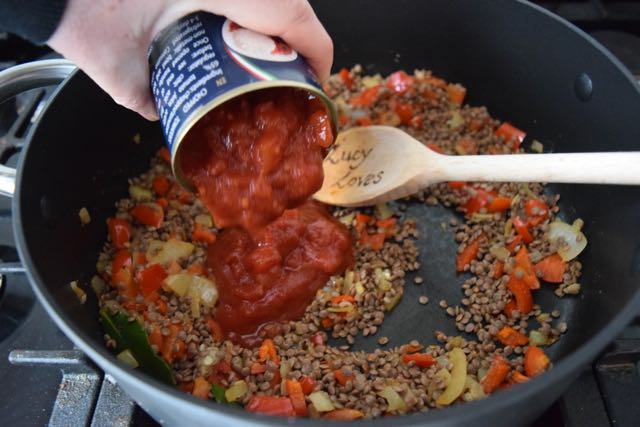 Stir this all together before adding the vegetable stock to keep it all vegetarian then bring up to the simmer. Place the lid half on and cook for 30 to 35 minutes or until the lentils are soft and the chilli is smelling divine.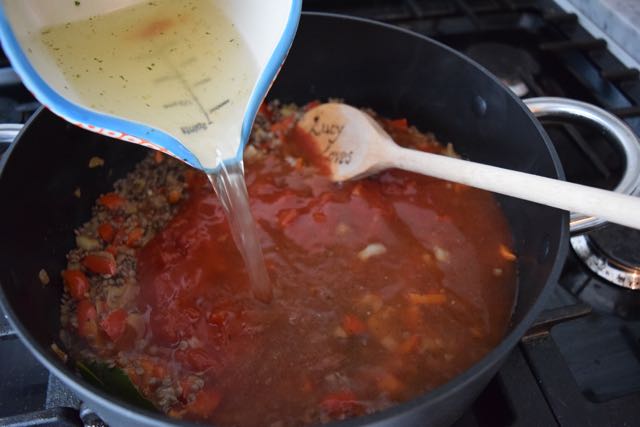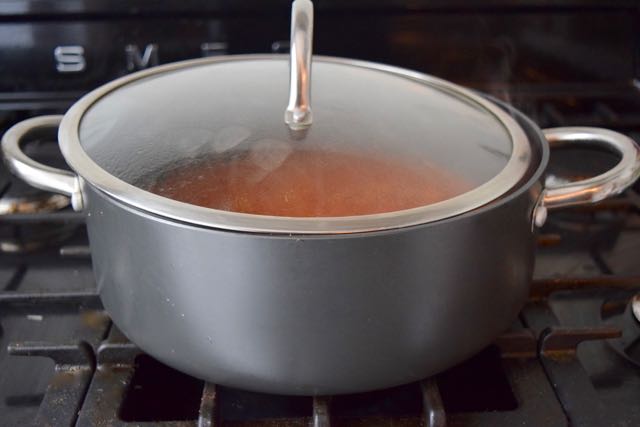 Ta-dah.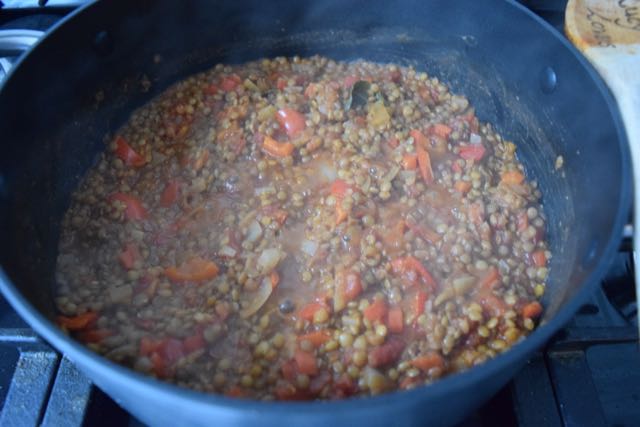 Remove the bay leaves, season generously with salt and pepper, stir through the fresh coriander and then your chilli is ready to adorn however you please.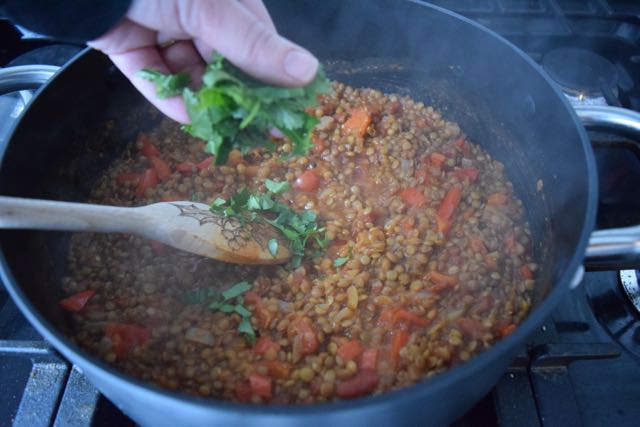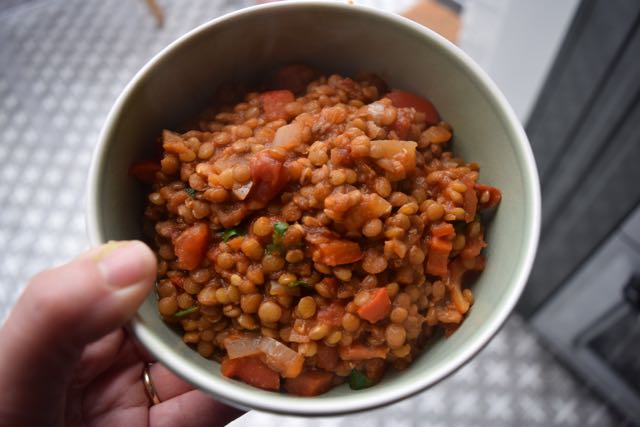 This is just wonderful on it's own, straight from the pan, but you can dress it up or down as you wish. I went sour cream and avocado, not quite vegan, but at least I swerved the cheese, and a little more chopped coriander. Not very modest, I know, but this is so good, I ate far too much of it.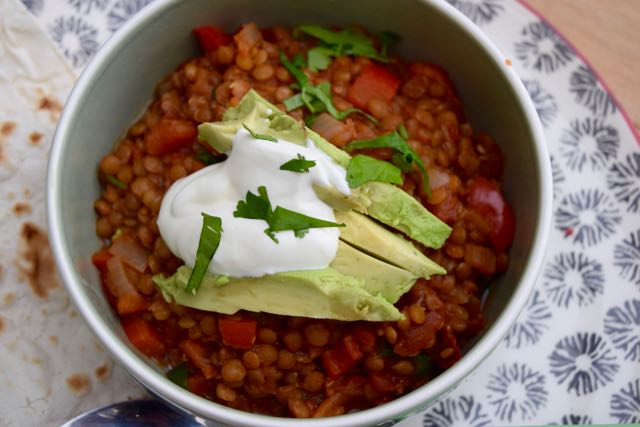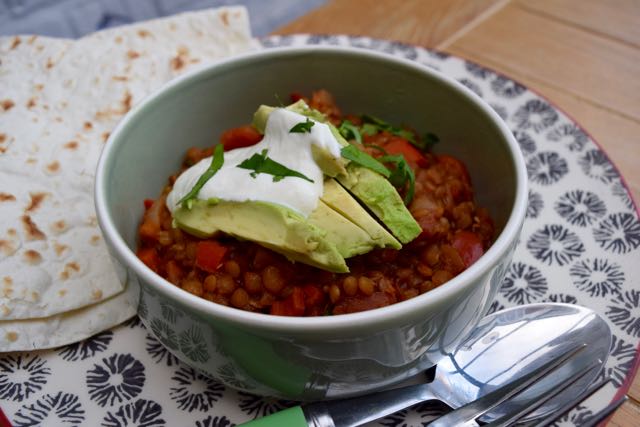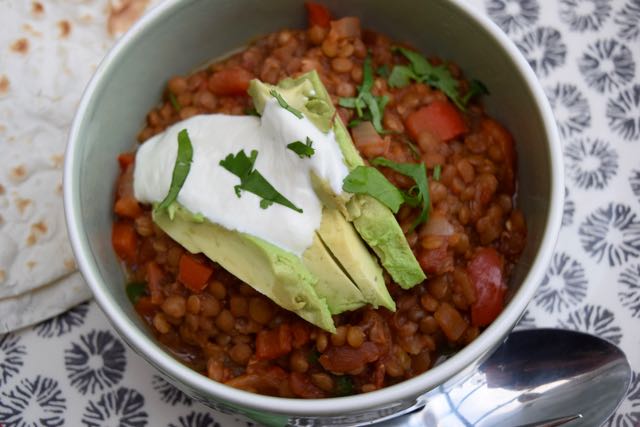 I do love a lentil and I have to say they are my go-to ingredient when cooking vegetarian dishes. They are such good value, they potentially lower cholesterol and if you are looking to reduce your carb intake, swerve the rice with this and tuck right into this Lentil Chilli for a filling, warming supper.
Lucy x
Lentil Chilli Recipe
Serves 4, with rice
You will not need any challenging equipment
1 tablespoon oil
1 onion, peeled and finely-ish chopped
1 red pepper, deseeded and chopped
2 cloves garlic, chopped
1 red chilli, finely chopped, de-seed if you prefer less heat
1 generous pinch dried chilli flakes
2 bay leaves, fresh or dried
250g brown lentils
1 x 400g tin chopped tomatoes, with juice
900ml vegetable stock
Half teaspoon caster sugar
Salt and pepper, to taste
Half a bunch chopped fresh coriander, plus a little extra to garnish
To serve cooked rice, sliced avocado, sour cream, fresh chilli, grated cheese, salsa, you decide
Take a large, deep frying pan with a lid and add a generous tablespoon of oil. Heat over a medium flame and add the chopped onion and the red pepper. Cook for around 8 to 10 minutes or until softened. Next, add the garlic, chopped fresh red chilli, bay leaves and the dried chilli flakes. Cook for another minute or 2 then stir in the lentils and mix well.
Next, pour in the tinned tomatoes, stock and the sugar to reduce acidity.  Stir well and bring up to the simmer. Don't season at this stage as the salt can make the lentils tough. Put the lid on at a slight angle, allowing a touch of steam to escape and cook for around 30 to 35 minutes or until the lentils are soft and cooked through.
When the lentils are cooked through, remove the bay leaves then stir through the fresh coriander, season generously with salt and pepper then serve piping hot. Accompany with rice, sour cream, avocado, fresh chilli, grated cheese or salsa or any of your favourite bits and bobs.
Any leftovers will freeze well or keep in the fridge for around 3 days.
SaveSave
SaveSave