Mushroom Soup with Pancetta Crumbs Recipe
Well I never, I have actually spotted the potential snow motif on my weather app for later on this week. This is super rare and the boys are always moaning about the lack of snow in London. Their real love of snow is based around a possible day off school. About 10 years ago it snowed so much the local schools were closed and they have both never forgotten this and have dreamt of such a snow day ever since. I can take or leave snow, it's quite fun for a moment, but then there's the falling on your arse, it's grey, wet and slushly and no longer amusing. But if it does hinder my ability to drive to work, then snow is my new best friend, however. All this rambling is leading towards todays post featuring the most delicious handwarming Mushroom Soup with Pancetta Crumbs.
Mushroom Soup has a slightly sullied reputation in my mind, when being compared to the slightly dubious tinned variety. I am not dissing the tinned option, it's perfectly tasty, it just doesn't resemble homemade mushroom soup in any way, shape or form. My Mushroom soup is creamy, rich and so mushroomy and fragrant. Topped with a big spoonful of Pancetta Crumbs, this is transformed into oh so much more than just soup. Ok, I am exaggerating, it's still just bloody soup, but it is bloody delicious. I loosely based the recipe on this one from Natasha's Kitchen, with thanks, and I don't know where the idea for the crumbs came from. Probably me and my ever rumbling tummy.
It is so soup time of the year, to warm you from head to toe. This mushroom offering with the garlic, pancetta full flavoured crumbs is really rather special. This would make a brilliant lunch for family or it's stylish enough to serve as a dinner party first course. Light a fire, pull on your bobble hat and snuggle up with this simple, tasty soup in your hands.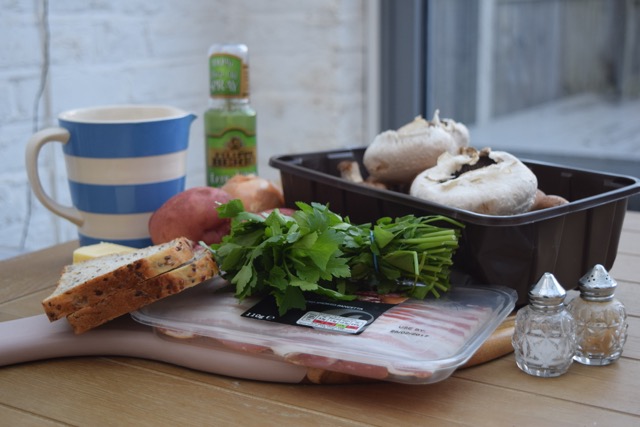 What a tasty looking line up for this possible snow day recipe.  I know I am getting ahead of myself here, it probably won't even snow, but if it does, you will be ready with this lovely soup.
Make a start by taking a large saucepan and adding a tablespoon of olive oil and a knob of butter. Add to this your finely chopped onion and garlic and cook over a low to medium heat for a minute or two until they just start to soften.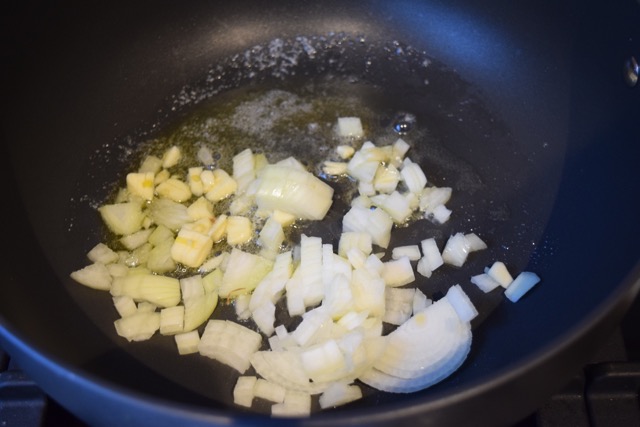 Add in the potatoes, stir well and season, then pop in the mushrooms with the extra 25g butter and continue to cook for 5 minutes, until the vegetables start taking on a bit of colour.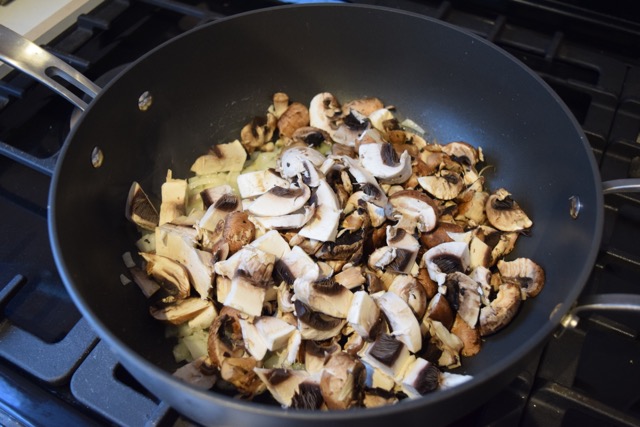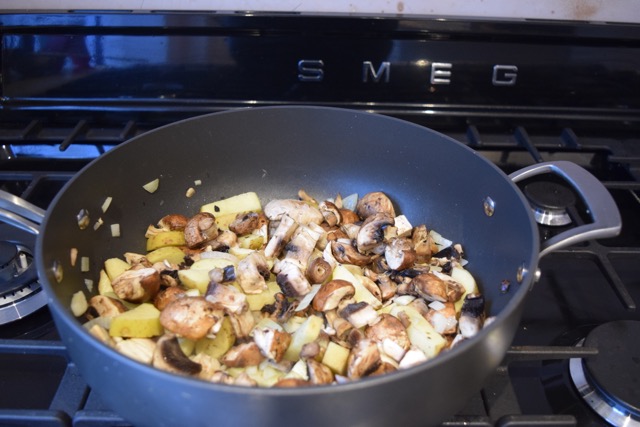 Pour in the stock of your choice, either chicken or vegetable with some fresh parsley, stir well and bring up to the simmer. Put a lid on and cook down for 15 minutes or so, until the potato is cooked through.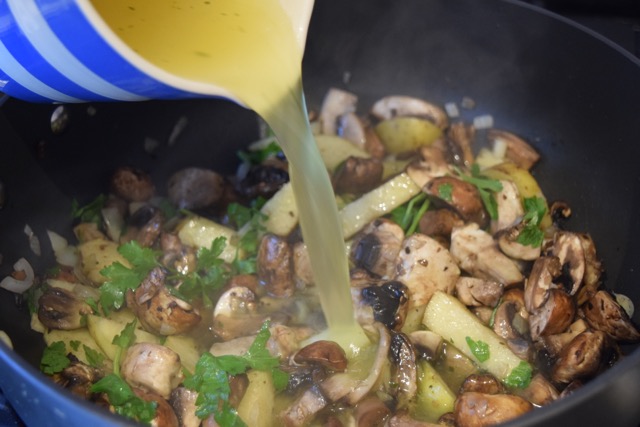 While this is simmering, start on the crumbs. Add the chopped pancetta and garlic to a small frying pan with a tablespoon of oil and cook over a medium heat until both just start to brown.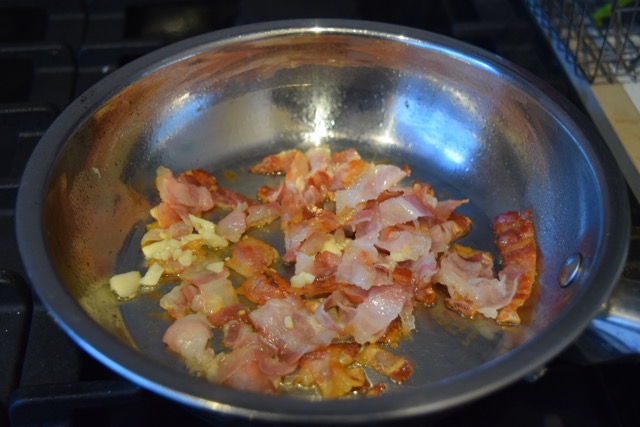 Next, stir in the cubes of bread so they are coated in pancetta and garlicky oil. Add the 25g butter then cook these until they are toasty and browning. Keep any eye on them though, no one wants burnt crumbs.
Add another tablespoon of fresh parsley and stir well. Put to one side whilst you finish off the soup.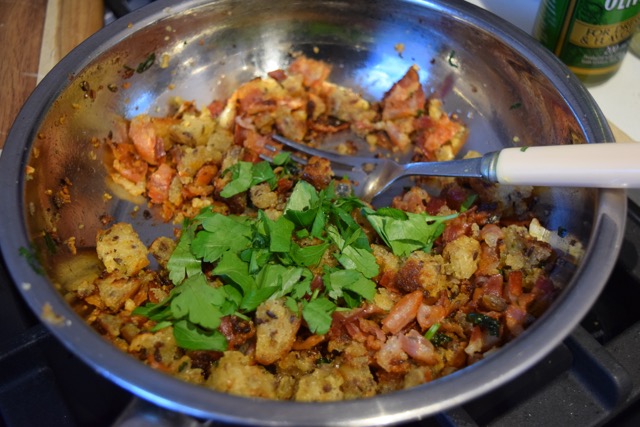 When the soup is cooked leave to cool slightly, before pureeing with a hand blender or in a liquidiser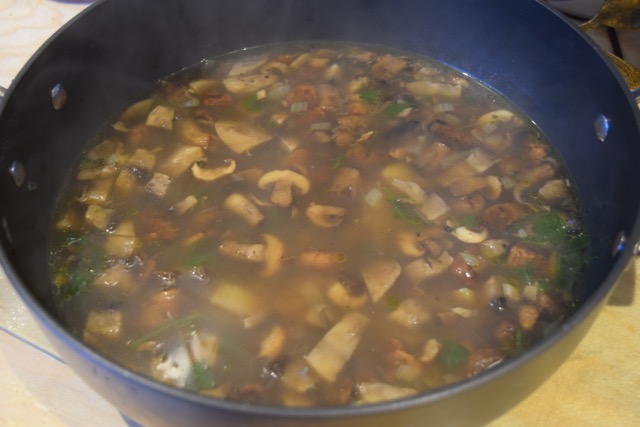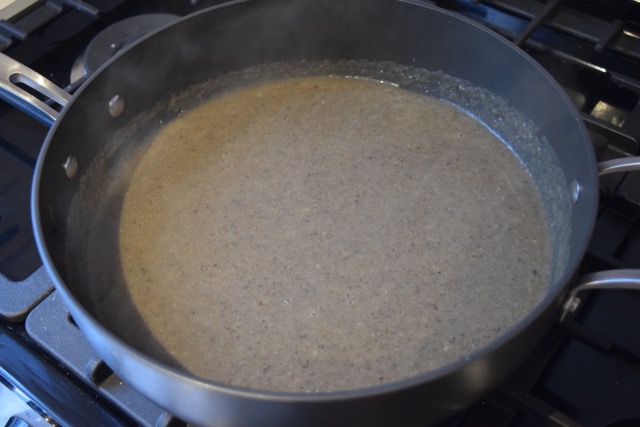 Mushroom Soup will never win a beauty contest, but it tastes amazing. If you are not being good this January, add a healthy slug of double cream, if you are, this soup is just as wonderful without it.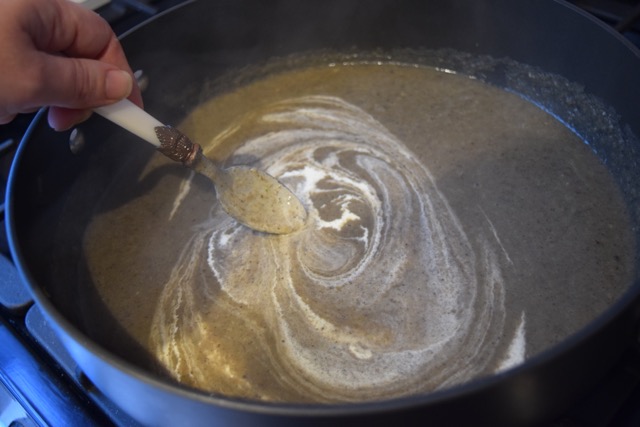 Serve sprinkled with a generous spoonful or two of your warm Pancetta Crumbs.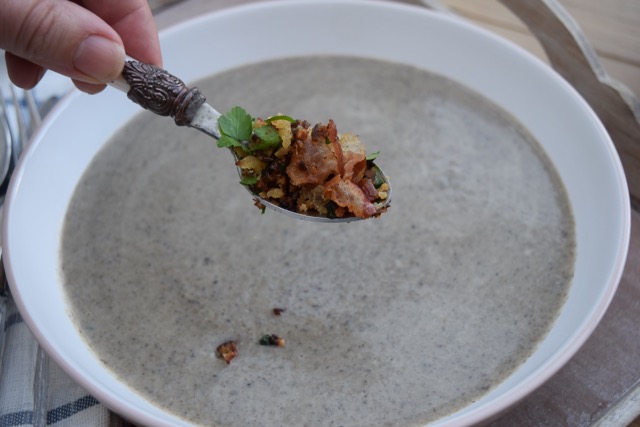 Enjoy every mouthful of this winter special, it is so good. Not modest face.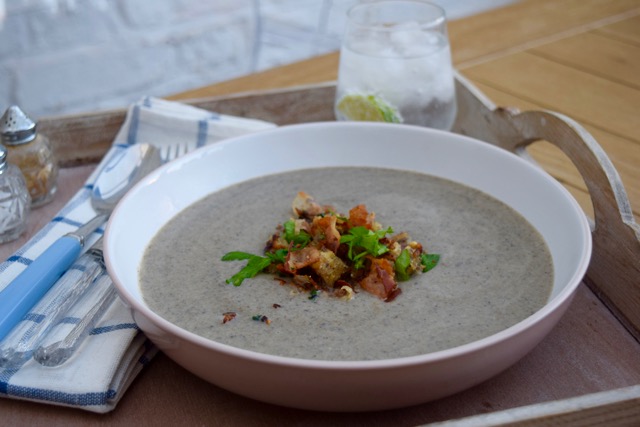 Please note the glass of fizzy water, so restrained.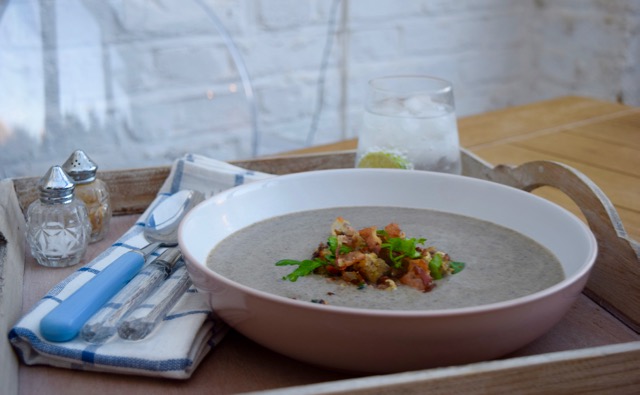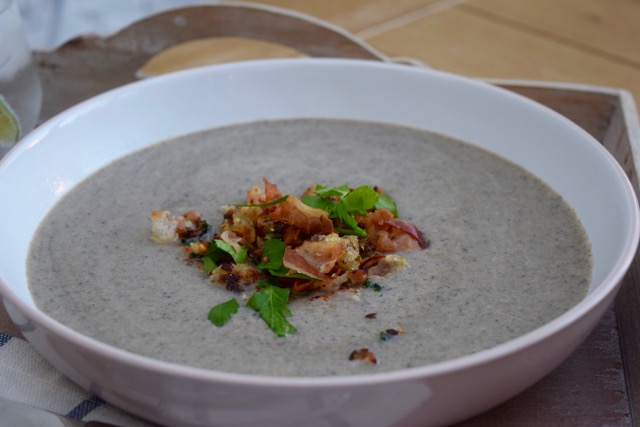 Thick, warming, rich soup with tasty crispy bits. This is the stuff of soup based dreams. Stay warm.
Lucy x
Mushroom Soup with Pancetta Crumbs Recipe
Serves 4
You will need a large saucepan and a hand blender or liquidiser
Mushroom Soup
1 medium onion, chopped
1 tablespoon olive oil
50g butter
2 small potatoes, peeled and chopped
2 cloves garlic, crushed
500g mushrooms, sliced, I used a selection of chestnut, portabello and white mushrooms
1.25 litres chicken or vegetable stock
2 tablespoons freshly chopped parsley
100ml double cream, optional
salt and pepper to taste
Pancetta Crumbs
4 slices pancetta or streaky bacon, chopped
2 small slices bread, cubed
1 tablespoon olive oil
1 clove garlic, chopped
25g butter
2 tablespoons fresh parsley
Extra fresh parsley to garnish if you like
Take a large saucepan and add the tablespoon of olive oil and 25g of the butter. Heat over a medium flame then add the onion and garlic. Cook for a minute or two then add the chopped potato and sliced mushrooms, with the extra 25g butter, stir well and cook until softened and taking on a tiny bit of colour or around 5 minutes. Pour on the stock and check for seasoning then put a lid on and cook for 15 to 20 minutes or until the potatoes are soft.
Once cooked, puree using a hand blender or liquidiser until smooth. Return to the pan and re heat, adding the optional splash of double cream if you wish. Serve with a flourish of pancetta crumbs and extra fresh parsley on top.
For the crumbs, heat the oil in a small frying pan and add the pancetta or bacon and garlic. Cook until starting to crisp then add the bread cubes. Cook until the crumbs are crisp, keeping them moving so they don't burn. Add some fresh parsley, cook for a further minute then serve, warm, on top of the mushroom soup.