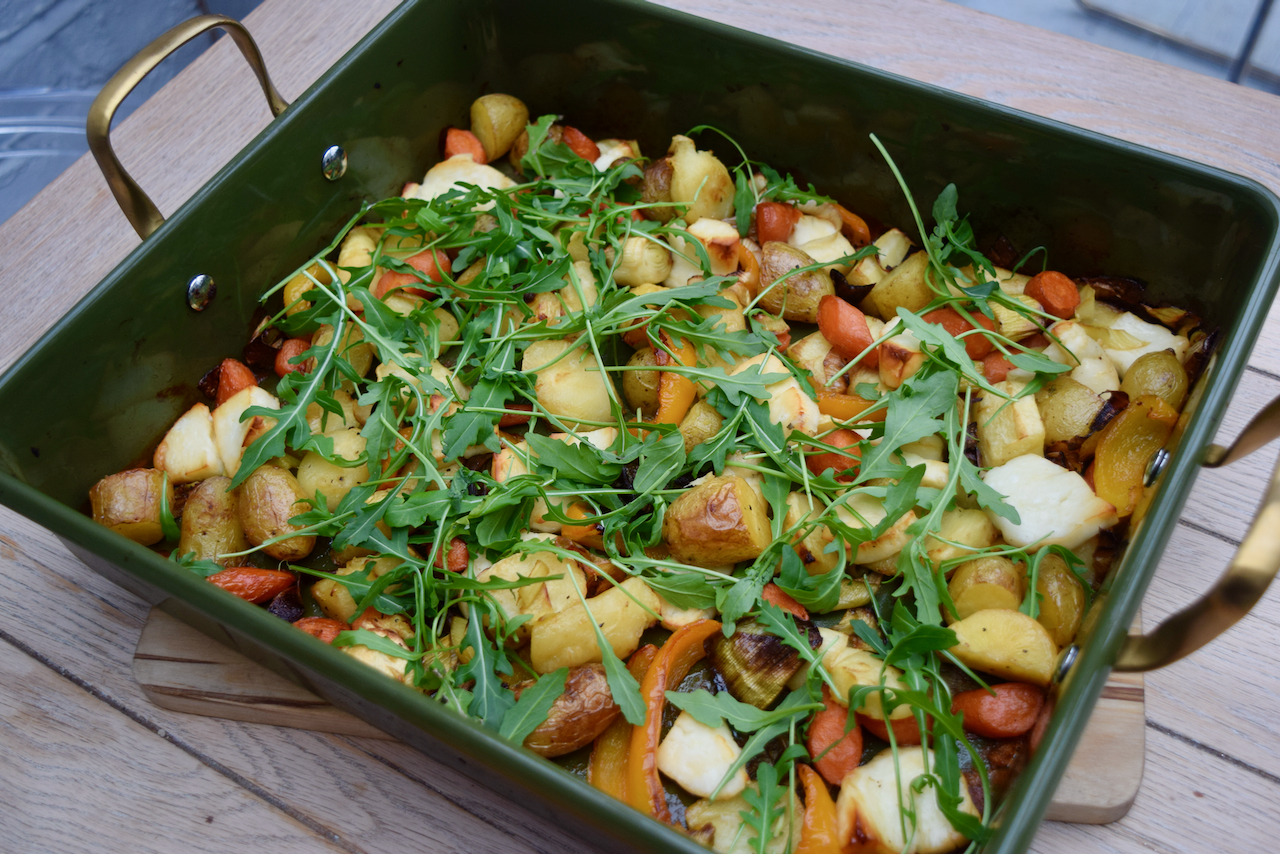 Honey Roasted Roots with Halloumi recipe
I love nothing more than making something out of nothing. Tired vegetables lingering in the bottom of my fridge make me miserable. Roasting them, drizzled with a little honey and adding everyones favourite squeaky cheese, however, creates a joyful dish. Serve my Honey Roasted Roots with Halloumi as a filling vegetarian main or as a generous side to a roast chicken and the joy will be all yours.
This really isn't much of a recipe, more of a suggestion. Sometimes, for me, Lucy Loves is all about mealtime inspiration rather than poncy recipes. And this suggestion is just a brilliant way of using up some winter roots and a rogue packet of halloumi. Mine were a generous selection of parsnips, carrots and baby new potatoes; yours can be whatever you have to hand. I didn't have any onions, so a large leek sufficed alongside a lonely pepper to add sweetness. These need nothing more than olive oil, honey and some lovely chunks of salty halloumi as bed fellows.
I know it's nearly payday but if you've already spent February's salary then this is just the not-really-a-recipe for you.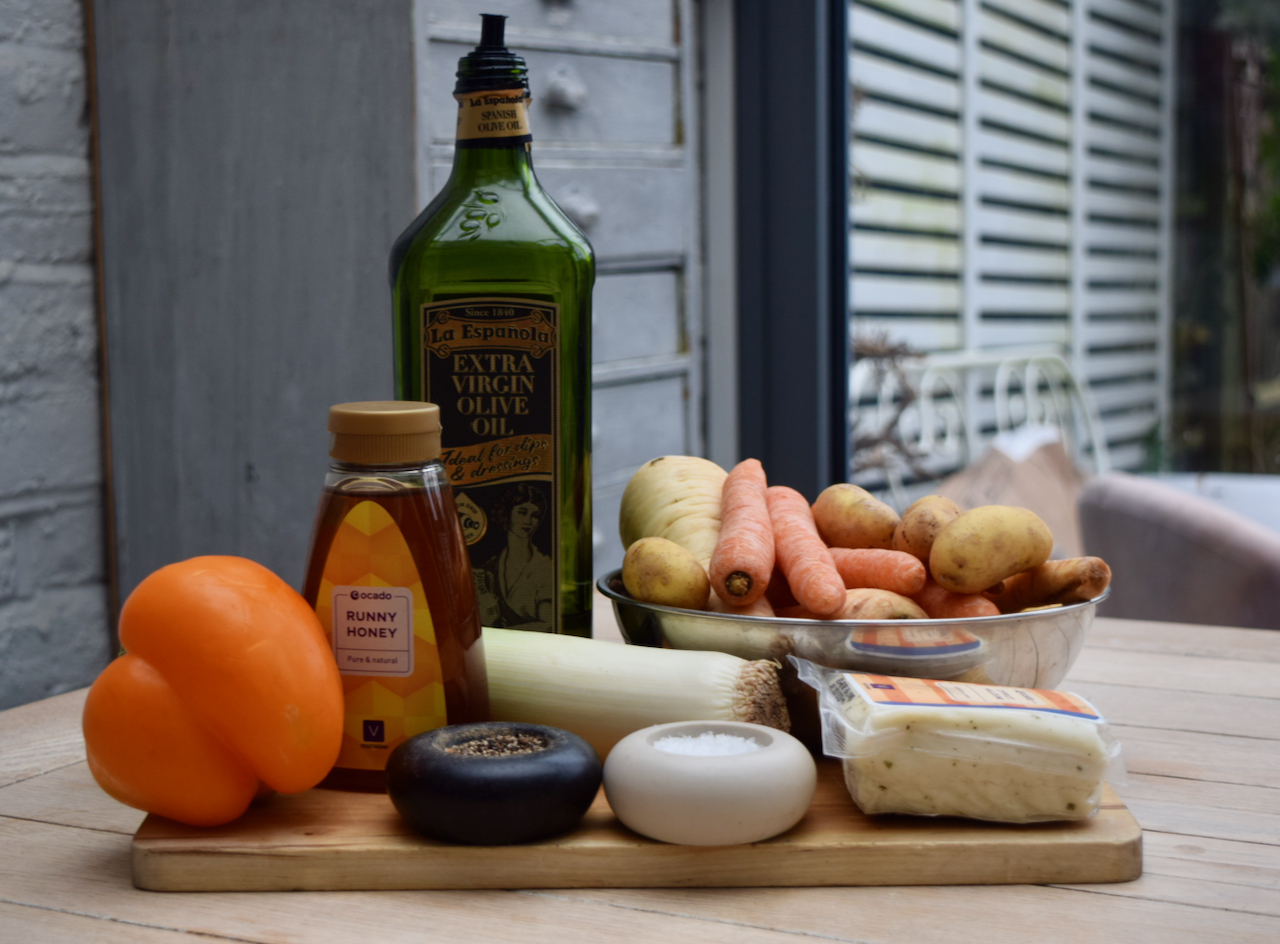 Amazing that something so delicious can come from a motley selection of fridge remnants. I keep a packet of halloumi in the fridge at all times; it's such a super supper standby, elevating a meal with every squeaky mouthful.
Pre heat your oven to 160 degrees fan assisted and find a large roasting tin. Peel and chunkily chop your chosen roots, going for a rustic look *my favourite look*. Add them to your roasting tin along with the sliced leek or onion and chopped, deseeded pepper.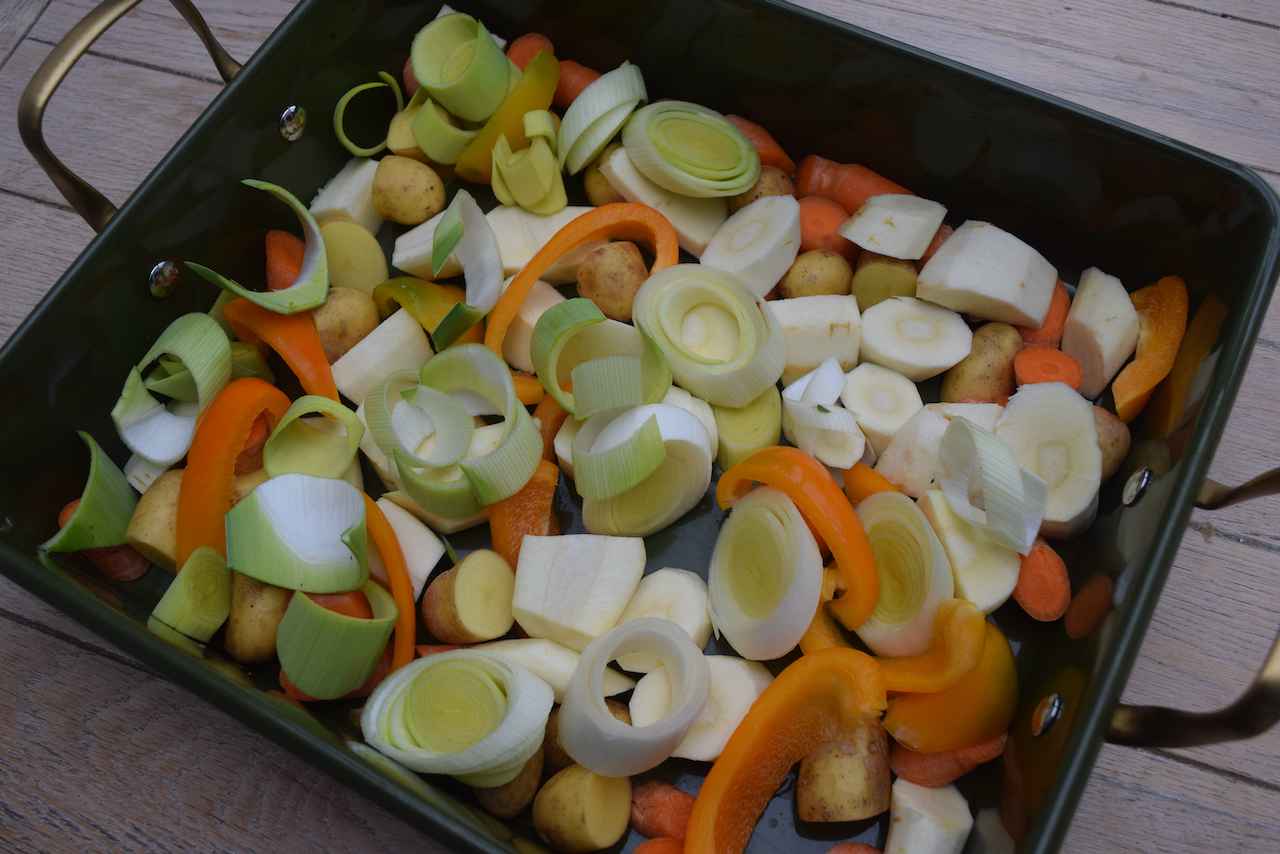 Toss generously in olive oil and plenty of salt and black pepper. Pop the tin in the oven and roast for 30 to 35 minutes, when the vegetables will have softened and taken on some colour.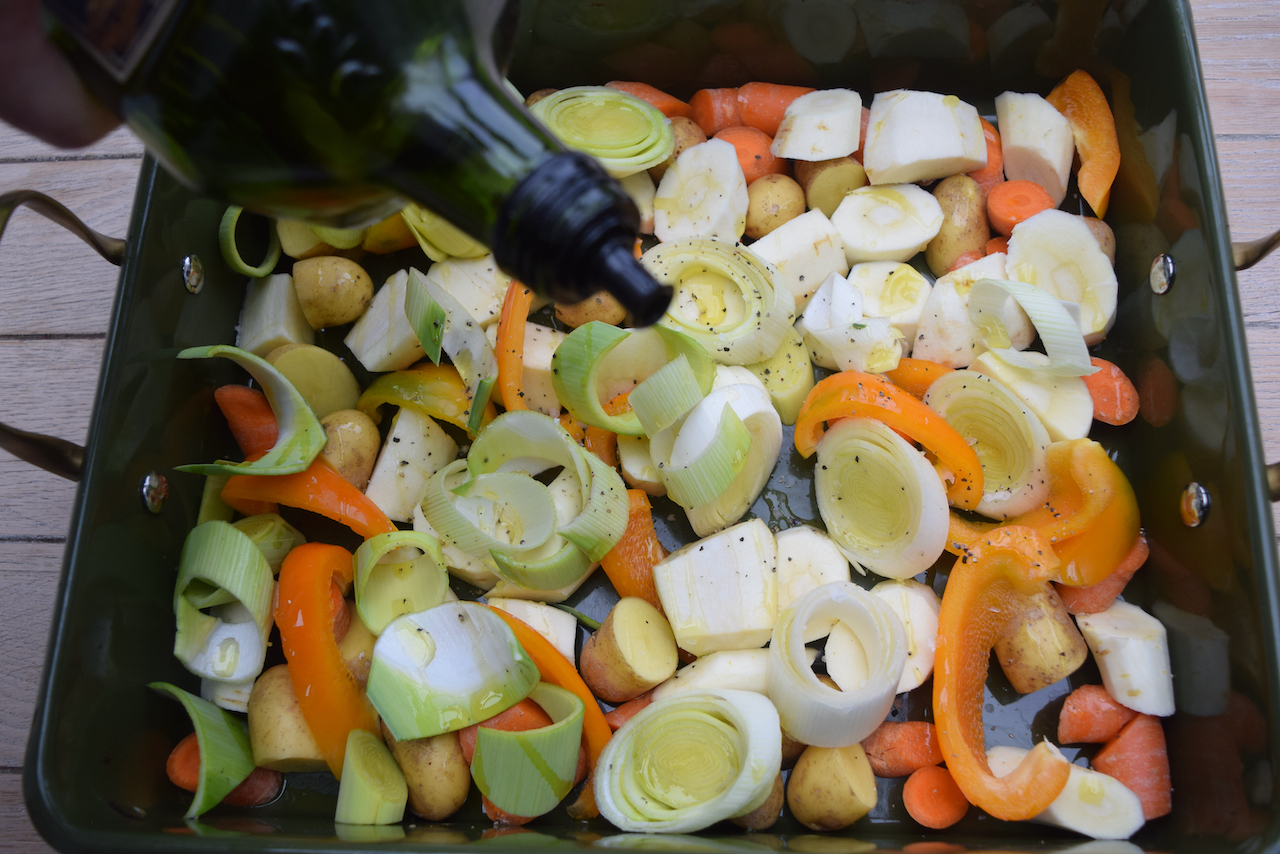 After this time, whip the pan out of the oven and drizzle over the honey. Give the vegetables a good stir then lay the sliced/torn chunks of halloumi on top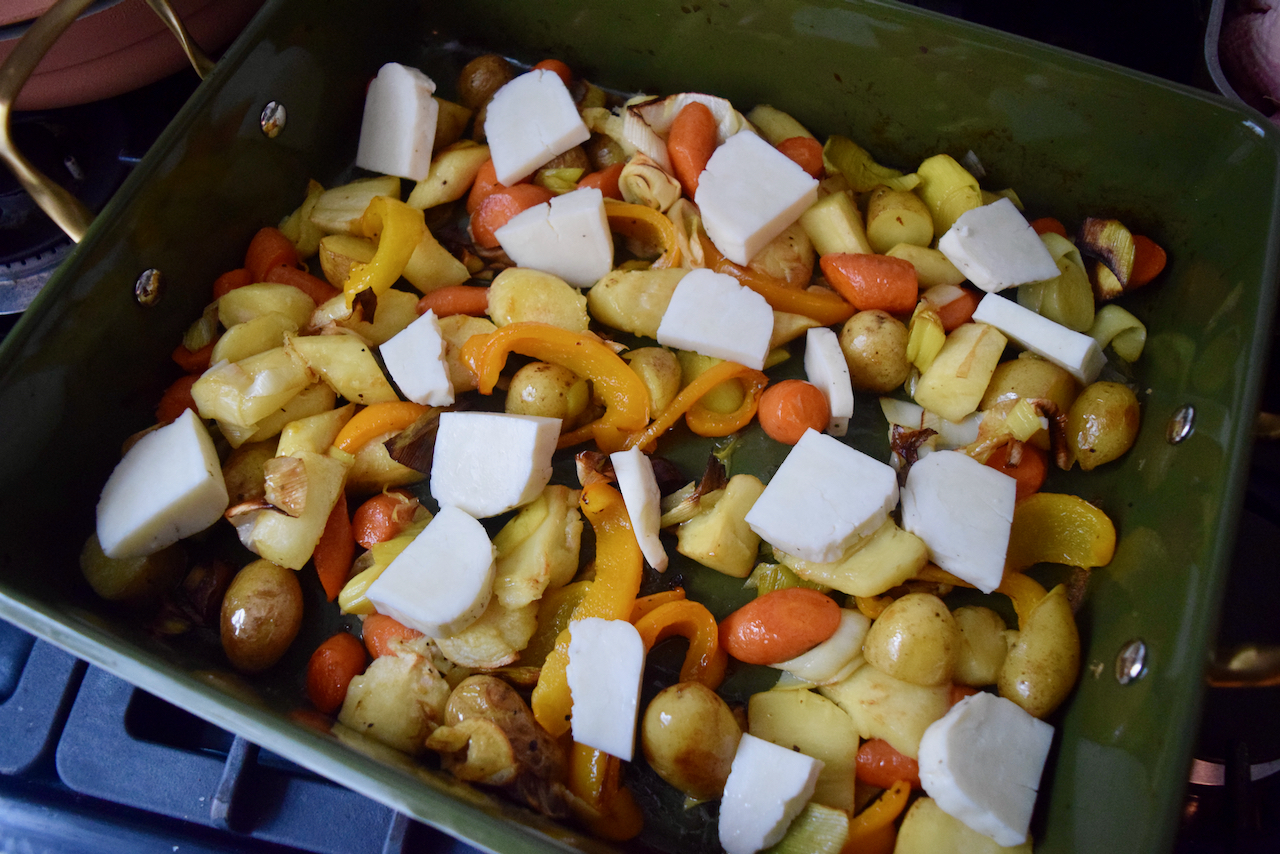 Turn the oven up to 170 then put back in for another 15 minutes or until the roots are soft and golden and the halloumi has crisped at the edges.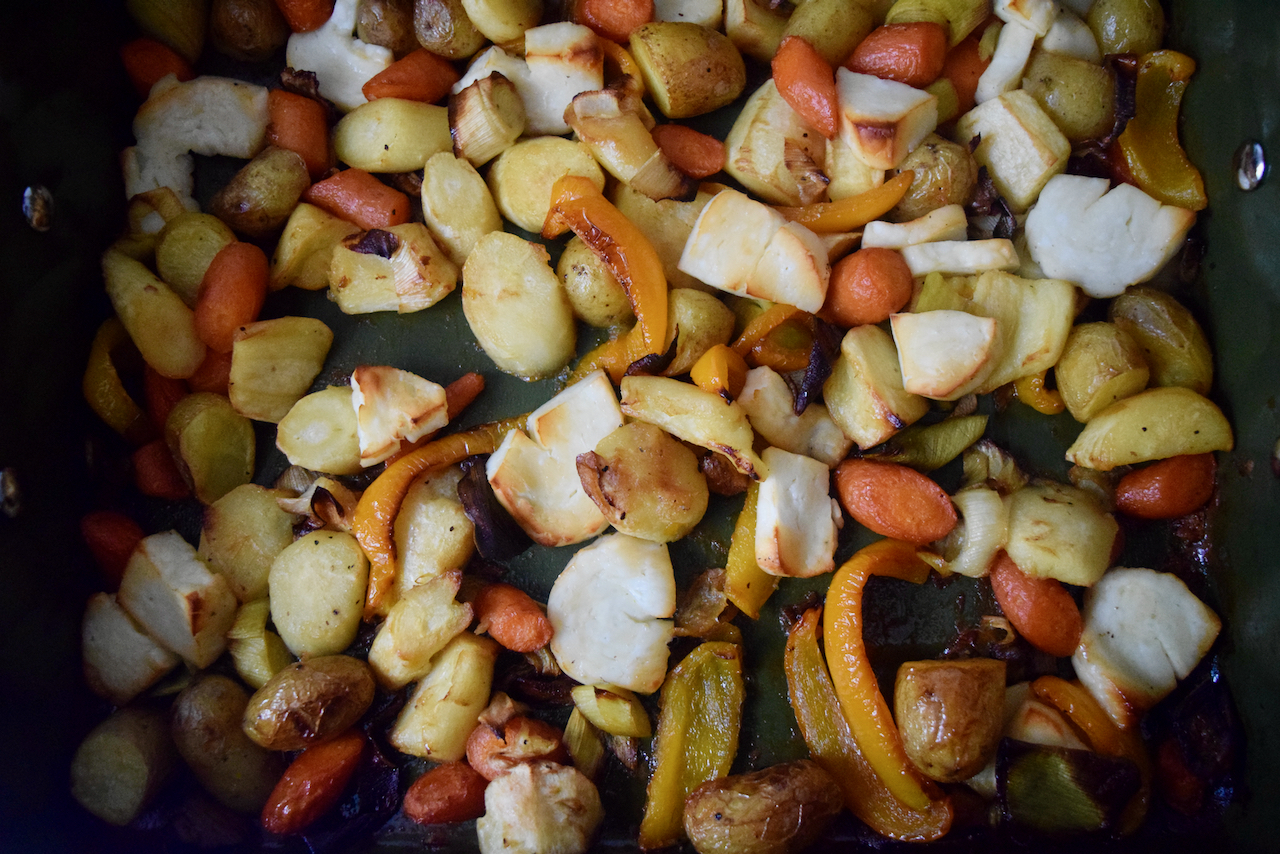 Drizzle with a tiny bit more honey then scatter on some rocket or baby spinach for colour and freshness. Serve piping hot as a hearty main course or flavourful side dish.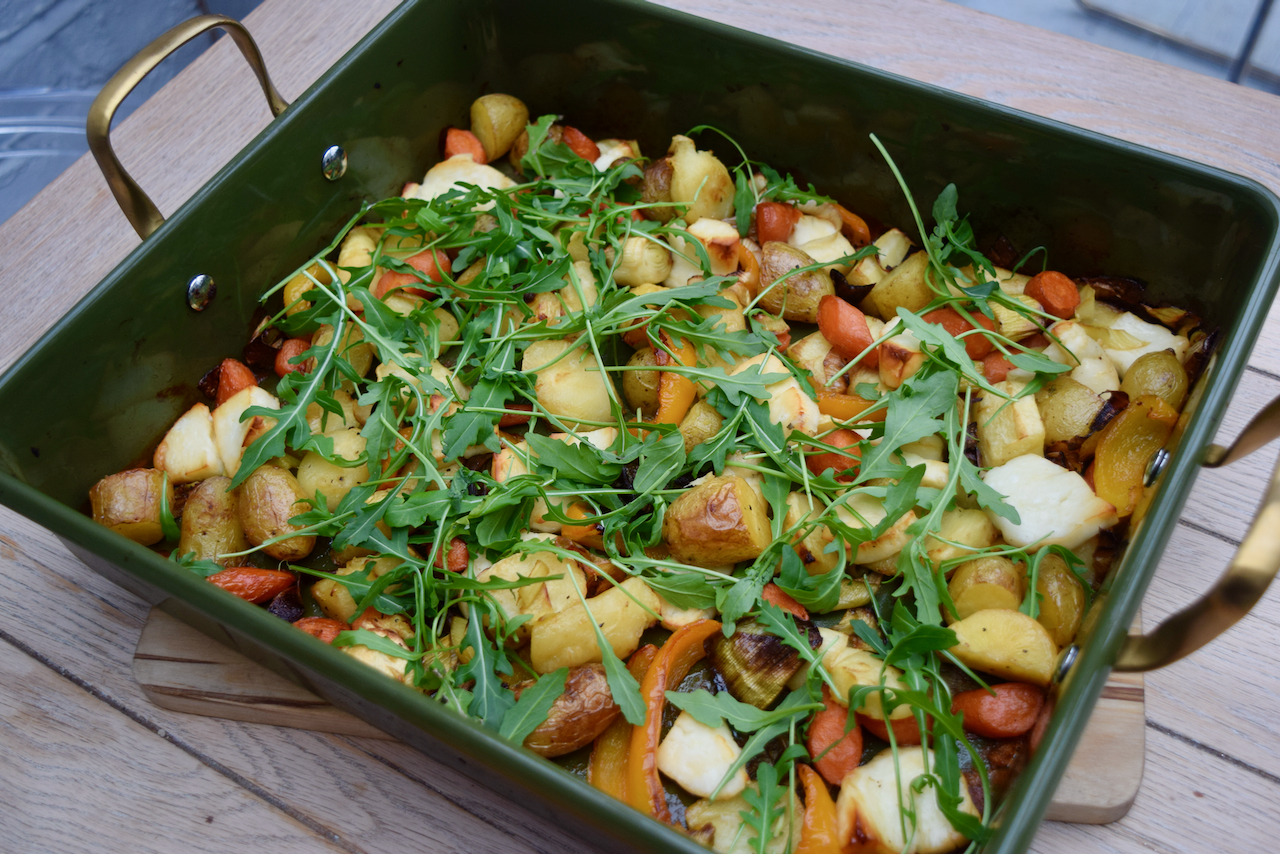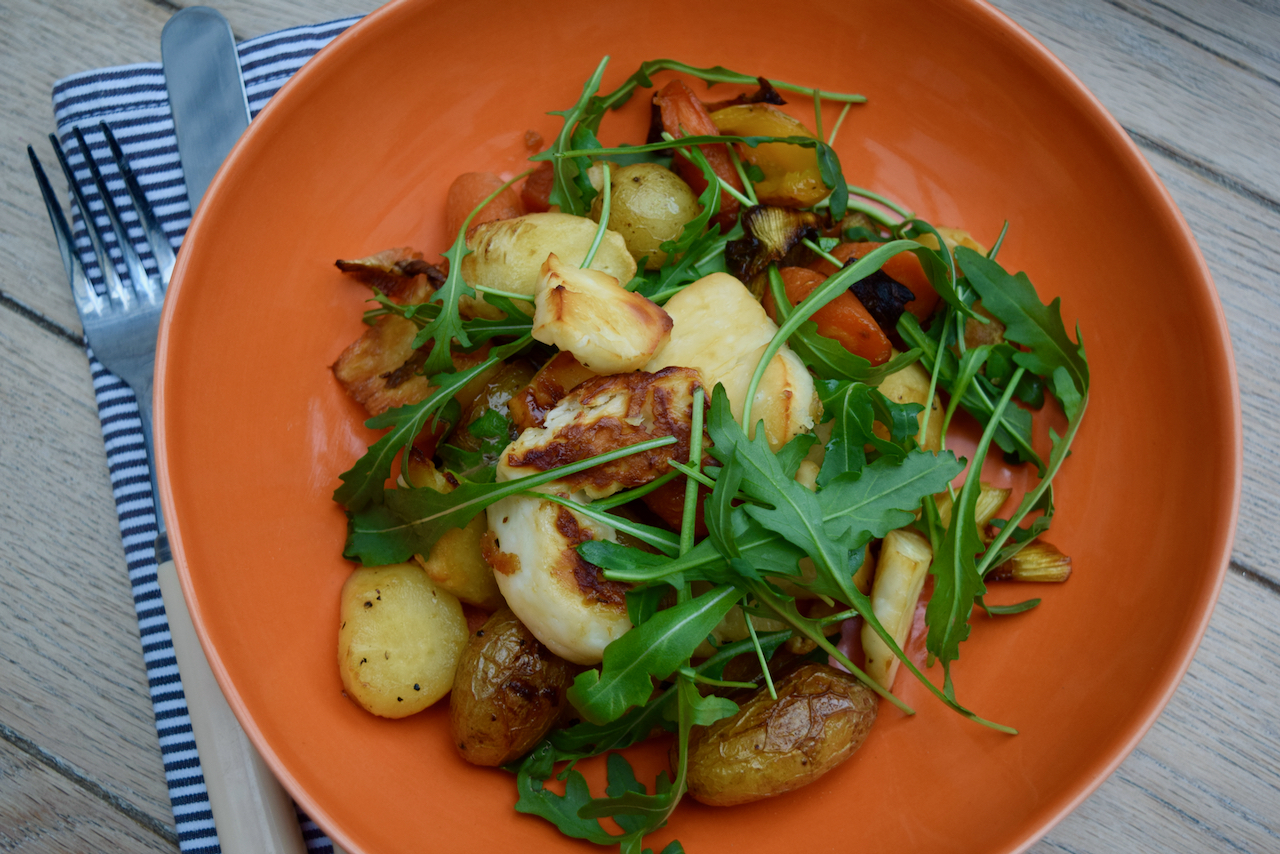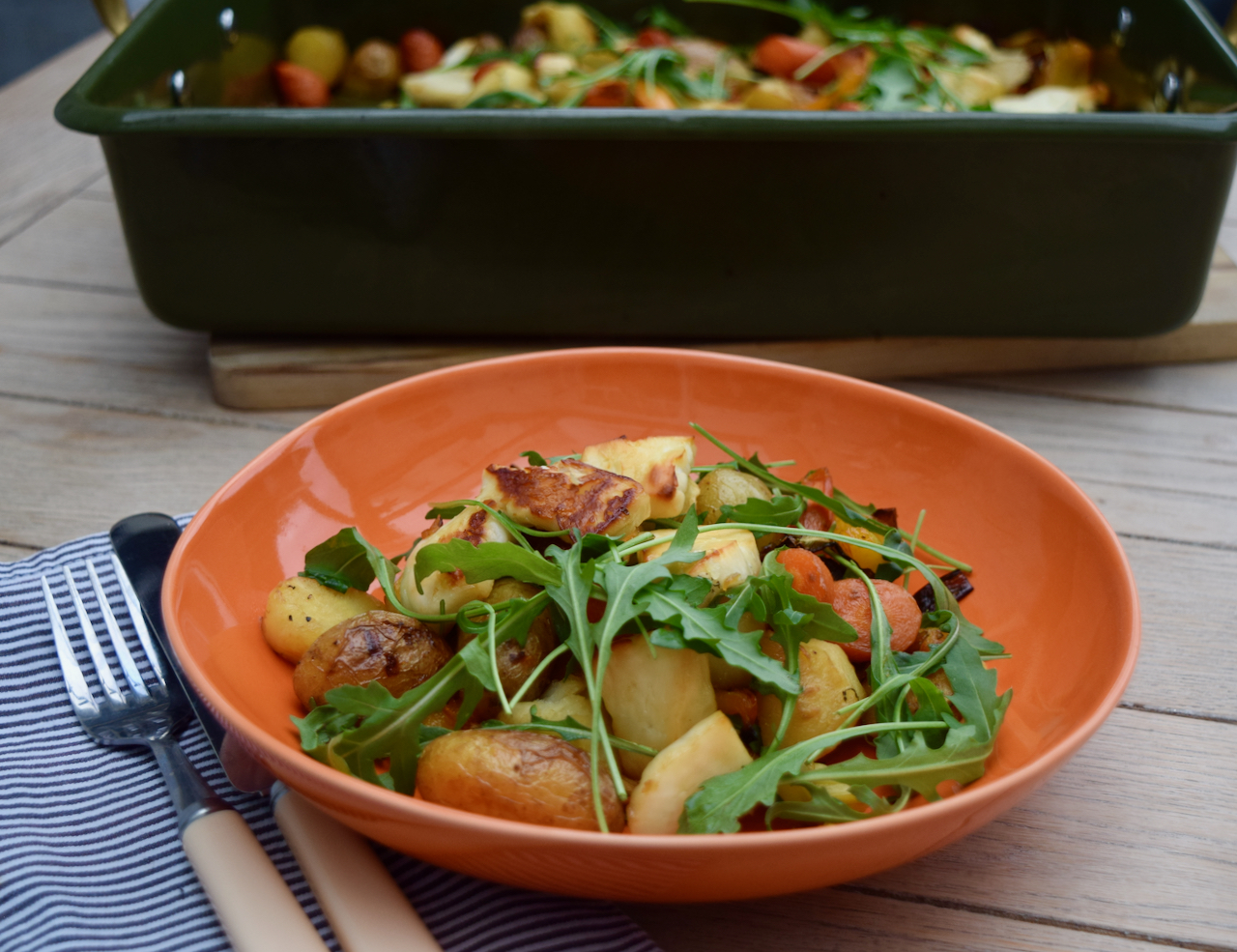 This is embarassingly simple, tasty, colourful and frugal and may well bring a touch of cheer to the start of February. Let's face it, we bloody need it.
Lucy x
Honey Roasted Roots with Halloumi recipe
Serves 2 to 4 as a main dish, or a side
You will just need a baking tray for this
1kg root vegetables, I used a mixture of carrots, parsnips and baby new potatoes
1 large onion or leek, peeled and sliced
1 large pepper, deseeded and cut into chunky slices
3 tablespoons olive oil
Salt and pepper
A generous drizzle runny honey, approximately 3 tablespoons
250g halloumi
A drizzle more honey and some rocket or spinach to serve
Pre heat the oven to 160 degrees fan assisted.
Peel the parsnips and cut into rustic chunks and repeat with the carrots ( I didn't bother peeling mine). Halve any larger new potatoes. Peel and cut the onion, or slice the leek into thick rounds, if using. Deseed the pepper and cut into chunky slices.
Toss all the vegetables together with 3 tablespoons of olive oil and plenty of salt and pepper in a large baking tray. Spread into an even layer. Roast for around 30 minutes, or until starting to soften and turn golden. Stir a couple of times during the 30 minutes to ensure the vegetables cook evenly.
Take the tray out of the oven and turn it up to 170 degrees. Drizzle on the honey and give the vegetables a good stir. Cut the halloumi thick slices, then cut or tear each slice in half. Scatter the cheese over the vegetables then put back into the oven for another 15 minutes, or until the halloumi has turned golden and crisp.
Serve piping hot with a drizzle more honey and scattered with with some rocket or spinach for colour and freshness. This makes a great main dish or a side for roast chicken.