Lamb Biriyani Balls Recipe
I love lamb, it's by far my favourite roast of choice but I only tend to buy it when it's on offer. Lamb, usually has quite an extravagant feel and I do tend to overlook it as a mid week option due to, and you know I love a list a) it's pricey and b) it's lengthy cooking time. When I decided to take part in a competition in conjunction with Lamb. Tasty Easy Fun, I found neither of these things should be a deciding factor when choosing lamb from now on.  My research discovered there are so many more cuts of lamb on offer, even though I often just go for a whole leg or mince, making it perfect for family suppers or entertaining. My recipe today is a bonus dish as it's both mid week and entertaining style fodder. So to celebrate my favourite lamb and in association with National Curry Week, I give you my Lamb Biriyani Balls.
In classic two for one style, this dish can be served as a simple family Lamb Biriyani or, if you have friends coming over, fashion the spiced lamb rice into a Biriyani Ball and serve it as a stylish canapé or elegant first course dish. I chose lamb leg steaks for my recipe because it pan fries quickly, is beyond tender, it's flavoursome and works so well with curry spices. The simple curry cooks with rice, curry paste, spinach and of course the lamb, in a matter of just 20 minutes. Then just a bit of egg and bread-crumbing and a dollop of mango chutney completes my Indian tapas style Biriyani Balls in under an hour. We devoured these balls straight from the pan, but if you can show some sort of restraint you can make these in advance, keep them in the fridge and re-heat in time for your supper guests to enjoy later.
Lamb is far too easy and tasty to confine just to Sundays, and my Lamb Biriyani Balls make a tempting canapé, first course or supper for even the most discerning diners. And by this I can confirm that even fussy George wolfed one down, once he had managed to wrestle the plate from my hands, that is.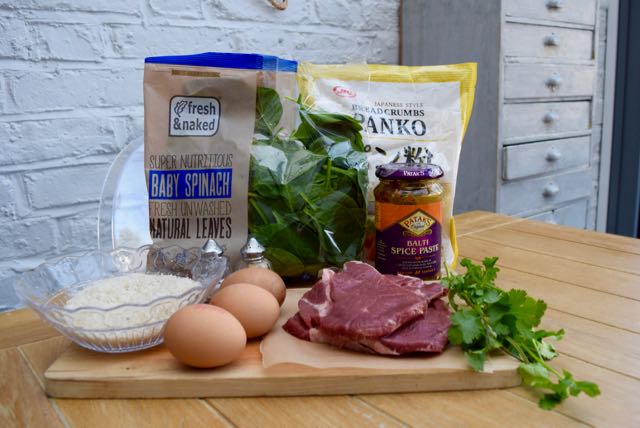 Here's my ingredients, with my lamb leg steaks being the complete star of the show. There is around 400g here, costing just over £4.50, which is amazing value and tons less than I expected.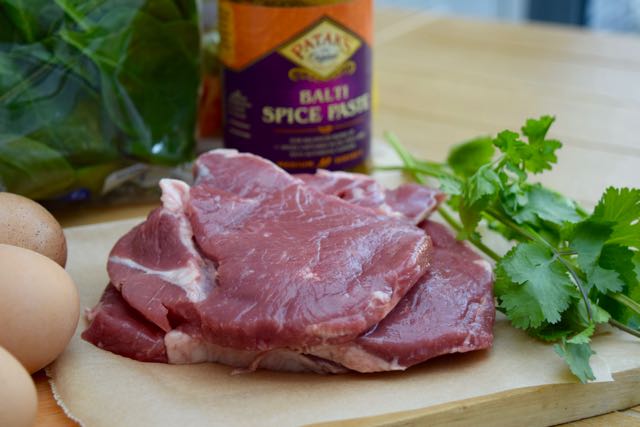 Make a start on this simple, but really quite wonderful, dish by taking a large frying pan and adding your curry spice paste. I went with Balti spice so it wouldn't overpower the taste of the lamb. Once it's sizzling, add the lean lamb, chopped into tiny cubes and cook for around 5 minutes or until just starting to brown. Do cut the lamb into nice small pieces, you want to get plenty of lamb into each Biriyani Ball.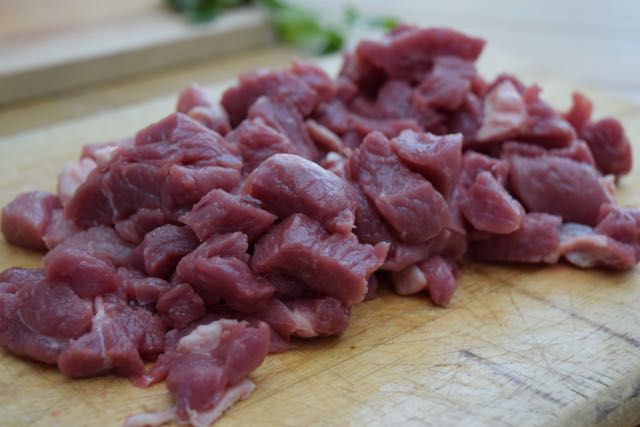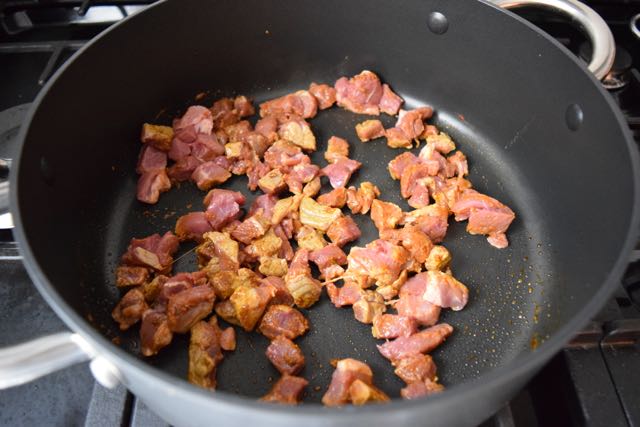 Next into the pan, stir in the rice, I used Basmati, for fragrance and quality, then pour on some lamb or chicken stock and stir.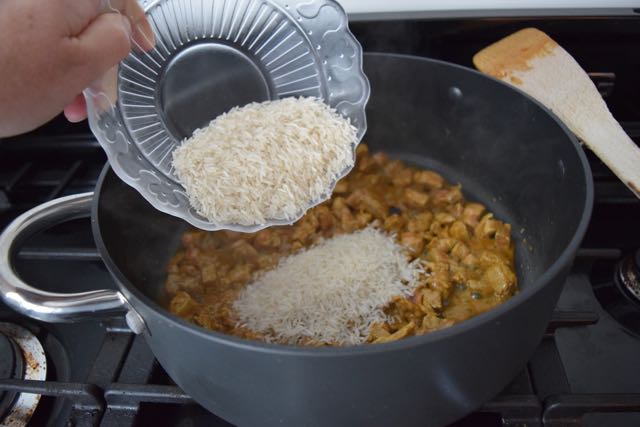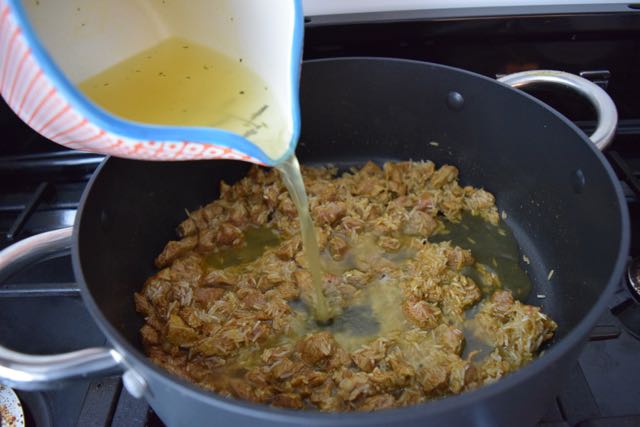 Now pop the lid on your pan and leave to simmer, gently, for 20 to 25 minutes or until the rice is soft and cooked through.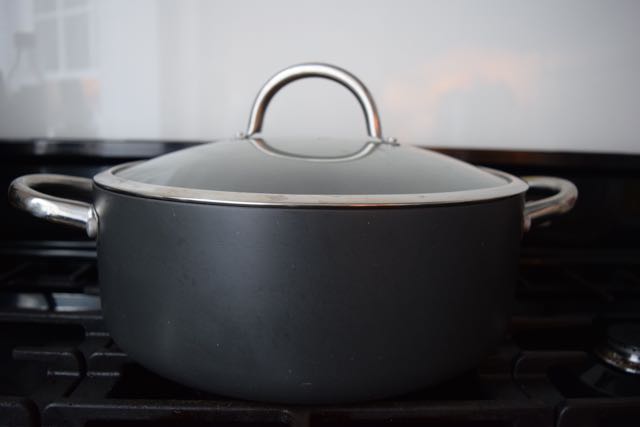 Once your whole kitchen is filled with the scent of lamb biriyani, remove the lid and stir through the spinach leaves, along with the chopped fresh coriander and put the lid back on for a final 5 minutes.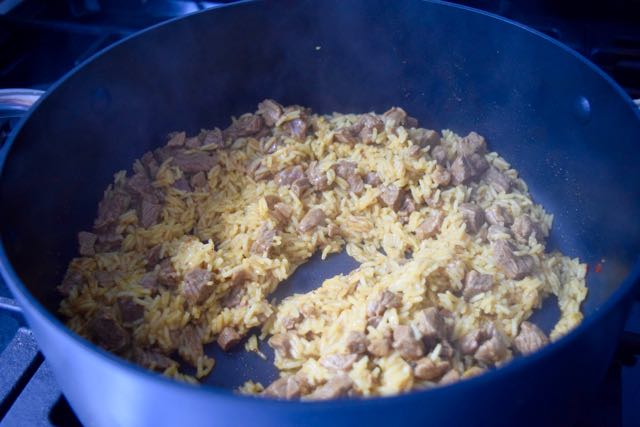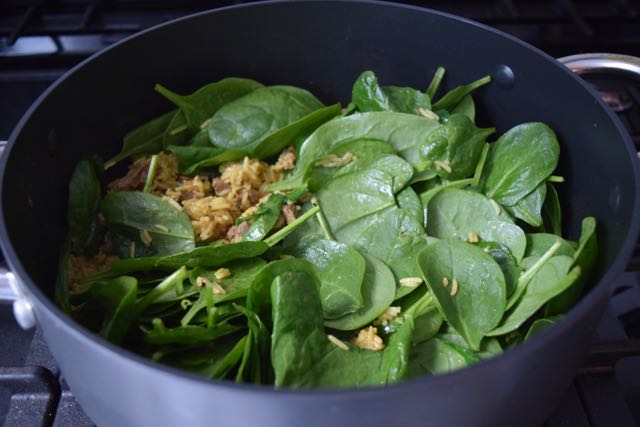 Now, if you are just serving this as a super Lamb Biriyani, pop large spoonfuls into a bowl, adorn with yet more fresh coriander and serve with some mango chutney and chilled Greek Yoghurt. However, if you are treating your dinner guests to biriyani balls, put mixture in a bowl, or for speed lay out on a baking tray and allow to cool for around 10 minutes or until cool enough for you to handle.
You are now ready to fashion your mixture into tapas style balls. Place the breadcrumbs on one plate and the 2 beaten eggs onto another.  Stir in a beaten egg to bind the rice and lamb, then take a heaped tablespoon of mixture and squeeze and roll into a ball using damp hands. Take the ball and roll in the beaten egg then roll it in your breadcrumbs, making sure it's well covered. Place each ball onto a lined tray while you continue until all the mixture is used. Depending on the size of your rice balls, you should make around 20 pieces.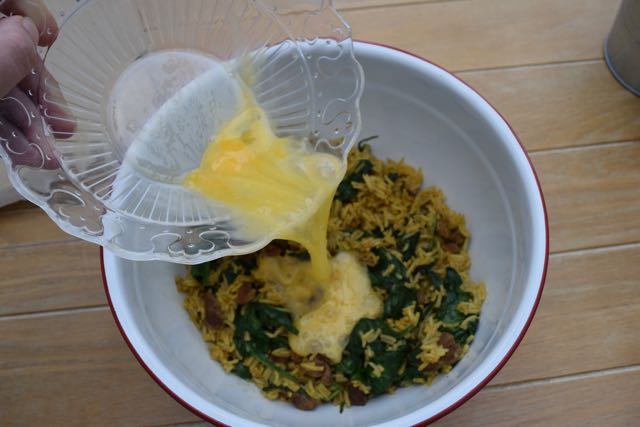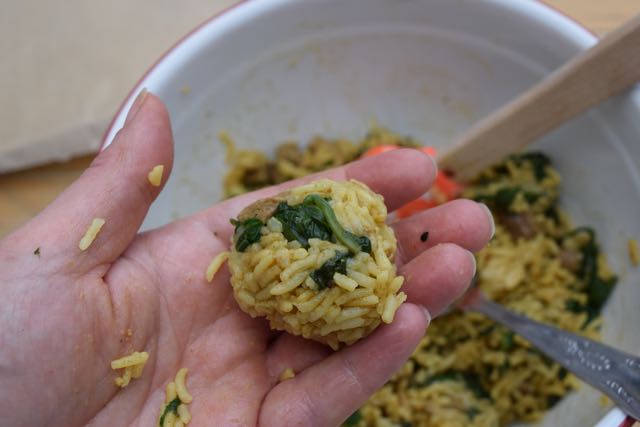 Make sure each ball has lots of lovely lamb in it.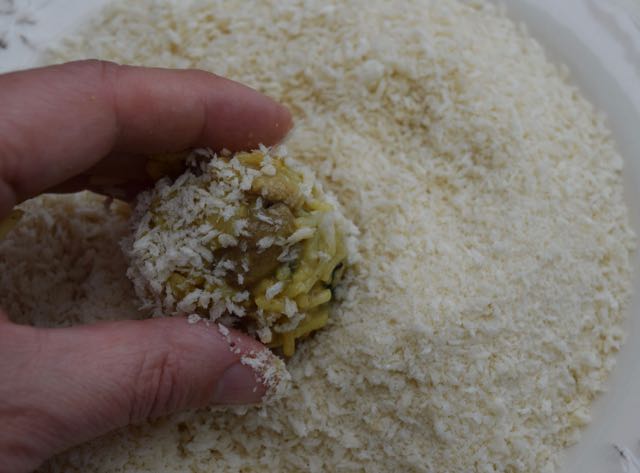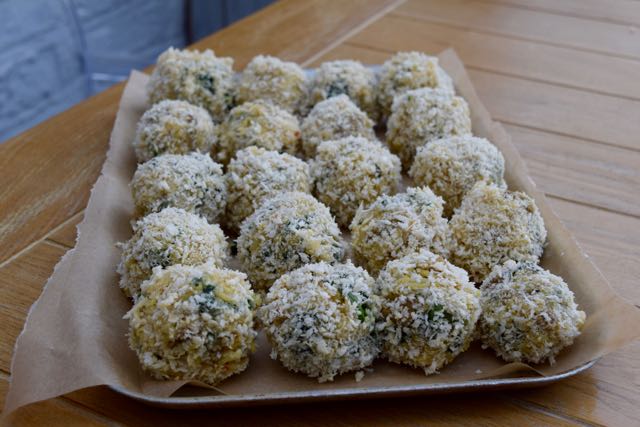 Take a high sided frying pan and pour in your oil. It should be a good couple of inches deep. Heat, carefully, until just simmering and until when you drop a breadcrumb in, it sizzles. This is now ready to cook your Biriyani Balls.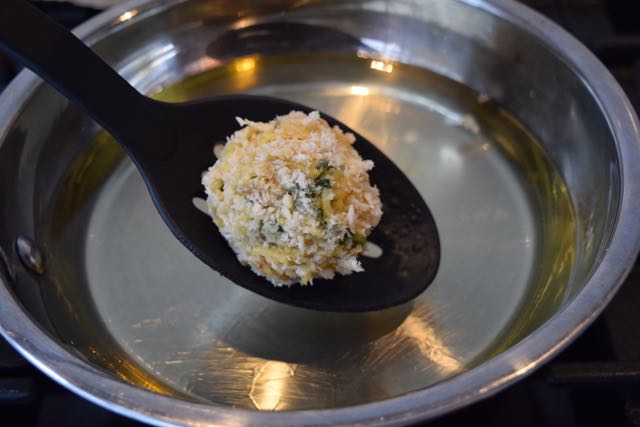 Place a ball into the oil with a slotted spoon, around 3 to 4 at a time, and cook until golden, turning to ensure an even colouring. This will take about 2 minutes on each side.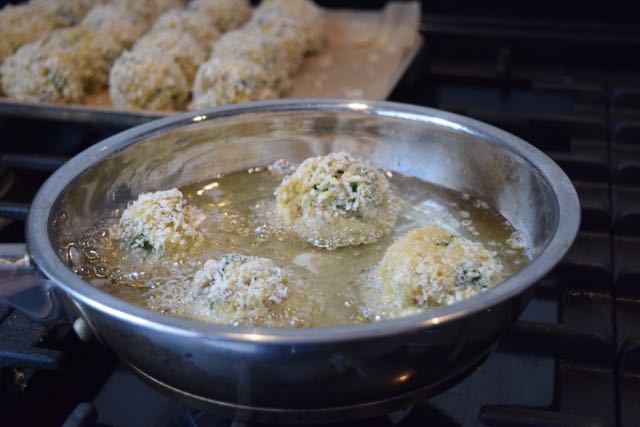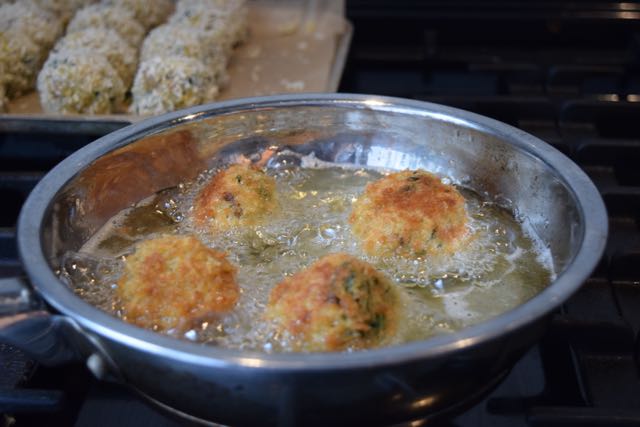 Place the cooked, crisp curried treats onto kitchen paper to drain then place in a low oven to keep warm while you finish cooking the rest.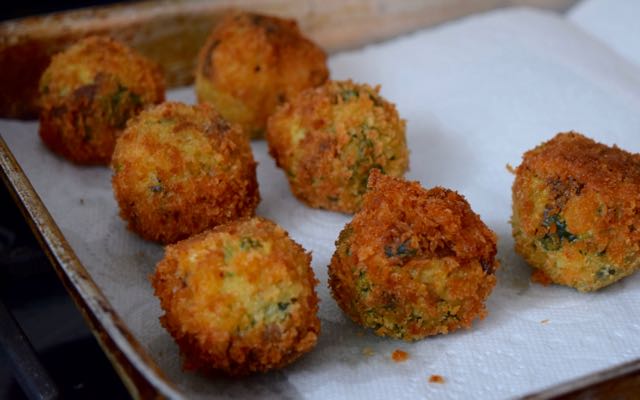 Whether you are serving these as elegant nibbles or a first course, make sure you have plenty of mango chutney or Greek yoghurt and fresh coriander to serve.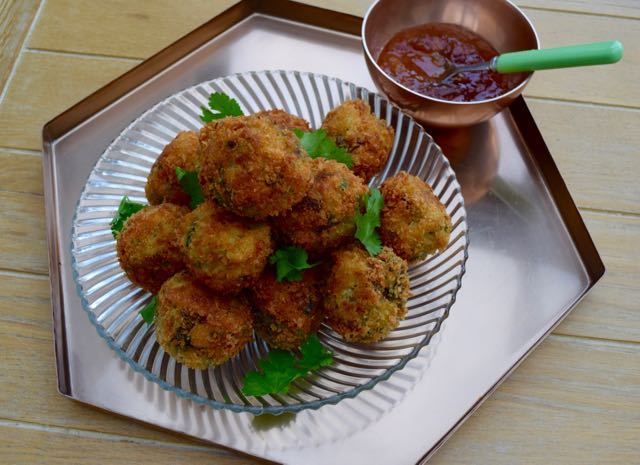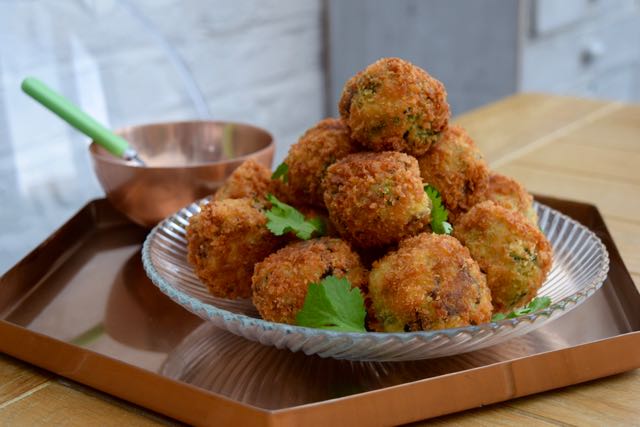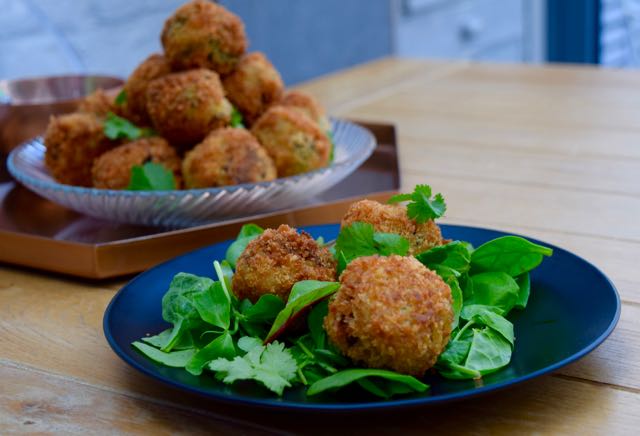 Crisp crumbs, soft spiced rice and tender lamb, this is easy, tasty food at it's finest.  Quick enough to be a weekday dish but stylish enough for a dinner party, this is a versatile little number. This little batch did not last long in our house, so I just went ahead and made another one.
Lucy x
This recipe was written in conjunction with Lamb. Tasty Easy Fun, but, as always, my thoughts and ramblings are my own.
Lamb Biriyani Balls Recipe
This makes a Lamb Biriyani for serve 4 people or 20 Biriyani Balls as a canapé or first course
 You will not need any specialist equipment
1 tablespoon Balti curry paste
400g lean lamb leg steaks, cut into small cubes
150g basmati rice
300ml stock, chicken or lamb
125g baby spinach leaves, rinsed
2 tablespoons fresh coriander, chopped
salt and pepper
1 egg, beaten
75g panko breadcrumbs
2 eggs, beaten
300ml vegetable oil, for shallow frying
Fresh coriander, leaves, mango chutney or Greek yoghurt to serve
For the biriyani base, take a large frying pan and heat the tablespoon of curry paste until sizzling. Chop your lamb leg into a small dice and add to the hot pan. Cook until just starting to brown then stir through the rice and coat in the curry spices.
Pour on the stock, stir well, then put the lid on your pan for 15 to 20 minutes or until the rice is just cooked through. When the time is up, remove the lid and tip in the spinach leaves, stir to coat, then put the lid back on for 5 minutes until the spinach has wilted down. You can serve this now, as a simple, but delicious Lamb Biriyani.
To make the Biriyani Balls, leave the curry to cool, adding it to a bowl or spreading it out on a tray to speed up the process. Once cooled, stir through a beaten egg to bind the mixture. Take a heaped tablespoon of the rice and lamb and mould it into balls.
On two separate plates place the breadcrumbs on one and the 2 beaten eggs on the other, then roll your biriyani ball in the egg then the breadcrumbs and ensure it's evenly coated. Place the crumbed ball on a lined tray while you finish the rest of the batch.
Take a high sided frying pan and pour in some vegetable oil, around 300ml or until you have the depth of around 2 inches. Heat, carefully, over a medium heat until the oil is shimmering and a breadcrumb sizzles when dropped in the oil.
Place 3 to 4 balls in the oil at a time, using a slotted spoon and cook for around 2 minutes on each side; keep them moving so they cook and brown evenly.  The cooked balls are golden brown and piping hot. Place them on kitchen paper to drain then keep in a warm oven while you finish cooking the rest of the batch.
Serve garnished with freshly chopped coriander and alongside some leaves, mango chutney and/or Greek yoghurt.
The balls can be made in advance and reheated before serving or frozen once cooked and cooled for up to a month. Fully defrost before reheating in a hot oven.
SaveSave
SaveSave
SaveSave