Rose Syrup and Bouquet Cocktail Recipe
There's never enough pink in my life, what with me having a male heavy home. I'm not imposing gender stereotypes, my boys rock a bit of pink, but there's not a bloody unicorn lunch box in sight what with them being 15 and 19, so I do love to fashion pink food and drink where possible to even up all the khaki and grey in the house. Coupled with the fact I love rose flavoured things, I decided to make a wonderful homemade Rose Syrup to use in a gin based Bouquet cocktail, and to drink this to celebrate my own Mother's Day.
Undoubtedly I will be spoilt to pieces this Mother's Day, as usual. And by spoilt to pieces, I am hoping not to have to cook my own lunch and to be taken to the pub for an Aperol Spritz at some point during the day. However, this Rose Syrup is a lovely way to treat anyone and not just on Mother's Day. It comes courtesy of the Flavor Blender, with thanks. It's lightly rose scented, nothing too overpowering, and is delicately tinted thanks to the addition of either a few hibiscus flowers or a couple of drops of food colouring. You can then add the Rose Syrup to either a chilled glass of Prosecco or you can fashion it into the aptly entitled Bouquet cocktail, courtesy of the ever helpful Diffords website.  This is a Gin based treat, well, it is my Mother's Day too, and has the freshness of lemon juice and the warmth of honey to add to the floral rose syrup. It's highly drinkable, I can vouch for this, as the Bouquet served as a refreshing hangover cure when I mixed it last Sunday.
Mother's Day is a time for celebrating, not only your Mother, but any Mother figures you have in your life. I am sure they will feel loved and appreciated with a delicious homemade Rose Syrup. And they will feel a little tiddly too, especially when you make it into a Bouquet Cocktail for them.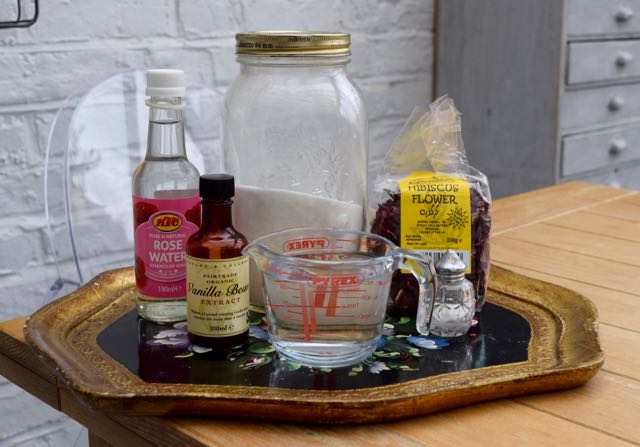 Such a beautiful line up for this homemade Rose Syrup. I used some of my hibiscus flowers to colour mine, but if you don't have these and you want your syrup to be pink, then do feel free to add some pink food colouring. I got my rose water from Ocado, but most supermarkets sell it as do chemists apparently.
Make a start by adding the caster sugar, water, vanilla and rose water to a small saucepan.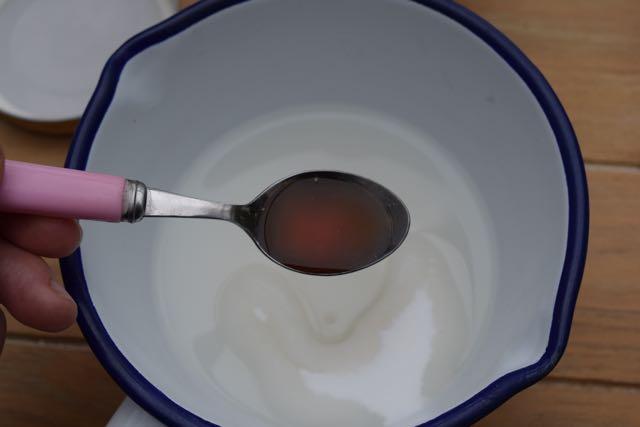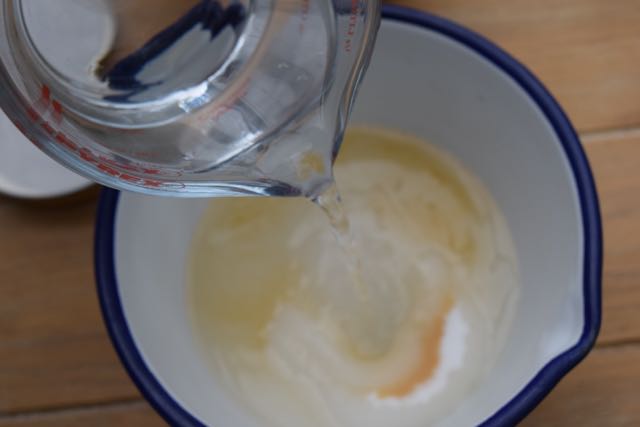 Drop in the hibiscus flowers, if using and the pinch of salt. Bring up to the boil then simmer for 5 or so minutes, until the sugar has dissolved and turned a lovely rich pink colour.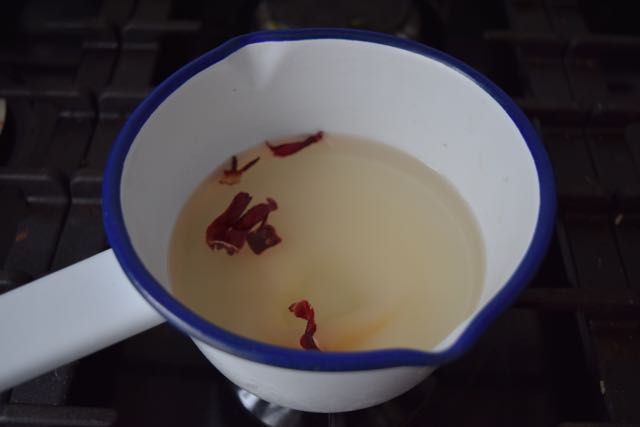 Pour this fragrant and elegant rose syrup into a bottle or jar, removing the flowers, and allow to cool.  If you didn't have the flowers, stir through some pink food colouring now if you like. Now you can use this to make some wonderful cocktails.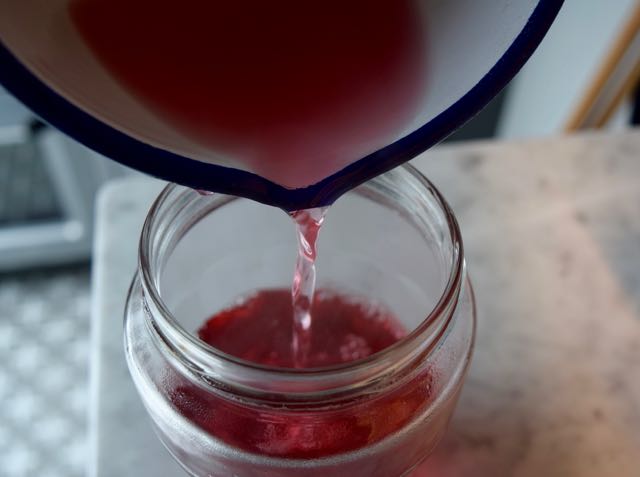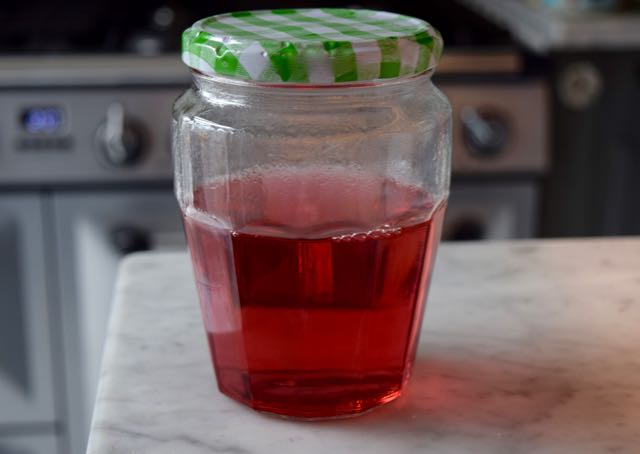 One of these being the Bouquet.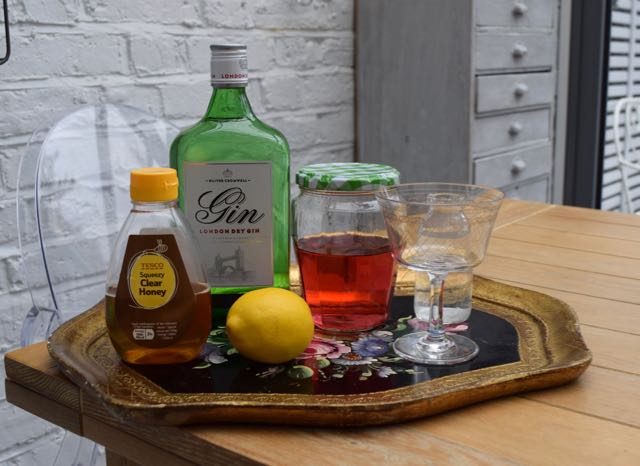 Again, another beautiful line up for the Bouquet cocktail, featuring the lovely homemade Rose Syrup. The syrup can also be served with Prosecco, although not for me, of course, because I am allergic to it *have drunk far too much of it*.
On this occasion though, let's make a start by adding a big handful of ice to your cocktail shaker. Follow in with some honey, gin, your home made rose syrup, lemon juice and water.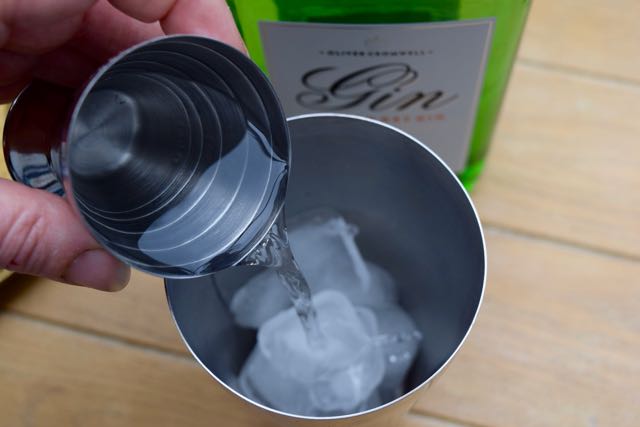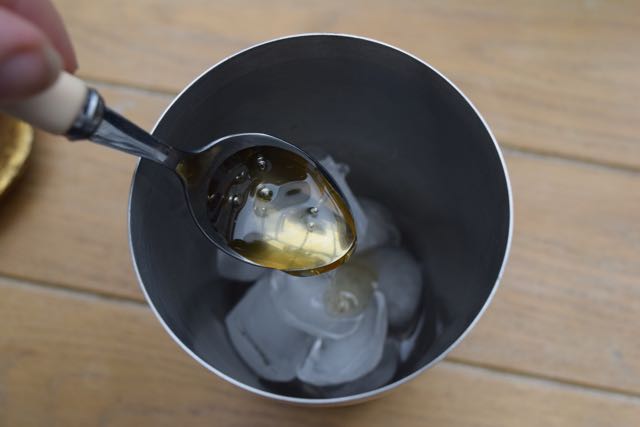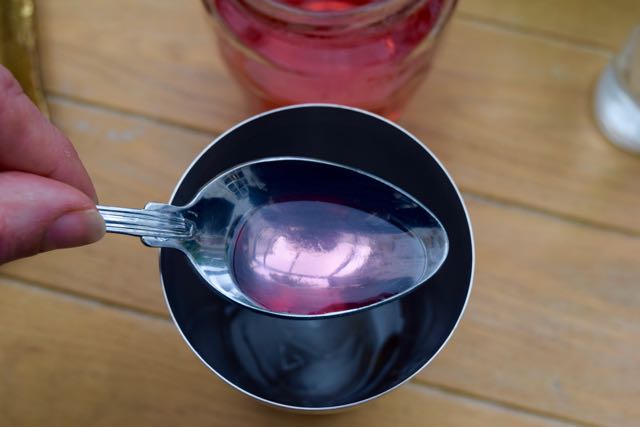 Shake this fragrant blend until the shaker is chilled then pour into your elegant glass with carefree abandon.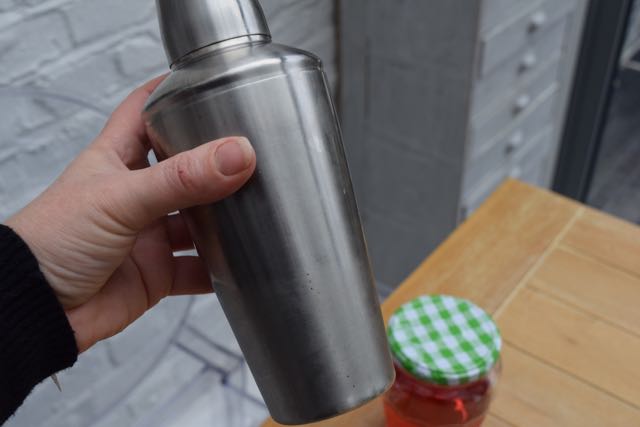 Trotter alert.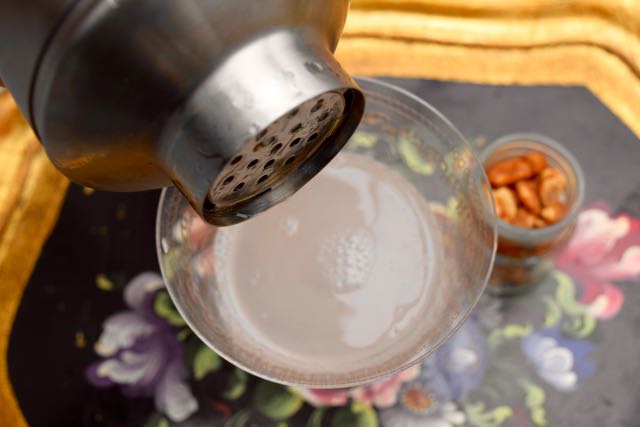 Garnish with an edible rose petal if you have one to hand or if not, a twist of lemon zest. Sip and feel loved and appreciated.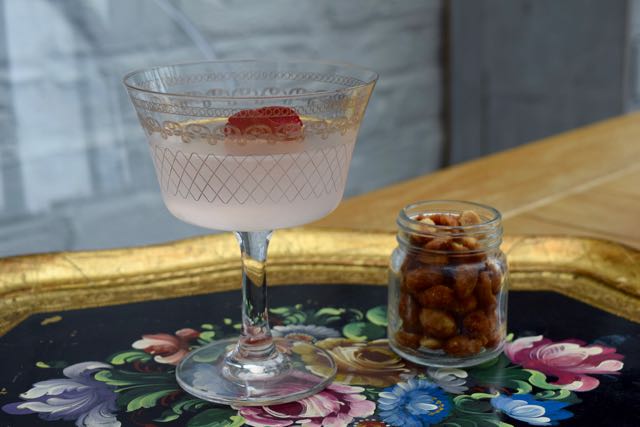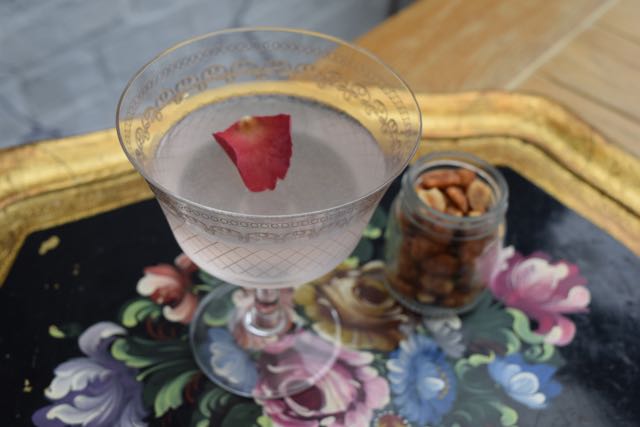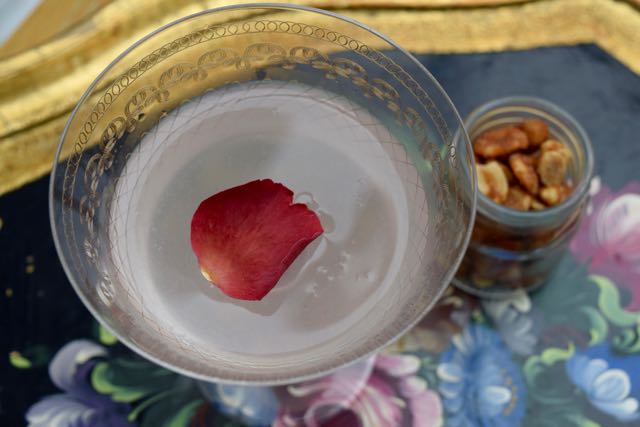 If you have ballsed up and let Mother's Day drop off your radar, this wonderful gift of home made Rose Syrup can easily be whipped up and you will have redeemed yourself fully. This is one Bouquet which doesn't whither and lose it's petals and is far more impressive than a last minute bunch from the garage.
Happy Mother's Day and Happy Cocktail Friday, both always huge causes for celebration.
Lucy x
Rose Syrup Recipe
Makes around 400ml 
You will need a bottle or jar to store this in
Rose Syrup
200g caster sugar
60ml water
190ml rose water
a pinch of salt
1 teaspoon vanilla extract
3 or 4 hibiscus flowers to colour, or use a few drops of pink food colouring
Bouquet Cocktail
You will need a cocktail shaker and an elegant glass
1 teaspoon honey
60ml Gin
1 tablespoon lemon juice
1 tablespoon Rose Syrup
1 tablespoon water
Ice
Rose petal or lemon twist to garnish
Start with the Rose Syrup. Take a small saucepan and add the sugar, water, rose water, pinch of salt and vanilla. Add the hibiscus flowers if you're using. Bring to the boil then simmer for 5 minutes. The syrup should be a lovely pink colour. If you haven't used the flowers, stir in a touch of pink food colouring now if you like. Pour into a jar or bottle, removing the flowers, and leave to cool.
For the Bouquet cocktail, add a handful of ice to your cocktail shaker followed by the honey, gin, lemon juice, rose syrup and water. Shake until chilled then pour into a pretty glass and garnish with a twist of lemon or a rose petal. Sip and enjoy.
The rose syrup will keep in the fridge for up to a month.
SaveSave
SaveSave
SaveSave