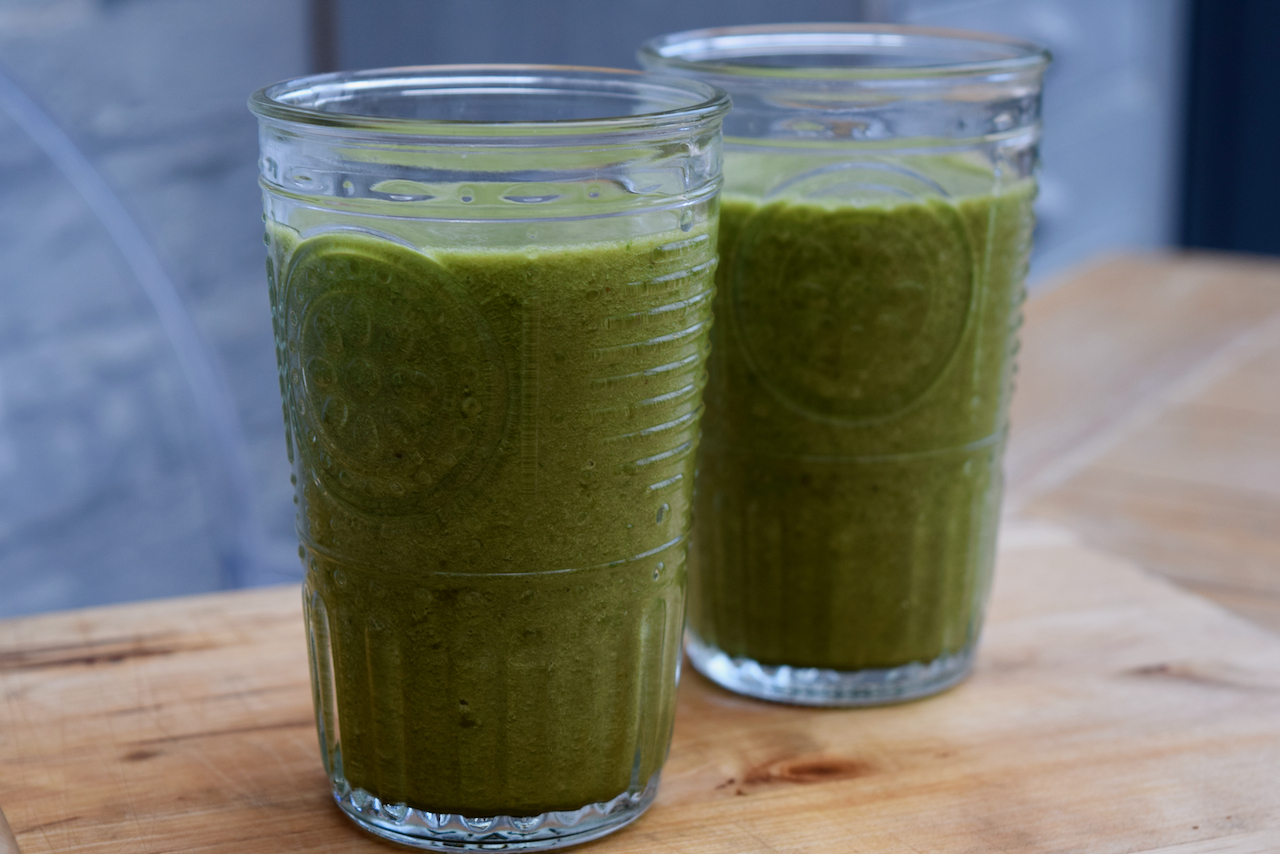 Glowing Green Smoothie Recipe
It's November, the time we can legitimately start thinking about Christmas. I try to avoid it at all costs until I have at least got George's birthday out of the way, but inevitably, the C word does creep up and bite you on the arse. Soon, I will abandon all good eating and drinking habits under the guise of it nearly being Christmas, but before then, I am in the mood to be wholemeal. This Glowing Green Smoothie may look like pond water, but it tastes deceptively delicious and, if drunk regularly, may have you looking party ready before you know it.
Modern Honey *thanks for the inspiration* bills this green smoothie as an aid to a glowing complexion. My aging old face needs all the help it can get, so I felt this was ripe for the sharing. At this time of the year I have lost my summer glow and as I hurtle towards 50 I will try anything to look more vibrant. This Glowing Green Smoothie is packed with ingredients which may help with this: Kale and spinach full of vitamin C and antioxidants, cucumber for detoxification as well as banana and apple juice for natural sweetness. I wasn't hopeful it was going to taste amazing, but both Clyde and I were pleasantly surprised and keen to have another. That statement alone from Clyde, the self confessed green-vegetable-a-phobe, should have you racing the supermarket to buy the ingredients.
There's a lot of greyness going on at the moment; the weather, the news and my mood. This Glowing Green Smoothie is here to brighten everything, well at least I bloody hope it is.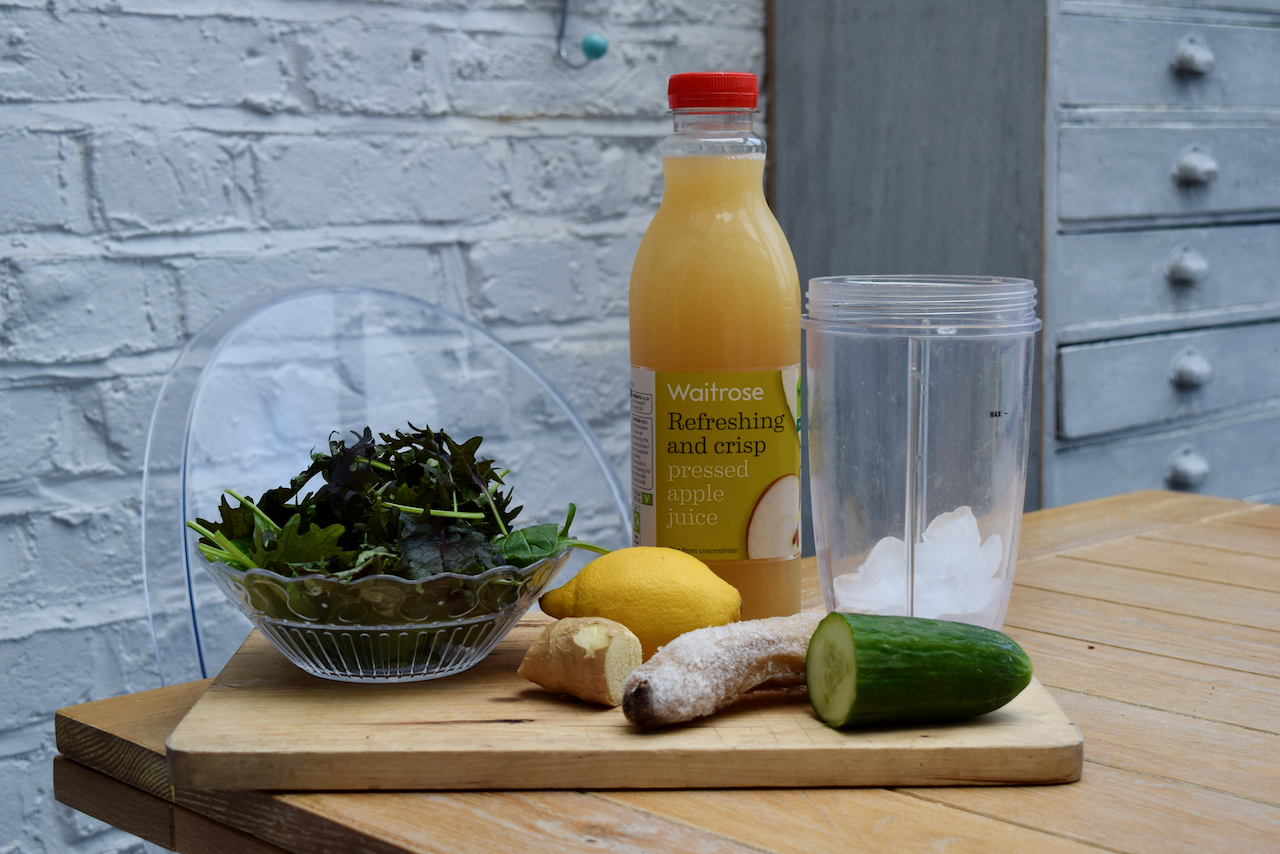 What a vibrant line up for this wholesome smoothie. Apart from the rather ugly looking frozen banana, one of the 400 or so I have in my freezer. I used baby spinach and baby kale for my recipe; they are less bitter and fibrous than the regular variety. I didn't add any honey or maple syrup and this was just sweet enough, but if you have a penchant for sweetness then add a tablespoon to taste.
This is quick and simple, so make a start with your blender or Nutribullet and add a handful of ice.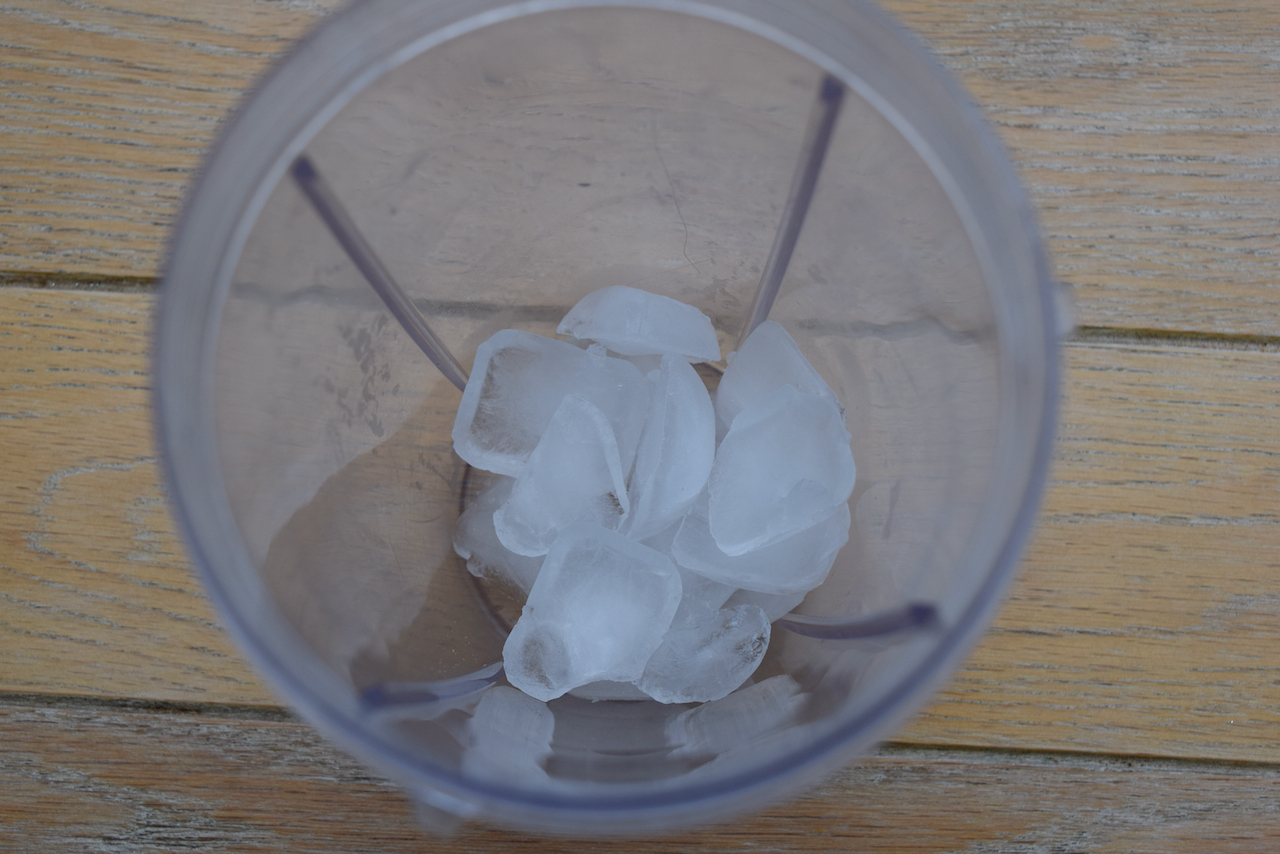 Add the quarter of cucumber and the chopped fresh ginger. This adds zing and some anti-inflammatory properties.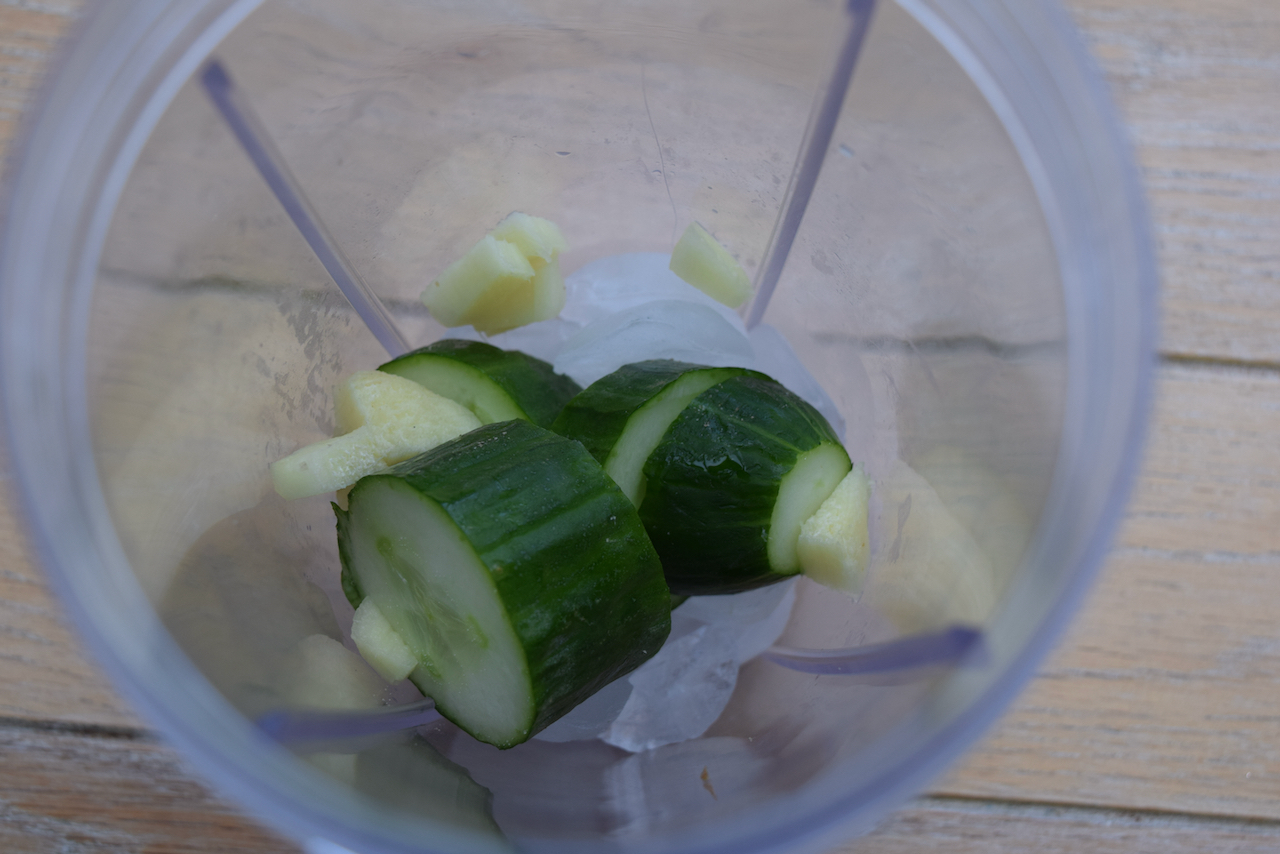 Follow in with the unattractive frozen or fresh banana and the fresh lemon juice.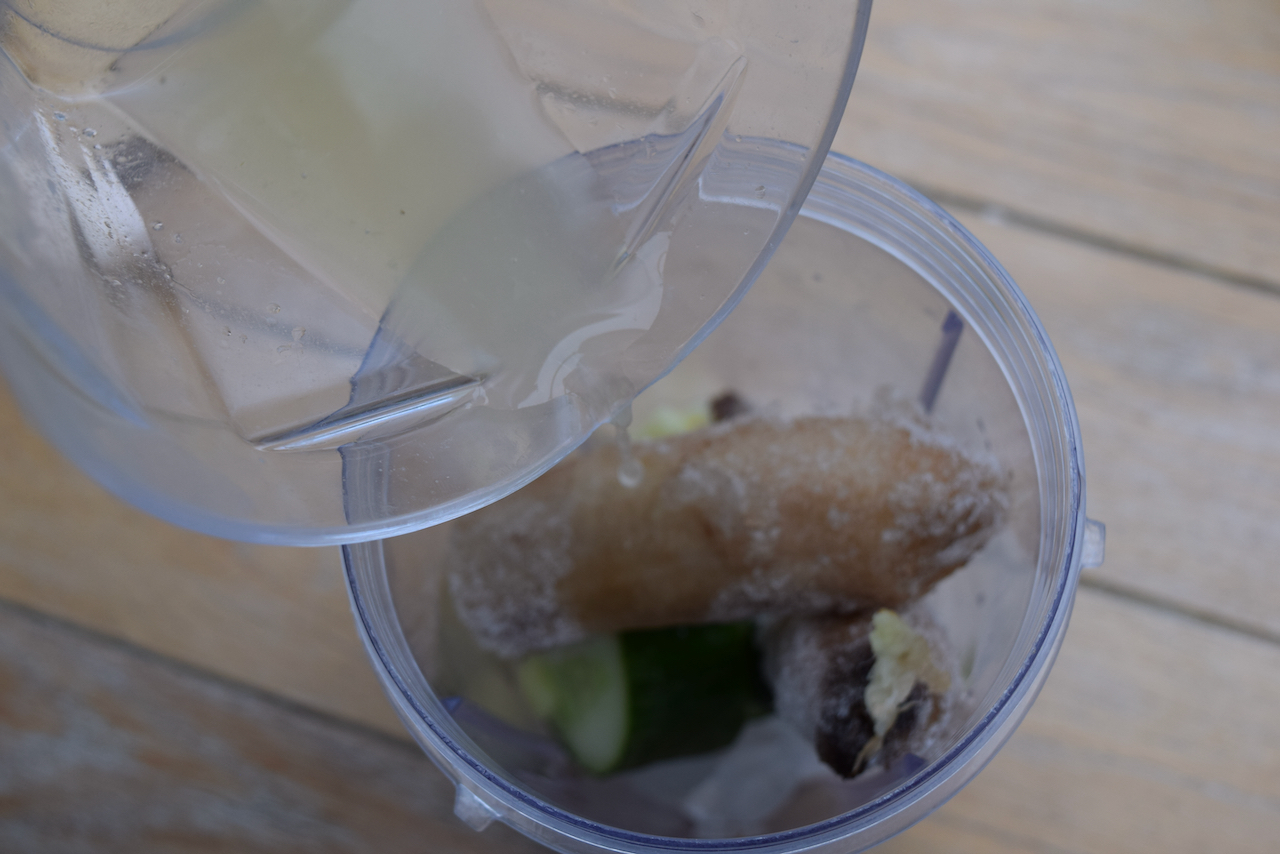 Stuff the handfuls of kale and spinach into the blender then pour on the apple juice.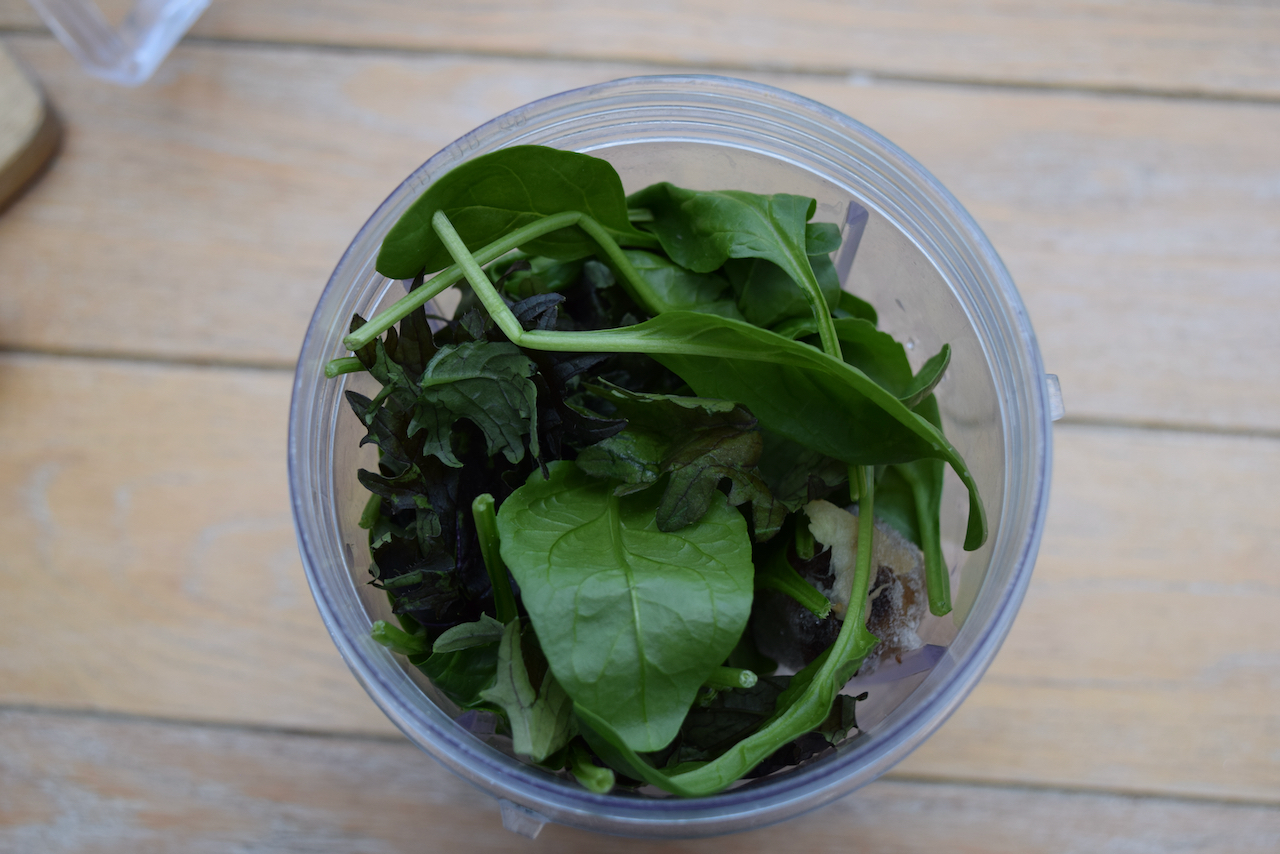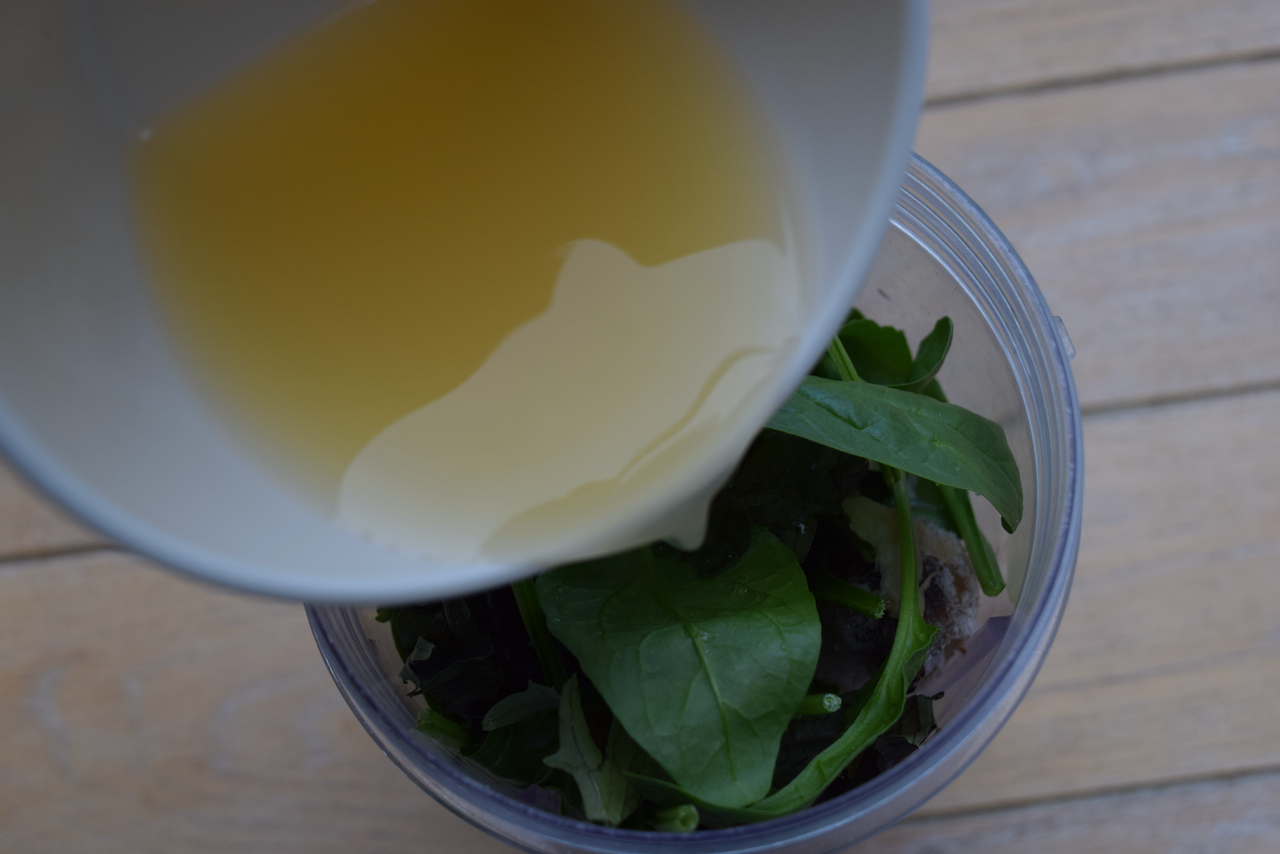 Blend this brilliant mix until smooth, if a little spooky looking. Pour into two glasses.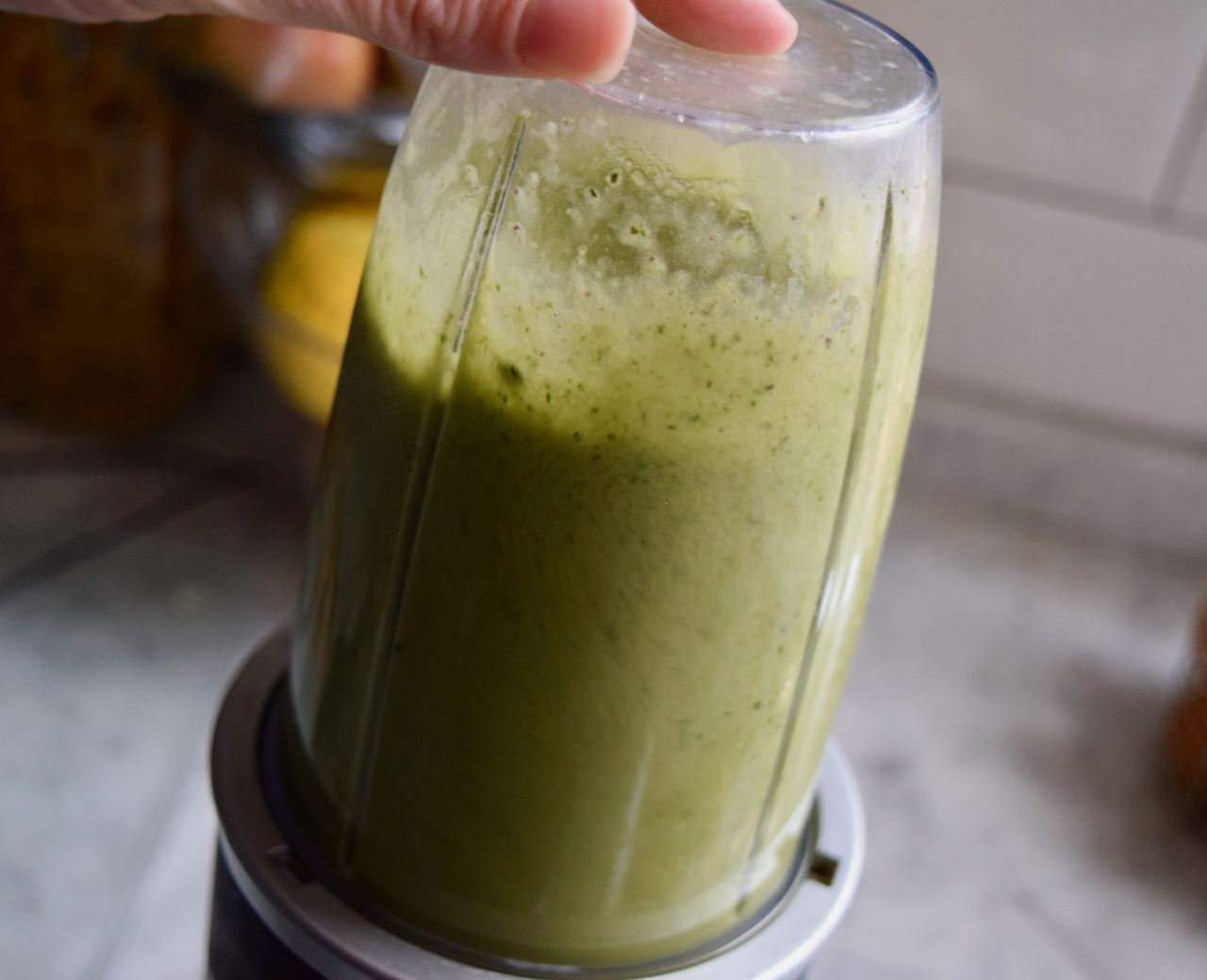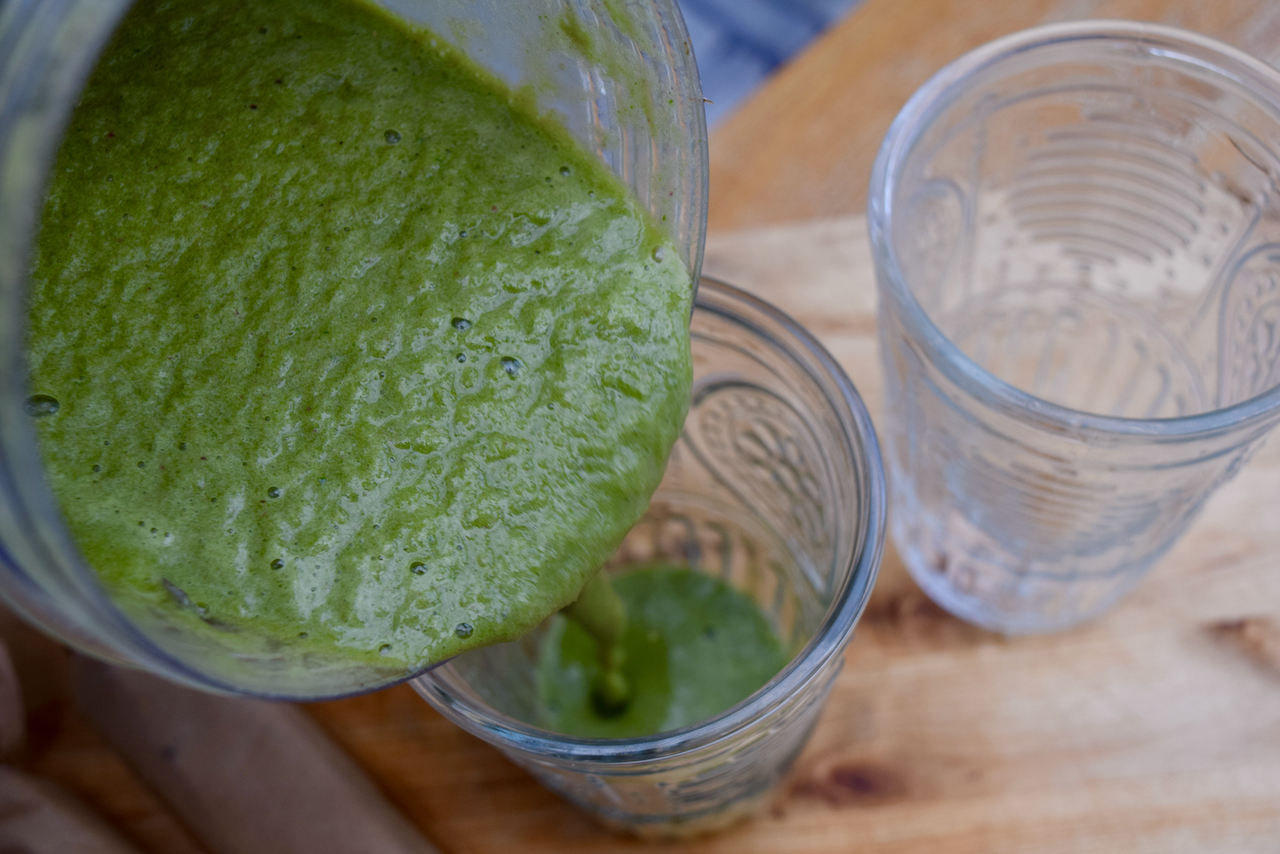 Don't judge a book by it's cover, or a smoothie by it's hue. This is fresh, vibrant and surprisingly delicious. And will have you looking party ready before you know it. Allegedly.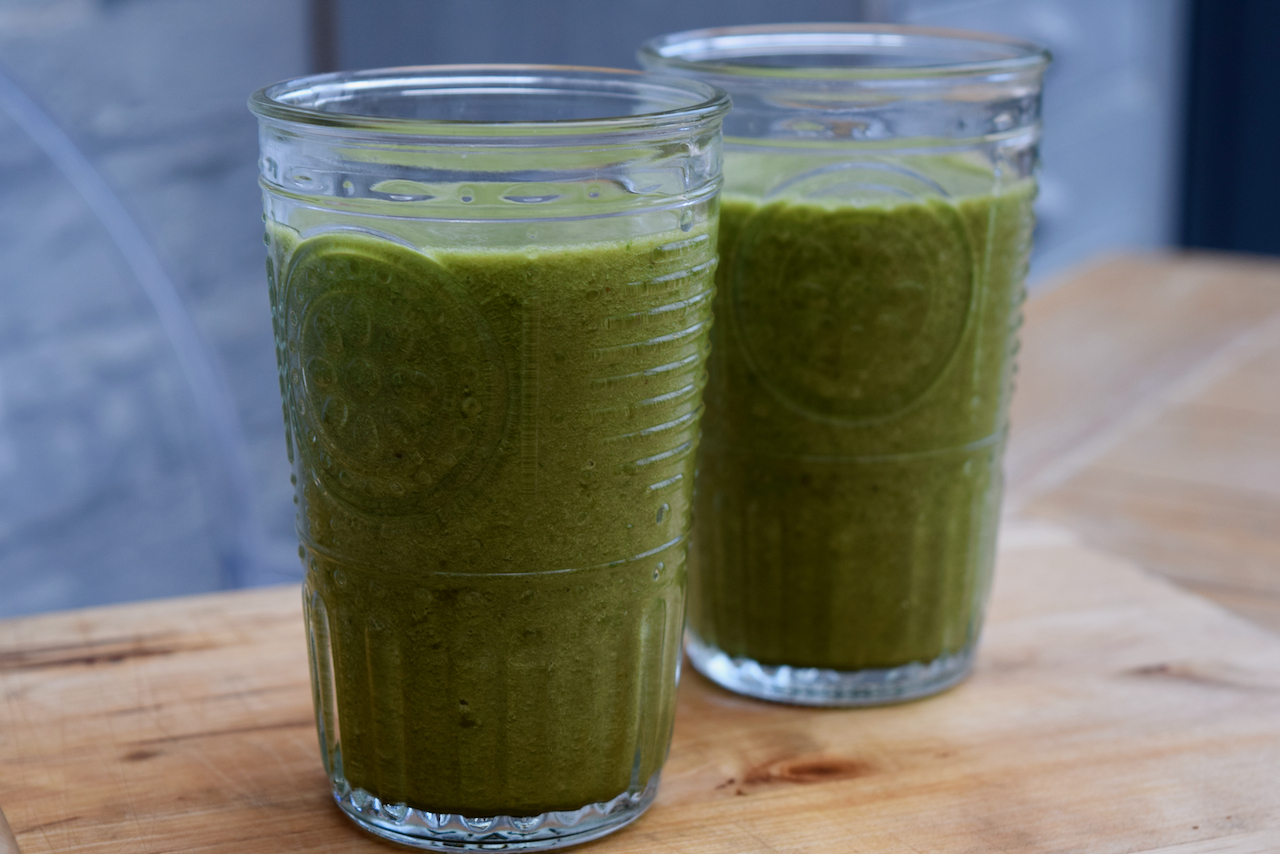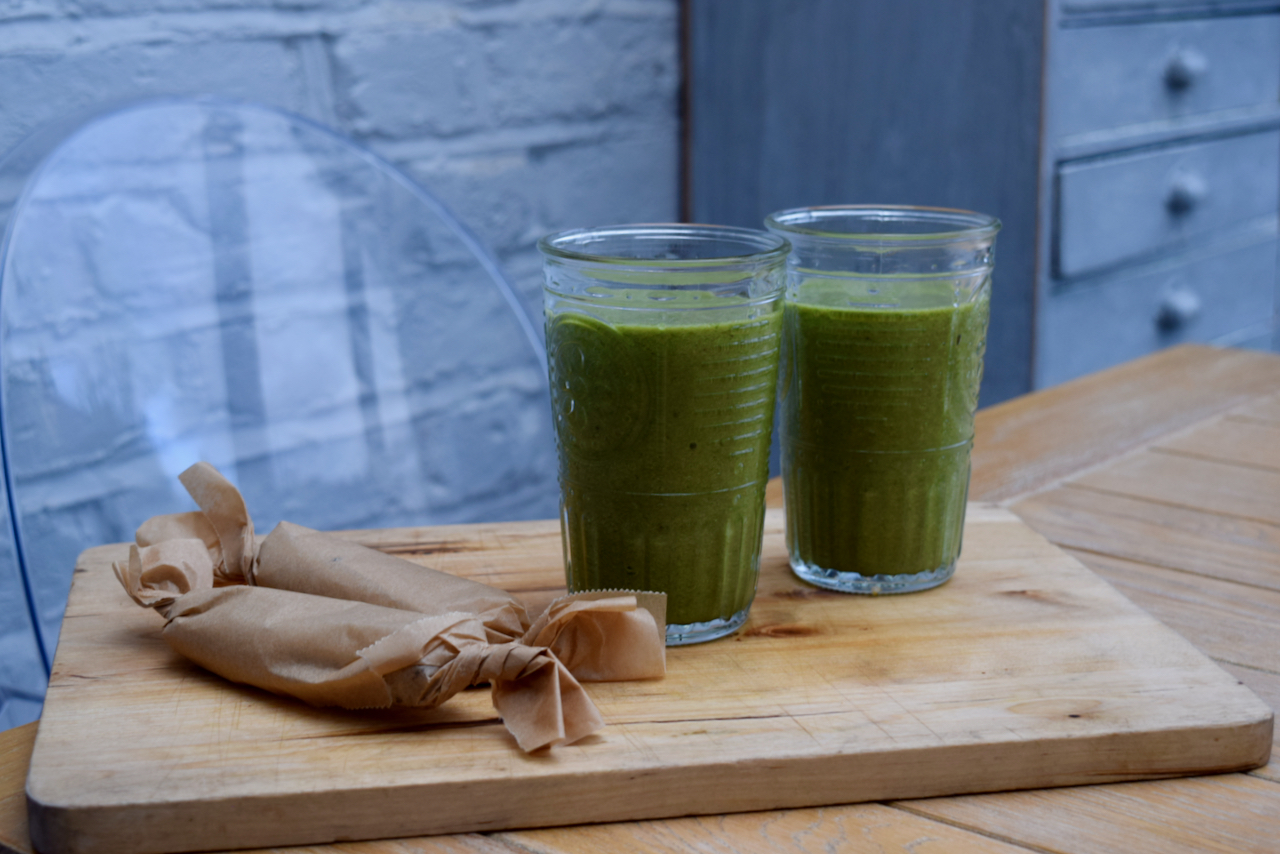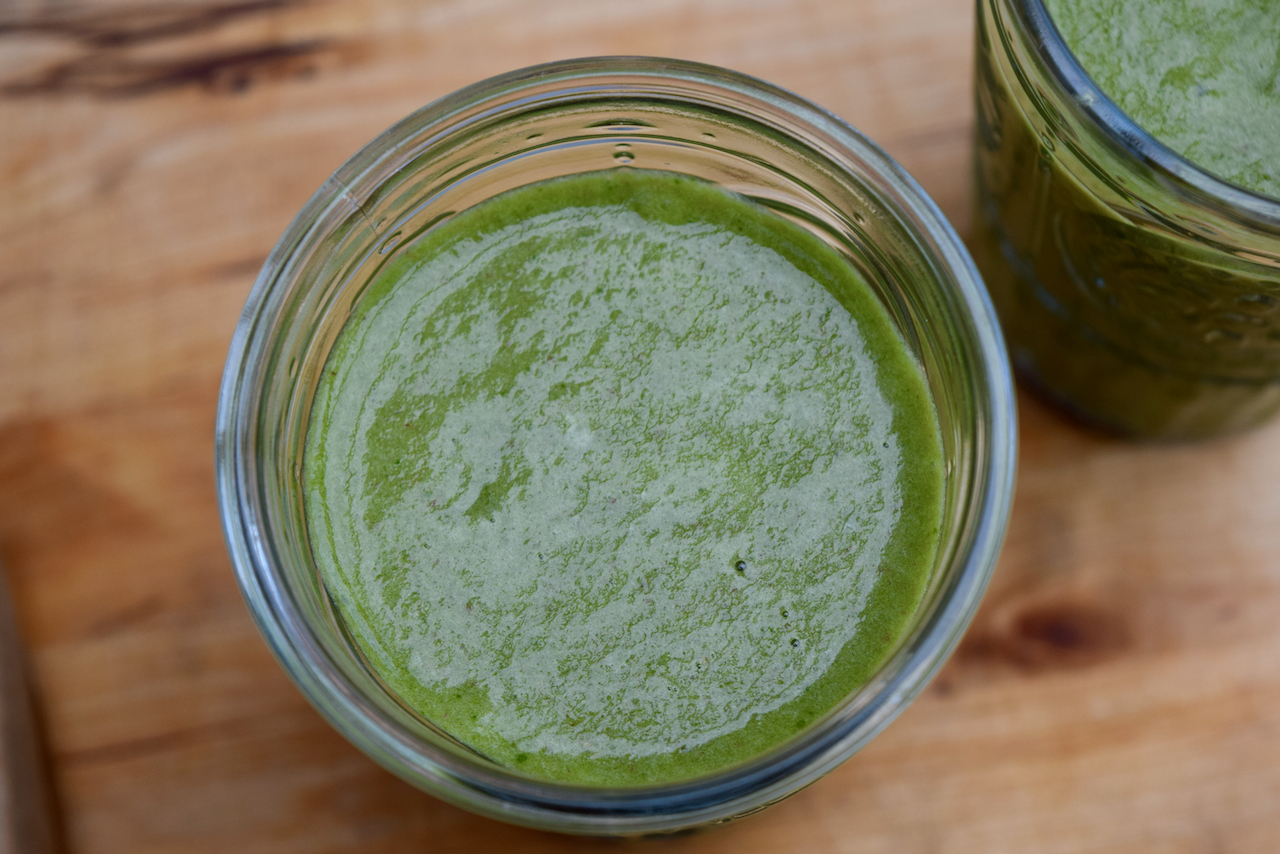 I can't promise this is going to give you the complexion of a 20 something, but I'll be happy to at least take 6 months of age. And as a gift with purchase, not only is this good for you, this tastes so much better than it looks.
Lucy x
Glowing Green Smoothie Recipe
Makes 2
You will need a blender or Nutribullet for this recipe
Ice
1/4 cucumber
An inch fresh ginger, peeled and chopped
Juice of half a lemon
1 frozen banana, or fresh if you don't have a frozen one
A handful kale, I used baby kale
A handful spinach
250m apple juice
Add ice to the goblet of your blender or Nutribullet. Follow in with the quarter of a cucumber, ginger, lemon juice, frozen or fresh banana, kale and spinach. Top up with the apple juice then blend until smooth.
Pour into two glasses and enjoy whilst chilled.