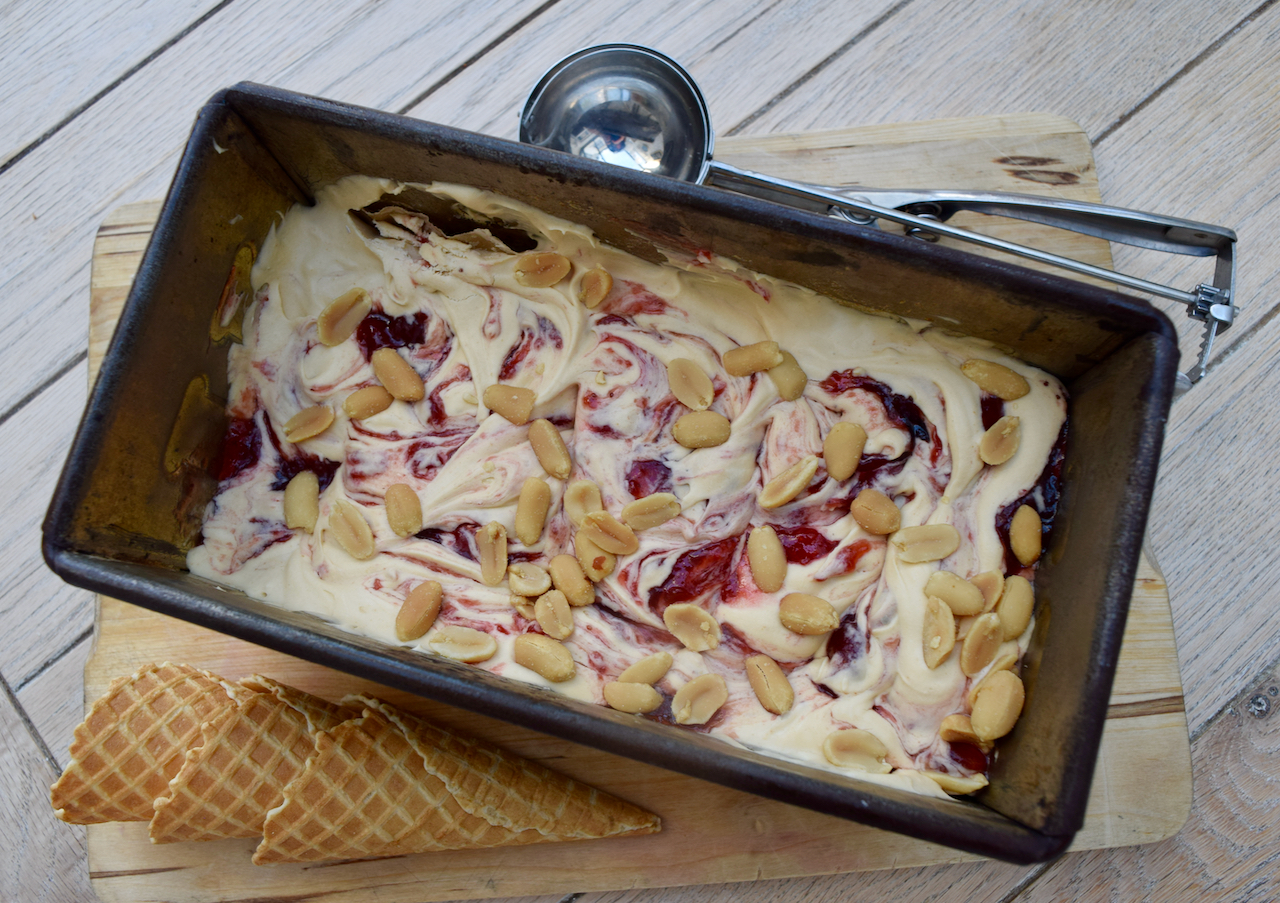 PB and J Ice Cream recipe
It's the 4th of July, American Independence Day. Not a biggie in my calendar as a fully fledged Brit but I do like to scrape in on someone else's celebrations. For me it's a chance to eat Strawberry Shortcakes, Peanut Butter and Jam Slice and now, PB and J Ice Cream.
Don't panic, this isn't one of those ice cream recipes where you have to start fannying around making a custard base. This is based on my simple ice cream recipe where condensed milk is the star of the show. All you need to join this is a lot of peanut butter, vanilla, double cream and a few good dollops of your favourite jam. It's a whisking situation, followed by a swirling situation then a straight into the freezer situation. Scatter the top with some salted peanuts for extra interest, then it's into a cornet or a bowl to devour at your leisure.
PB&J is for life, not just for Americans. And certainly not just for the 4th of July.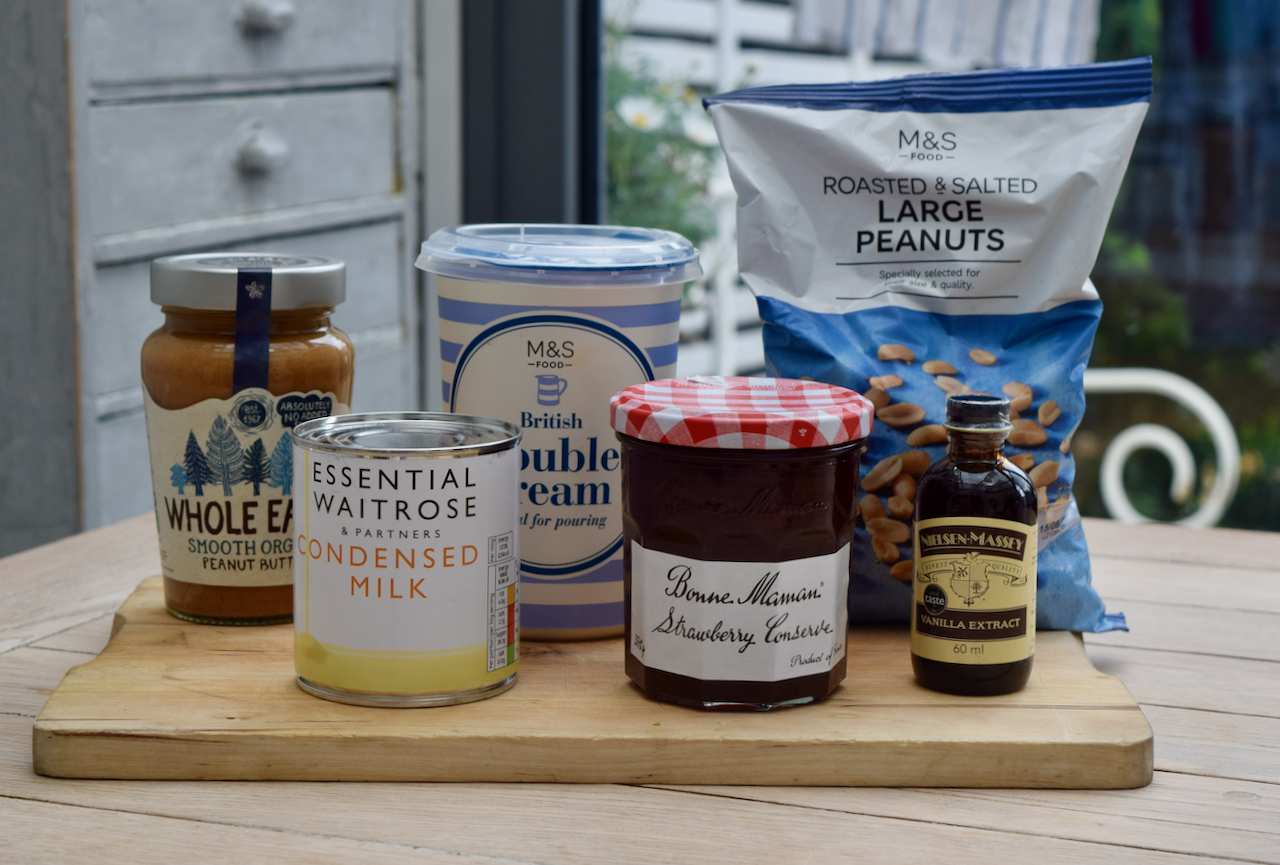 Here's the simple line up for this tarted up version of my simple ice cream recipe. Don't be fooled by the shiny new jars of jam and peanut butter; I used this recipe as an excuse to use up the 3 half open jars of smooth peanut butter and 2 nearly empty jam jars lurking, due to my family's appalling jar management skills.
Start with a medium sized bowl and the giant portion of peanut butter. I went for smooth as it was open, but I can imagine crunchy PB would be just as marvellous. Gradually mix in the condensed milk, until they're blended.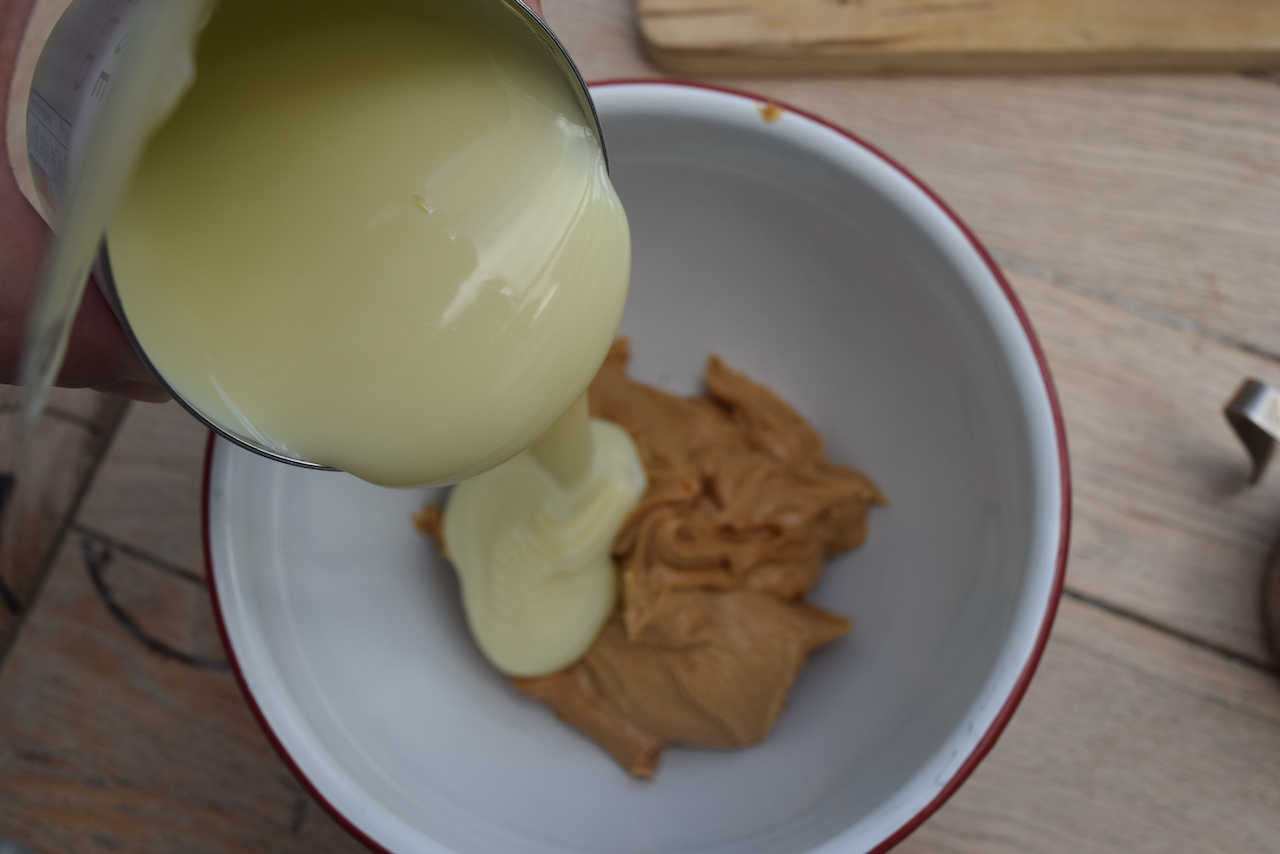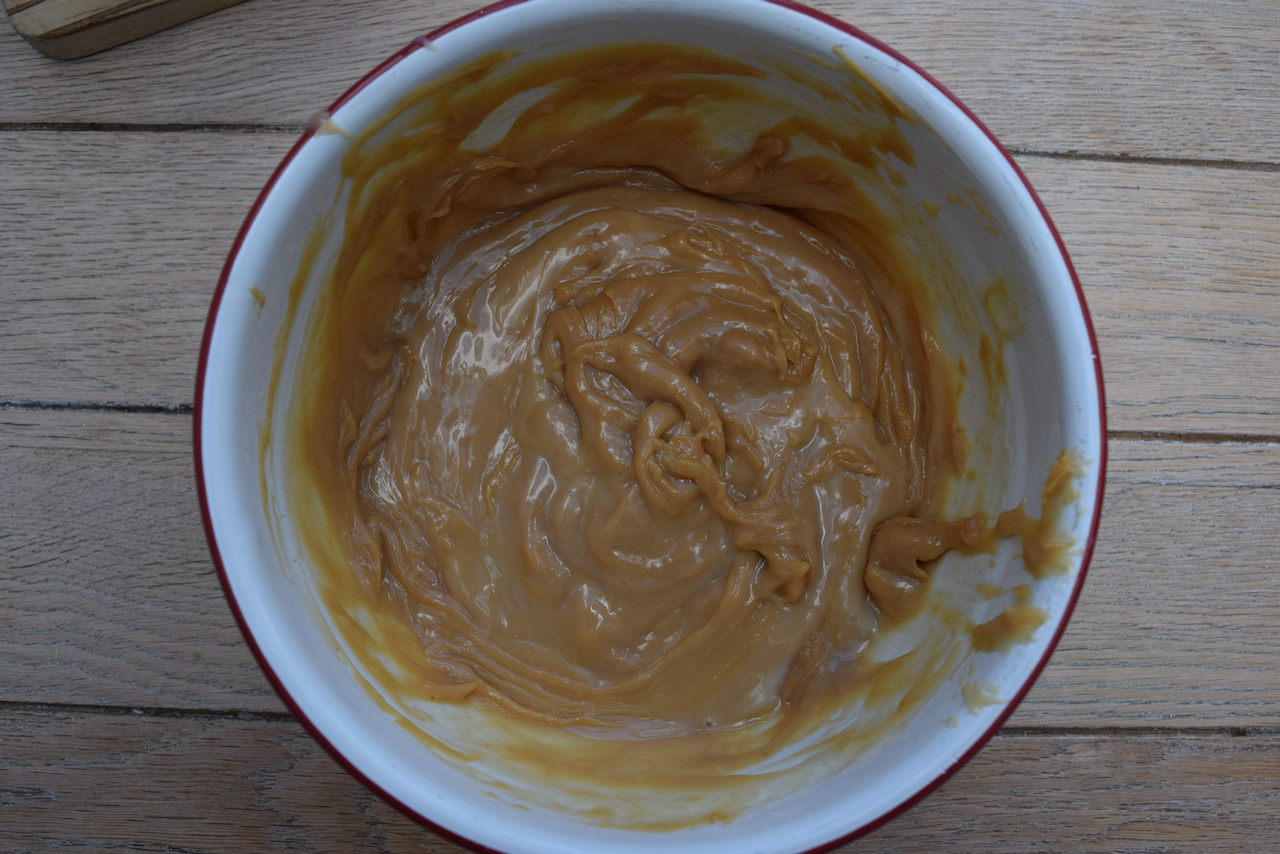 Now, in your stand mixer, or in a bowl with a hand whisk, beat the double cream and vanilla extract until the cream's just starting to thicken.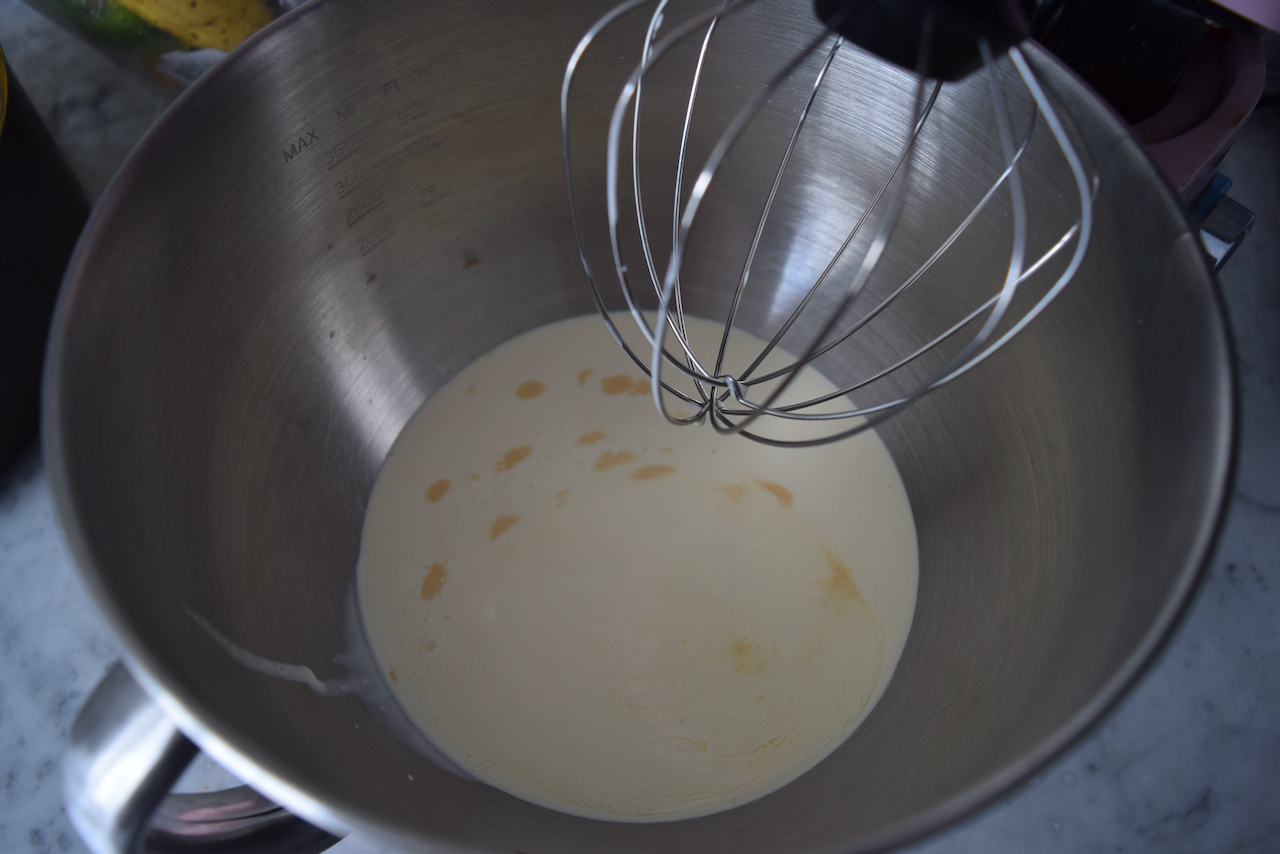 Next, dollop the condensed milk and PB mix into the cream and beat again, until thickened and totally combined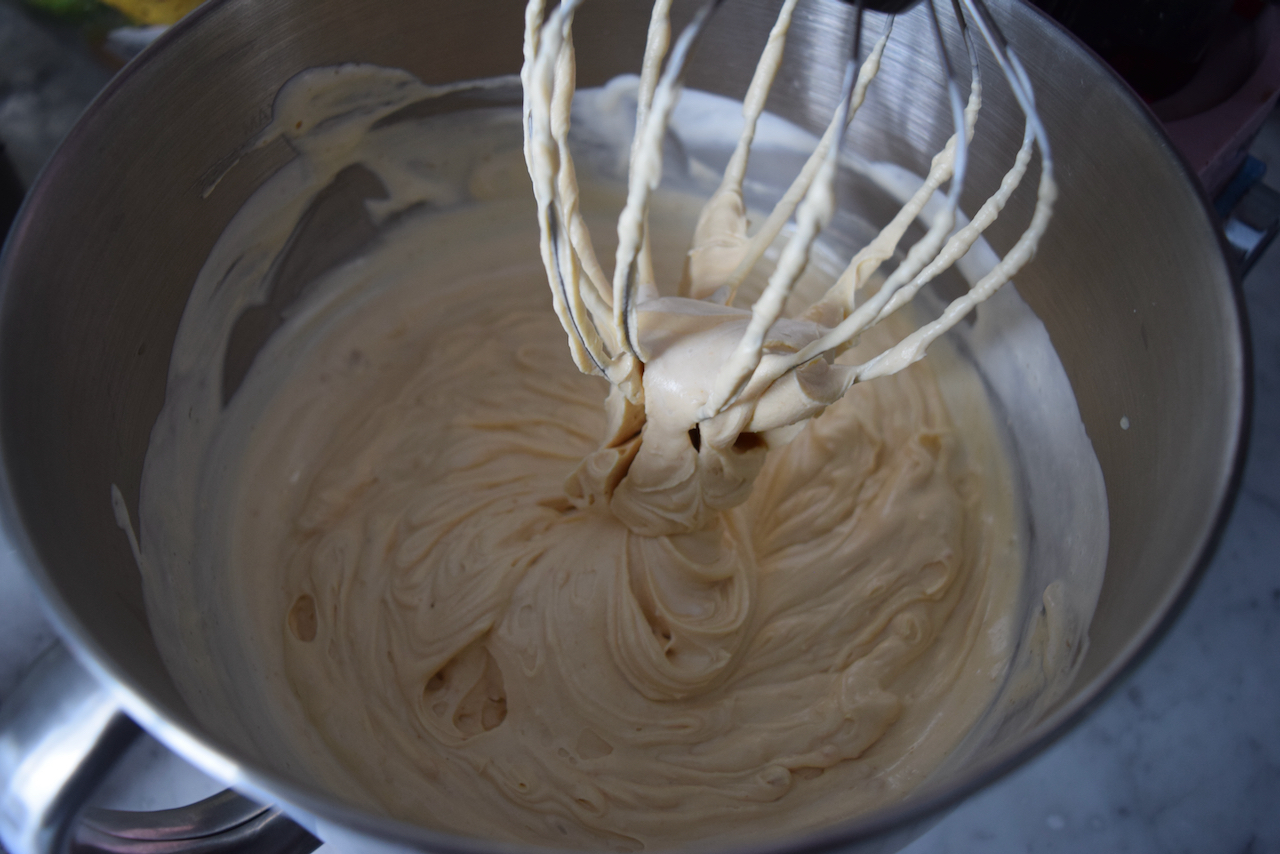 It's tempting to just bury your face in the whole bowl right there, but show a bit of restraint please. Scrape the ice cream base into your chosen container and then spoon on blobs of your chosen jam.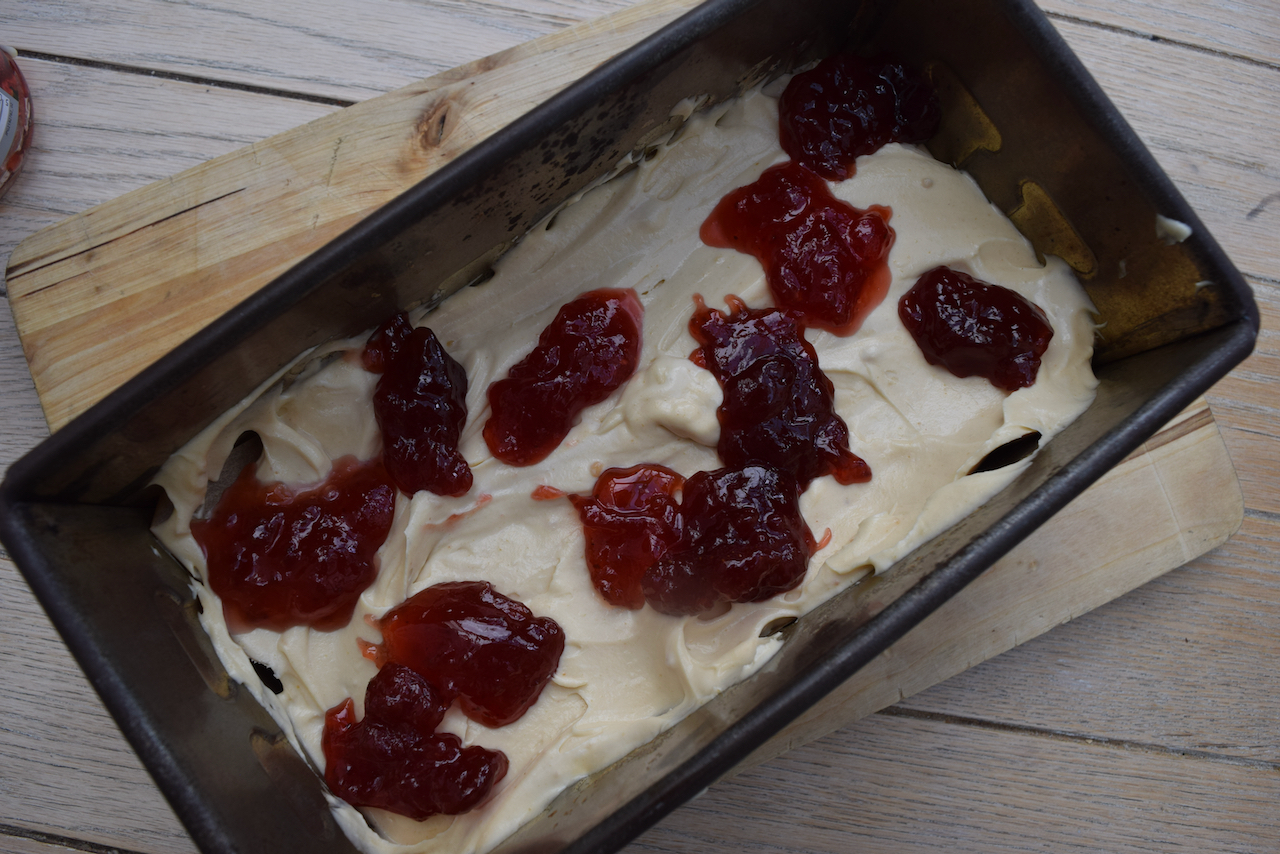 Using the point of a knife, swirl the jam into the peanut butter ice cream base.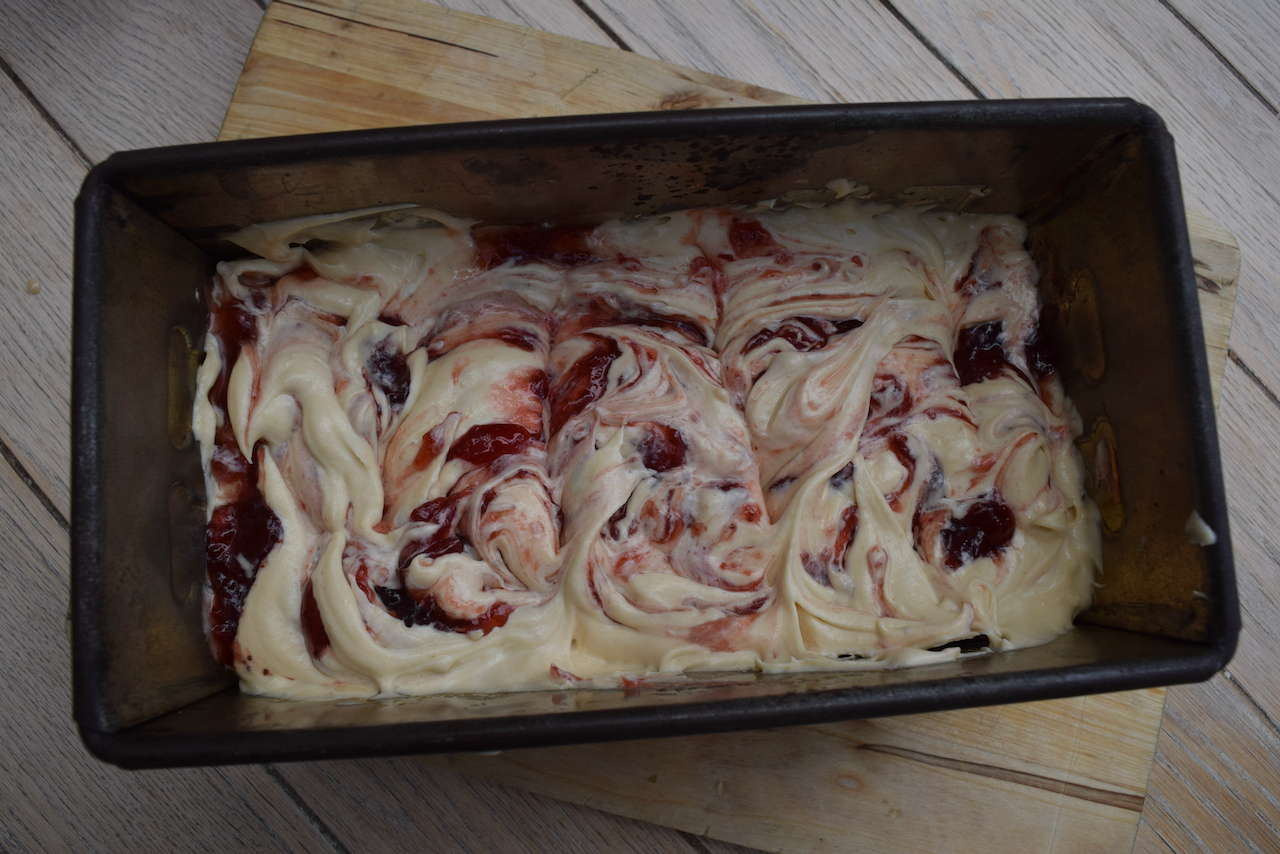 In a final flourish, sprinkle the top with some salted peanuts, if you like. Then cover and freeze for at least 6 hours, or until set firm.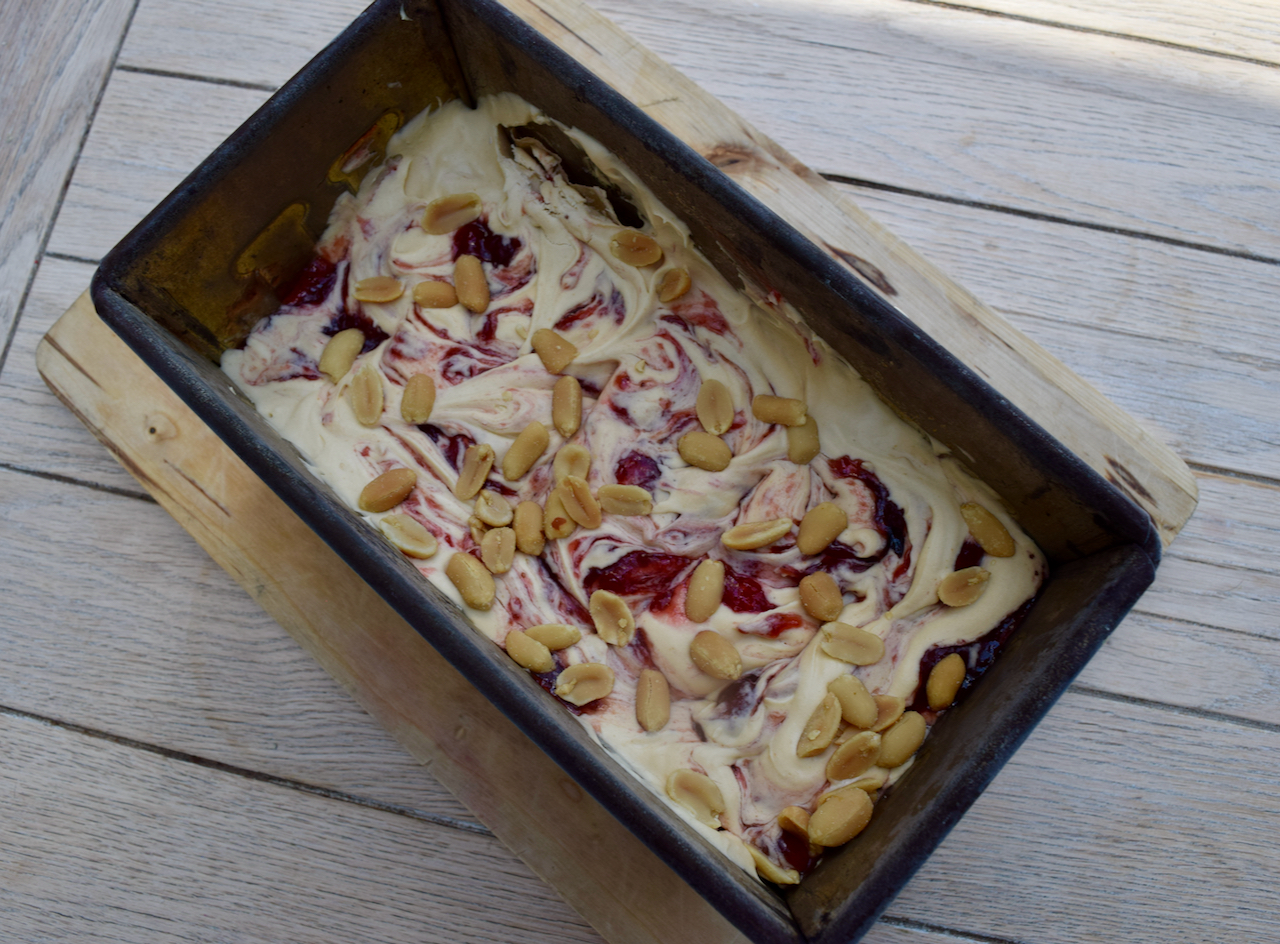 Once frozen, remove from the freezer and, weather dependent, leave on the counter for 10 to 15 minutes to soften slightly before serving. Devour in bowlfuls or in true seaside style, scoop into a cornet.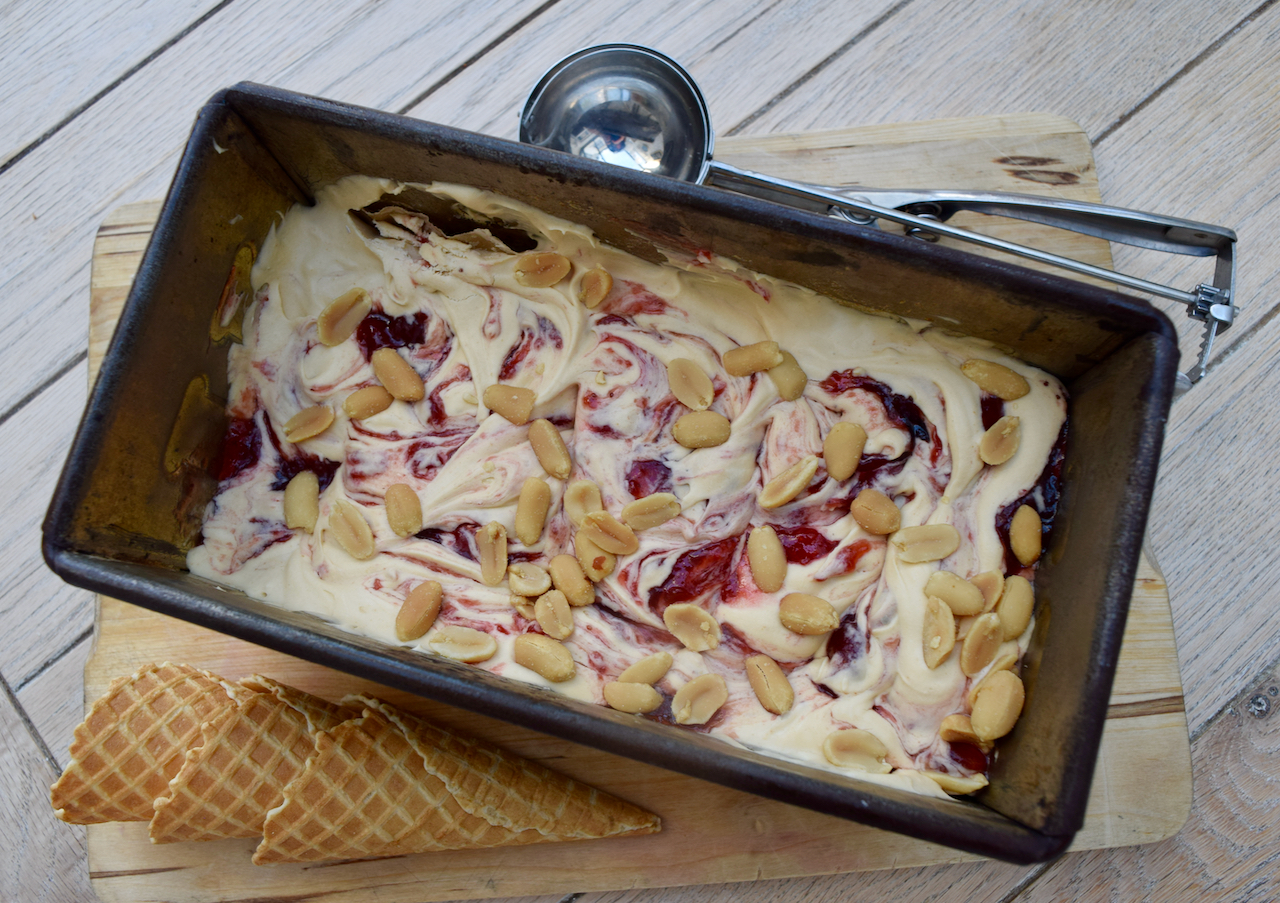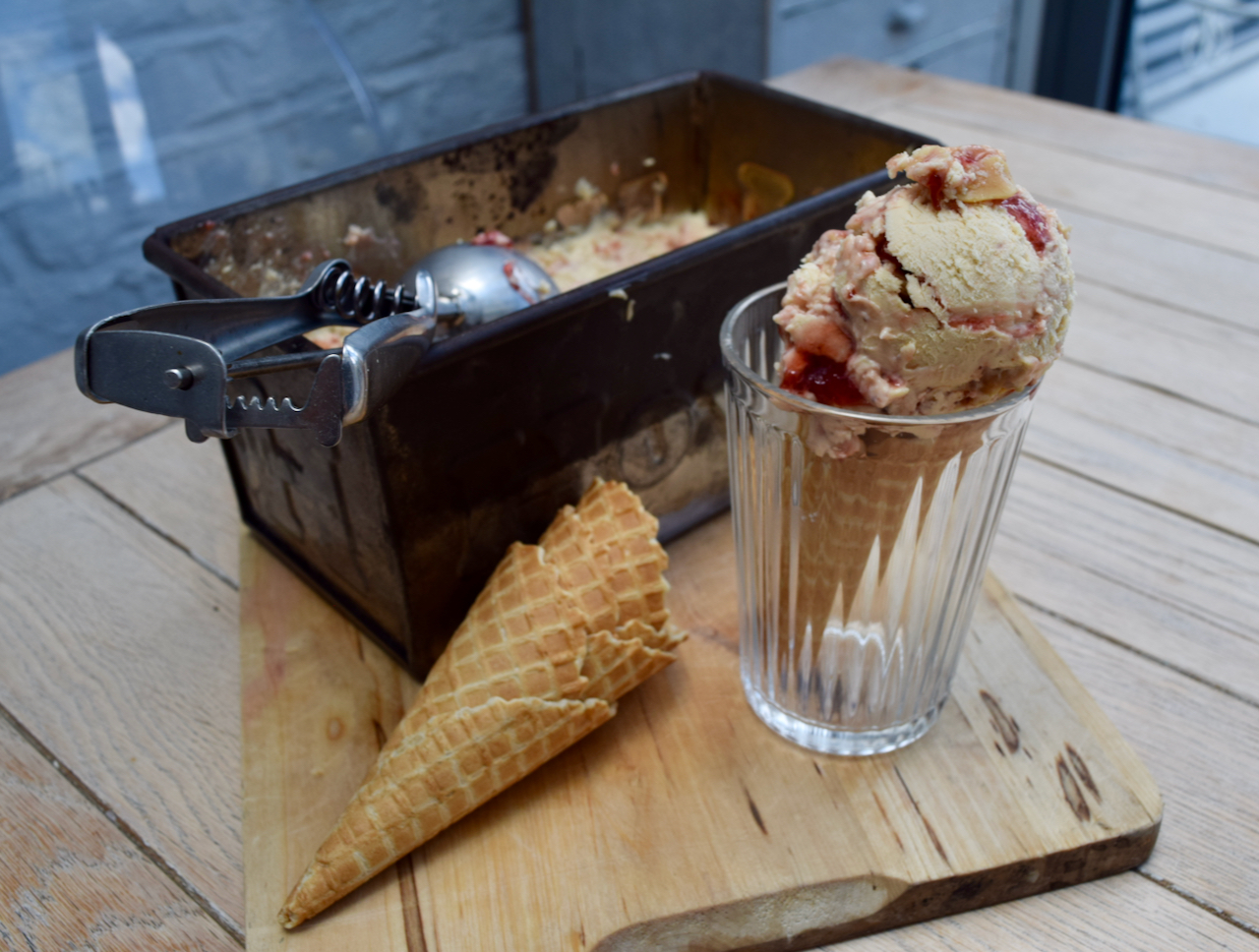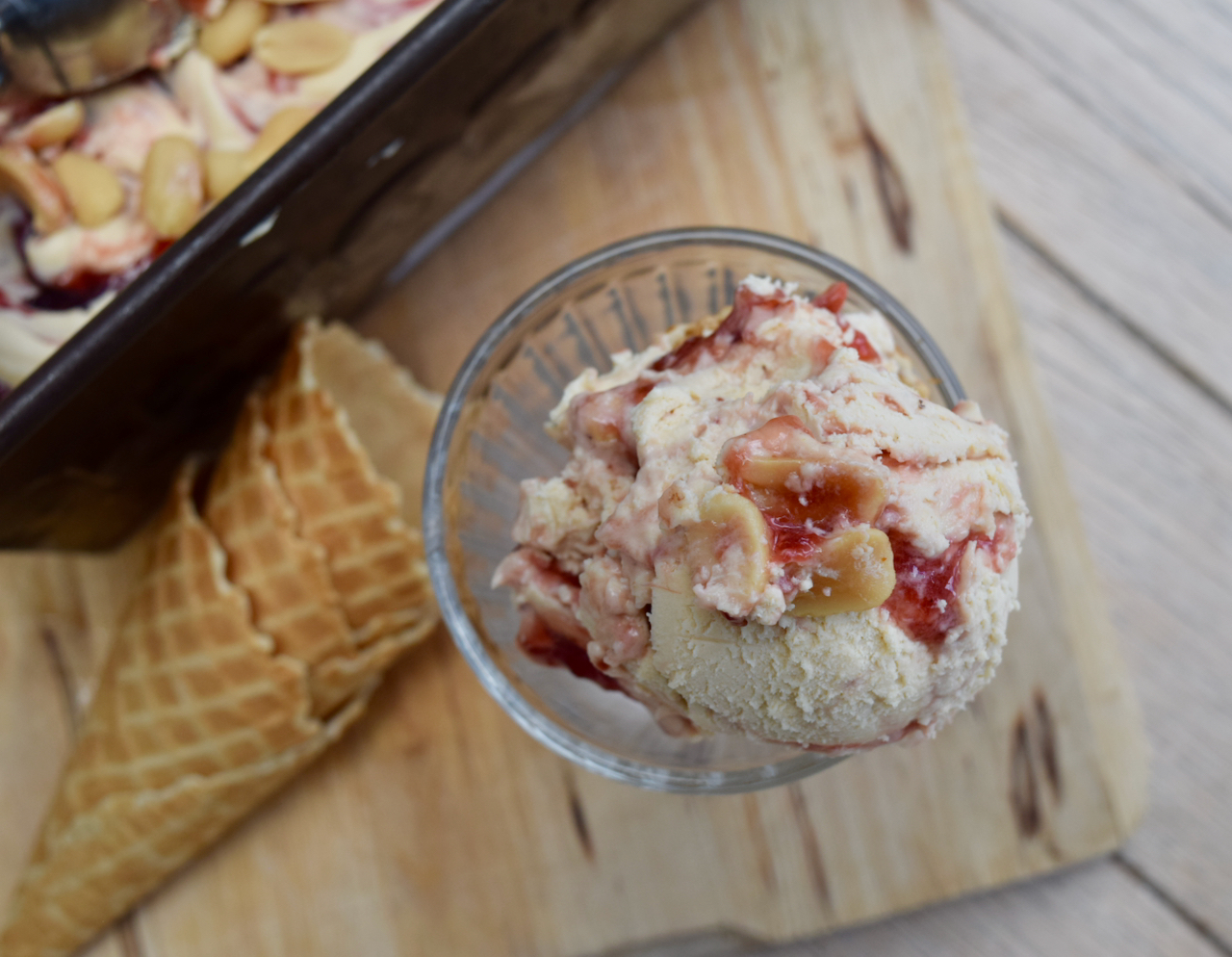 I'm not ashamed to say I ate this cornet for breakfast. It tasted so good, and well, it is the 4th of July after all, and I do know some lovely American people, so I'm scraping in on their special day.
Lucy x
PB and J Ice Cream recipe
Serves 4-6
You will just need a stand or hand mixer and bowls for this recipe and a container to freeze the ice cream in.
270g peanut butter, I used smooth but imagine crunchy would also be lovely
1 x 400g tin condensed milk
600ml double cream
1 teaspoon vanilla extract
1/3 jar of jam, you choose the flavour, I went for strawberry
A handful salted peanuts to scatter on the top
Take a bowl and measure in the peanut butter. Gradually stir in the condensed milk until blended.
In your stand mixer or a bowl with a hand whisk, whisk the double cream and vanilla until it's starting to thicken. Whisk in the condensed milk and peanut mix until you have a thick, soft to medium peak consistency.
Scrape into your chosen container, then spoon on your chosen jam. Using a sharp knife, marble the jam throughout the peanut butter ice cream. Top with a handful of salted peanuts then cover and freeze for 6 hours or until set firm.
Allow to soften a little at room temperature before serving with extra peanuts, if you like.
This ice cream will keep, covered, in the freezer for a couple of weeks if you don't eat it all at once.