Super Speedy Curry Recipe
I really hope you appreciate the fact I have not called this post 'Curry in a Hurry'. I have literally had to sellotape my hands behind my back to stop me from typing it, but Lucy Loves is not that food blog which uses such cliches. It is actually, because I've got it in after all, but at least I relegated it to the first paragraph rather than the full on headline. Rambling aside, this Super Speedy Curry is fantastic, I've been making it for years now, when nothing else will hit the spot but curry. And quite often with us, curry is what hits the spot. It is, if your interested, my hangover dish of choice. Second to a fried egg on toast. And cheese Doritos, oh and fizzy water.
Curry is always a welcome dish, everyone loves it, so we eat it at least once a week at Lucy Loves head quarters. It is just so easy, and you can vary the dish depending on which curry paste you use. I love the Pataks pastes, which come in a variety of strengths and flavours. Even though I only chose the mild curry variety, this supper still packs a certain punch without taking the back of your head off. It is quite saucy, which I like, I adore plenty of curry flavour soaked into the rice and for mopping up with your naan.
If you are bored with chicken *how dare you* do try this with prawns, pork or just add more vegetables. This curry can be made to suit anyone's needs and in the shake of a lambs tail. Btw, lamb would work too, but I would cook it for a little longer.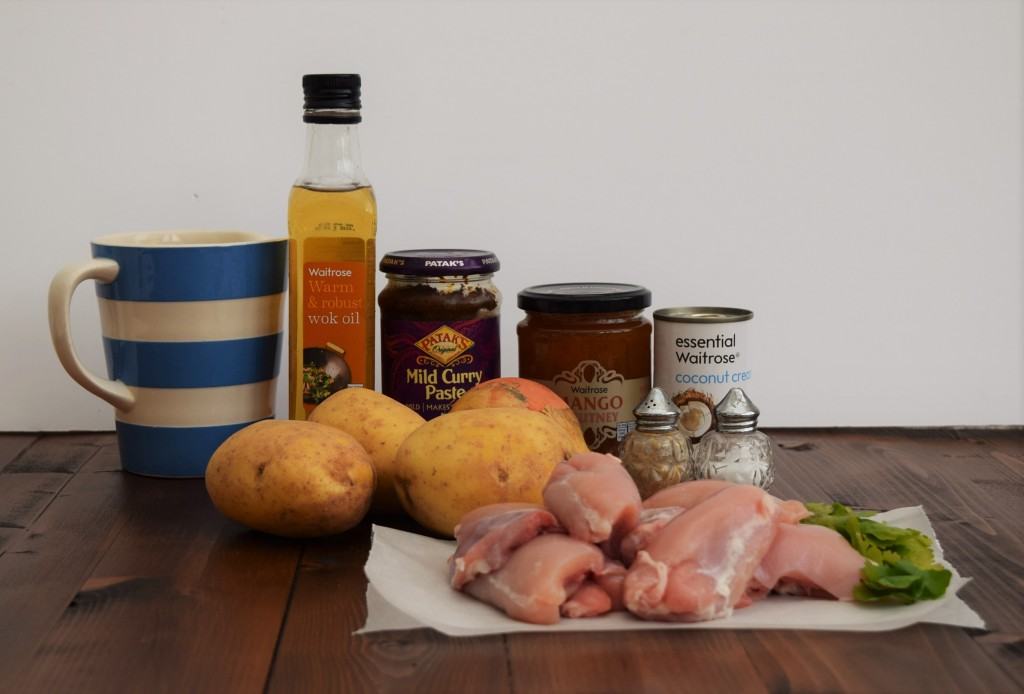 Here's your Curry in a Hurry *again* line up. Keep a jar of this curry paste in your fridge and you have supper just moments away any night of the week.
Make a start by heating the oil in a large wok or frying pan. While this is getting good and toasty, finely chop your onion and cube your potatoes. Don't bother peeling them, the skins add a lovely bit of texture and flavour. And who can be arsed. Pop the potatoes and onions into the hot oil and keep them moving until just starting to colour.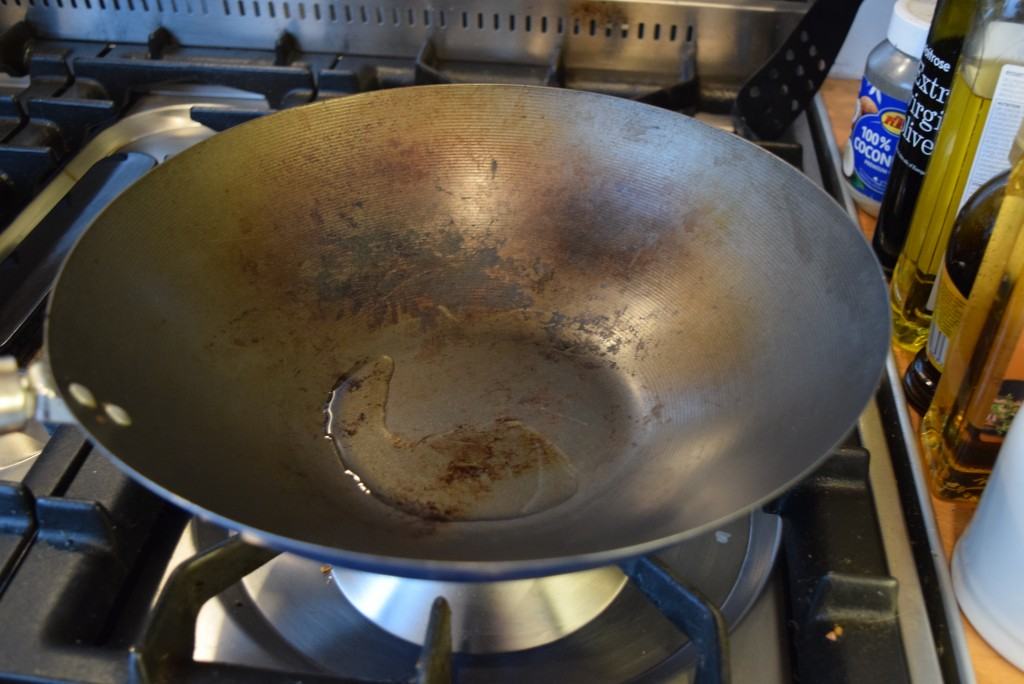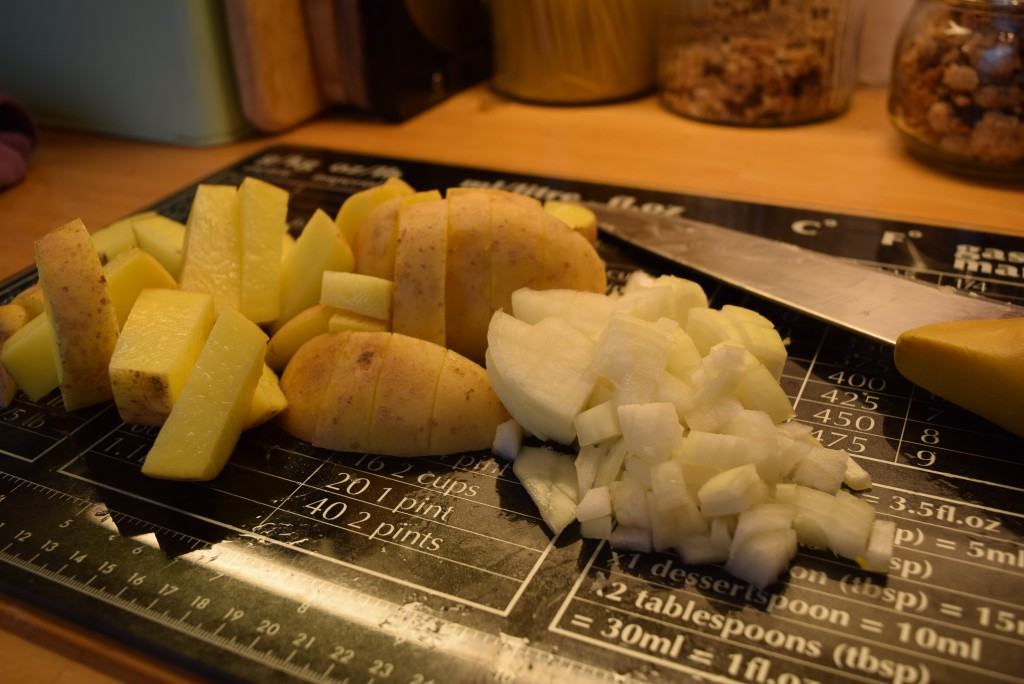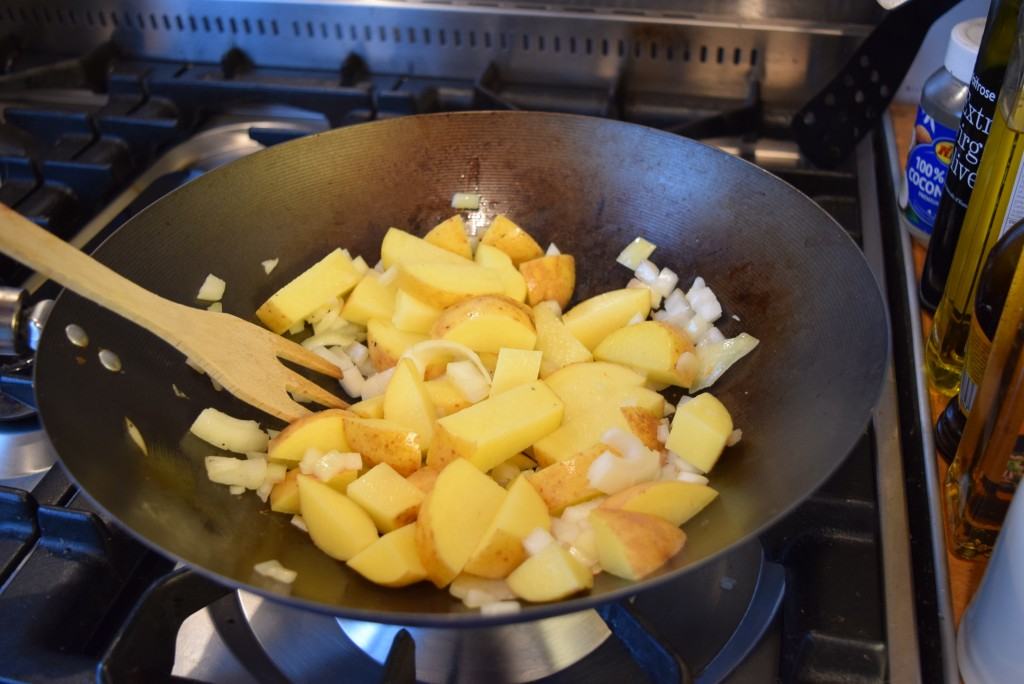 Next in this whirlwind of a supper dish, cut your boned chicken breasts or thighs into bite sized cubes. Toss these into the veggies and cook for around 5 minutes.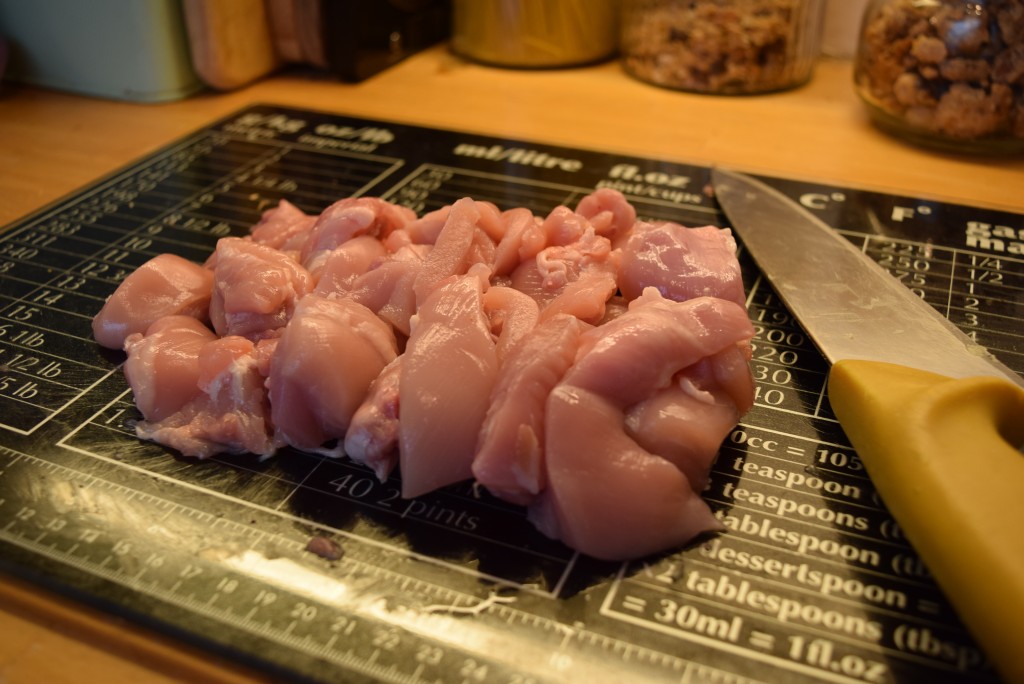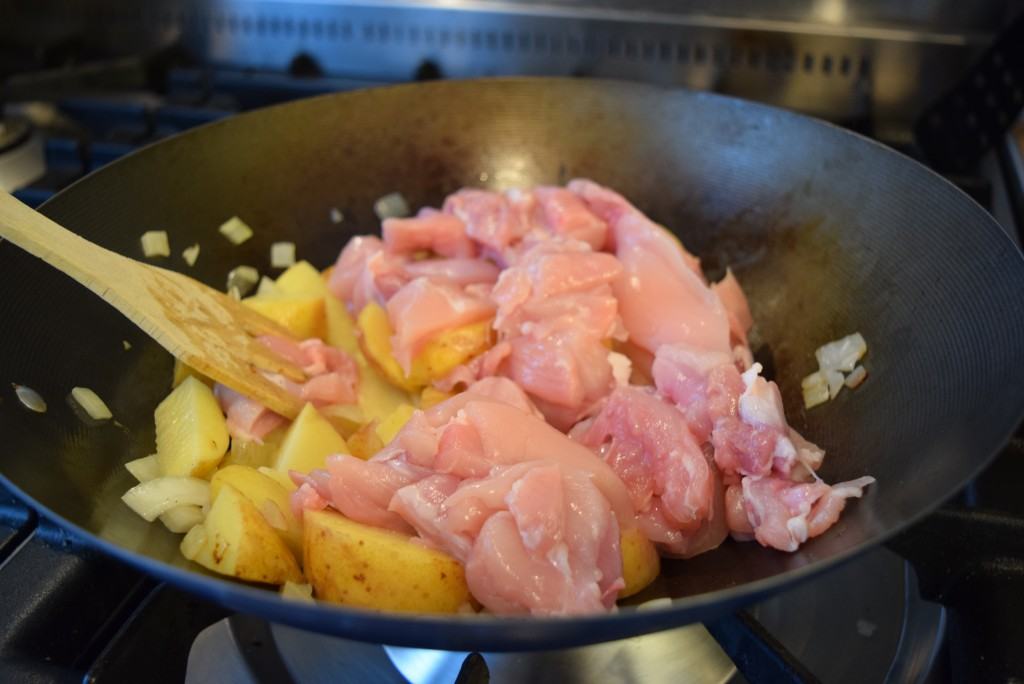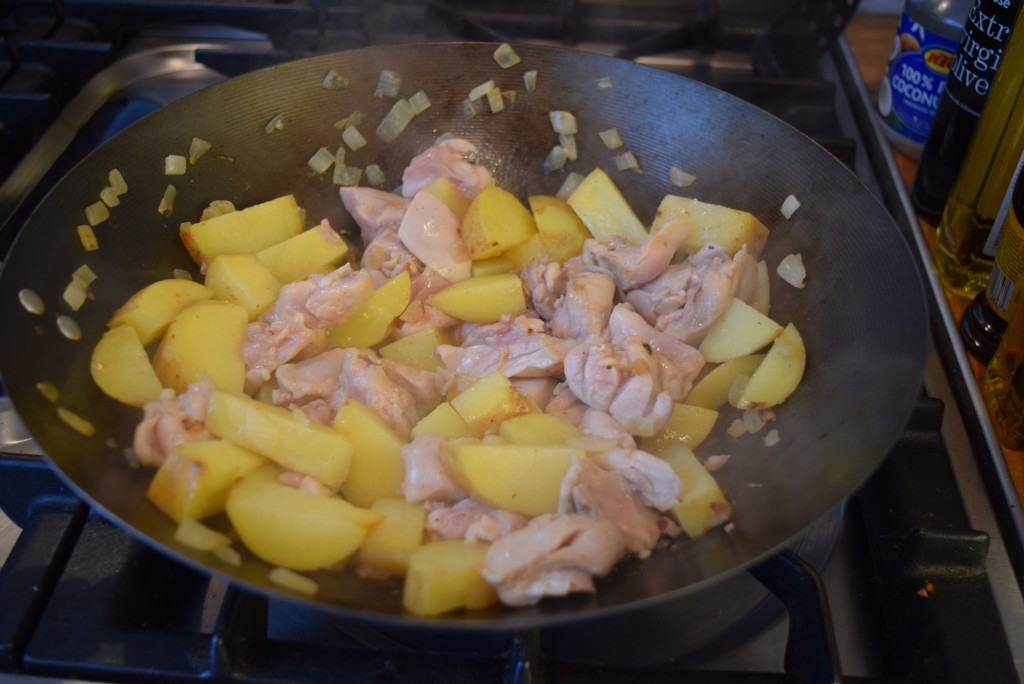 Once the chicken is starting to cook through, stir in the curry paste. Three tablespoons gives a good flavoursome curry, spicy but not too mind or arse blowing.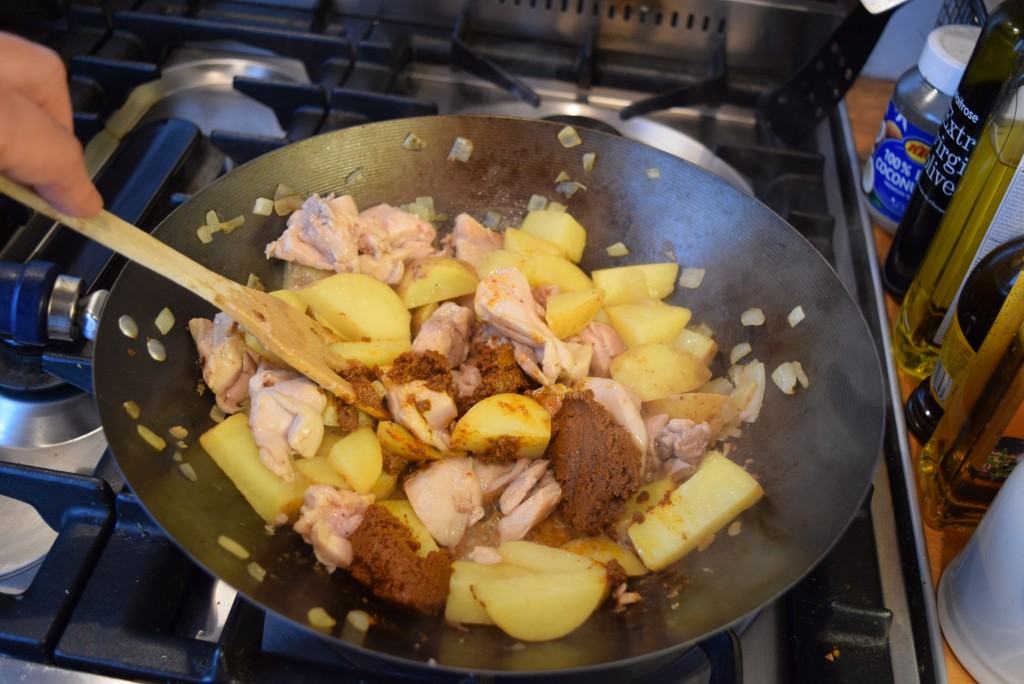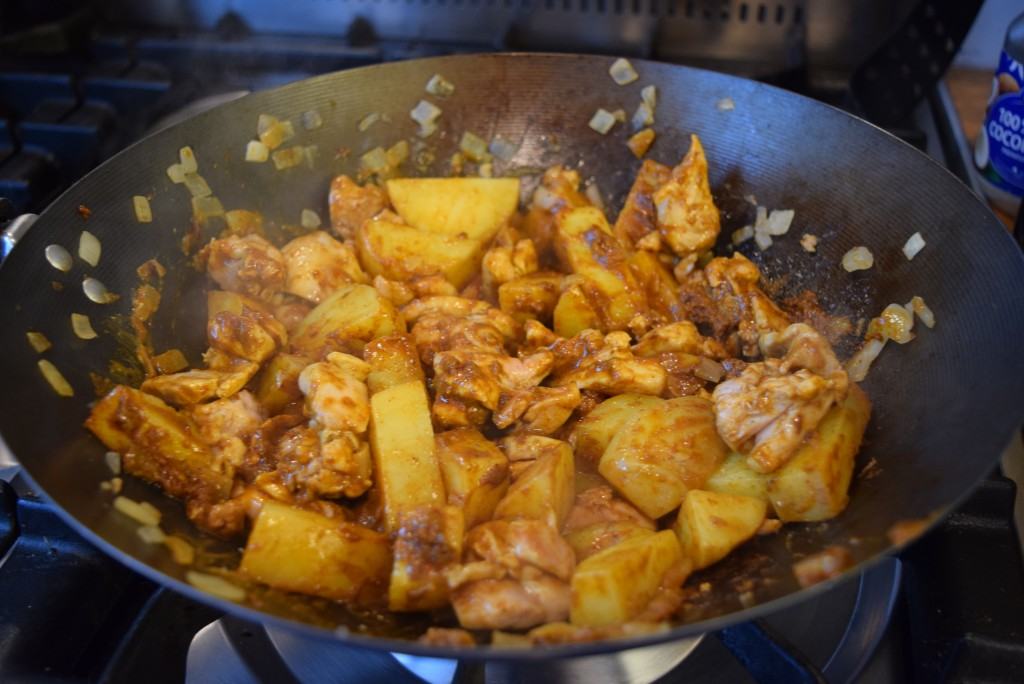 At this point your curry is all fragrant and wonderful and you will be drooling a little bit. Pour in the chicken stock, stir, then fold through a generous tablespoon of mango chutney. This adds a perfect amount of sweetness and depth.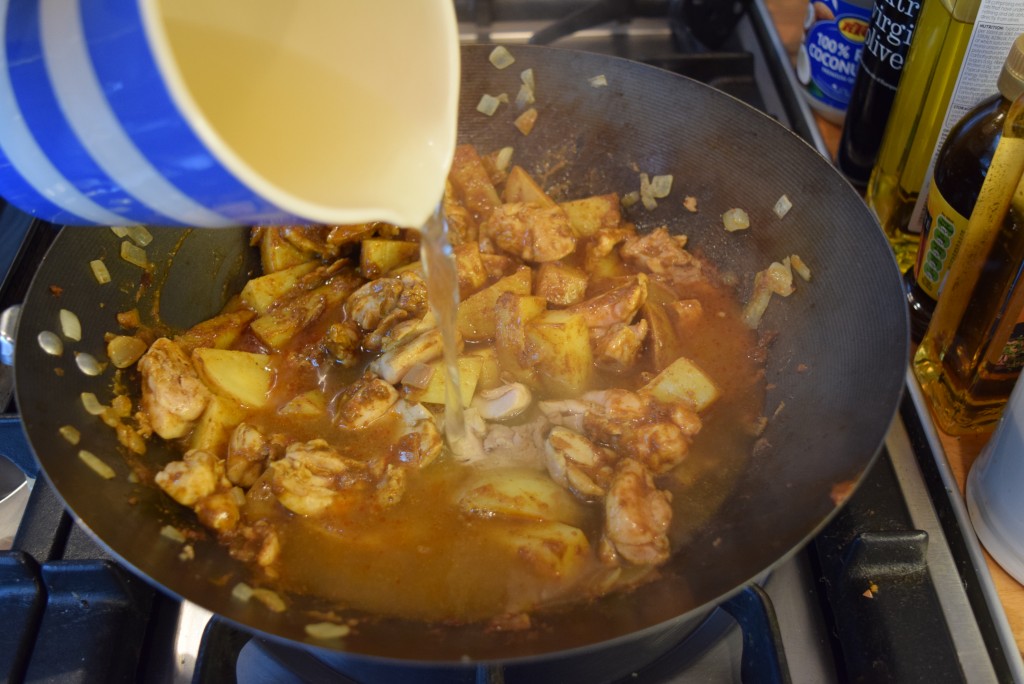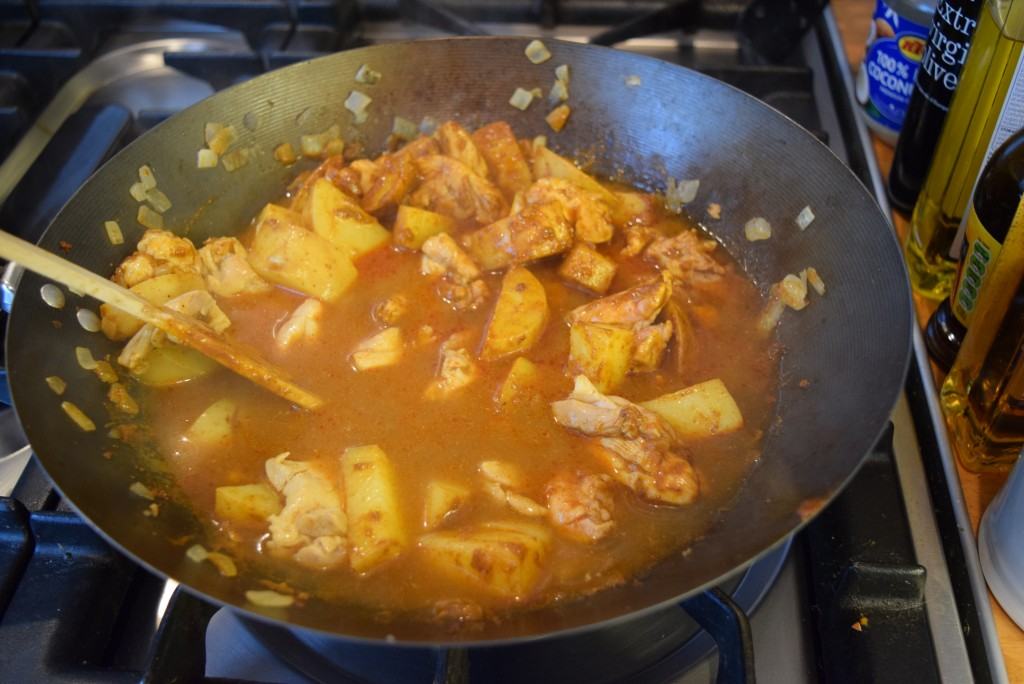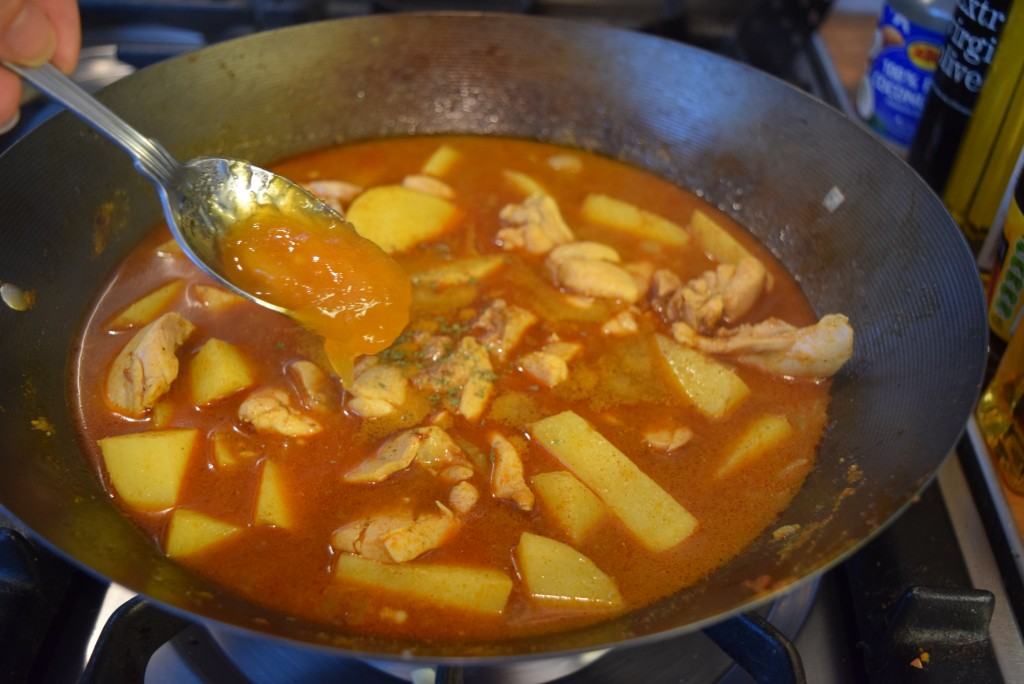 Check for seasoning, trying not to eat big spoonfuls of the delicious sauce, then pop on a big lid for around 20 minutes or until the chicken is cooked through and the potatoes are firm, but cooked.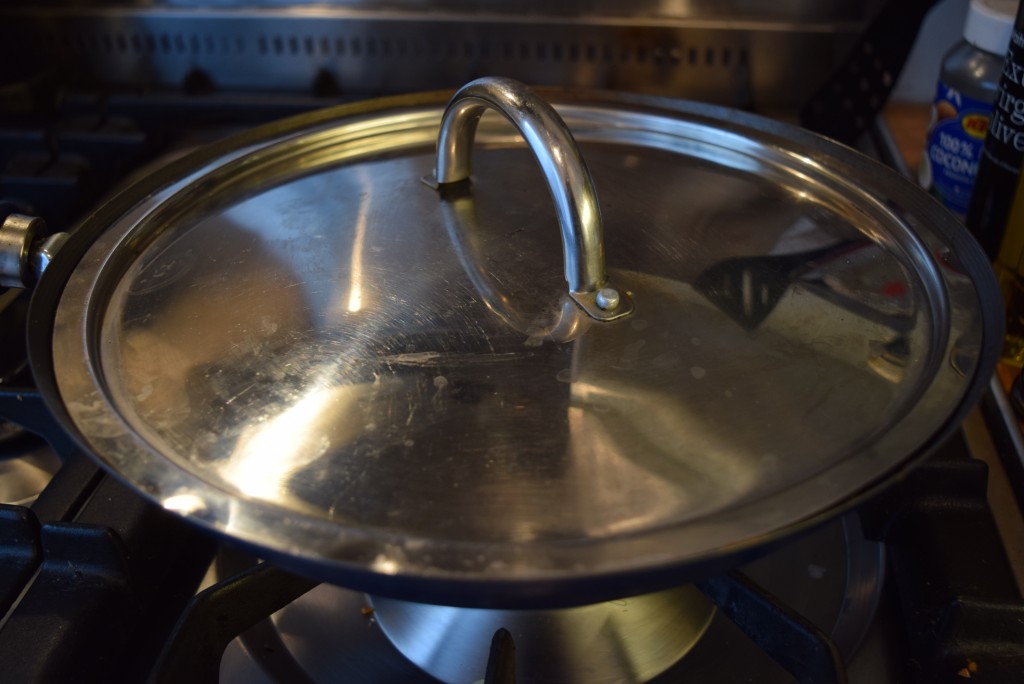 Now is the time to add your creamy element. I chose coconut cream as I had it in the cupboard and it's lovely and rich. But go with whatever you have, such as full fat yoghurt, double cream or coconut milk. Stir this through then bring back to the simmer. Don't let it boil at this stage as your sauce may separate. It wouldn't be the end of the world if it did, but do keep an eye on it.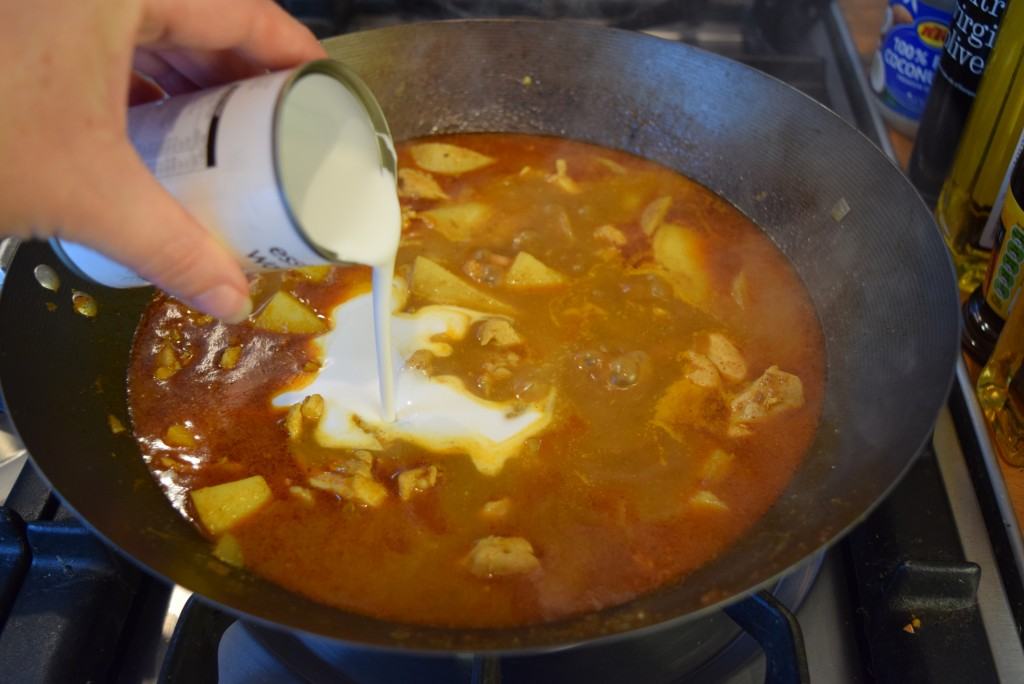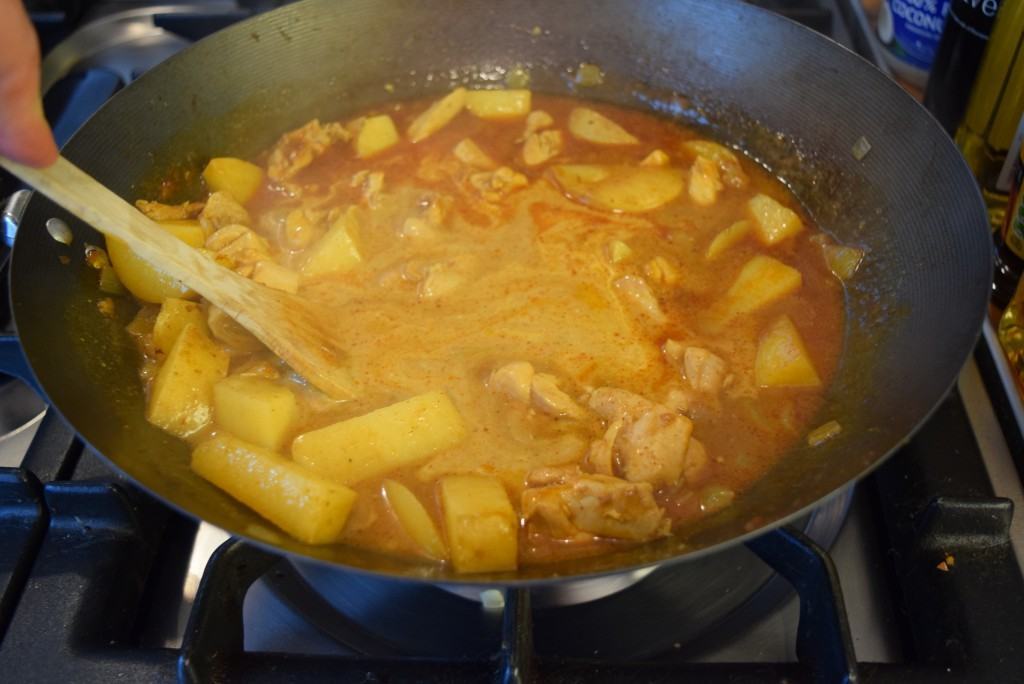 Serve this splendid, warming supper dish with some rice and breads for mopping duties, garnished with a leaf or two of coriander and a beer, if the mood takes you.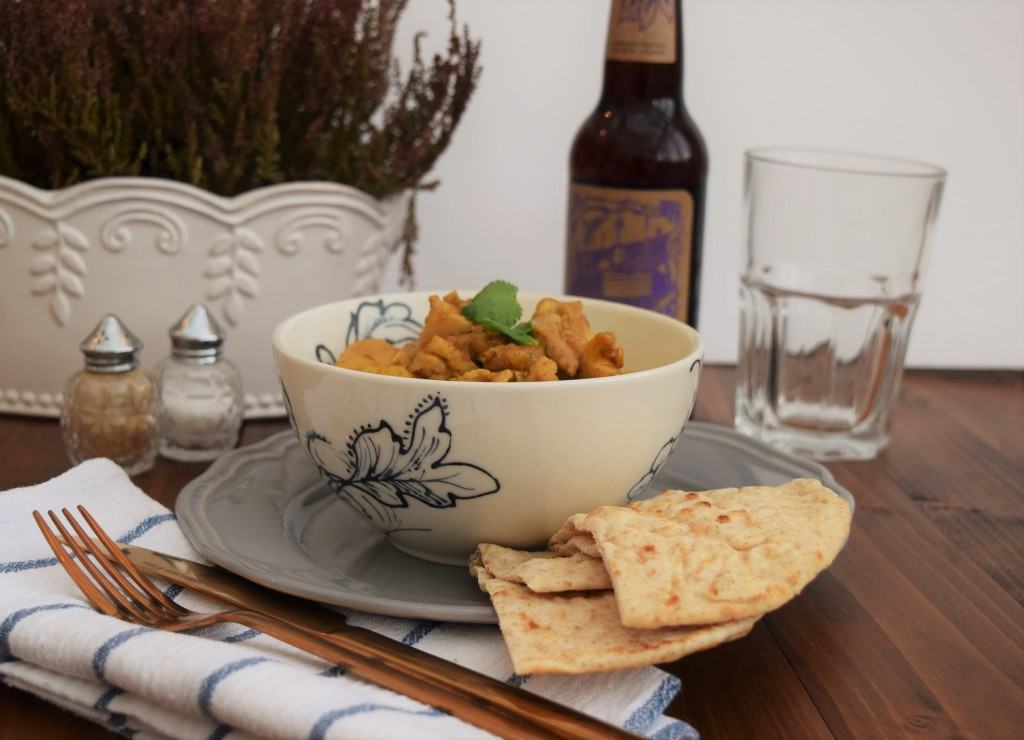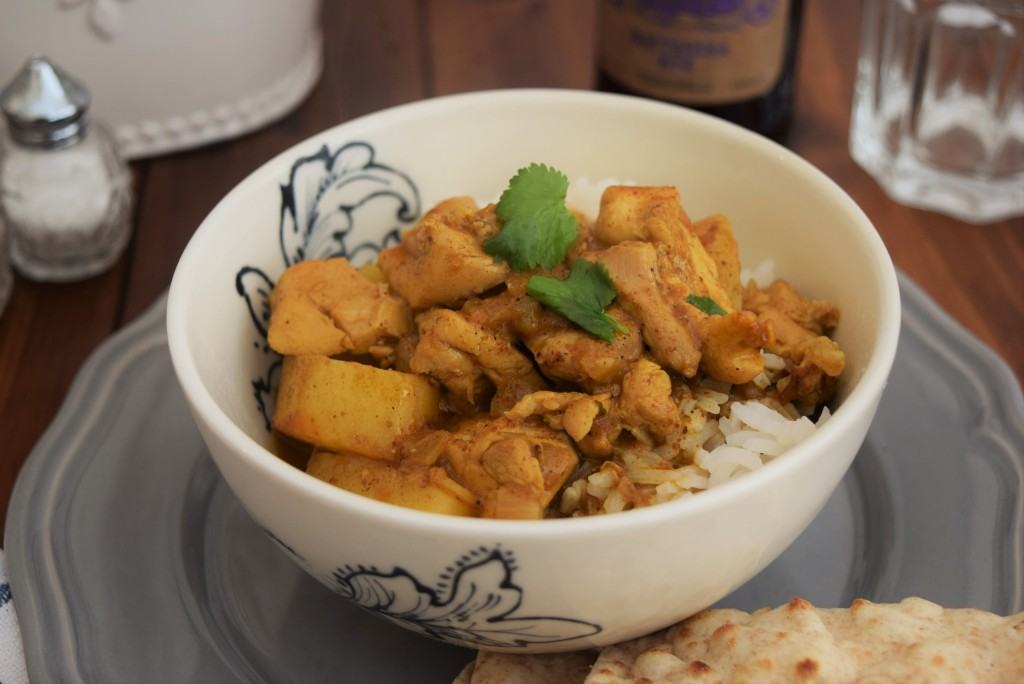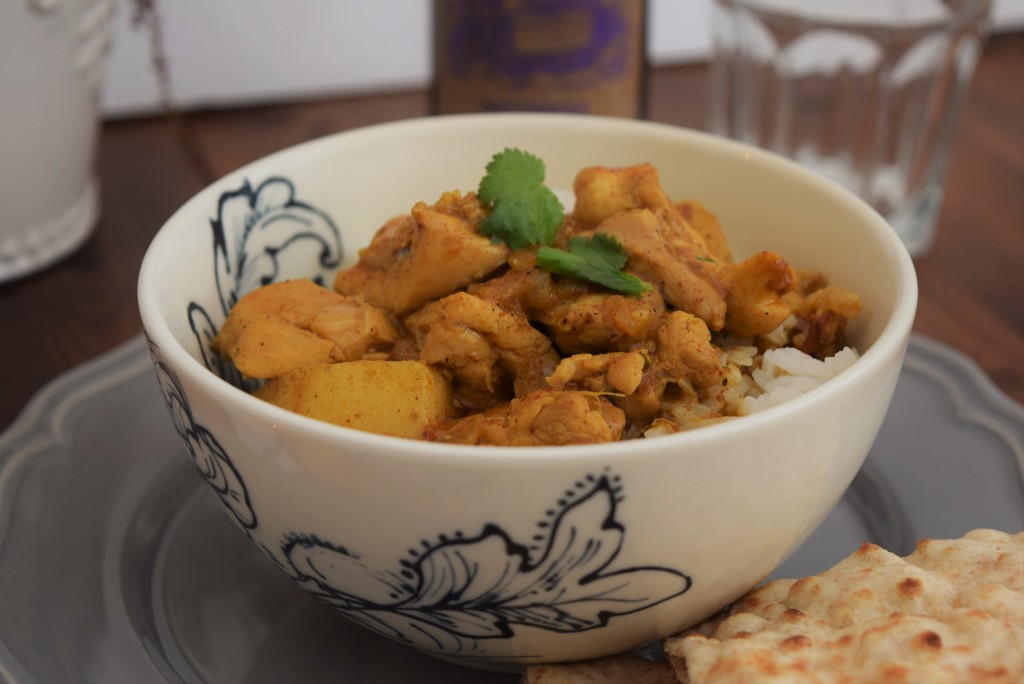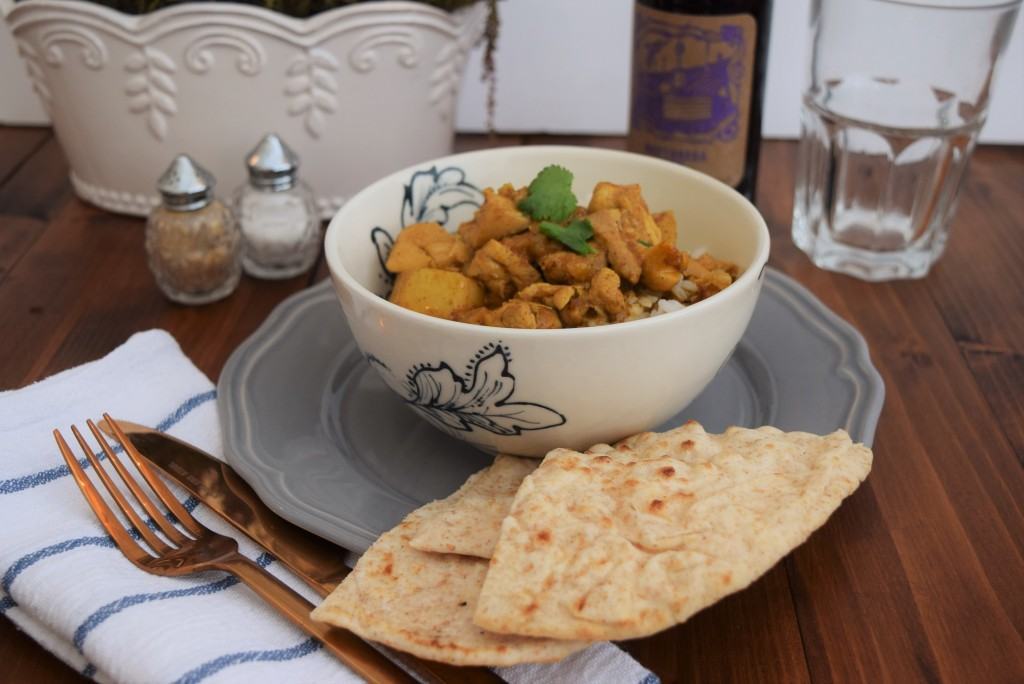 This Super Speedy Curry has so much going for it. It's a) super b) speedy c) curry and everyone in our house loves it. Hungover or not, this dish hits the spot, and should you have any left over, it only improves after a night in the fridge. I am not speaking from experience as there are never any left overs with all our man sized appetites *that includes me*.
Lucy x
Super Speedy Curry Recipe
Serves 3 to 4 hungry people
2 tablespoons oil
500g chicken thigh fillets or chicken breasts or prawns, pork or extra root vegetables (if using pork cook for an extra 5 minutes or so or until cooked through)
1 onion, finely chopped
2 medium to large potatoes, cubed
3 tablespoons curry paste, I used Pataks Mild Curry
300ml chicken stock
1 tablespoon mango chutney
150ml double cream, coconut cream or Greek yoghurt
salt and pepper to season
Rice, naan or chapatis and fresh coriander to serve
Pour the couple of tablespoons of oil into a big wok or frying pan and heat until nice and hot. Chop your onion, finely-ish, cube your potatoes, skin on is fine, and add these to the hot oil and stir until starting to brown and the onion is turning translucent. Chop the chicken into bite sized pieces then add these to the potato and onion mixture. Cook this off for another five minutes. Stir through the curry paste making sure everything is well coated. Pour in the chicken stock, add the mango chutney, mix well, check for seasoning, then put a lid on and simmer for around 20 minutes. While this is simmering put your rice onto cook.
After 20 minutes, check your chicken and potatoes are cooked through then stir in the coconut cream, cream or Greek yoghurt. Be careful not to boil after you have added this or your sauce may split, so just bring back up to a simmer then you are ready to go. Serve with rice, breads and garnished with fresh coriander.