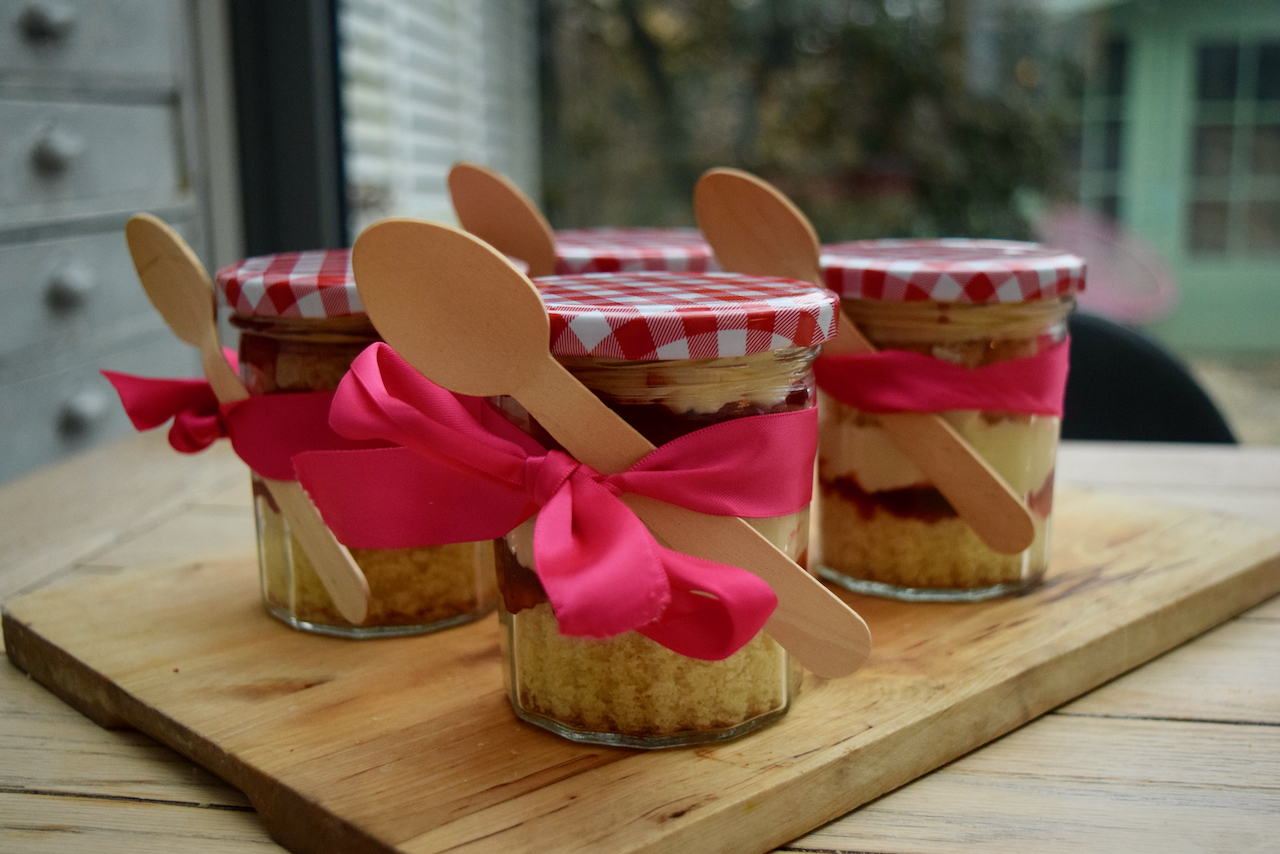 Victoria Sponge Cake Jars Recipe
March is a cake-tastic month for me; both of my nephews and my lovely Mum have their birthdays, so if you've got any spare cash, it would be a great time to buy shares in Stork and Tate and Lyle. With Mother's Day pitching up this weekend too, I am up to my arse in buttercream, and slightly bored of sandwich cakes, so I decided to mix things up a bit with these Victoria Sponge Cake jars.
Don't waste your money on overpriced flowers and candles this weekend when you can re-purpose all those jars you have stored in the shed for a rainy day *I do hope it's not just me that does that*. This simple recipe is based on my classic Victoria sponge, but layered up in a jar, to create a highly portable and bloody great big portion of everyone's favourite cake. I went for the classic sponge and jam combo, throwing in the vanilla buttercream, to piss off all the people who think it's an offensive, untraditional, add on. You could do the same with chocolate, lemon or salted caramel cake, the possibilities with these oh-so giftable jars are endless.
Clyde's thrilled to see the back of four of my jam jar collection; he's even more thrilled he got to eat the Victoria sponge off cuts along the way.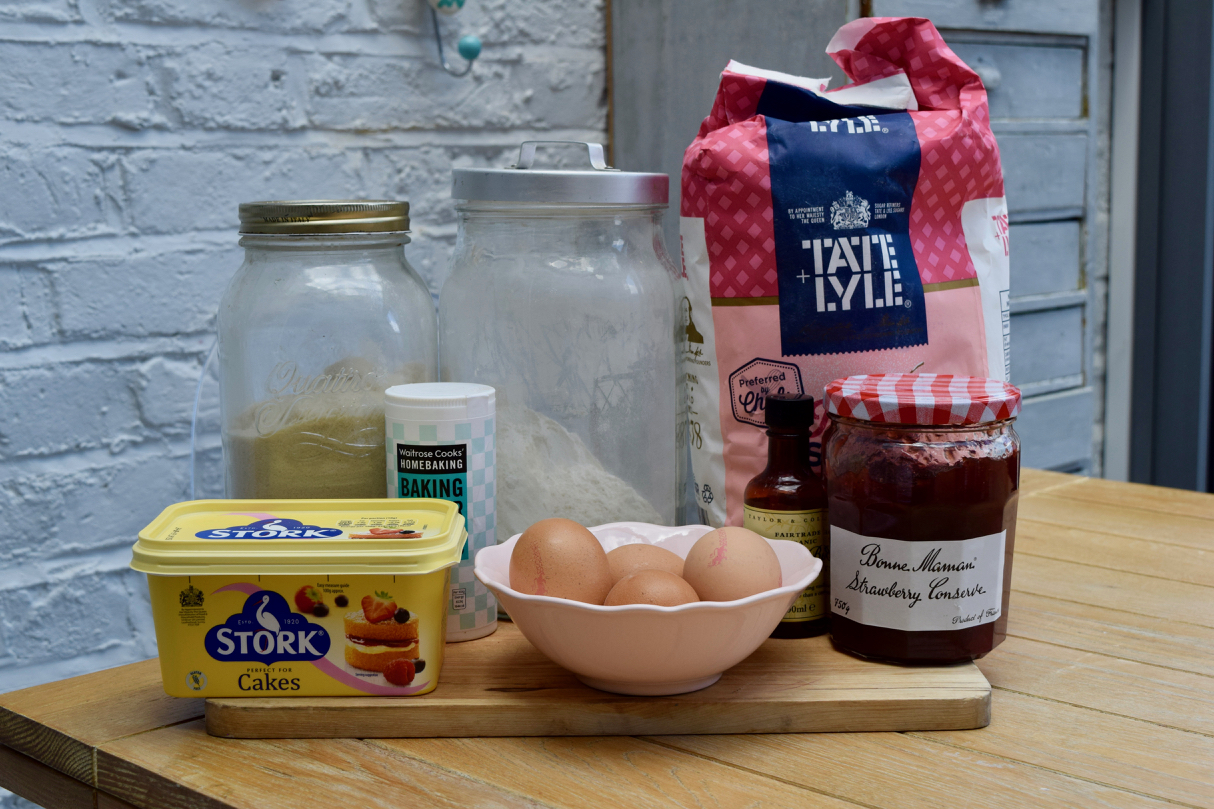 I won't lie to you, this is the same line up photo I used for my original Victoria Sponge post. I forgot the butter for the buttercream icing then and it's still missing now. These lovely ingredients make the same soft, light sponge, vanilla buttercream with a generous layer of jam, just popped into a jar, for supreme gifting.
As always, you can make this in your food processor or in a bowl with a hand whisk or wooden spoon, it's up to you. I went Magimix. But before that, start by pre heating your oven to 160℃ fan assisted and lining a swiss roll style tin, approximately 32cm x 22cm, ready for your cake.  Add the Stork or soft butter to your bowl or mixer along with the caster sugar and beat until lighter in colour and texture.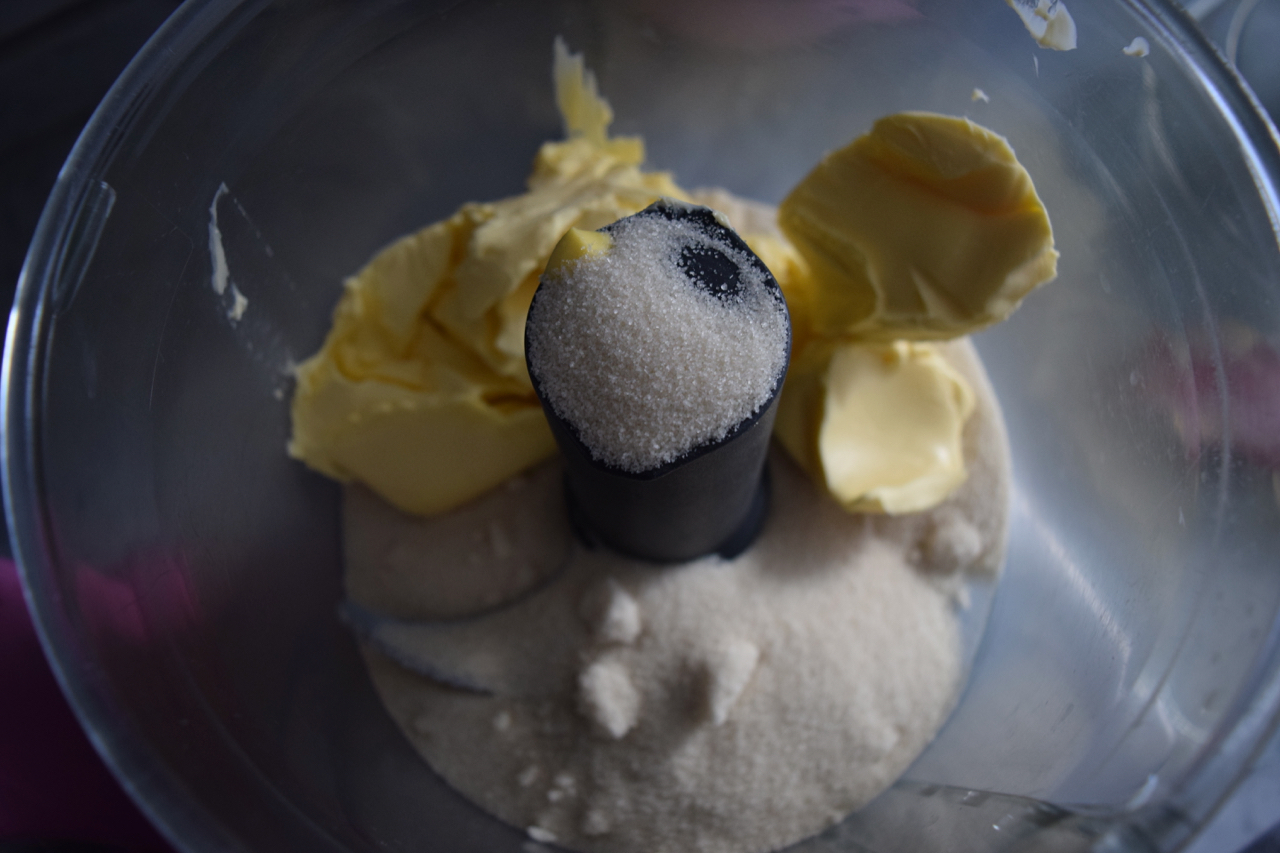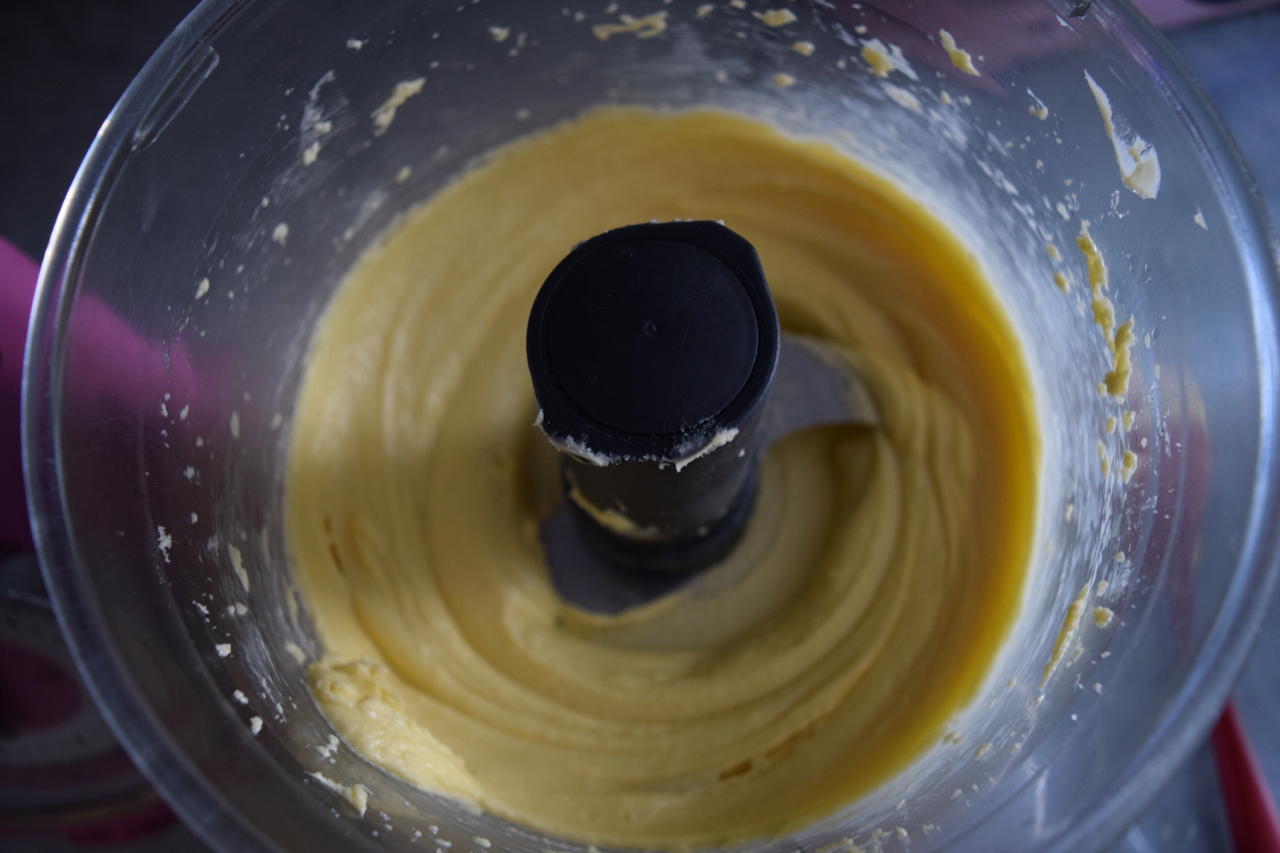 Next, add the vanilla extract and the eggs, one at a time, processing/beating between additions.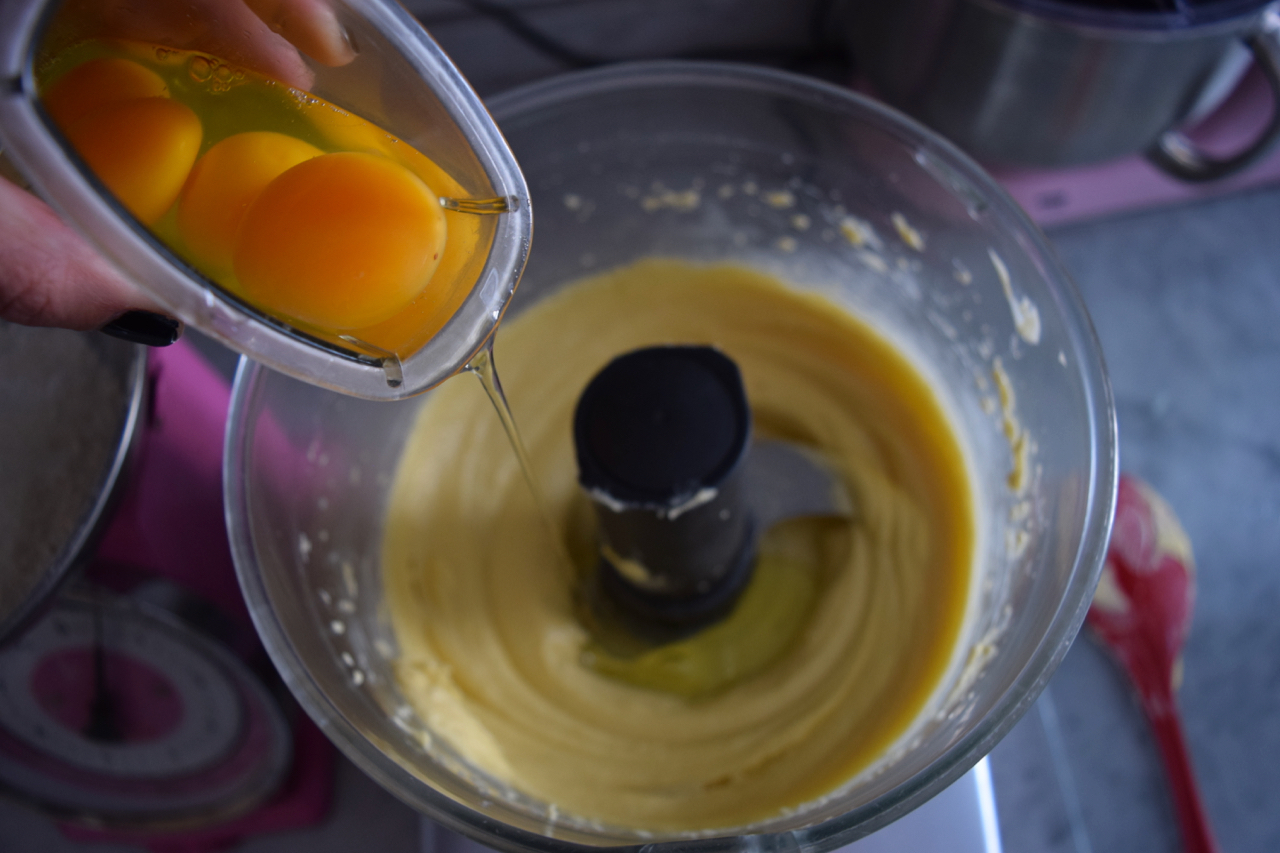 Weigh the self raising flour along with the scant teaspoon of baking powder, for extra rise, then add this to the cake mixture. Briefly process or fold.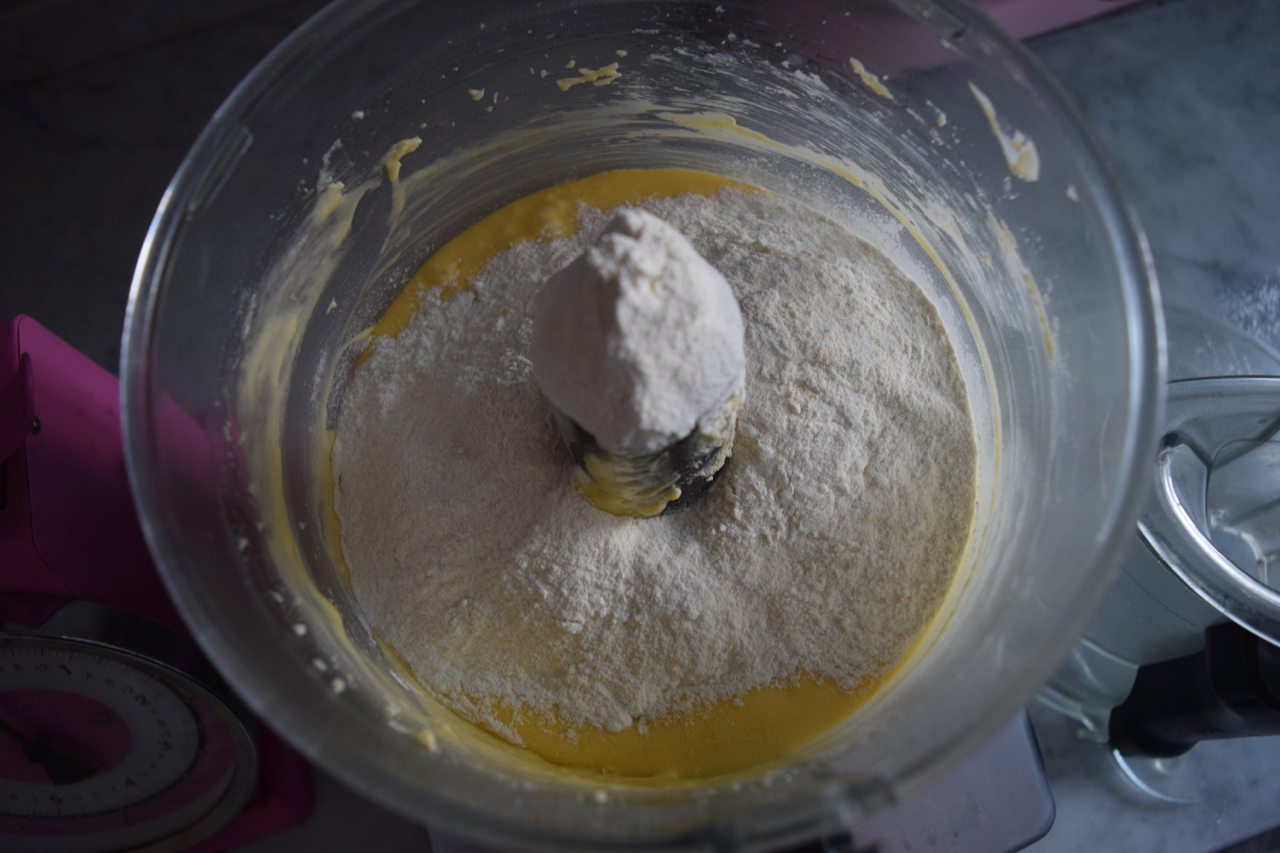 Add a splash of milk to loosen the whole business, mix again, then scrape into your lined tin.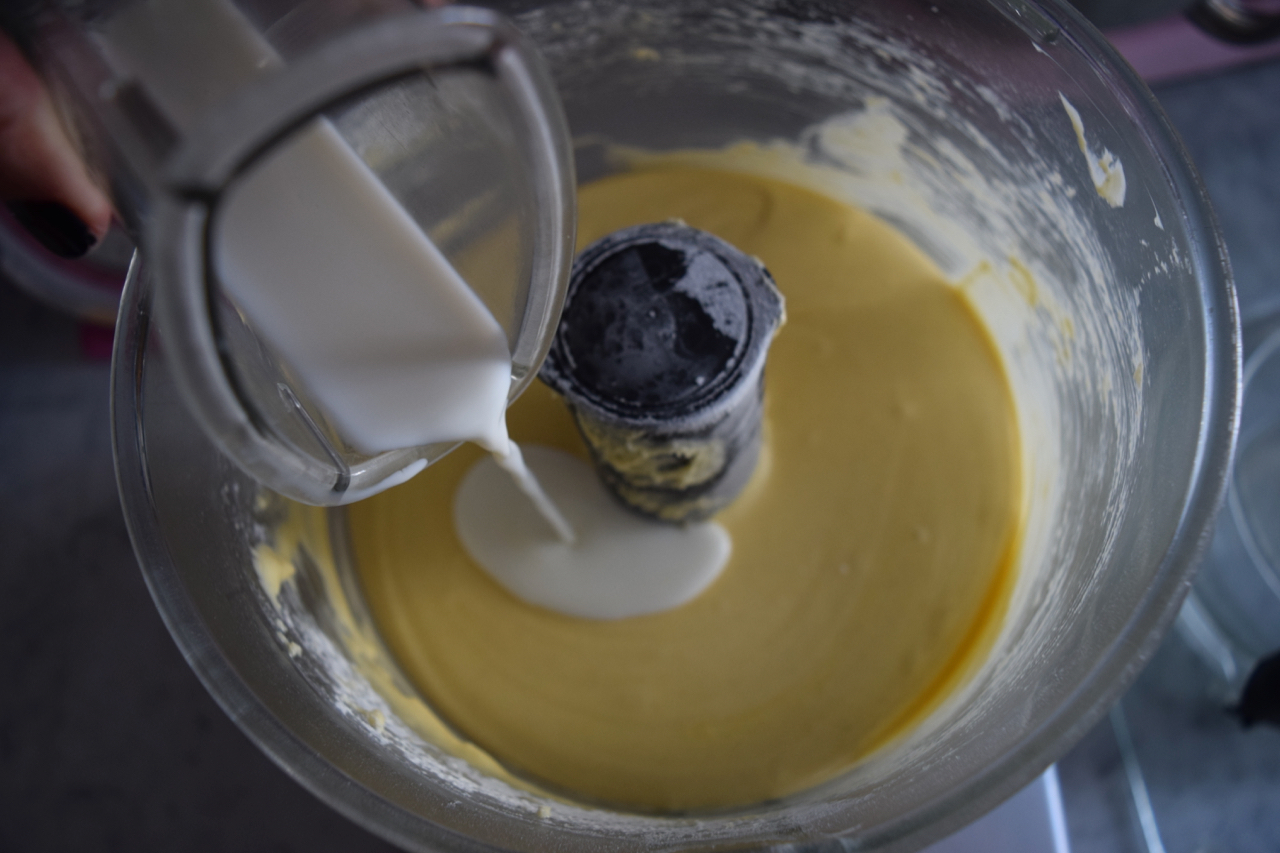 Level the top, then pop in the oven for around 25 minutes.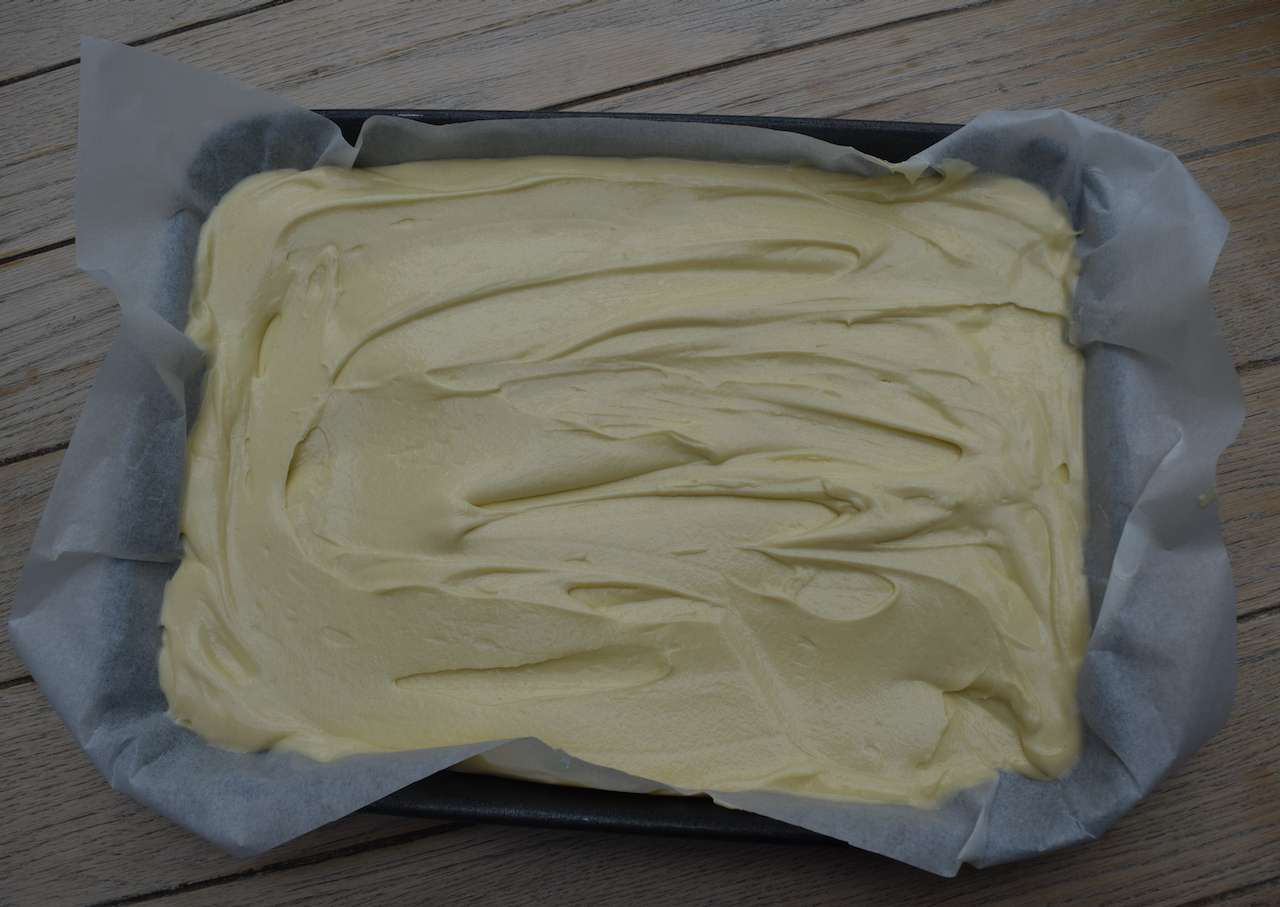 The cake is ready when it's golden, firm to the touch and smelling amazing. Leave the slab to cool on a wire rack while you crack on with the buttercream.
Add your super soft butter, the vanilla and a third of the icing sugar to a bowl or your stand mixer and beat until smooth-ish. Adding the icing sugar in batches stops your whole kitchen being coated in a cloud of icing sugar fumes, btw.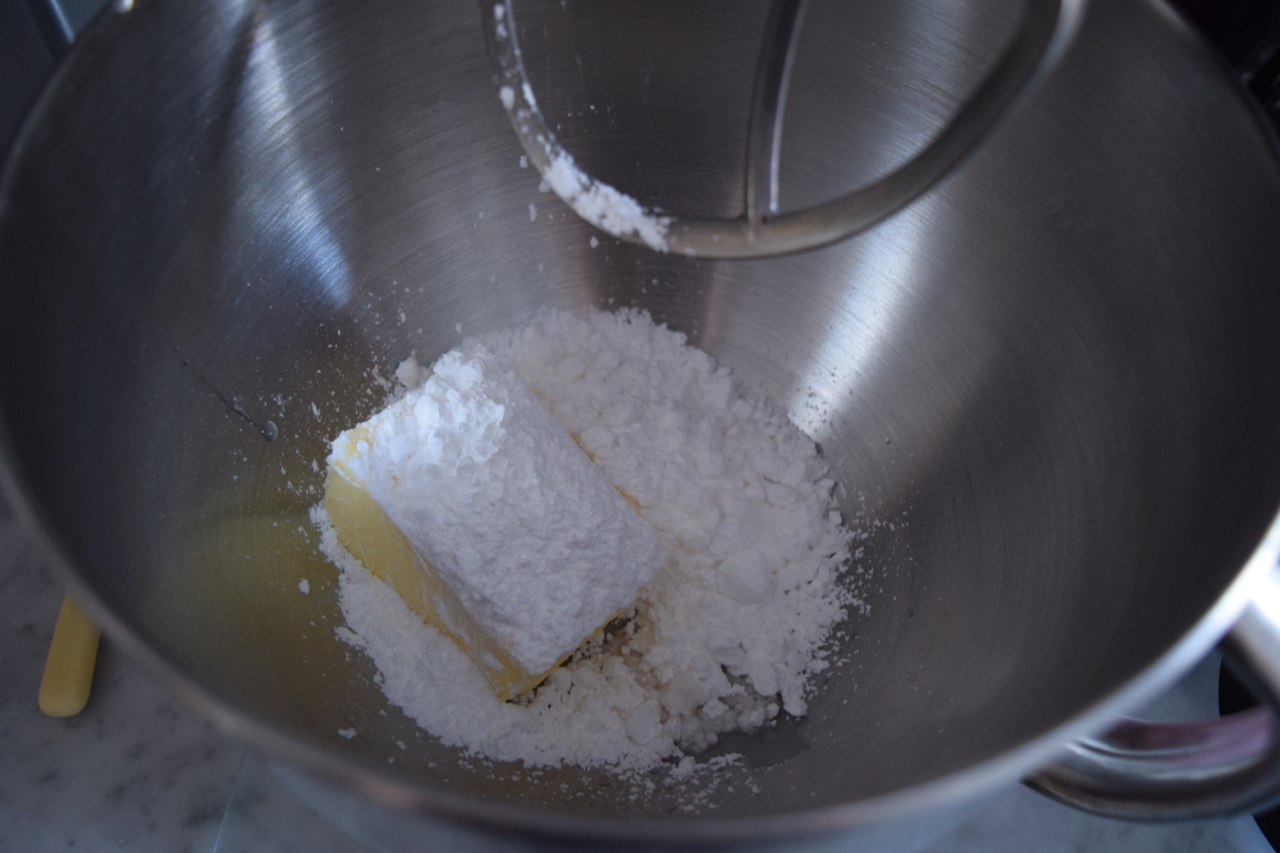 Add the other two thirds of icing sugar, one at a time, and beat the whole lot together until smooth and creamy and whipped.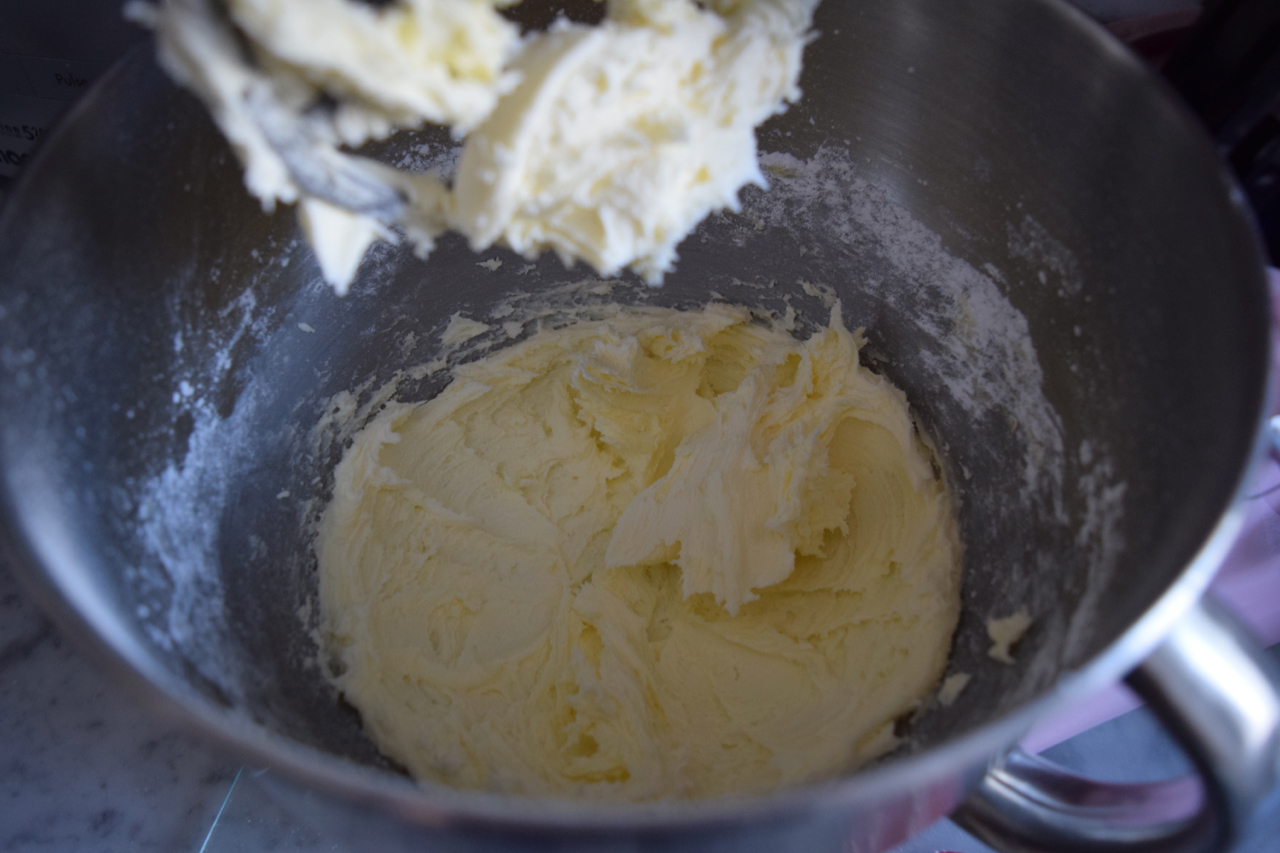 Finally, to ensure your vanilla buttercream is good and pipeable, add a small splash of milk and beat again, briefly.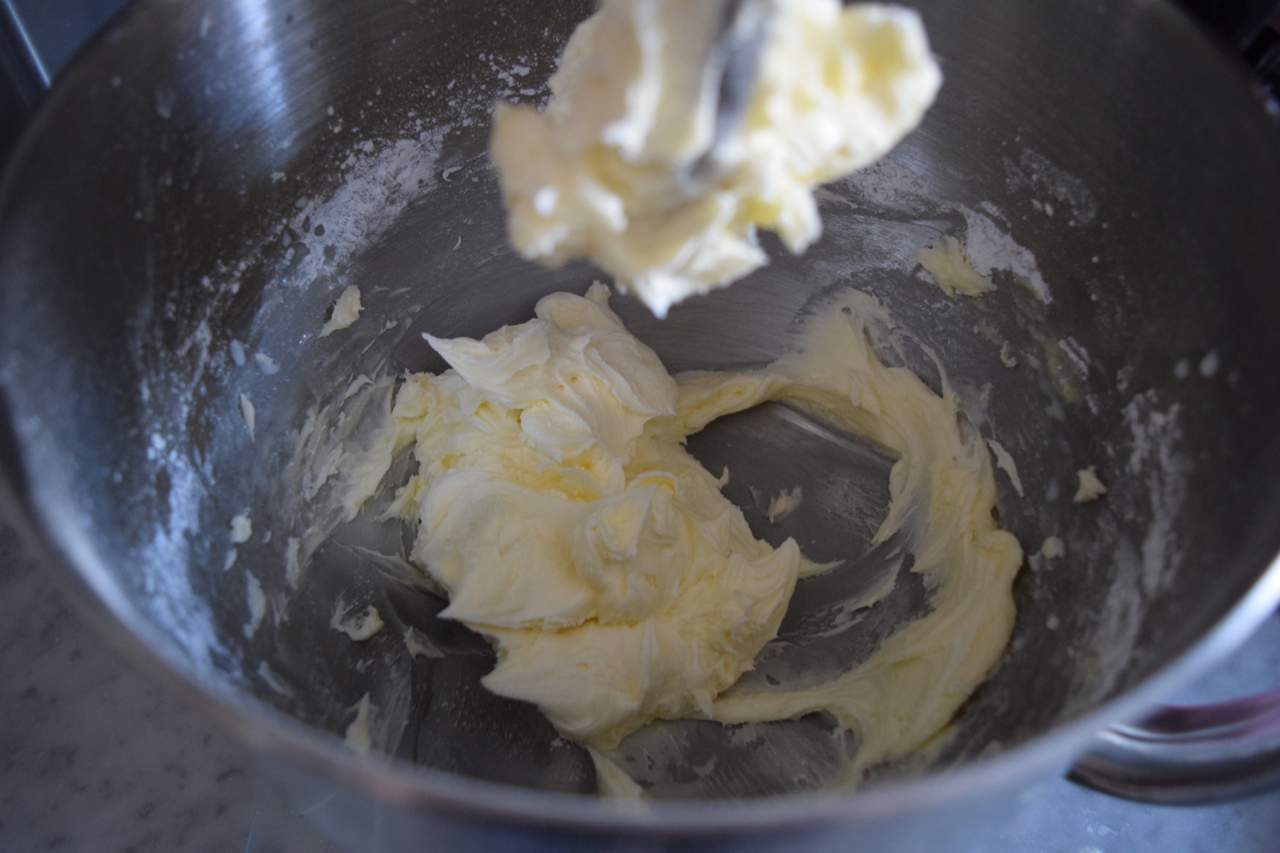 Scrape the icing into a piping bag, if piping is your thing. If it isn't, you're more than welcome to just dollop instead. Prepare your assembly station with your clean jars, jam, cutter and buttercream. On a side note, make sure your cutter is the right size to create sponge layers to fit in your jars.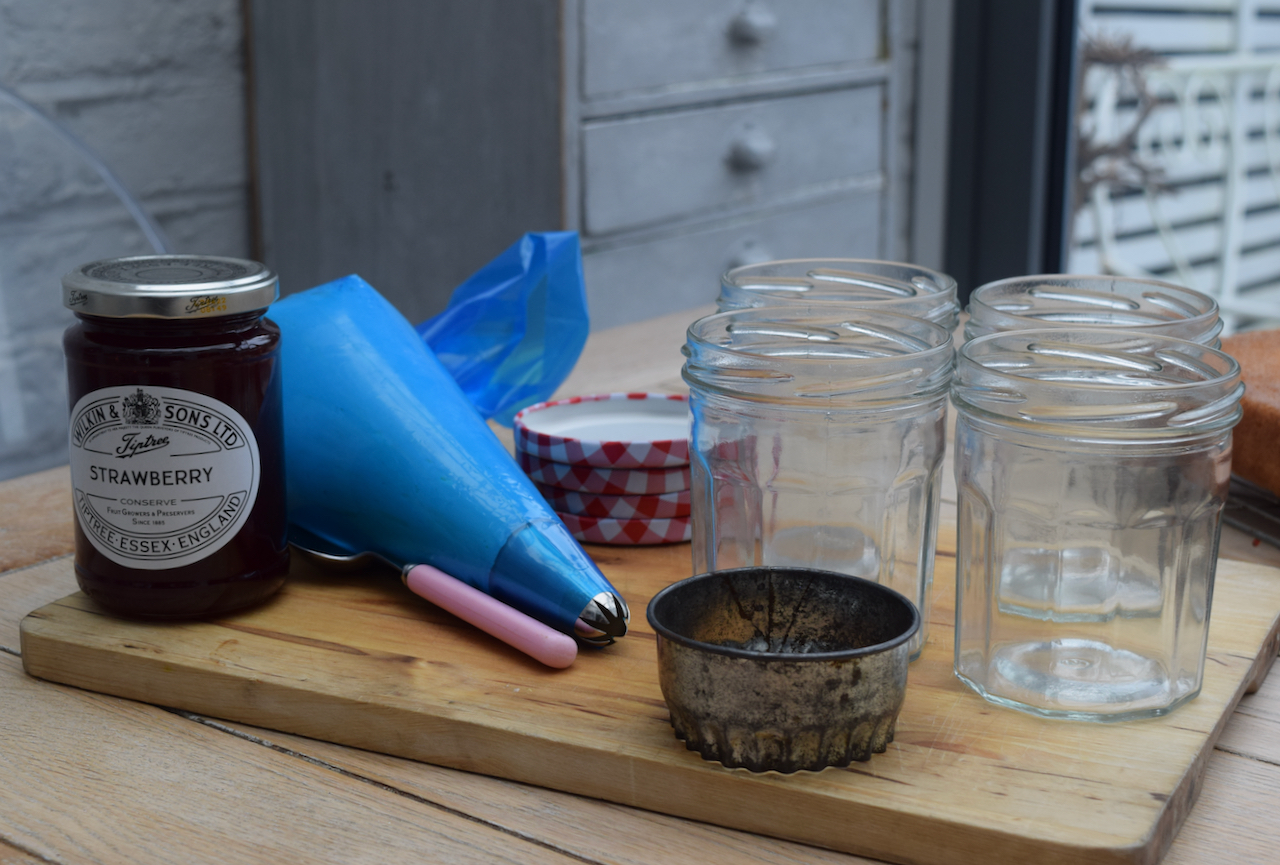 Take your cooled sponge and press out rounds. I was aiming for 3 layers per jar, but due to my lovely light, well risen cake, I could only get 2 in mine.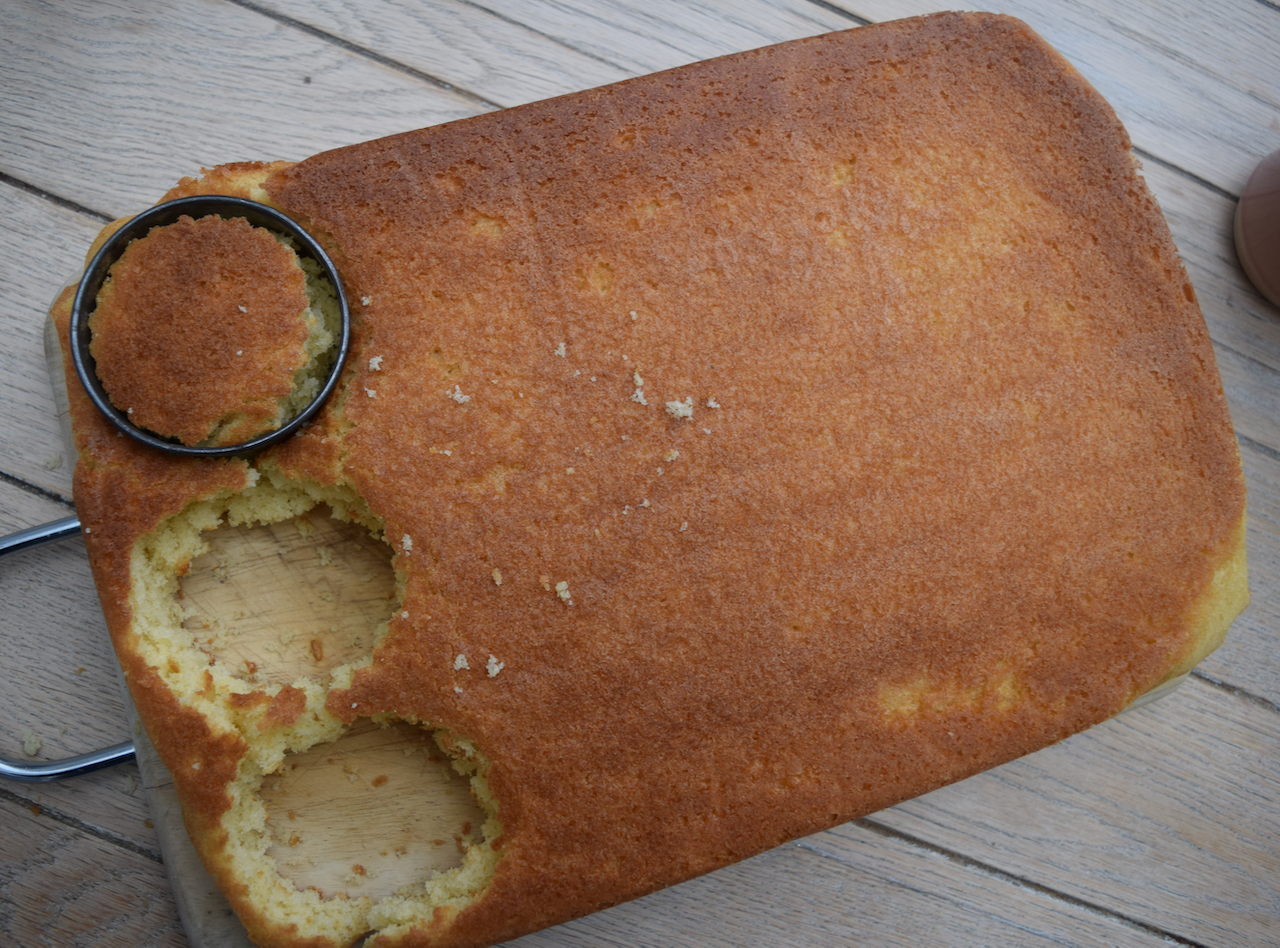 Start your cake jar prodcution line with a layer of cake then a generous teaspoon of jam.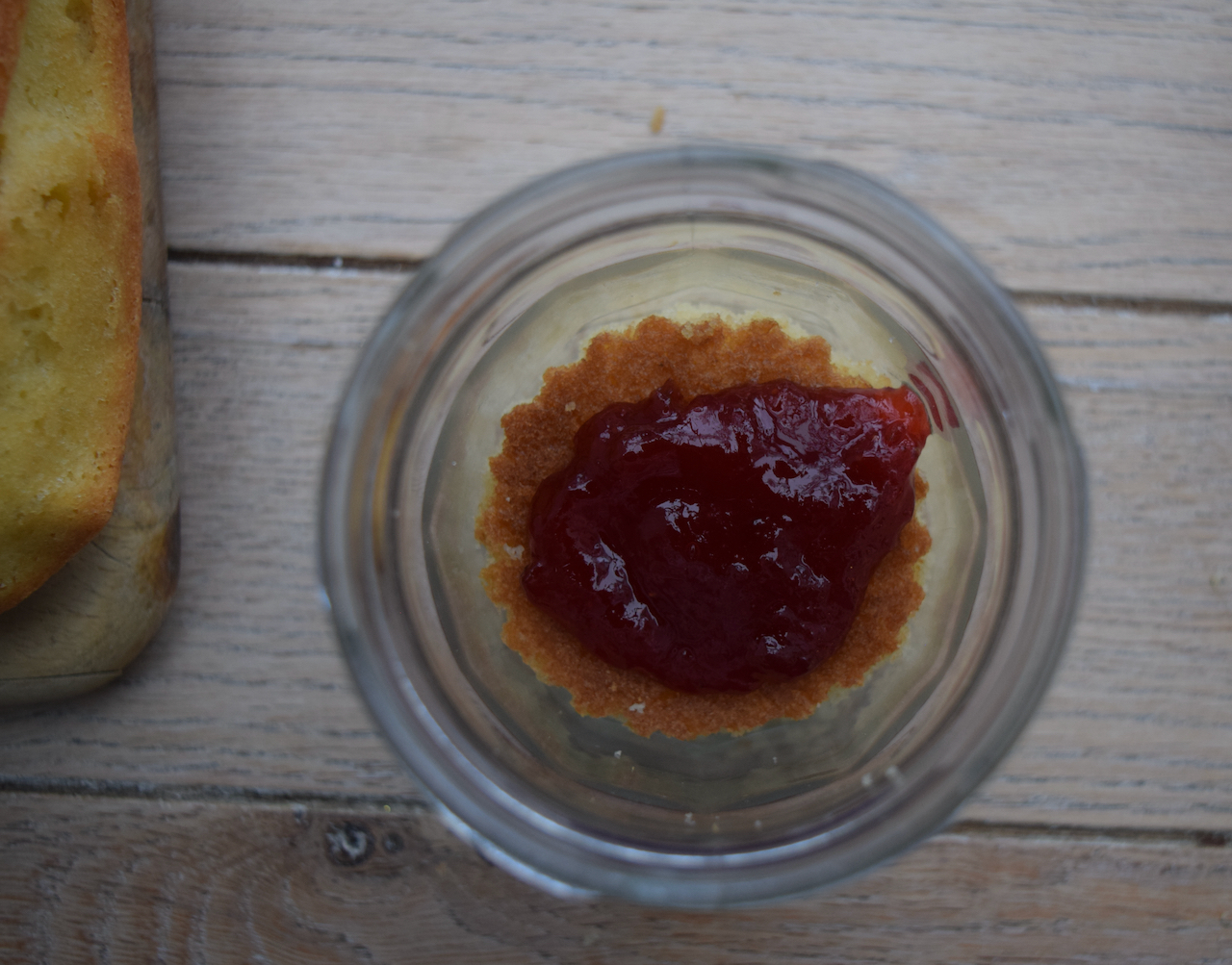 Pipe on a generous swirl of buttercream, then repeat with as many layers as will fit in your jars.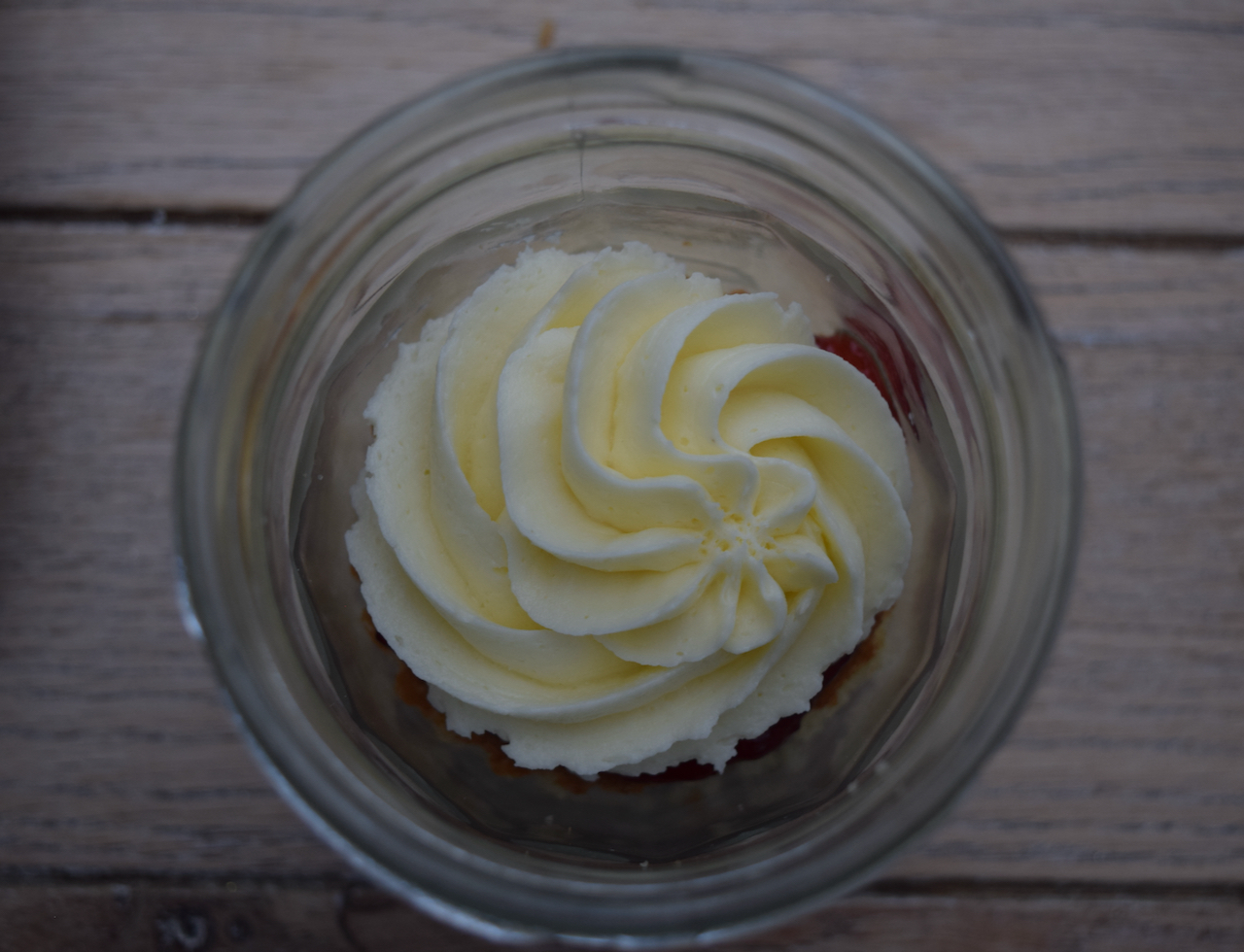 Sprinkle the tops with the sprinkle of your choice. I went for freeze dried strawberries for a touch of sourness, but you do you.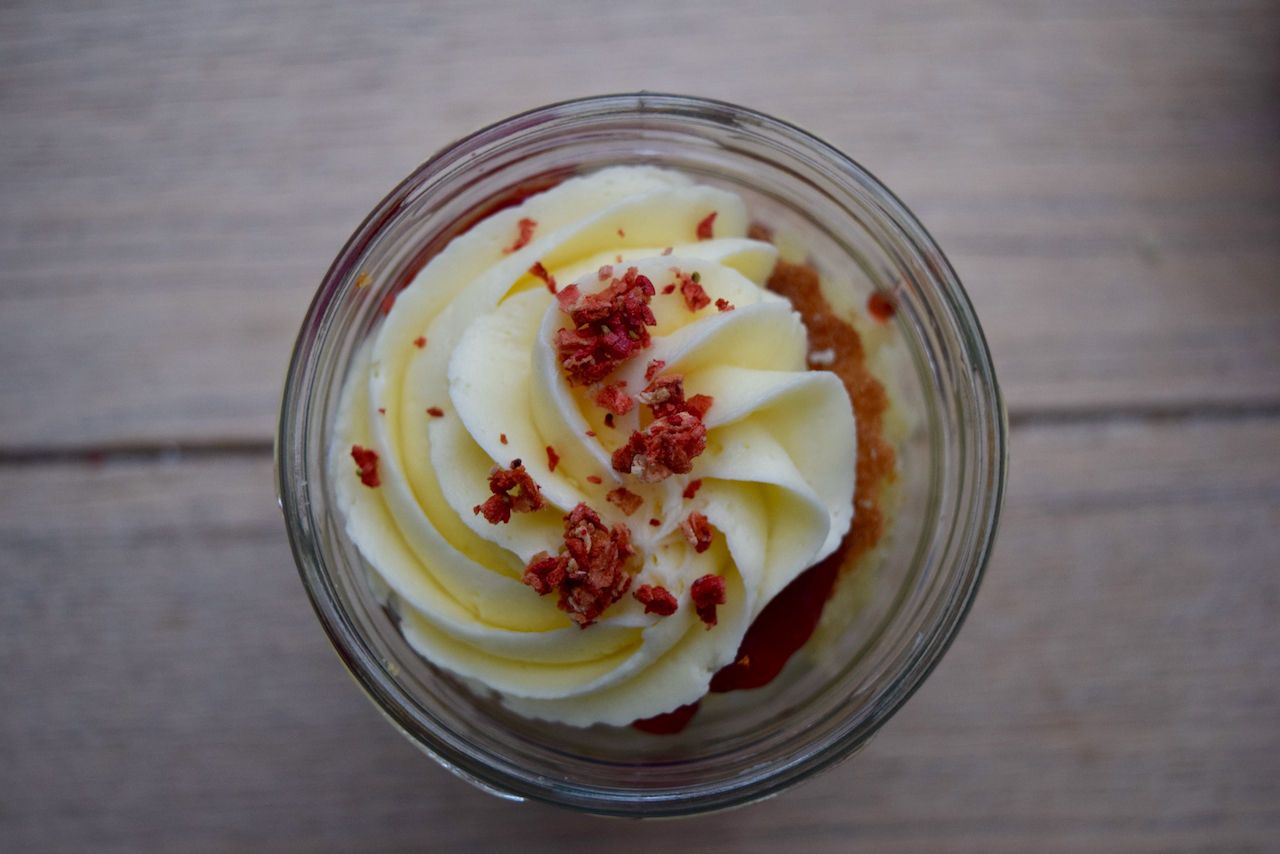 Repeat until you've used/eaten all the sponge and buttercream. I had enough for 6 cake jars, but only had 4 which matched, and no one needs to see a cake in an old gherkin jar.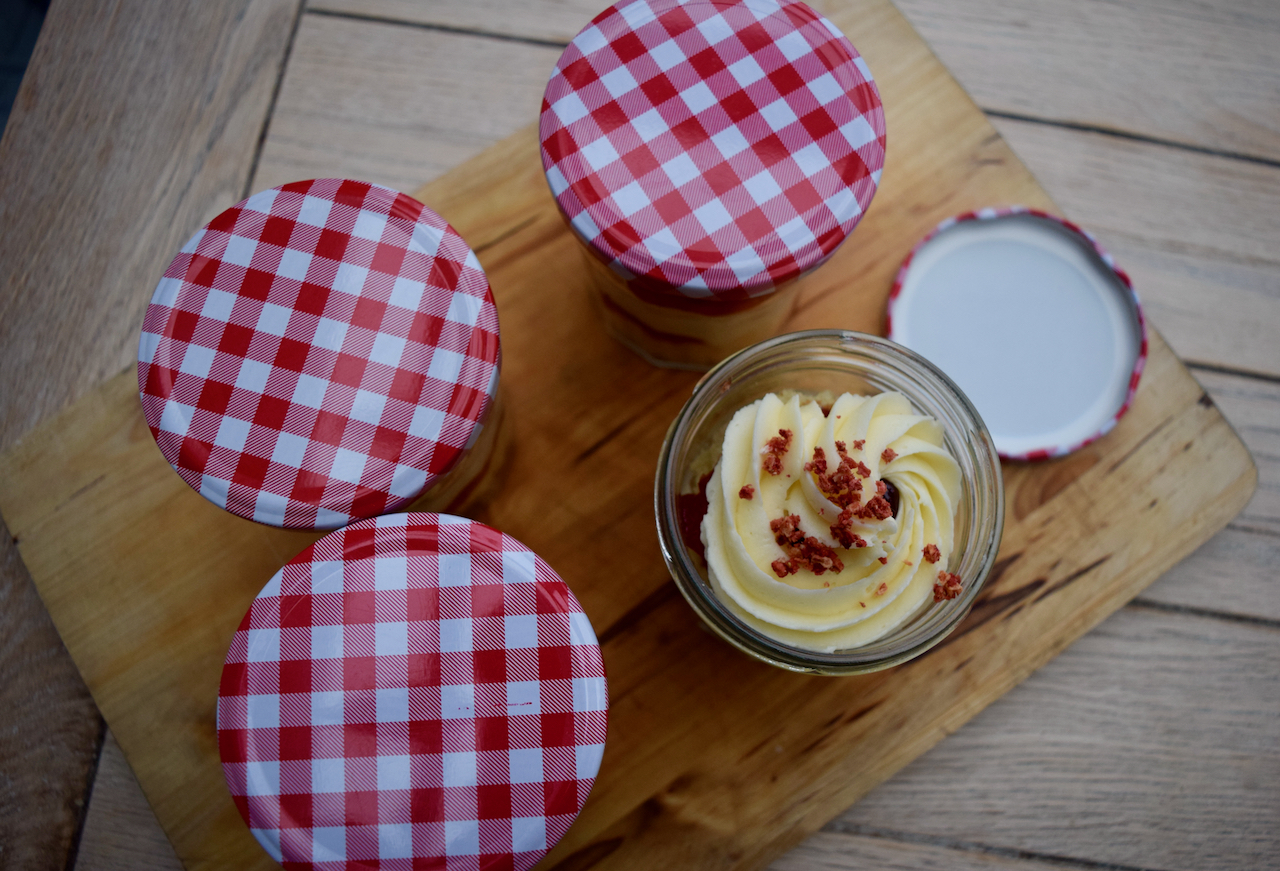 If you're feeling that way inclined, pop on a lid, tie on a festive bow and include a spoon for inhaling the cake jars at great speed.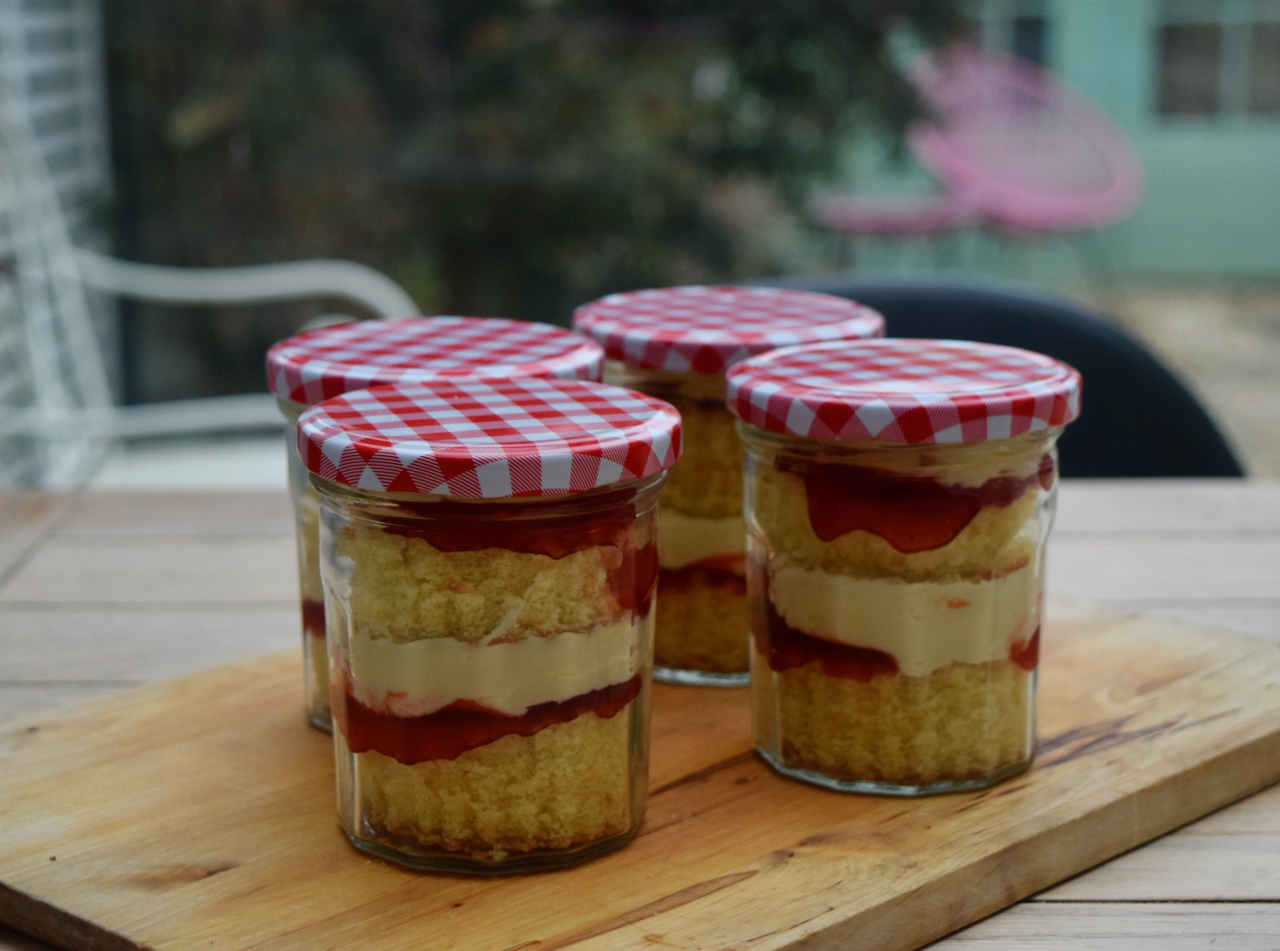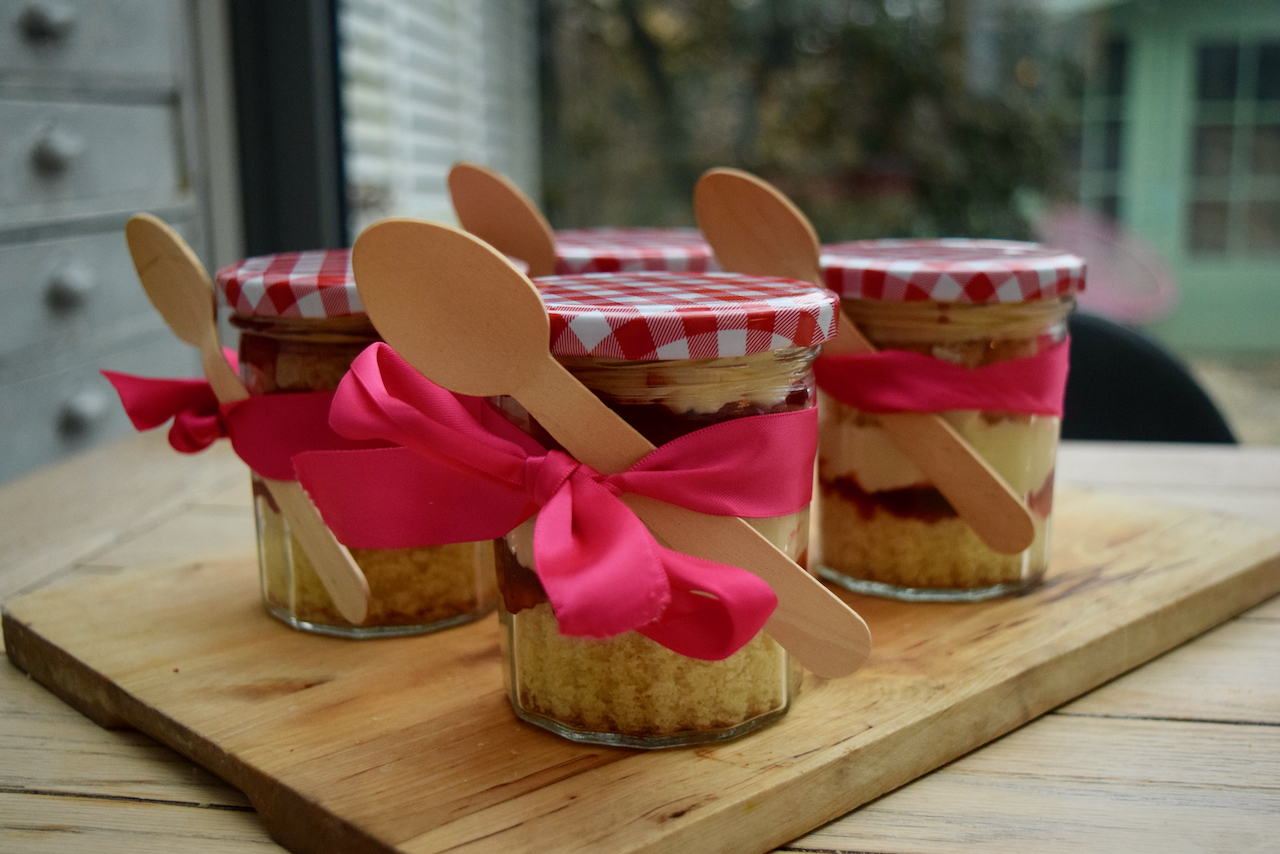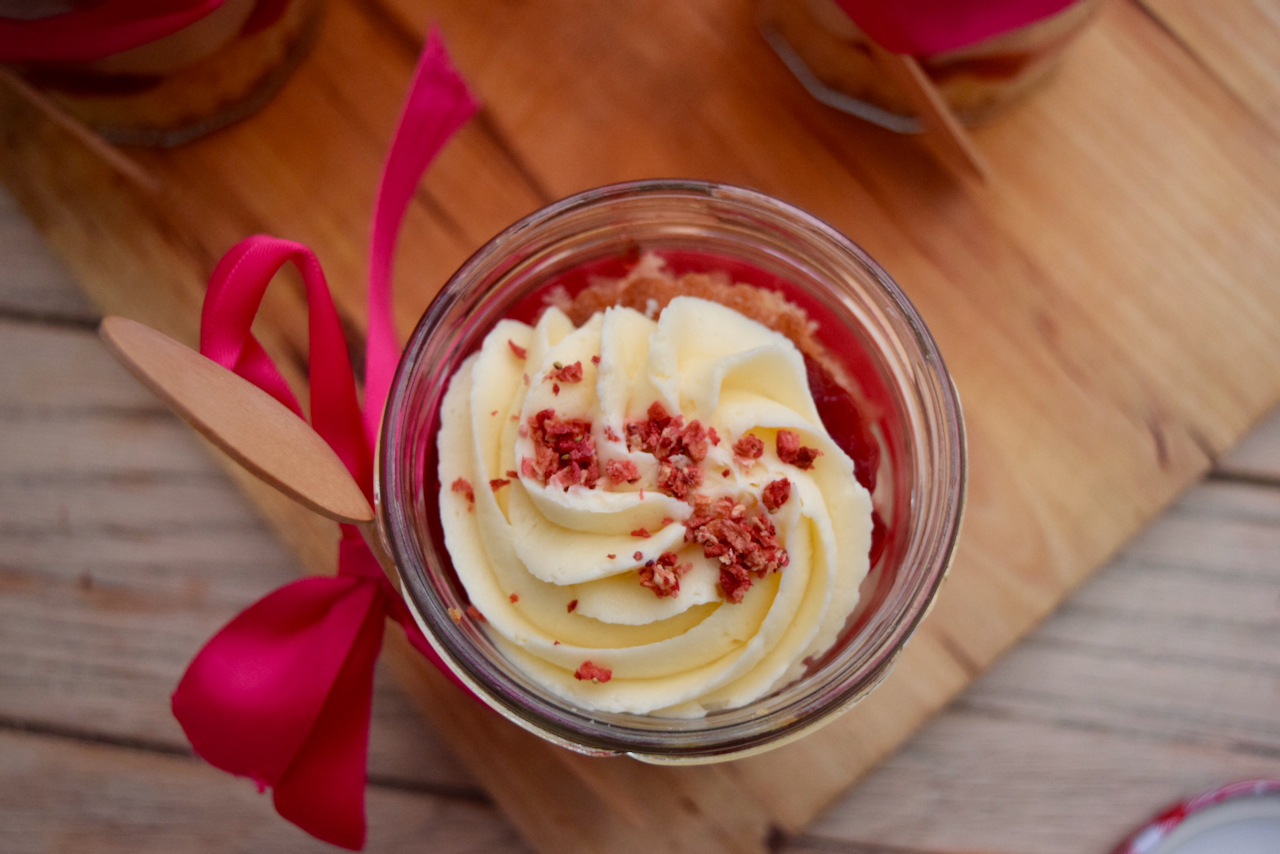 Mother's Day in our house can be summed up by this lovely card, so I'll save myself one of my cake jars for Sunday to avoid too much disappointment.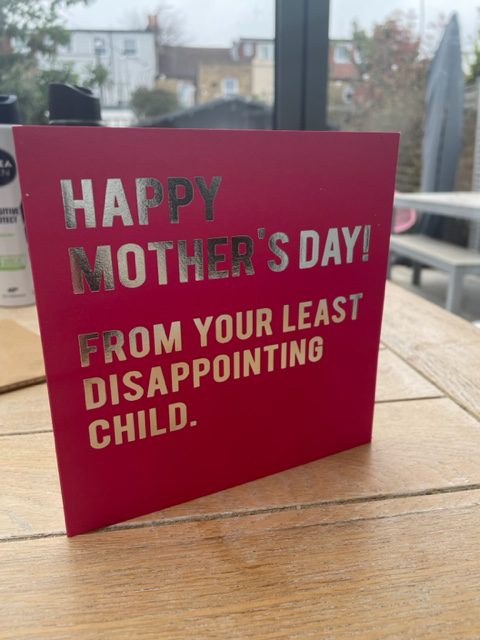 Lucy x
Victoria Sponge Cake Jars Recipe
Makes 4 to 6 jars, dependent on the size of the aforementioned jars
You will need a food processor, if you like, and 4 to 6 jars with lids
Sponge
250g Stork or soft butter
250g caster sugar
1 teaspoon vanilla extract
4 eggs
250g self raising flour
1 scant teaspoon baking powder
2 tablespoons milk
Filling
150g soft butter
300g icing sugar
1 teaspoon vanilla extract
A splash or two of milk
Half a jar of jam of your choice
Sprinkles, freeze dried strawberries, edible glitter or sweeties to decorate and ribbon and woodens spoons to serve
Pre heat your oven to 160 fan assisted and line your swiss roll sized baking tin, approximately 32cm by 22cm.
In a bowl with a hand whisk or in your food processor add the soft butter or Stork and the caster sugar. Process or beat until lighter in colour and texture. Add the vanilla extract and the eggs, one at a time, and beat/process again.
Measure the self raising flour and baking powder then add this to your butter, sugar, egg mixture and fold or process briefly until well combined. Add the two tablespoons of milk to loosen the mixture and give the cake batter a final mix.
Scrape the batter into your tin and level the top by tapping on the work surface. Place into your pre heated oven for 25 minutes. The sponge will be ready when golden in colour, firm to the touch and when a skewer is poked in the middle it comes out clean. Leave to cool then turn out onto a cooling rack.
For the buttercream icing add the soft butter and a third of the icing sugar to a bowl or your stand mixer and beat until smooth. Add the vanilla extract then add the next third of icing sugar and beat again. Add the final quantity of icing sugar, give it one final beat then add a splash or two of milk, mixing again, to create a smooth, pipeable texture.
To assemble the cake jars, using a cutter slightly smaller than the base of your jam jar, cut out circles of sponge cake. Place one in bottom of your jar, dollop on a teaspoon of the jam of your choice. Pipe or spoon on a generous swirl of buttercream then repeat with as many layers as you can fit in your jar. Finish with a final topping of buttercream then sprinkle with the topping of your choice. Pop on a lid, tie on a bow and gift with a wooden spoon for easy devouring.
Your cake jars will keep in the fridge for 2 to 3 days, if you want to get ahead of the game.