One Pot Greek Roast Chicken Recipe
Last summer we had our first trip to Greece and fell in love. How I had not managed to visit Corfu before in my whole life remains a mystery. The Greek are such a kind, warm nation and we felt incredibly welcomed. I would, ordinarily, be racing back for this year's summer holiday but funds are a touch on the tight side with Ben starting at Uni, so it's the Isle of Wight for us instead. This non Greek based holiday, as well as not being as hot, will not feature some of the delicious food we sampled in Corfu either. So, with this in mind, today's post is my One Pot Greek Roast Chicken.
On a Sunday when I announce we are having roast chicken, the family, as one, signal their disappointment with a communal sigh. I love a roast chicken, but I do understand it's probably the most dull Sunday roast of all the meaty options. But, I've said before, we can't have roast beef every week, not until we win the lottery. To liven Sunday's up, however, I decided to fashion this One Pot Greek Roast Chicken to try and revisit our Corfu adventure last year. The flavours of lemon, oregano and olive oil infuse the *eek* moist roast chicken and potatoes. The whole lot crisps up in a herby one pot dream. The chicken is not remotely dry, the potatoes are soft but with crisp edges and it all just cooks away quietly on it's own while you get on with your day. Clyde was away when I made this so Ben and I could enjoy the chicken with a heavily olive *Clyde's kryptonite* laden Greek salad, while George inhaled his with broccoli and his favourite gravy from a jar, not even remotely Greek. It was divine, lemony, but not overly so and herbed with Greek-ish flavours. Huge thanks to Super Golden Bakes for this wonderful recipe, you have changed Sunday chicken for us.
We ate plate after plateful of this One Pot Greek Roast Chicken so this is so the way forward for Sundays to come. No more boring roast chicken, it's a little bit of Greek for us from now on.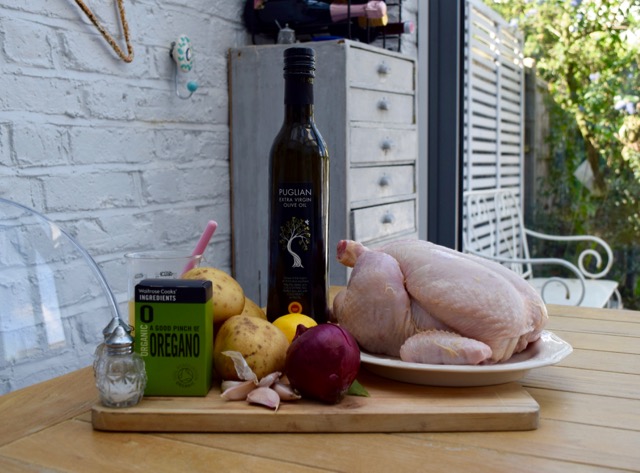 Delicious and uncomplicated, much like myself *such lies*. This is a super simple dish with super simple ingredients. You can cook this in a lidded casserole dish or I just used a lovely roasting tin covered with foil, just make sure you have a lovely big, well bred chicken.
Make a start on this Greek style roast by pre heating the oven to 160 degrees fan assisted then taking your chosen cooking receptacle and placing your chicken in it. Drizzle with good olive oil and plenty of salt and pepper.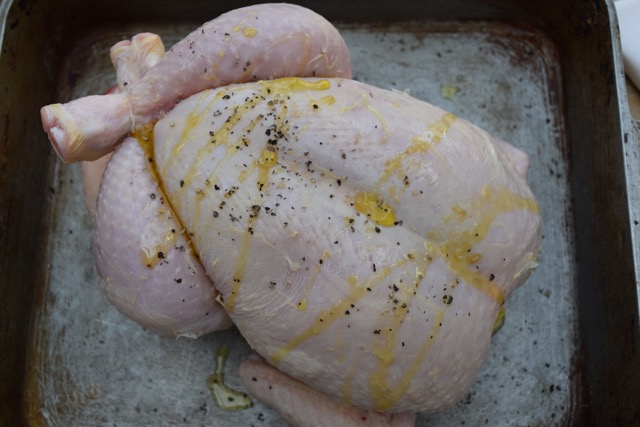 Massage the oil into the chicken then squeeze over the juice of half the lemon then tuck the lemon into the bird's cavity. Next add the halved red onion and one of the bay leaves for added roasting flavours.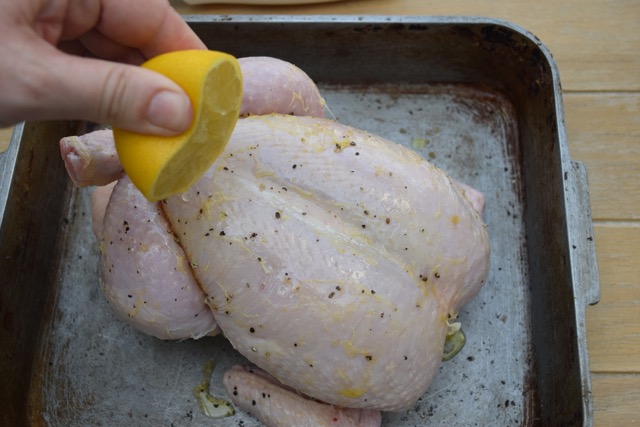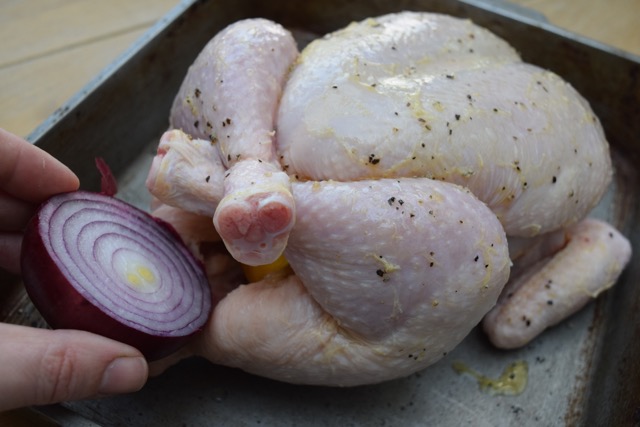 Finally dust with a generous teaspoon of dried oregano, pour on a third of the chicken stock, then cover, ready for 40 minutes in your pre heated oven.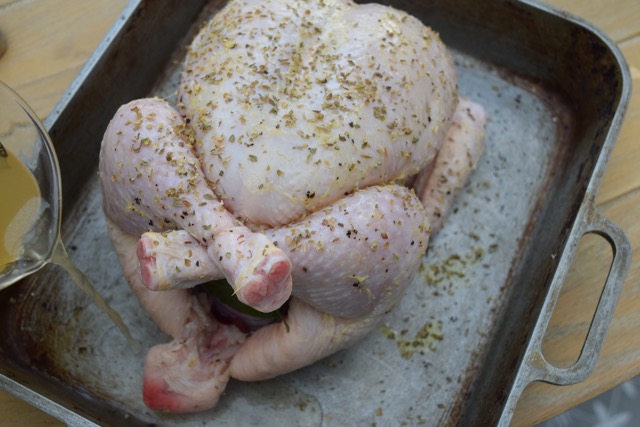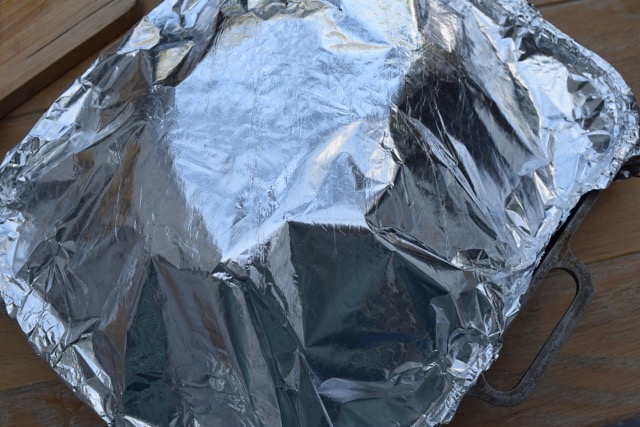 While this first stage of roasting happens, crack on with peeling the potatoes then quarter them. Peel and chop the garlic and pop to one side.
When the first cooking time is up, remove the foil and tuck the peeled potatoes and garlic in around the chicken, season them with salt and pepper and another good tablespoon of olive oil. Squeeze over the juice from the other half of lemon, drop in the 2nd bay leaf and sprinkle the spuds with another tablespoon of oregano. Pour in another third of the chicken stock then cover the pan again with your foil or lid.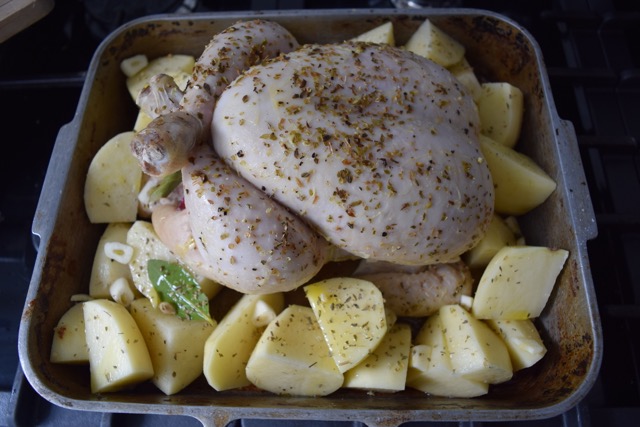 The chicken then goes back in the oven, for another 40 minutes. When this time is up, give the potatoes a good turn for even browning, pour on the final stock then re-cover and pop back in for a further 15 minutes.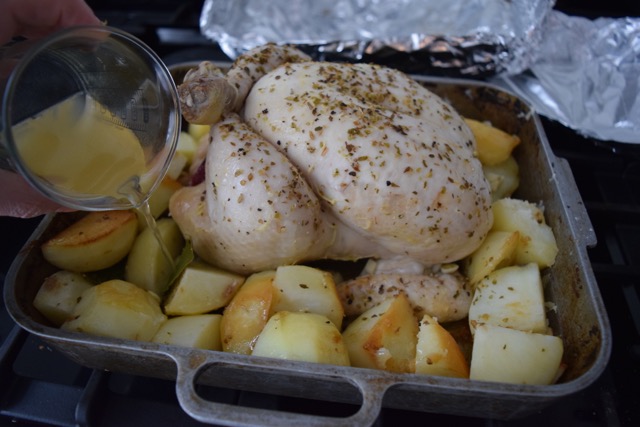 Now, remove the foil or lid, turn the temperature up to 180 to 200 degrees fan and give the whole affair a final crisping. This will take another 15 to 20 minutes. Just enough time to whip up a delicious Greek salad to go with this roast.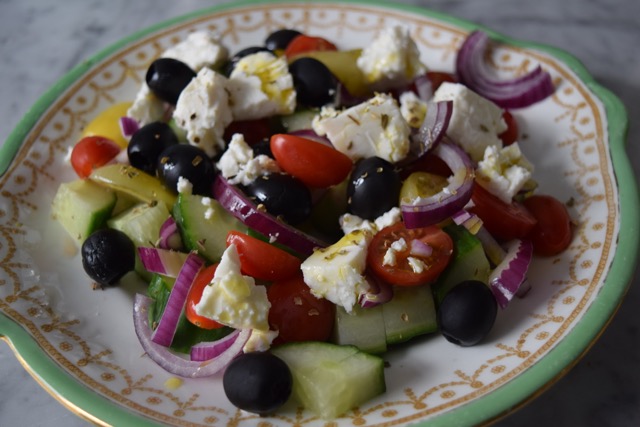 The Greek chicken one pot is ready when everything is crisp and golden and tender.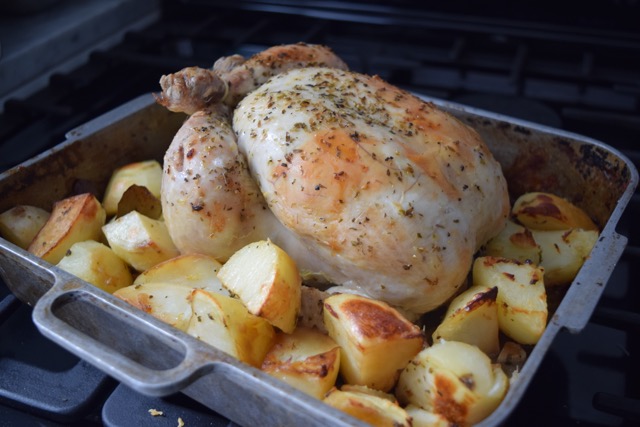 Let the whole business rest for around 10 minutes, then garnish this brilliantly simple dish with some fresh oregano or parsley and carve. You'll notice I didn't photograph my carved dish, because, much to the disappointment of my Father, I am quite the worlds worst carver. I elegantly hacked this into 3 and it was pretty much bloody perfect.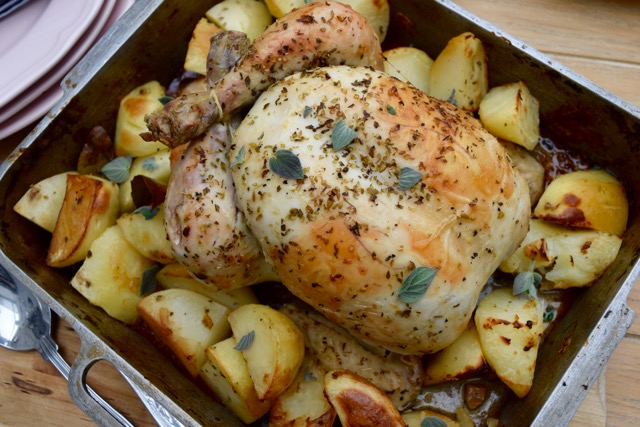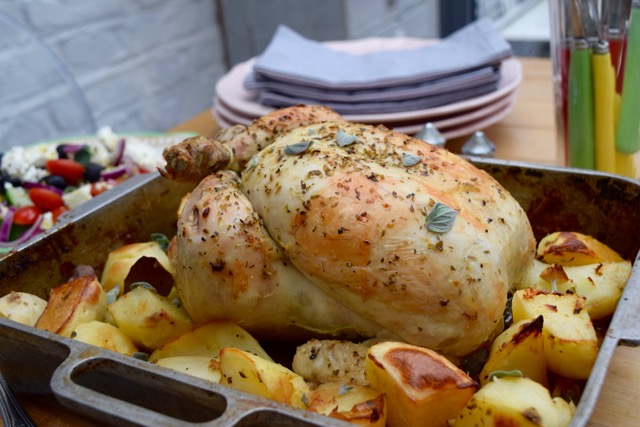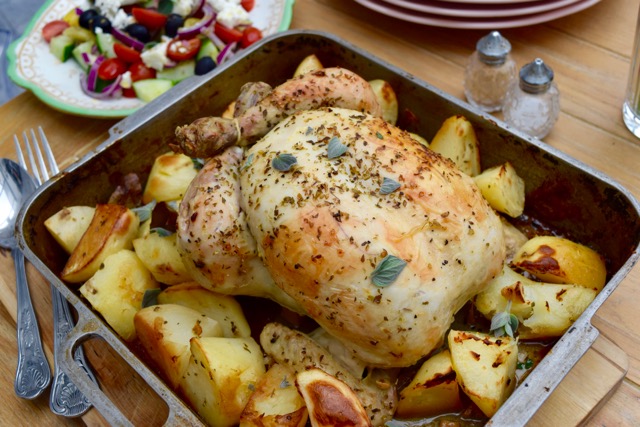 Again this is one for the yet to be invented Lucy Loves scented food blog. This One Pot Greek Roast Chicken smelled so amazing and tasted even better. Genuinely loved by both boys, so it not only smells good, it's a minor miracle. I loved it too, but to be fair, I'll eat bloody anything.
Lucy x
One Pot Greek Roast Chicken Recipe
Serves 4 
You will need a good square roasting tin or casserole dish
1 Chicken, weighing in at around 1.5kg
1 small red onion, halved
1 lemon, halved
Salt and pepper, generous amounts
150ml chicken stock
4 to 5 potatoes, peeled and quartered
3 garlic cloves, peeled and chopped
3 to 4 tablespoons olive oil
2 bay leaves
2 to 3 teaspoons dried oregano
Fresh oregano to garnish, Greek Salad or green vegetables to serve
Pre heat your oven to around 160 degrees fan assisted.
Take your chicken and place in your chosen roasting tin. Season well with generous amounts of salt and pepper then rub in a good tablespoon or 2 or olive oil.
Squeeze over the juice of half the lemon then pop the lemon inside the chicken along with the red onion, halved, and one of the bay leaves. Pour around 5oml of stock into the tin, sprinkle on a teaspoon or two of dried oregano, cover with foil then roast for 40 minutes.
Remove the foil then tuck the peeled, quartered potatoes around the chicken. Season generously then squeeze over the juice of the other lemon half, add the bay leaf, another teaspoon of dried oregano, another tablespoons or two of oil and another 50ml of chicken stock around the potatoes. Re-cover with the foil then bake for another 40 minutes.
After that 40 minutes, turn the potatoes over so they brown evenly, pour on the final 50ml of stock, re-cover and cook for another 15 minutes. Finally remove the foil and cook for another 15 to 20 minutes to crisp up the chicken and potatoes and to ensure everything is well cooked through.
Cover in foil and leave to sit for 10 minutes before serving alongside a lovely Greek Salad or some greenery.
SaveSave
SaveSave
SaveSave
SaveSave