Stromboli Pizza Recipe
It's that time again, with a tear in my eye and with a heavy heart, I have to wave the children off back to school. What am I talking about – I am shoving them out of the door without a backward glance. I love the boys, but with Ben taking his GCSE's this summer, he hasn't been at school since May. I need them to get back into some sort of routine and to get their hands out of the fridge. They have eaten so much food over the summer holidays I feel I should have had my salary paid directly to Ocado.
So to celebrate a full larder and a cleaner house, make your adorable school bound children this delicious Stromboli Pizza. Or just make it for anyone who fancies crisp pizza dough, stuffed to the rafters with ham, chorizo and cheeses then dipped in a tomato pasta sauce. You can choose your favourite deli meats and cheeses to fill this simple dough. Go parma ham for a more sophisticated feel or go with plastic, wafer thin ham for a less elegant offering. Add jalapeños or dried chilli flakes for spice, or fresh basil, thyme or oregano for fragrance. Whatever you add to your Stromboli Pizza, this is such a satisfying supper for anyone who crosses it's path.
The inspiration for this came via the ever helpful Food Network website, adapted to include all our favourite fillings. You can get the dough started well in advance and then have it ready for when you need to bake it up later, making this super flexible and helpful. Unlike two ratty children who have been off school for at least six weeks and need to go back to school for some discipline. So try not to cry too much as you wave them off, you can always busy yourself making this Stromboli. Or just sit down for a moment and enjoy the peace and quiet.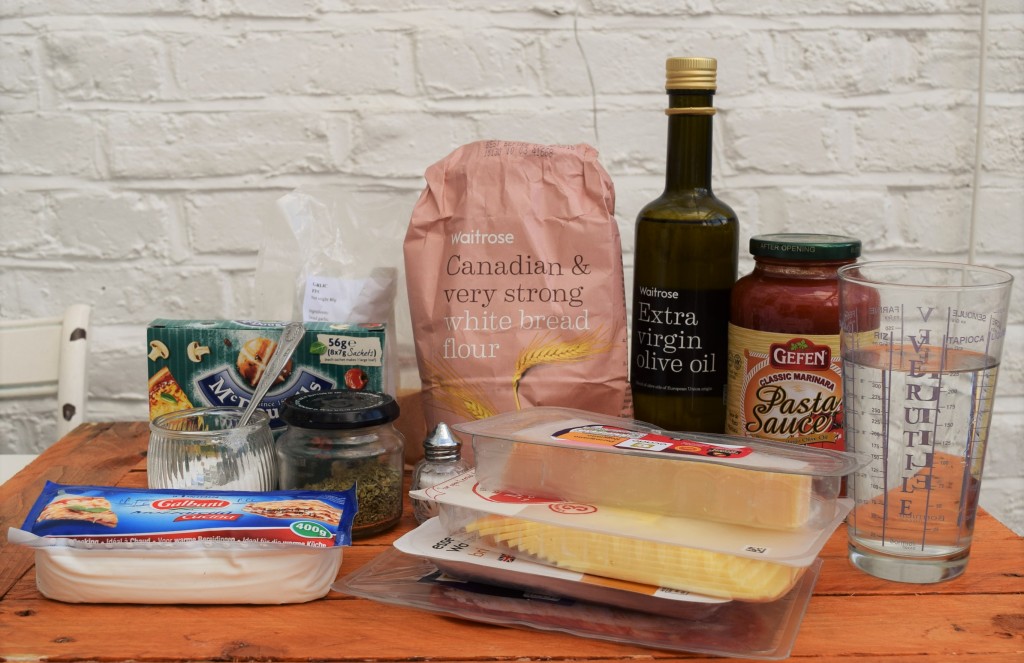 Here's the Stromboli Pizza line up. No real challenge for anyone, just the simple pizza dough to make, then the filling and an optional sprinkle based topping. And for such enormous cheesy dough based rewards, well worth it.
Crack on with the dough. Either using your stand mixer or in a bowl by hand, start by adding the flour. Follow in with dried yeast sachet and salt and give it a little mix.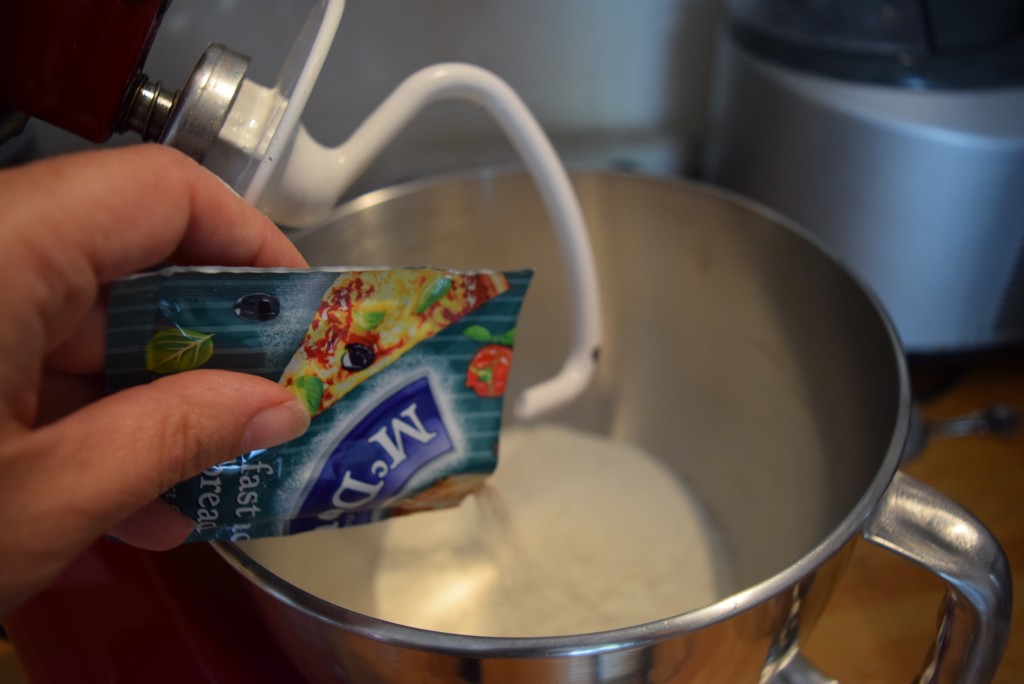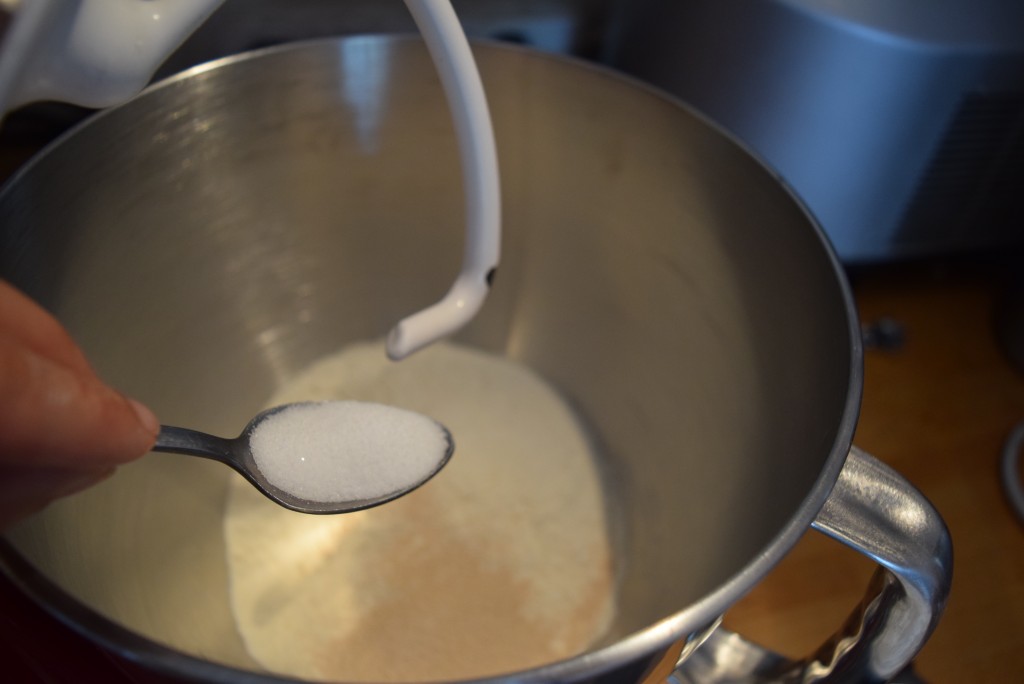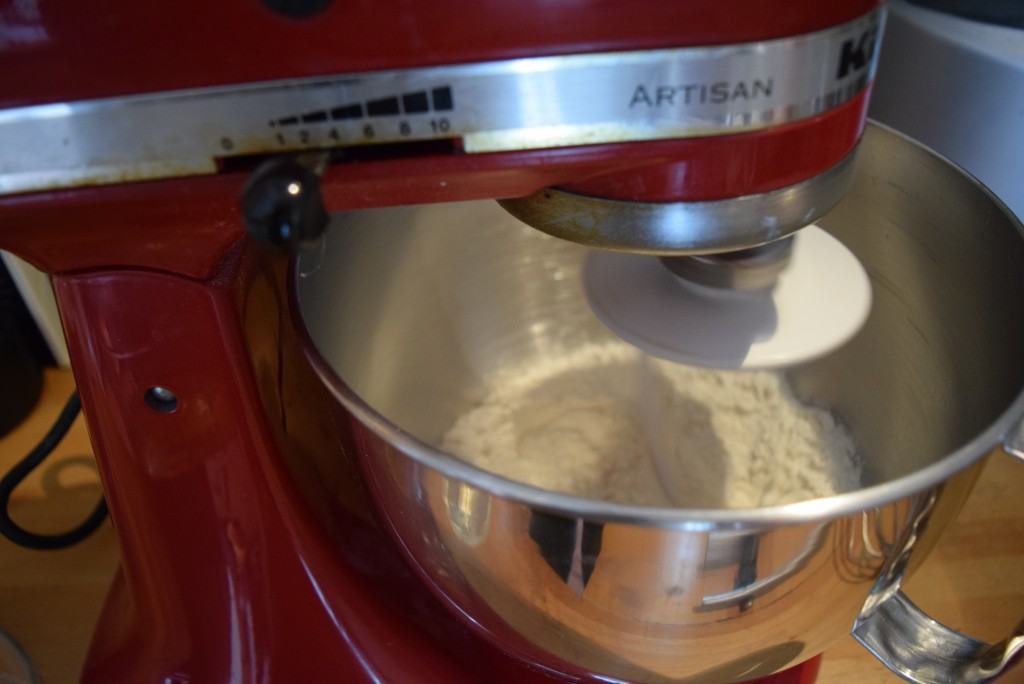 Next, measure out the warm water, hand hot is fine, spoon in the sugar and olive oil then pour slowly into the flour mix and give it a stir, by hand or with the dough hook.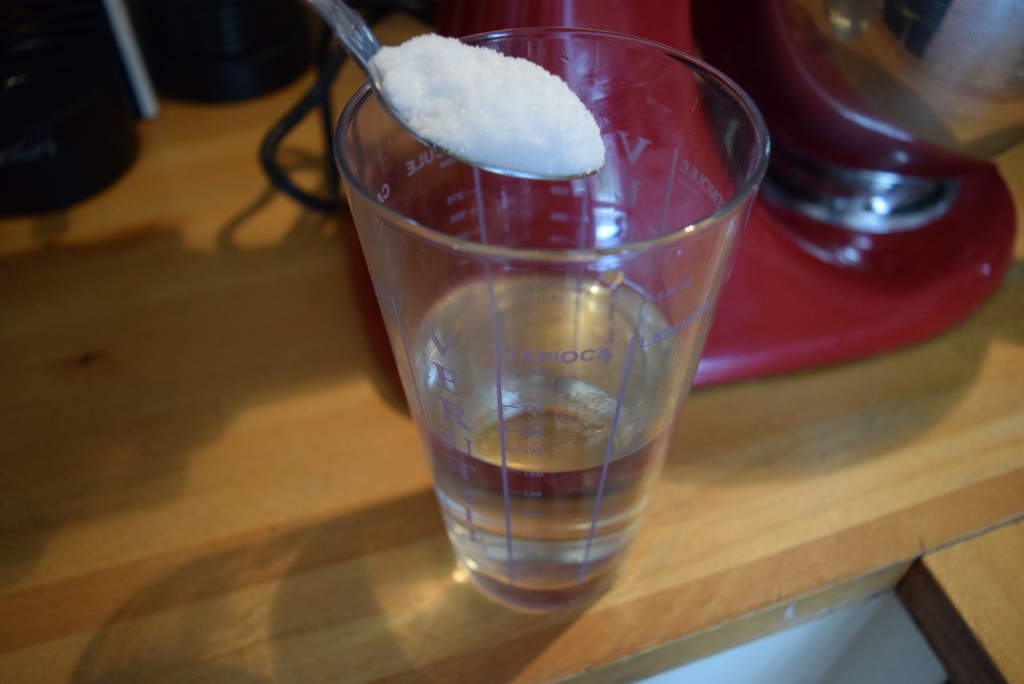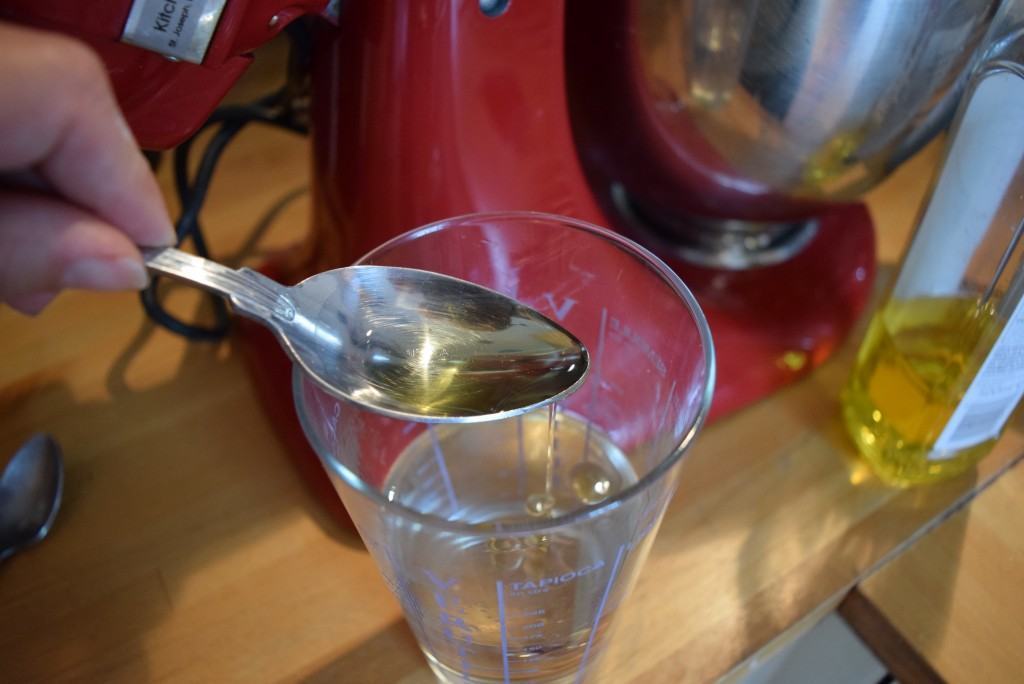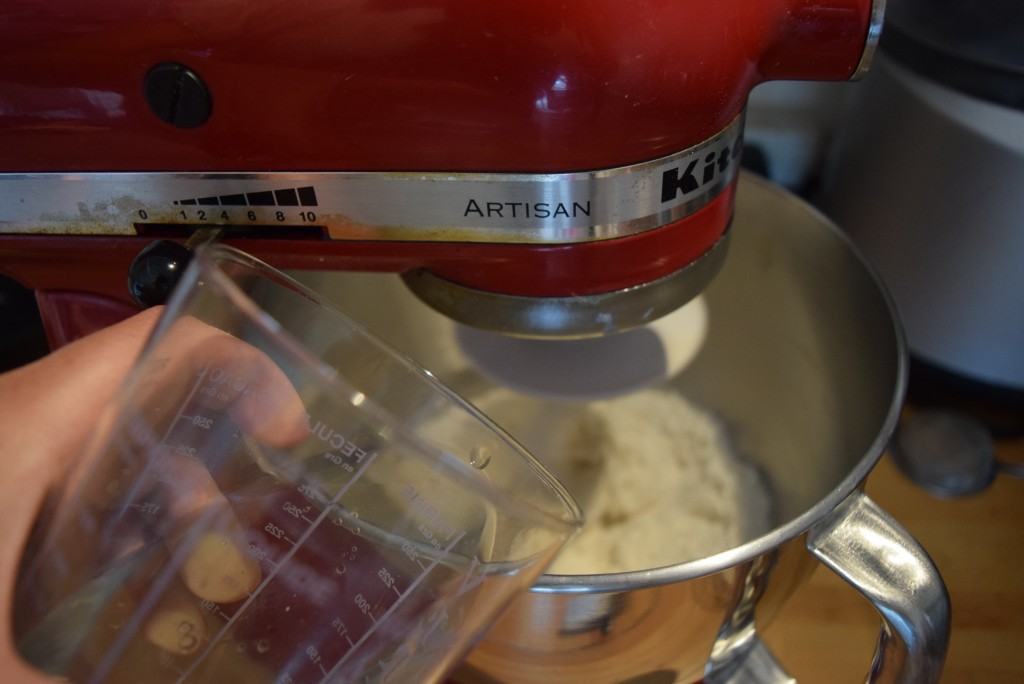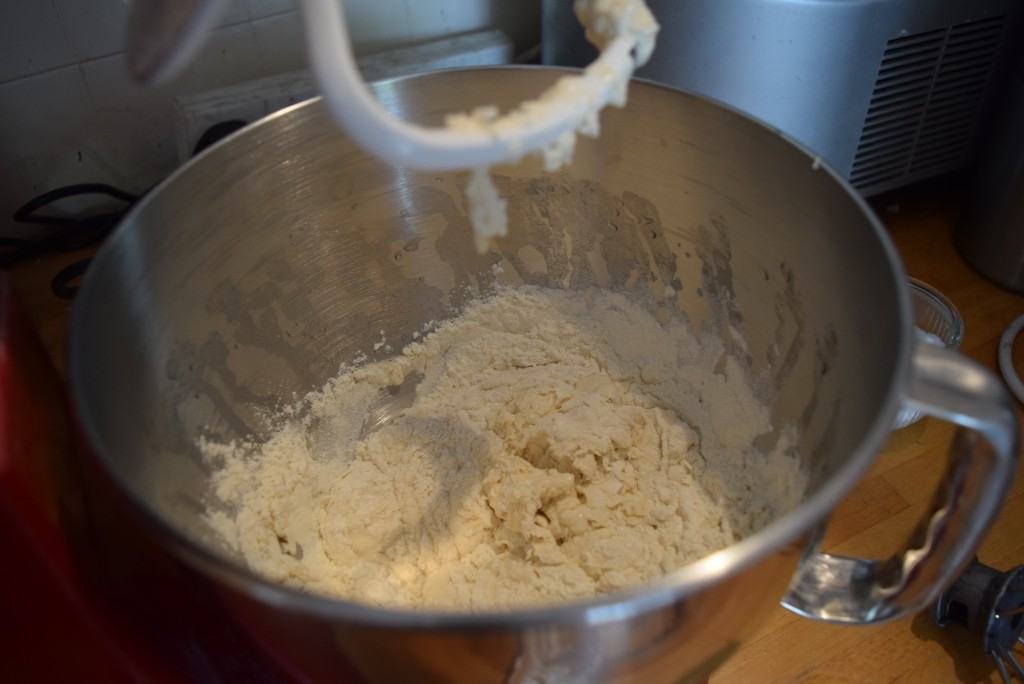 Once the dough comes together into ball, knead it in your mixer or by hand for between 5 to 8 minutes. The dough should be feel soft but not too sticky. If it's too wet, add a tablespoon or so more flour.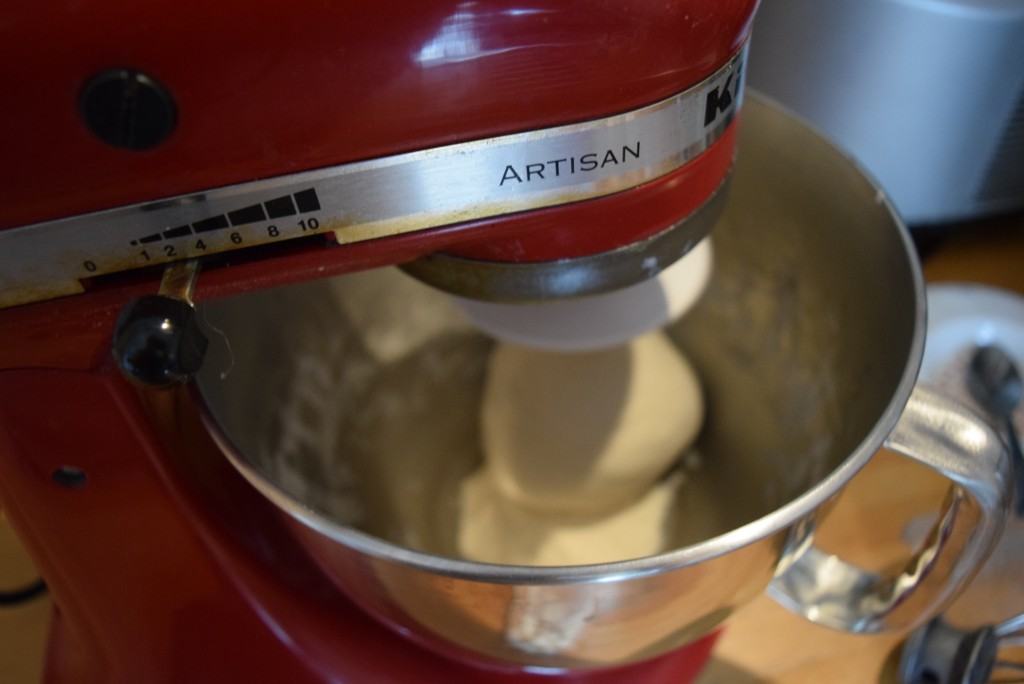 I chose the mixer as I am tired and emotional.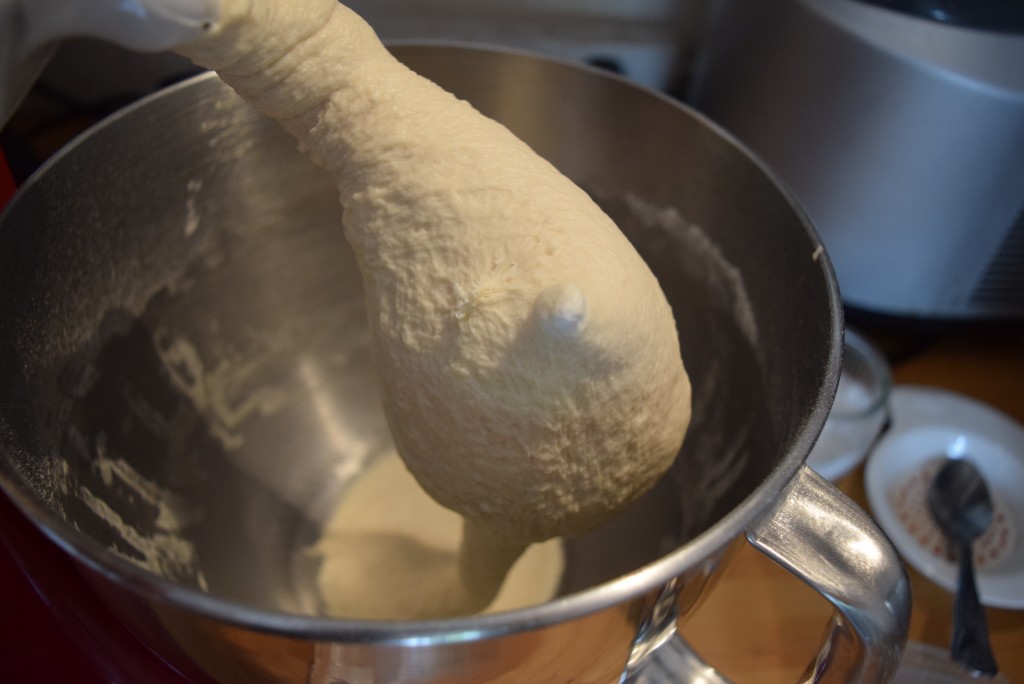 When the kneading time is over, oil the bowl, then put the dough in it, covered, in a warmish draft-free place to rise. This should take around an hour or so, and the dough should double in size.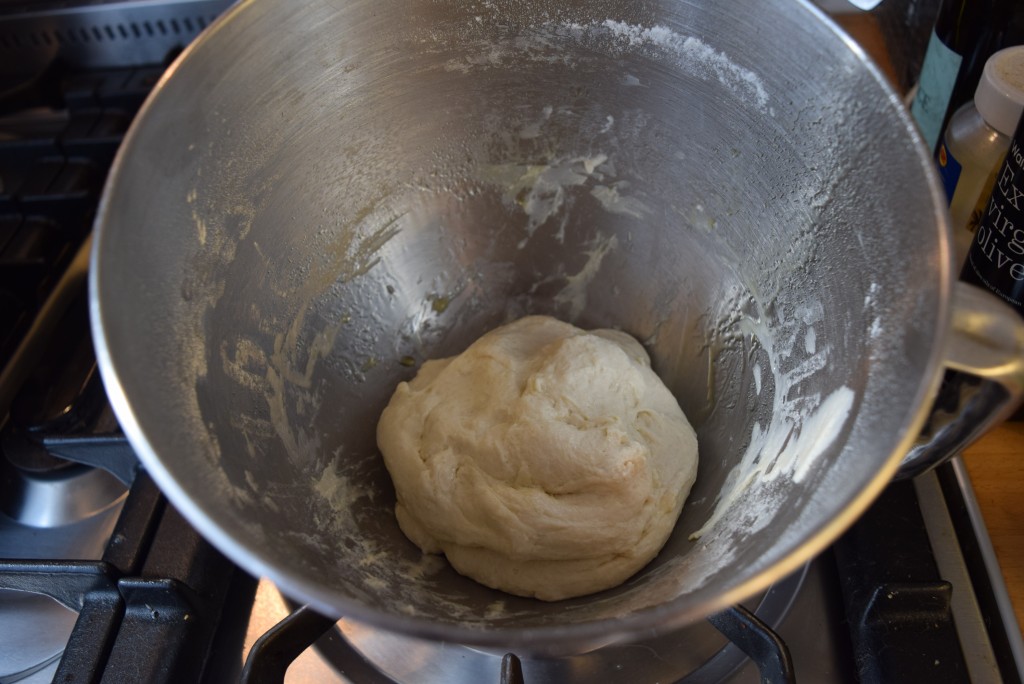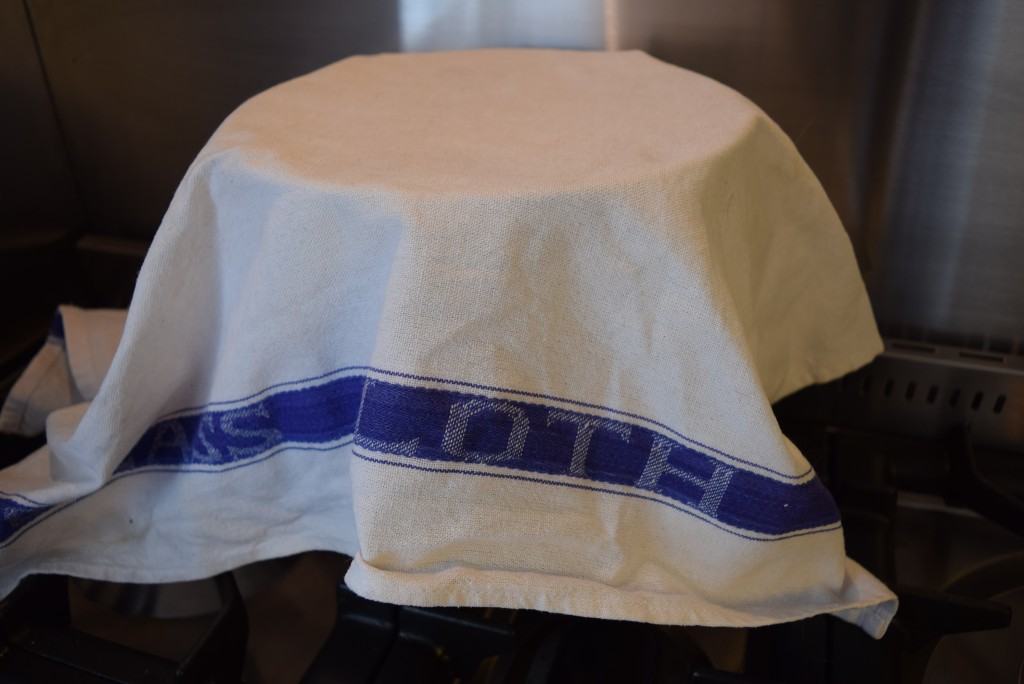 Whilst the magic is happening, get the fillings ready and prepare the herby sprinkle topping.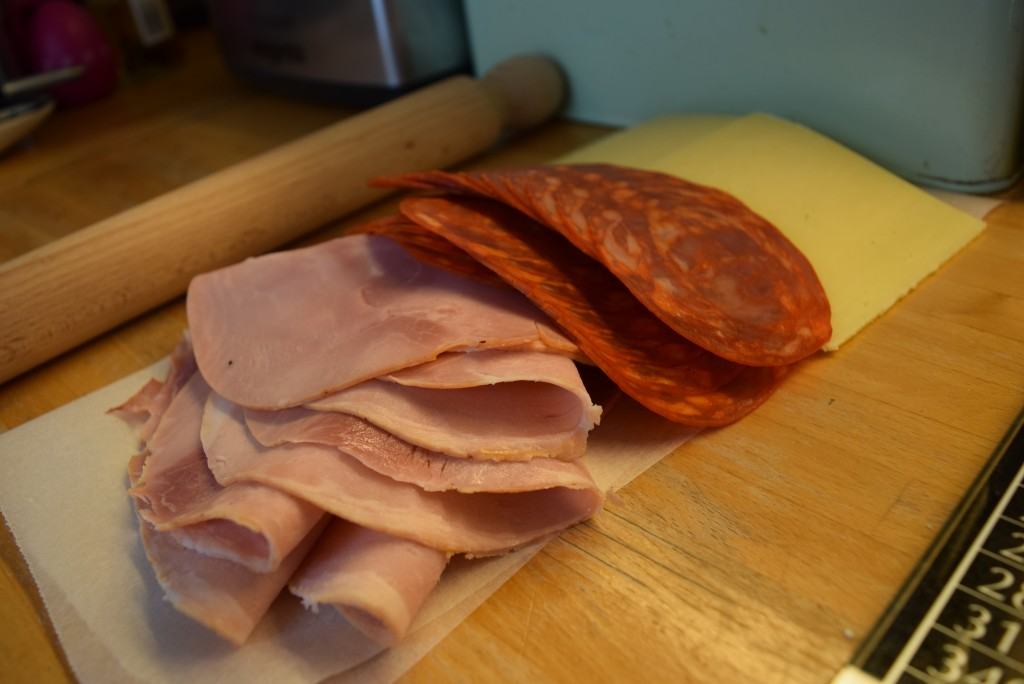 For the topping, mix the oregano, my favourite garlic powder and grated parmesan in a small bowl.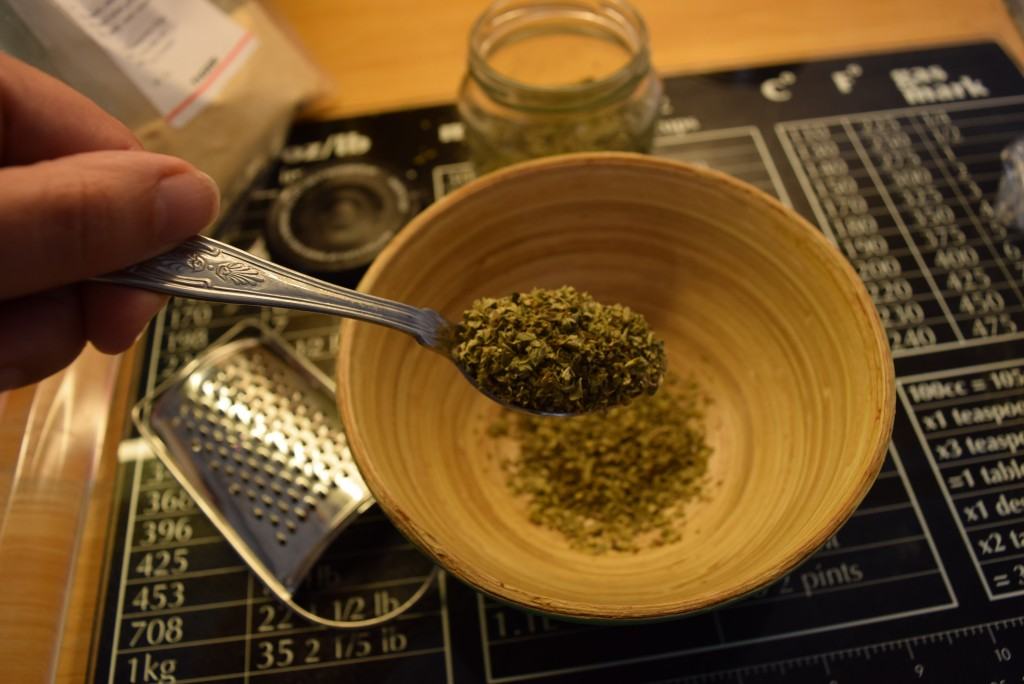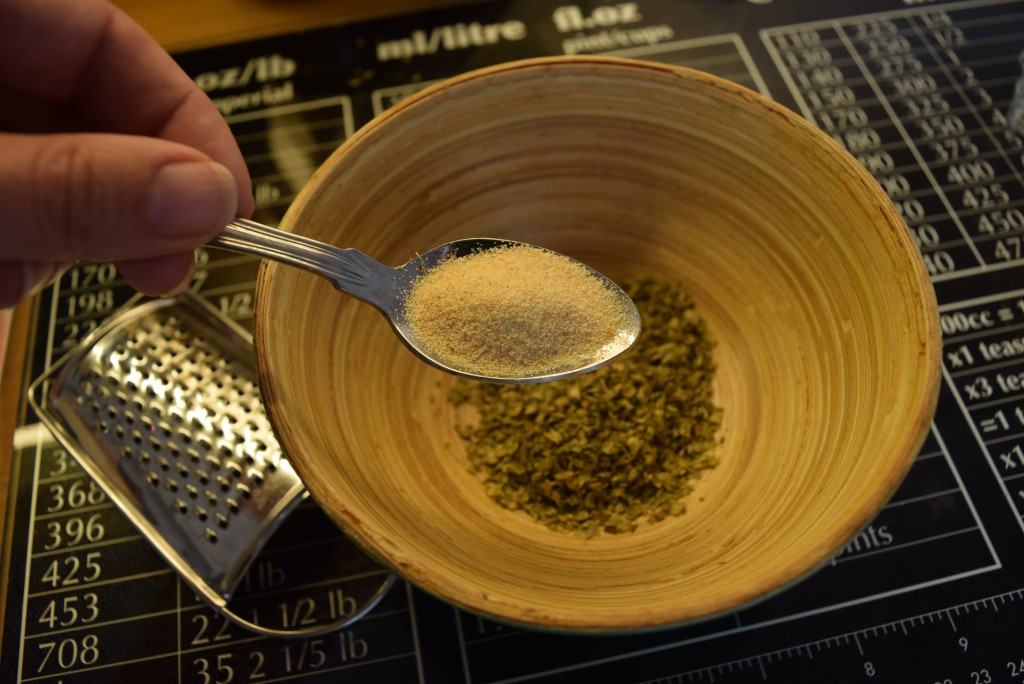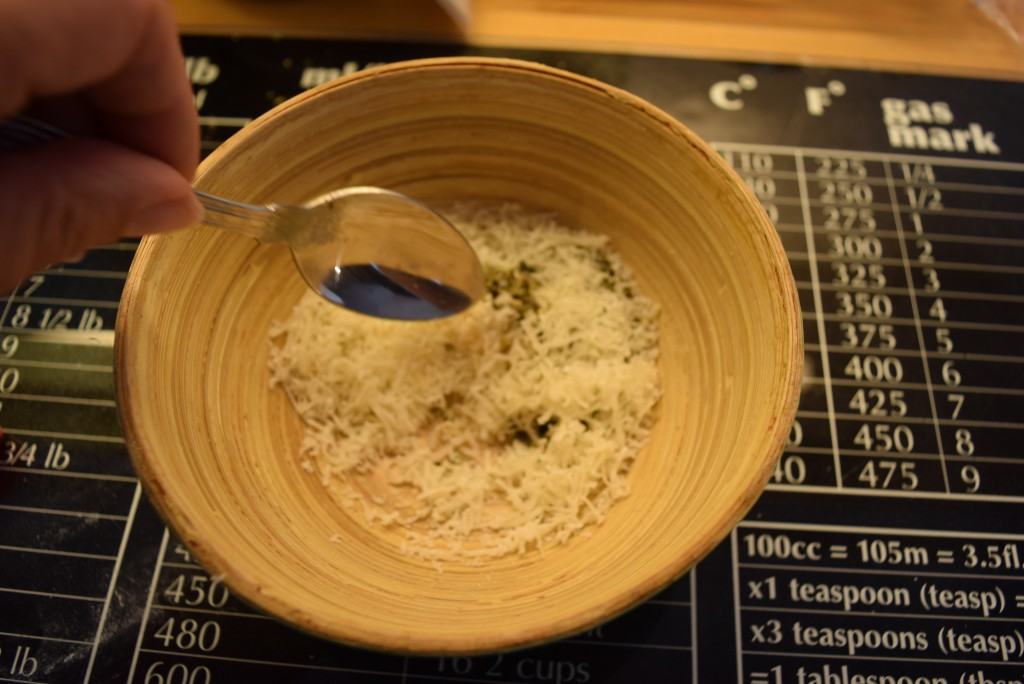 Once the dough is all puffy and large *me after the summer holidays* pop it onto a floured work surface and give it a quick knead to knock it back. Divide the dough into two balls and put one to one side for the moment.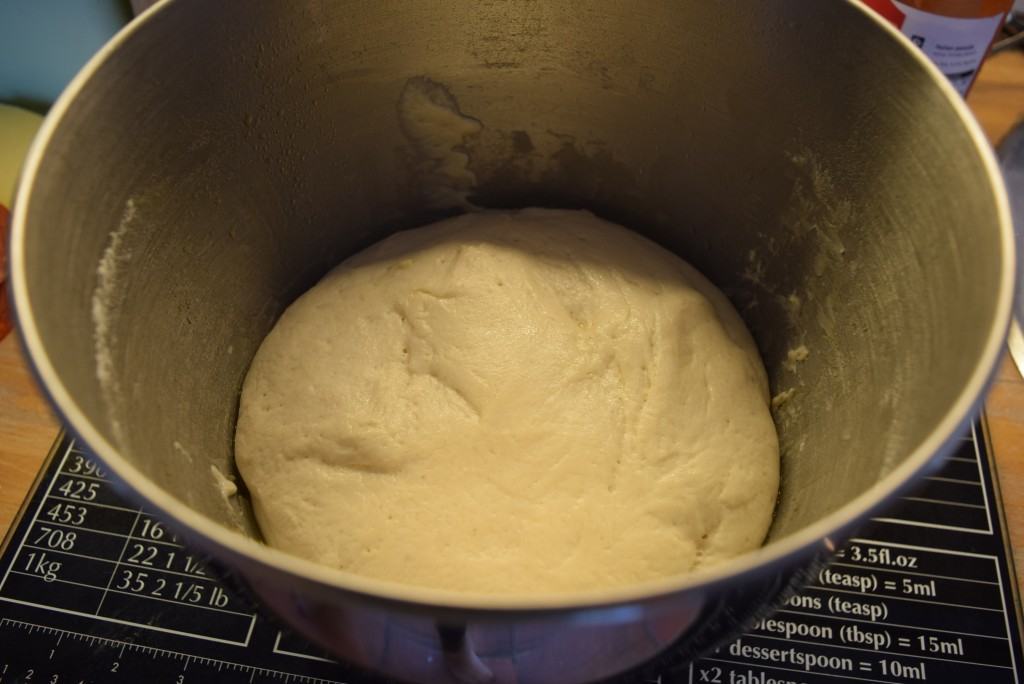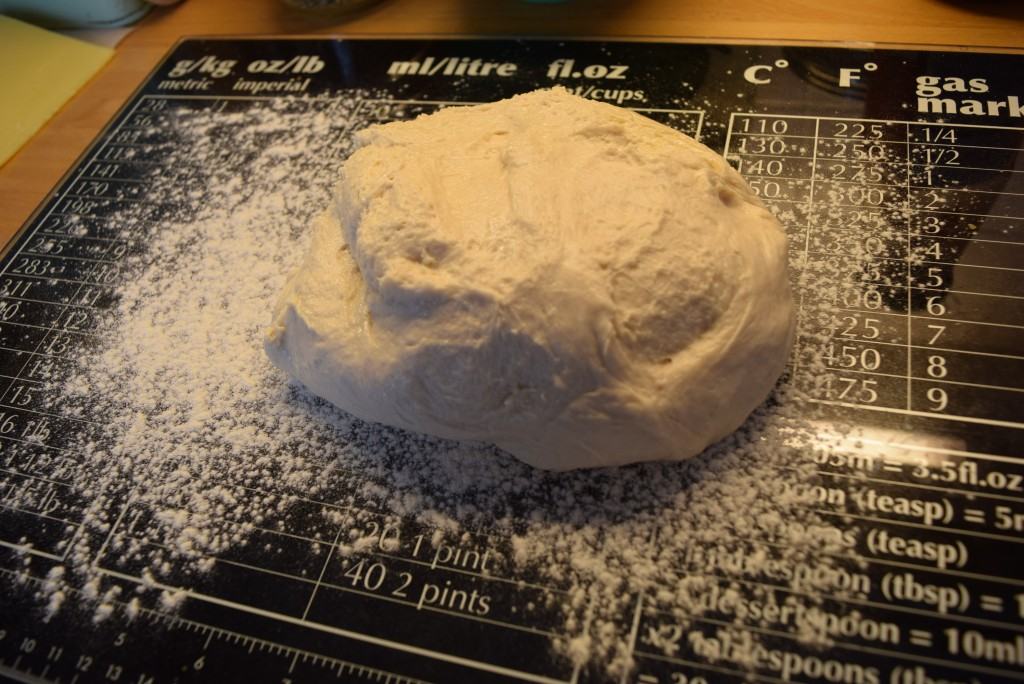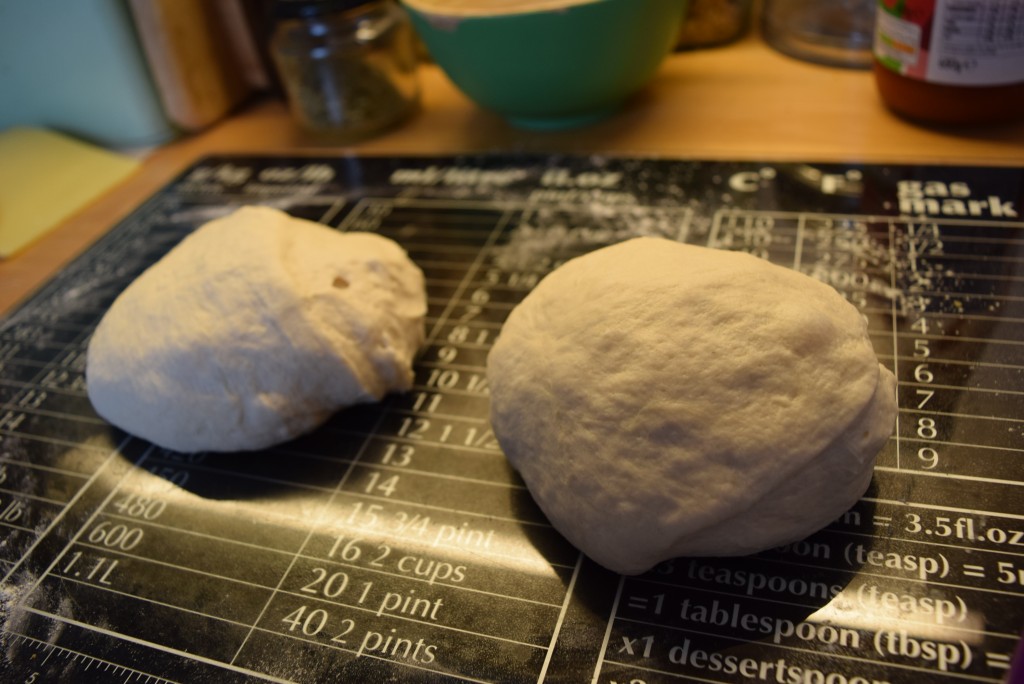 Flatten the first piece of dough out into a rectangle. Then use the rolling pin to fashion the dough into a larger rectangle.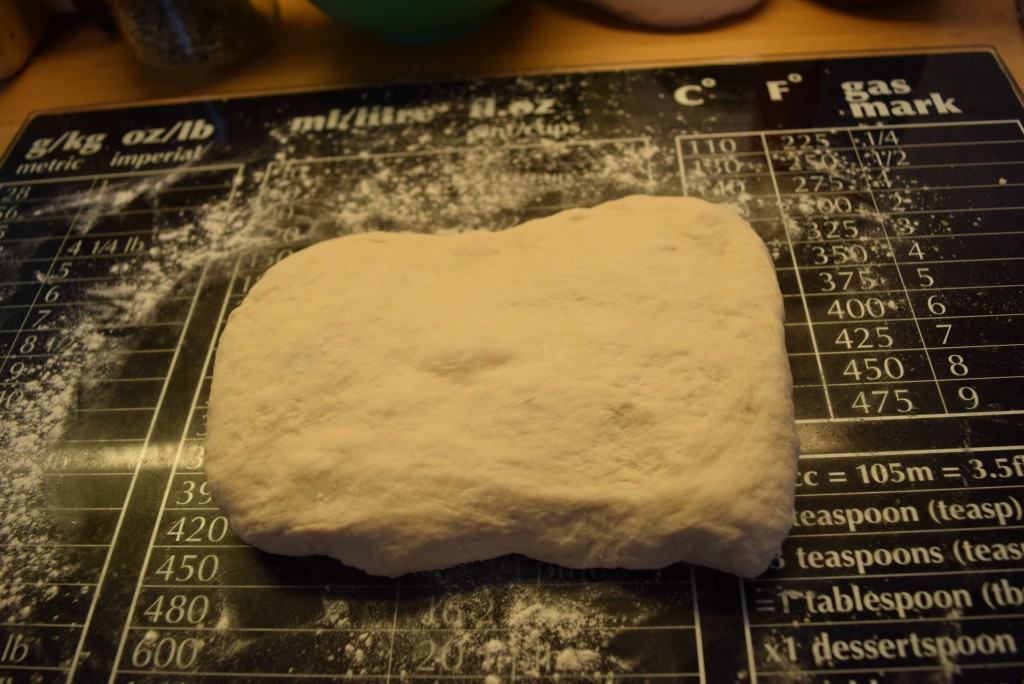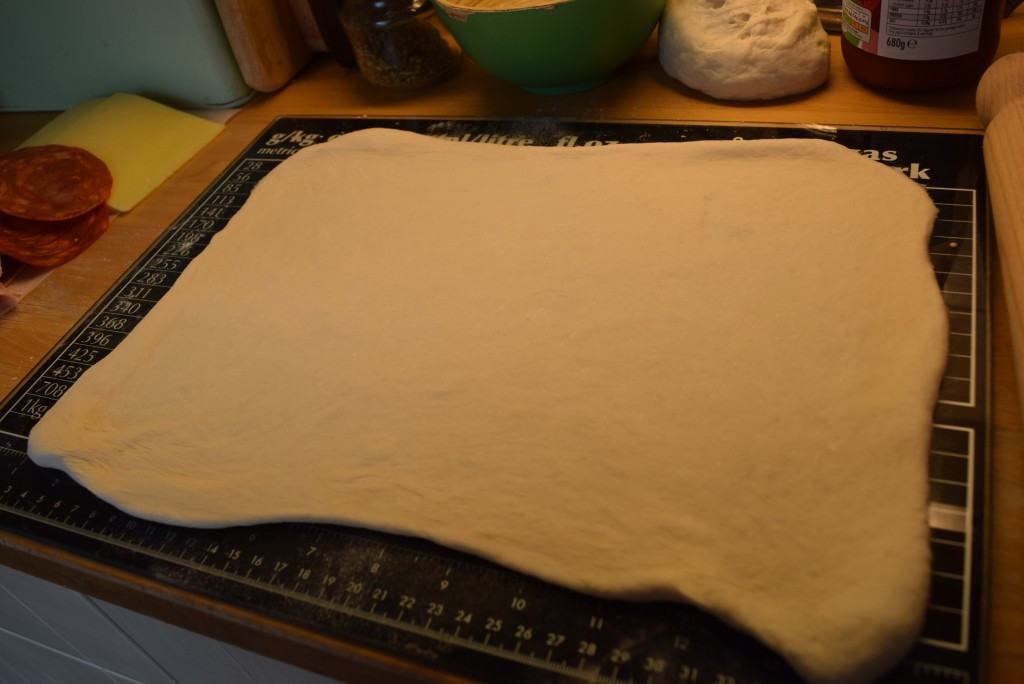 Then off you go with the fillings. These are the boys top choices, so we went unsophisticated ham, spicy chorizo, strong cheddar and mozzarella. Nothing not to like there.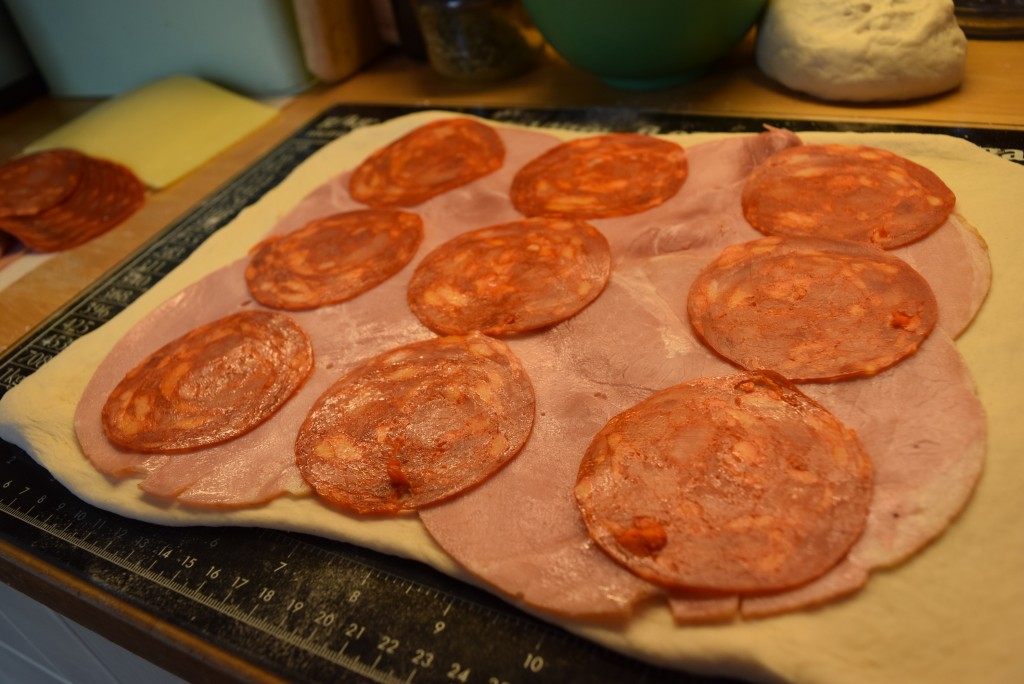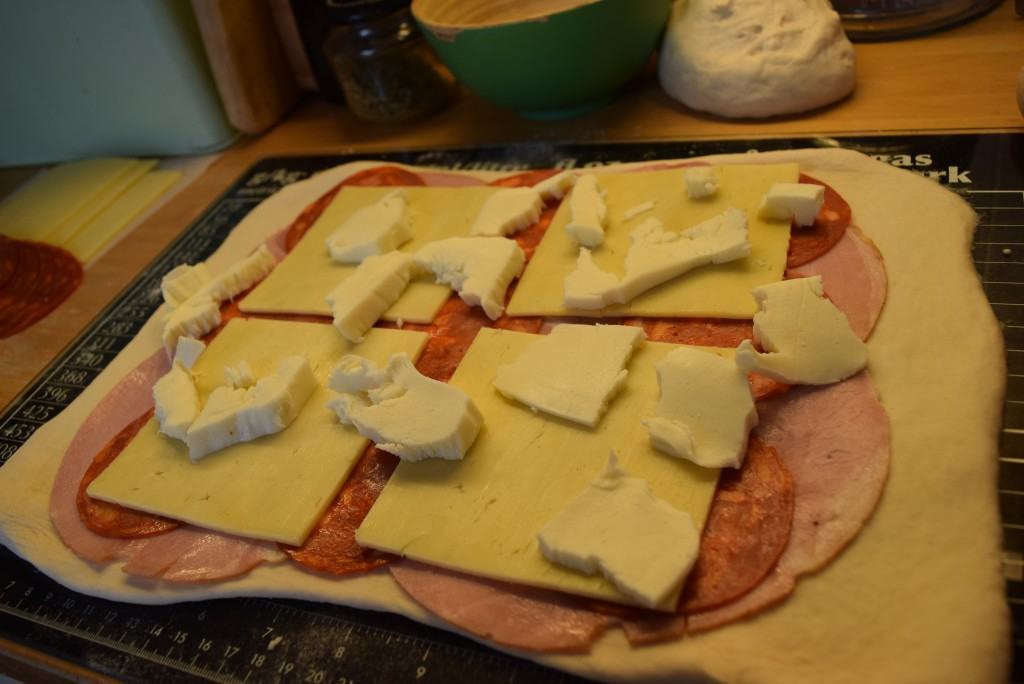 Finish the fillings with an extra sprinkle of dried oregano and a drizzle of olive oil, then it's time to roll up your Stromboli Pizza. Start at the short side and roll up, tucking in the ends and ensuring the join is on the bottom.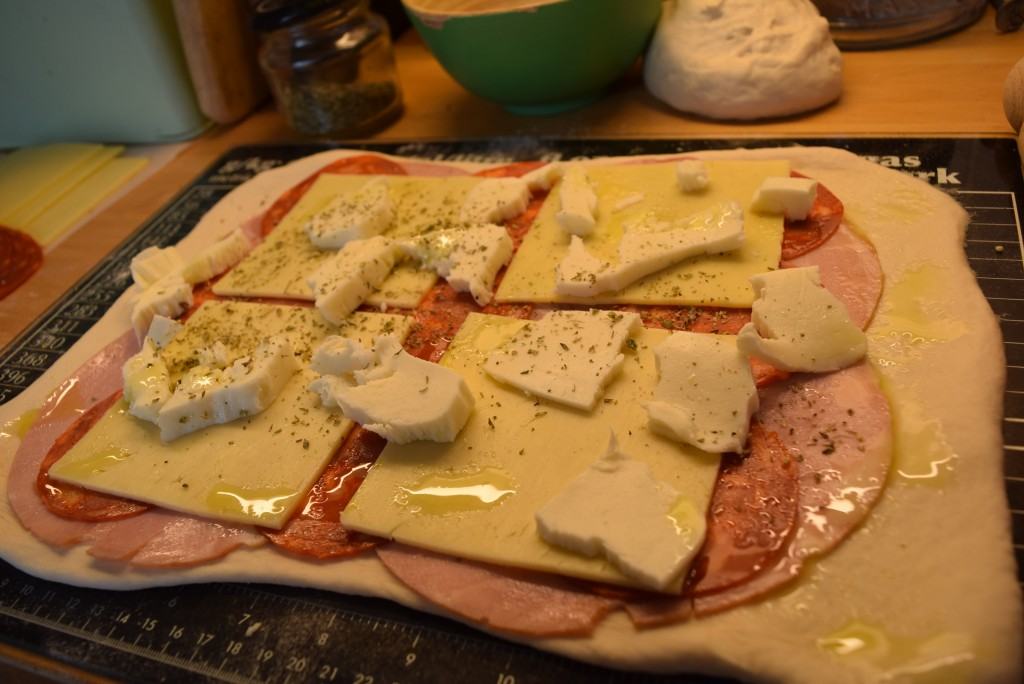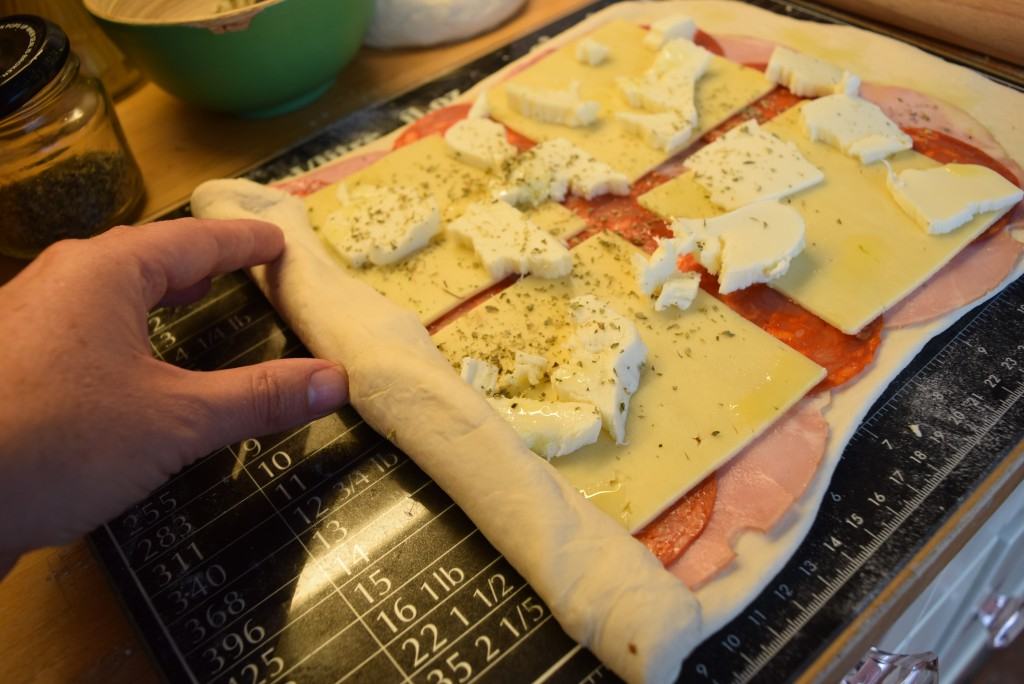 Ooh awful hand shot, unavoidable I'm afraid.
Repeat with the other piece of dough, filling and rolling accordingly. Once you've rolled both Stromboli, place them, join sides down, on an oiled baking sheet, then drizzle with a touch more olive oil and sprinkle with the herby topping.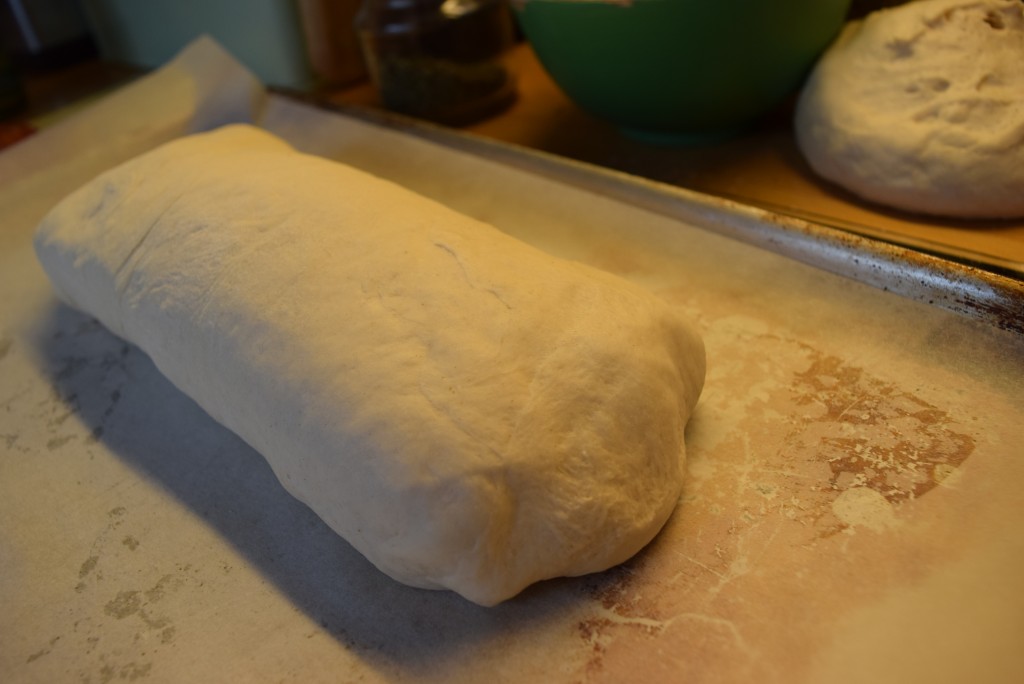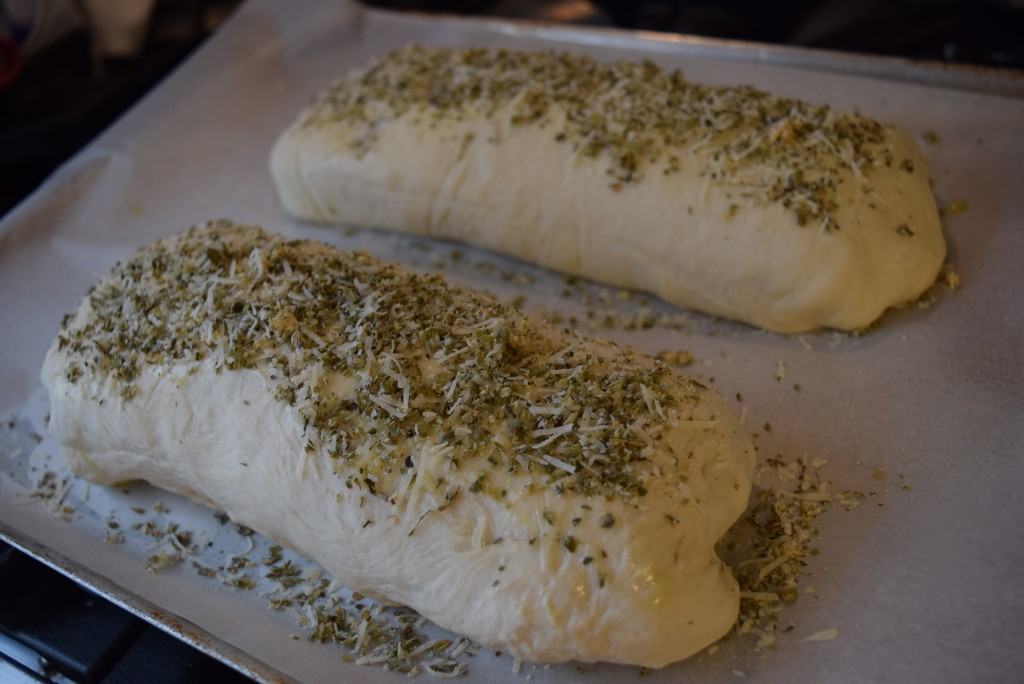 Pop these lovelies in a hot preheated oven for around 25 minutes, or until golden brown, crisp and with oozing cheese.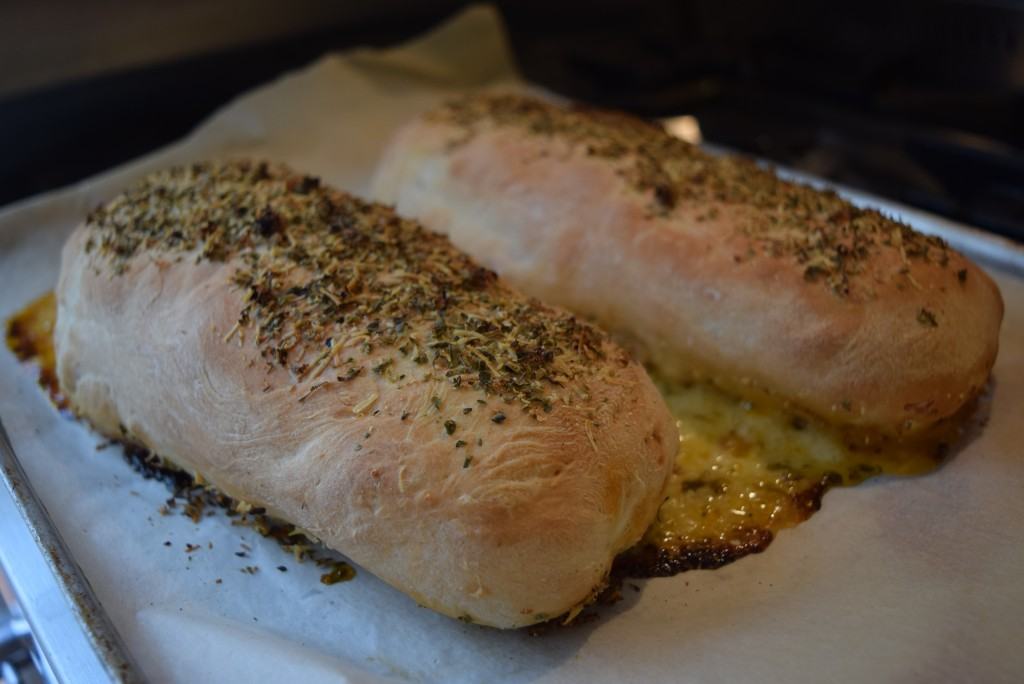 The wafts of herby, cheesey, doughyness are almost too much to bear.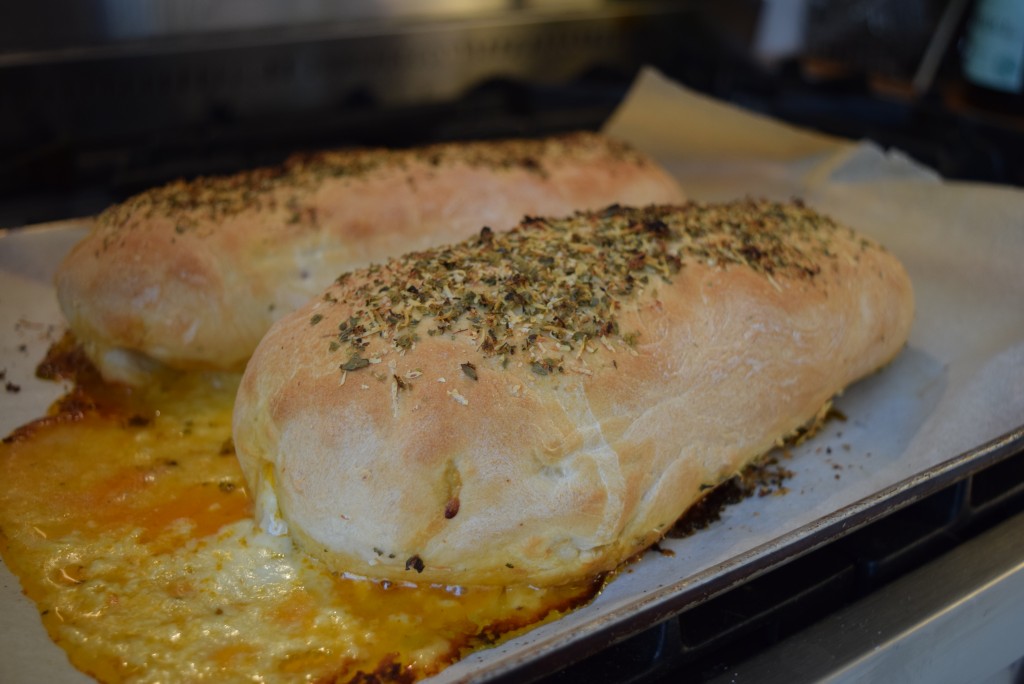 Serve this brilliant Stromboli Pizza in large slices, drizzled with or dipped into warmed pasta sauce.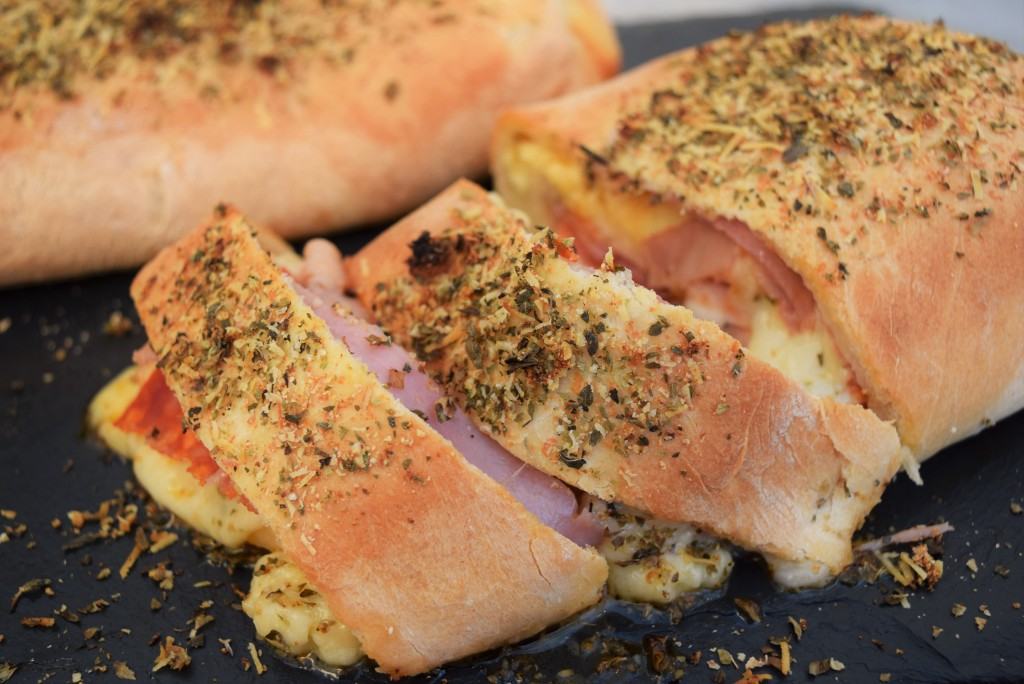 I wish I was more technically accomplished so I could add a soundtrack of my tummy growling at this point.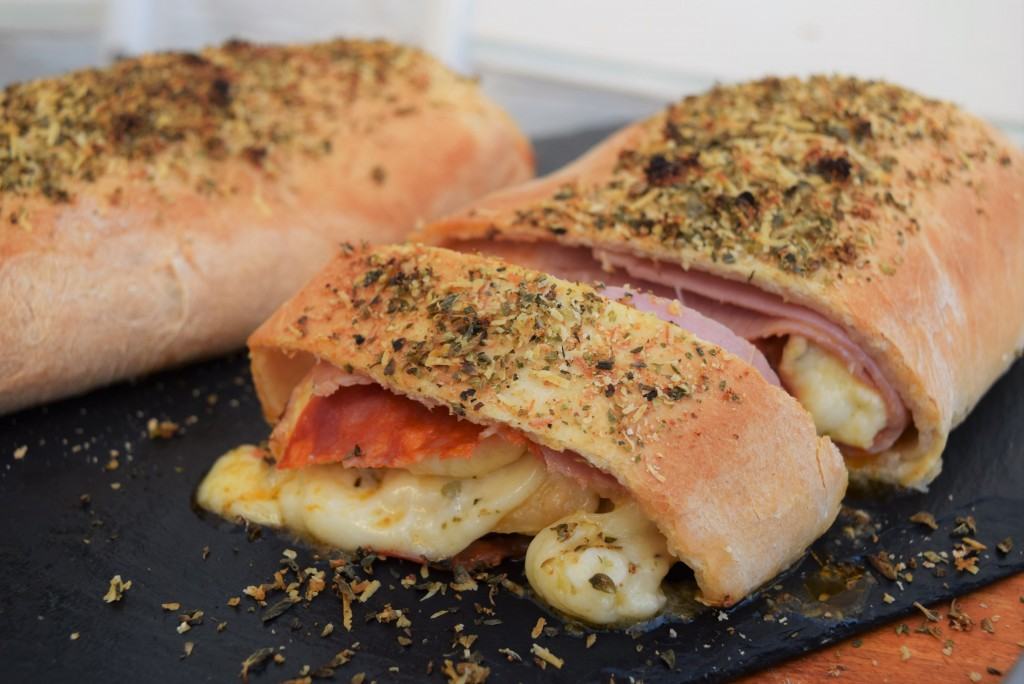 Cheese porn.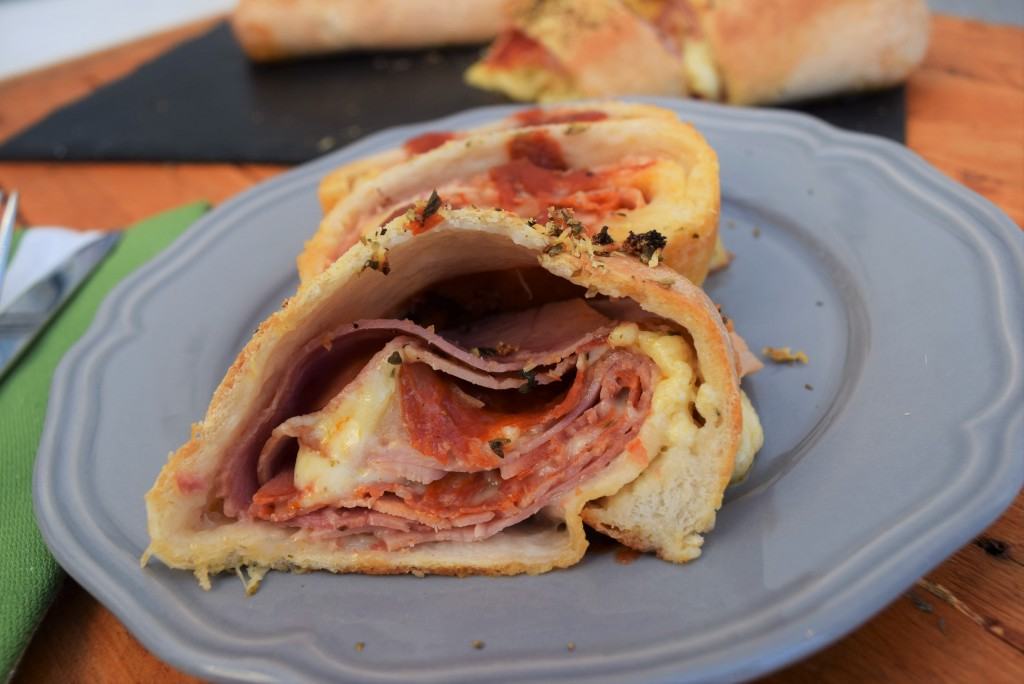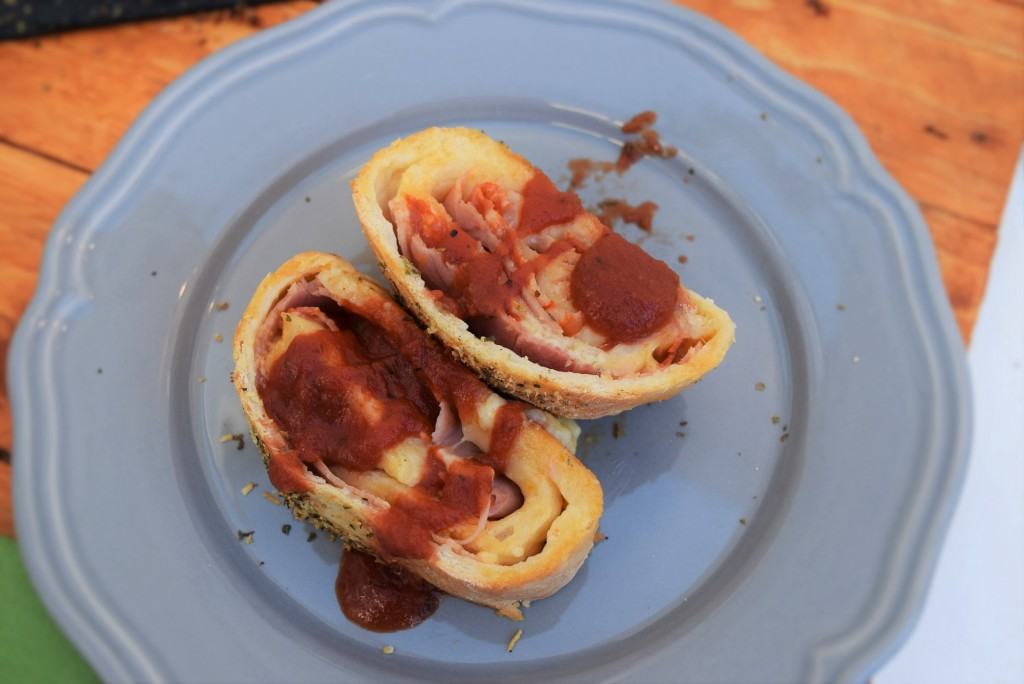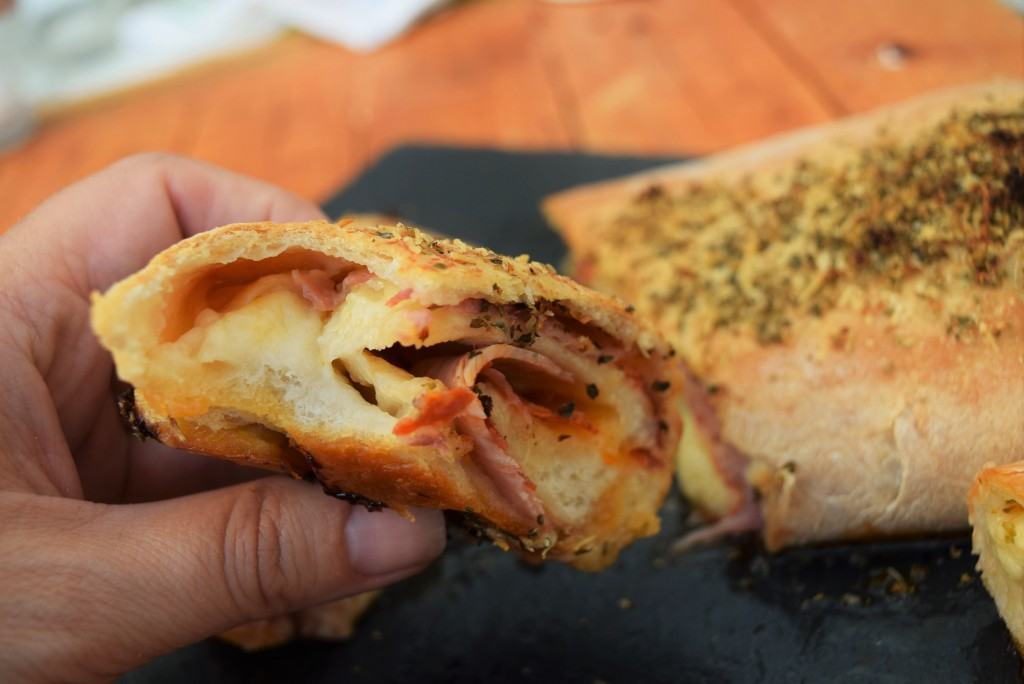 That is my hand, I managed to wrestle a slice away from the boys and Clyde. And it was worth the fight, this Stromboli Pizza is quite the most tasty dough based Italian supper I have cooked. Said with an untraditional lack of modesty, but I am taking the glory for this one as it's bloody delicious. Whether you are making this for your school bound children or your work bound wife or husband, make sure you manage to pinch a slice for yourself as the crisp dough and oozing cheese is really something you should get involved in.
Lucy x
Stromboli Pizza Recipe
Serves 2 to 4, age and appetite dependent
You will need an oiled baking sheet and a stand mixer or good old fashioned elbow grease
Dough
380g bread or plain white flour, you may need a little more if dough too sticky
1 sachet (7g) dried yeast
1 teaspoon salt
250ml warm water
1 teaspoon sugar
1 tablespoon oil
Fillings – these can be amended to suit your own tastes and cravings
8 slices ham, plastic variety or parma ham for sophistication
100g sliced chorizo or salami
8 slices cheese or the around 200g grated cheese, something good and flavoursome
250g mozarella, chopped or torn
Dried oregano and olive oil, for sprinkling
Topping, optional – you could just drizzle with olive oil and sprinkle with extra cheese
1 heaped teaspoon dried oregano
1 tablespoon grated parmesan
1 teaspoon garlic powder
Drizzle olive oil
Tomato pasta sauce of your choice to serve for dipping or drizzling with the Stromboli
In a large bowl or bowl of your stand mixer with a dough hook add the bread flour, yeast and salt. In a jug, mix the warm water, sugar and olive oil. With the dough hook or stirring by hand, add the water mixture to the flour mixture. Mix well until a soft dough is formed. You may need to add a tablespoon or so more flour if the dough it too wet, however, you don't want the dough to be dry so don't add too much more. Knead the dough by hand or in the mixer for between 5 and 8 minutes, until the dough is soft and elastic but no longer sticky. Oil the bowl and leave the dough, covered, in a warm, draft-free place until it has doubled in size. This should take around an hour, maybe longer if it's chilly.
While you are waiting for the dough to rise, prepare your fillings. Grate the cheese if not using sliced, chop your mozarella and lay out your slices of ham and chorizo or salami. For the topping, mix the dried oregano, parmesan cheese and garlic powder in a small bowl and put to one side.
Once the dough is ready, pre heat your oven to 170 degrees, fan assisted. Take the dough out the bowl and place on a floured work surface. Knock the dough back, or knead for a moment or two. Divide the dough into two balls and put one to one side. Shape the first piece of dough into a rectangle then roll out into a larger rectangle with a floured rolling pin. Place the ham onto the dough rectangle then add the chorizo or salami slices. Place the cheese slices or grated cheese on top then tear the mozzarella and add to the other toppings. Finish with a sprinkle of dried oregano and a drizzle of olive oil. Starting from the shorter end, roll the Stromboli up, tucking the ends in and ensuring the fold is on the under side. Lay this on the oiled baking sheet, join side down, sprinkle with a splash more oil and the oregano topping. Repeat with the second piece of dough, filling and rolling, etc.
Place the tray with both the Stromboli on into the hot oven for 25 minutes, or until golden, crisp and with oozing cheese.  Serve in large slices drizzled with pasta sauce. Cold leftovers the next day are as delicious if they make it that far.