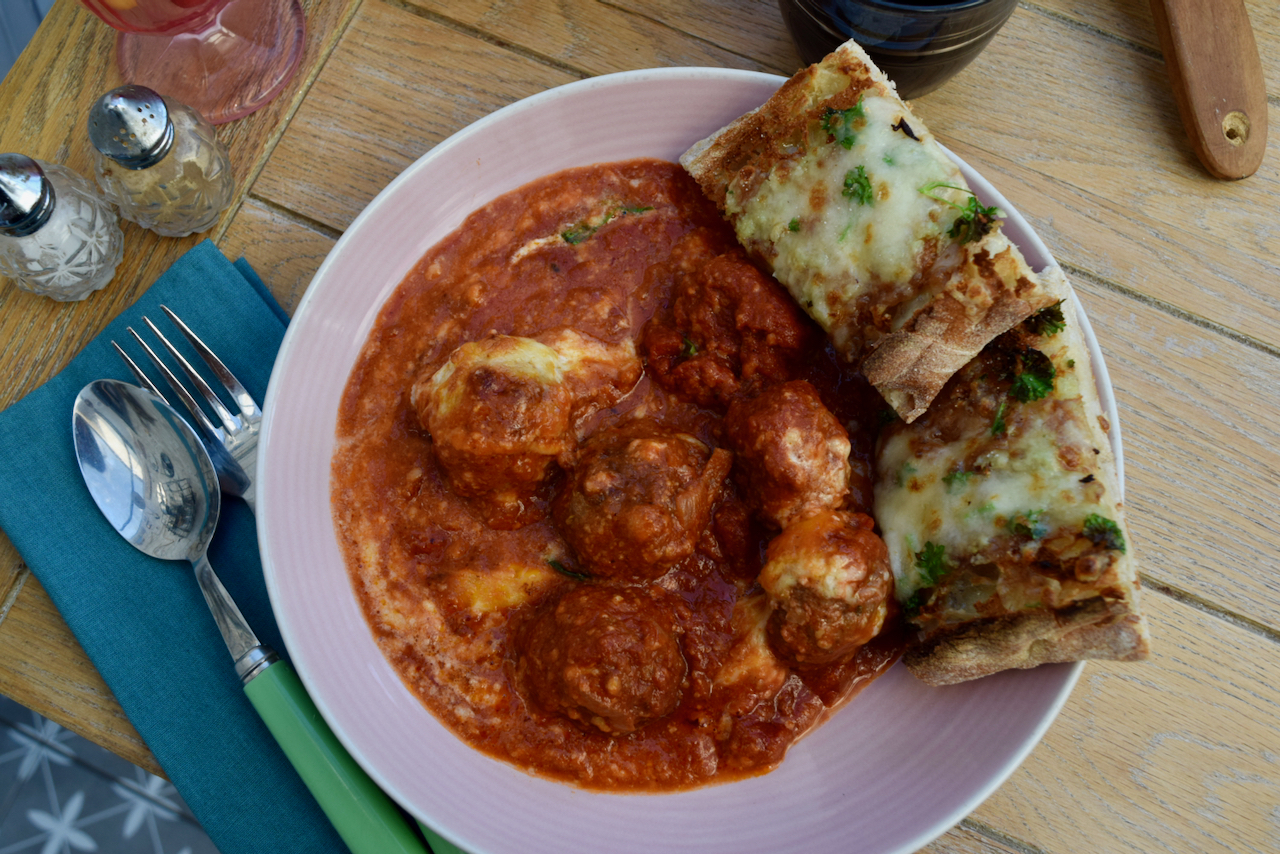 One Pot Meatballs with Cheesy Garlic Bread Recipe
I have spent a good deal of time during lockdown nagging George to do some school work. He's doing some, but totally lacking in motivation. And no amount of nagging can help with that, especially as I totally feel his pain as my motivation levels are at rock bottom. I'm hearing the same from most of my friends too and fear lack of oomph should be added to one of the side effects of the Corona virus. The only thing which really gets me moving however, is hunger and if there's one thing which can quench that, it's a bloody great big bowl of One Pot Meatballs served with some incredibly Cheesy Garlic Bread.
One thing I have discovered whilst avoiding the supermarket is how much more flavourful butchers mince is, so we have been getting through quite a bit of it recently. My One Pot Meatballs utilise beef mince, but can be mixed with half pork mince, however, I couldn't get any when I made these. I was going to avoid adding the fennel for fear of upsetting George, but I risked it and he loved the flavour. The tomato sauce is rich and well, saucy, and all this is topped off with a gooey mix of mascarpone and mozzarella which melts into a sort of cheese based lid. Add the Cheesy Garlic Bread which serves as a flavour filled crispy tool for mopping up the sauce and the whole affair is the spirit lifting dish of your dreams. Huge thanks to Olive for the inspiration.
If you're feeling like you just can't be arsed, a huge bowl of my meatballs and garlic bread may, if nothing else, distract you with it's deliciousness for the whole 5 minutes it will take to wolf it down.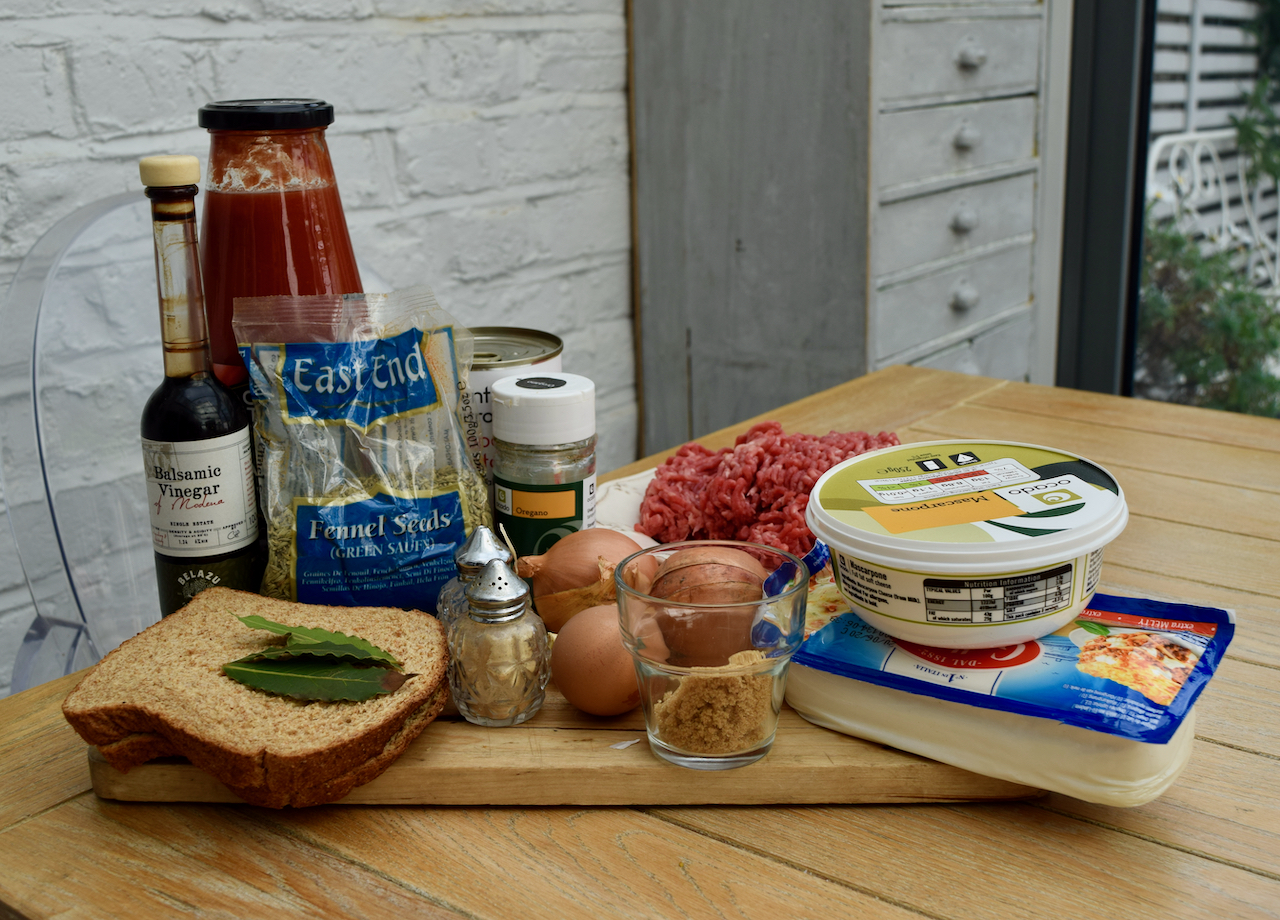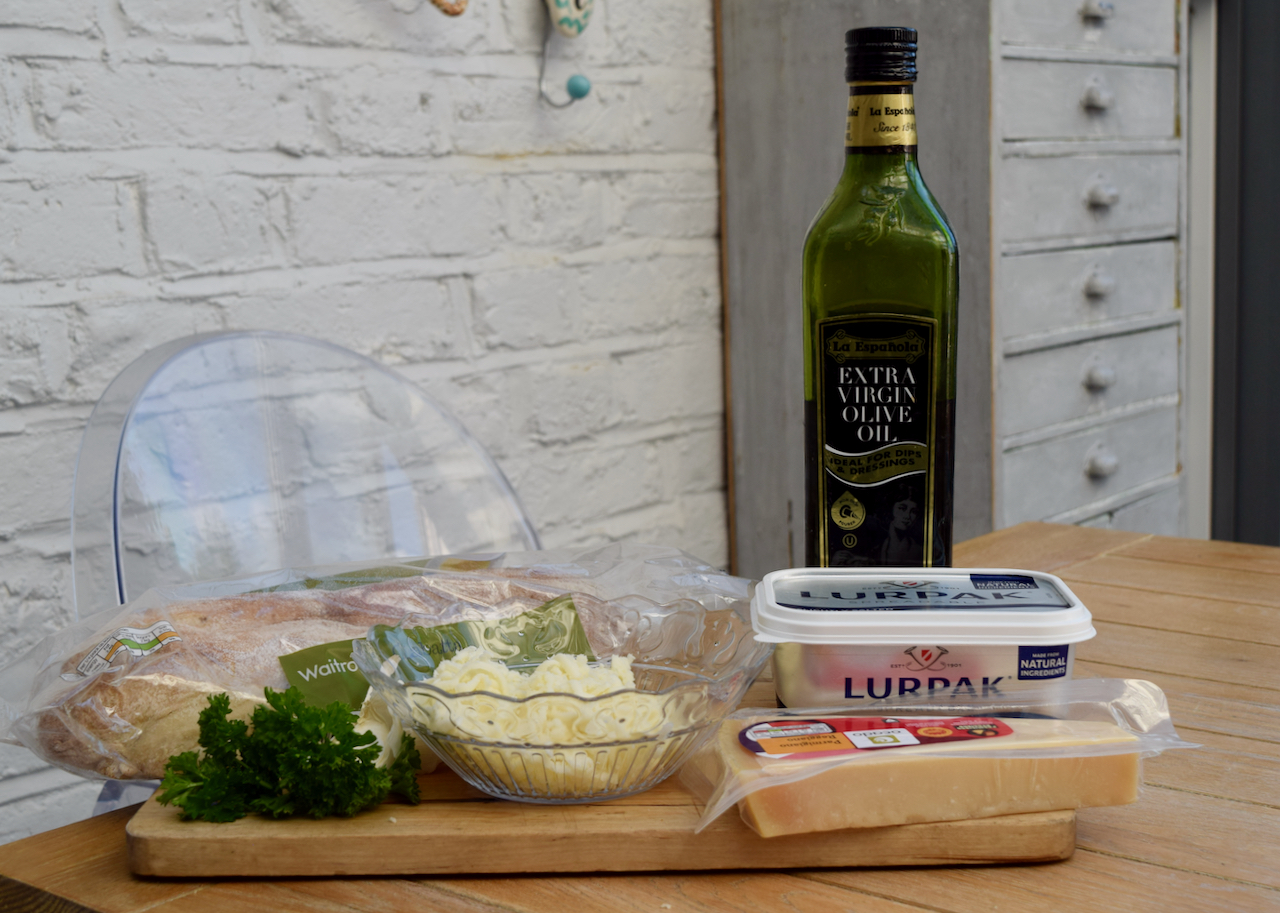 Quite a few ingredients for this ensemble, but don't be put off, the end results is pure comforting joy. Fresh breadcrumbs are needed for the meatballs so I just processed a couple of slices of sliced brown, as it's what I had to hand. For the garlic bread, I used a Ciabatta loaf, but anything long and easy to cut in half would work well.
Make a start by pre heating your oven to 160 degrees fan assisted and finding a large oven proof pan. I used my lovely Vonshef casserole, which did take a bit of a battering with the splattering tomato sauce, but can I just say, cleaned up beautifully afterwards. I used a food processor for my balls but you can just as easily chop everything by hand. Start with the breadcrumbs and one chopped onion then go in with beef mince (use half pork instead if you can get it), egg, dried oregano and crushed fennel seeds and plenty of salt and pepper.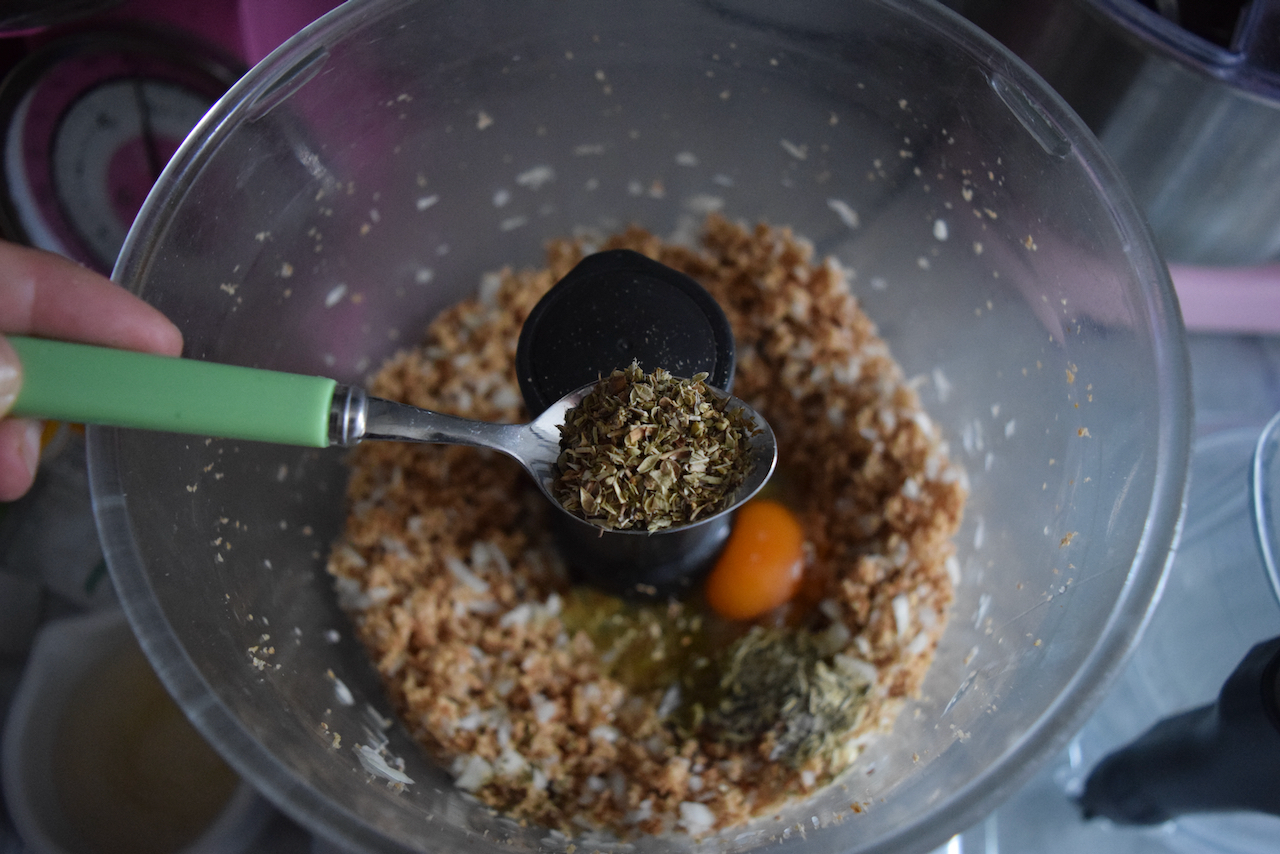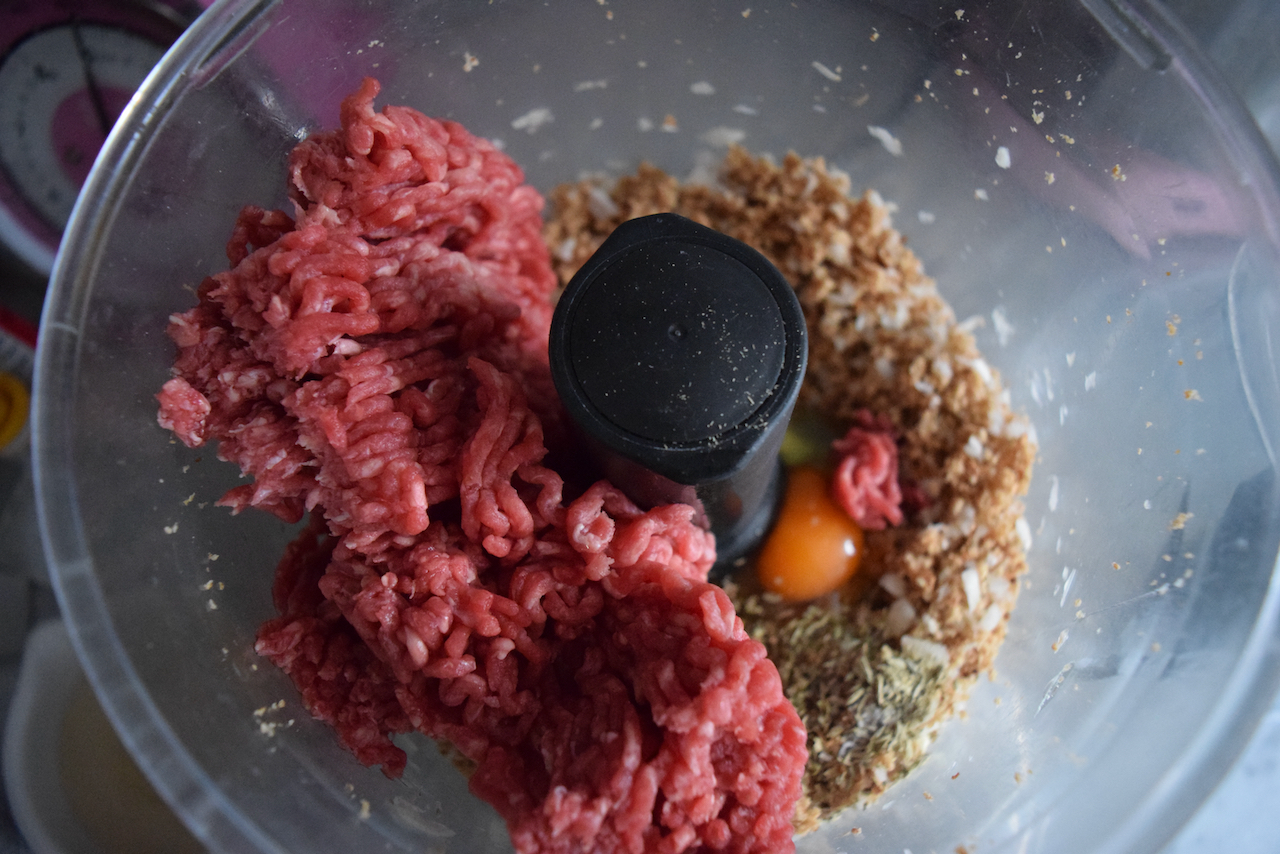 Process or go in and mix with your hands until you have a well combined meatball texture.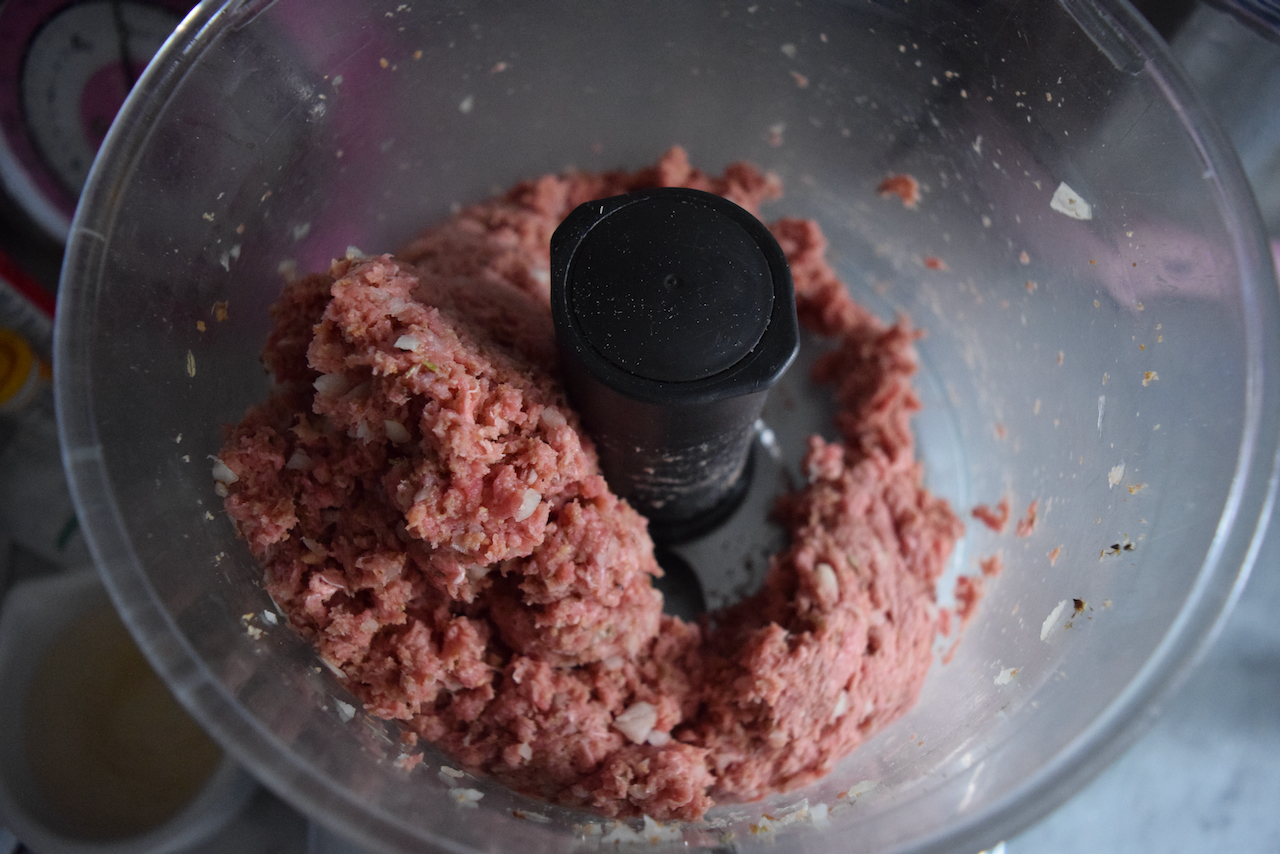 Fashion these into about 20 walnut sized balls and pop on a plate for the mo. Heat a generous amount of olive oil in your pan until good and hot. Then batch cook the meatballs until golden and almost cooked through. Keep adding more oil as you don't want them to stick and break up.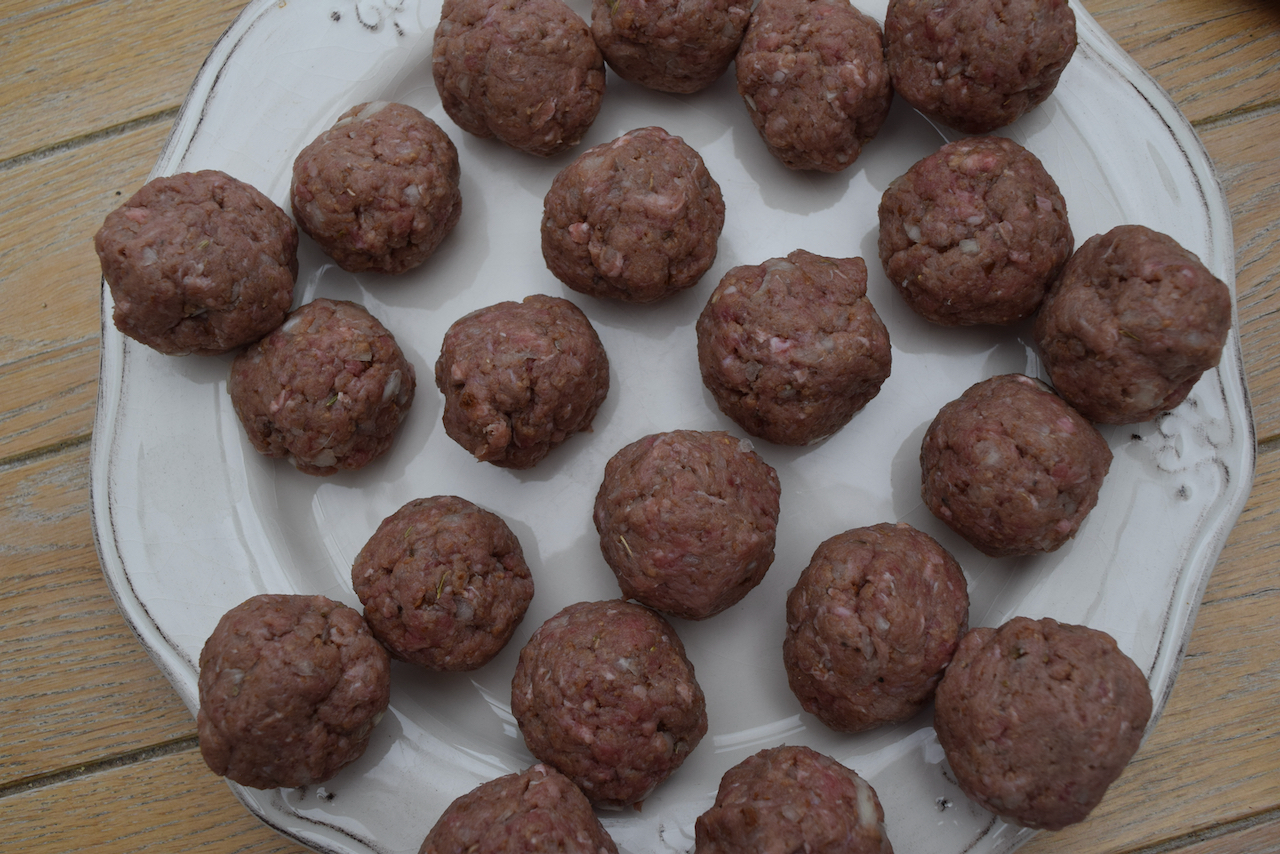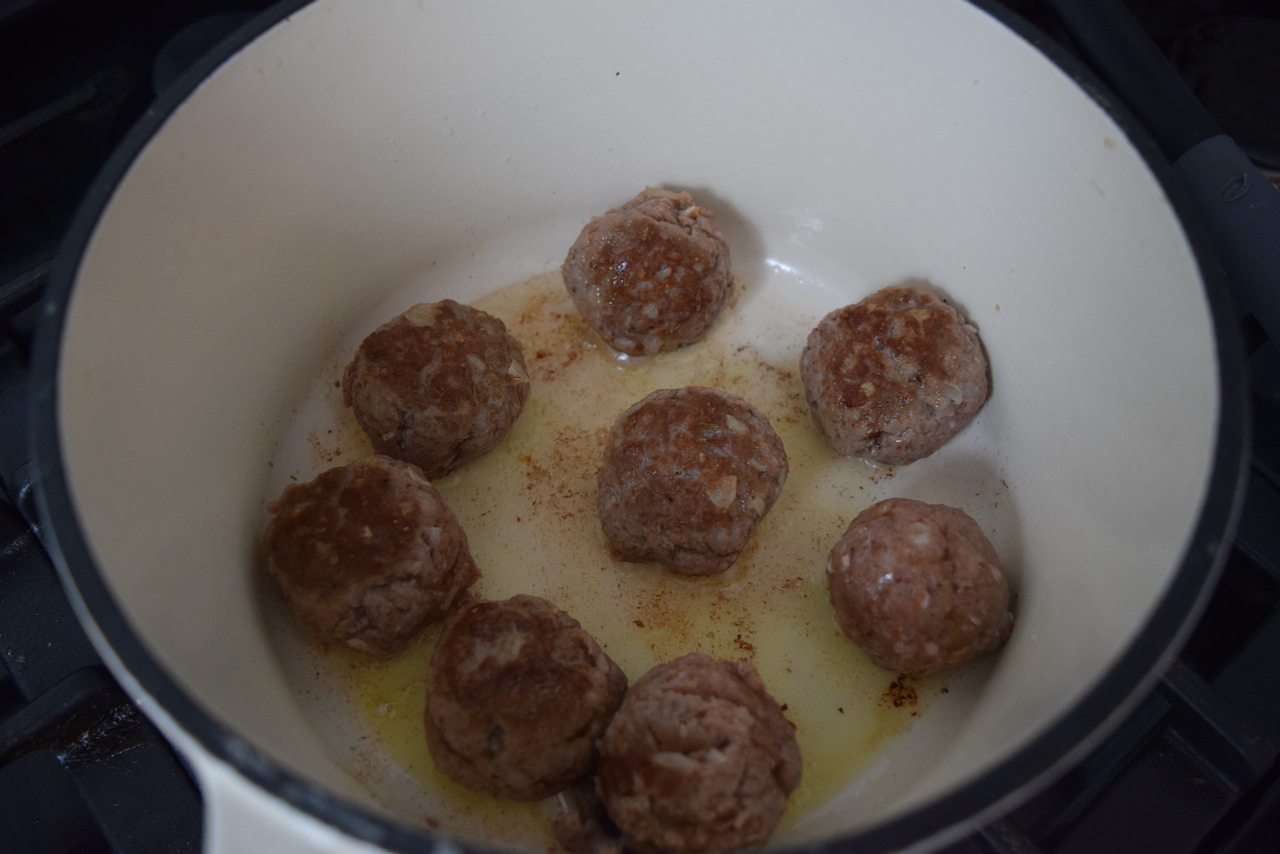 Adding more oil if necessary and turning the heat down a touch, add the second chopped onion and cook until softening then add the garlic and cook for a further minute.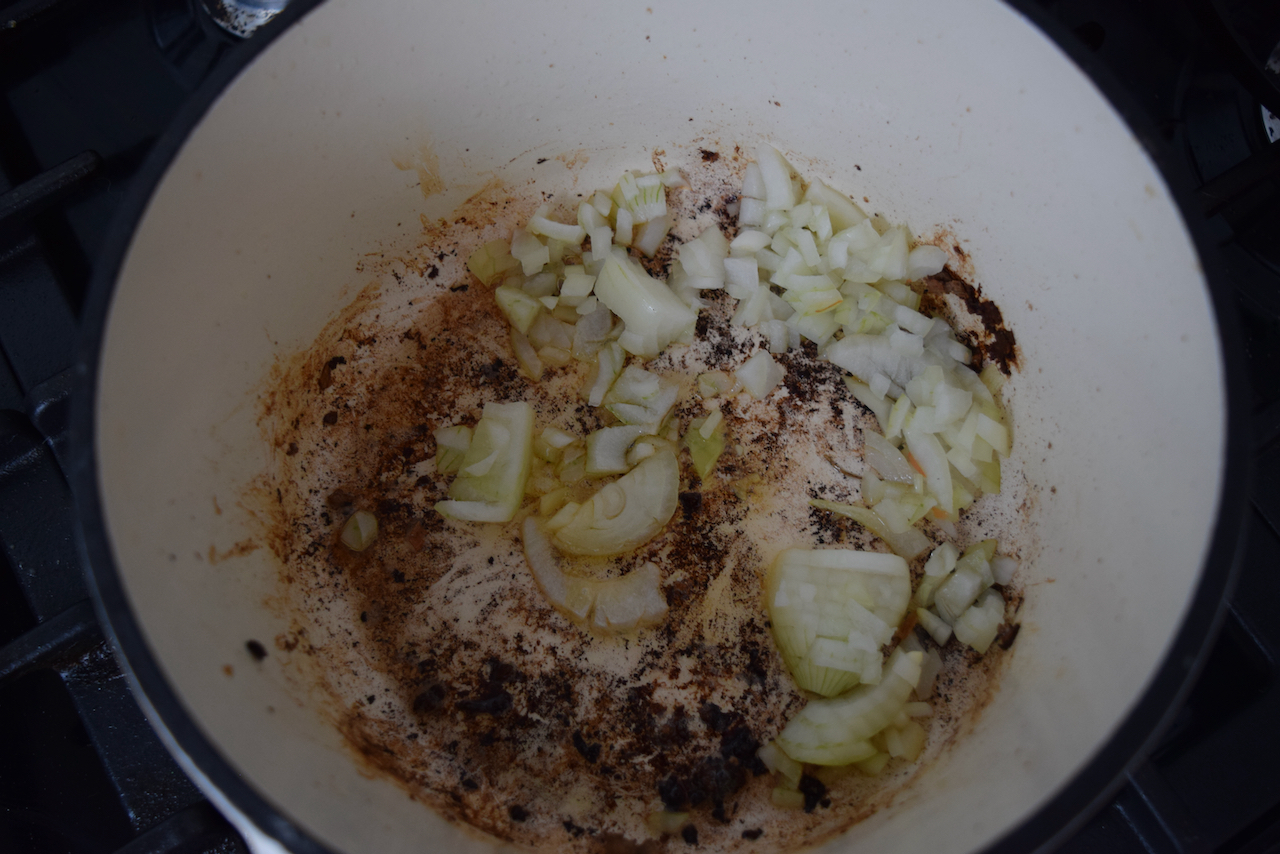 Next add the tomato puree and cook for a minute or so until starting to brown then follow in with the tinned toms, passata, brown sugar, red wine or balsamic vinegar and bay leaves.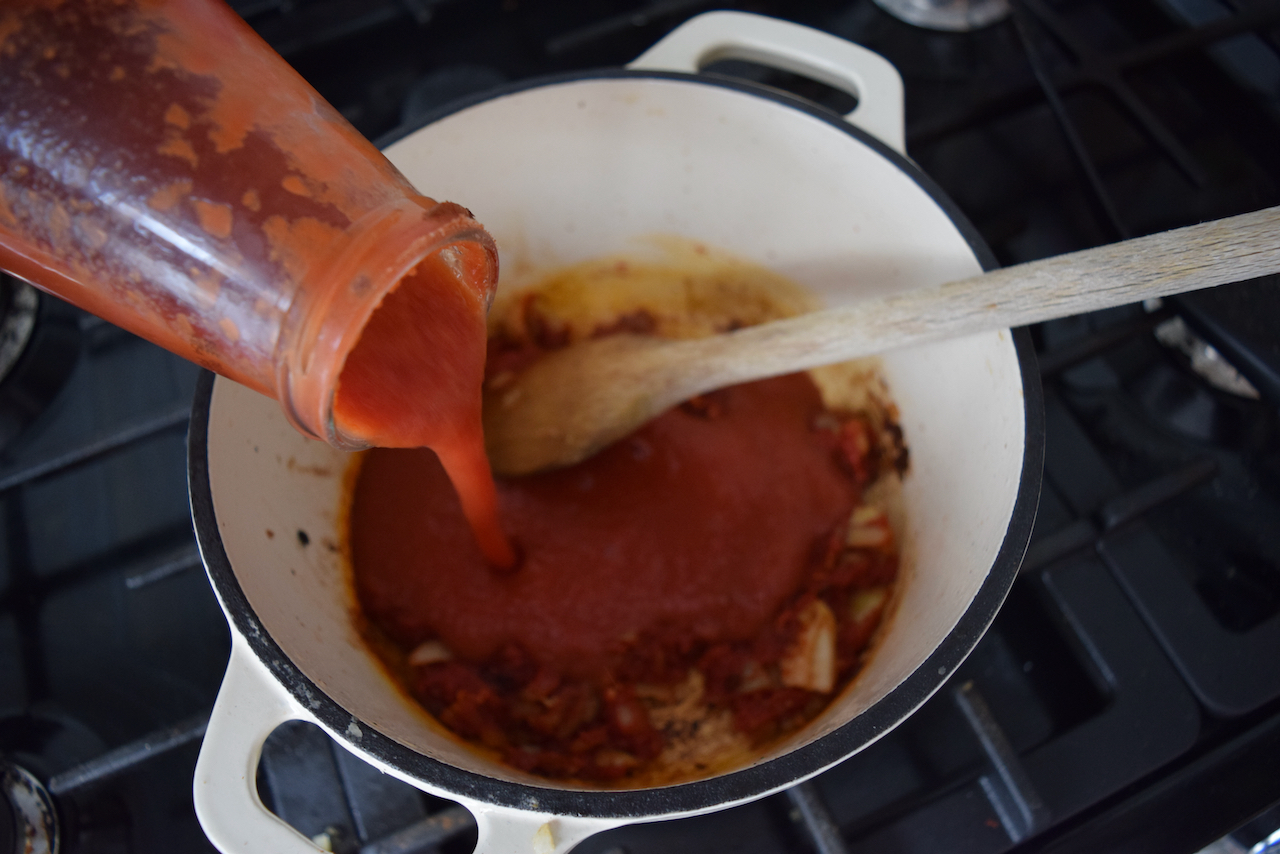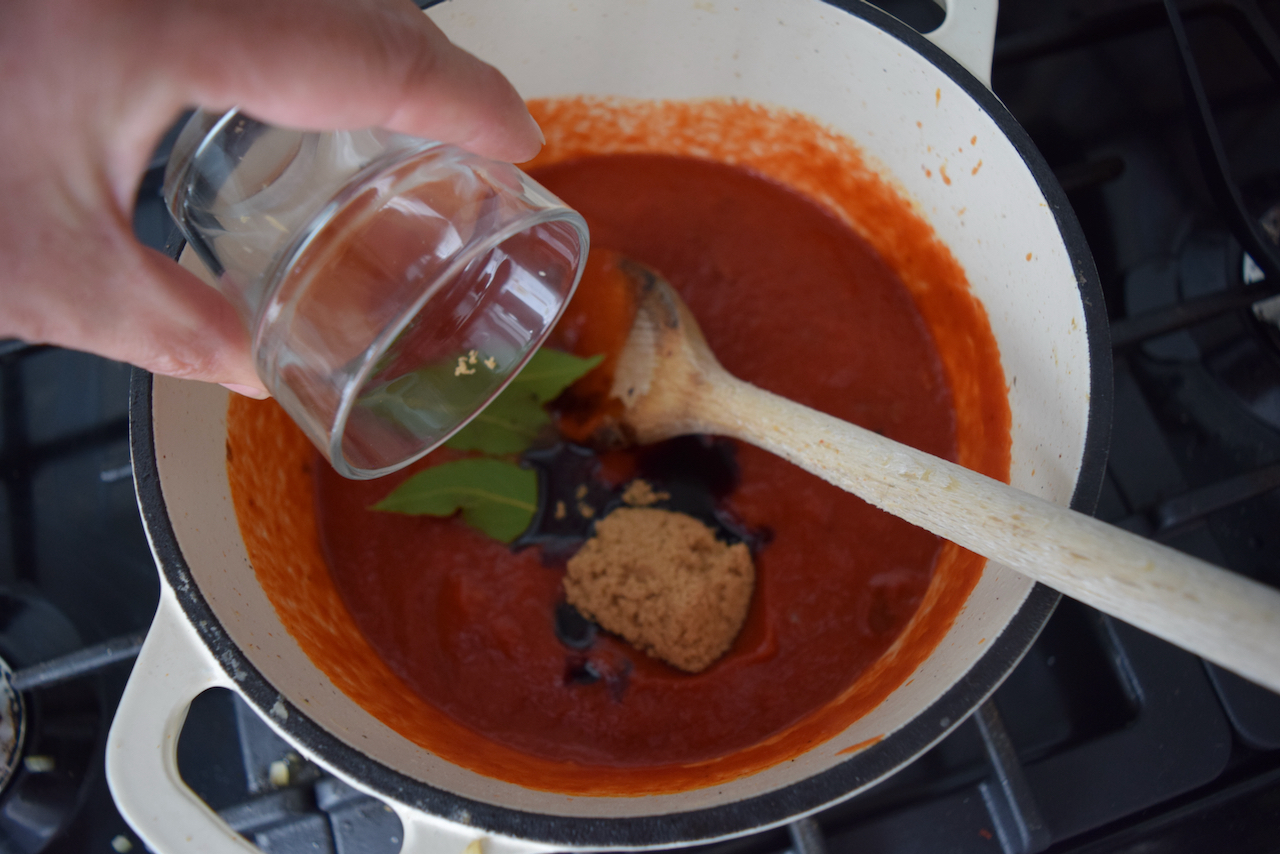 Give it all a really good stir then turn right down and simmer for around 20 minutes or until it's reduced slightly and become thick and gorgeous.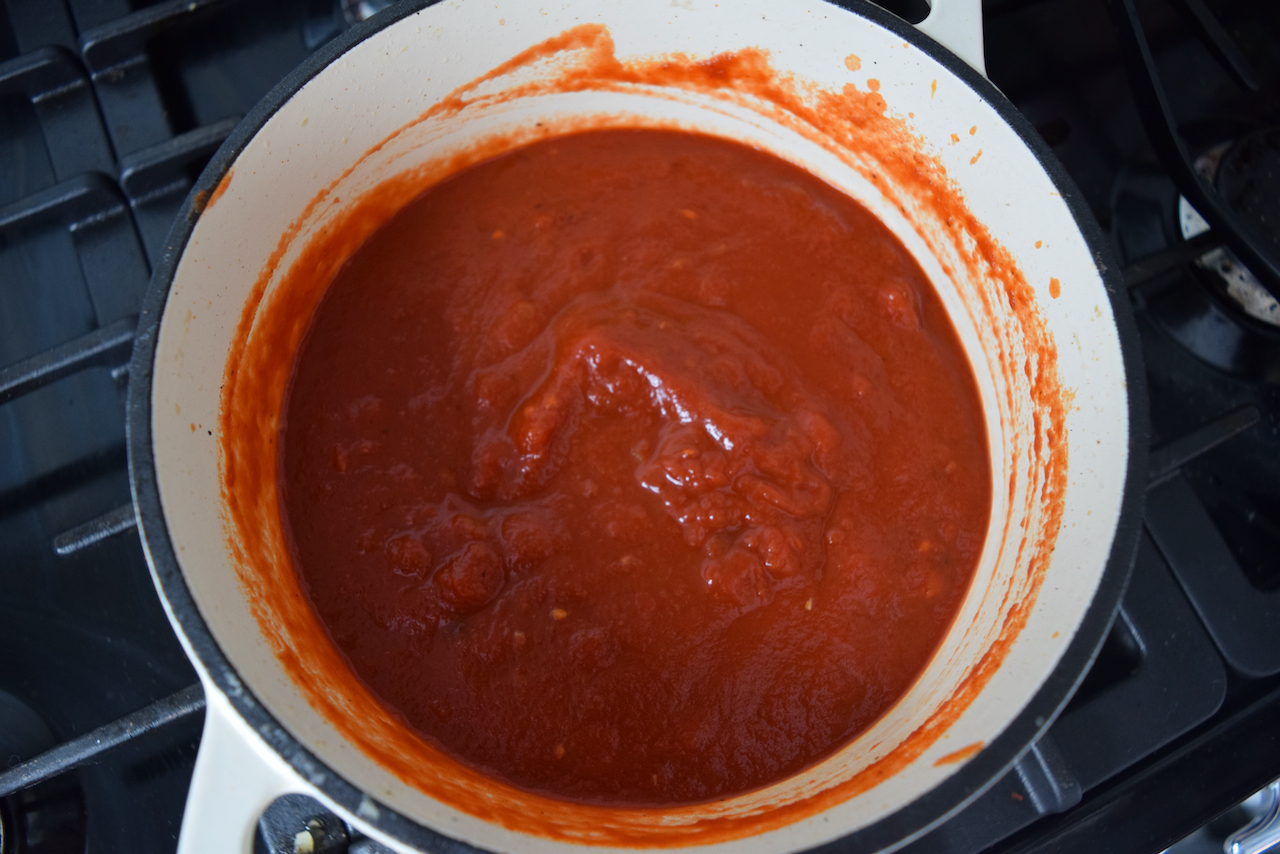 While this is going on, mix the mascarpone and 200g of the grated mozzarella until you have a thick cheesy paste. Reserve the last 50g of moz for sprinkling.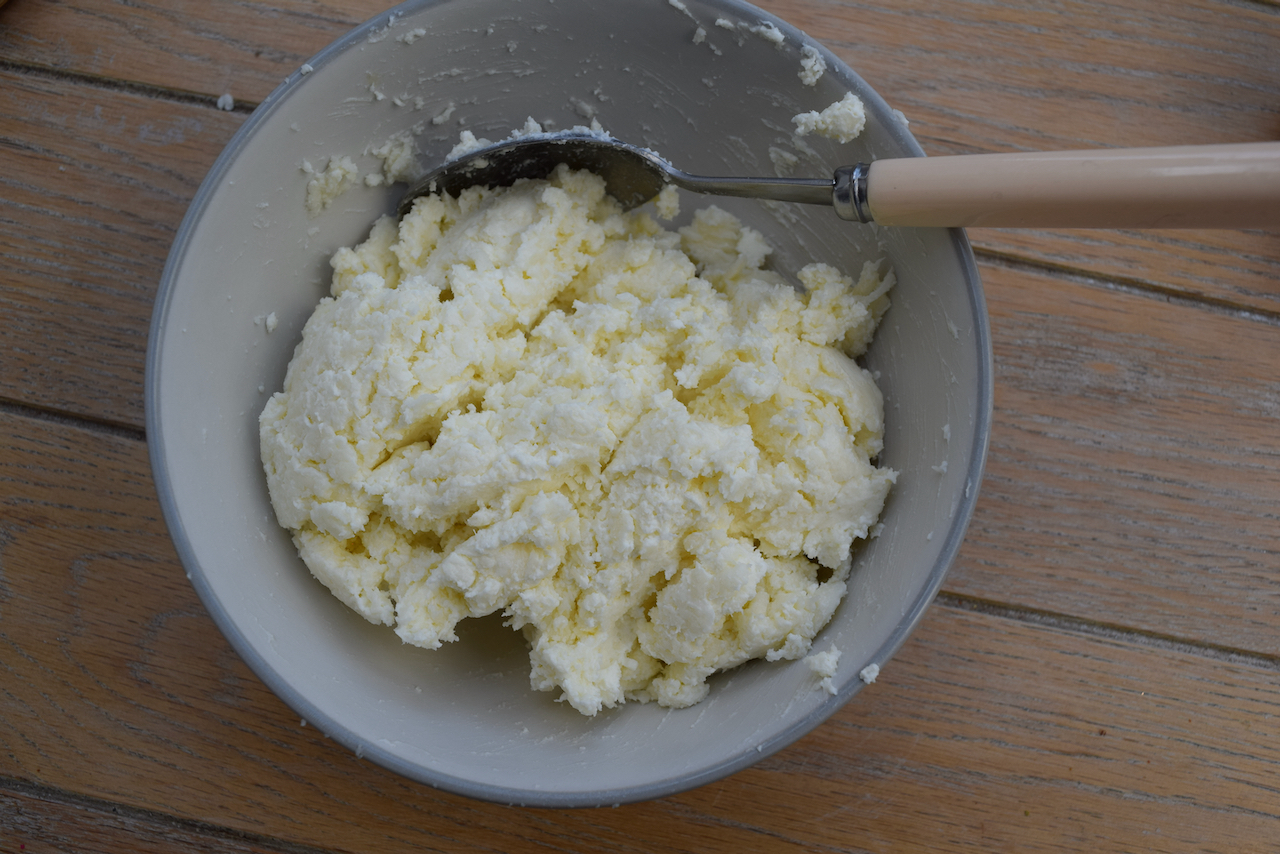 Once the tomato sauce has reduced sufficiently, remove the bay leaves *I forgot to do this* season well and plop in the browned meatballs.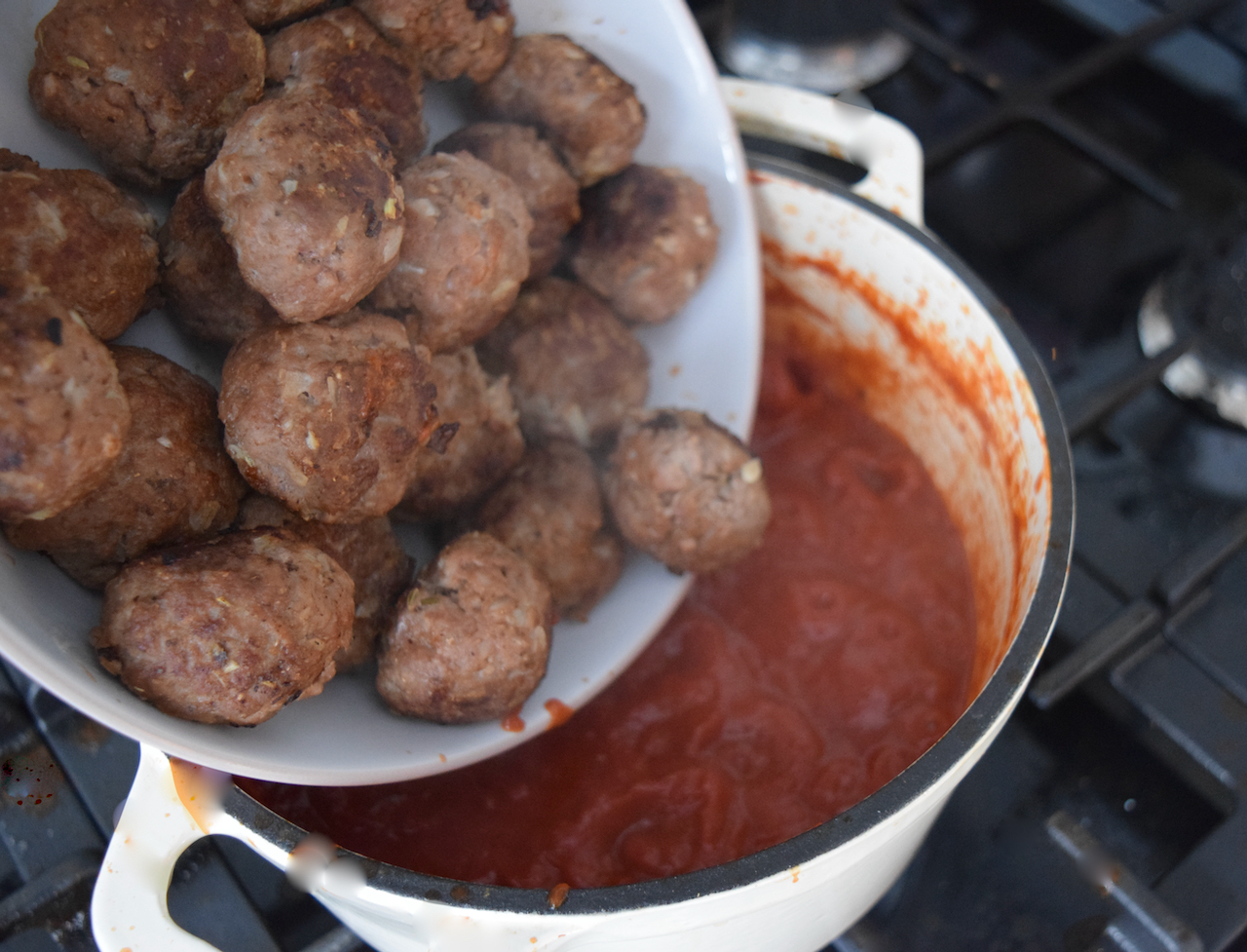 Stir thoroughly then blob the mozzarella mix onto the top of the meatballs and then finally sprinkle the reserved cheese on top.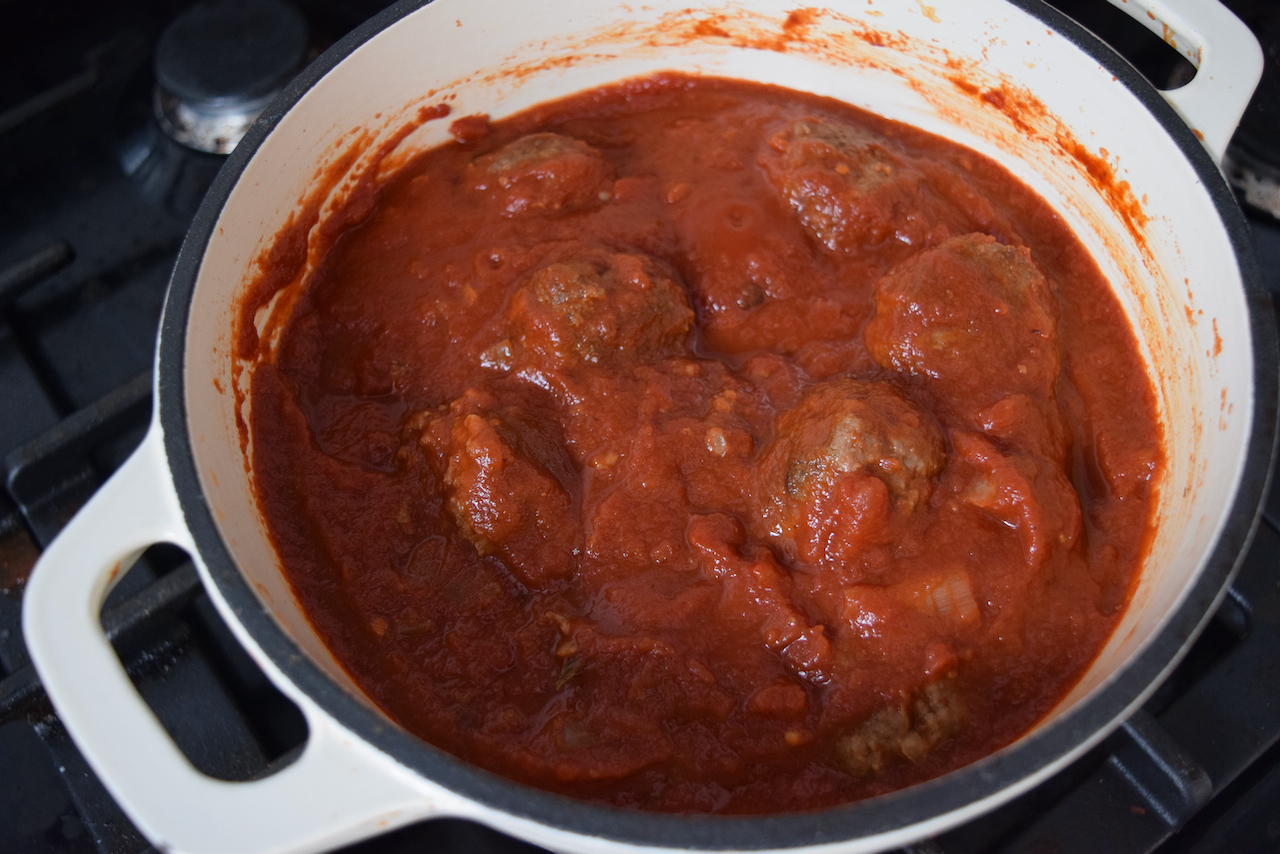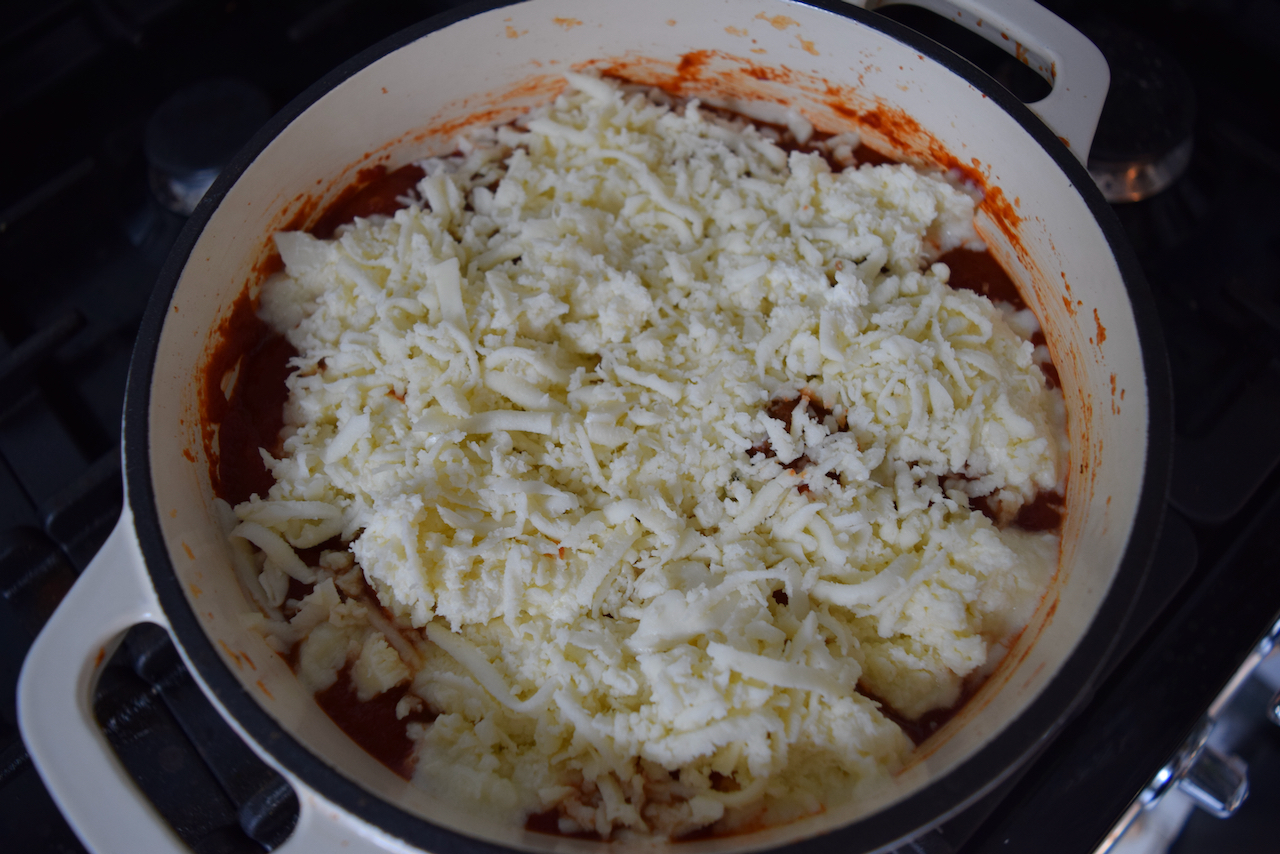 This tasty pot of goodness goes into your pre heated oven for around 30 minutes or until the top is bubbling and golden and everything is piping hot and cooked through. Leaving you just enough time to prepare the Cheesy Garlic Bread.
Split the ciabatta or bread of choice in half and toast until just golden under a pre heated grill. While this is happening, melt the butter, olive oil and garlic on the stove or microwave.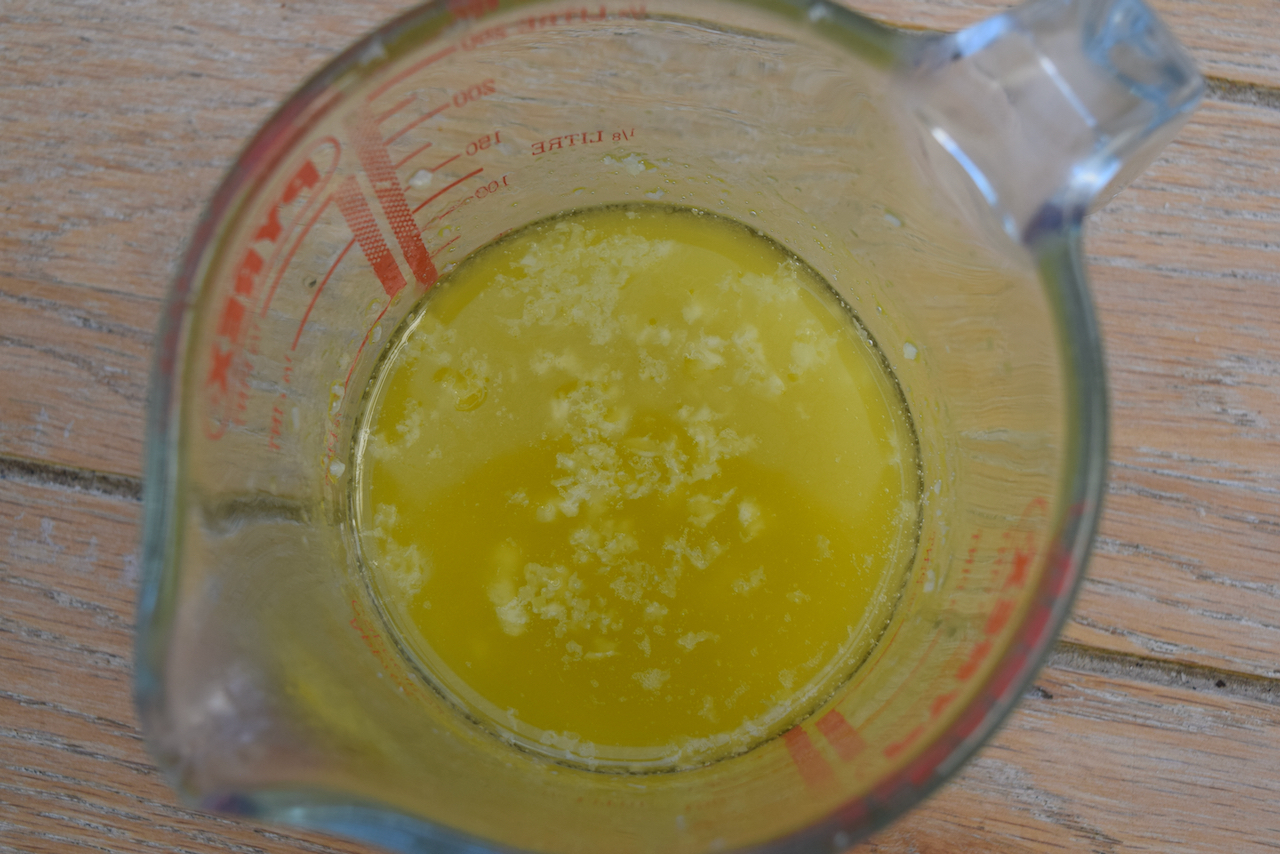 Generously drizzle the garlic/oil/butter mixture onto your toasted bread.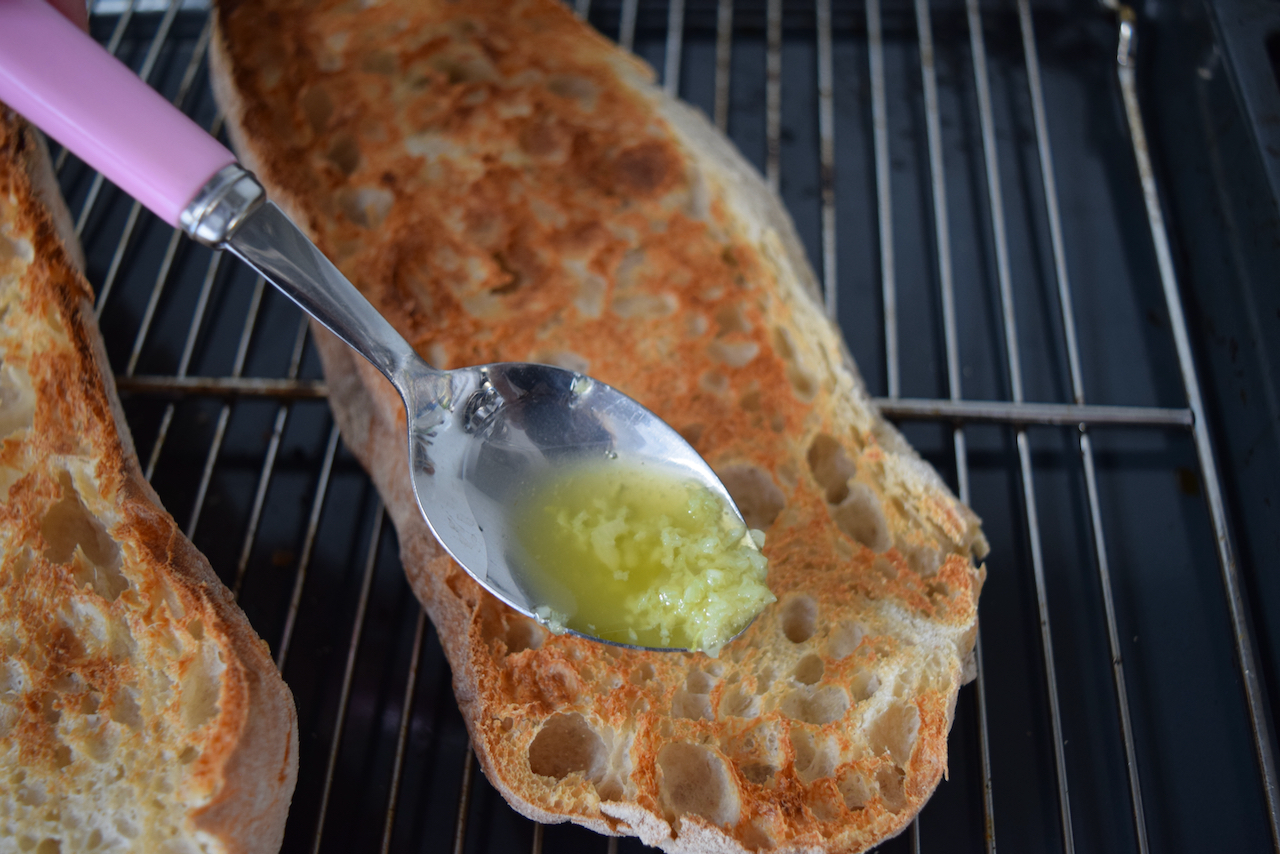 Next combine the grated mozzarella, parmesan and herb or your choice then heap onto your garlic bread.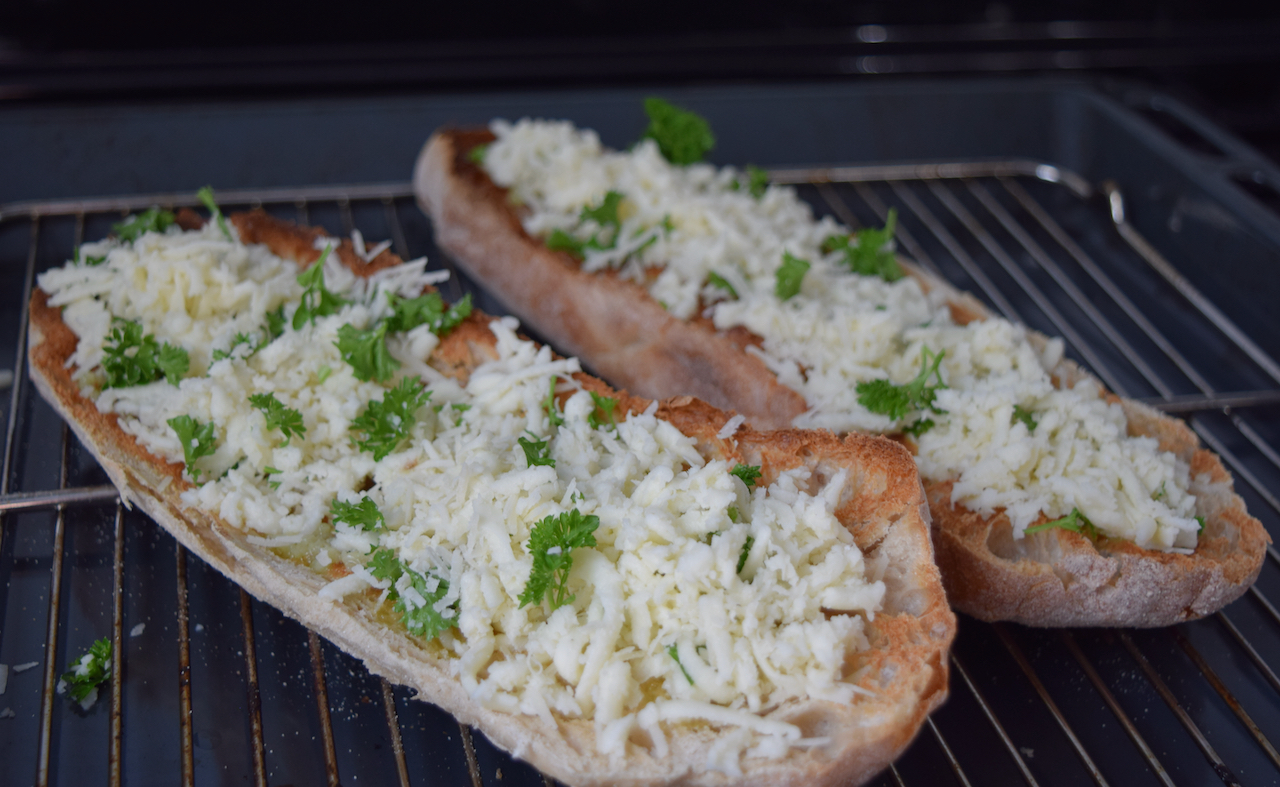 Pop this back under the grill for a further minute or so until the cheese is bubbling and the whole business is smelling irresistable.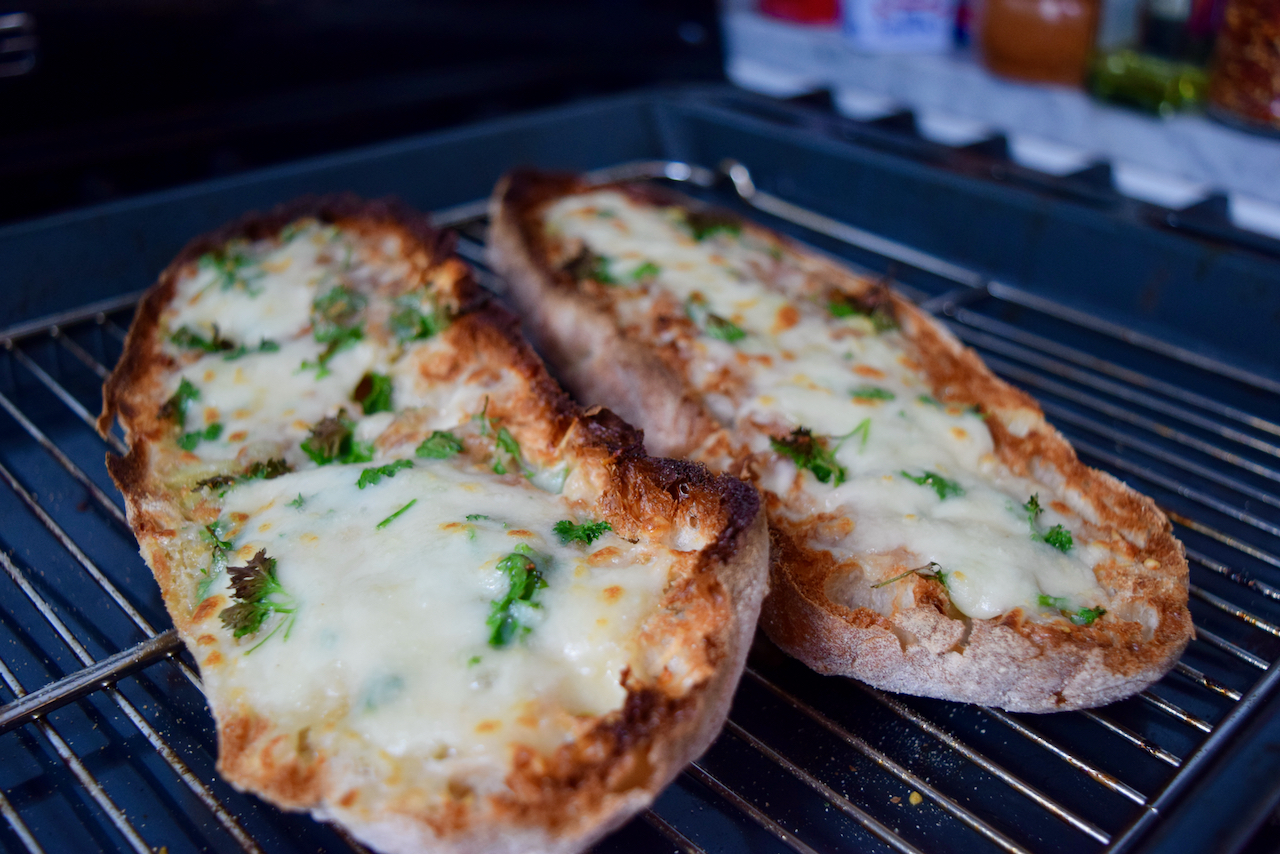 Cut into pieces, the perfect size for mopping up your now ready, bubbling, cheesy meatballs.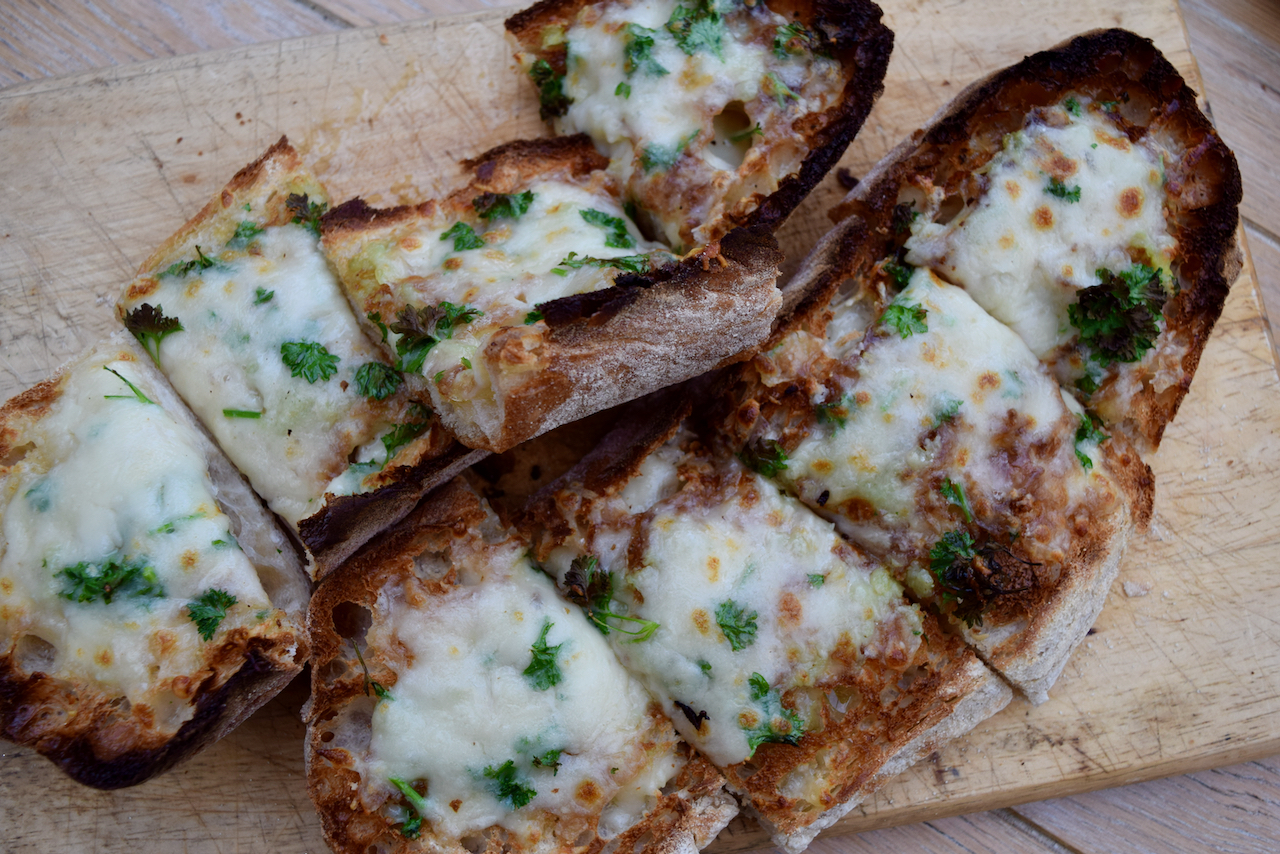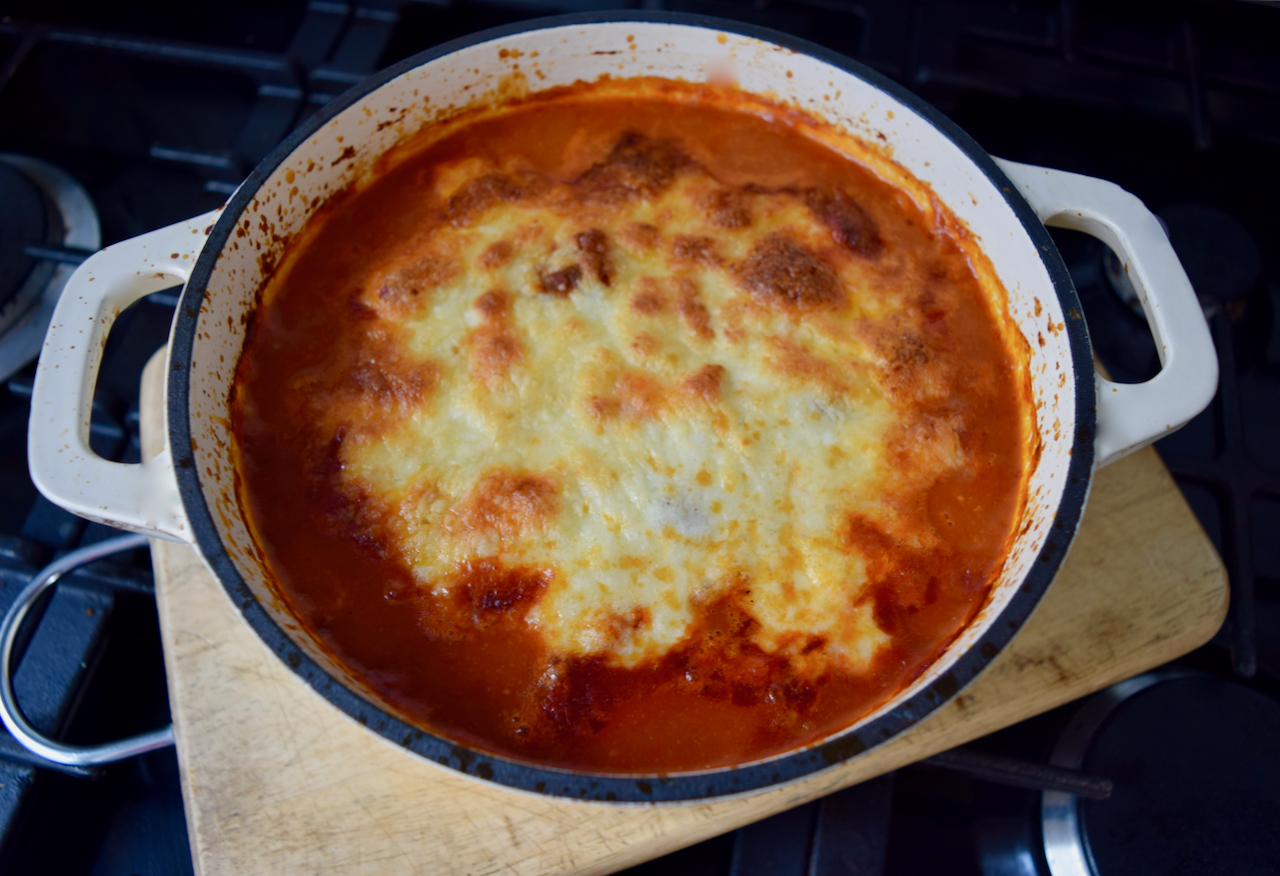 I garnished my pan with a handful of basil from my slightly lame pot in the garden and then tucked the hell in as though my life depended on it.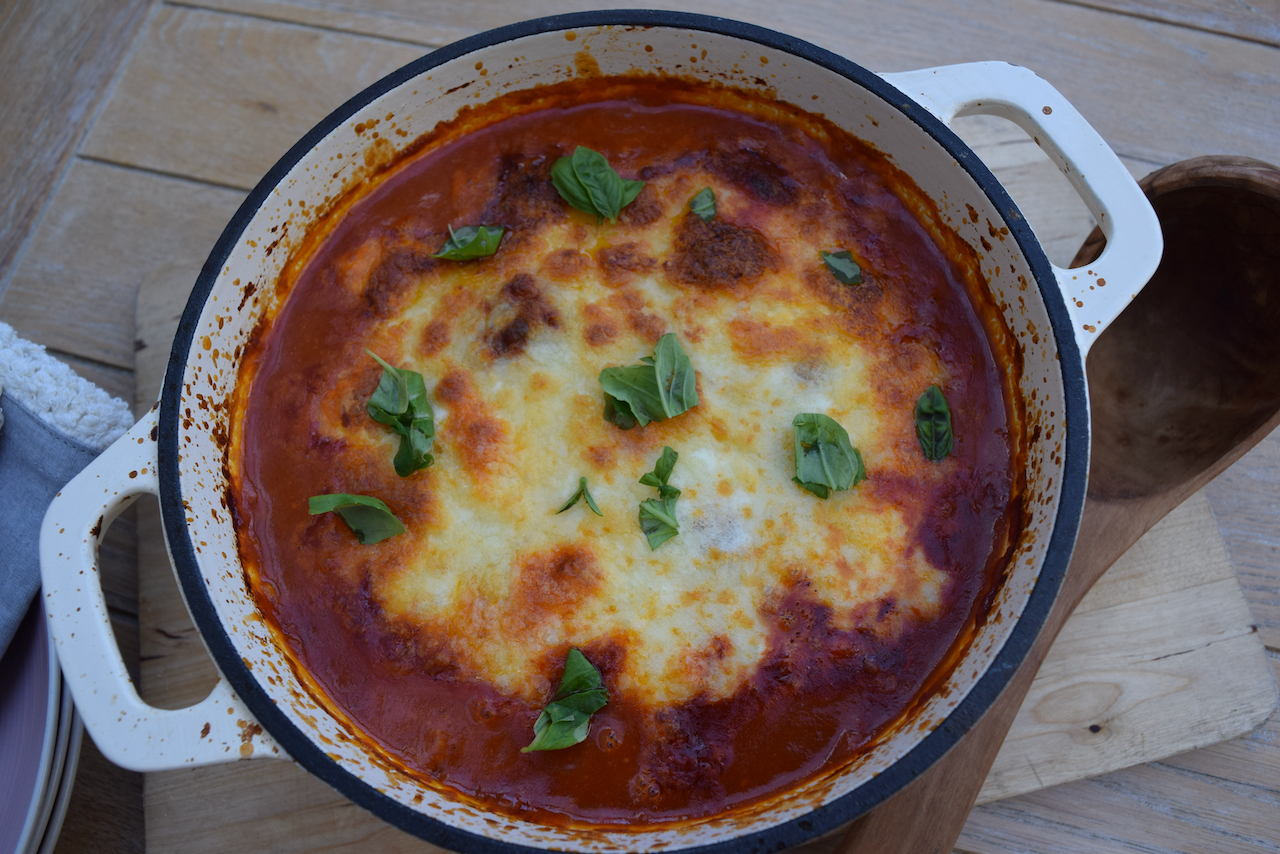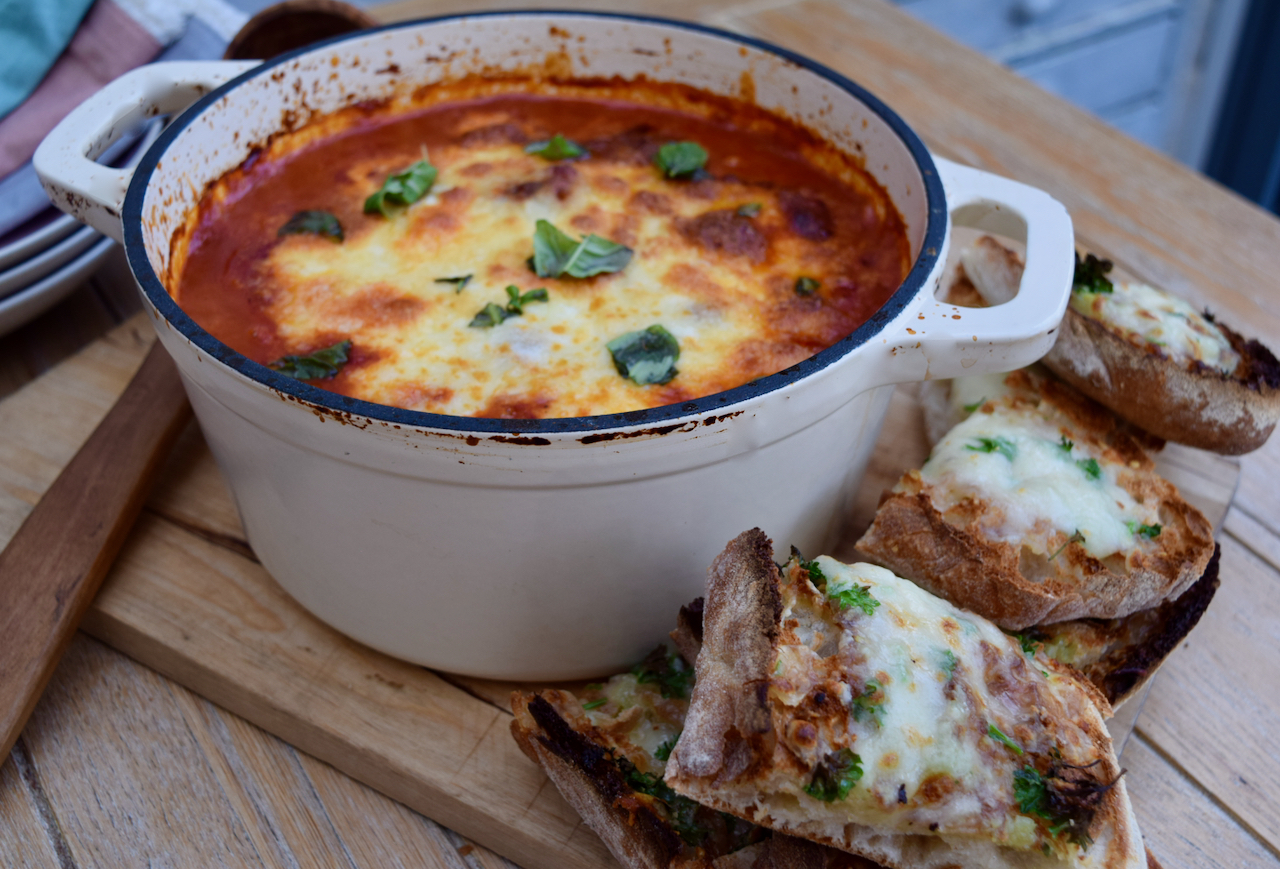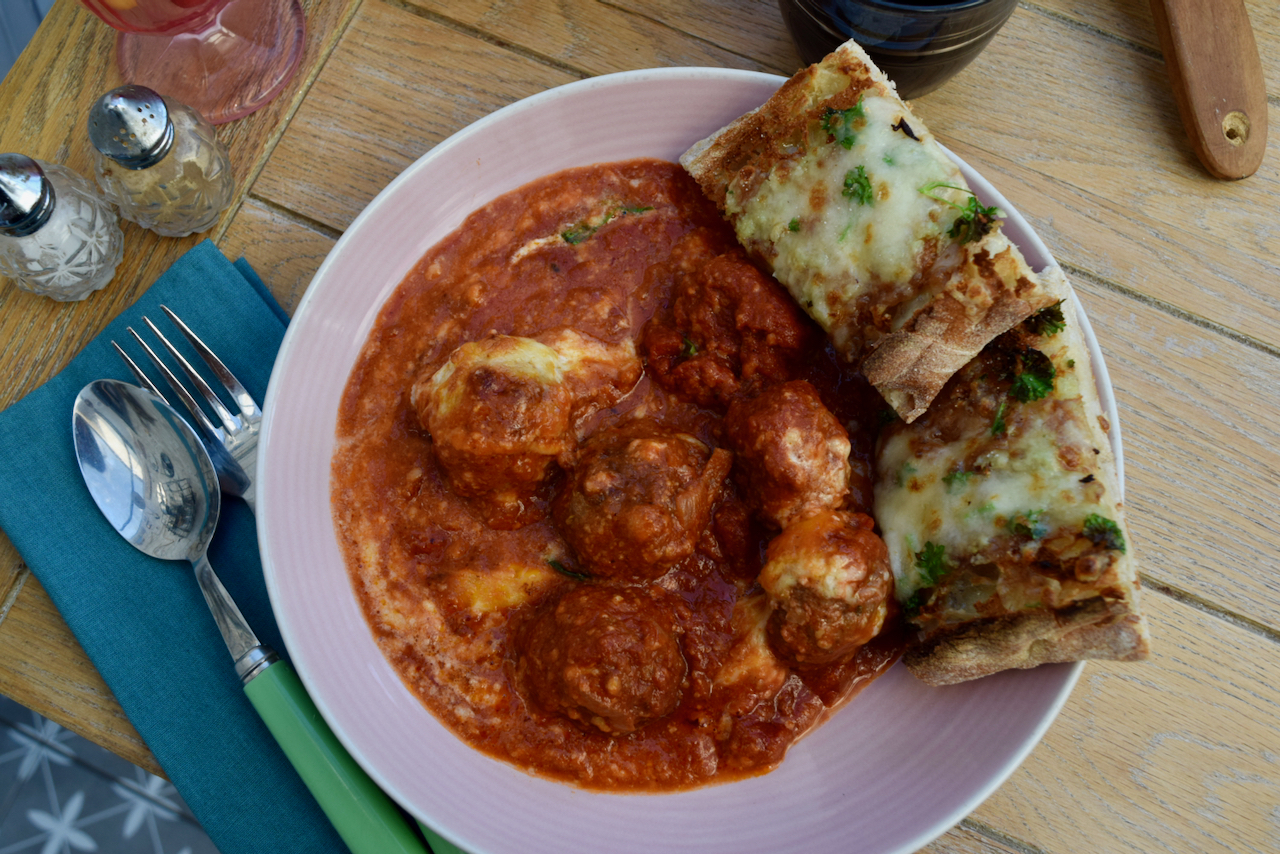 I don't think I need to ramble on any further. This classic one pot dish pretty much speaks for itself. Just on a side note, don't wear a white t-shirt whilst eating these, like it did, unless you are happy to wear a bib.
Lucy x
One Pot Meatballs with Cheesy Garlic Bread Recipe
Serves 4 greedy types
You will just need bowls and an ovenproof pan
Meatballs
500g beef mince, or use half pork mince if you can get it
2 small onions, one for the balls one for the sauce
125g fresh breadcrumbs, I used 2 slices of bread, blitzed
1 tablespoon fennel seeds, crushed
1 teaspoon dried oregano
1 egg
Salt and pepper
Olive oil for sauteeing
2 cloves garlic, crushed
2 tablespoons tomato puree
600ml passata
1 x 400g tin chopped tomatoes
3 bay leaves
1 tablespoon soft brown sugar
1 tablespoon red wine vinegar or balsamic vinegar
250g mozzarella
100g mascapone
Salt and pepper
Cheesy Garlic Bread
4 cloves garlic, crushed
50g butter
2 tablespoons olive oil, extra virgin if you have it
1 ciabatta loaf, or something similar
3 tablespoons grated parmesan or Italian hard cheese
100g grated mozzarella
2 tablespoons chopped parsley or basil, if you like
You can serve this dish with spaghetti, but it's just perfect as it is with the garlic bread served to mop up the meatball sauce
Make a start with the meatballs. Pre heat your oven to 160 degrees fan assisted. Crush your fennel seeds and blitz your bread to make fresh breadcrumbs. Either chop the onion and mix everything by hand or use a food processor. Mix the breadcrumbs, chopped onion, fennel seeds, dried oregano, beef and/or beef and pork mince and egg, along with some salt and pepper, and mix/combine until you have a well mixed consistency.
Roll the mixture into around 20 meatballs. Heat an oven proof pan over a medium high heat with a generous splash of olive oil. Cook in batches if necessary until golden brown and almost cooked through. Add more oil in between batches if needed. Pop you cooked balls onto a plate for the moment.
Add some more oil to the pan then turn down the heat. Add the second chopped onion and cook until soft and translucent. Add the crushed garlic and cook for a further minute then add the tomato puree and cook for another minute or so until just browning. Pour in the passata, chopped tomatoes, balsamic or red wine vinegar, brown sugar and bay leaves and stir well. Bring up to the simmer then cook for around 20 minutes or until reduced slightly and thick and glossy.
While this is cooking, mix the mascarpone and 200g of the grated mozzarella until you have a thick mixture. When the tomato sauce has reduced, season with salt and pepper and remove the bay leaves. Next drop your meatballs back into the pan and bring up to the simmer. Spoon tablespoons of the mascarpone mozzarella mixture on top of the meatballs then sprinkle with the last of the grated mozzarella. Pop into your pre heated oven for around 30 minutes or until golden topped and bubbling.
While the meatballs are cooking, whip up the garlic bread. Pre heat your grill to high. Then, either on the stove or in the microwave, gently heat the butter, oil and garlic until it's just melted. Split your ciabatta or chosen loaf in half and toast under the grill until it's just golden. Spread with the melted garlic butter mix, ensuring the bread is well covered. Sprinkle on the grated parmesan, mozzarella and chopped parsley or basil, if you are using, then pop back under your hot grill for a further minute. Your garlic bread will be golden with melted cheese and smelling amazing. Chop into chunks and serve with your hot meatballs for dipping and mopping.
Any leftover meatballs re heat beautifully for the next couple of days.