Cherry Shortbread Tart Recipe
We have discussed my penchant for slightly embarassing food groups before, I am sure. For example, I love Spam and Salad Cream and quite unashamedly so, if I'm honest. They are delicious, but embarrassing and full of crap but I don't care. I also love a tin of cherry pie filling, there, I've said it, it's out in the open. The gloopy, faux cherry flavoured tin of deliciousness is perfect just with custard or cream, as who could be bothered to fashion it into an actual pie, it's wonderful.
Which leads me to today's post for Cherry Shortbread Tart which is neither lacking in class or embarrassing, but it does just have a tiny hint of pie filling flavour to me. This tart is brilliant, something which has been said about me on numerous occasions in the past *not entirely true*. I love it, it is speedily becoming my new summer pud of the moment. I have made it twice in three days which usually signals that someone in our house keeps eating it before I have had my fair share. This super simple, as always, dessert doesn't require any annoying rolling out, just a bit of pressing and crumbling. The buttery base is then spread with the corresponding cherry jam before dotting on your fresh cherries. In fact the most taxing part is stoning these wonderful seasonal fruits, but it's well worth it, despite making your hands look like an amateur butcher. Their summer, fragrant sweetness is only around for a short time and they are sodding expensive, so make the most of fresh cherries while you can. In fact, later on in the season when you require a second mortgage to buy a punnet, simply replace these with a fruit and matching jam combination of your choice. For autumn, I am already envisaging plums and apricots or blackberries, believe you me, this tart is going to run and run *insert another rubbish joke about tarts here*.
The inspiration for this precious new baked treat comes from Erren's Kitchen, bless you, Erren, for your shortbread based words of wisdom.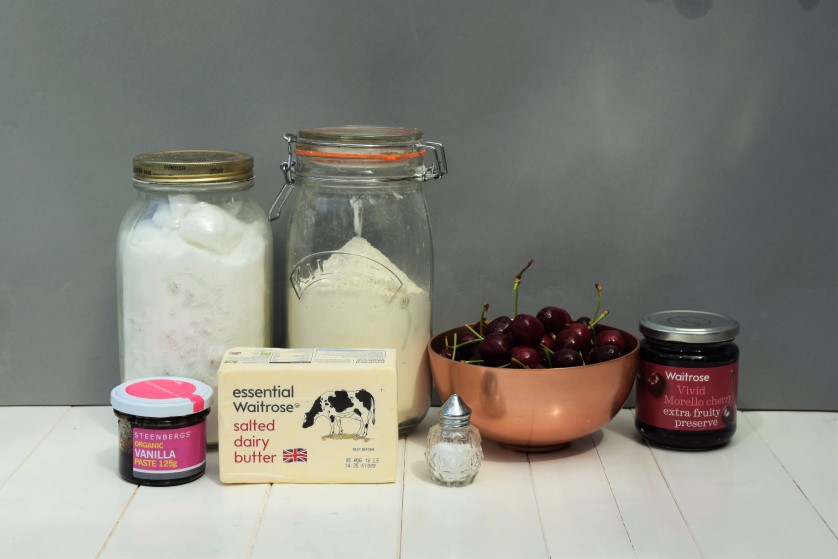 Pretty as a picture, despite the foolish fact I left the brown sugar out of this tableau. This is the most perfect dessert for a summer family gathering. Put up against even a Banoffee Pie, this Shortbread Cherry Tart was inhaled by my hog-like relatives on Sunday.
Start as you mean to go on by pre heating your oven to around 160 degrees fan assisted and by buttering your 8 to 9 inch *20cm and 22cm I think* loose bottomed flan/tart case.
Next, either in your food processor for speed or by hand to burn a few calories, cream the butter and both caster and missing light brown sugars together until lighter in colour and texture.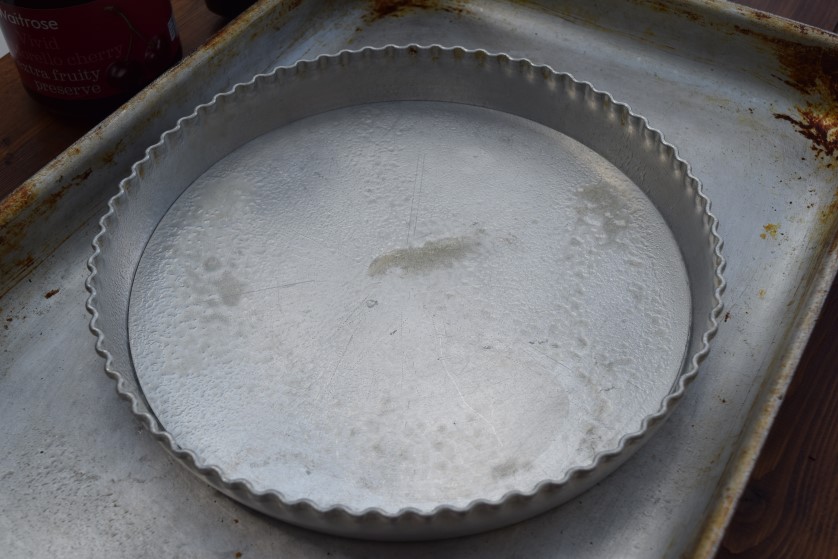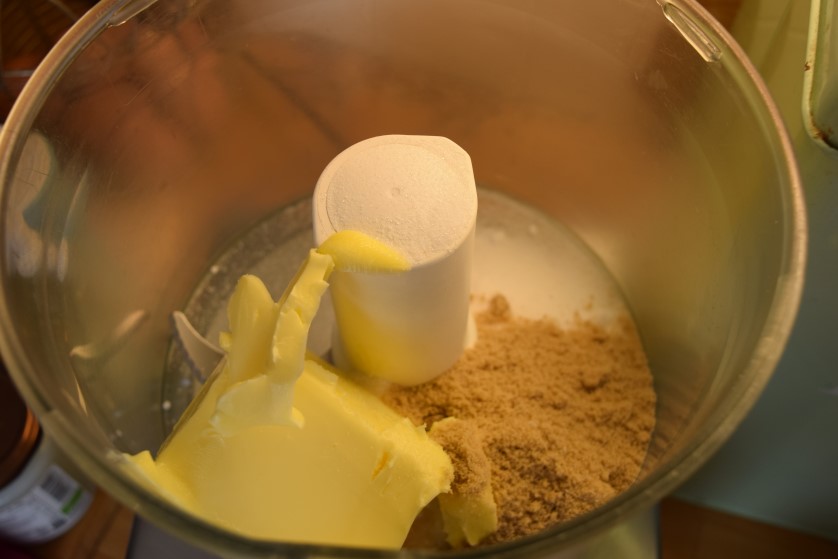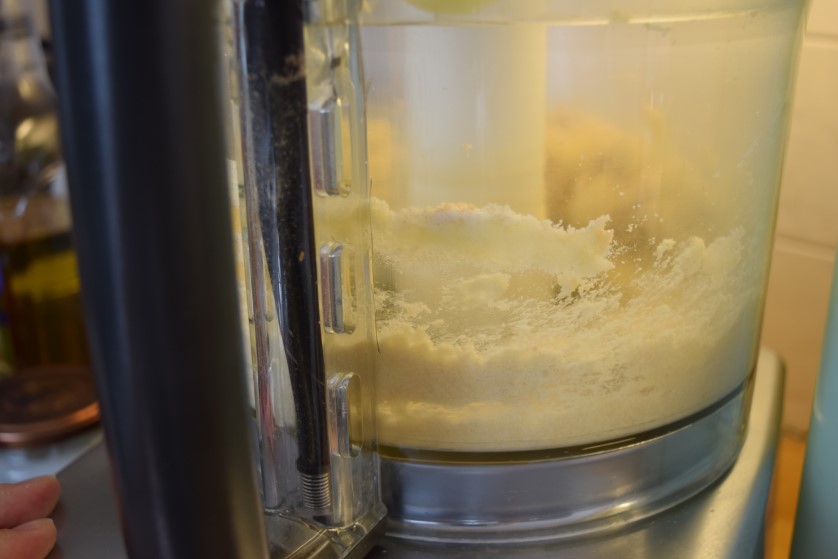 I took the lazy route and used my Magimix. Next, spoon in your vanilla extract or paste then measure out your flour and salt then add this to your buttery mixture.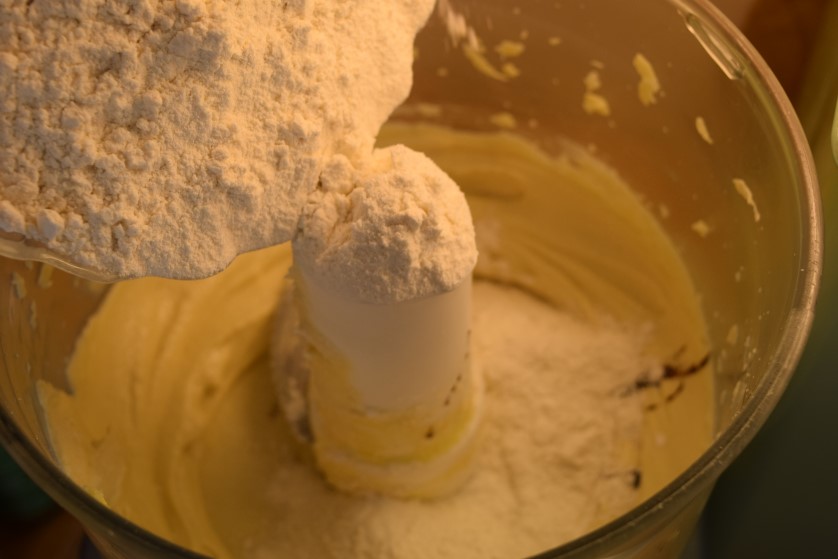 Process or rub the flour into the butter and sugar until you have a delicious soft, vanilla flavoured dough.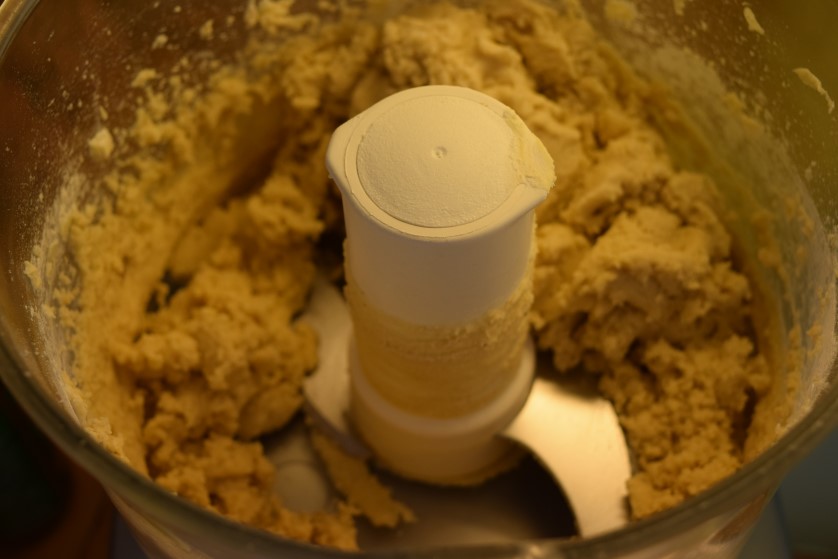 Tip two thirds of this shortbread into your buttered tin, using your hands press it carefully into the edges and up the sides. Level the dough as well as you can then spread with the cherry jam.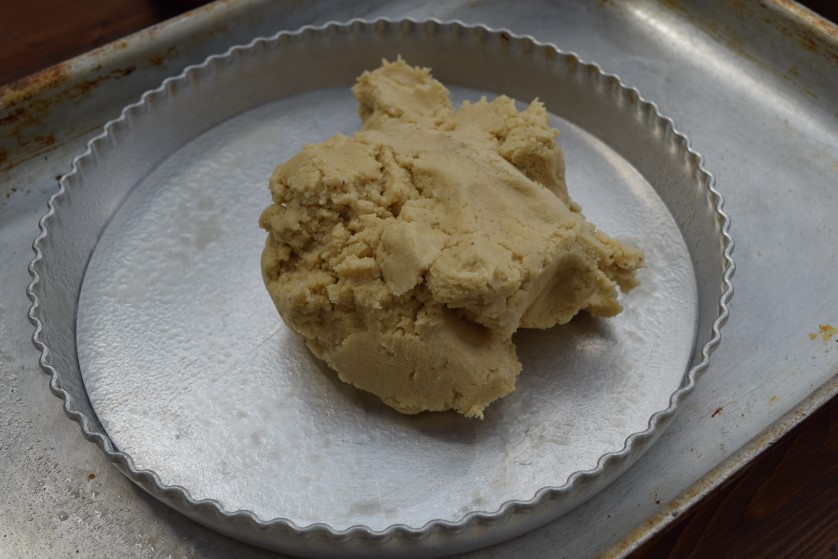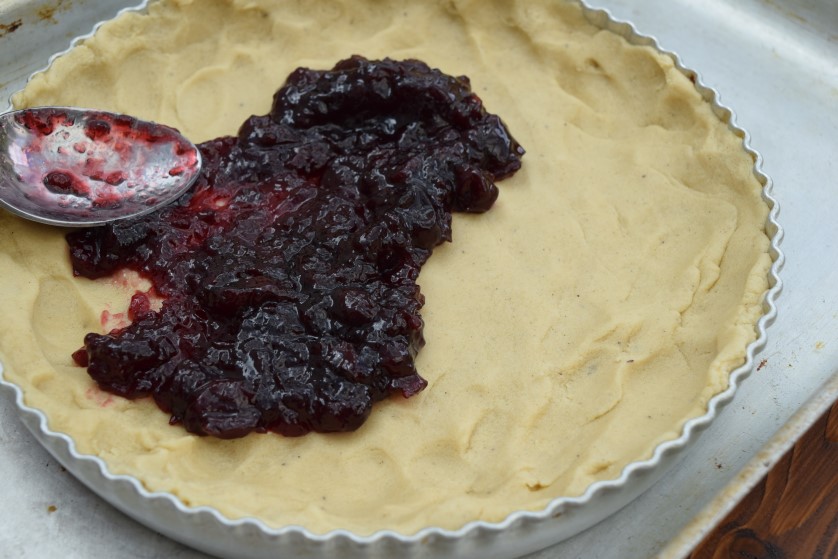 Then, with your juice stained hands, add the layer of stoned and halved cherries you took ages to prepare earlier.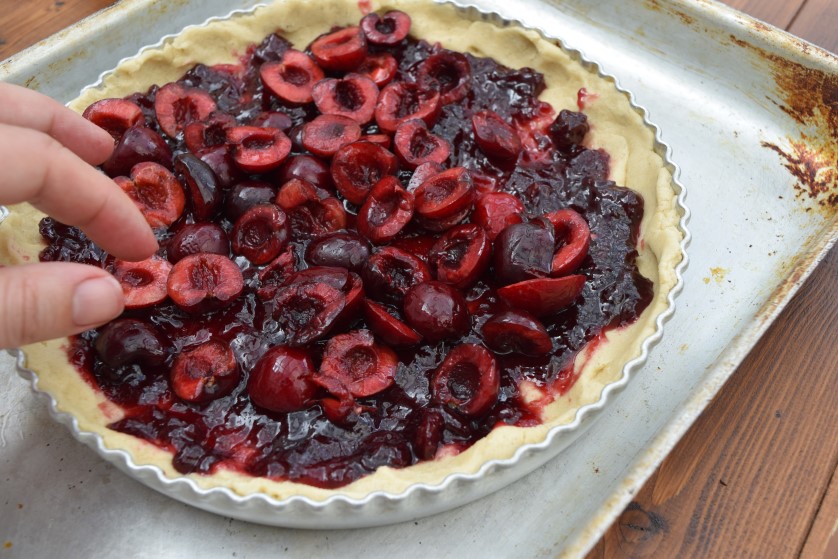 Finally, take the remaining third of dough and sprinkle delicate blobs onto the cherry layer. Leave little gaps in between, the dough will spread in the oven and the cherries will bubble through.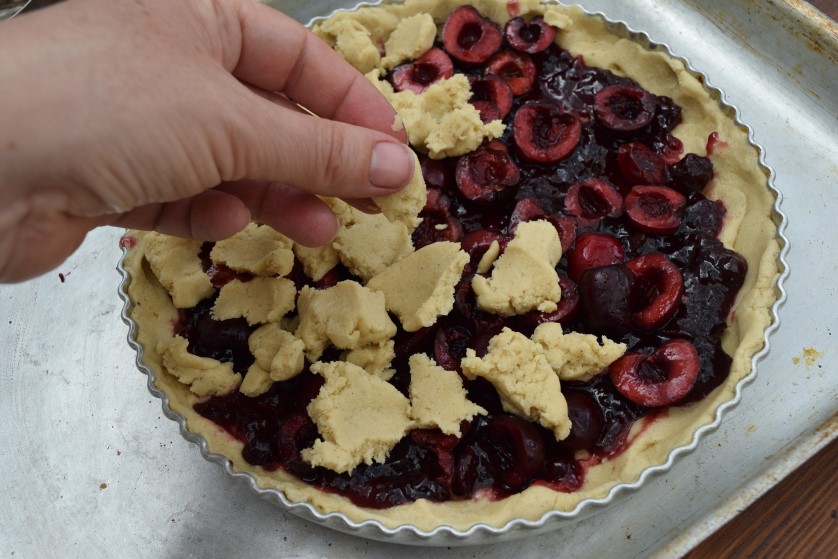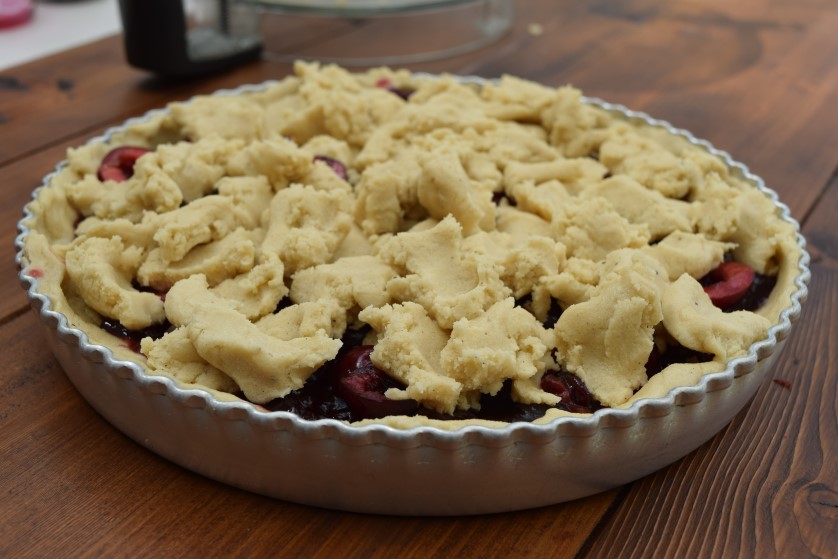 Pop this beauty in the oven for between 45 and 50 minutes or until golden brown and bubbling nicely. And smelling quite irresistible.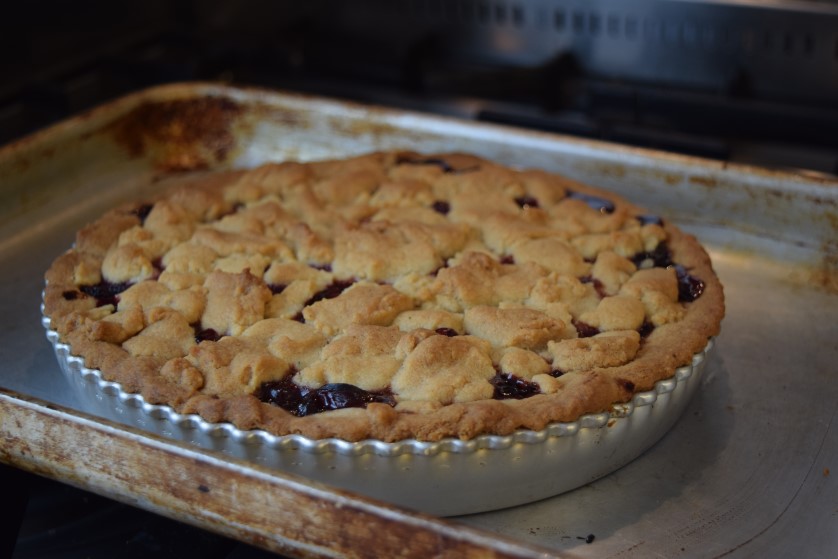 Leave this to cool, almost completely, for ease of removal from the tin, you can reheat before serving if you would rather serve warm.
Sprinkle with icing sugar and serve in enormous wedges with cream or vanilla flecked custard.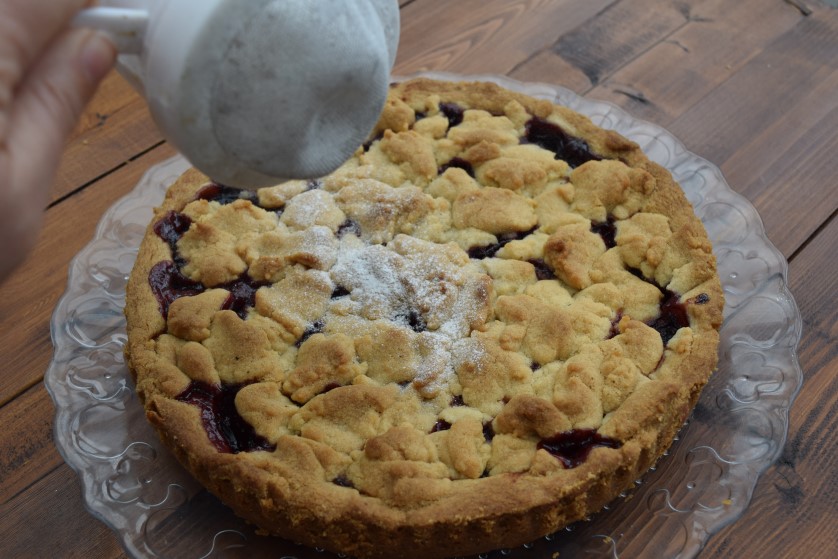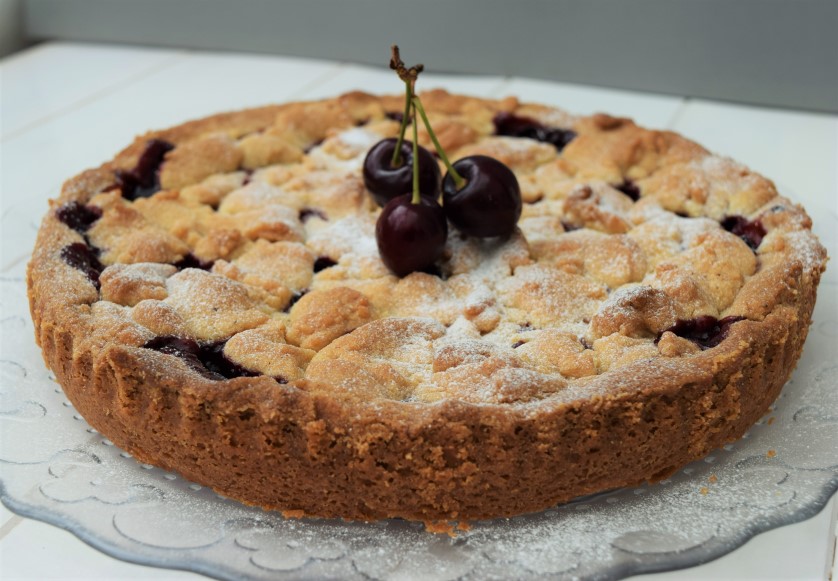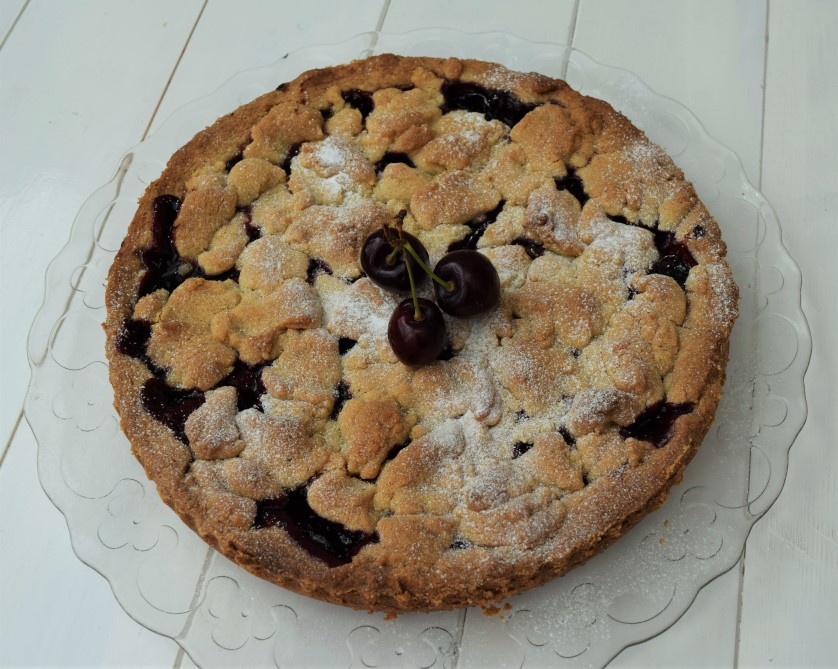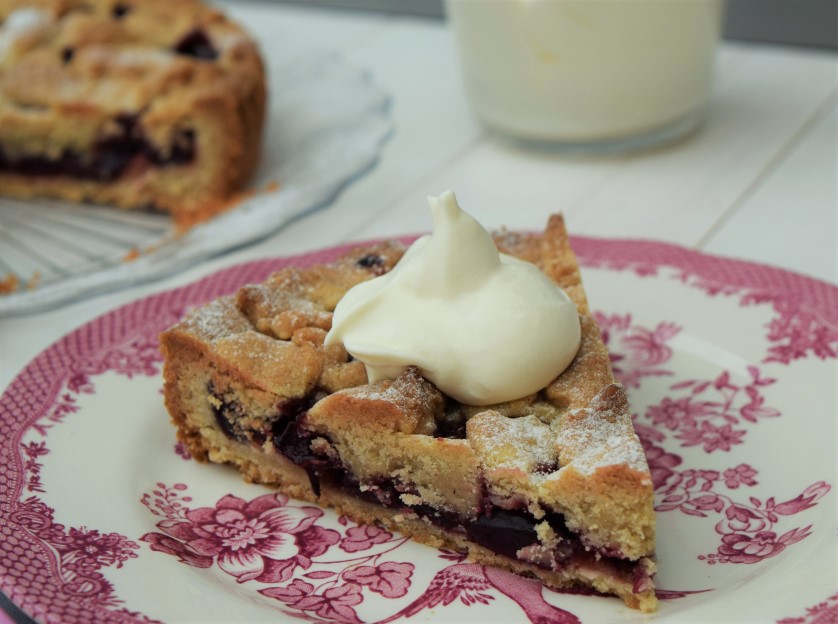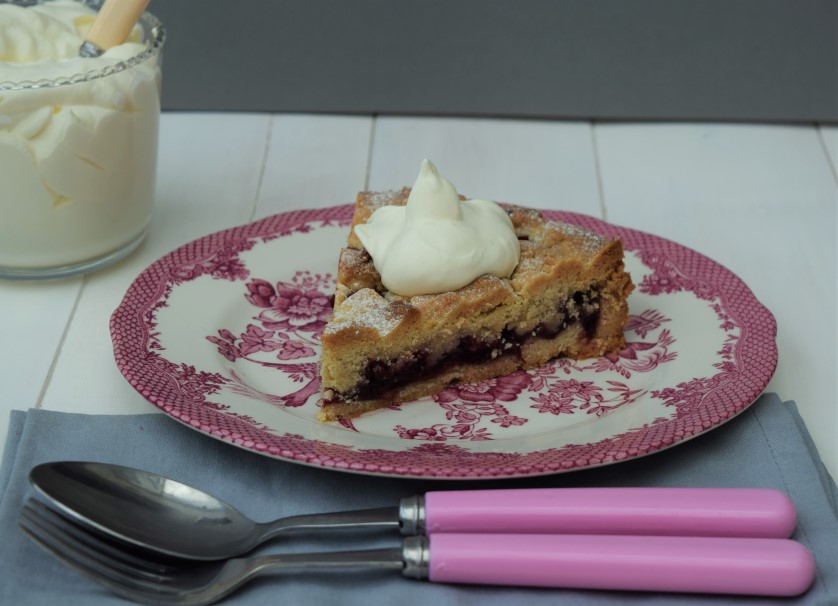 I would definitely give this tart a first place rosette in any county show. Its soft, sweet, full of summer fruit charm and totally irresistible. My family can confirm it's winning qualities, as the above photogenic tart was annihilated in one sitting. Just crumbs left, which I then licked off the plate, of course.
Lucy x
Cherry Shortbread Tart Recipe
Serves 6 to 8, or 1, you know the deal
230g soft butter
100g caster sugar
40g soft brown sugar
1 teaspoon vanilla extract or paste
330g plain flour
1/2 teaspoon salt
200g cherry jam
approximately 150g stoned and halved cherries
Icing sugar for dusting, cherries, cream or custard to serve
Pre heat your oven to 160 degrees fan assisted and butter or spray an 8 to 9 inch flan tin, a loose bottomed one would be best.
In your food processor or in a bowl with a wooden spoon, beat together the soft butter and both sugars until lighter in colour and texture. Add in the vanilla paste or extract, mix again then fold in the flour and salt until a soft dough is formed.
Press two thirds of the dough into the buttered tin, making sure the shortbread dough is pressed into the edges and up the sides and is in an even layer. Next, spread with the layer of jam then add the handful of de-stoned cherries over the jam. Take the remaining shortbread dough and dot it over the top of the cherries in small lumps until you have used all.
Pop in the oven for around 45 to 50 minutes or until golden brown and the filling is bubbling. Leave to cool before removing from the tin. Serve in large wedges, warm or cold, dusted with icing sugar with extra cherries and tons of cream or custard. I can imagine this would keep, well covered, in a tin for 4 days. But not in our house.