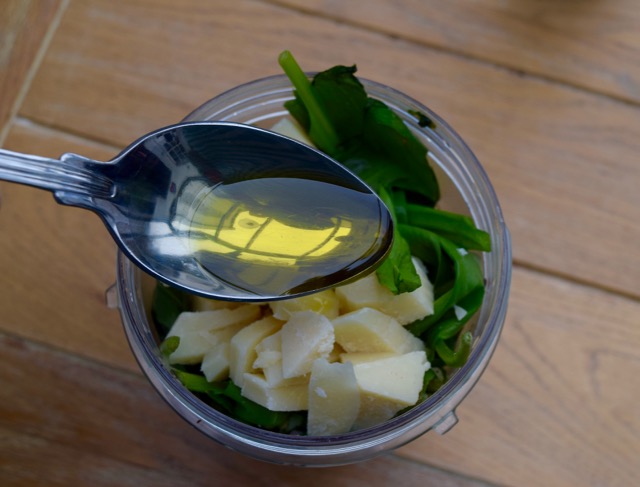 Wild Garlic Pesto Recipe
Wild garlic is one of those mythical items I had never tried before. Spoken about by wholemeal hunter gatherer types or chefs but rarely seen at the supermarket. Between March and July this highly fragranced wild herb can be foraged from woodlands on slopes and in areas of damp soil. Until now, that is, when I've found some wild garlic on Ocado, to great excitement. So at last, I have been able to cook with it so I have fashioned, ta-dah, some Wild Garlic Pesto for your delectation today.
Wild garlic is a lovely ingredient, it is beyond garlicky and super versatile. This pesto is herby, cheesy and so full flavoured you can add a spoonful to most things and they will be enhanced enormously. And it's easy to make. I annihilated mine in the NutriBullet but you will get a bit more texture in a standard blender. If you pour a little olive oil on top of the pesto in the jar it will keep beautifully in the fridge only to be added to all and sundry for extra zing. I have been stirring mine through warm wholemeal pasta, adding it to a bolognese and am keen to fashion it into an extra special garlic bread on crisp slices of baguette. Wild Garlic is such a seasonal treat, this pesto is a lovely way to preserve it's special flavour for a little bit longer. My inspiration for this tasty recipe came to me via The Woodland Trust website with huge thanks.
Pesto has become a little old hat, given it's slightly inferior, mass produced quality and huge popularity as a children's supper dish. However, Wild Garlic Pesto is a whole new, much more grown up affair. And if I'm honest, way too delicious to waste on the children, although mine have been granted a little sample and bloody loved it.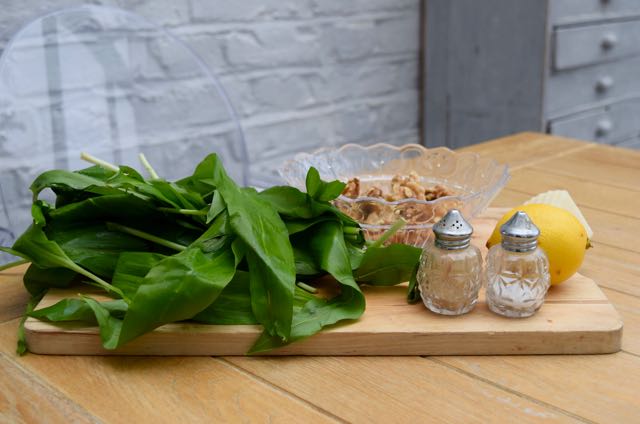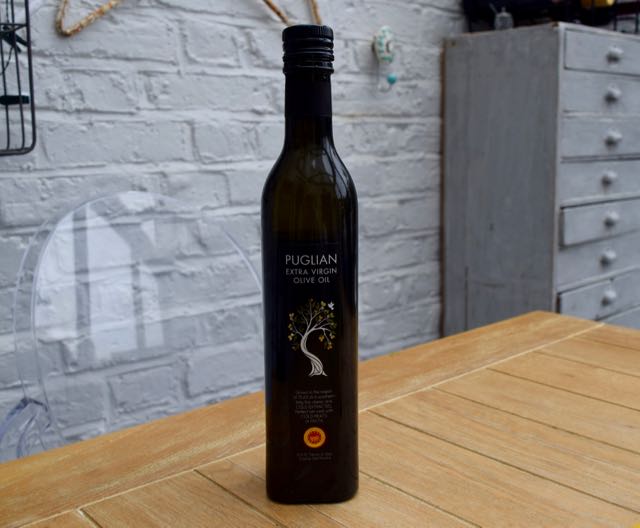 Here's the line up, in two photos, due to my rubbishness and forgetfulness. On a side note, I only had a few pine nuts so I used walnuts in my Wild Garlic Pesto. You could vary your nuts to suit whichever you have to hand, they add a lovely creaminess and texture to the pesto. Look at those lovely wild garlic leaves too, rather than focusing on my bad store cupboard management and inefficient ingredient photography. They look so lush and fragrant, which in real life they so are. Make a start by toasting the aforementioned nuts to add another touch of flavour. This is done in a hot, dry frying pan, just for a couple of minutes until they smell toasty and are just turning golden. Be careful not to burn these as they will turn quickly.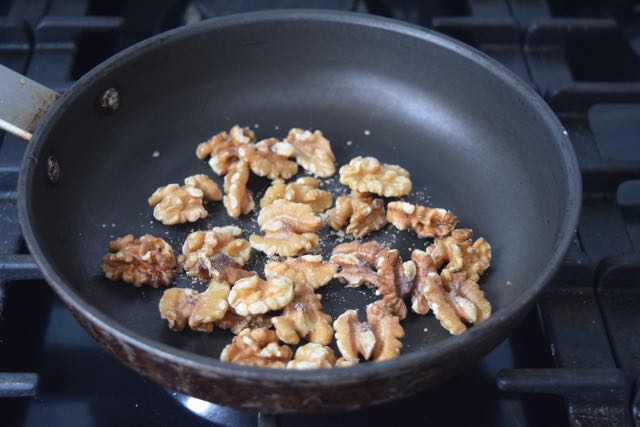 Pop these onto a plate to cool slightly before cracking on with the rest of the pesto.
Wash and remove the stalks from the wild pesto leaves then add to the blender or NutriBullet with the cooled nuts and chopped or grated parmesan.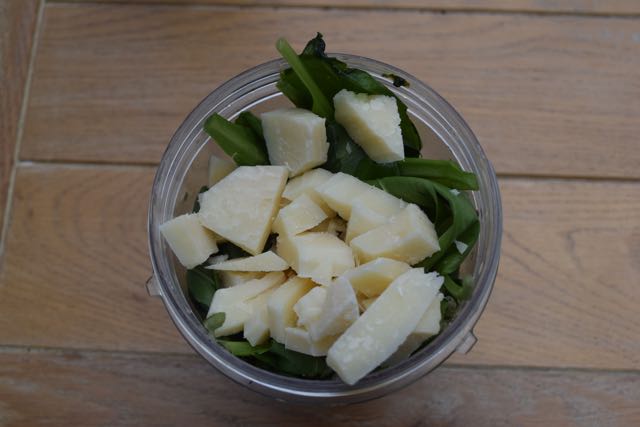 Spoon on the olive oil then blitz away to your hearts content. I rather overstuffed my NutriBullet so it took quite a bit of shaking and stirring before my pesto fashioned itself into a paste. Your blender may have a bigger set of balls than mine. I rather over blitzed mine, process less if you prefer a chunkier texture.
Now, squeeze in a good squirt of lemon juice and season with plenty of salt and pepper, to taste, and stir again. Scrape into a lovely jar then top with another tablespoon of olive oil to act as a sort of seal.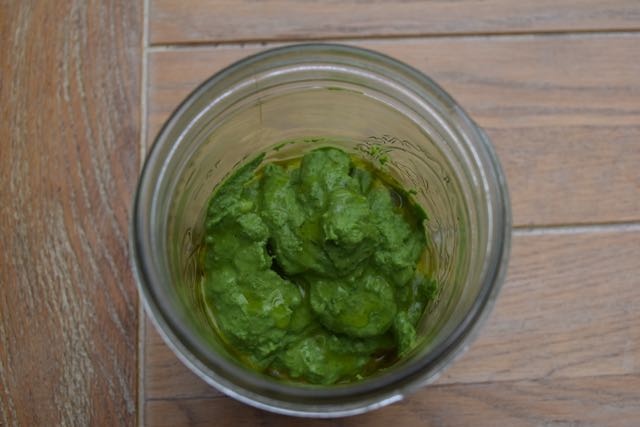 Pop a lid on the jar and keep in the fridge to be whipped out when an intense hit of garlicky freshness is needed.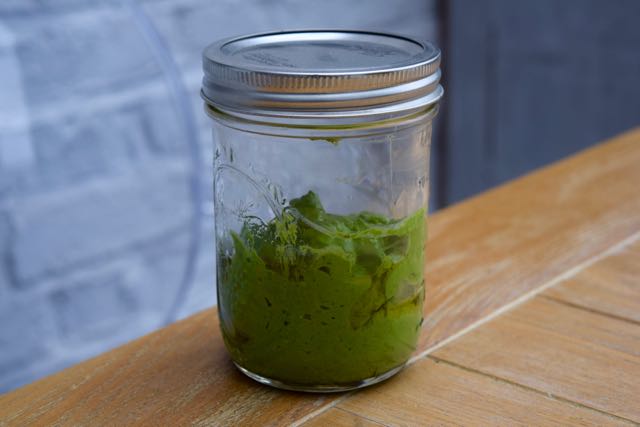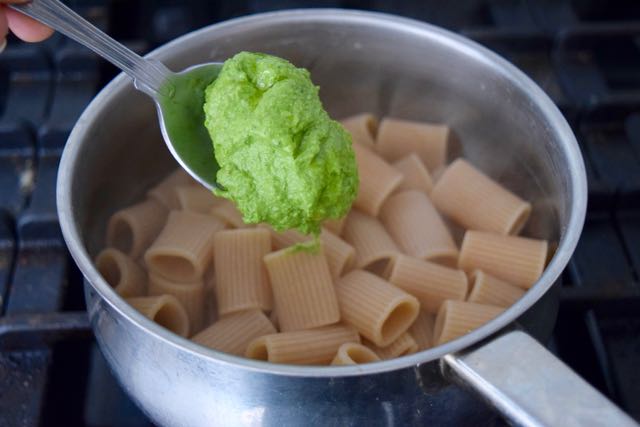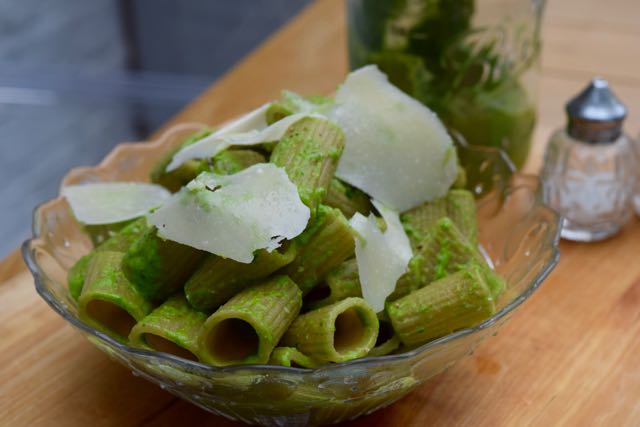 So fresh, so green, so versatile. This doesn't have to be just put on pasta, you could put it on a flip flop and it would taste hugely palatable.
Lucy x
Wild Garlic Pesto Recipe
Makes a small jar full
You will need a jar and a blender
75g to 100g wild garlic leaves, stalks removed
50g parmesan cheese, chopped or grated
50g pine nuts, toasted, walnuts and almonds also work well here
2 tablespoons olive oil, plus extra for drizzling
A generous squeeze lemon juice
Salt and pepper, to taste
Take your wild garlic and nip off the stalks. Rinse, then pop into the goblet of your blender or NutriBullet.
Take your chosen nuts and add the to a frying pan without any oil. Toast for a couple of minutes or until smelling toasty and just starting to colour. Tip onto a plate to cool.
Add the parmesan and the cooled nuts to the blender then measure in the olive oil. Blend until you have the required consistency. I used a NutriBullet and this took quite a bit of blitzing, in a standard blender it should be quicker. I blended my pesto until smooth, but process for less time for a chunkier consistency.
Scrape your pesto into a jar then pour on a little more olive oil to seal the top. Place a lid on and this will keep, undisturbed in the fridge for a couple of weeks.
Use this pesto stirred through pasta, add it to your bolognese, spread on a toasted crostini, drizzled on portobello mushrooms and baked. This Wild Garlic Pesto adds a taste of the wild to pretty much anything.
SaveSave
SaveSave
SaveSave
SaveSave
SaveSave
SaveSave
SaveSave