Deep Pan Pepperoni Pizza Recipe
I seem to have a pizza recipe for all occasions. I love my White No Knead Pizza recipe when time is tight and sometimes only an over stuffed Stromboli will do. So when I found this Deep Pan Pepperoni recipe, I almost didn't bother trying it, but I'm so glad I did. Pinterest is choc full of recipes cooked in a cast iron pan, some of which I have fallen in love with, so I was wooed by this Deep Pan Pepperoni Pizza from the start. The next 4 weeks in our house will be wall to wall World Cup football so what better time to feature this wonderful pizza recipe, the ultimate TV dinner.
I have a couple of cast iron pans, bought super cheaply and used for all sorts of things. The heat of the pan cooks dishes evenly and at a high temperature so, as it transpires, they are amazing for this Deep Pan Pepperoni Pizza. The dough is a simple one, and only takes an hour to rise so can be made with your handbag still on your arm as you walk in the door from work; with dinner on the table only an hour and 20 minutes later. The base is thick, tasty and crisp, with my topping choices suiting my family perfectly. Feel free to top away to your hearts content. The original recipe, with thanks to Sainsbury's, called for ham and pineapple, but there would be no chance I could lure George into eating that, but if that's your topping of choice, go for it. I used some organic passata as my sauce, but use your favourite here too, or make your own if you have time on your hands. Then add a generous layer of pepperoni slices, some chewy mozzarella and some parmesan or strong cheddar we love cheese. Plenty of dried oregano and a spritz of olive oil then this Deep Pan Pepperoni Pizza starts its cooking process over a high heat on the hob. Once it has a lovely crisp bottom, you are only 15 minutes in a hot oven away from pizza perfection.
I cannot enter our living room at the moment without having to watch two obscure world football teams fighting it out. I don't mind football but I do draw the line at watching every bloody game. That said, a slice of this pizza would make any match seem bearable. Come on England.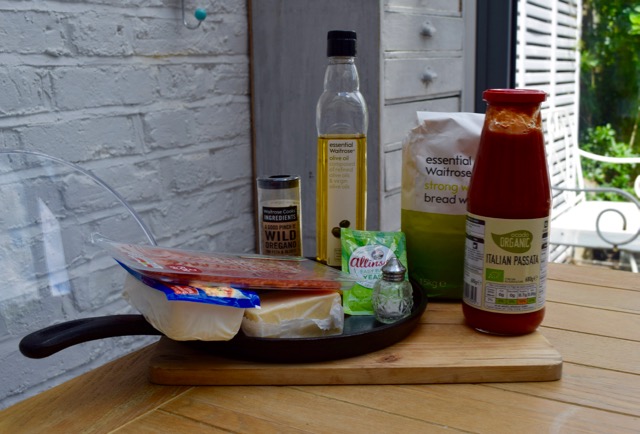 Nothing to fear in this little line up, and I used my larger, but more shallow, cast iron pan for my pizza as it created a bigger base. My chosen toppings are some pepperoni slices, mozzarella and a generous smattering of oregano as we love it on most dishes.
Make a start on this football friendly supper by adding the flour, yeast and salt to a large bowl or the bowl of your stand mixer. Attach the dough hook if you are using the latter. Limber up for some kneading if it's the former.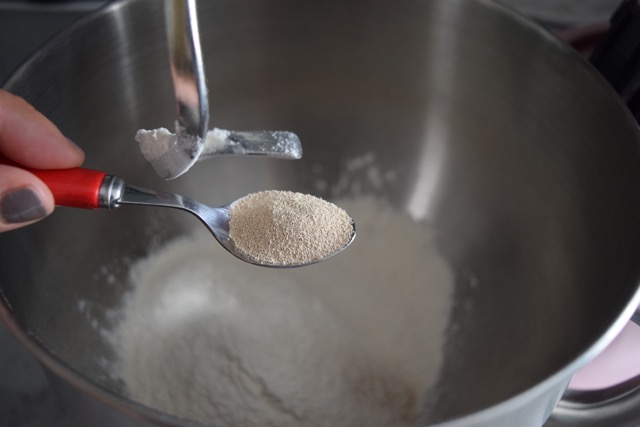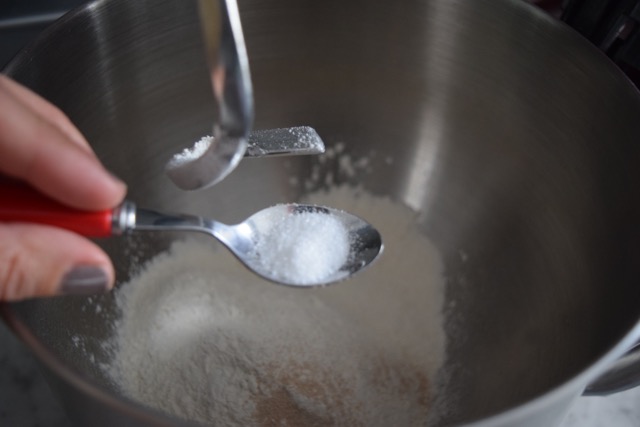 Measure out the warm/hand hot water along with the olive oil then pour this into the mixer or your bowl and mix to create a soft dough.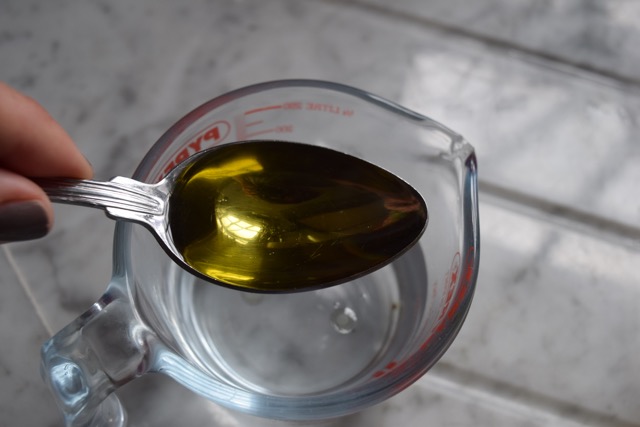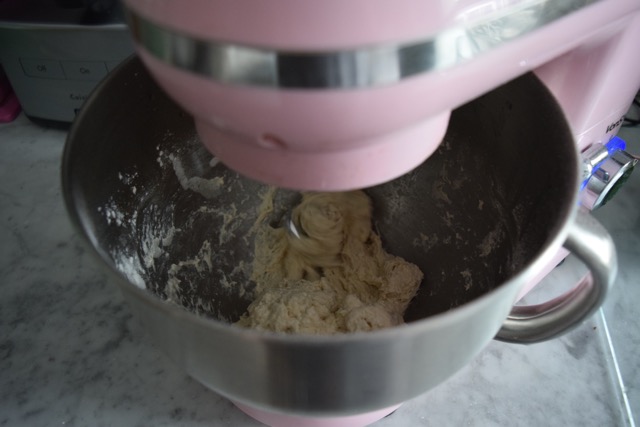 If you are kneading by hand or in the mixer, knead this dough for around 10 minutes or until it feels elastic, but smooth. Then spritz the bowl with a touch of olive to stop it sticking then leave the dough to rise, somewhere nice and warm, with the bowl covered in a tea towel for an hour.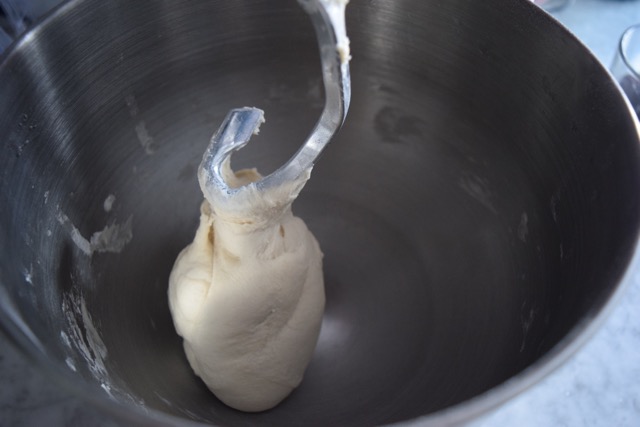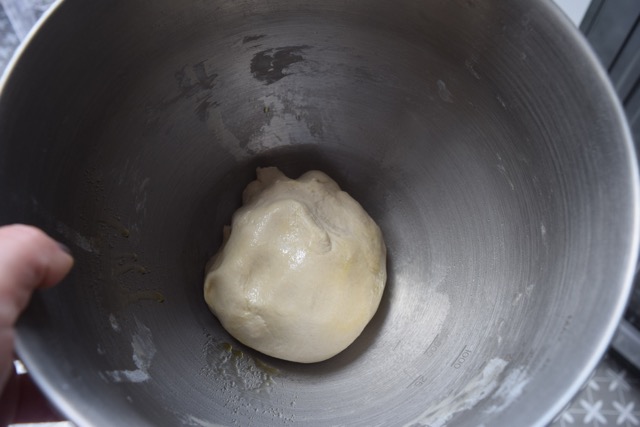 When the dough has almost doubled in size, pre heat the oven to around 220 degrees fan assisted and oil your chosen oven proof frying pan.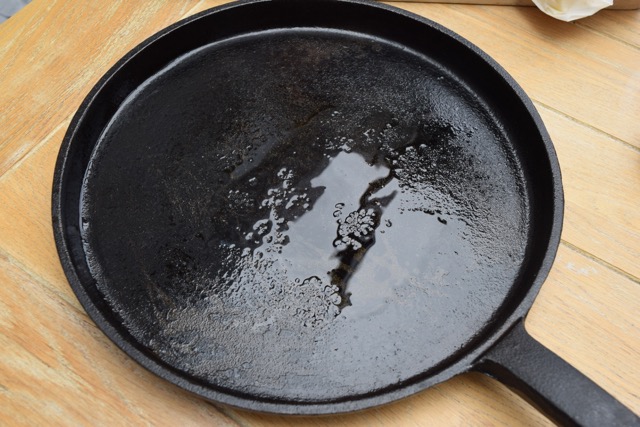 Give the risen dough a little knead then roll it out into a rough circle, just slightly bigger than your pan.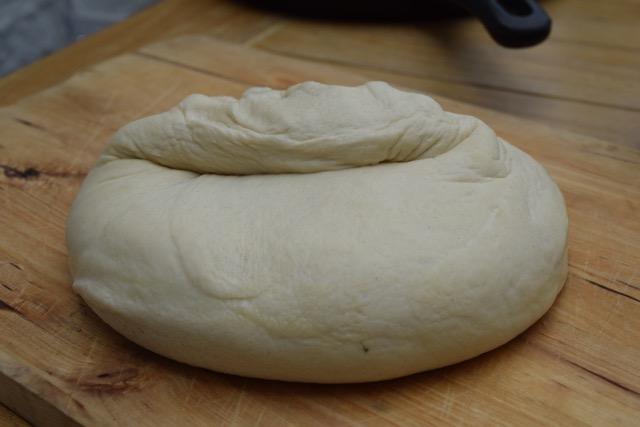 Press the circle of dough into your pan then drizzle it with a teaspoon of olive oil. Then spoon on your chosen tomato sauce, I used around 5 tablespoons. Don't over do the sauce, your don't want the pizza to drown.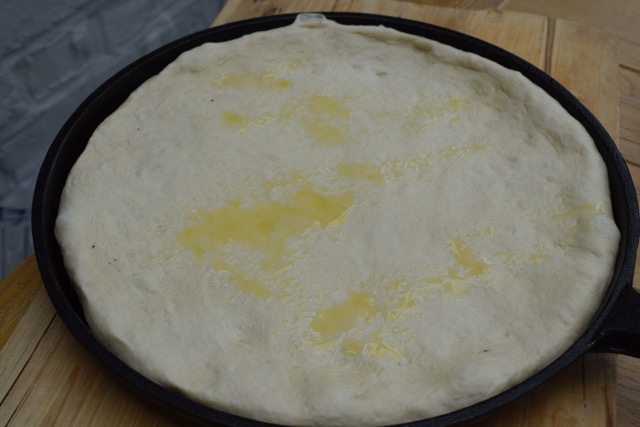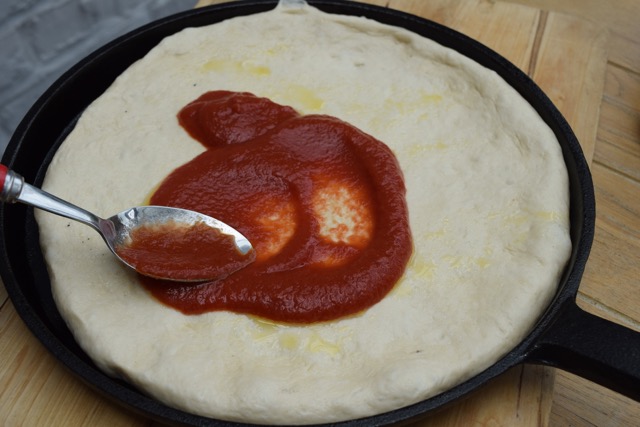 Dust generously with dried oregano then lay on your pepperoni slices, mozzarella and finally the grated cheese of your choice.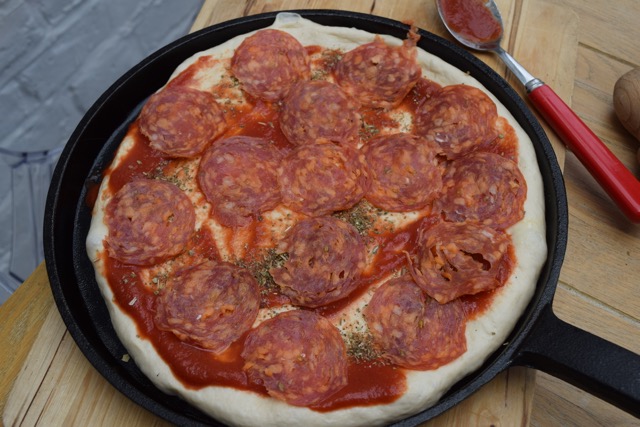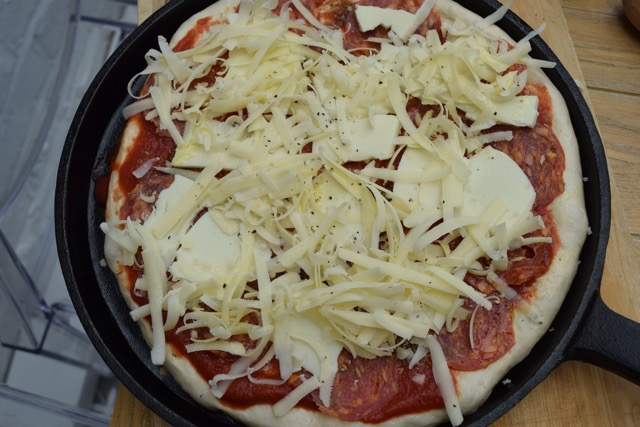 Season with salt and pepper then add some torn fresh oregano or basil leaves if you happen to have some in your herb box.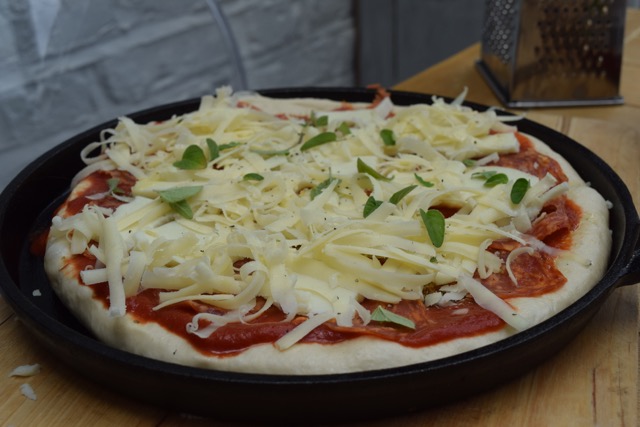 Pop the pan on the stove over a high heat and start to cook the pizza briefly to ensure a lovely crispy bottom.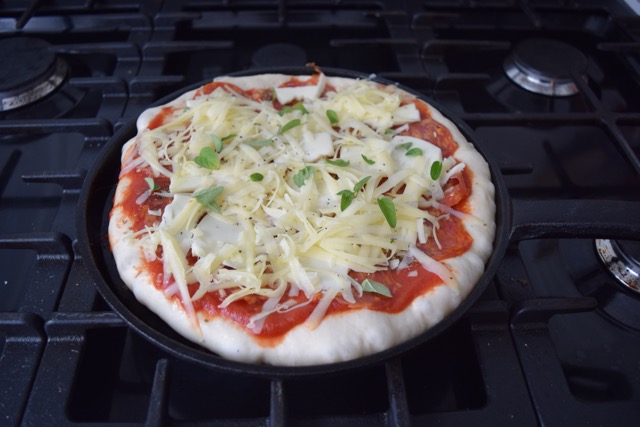 It will puff up, smell divine and the base will start to turn golden brown. This should take around 5 minutes.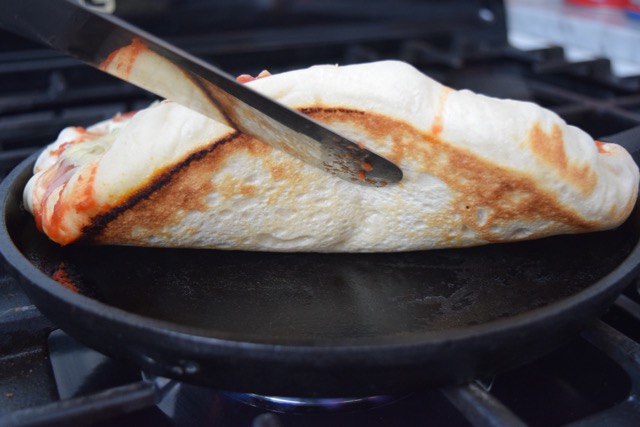 Put the pizza in the pan into your hot, pre heated oven and cook for a further 15 minutes or so.
Don't look too closely at the state of my oven please.
The cooked Deep Pan Pepperoni Pizza will be well risen, golden and crisp. Like so.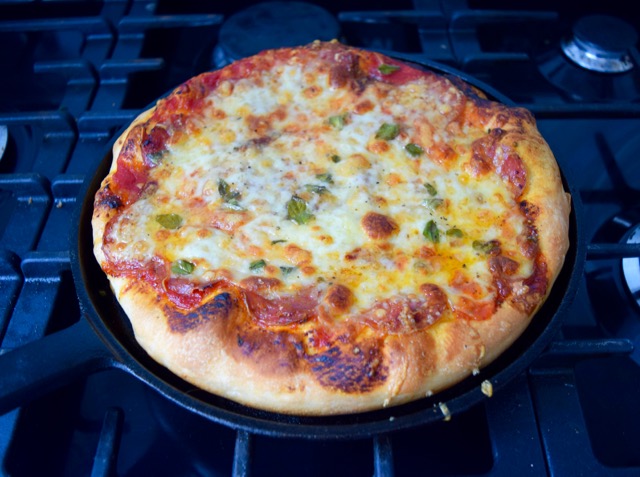 Serve in big wedges, with just a touch more fresh oregano or basil, with a salad or a bowl of olives or just with your fingers.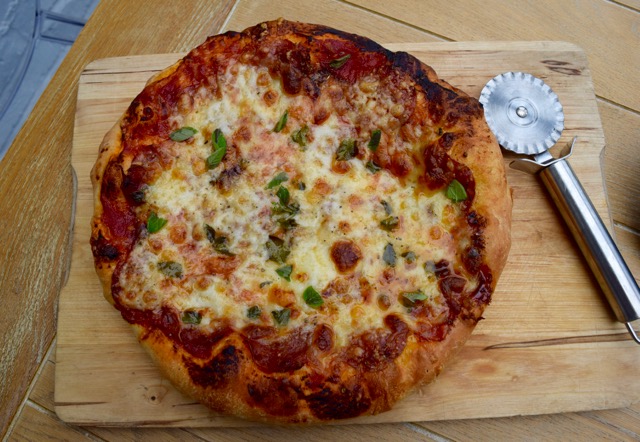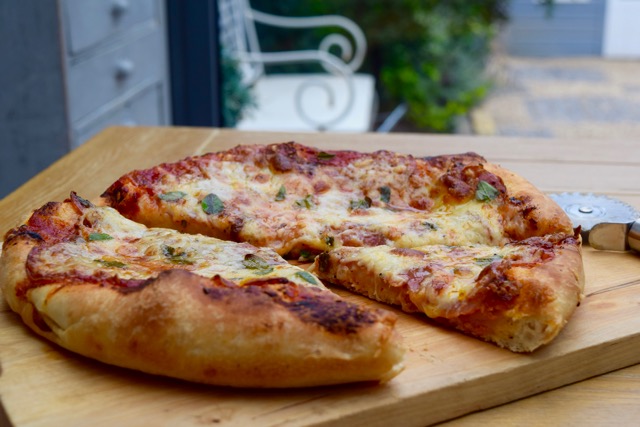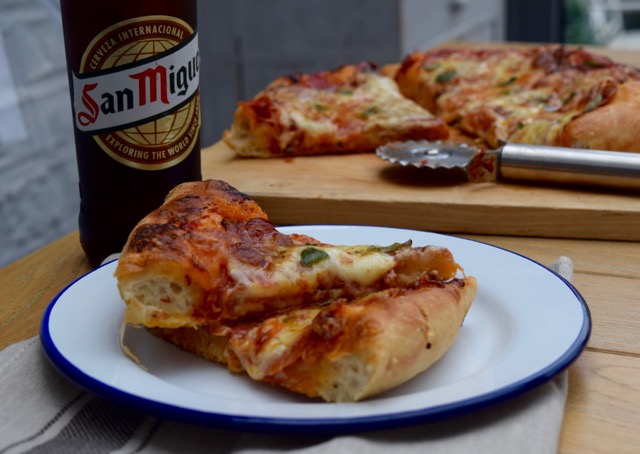 I am watching the first England match as I write. So apologies for any typo's, it's tense and I have half an eye on the television and half an eye on this super tasty pizza.
Lucy x
Deep Pan Pepperoni Pizza Recipe
Makes 1 x 9 inch pizza, enough for 1 teen, 2 lesser appetites
You will need a cast iron or oven proof frying pan, around 23cm or 9inches in diameter
Base
250g strong bread flour
1 teaspoon active dried yeast, the sort you add to the flour, not to water
1/2 teaspoon salt
1 tablespoon olive oil
150ml warm water
Toppings – this is just a guide, please use your favourites
1 teaspoon olive oil
Passata or tomato sauce of your choice, I used around 5 tablespoons per pizza
Pepperoni slices, around 40g
Approx 50g mozzarella
25g parmesan or strong cheese, grated
1-2 teaspoons dried oregano
Salt and pepper
a few fresh oregano or basil leaves and more to garnish
Either using your stand mixer or in a large bowl, measure out the strong bread flour, teaspoon of yeast and salt and mix. Measure out the warm water and the olive oil then mix to form a soft dough. Using the dough hook on your mixer, mix then knead for 10 minutes or knead by hand on a lightly floured work surface. The dough will feel elastic and smooth when ready.
Oil a bowl or your mixer bowl and leave the dough, covered, in a warm place for around an hour or until plump and risen.
When the dough is ready, pre heat your oven to 220 degrees fan assisted and oil your oven proof frying pan. Knock the dough back and knead again very briefly. Shape into a circle then roll out to just slightly larger than your pan.
Press the dough into your pan ensuring it reaches the edges and is level-ish. Drizzle with a teaspoon of olive oil then spoon on the tomato sauce of your choice and smooth over the base of your pizza. Sprinkle on the dried oregano then lay on the pepperoni slices. Top with the mozzarella then sprinkle on the grated cheese. Season with a little salt and pepper then put the pan on the hob.
Cook on the hob over a high heat for around 3 to 5 minutes, keeping an eye on the base. You need the dough to start puffing up around the edges and the base to start turning golden brown. Place the whole pan into your pre heated oven cook, for a further 15 to 20 minutes, or until the toppings are crisp and golden brown and the base is cooked through.
Garnish with some fresh oregano or basil and cut into generous wedges. Serve with some salad, olives or just a beer.
SaveSave
SaveSave
SaveSave
SaveSave