Air Fryer Cinnamon Churros Recipe
My lovely friends at VonShef are just too lovely. I was super keen to try their 3.5 litre Air Fryer so they kindly sent me one to play with. I had spotted this fryer in one of those top 10 articles where it was right up at the top, so couldn't wait to get started on cooking air fried food, which is so much better for you than deep frying, but just as delicious. I have spent the last couple of days playing with this fantastic machine and it's been brilliant. George has been enjoying endless 'fried' chicken, we've inhaled far too many glazed doughnuts and we all love the most delicious almost oil free chips. My favourite Air Fryer recipe, however, thus far has been these Cinnamon Churros, and I am almost certain you will agree with me.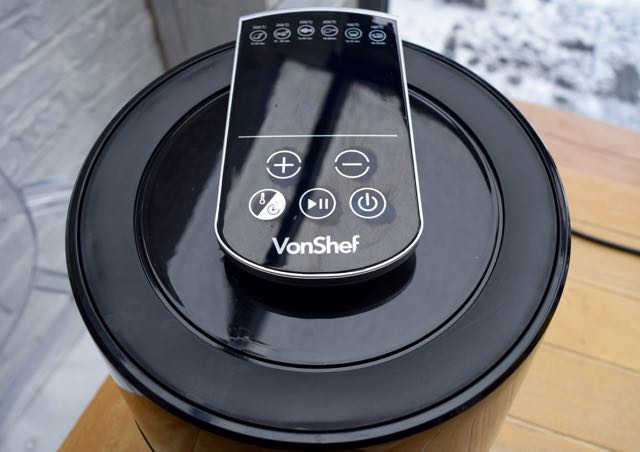 I have been wanting to make Churros for so long, however, I have never quite been able to justify the highly oily nature of them. So this is where the VonShef Air Fryer saves the day. My Cinnamon Churros are lighter than air, golden brown, crisp on the outside and soft on the inside. They are given a light dusting of sugar and cinnamon whilst warm and inhaled, dipped in some warm chocolate or caramel sauce if you would prefer. Churros are made from a Choux type dough which is, traditionally, deep fried. Mine, however, have no extra oil added, apart from to stop them sticking to the basket, so are tons healthier than their original counterparts, but, can I just clarify, no less delicious. This recipe makes a batch of around 30, all of which we devoured in one, warm from the Air Fryer sitting. I made a hastily assembled chocolate sauce from 100ml just boiling cream to which I added 50g milk choc and 50g dark choc and stirred until shiny and smooth. In the name of Lucy Loves I did blow my refined sugar free Lent just a tiny bit, however, this won't be the first time God has been disappointed in me.
My recipe was based on one from the super helpful Crux Kitchen website, with thanks. These were so simple to make, and as they are clearly, thanks to the my Vonshef Air Fryer, almost a health food, I will be making them on a regular basis. These would make a divine sharing dessert or Easter afternoon treat. My particular fryer, the 3.5 litre model, is available from Amazon. So you too can spend far too long experimenting with virtually oil free but wonderful foods. You lucky, lucky readers.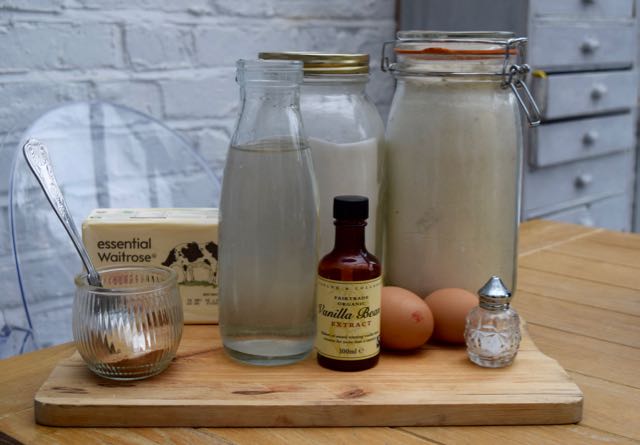 Nothing too alarming here, and certainly not the 500ml of oil you would need for deep fried Churros. Choux style pastry is so simple to make, just a bit of beating and waiting to cool then some minor, unskilled piping and your Churros are yours for the scoffing.
Start on this healthy recipe by taking a medium sized saucepan and measuring in the water, butter, sugar and salt.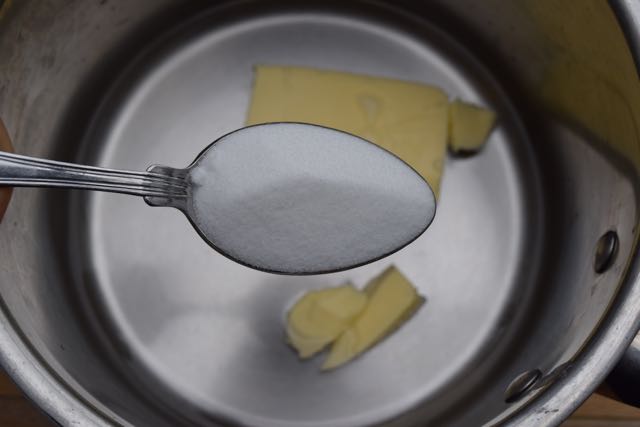 Bring this up to the boil then remove from the heat once the butter has melted.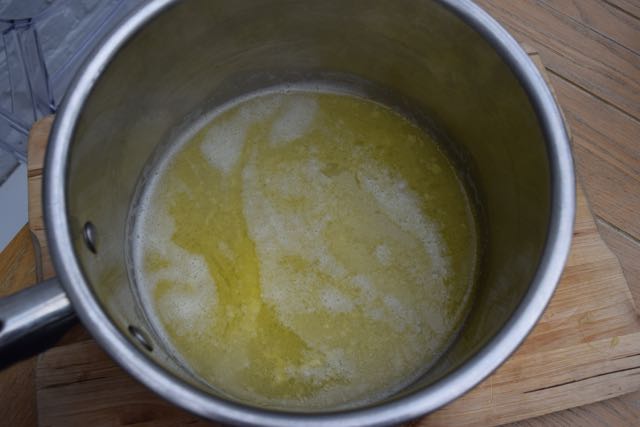 Now, tip in the flour all at once, then beat briefly until the dough comes together in a sort of ball. Then tip the dough into a large bowl or the bowl of your stand mixer. Mine being my rather lovely VonShef model. Leave the dough to cool for around 5 minutes.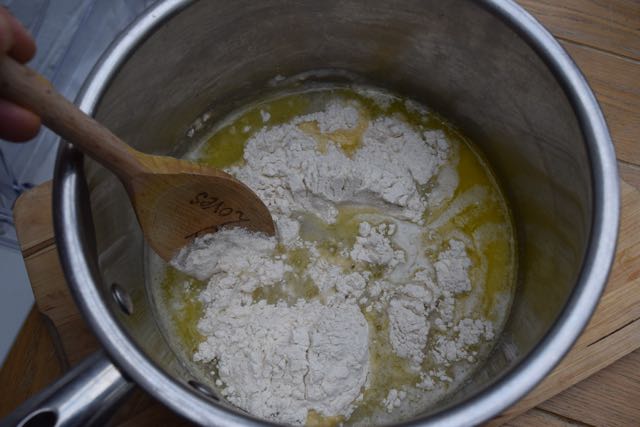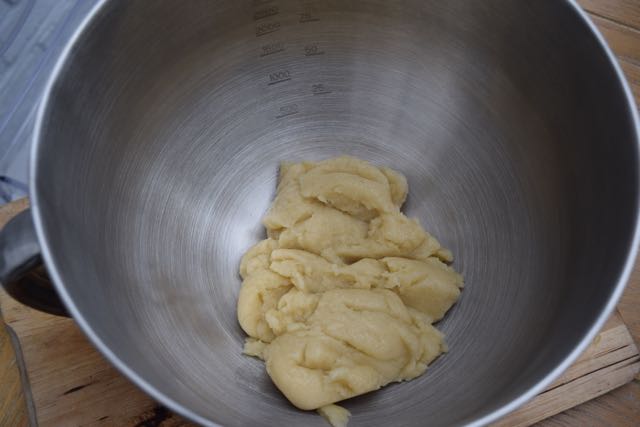 Next lightly beat the eggs with the vanilla extract then turn the mixer on and mix half of the eggs with the dough.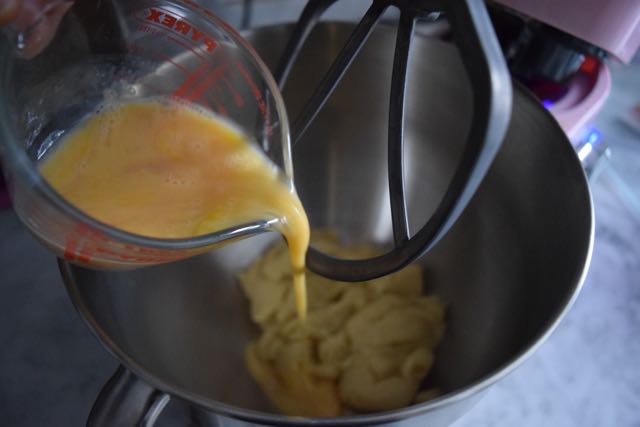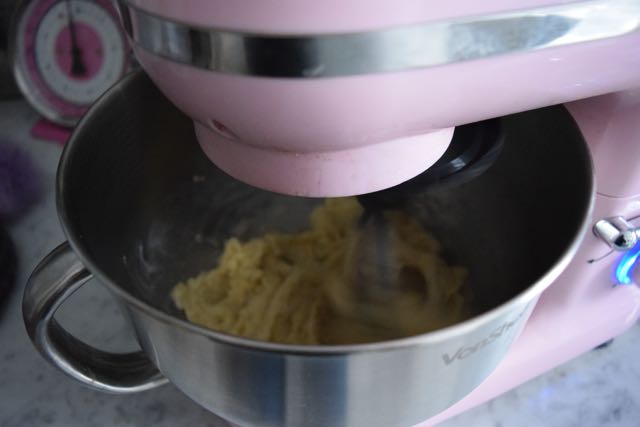 Pour in the final half of the eggs and vanilla and beat until smooth.
Scrape your Churros dough into a piping bag with a star shaped nozzle then take a lined baking tray which fits in your freezer.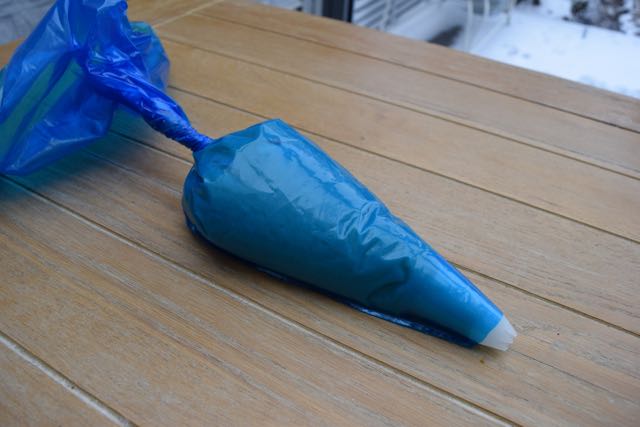 Pipe around 3 inch strips of the dough onto your lined tray until you have used all the dough then pop these into the freezer for around 30 minutes. I tried to avoid this part of the recipe by just putting them outside in the freezing cold garden, don't, the Churros won't come off the paper if you don't freeze them *annoying but necessary*.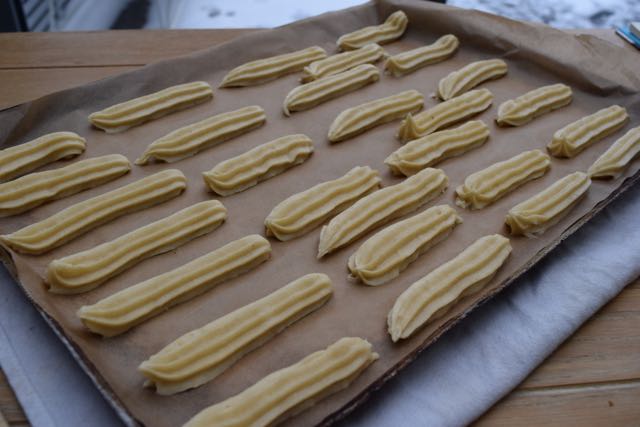 Once the Churros are firm, oil your Air Fryer basket with a touch of spray oil then lay them into the basket, leaving space for expansion.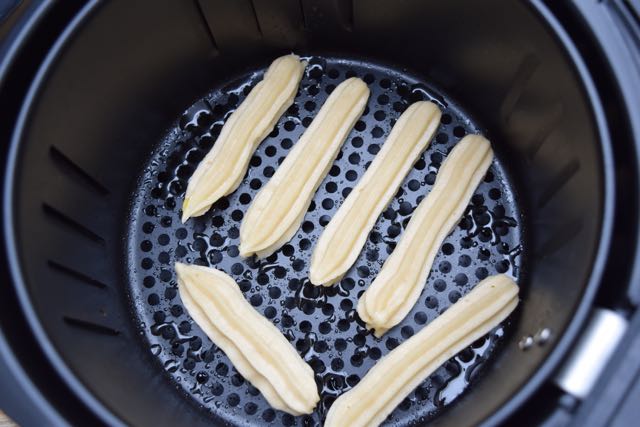 Pop the basket into your fryer and pre set the timer for 6 minutes at 200 degrees.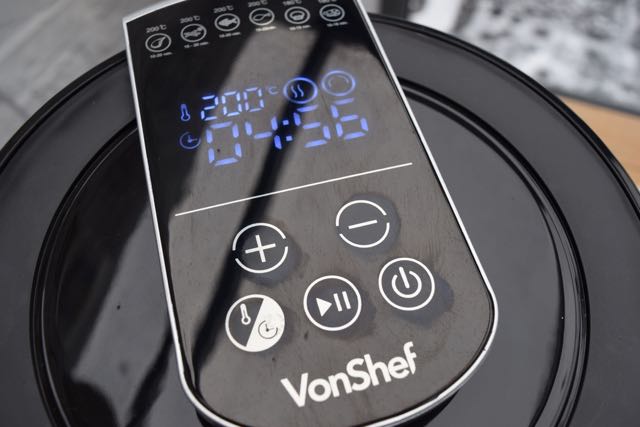 Your Churros are ready when they are golden brown, smelling divine and crisp on the outside.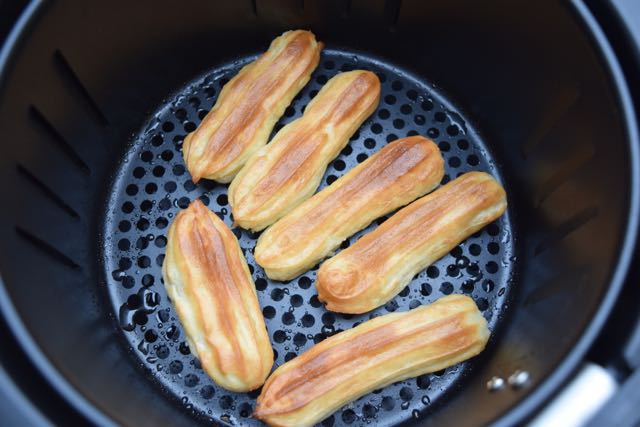 For the cinnamon sugar, simply mix together the cinnamon and caster sugar, then dust your hot Churros with this sweet blend. Keep your Churros warm in a low oven while you 'fry' off the rest of the batch.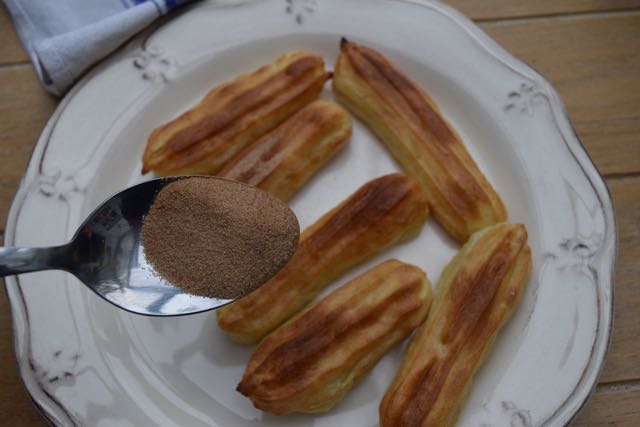 For my chocolate sauce I heated 100ml double cream then stirred through 50g of each dark and milk chocolates until melted and smooth.
Serve your Cinnamon Churros warm, dusted in the cinnamon sugar and dipped in the chocolate sauce or caramel sauce or dulce de leche. These taste just divine whatever you dip them in.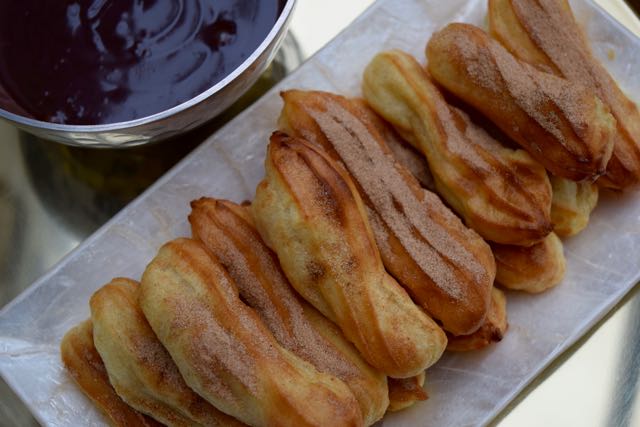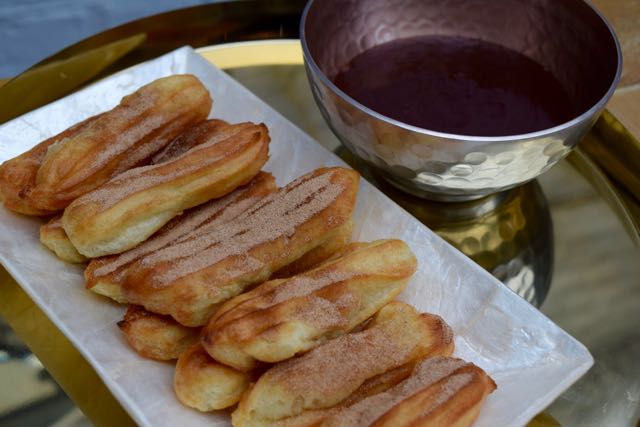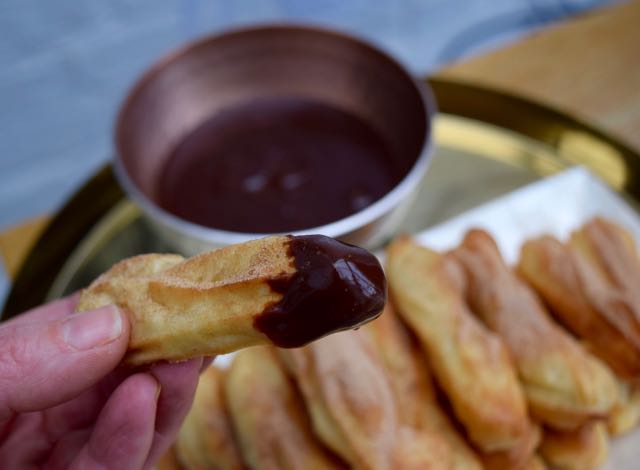 I am a little bit in love with my VonShef Air Fryer and it's amazing virtually oil free frying skills. These Cinnamon Churros are just the start of a beautiful friendship, I feel my NBF and I have a wonderful and relatively healthy future together.
Lucy x
VonShef kindly gave me their 3.5L Air Fryer, all opinions and ramblings, however, are as always my own.
Air Fryer Cinnamon Churros Recipe
Makes around 30 small Churros
You will need a stand mixer or a large bowl and a hand mixer and a piping bag and star nozzle
240ml water
75g butter
1 tablespoon caster sugar
1/4 teaspoon salt
130g plain flour
2 eggs
1 teaspoon vanilla extract
Cinnamon Sugar
1 teaspoon cinnamon
2 tablespoons caster sugar
Chocolate or caramel sauce to serve
Take a good sized saucepan and pour in the water, add the butter, sugar and salt. Bring up to the boil then remove from the heat. Tip in the flour and beat well until the dough forms into a ball. Tip the dough into the bowl of your stand mixer or into a large mixing bowl and leave to cool for 5 minutes.
Beat the two eggs with the vanilla then add half to the cooled dough. Beat either in your mixer or with a hand mixer until smooth then pour in the rest of the eggs and beat again.
Scrape the smooth dough into a piping bag with a star nozzle then pipe Churros approximately 3 inches long onto a lined baking sheet. Pop these into the freezer for around 30 minutes or until firm.
Set your air fryer to 200 degrees for 6 minutes then spray the basket with some spray oil and place the Churros into the basket  then slot the basket to the fryer. Cook for 6 minutes by which time the Churros will be puffed up and golden brown.
For the cinnamon sugar mix the cinnamon and sugar until combined.
Remove from the fryer and keep warm while you finish cooking the batch. Toss the Churros in the cinnamon sugar and serve with warm chocolate or caramel sauce. These are best eaten on the same day, which isn't really a problem, considering we ate them all in one sitting.
SaveSave
SaveSave
SaveSave
SaveSave
SaveSave
SaveSave