Pulled Pork Recipe
If I am really honest, I have always been a little indifferent towards Pulled Pork in the past. I know a lot of people love it and I have eaten it quite a few times, but it has never rocked my world. I have recently, however, been asked for a good Pulled Pork recipe by several different friends so I made it my mission to do some Lucy Loves research, such is my level of dedication to you all. And what more of a perfect time to reveal my findings than a couple of days before the last Bank Holiday weekend of the summer *sobs*. This Pulled Pork recipe, with its accompanying smokey barbeque sauce, will readily bring a smile to the most rain soaked diner.
No real hardship was to be had during the course of my research, as what could be unpleasant about sampling delicious soft pork, delicately spiced with sweet barbeque sauce and popped inside a warm brioche roll. Nothing unpleasant, I am happy to confirm. This Pulled Pork recipe is brilliant, it involves a 'dry rub', which does sound slightly like some sort of dubious Swedish massage technique, but it isn't. The rub involves such wonders as smoked paprika, garlic powder, sugar and mustard, all of which infuse into the flavoursome pork from anywhere between 2 and 24 hours. The spiced meat is then treated to a good 5 to 6 hour stint in a low-ish oven, forgotten about, while you crack on with the wonderful barbeque sauce and maybe some coleslaw. Again, coleslaw has been avoided in the past due to it slightly indigestible qualities. However, I did find this brilliant Coleslaw recipe, which I meddled with a little. I left out the red onion, didn't have any celery seeds, added two tablespoons of Greek yoghurt, used half a red and half a white cabbage, two carrots and added some jalapeño mustard I had in the fridge. It was then perfect, and I will definitely make this now anytime coleslaw is called for. And not a belch in sight.
My inspiration for this pork came from the lovely Necessary Indulgence website and the sauce from the jauntily named Miss Information blog. On another note, I used a 2kg piece of pork shoulder for my recipe. It's a brilliantly cheap cut of meat and pulls nicely. I left the fat on mine, only removing it once cooked. I am not sure if this is traditional or not but I did find it kept my meat nice and, oh dear, moist. I hope you find my pork based research useful and the next time you are asked for a lovely Pulled Pork recipe, I'm your man. Or woman, oh you know what I mean.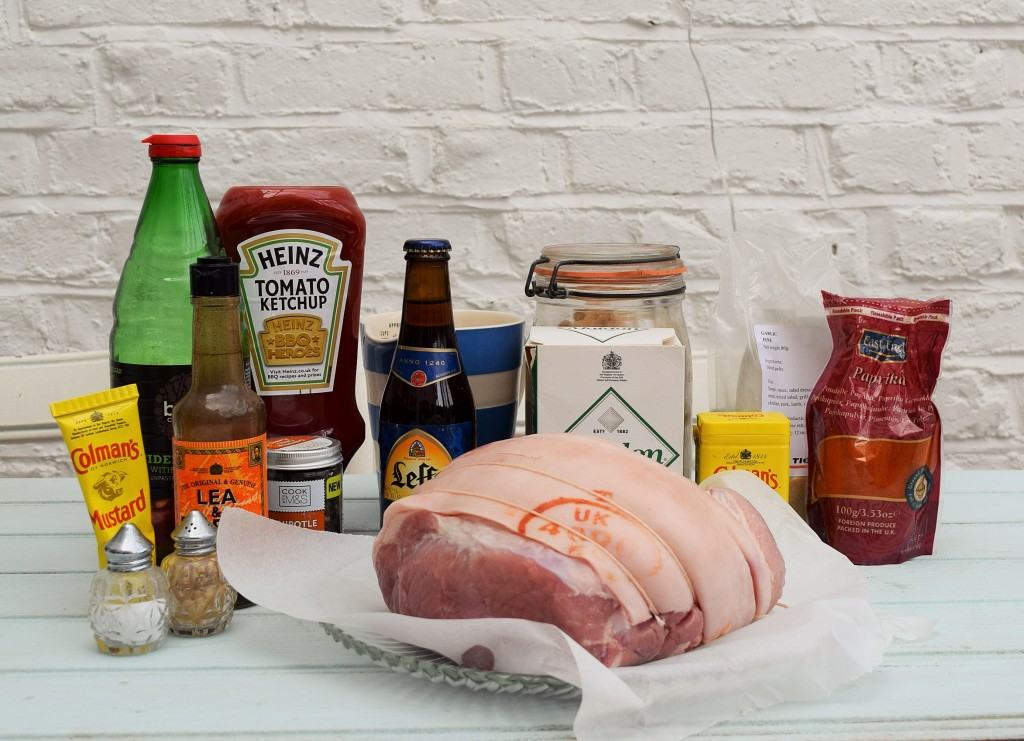 Look at this line up, quite big, but easily manageable. And I expect everything is lurking at the back of your spice cupboard as we speak. And, I don't think I missed anything, but only time will tell.
Make a start by preparing your dry rub. Not a massage technique as previously thought, but a tasty combination of spices and seasonings to infuse your pork. I used a big ziplock bag to hold the pork but a big bowl would do. Start by adding the paprika, garlic powder, sugar, mustard powder and salt.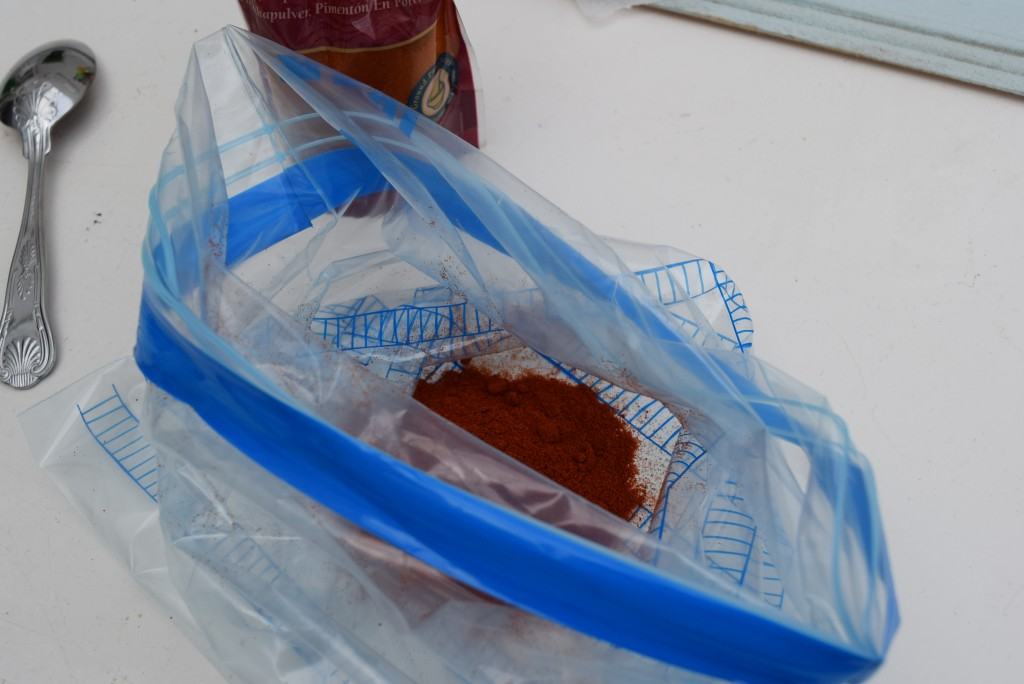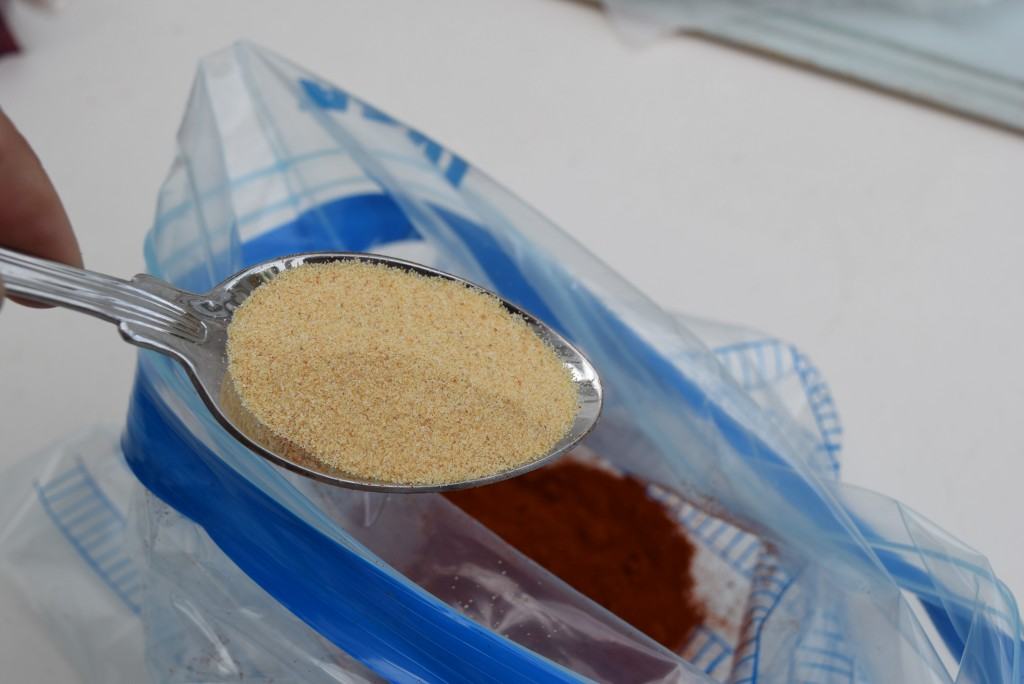 Don't be alarmed by garlic powder, it's readily available and is great for adding to flour when coating chicken or sprinkling on homemade potato wedges. I got mine in a big bag from Tiger. I digress, as usual.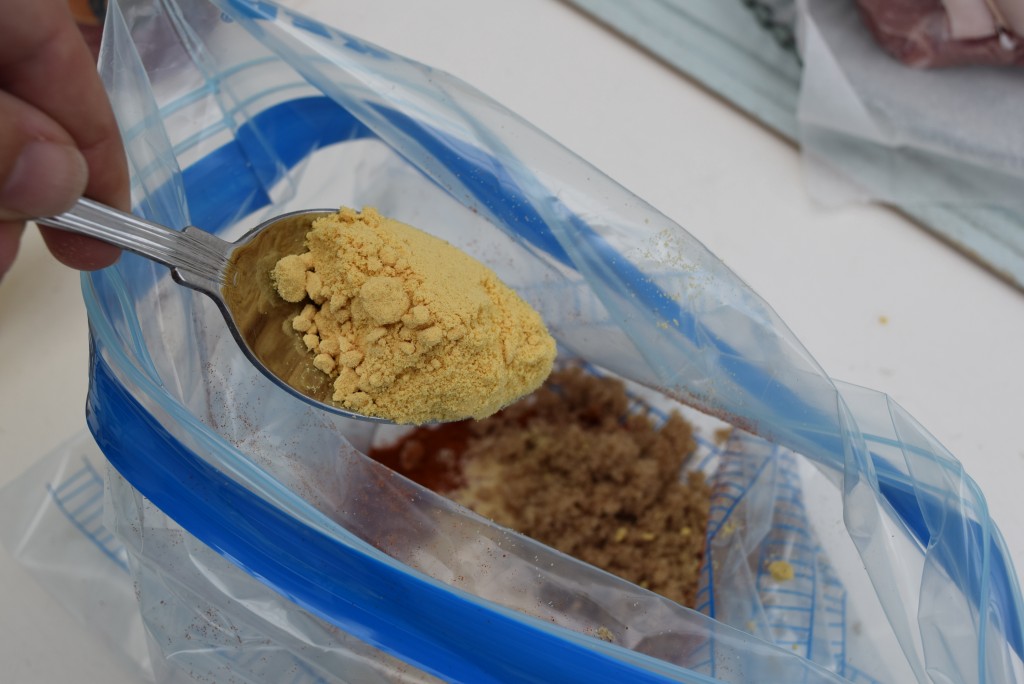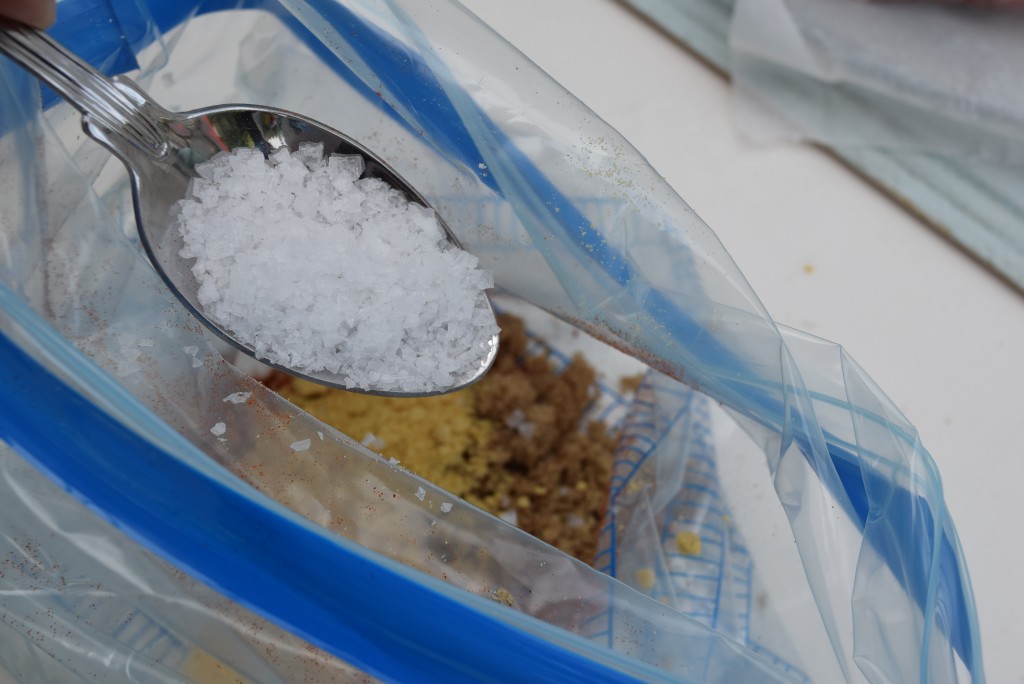 Give the bag a squidge to mix all these seasonings or stir them, then pop in your chosen piece of pork. Give the bag a good shake to ensure the meat is well covered then pop in the fridge for anywhere from 2 to 24 hours to marinate.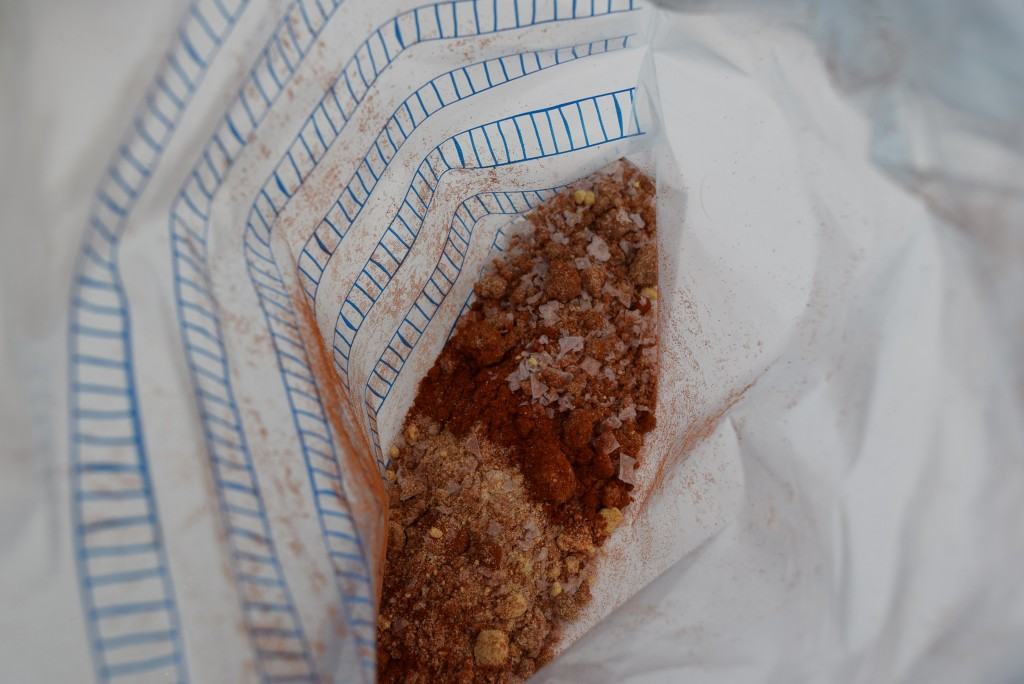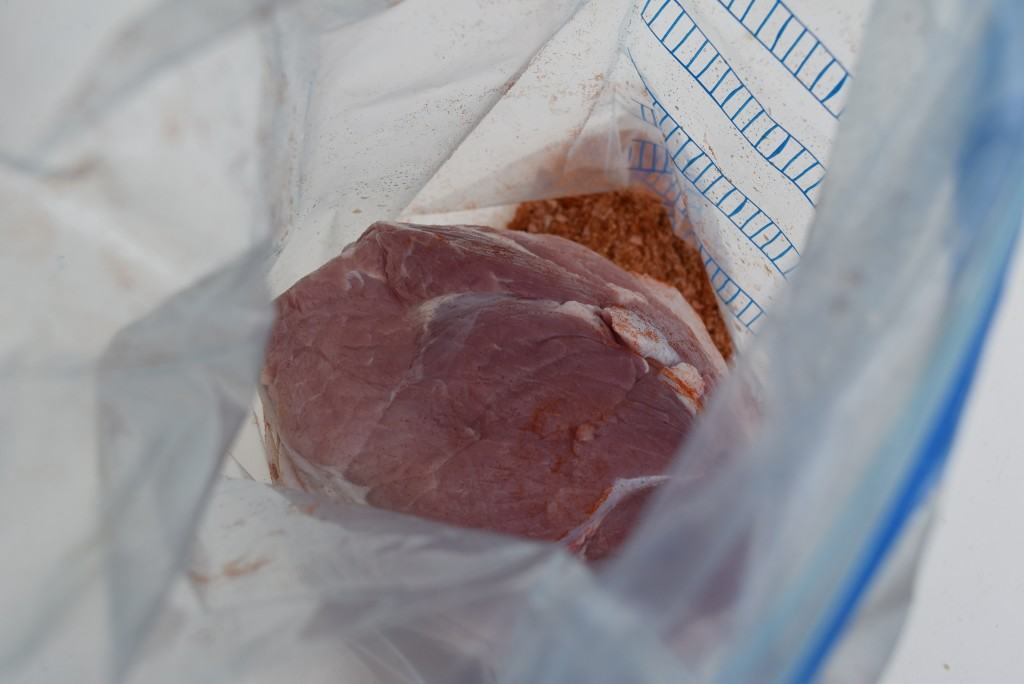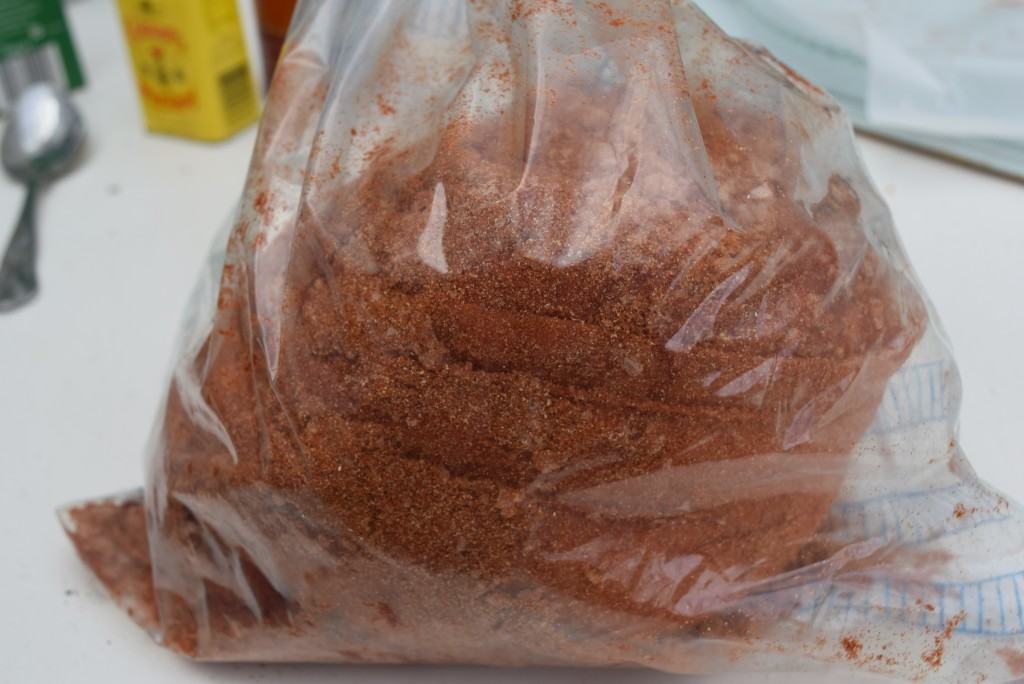 While this is all quietly infusing, get on with the complimentary barbeque sauce. This is just a simple matter of bunging everything in a pan and simmering it. Rocket science it isn't.
Start by adding the ketchup and water to a saucepan.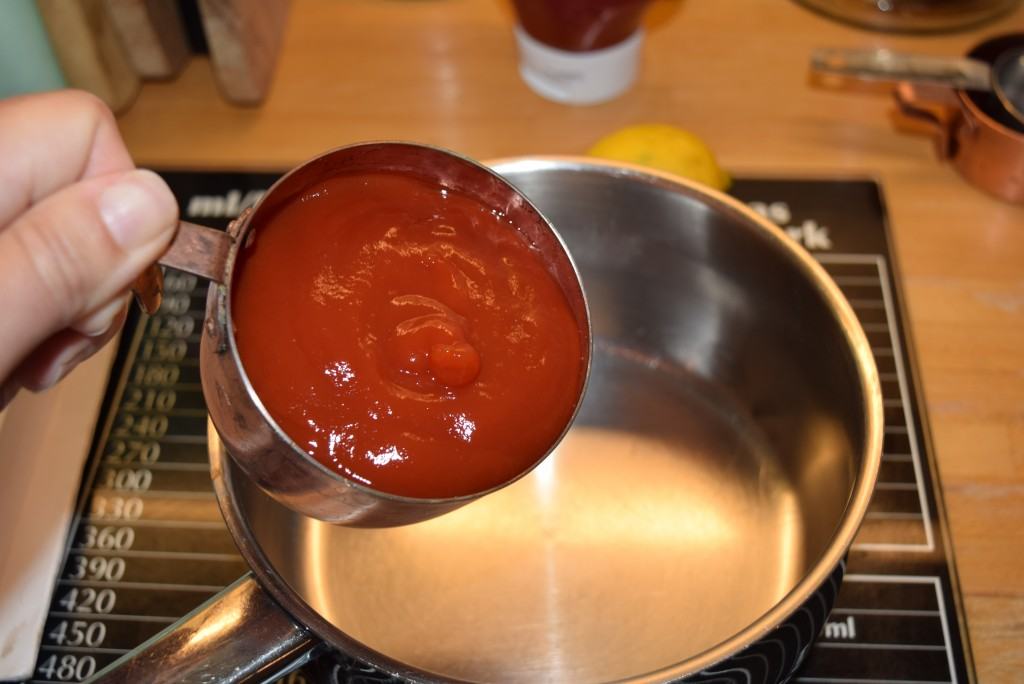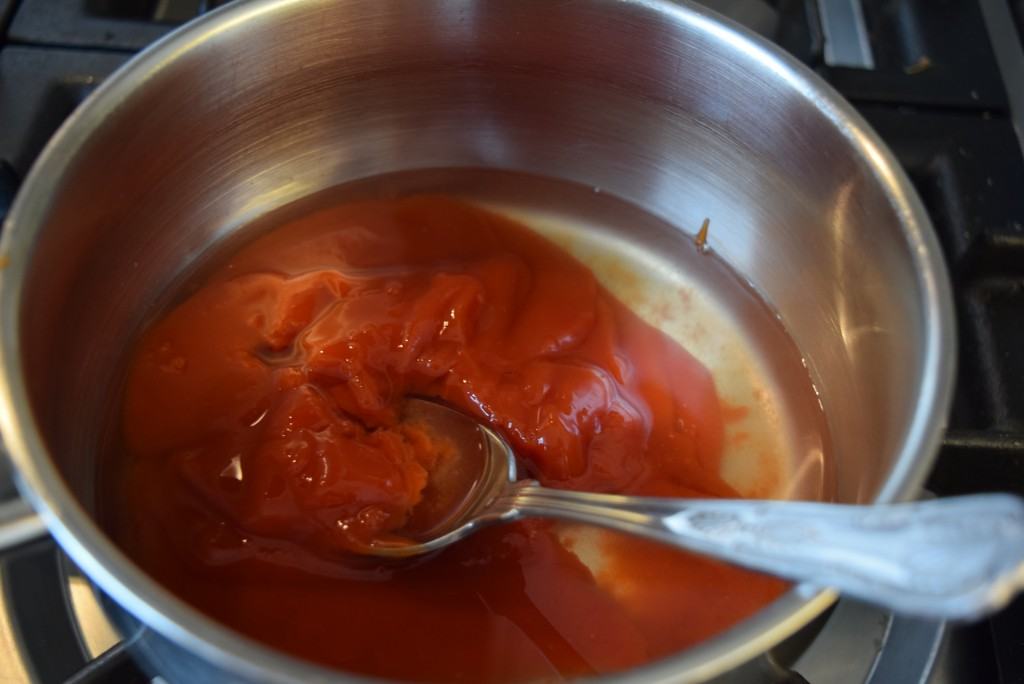 Next add the vinegar, lemon juice, Worcestershire sauce, garlic powder, mustard, brown sugar and pinch of chilli flakes. Bring this all to the simmer and leave, uncovered, to cook away and thicken for around 30 to 4o minutes.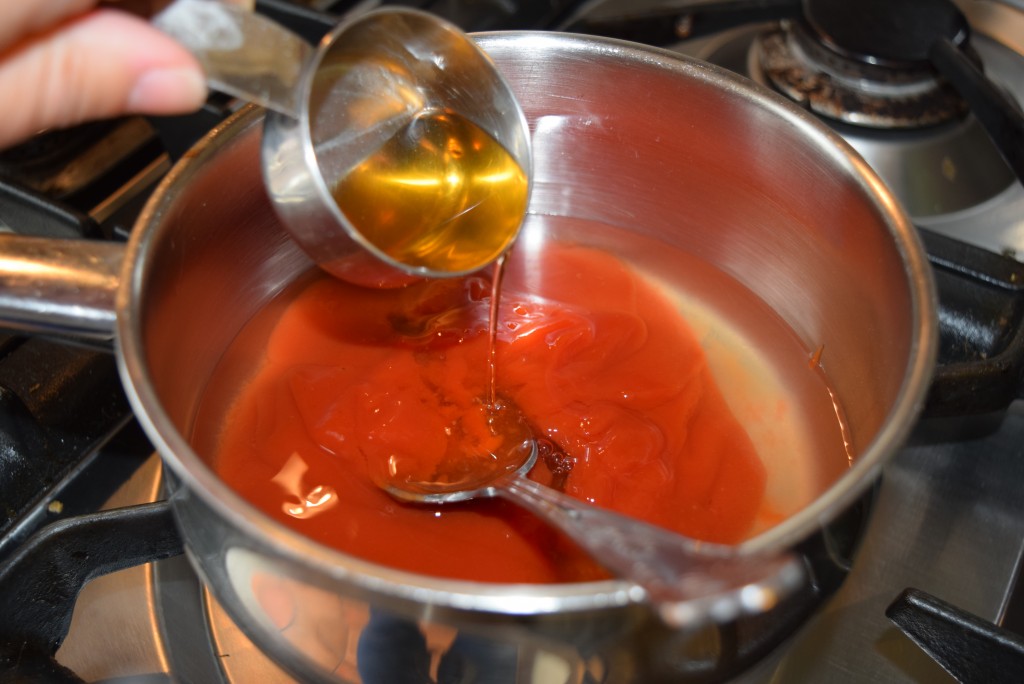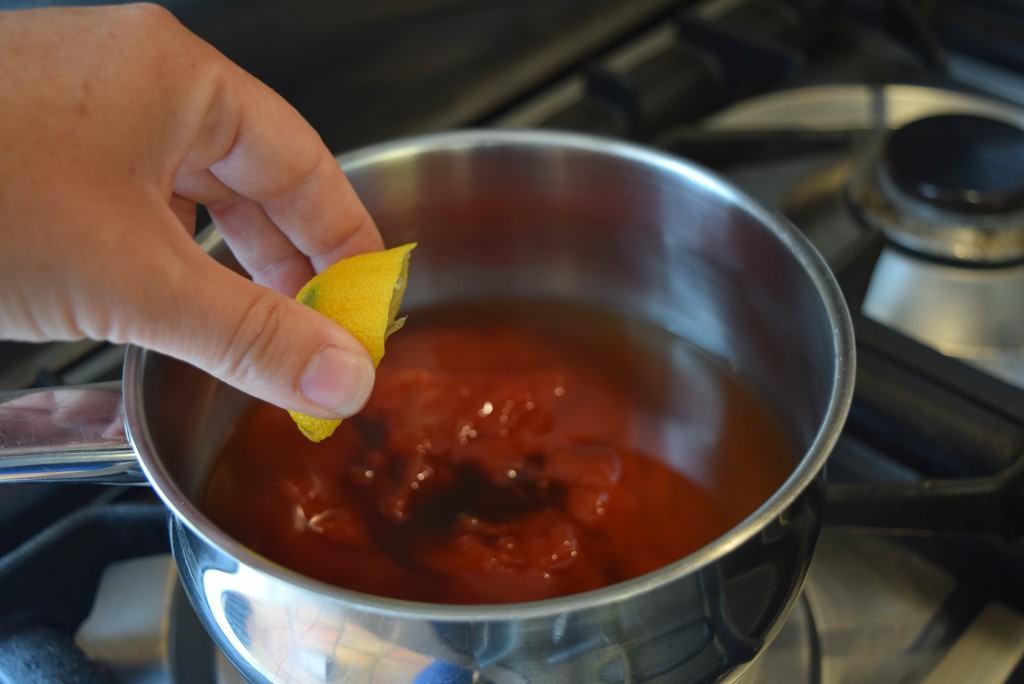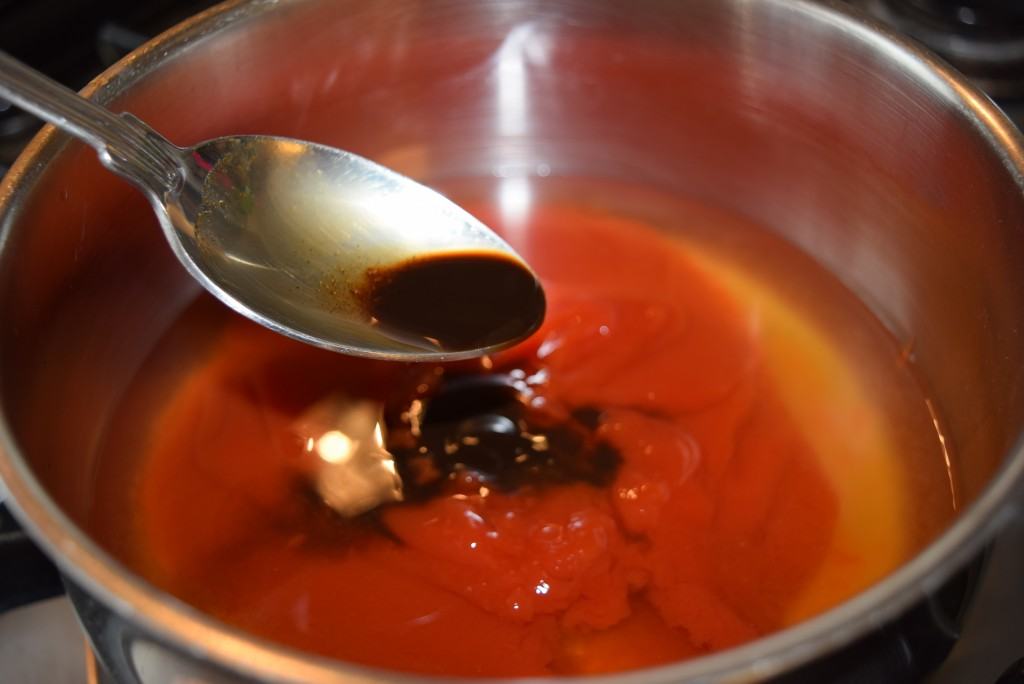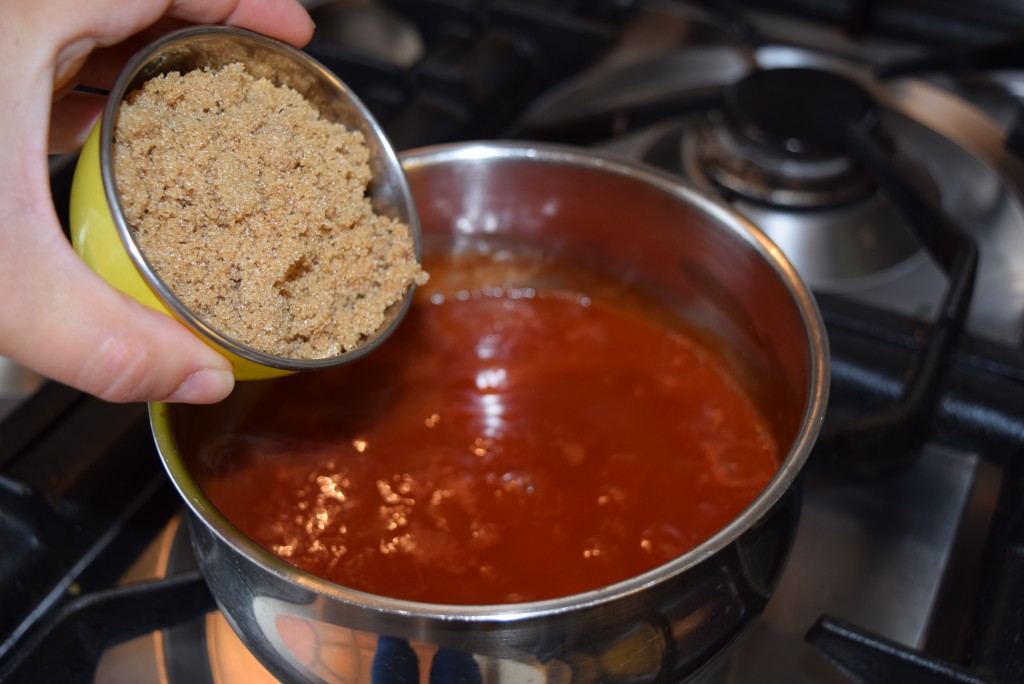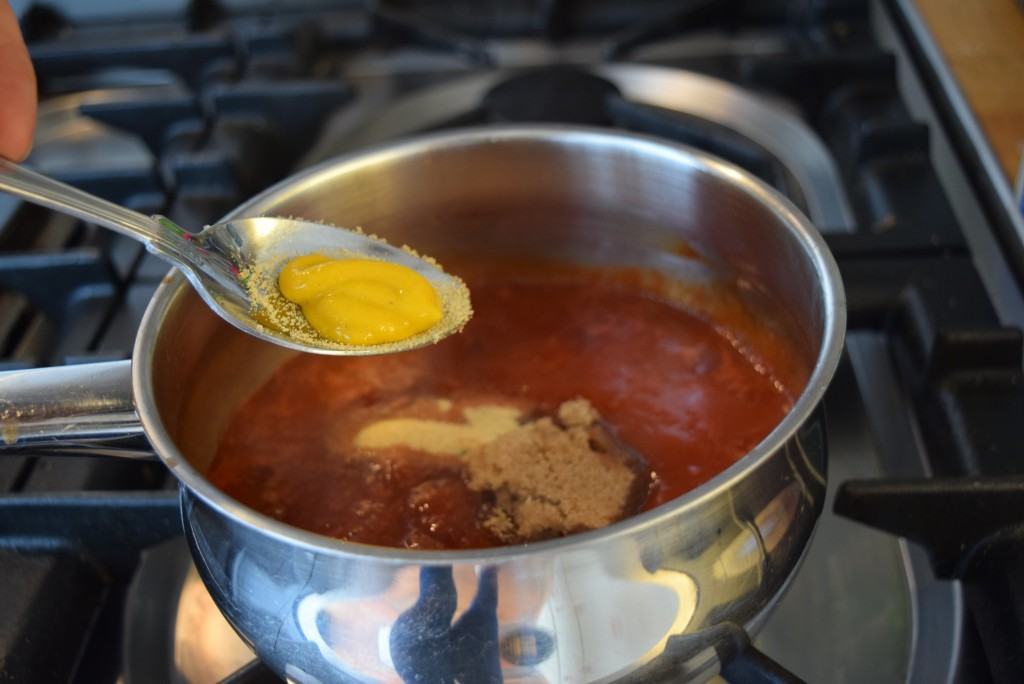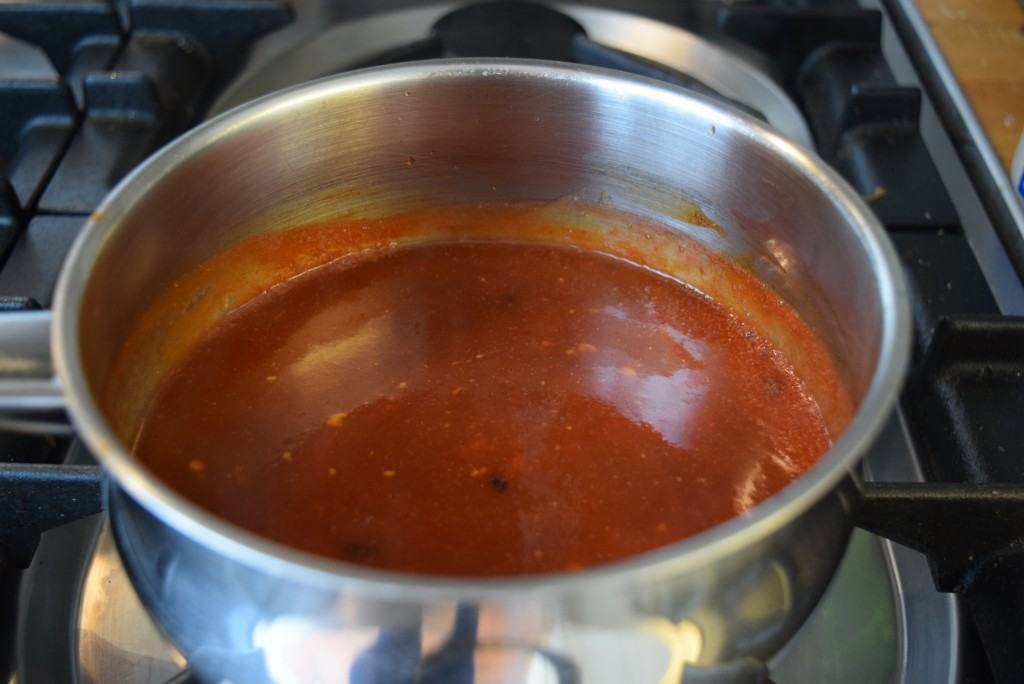 Keep an eye on this simmering pan of deliciousness. If it reduces too much the sauce will be gloopy. After 30 minutes mine was just right.
Ta-dah. Sweet, smokey with just a touch of spice.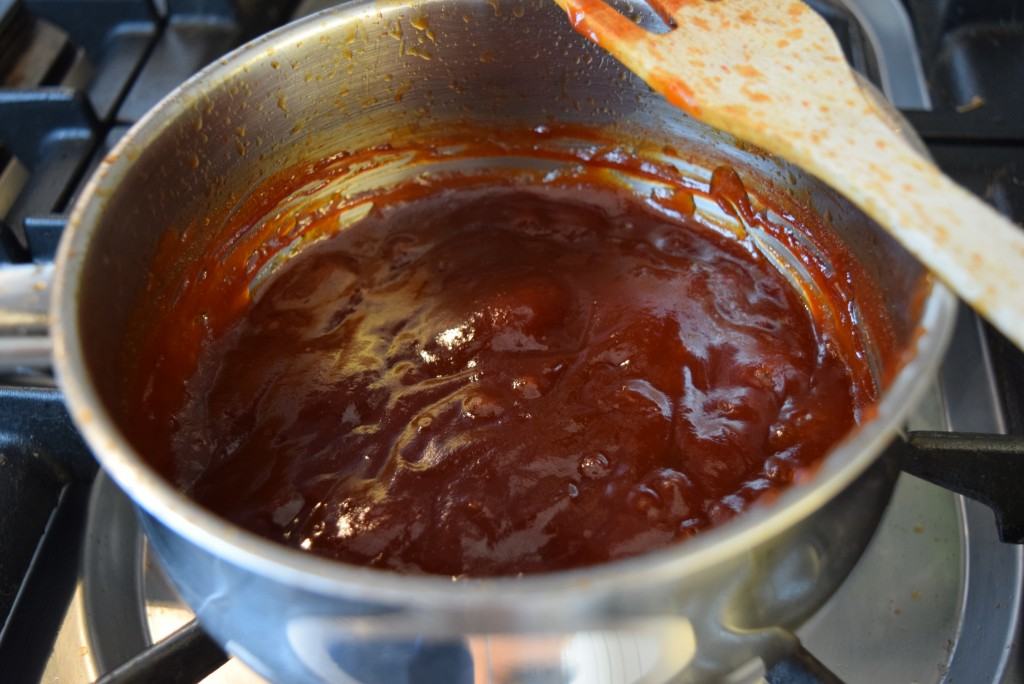 Leave this to cool then keep stored in a jar or covered bowl until your pork's cooked.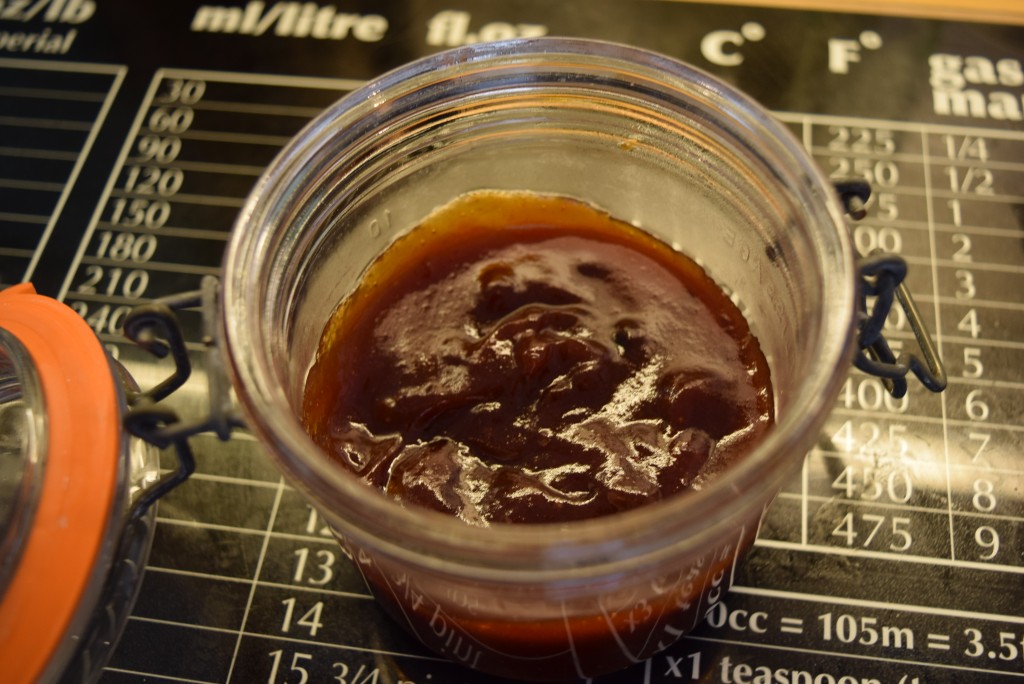 Pre heat your oven to a toasty 220 degrees. Then take a foil lined baking tray or disposable tray, as the washing up will be murderous, and add a bottle or can of beer or around 300ml of apple juice to the bottom. Place your marinated pork into the tray.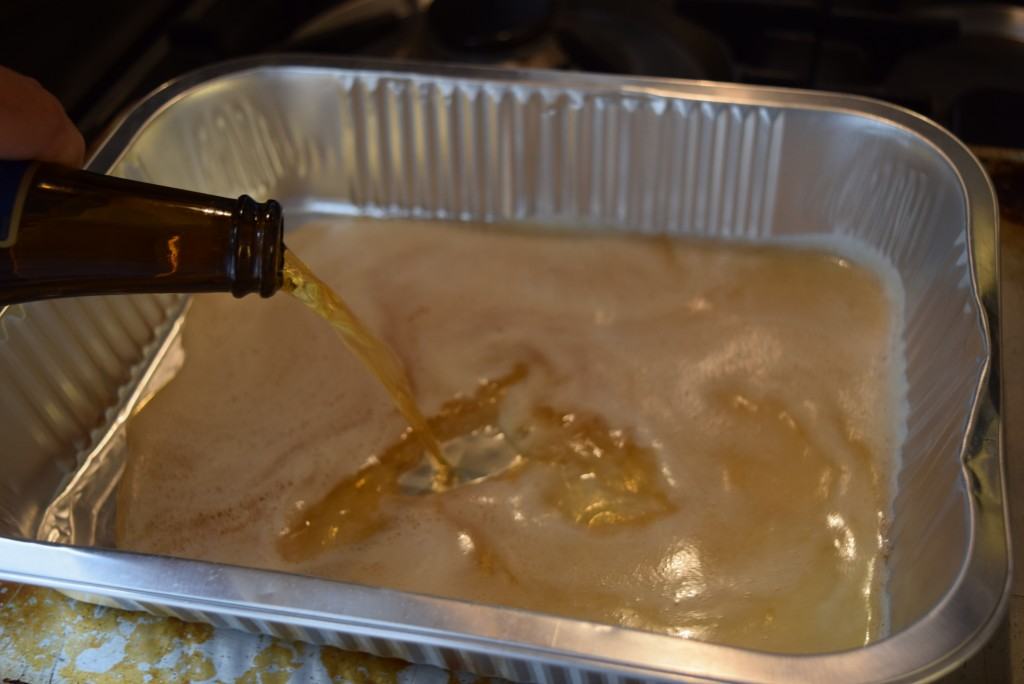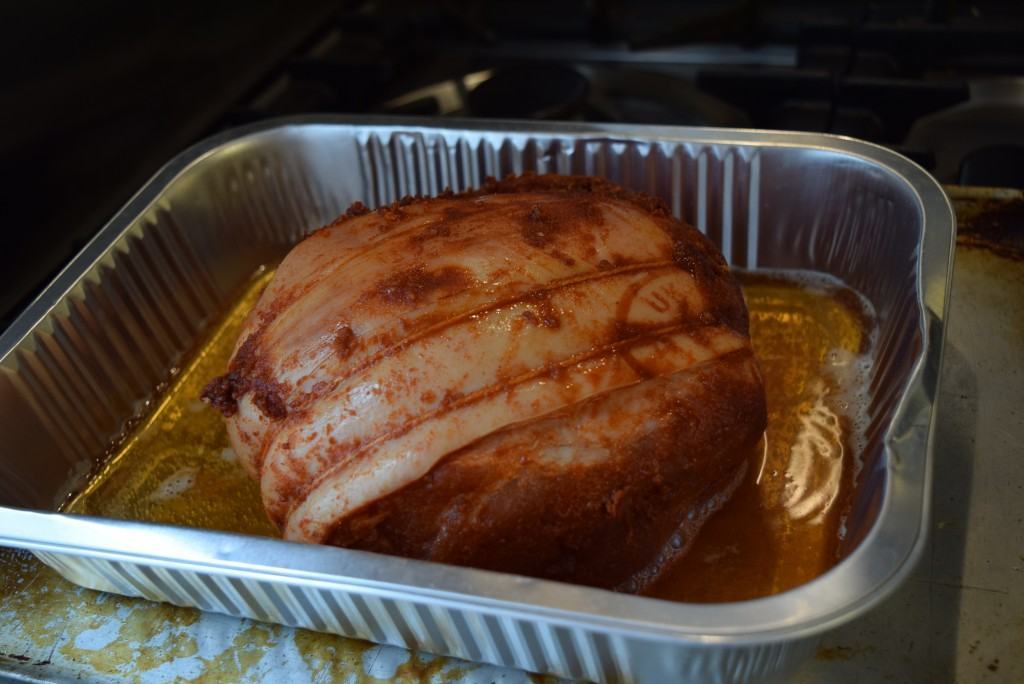 Place the pork in the hot oven for 20 minutes, uncovered.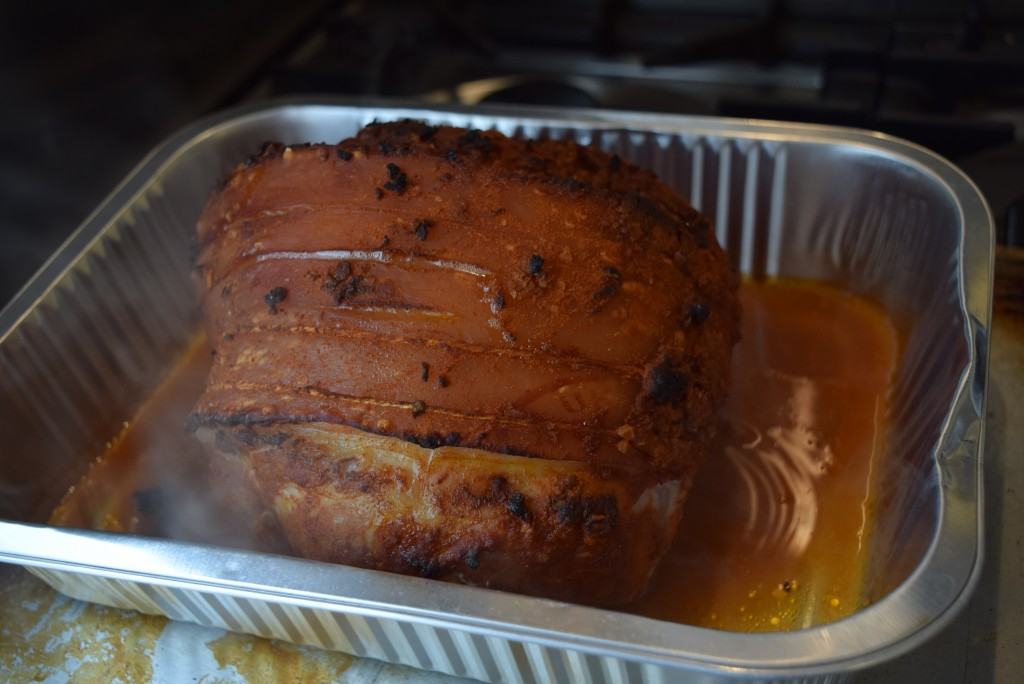 When the 20 minutes is up, take the pork out, turn the oven down to around 120 to 140 degrees, dependent on how hot your oven is, cover in foil and return it for a further 5 to 6 hours.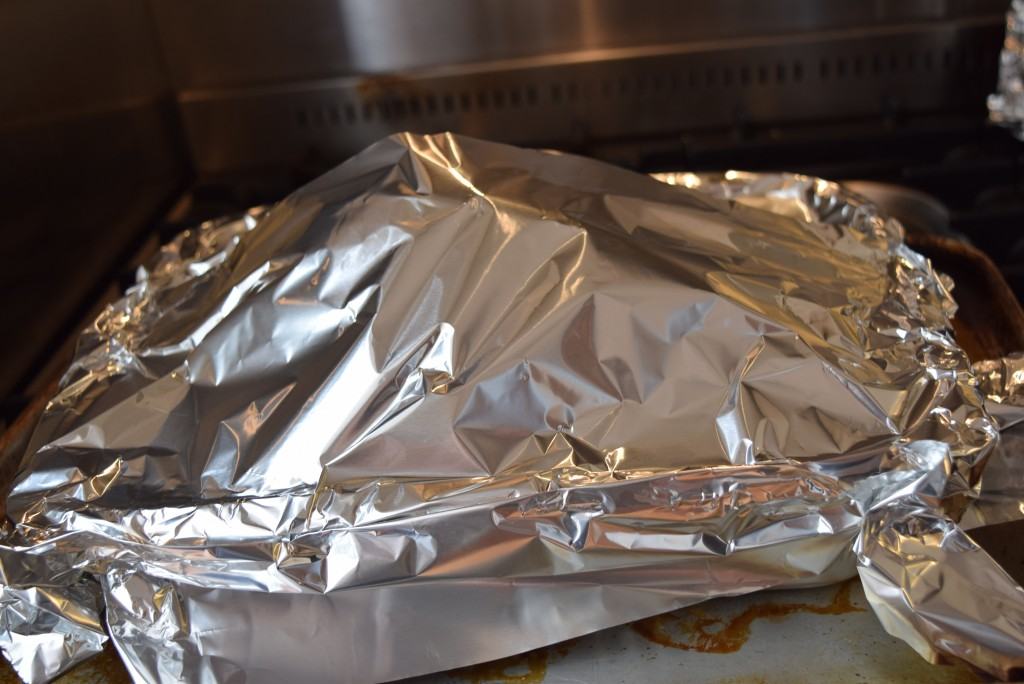 Keep an eye on this wonderful piece of spiced pork, it will be cooked to perfection when the meat is soft and tender and shreds easily with two forks.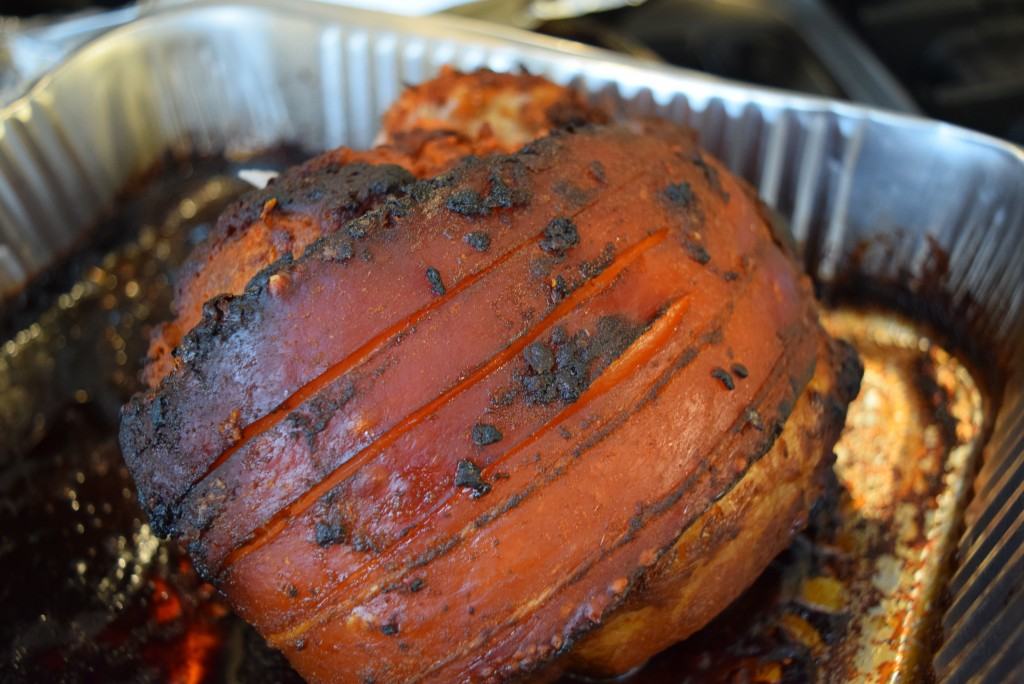 Look at that tray, you will thank me for suggesting a disposable one.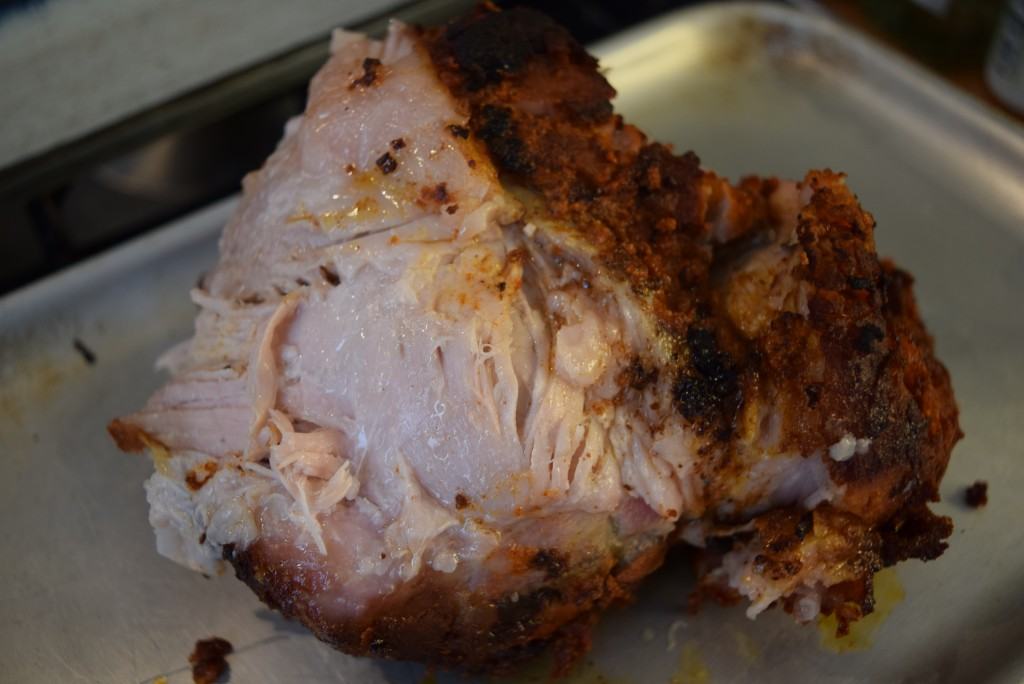 Mouthwatering.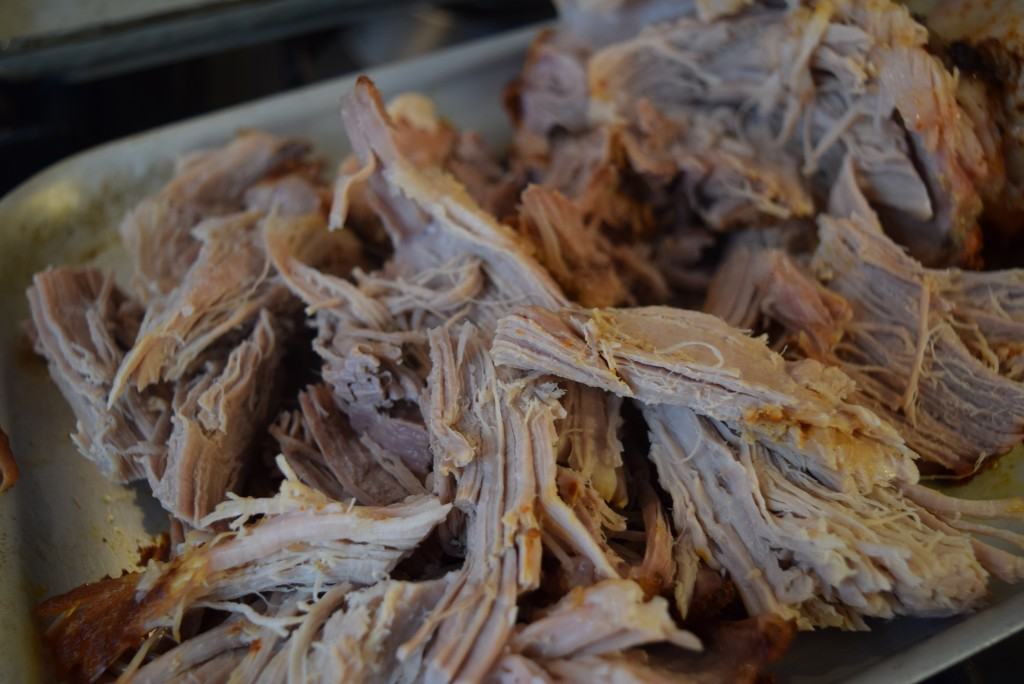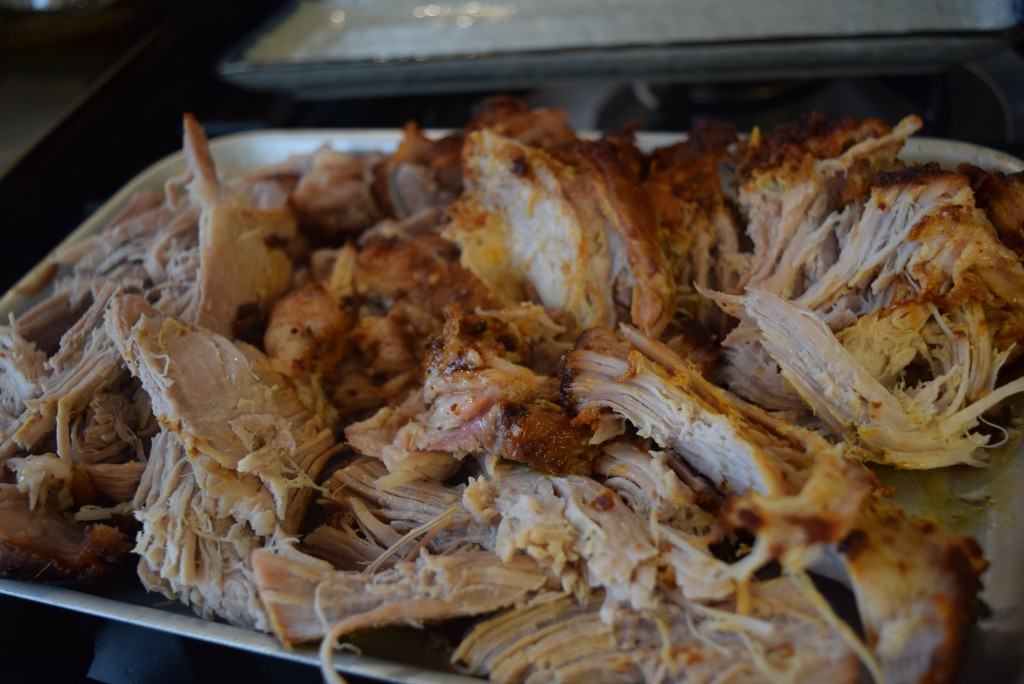 Keep this Pulled Pork warm under foil while you prepare the sides of your choice.
Serve with warm, soft rolls, fresh coleslaw and your wonderful homemade barbeque sauce.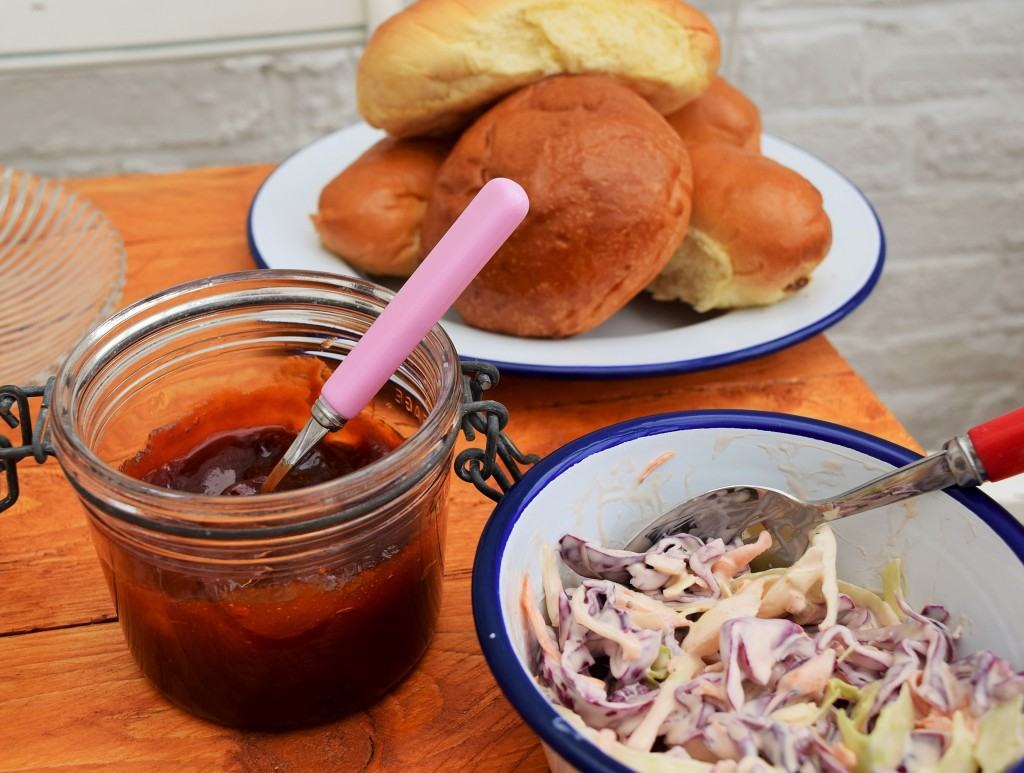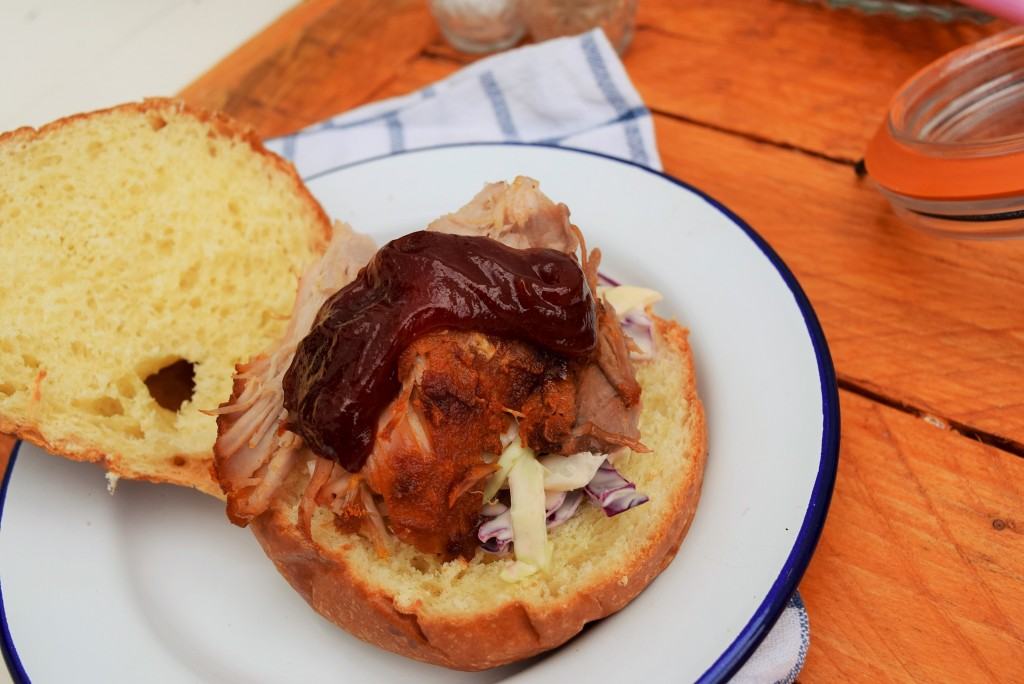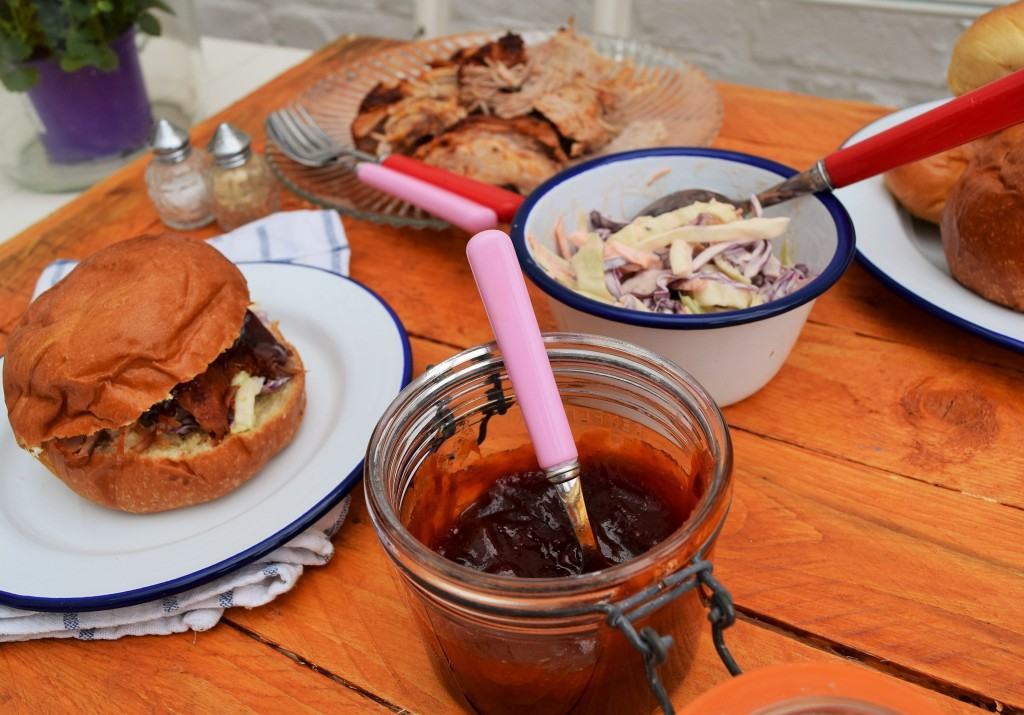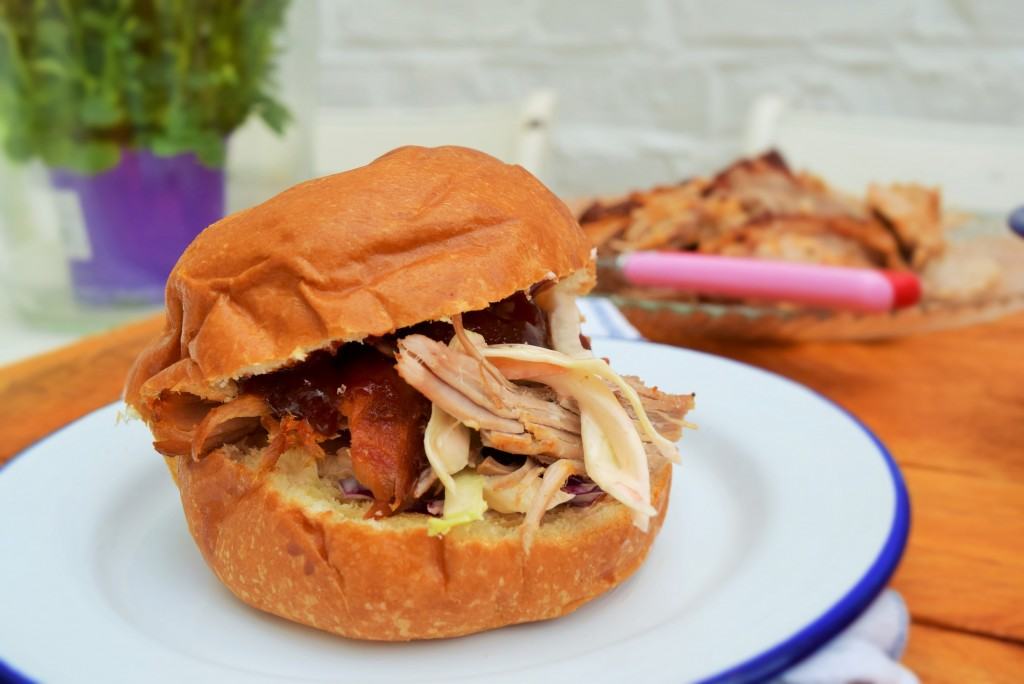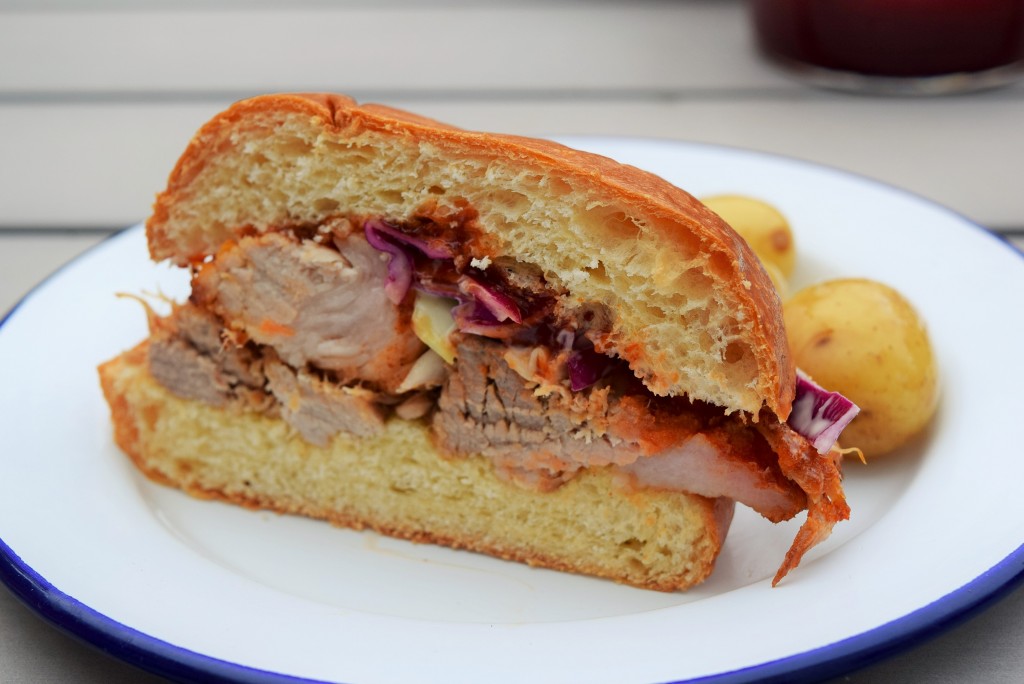 I feel I have cured my own indifference towards Pulled Pork with this delicious dry rub based recipe. And the sauce is super special and keeps well in the fridge to accompany other worthy items at some later stage.
We all loved our Pulled Pork rolls and we were lucky enough to avoid the rain long enough to eat them in our garden. And when I say, all, I meant all.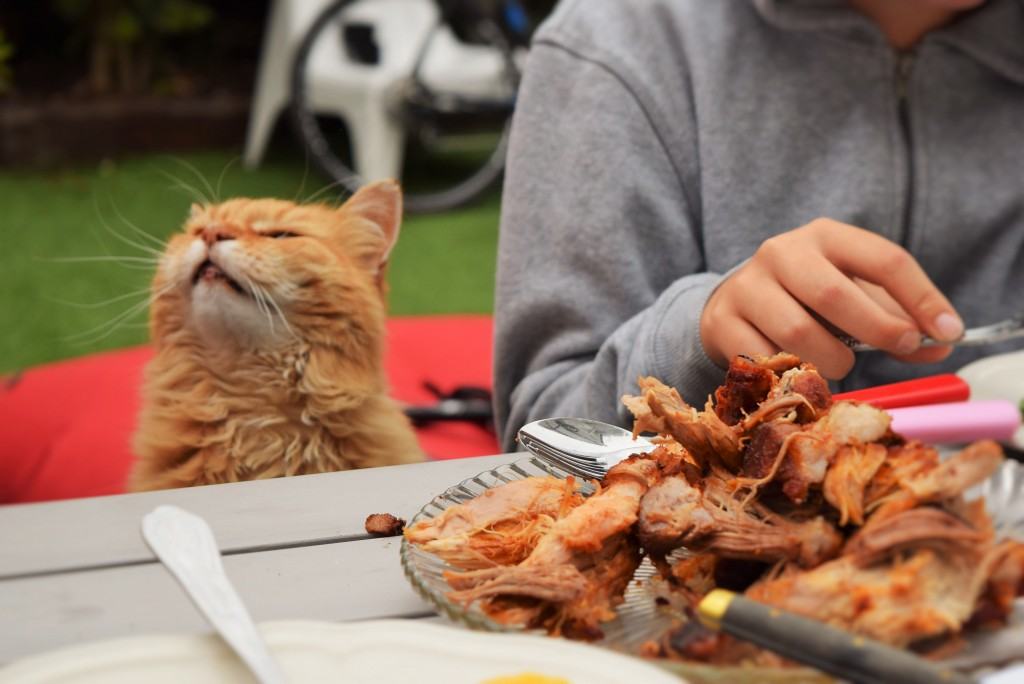 I hope you have a brilliant Bank Holiday weekend.
Lucy x
Pulled Pork Recipe
Serves 6 to 8 dependent on the size of your piece of pork
You will need a disposable baking tray or a foil lined baking tray
For the Pork Dry Rub
Pork Shoulder joint, weighing between 1.5kg to 2.5kg
3 tablespoons paprika, smoked if you have it
1 tablespoon garlic powder, this is available from the herb section of supermarkets
1 tablespoon brown sugar
1 tablespoon English mustard powder
3 tablespoons sea salt
1 bottle or can of beer (approx 300 to 400ml) or use the same of apple juice
For the Barbeque Sauce
250ml Ketchup
125ml water
60ml vinegar, I used cider vinegar
1 tablespoon lemon juice
1/2 tablespoon Worcestershire Sauce
1/2 tablespoon garlic powder
1/2 tablespoon mustard
5 tablespoons brown sugar
pinch of chilli flakes
Coleslaw, brioche rolls, potato based items such as wedges or new potatoes to serve
Pre heat your oven to 220 degrees fan assisted, once your marinating time is up.
Take a bowl or a large zip lock bag. Add the dry rub ingredients, the paprika, garlic powder, brown sugar, dry mustard and sea salt. Give it a shake or stir to mix then add you pork shoulder joint (mine had the fat still on so I left it to ensure the meat stayed moist, but it's up to you). Seal the bag or cover the bowl and leave to infuse for at least two hours, or up to 24 hours, the longer the better.
While the pork in marinating crack on with the barbeque sauce. In a medium saucepan pour in the ketchup, water, vinegar, lemon juice, Worcestershire sauce, garlic powder, mustard, sugar and a pinch of chilli flakes. Bring this mixture to the boil and simmer, uncovered, for between 30 to 40 minutes. Keep an eye on the sauce, as it will become gloopy if left too long. Once the sauce has thickened, leave to cool then decant to a jar or bowl.
Once your marinating time is up, and you have preheated the oven to 220 degrees, line a baking tray with foil or use a disposable tray. Pour the beer or apple juice into the bottom of the tray. Then take the pork out of the bowl or bag and pop it into the baking tray. Put this into the very hot oven for 20 minutes. Once this time is up, turn the oven down to around 120 to 140 degrees, dependent on how hot your oven is, and cook for a further 5 to 6 hours. The meat is cooked when it falls apart when shredded with two forks. Keep warm, covered in foil while you prepare your brioche rolls, coleslaw and potato based items. Any leftover pork keeps brilliantly wrapped in foil for a leftovers sandwich within the next two or three days.