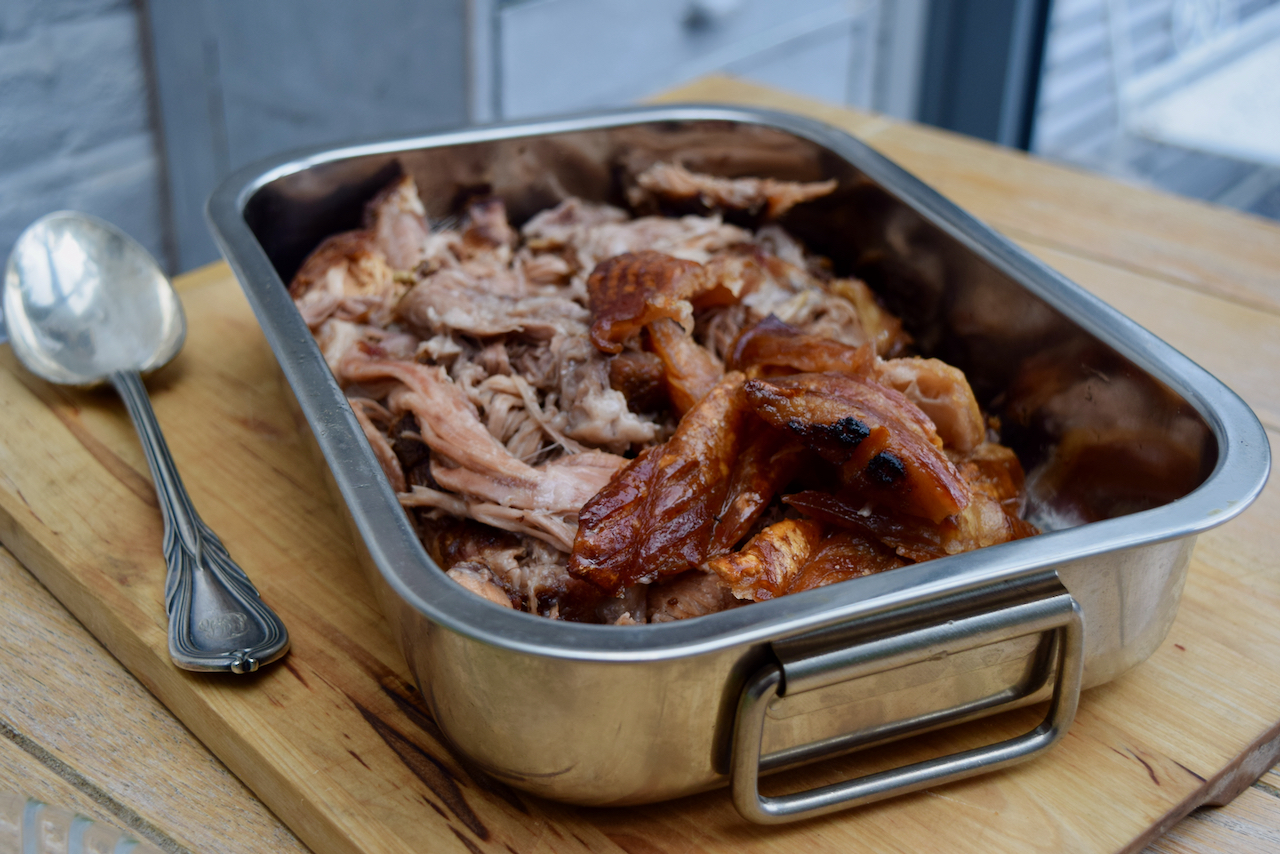 Smoky Slow Roast Pork recipe
Hooray for another long weekend in the offing. More time for drinking, eating and cooking Smoky Slow Roast Pork. I know this sounds like a rather wintery recipe, but it is currently like November in London at the moment, so slow cooked meat is what I'm craving. That said, this versatile recipe can be served however you like, and if, God forbid, the sun comes out this weekend you could even have it with salad sitting in the sun.
I love a recipe which pretty much just cooks itself and this one's delicious. The meat is left over night to lightly marinate in a mix of black treacle, chilli, smoked paprika, cumin and mustard. It's then slow roasted for 5 hours with a final hour and a bit to ensure super crispy crackling. This can certainly be served traditional Sunday roast stylie, or like me, make barely any effort with some lemon dressed leaves and Jersey Royal potatoes. Or pull it apart and serve piping hot in baps with some barbecue sauce if the mood takes you. The meat is tender and soft and the crackling is crisp and tasty. It's not hugely spicy, there's just a hint of warmth and smokiness. Thanks to the lovely James Martin for the inspiration.
The extra day off this weekend is a total win. Pray for it to stop raining; but if it doesn't, you can always sit indoors drinking rosé eating this pork, so not all's lost.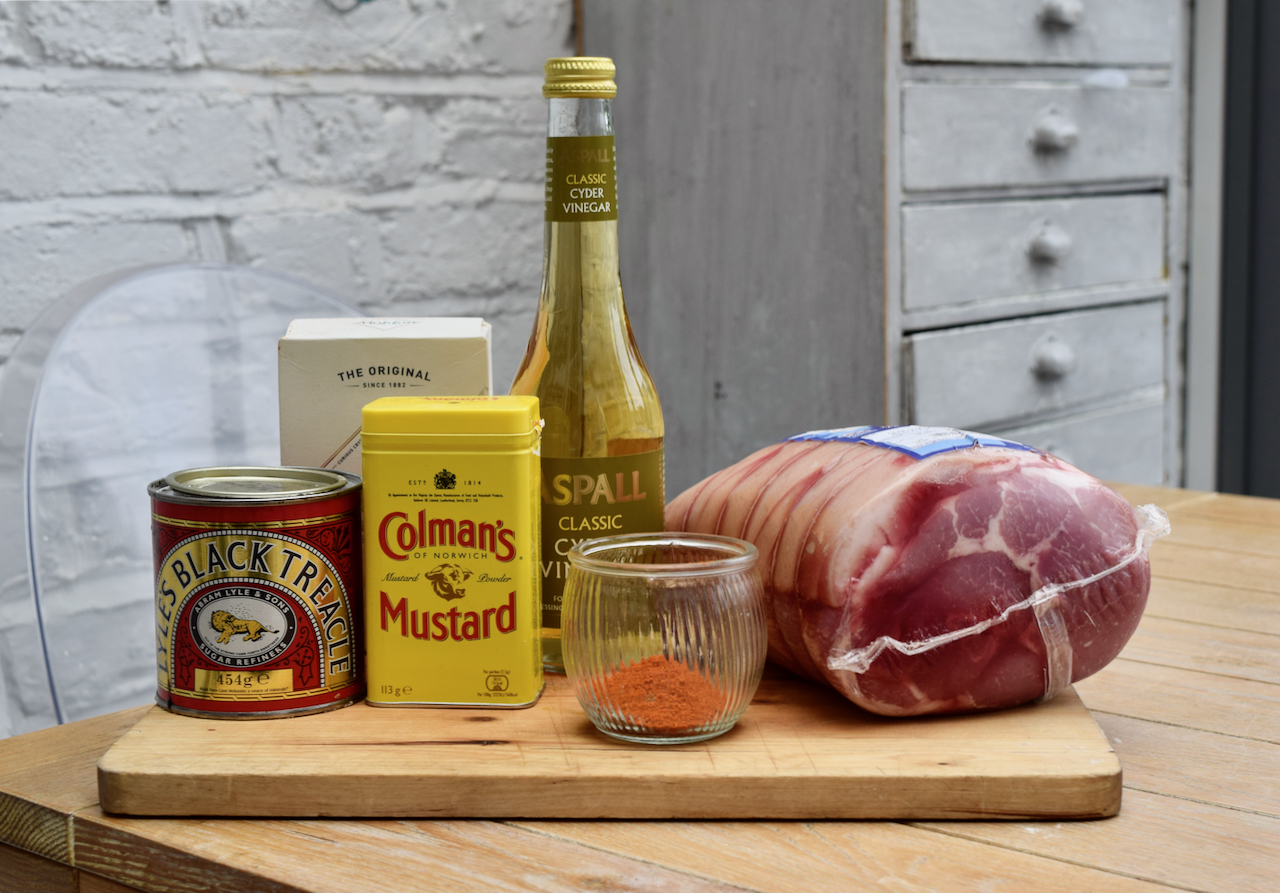 What a lovely simple line up for this recipe. The small pot contains the fragrant smoked paprika, chilli and cumin which makes for a more attractive photo than a pile of my spice packets. The pork is a lovely bit of shoulder; the original recipe called for a 2.5kg piece, but mine was barely 2kg. This was, however, plenty for us 4 hungry bastards, but do size up if you'd rather.
This is a plan ahead recipe so get your arse into gear the day before you want to eat this. To make the marinade take a bowl and mix together the black treacle, vinegar, chilli, smoked paprika, mustard powder and cumin.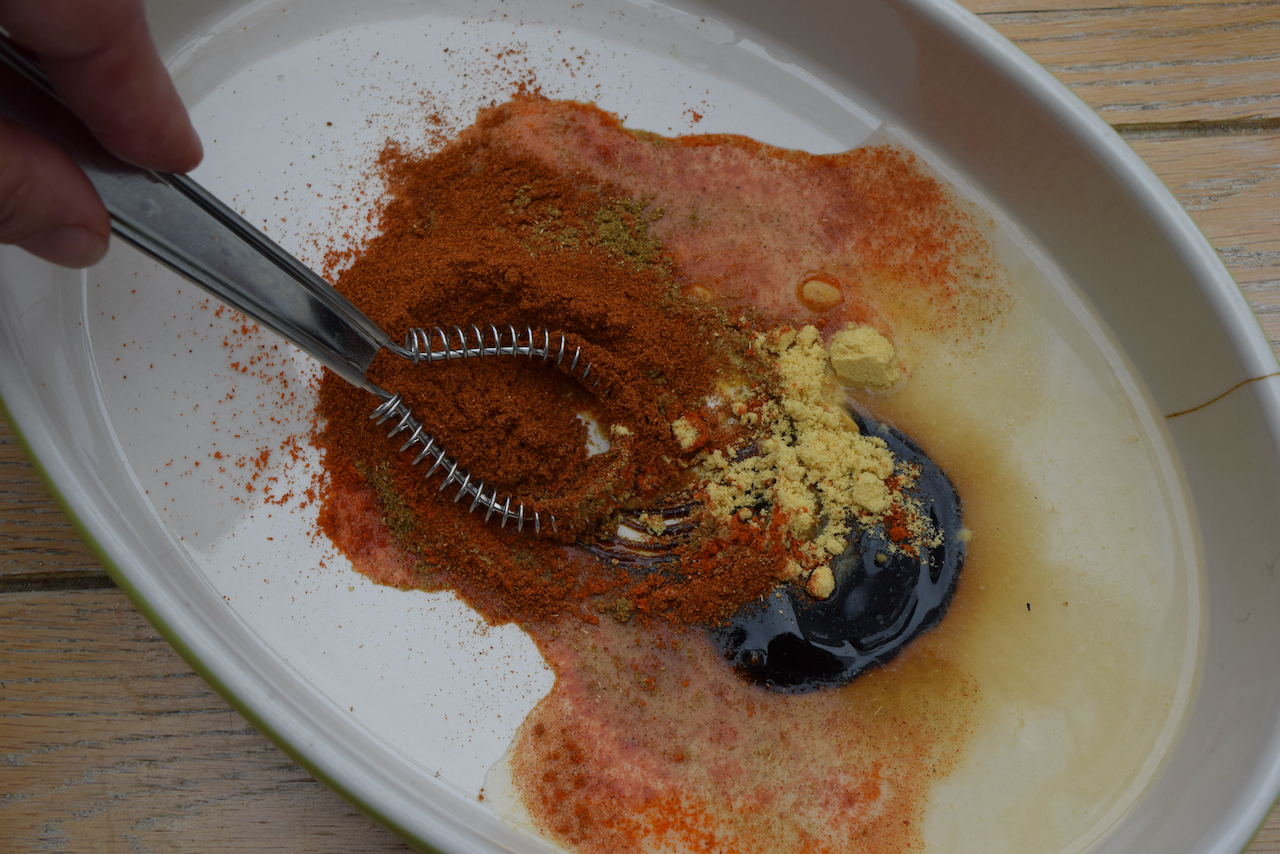 Whisk it into a smoothish paste. Now take your pork, pat it dry with kitchen paper then place skin side down on a board. Slather the meat only (not the skin) with the paste, ensuring good coverage.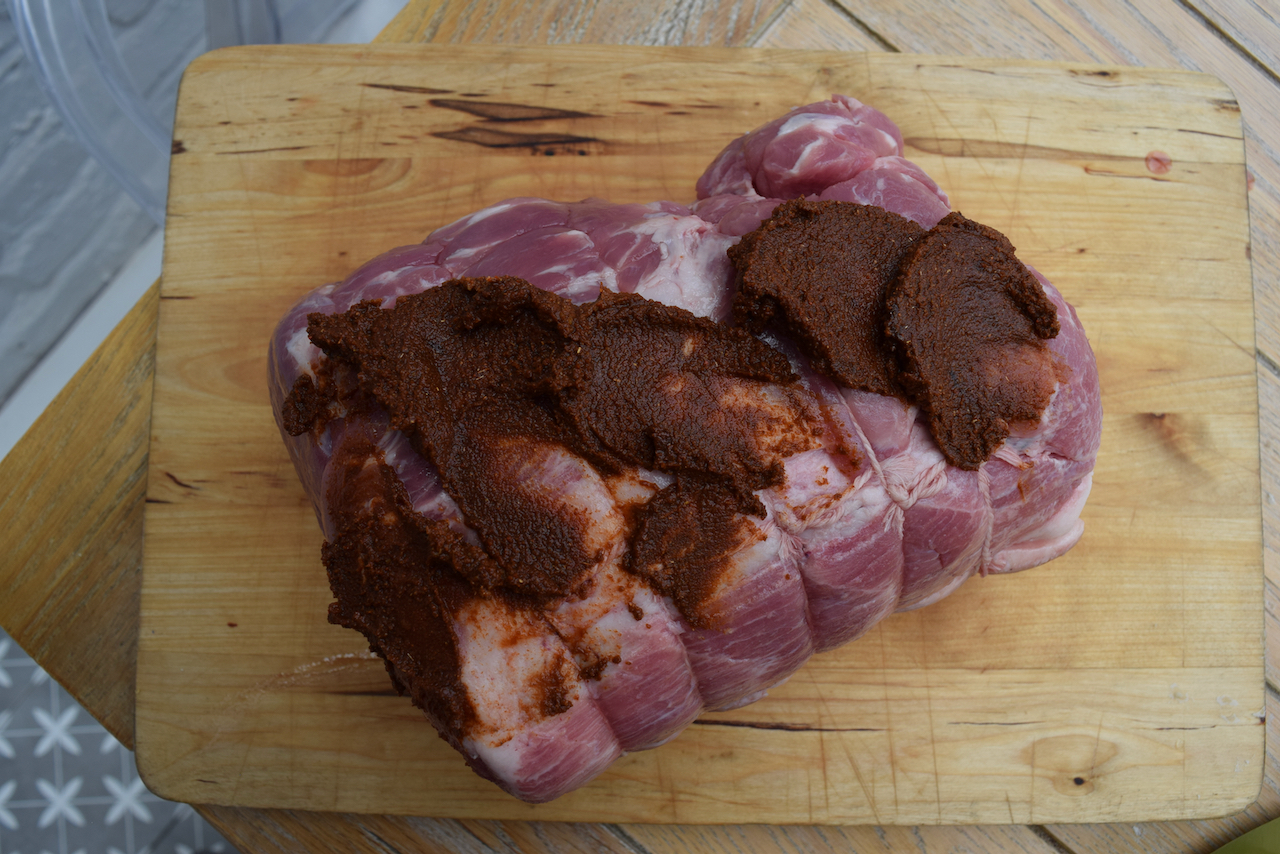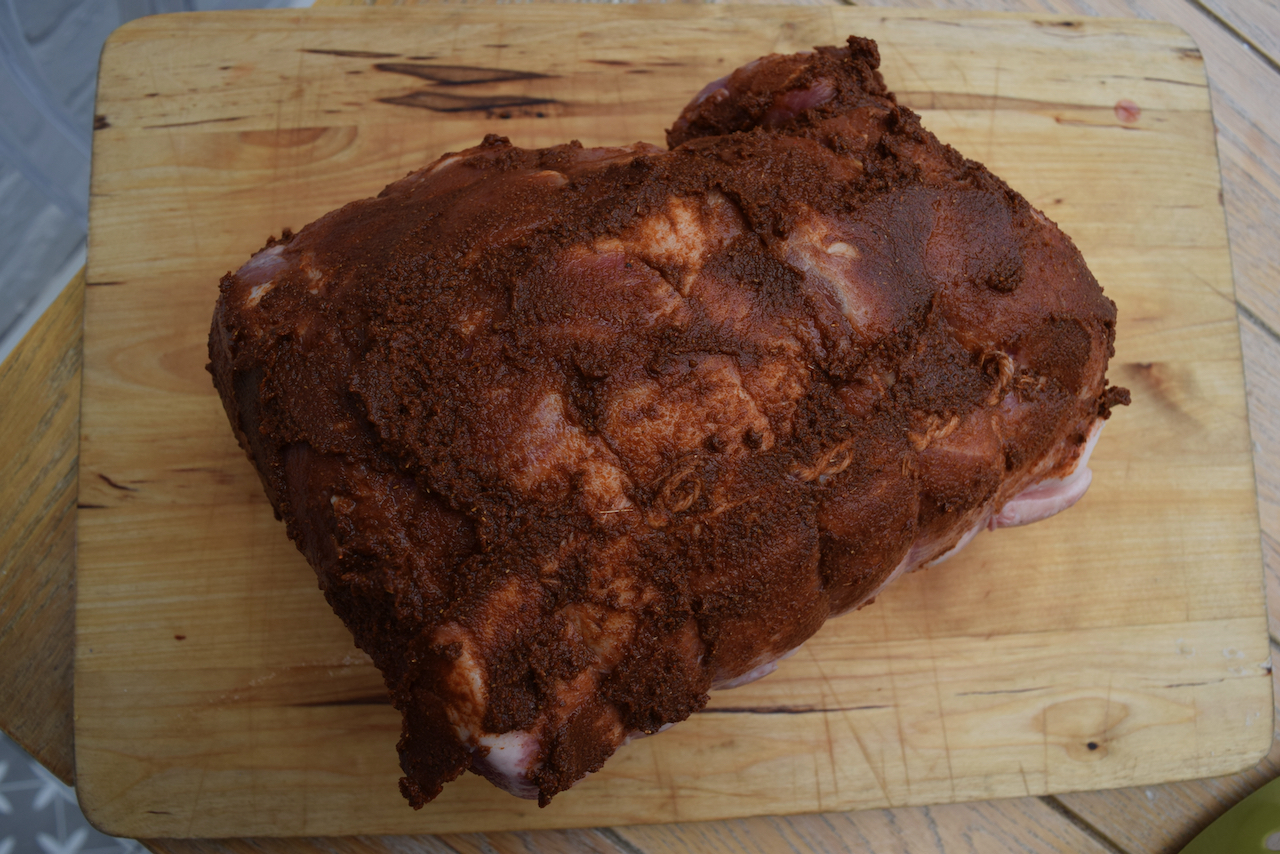 Turn the meat over so it's skin side up then place in a bowl (if you're lazy like me the one you made the marinade in) and cover the bowl in cling film, wrap tightly and put in the fridge overnight or for 24 hours for max smokiness.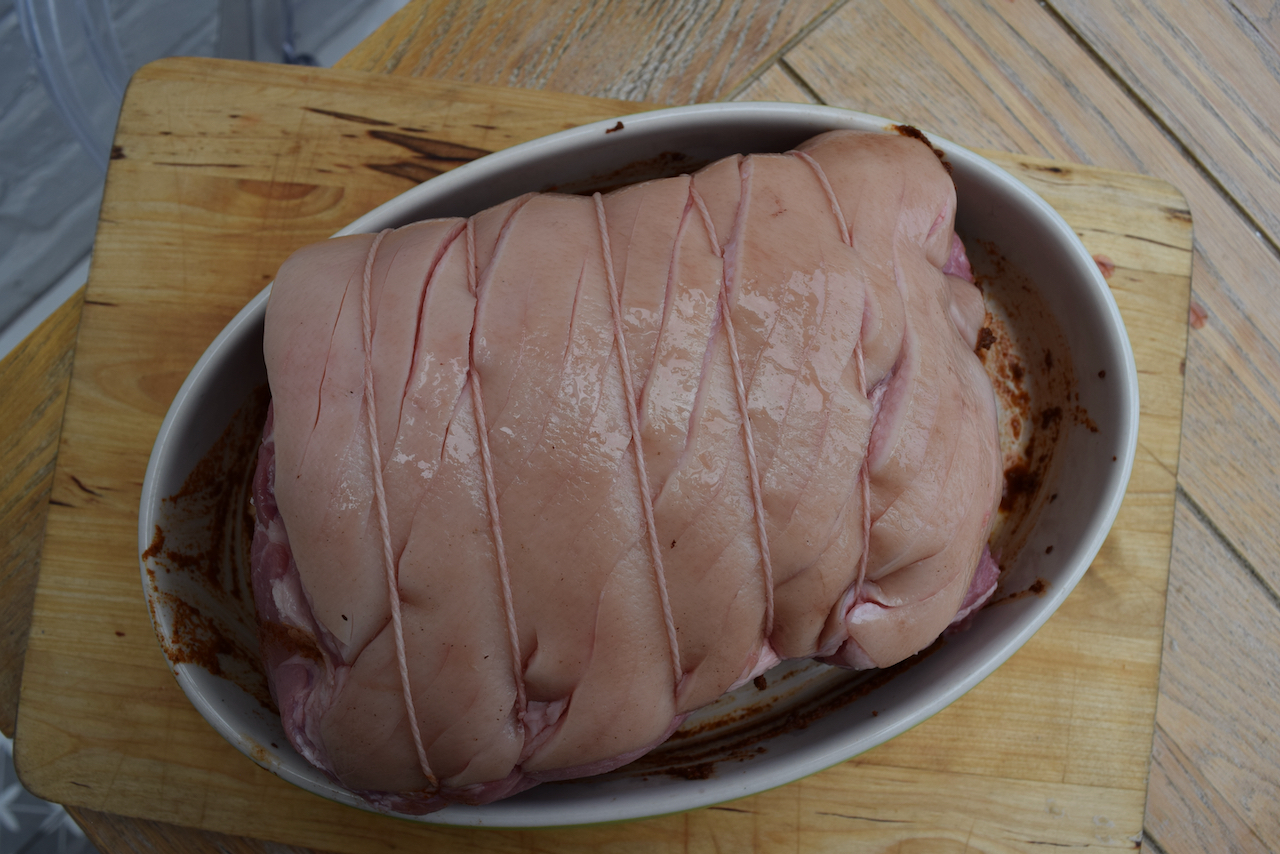 When you're ready to go (allowing 6 and a half hours cooking time) pre heat the oven to 130 degrees fan assisted. Put the smoky pork in a baking tin (a disposable foil one would be a thought) skin side up and season the skin with plenty of sea salt and black pepper. Pour 500ml of water around the meat then cover the tin, tightly, with foil.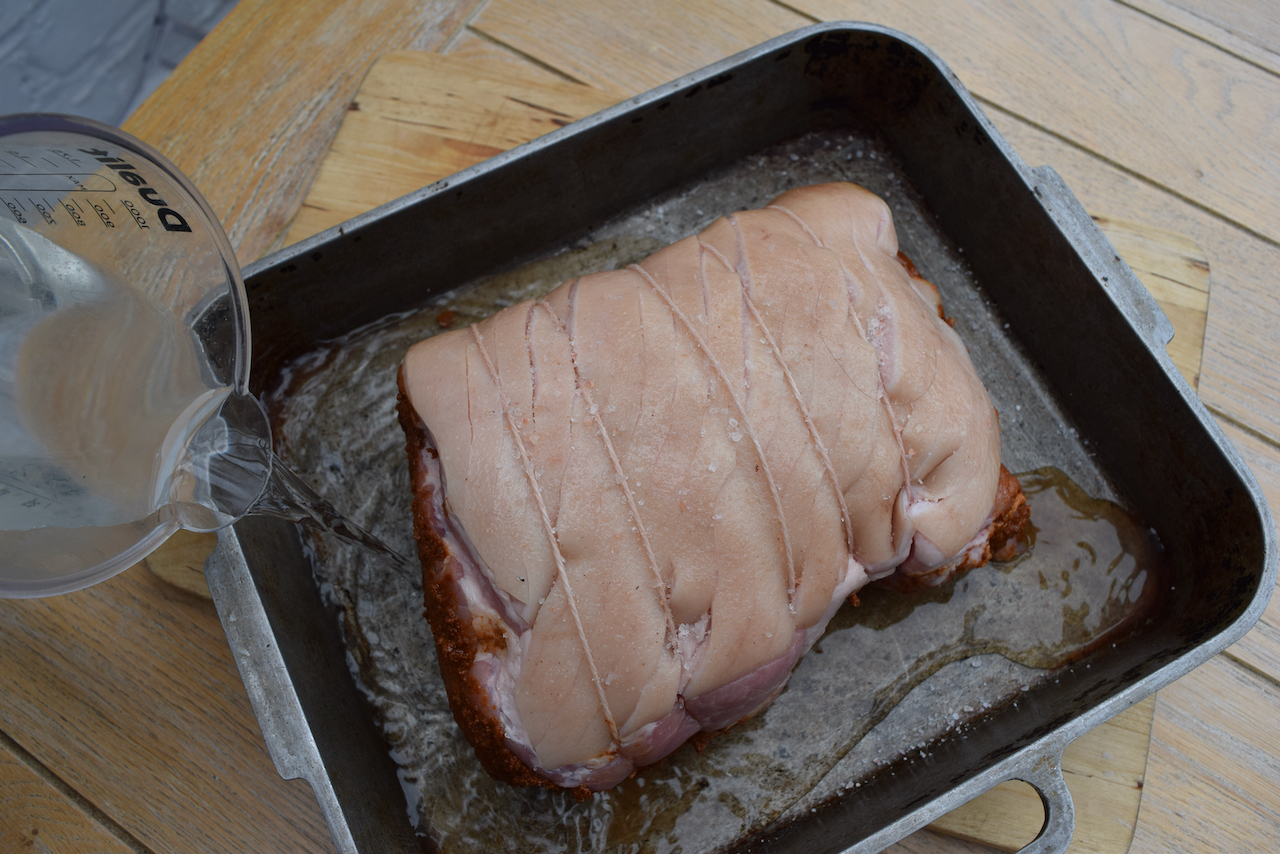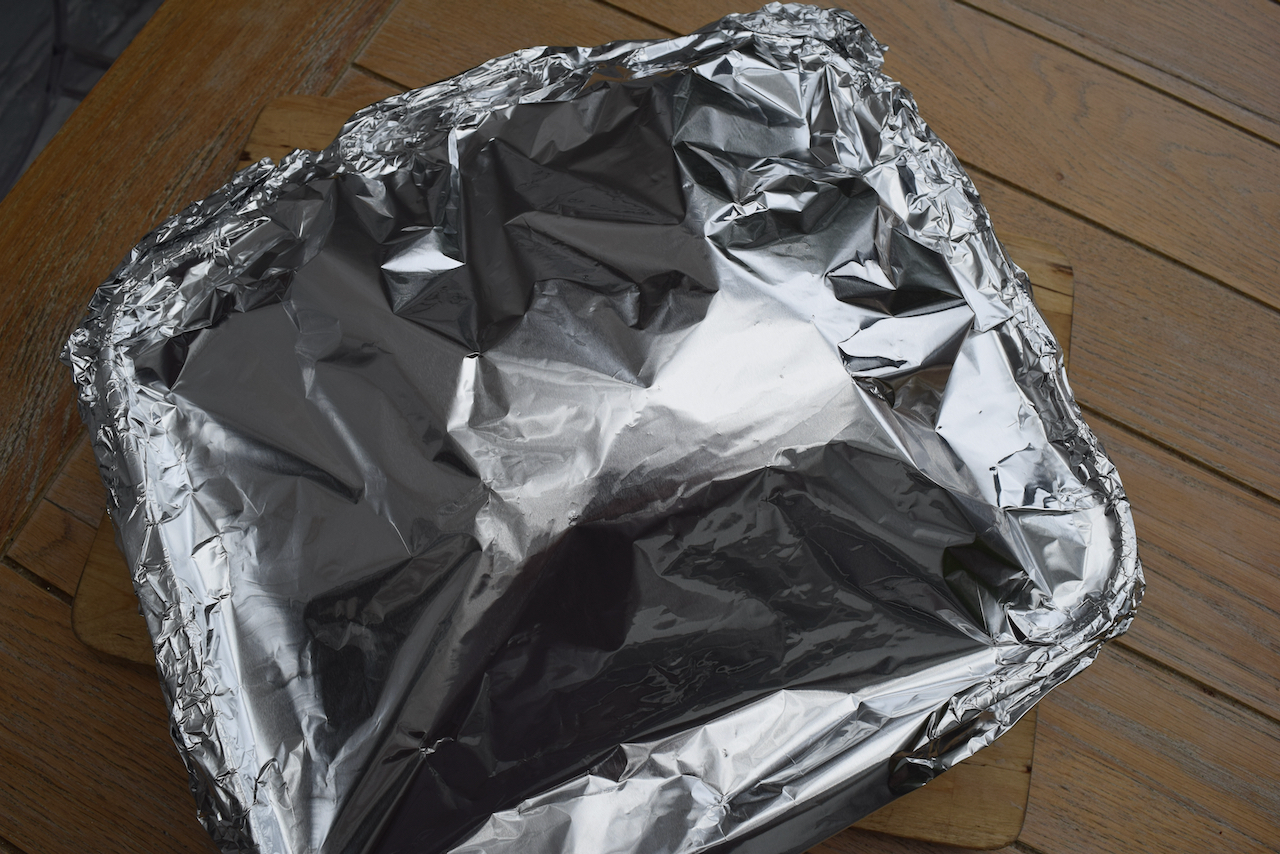 Put the pork in the oven for 5 hours and get on with something like gardening or drinking wine. After the 5 hours is up, take the pork out of the oven and remove the foil. Turn the oven up to 180 degrees fan.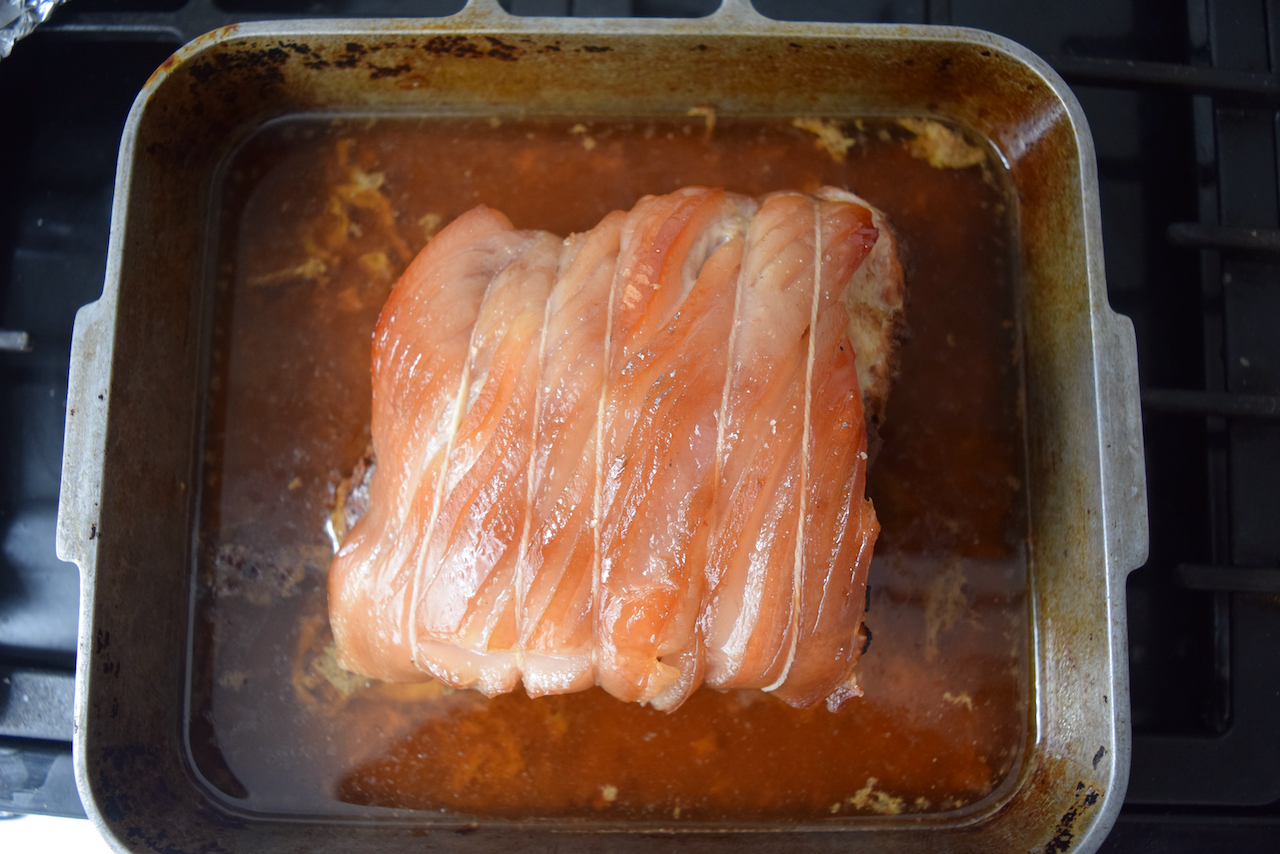 Put the pork back in the oven for another hour and a half. You're looking for crispy crackling and tender, pull apart meat.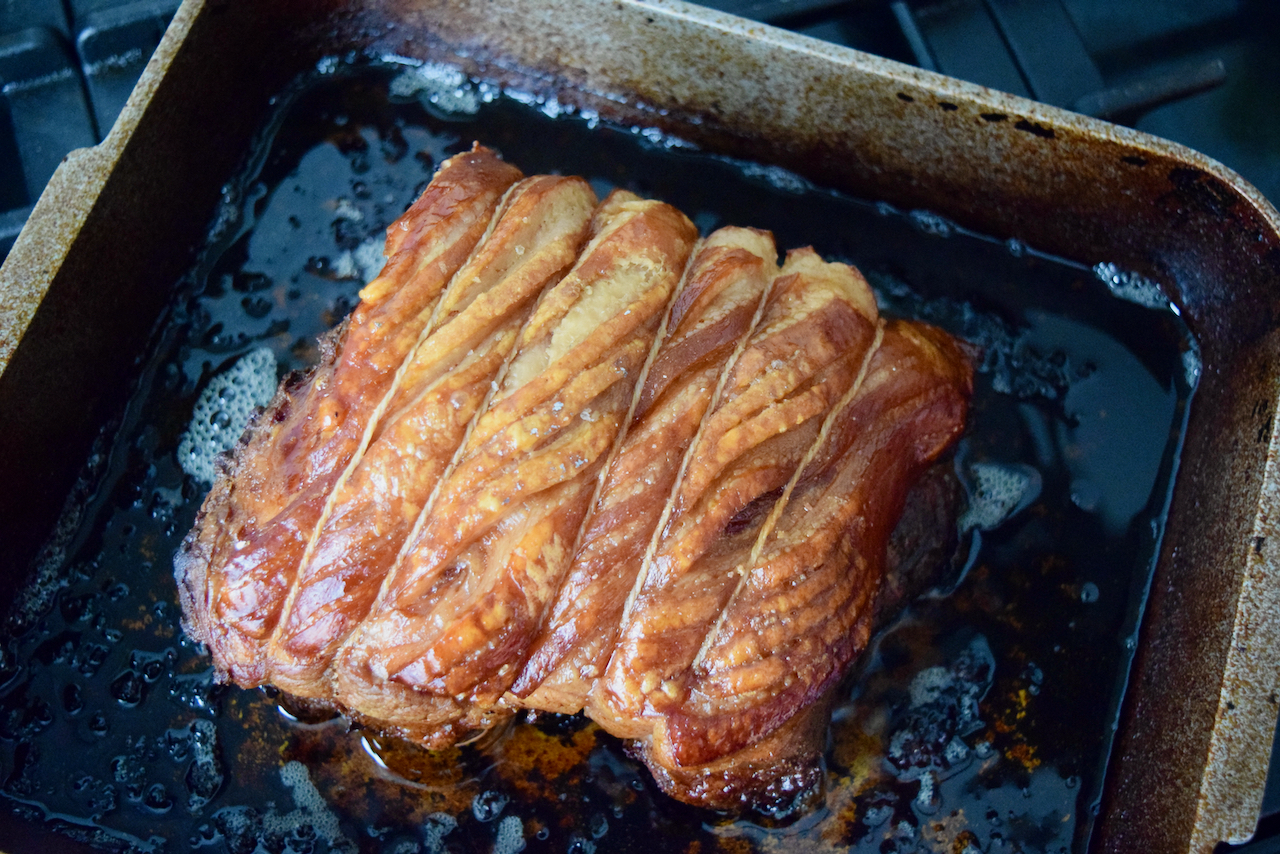 Here's where you can see why a foil baking tray may be a good idea.
Remove the crackling, showing some restraint by not eating it all during the process, then pull the meat apart. I'm obsessed with new potatoes so had my smoky pork with buttery Jersey's and a simple salad dressed with lemon and olive oil.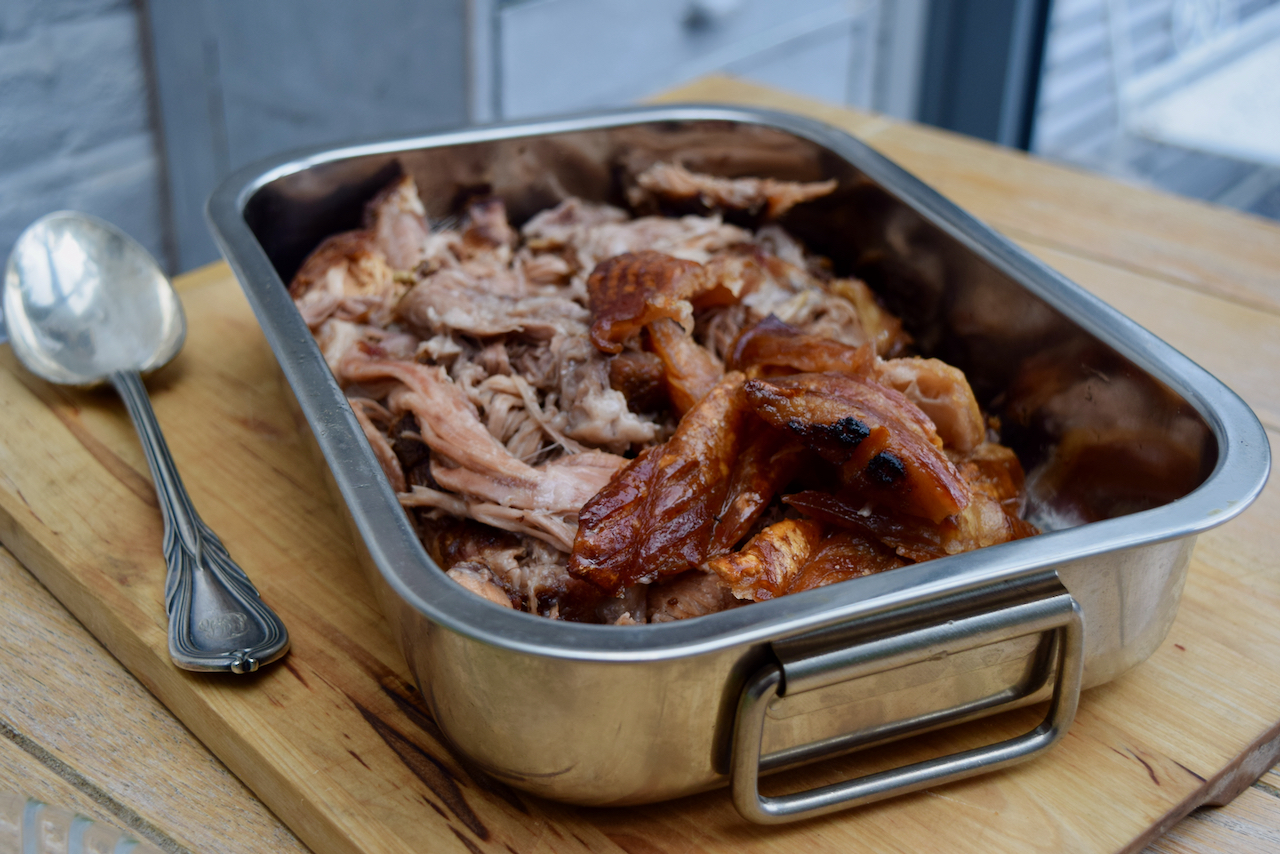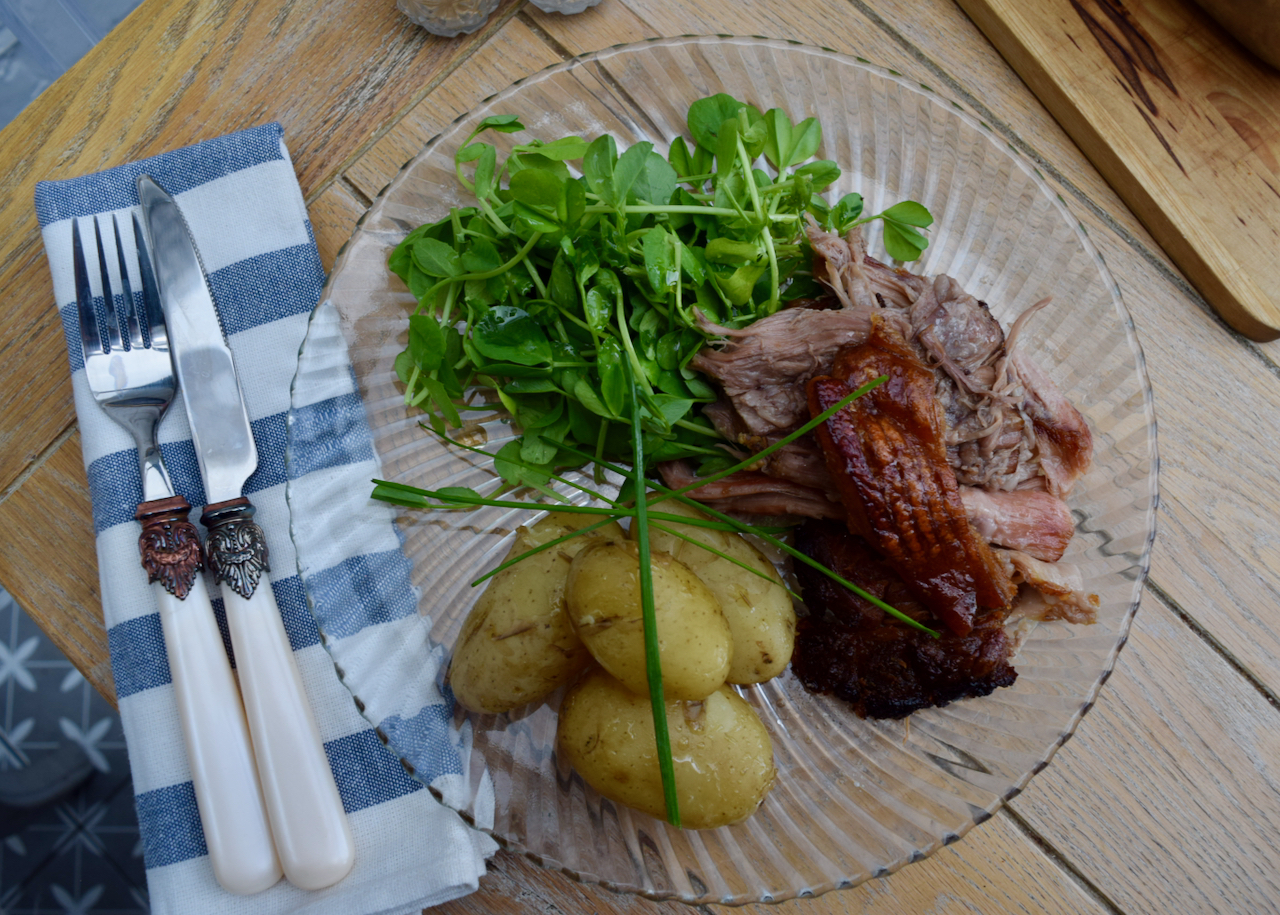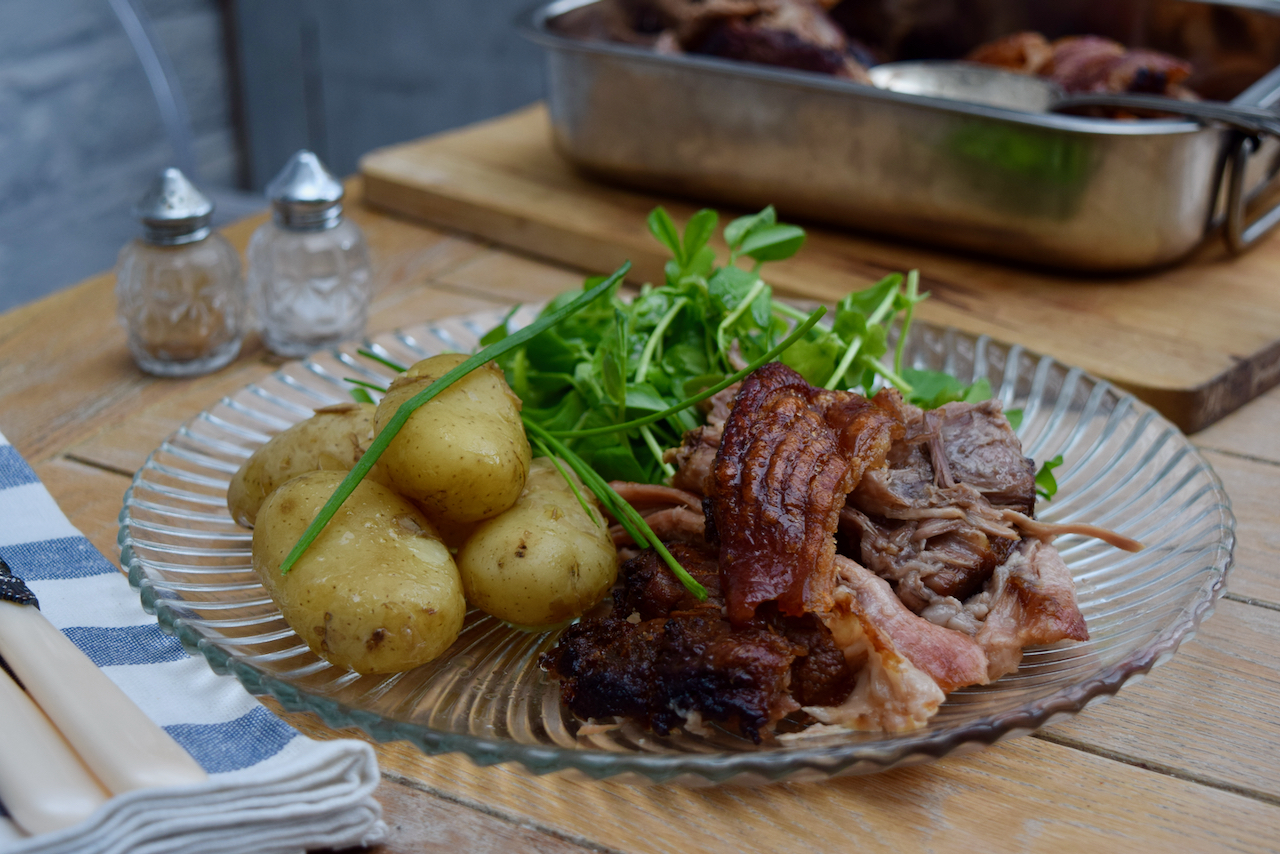 This pork has endless potential to be pulled pork rolls, a full roast dinner with all the trimmings or whatever you want it to be.
Lucy x
Smoky Slow Roast Pork recipe
Serves 4 to 6
You will just need a bowl and a roasting tin for this. Unless you love washing up, a foil, disposable tray may be a good idea
2kg pork shoulder, boneless but skin on
1 teaspoon black treacle
2 tablespoons cider vinegar
2 teaspoons smoked paprika
1 teaspoon cumin
1 teaspoon mustard powder
1 teaspoon chilli powder
Salt and pepper
You decide how to serve this, think full Sunday roast, new potatoes and salad, rolls with barbecue sauce, wraps, the possibilities are endless
Take a bowl and mix the treacle, vinegar, smoked paprika, cumin, mustard powder and chilli until you have a rough paste. I used the bowl I was going to marinade the meat in to save on washing up. Remove your pork from it's packing and pat dry on kitchen paper. Turn the meat skin side down and cover the whole joint (not the skin) in the spice paste. Turn over so the skin side is up and place in a bowl. Cover tightly with cling film and leave in the fridge to marinate overnight or for 24 hours for maximum flavour.
When you're ready to cook your pork pre heat the oven to 130 degrees fan assisted. Remove the pork from the dish and place in a baking tin skin side up. If any paste is left in the dish, spoon it back onto the pork. Season the skin with plenty of salt and pepper then pour in 500ml water around the meat. Cover tightly with foil and cook for 5 hours in the oven.
After 5 hours, turn the heat up to 180 degrees fan, remove the pork from the oven, take off the foil then put back into the hot oven for a further hour and a half or until the crackling is crisp and the meat is tender.
Remove the pork from the pan (which will need a bloody good soak) and cut/pull apart and serve in a whole myriad of ways.