Lychee Rose Bellini Recipe
This Friday marks the start of the Chinese New Year and this year, it's the year of the Dog. One of my favourites, I have to say. Not only because I am a dog lover and owner, but because I was born in the Year of the Dog *I won't mention which one*. Those born in this such prestigious year are said to be loyal, true friends and reliable partners and I am inclined to agree. As with most Fridays, I will find any excuse for a drink so this week, let's make it a Lychee Rose Bellini.
The Lychee for me has always had Chinese connotations due to their dessert course appearance at many a Chinese restaurant in the 1970's. I always adored their perfumed taste, even though those around me swore they were eyeballs of some nature. They are sweet and fragrant and work so well in a cocktail. This Lychee and Rose Bellini is a simple drink, sweetened with a little honey and scented with rose water. All this topped up with the ever popular Prosecco, or if you are really pushing the boat out, Champagne. This is a romantic drink too, garnished with a rose petal, so if you are belatedly celebrating all things Valentine's and felt like raising a glass, this is a lovely cocktail to whip up. I discovered this recipe on the Sainsbury's website, thanks to them for the kind inspiration.
Those born in the Year of the Dog are also popular in social circles, apparently, and I can guarantee if you serve a Lychee Rose Bellini to your friends and family, you will be very popular indeed.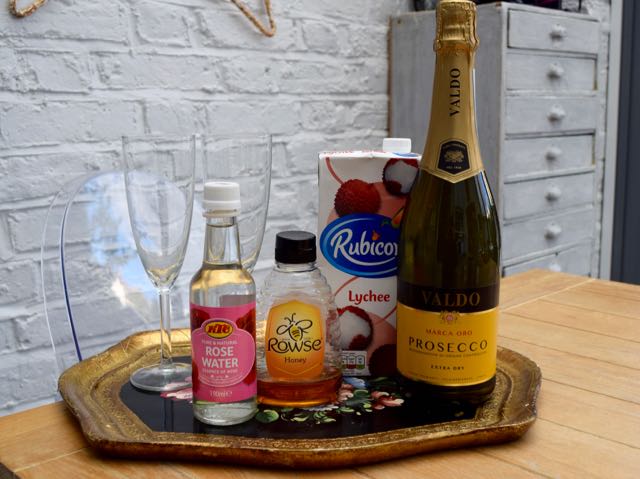 This is a pretty looking line up for today's celebratory cocktail. I bought the rose water a while ago for a dessert which never got made, so I was pleased to discover it in my overflowing drinks cabinet.
Make a start on this fragrant affair by adding some ice to your cocktail shaker and pouring in the Lychee juice. I used a carton of Lychee juice but if you can't find this, you could use the juice from a tin of lychees instead.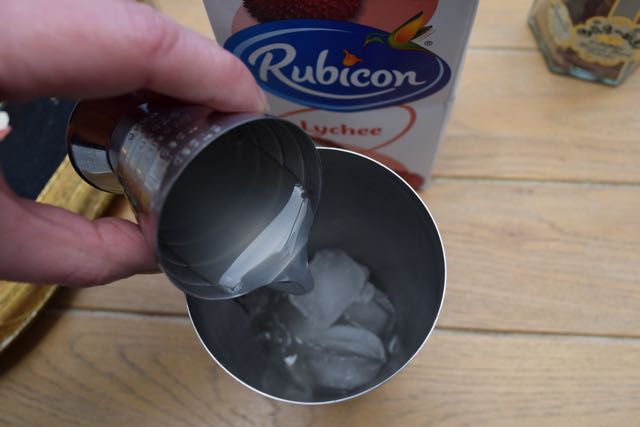 Next add the teaspoon of honey for sweetness and 2 to 3 drops of your rose water. Don't overdo it or it will be a bit too much like your nanna's knicker drawer. Follow in with a touch of pink food colouring too, which I know is a tiny bit naff, but the pink colour does look very fetching.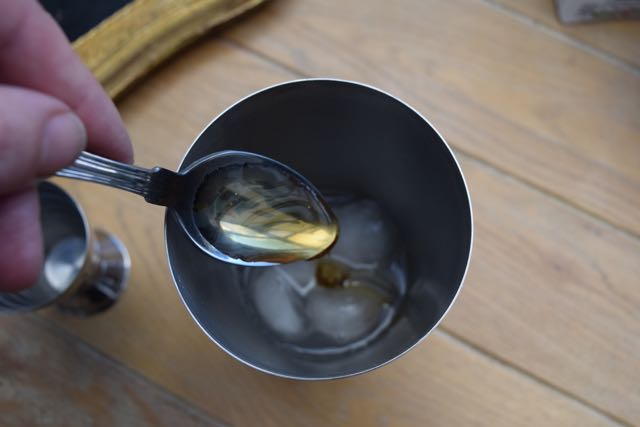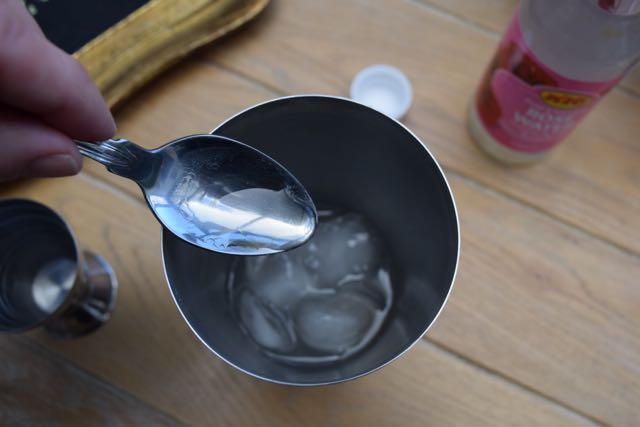 Shake the cocktail shaker until it's beautifully chilled then pour the lychee base into two flutes or coupe glasses.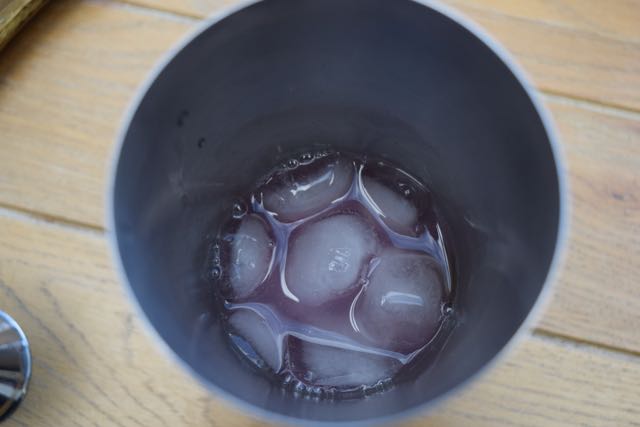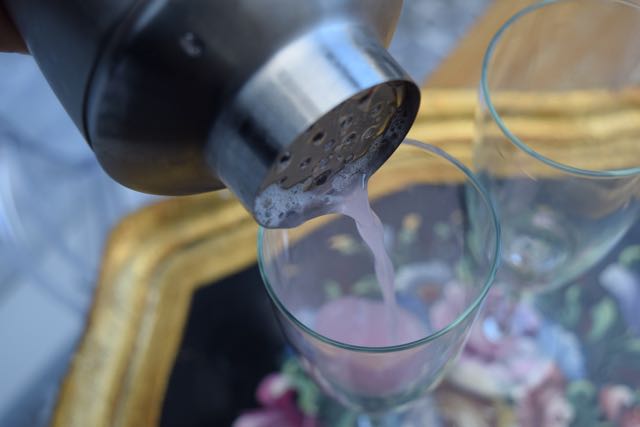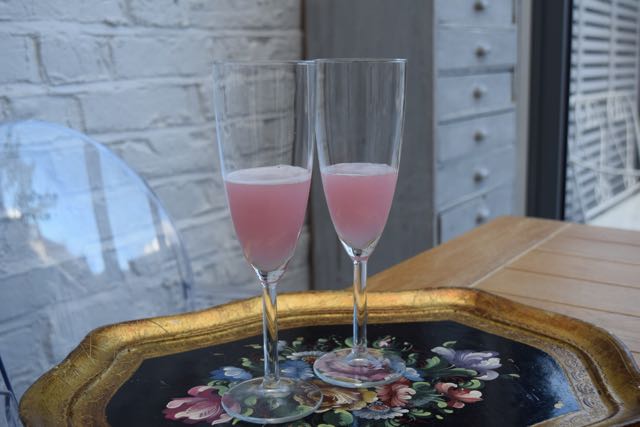 Now, all that's left to do is top up with some Prosecco or Champagne and a beautiful rose petal to garnish. I love these from Uncle Roy's they are so pretty and last for ever.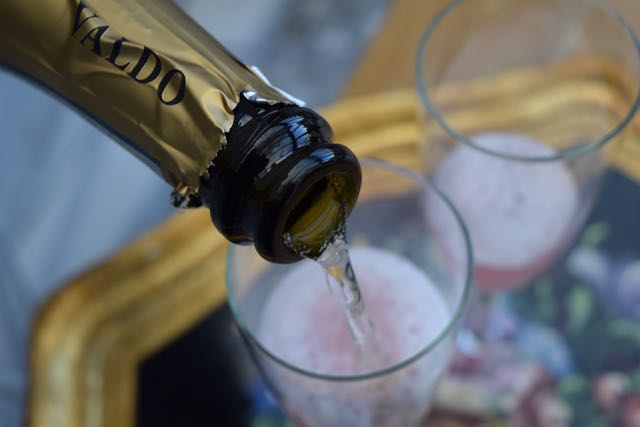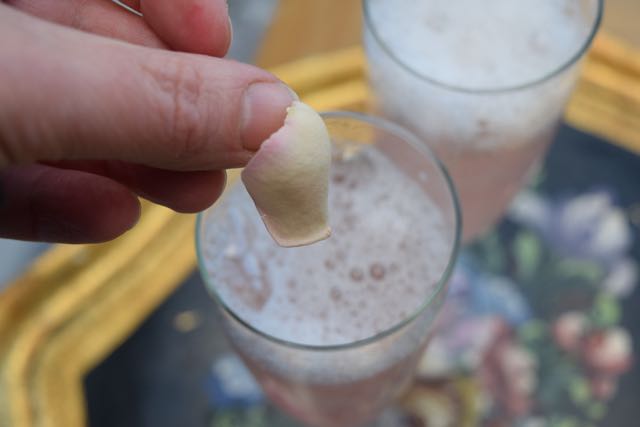 Raise your glass of Lychee Rose Bellini and say cheers *or the Chinese equivalent* to the Year of the Dog.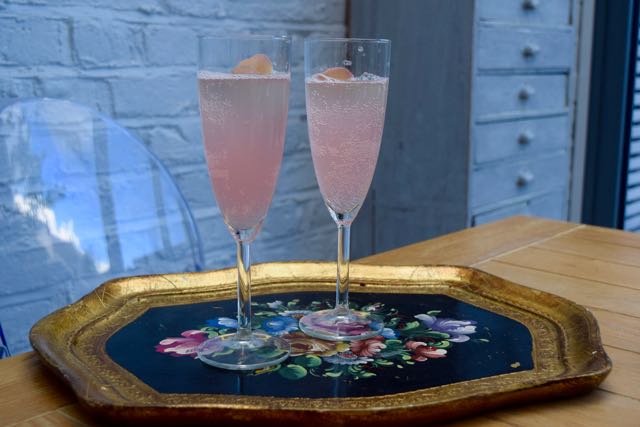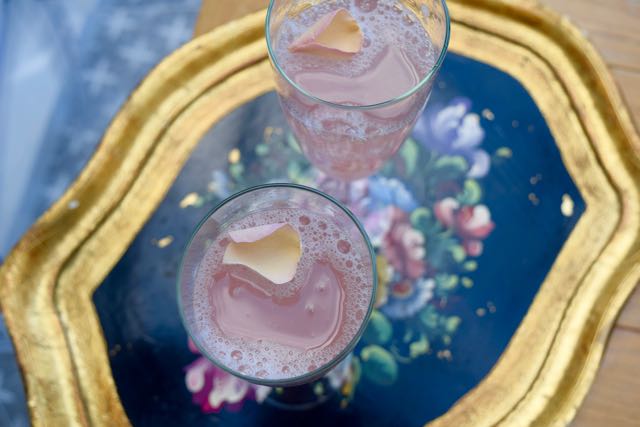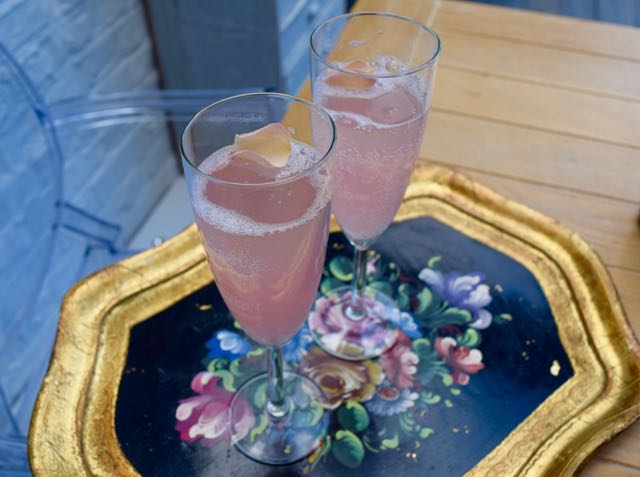 I couldn't let a post containing a reference to the Year of the Dog pass without a photo of Teddy doing his best catalogue pose looking off into the distance now could I?
This is a wonderful floral drink, fresh and crisp and celebratory. So welcome, to the Year of the Dog and to all my fellow dogs, well done us for being so loyal and sociable.
Have a super weekend.
Lucy x
Lychee Rose Bellini Recipe
You will need a cocktail shaker and two champagne or coupe glasses
Makes 2
100ml lychee juice
1 teaspoon honey
2 to 3 drops rose water
A drop of pink food colouring if you like
Prosecco or Champagne to top up
Ice
Rose petal to garnish
Take your cocktail shaker and add a handful of ice.
Pour in the lychee juice, honey and the drops of rose water, to taste, add more or less as required, 3 drops worked for me. If you like a bit of romance, add a drop or two of pink food colouring. Shake until well chilled then pour into two flutes or coupes.
Top up with Prosecco or champagne and garnish with a rose petal and raise your glass to the Year of the Dog.
SaveSave
SaveSave
SaveSave
SaveSave
SaveSave