Almond Pina Colada Recipe
I am not going to moan away about the weather again, because it's just too British and boring of me. Oh yes I am, because I am obsessed with the weather this week. It's been completely bloody miserable and literally rained everyday. My hair has trebled in size and tonight I did my outside bootcamp in a torrential downpour which soaked me through to my pants. It's the end of May and not a whiff of summer in sight. Until now that is. My dear friends at Aldi are having a bit of a Rum revival at the moment so kindly sent me a delicious bottle of their Cocobay coconut rum to play with. Always happy to help where booze is concerned I jumped at the chance to fashion a new cocktail and this Almond Pina Colada is the resulting treat.
This soft, creamy drink is a hot, summer holiday in a glass. The Cocobay Coconut rum is coupled with another Aldi favourite of mine, their Bellucci Amaretti to create a smooth nutty cocktail. You can't fail to feel summery with an Almond Pina Colada in your hand. The coconut, pineapple combo with just a hint of almond is truly one of the most drinkable cocktails I have sipped in a while. The fact the flavours transport you to warmer climes helps in a huge way, especially when it's like a rain forest outside. You can use either coconut cream or milk in this cocktail, the former creating a creamier drink than the latter. The pineapple juice cuts through the creaminess and adds to the wonderful tropical flavours.
I made this in a cocktail shaker, however, if you want to go down the full holiday cocktail route, use a blender and create a frappe type of drink. This frozen style cocktail is a Godsend when the weather warms up and you need cooling down. However, at the moment, while it's like November, just shaking it over ice will do.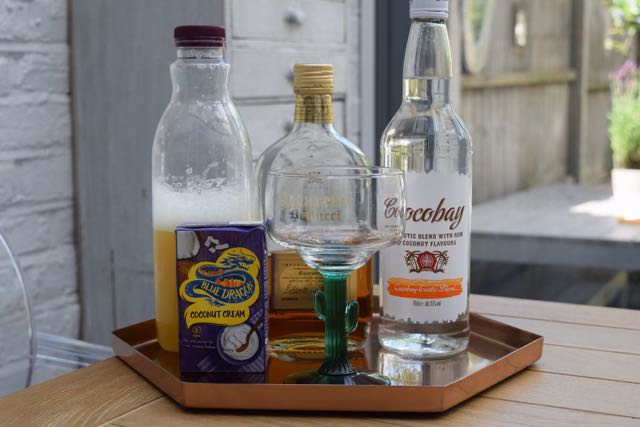 Here's the tasty line up for the Almond Pina Colada. Including my comedy cactus glass which I have been dying to use for ages.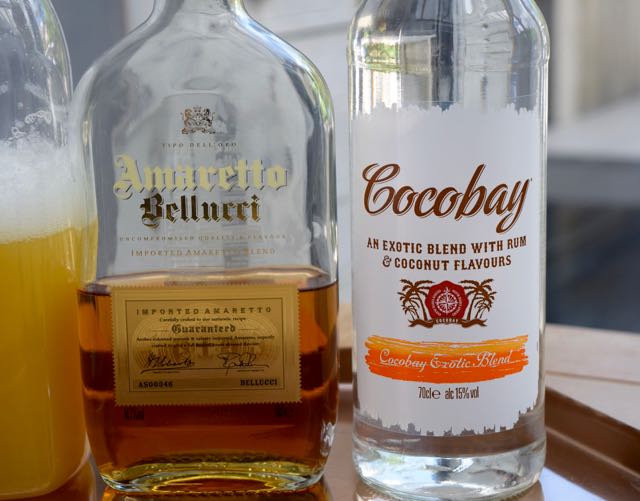 And here are my lovely Aldi spirits, perfect for using in this tropical drink. Or any drink come to think of it.
Make a start on this Friday Cocktail by adding a handful of ice to your cocktail shaker or blender, then add a good shot of your Cocobay rum.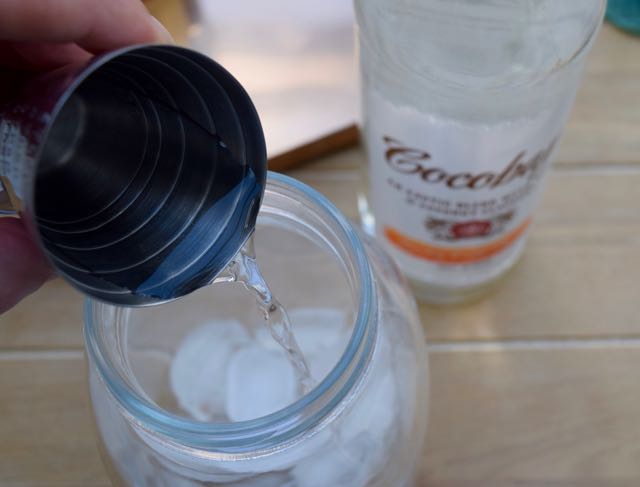 Next, add the almond element with a shot of the Bellucci Amaretti liqueur into the shaker or blender.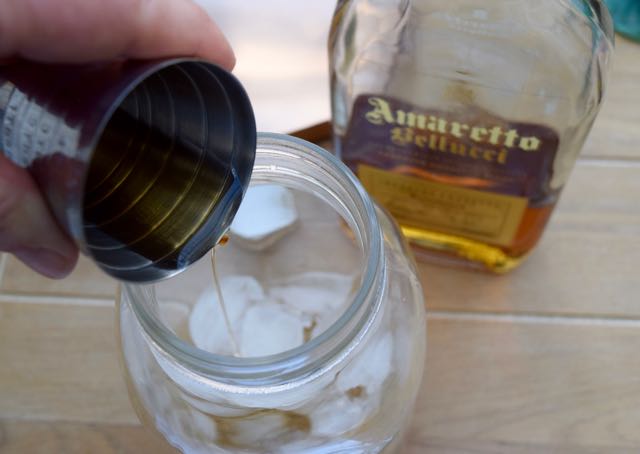 I then added 50ml of coconut cream, but you could also use coconut milk here too. Follow it in with the pineapple juice.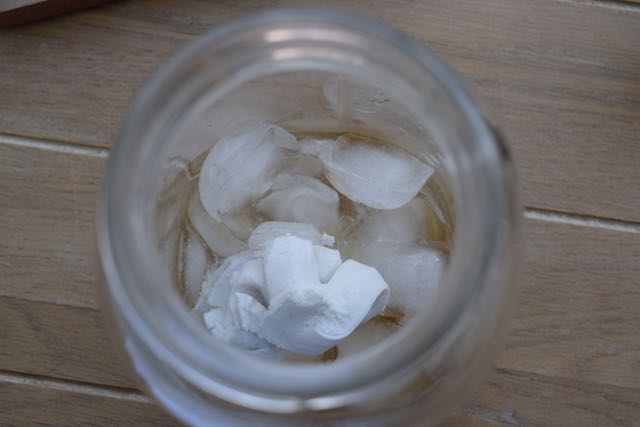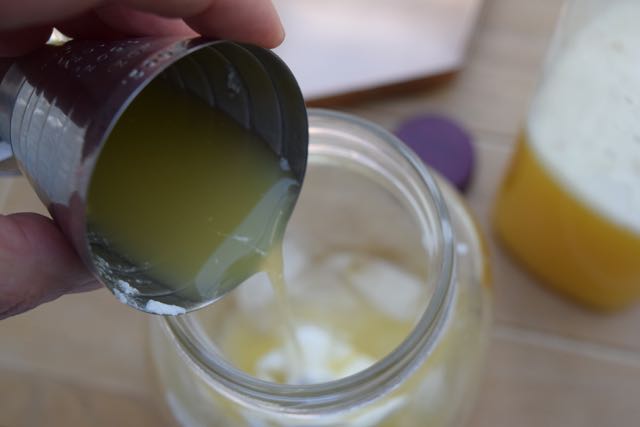 Give this all a terribly good shake or blend in your blender until creamy and smooth.
No manicure this week, times are hard,  food blogging does not pay well.
Pour this reminder-that-summer-does-exist-somewhere-drink over more ice into a festive cocktail glass.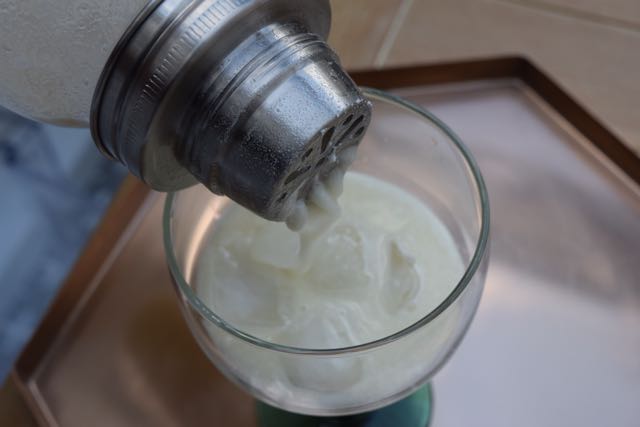 Garnish with a cherry and a pineapple wedge for some old fashioned kitsch charm, then try not to drink this Almond Pina Colada all in one gulp.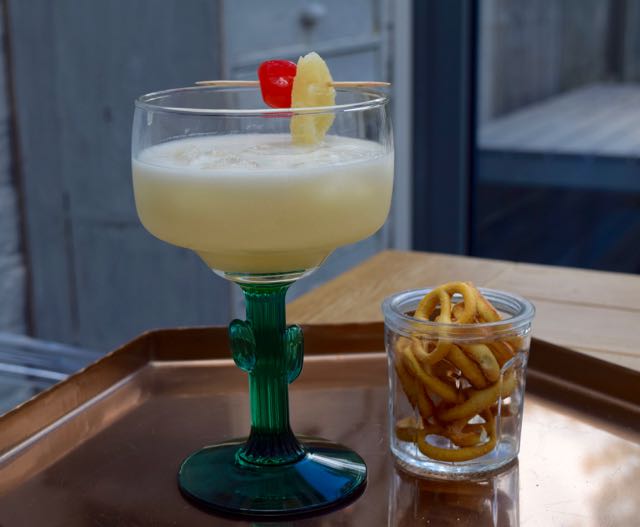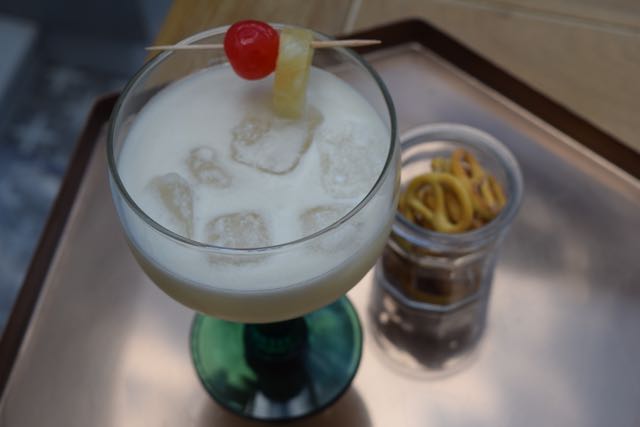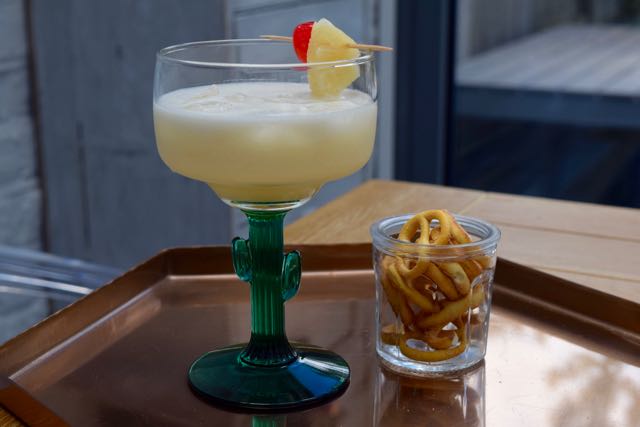 I love Aldi for giving me the chance to play at cocktail bar person. It's one of the best parts of being a food blogger/boozer. The worst part is the washing up, but this is hugely outweighed by the fun I have creating such drinks as the Almond Pina Colada. It's not just a drink, it's a ticket out of London in the rain, even just for 5 minutes while you enjoy it.
Have a restful, if a little soggy, weekend.
Lucy x
Aldi kindly provided me with the Cocobay Rum for this post, however, all opinions and ramblings are, as always, my own.
Almond Pina Colada Recipe
Makes 1
You will need a cocktail shaker or blender
Ice
25ml Cocobay Coconut Rum
25ml Belluci Amaretti
50ml Coconut milk or cream
50ml pineapple juice
A cherry and a pineapple wedge to garnish for added kitsch
Take your cocktail shaker or blender and add a large handful of ice. Pour in the Cocobay rum and Bellucci Amaretti liqueurs then add in the coconut milk or cream and pineapple juice. Give it all a good shake or blend then pour, over more ice, into a festive cocktail glass and garnish with a cherry and a wedge of pineapple. Sip and dream of sunny days.