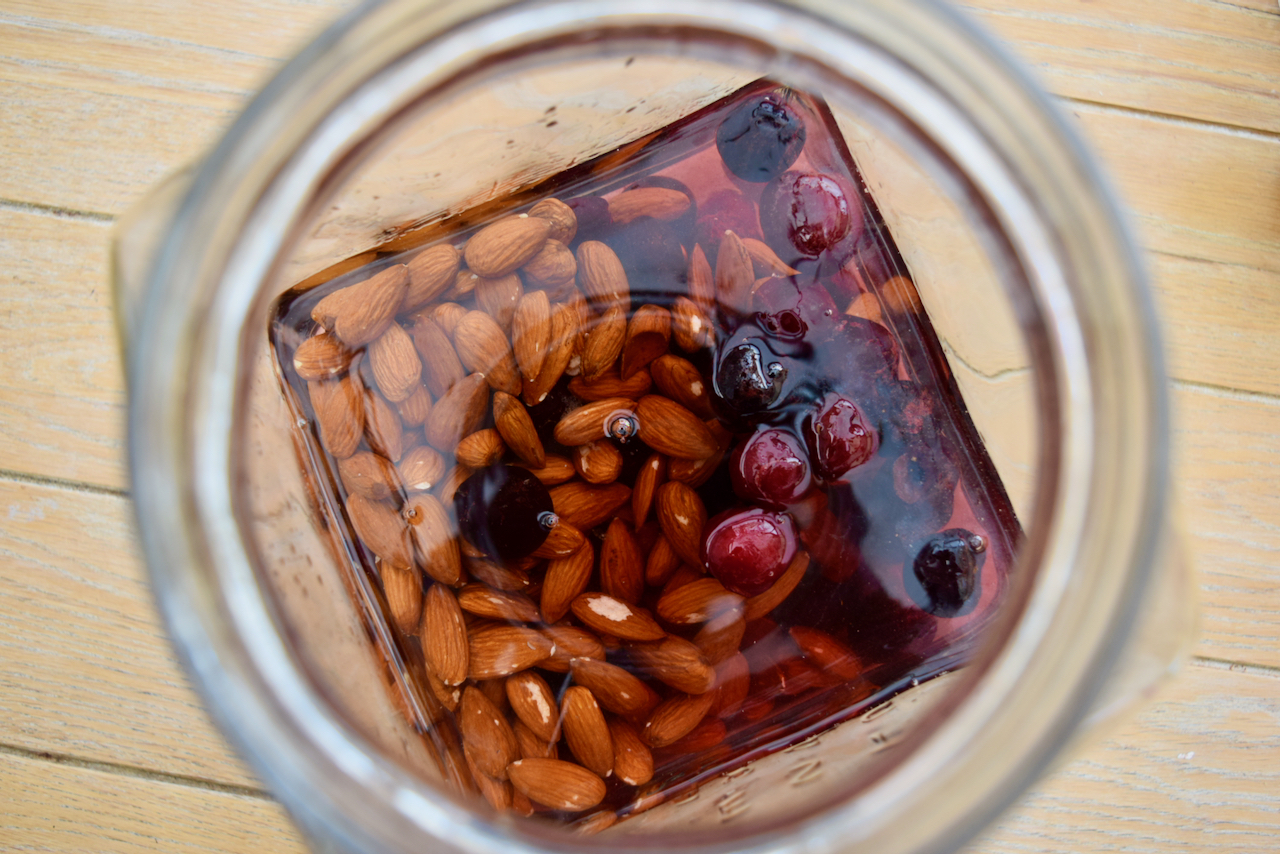 Cherry Bakewell Vodka recipe
Festive drinks are a huge part of Christmas for us. My Dad always used to whip up a batch of his limoncello, my brother in law makes a mean damson gin and this year, we'll be adding Cherry Bakewell Vodka to that list. I love anything Bakewell based, such beautiful flavours, all of which are bloody marvellous in a shot glass.
This is one of those brilliant dump and run style drinks. Just take a huge jar, plop in the cherries and almonds, pour on a litre of vodka then just leave for as long as you can bear. I lasted 3 weeks and that in itself was torture. Give the jar a bit of a shake over the weeks then strain out the cherries and almonds, their work here is done. This will need a bit of sweetening, I went for 3 tablespoons of sugar, but adjust to suit your taste.
You can use small bottles to gift your Cherry Bakewell Vodka to loved ones. Or don't kid yourself, pour it into a bloody great big bottle and enjoy chilled tipples whenever needed. Which given the current circumstances is most of the day.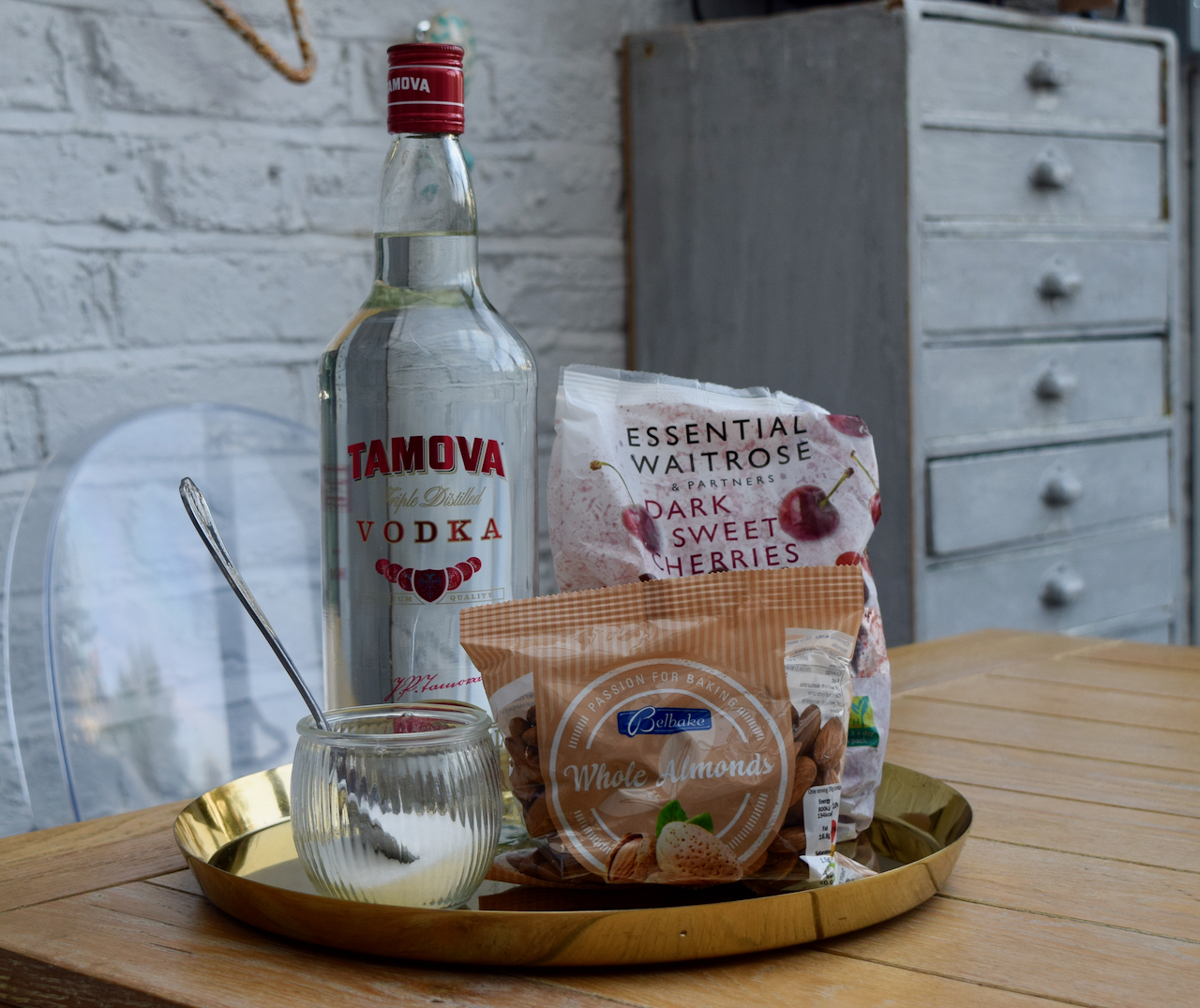 So simple, this was always going to taste amazing. Frozen cherries are best because a) fresh are out of season and expensive and b) they don't need pitting because I'm lazy. The almonds are unsalted and there's no need to chop them hooray.
Make a start with a large jar, enough to fit in a whole litre of vodka. Tip in the frozen cherries and the almonds.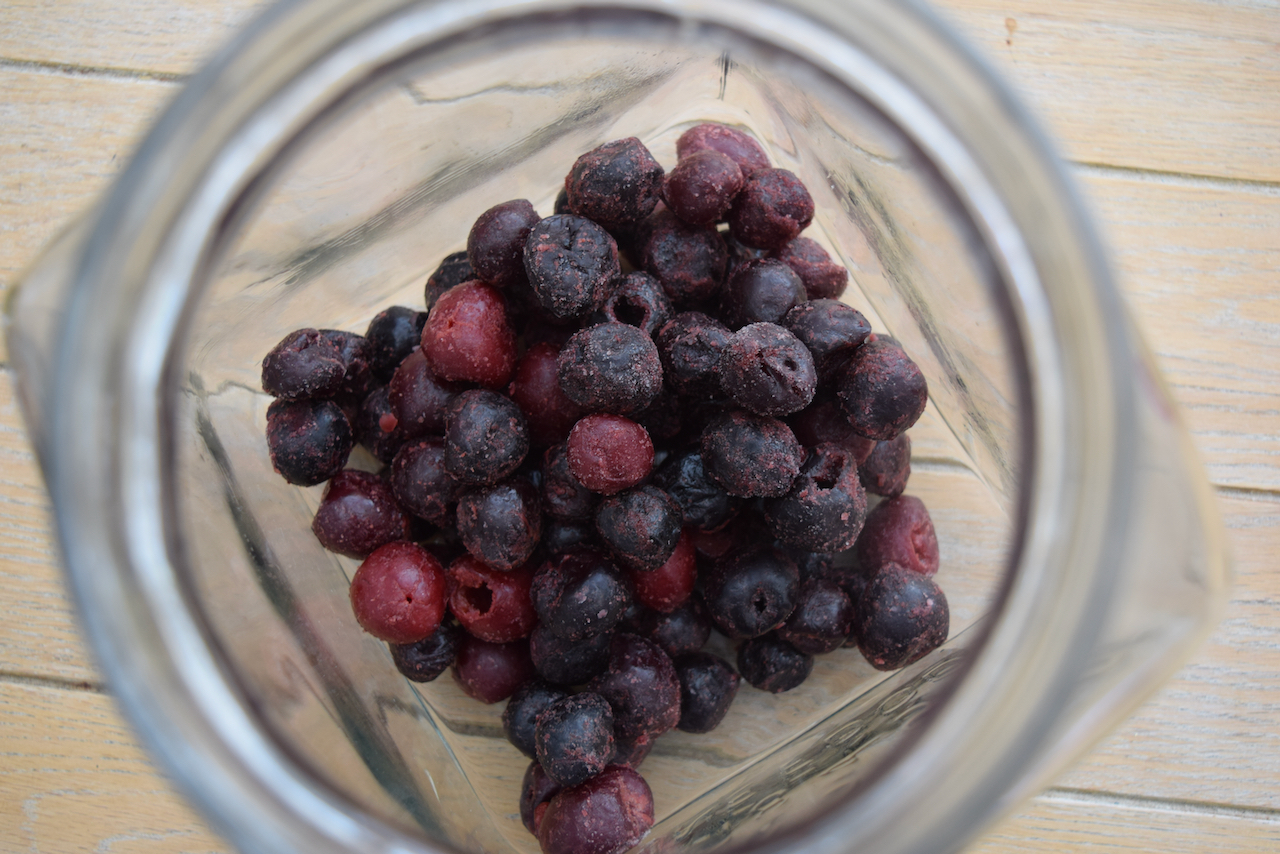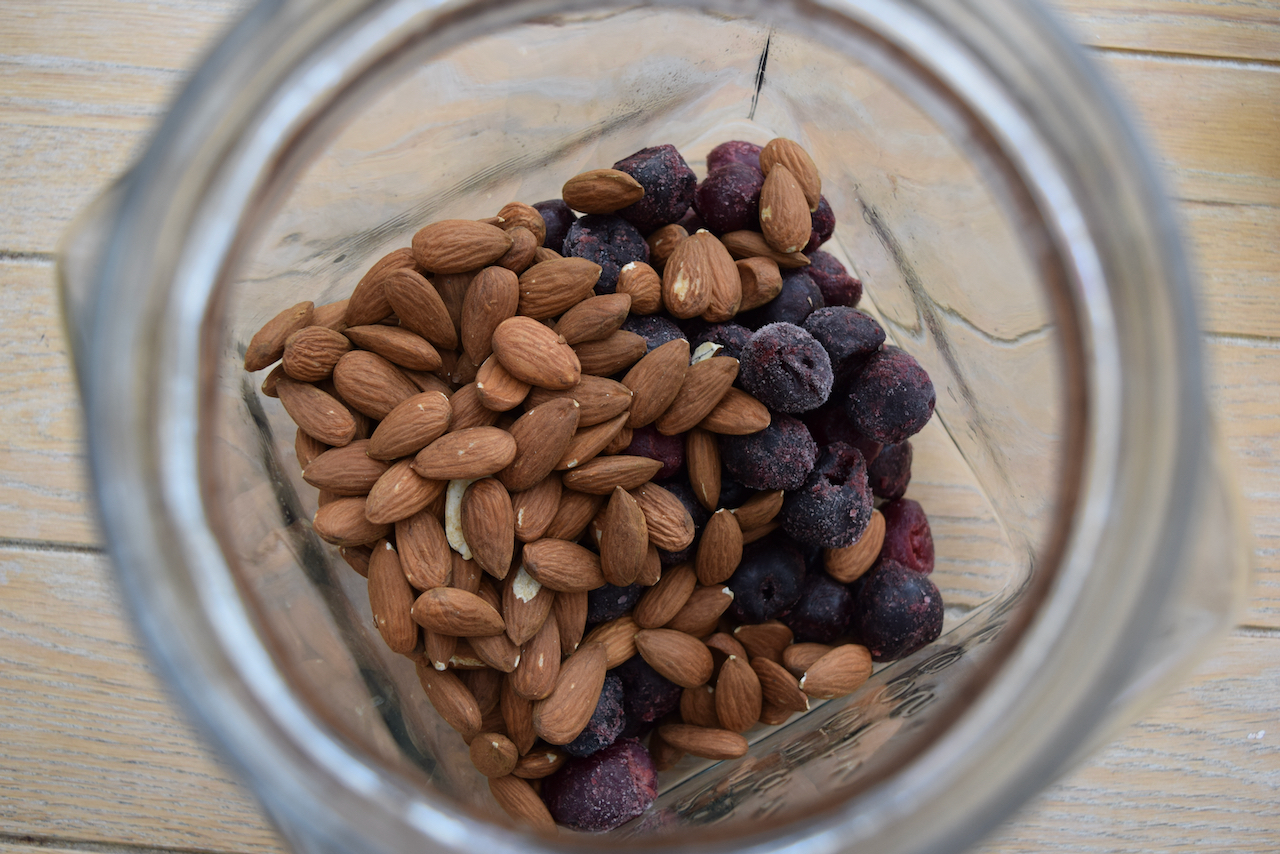 Pour in the whole litre of vodka then give the jar a big stir.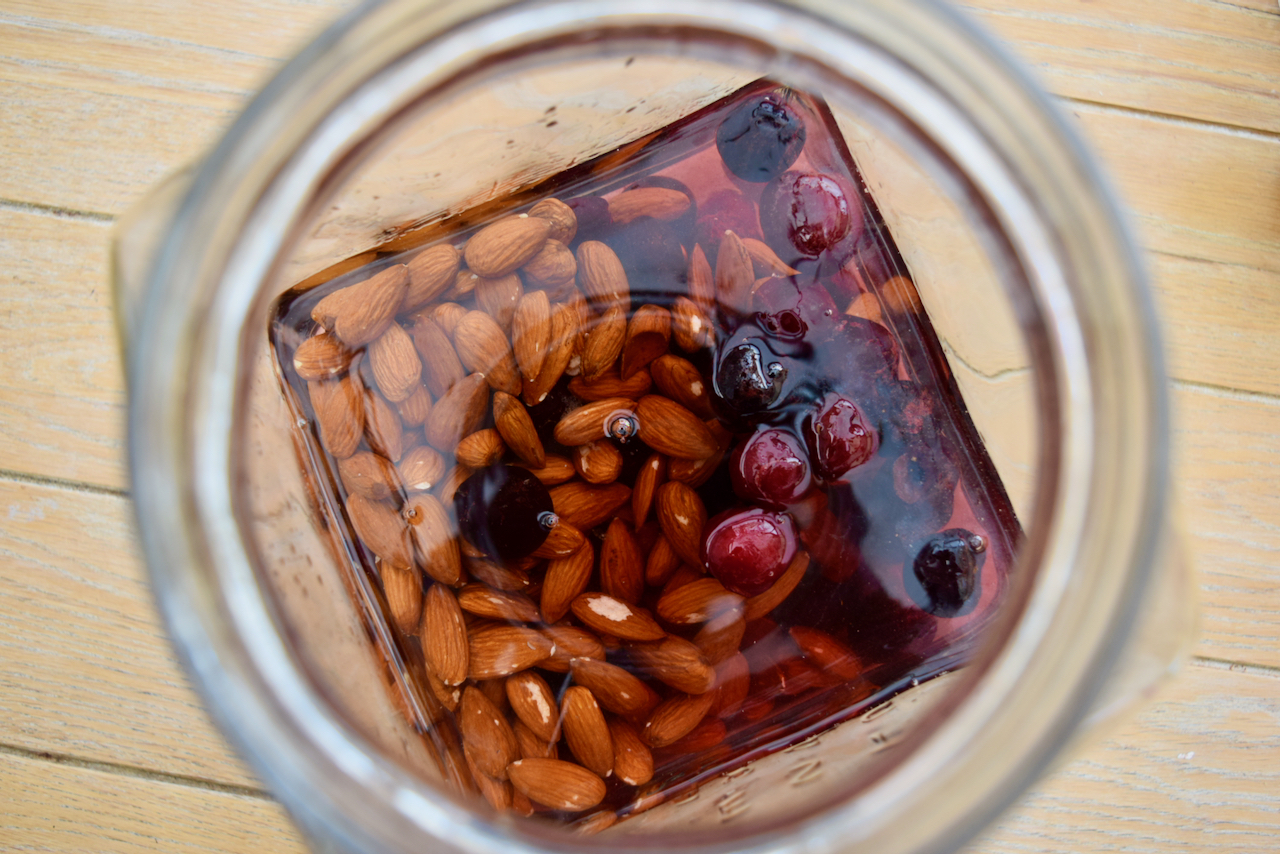 Pop a lid on and leave to marinade for at least 2 weeks, 3 is best. Give the jar a bit of shake every week or so to make sure it's doing it's thing.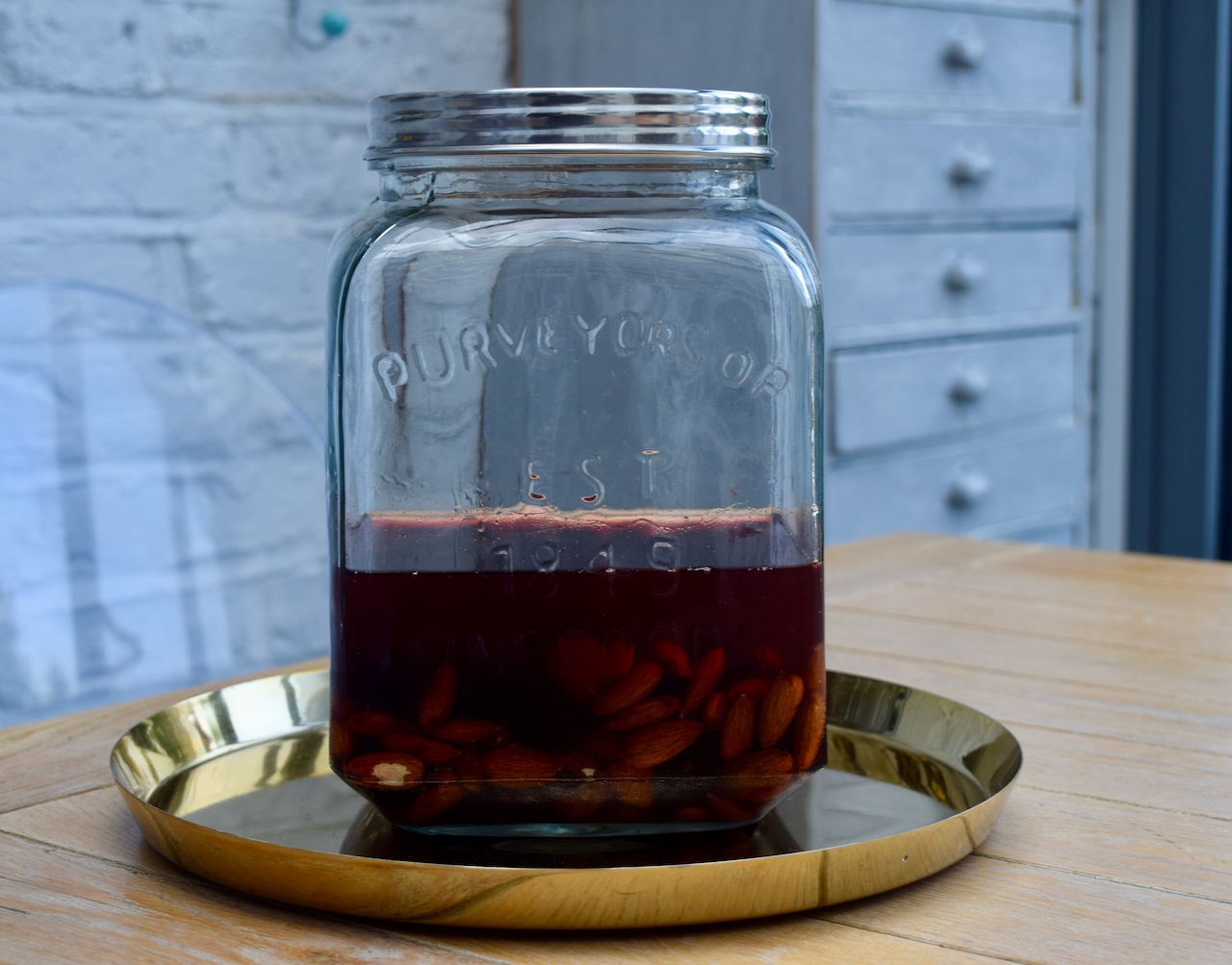 When the agonising wait is over, it's time to strain your vodka. I used a sieve and a coffee paper but you could use a clean tea towel.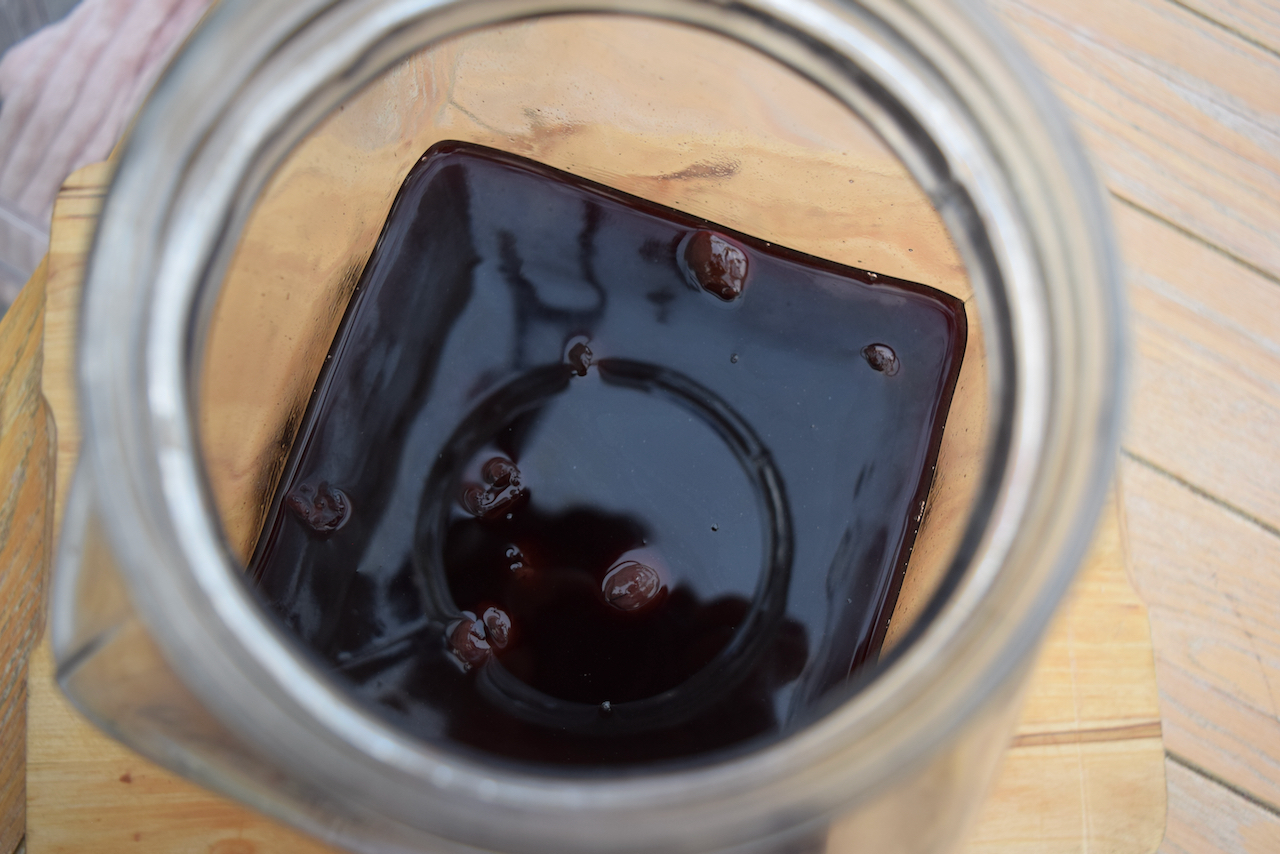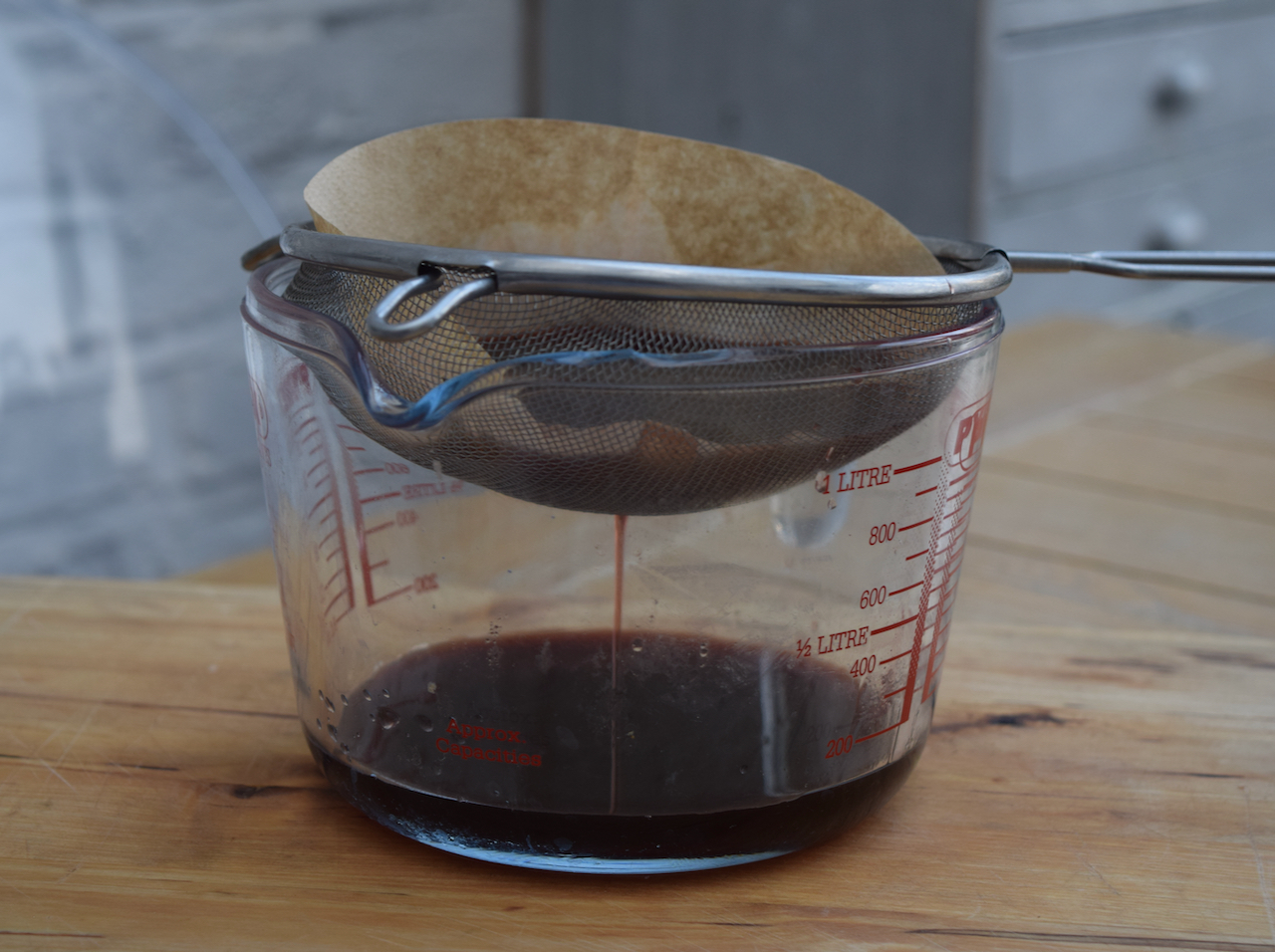 Once your precious liquid has filtered through, stir in your sugar to taste. I went for 3 tablespoons, but try less first, you can always add more.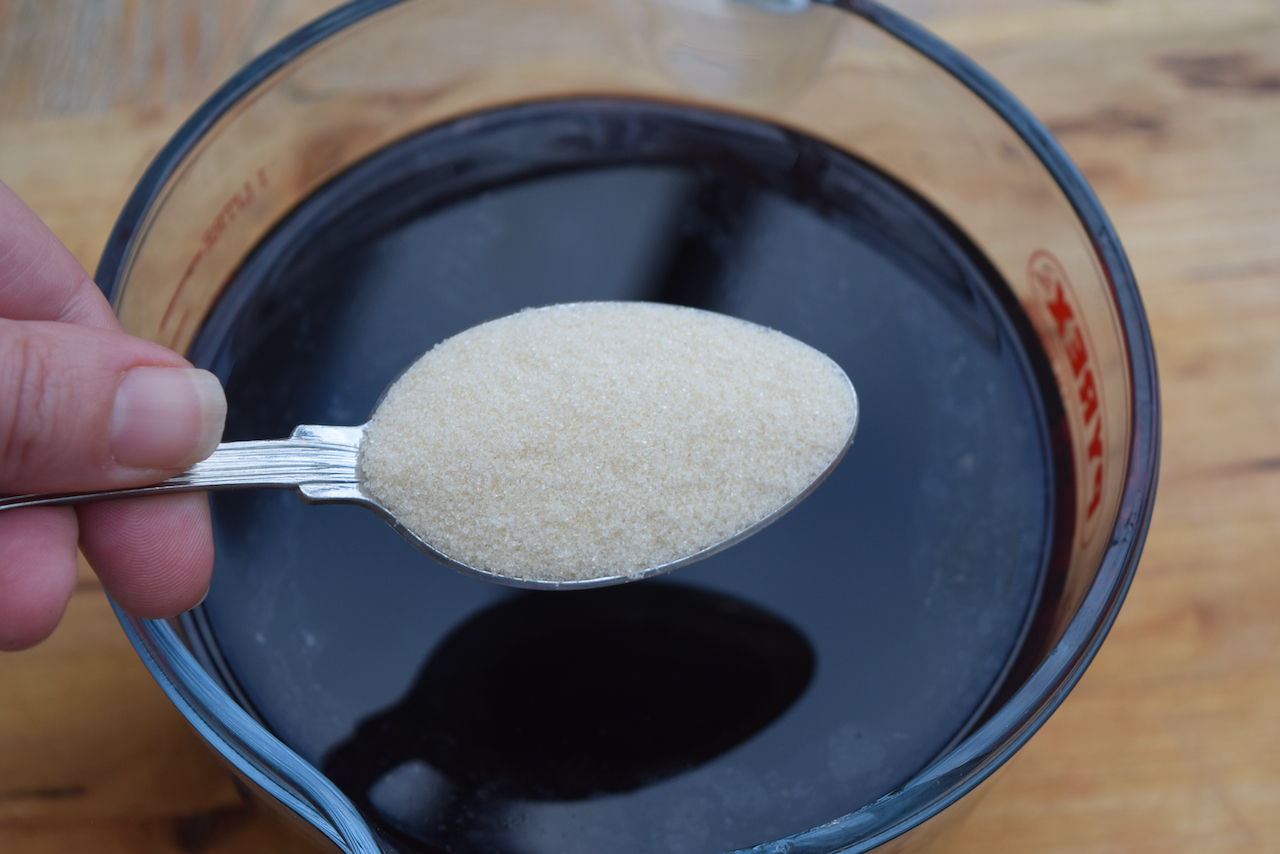 Once the sugar has dissolved pour the Cherry Bakewell Vodka into your clean bottles.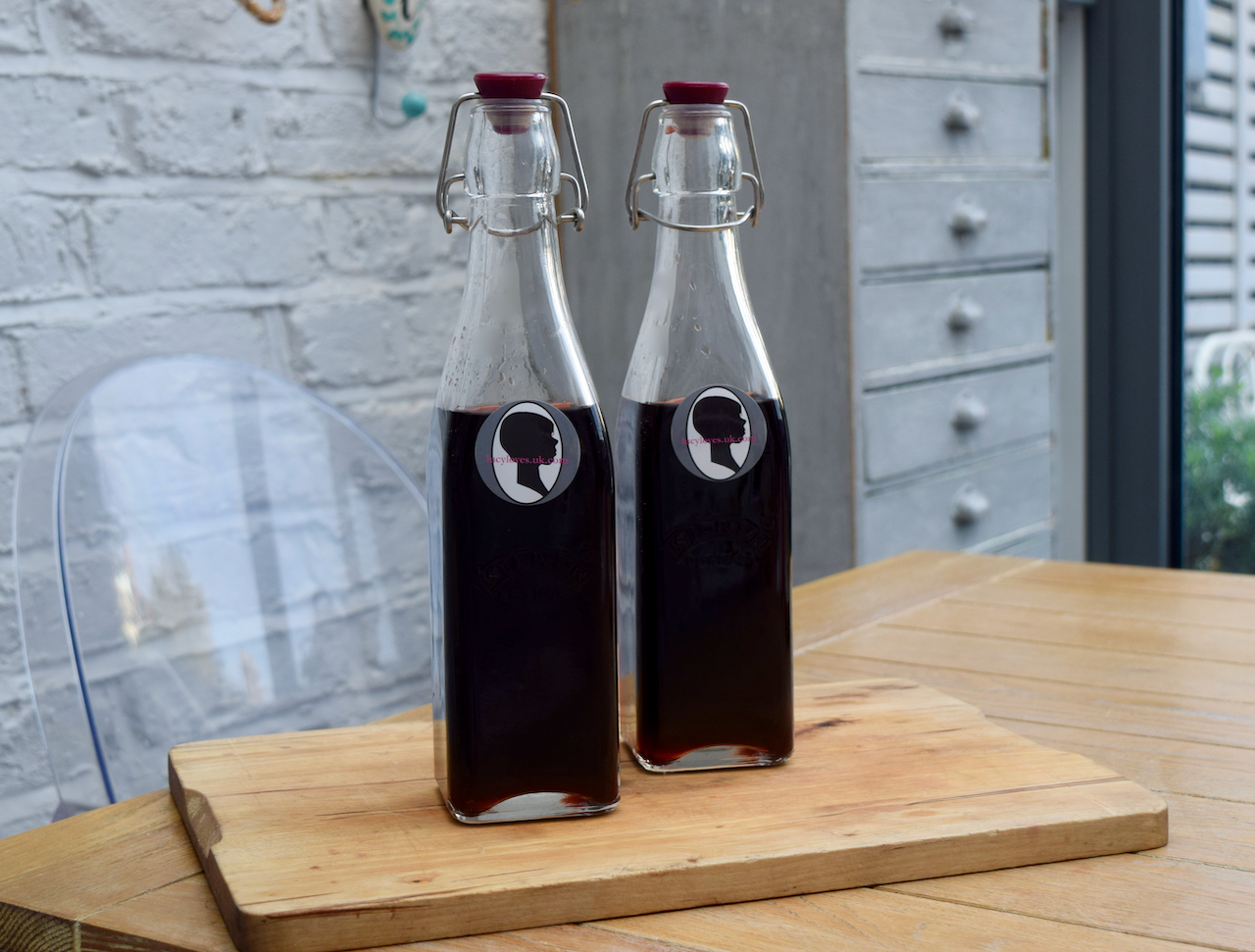 Now all that's left to do is chill, ready to serve in your shot glasses. I'm showing off new ones I bought to replace the crappy plastic glittery ones from the boys stockings last year.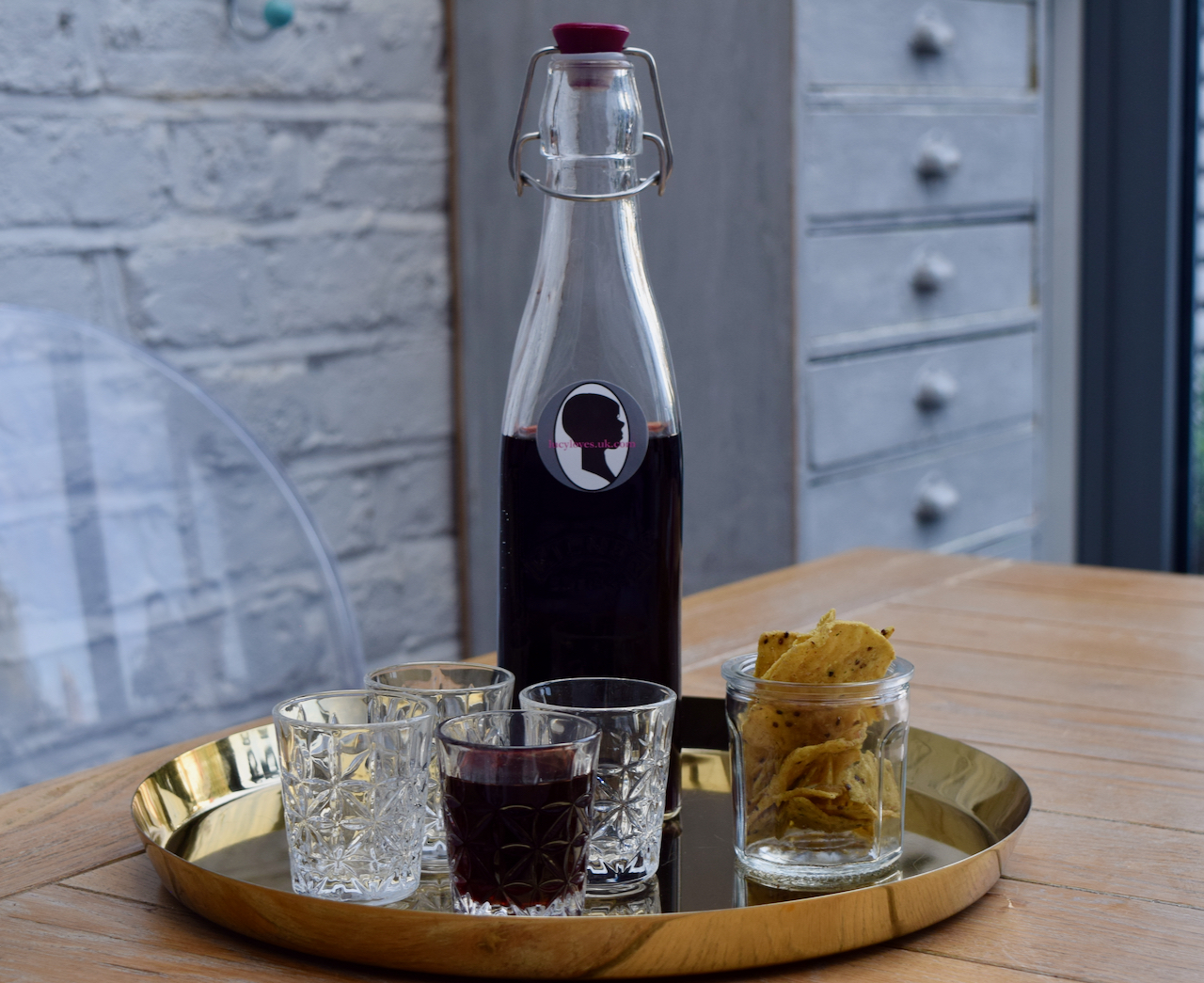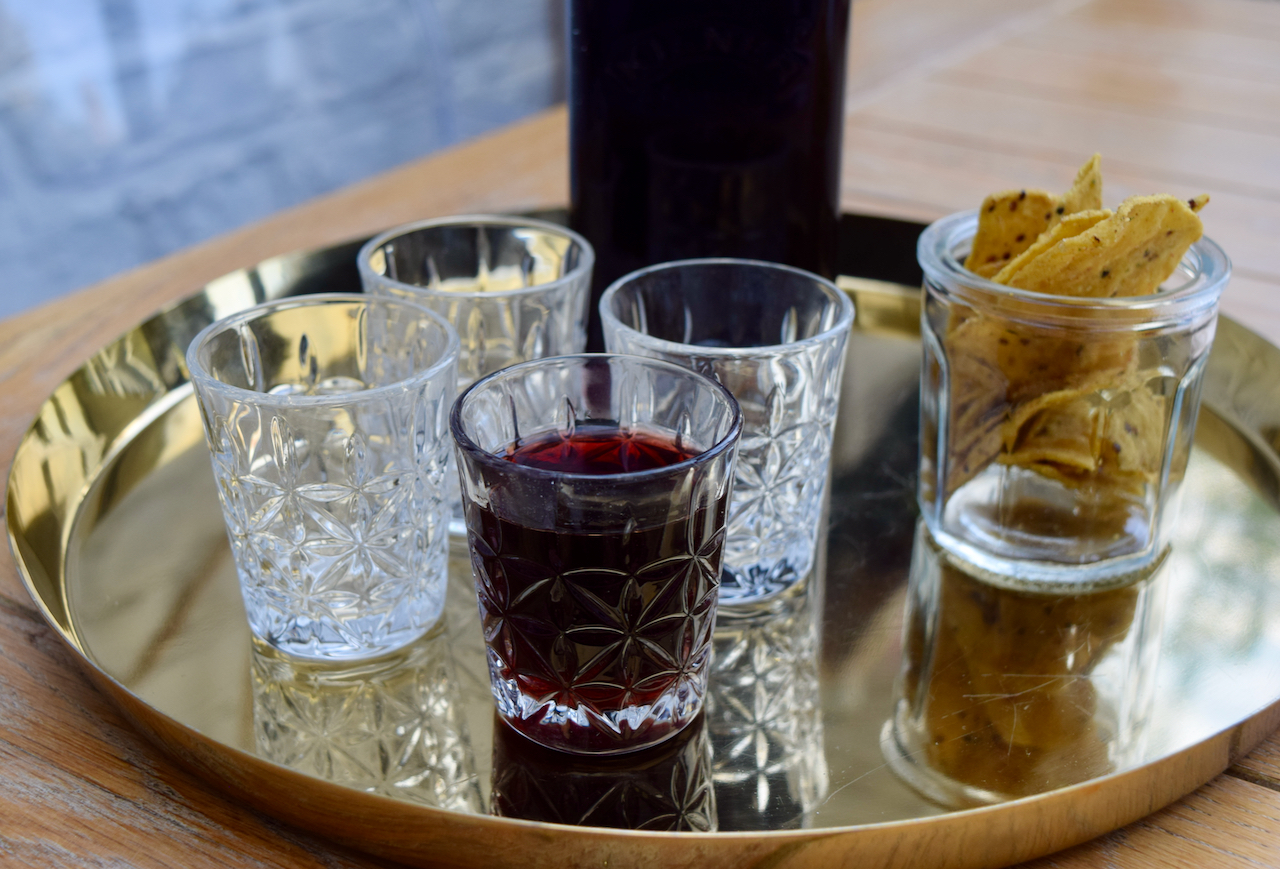 I know it's a bit early to be talking about Christmas but everyone's world has been turned upside down, so sod it, I'm starting early this year. Shots anyone?
Lucy x
This post contains an affiliate link to Amazon. Should you choose to buy through this link Lucy Loves will receive a tiny commission at no extra cost to you. Thank you x
Cherry Bakewell Vodka recipe
Makes approx 1 litre
You will just need a large jar and bottles to store your Cherry Bakewell Vodka
1 litre vodka
400g frozen cherries
200g almonds
Caster sugar, to taste, I added 3 tablespoons
Shot glasses to serve
Take a large jar and add the frozen cherries. Tip in the almonds then pour on the litre of vodka. Stir well, pop a lid on then leave in a cool dark place for 2 to 3 weeks. Give the jar a bit of a shake every week or so.
When the time is up, filter the Cherry Bakewell Vodka through a coffee paper or muslin over a sieve into a jug.
Stir in 2 to 3 tablespoons caster sugar, tasting to check if the vodka is sweet enough. Once the sugar has dissolved, pour into your storage bottles. Chill in the fridge then serve in delicious chilled shot glasses.
The Cherry Bakewell Vodka will keep for at least a year in a cool dark place.