Apple and Cranberry Mule Recipe
Winter is well and truly on it's way. On my dog walks this week, we've gone from scuffing through crisp, golden crunchy leaves to nearly slipping arse over tit on squelchy, soggy brown leaves. We are heading for another cold snap too, and as we speak I have just added a third log to the fire. With the winter comes traditional winter flavours. Apples, ginger, cranberries and vodka *I'm making that last one up*, with those in mind this Cocktail Friday I will be having an Apple and Cranberry Mule.
This is not really a traditional Mule, it's Mulesque if you please.  As an unpretentious boozer, I can confirm this Apple and Cranberry Mule is fantastic. It's refreshing, crisp and features one of my childhood favourites – fizzy apple juice. As a child when we went to our parents friends houses, us children were allowed Appletiser as a special treat. For years I thought it was alcoholic, and for years I was disappointed cider didn't taste like Appletiser, in fact I still am, and still can't bear cider. When a splash of this retro fizzy apple drink is combined with seasonal cranberry juice, ginger ale and vodka, not only does it become a grown ups drink, it becomes completely delicious.
Even though it's turning colder this weekend, there's no need to just drink mulled drinks or hand warming hot chocolate based items. This Apple and Cranberry Mule is seasonal in a fresh, crisp way, so let's embrace the latter part of November as we hurtle towards more chaotic times.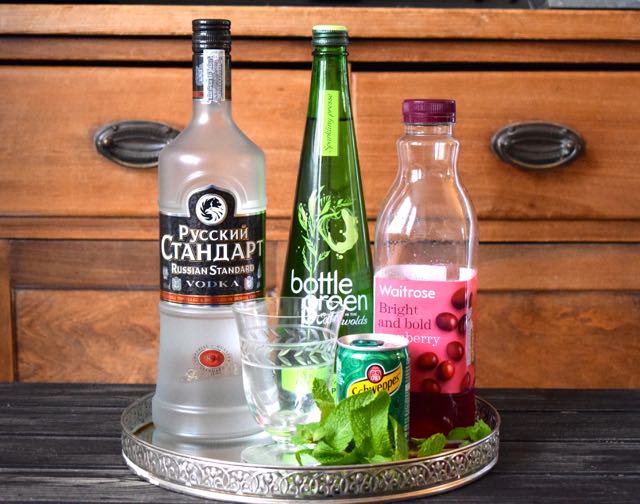 What a beautifully seasonal little collection. And colourful, which is one is of my favourite words, incidentally, and for no particular reason.
Make a start on this by taking an attractive glass and adding a good handful of ice.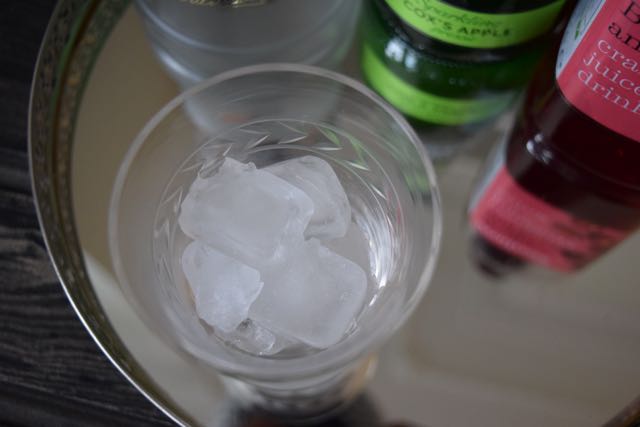 Add some fresh mint, a good few leaves, then give it a slight muddle to release the minty freshness.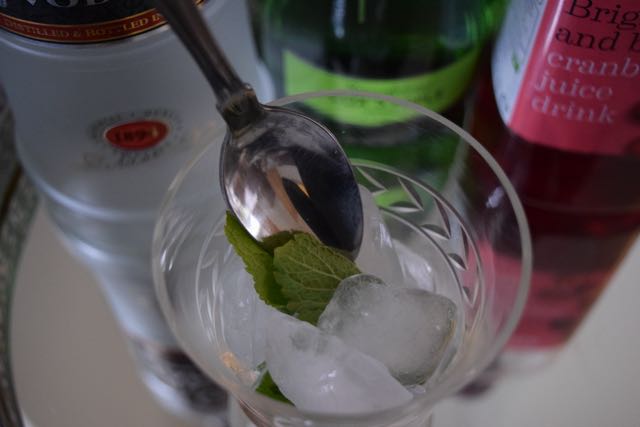 Pour in the vodka, the warming part of this cocktail then the colourful cranberry juice.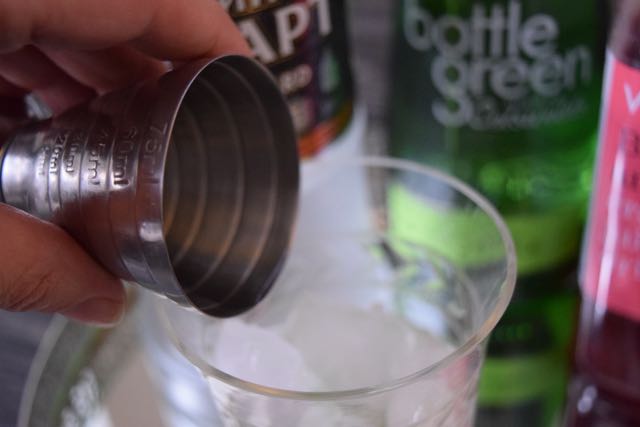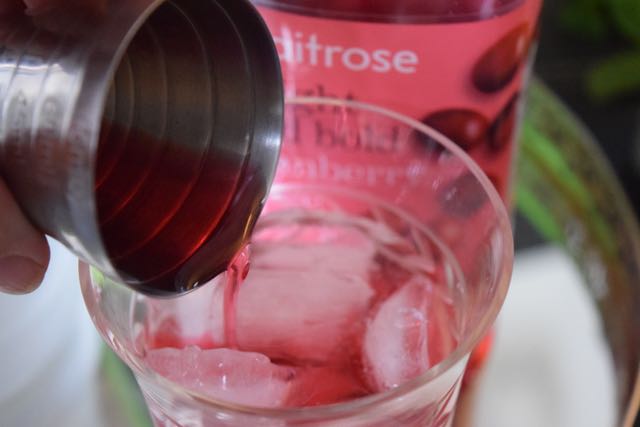 Next for a touch of spritz pour on the ginger ale and my much loved fizzy apple juice, then stir.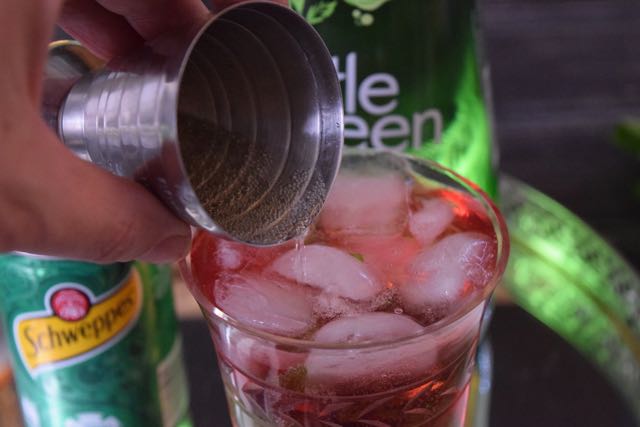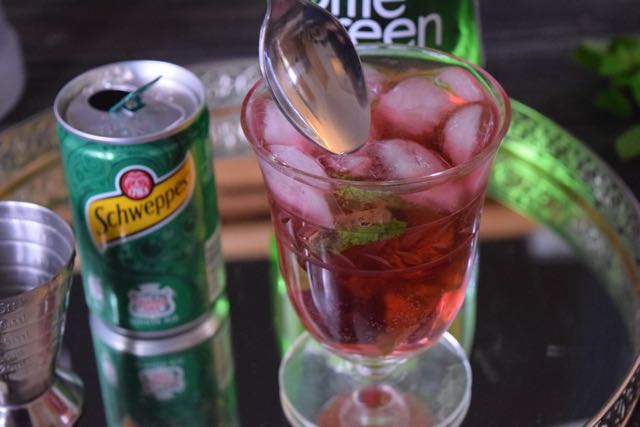 Garnish with some more mint and a sliver of apple.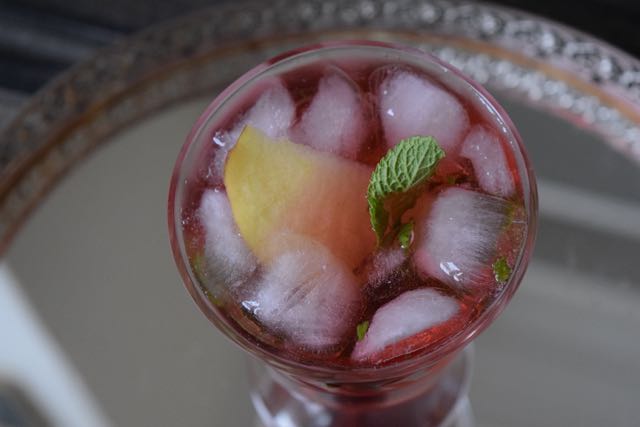 Then drink this pretty, fresh, comforting cocktail.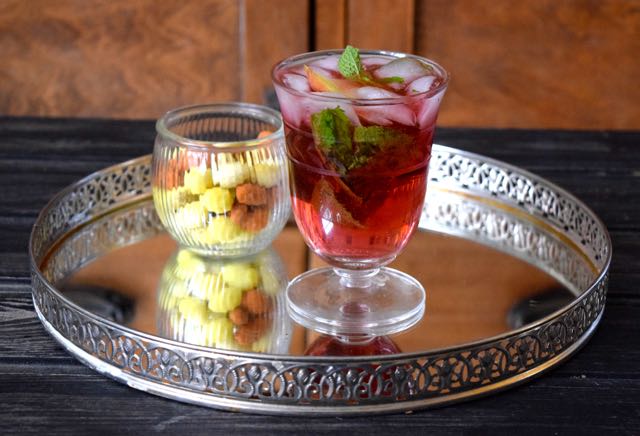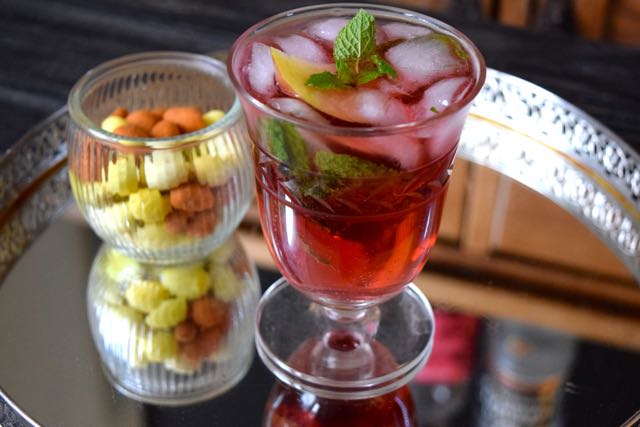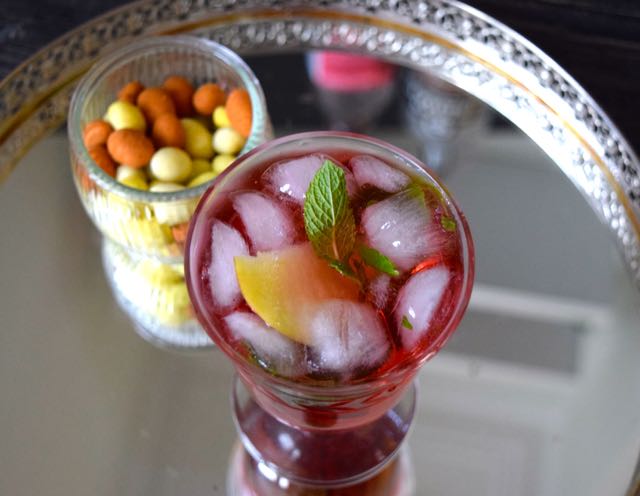 I can feel the pace stepping up as we hurtle towards December. Soon the panic Christmas shopping will be added to all the other things biting me on the arse *dust, light fittings, dust, work surface*, so it's important to sit down on a Friday and to take a moment. I am trying to be mindful of how lucky I am to have these frivolous things to worry about, rest assured I will be feeling thankful as I enjoy my Apple and Cranberry Mule.
Have a restful weekend.
Lucy x
Apple and Cranberry Mule Recipe
You will need a good sized glass
Makes 1
A handful of ice
A good sprig fresh mint
40ml vodka
40ml cranberry juice
80ml sparkling apple juice/Appletiser
80ml ginger ale
Fresh mint, apple slices or cranberries to garnish
Take a good sized tumbler and add a handful of ice. Add the sprig of mint and give it a bit of a muddle to release the minty oils.
Pour in the vodka, cranberry juice, sparkling apple and ginger ale.
Stir then garnish with more mint, an apple slice or fresh cranberries. Sip and enjoy.