Apple Pie Cocktail Recipe
On Wednesday his week it was National Apple Day. What a classic that is in the fruit based celebration calender. One of my favourites, second only to Raisin Day (30 April, in case you were wondering). So this Cocktail Friday, to honour this momentous day, let's have an Apple Pie Cocktail.
I modified the original recipe I found to include more standard drinks so I didn't have to refill my newly tidied drinks cabinet. This wonderful warming drink includes Apple or regular vodka and whisky instead of Fireball cinnamon liqueur. But do feel free to use this if you have it in your impressive drinks collection. These changes have not spoiled the drink, it has warming, spiced qualities, but is still refreshing and drinkable. I had some leftover apple Vodka which needed using up and added extra apple flavour, but normal vodka would be just as good here. Don't scrimp on the apple juice, a lovely cloudy variety is best here.
So, raise your glass to honour the humble apple. Then raise it again, because this Apple Pie Cocktail is really too delicious to just have one.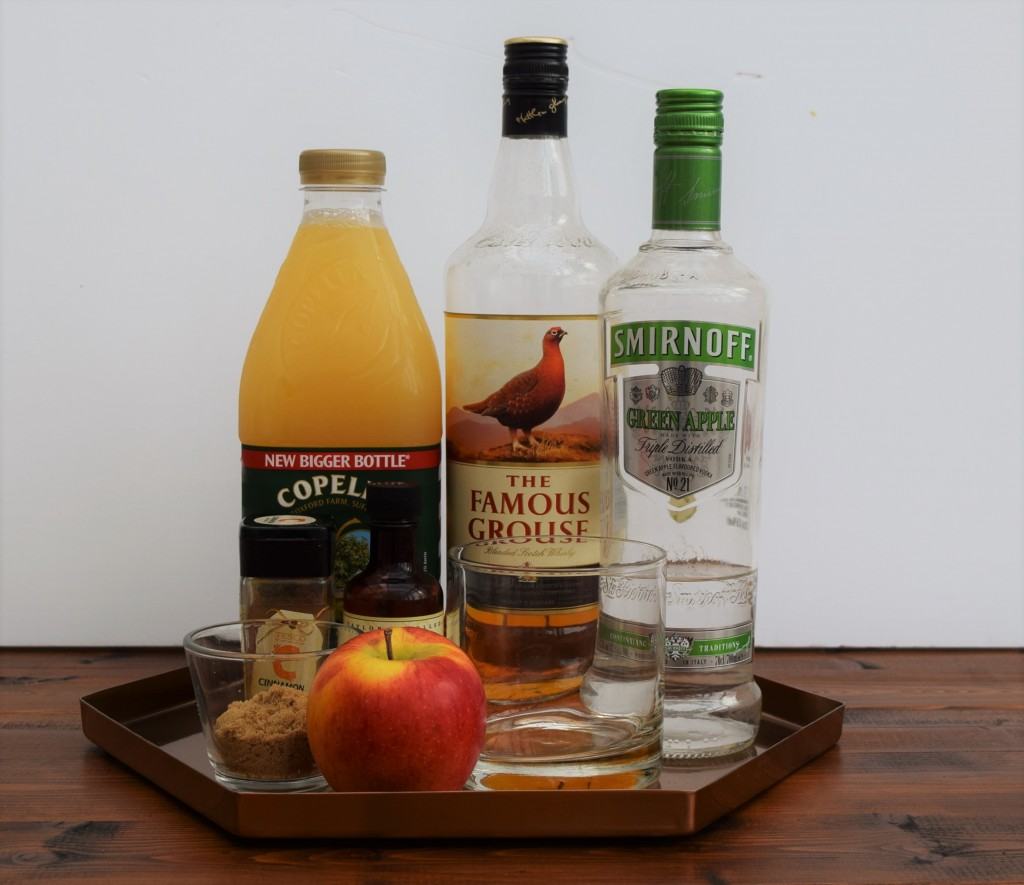 Here's the line-up for this seasonally perfect cocktail. Some classic flavours, all perfect in a glass on a Friday night, or any night if I'm honest.
Make a start by creating a brown sugar rim on the tumbler. I didn't make a great job of this as my glass was too wet, so don't make the same mistake as me. So, not making the rim of your glass too wet, wet it, then dip it into a plate of soft brown sugar.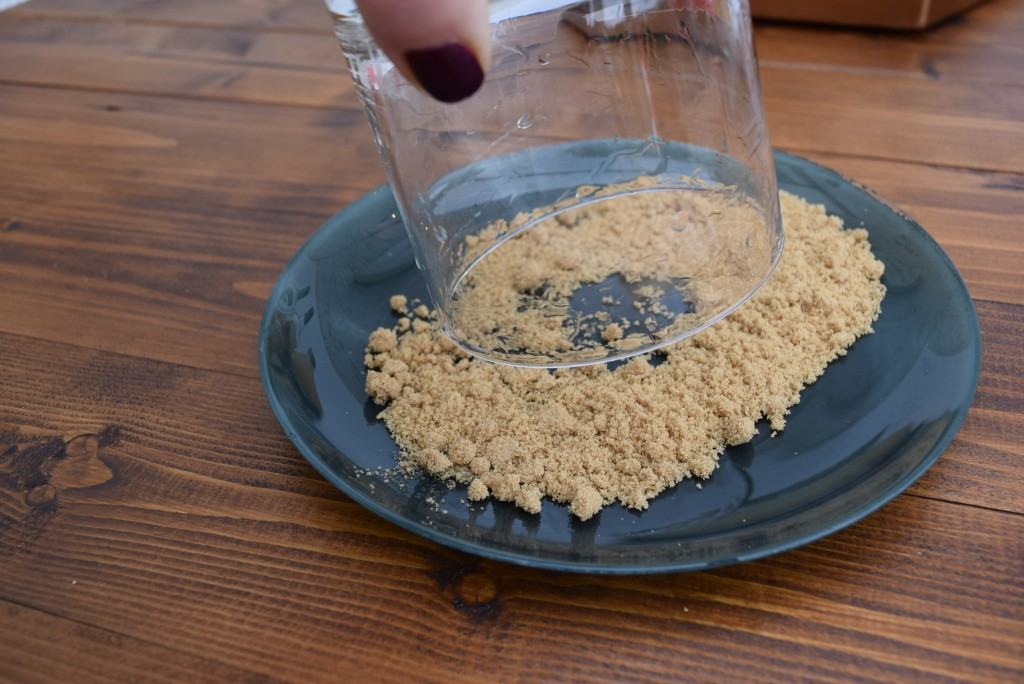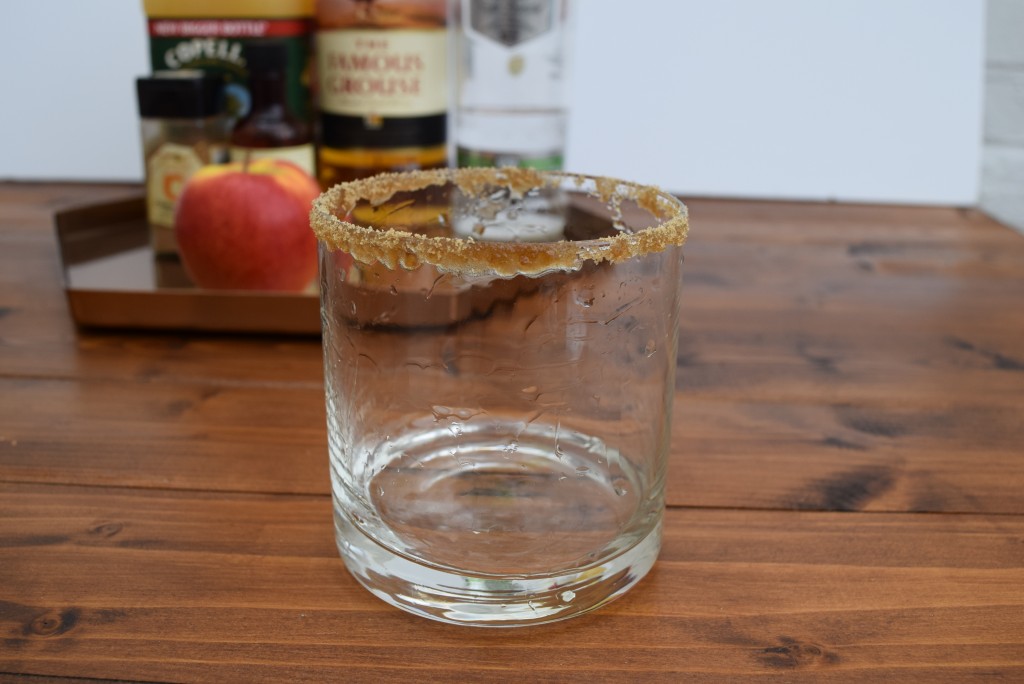 Not brilliant, but lets gloss over my rubbishness. Next, pour your vodka, apple or regular, and whisky into the cocktail shaker.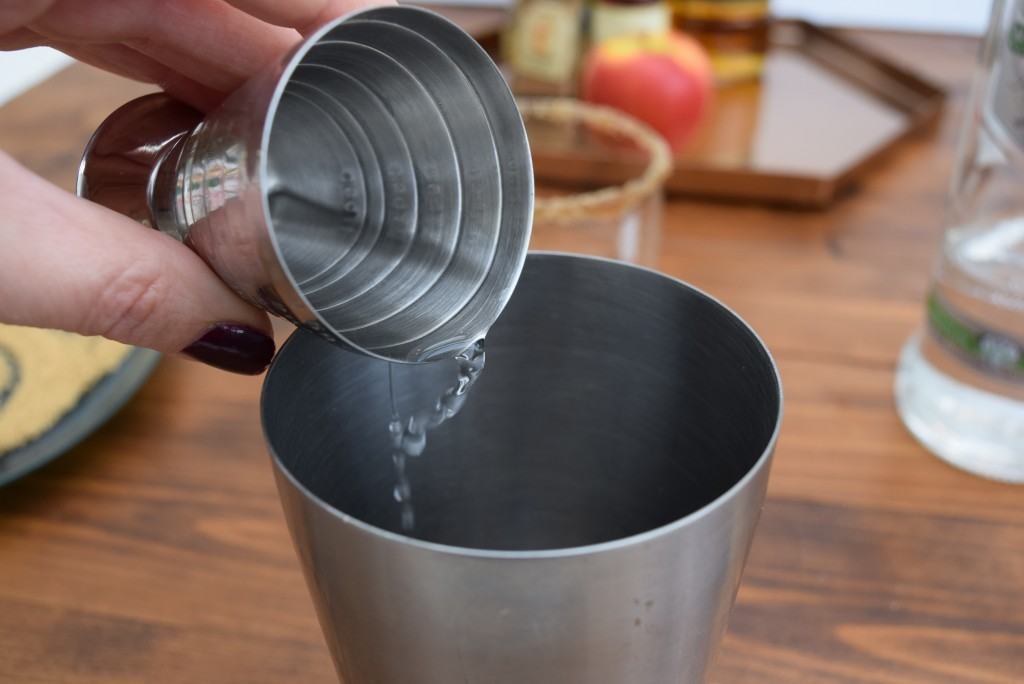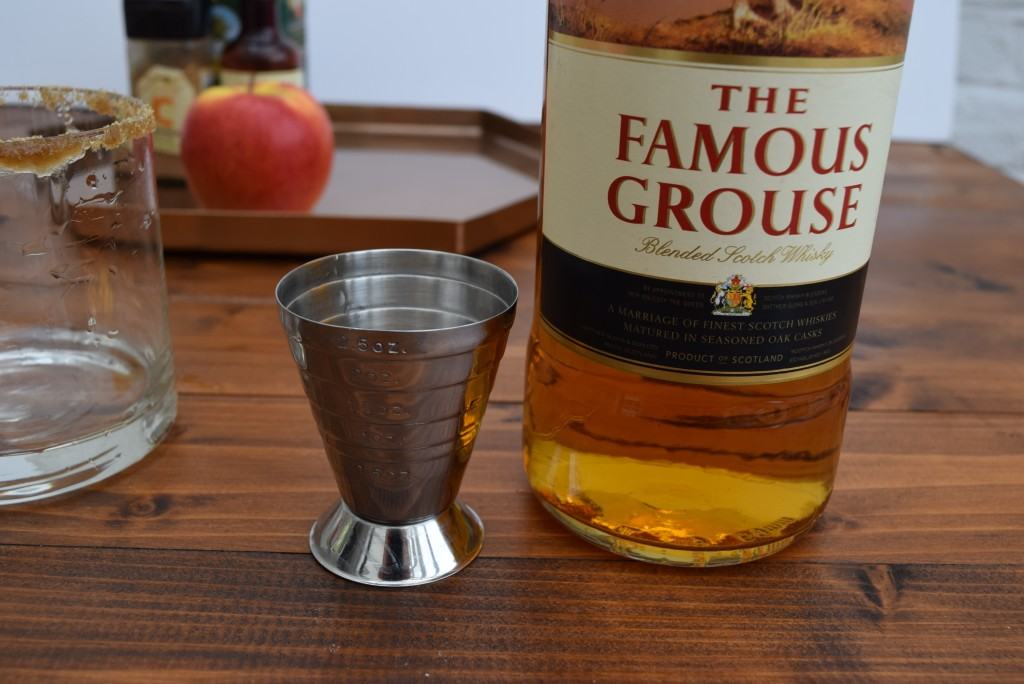 Then pour some cloudy apple juice into the cocktail shaker and add a big handful of ice. Then it's a couple of taps of cinnamon, a few drops of vanilla extract and a good shake to chill.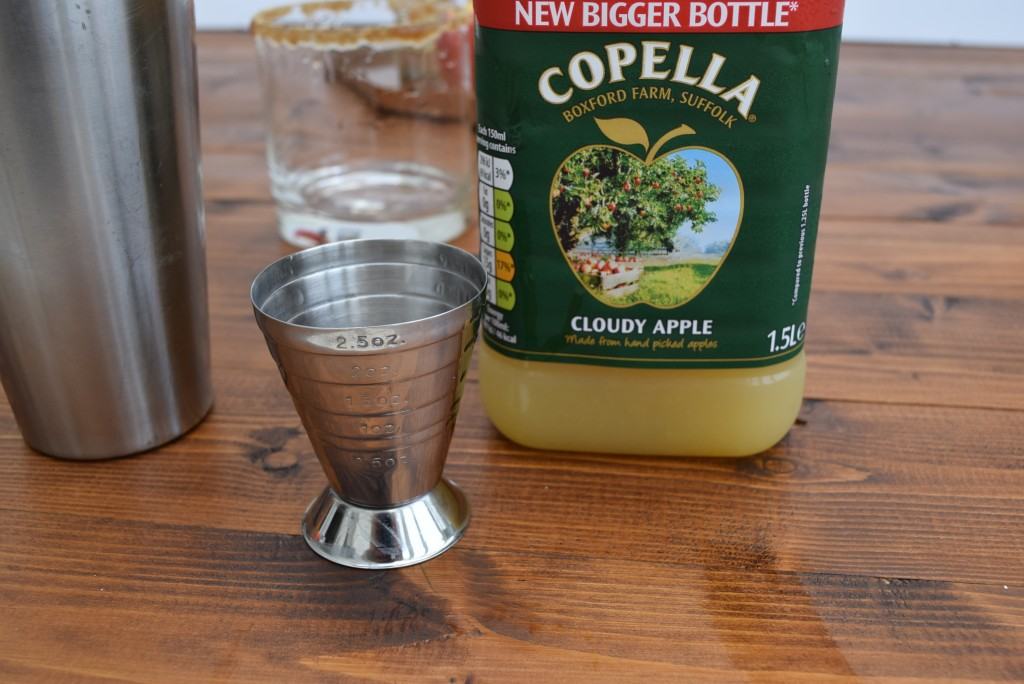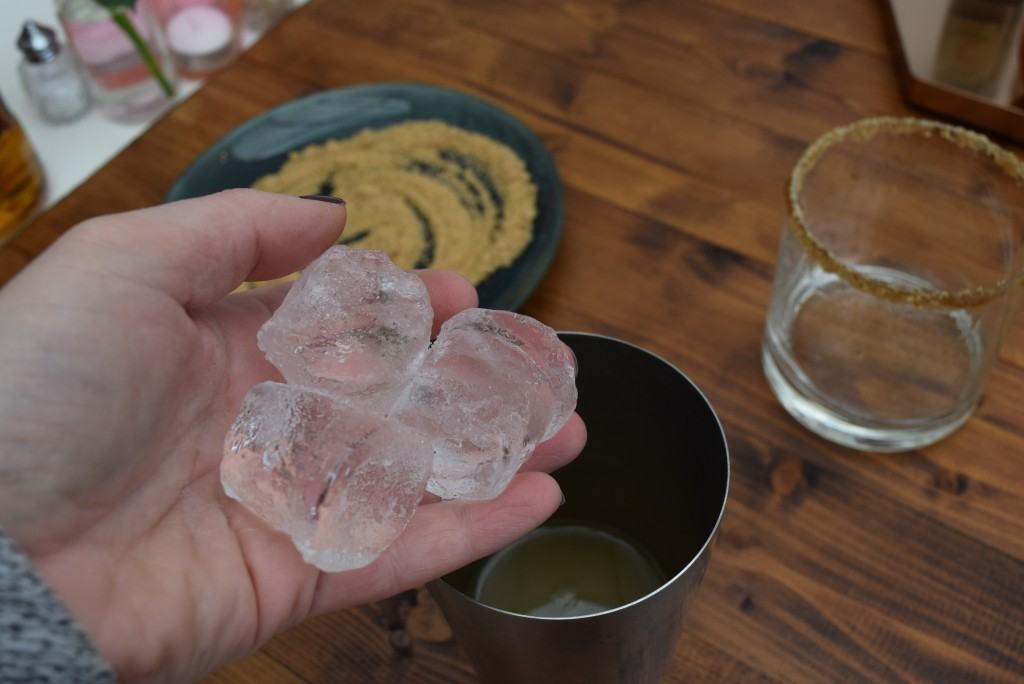 Podgy palm.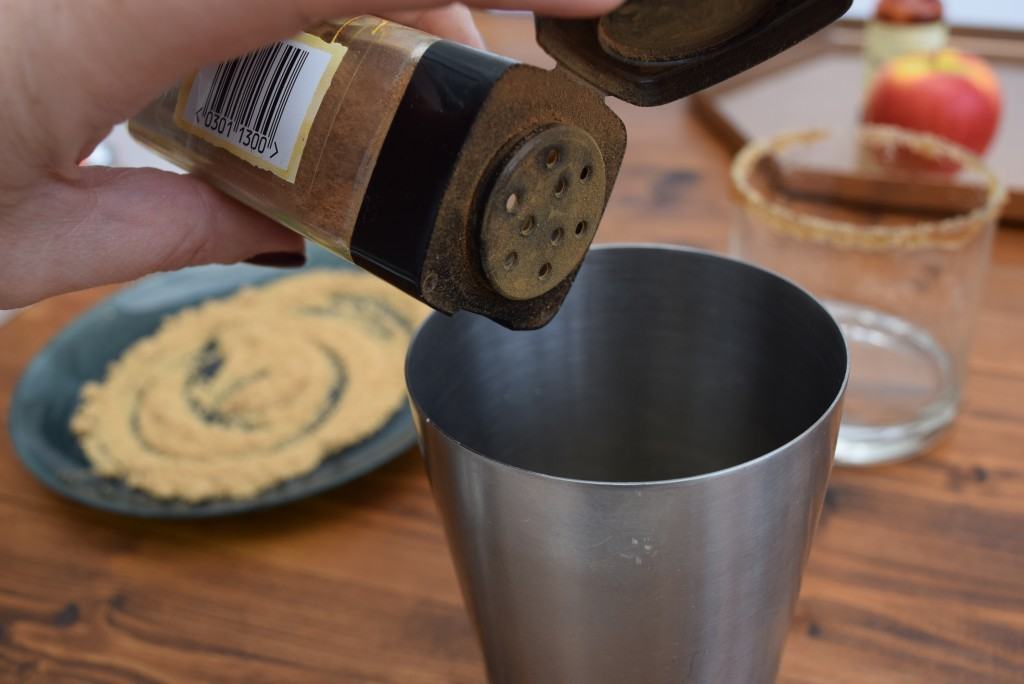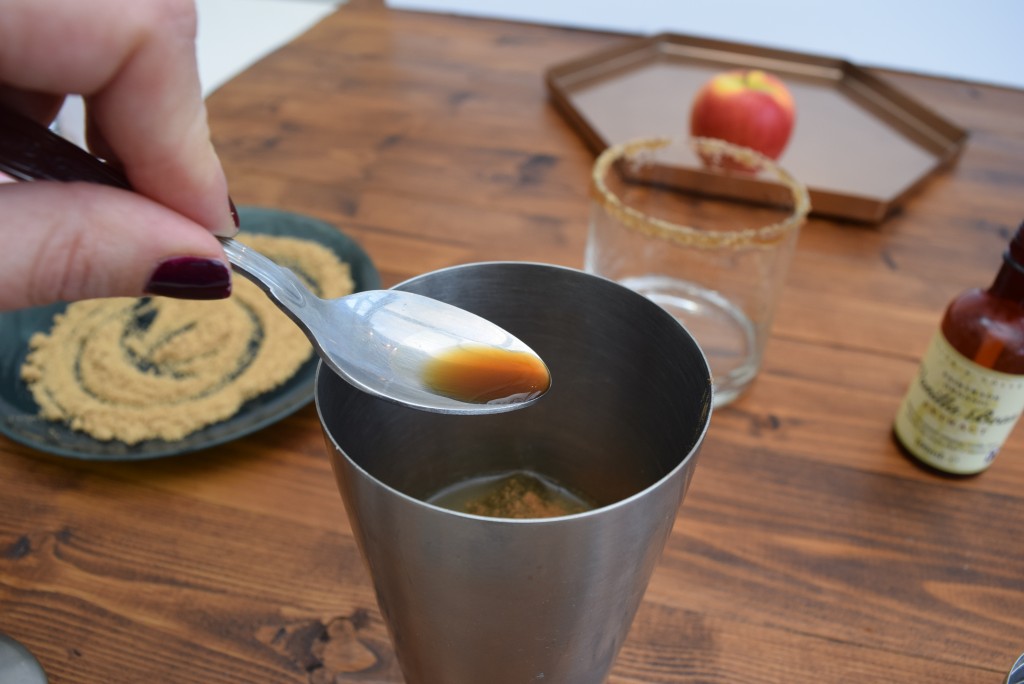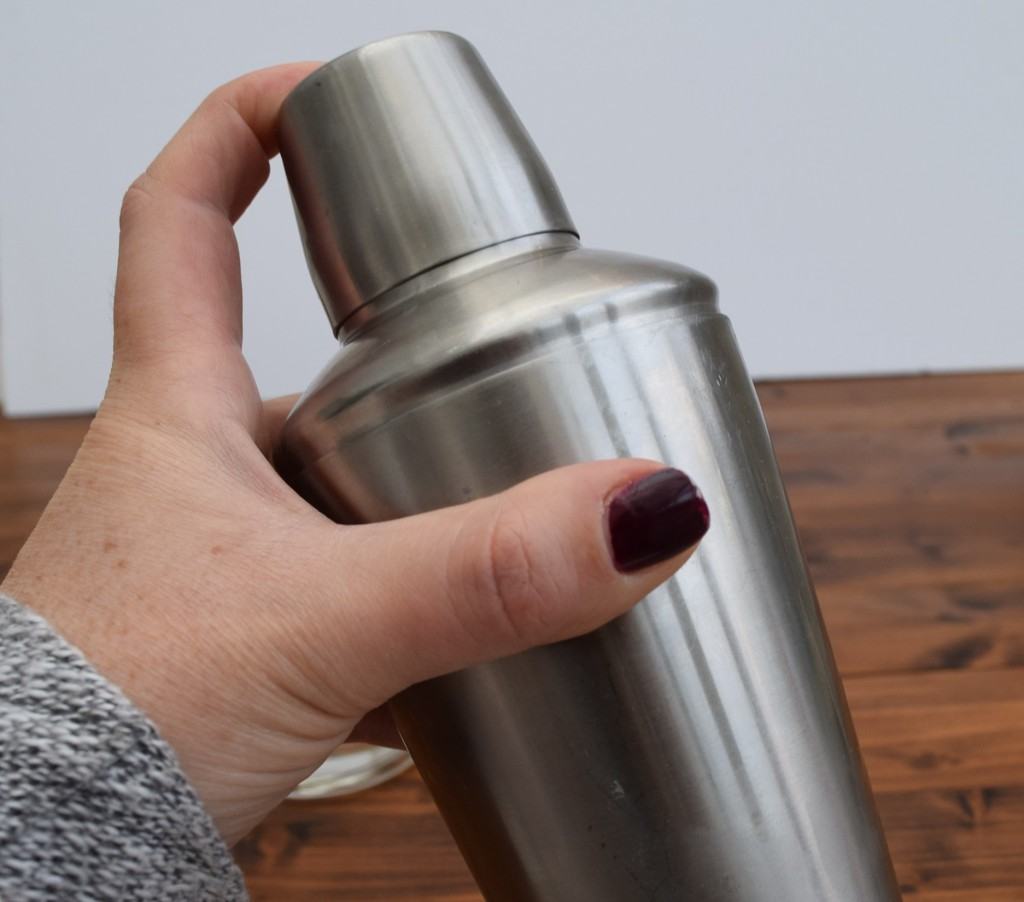 Cut a sliver of apple and pop into your sugar edged tumbler. Then carefully pour in your Apple Pie Cocktail.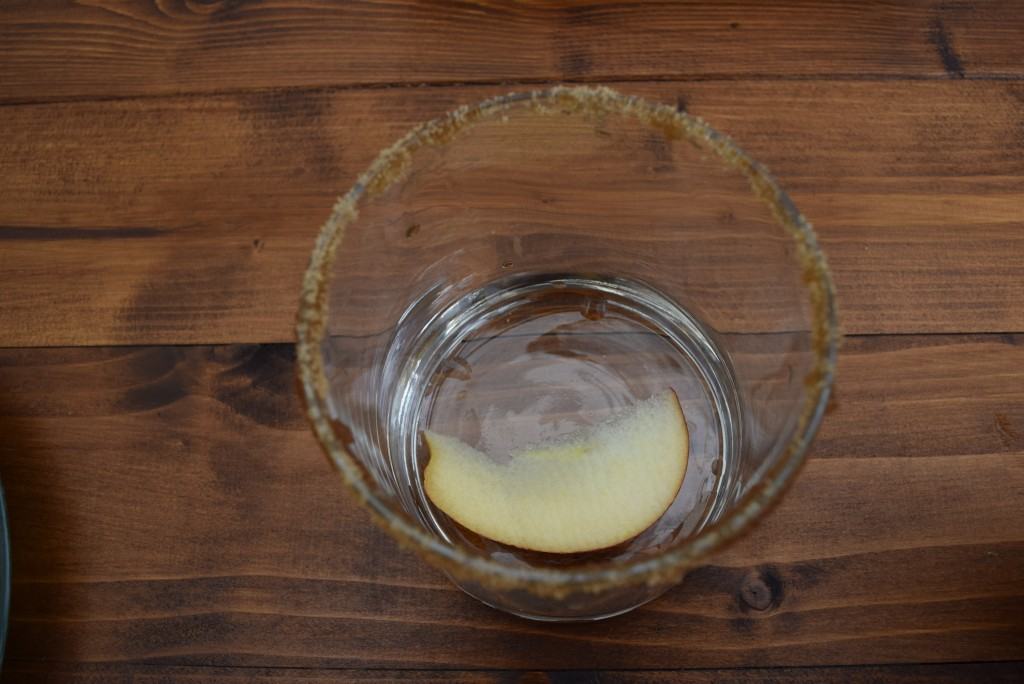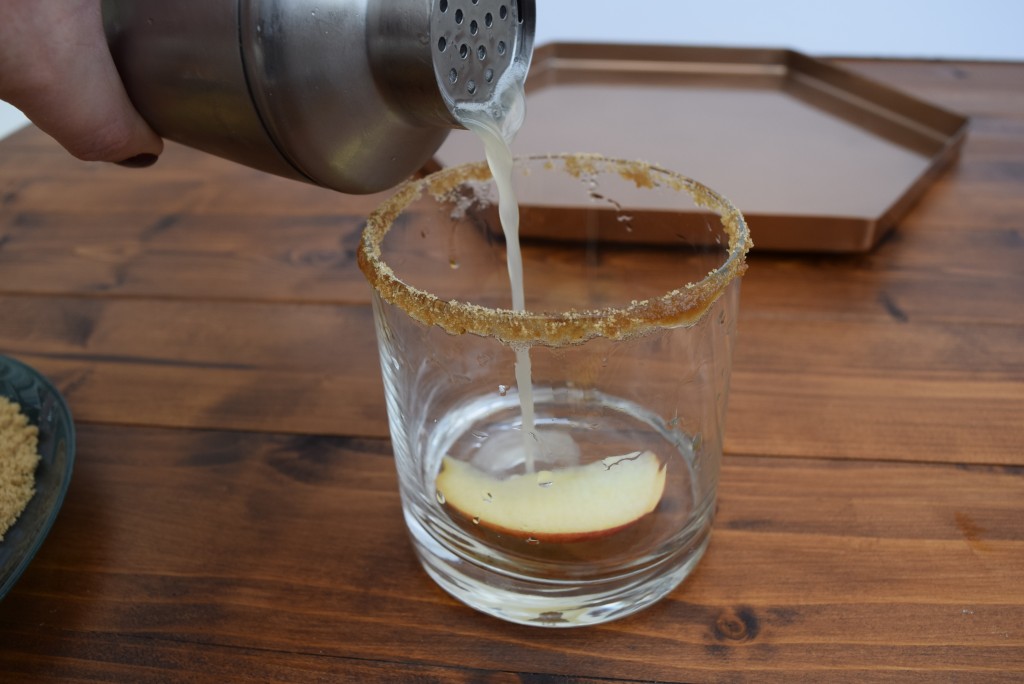 Your delicious, fragrant cocktail is now ready to drink. Serve this with a straw and garnished with a cinnamon stick *I didn't have one*. I added the standard small bowl of nuts garnish too.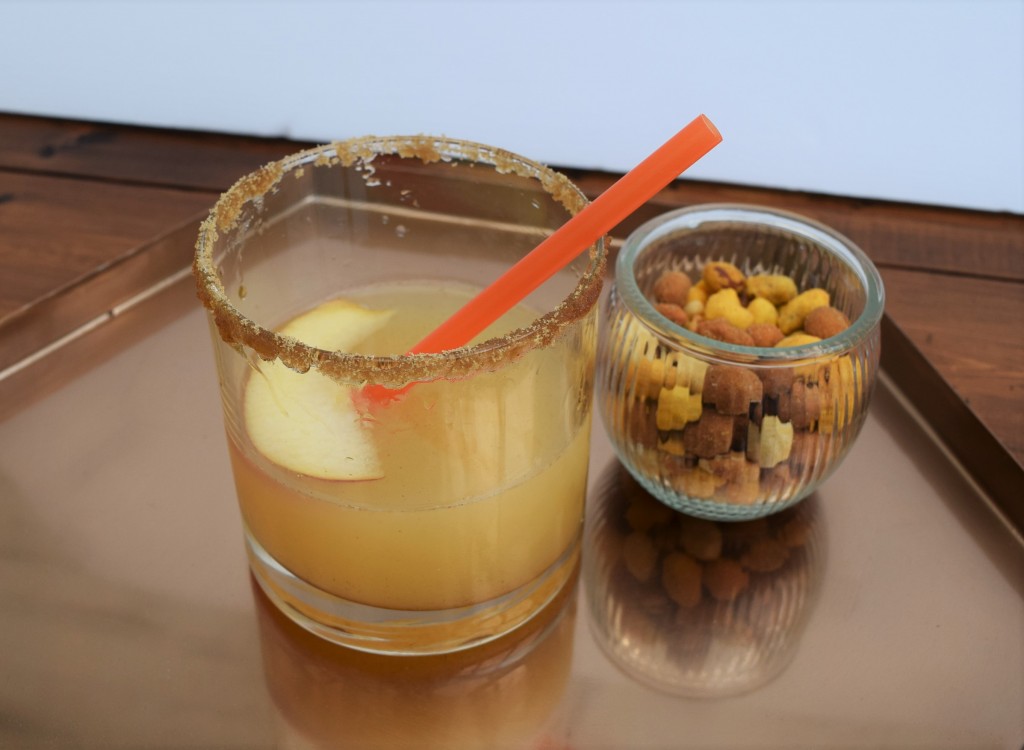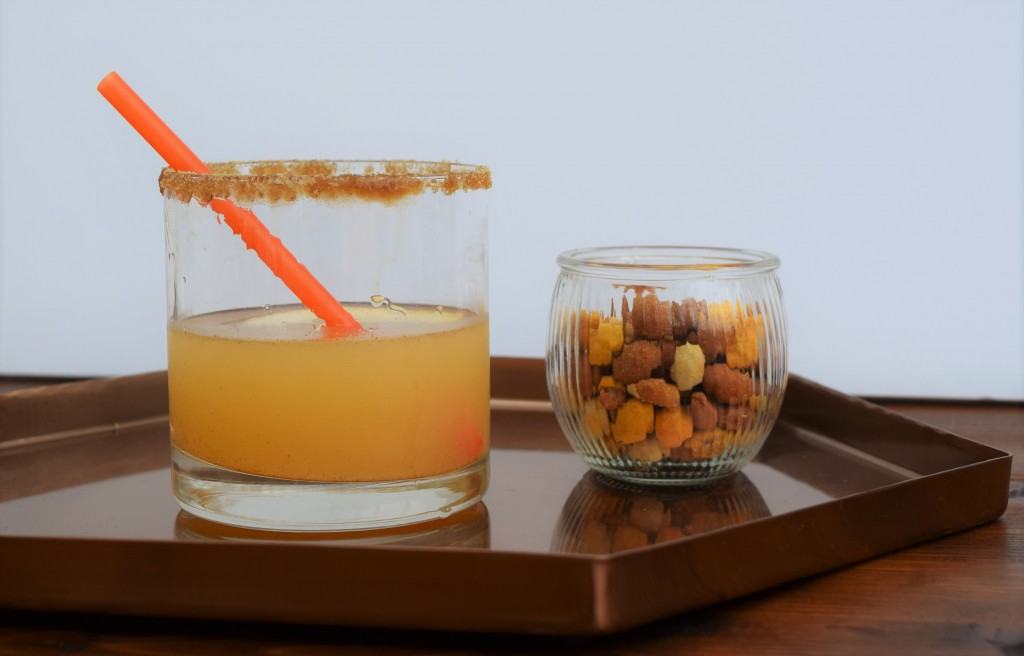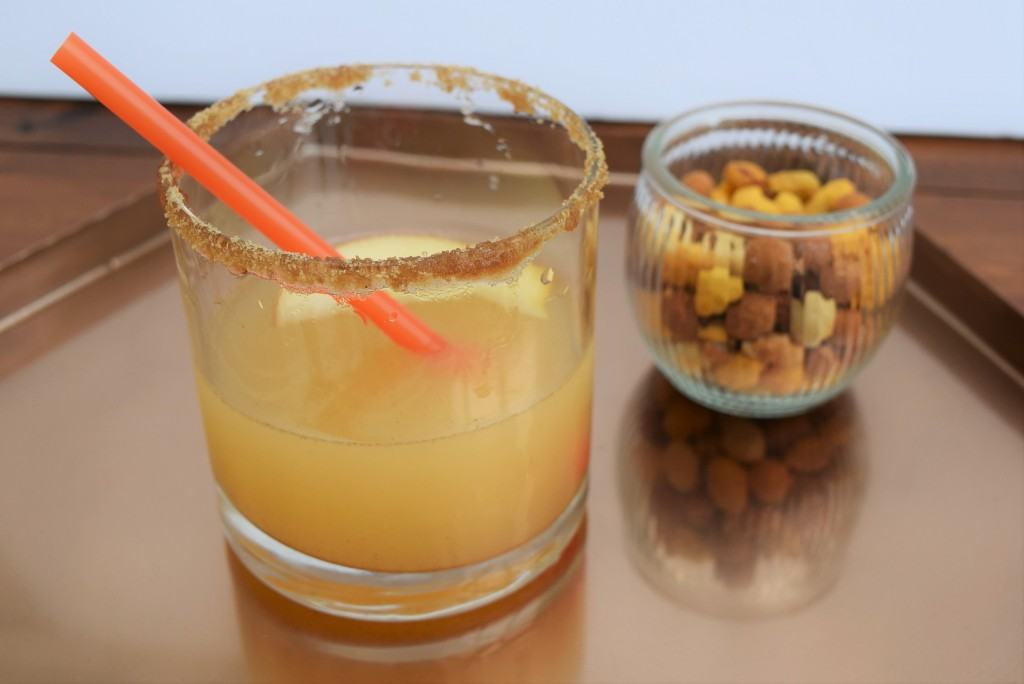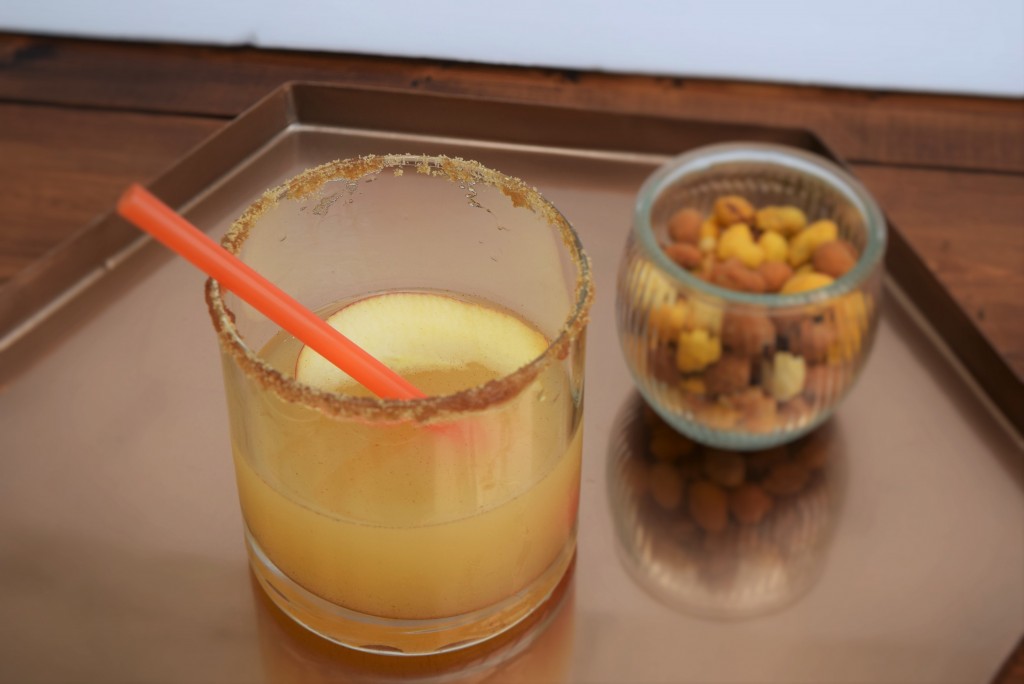 This is autumn in a glass. With the hit of vodka and whisky to liven up those darkening evenings. With the clocks going on this weekend, lets embrace those darker evenings and enjoy the extra hour of drinking time.
Have a restful weekend, lovely people.
Lucy x
Apple Pie Cocktail Recipe
You will need a cocktail shaker and a tumbler
Serves 1
Tablespoon soft brown sugar for decorating the glass
25ml Apple or Vanilla or regular Vodka
25ml Whisky or Fireball cinnamon Whisky if you have it
100ml apple juice, cloudy is good
2 shakes cinnamon
1/4 teaspoon vanilla extract
ice
Apple slice or cinnamon stick to garnish
Take a small tumbler and wet the edge of the glass. Sprinkle the tablespoon of brown sugar onto a plate and dip the rim of the glass into the sugar. Put to one side.
Add the measures of vodka, whiskey and apple juice to your cocktail shaker. Shake in the cinnamon, add the vanilla extract and a handful of ice. Shake until chilled then carefully pour into your sugar edged glass. Garnish with an apple slice or cinnamon stick or both. Sip through a straw.