Chicken Cordon Bleu Recipe
When I was growing up my mother owned an extensive collection of Cordon Bleu Cookery School magazines. I think they were a series of publications which built up into a set covering all different areas of cookery such as chicken, cakes, soups, etc. They were glossy and had brilliant photos, I remember their glorious technicolour nature so vividly. I am not sure if my Mother even used them much, but I loved to flick through these 1970's volumes and marvel over their recipes. All this olden days rambling is leading somewhere, I promise. The term Cordon Bleu for me has always been synonymous with the height of sophistication, so when on holiday in Mallorca as a child, whenever we went to one particular restaurant, I would always order a Chicken Cordon Bleu thinking I was really rather fancy.
Little did I know, Chicken Cordon Bleu was simply a delicious combination of crisp breadcrumbed chicken, melty cheese and ham all wrapped up into a neat little parcel. Hardly the height of sophistication now, as it turns out, but just the title Cordon Bleu made this dish feel super special. Now, far too many years later, food has moved on and the Cordon Bleu issues long recycled, however, my love for this dish will never become unfashionable. This recipe is not without a tiny bit of kerfuffle, but I've kept it to a minimum by just pan frying the chicken instead of deep frying it. Ok, so there is some rolling and some egg and bread crumbing, but all the best things take a bit of effort. The end result is a tender chicken dish, stylish with a hint of kitsch, perfect for guests or a weekend treat for your family. I used this recipe from Menu Musings as my guide, with thanks, and my memory of this beyond tasty dish to create my Cordon Bleu Chicken.
Cordon Bleu still screams the height of style for me, and presumably anyone else with a vague memory of the 1970's. Some things have longevity and I don't think chicken fried with ham and cheese will ever fall out of favour. Not with me anyway, or my family who, needless to say, fully embraced the 70's and troughed through the whole lot.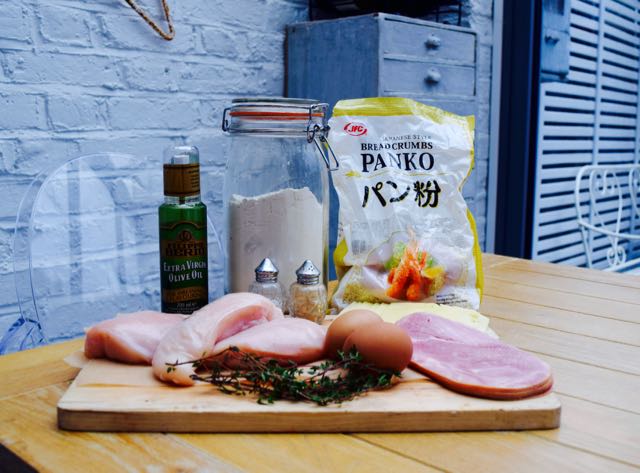 This little line up doesn't look terribly complicated, it just requires a tiny bit of manual dexterity. Not usually my strong suit, but some things are worth a little effort.
Make a start on this by taking a lined or oiled baking tray and pre heating your oven to around 160 degrees. Next, take your large breasts and cut them in half lengthways to create six thinner pieces.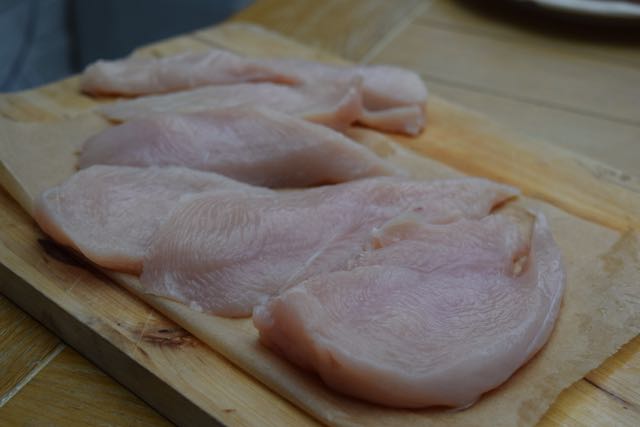 Now, flatten each piece of chicken between two pieces of cling film with a rolling pin. Don't go at it too viciously, you don't want the chicken to tear, just give it a reasonable whack to tenderise and make it thinner. Repeat with all 6 pieces.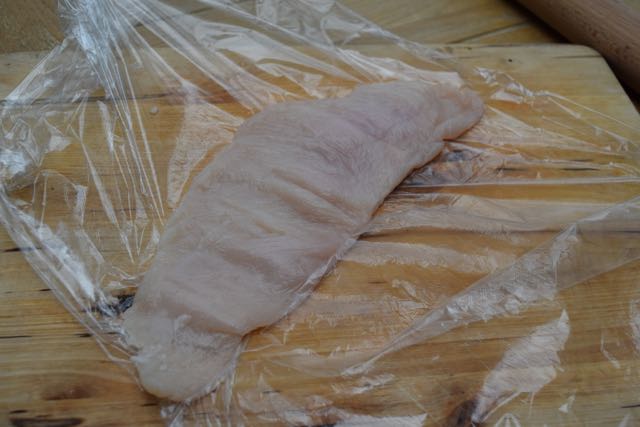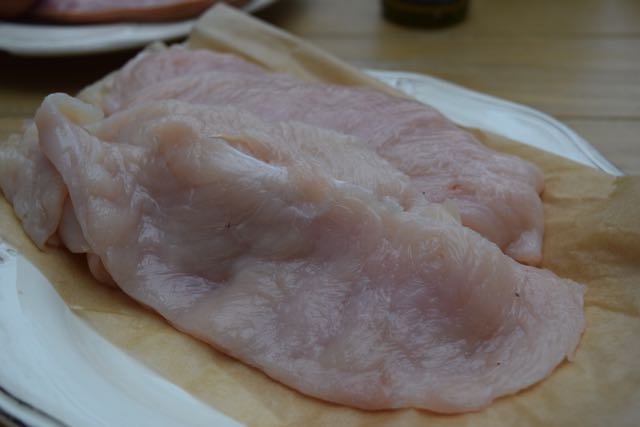 Now, take each flattened piece of chicken and layer on a piece of ham followed by a piece of cheese. Next, roll up the chicken and carefully secure with a cocktail stick or two so it doesn't unroll.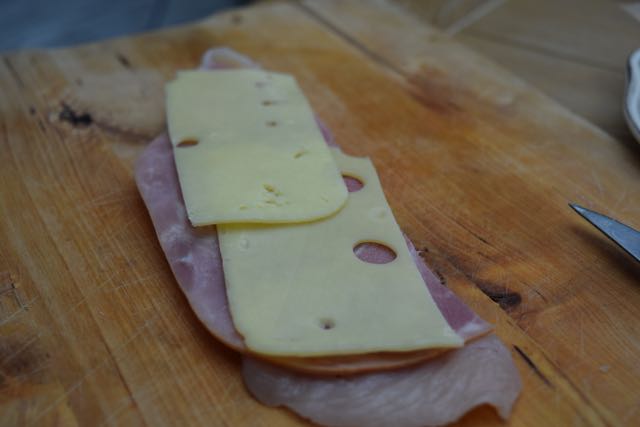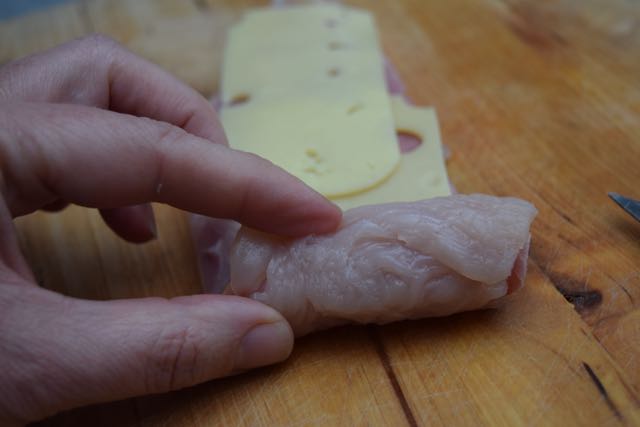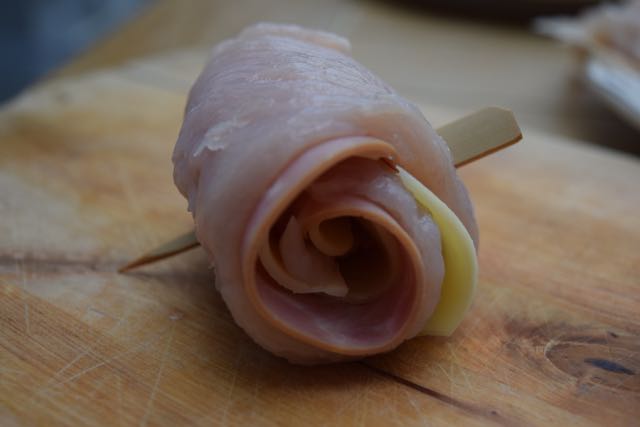 Continue until you have rolled up all your chicken breasts then prepare your flour, beaten eggs and bread crumbing station. Mix the flour on one plate with generous seasoning, beat the eggs on another and mix the panko breadcrumbs with the fresh thyme on the last plate.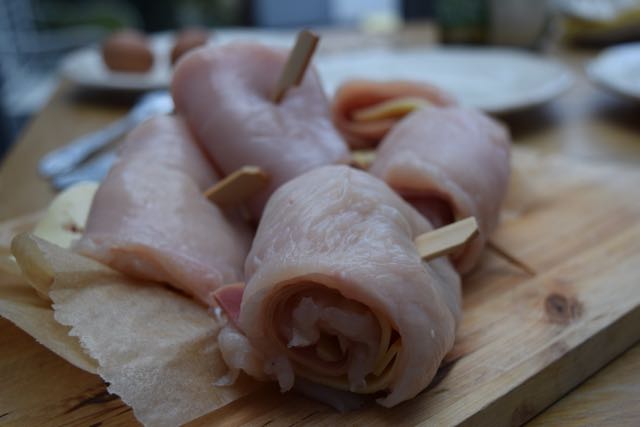 Take the Cordon Bleu's and firstly dip them in the flour, making sure every crevice is covered, then the beaten eggs then finally into the herby breadcrumbs. Make sure each roll is well crumbed, then pop onto a plate while you continue with the rest of the pieces.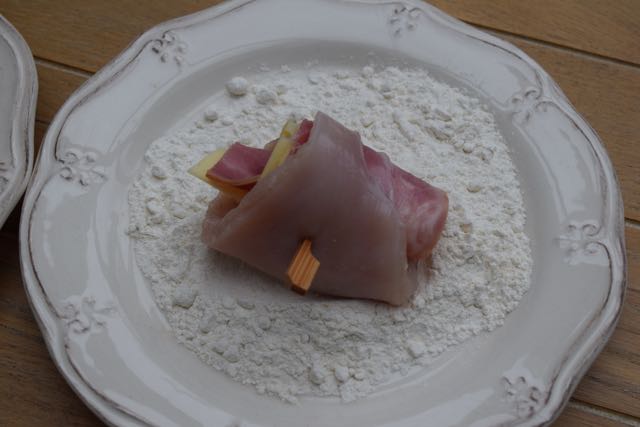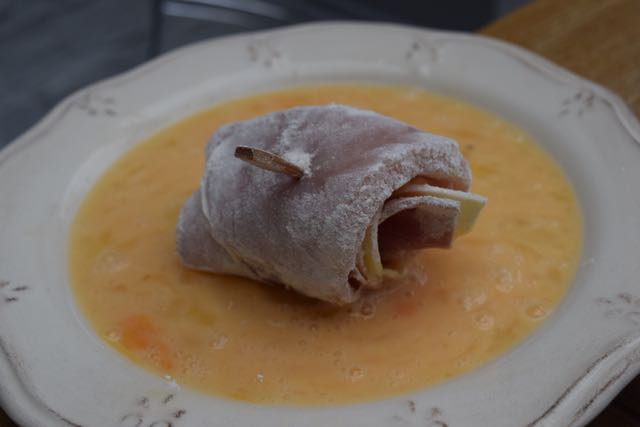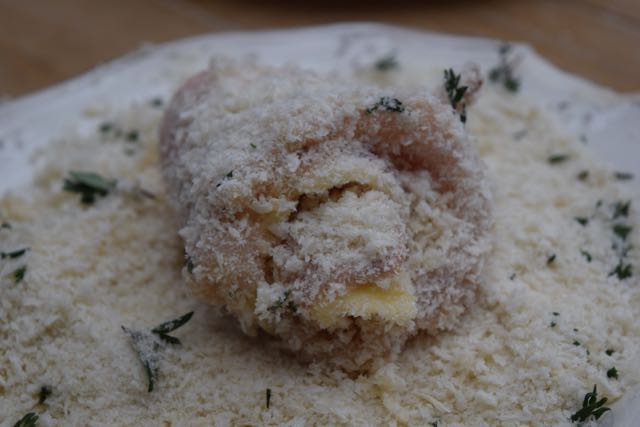 And that's the kerfuffle done. Take a large frying pan and heat the oil and butter until melted and covering the bottom of the pan. Now add your Chicken Cordon Bleu's, don't overcrowd the pan, I did three at a time.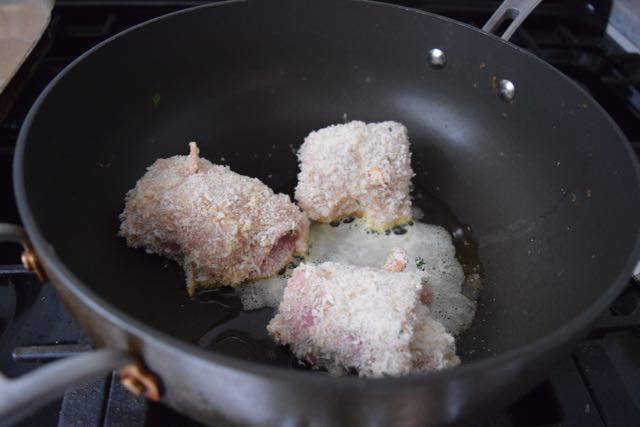 Keep them moving to ensure an even browning, this will take a couple of minutes on each side. This was a little tricky with my big toothpicks, but don't worry too much as they will finish browning nicely in the oven.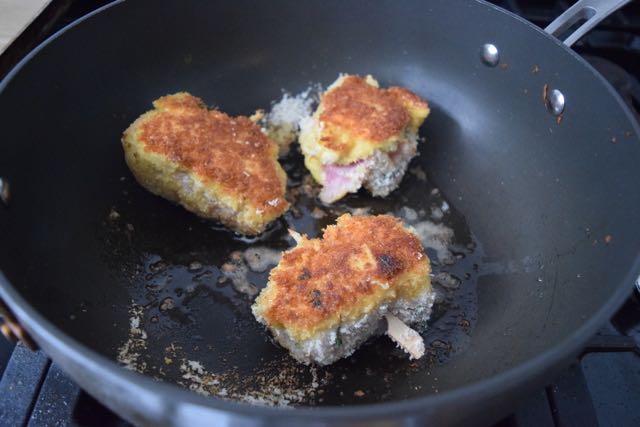 To be fair, my Cordon Bleu's won't win any Best in Show contests, however, they taste bloody delicious. Looks aren't everything, I was always told *sobs*.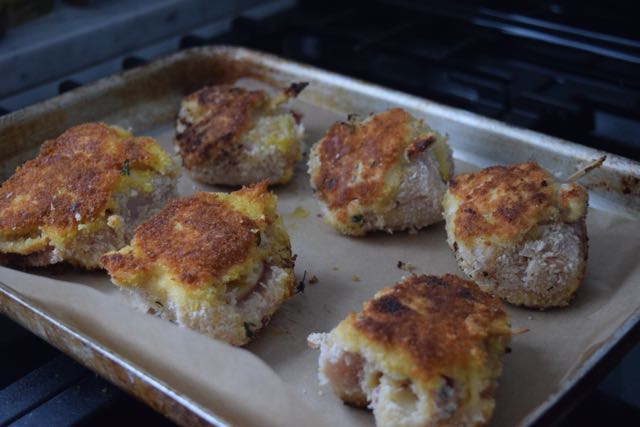 Pop these in your pre heated oven for around 15 minutes or until the chicken is cooked through, the cheese is oozing and your CCB's are golden and divine.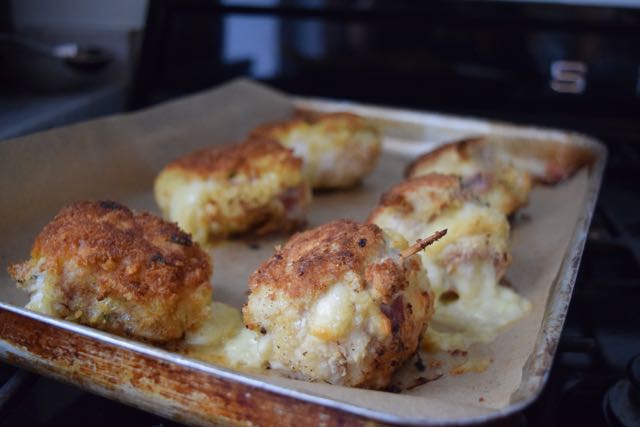 Now eat them straight from the pan burning your fingers and mouth in equal measures. Or, serve with some oven sauté potatoes, mash or chips and some foliage or a green veg of your choice.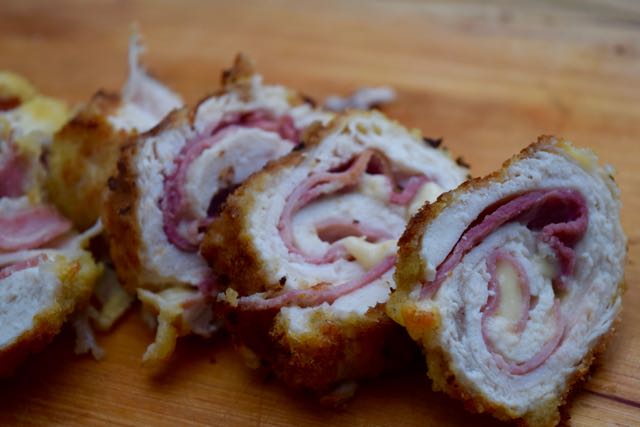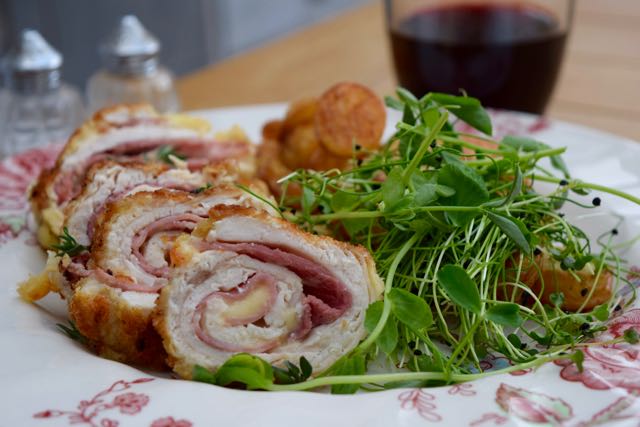 What with my love of hoarding cookery books and old food magazines I really wish I still had my Mother's Cordon Bleu Cookery Courses. What I wouldn't give for a look at the radish flowers and cheese and pineapple hedgehogs for a bit of Lucy Loves inspiration. Oh well, I'll just have to make do with the ultra sophisticated Chicken Cordon Bleu, it's every bit as cosmopolitan.
Lucy x
Chicken Cordon Bleu Recipe
Makes 6, serves 3 to 4
You won't need any challenging equipment
3 large chicken breasts
6 slices smoked ham
6 slices swiss cheese, or other strong cheese slices
3 tablespoons plain flour, well seasoned with salt and pepper
2 teaspoons fresh thyme, optional
50g panko breadcrumbs
2 eggs
3 tablespoons oil
25g butter
Toothpicks to secure the chicken
Oven sauté potatoes and something green to serve
Pre heat your oven to around 160 degrees fan assisted and line or oil a medium sized baking tray.
Take your chicken breasts and cut them in half through the middle to create 6 smaller chicken breasts. Take each piece of chicken and place between two sheets of cling film. Flatten using a rolling pin to make the pieces wider and thinner.
Once you have flattened all the chicken lay a slice of ham followed by a slice of cheese onto each piece and carefully roll up. Secure the rolled chicken by sticking a cocktail stick or two through the middle.
Take three plates and add the flour, beaten eggs and breadcrumbs mixed with the fresh thyme if using, onto seperate plates. Dip each Cordon Bleu chicken piece into the flour, then egg, then breadcrumbs, making sure the chicken is well coated in each layer. Pop to one side while you repeat until all the chicken is coated.
Take a large frying pan and heat over a medium heat. Add the oil and butter and swirl to cover the bottom of the pan. Add the chicken and brown on each side, turning to make sure it colours evenly. I cooked mine three at a time so as not to overcrowd the pan. Place the browned chicken on your lined or oiled baking tray. Once you have browned all the chicken pop the pan into your pre heated oven and cook for around 15 minutes or until the Cordon Bleu is cooked through, golden with oozing cheese and sizzling.
Serve piping hot with some potatoes and some greenery.
SaveSave
SaveSave
SaveSave
SaveSave