Baked Fish Burgers Recipe
We all look forward to having the children at home over the long and restful summer holidays. Don't we? Anyone? No, me neither. It seems fine for about a day then the boys start calling me at work asking what's for lunch, can they have some money for some form of activity or will I be home to give them a lift somewhere. And the food they get through is off the scale. Poor Ocado's stocks will be taking a beating over the next 6 weeks when I am sure I will have to go for an unprecedented second weekly delivery to be able to satiate the needs of the boys and their hoards of visiting friends.
So, it falls upon me to furnish you with new and interesting recipes to feed your hungry holidaying offspring, and I have to say, this week's recipe is a bloody God send. These Baked Fish Burgers are quite the most tasty dish I have eaten in a while, even if I immodestly say so myself. Ben's helpful comment was 'they don't look like much, but they taste amazing' – which I took as a win. These burgers have a whiff of health to them as they are baked, so aren't dripping in oil. You pre-toast the breadcrumbs prior to coating the fish to negate the need for all that shallow frying business and this method works like an absolute dream. This innovative recipe comes via my favourite stalking website, the Kitchn, with thanks to them.
Pop your toasty fish fillets in brioche buns along with the super simple little homemade tartar style sauce and these are really far too good to be just reserved for a childs supper. Wrestle one of these buggers *no typo* out of your little darling's hands and inhale. Add your favourite sides such as lettuce, tomatoes, gherkins and you will love these forever. Just take to ignoring the pleas for money and taxi services, sit in a quiet room with one of these Baked Fish Burgers and a glass of wine and the long summer holidays will just fly by.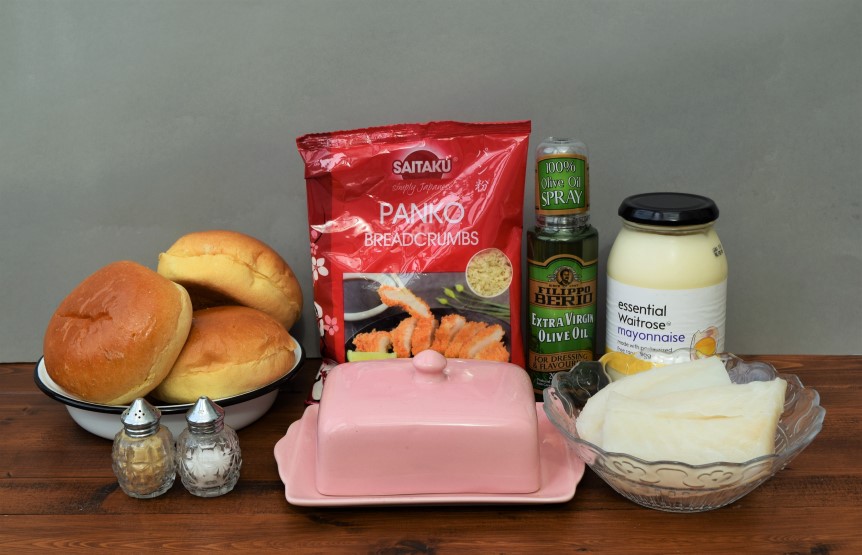 Here's the line up for this tastier than tasty fish supper. Minus the tartar style mayo, which features later and is so brilliant, it's well worth the no effort it takes to make.
Make a start by toasting the breadcrumbs to coat your fish burgers. I went for panko crumbs, but any good quality crumbs would work here. Take a good sized frying pan and heat the butter and oil over a medium flame.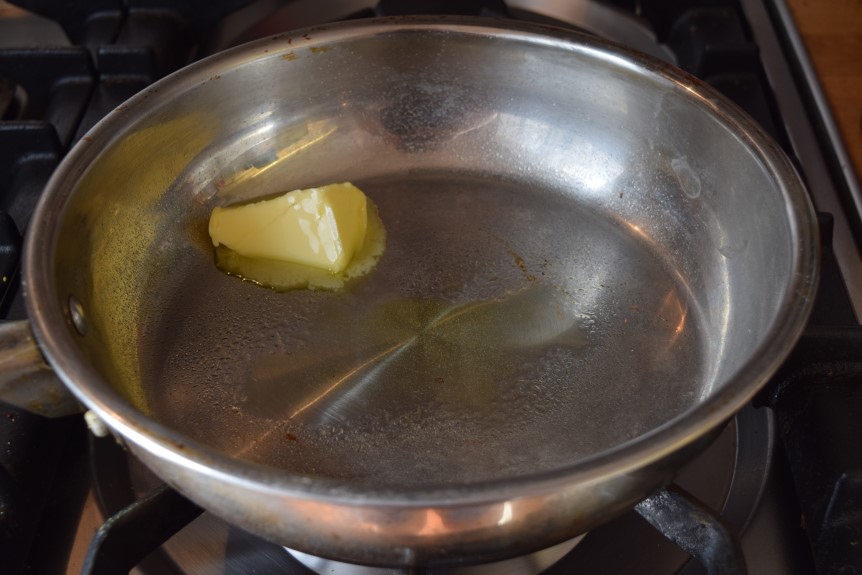 Tip in the breadcrumbs, with a some salt, and turn the heat down. Toast gently, for around 5 minutes or until the crumbs are golden and crisp.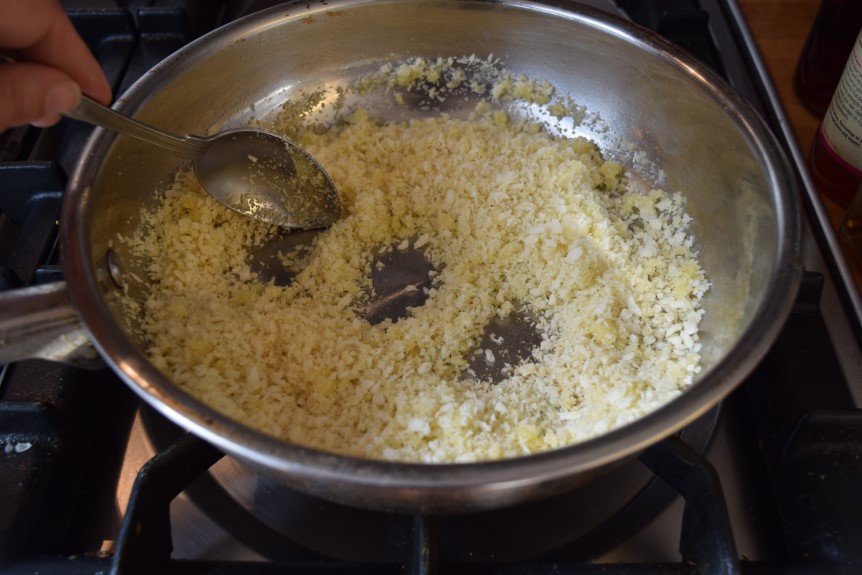 These crumbs smell amazing, all toasty and delicious. Pop them on a plate to cool while you make the tartar mayo.
I meddled with the original ingredients for this to suit what I had in my massive jar collection on the top shelf of my fridge. This is only 4 of the, roughly, 75 jars on that shelf.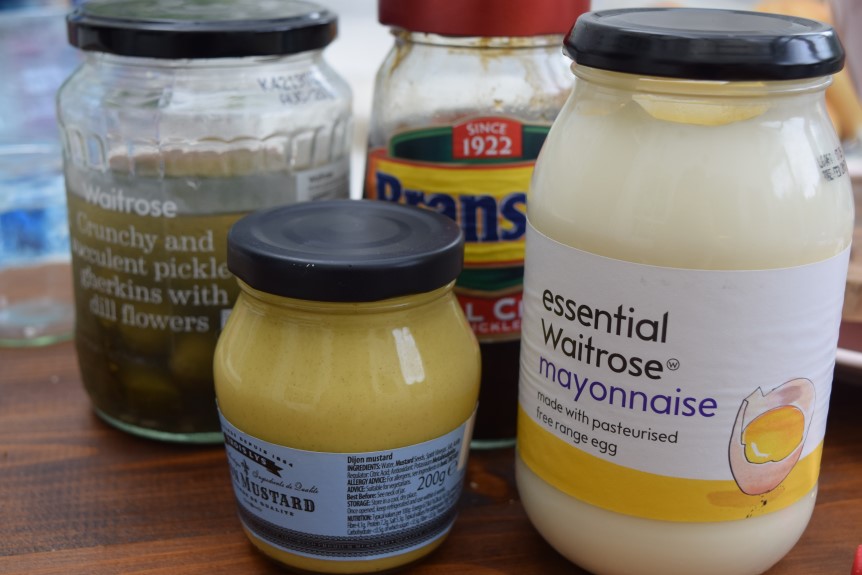 Hence the inclusion of the slightly less than sophisticated Branston pickle. You could go with some sort of fancy chutney or relish, English mustard instead of Dijon, capers instead of gherkins. This combination worked brilliantly, though, but then I am a huge fan of all the ingredients. Mix the mayo, chutney, mustard and gherkins together in a small bowl.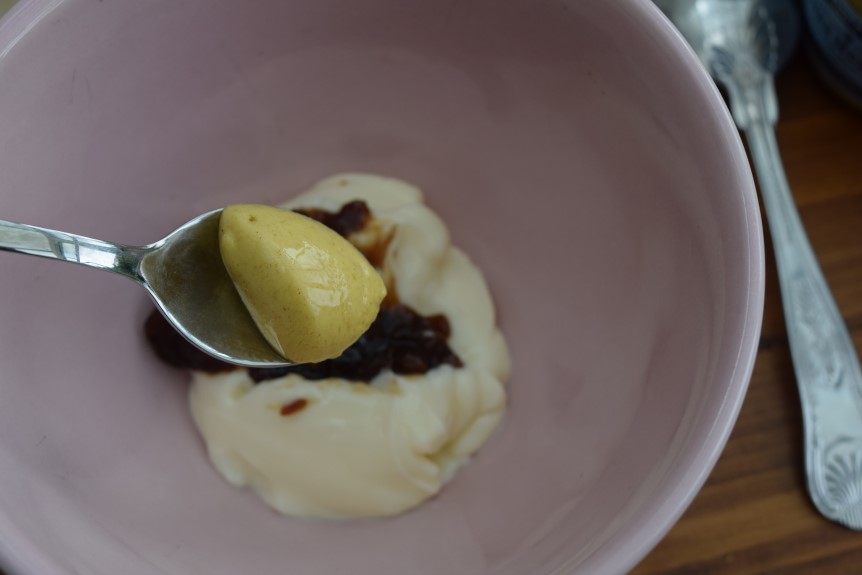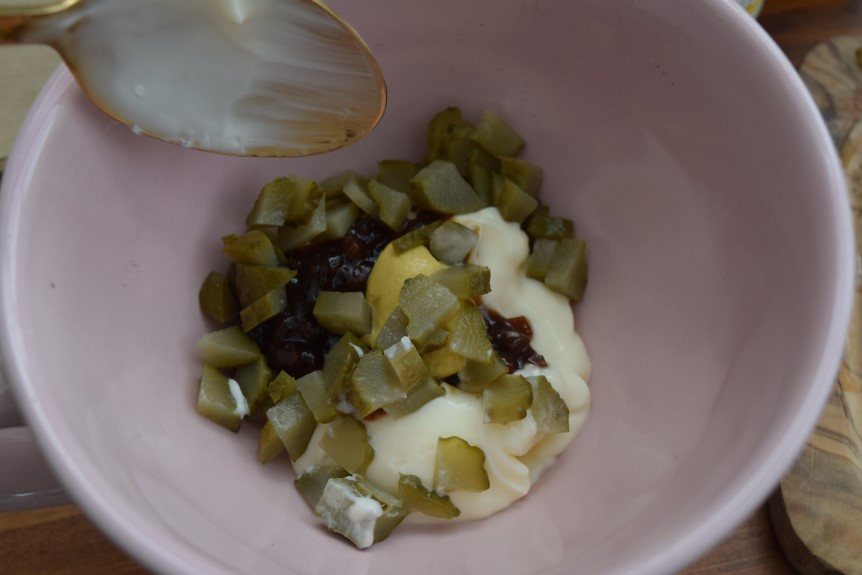 Pop this in the fridge until needed. Now to crack on with making the crisp baked burgers.
Cut your fish into pieces which will ultimately fit in your chosen buns. Coat each piece in mayonnaise then dip in your golden crumbs.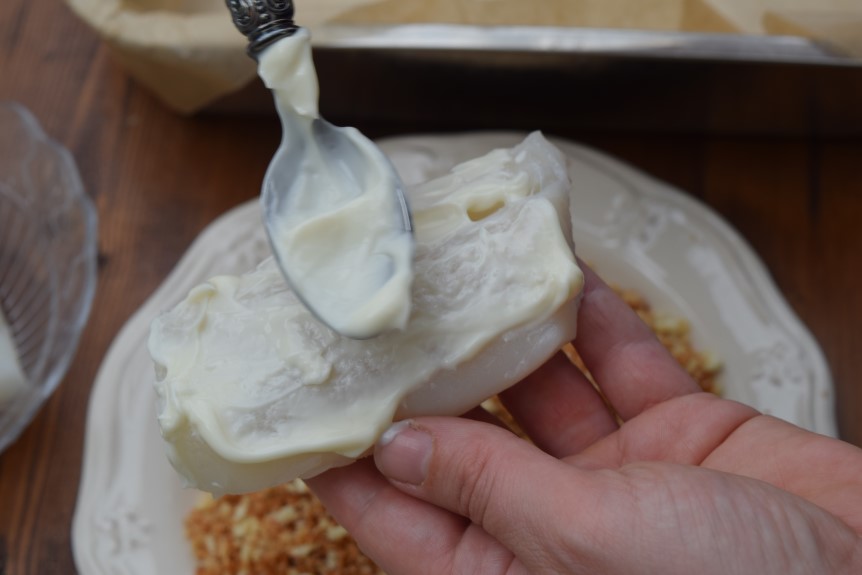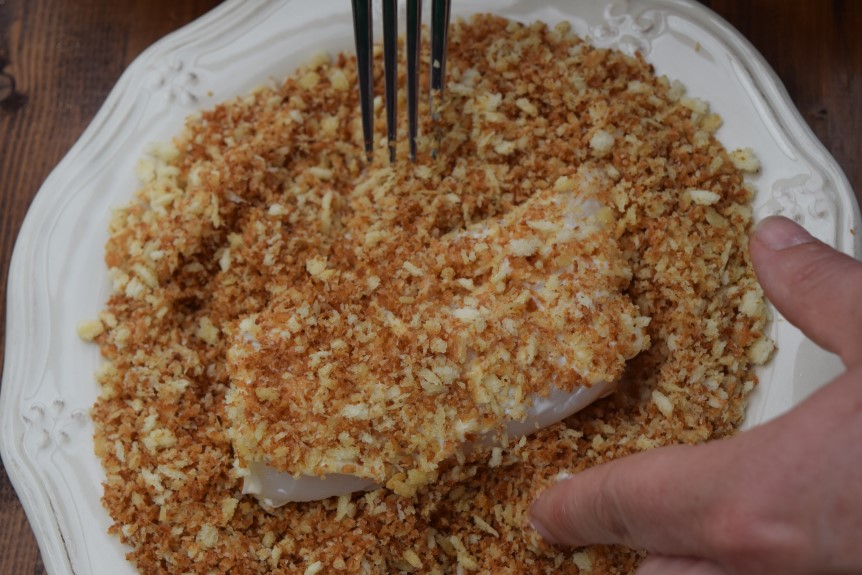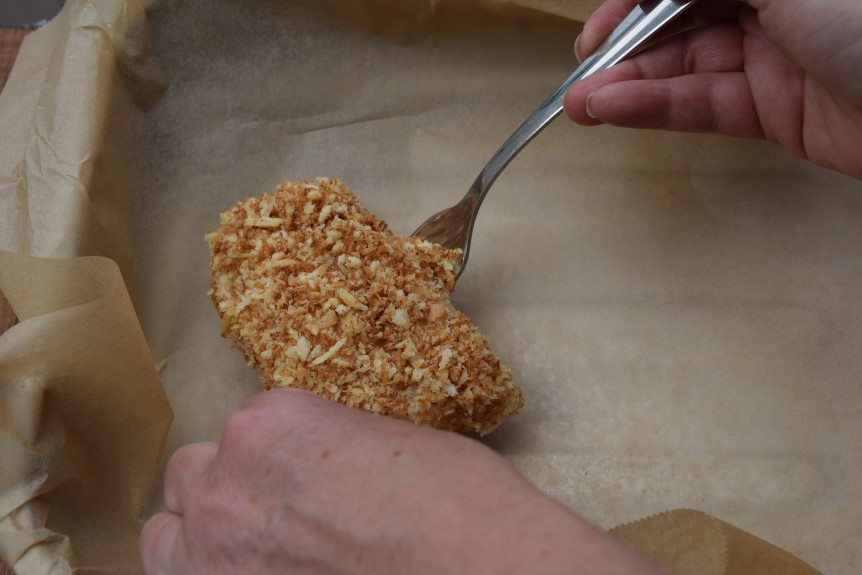 Depending on your fish pieces, you will have enough crumbs for 4 or 6. Place them on a baking tray then put in the oven for 12 to 14 minutes. The fish is cooked when piping hot, crisp and golden.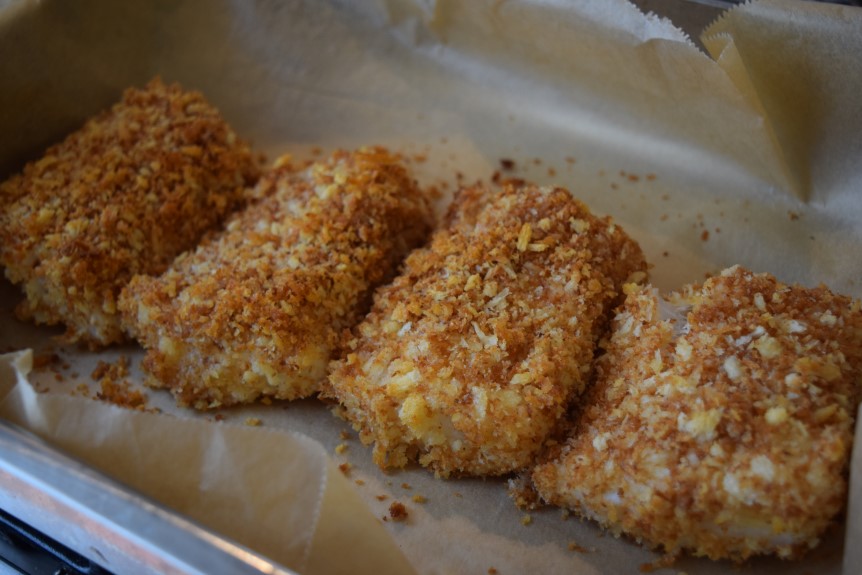 Serve these wonderful, baked treats in your brioche buns spread with the homemade tartar and strewn with some leaves.
These are like big, posh fish finger sandwiches. Minus the Salad Cream which I insist on under normal, non-photo opportunity circumstances.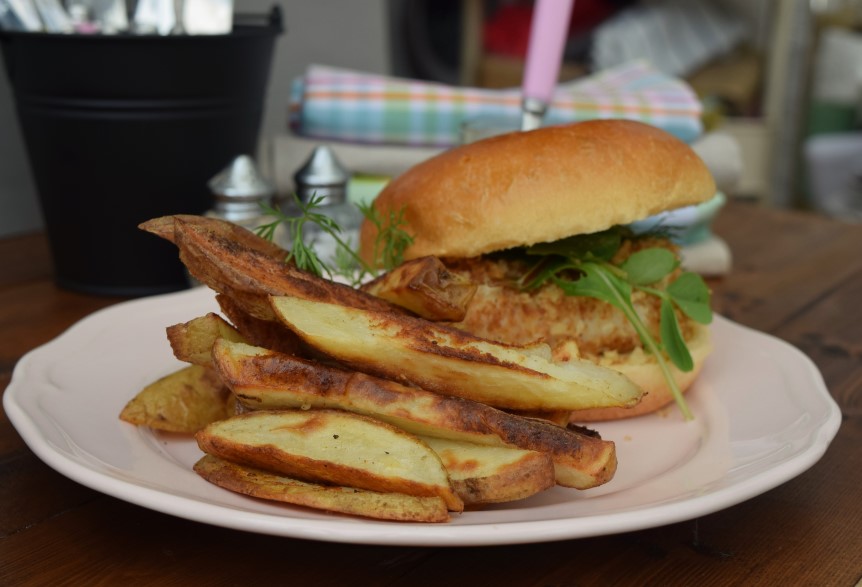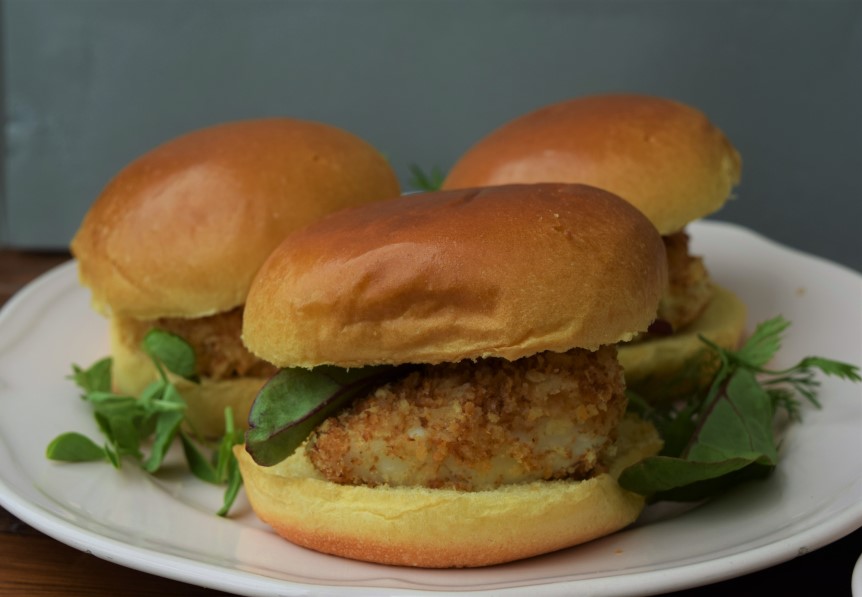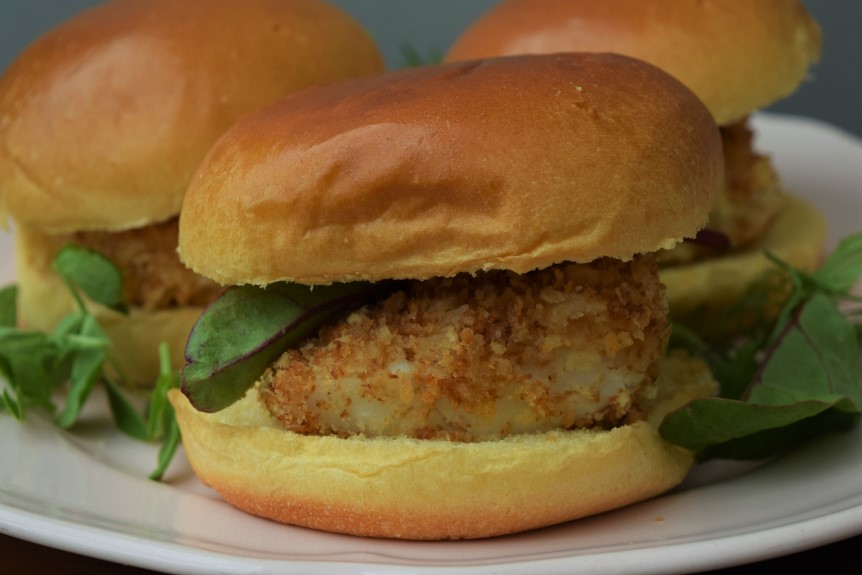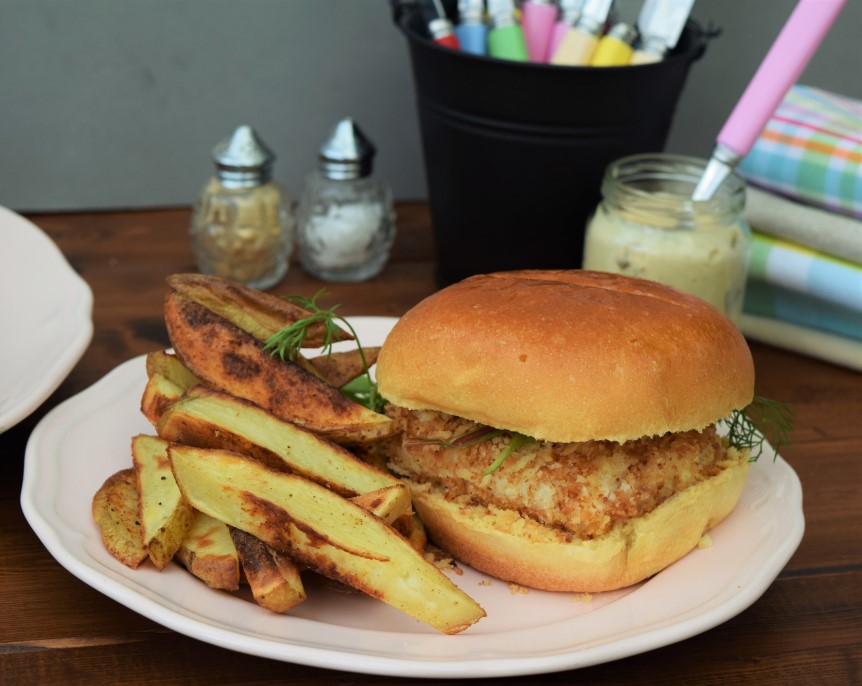 These Baked Fish Burgers are brilliant. The pre-toasted panko crumbs give the burgers a wonderful golden flavour. The homemade tartar adds a zing and they are just a perfect upgrade on fried versions. Add these to your list of meals to keep your family happy over the coming weeks, along with vast amounts of cake, biscuits and ice cream. And cocktails for yourself.
Lucy x
Baked Fish Burgers recipe
You will not need any exciting equipment
Makes 4 to 6
Burgers
500g to 600g white fish fillets, I had some lovely cod loins
1 tablespoon butter, plus a tiny splash of olive oil
120g Panko, or regular, breadcrumbs
¼ teaspoon salt
100ml mayonnaise
4 or 6 brioche burger buns
Quick Tartar Sauce
3 heaped tablespoons mayonnaise
1 tablespoon chutney, I used Branston, but go fancy if you would prefer
1 teaspoon Dijon mustard
1 medium gherkin, chopped
Salt and pepper
Leaves and handmade oven chips to serve
Make a start by pre heating your oven to 170 degrees fan assisted.
Take a good sized frying pan and add the butter and a splash of oil. Heat over a medium flame then tip in the panko breadcrumbs. Turn down the heat then carefully cook these until they are a golden brown colour and crisp. Keep them moving as they can burn easily. This should take around 5 minutes. Once cooked, tip the crumbs onto a plate and put to one side.
While these are cooling, make your Tartar sauce. Add the 3 tablespoons of mayonnaise into a small bowl then stir in the chutney, mustard and chopped gherkins. Pop this into the fridge until needed.
Cut your fish fillets into 4 or 6 pieces, which will roughly fit inside your burger rolls. Coat each fillet in mayonnaise then dip into the toasted breadcrumbs then place on a lined baking tray. Once you have coated all your pieces of fish, bake these in the oven for 15 minutes or until cooked through and golden.
Serve immediately in the brioche buns with the tartar sauce and leaves with some handmade oven chips.