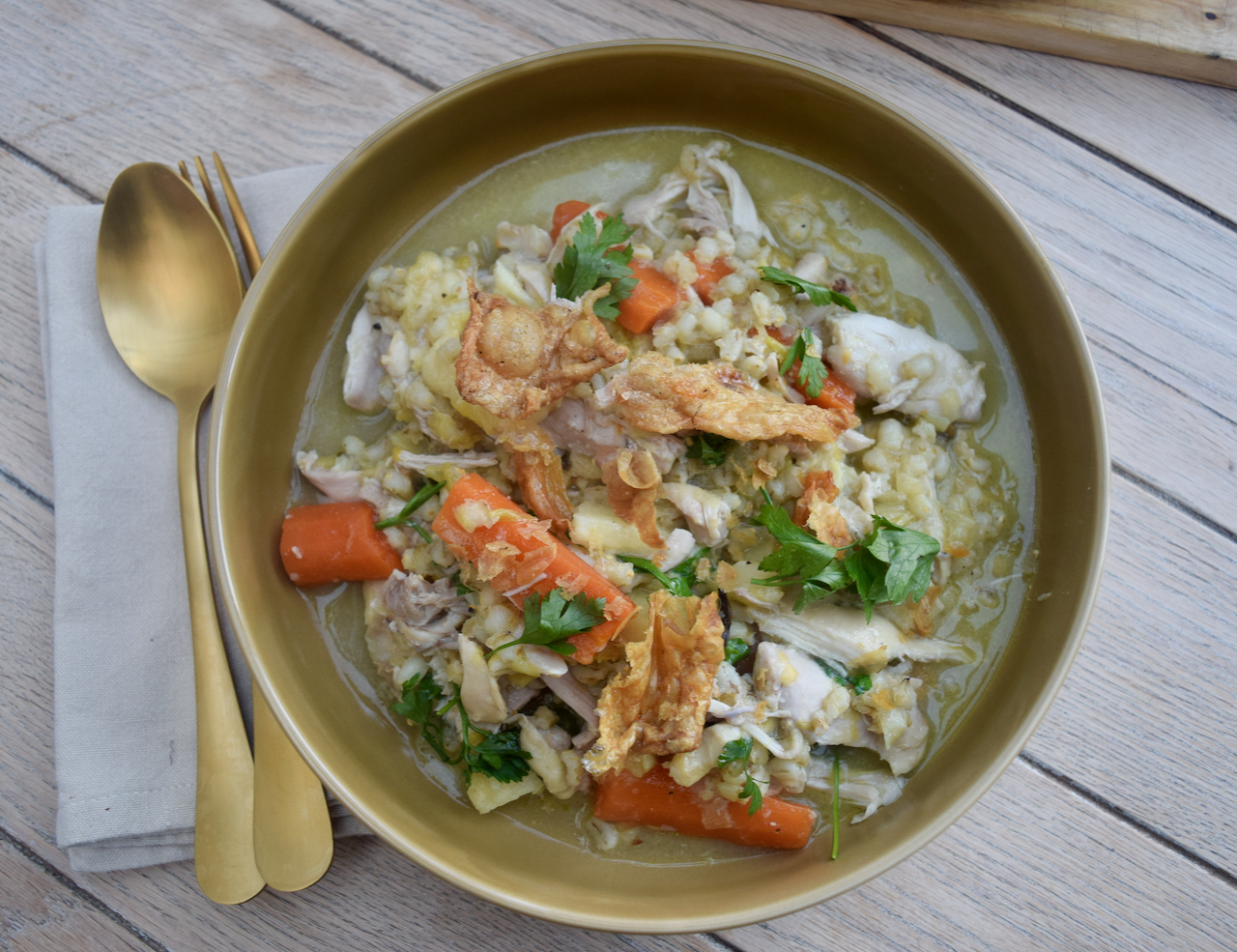 Chicken with Barley and Chicken Cracking recipe
It's still bloody January, with another two weeks of it to go. My healthy eating and exercise program has yet to materialise and I have the appetite of a small, but very hungry horse. And this week, it's turned really bloody cold again. With motivation and finances also at an all time low, my Chicken with Barley and Chicken Crackling couldn't be more perfectly timed.
My family are not huge fans of a casserole based supper; but my idea to add the chicken crackling into the mix has totally won them over. And thank God they did like it; it's a one pot dish, made on the hob and tastes amazing. A scant hour of simmering and a bowlful of tender vegetables, flavourful chicken and soft barley is yours for the taking. The chicken crackling is baked in the oven with just salt and pepper, to taste, then crumbled over the final dish for crunch and a big savoury hit. Never again will I throw away chicken skin, it's far too good to waste. Huge thanks to Nigella for putting this on my radar.
Frugal, heart warming and low on washing up; you'd better add this to your January menu asap.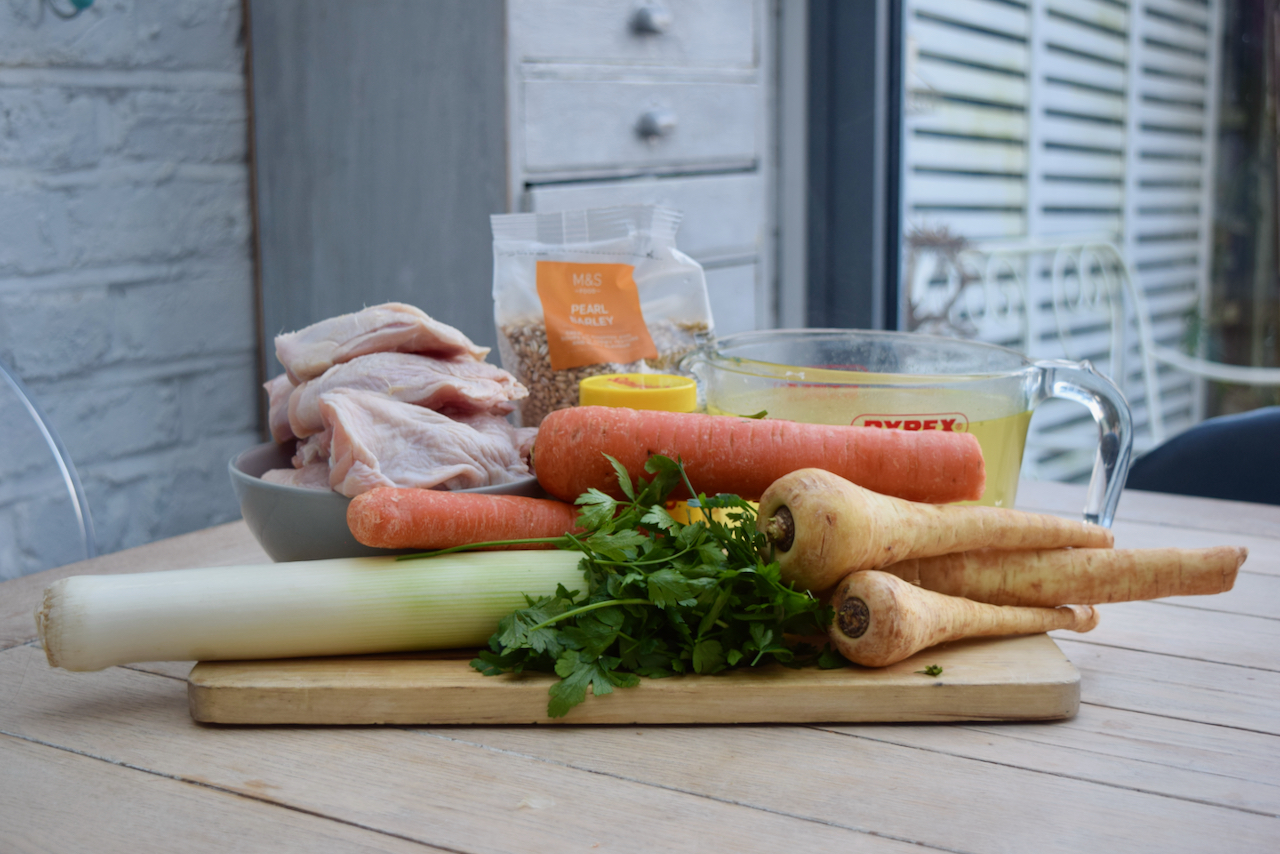 My Chicken and Barley involved a right old fridge forage; the parsnips and carrots had certainly seen better days, but were perfect for this dish. Hiding behind the huge carrots is a lovely pot of English mustard; this adds a subtle warmth to the dish and we all need warmth this week. I used 8 small thighs, but six bigger ones would suffice.
Start with a bloody great big casserole dish and your chopped carrots, parsnips and leeks. The first two cut into chunky batons, the latter sliced.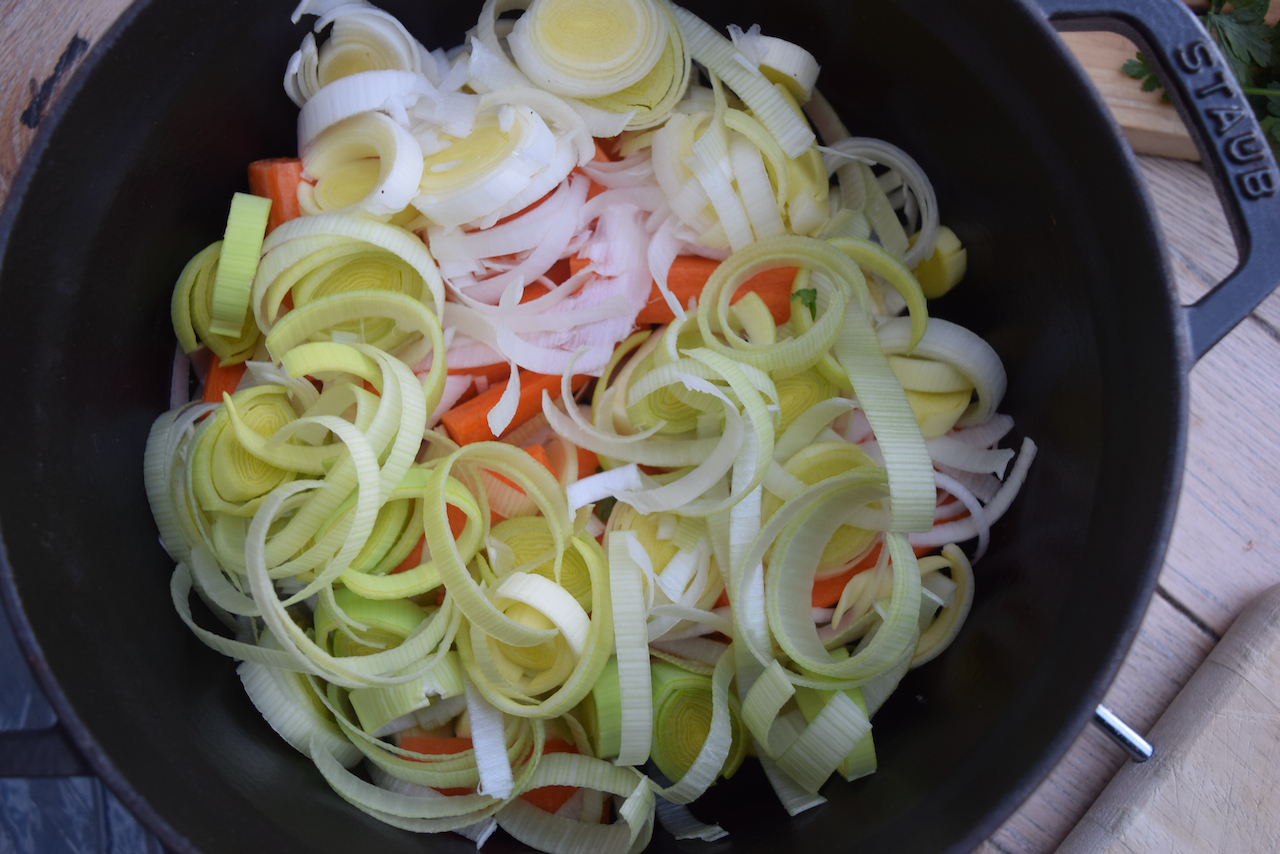 Next, tip in the barley then place the skinned, but bone in, chicken thighs on the top. Don't forget to keep the skin for later.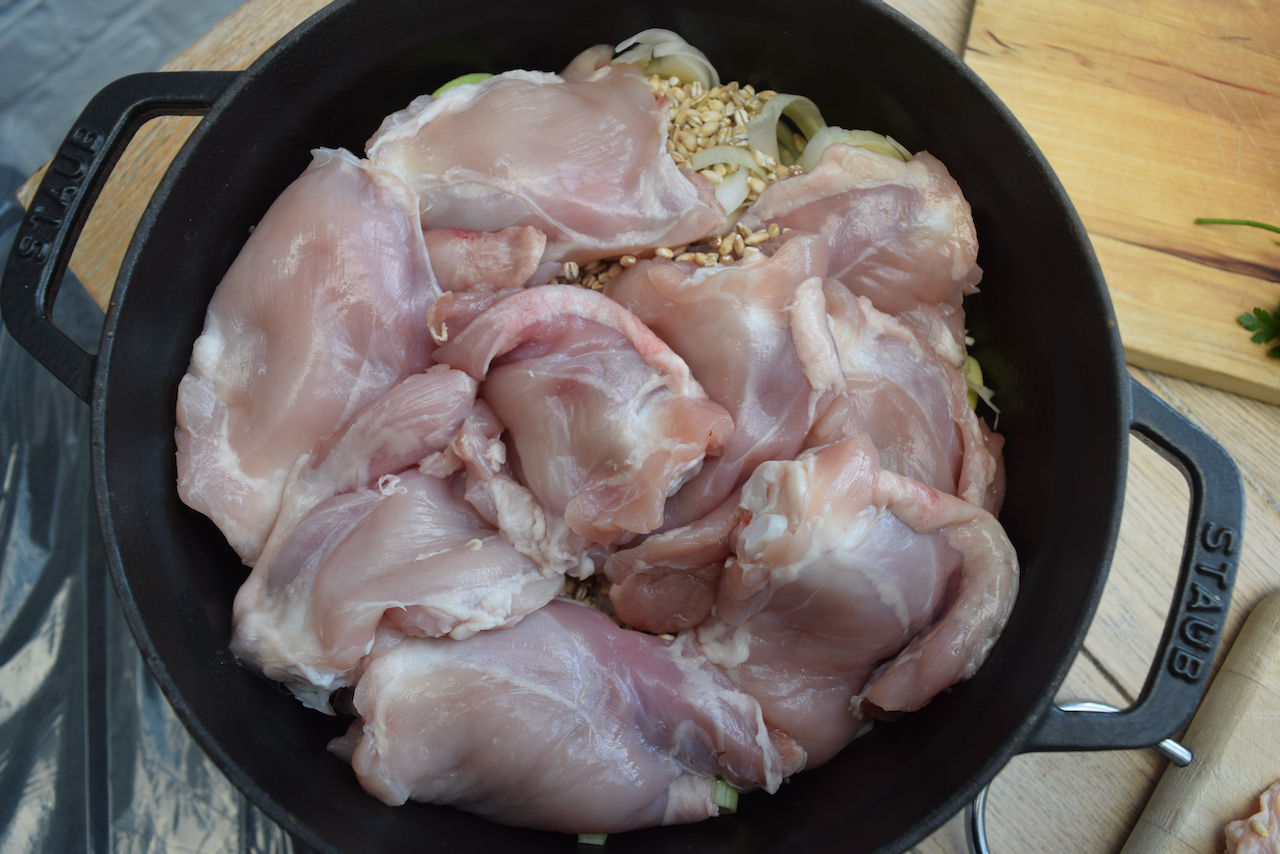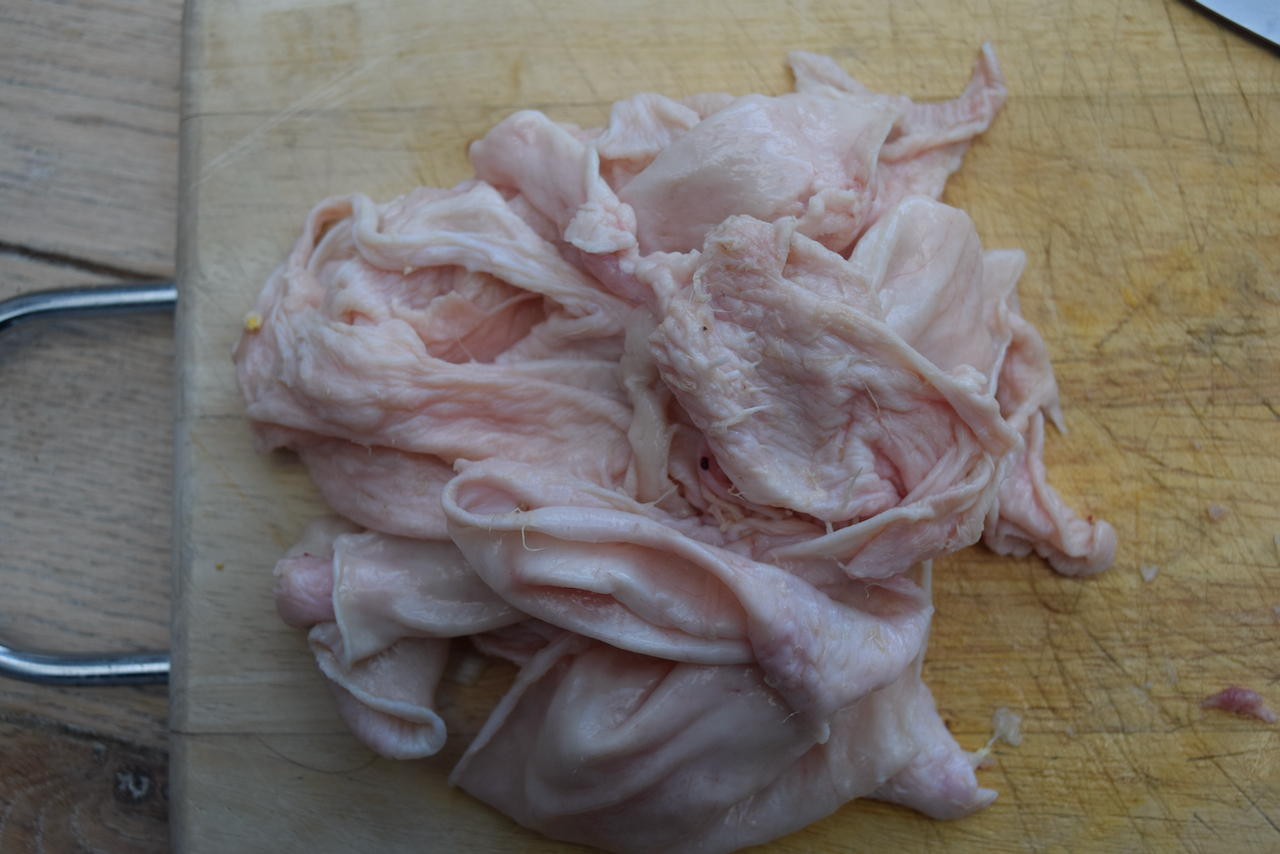 Stir the four teaspoons of English mustard into the chicken stock then pour this over all your wholesome ingredients.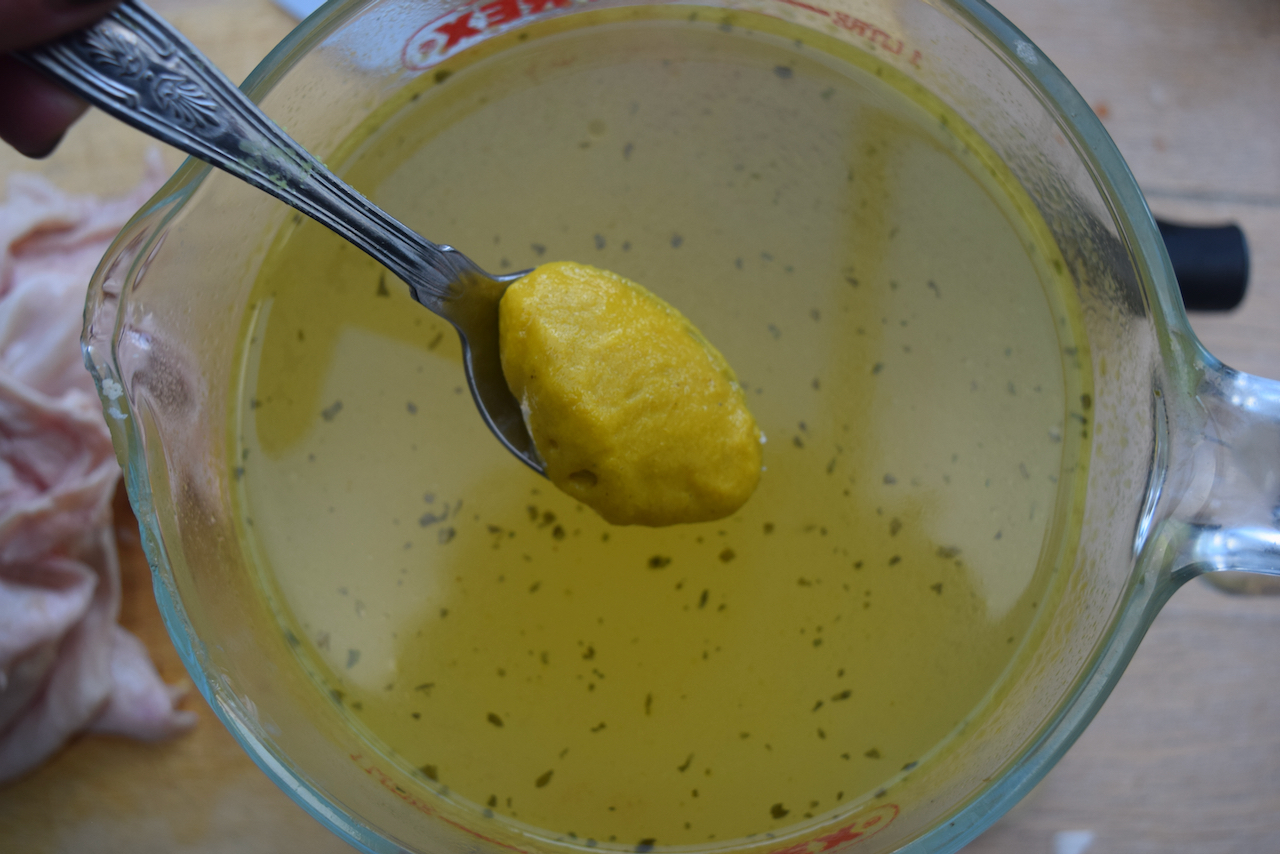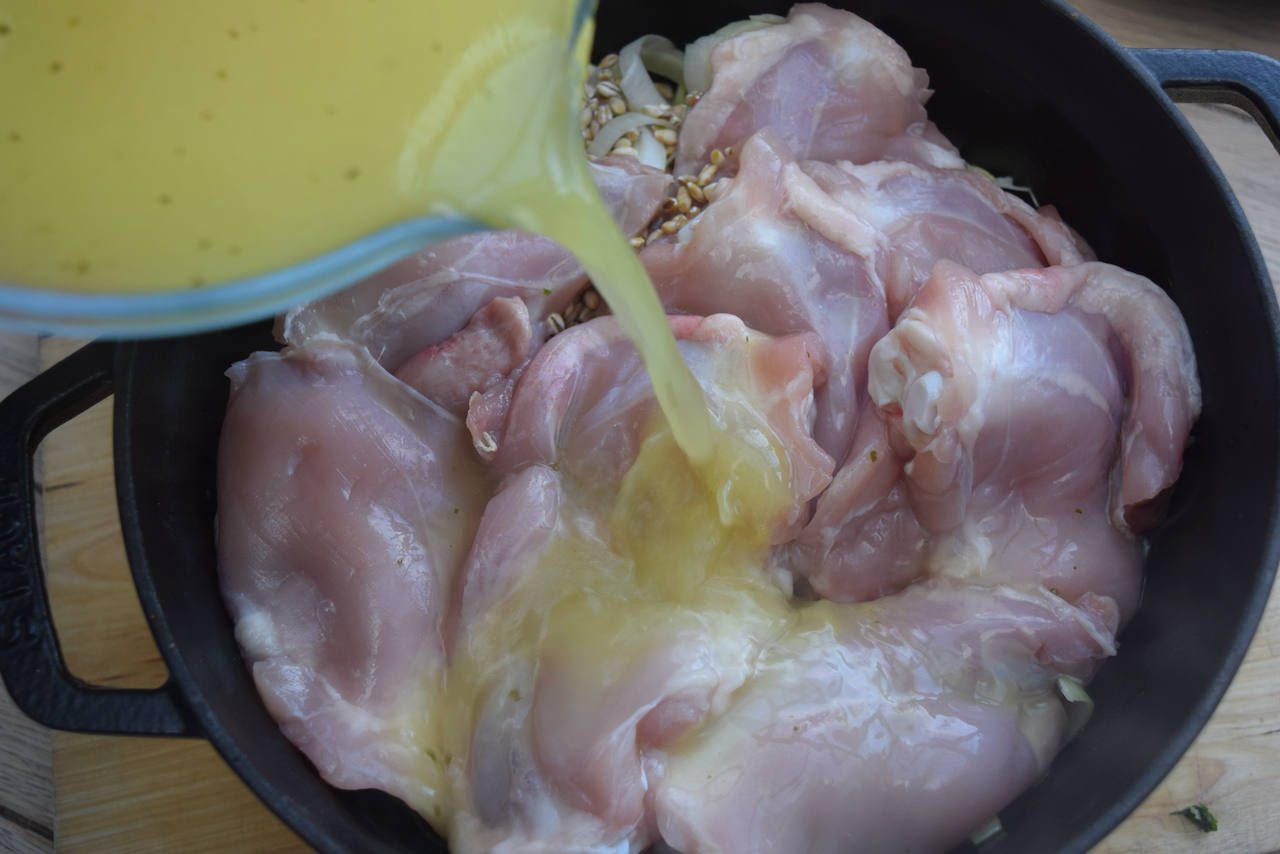 Put this onto your hob over a low heat and bring up to the simmer.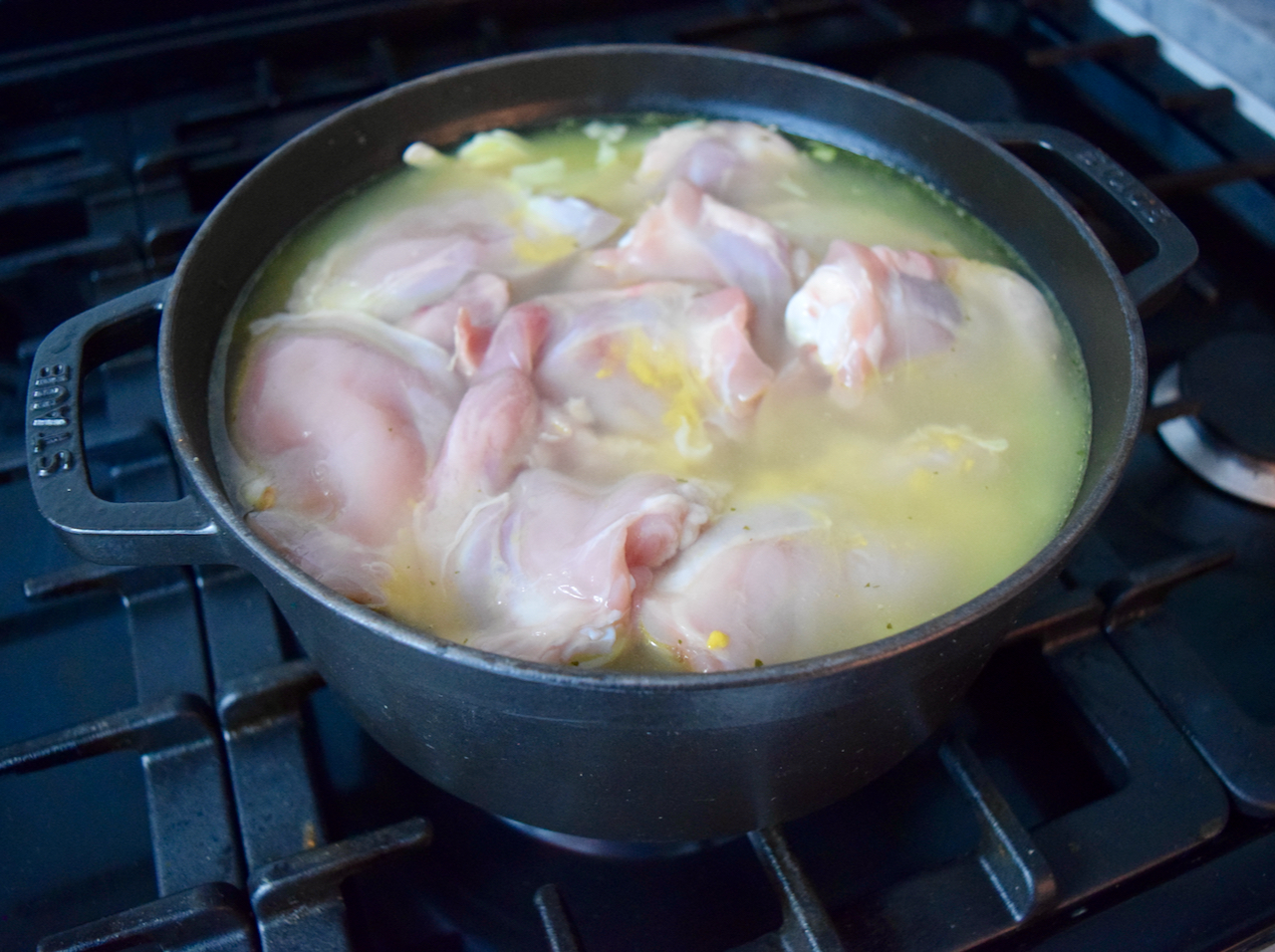 Once simmering, turn the heat down, put the lid on and cook for an hour. Stir occasionally and if yours is looking dry (mine didn't) add a splash more water or stock.
After an hour, the chicken will be cooked through and the barley and vegetables tender with hint of soupiness. Leave to sit for ten minutes then scoop the chicken out and remove the meat from the bones. It's so well cooked, two forks should do the trick.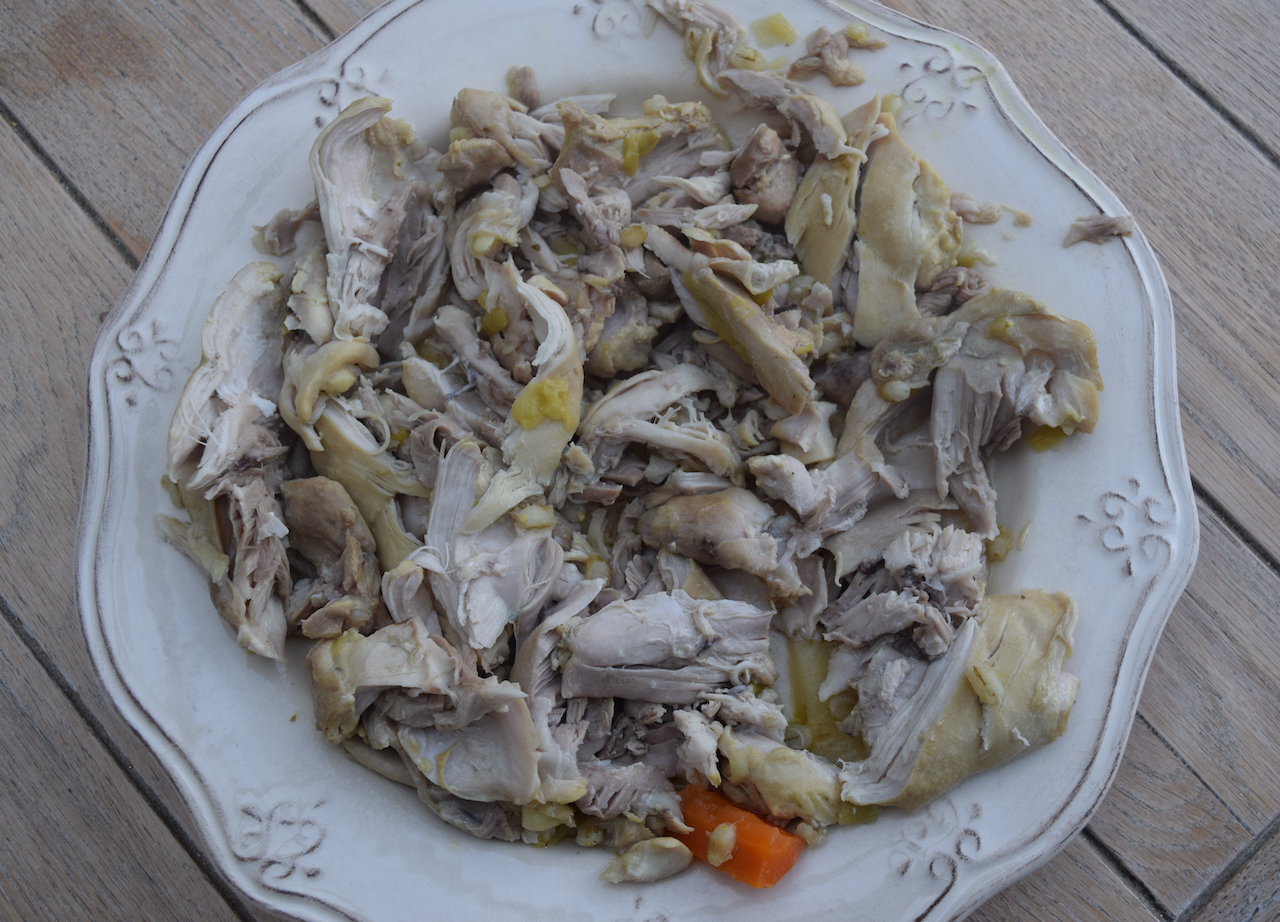 Tip the chicken back into the pan, stir well, season to taste.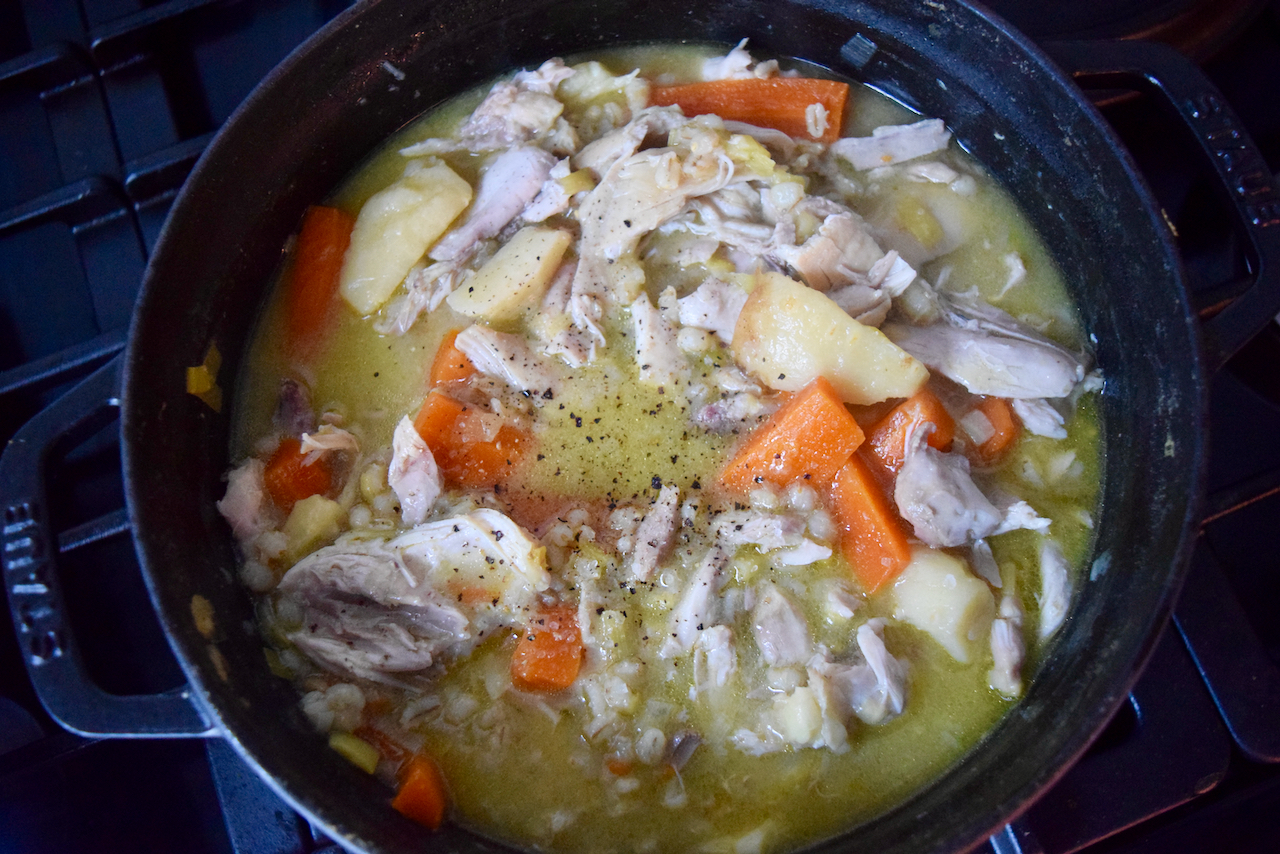 To make the chicken crackling, during the hour you have spare while the chicken's cooking would be a good window, simply line a large baking tray with foil and lay on a wire rack. Lay the chicken skins onto the rack, skin side down, in a single layer. Season well with salt and pepper then place into a hot (170 degrees fan)oven for 10 minutes, turn, then cook for another 10 minutes until golden, sizzling and smelling divine.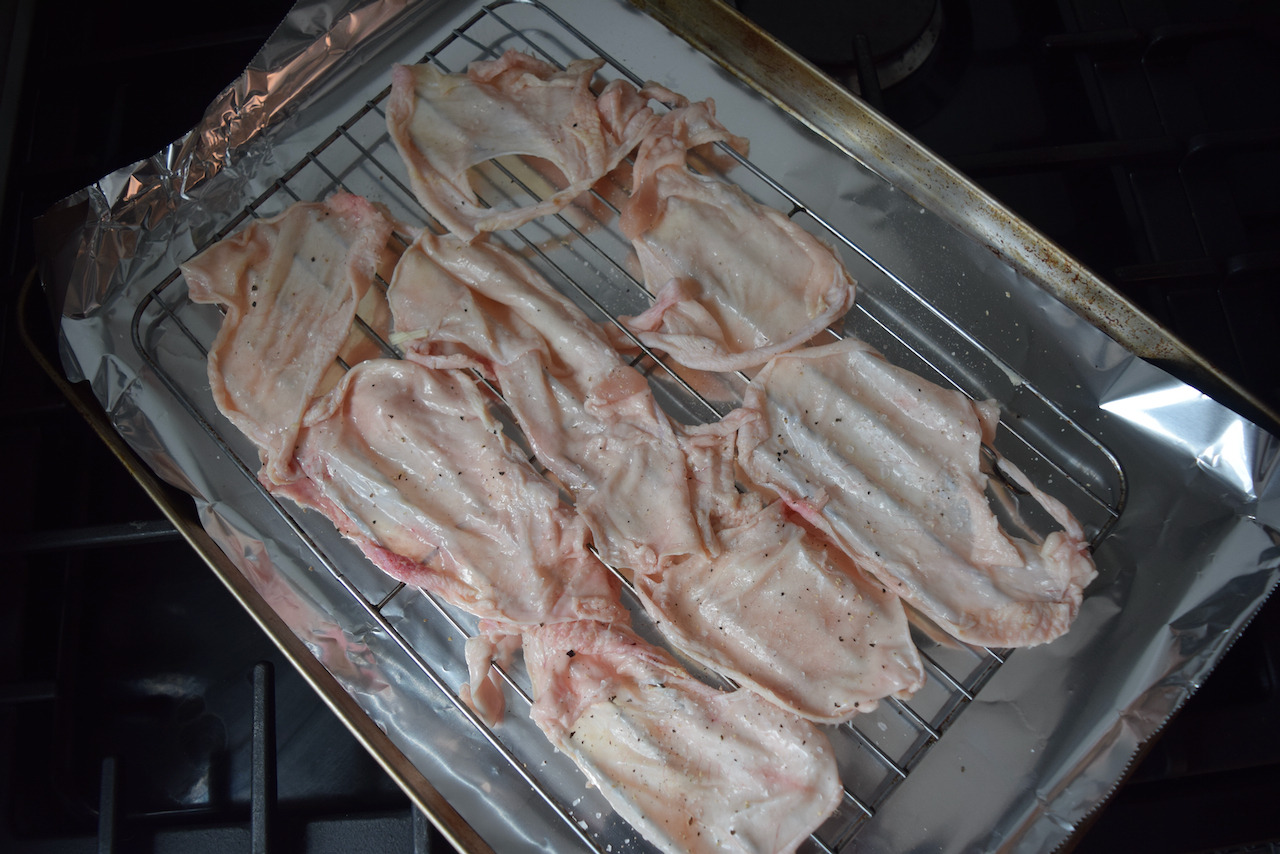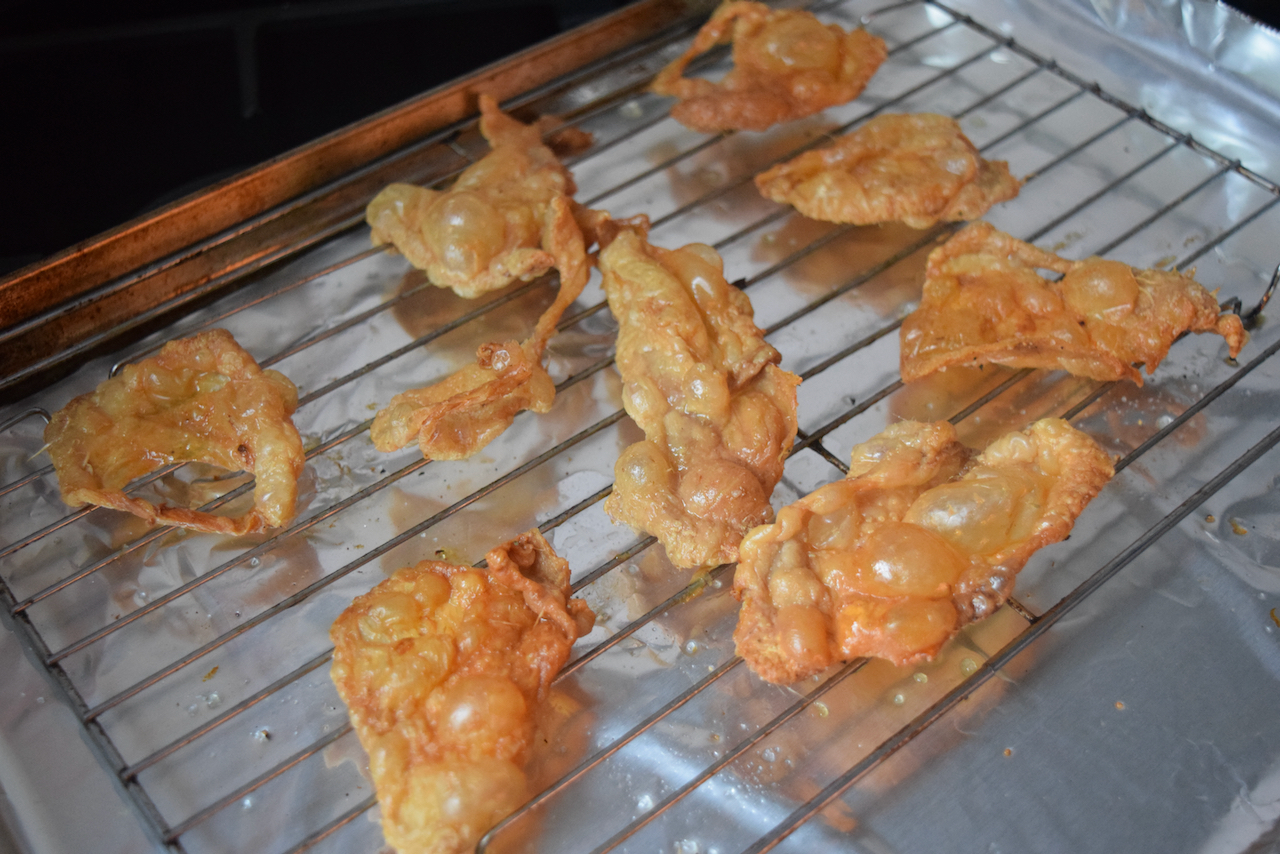 Trying not to eat them straight out of the oven, leave the cracking on the rack until you're ready to serve.
Serve your chicken with barley, stirring through or scattering on, plenty of parsley with some crumbled crackling on the top. Dig in, this is definitely a spoon situation.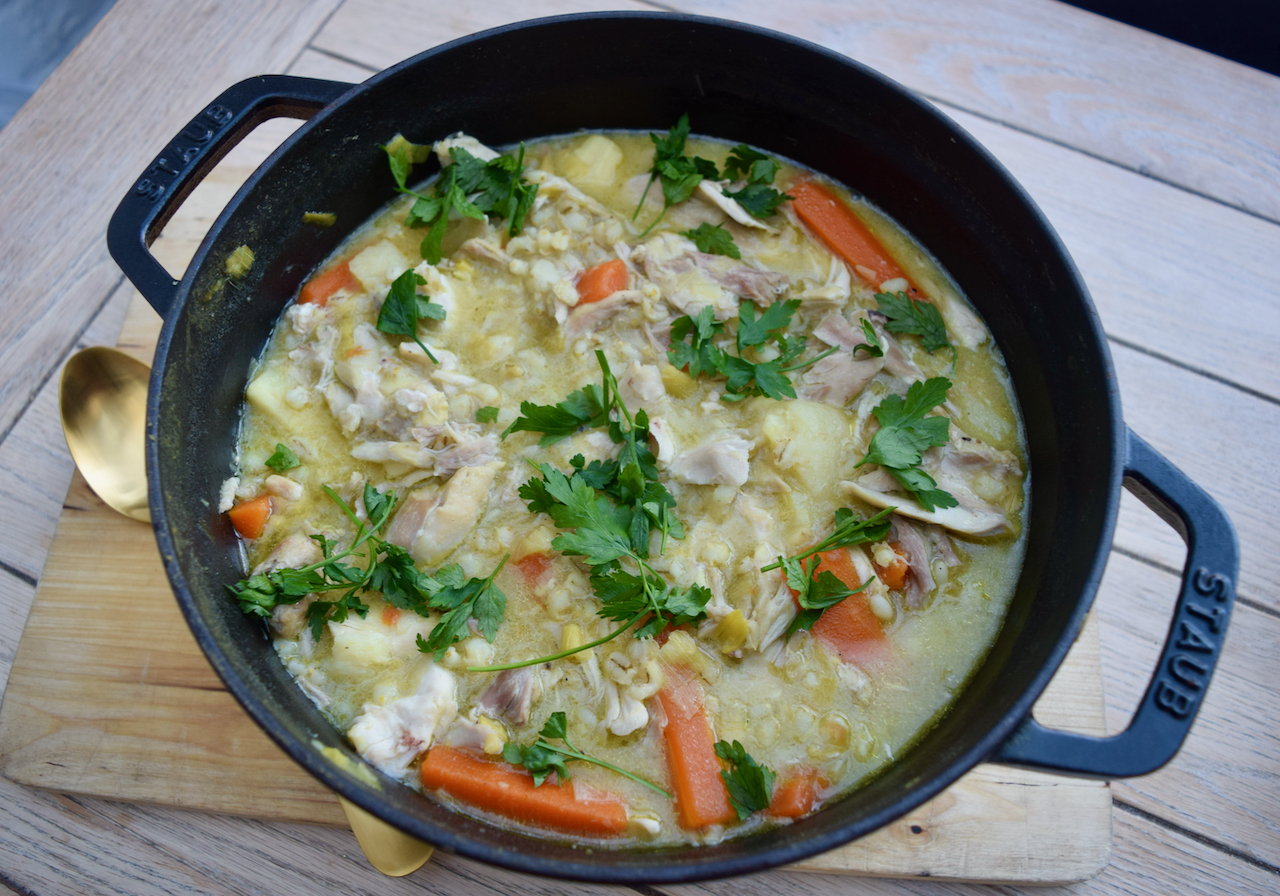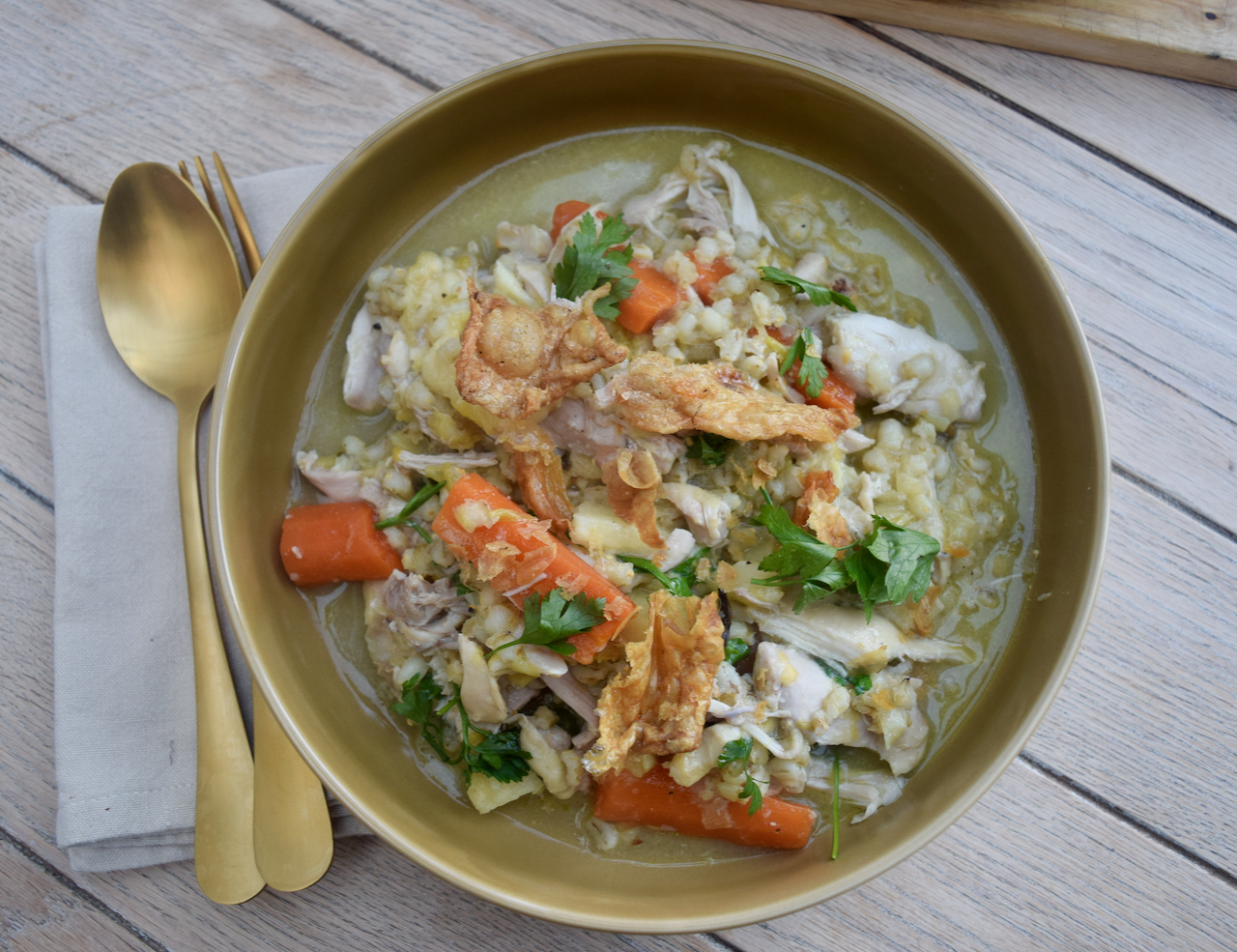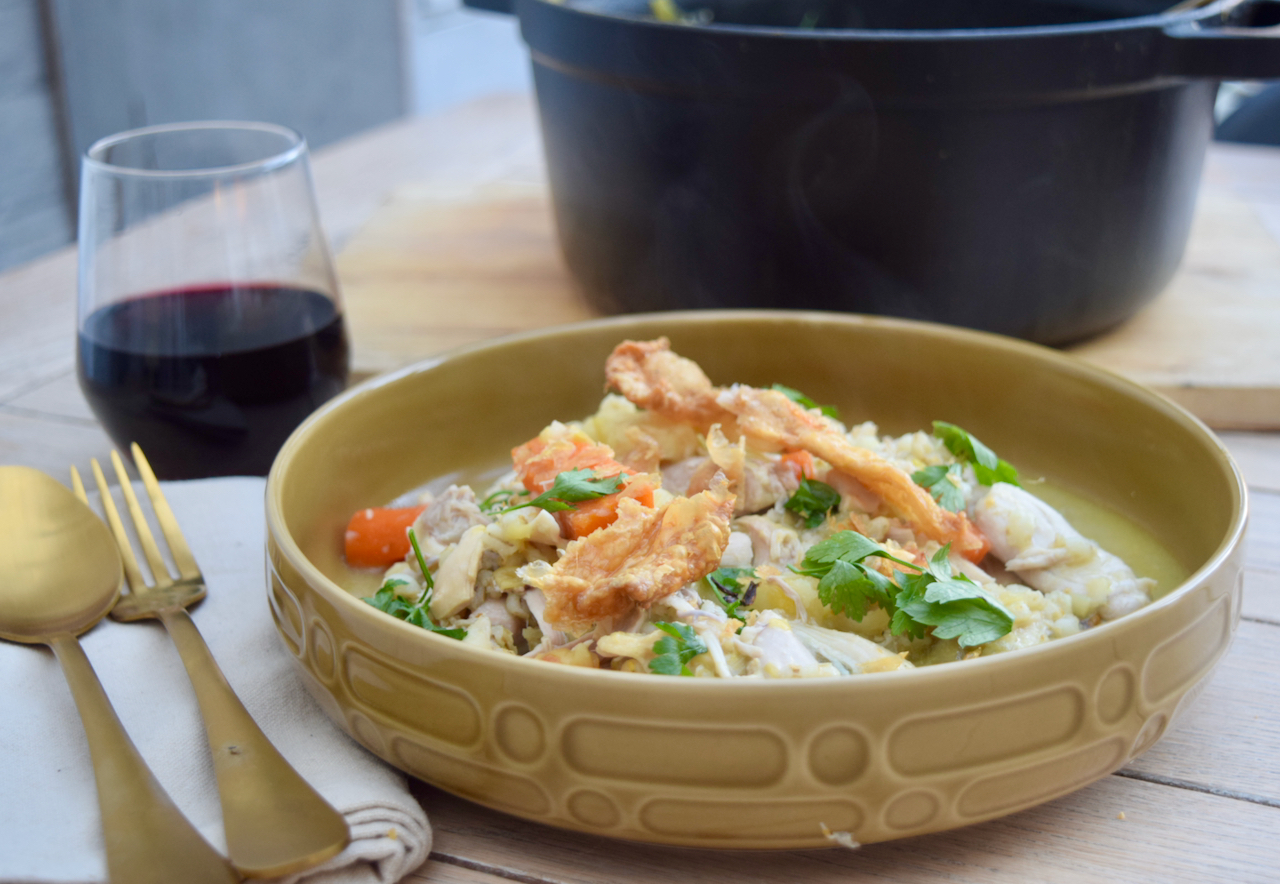 This casserole style dish got a strong 'it's so good' from the family, which I'm taking as a win. Just as well, because I love it, it's bloody easy to make and I would have been making this once a week whether they liked it or not.
Lucy x
Chicken with Barley and Chicken Cracking recipe
Serves a greedy 4 to 6
You will just need a large casserole dish with a lid for this recipe
300g leeks, sliced
300g carrots, peeled and cut into thick batons
300g parsnips, peeled and cut into thick batons
6 to 8 chicken thighs, bone in, skin removed and saved
1.25 litres chicken stock
4 teaspoons English mustard
Salt and pepper, to taste
Plenty of freshly chopped parsley
Chicken Crackling
Chicken skin
Salt and pepper
Prepare your vegetables by cutting the carrots and parnsips into chunky batons and slicing the leeks. Add them all to a large casserole dish. Tip in the barley. Remove the skin from the chicken thighs, but reserve for later. Place the skinned, bone in chicken thighs into the casserole dish with the vegetables.
Mix the 4 teaspoons of mustard into your chicken stock. Pour the chicken stock over the whole dish then place on the hob over a low heat and bring up to the simmer. Put the lid on, and cook for an hour, simmering gently.
While the chicken cooks, pre heat your oven to 170 degrees fan assisted and line a large baking tray with foil then place a rack on top of the foil. Carefully lay the reserved chicken skin onto the rack, skin side down, and season with salt and pepper. Place into your hot oven for 10 minutes. Take the tray out, turn the chicken crackling over and cook for a further 10 minutes, until crisp, golden and sizzling. Leave on the rack to cool.
When the hour is up, take the lid off and leave to stand for 10 minutes. Then carefully remove the chicken from the pan and, using two forks, remove the meat from the bones. Stir the chicken back into the barley mixture, taste, adding salt and pepper as necessary. Stir through some freshly chopped parsley.
Serve in large bowlfuls, with the chicken crackling shards over the top, with more parsley if you're that way inclined. A green vegetable side or chunks of buttered bread to serve at optional. I imagine any leftovers would reheat perfectly the following day or two, with a splash more water added, if needed.