Best Chewy Flapjack Recipe
It's bloody half term again. We've barely finished the Easter eggs but no, time for another week off for George. To be fair, for the first time ever he has fashioned a revision timetable and seems to be cracking on with some work, in between large bouts of Fortnight on the PS4, of course. We are also off to collect Ben this weekend having finished his first year at Uni, which has absolutely flown by. So, to say the cupboards are about to be ravaged is an understatement. It's time to stock up on large amounts of easy to make treats and these Best Chewy Flapjacks are just as the name says, the best.
I made these for the first time for one of George's regattas and in slightly immodest style I ate 3 pieces before any of the rowers had got a look in. I tried to kid myself it might be breakfast fodder, but then I am slightly blinkered and ignored the amount of butter and syrup I had used in these oat based treats. These Flapjacks do live up to their name and are chewy and the best. I have tried tons of recipes over the years, but this really is a lovely one, not too dry and not to hard, just right. I added chocolate chips to mine for added calories for the rowers, but you could add some sort of dried fruit such as cranberries, cherries or apricots if you'd rather. When I made this batch, I added the chocolate into the main mixture and it melted into the oats, however, if you press them into the top of the flapjack just before you put it into the oven, the chips stay whole and less melty.
I found this failsafe recipe in a lovely book called the Cookie and Biscuit Bible I pilfered from work, so huge thanks to this baking based new testament for the inspiration. This is simple food, but perfect, just what's needed to fill up the endless supply of teenage boys in our house.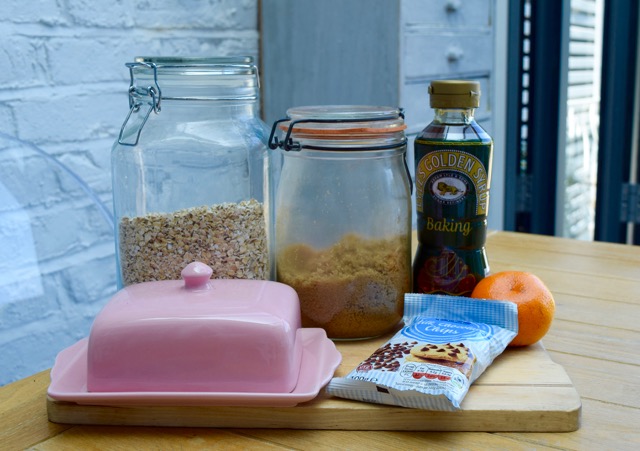 Super duper simple, nothing alarming here. Apart from the fact I didn't have an orange, so had to use the zest from this lovely shiny satsuma which worked just perfectly. Don't dwell on the amount of butter and syrup in the recipe, this makes a lot of Flapjack and surely the zest is one of your 5 a day.
Make a start by lining your rectangular tray and pre heating the oven to around 160 degrees fan assisted. Now, either in a saucepan or in a large bowl, melt the butter, syrup and brown sugar on the hob or in the microwave.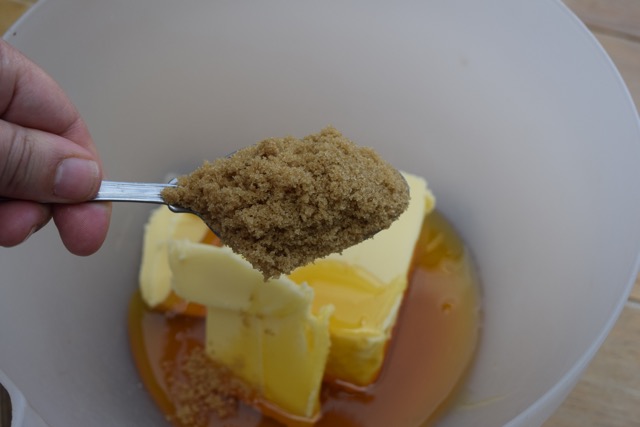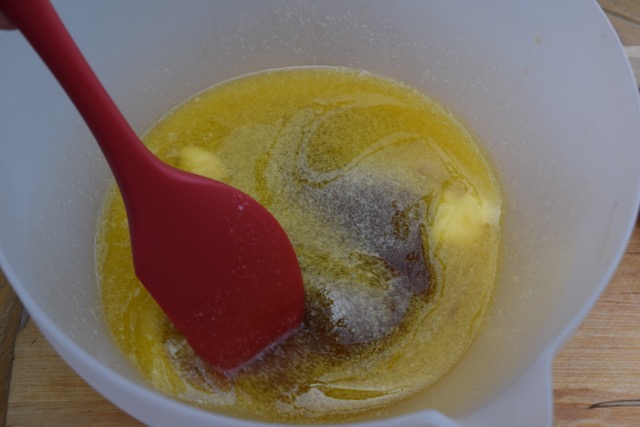 Stir the melted mixture together then grate in the orange or at a push, satsuma, zest.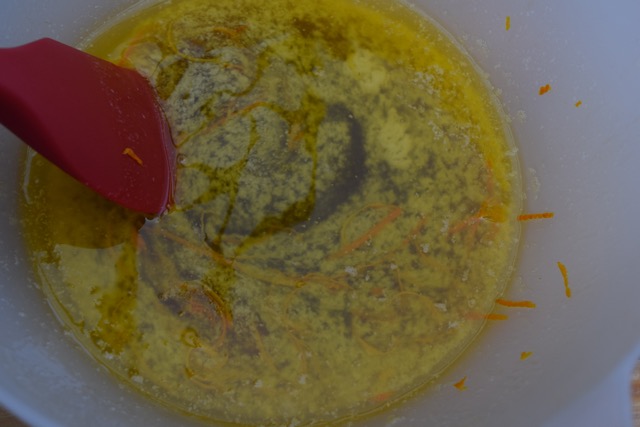 Stir in the oats and ensure everything is well coated in the butter and syrup. Then press into the lined tin, fashioning an even layer. Press your choice of chocolate chips, raisins, craisins or other topping into the top of the flapjack. I didn't do that, with my total lack of patience, I stirred the chocolate chips into the oats and they melted. It was still delicious just not as aesthetically pleasing.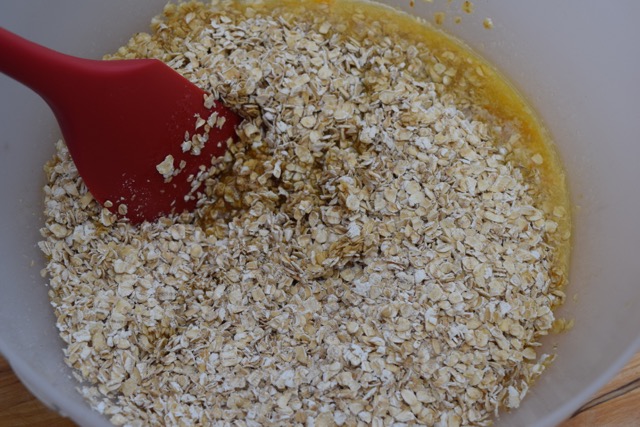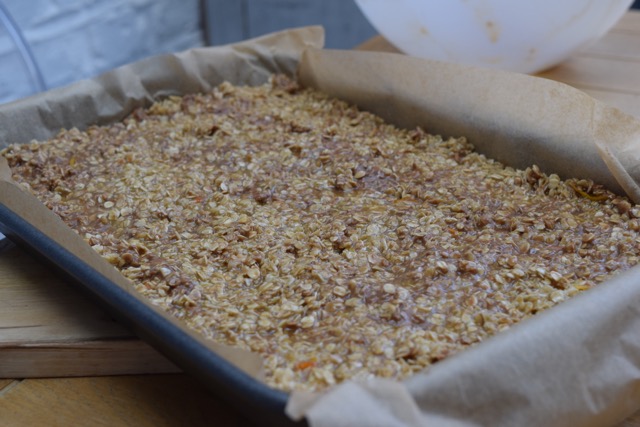 Bake for 20 to 25 minutes and no more. This is meant to err on the slightly under-cooked so the flapjack remains chewy. The finished product should be golden, firm at the edges and smelling divine.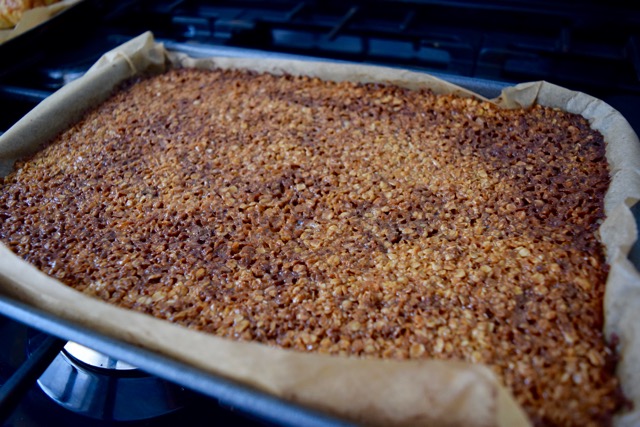 Before the flapjack sets completely, cut into generous squares.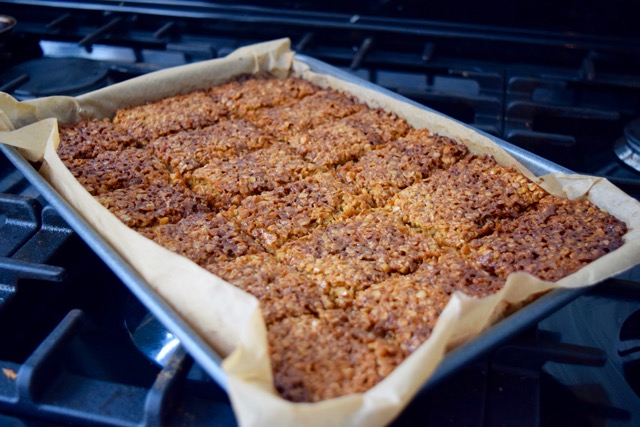 Leave the squares to cool completely before removing them from the tin. If they are still warm they may crumble a little *I could have waited a little longer*. Then tuck the hell in, I can assure you, you will not be able to help yourself.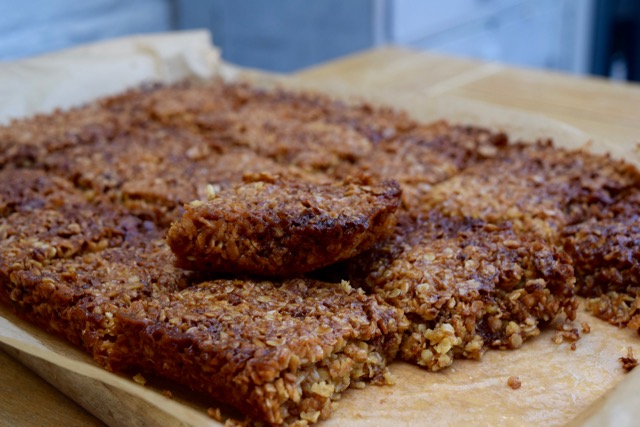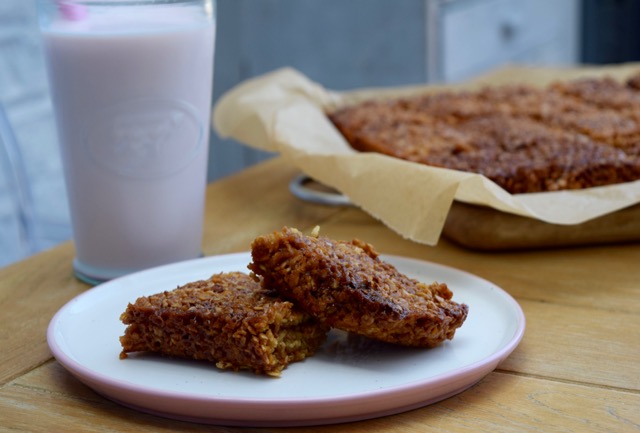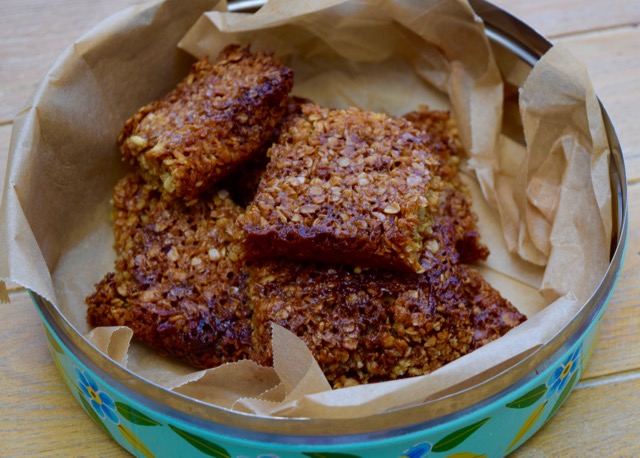 I pretty much had to padlock this tin shut such was my longing to scoff the whole lot. I didn't, however, I took some to work to fatten up the office and left the others for George and his Fortnight playing pals, they need all the bloody distraction they can get.
Happy half term or happy four day week to you all.
Lucy x
Best Chewy Flapjack Recipe
Makes 18 to 24 squares, dependent on your cutting skills
You will just need bowls and a lined Swiss roll sized rectangular tin
250g butter
225g golden syrup
75g soft brown sugar
Zest of an orange or satsuma
375g rolled oats
Optional 100g to 150g chocolate chips or raisins or dried cranberries or cherries
Pre heat your oven to around 160 degrees fan assisted and line a rectangular Swiss roll style tin.
Take a large bowl or pan and melt the butter, golden syrup and soft brown sugar in the microwave or on the hob. Stir until just blended.
Add the zest of an orange or satsuma and stir well before mixing in the porridge oats until everything is well blended.
Press the flapjack into an even layer in the tin then sprinkle the chocolate chips or dried fruit onto the top and press down again. Bake for 20 to 25 minutes max or until golden and firm but still soft in the middle.
Leave to cool a little before cutting into good sized squares. Then leave to cool completely in the tin before removing and devouring in big mouthfuls.
This flapjack will keep for around 4 days in an airtight tin, although it's unlikely to last that long.
SaveSave
SaveSave
SaveSaveSaveSaveSaveSave
SaveSave
SaveSave