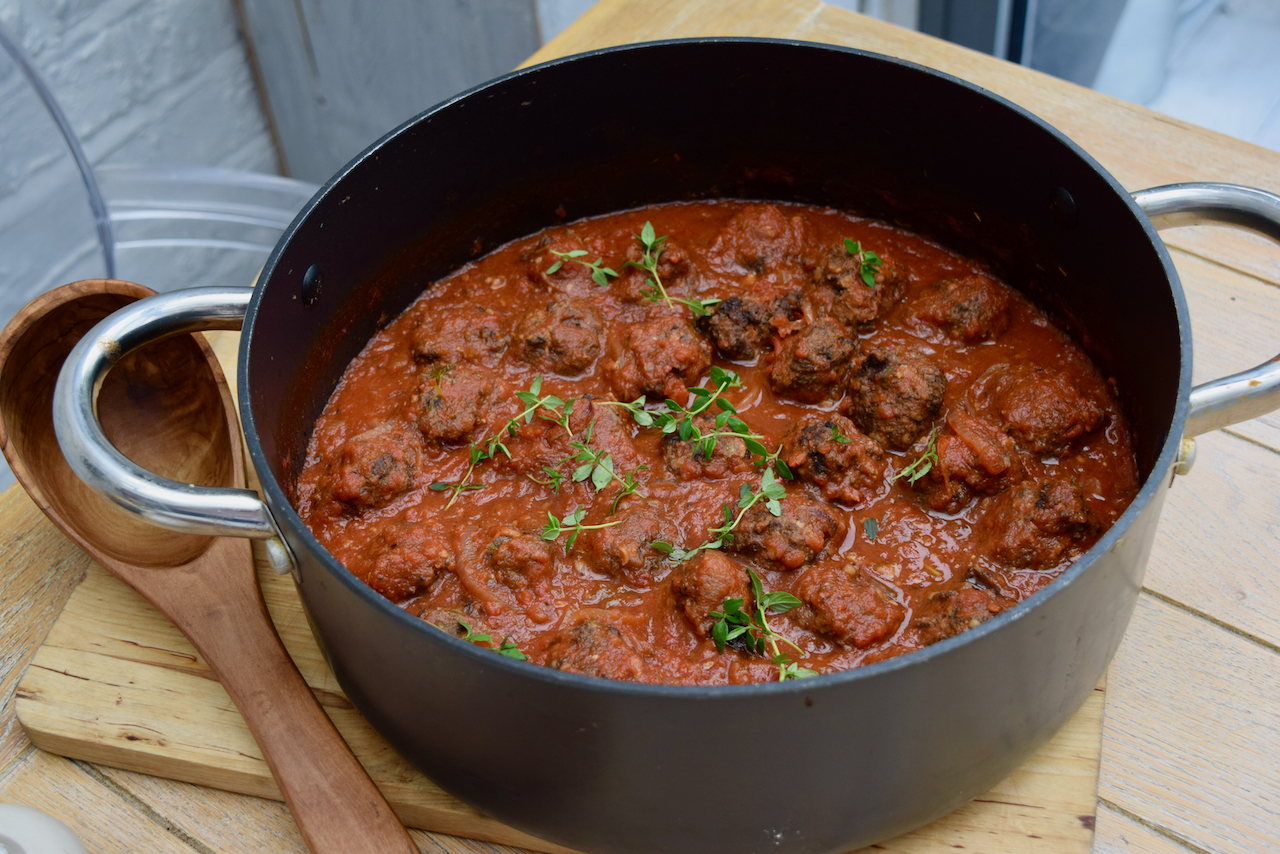 Black Pudding Meatballs recipe
I've given myself a couple of weeks off blogging recently. It's been a whirlwind getting George off to uni coupled with a restful/booze laden 5 days in Spain for a much delayed 50th birthday celebration. It's been good to have some time away at last, but I'm back now, it's cold, it's wet and it's time for these comforting Black Pudding Meatballs.
These are Nigella inspired, of course, she's the queen of comfort food, and a fellow black pudding fan. We love a bit of BP; George has gone off to uni with a kilo from good old Costco. These meatballs are beef based affairs with a generous helping of black pudding for luck. They're flavoured with parsley and thyme and cooked in a wonderfully wholesome homemade tomato sauce. If you can't be arsed, and we've all been there, just buy a good quality pasta sauce or tart up a bottled passata. This is a quick and comforting supper, the likes of which will happily get me back in the kitchen after a well earned hiatus.
All that's needed to complete this snuggy supper is some mash, cheesy polenta or a couple of slices of crusty bread to ensure none of this delicious dish gets left behind.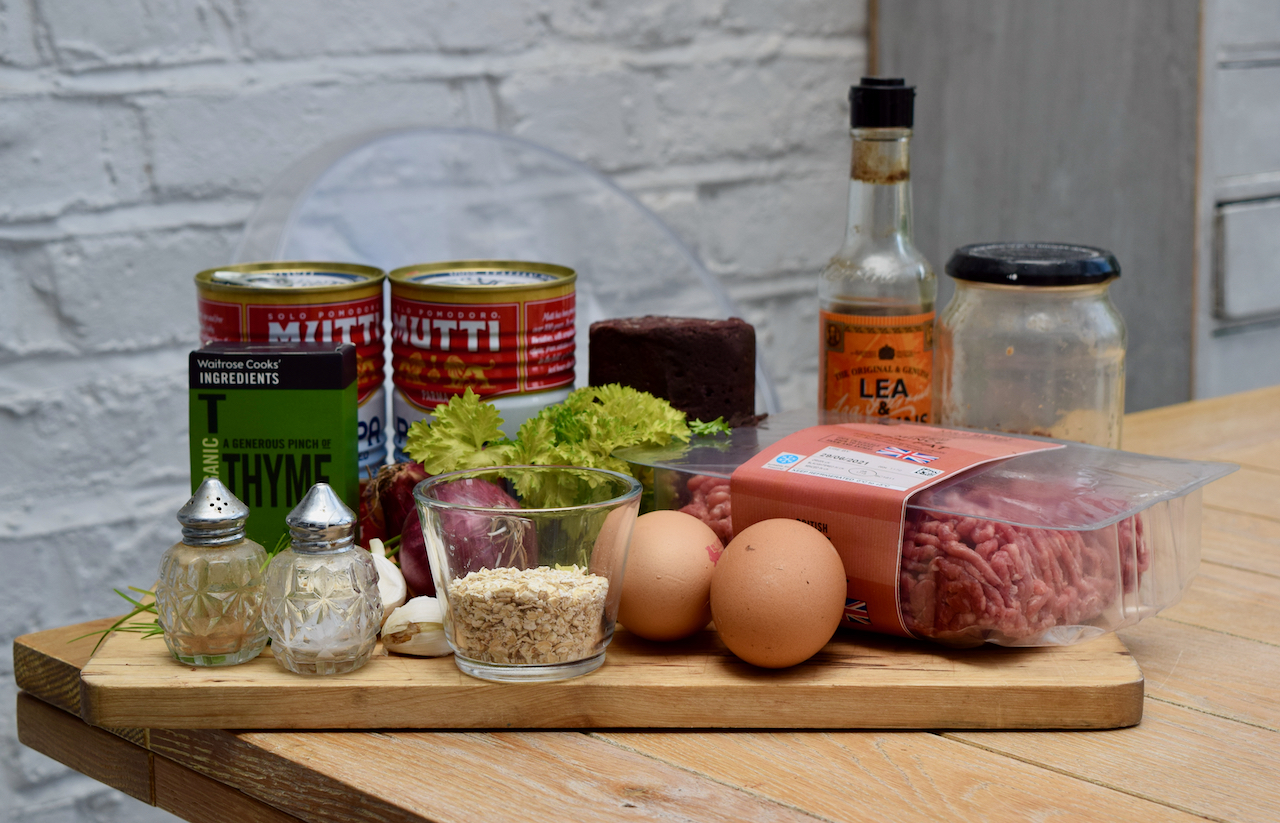 These Black Pudding Meatballs were crying out to be made, as I had the huge lump of black pudding waiting in the freezer. Adding this to the beef makes the meatballs so *eek* moist and flavoursome, regular meatballs will never taste the same again. The tomato sauce is simple and tasty too, it's worth making your own here to complete this brilliant dish.
Start with the tomato sauce first. Take a large high sided pan and heat the olive oil over a low to medium flame. Add the chopped onions and cook for 15 minutes or until soft and just turning golden.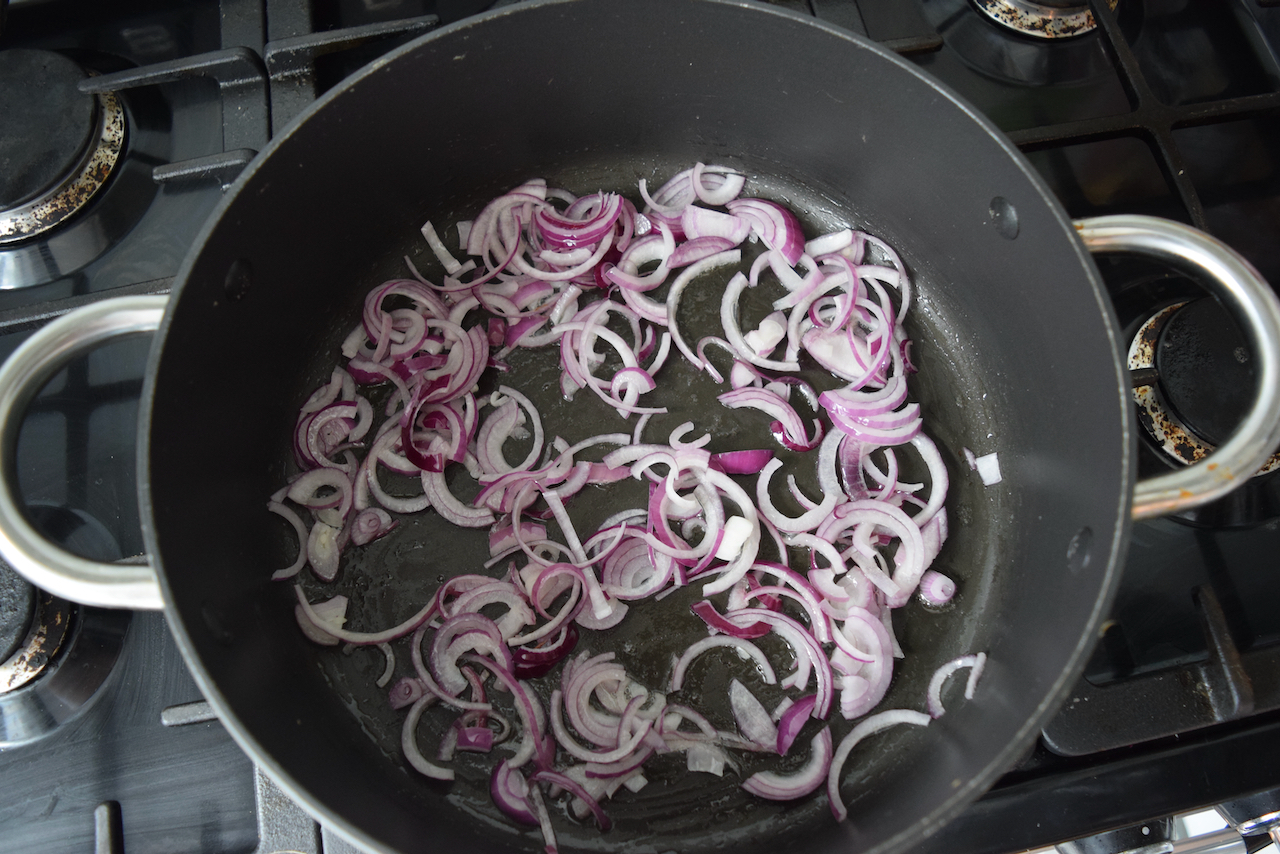 Tip in the thyme, parsley and garlic, cook for a minute, then add the two tins of tomatoes. I lashed out on some good quality ones here, it's worth it.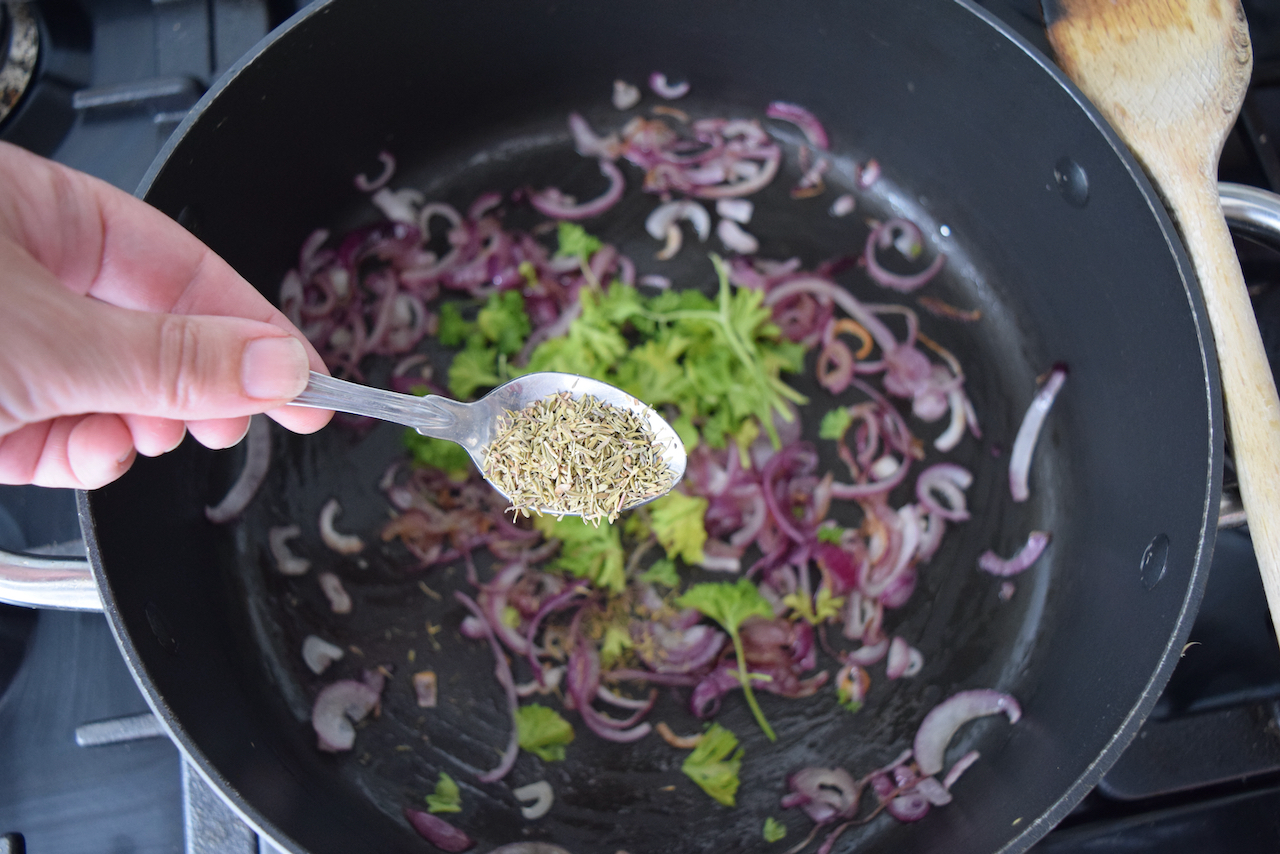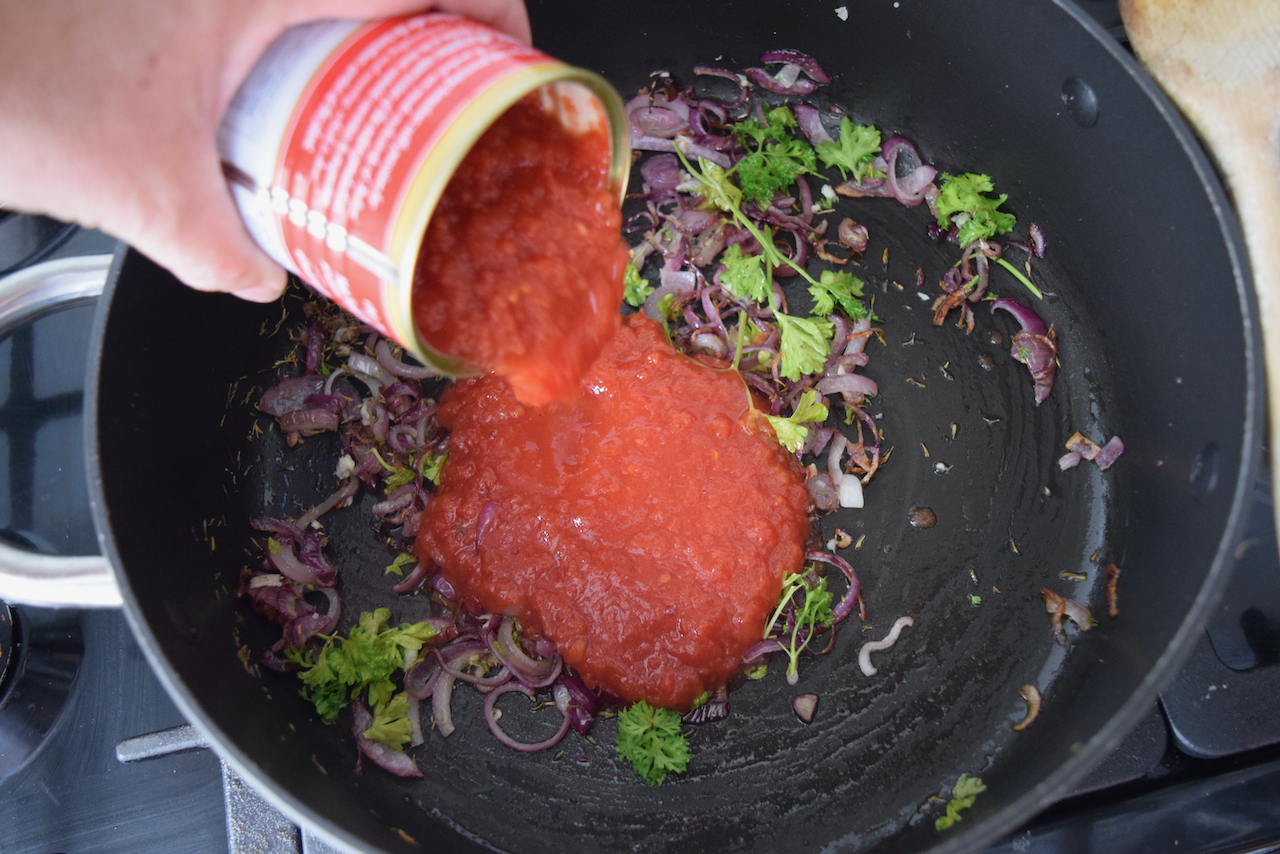 Rinse the tins with 400ml of water then pour this into the pan along with the Worcestershire sauce, salt, tomato puree and pinch of sugar.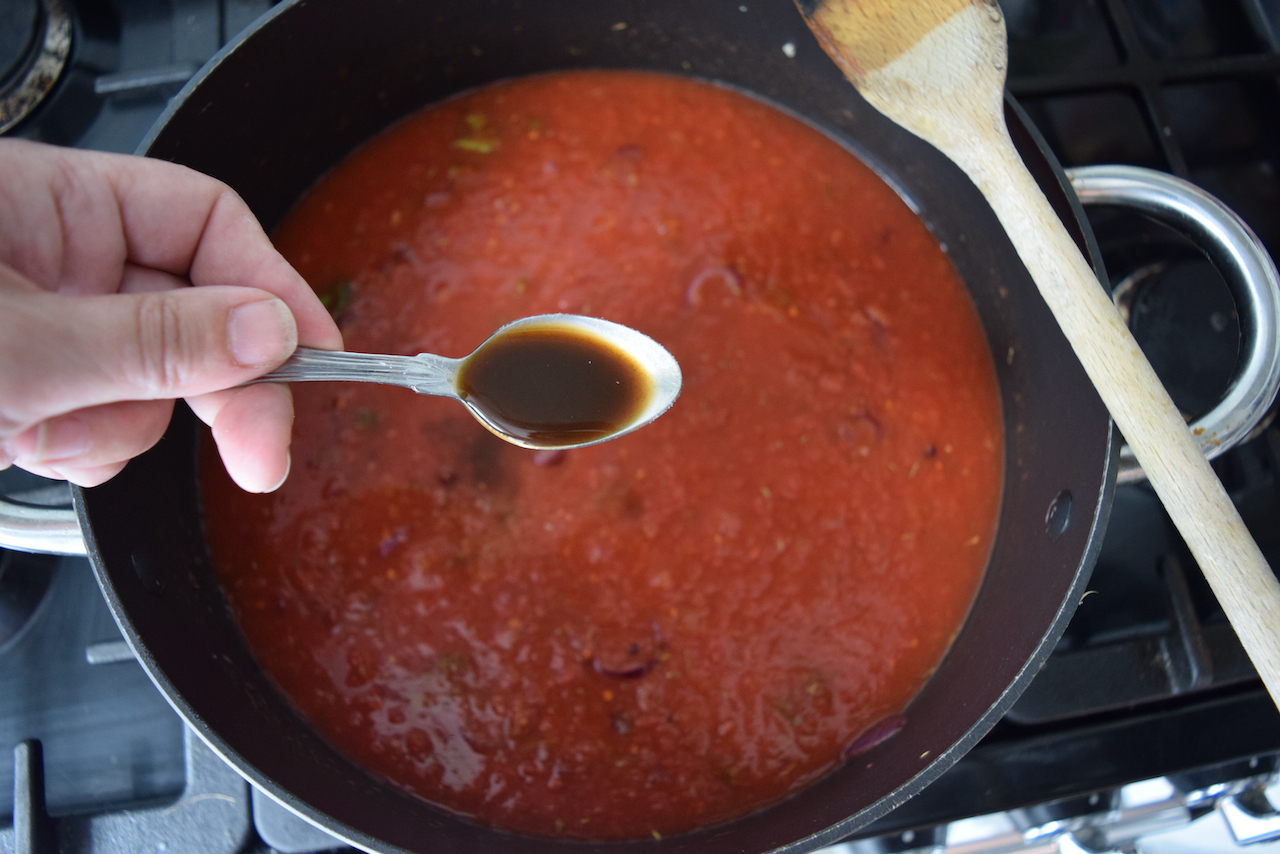 Stir well then simmer, lid off, for 15 minutes, while you assemble your balls.
In a large bowl, loosen the beef with your hands or a fork, then add along with the crumbled black pudding, garlic, thyme, parsley, salt and pepper, oats and eggs.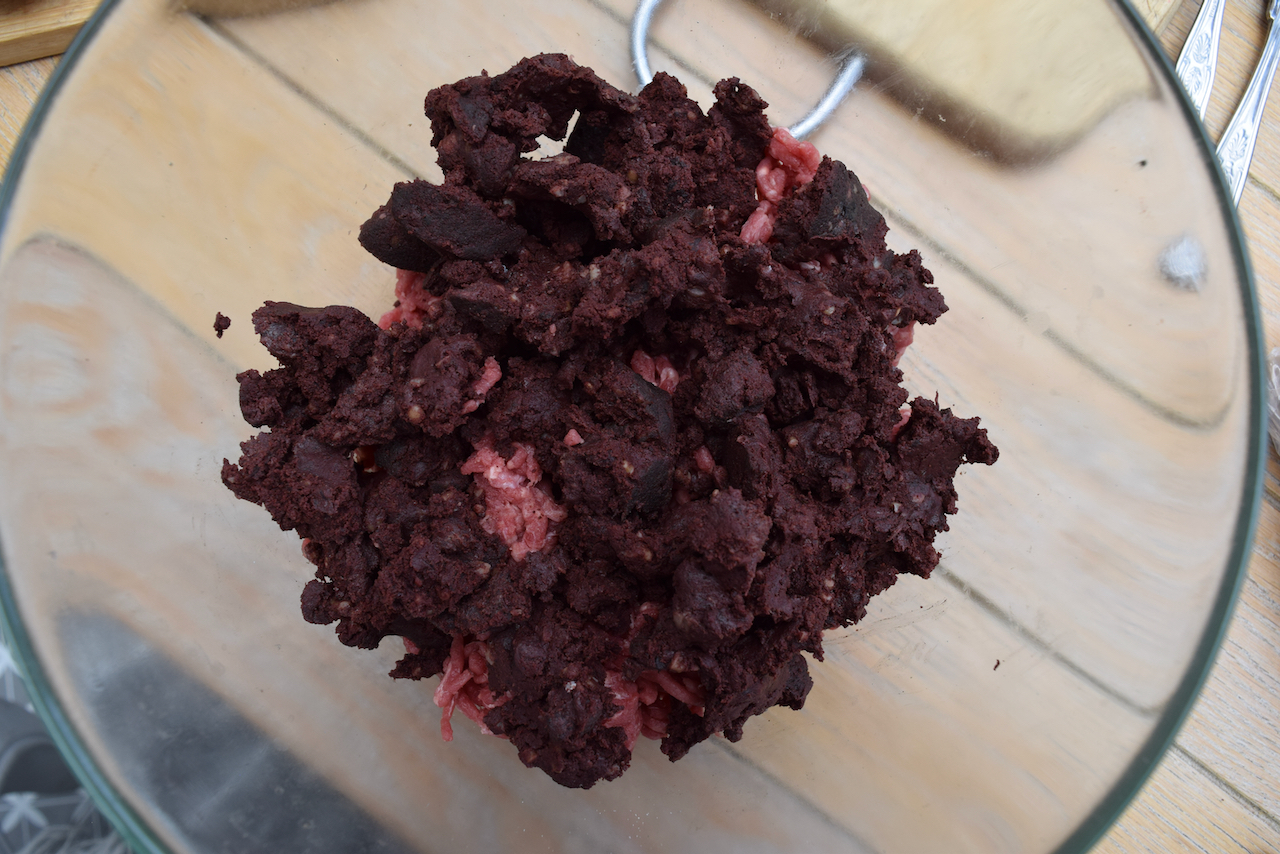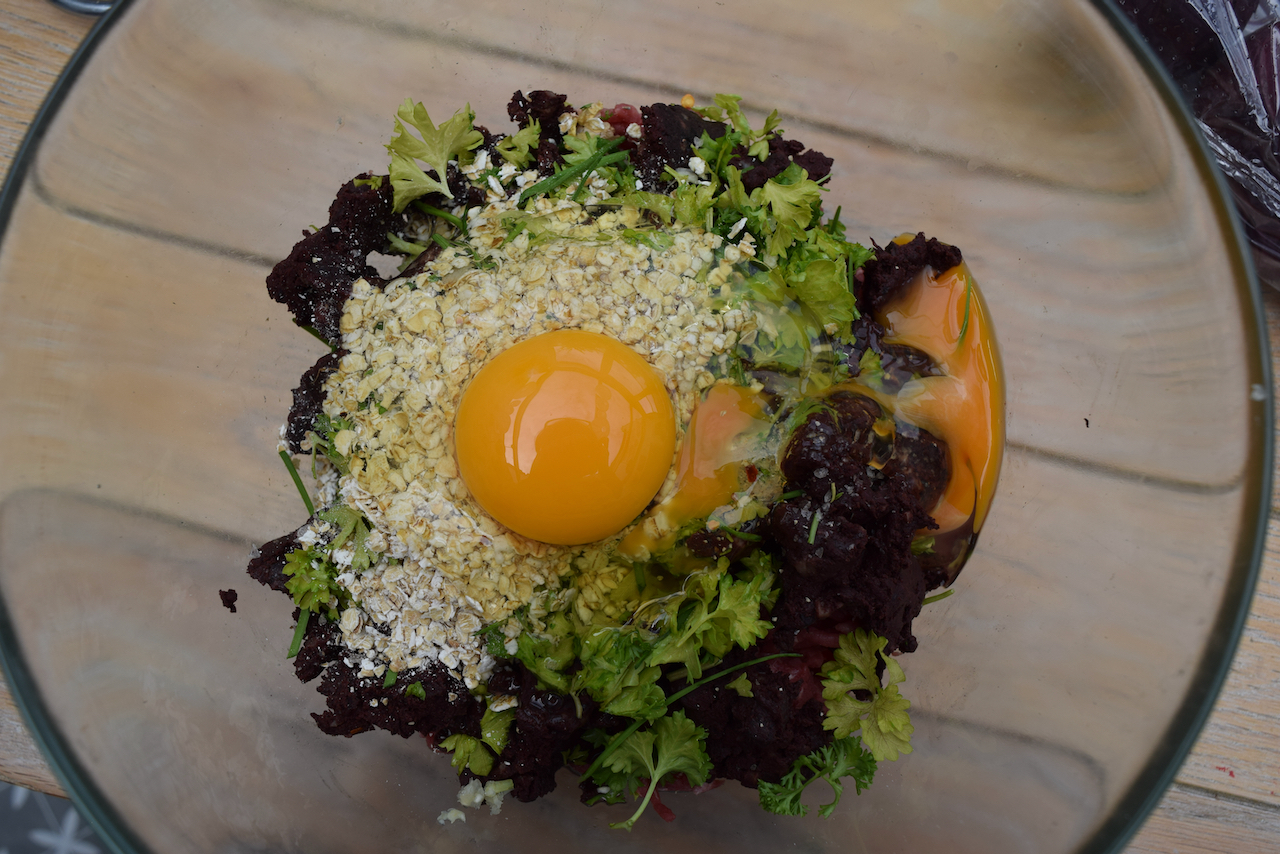 Now if you don't like this sort of thing, use a spatula, but if not, relish going into the bowl with your hands to combine all the ingredients until you have a well mixed mixture.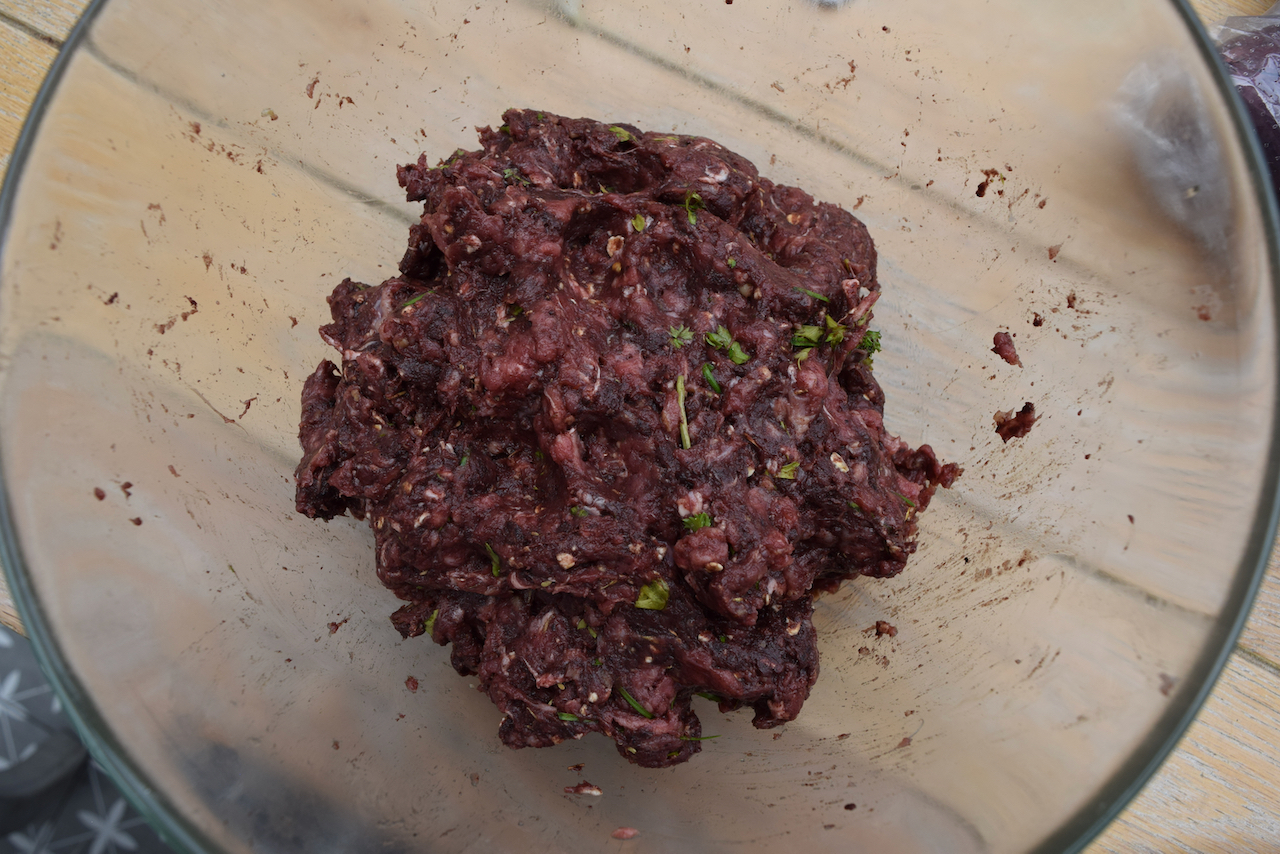 Now, either using your hands, a tablespoon or like me, a small ice cream scoop, roll the mixture into walnut sized balls and place on a baking sheet. You will have anywhere between 32 and 40, depending on size. My balls were quite big *oh come on*.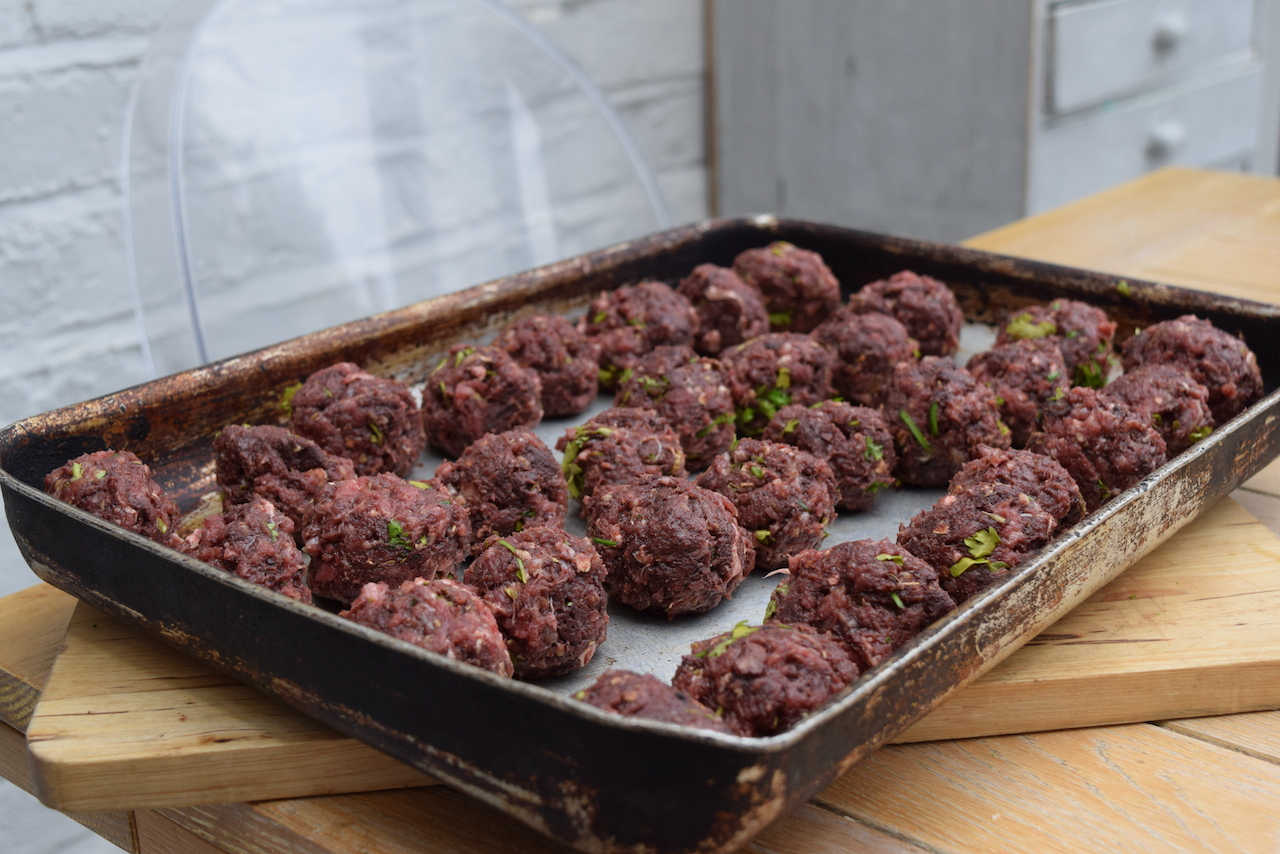 One your sauce cooking time is us, drop the black pudding meatballs into the sauce in a circular pattern. Gently push them down to make sure they're almost covered by the sauce.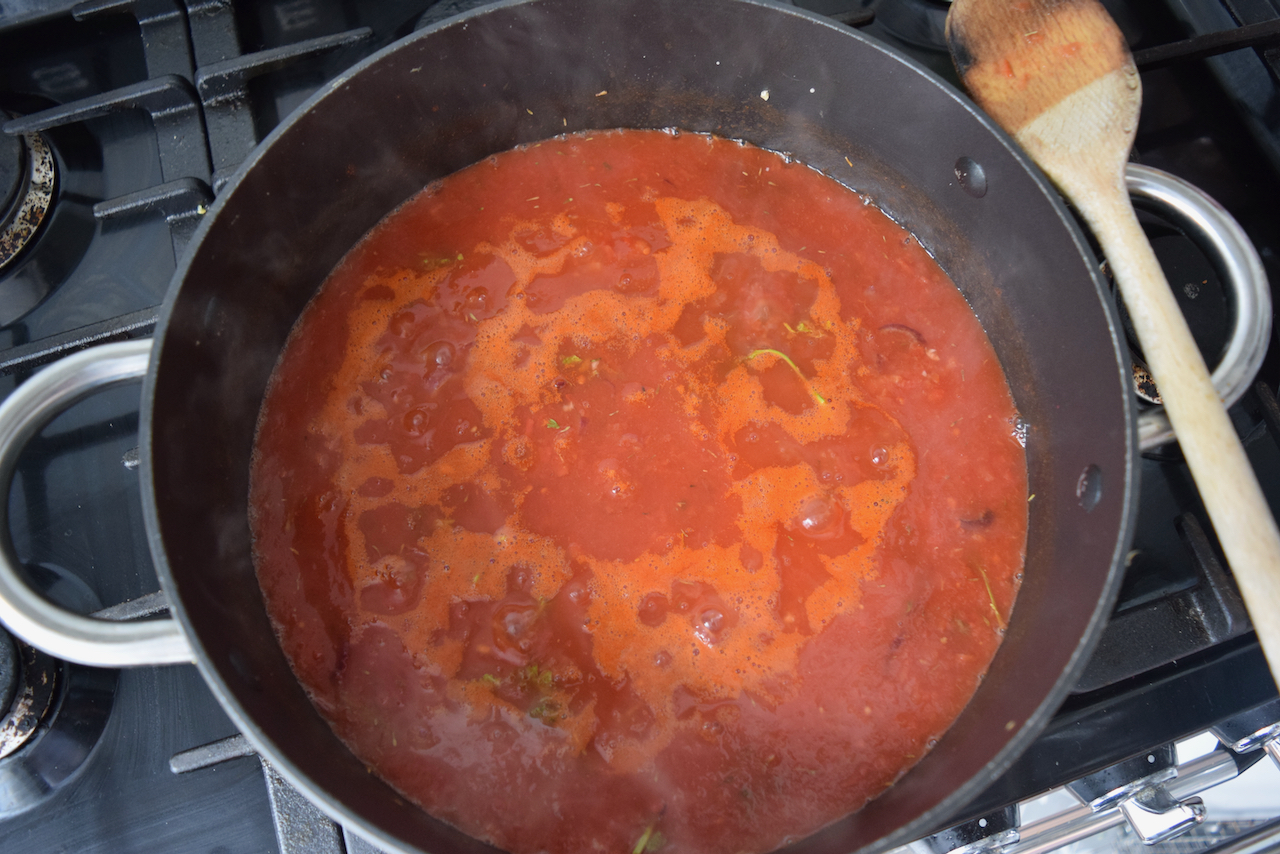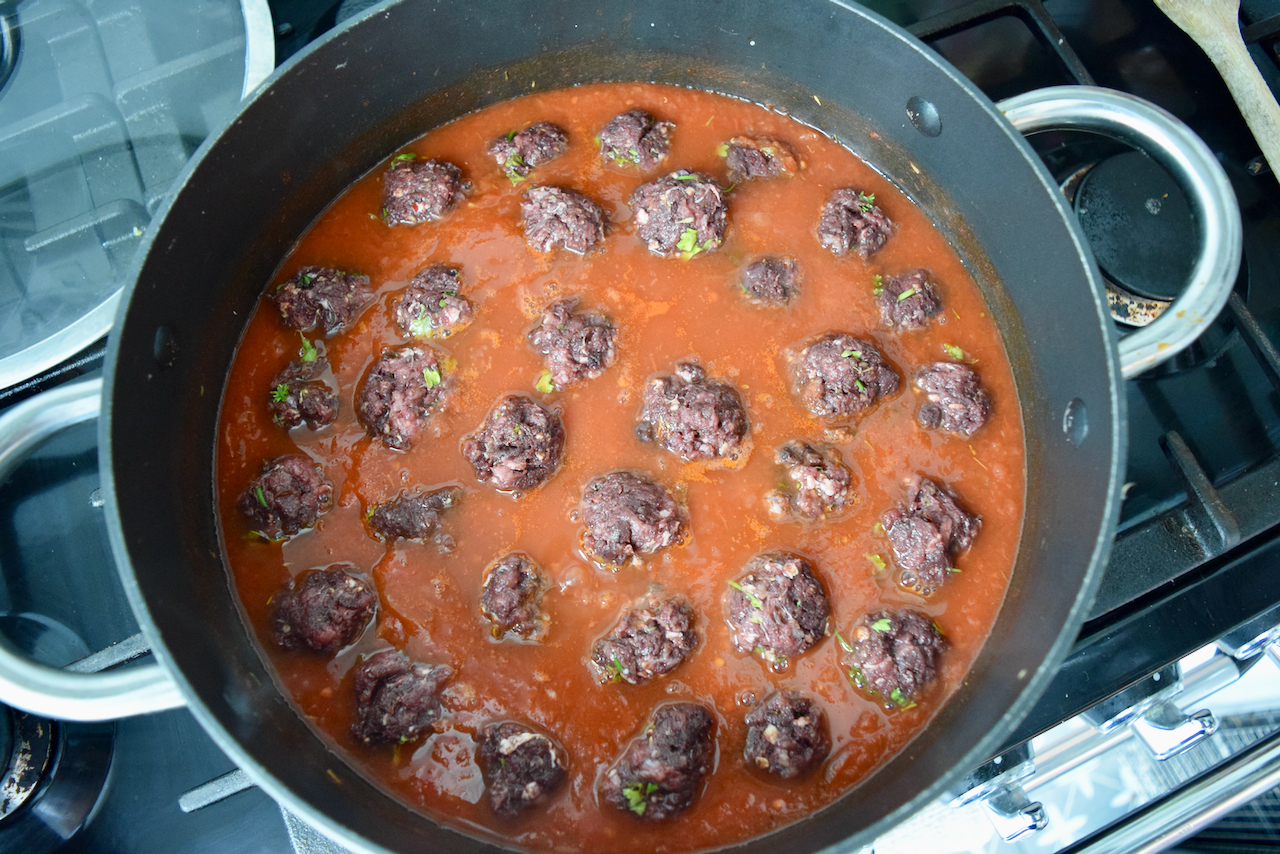 Bring the sauce back up to the simmer and put the lid on tightly and simmer for 15 minutes.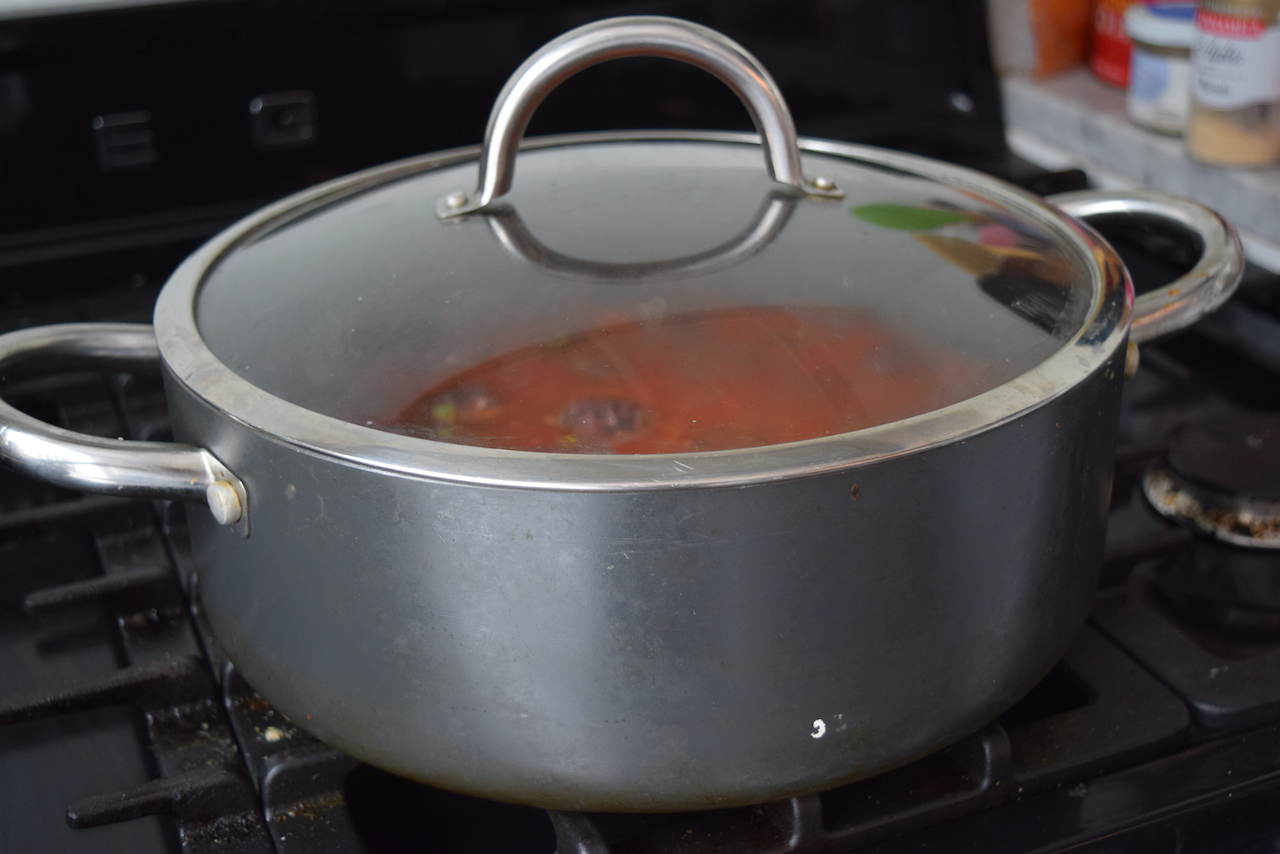 After 15 minutes, whip the lid off and give the pan a shake or a very gentle stir to move the meatballs around a little. Then simmer, lid off, for a final 15 minutes.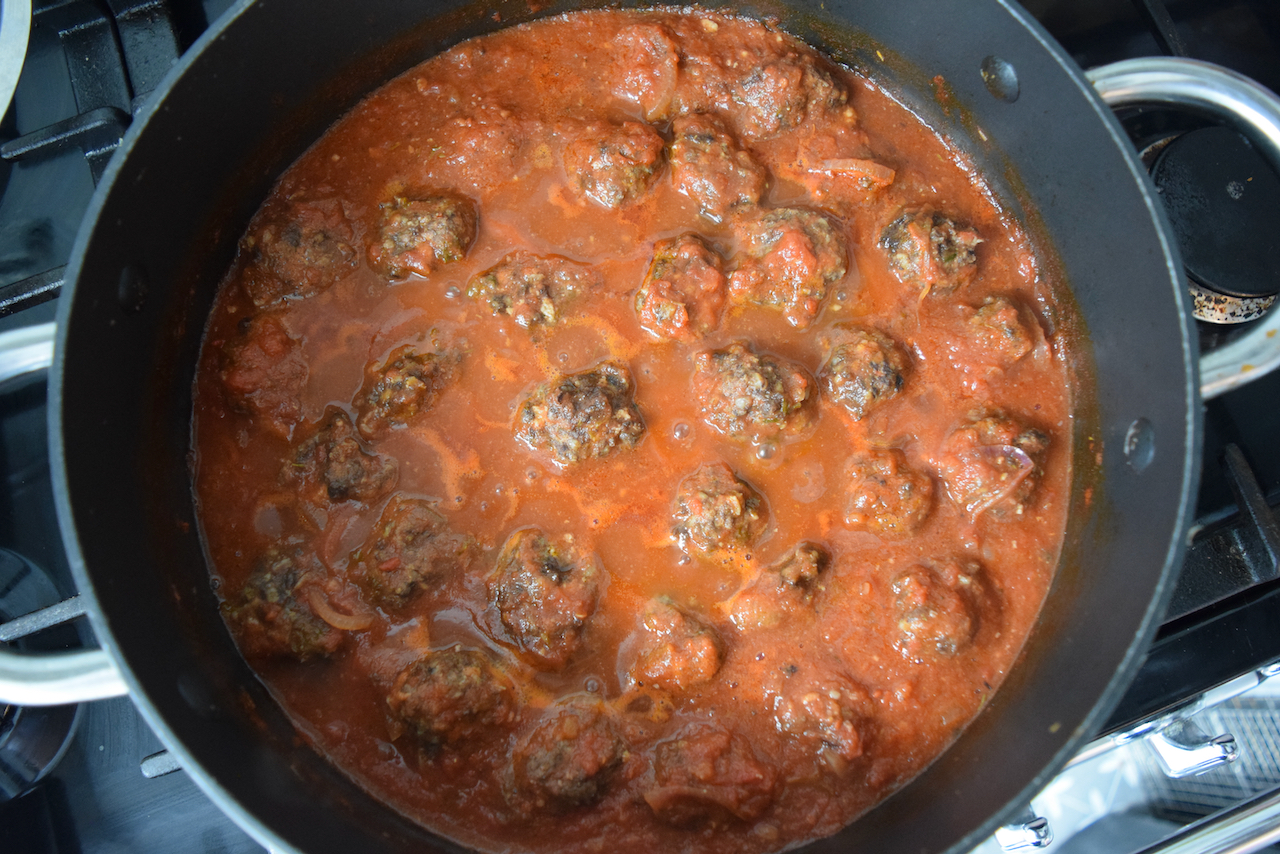 Give the sauce a taste and add salt and pepper as needed. Scatter with some fresh parsley or thyme then serve in big, piping hot bowlfuls.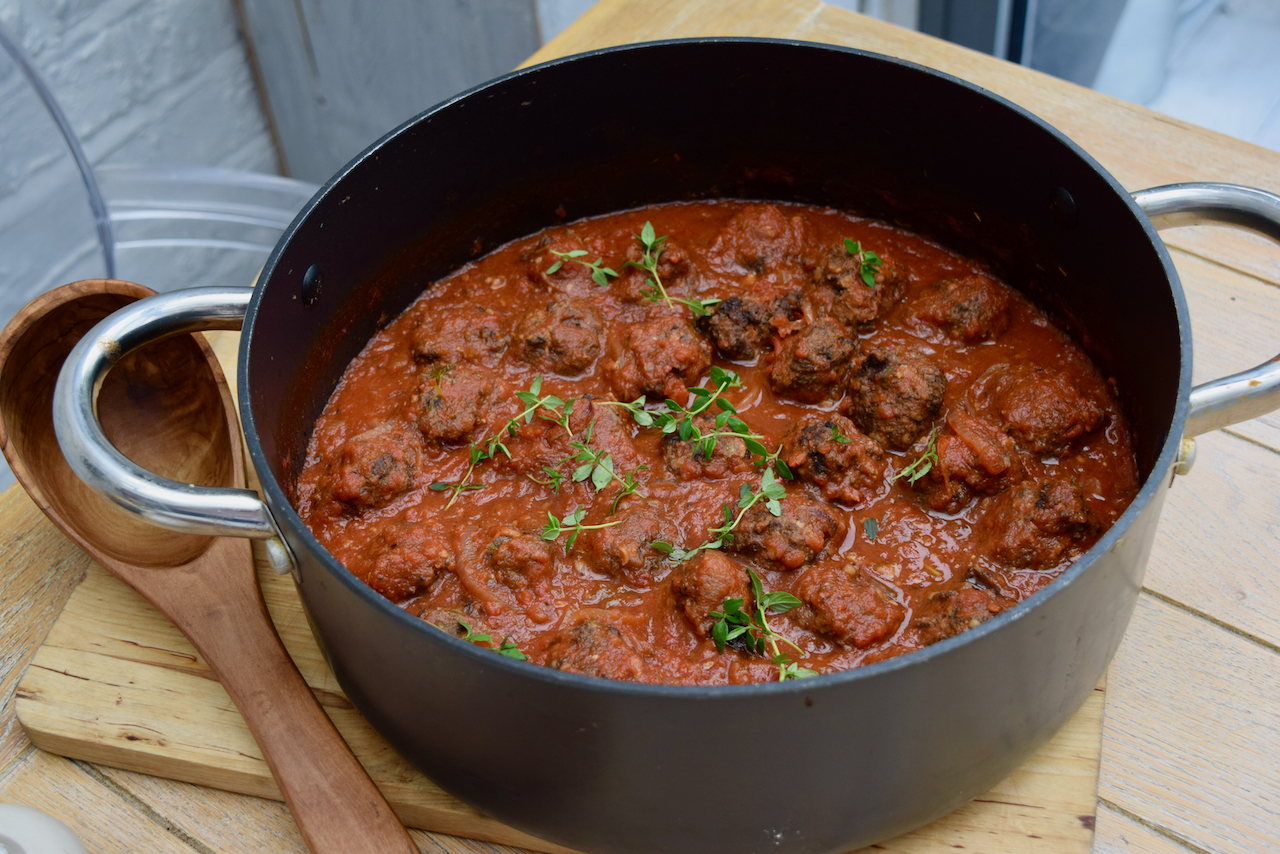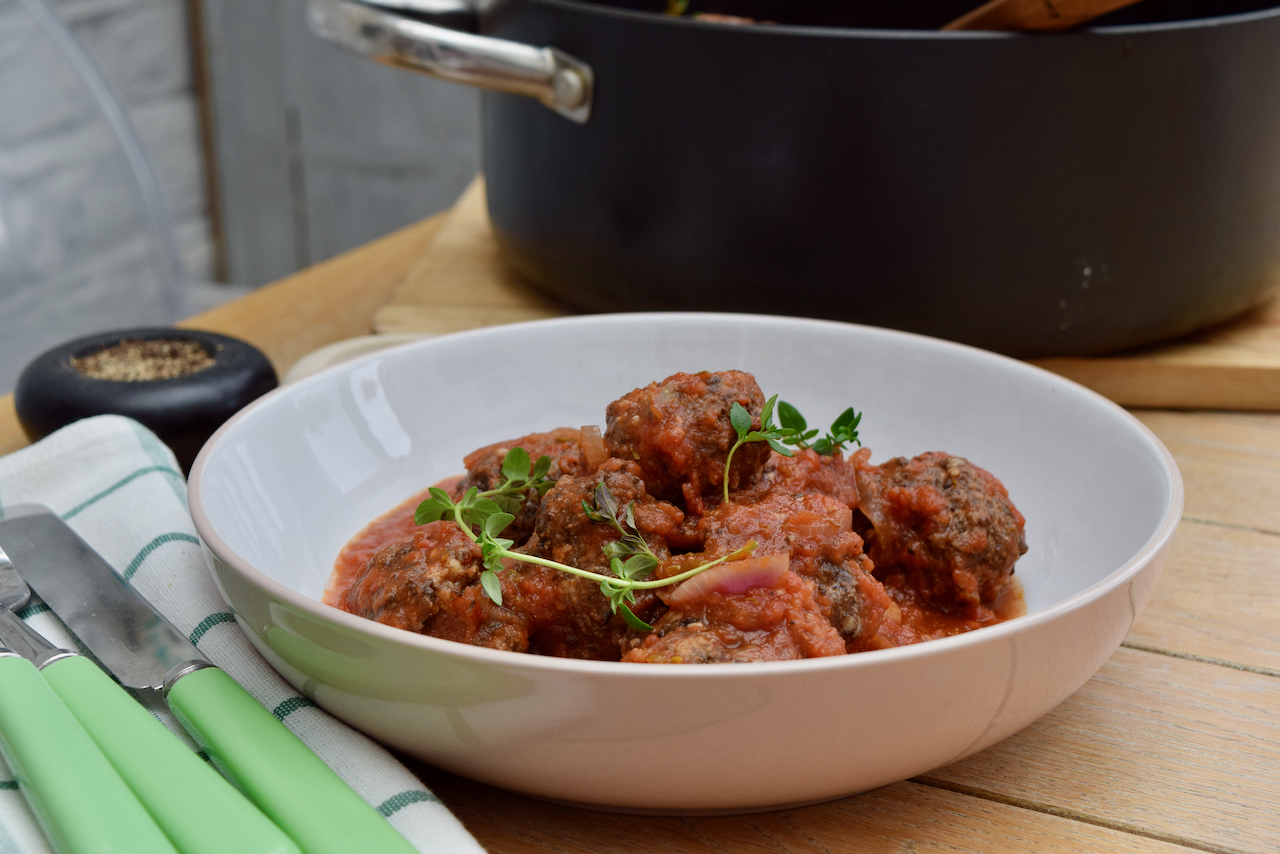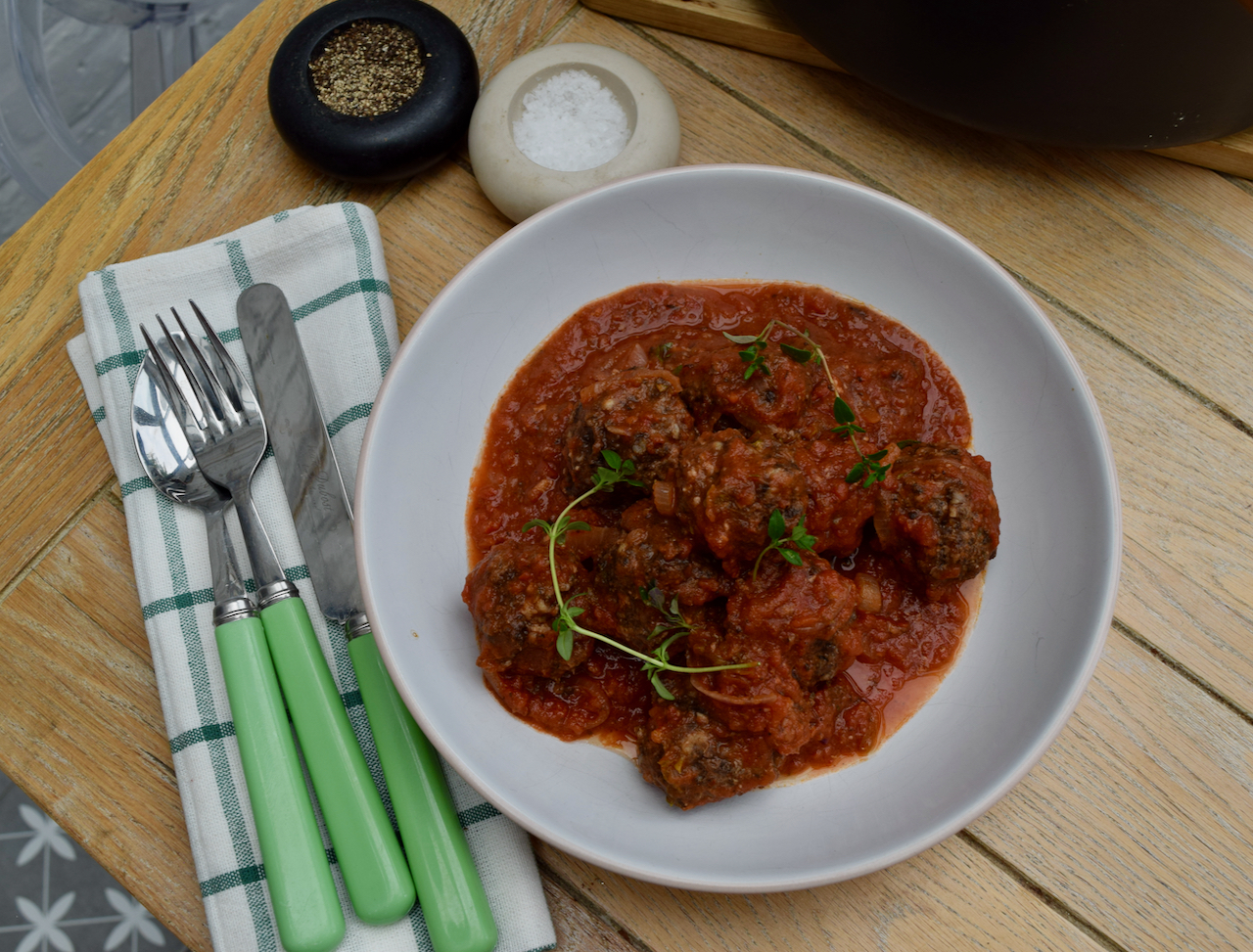 After a week of 5 star eating and drinking, I'm back to being good, so this post is near torture. A bowl of Black Pudding Meatballs would cheer me right up on a soggy October night; it's time for comfort so balls to being good.
Lucy x
Black Pudding Meatballs recipe
Serves a generous 4 to 6
You will just need bowls and a high sided pan with a lid
Black pudding meatballs
500g beef mince
250g black pudding
2 cloves garlic, crushed, or use lazy garlic from a jar
3 tablespoons fresh parsley, chopped
1 teaspoon dried thyme, or 3 of fresh thyme
1 teaspoon salt
Generous grinding black pepper
1/4 teaspoon chilli flakes
2 tablespoons oats
2 eggs
Tomato Sauce
3 tablespoons olive oil
2 onions, roughly chopped, mine were red
1 teaspoon dried thyme or 3 of fresh thyme
3 tablespoons chopped parsley
2 garlic cloves, crushed or use lazy from a jar
2 x 400g tins good quality chopped tinned tomatoes
1 tablespoon tomato purée
2 teaspoons Worcestershire sauce
1 teaspoon salt
A pinch of sugar
Some sort of carb to serve, or just crusty bread for mopping, plus fresh parsley to garnish
Firstly, make the tomato sauce. Heat the olive oil over a low heat in a large high sided pan. Add the chopped onions and cook until softened and just starting to turn golden, for around 15 minutes. Add the garlic, parsley and thyme and cook gently for a further minute. Pour in the chopped tinned tomatoes, then rinse the tins with 400ml and pour that into the pan too. Stir in the tomato purée, Worcestershire sauce, salt and sugar then bring up to the simmer. Turn down and cook for 15 minutes, lid off.
Now make the meatballs. Take a large bowl and add the mince, loosening it with your fingers, crumble the black pudding, garlic, parsley, thyme, salt and pepper, chilli flakes, oats and eggs. Now, if you're squeamish mix thoroughly with a spatula but I highly recommend going in with you hands to ensure everything's completely mixed.
Using a small ice cream scoop or a tablespoon, scoop out walnut sized balls of mixture and place onto a lined baking sheet. Roll into balls, you should have around 35, depending on size.
Once the sauce has simmered for 15 minutes, carefully drop the meatballs into the sauce, making sure the sauce slightly covers the meatballs. Pop a lid on and cook for 15 minutes in the simmering sauce. Remove the lid and give the pan a gently shake or stir very carefully, then simmer for a further 15 minutes.
Have a taste of the sauce, season with more salt and pepper, as needed, then serve, scattered with some parsley or fresh thyme, with mash, cheesy polenta or some crusty bread for mopping. Any leftovers will reheat beautifully over the next 2 to 3 days.