Chicken Parmigiana Meatball Recipe
It's not often these days I find a recipe and think – wow. Most recipes are more meh than wow, but this is certainly a wow one. And trust the wonderful Martha Stewart to have furnished me with it. This Chicken Parmigiana Meatball is quite honestly the most delicious thing I have tasted in forever. It incorporates so many of my favourite things – chicken, deep fried panko crumbs, mozzarella and spaghetti with tomato sauce. It's like trip to your favourite old fashioned Italian restaurant, all rolled into a ball and put on a plate.
I have made this many times now, there never seems to be an occasion not to be making it. This Chicken Parmigiana Meatball works as a dinner party centre piece, family supper or if you swerve the spaghetti and just serve with salad and sautés it can be a summer lunch too. Admittedly, it does require a bit of preparation, but nothing daunting and they can be prepped well in advance and cooked off at the last minute while you prepare the pasta and sauce.
I was unable to find chicken mince, but you could certainly shop around, or ask your butcher to prepare some for you. I happily blitzed up boneless chicken thighs in the food processor, as I think thighs have the most flavour, but you could also used chicken breast. I make my tomato pasta sauce using passata, dried oregano, salt and pepper, a pinch of sugar and a splash of cream, but use your favourite jar of sauce if you prefer. And don't be afraid of the deep frying element. I have to say, I have always avoided deep frying in the past because a) I watched far too many public service adverts in the 70's when peoples' whole heads caught fire due to an unattended chip pan and b) it's not particularly healthy. However, if you just keep an eye on the oil, have a wet tea towel to hand and sod the diet for one day, both these points can be glossed over.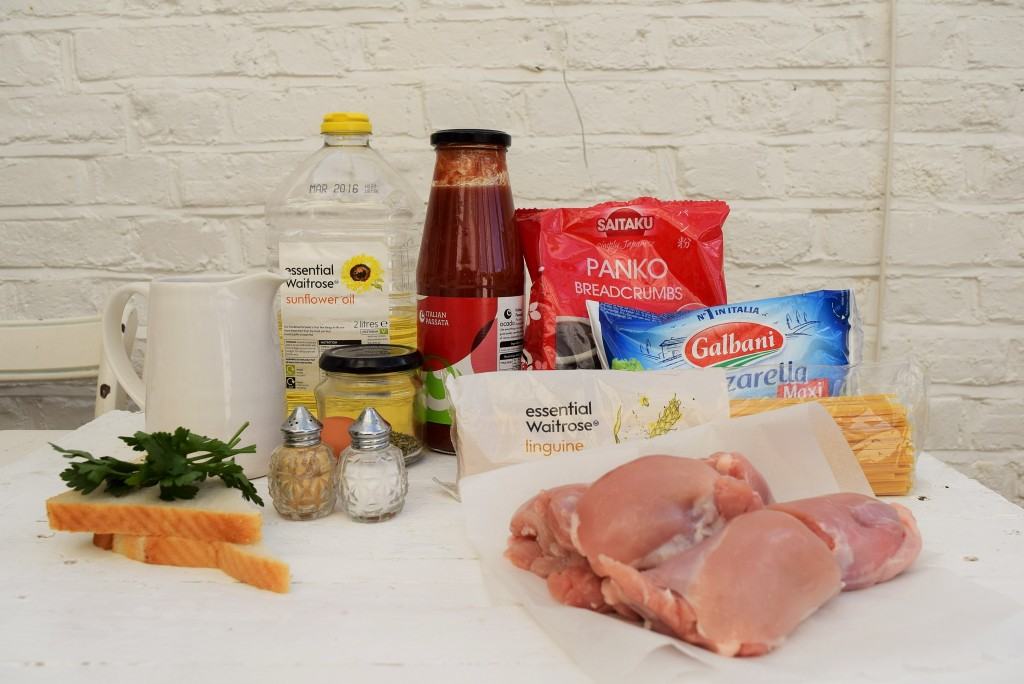 Here's the stunning ingredients line up for this mother of all meatballs. Well most of them, I did neglect to include the parmesan and salad leaves for the final flourish. I am useless, I know I am.
Get started by pre heating the oven to 160 degrees if you are going to cook these to eat straight away, if you are preparing them to serve later, don't bother putting the oven on yet. Next, in your food processor or small chopper, put in the slice of bread and blitz it into crumbs. Pop these crumbs into a big bowl then pour in the milk and season well with the salt and grind or shake of black pepper. Give this a good stir.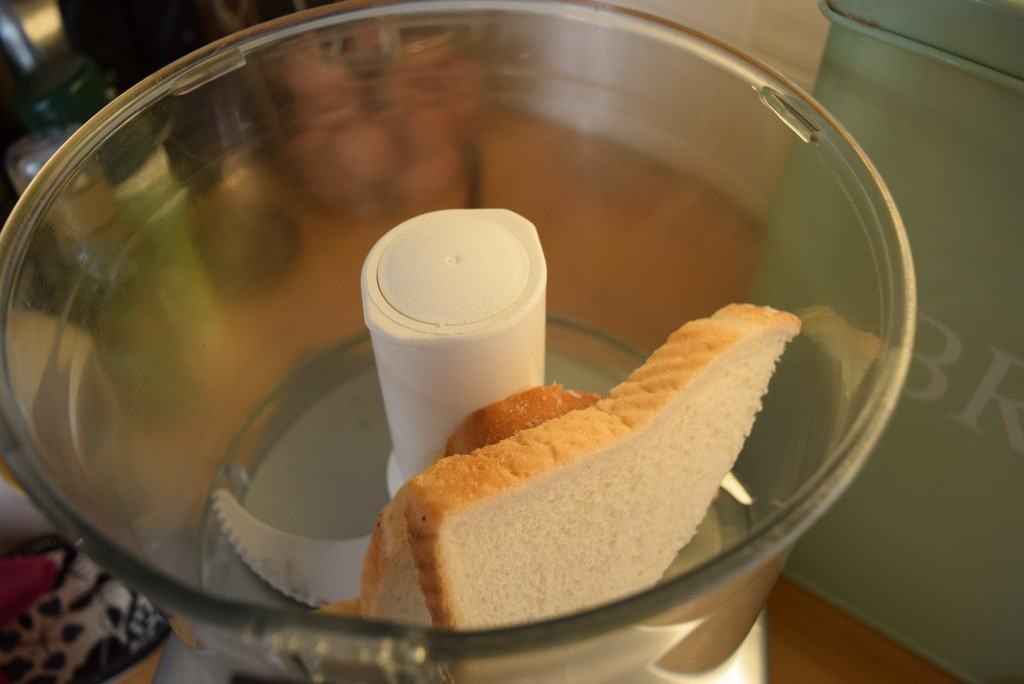 I've been caught having crappy sliced white bread in my house, we do also have spelt artisan bread, it's just out of shot *lies*.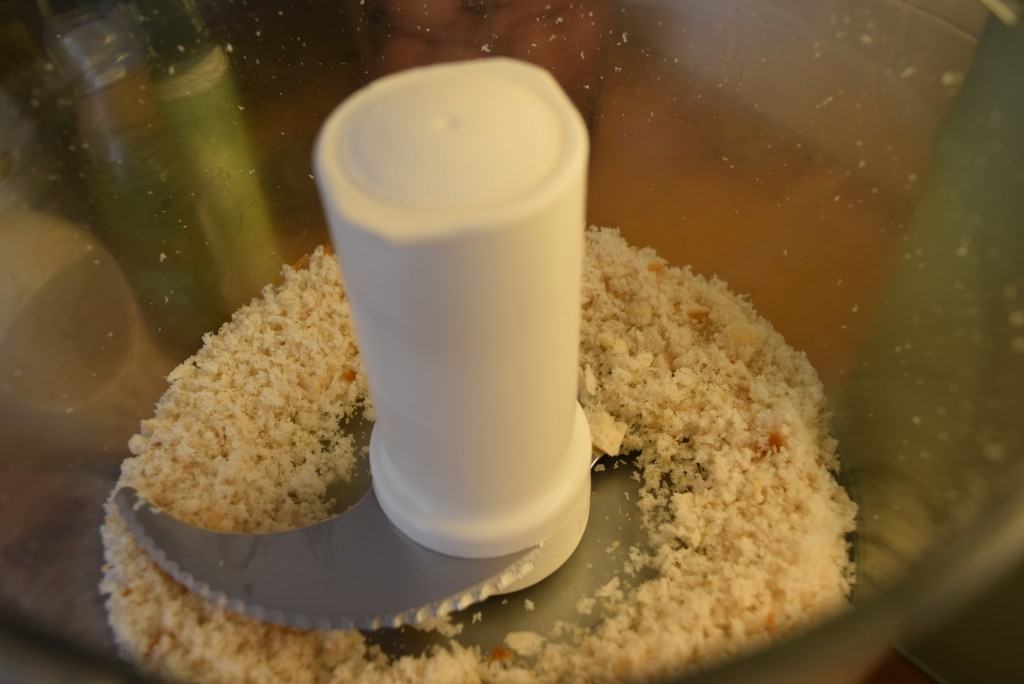 I do love the sunshine streaming into my kitchen but it does balls up my photography.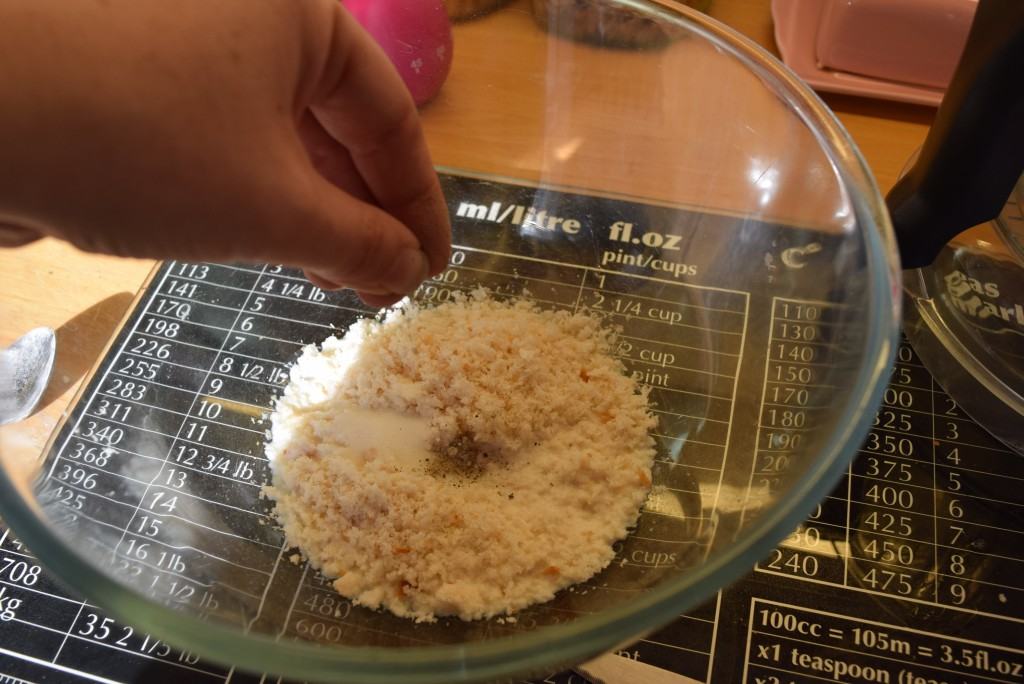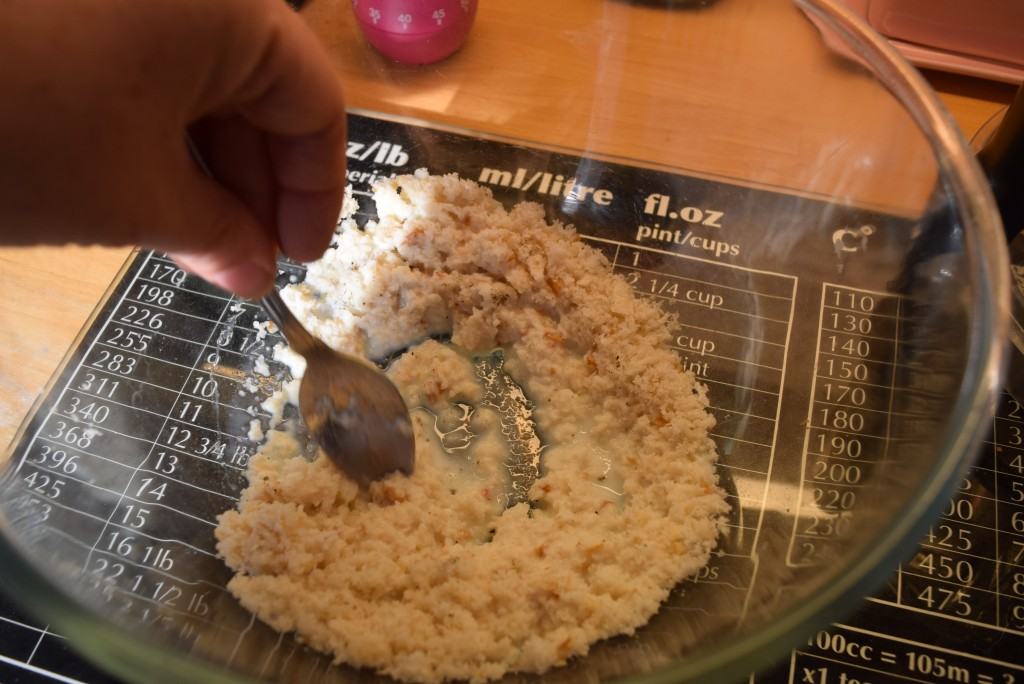 Next it's time for a bit of mincing. Pop your boned thighs into the food processor and pulse into a mince-like texture. Of course, if you have got pre minced chicken, skip this step.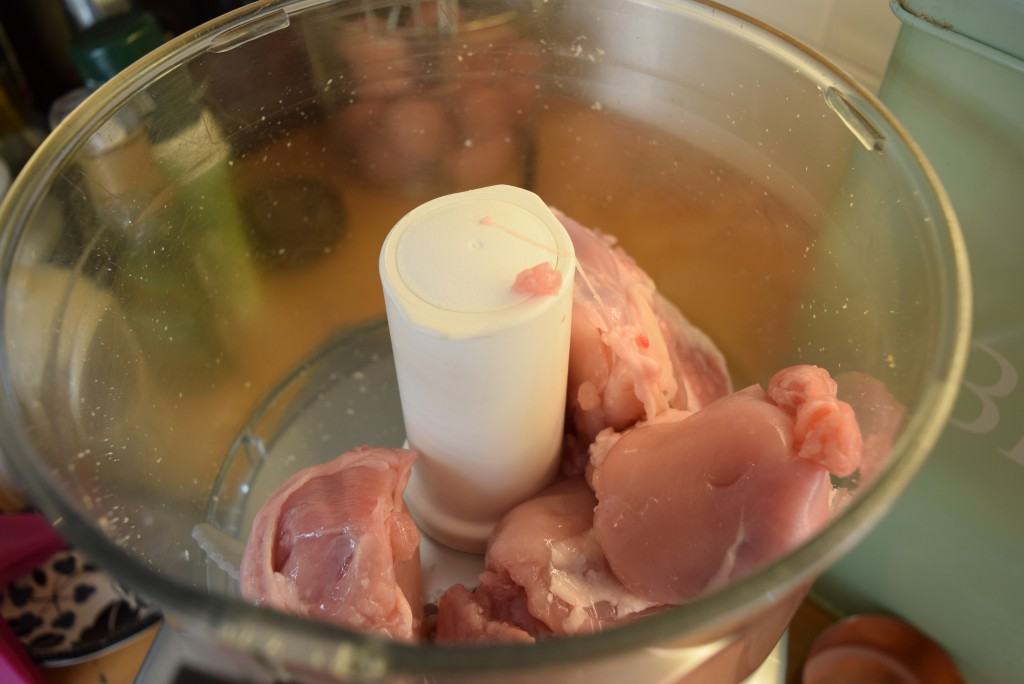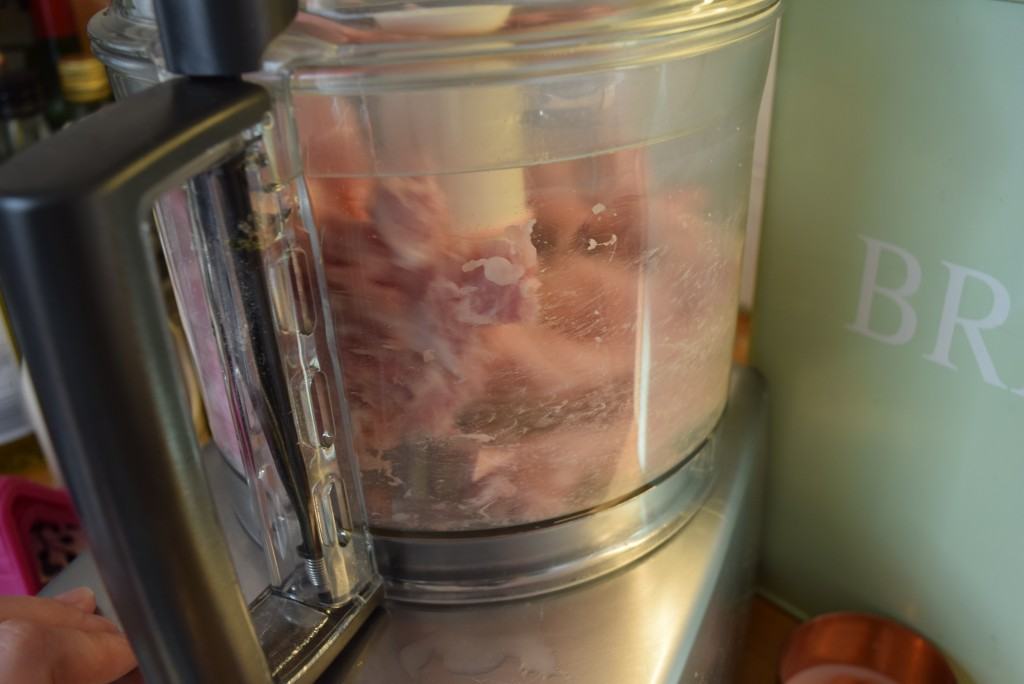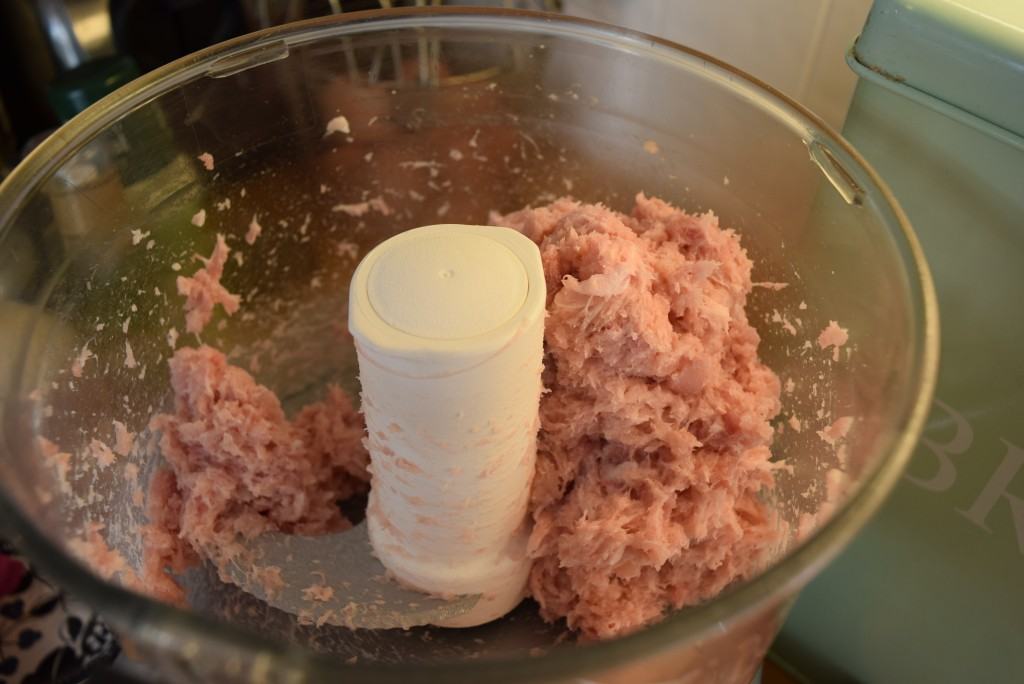 Put this wonderful pink chicken meat into the bowl with the breadcrumbs and mix with a spatula or with your own bare hands. Enjoy the whole squelchy experience.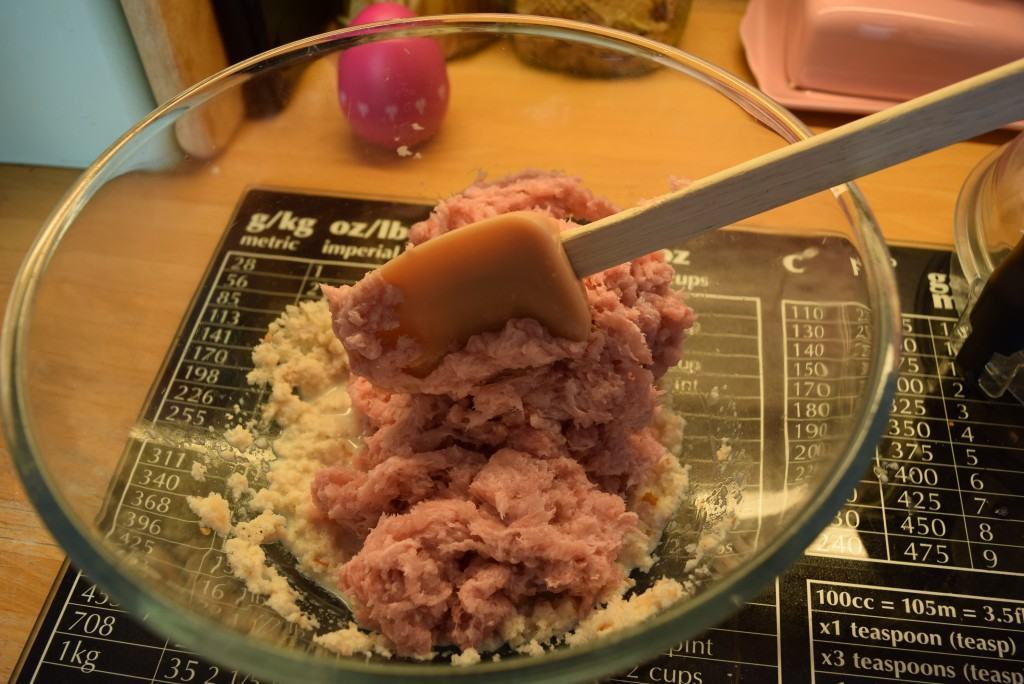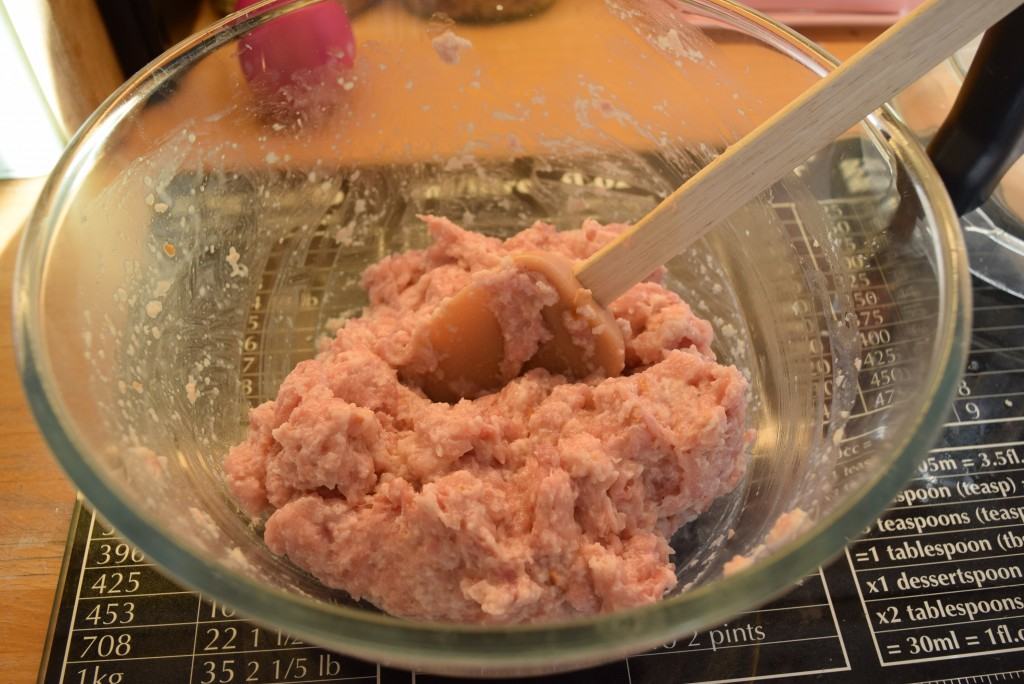 This mix is quite wet, so don't worry, you have prepared it correctly. This will ensure a really tender and tasty finished meatball. Fashion the bowl of mince into four rough portions and pop to one side while you prepare the next step.
First, cut your mozzarella into four pieces. Next, beat an egg on a plate and add the panko crumbs onto a another plate. Then, take a deep, high sided frying pan or large sauce pan and pour in the oil. Put this over a medium heat, keeping an eye on it at all times.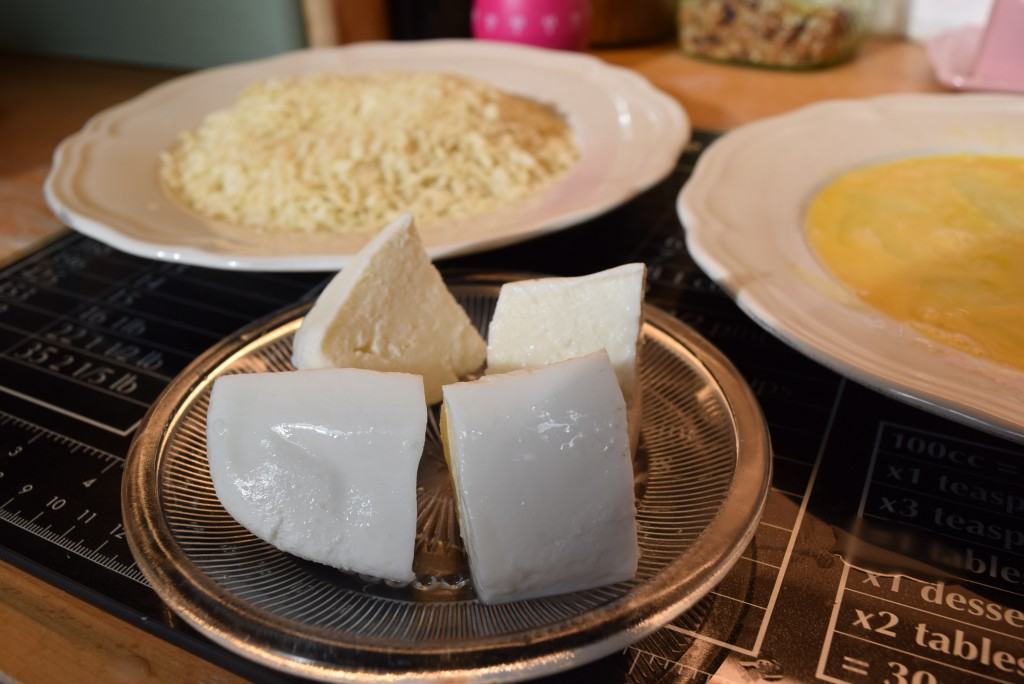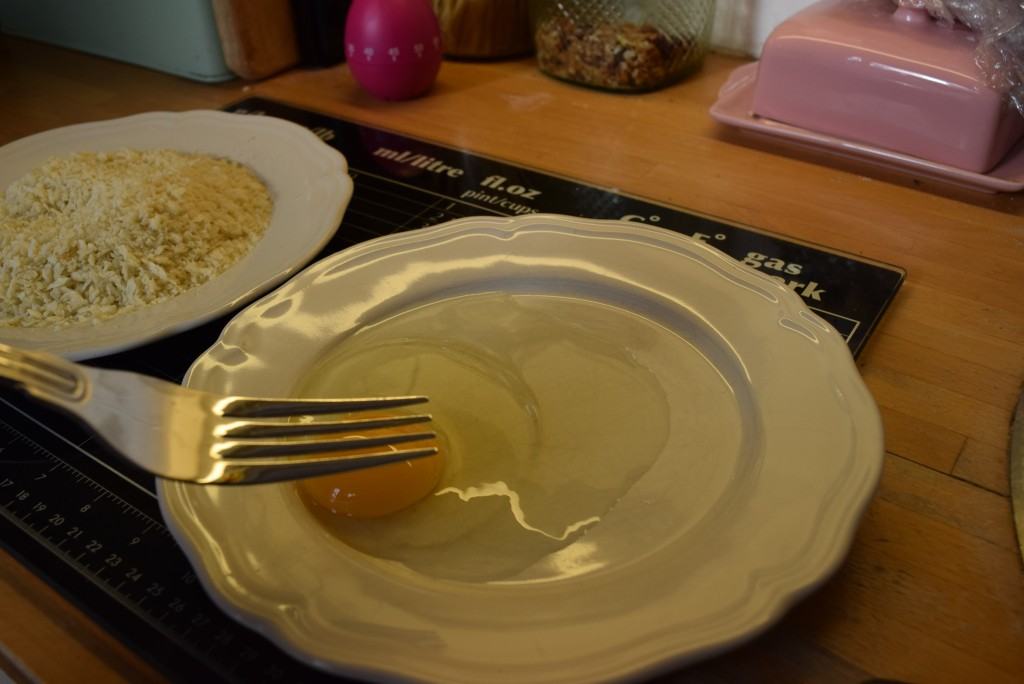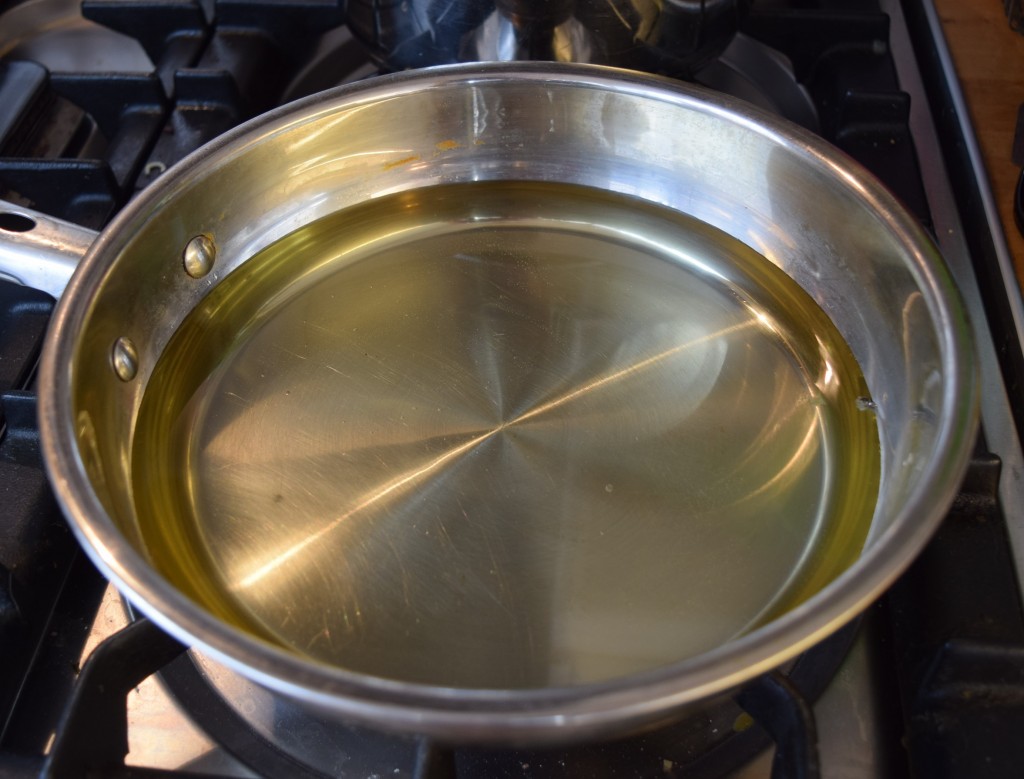 Then it's all systems go preparing these big old balls. Take a section of chicken mixture and flatten it into a circle in the palm of your hand. Put a square of mozzarella into the centre and fashion the mince around the cheese into a giant ball shape, making sure the it's well covered.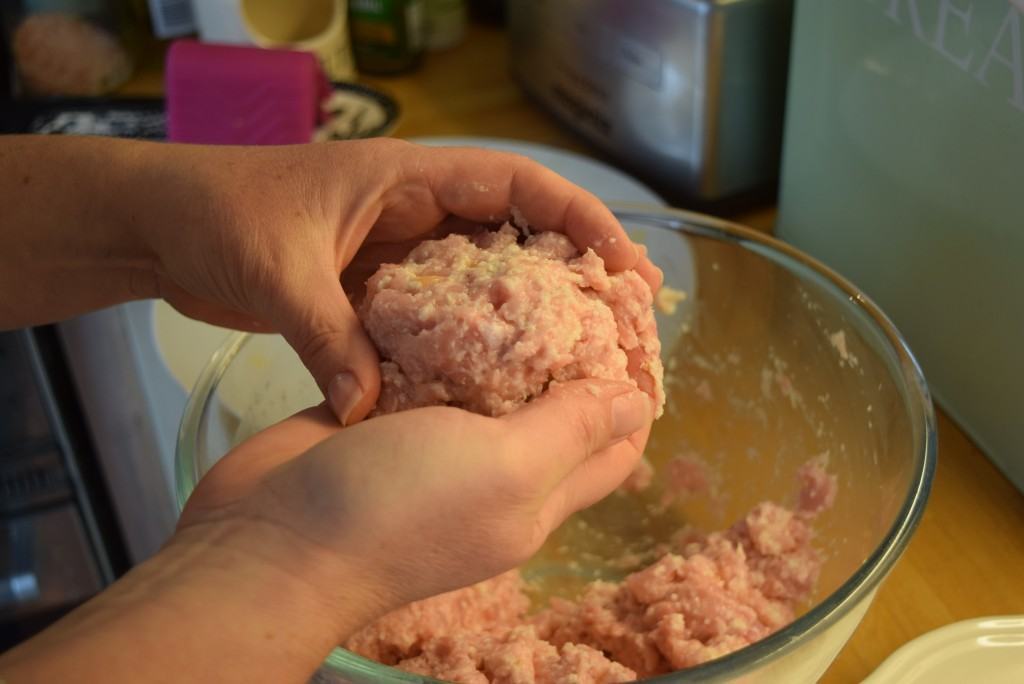 Sorry, it's hands all the way from here on in I'm afraid.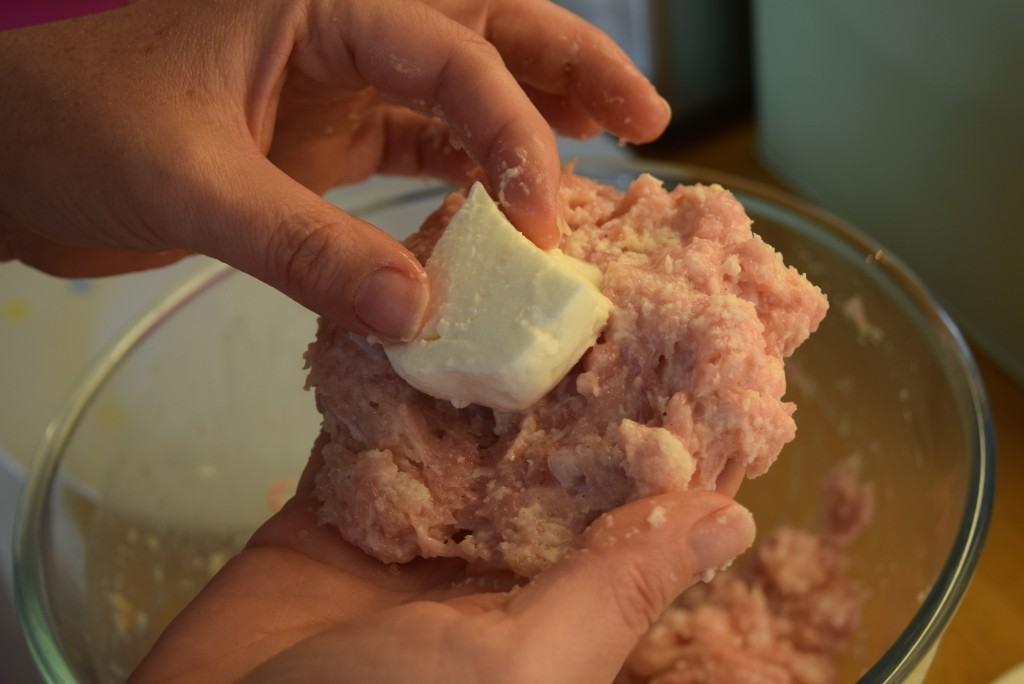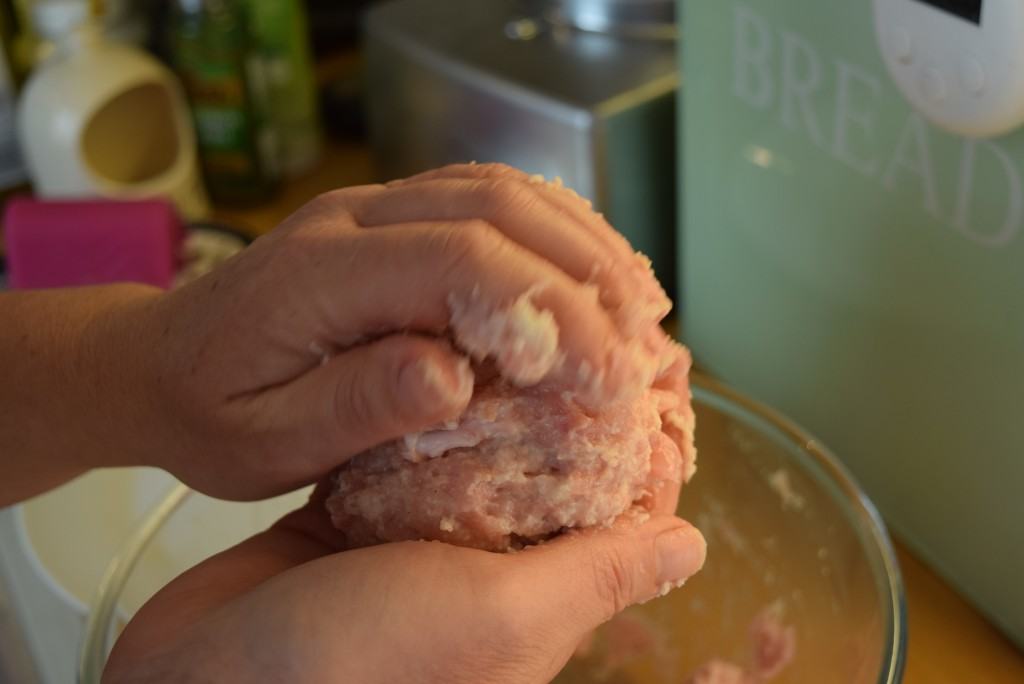 Repeat until you have used all your mixture. Next, carefully dip each ball in the beaten egg, roll around, then move on and roll this in the panko crumbs. Pop to one side while you crumb all the balls. This is quite tricky as the mixture is so soft, but just use light hands and don't panic. I did end up egg and bread crumbing my whole hands up to my elbows.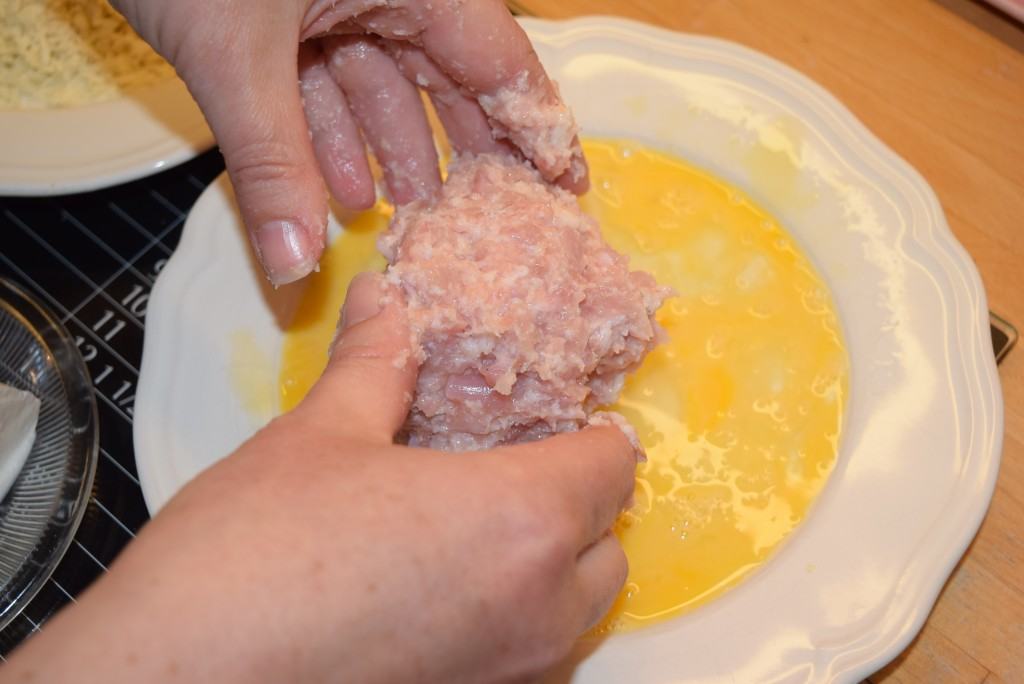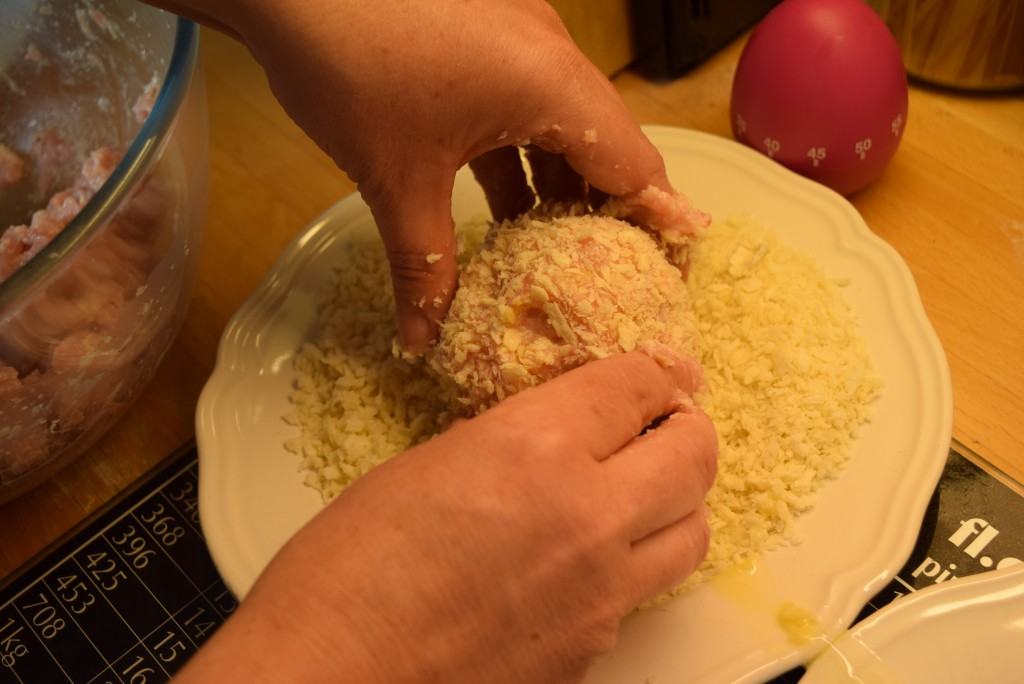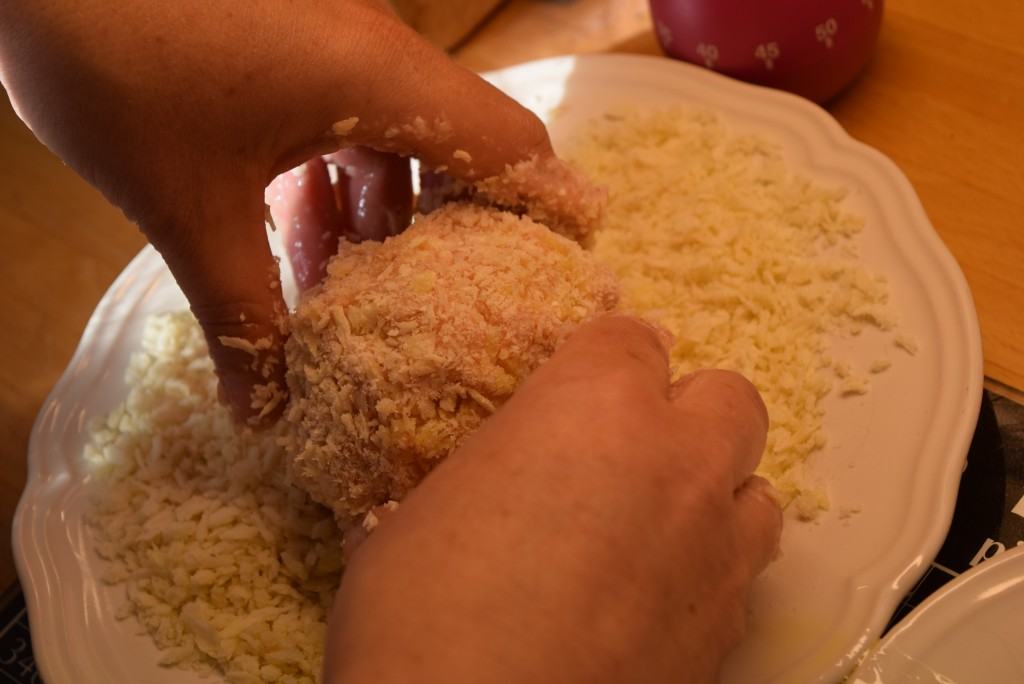 Check your oil is hot enough by dropping a crumb in and if it bubbles and rises to the surface, it's game on. Using a slotted spoon, carefully lower a meatball into the hot oil. If the bottom has flattened by being on a plate, put the ball on it's side to fry and the shape will even out. Cook them two at a time for 2 to 3 minutes on each side, or until evenly browned. If they are browning too quickly, turn the oil down a touch. Pop the browned balls onto a lined baking tray and cook the other two balls in the same manner.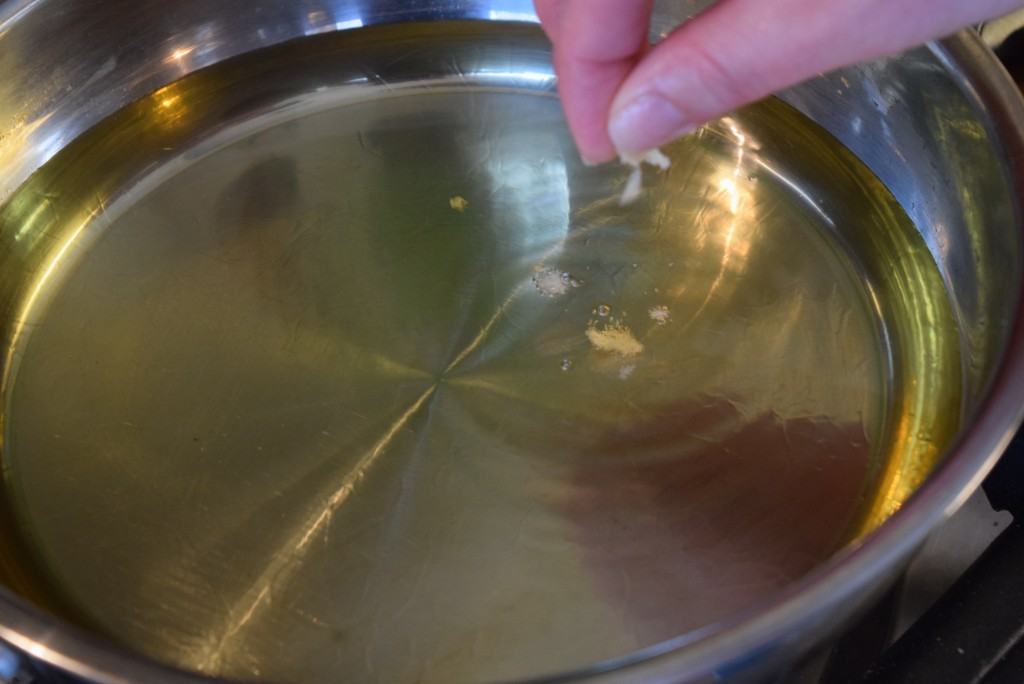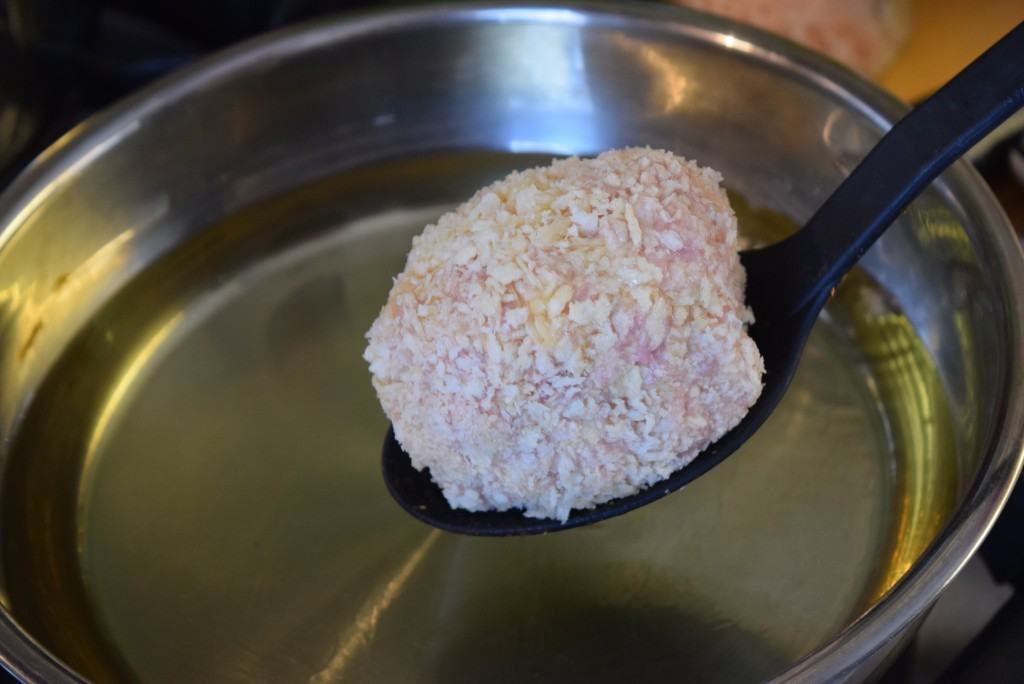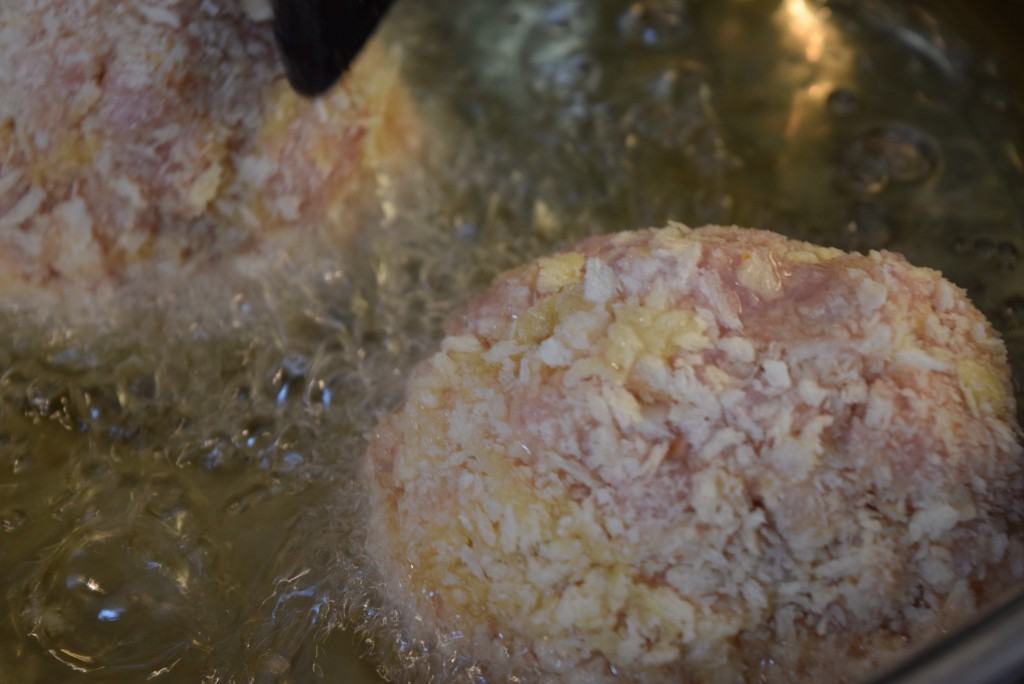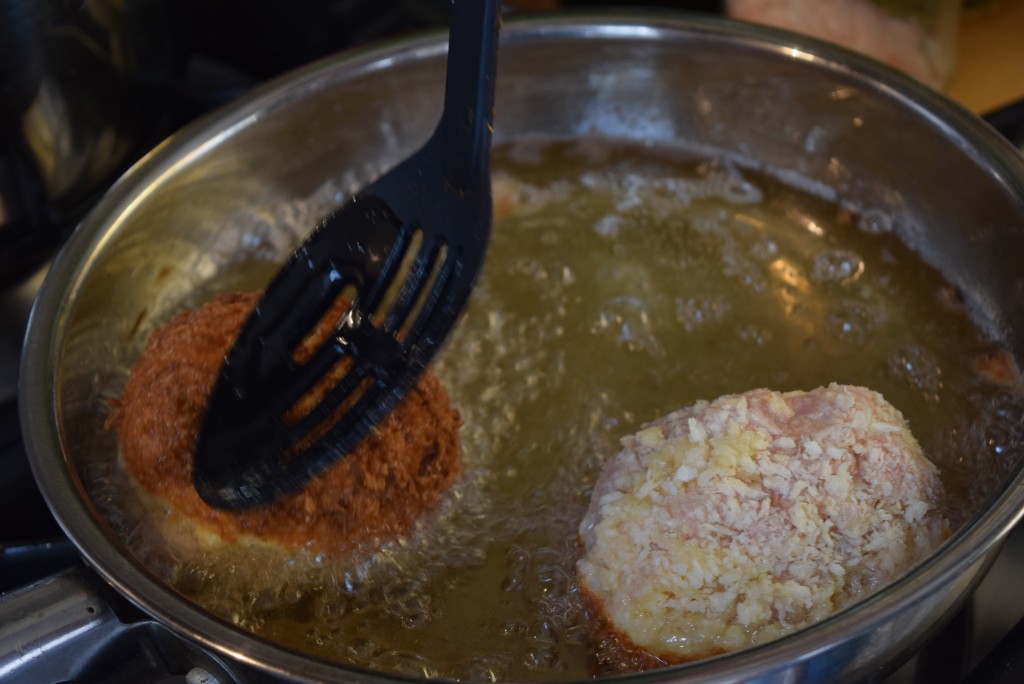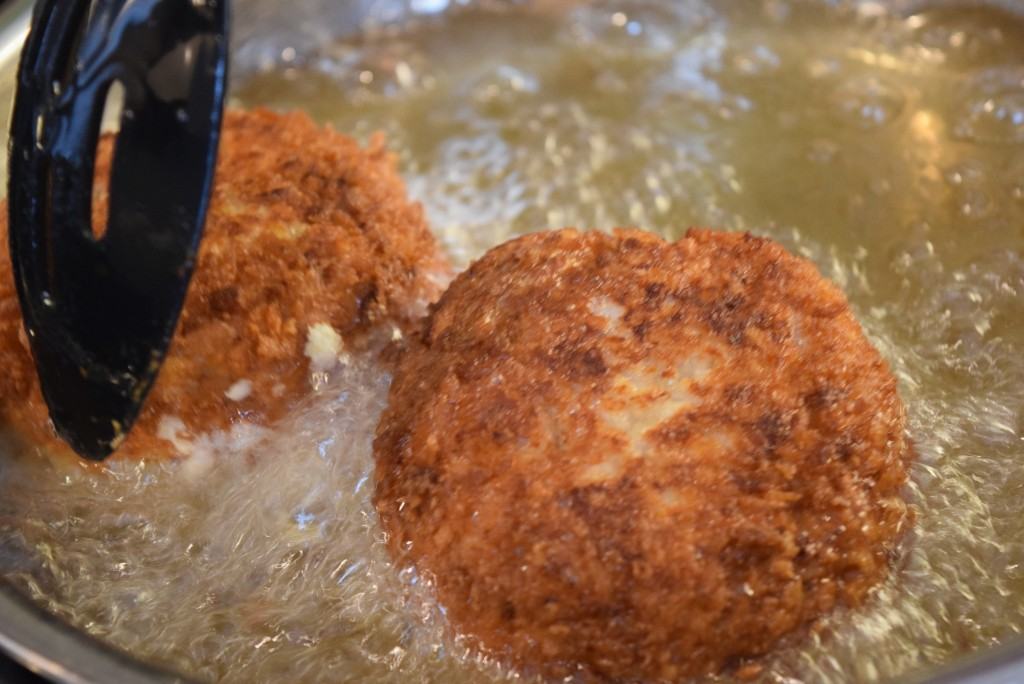 Oh dear, that's my bikini body diet ruined just looking at these. Yum yum yum.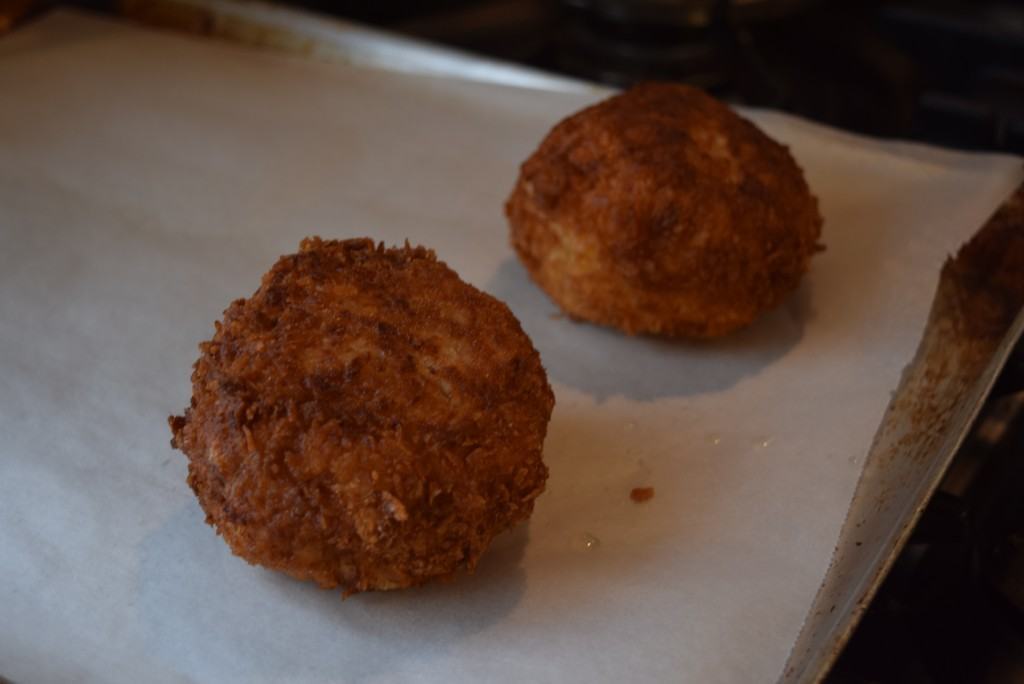 If you are cooking these to eat straight away, pop all four meatballs in the oven for 15 minutes and crack on with the pasta and sauce. If not, put them, covered in cling, in the fridge until you are ready to cook them later. Either way don't forget to turn the oil pan off.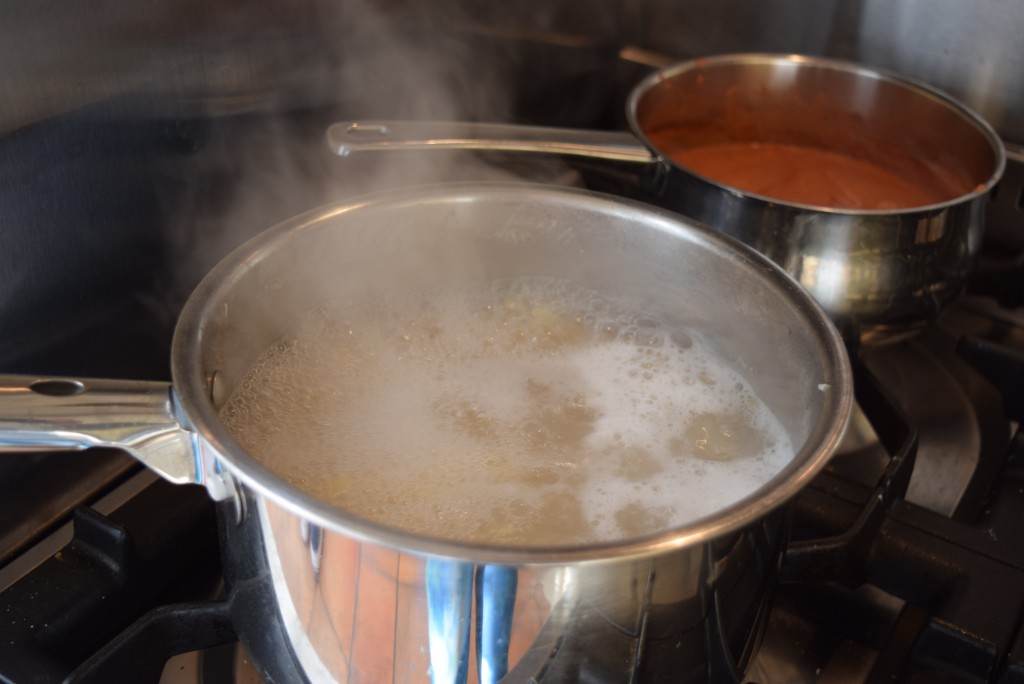 And then it's show time. When the giant meatballs are golden and cooked through, serve some pasta, spoon on the wonderful tomato sauce then position one perfect Chicken Parmigiana Meatball in pride of place on top of the sauce. Garnish with parsley, parmesan shavings and a waft of salad leaves.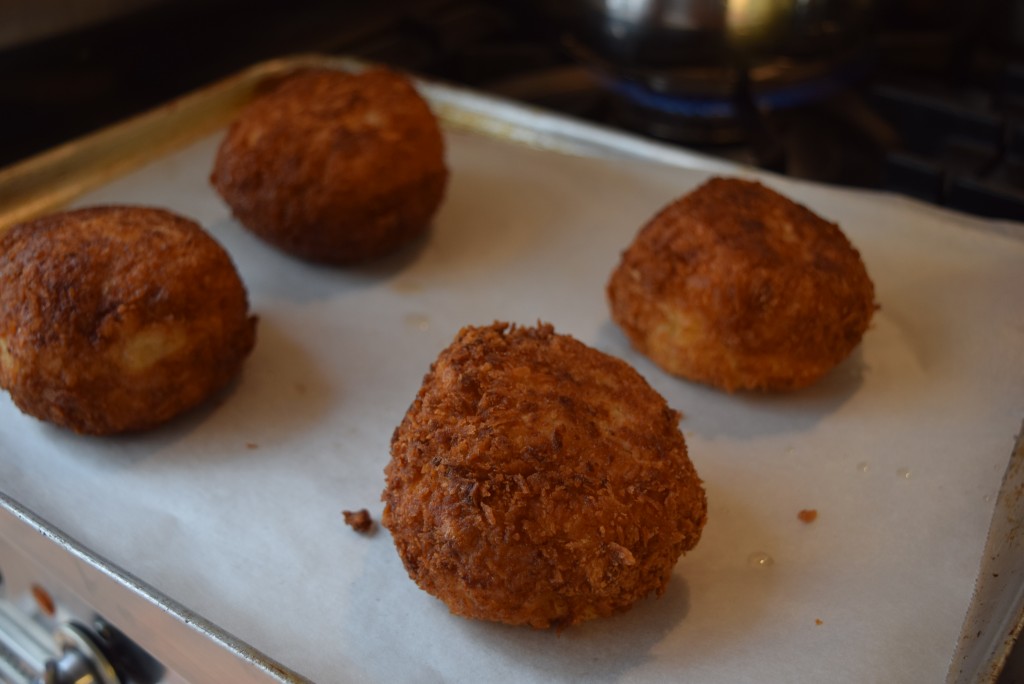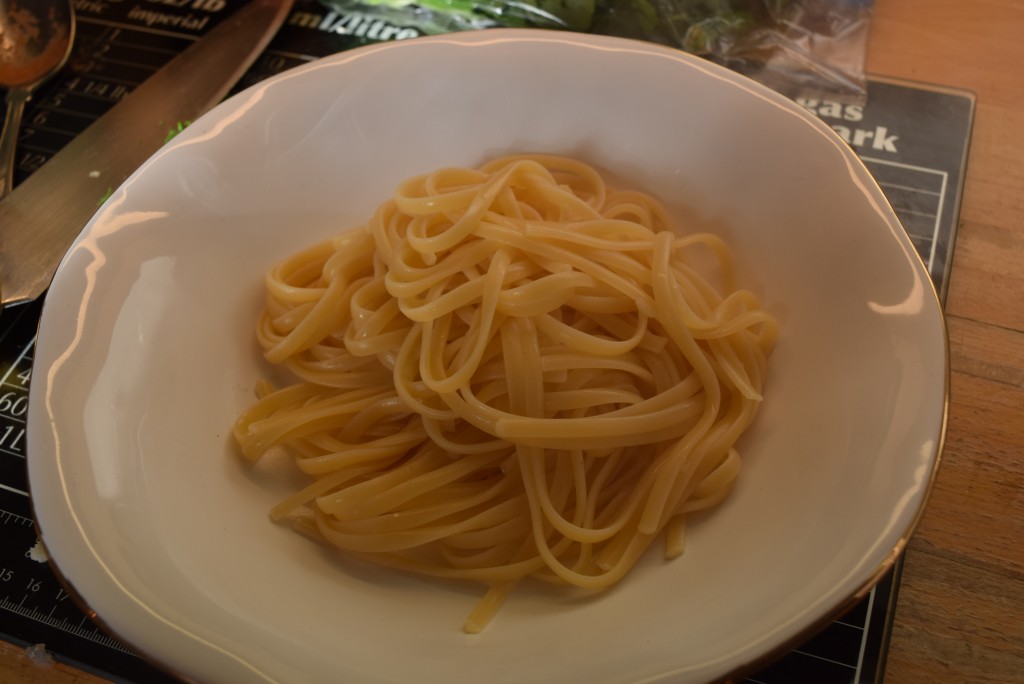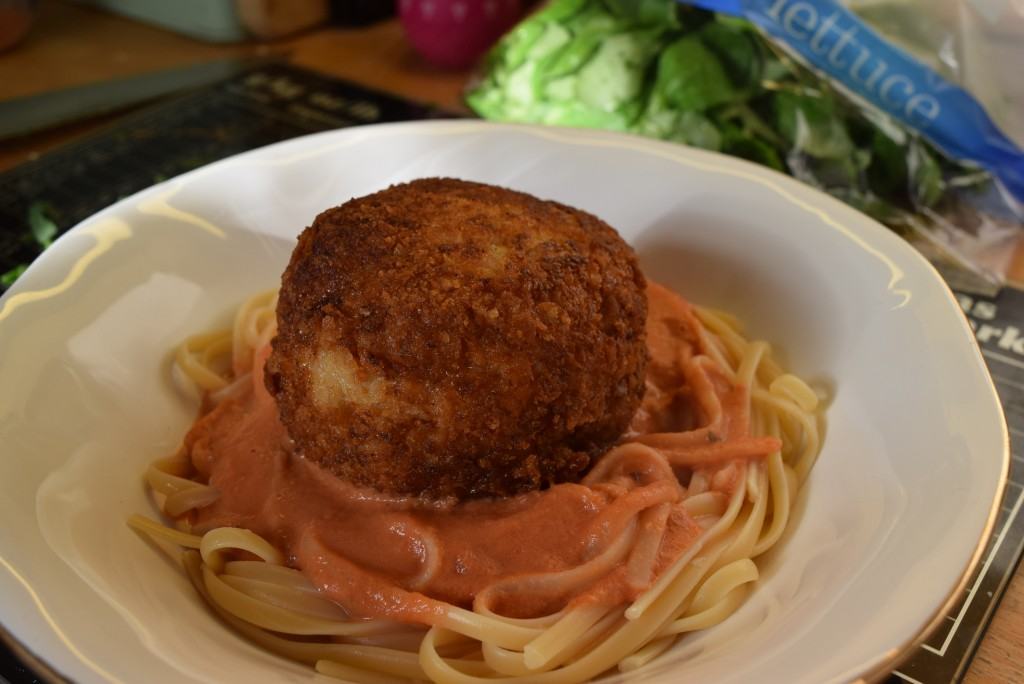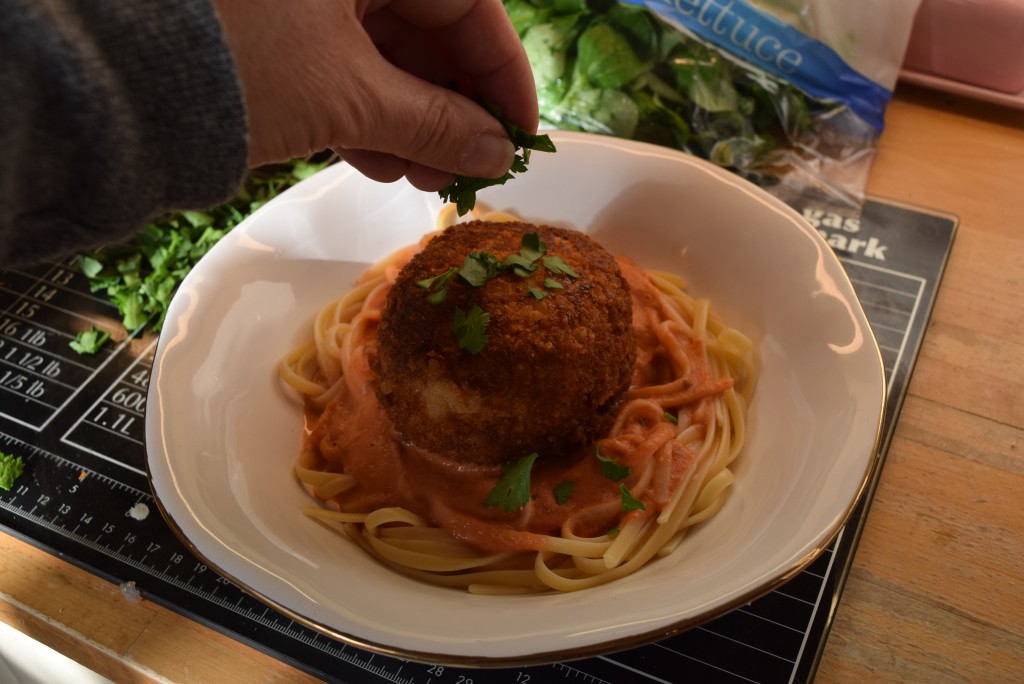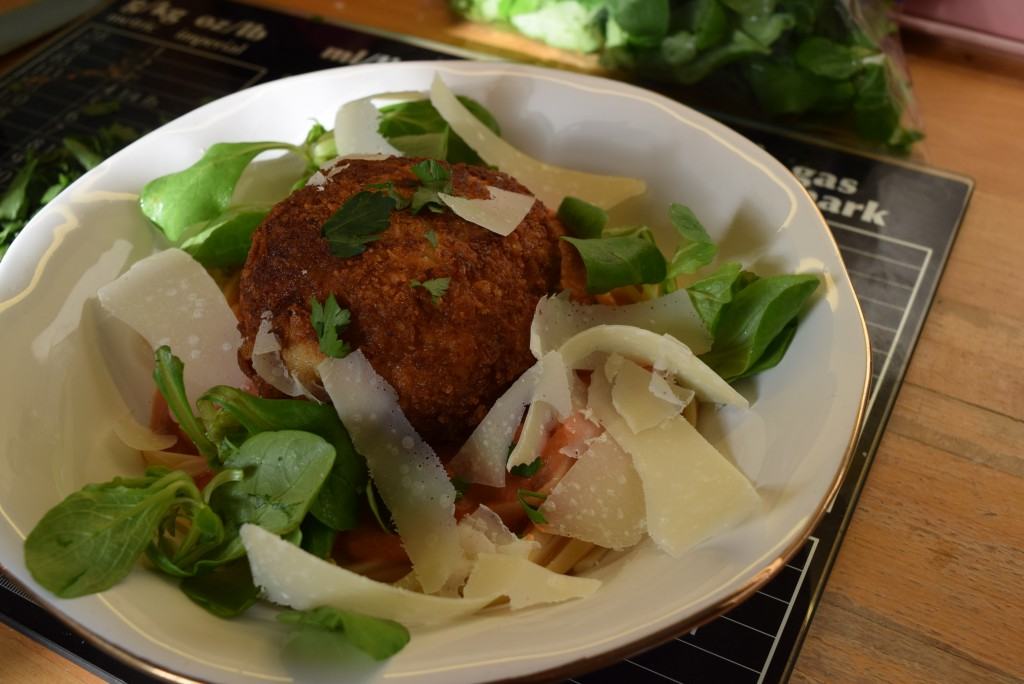 And there you have it. This brilliant dish it huge on taste and good looks, it has it all.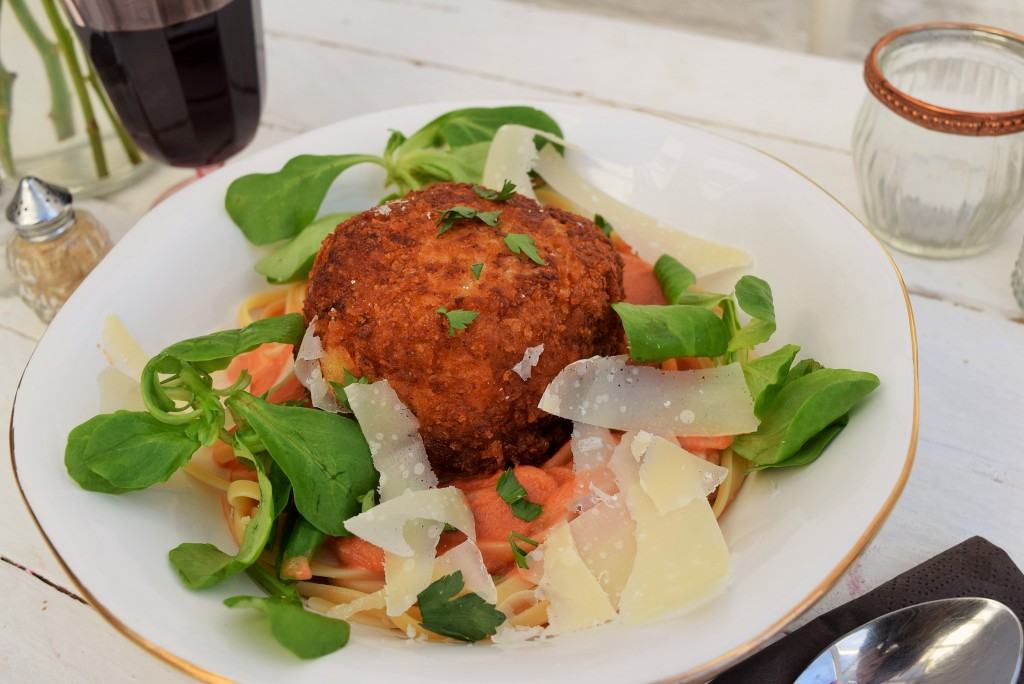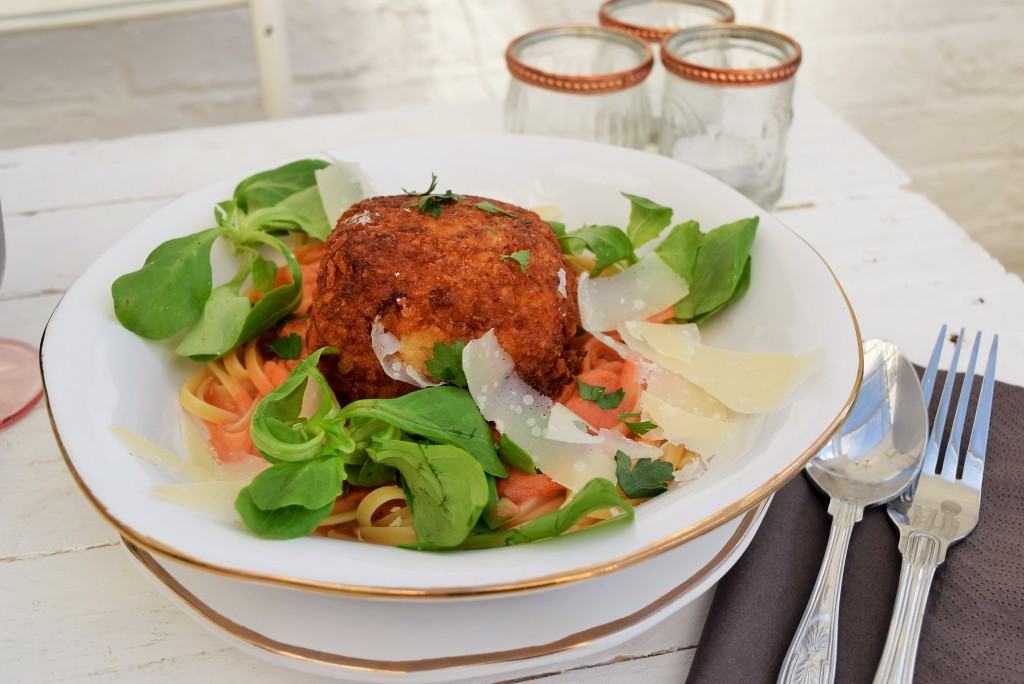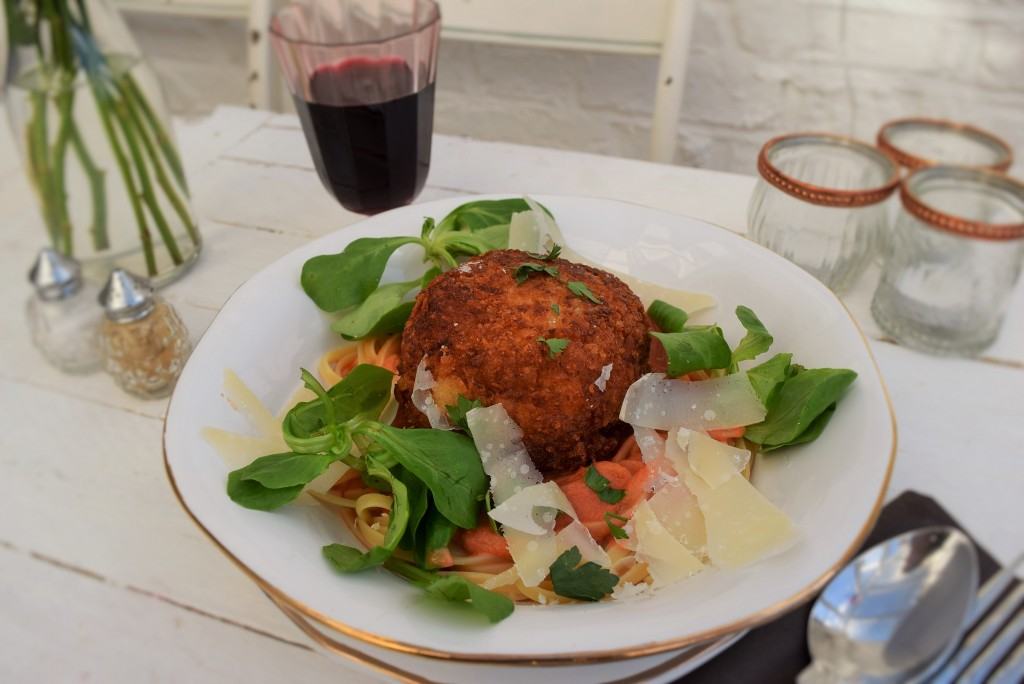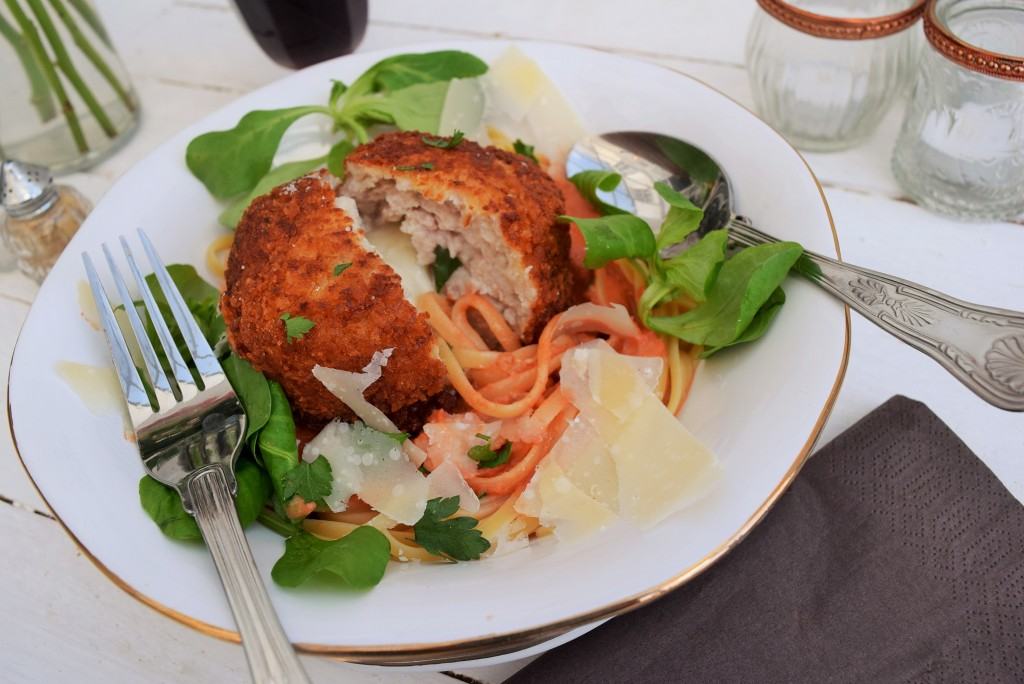 I can't take full credit for the recipe, but I am so excited to share it with you. I can't ramble on about this Chicken Parmigiana Meatball enough. So I won't. Just make it. You won't regret it.
Lots of love
Lucy x
Chicken Parmigiana Meatball Recipe
Serves 4, or 2 if it's my husband and my eldest son, but it's easily doubled
500g chicken thighs, or chicken mince if you can find it
1 slice of bread, blitzed into breadcrumbs
125ml milk
1 teaspoon salt
A good pinch or shake of black pepper
125g mozzarella, cut into four pieces
1 egg
approx 125g Panko breadcrumbs, you may need more
1 litre bottle sunflower oil, or another good frying oil
To serve, spaghetti, tomato pasta sauce, salad leaves, parsley and parmesan shavings
Pre heat the oven to 160 fan assisted if you are cooking these to eat straight away.
Start by taking your slice of bread and blitzing it with your food processor or small chopper into breadcrumbs. Add these to a large bowl with the 125ml of milk, salt and pepper and give it a good stir. Next, still in your food processor, pulse the chicken thighs into a mince like texture, unless you have managed to find chicken mince in your supermarket, or asked your butcher to make you some.
Add the chicken mince to the breadcrumby pulp and go in with your hands or a spatula and mix everything together. The mixture will be quite wet, so beware, it's quite hard to handle. Cut the mozzarella into four even pieces, then divide the chicken mixture into four balls. With your hands, fashion the chicken mince into a flat-ish circle and pop the cheese in the middle. Wrap the chicken round the cheese making sure it is covered. Repeat with all four balls and cheese.
Next, pour the sunflower oil into a deep sided frying pan and heat gently. Beat one egg on a plate and put the panko breadcrumbs on another plate. Carefully dip each meat ball in the egg then roll it in the breadcrumbs. Repeat. To check your oil is hot enough, drop a breadcrumb into it and if it sizzles and rises to the top, its hot enough. Taking one at a time, carefully lower the meatballs into the sizzling oil, I cooked two at a time. Once the first side it browning nicely, around 2 minutes, carefully turn the meatballs over and cook the other side for a further 2 to 3 minutes. Place on a lined baking sheet while you cook the other two balls.
Remembering to turn the oil pan off, next pop all four balls in the oven and cook for 15 minutes (if cooking from the fridge add an extra 5 minutes or so). While these are cooking, heat your tomato pasta sauce and cook your pasta (I allow around 75g to 100g dried pasta per person). When you are ready to serve, place some pasta in a bowl plate, ladle on some tomato sauce and mix. Place one meatball on the pasta and garnish with parsley, parmesan and a sprinkling of salad leaves. Be careful you don't burn your mouth on the hot mozzarella in your urgency to eat this delicious Chicken Parmigiana Meatball.